Braids for men are the ultimate low maintenance and stylish looks. We're not just talking about braided hairstyles but long-lasting professional jobs. Once braids are in, they can look good for over a month with some care and maintenance.
There are basically two types of braids with many variations. The braids can be flat to the scalp, like cornrows, or hang loose, like box braids. For men, the braids and fade combination looks great and makes maintenance even easier. Or go for shape up at the forehead and tape up at the neckline.
As you'll see soon, there are so many ways to wear braids from straight cornrows to intricate geometric designs. We're seeing some cool parts including S-shapes, zigzags, and braids. These looks don't always have to be braids – there are also twists and braided dreadlocks. Long hair can be worn in two braids or even pulled up into a ponytail or man bun.
Check out 30+ of the best braid styles for men plus tips on getting the most out of your new look.
1. How To Make Braids Last Longer
Braids can last up to 6 weeks. As hair grows during that time, braids and roots can start go get fuzzy. Dirt and oils can build up on the scalp so regular washing and conditioning are still necessary. Putting products into a bottle with a pointed tip can make it easier to get the solution on the scalp and in-between braids.
Keep in mind that all braids should be taken out after 8 weeks at very longest. Too much tension on the roots can result in traction alopecia, a type of hair loss caused by the pull of tight hairstyles like braids and weaves. Nobody wants that.
How To Take Care Of Braids
Start with a very clean scalp
At night, work a little bit of oil or conditioner into the scalp and braids. Then cover and sleep with a silky durag. This is important because it helps remove scalp build-up and keeps hair healthy for when the braids come out.
Wash scalp or hair as required. This varies person to person.
How to Wash Braids
For an itchy or flaky scalp, try a treatment like G+H CLEAR+ Apple Cider Vinegar Hair Rinse or Royal Oils Scalp Treatment by Head and Shoulders for dandruff.
How often to wash braids is up to you but more than once a week can make them fuzzy faster. Start with:
Cowash
Leave-in condioner
Cream mousse or gel
First, put on the stocking cap.
It may seem strange to wash hair through a stocking cap but it really minimizes frizz. Add a small amount of cowash and plenty of water to the bottle and shake to mix. We like:
Apply watered down cowash using the applicator tip directly on the scalp and in between braids. Use the rest of the solution to wet hair all over. Now use fingers to gently massage the scalp and braids.
When ready, rinse with using the applicator bottle filled with water. Keeping the cap on, pat down hair with a towel.
Now you can take the cap off and admire the results. Finish with a leave-in conditioner all over, work into hair until it disappears.
To really tame any frizz and new hair, take one more step. Apply a product with some hold like this Braid Control Cream Mousse. Work a generous portion into hair all over. Last, put on a wave cap or bonnet for 2 hours (or overnight) to dry and lay hair down.
Watch the process step by step with BMazing
Now check out these different types of braids for men. While these hairstyles are traditionally for Black men, guys with all hair types are embracing this cool look.
2. Cornrow Braids For Men
Cornrows, also called canerows in the Caribbean, are a traditional African style of hair braiding. Hair is braided close to the scalp in a continuous raised row. Cornrows are often formed in simple, straight lines, like their namesake, but they can also be braided into S-curves, zigzags, crossover Xs, and more.
In any shape, cornrows are a low maintenance hairstyle for men, especially for medium to long hair. That is one of the reasons more athletes are wearing braids, including NBA stars Allan Iverson, Russell Westbrook, and Kawhi Leonard.
If your hair isn't quite long enough, don't be afraid to add some extensions to get the look you want. It's good enough for Drake.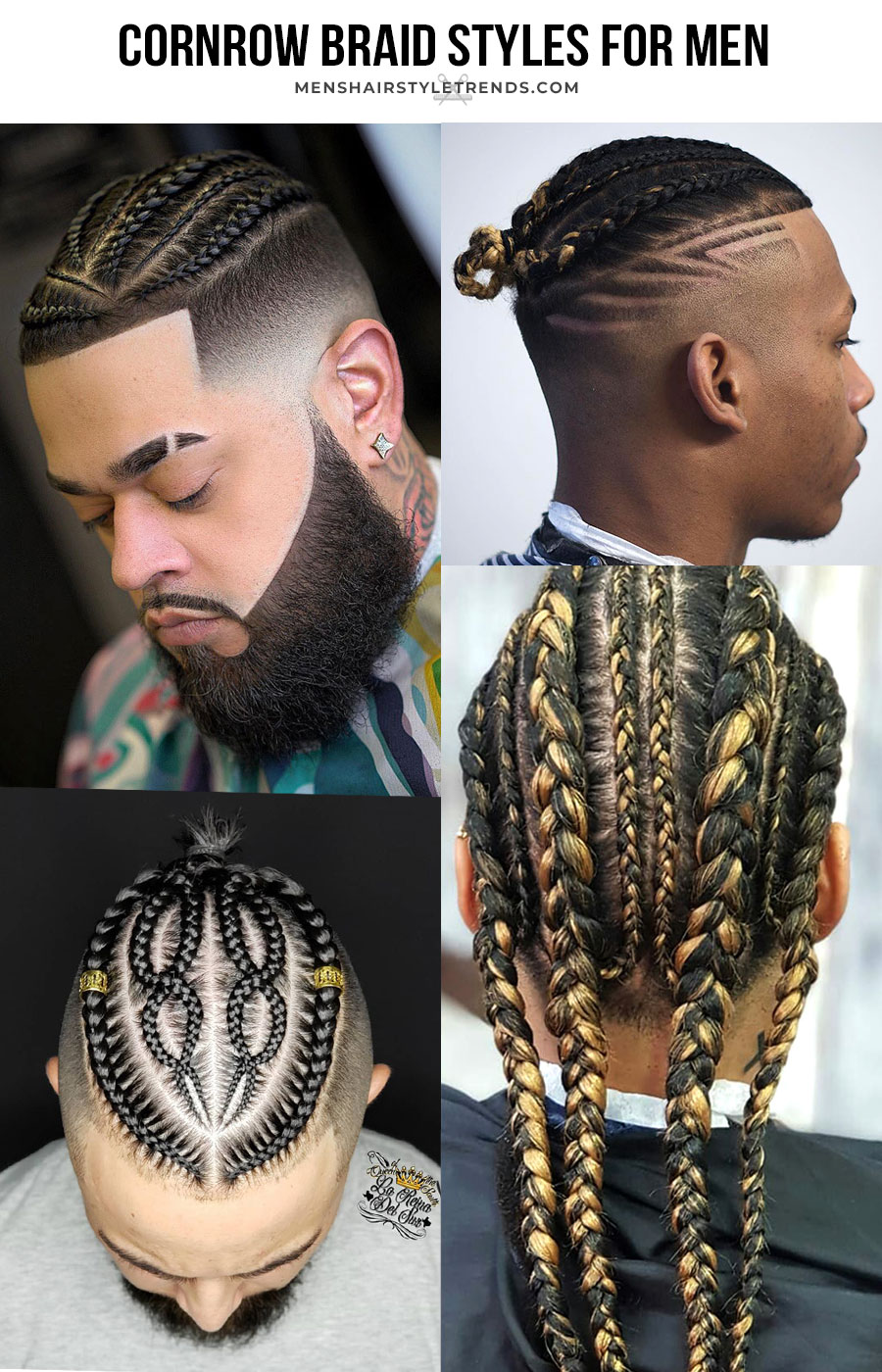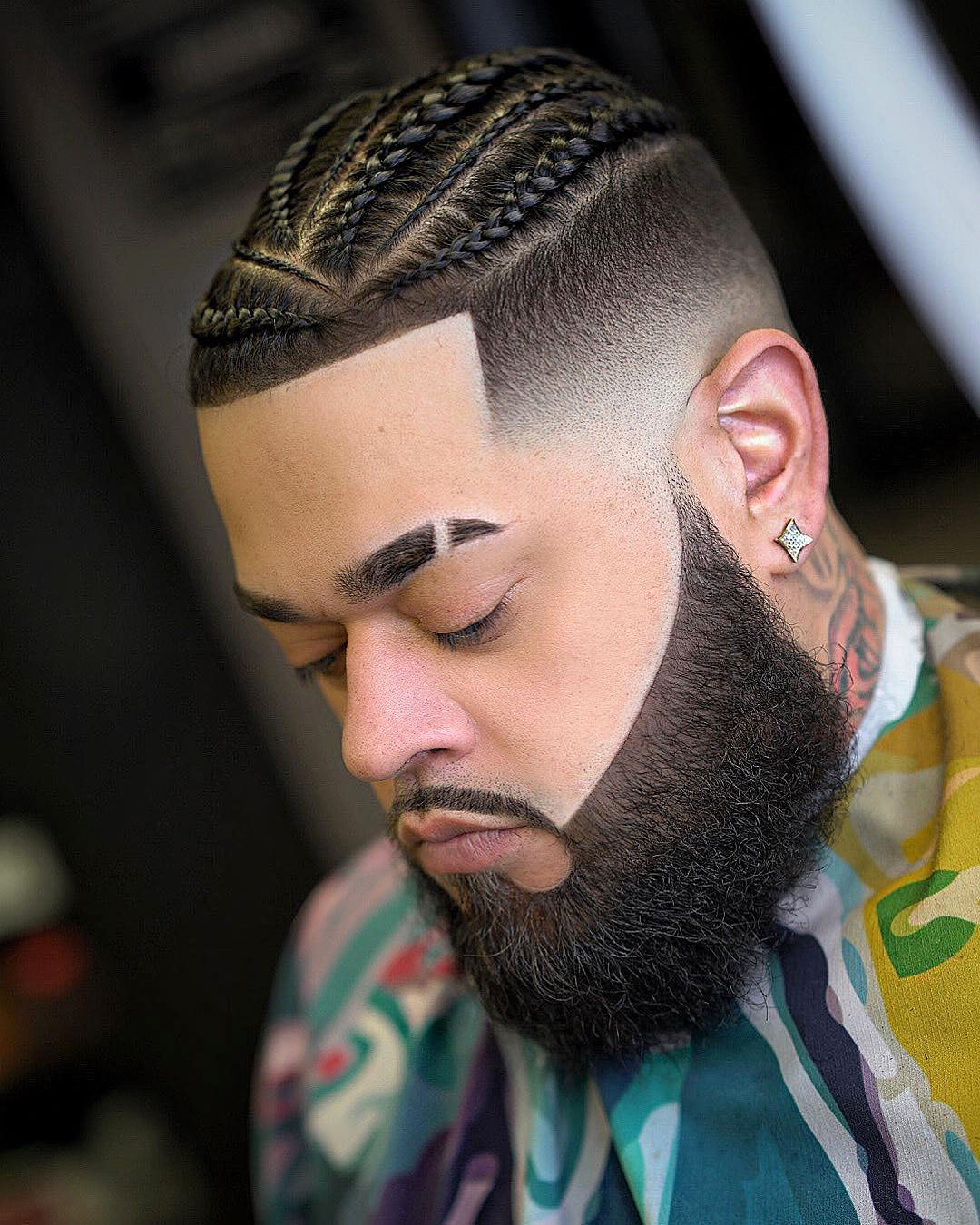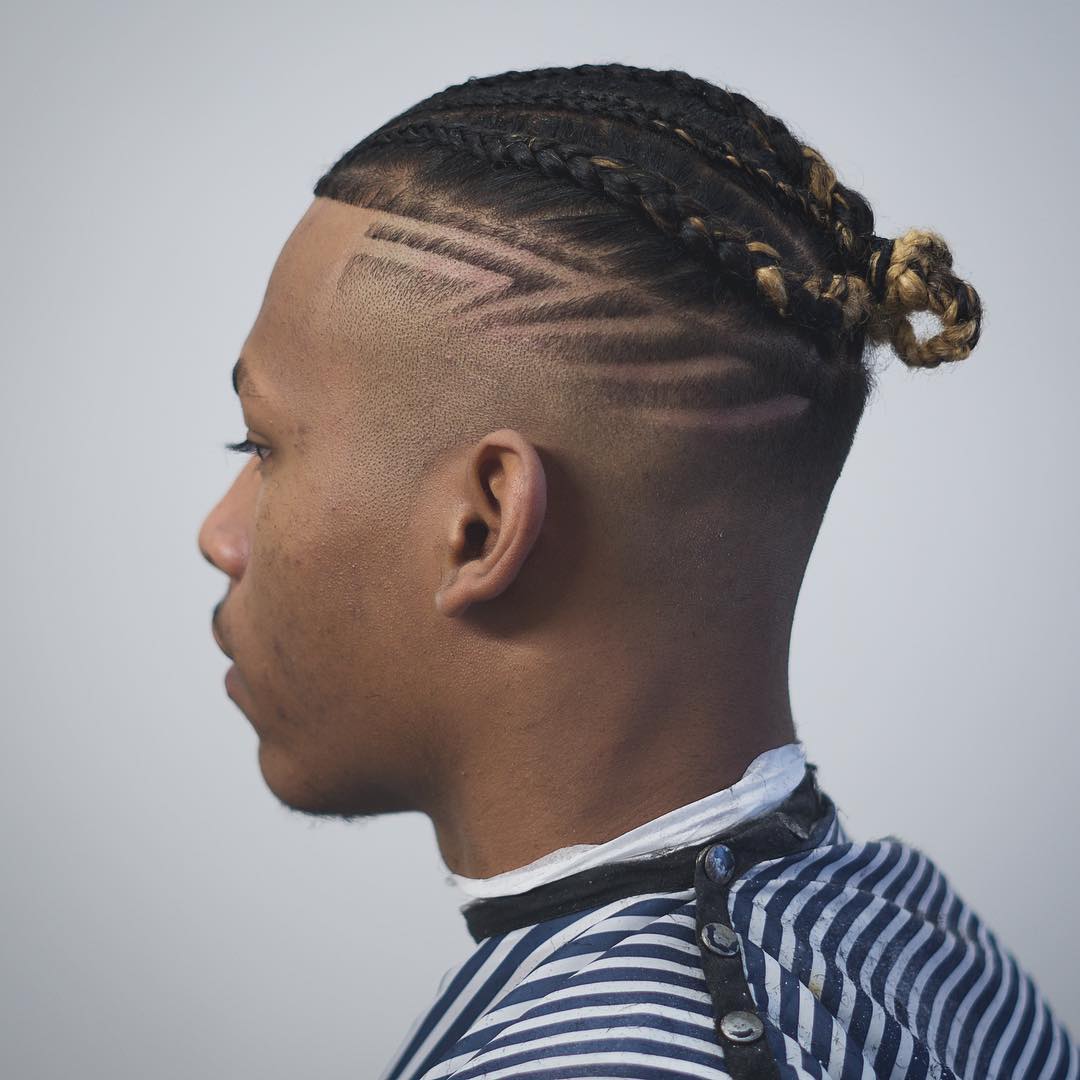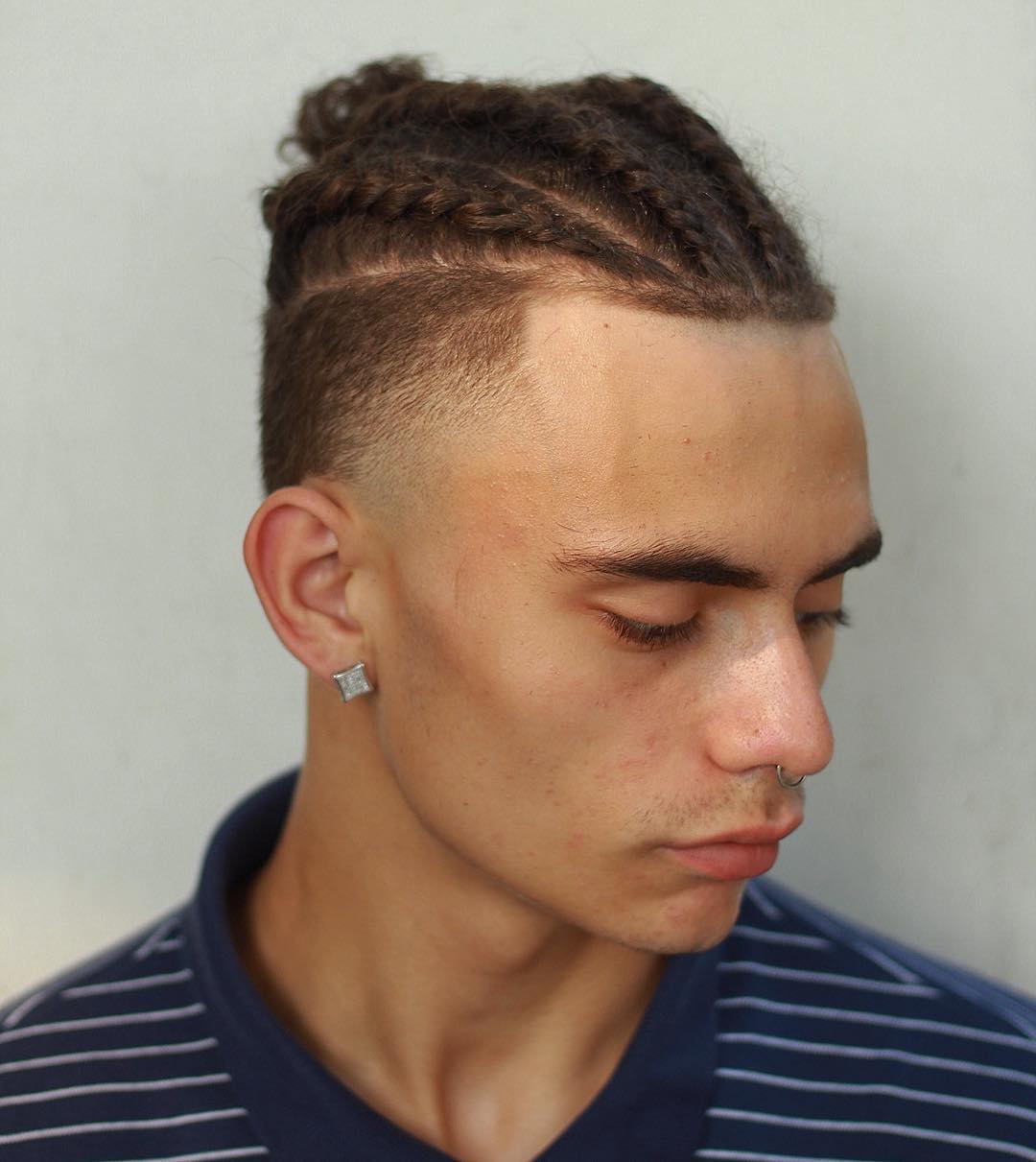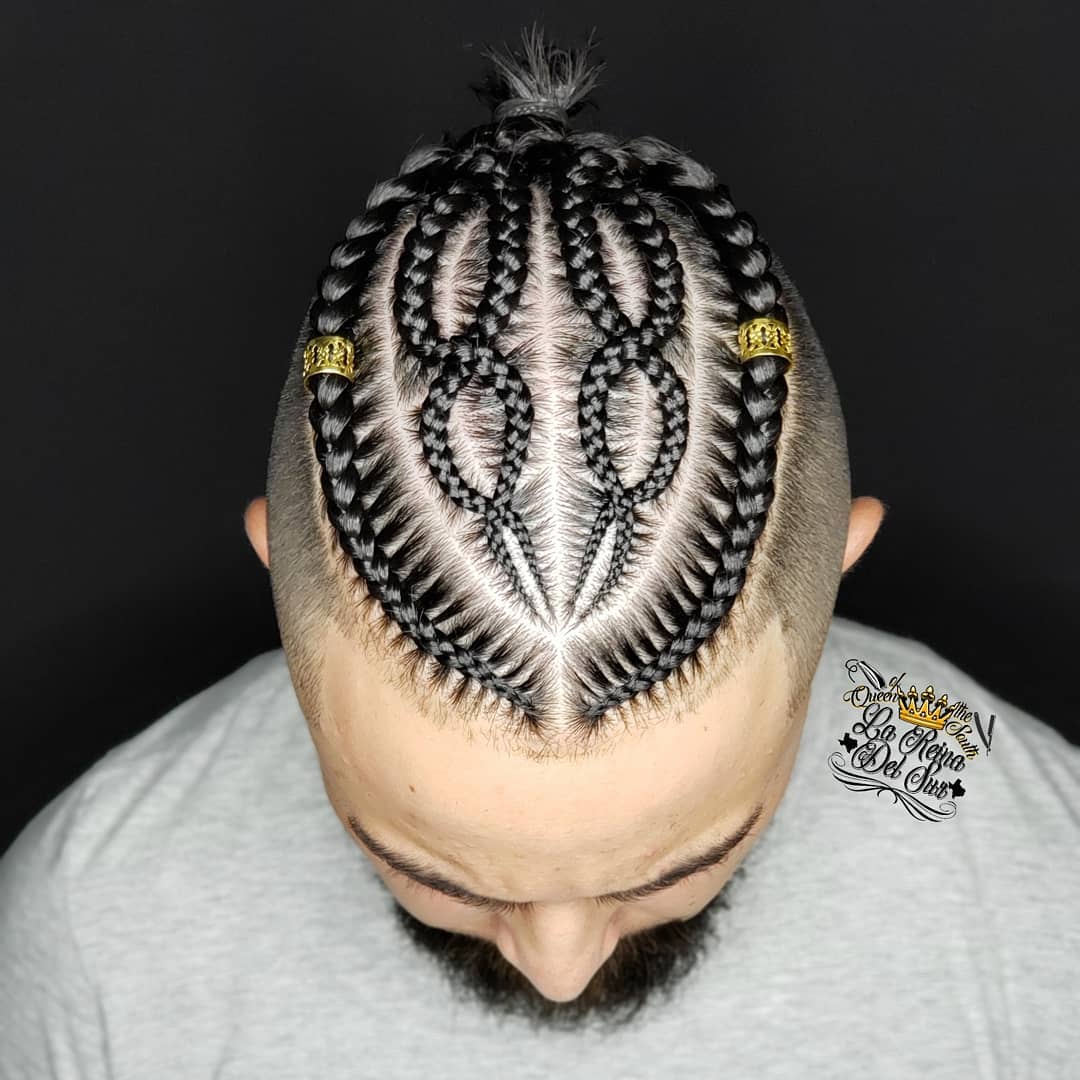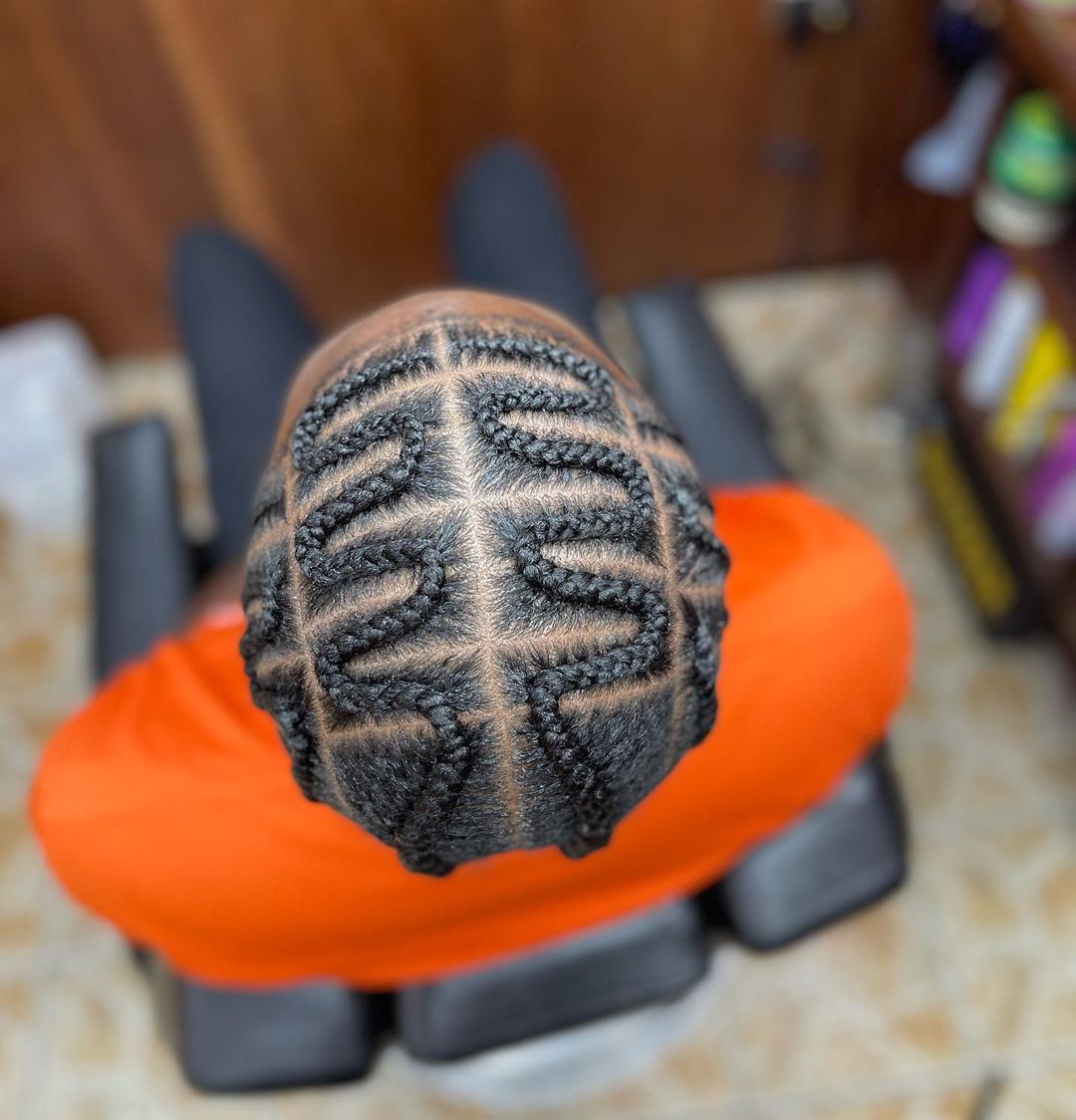 3. Feed-In Braids
Also known as stitch braids, this braid style adds extensions to beef up braids or make them longer. It's a good way to get braids for short hair while growing hair out in a protective style.
With no limits, feed-in braids can get really creative. Right now X-shaped braids, seen on Pop Smoke and 2023 NBA Champion Denver Nugget Kentavious Caldwell-Pope, are popular. They combine a box braid with a corn row into simple but striking Xs.
Braid styles can be complex with many rows of braids or simple with twisted box braids. Here's a few cool looks.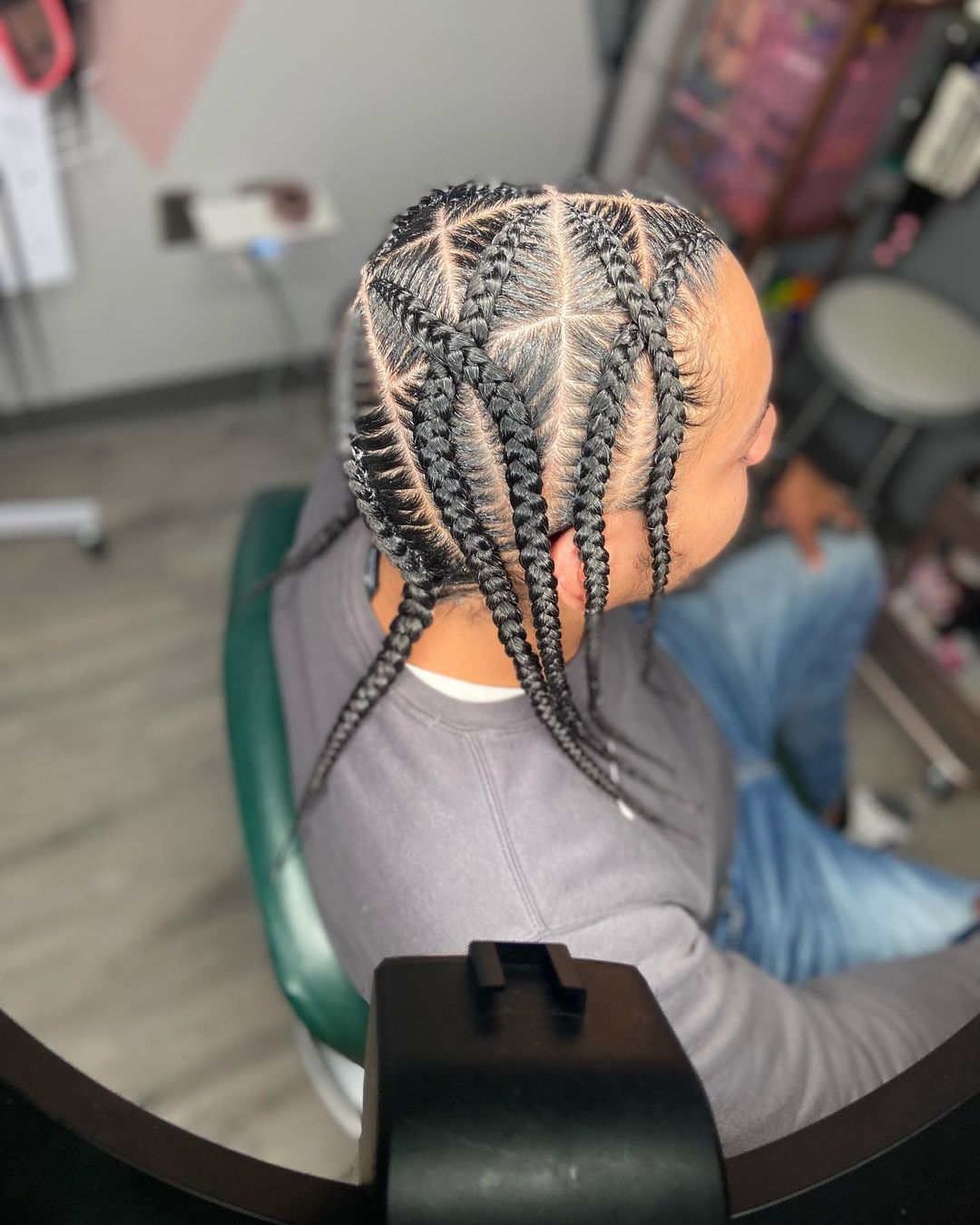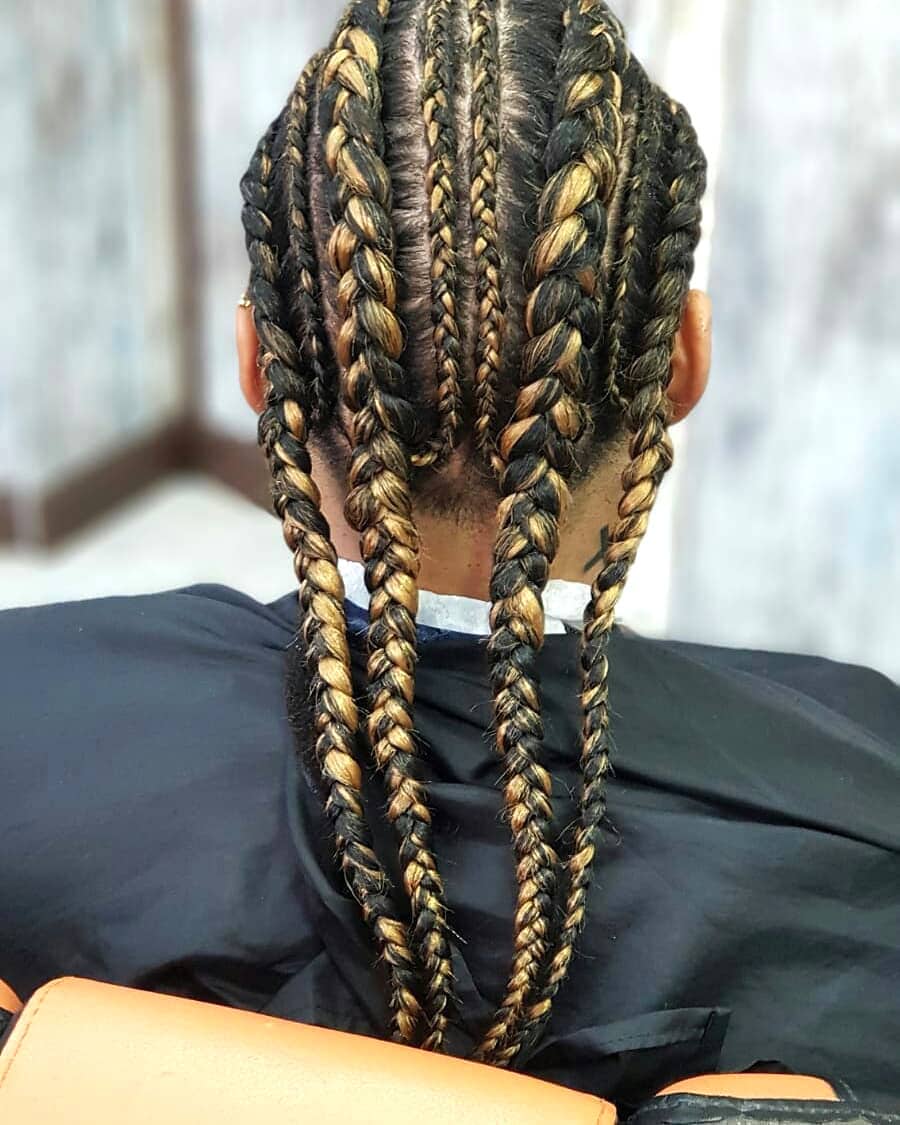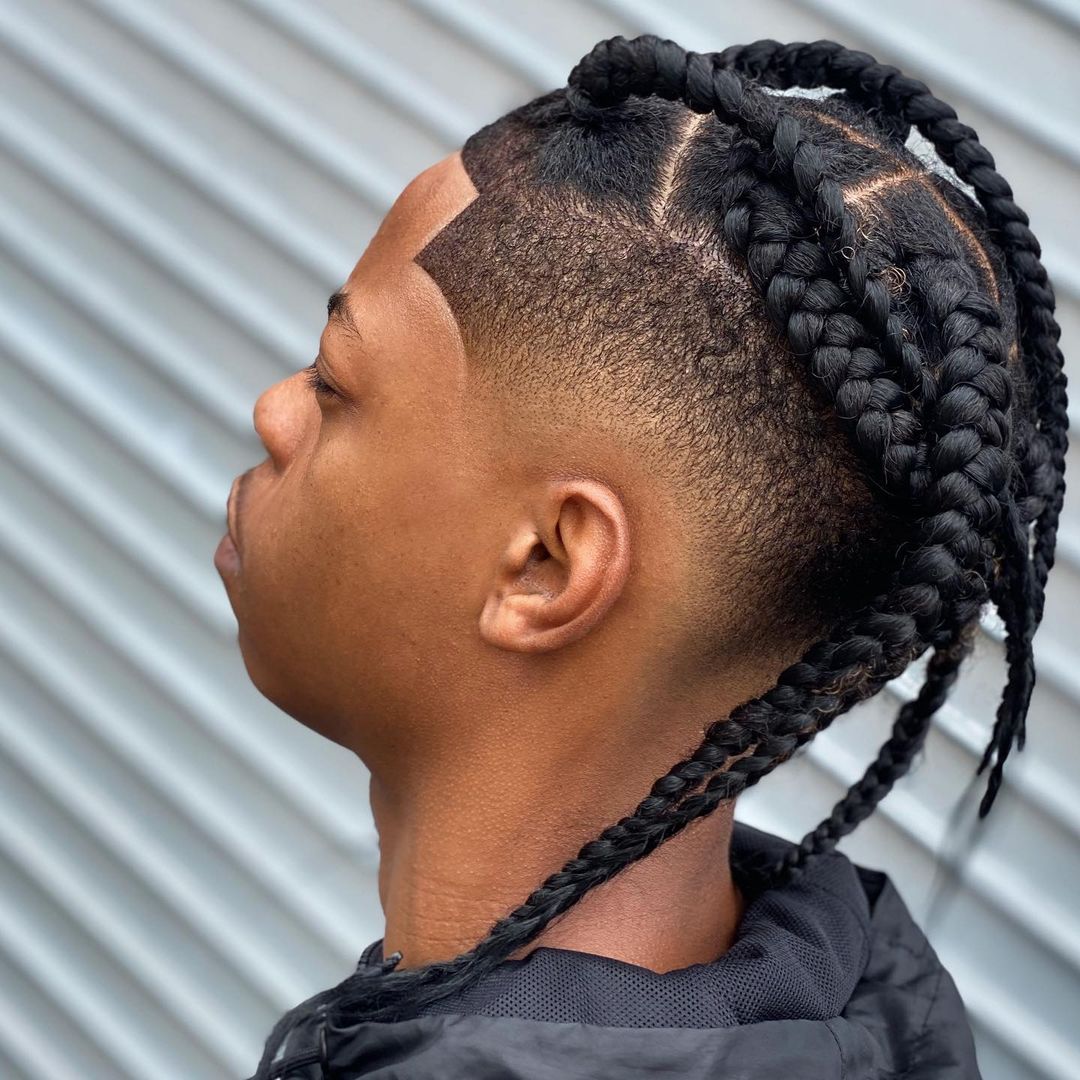 4. Box Braids For Men
Box braids get their name from the square sections in the scalp. Box braids hang loose in contrast to cornrows that are connected to the scalp. Longer box braids can be pulled back into ponytails or buns.
Box braids can be plaited into any width or worn at any length. Some women and men, including Travis Scott, add synthetic or natural hair for added length and fullness.
The boxes aren't always box shaped and can be triangles or any shape that works for the design.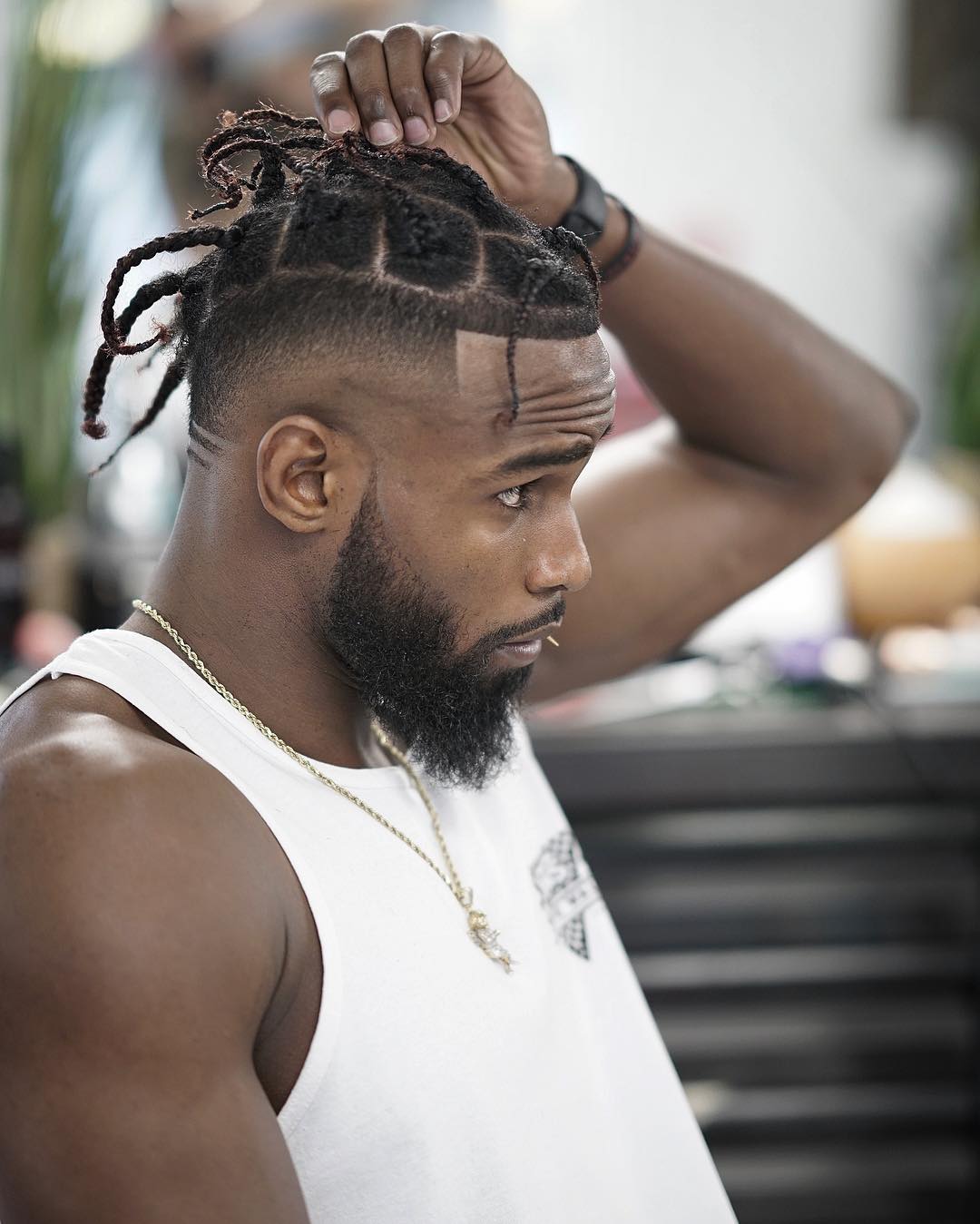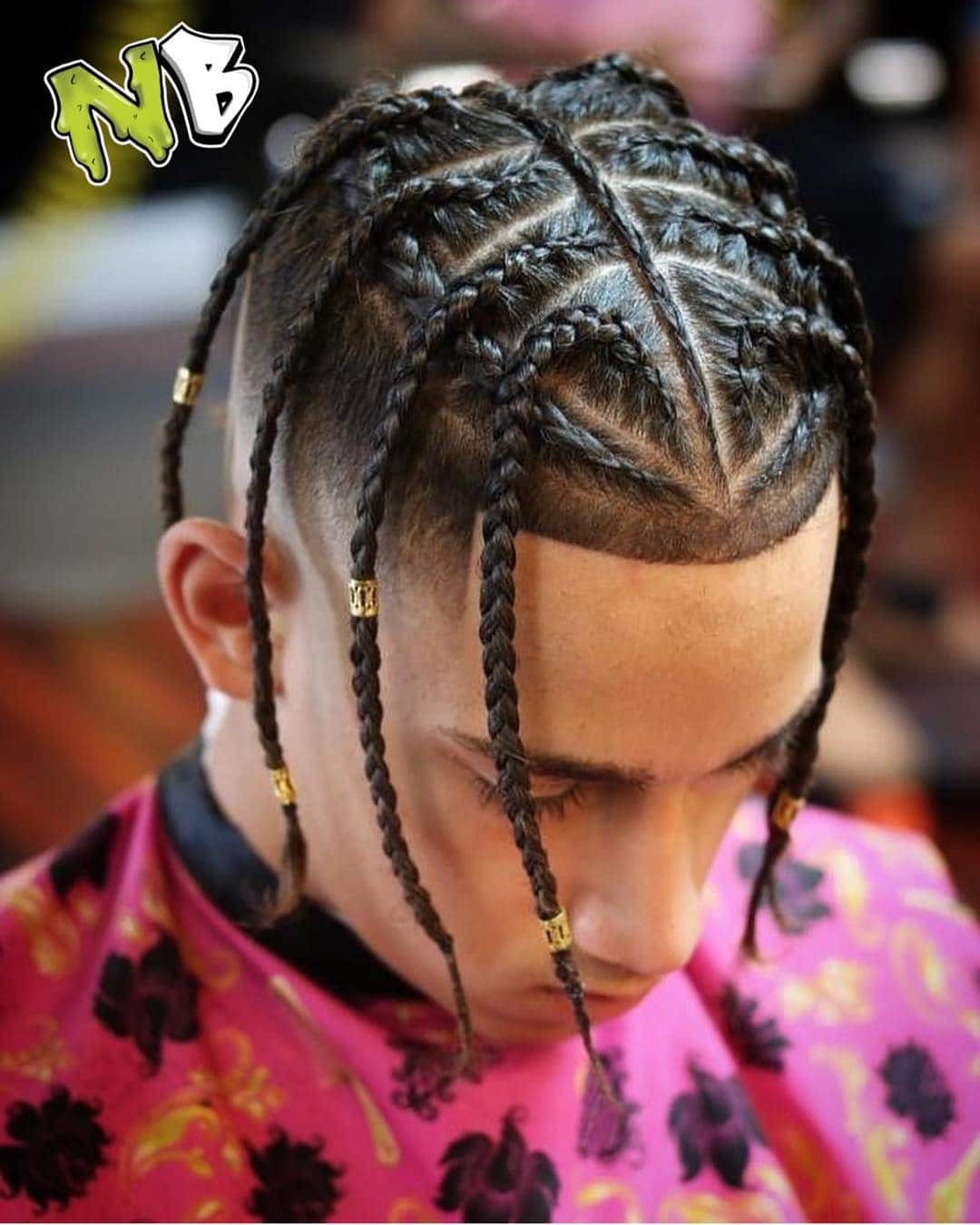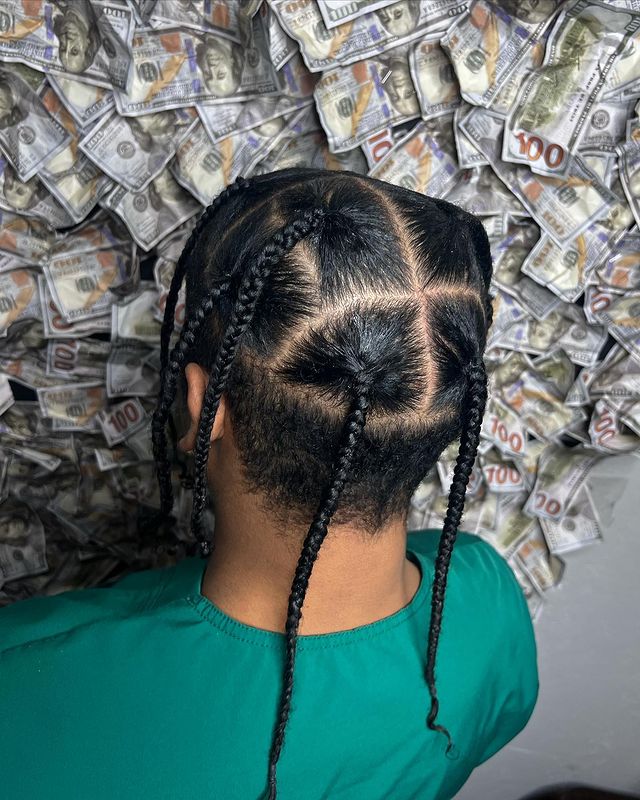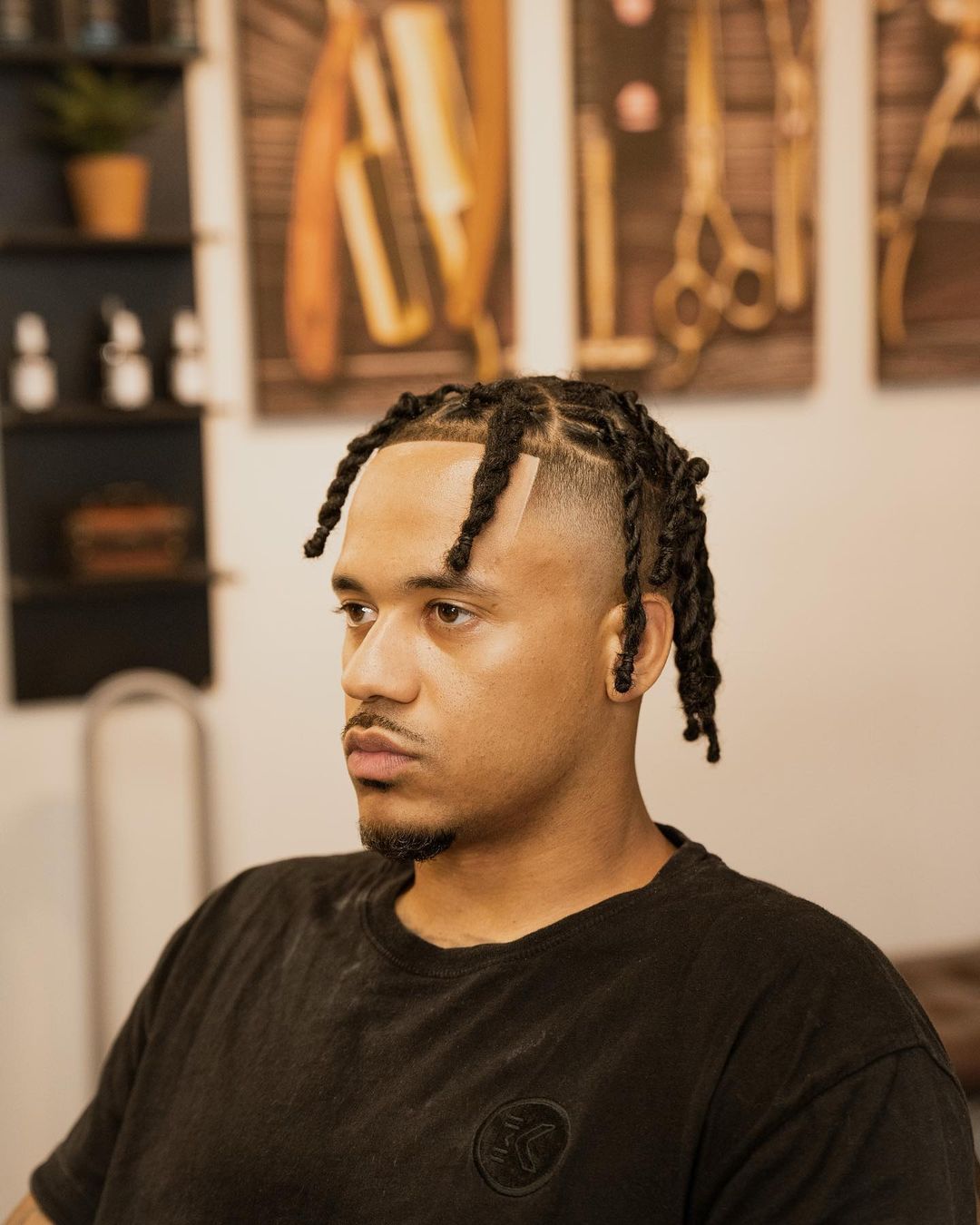 5. Two Braids for Men
Little girls wear pigtails. Men wear two braid styles. These can be long Native American-style plaits or shorter cornrows. The look gets more interesting with a fade, mix of braid types, or a curved or zig-zag part.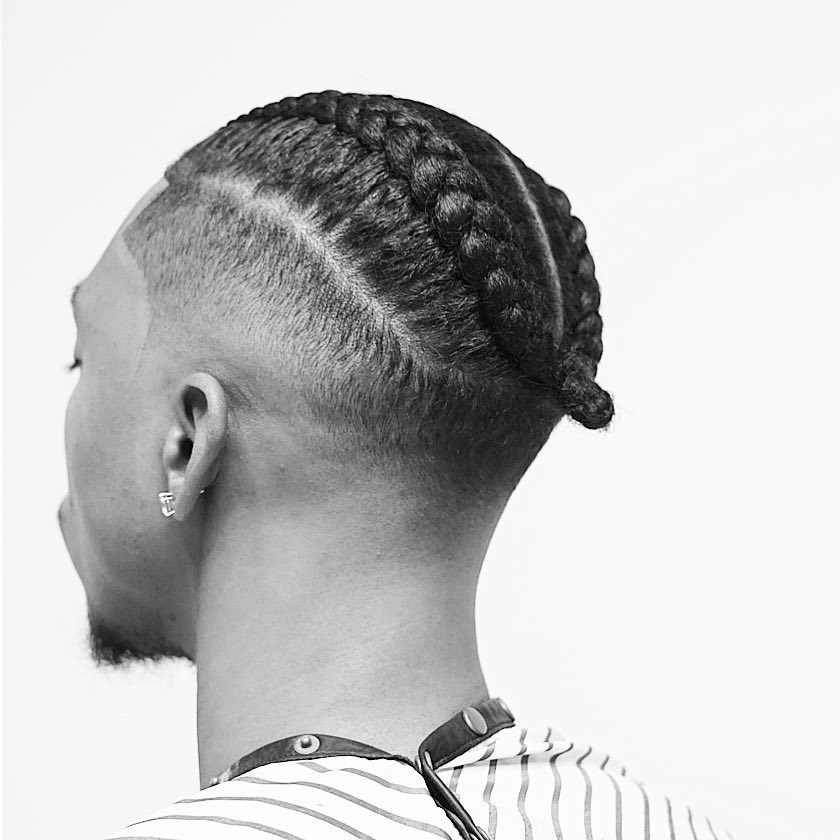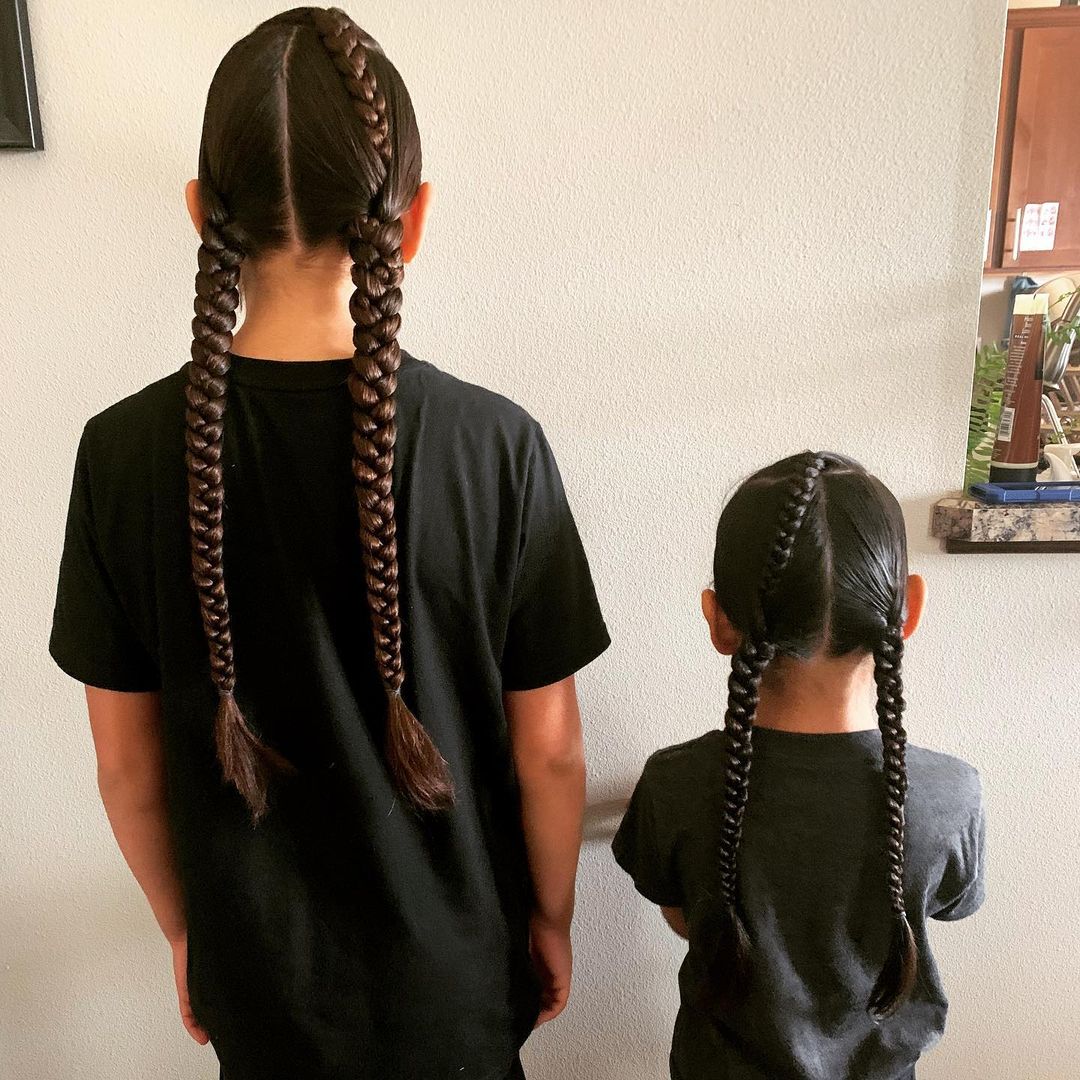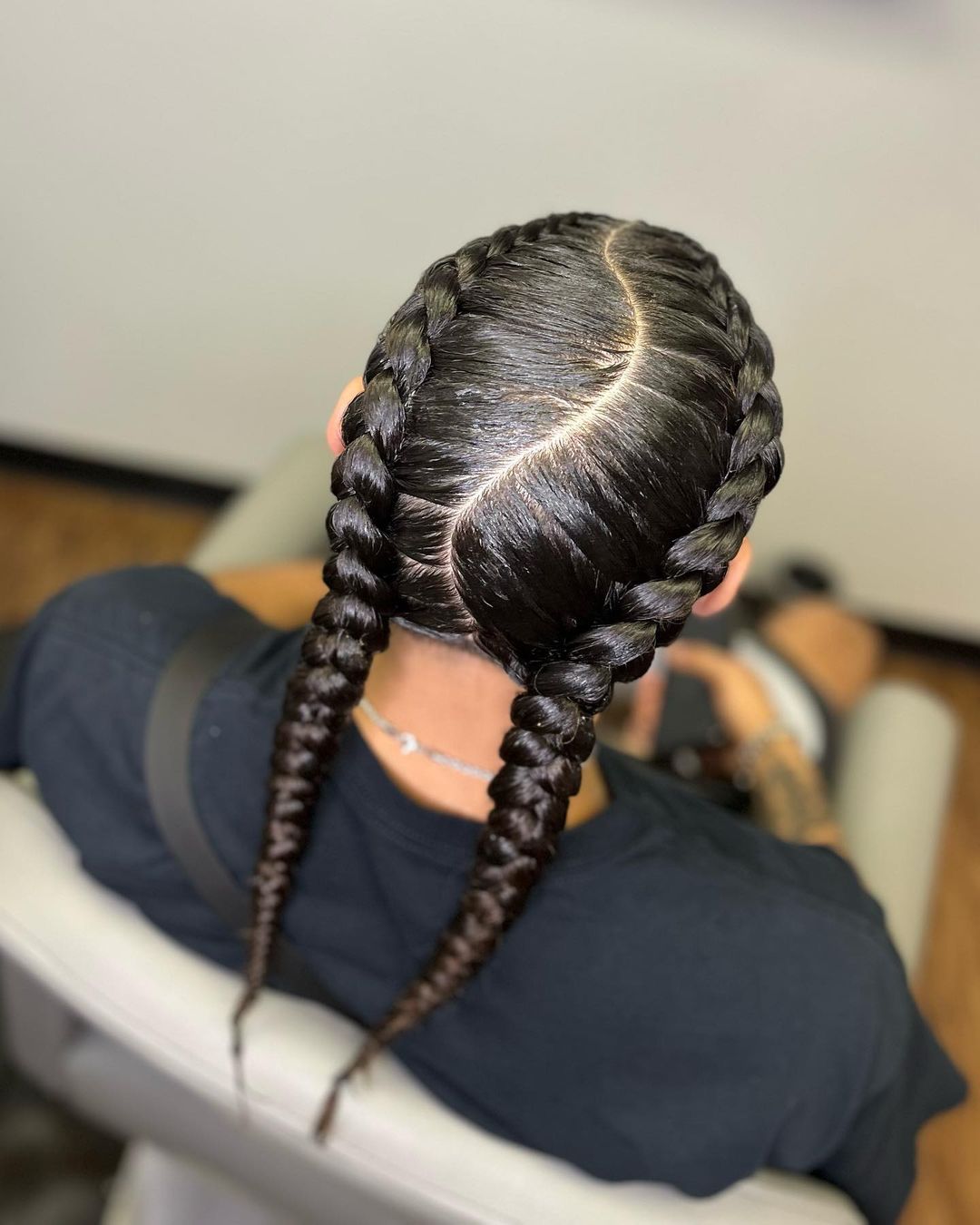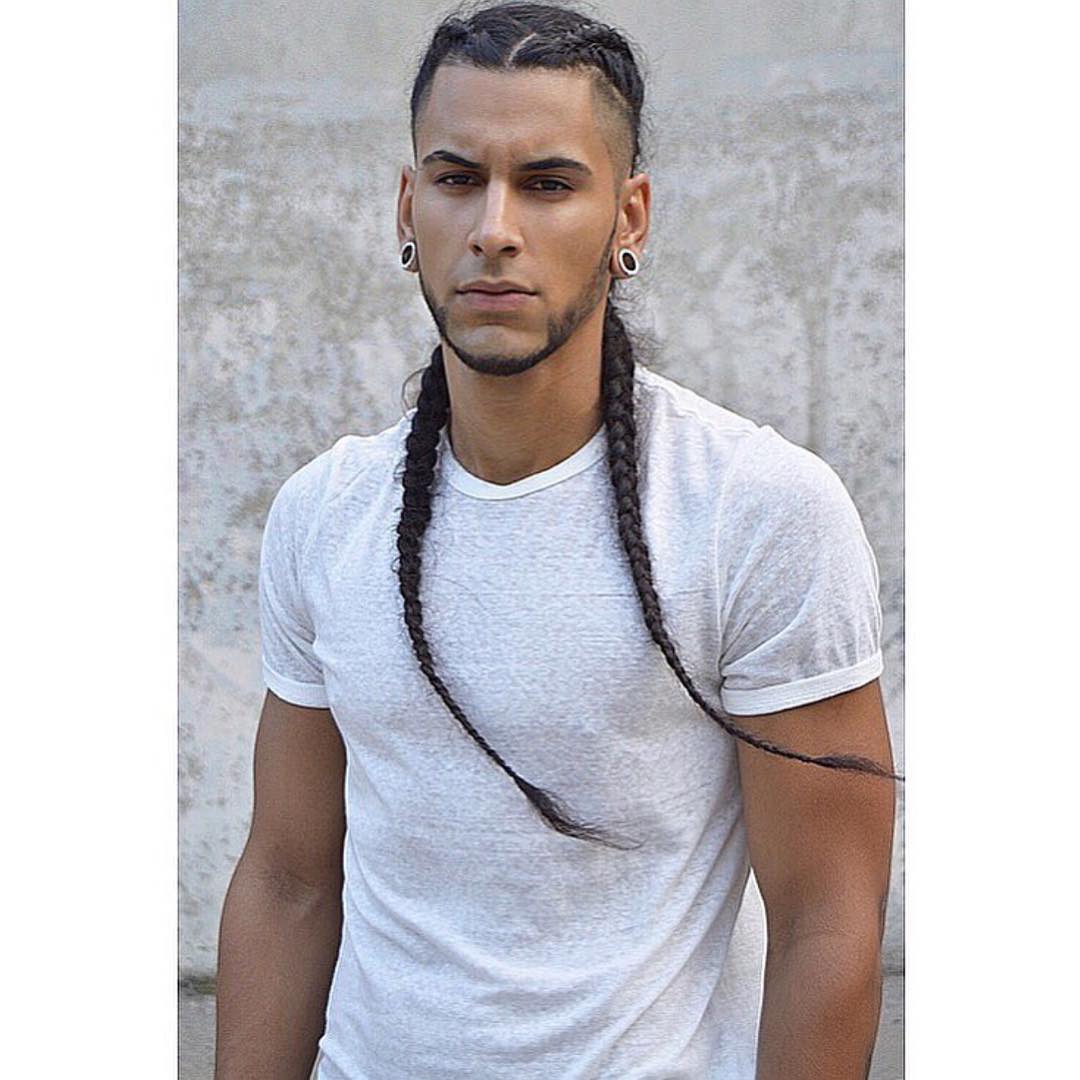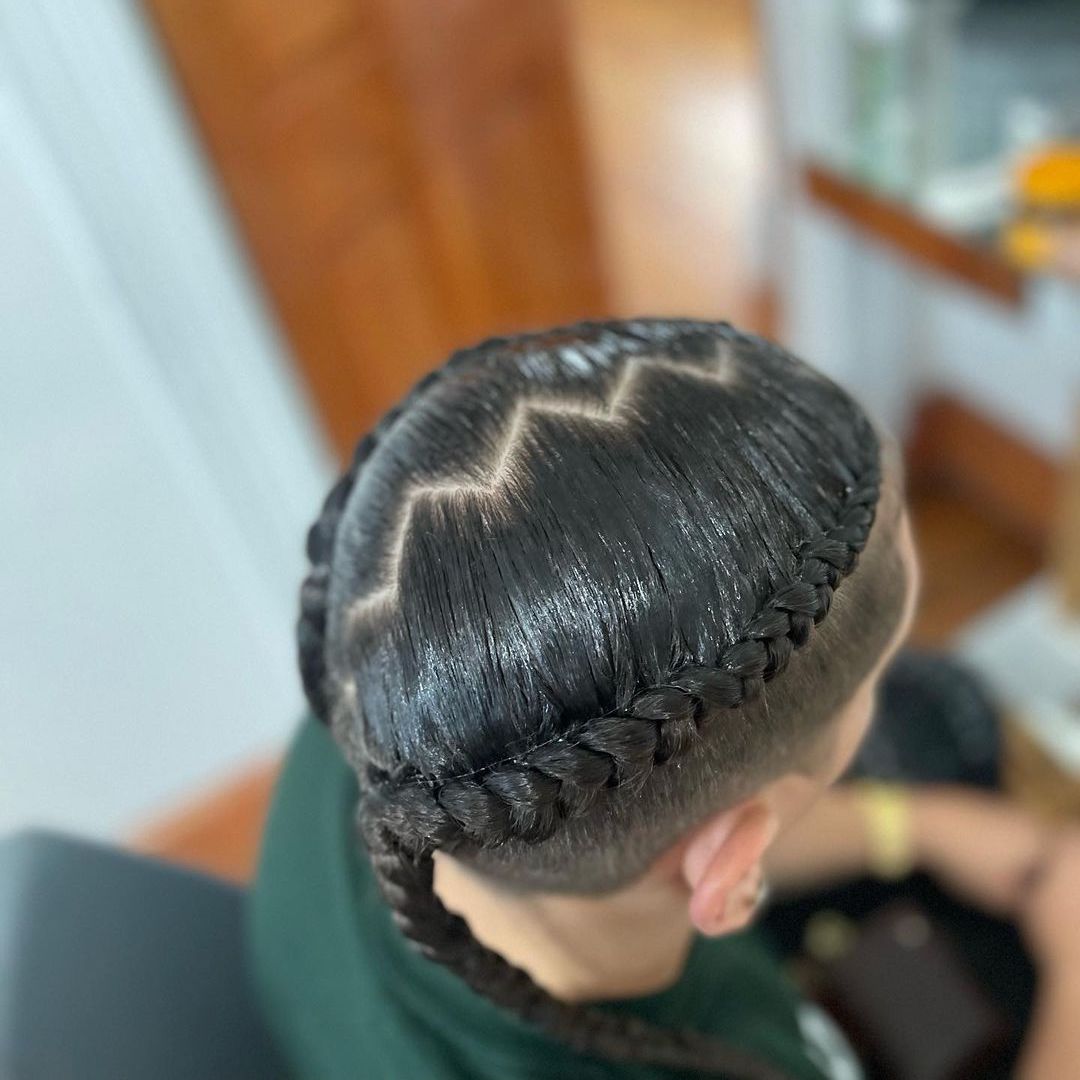 6. Zig Zag Braids
Zigzag braids feature angled instead of straight lines. The zigzag can be in the part, boxes, and/or braids. A standout type of zigzag braids is the elaborate fishbone pattern.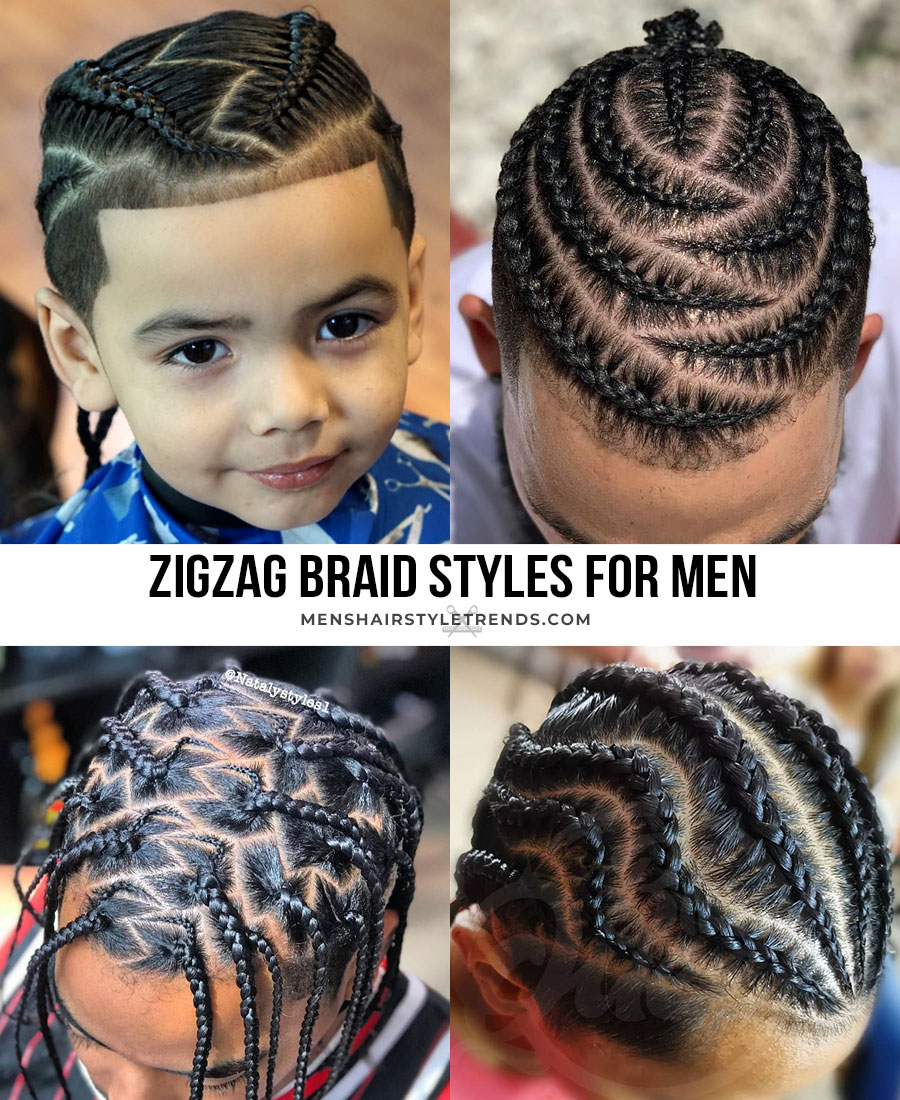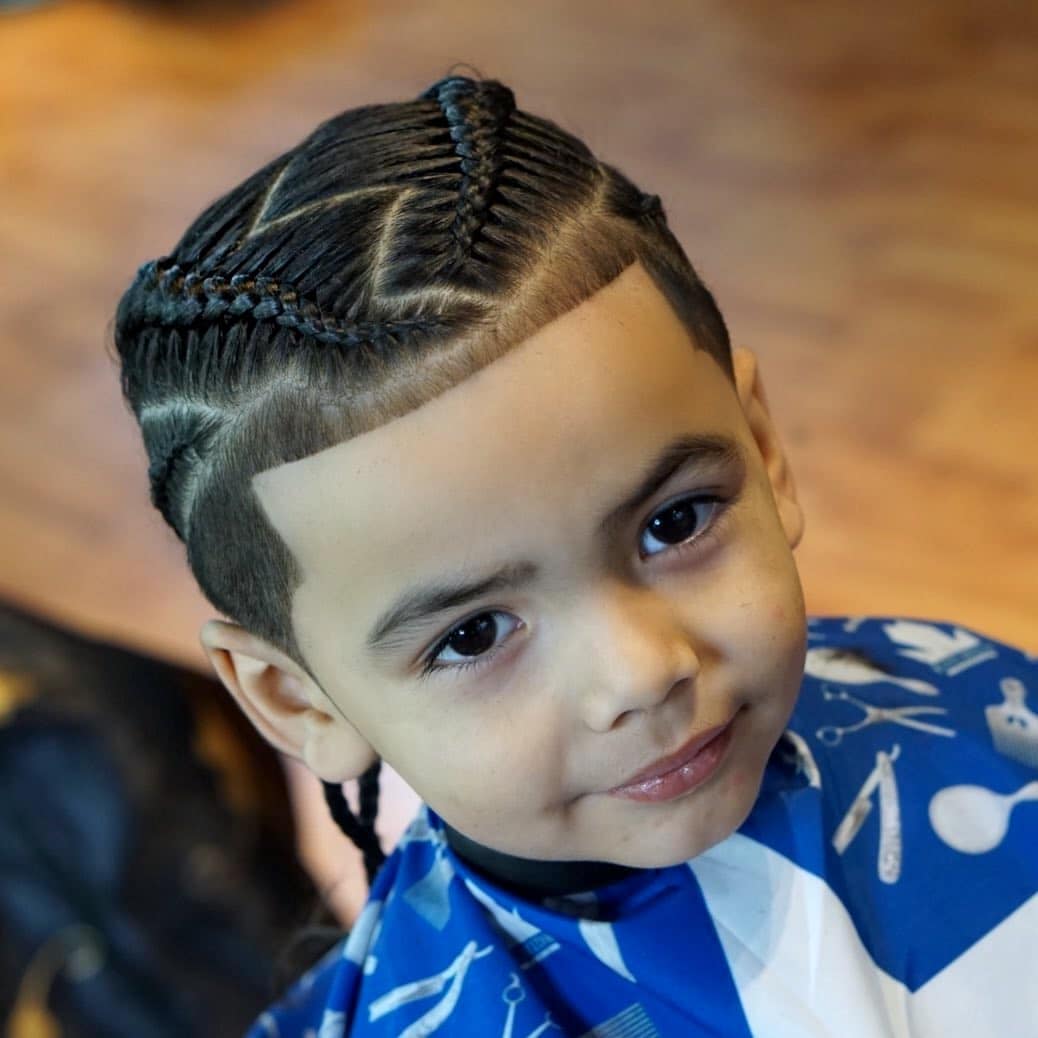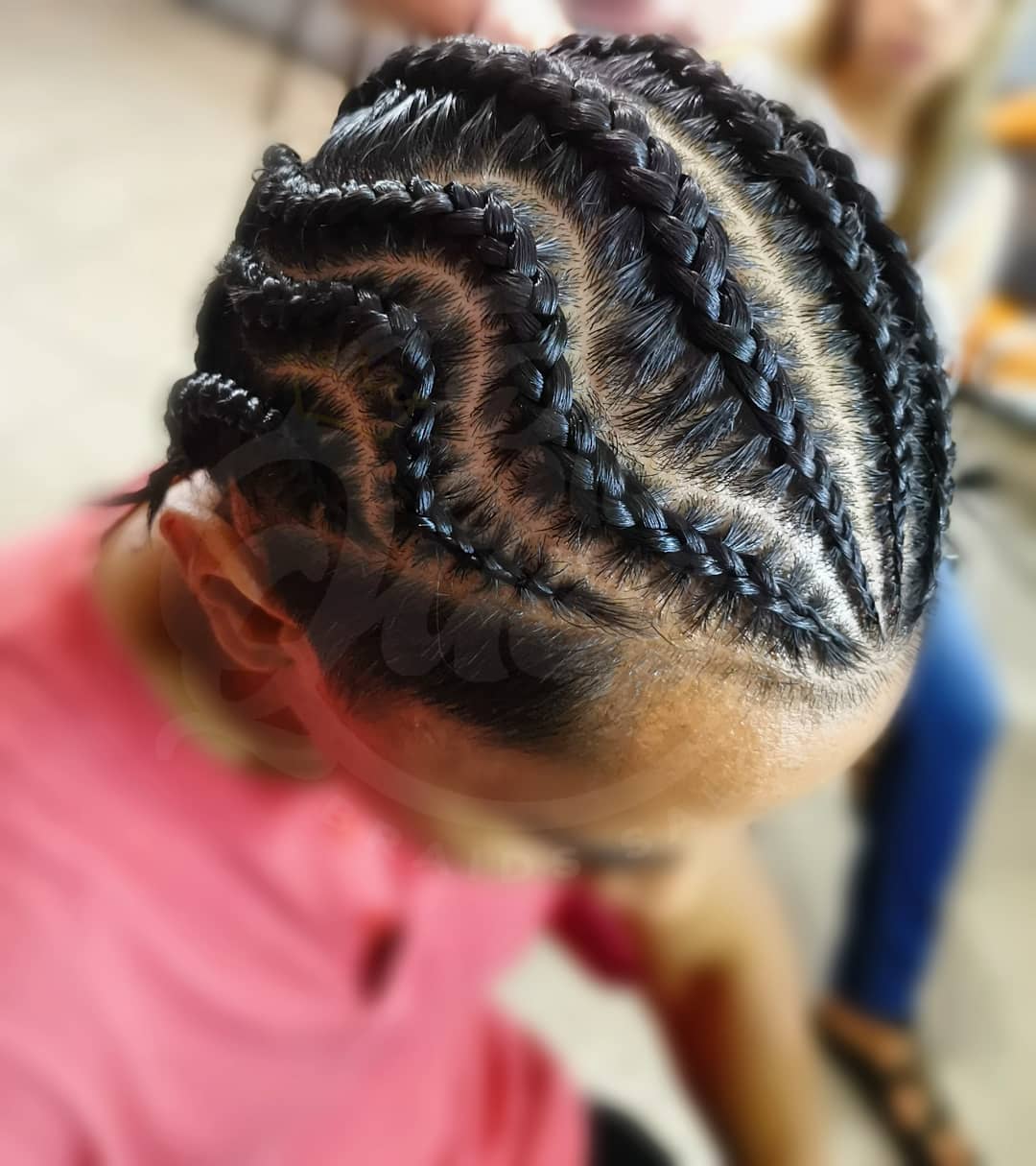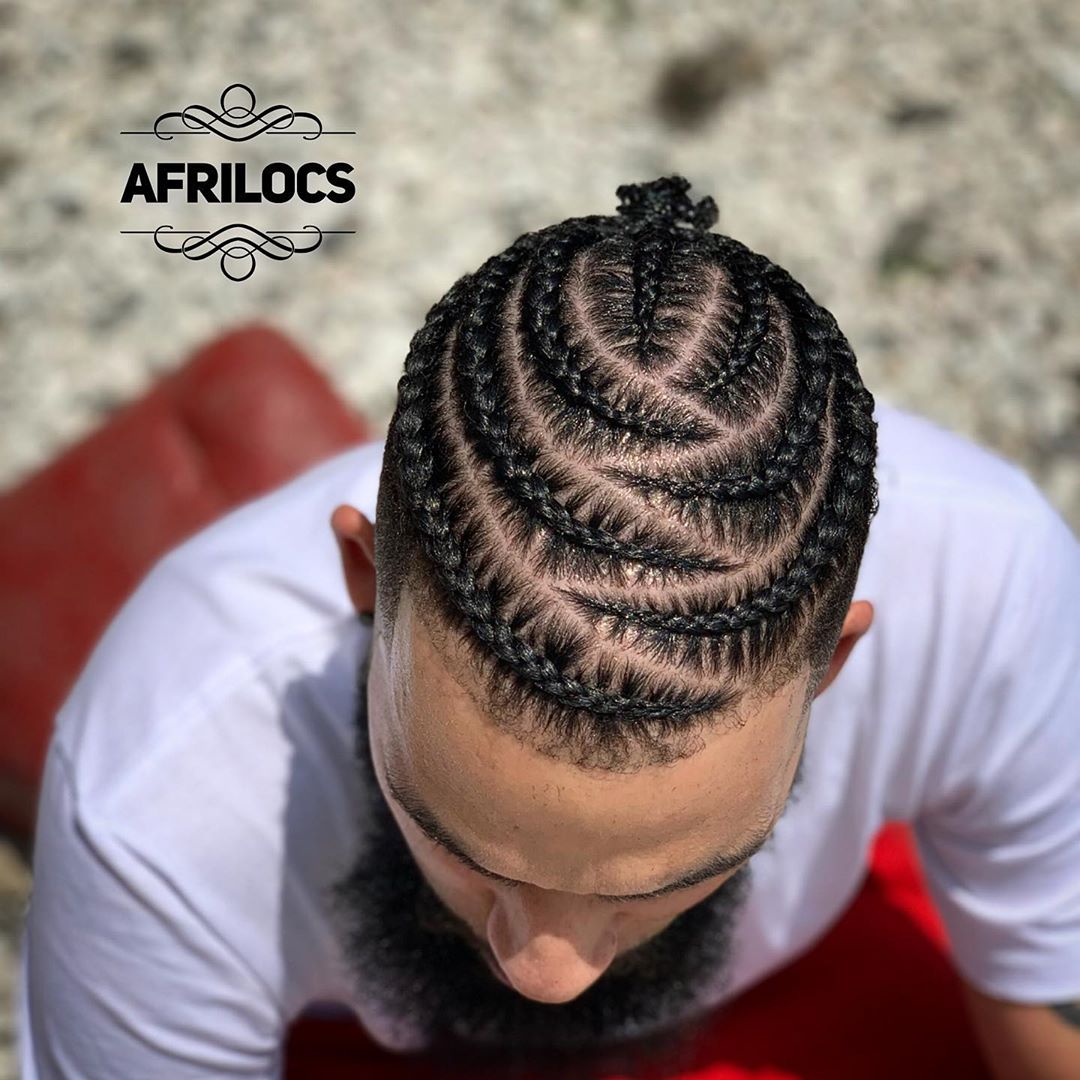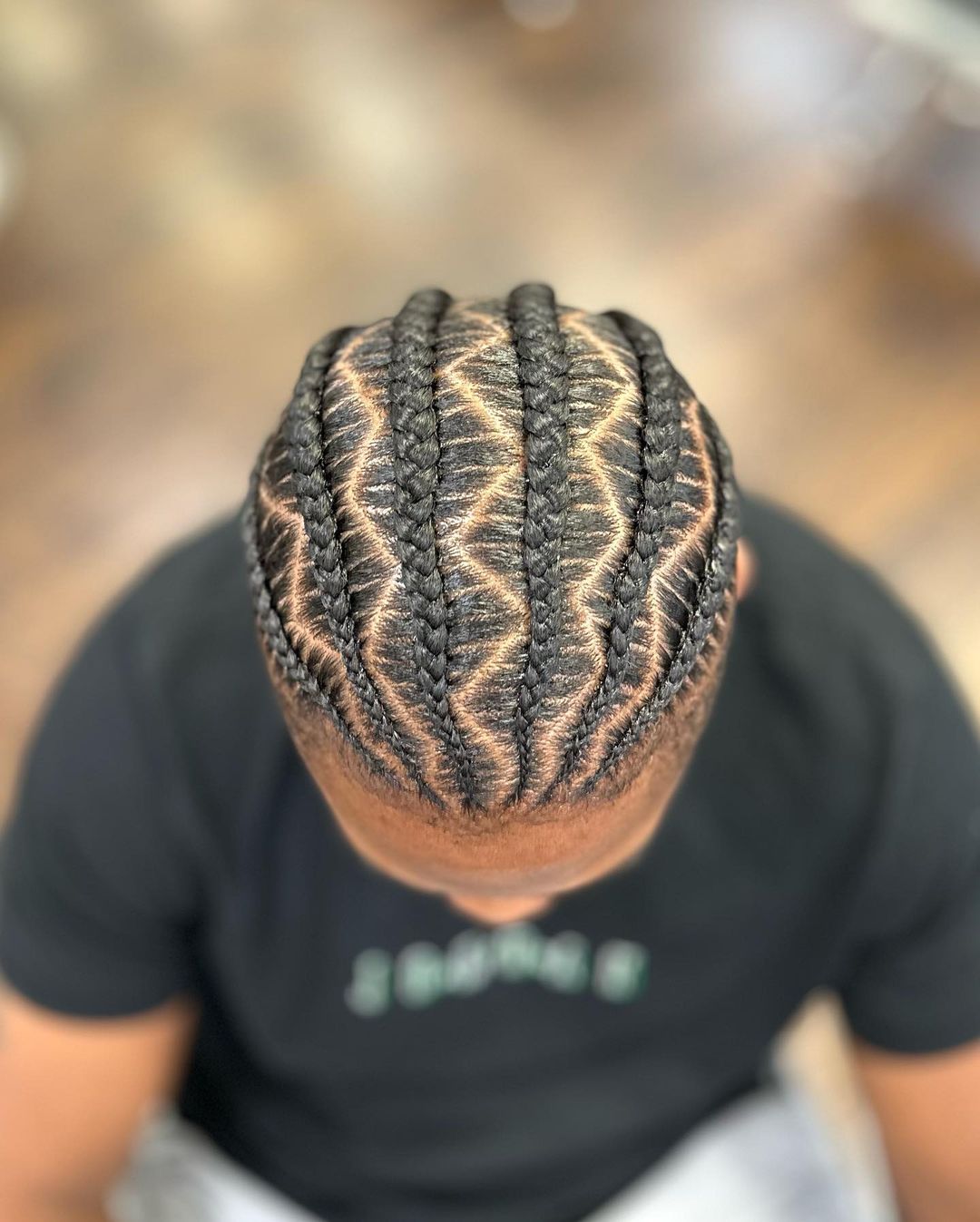 7. Man Bun Braids
Braid hairstyles for men tend to be for long hair. If you don't want all that length hanging loose, try one of these cool man bun braids.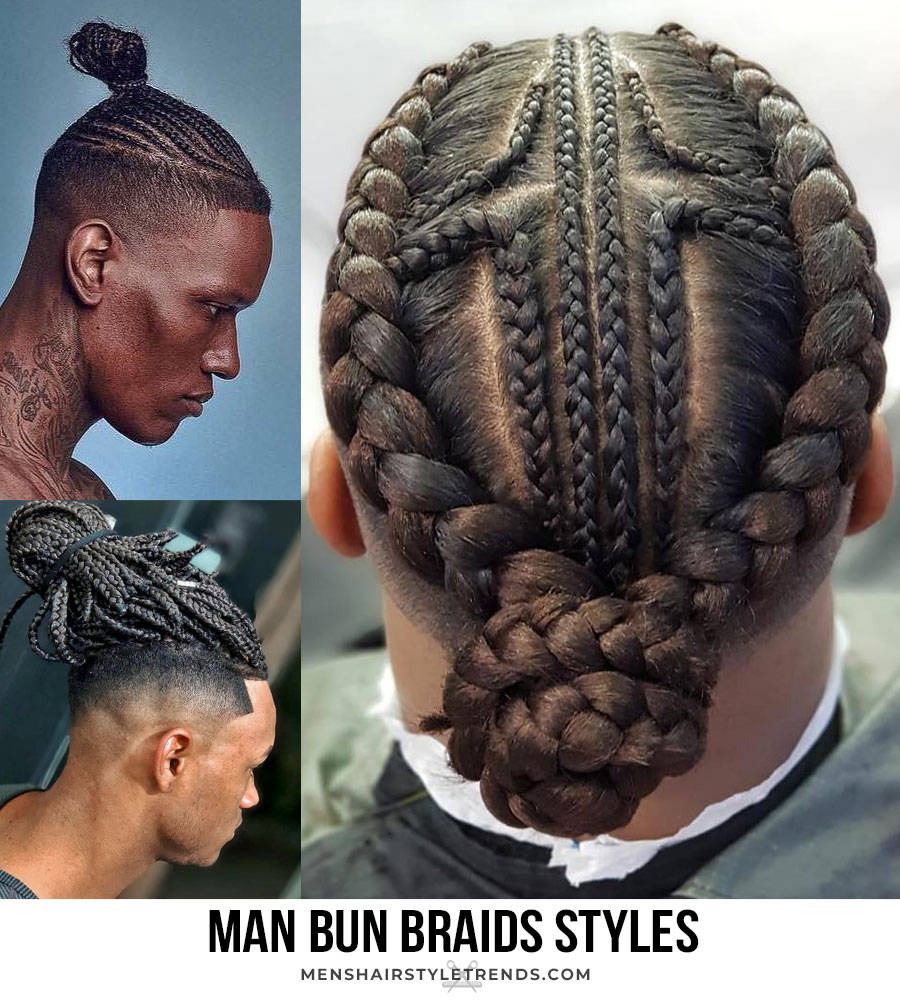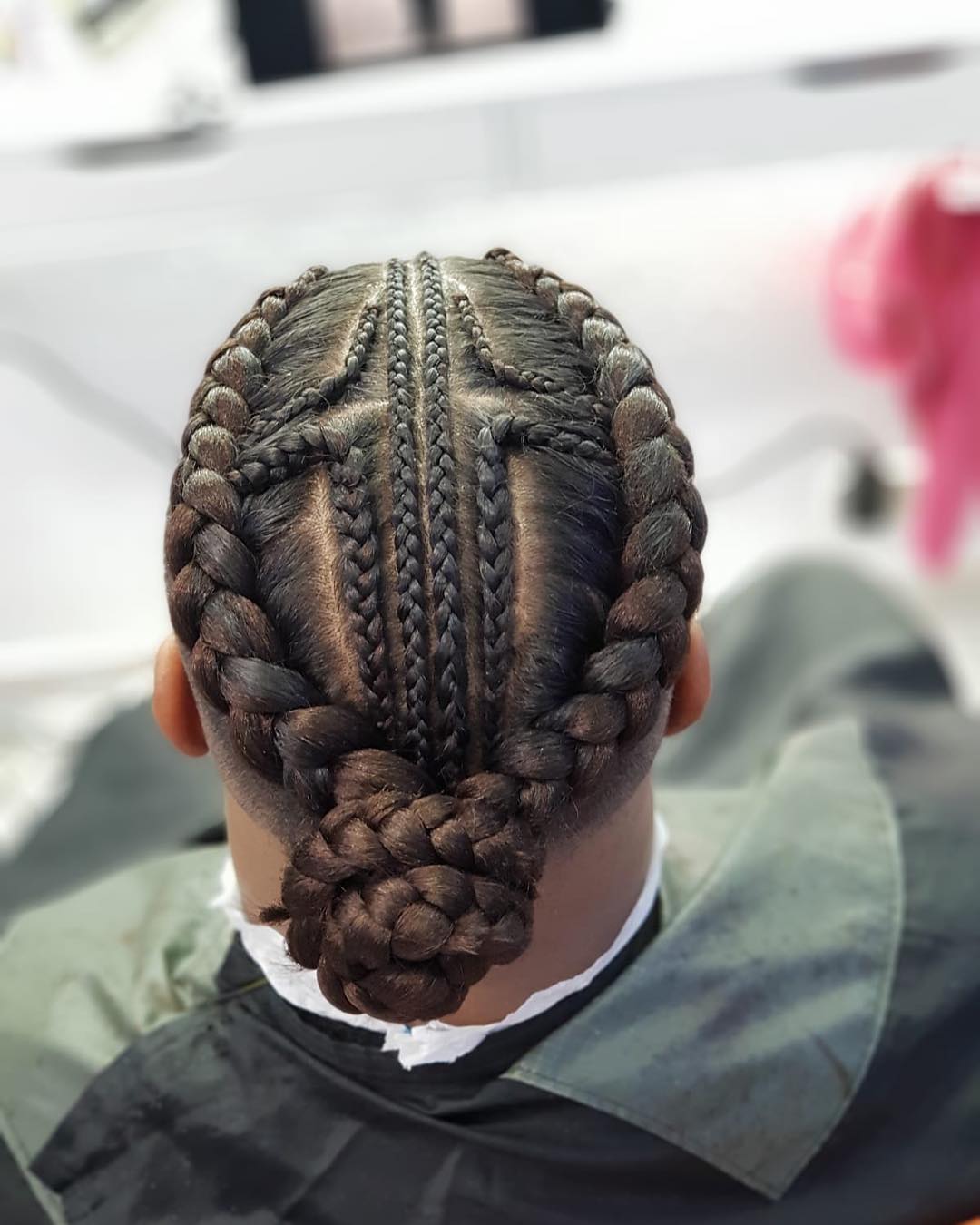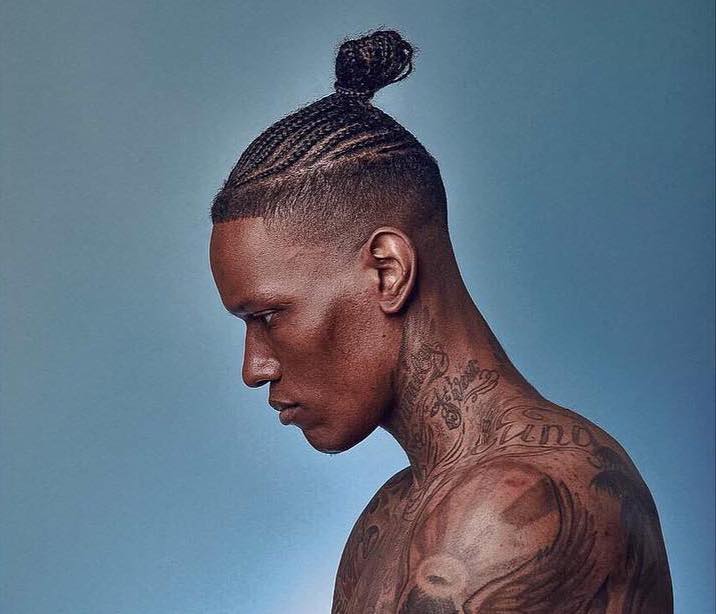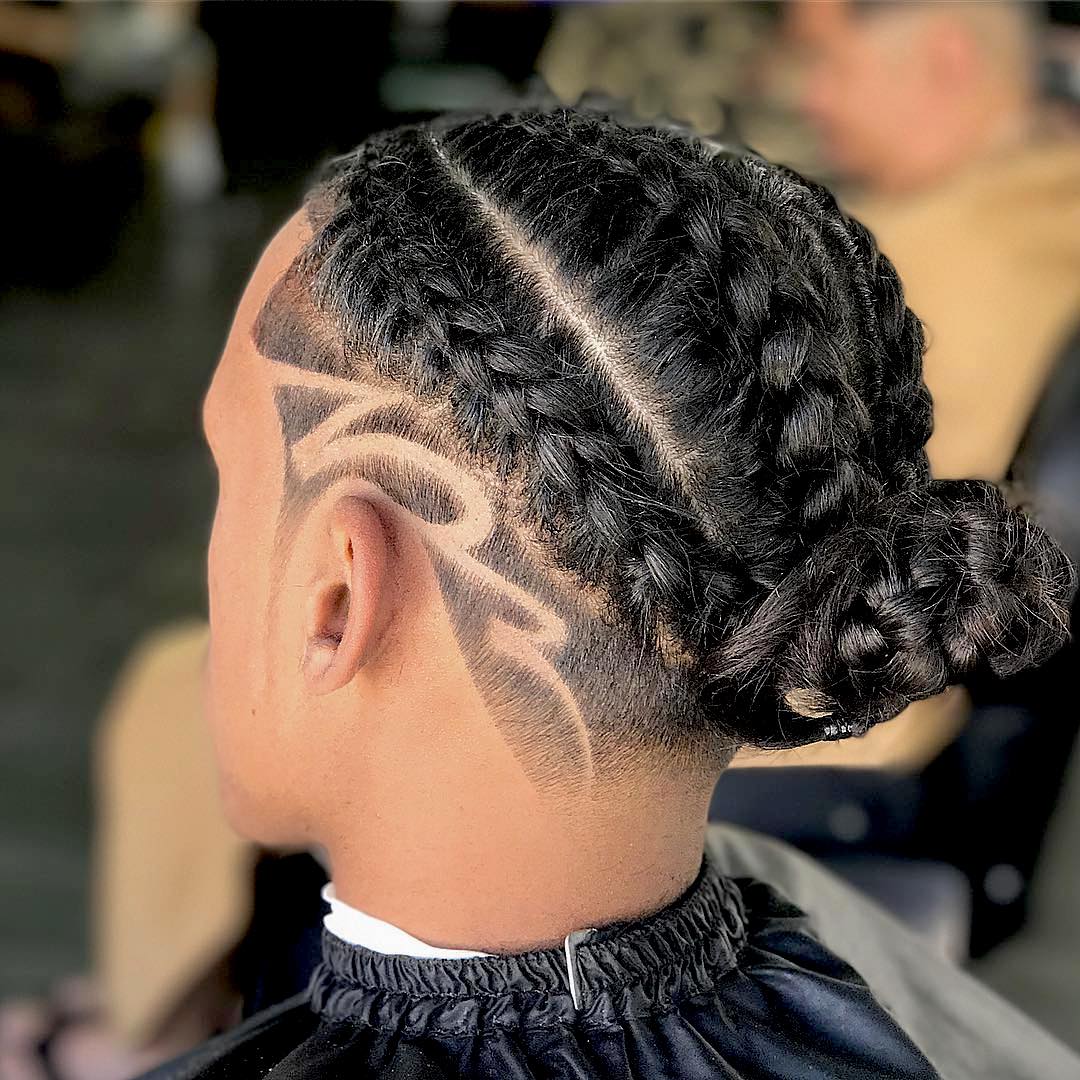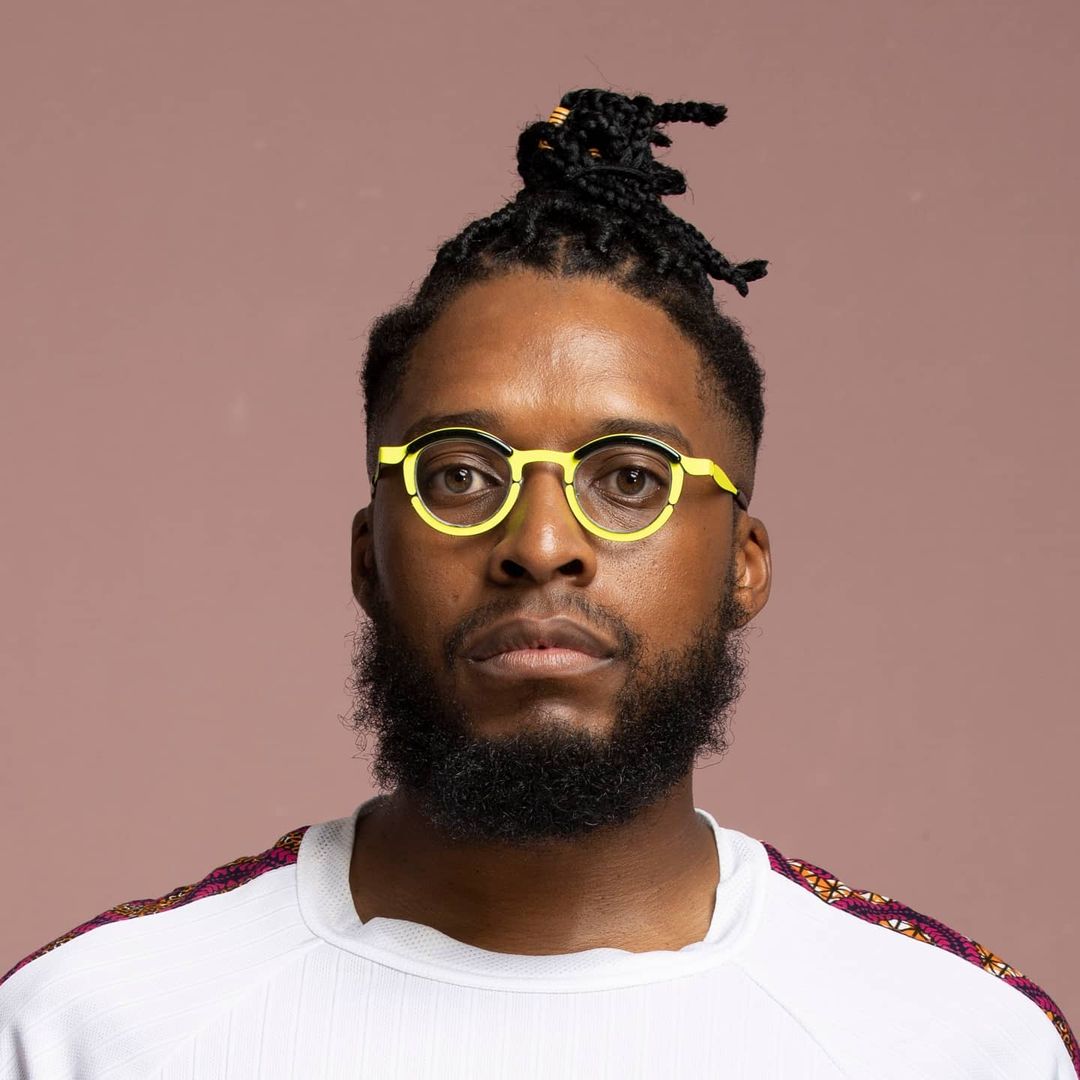 8. Braided Dreads Hairstyles for Men
This cool look combines two hairstyles into one. Fine dreadlocks or microdreads can be braided to tie hair back and add another layer of texture. Braided dread styles work for shorter as well as long hair.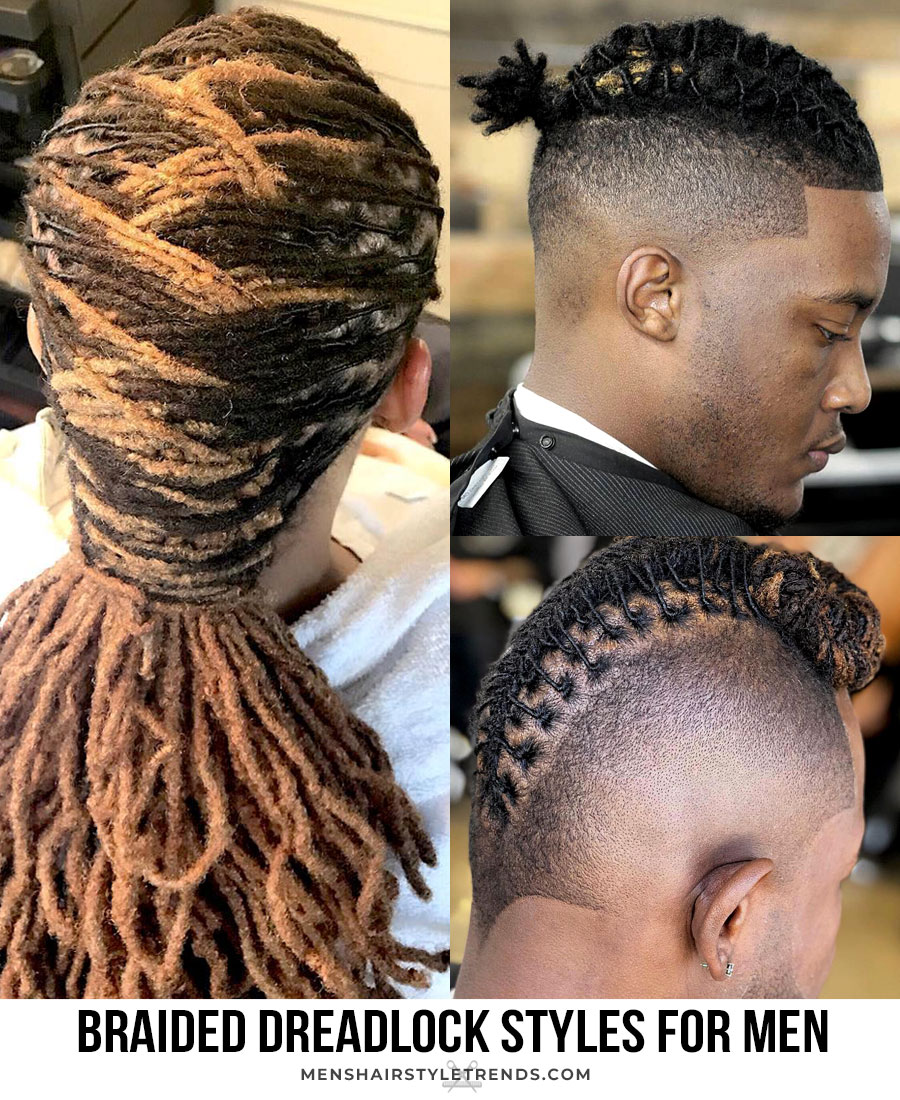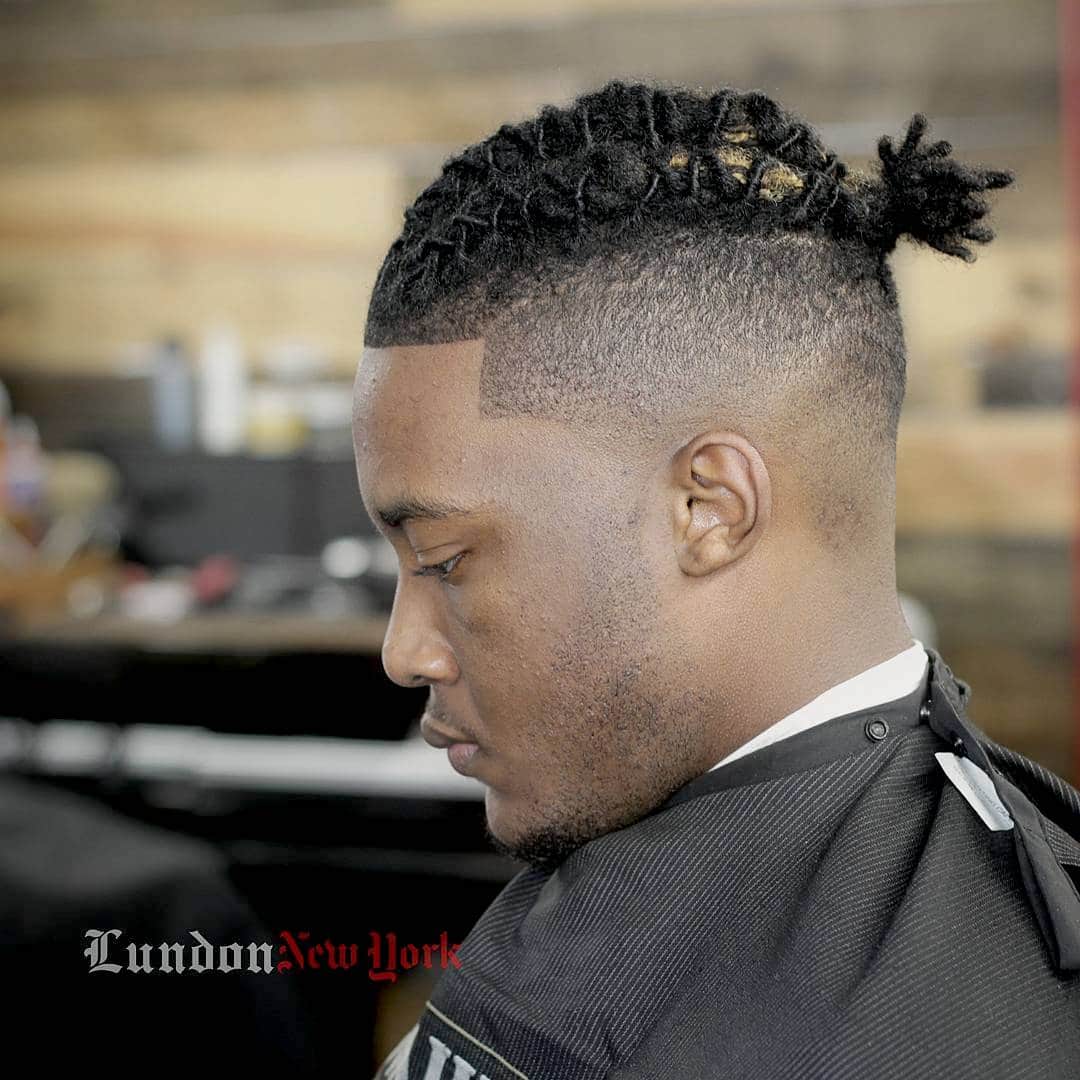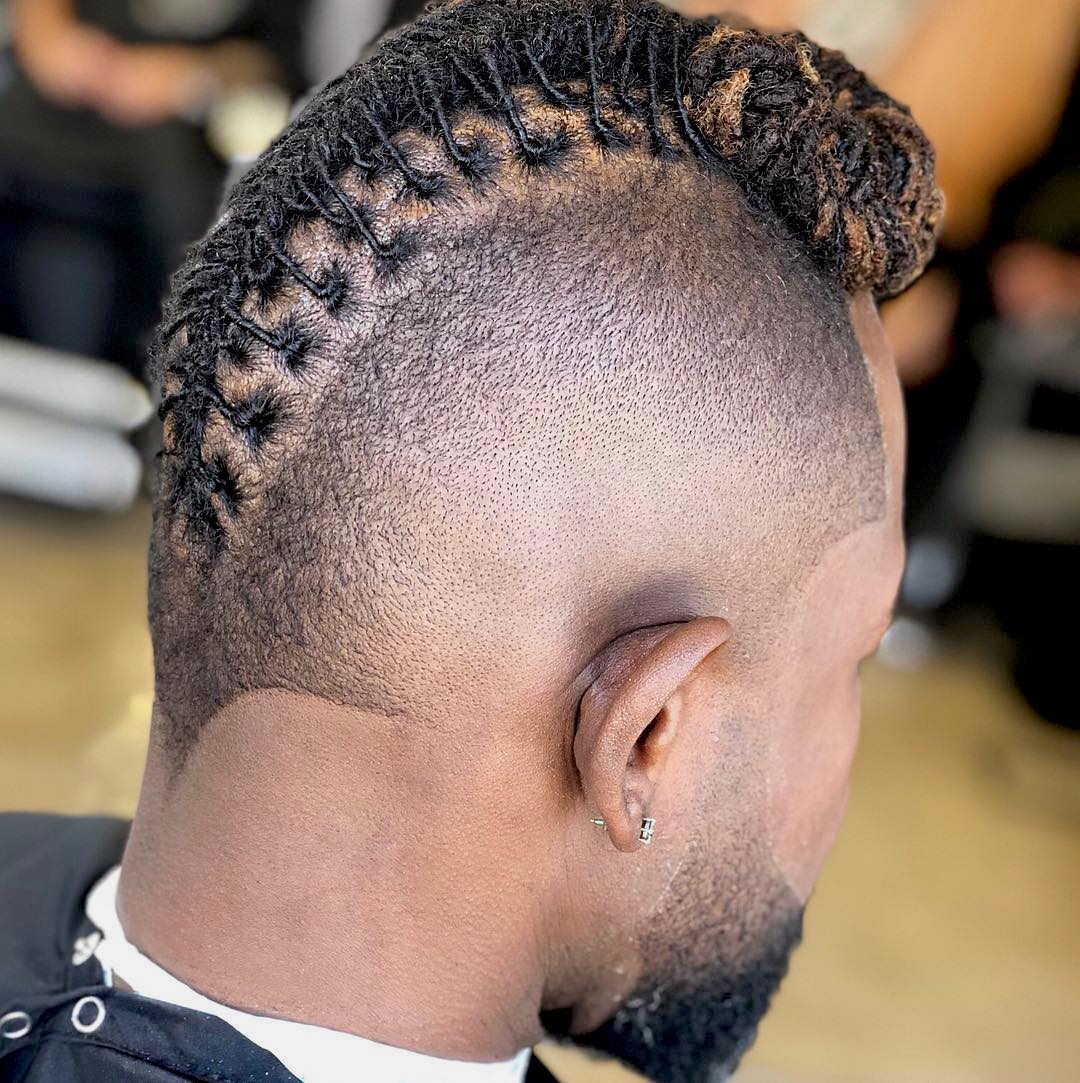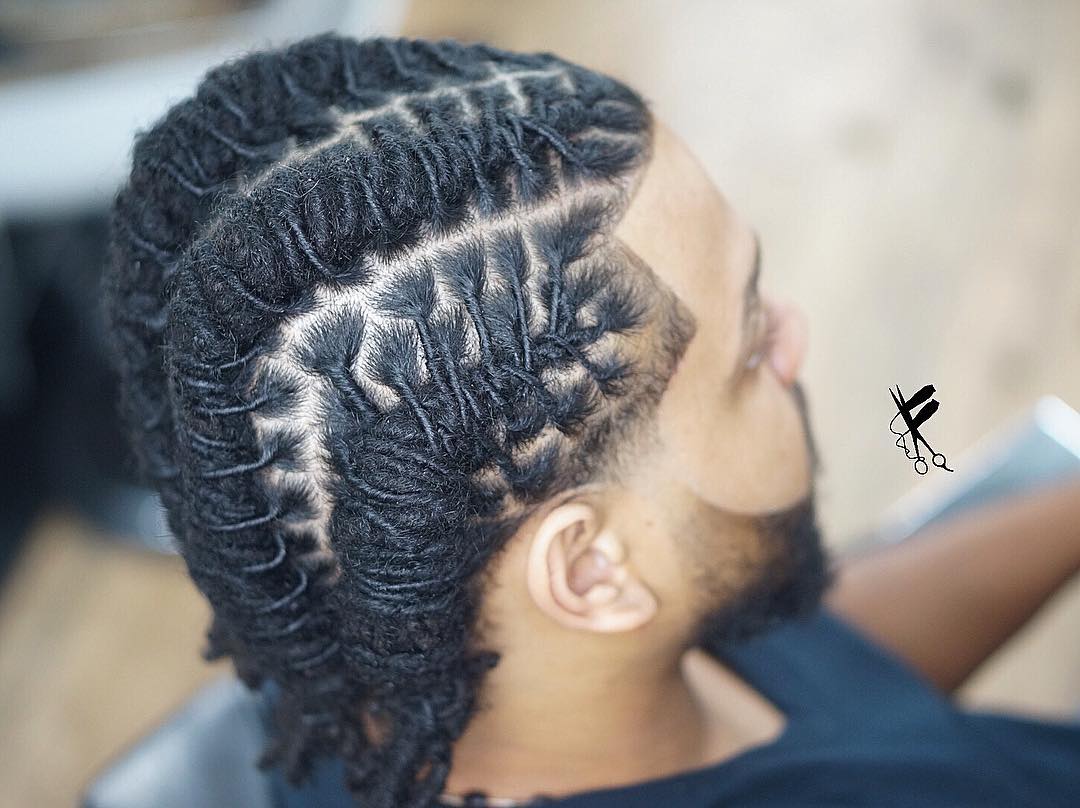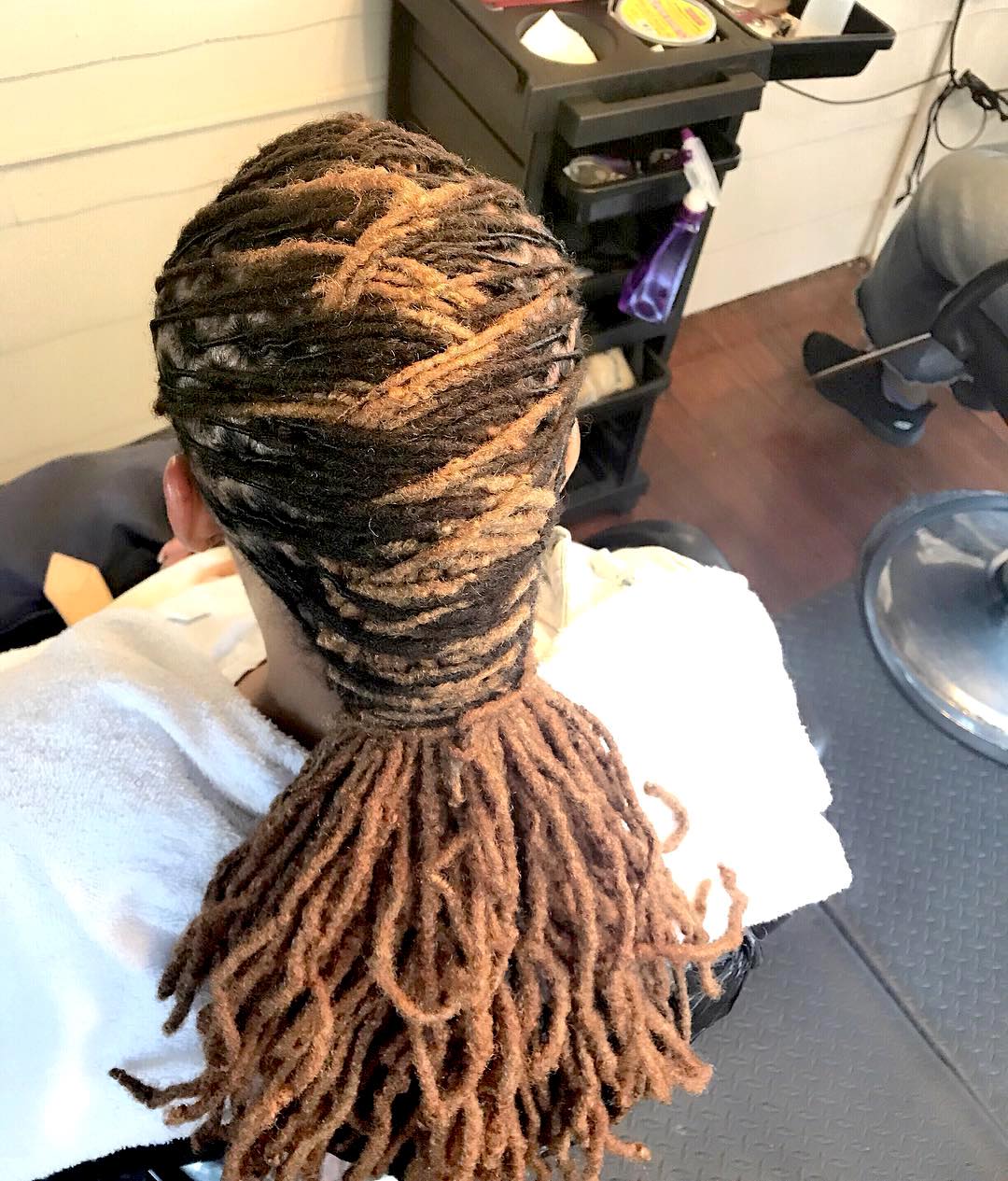 9. Cool Braids for Men
These are some standout ways to wear braids for men with elaborate and eye-catching designs.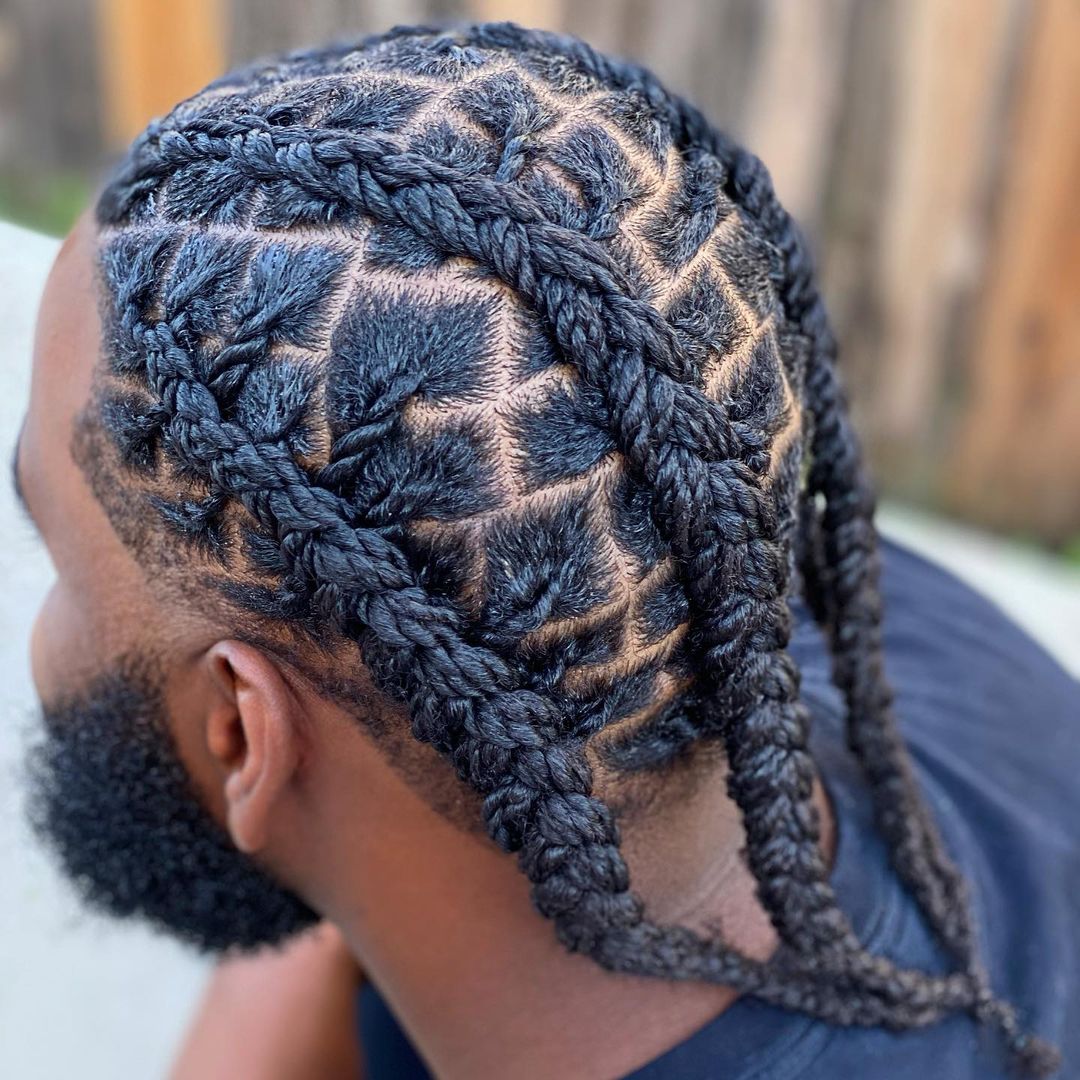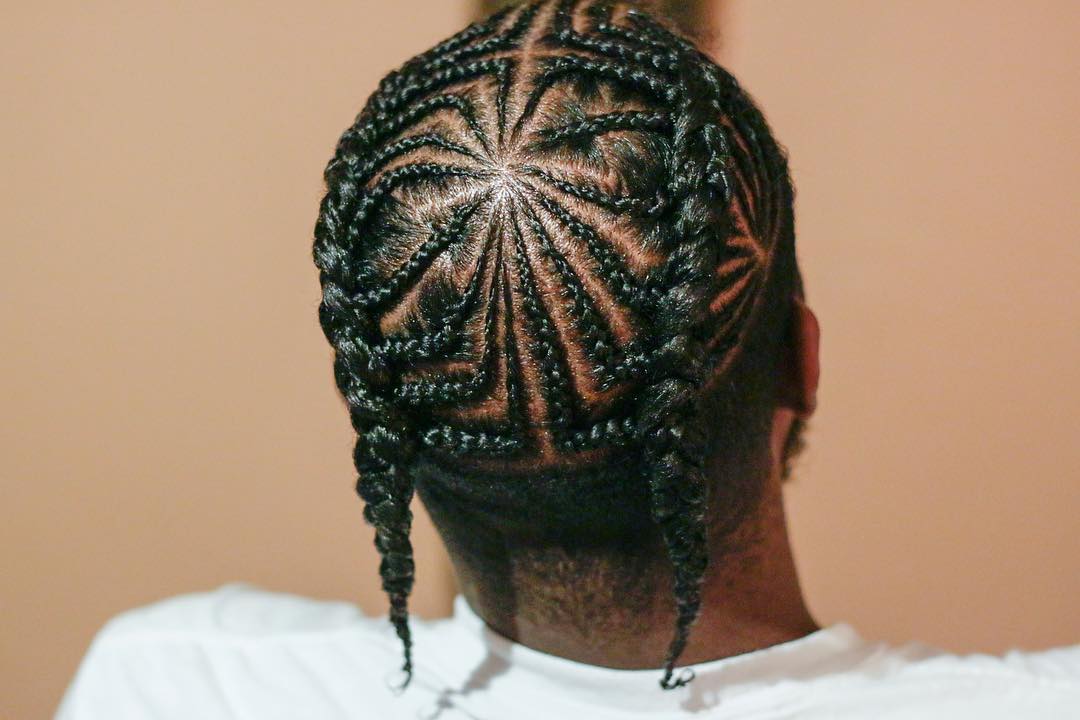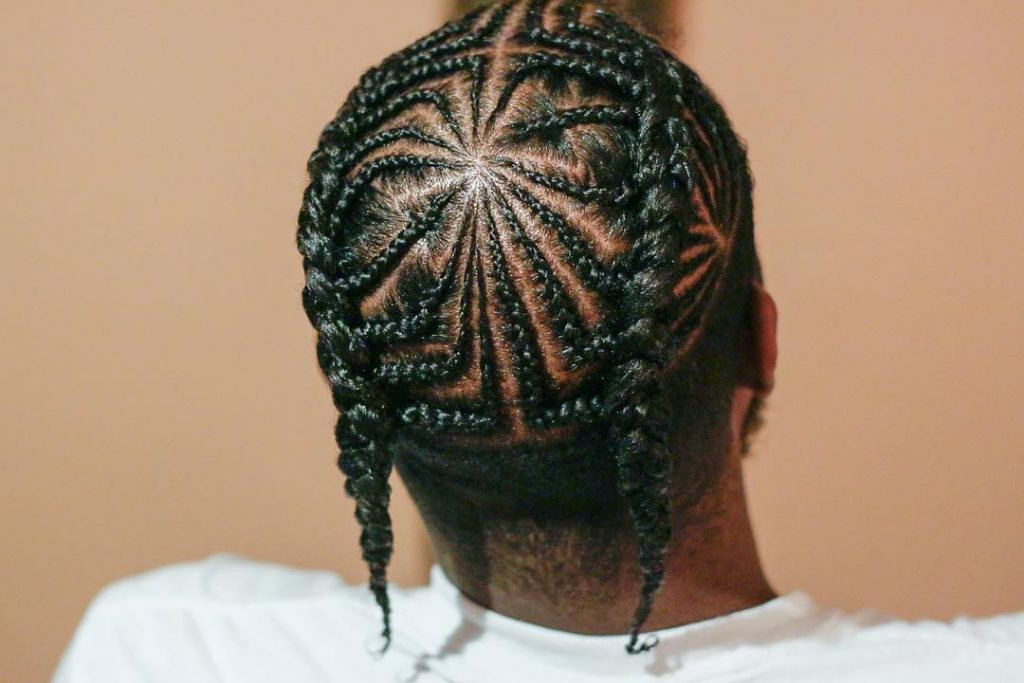 These firework braids radiate out from the crown is a unique way to wear this two-braid style.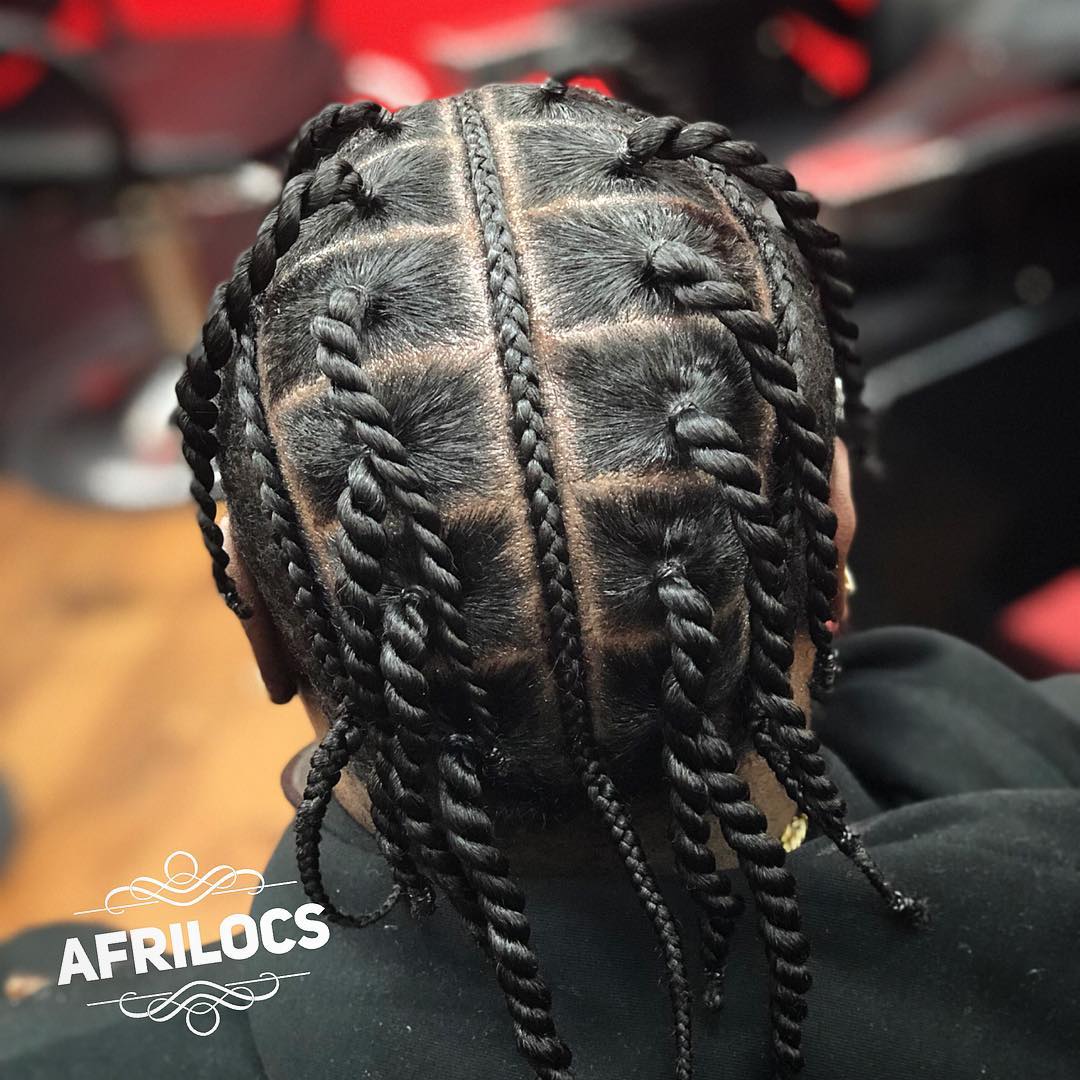 A braided part is genius and helps highlight the symmetrical geometry of this look.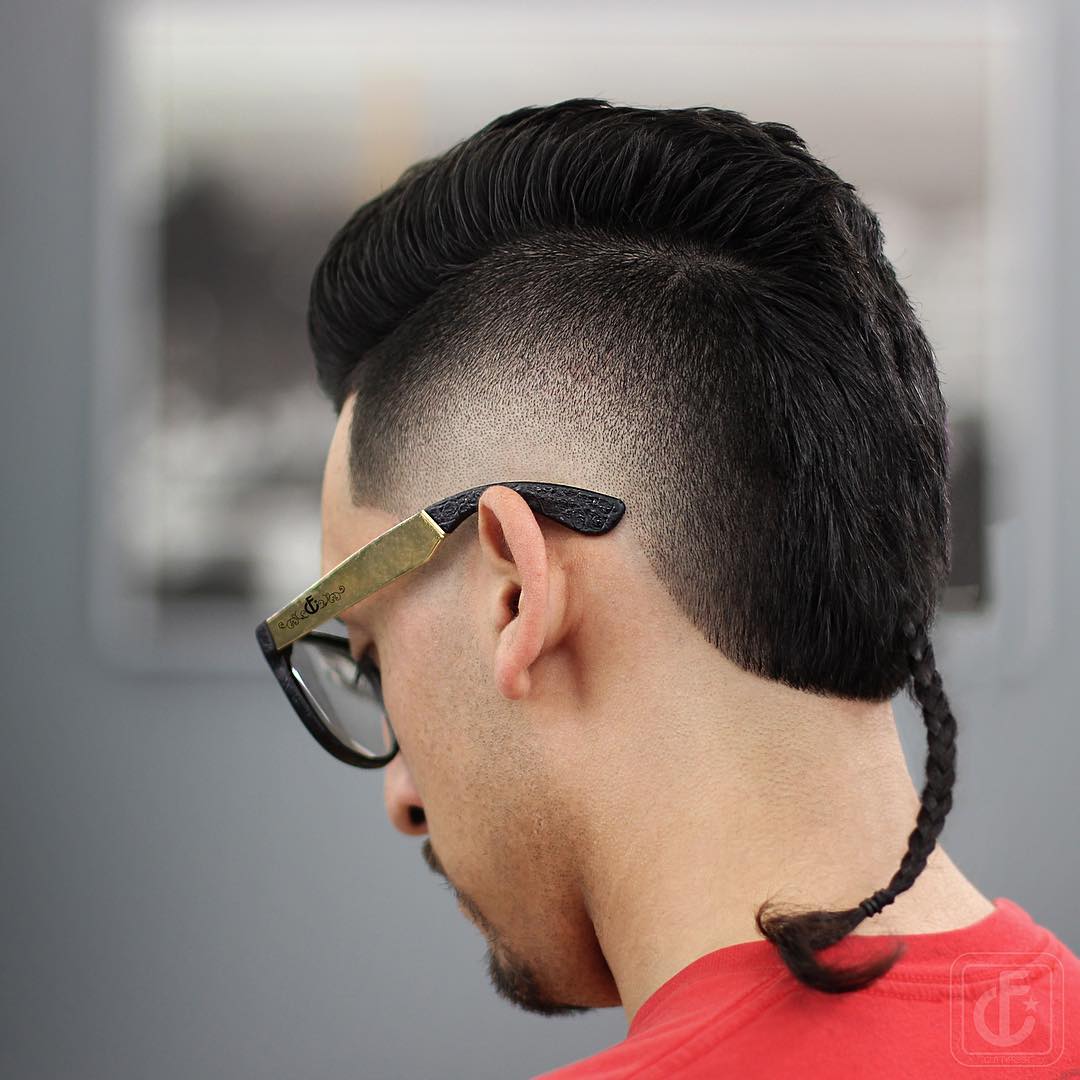 It's a simple braided rattail but makes a strong statement.
10. How To Get Braids For Men
Hair braids for men doesn't require long hair. Keep in mind that hair length and braid length won't be the same. For straight hair, the twisting and turning means braids will be shorter than hair worn down. The curlier hair is, the longer it will be when pulled taut, so braids may be longer than anticipated.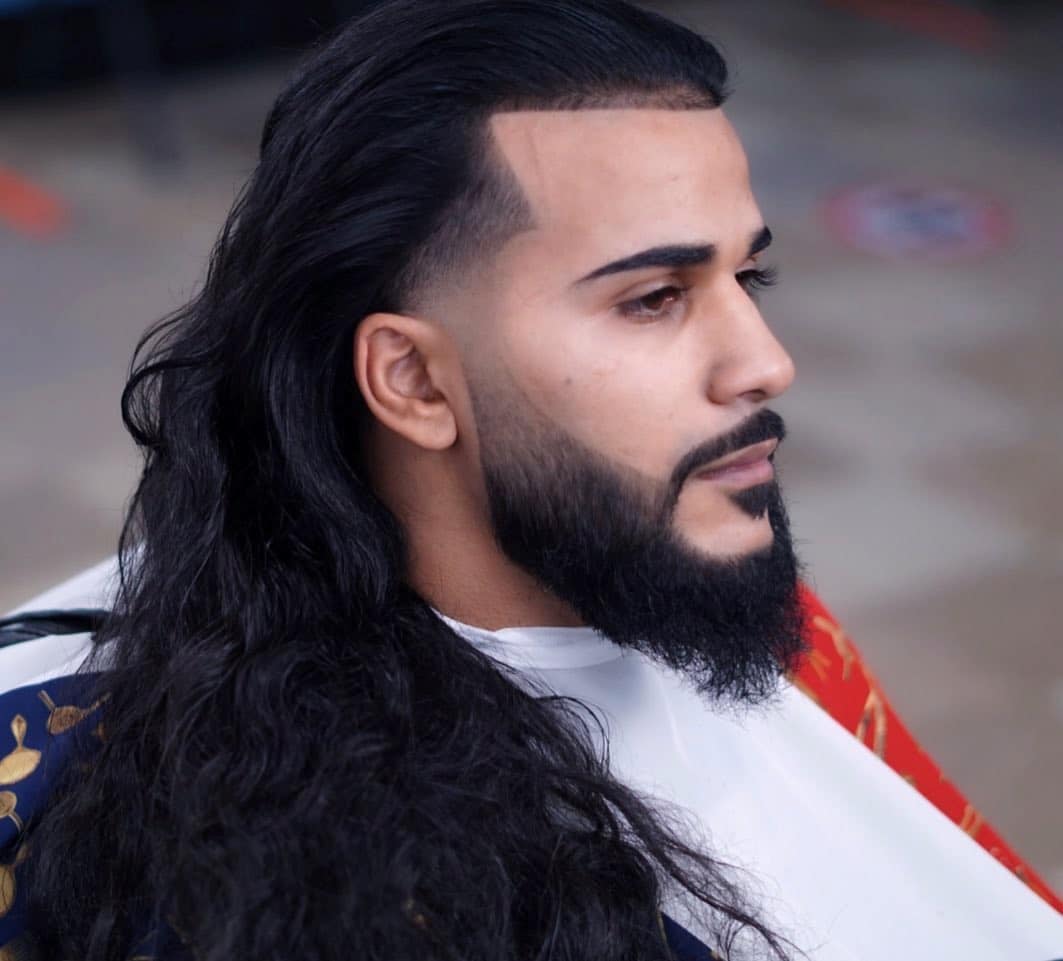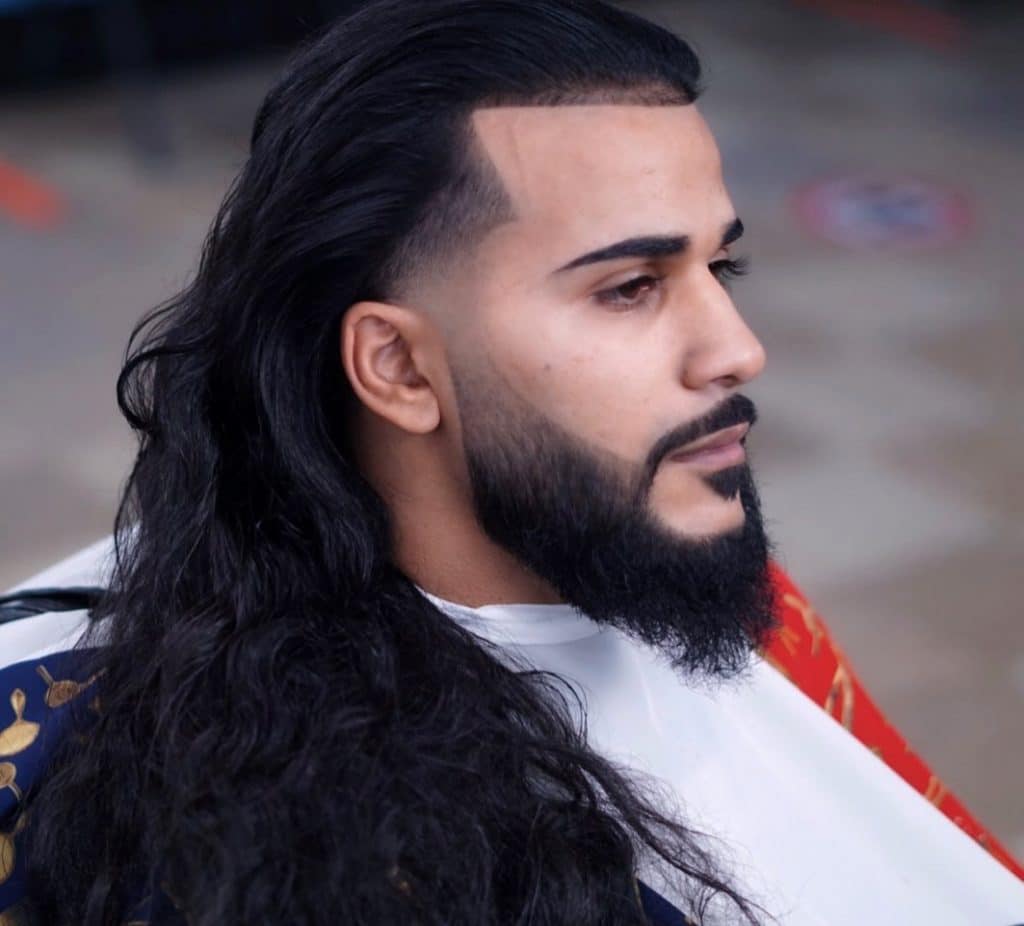 If you have the been growing hair out, great! Braids are also an attractive style that protects hair. If you want the look without the time, there are ways. Hair extensions can create braids of any length and color for box braids and feed-in braids.
Even though it's not growing out of your head, hair extensions still need to be washed. Pour a watered-down shampoo/conditioner over braids and scalp to wet. Gently squeeze and repeat until you're satisfied. Then gently squeeze damp hair with a towel to remove moisture. Finish with a spritz of conditioner around the scalp where natural hair meets extensions.
That's a lot of you're new to extensions but talk to your local braiding salon about what you want and they'll hook you up.