When it comes to styling men's hair, an excellent tool to add to your arsenal is texture. Right now textured haircuts like the crop fade and texture styling are a major trend. Why? Texture looks great and adds volume, shape, and dimension to any men's hairstyle. If you want to take the look even further, here's how to get wavy hair.
It can be common for guys with wavy or curly hair to straighten it to achieve specific looks. Today we're going in the opposite direction and add waves to straight hair.
Here are 3 different ways to get wavy hair for men with hair product, blow-drying, and braiding hair. The product method works best for hair that has some natural wave to it and can work for shorter haircuts. The blow-dry method works best for very straight and shorter hair. The braid method is best for medium to long hair. Here's the tutorial for each way to make straight hair wavy.
1. Add Hair Product
If your straight hair starts to frizz and/or curl in humidity, it already has a degree of waviness. That is a great place to start. The goal here is to boost and hold on to that texture. There are a few types of products designed to enhance curl but they are all applied the same way. Here's how to make straight hair wavy without using heat.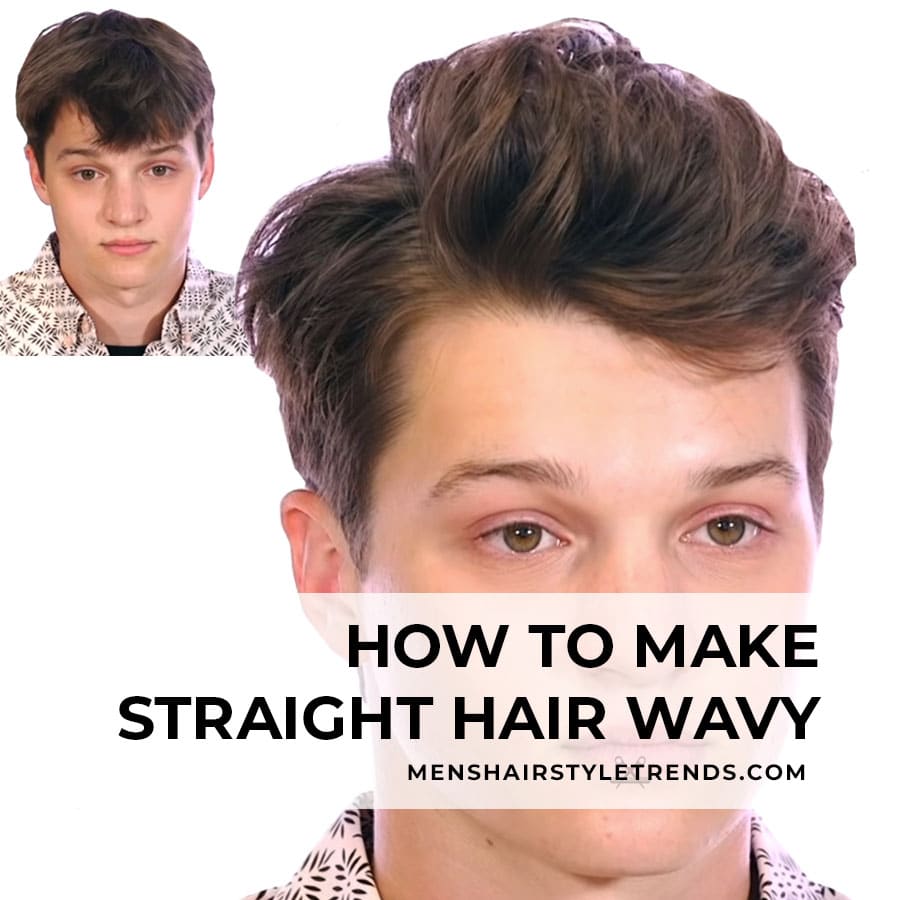 Out of the shower, gently towel dry hair. While it is damp, work product through hair with fingers. Style hair into place and let it hair dry. That's it. The real secret is the product that creates waves out of straight hair.
Salt Spray – When you think of surfer hair, it is always wavy. The same look can be recreated at home with a salt spray, often also called sea salt spray. This hair product is available in a wide range of price points or you can even make it yourself. Some salt sprays contain conditioner or oils to minimize the drying effect that salt can have. If your hair tends to be dry, look for one of those. Otherwise, don't forget the conditioner.
As described above, salt spray is easy to use. Work it through damp hair and let it air dry. Scrunching hair with fingers along the way can help boost the wave pattern.
Salt spray does more than add waves. It can also be used as a pre-styler along with other hair products or to help hair appear thicker so it is a good product to have in your hair arsenal.
Mousse – Mousse is another product that can be used on its own or with other hair products. Similar to salt spray, mousse can be used to enhance texture, boost volume, and thicken hair.
Mousse is a lightweight foam that is easy to work through hair. Look for a formula with words curl enhancing or curl defining. Work the product into hair and air dry.
Both mousse and salt spray can also be used with a blow dryer to create waves. Keep reading below for how to use heated styling.,
2. Blow Dry
For ultra-straight hair or the longest-lasting waves, add some heat. This method also requires products as well as styling. Heated styling sets hair in the position it is in so twist hair to create waves with a blow dryer. Hair can be twisted in sections before blow drying or while using the blow dryer.
First, apply a pre-styler like a heat-protectant, salt spray, or mousse to damp hair. Comb your pre-styler of choice through hair until it is evenly distributed.
Next it's time for a product with some more hold, a hair cream. It is strong enough to change the shape of hair without looking in the twists you will make. Work the cream or light hold pomade through hair and then roughly style your look by adding a part and/or comb hair into place.
Now it's time to create that wave. Twist hair into small sections all over the head, like below. The curl cream keeps the twists in place while hot air is going to lock in that shape to create wave and volume.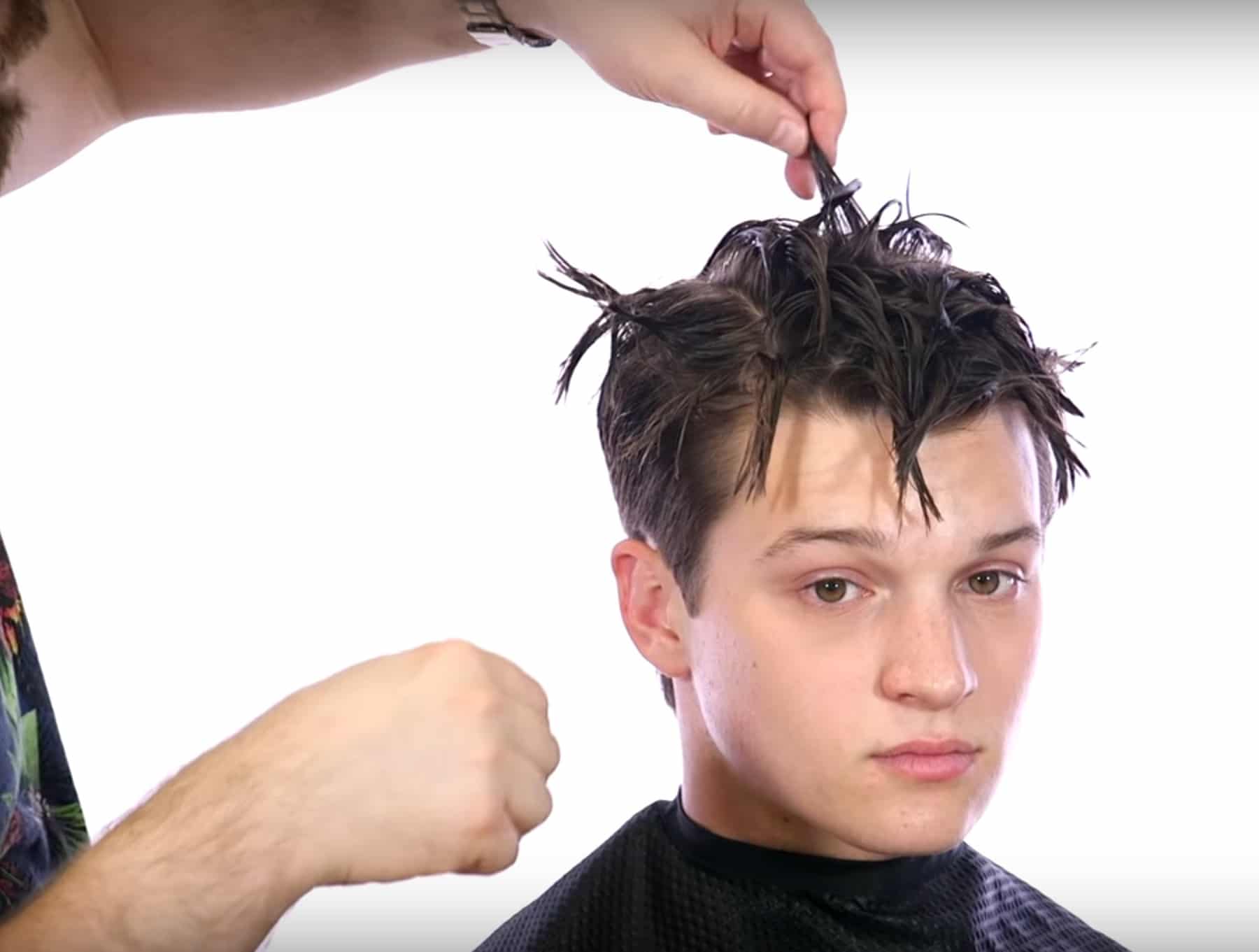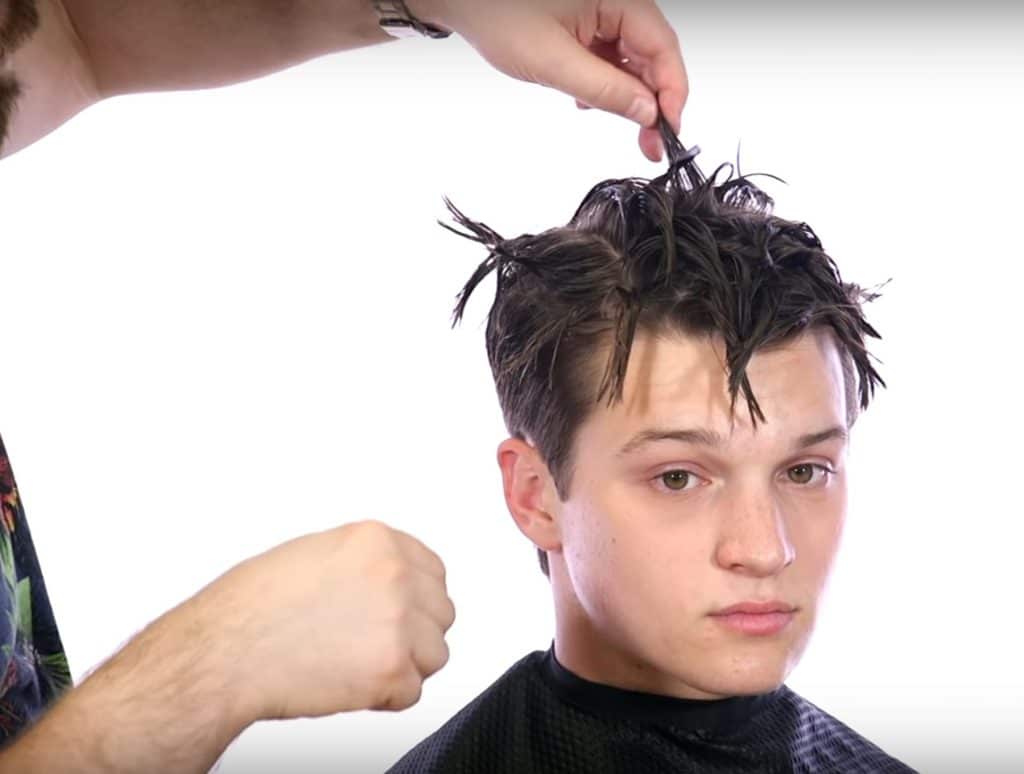 You can also twist sections while blow drying. Do whatever works for you.
Now it's finally time to blow dry. If you have a diffuser attachment, use it. It spreads air out to boost curl and minimize frizz. If you don't have one, keep the blow dryer farther away than usual.
While blow-drying, gently scrunch the twists. Keep going until hair is completely dry. Push hair into place with fingers and set with hair spray or more salt spray.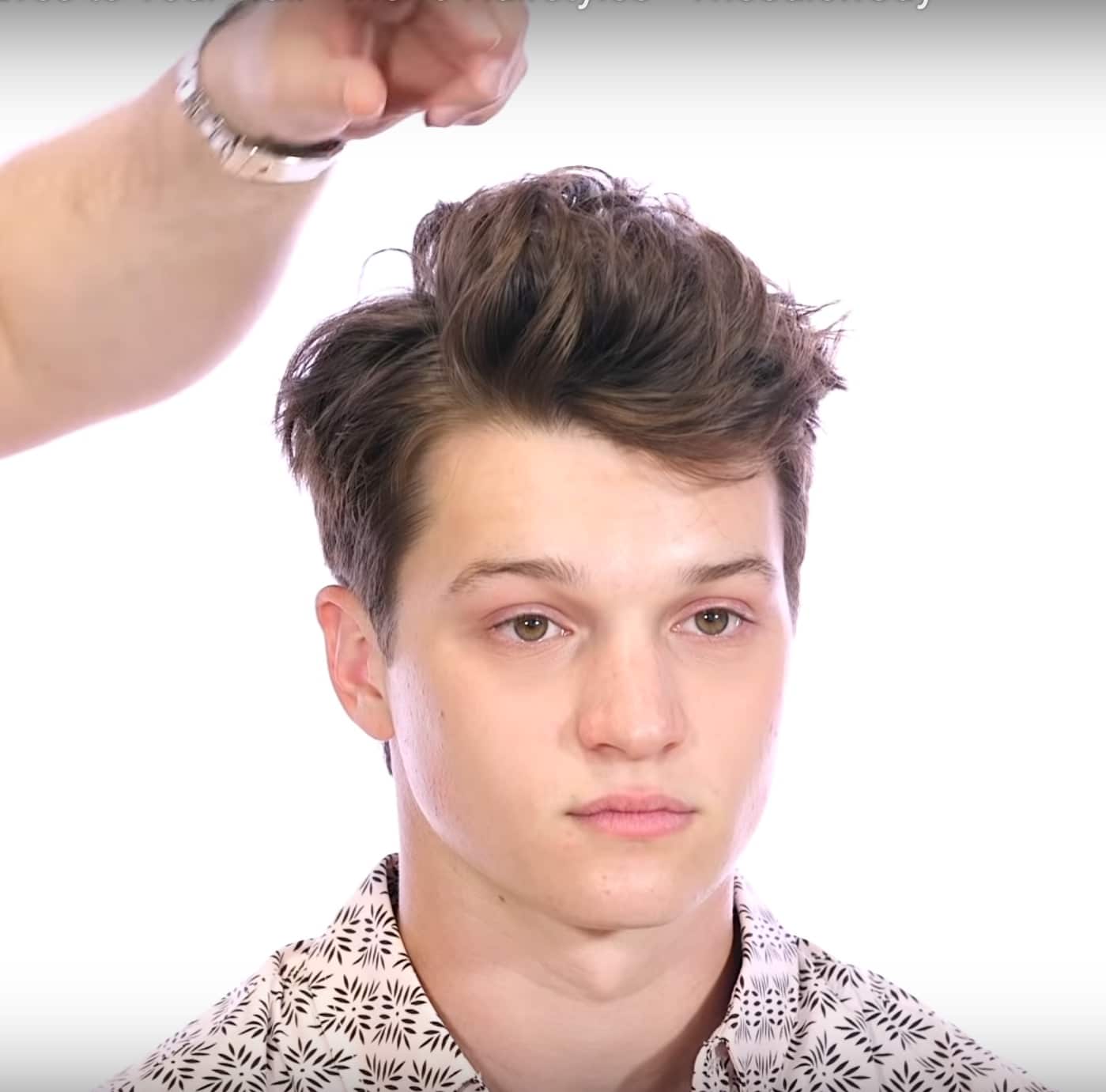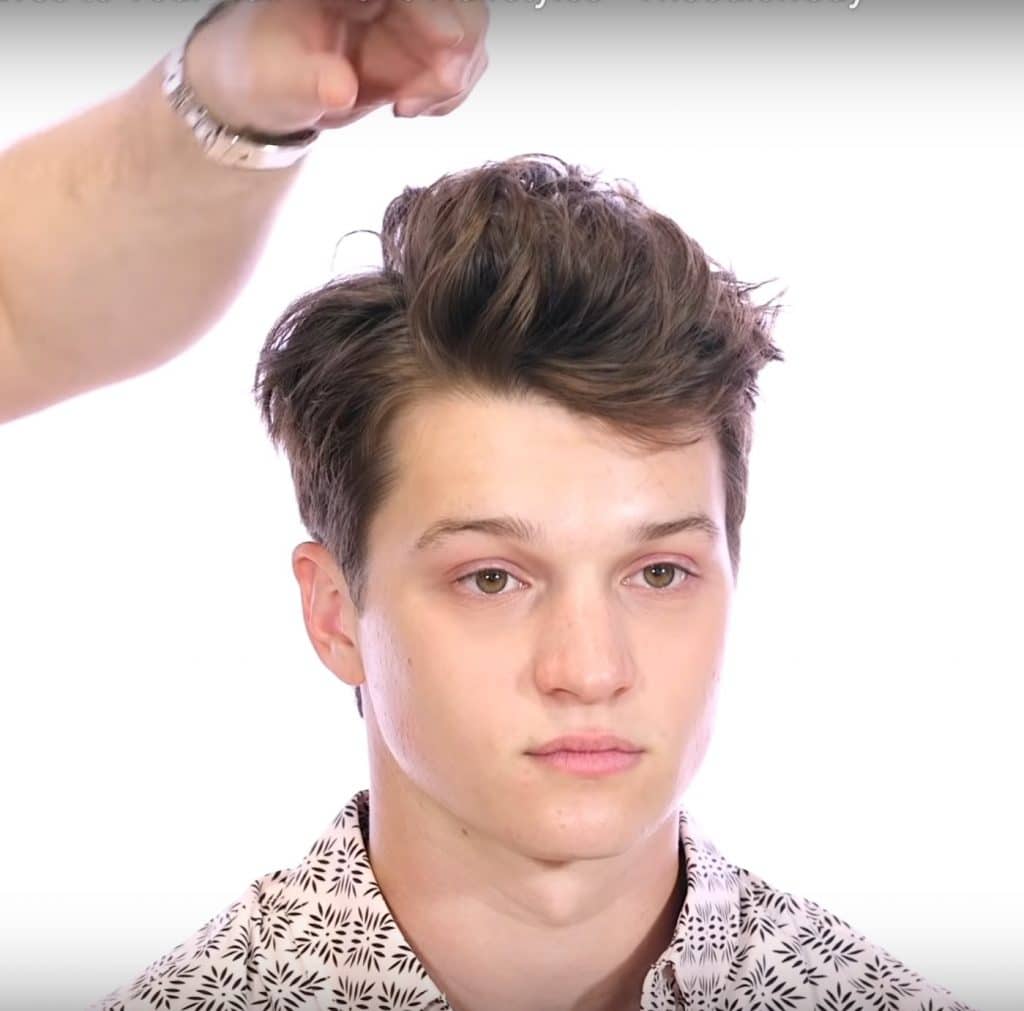 And there you have it. Volume, texture, and above all, waves. It's a cool way to get a new look for guys with straight hair.
3. Braid
This last way to make straight hair wavy is the easiest but also requires the longest hair to achieve. This method can also work for medium length hair. You can play with different methods to get the look you want.
This couldn't be easier. Work a salt spray or curl cream through damp hair, braid it, and let it air dry. This can be overnight or whenever you crave wavy hair.
For men with really long hair, you can braid hair in a ponytail. The waves will start around the shoulder, which is true for naturally wavy hair. Waves can be made looser by braiding all hair at once or braiding sections of hair loosely.
Some medium length haircuts can be braided into one large section but if not, make a number of plaits around the head to capture the most hair. Afterwards, hair can be left down or styled with its new texture.
And there you have it, making straight hair wavy for men. It is as easy as applying the right product, twisting hair while blow drying, or braiding damp hair. You'll get that surfer hair, high volume style, or fresh new look in no time.