So you've got a great haircut. Now what. Here's out guide for how to style hair for men including everything from using a comb or brush and making a part to at home hair color. We've also got styling tips for short, medium, and long hair as well as thin, thick, curly, and naturally curly hair types. And that's not all. Keep reading for how to take control of your hair.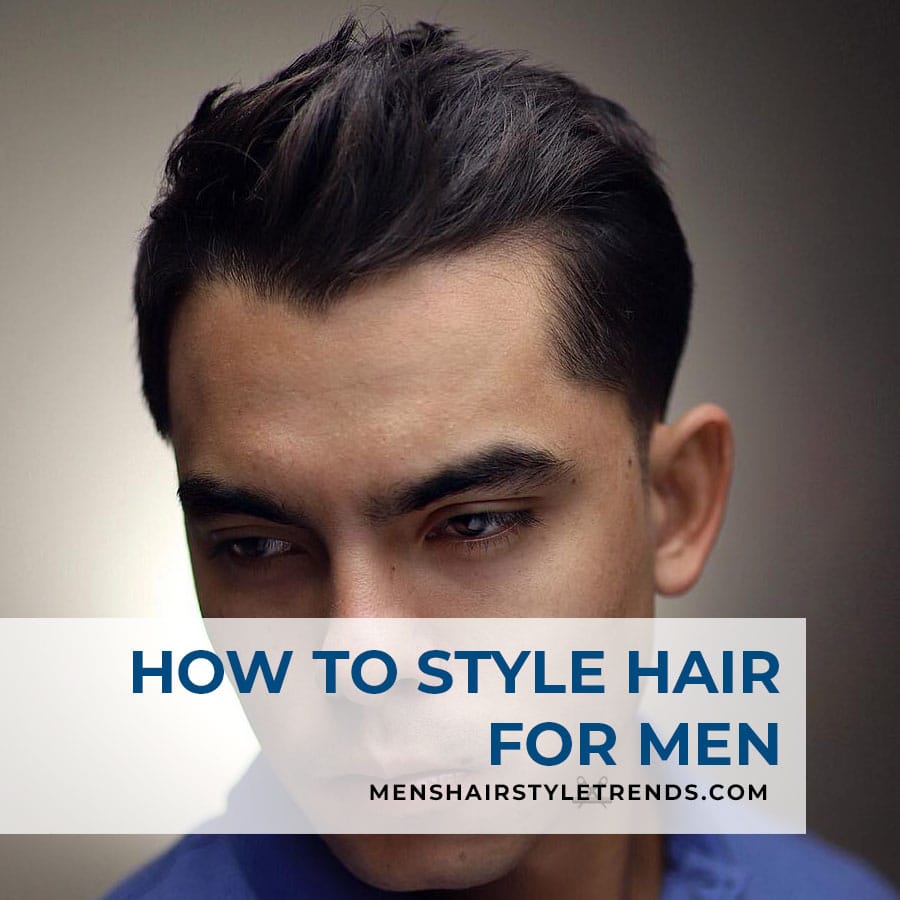 How To Use A Comb Or Brush
It seems simple but with all the options can be overwhelming. Here's what you need to know.
Combs work best for straight hair, creating parts, and styling hair. For thick, wavy, and curly hair types, use a wide-toothed comb to untangle hair and help distribute hair product thoroughly.
Hair brushes are for guys too. They work best to detangle and add volume to fine, straight, and long hair. Brushes are also essential to the hair drying process. There are special blow-drying brushes with vents that help hair dry faster as well as round brushes to straighten hair.
Brushing hair also helps distribute scalp oils and stimulate circulation or just do it because it feels good.
How To Blow Dry Hair
Let's start with you should blow dry hair. Unless you have fine hair that dries quickly or textured hair that is best air-dried, consider adding this styling tool to your arsenal. Blow drying hair cuts down on styling time, helps hair stand tall, and makes it easy to straighten hair. You'll have soft, smooth, and shiny hair that just needs a touch of product for all-day hold.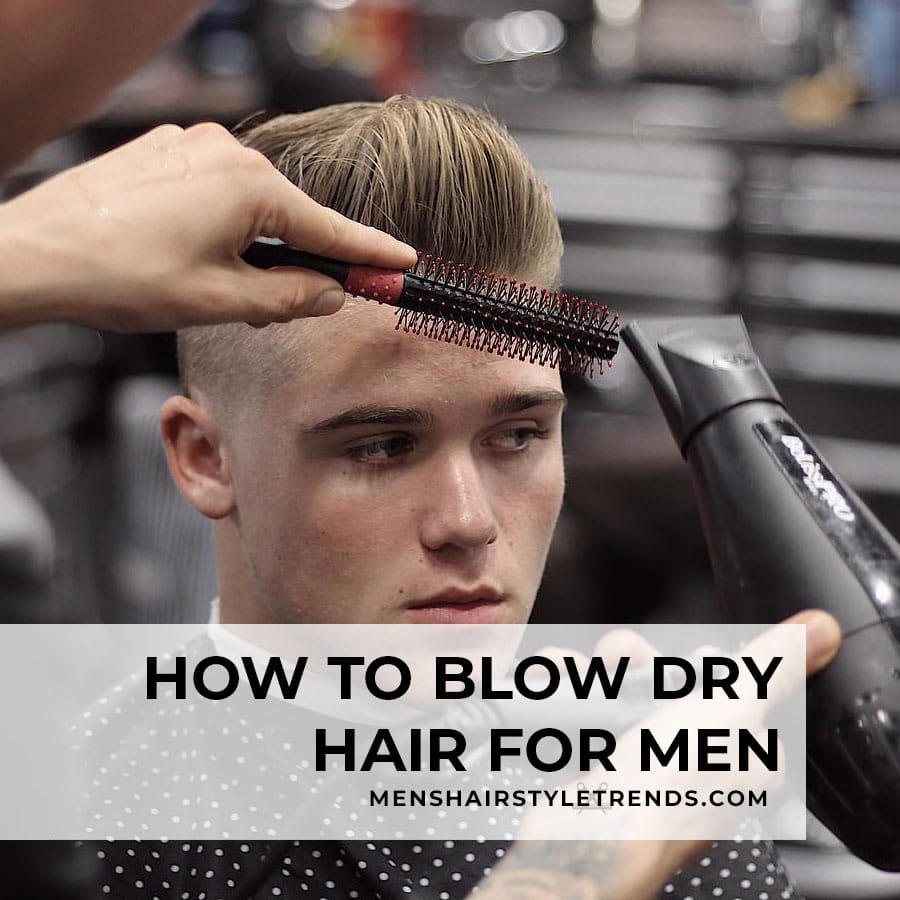 Blow dryers are available at many price points. For men's medium hair and shorter, a pricier brand in a smaller size can save some money. Make sure the dryer has multiple heat settings as well as a cold option.
How to blow dry hair:
Use Heat Protectant This can be an oil, serum, or spray that prevents damage to hair from the heat of the blow dryer. Work it through damp hair.
Comb Hair Into Place The point of blow-drying is using heat to set hair where you want it. Before drying, define the part and general shape of the style.
Brush + Blow Using a vented or round brush, pull sections of hair up and out from the head while blasting them with air. For thick hair or to straighten hair, try a round brush with both boar bristle to smooth hair and air vents to speed up blow-drying. For other hair types, a vented brush can do everything you need it to do.
Upside Down For additional volume, if that's what you're going for, blow-drying in the opposite direction helps hair stand up. Try bending over so hair is upside down and blast the roots. For a side part hairstyle, blow against the direction that hair is parted in for the same result.
Cold Shot When hair is fully dry and where you want it, set the look with a blast of cool air.
With hair in place, add some product for hold.
How To Part Hair
Hair can be parted at the natural part or where you decide. Here's how to do both.
The natural part is how hair grows. It's good to know where this is, even if you don't use it. To find the natural part, comb wet or dry hair straight back. Hold it tight in your hand like a slick style and then gently push hair forward. Hair will bubble up a bit. Do this a few times until hair splits into the natural part.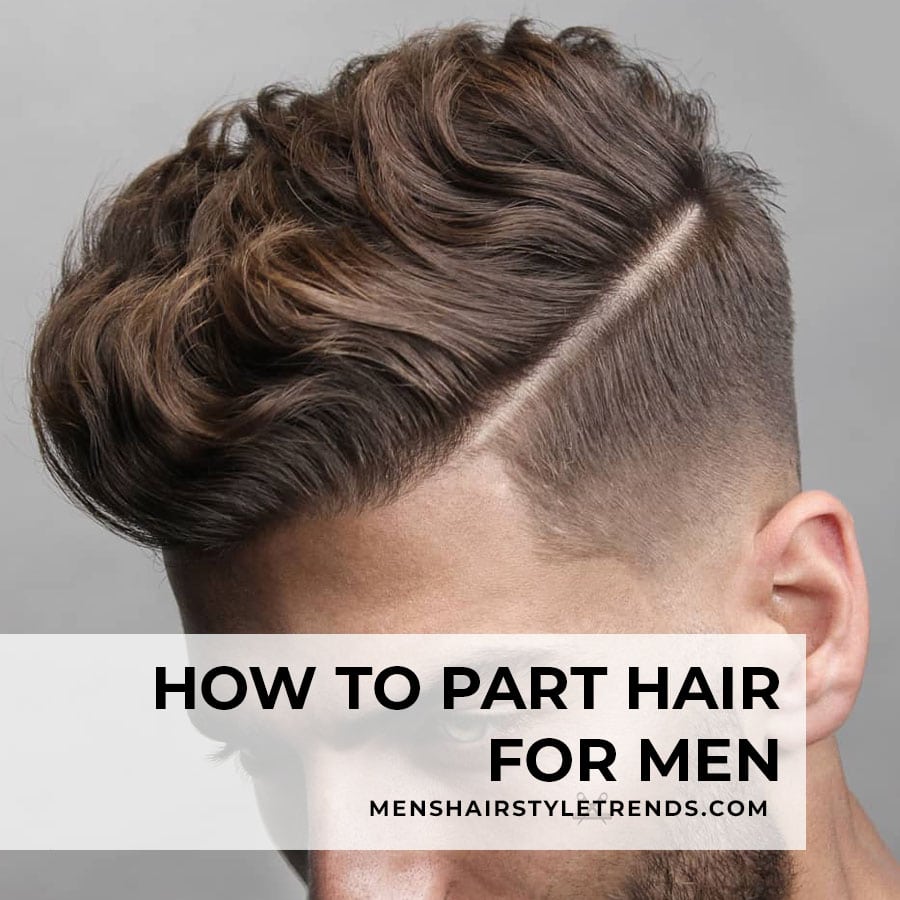 To create a new part, use a comb for a straight and defined part. Some combs have a pointed tip or tail designed for this. Comb hair back, define a comb line, and separate hair with fingers. Line a side part up with the peak of a brow, edge or a brow, or edge of the forehead. For a middle part, use the center of the nose as a guide to approximate the center of the head.
Some haircuts are too short and/or textured for hair to fall into a part, like crops or buzz cuts. Medium and longer styles can create a part with the help of a comb, some blow drying, and hair product. If you're looking to add more volume to a side part hairstyle, try parting hair opposite the natural part. Because hair is used to lying in the opposite direction, this adds some volume. Over time, hair can be trained to have a new part. Brush it where you want it to go, use heat and product to reinforce the new direction.
Short Hairstyles For Men
There are more short hairstyles for men to choose from than you would think. Beyond the buzz cut, there is the textured crop, spikes, quiff, slick back, pompadour, and side part.
Some haircuts can be styled in any one of these looks and others lend themselves to one or two different styles. The great thing about short hair is it grows fast and can easily be changed to try out lots of looks until you've found your signature style.
How To Style Short Hair
Short haircuts for men often look like they don't need to be styled but that is rarely the case. Unless you have a buzz cut or hair that lies just right, skip this. For everyone else, here's how to style short hair.
The good news is that short hair doesn't need much else other than styling. Do say yes to conditioner. Blow dry hair if you want to. But for most guys, a little bit of hair product is all you need.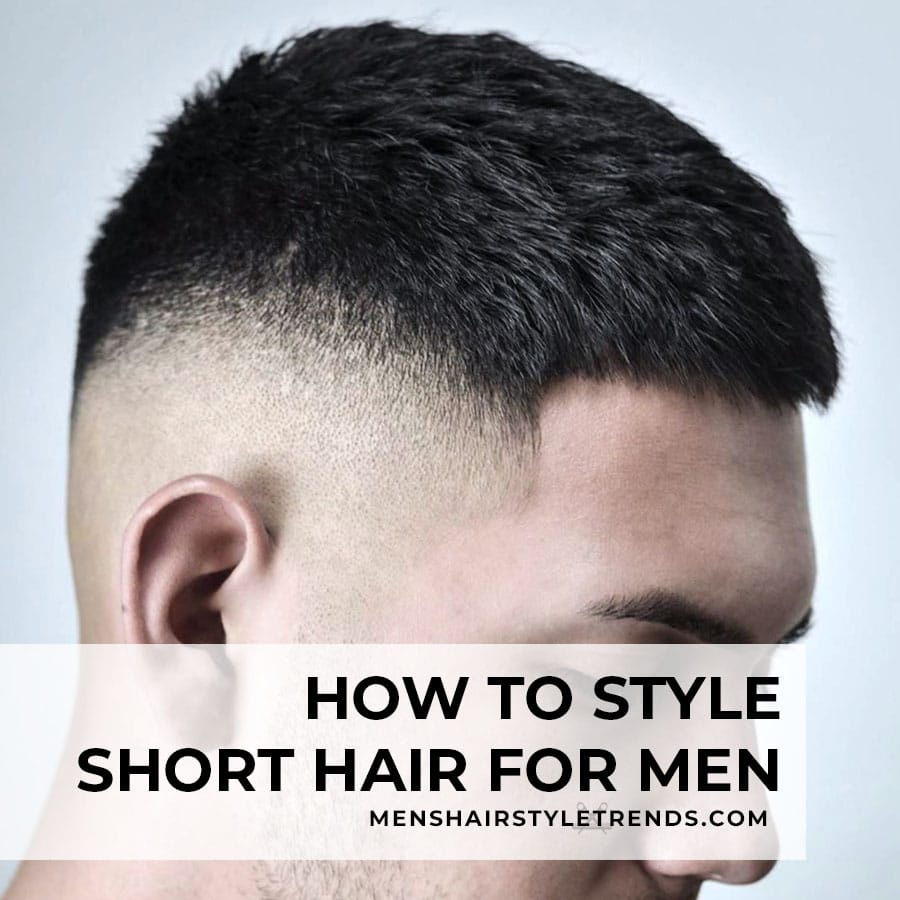 The shorter the hair, the less product you need. Start with a small pea-sized amount and work up from there. With almost or totally dry hair, rub the product between the palms to warm up and work into hair thoroughly.
Finish with a comb for a more polished style like an Ivy League. Or add some trendy texture by pushing hair in different directions, finger combing, and pinching small sections of hair. Watch this video from 17:30 to see how easy it is.
How To Style Short Curly Hair
These tips are for short curly hair that is long enough to have some texture. Here's how to care for hair to hold curls while maintaining their shape.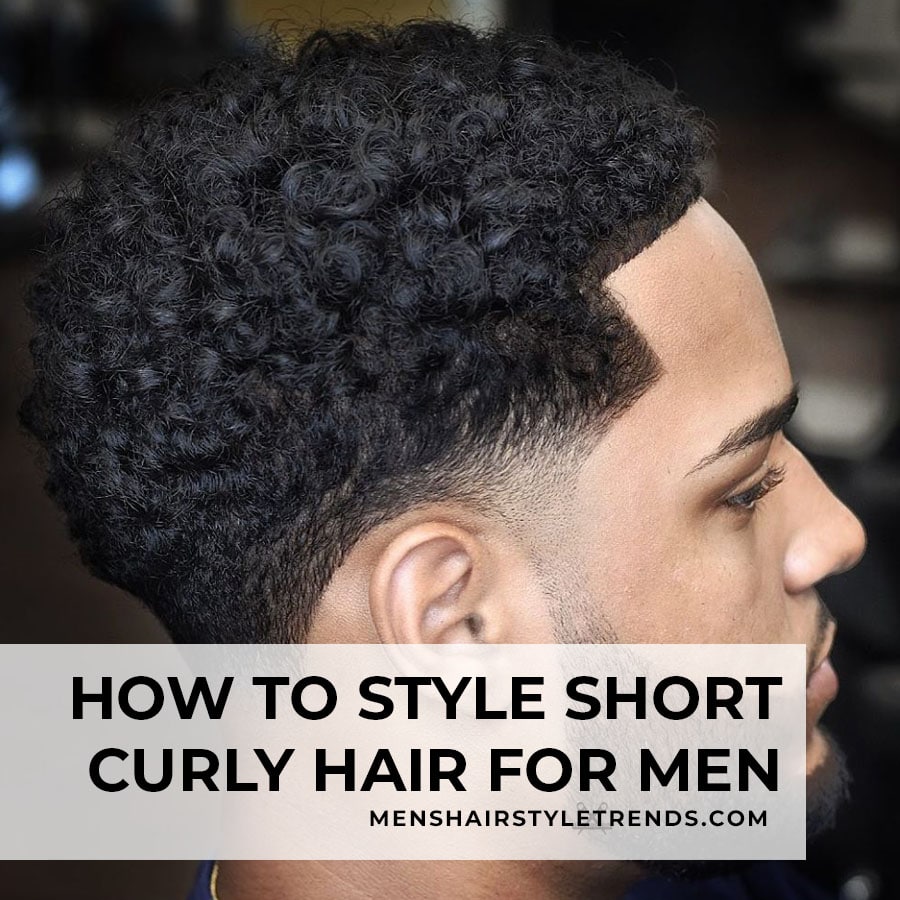 You are probably already conditioning hair but if not, start immediately. Curly hair tends to be dry and requires added oils to look its best. Out of the shower, gently squeeze hair dry with a microfiber towel. Cotton may feel soft to the skin has a coarse texture can cause breakage and frizz. Special towels for curly hair have a tighter weave that won't disrupt natural texture. An old t-shirt will also do the trick.
With damp hair, scrunch a cream product into hair. This helps work product throughout hair without disrupting the curl pattern. Try one of our top recommendations for curly hair products.
With product thoroughly distributed, let hair air dry to keep that curl shape. Of course, that means you need a great cut that gives curls a flattering shape. Check out these curly men's haircuts for more than 70 cool looks.
Medium Hairstyles For Men
Medium men's hair has the most styling options of any length. Hair can be slicked back, pomped up, or worn down. That's not to mention textured styles, combovers, and messy looks.
We're not going to go into all that here but check out these 50 medium length hairstyles for men and these flow haircuts for more ideas.
How To Style Medium Length Hair
Whichever style you choose, medium length hair benefits from these steps.
First, condition hair. Even if length is concentrated just at the top, you want to keep hair healthy and looking its best. Many guys with medium hair do use a blow dryer to speed up the styling process and added control. It's not necessary but use some type of heat protectant if you do. To air dry, a hair serum or cream for more textured hair can act as a pre-styler and minimize frizz.
Choosing a pomade is more about your hair type than hair length. So fine hair can be styled with regular hold, thick hair needs strong hold, and waves and curls benefit from a creamy texture and added conditioner.
Long Hairstyles For Men
Surprisingly, there are fewer long hairstyles for men than short hairstyles. The mains 6 types are hair down with a part, slicked back, half up-half down, man bun, ponytail, and braids.
Whichever look you choose, take care of long hair with conditioner, regular brushing, and a product like serum or hair cream for lightweight control.
How To Style Naturally Curly Hair
The goal for textured hair is to keep those curls all day without frizz. One of the easiest ways to do this is the gel cast method. We'll walk you through it.
Moisturize Out of the shower, apply a moisturizing product like Shea Moisture Curl Enhancing Smoothie or Cantu Shea Butter Leave-In Pomade to damp hair. This adds moisture and shine to hair while enhancing curl and fighting frizz.
Half Dry Scrunch product through hair and leave it until hair is about half dry.
Gel Now it's time for the gel. Apply about a quarter size of gel, like the popular and cheap Ecostyler Olive Oil Gel, thorough curls. Again, this is a scrunching motion to maintain the curl pattern.
Air Dry Let hair dry almost all the way to set the curl pattern.
Scrunch When hair is 90-95% dry, remove the gel cast by scrunching some more. That's it.
How To Twist Hair
The easiest way to twist hair for men is with a specialized twist sponge. Of course, this is temporary compared to a twist out but also takes less time. Here's how to get twists or curls with a sponge. This method is for textured and black hair only. Do not attempt it with straight hair.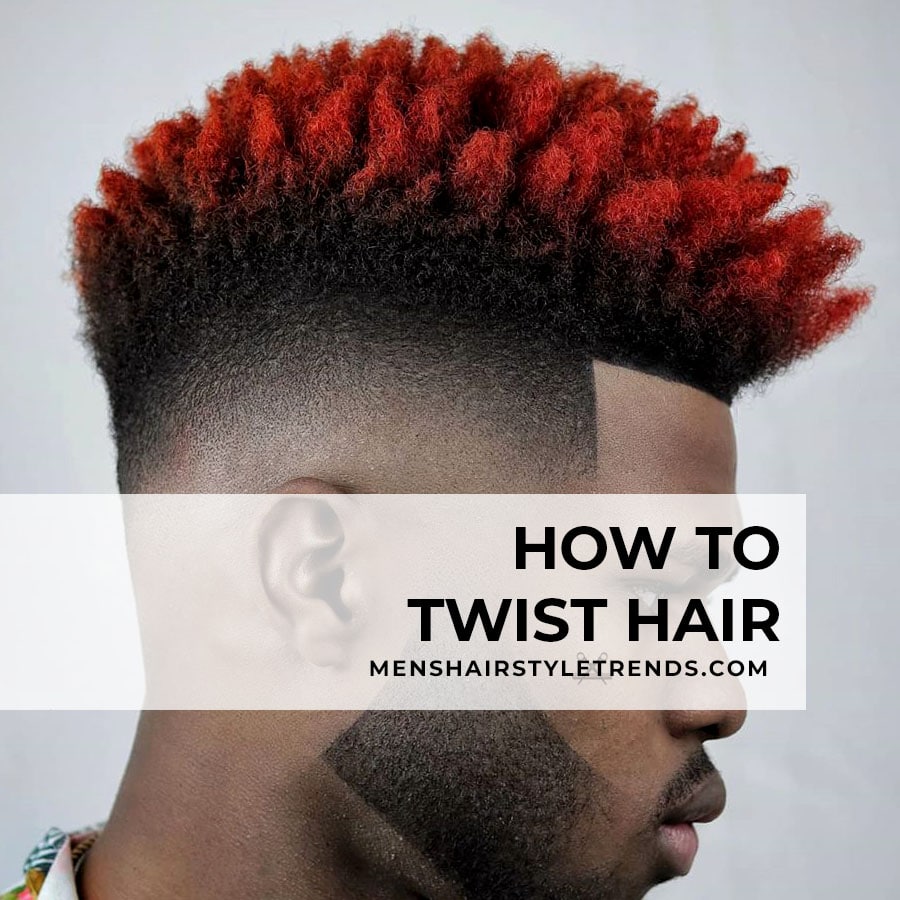 Wet Hair Use the sponge on damp hair to avoid breakage. Do not use a curl sponge on dry hair.
Moisturize Add a conditioner or twisting styling product all the head.
Circle Rub the sponge in a circular motion, moving around the head. Keep going in the same direction until finished and be careful not to press too hard.
Finish with a styling pomade like to secure the look.
How To Make Your Hair Wavy
Take a break from stick-straight hair by adding some waves. This works for medium length hair about 5″ and longer. Start with damp-dry hair and spray in some salt spray. It's not absolutely necessary but does help add texture and volume.
Now pick up the blow dryer. The heat sets hair in whatever way you manipulate it so the goal here is to add waves. Take sections of hair and twist it around while blasting it with the blow dryer. Repeat all over until hair is transformed and finish by pushing hair into place with fingers. Last, set the look with a hair clay or wax pomade.
How To Make Your Hair Curly
Curls add attractive texture, body, and volume to hair. Here's how to curl hair for guys with straight hair. We've been putting the word out about salt spray for years now and here's another plug for the product. Surfer hair is wavy thanks to the effects of sea salt.
To curl hair, apply sea salt to damp hair. Blow-dry hair, ideally with a diffuser while scrunching hair to help shape curl. Lock your new look in with a creamy or texturizing product. Check out more in-depth instructions on how to get curly hair.
How To Straighten Your Hair
Now for the opposite of above, transforming curly or wavy hair into straight. The process involves some products, a blow dryer, and brush.
Start with a heat protectant spray to prevent damage from the blow dryer. The type of brush for straightening hair is a small round brush with bristles. This allows you to pull hair taut while blowdrying it, resulting in straight hair. Work from one side to the other until all hair is straightened. If it's not straight enough for your liking, go over hair again with a flat iron. Last, lock it all in with a blast of cold air from the blow dryer and a once over with product for the final style.
How To Get Thicker Hair
Whether it is due to have fine, thin, or thinning hair, there are plenty of products out there that help make hair look thicker.
Thickening hair products can be used at one or all stages of styling hair. In the shower, there are thickening shampoos and conditioners. Follow that with a thickening spray as a pre-styler. And finish with a thickening pomade. Here are some of the best products for thin hair.
Another way to make hair appear fuller is by adding lightweight volume with a styling powder, salt spray, or mousse. These tips for thin hair go into even more detail.
How To Style Thick Hair
Every great hairstyle starts with a great cut. It may be tempting to cut thick hair short but that can make it stand straight up. Instead, use that tendency to your advantage by growing hair longer. Somewhere between five- and seven-inch long thick hair can support itself in high volume styles.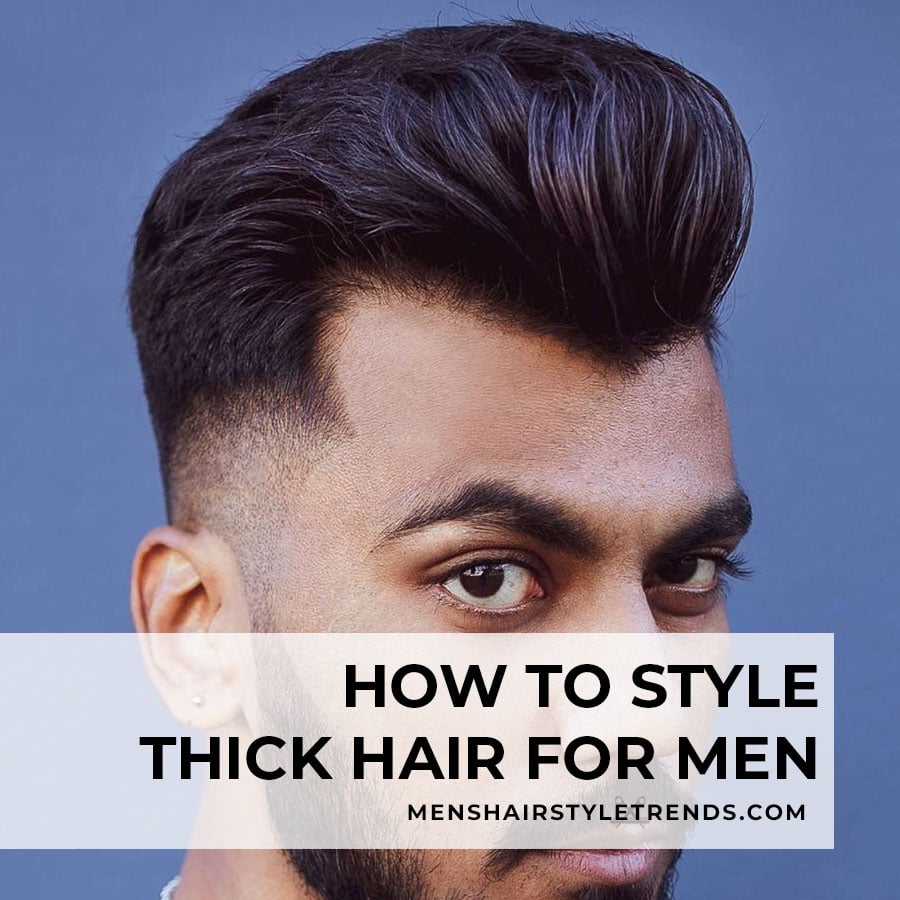 Blow Dry Hair Thick hair can have a mind of it's own. A hair dryer can make sure it does what you want. Use a vented brush to guide hair into the desired shape and lock in that style with cold air.
Hair Products For Thick Hair Strong hold products were made for thick hair. Beyond that, types of products that work thick hair are hair clays, waxes, and pomades. For thick hair with natural texture and volume, lighter hold pomades and creams add control to existing height. If pouf and frizz are an issue, use a hair serum as a pre-styler.
Clarifying Shampoo. Guys with thick hair can use more product without weighing hair down like other hair types. This can mean regular shampoo won't always wash it all out. Then it's time for a clarifying shampoo to eliminate product build-up. This type of shampoo is not designed for everyday use but usually once a week is enough.
How To Style Thin Hair
There are a number of types of thin hair. In general thin hair is more likely to show some scalp. That can be due to hair loss or thinning hair. It is also possible to have a full head of thin hair that has less density, or number of hairs per square inch of scalp. Either way, these types help hair appear fuller.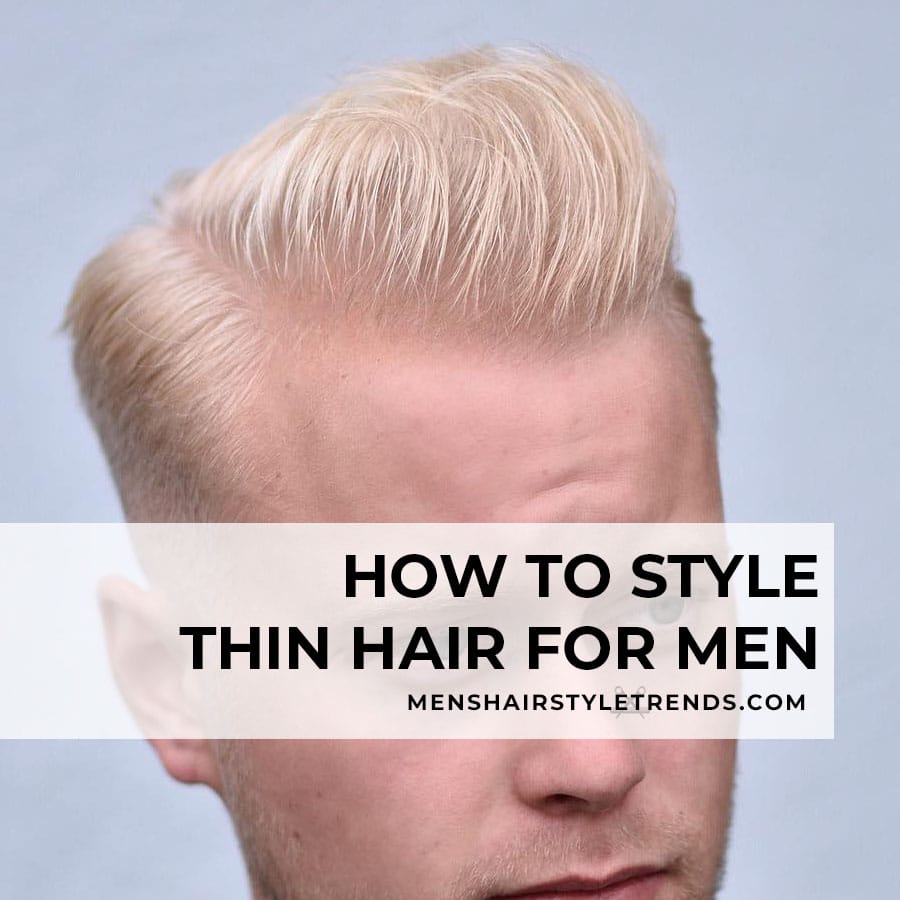 Short Cuts With Shorter Sides Short hair can be styled with volume that hides the scalp. For guys with thin hair, longer styles can inadvertently reveal the scalp. Very short or faded sides make hair on top appear thicker. For the beginning of a receding hairline, try a deep side part hairstyle to hide hair loss in plain sight.
Care Thin hair can appear thicker with less frequent shampooing and a final rinse with cold water to close the hair cuticle for shinier, frizz free hair.
Tools Guys with thin or thinning hair are often wary of brushing. Don't be. The stimulation is good for the scalp and hair growth. However, the right tools matter. Use a comb to part hair but finish with a brush to add volume to any style.
Blow Dry If you do use hair dryer, protect hair by using medium heat and finish with a cold blast.
Thin Hair Products A pre-styler, or product used before styling, can boost hair thickness and volume. Options include styling powder, grooming cream, or thickening spray.
For thin hair, use matte finish products like clay pomade, hair cream, or mousse. Shiny products, even water-based formulas, won't add the volume you're looking for and can reveal the scalp.
Whichever product you use, apply it all the way down to the roots to give your hairstyle a good foundation.
Last, you can lock in any lock with hair spray. This is even more important if you have arranged hair to hide any visible scalp.
How To Add Volume To Hair
So you want taller hair. Here are 5 ways to get more hair height.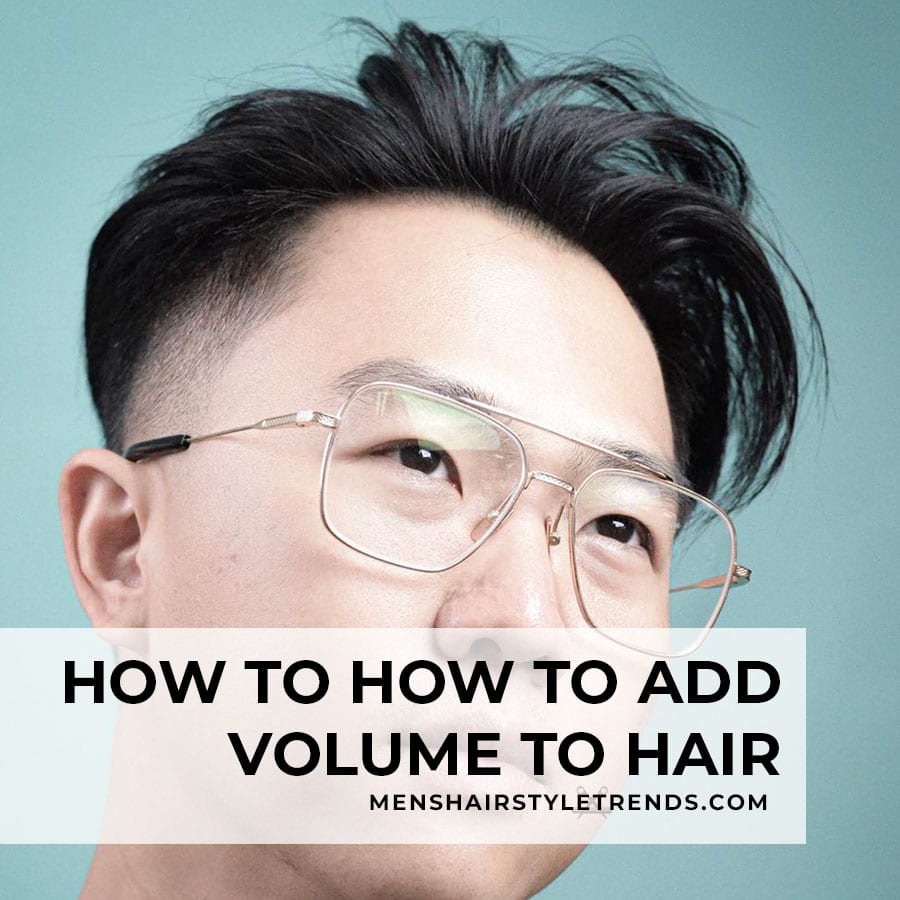 Grow It Out For regular to thick hair, a longer length can achieve higher heights. Find the sweet spot for your hair, which is up to 5″ for guys. You'll know you've gone too long when hair falls like a souffle.
Change Your Part Hair gets used to sitting on one direction. Get more height by parting hair to the opposite side.
Blow Dry Hair Blow dry hair while pulling it up into place trains hair to have volume.
Pre-Styler An additional product used before blow drying can take hair to new heights. Lightweight options include texturizing foam, mousse, style powder, and sea salt spray. Foams, mousses, and powders lift hair from the root while salt spray adds texture and a hint of hold that makes hair bigger.
Upside Down Similar to parting hair on the opposite side, blow-drying hair in the opposite direction until about 80% dry can also help it stand up taller. Finish upside down to boost volume at the roots. Finish with a blast of cold air to lock it all down.
How To Braid Hair
Braids for men can be a number of different things. For long hair, a braid can be another style that keeps hair out of the face. That can be a classic 3-strand braid or more elaborate modern braid.
For black hair, there are even more cool braided hairstyles that last for weeks or even months. For the longest-lasting and most creative looks, visit a professional.
How To Perm Hair
Perm, short for permanent, provides long-lasting curls. Permed curls don't fade over time and have to grow out. The trend for permed hair comes and goes and seems to back again. Here's what you need to know about at-home perms.
There are two types of perms, alkaline and acid. Alkaline formulas have a pH of 9-9.6 and are best suited for healthy, coarse, and hair that resists curls. Acid formulas have a lower pH between 4.5 and 7 and should be used on dry, color-treated, or damaged hair types.
In addition to the perm lotion, most kits also containe end papers that protect the tips of hair, a drip guard to protect the face, and neutralizer to stop the perm solution processing. If it doesn't come with gloves, do find some to protect your hands.
In addition, you will need perm rods. The lotion prepares hair to take on curl but does not create the shape. That's where perm rods come in. Hair is wrapped around to define a new shape. Wider rods create waves while thinner rods create tight curls.
Like all things hair, you can do it at home but for best results, invest in a trip to the salon if you can.
How To Get Rid Of Frizzy Hair
Frizzy hair is caused by two things. Dry hair creates a rough hair cuticle, the outer layer of hair. Add in moisture from the air and you've got frizzy hair. Dry hair comes from some combination of overwashing, sun exposure, heated styling tools, indoor heat, and even wind.
Moisture loss causes hair frizz so fight it with conditioning. The first way to ensure hair has adequate oils is not to strip them in the first place. Use a gentle shampoo and don't shampoo every day. Always use a conditioner. For curly or dry hair, try a weekly hair mask as well.
Protect hair out of the shower with a frizz-fighting oil or serum. Just work the product through damp hair before drying or applying any other products. Products like hair wax and hair cream condition hair while adding hold. Use them in the frizztastic summer months or all year round.
How To Get Soft Hair
Hair feels coarse when it is dry and damaged. Getting softer hair is all about conditioning. There are multiple ways to condition. Start with one and keep adding more until hair is silky soft.
Conditioner every time you shower is mandatory. Pick one for your hair type and apply it early in the shower so it can soak in for as long as possible. If that's not enough, add a weekly hair mask for deep conditioning. There are options at every price point and Trader Joe's makes a good one too. If hair still feels like straw, try a leave-in conditioner. This can also a pre-styler for curly and long hair. Leave-in conditioners are applied after the shower to damp hair.
How To Dye Or Color Hair
Coloring hair at home is most successful when making a small change or working with temporary color. Here are at-home hair color options and out recommendations.
Shampoo-In Hair Color
The easiest way to color hair is with a shampoo-in formula. Add a touch of color every day and take a break when you have reached your desired shade.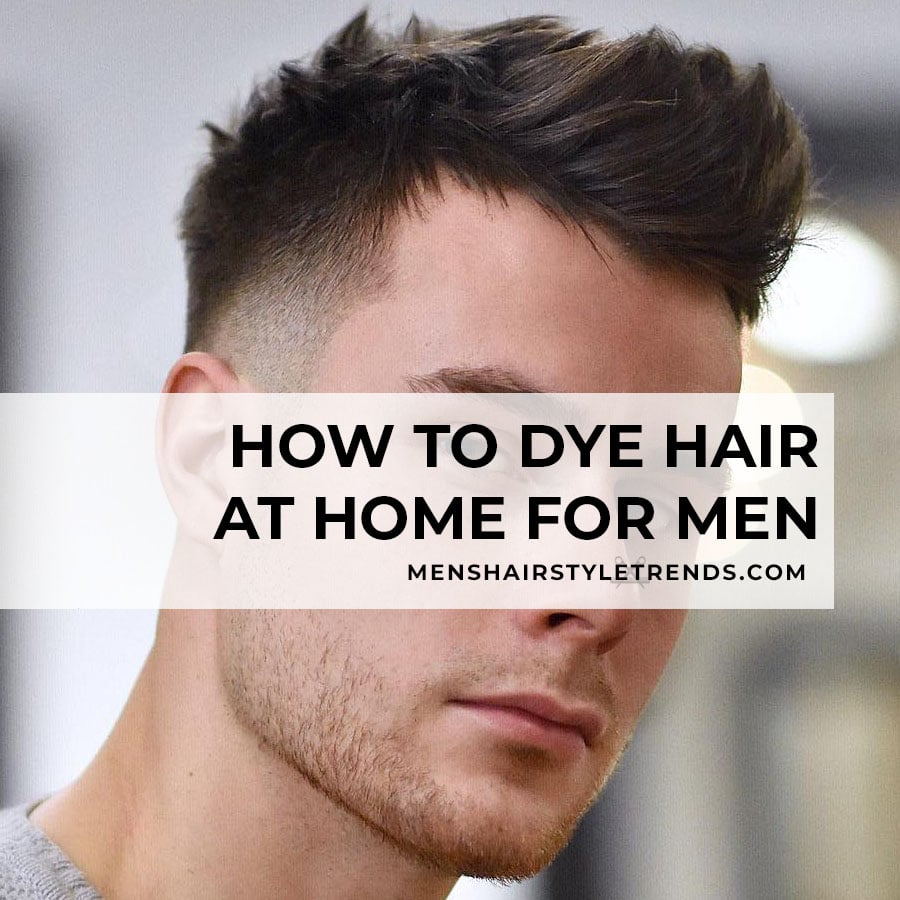 Semi-Permanent
This is another excellent option because it slowly washes out. You can keep up the color with regular applications or let it wash down the drain.d
Permanent
It's the same process as semi-permanent but does not wash out. Hair has to grow out or be cut off to remove the color. Even if you want to commit to a new color, don't go this route unless you are willing to touch up new growth at the roots every couple of weeks or have them be visible to the world.
How To Bleach Hair
Bleach lightens hair by removing the color through oxidization. Brown hair will turn orange, then yellow, and finally pale blond. The yellow color is the natural color of keratin, the structural protein that makes up hair. Toner neutralizes yellow tones by adding the opposite shade of blue or purple.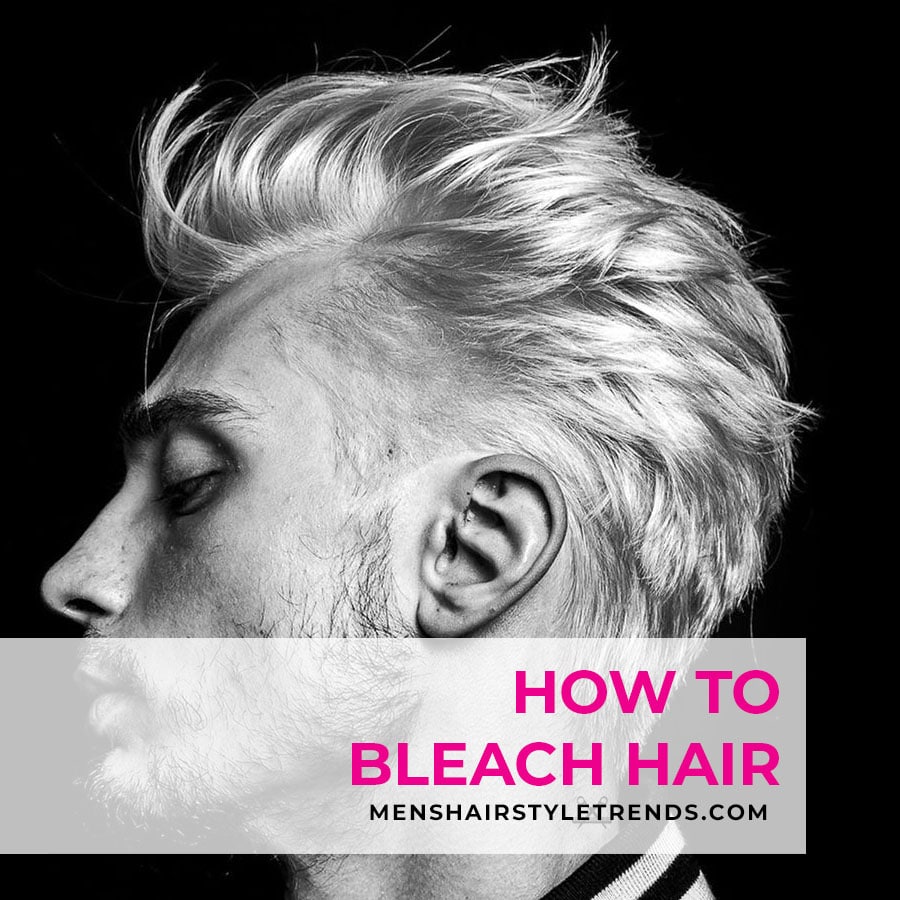 1. Lighten
Bleach mixes together the lightener and developer to create a chemical reaction. Developer comes in 20-, 30-, or 40-volume peroxide. The higher the number, the stronger it is. And harsher on hair. While darker hair will lighten more easily with 40-volume developer, left too long it can literally break hair in half. It's better to do multiple applications of a lighter developer. Don't say we didn't warn you!
Other than that, try a kit with everything you need. If this becomes a regular habit, it is also possible to buy bleach and developer in larger quantities.
2. Condition
All colored hair benefits from added conditioning but bleached hair is especially dry so condition, deep condition, leave-in condition, hair mask. Do everything possible to add moisture back to hair.
3. Tone
Bleached hair ends up looking yellow, sometimes even orange. There's no need to keep bleaching. Instead, the fix to this problem comes from the other side of the color wheel. Adding blue-purple tones neutralizes the brassy colors.
Toner can be a purple dye, shampoo, or ammonia. Ammonia toners are also harsh on hair so wait at least 3 days after bleaching to use then. Wash-in toners can be used immediately. Here are a few good ones. Note that some toners are the same products that keep gray and white hair from looking yellow.
How To Slick Back Hair
Slicked back hair is the most classic look that also has some modern updates. To get the retro greaser style, use a pomade like Suavecito or Layrite that have vintage shine but wash out easily. Work product into dry or damp hair, comb it through, and comb hair into place.
For an updated look with the same shape, use a matte product instead of shiny and style hair with fingers instead of a comb.
How To Get Messy Hair
Essentially, the messy hair look is a way to recreate bedhead or second-day hair when things look just right. Of course, naturally messy hair is hit or miss so here's out to get control of the look.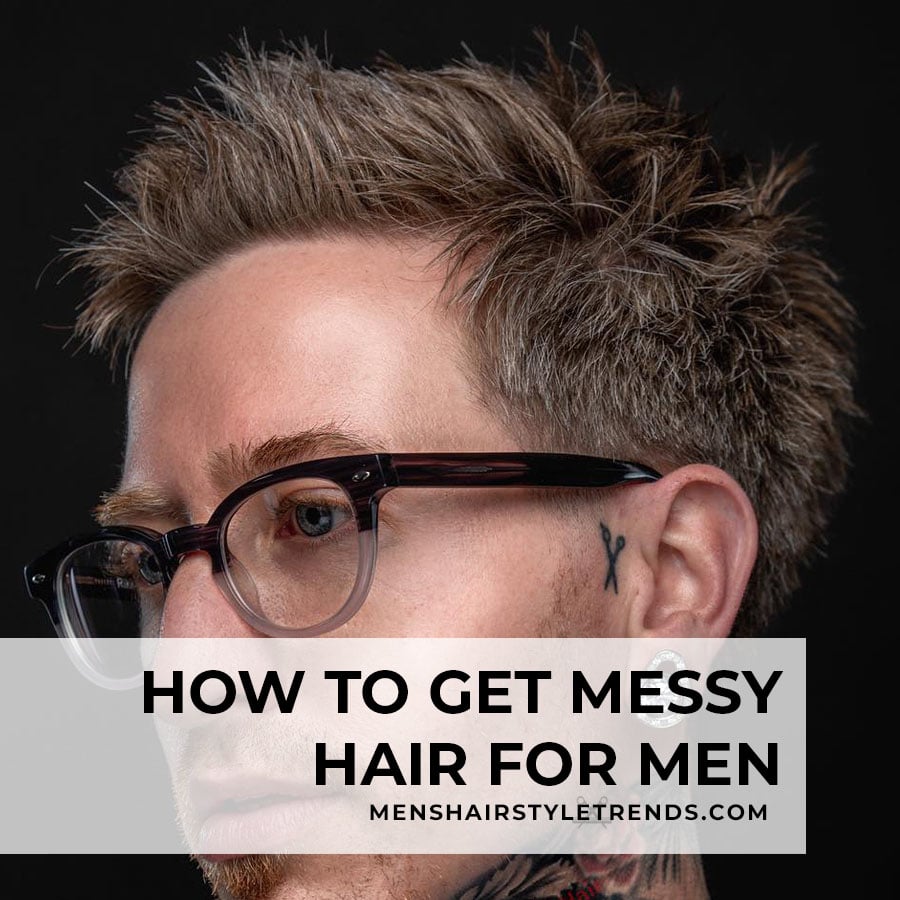 The Cut The right textured haircut varies by hair type but the goal is a great shape with hair that moves.
Salt Spray Messy styles use products that mimic the grit of unwashed hair but with control. The secret weapon for hair that many guys don't know about is sea salt spray. It adds volume to all hair types and is especially great for texture, whether you want to add some wave to straight locks or lock-in natural curl. Use salt spray on damp hair as a pre-styler. Just spray it in, work it through with fingers, and air or blow-dry.
Pomade. Finish up with a texturizing product that adds separation and volume. Look for a fiber, mud, or wax pomade. Concentrate product at the roots to build volume. Too much toward the tips will weigh hair down.