We look forward to barber shops and hair salons re-opening safely across the country and world. Until then, if hair is getting as out of control as the rest of the pandemic, here are the best coronavirus quarantine haircuts to try at home.
Can this post plus assorted videos replace the time, effort, and experience of furloughed barbers and stylists? Absolutely not. We're just trying to help you get through this challenging time. They'll be ready to deal with all the mistakes and overgrown hair when the time comes.
Some popular men's haircuts are easier to give yourself than others. Buzz cuts, undercuts, and short haircuts are the best bet for a clean look. Or you can clipper the sides and back short and slightly trim the top. Or try a shaved sides mohawk or modern mullet if you don't want to trim the back of the head. No one on Zoom will know.
For the best at home haircut, you'll need:
Clippers Clippers make it quick and easy to cut your own hair. Whether it's an all-over buzz cut or DIY fade, clipper guards prevent against cutting too much hair off.
Mirror Unless you have eyes on the back of your head, you'll need a mirror to cut hair at home.
Hair Scissors -Please don't go grab the nearest scissors to cut hair. Hair is much stronger than paper so hair scissors are much sharper than household scissors. And even if you can cut through bone with kitchen shears, they aren't precise. It is worth waiting for that scissor delivery.
Try to watch some video tutorials before getting started to get a feel for how to move the clippers, hold hair, and use hair scissors. We've included a few that we have found helpful. These at-home haircut pictures were all cut by professionals but are chosen for their simplicity. This is an excellent self-haircut tutorial because it shows how to cut thick hair, how to do a good at-home fade, how to hold and use the mirror, and most importantly, the small vertical snips in the fringe. It should be able to help you achieve any of the haircuts on this page.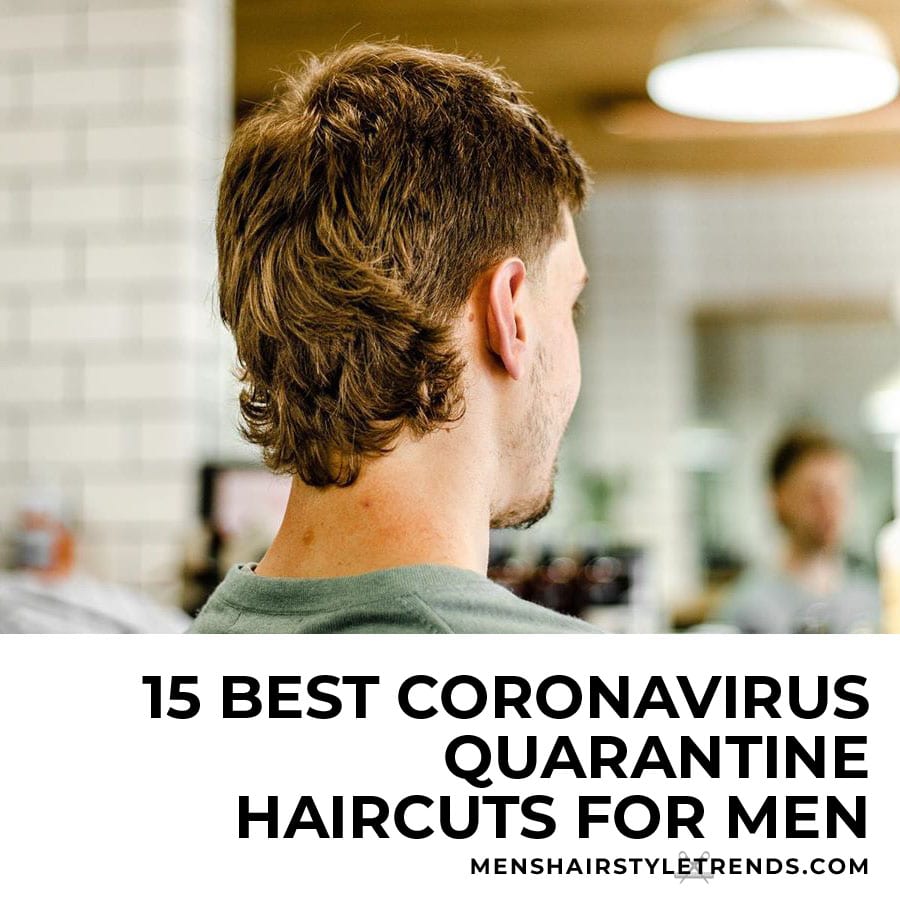 In general, there are a few things to keep in mind when cutting hair at home. The first is the sides. Decide how short and how far up you will cut hair before you get started. Then pick your clipper guard and get going. It's easier to cut hair one length but a bit of blending will make hair look better, especially the transition between longer hair on top and the sides (this is not true for an undercut). To blend hair, apply a shorter clipper guard and use short up and down strokes to create a fade.
The back of the head is a challenge. Have someone else do it or use a mirror. Either way, the key is leaving some space around the crown. The placement of the hair whorl is higher on some people and lower than others. Don't slice right through it because hair will stick up.
For scissor cutting, never ever cut a thick horizontal swath of hair. Even when it looks like your barber is doing that, hair is at an angle. For fringe, it's all about small angled snips, like so: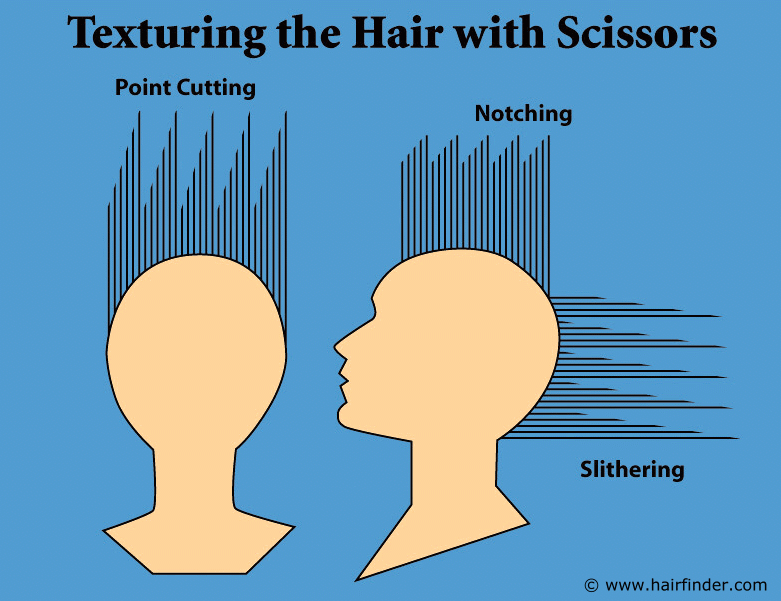 One last thing before we get to the haircuts, styling can cover most mistakes so if you don't love this DIY haircut, put in some product, tousle hair up, and let it grow back. It's all going to be okay, right?
These are buzz cuts with some length on top, short sides with long tops, undercuts
1. Easy At-Home Haircut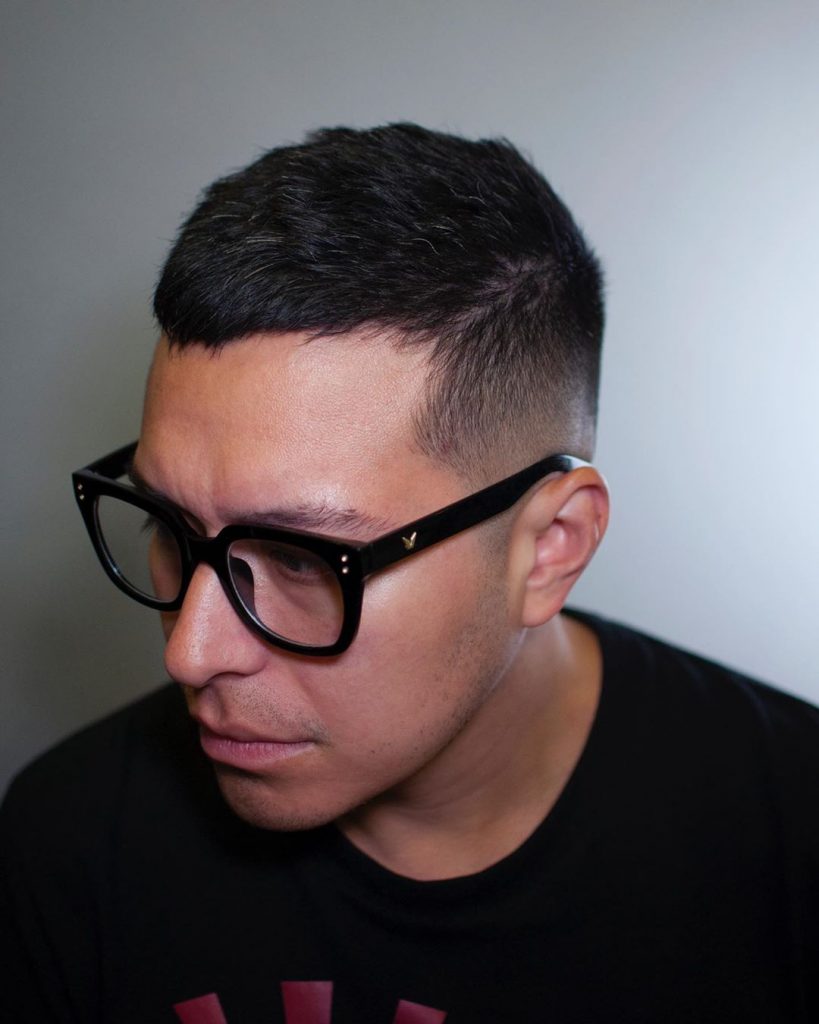 This cut has short textured hair on top and a high fade at the sides. Hair is left longer from a line that extends out from the hairline above the temples. Hair is left a bit longer at this transition. Start by cutting the sides and back to that longer length. Then use a shorter guard around the neckline and ears and then blend in-between the two lengths. On top, cut small sections of hair on an angle. The goal is texture so it doesn't have to be super neat.
2. DIY High and Tight Haircut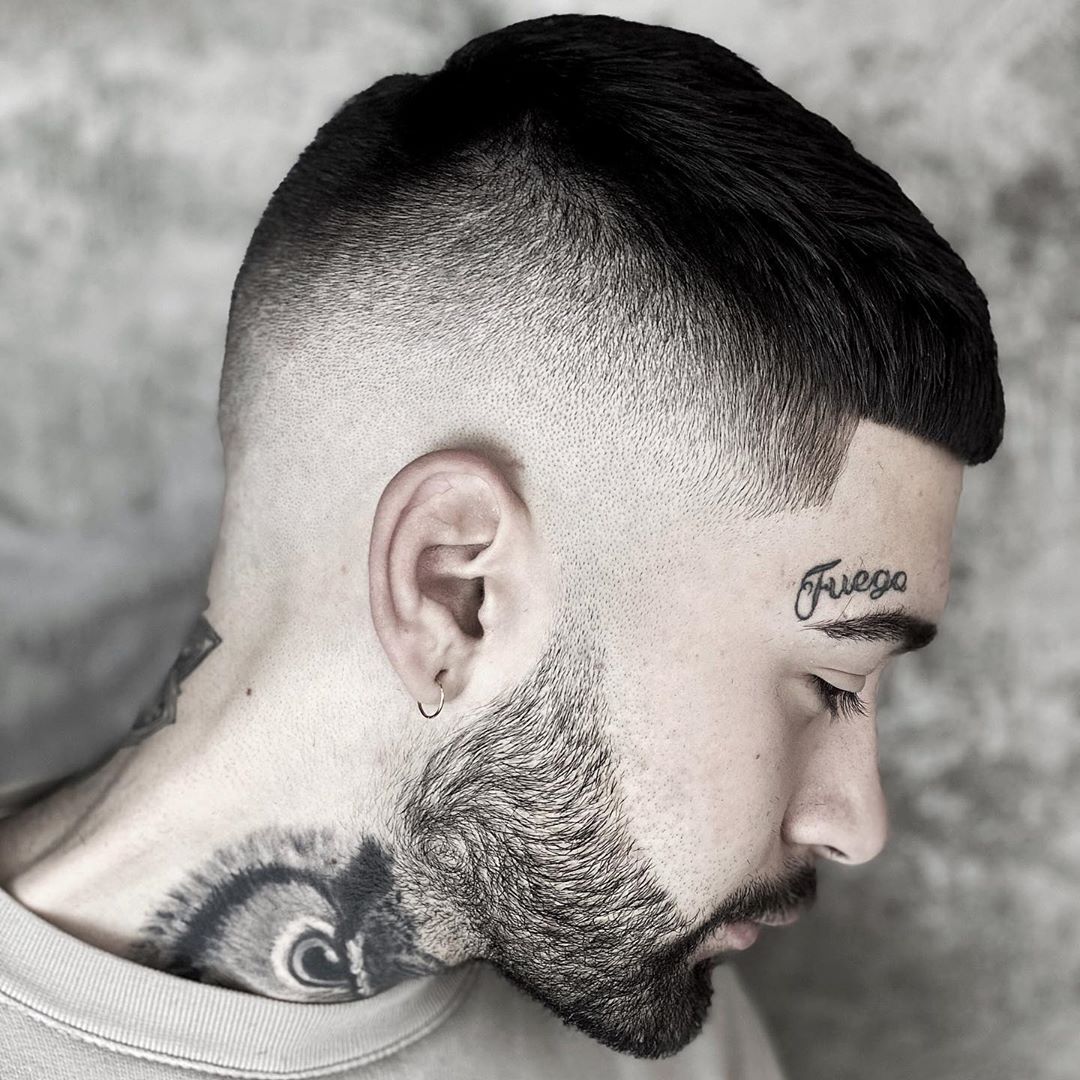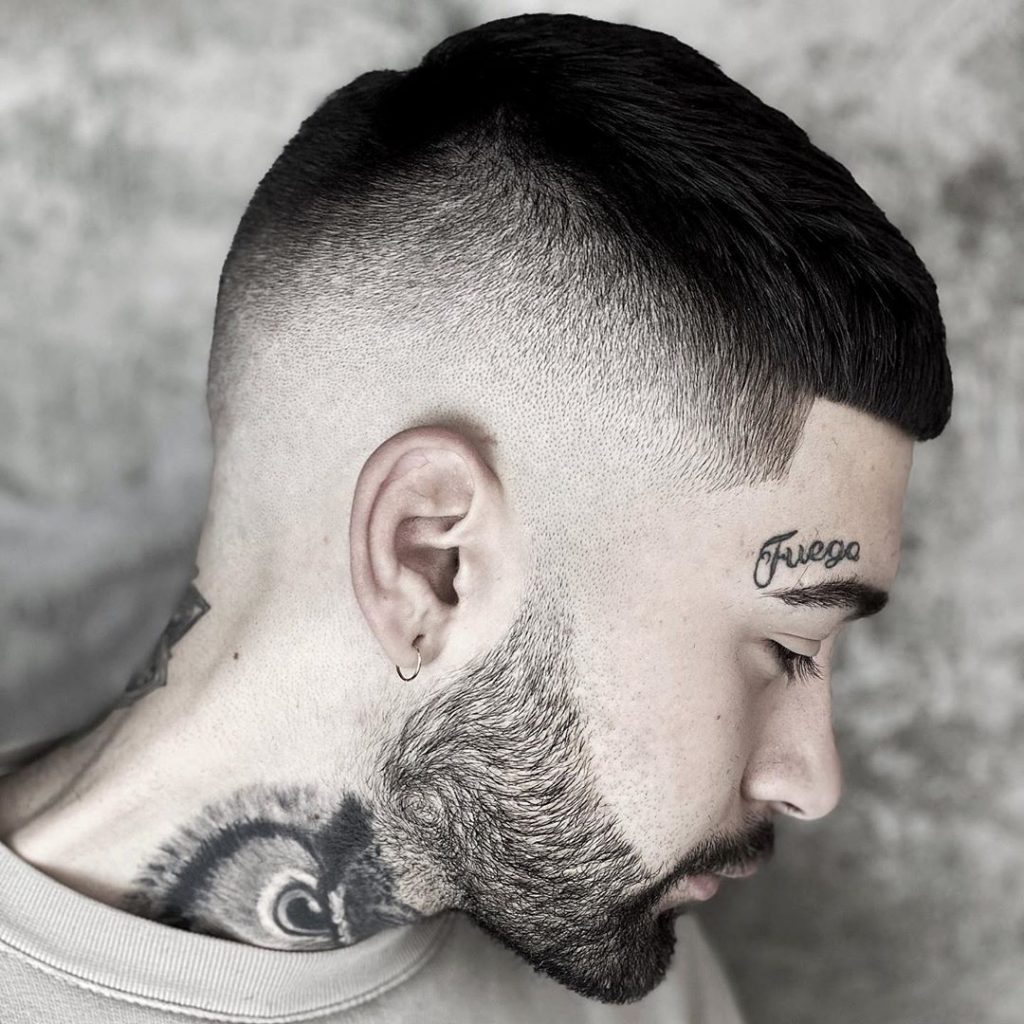 The high and tight is an easy haircut at home and you can even use only clippers. This version leaves hair thicker on top, with scissor cut blunt fringe. There is a bit of blend between the high and the tight that you can attempt or skip. The most important part of this cut is how it drops down behind the crown. That bit is cut even shorter so it doesn't stick up.
3. DIY High Fade + Line Up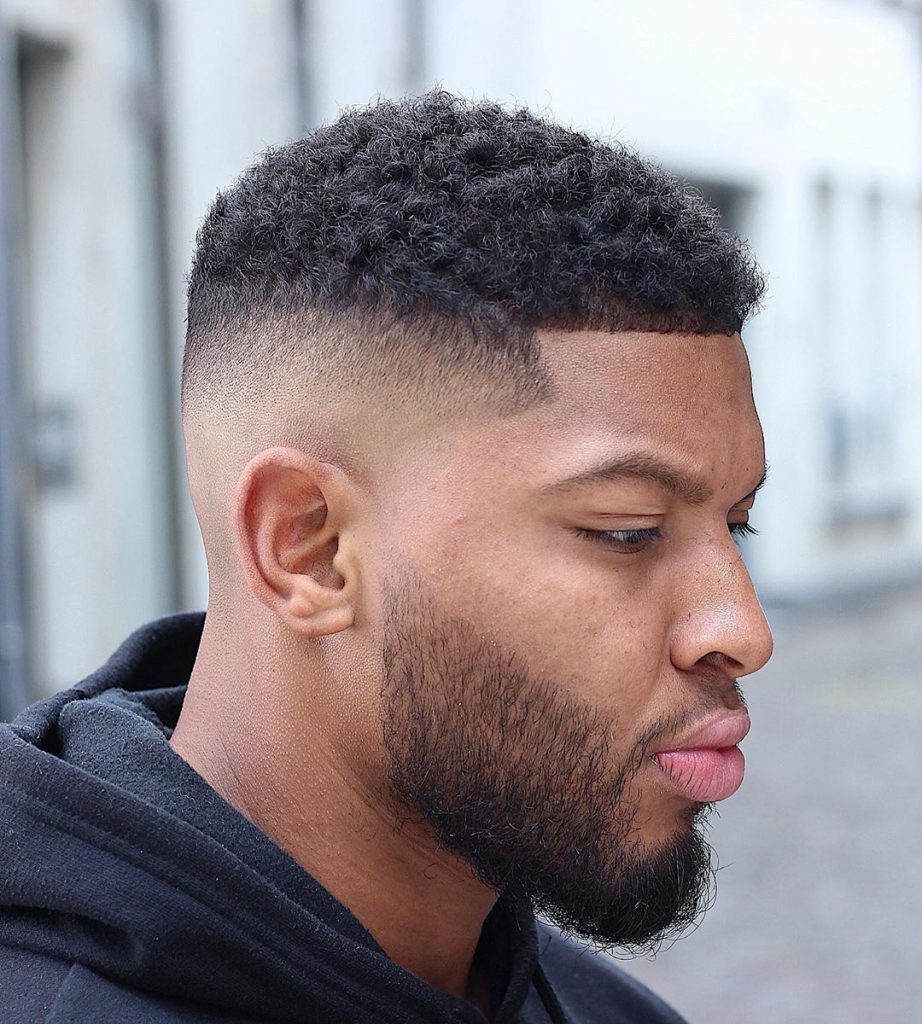 We never thought we would be telling you to cut a fade and line up at home but there are a lot of things happening now that were unpredictable. What makes this high fade work is an even line that extends around the back of the head from the hairline. If you're up for doing a tape up at home, make sure not to cut hair too high. It's easier said than done so be warned.
4. Undercut + Short Hair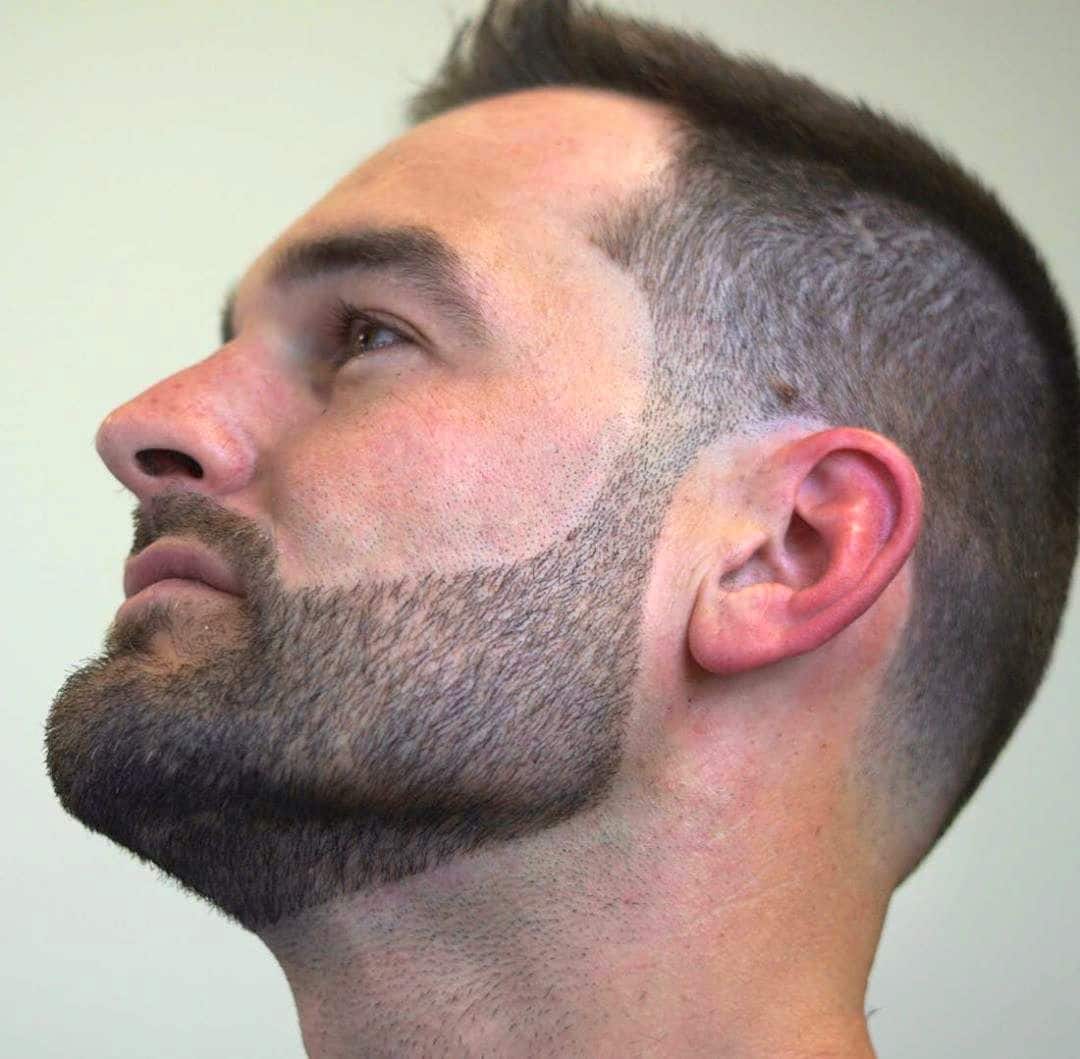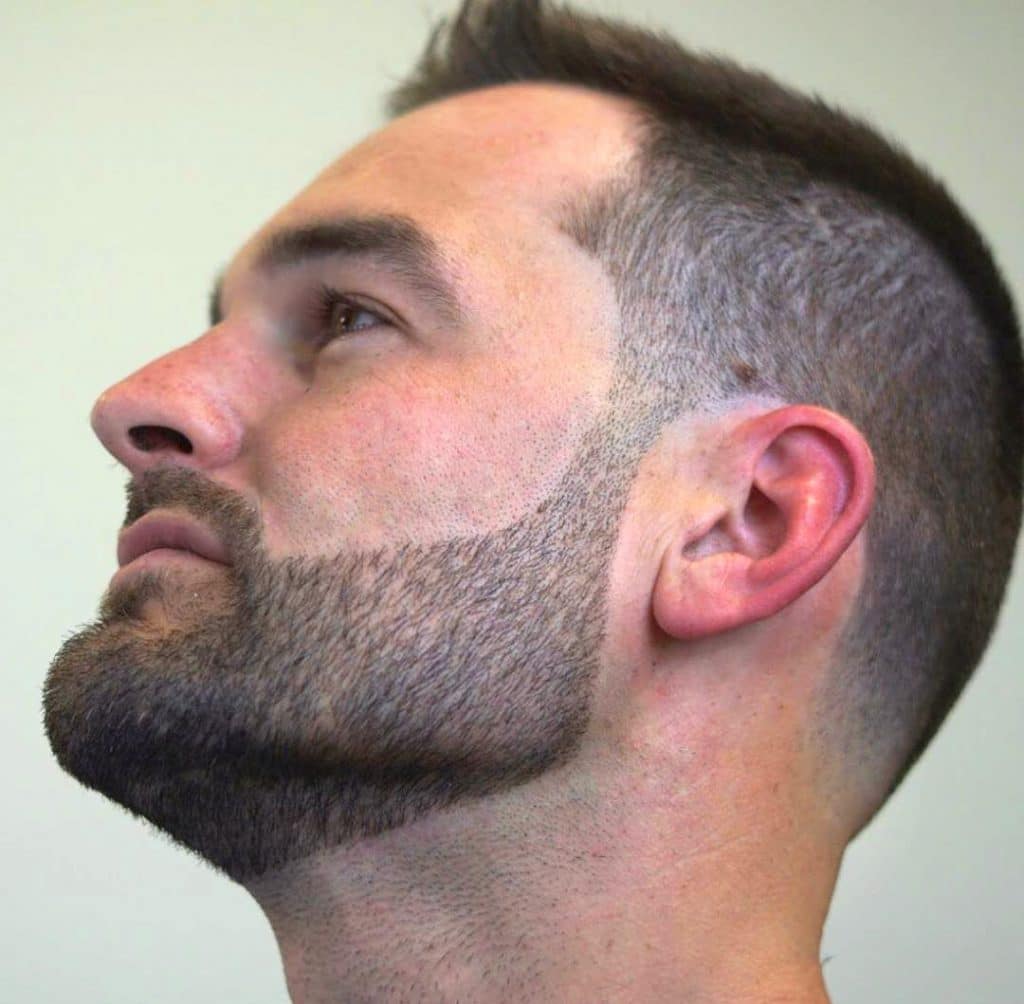 This is the easiest at home haircut second only to the buzz cut. Hair is cut to one short length around the sides and back and even through the beard. Hair is short on top with minimal transition. It's a bit more polished than the jar head. but not much.
5. How To Cut A Hair At Home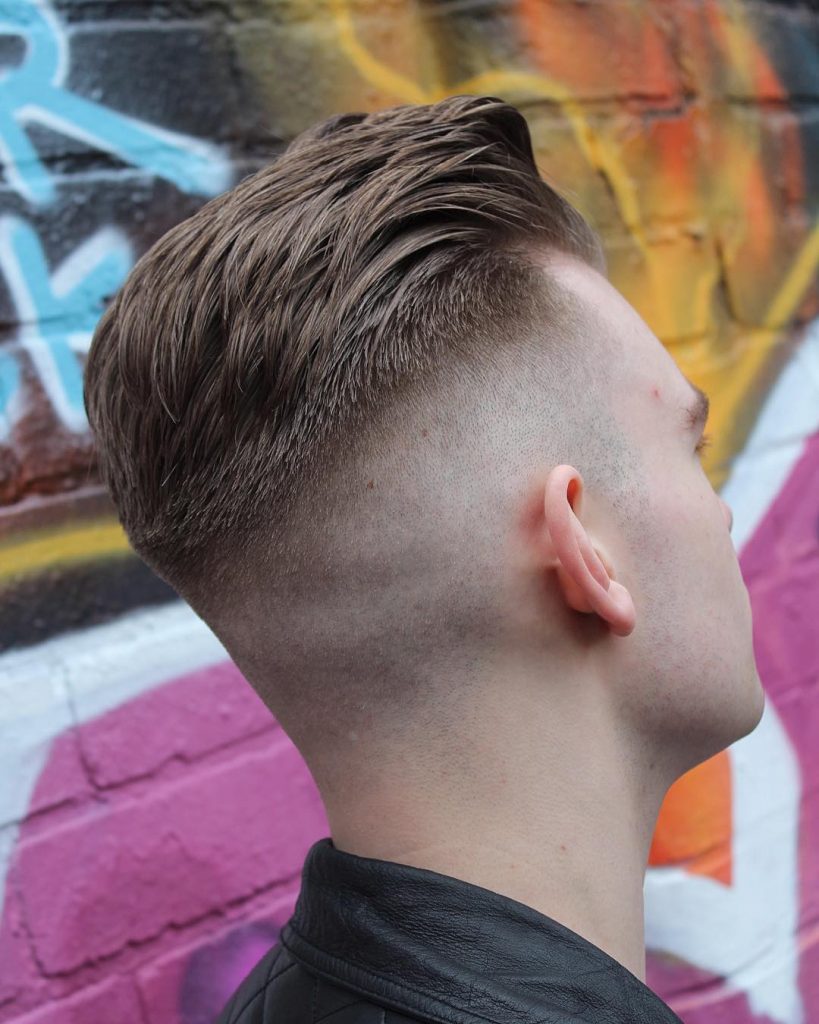 Maybe it doesn't matter so much what the back of your head looks like right now. You're with loved ones, only face forward on the web cam, and can throw on a ball cap for rare visits to the outside world. However, if you do care what the back of the head looks like, follow the crown when cutting your own hair. With a high crown like this gent, an angled line can transition between shaved and longer hair. For a lower crown, drop down behind it in an arc.
6. At Home Crew Cut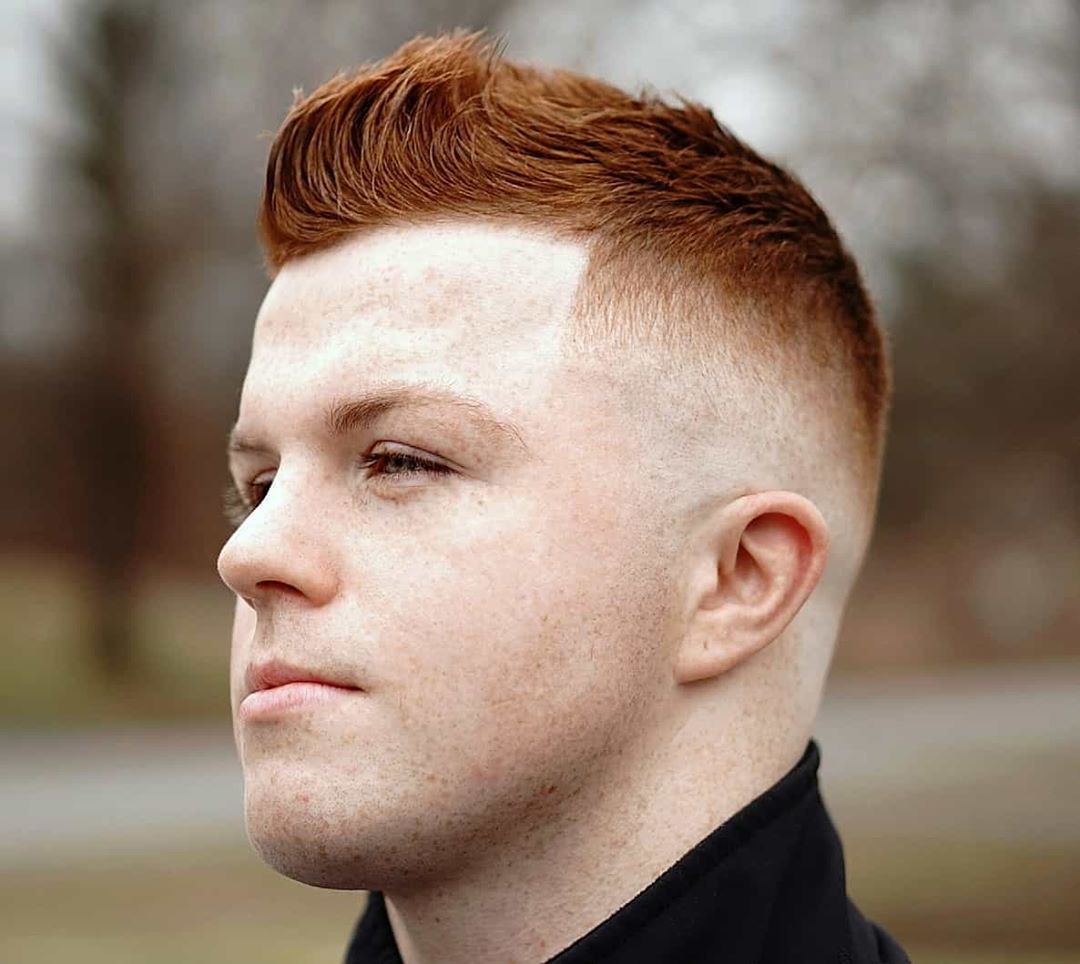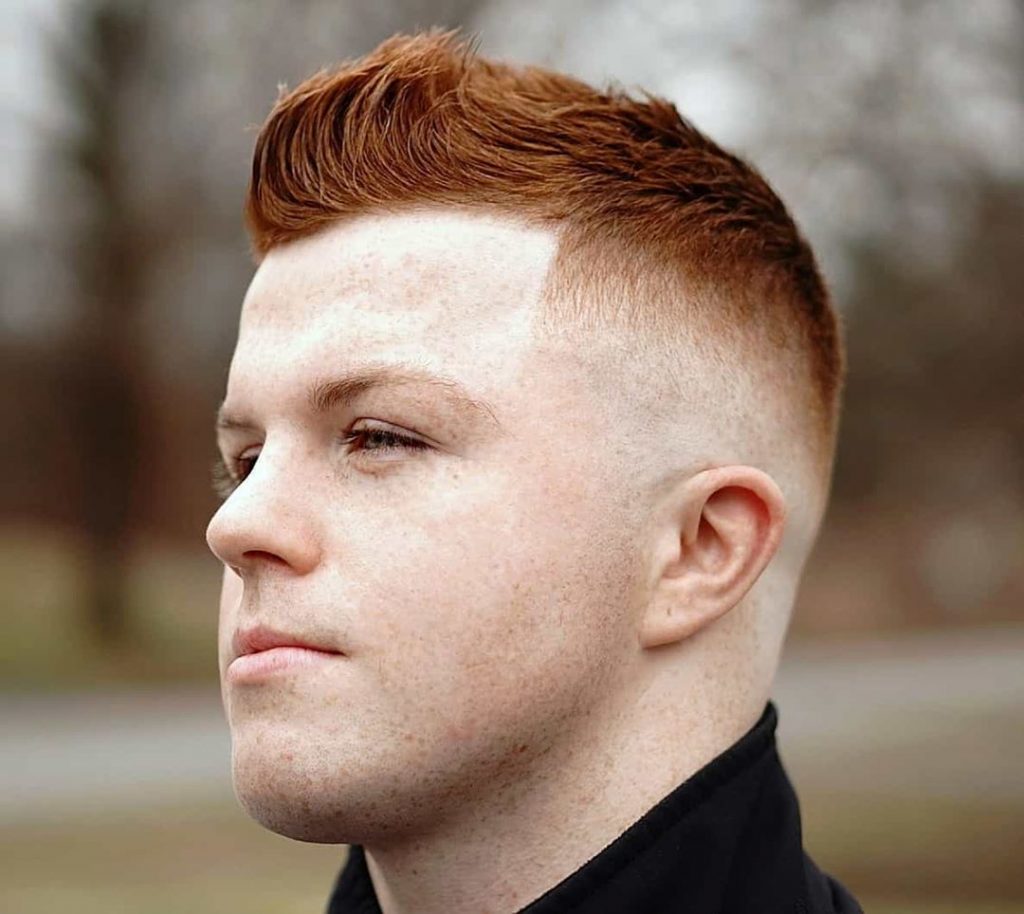 The crew cut is longer at the front and gets shorter towards the crown. This version is styled into a textured faux hawk that will forgive most cutting errors. The great thing about this cut is it's easiest to cut your own hair where it matters the most.
7. DIY Combover Haircut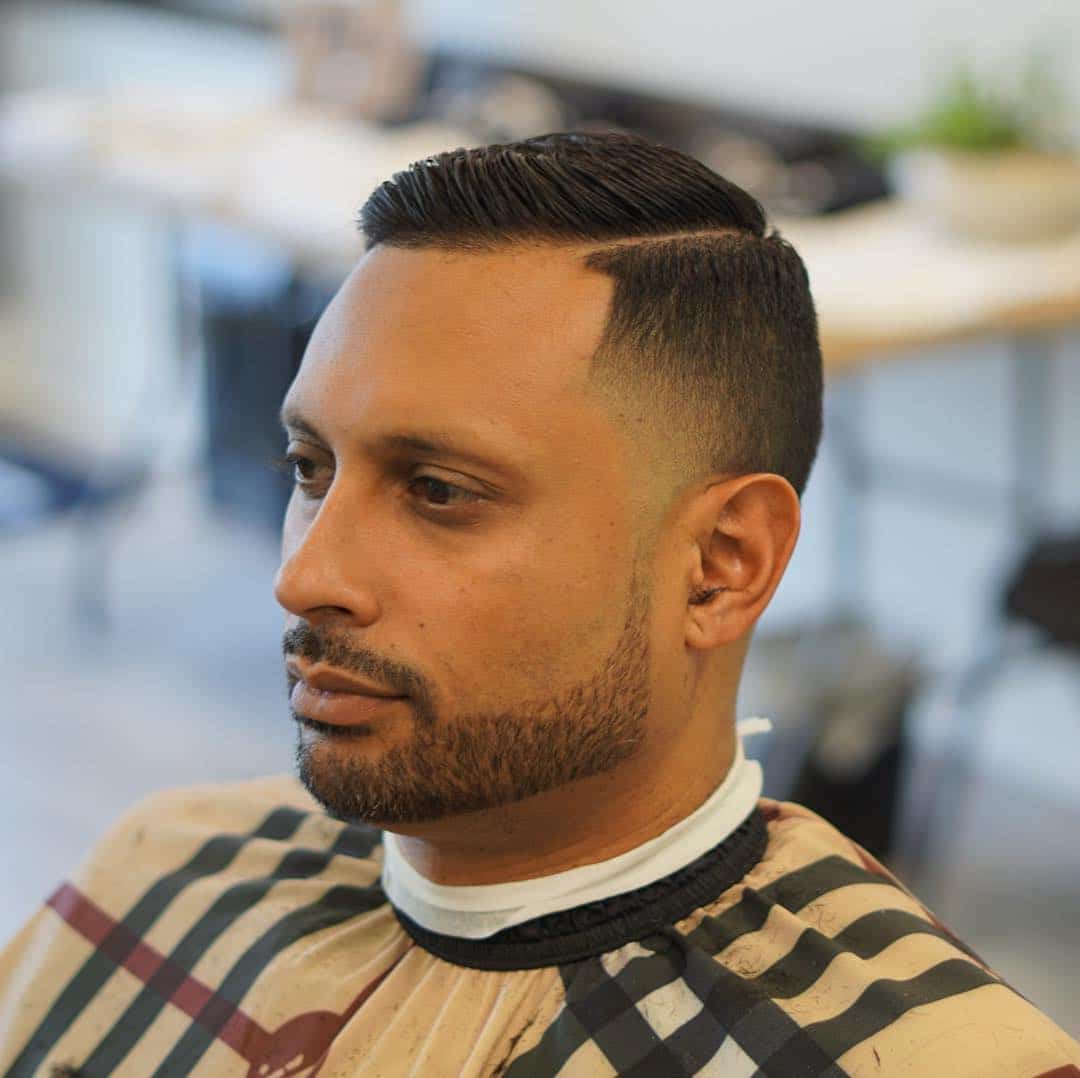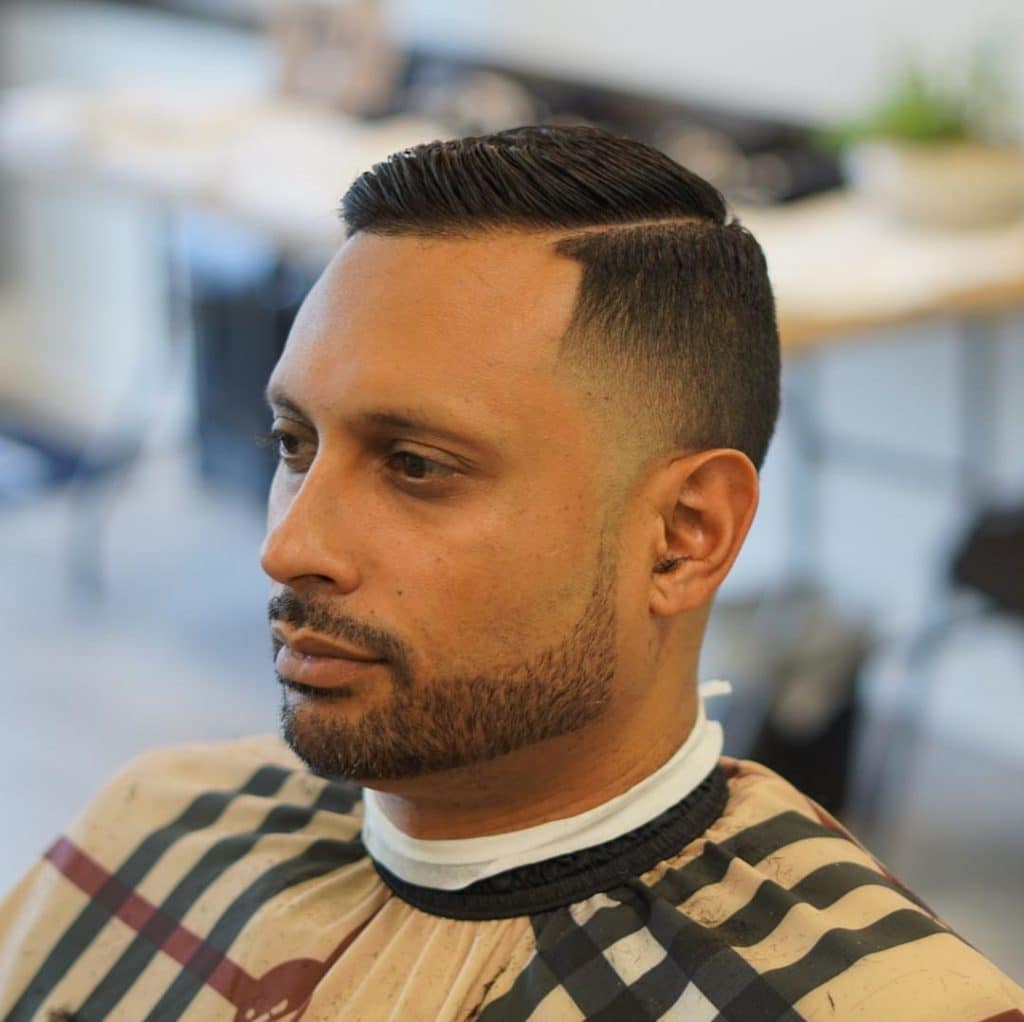 The combover is another good DIY choice because the sides are cut short/faded up to a certain point and the longer top just needs a trim.
8. How To Cut Wavy Hair At Home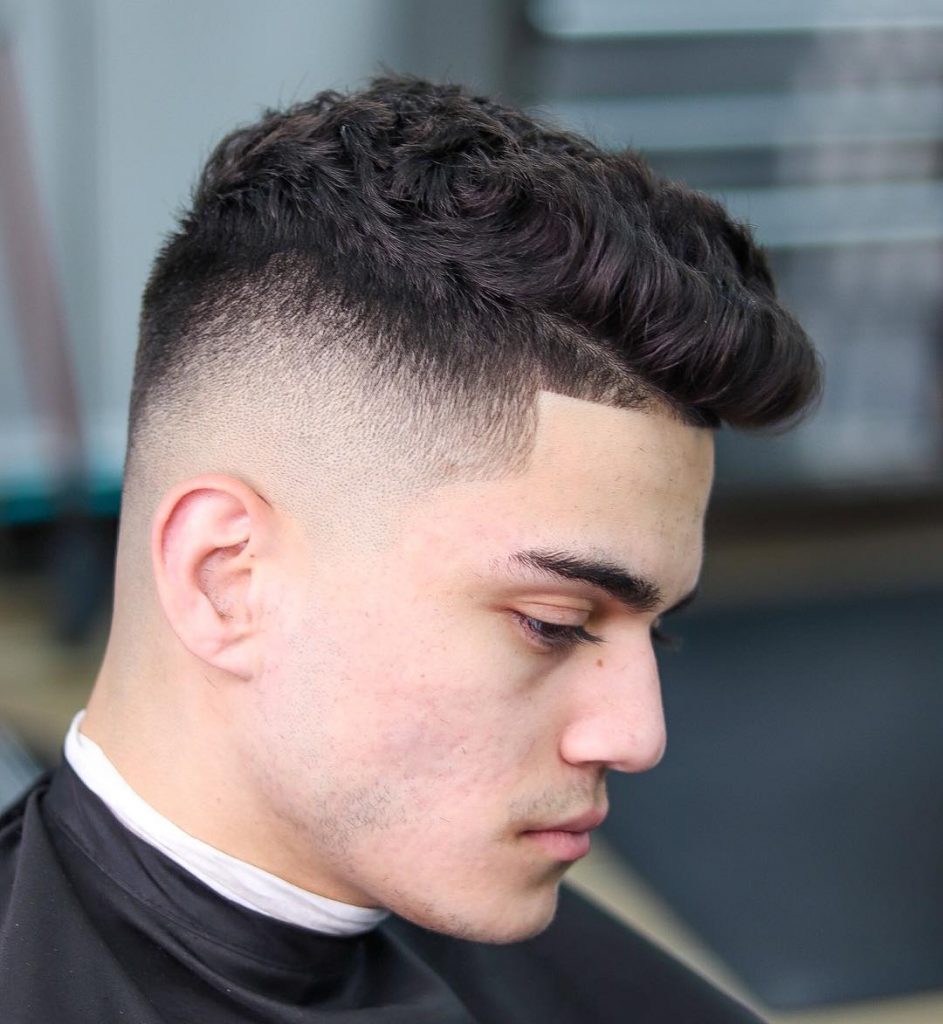 Cutting wavy hair, even more than straight hair, is about cutting at an angle. Grab a section of hair and cut small V-s to lighten up hair and maintain texture. This line up might be more than most amateurs can handle though.
9. Spiky Hair + Undercut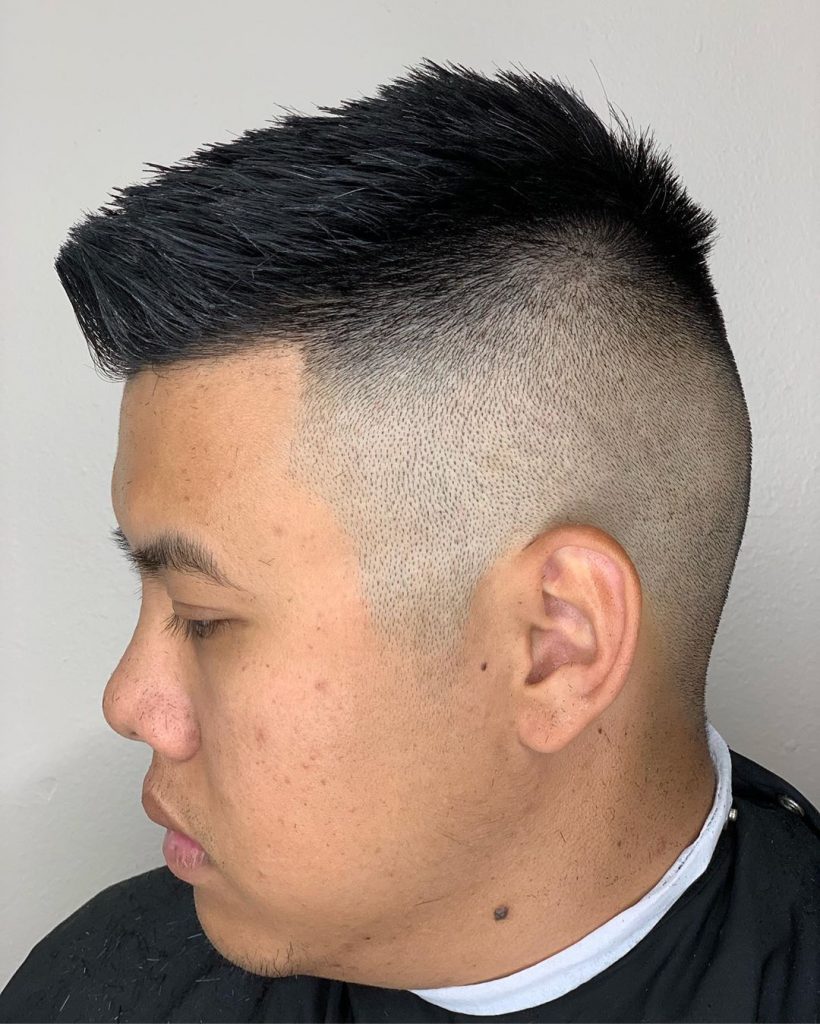 If you feel more comfortable with shorter hair, go right down to the skin like this undercut. Hair on top is point cut for texture and spiked up. Try cutting hair, then styling it, and make any additional snips to the final product.
10. At Home Haircut For Thick Hair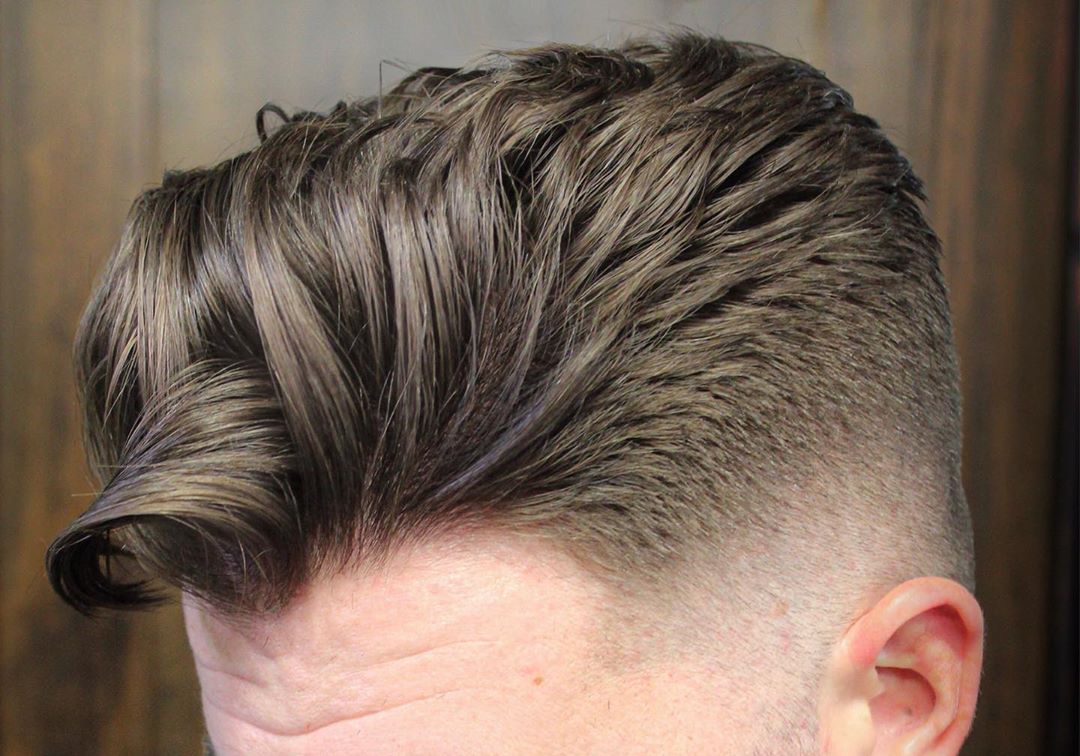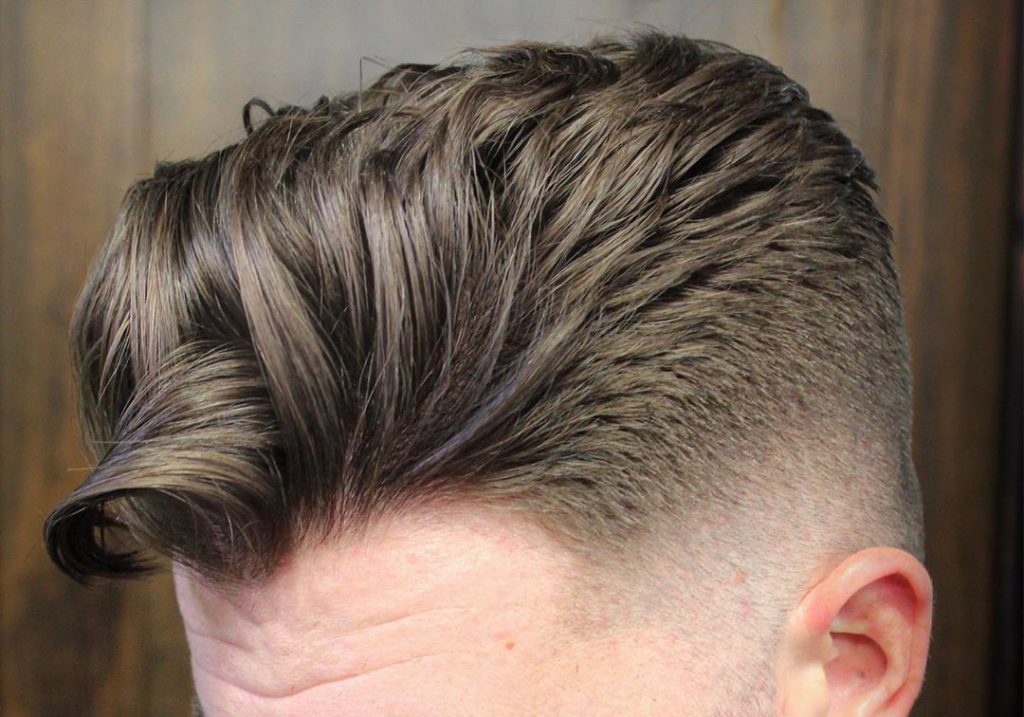 For some hair types and hair lengths, do-it-yourself hair cutting can be focused on the sides and back while leaving the top do what it does. We're talking thick hair, medium hair, and messy styles.
11. Messy Haircut Styles For Men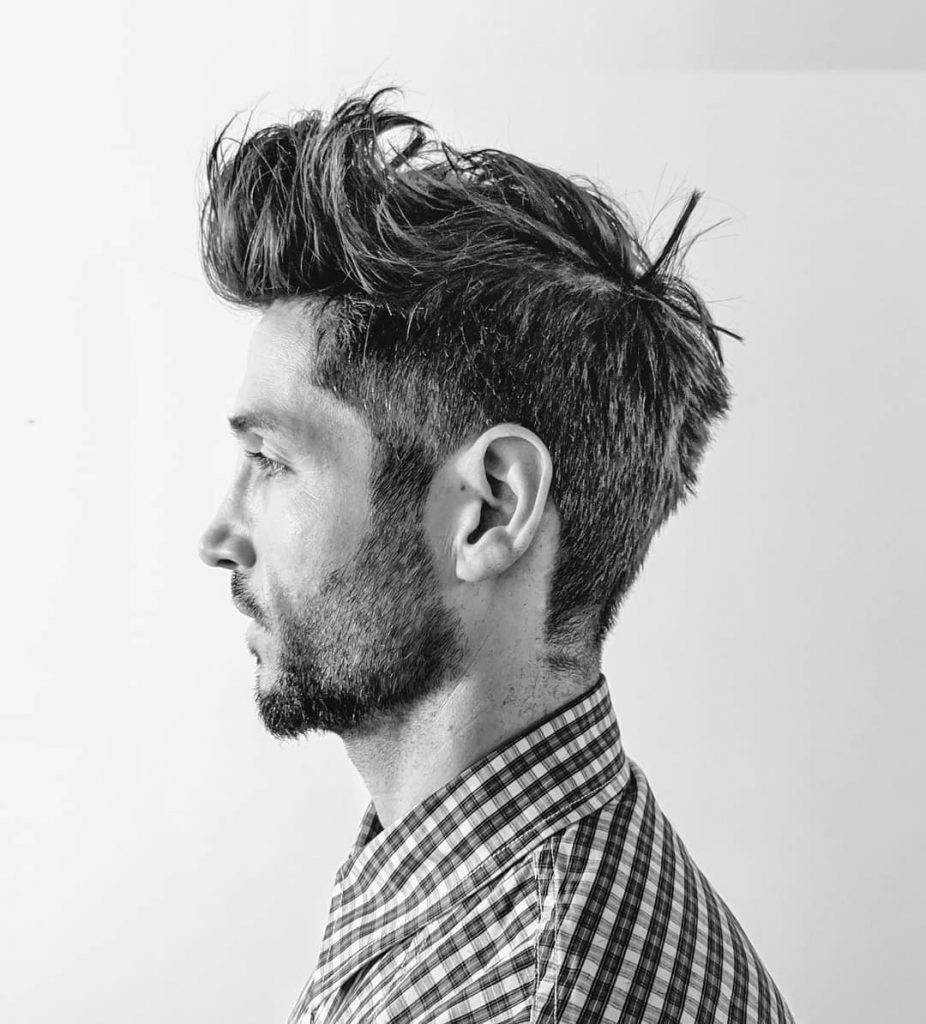 Texture and flow are in! This look shows how you can maintain the sides while letting the top grow. Use a longer clip length around the edges and use product to do the rest. That means slick backs for work calls and this artful mess the rest of the time.
12. Long Top, Short Sides Haircut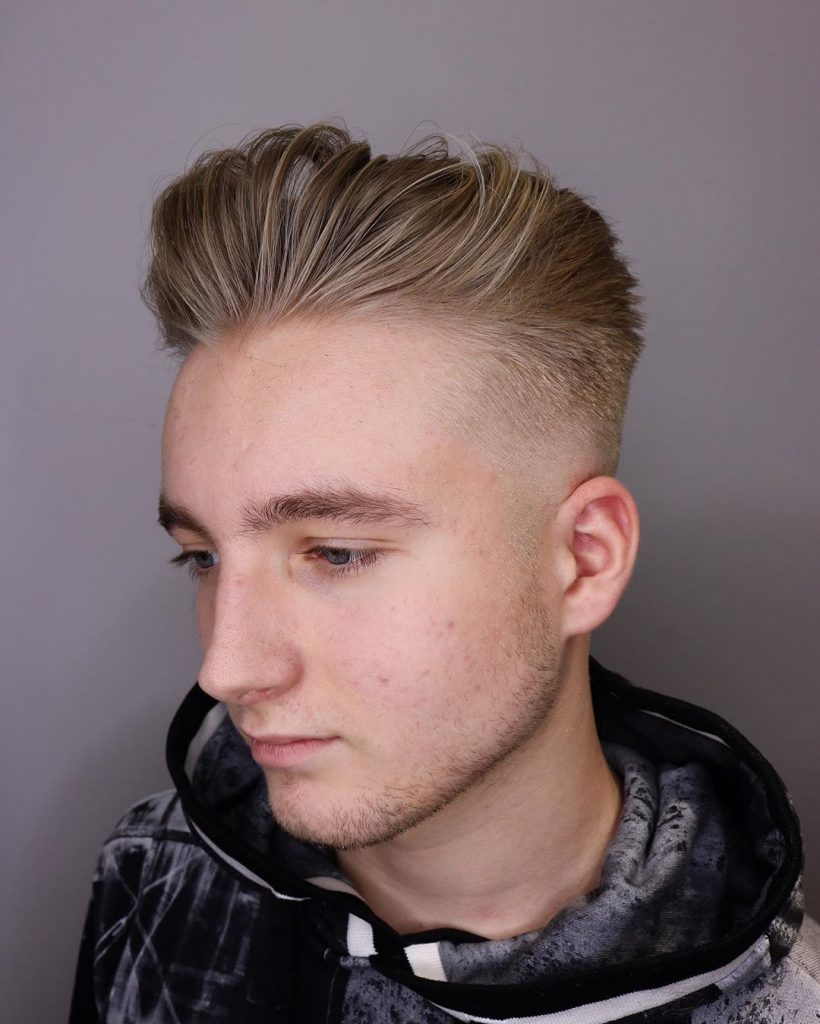 Here's another look that balances cutting hair short and growing it out.
13. Undercut + Man Bun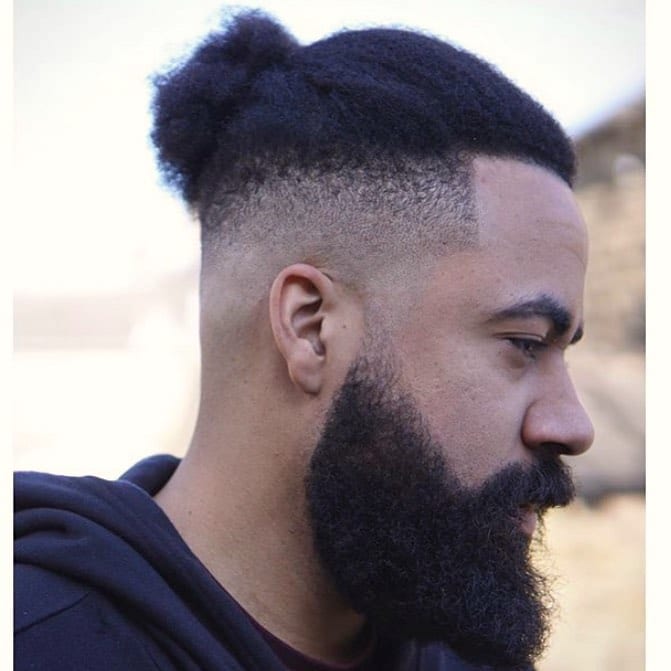 The undercut is like a partial buzz cut. The key is picking a line and only shaving that far. That is easy to do with longer hair. Pull it up into a man bun and remove the rest.
14. How To Cut A Mohawk Fade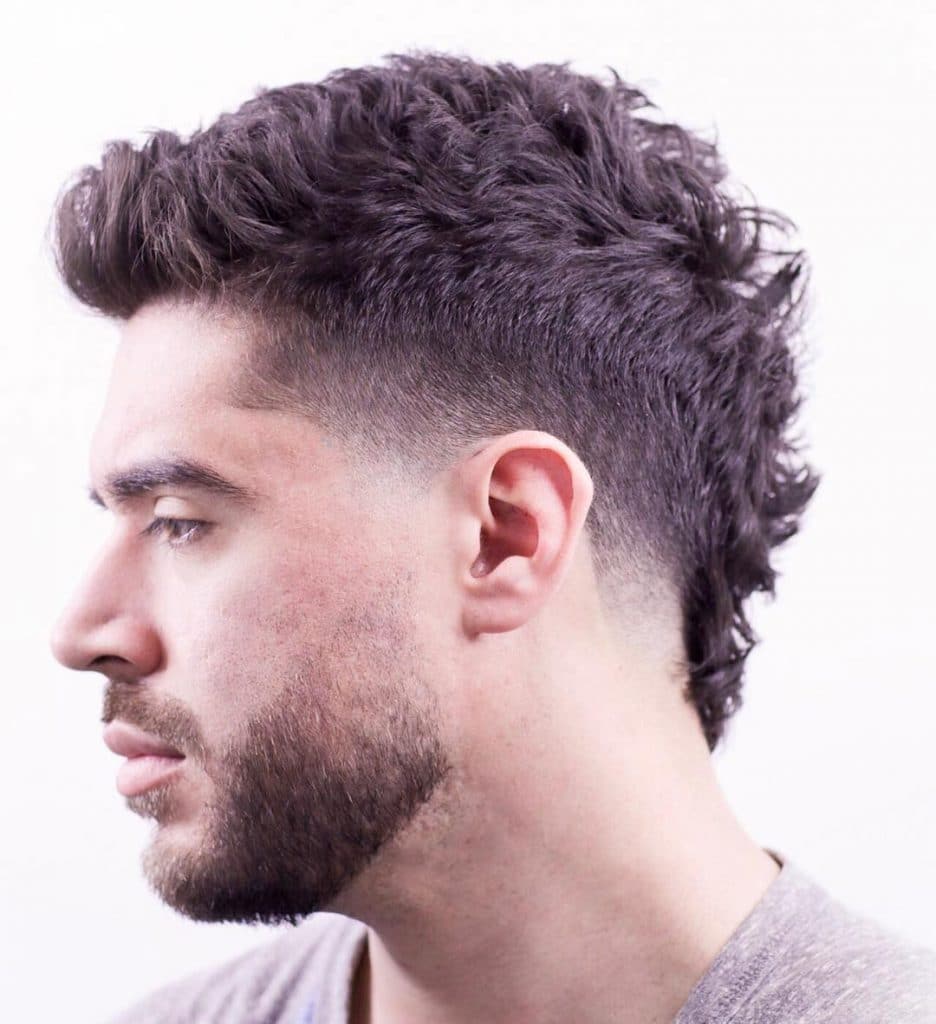 If you feel comfortable cutting the sides but not the back, do just that to create a cool wide mohawk. It works for all hair types.
15. Let It Flow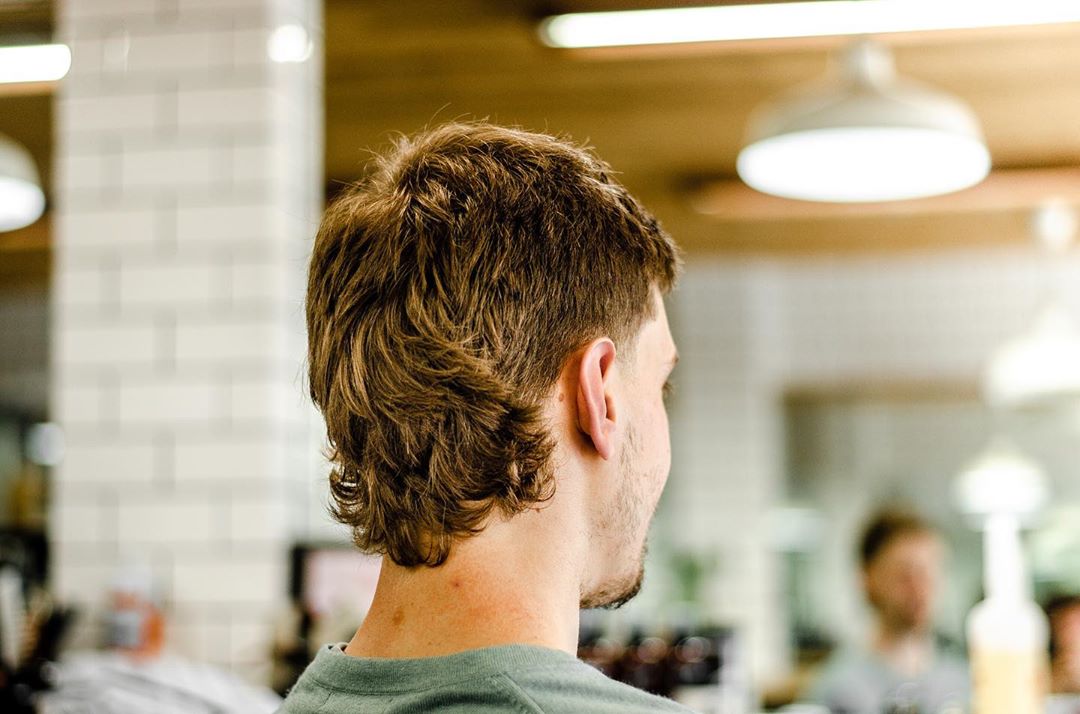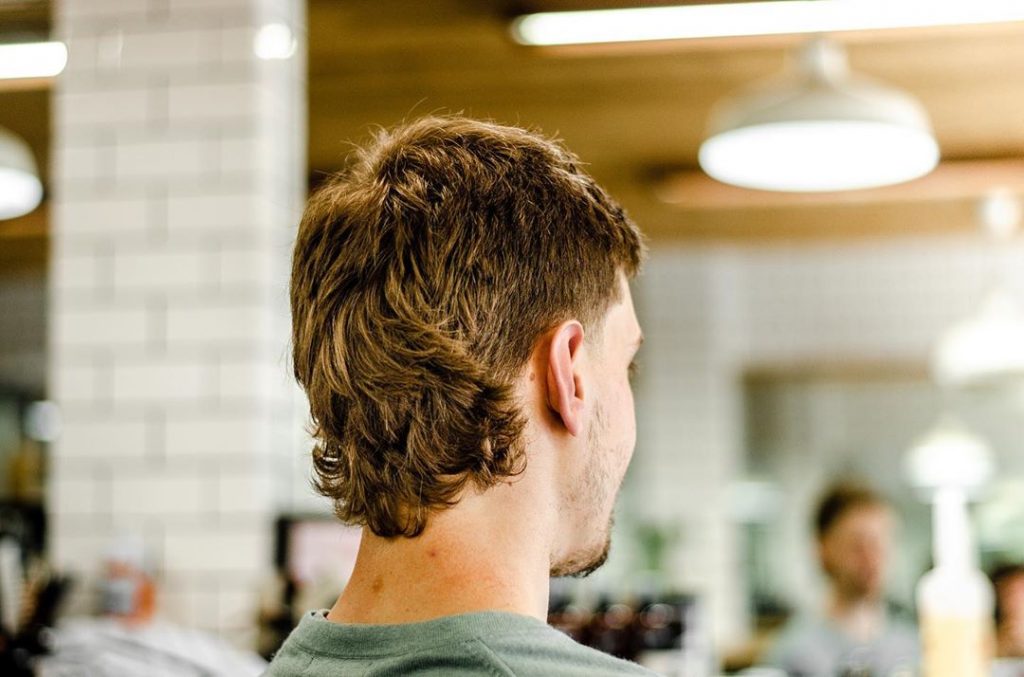 No quarantine companions or mirror? Go with the flow and rock a handsome mullet. For more inspiration, spend some of that lockdown time watching Miami Vice. This cut is making a comeback and we're here for it.