Short haircuts are the go-to for most guys. Leaving the barber with a clean and fresh look is super satisfying. Our newest update features all-new, super cool short haircuts for men. Update your style with a men's haircut that will get noticed and feel great.
Short haircuts can include anything from a couple of millimeters to a couple of inches long. Hair can look and feel even shorter, a type of fade at the sides. Or leave sides short but not shaved with a taper or taper fade. As far as styles go, short hair can be classic, trendy, or even trendsetting. It's up to you.
Here are 175 pictures of the most popular types of short haircut styles. Starting with the shortest, there are plenty of ways to wear short fades, textured looks, and classic men's haircuts. If none of those work for you, keep scrolling for short haircuts that suit specific hair types, including thick, Black, curly, wavy, Asian, and thin hair.
The Best Men's Short Haircuts
Scroll down to get into the most popular short haircuts for men in greater detail and to understand how to style them. But first, let's list your options for a quick understanding of the different styles you can get.
These are the haircuts you can ask your barber to cut for you.
Buzz cut
Shaved head + faded sides
Short taper fade haircut
Very short men's haircut with a low fade, mid fade, or high fade
Short haircut with a hard part
Line up short haircut
Short spiky haircut
Short messy haircut
Textured crop haircut – short hair
French crop haircut – short hair
Crop fade
High and tight
Crew cut
Short comb over fade
Classic side part haircut – short hair
Short quiff haircut
Mohawk fade
Faux hawk – short hair
360 waves haircut
Even short hair needs to be styled. For buzz cuts, all you need to do is take care of hair with a good shampoo and maybe conditioner too. Added moisture is more important if you plan to grow hair longer. Do use it for hair longer than half an inch. Other than that, the key is finding the right pomade for your hair type.
Faded, Shaved, + Very Short Haircut Styles
These are all variations on the popular buzz cut – fade combination. Many have a shape up to create a square hairline but that is optional. Anything goes for the fade from the lowest taper fade up to a high skin fade and everything in between. If that's not enough, add a hard part or some shaved lines.
1. The Buzz Cut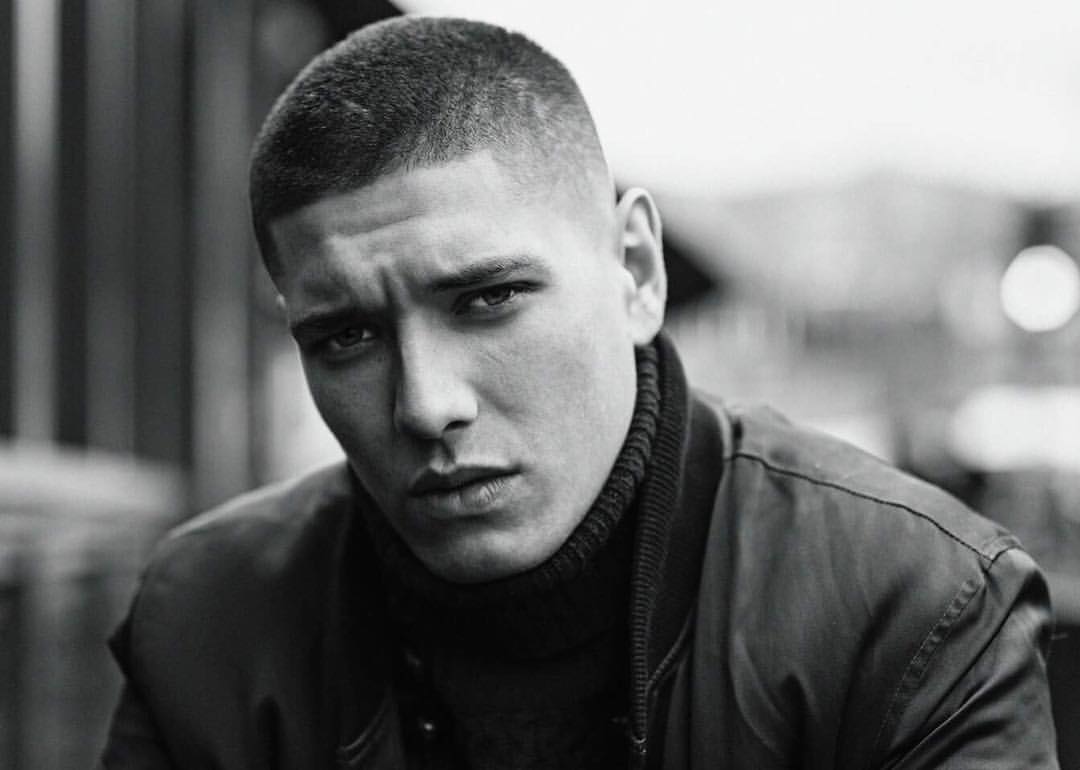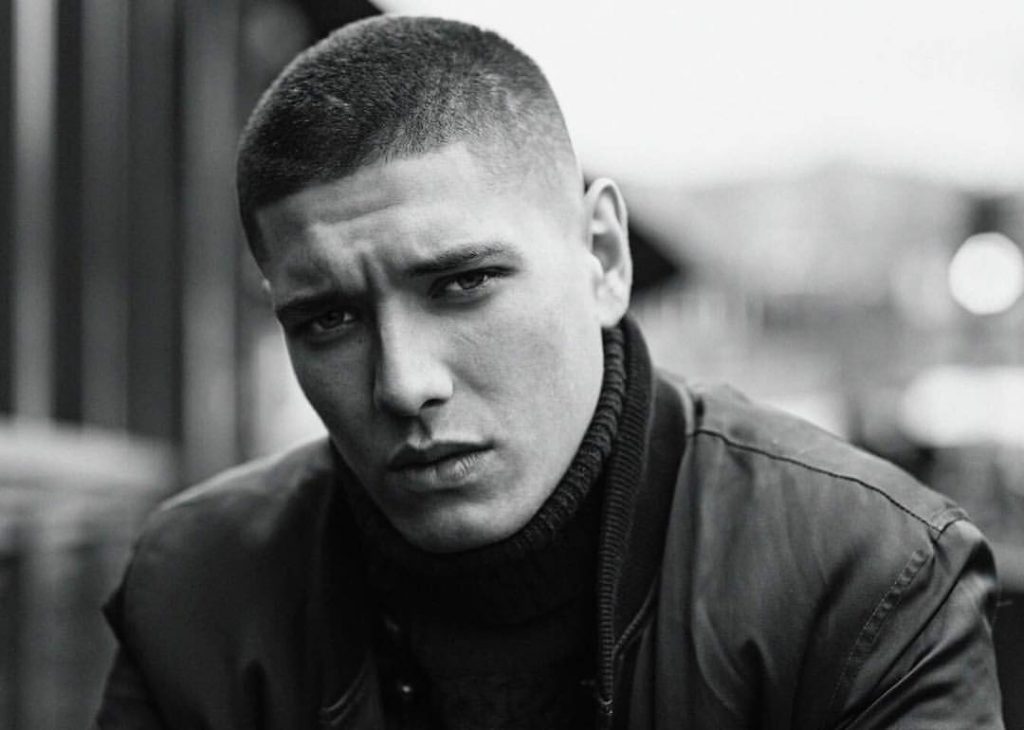 While the buzz cut started with the military but it can be a high fashion look too.
2. Short Taper Fade Haircut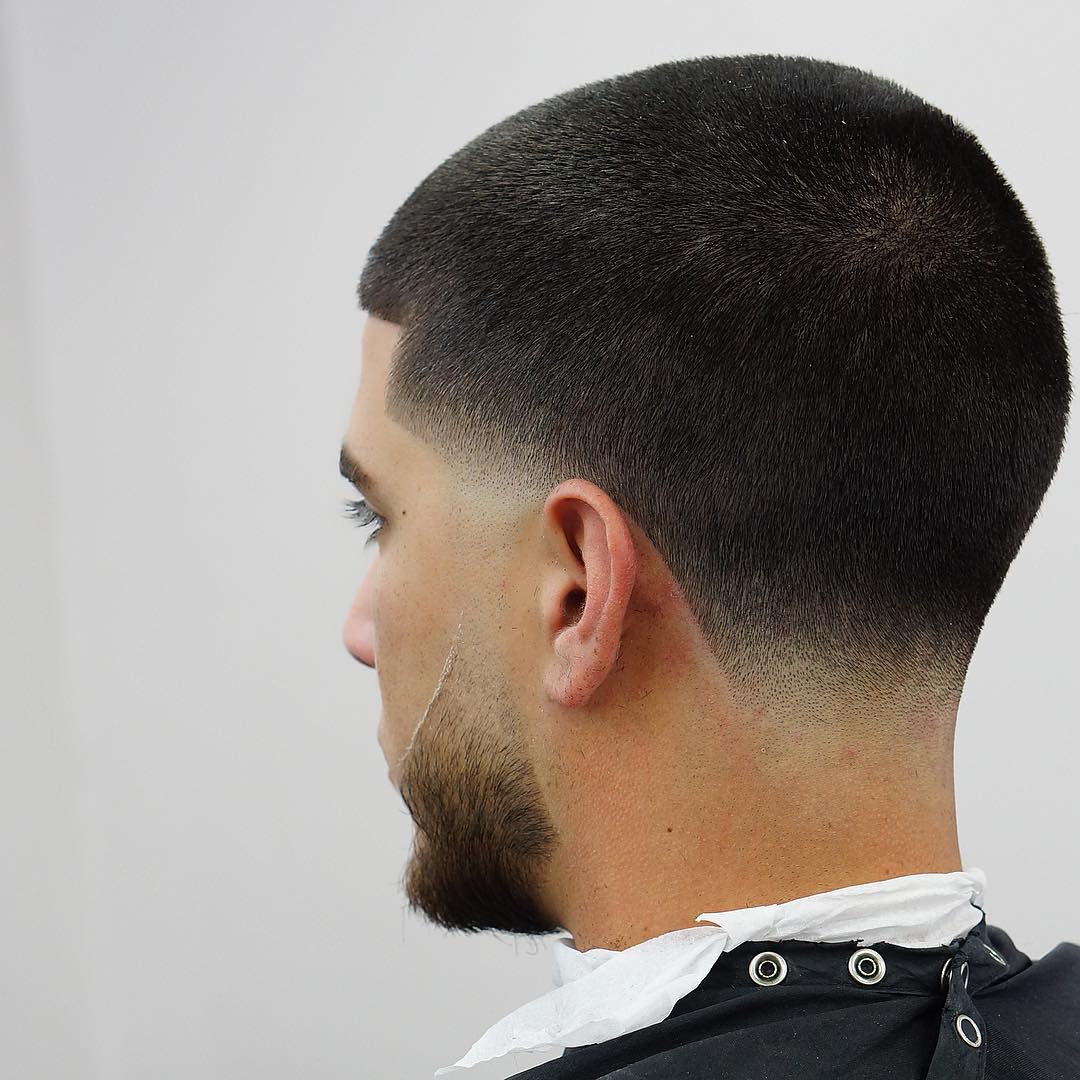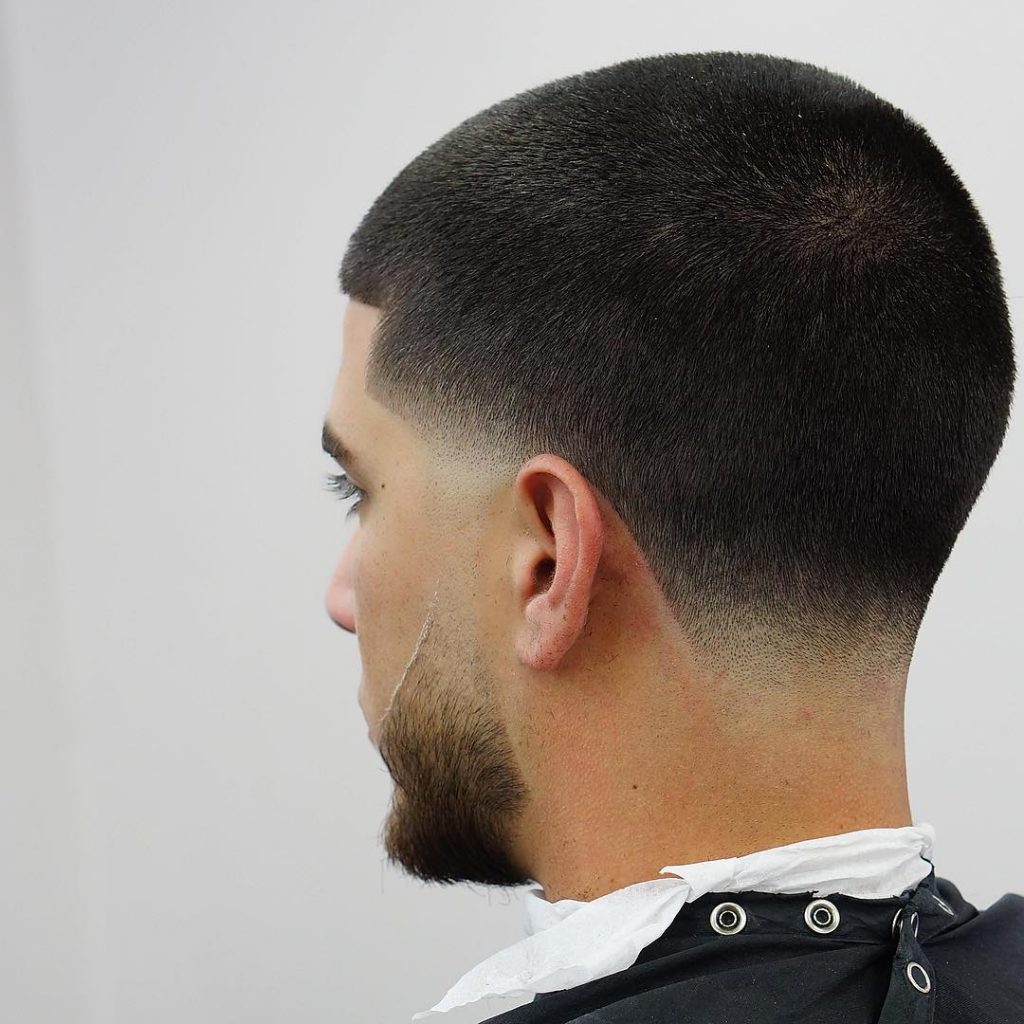 Style up that buzz cut with a line up and taper fade.
3. Short Low Fade Haircut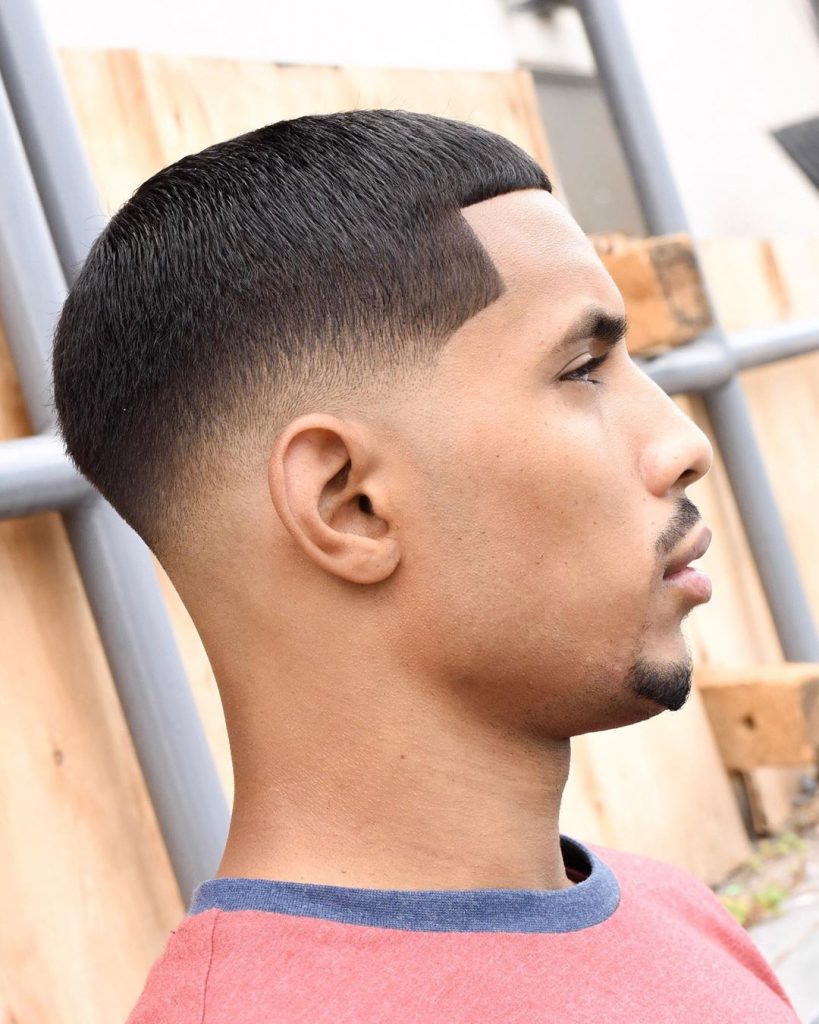 This cool Caesar haircut contrasts the line of blunt fringe with blurry low fade.
4. Short Mid Fade Haircut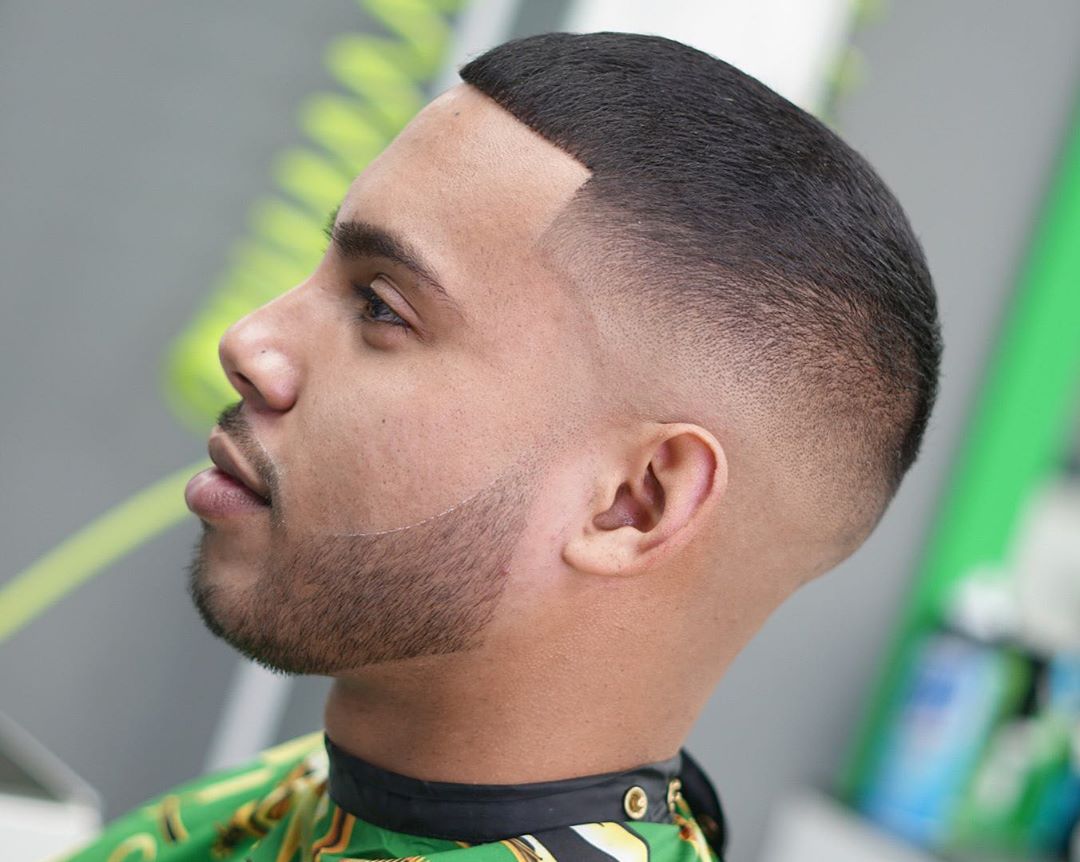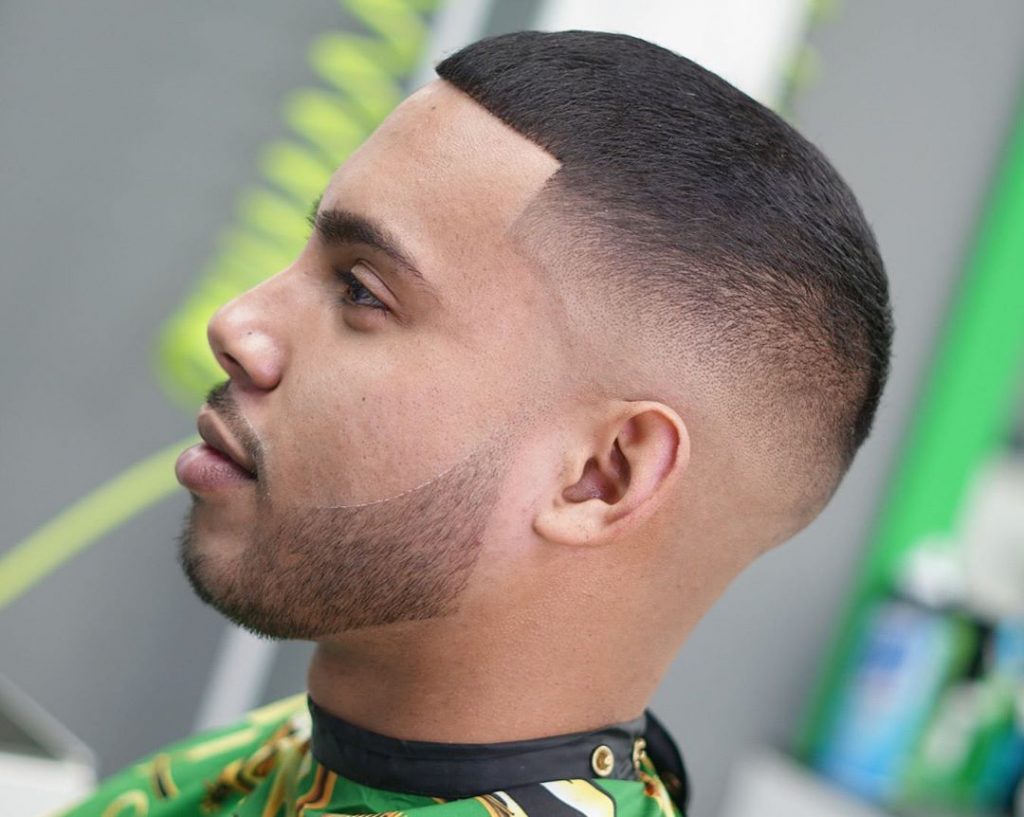 Same haircut but with a higher fade and shaped beard.
5. Short High Fade Haircut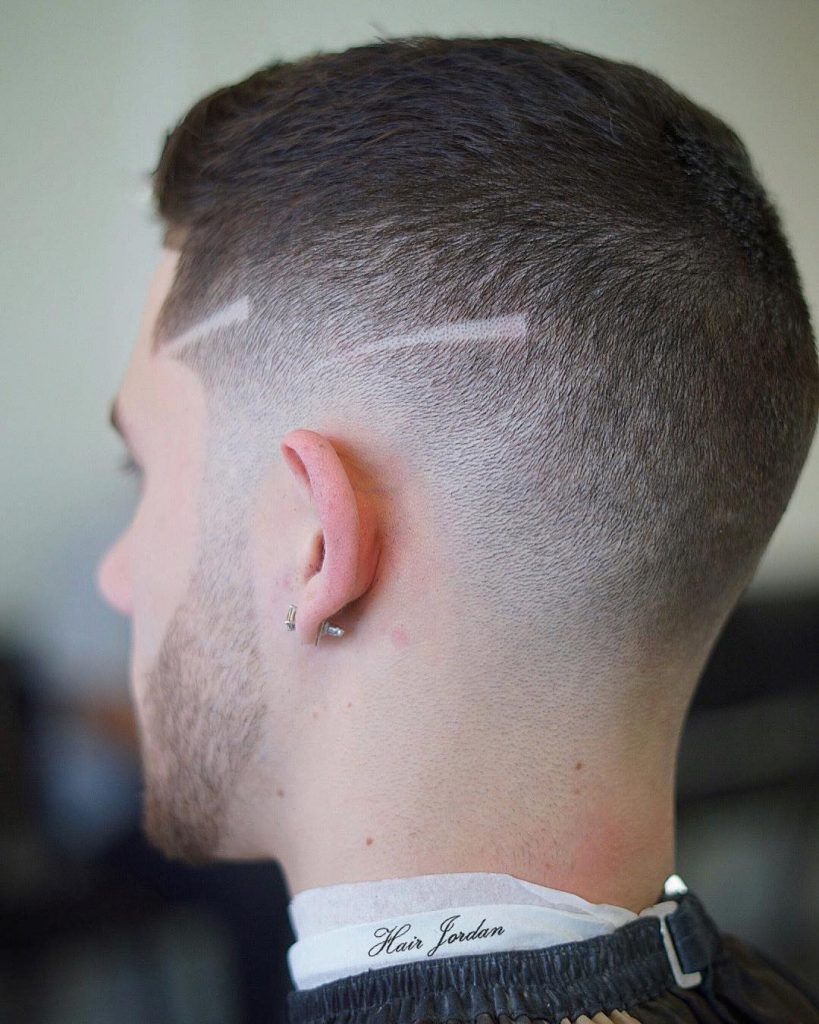 This fade cuts the sides short up high and adds some artistic shaved lines.
6. Short Skin Fade Haircut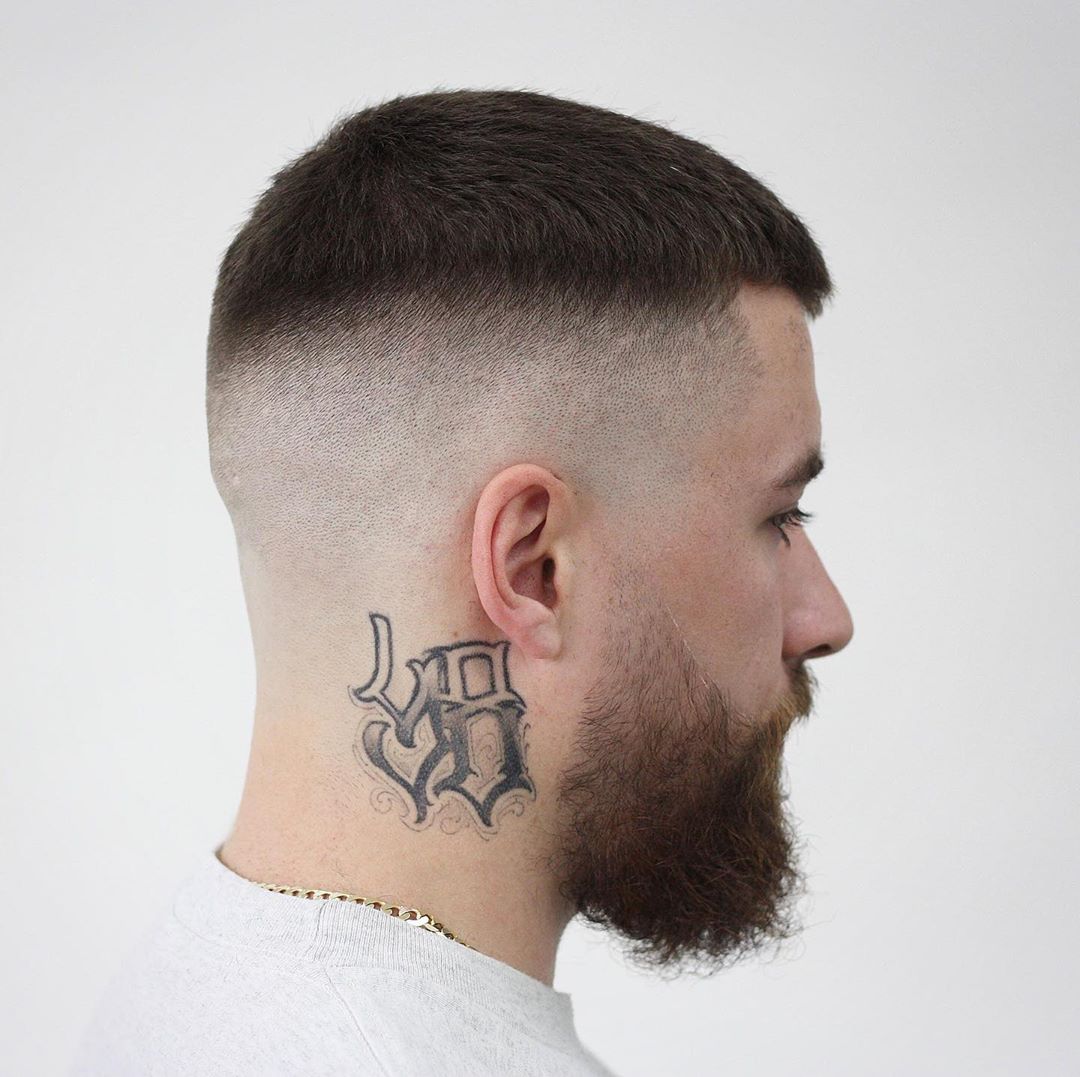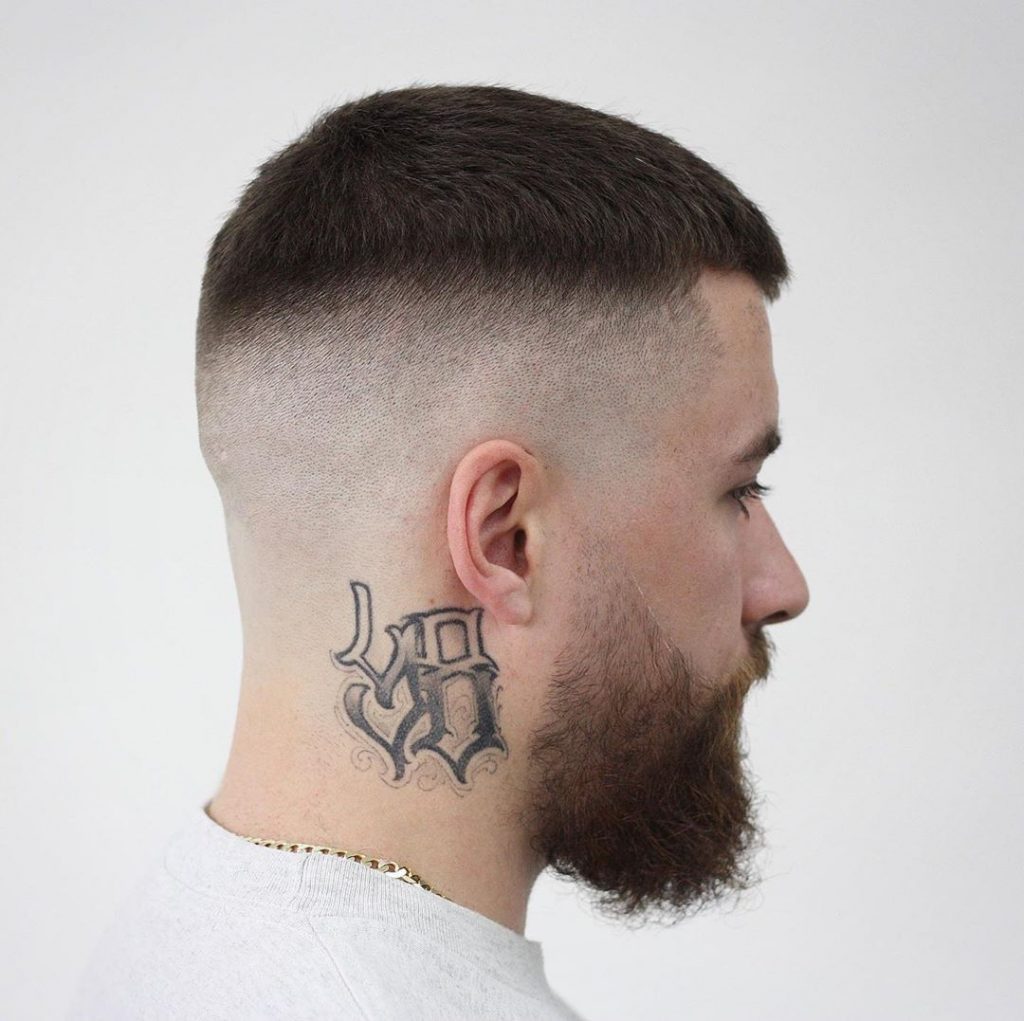 This high skin fade creates a more stylish, less severe version of the jarhead lid haircut.
7. Hard Part Haircut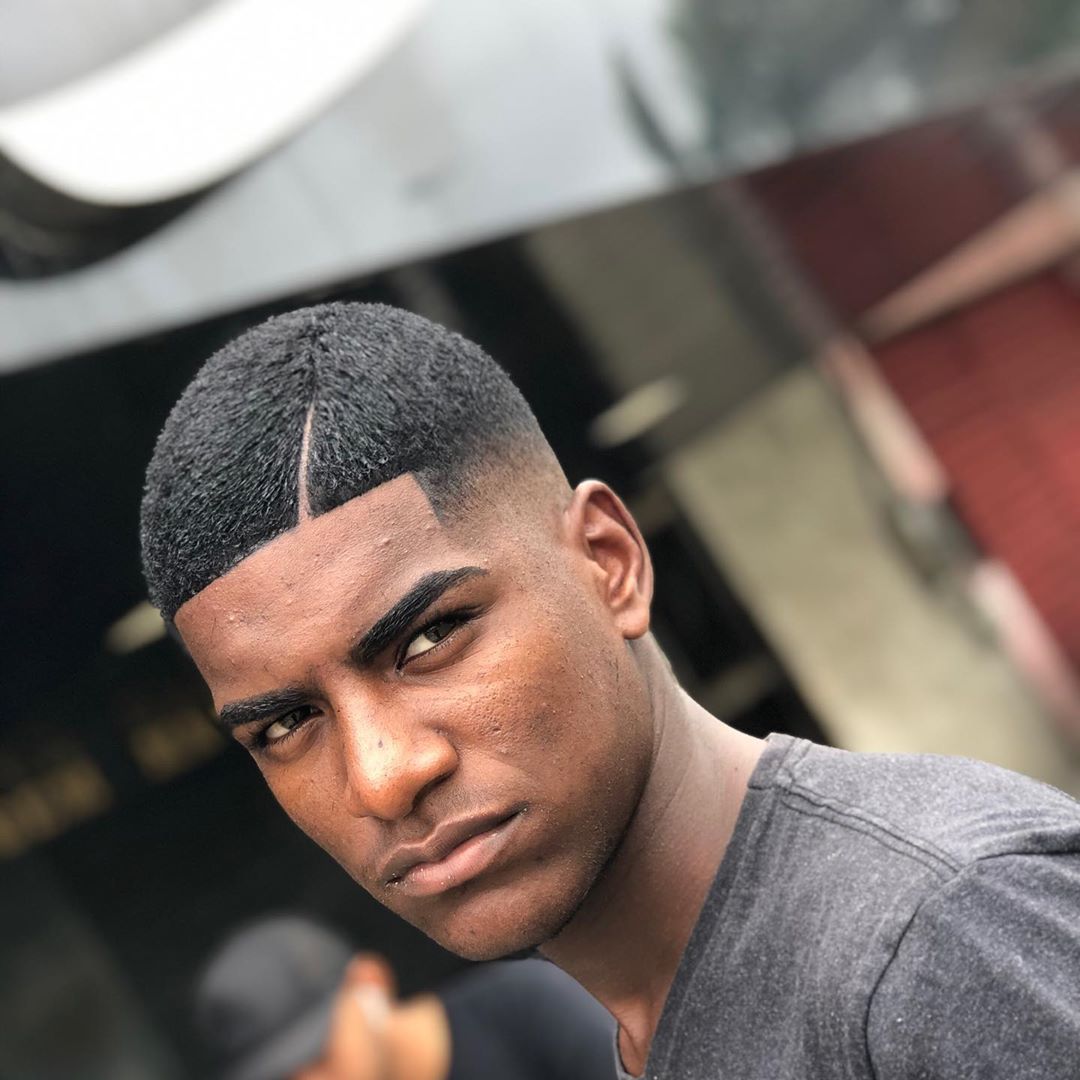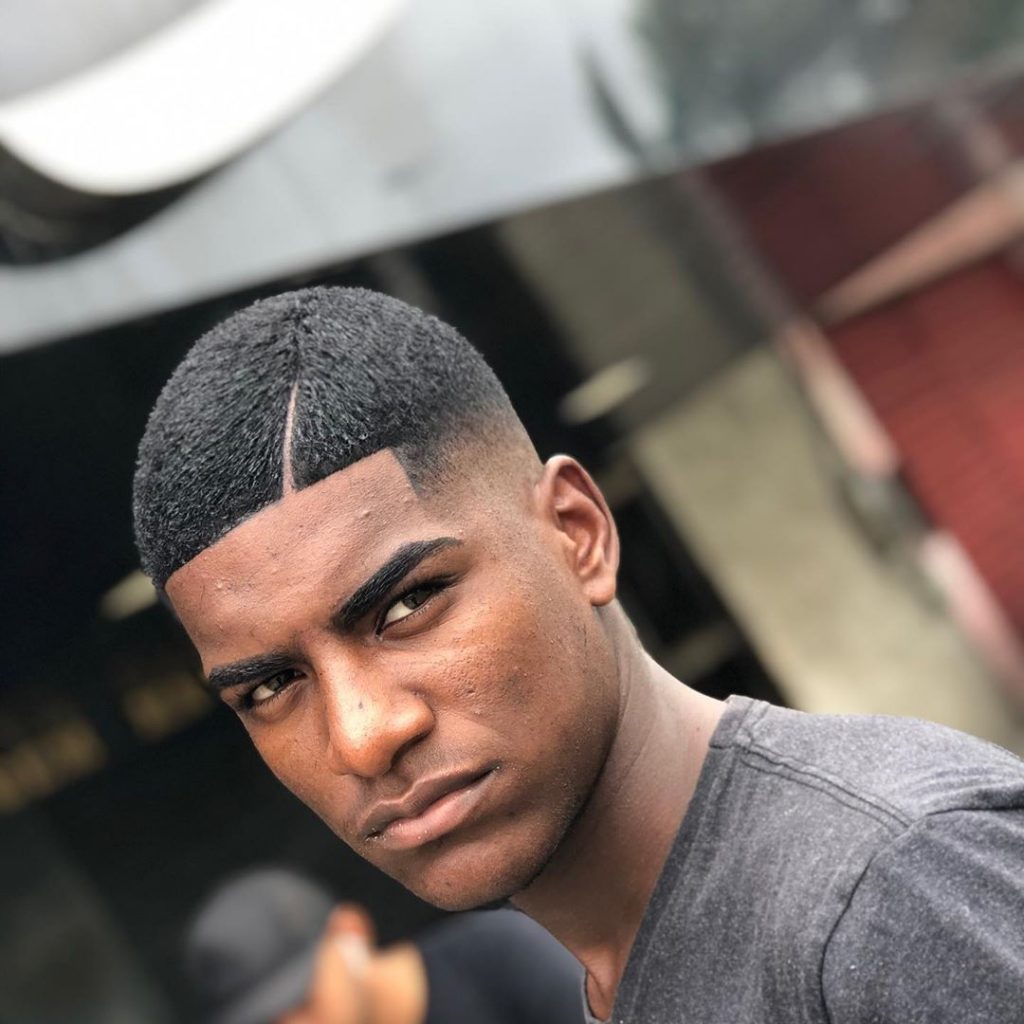 A short and diagonal shaved part in a buzz cut.
8. Line Up + Shaved Lines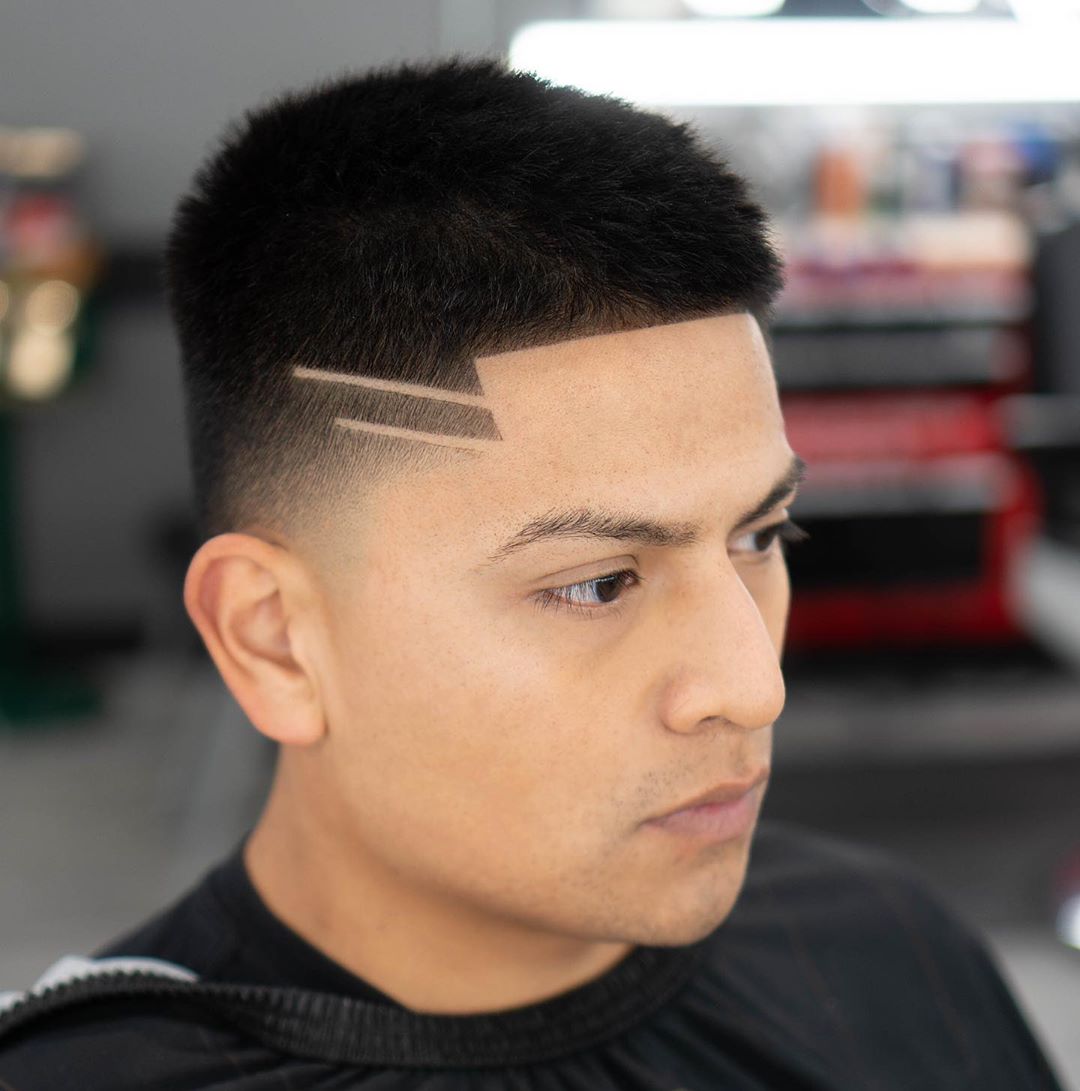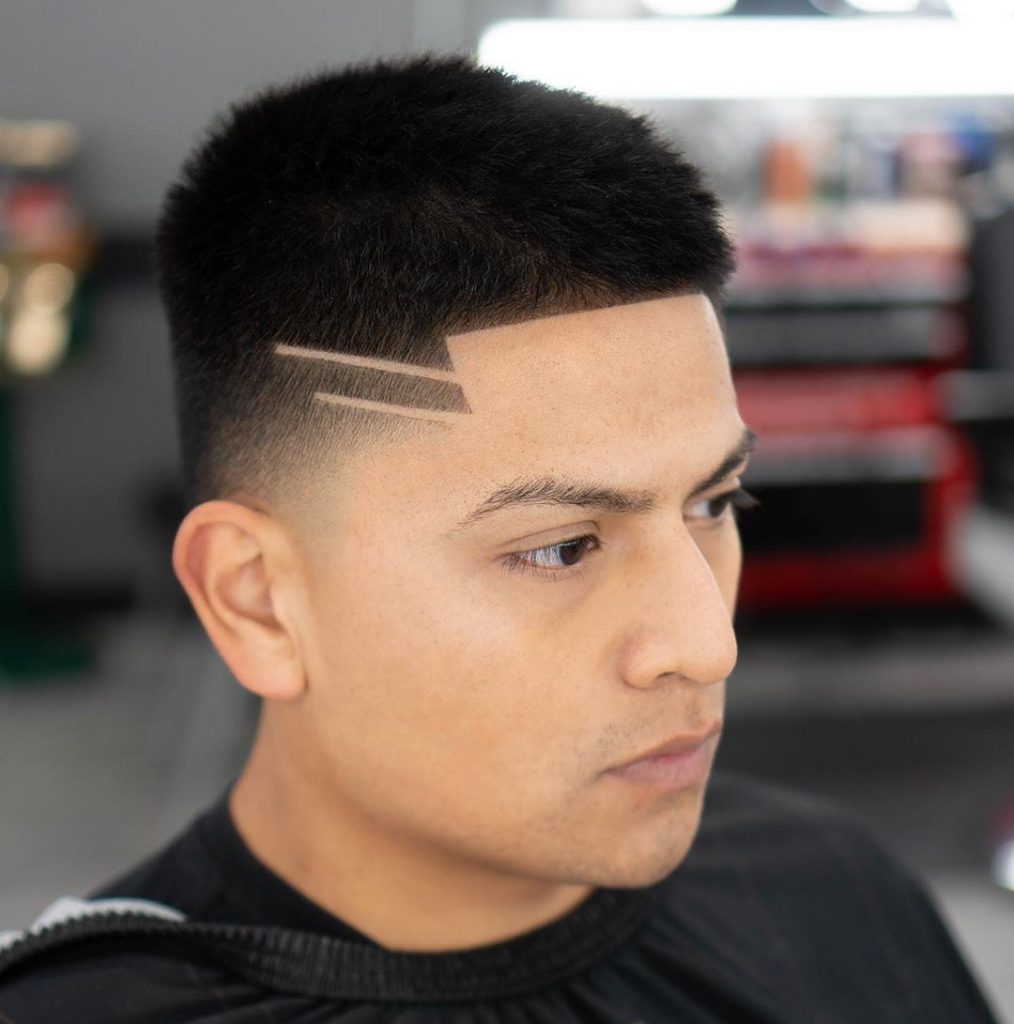 A line up and shaved lines with a longer buzz cut style, which is still very short.
Textured, Spiky + Messy Haircuts
This section features the hottest hair trends – textured haircuts. These looks are cut and styled to enhance piecey texture that looks great and helps hair appear thicker. These looks can be styled spiky, messy, or loosely for different looks from the same haircut. Some of these styles are the popular French crop aka crop haircut aka textured crop, but not all. The sides can be faded or undercut.
9. Short Spiky Hair for Men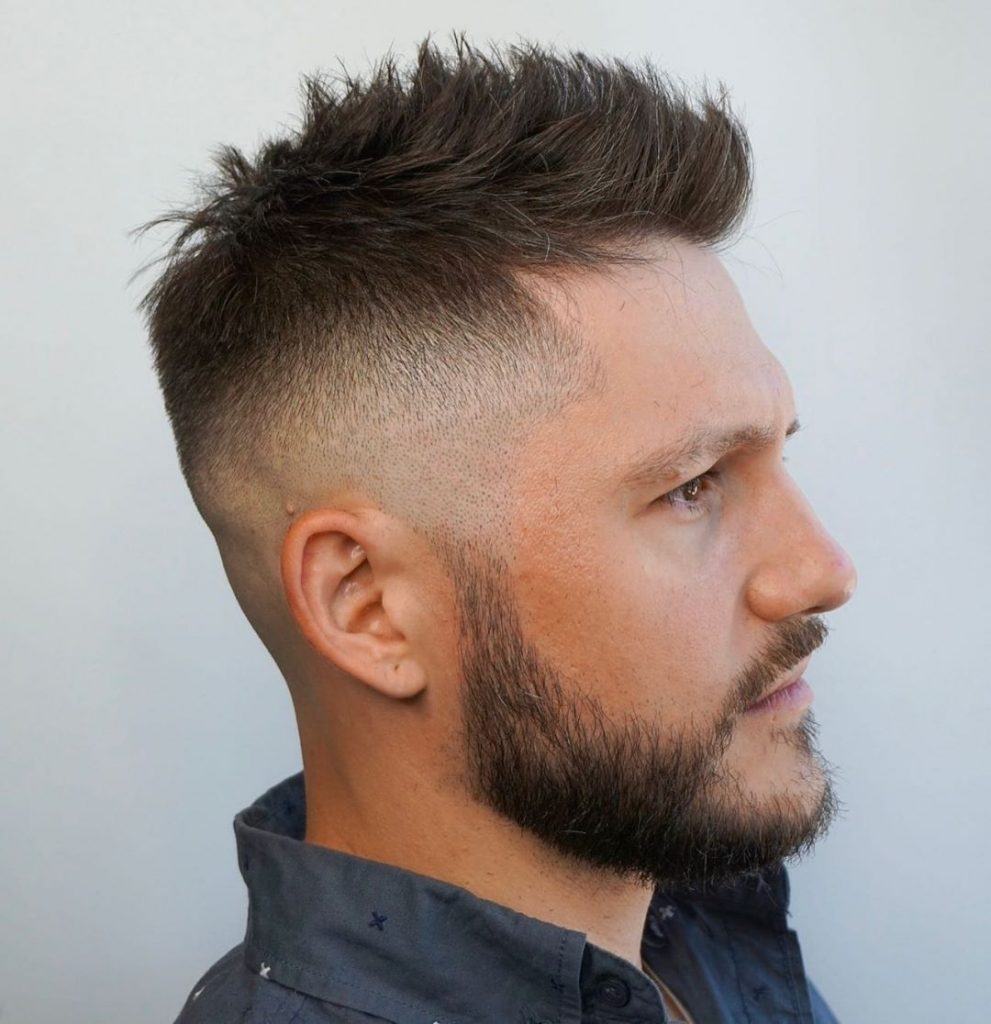 This cool short spiky cut and style is trendy and timeless at the same time. The bottom line is that it looks good.
10. Short Messy Hair for Men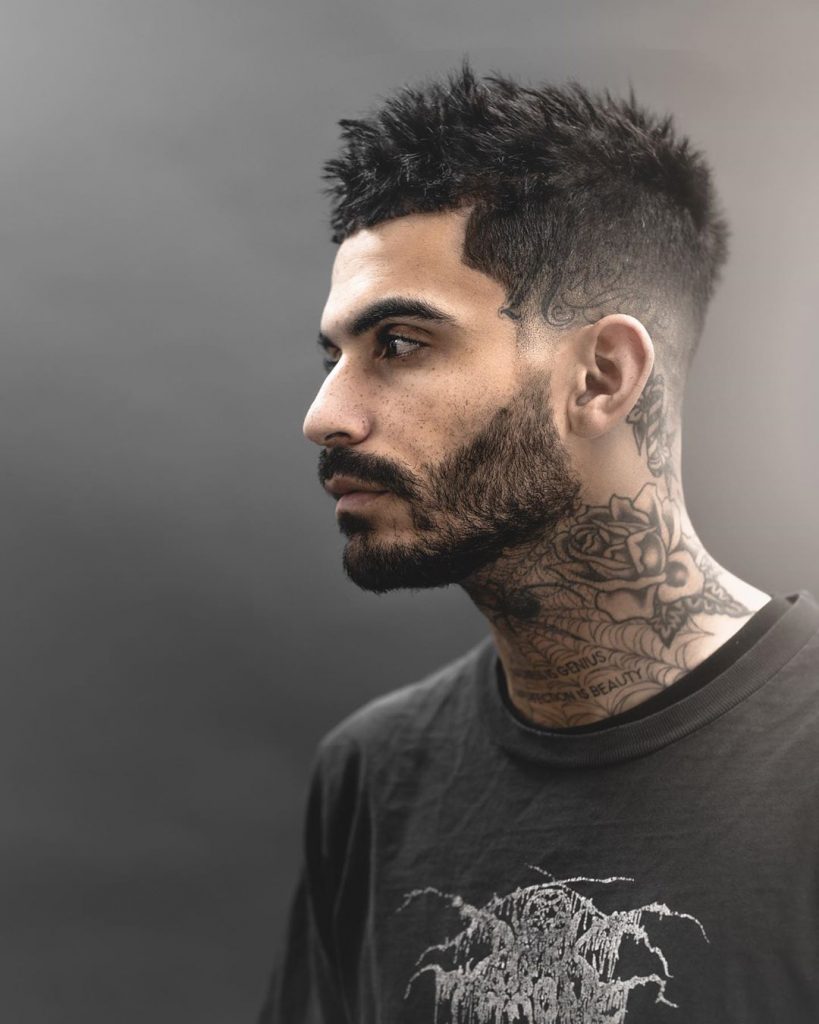 Textured and messy spikes with an edge.
11. Short Textured Haircut + Undercut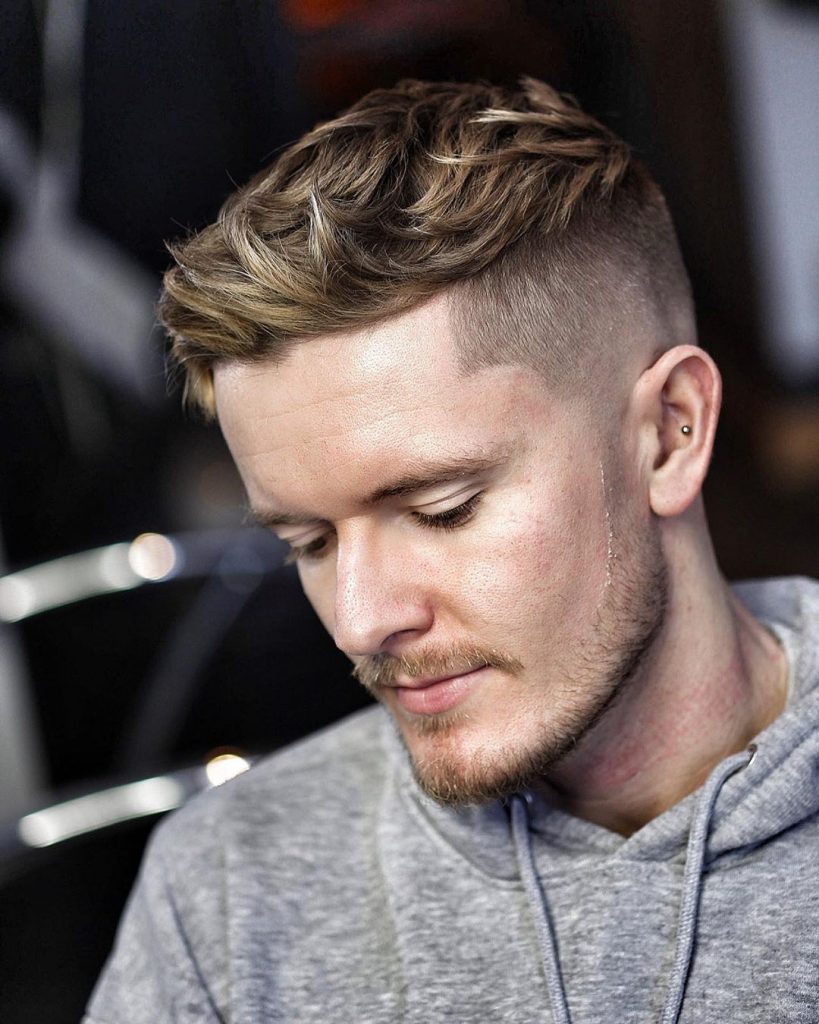 This cool disconnected undercut style is more texture than spikes with a hint of a quiff.
12. Short Mohawk Fade Haircut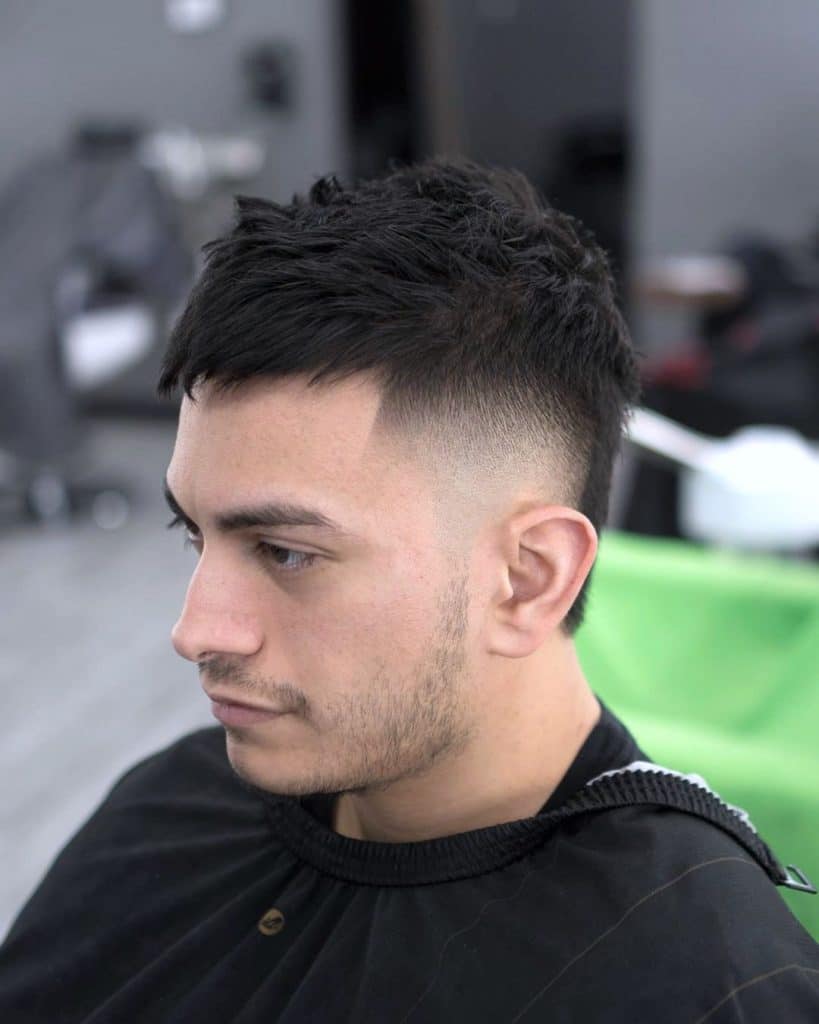 This short haircut reads like a wide mohawk with a temple meets burst fade and tousled texture.
13. French Crop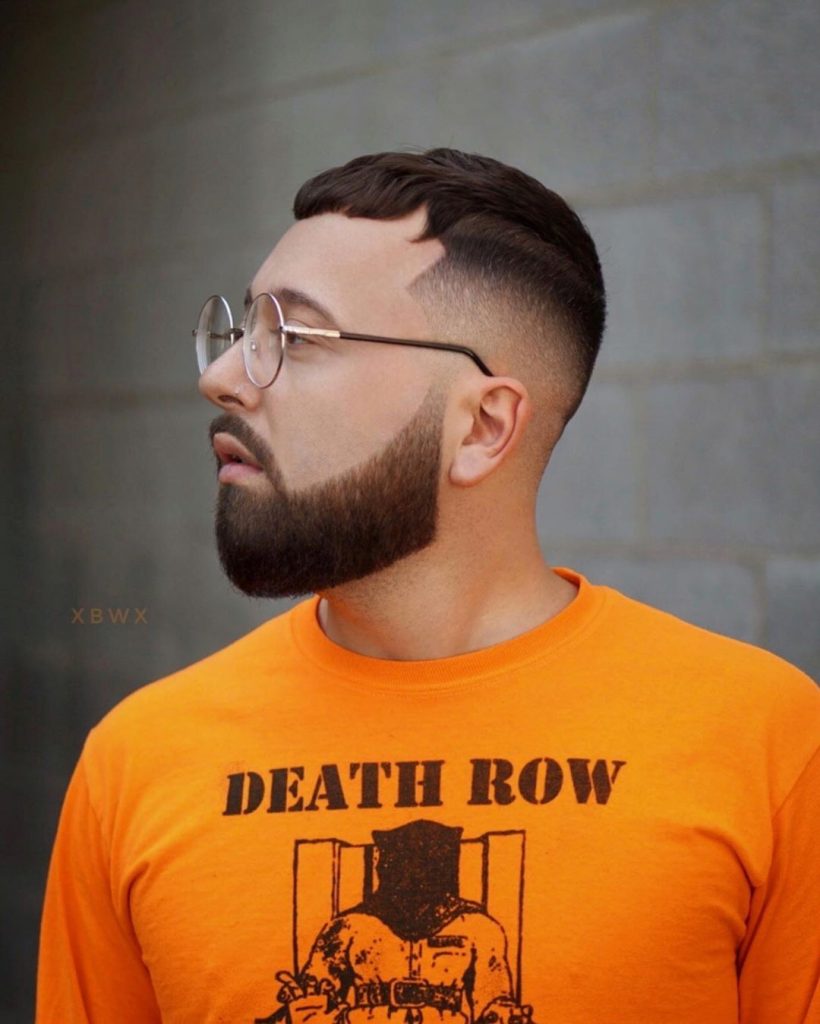 Here's yet another cool way to wear the French crop aka textured crop aka crop haircut aka crop fade. Precision texture creates smooth waves and one shark tooth.
14. Textured Crop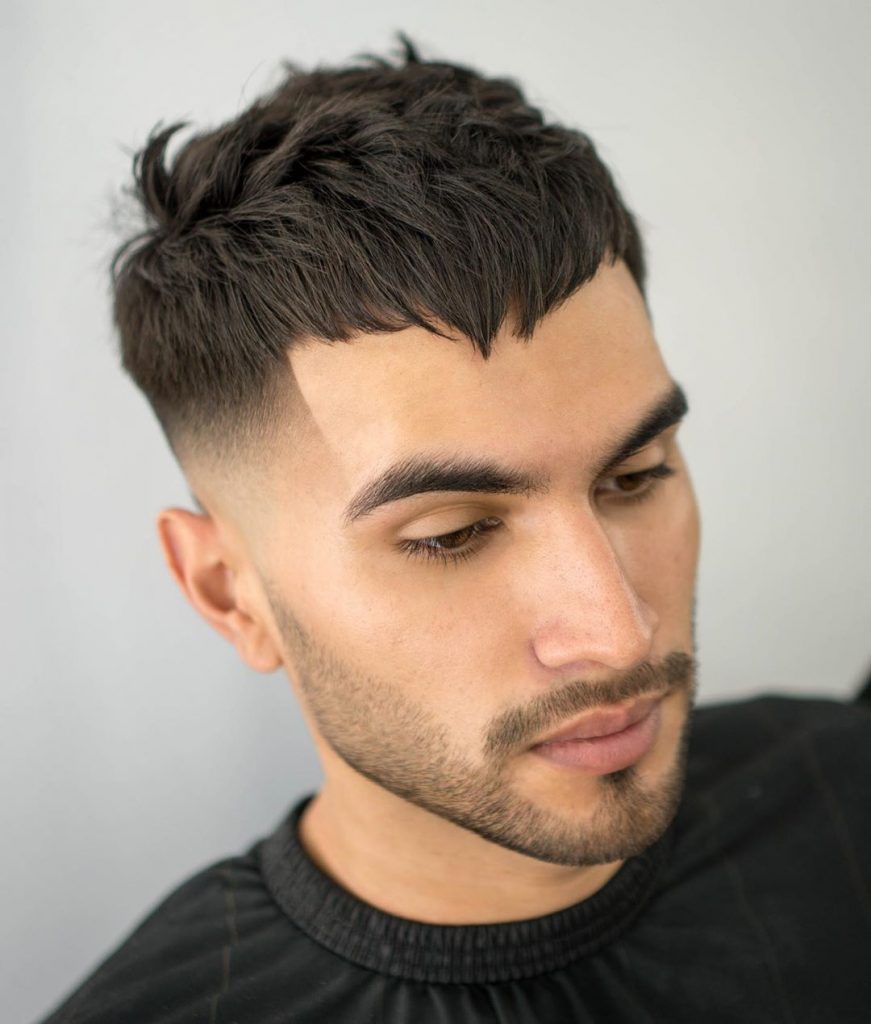 This heavy crop is a cool and flattering way to wear thick and/or wavy hair. Layers remove bulk and bring out texture for a full but lightweight style.
15. Crop Fade Haircut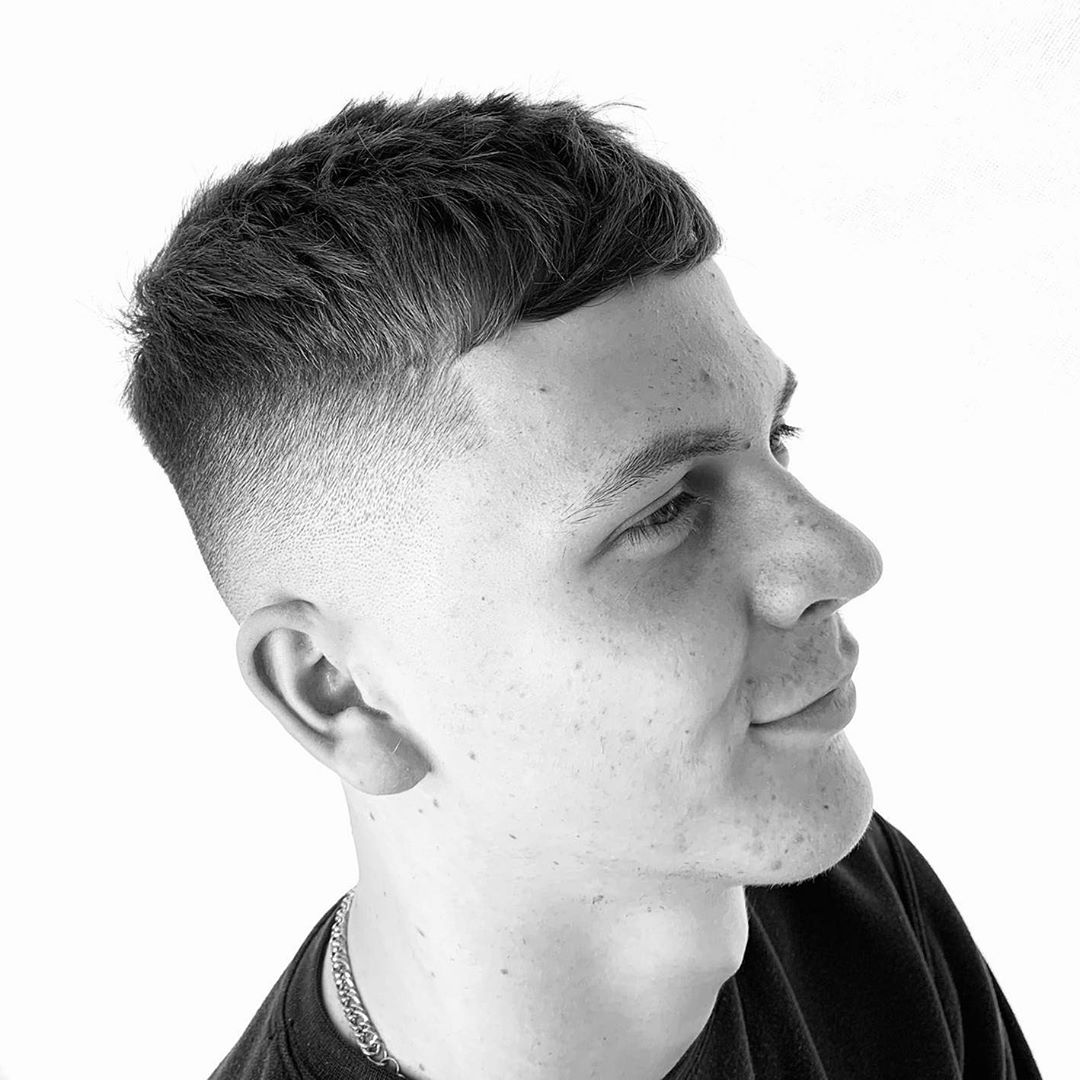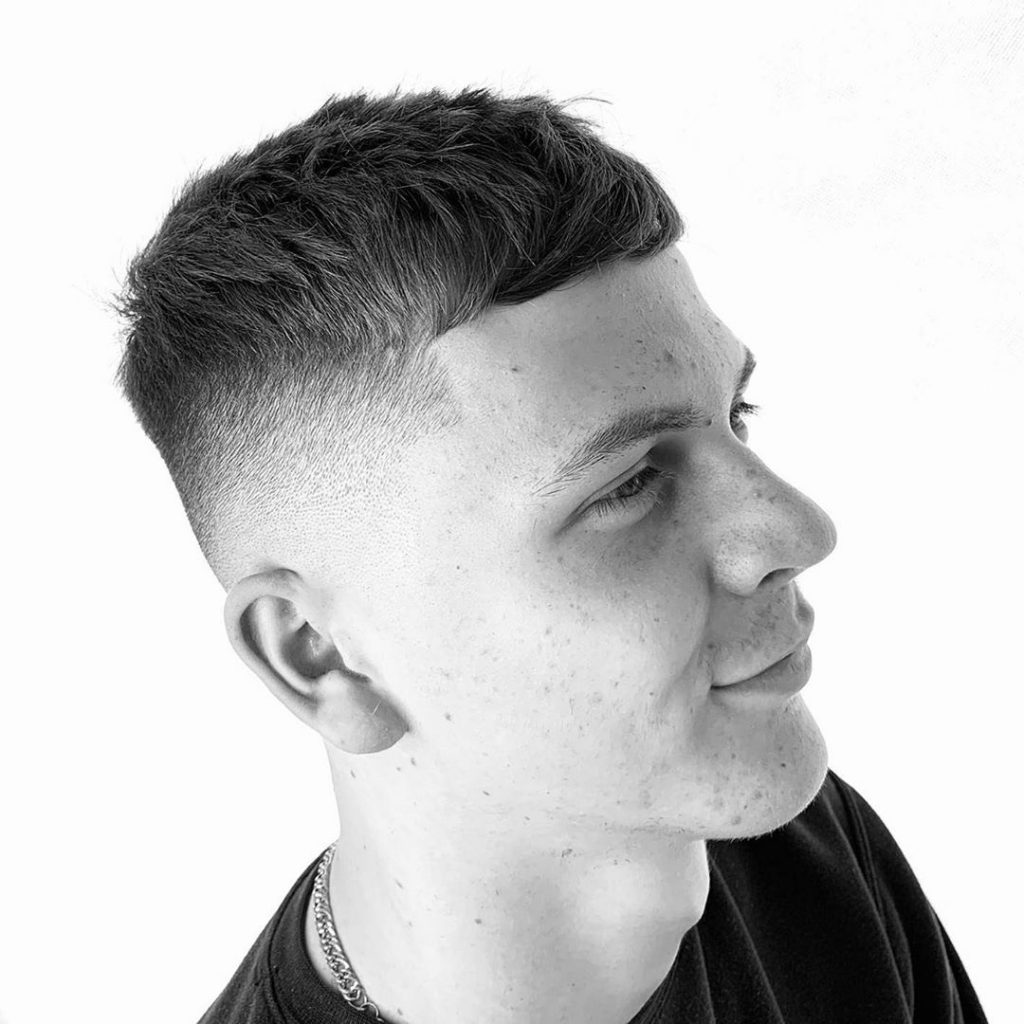 This version of the crop fade transforms wavy hair into short spikes with blunt fringe.
16. Short Spiky Haircut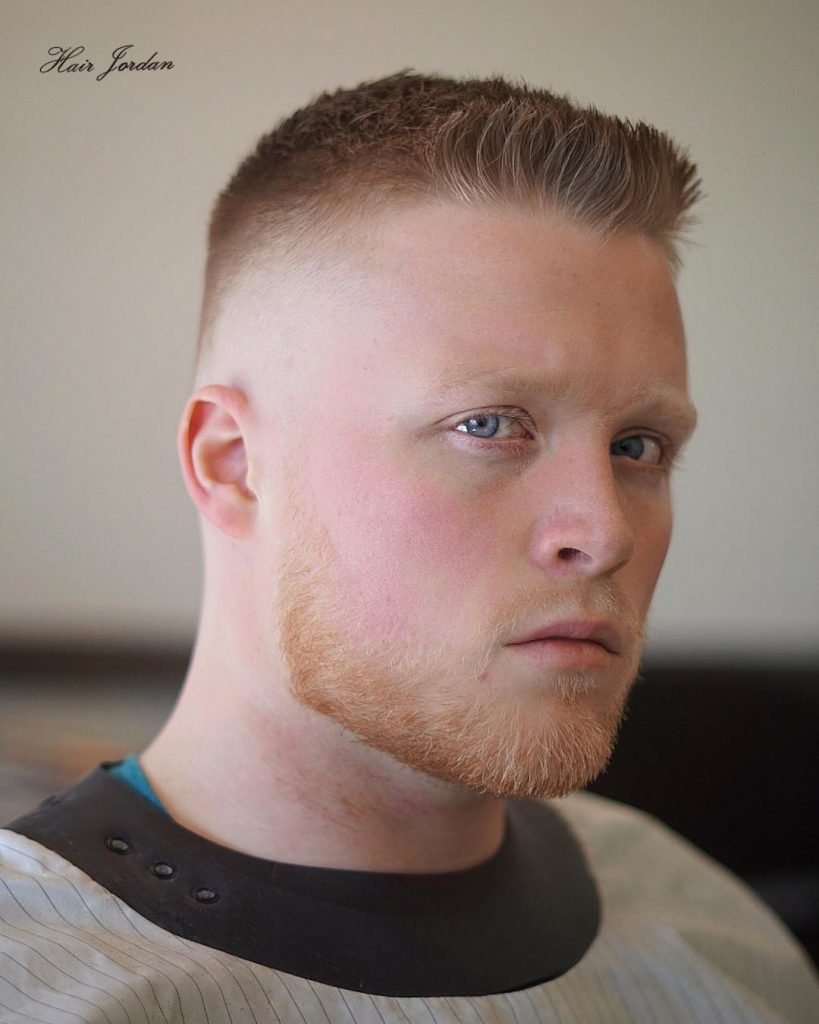 This short spiky hairstyle lets everyone know that you mean business.
17. Blonde Hair for Men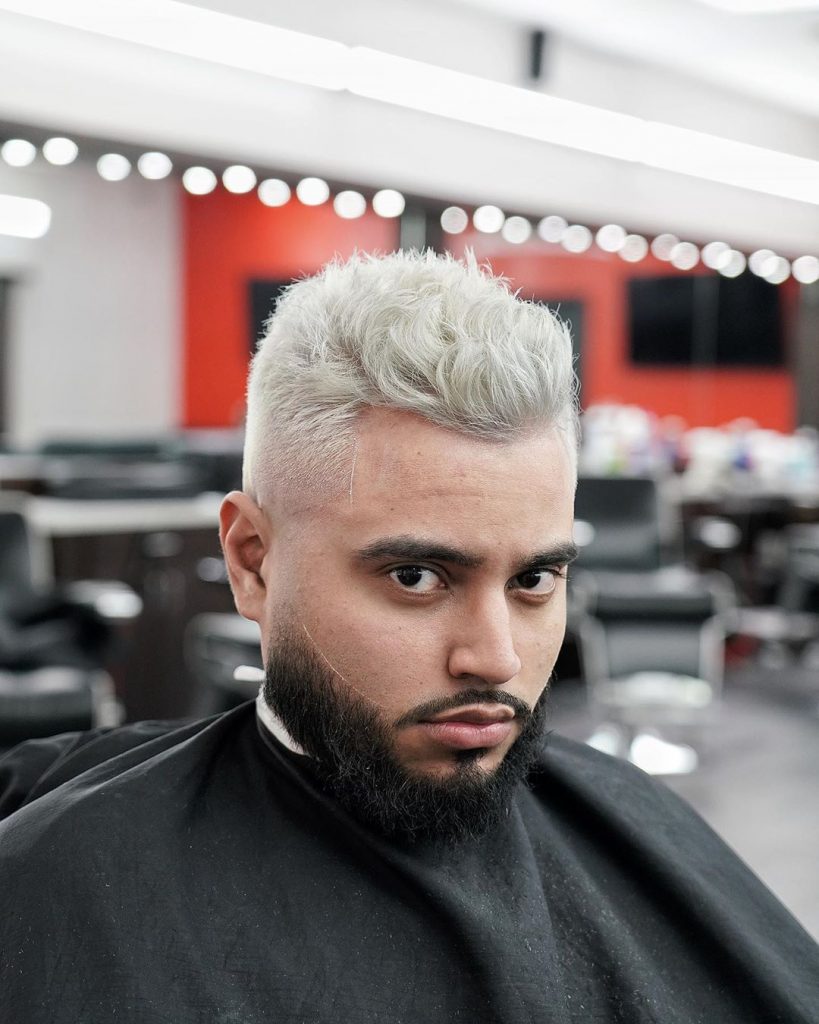 Silver blonde hair color adds to the appeal of this short and messy spikes.
18. Messy + Spiky Hair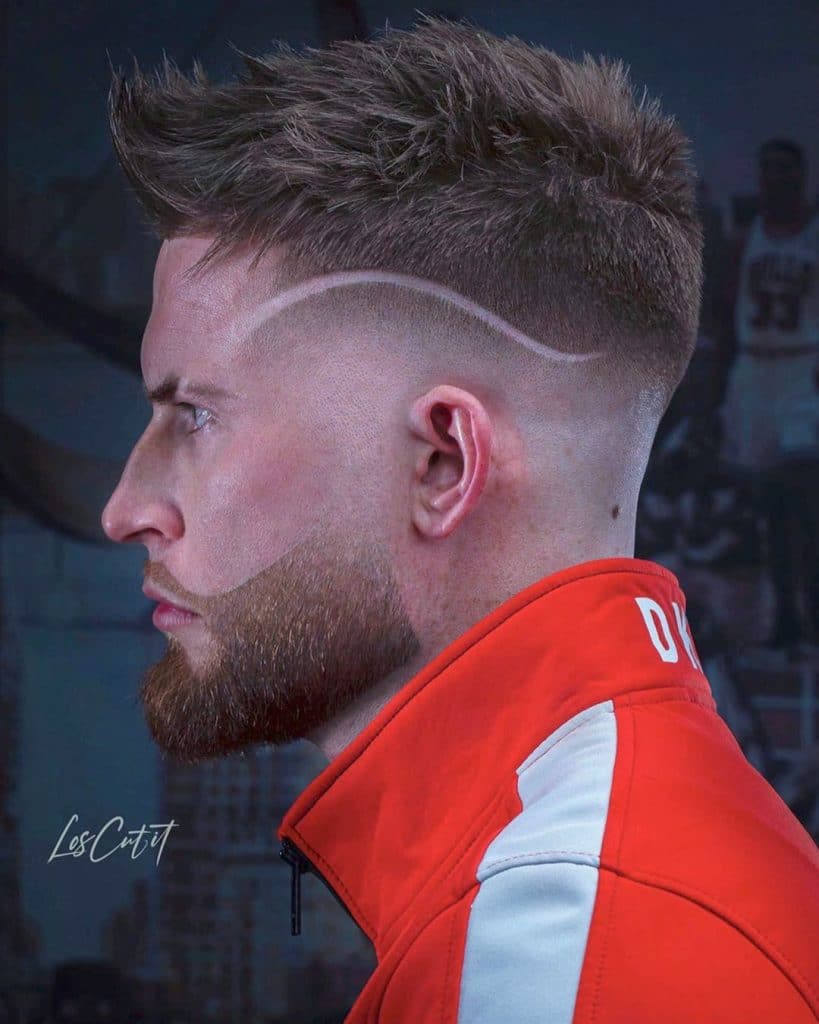 Those retro vertical spikes with visible gel have been replaced by this modern spiky crew cut fade with a snaking line that ends in a brow slash and beard fade. Can you handle this much look?
Classic Short Sides, Longer Top Haircuts
All of these classic short men's haircuts feature that winning combination of short sides with longer hair on top. It's longer but definitely still short. The shorter hair is on sides, the shorter hair is on top. Even at this length, hair can be styled into a crew cut, comb over, or even a quiff.
19. High + Tight Haircut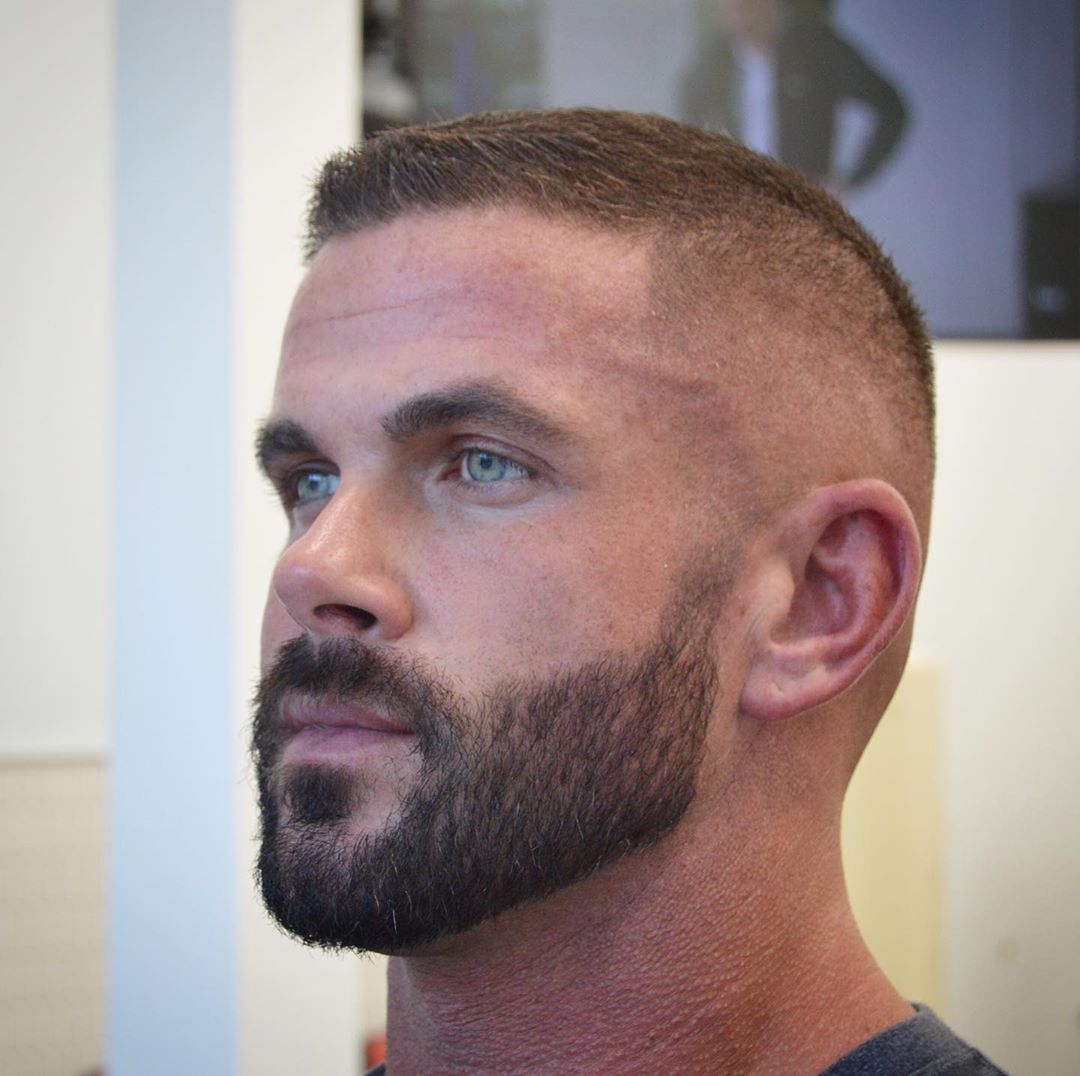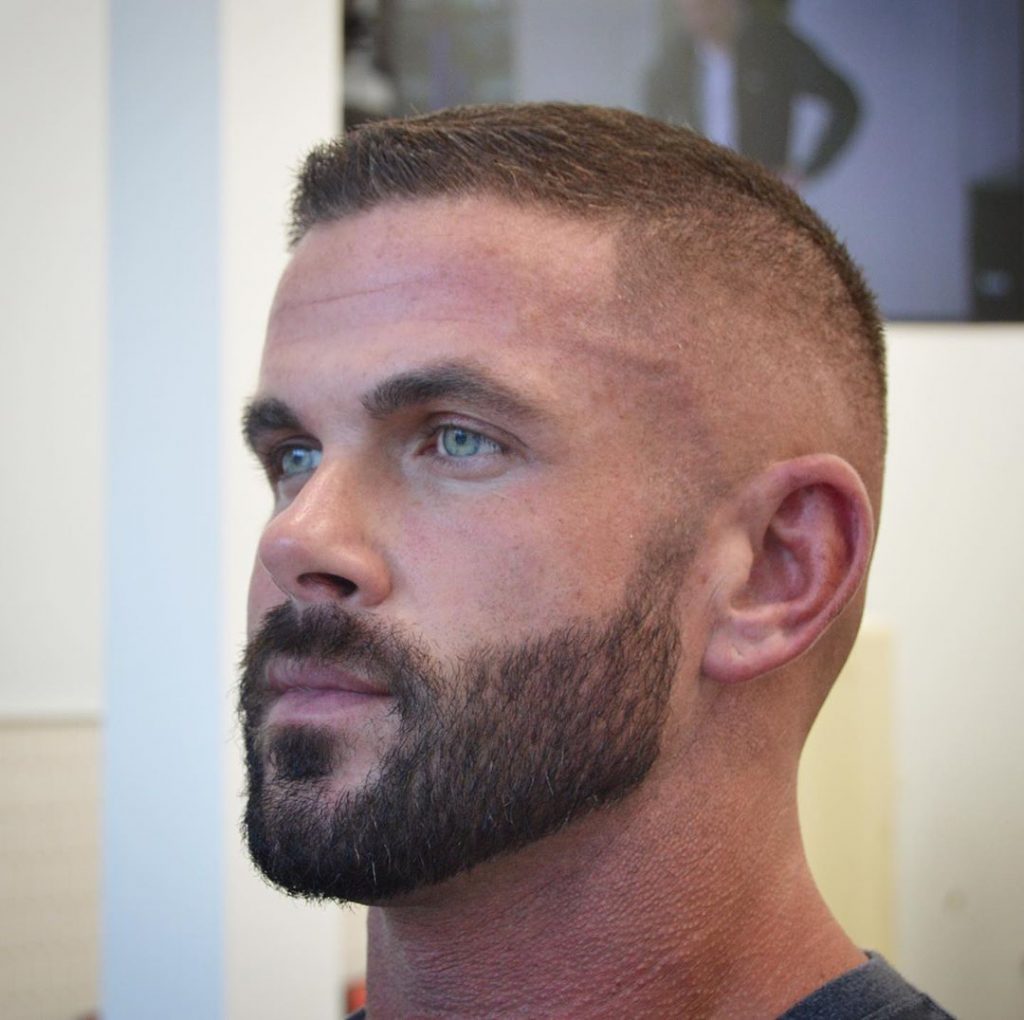 With a blurry fade and touch of product, this no-nonsense high and tight haircut has plenty of style.
20. Crew Cut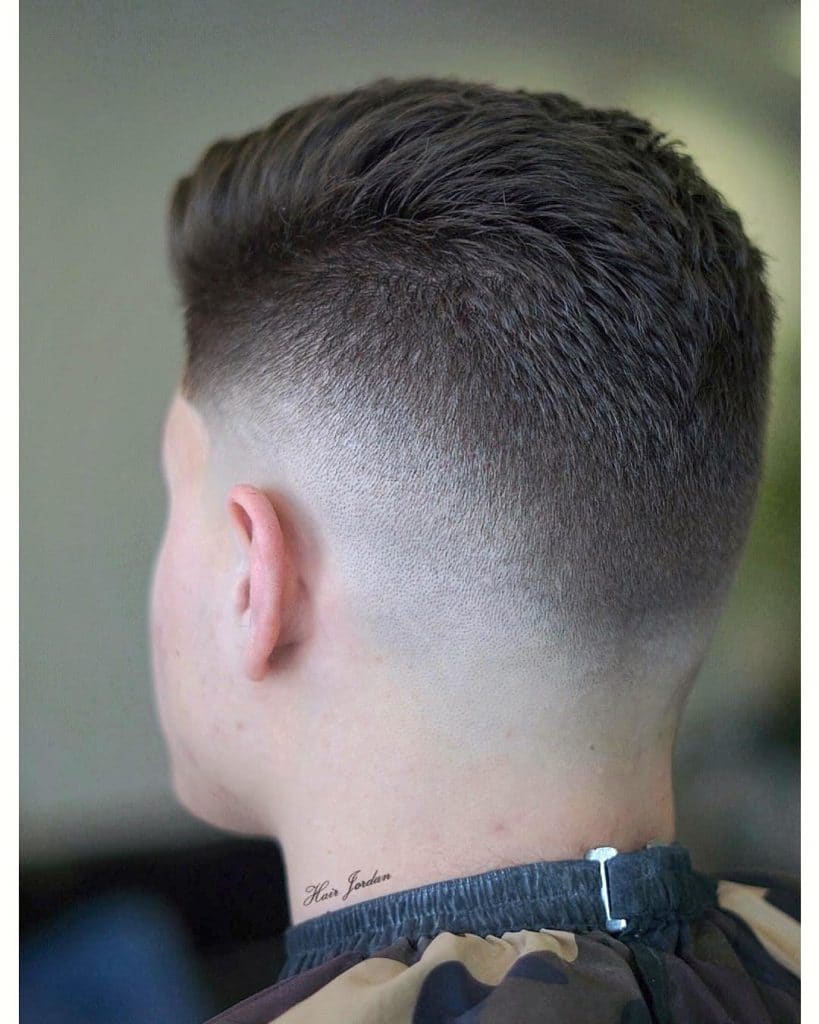 The crew cut is a type of short haircut that is longer at the forehead and gets shorter towards the crown. Here's a modern one with textured styling and a sweet drop fade.
21. Short Comb Over Fade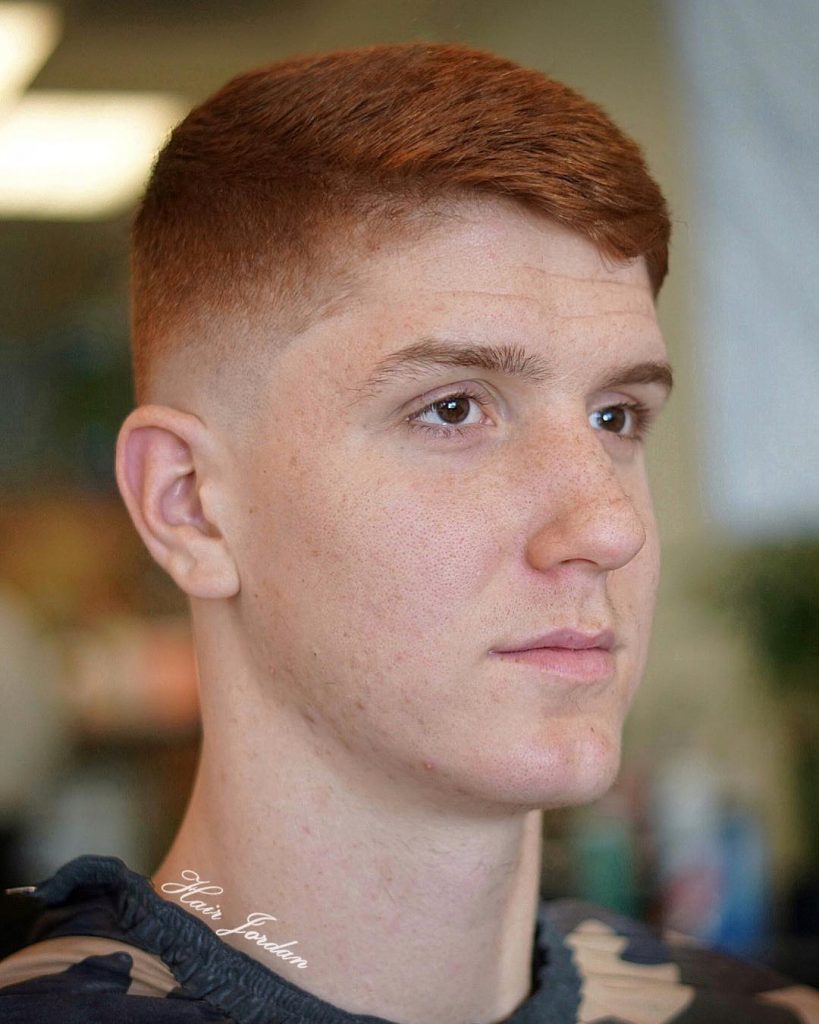 The comb over fade is one of the most popular haircuts for men because it looks so good and is so easy to style. This version skips the side part.
22. Short Hair With Beard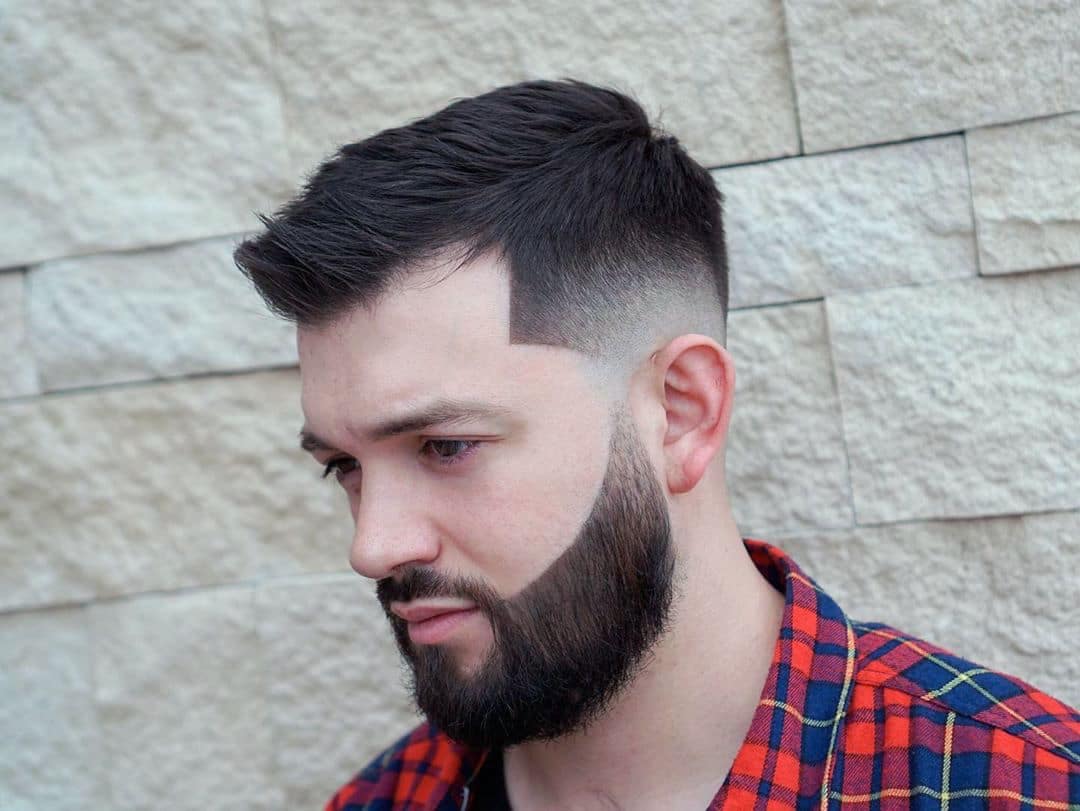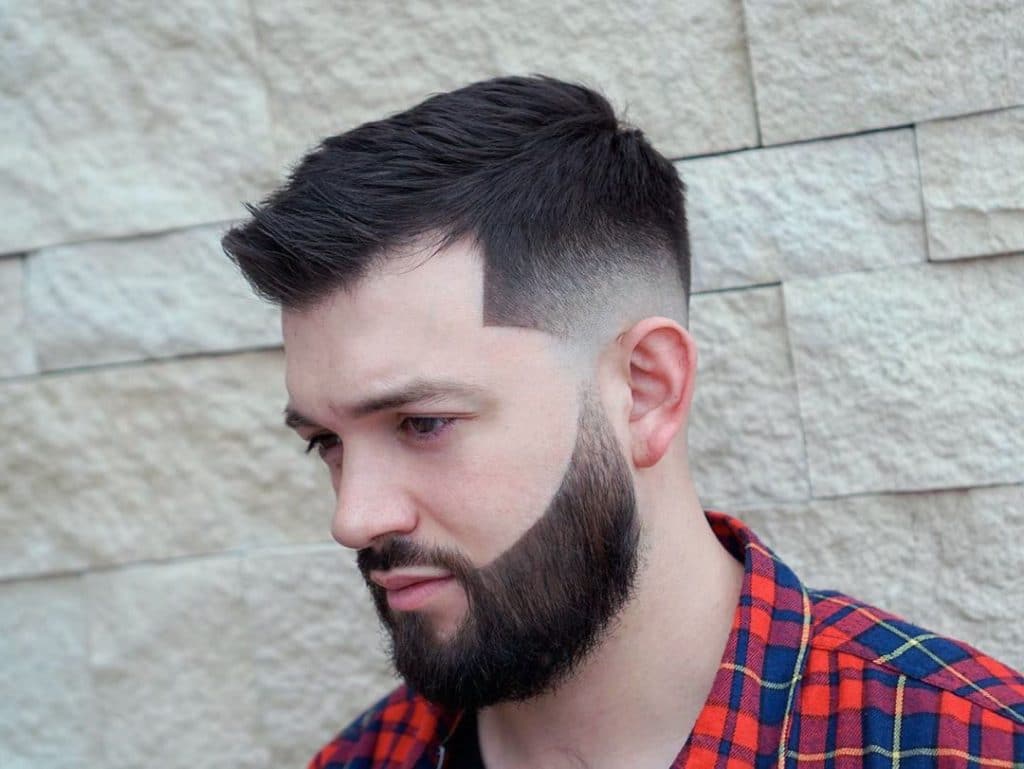 You can make any haircut work with a beard. The key is the transition between hair and facial hair. Instead of connecting them at the side burns, this low fade separates them.
23. Short Quiff Haircut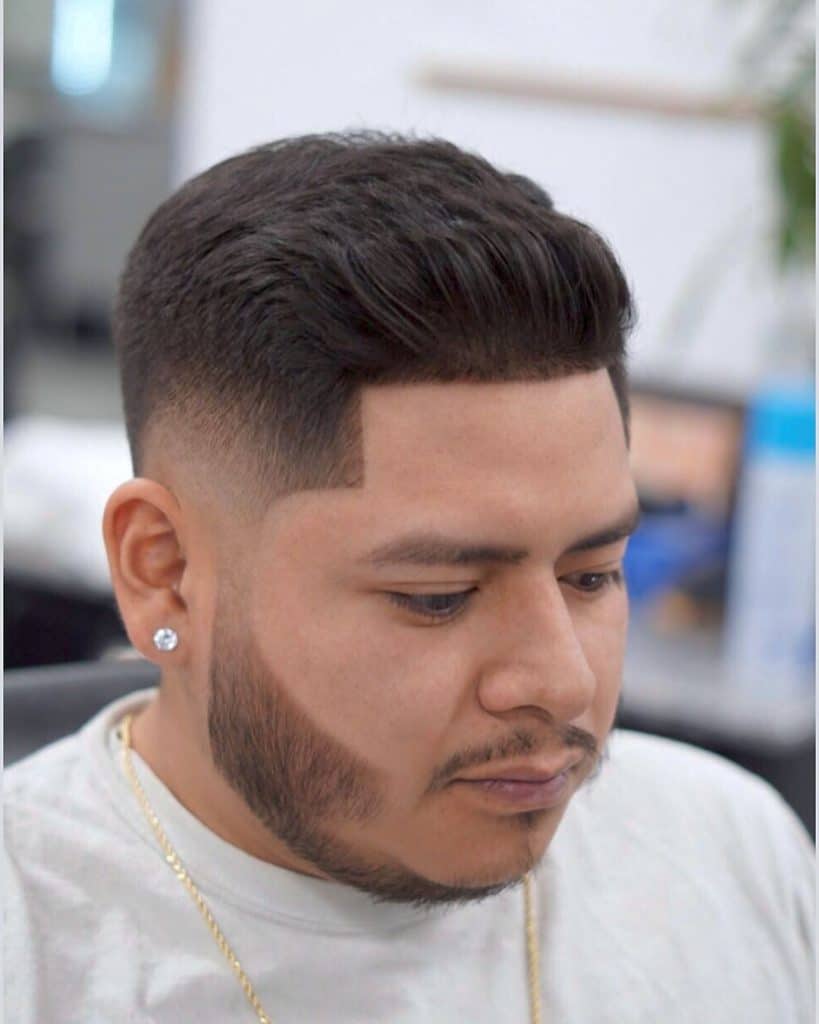 The quiff hairstyle features a bump of volume at the forehead. It looks great on everyone and doesn't need as much length as a pompadour.
24. Short Haircut for Older Men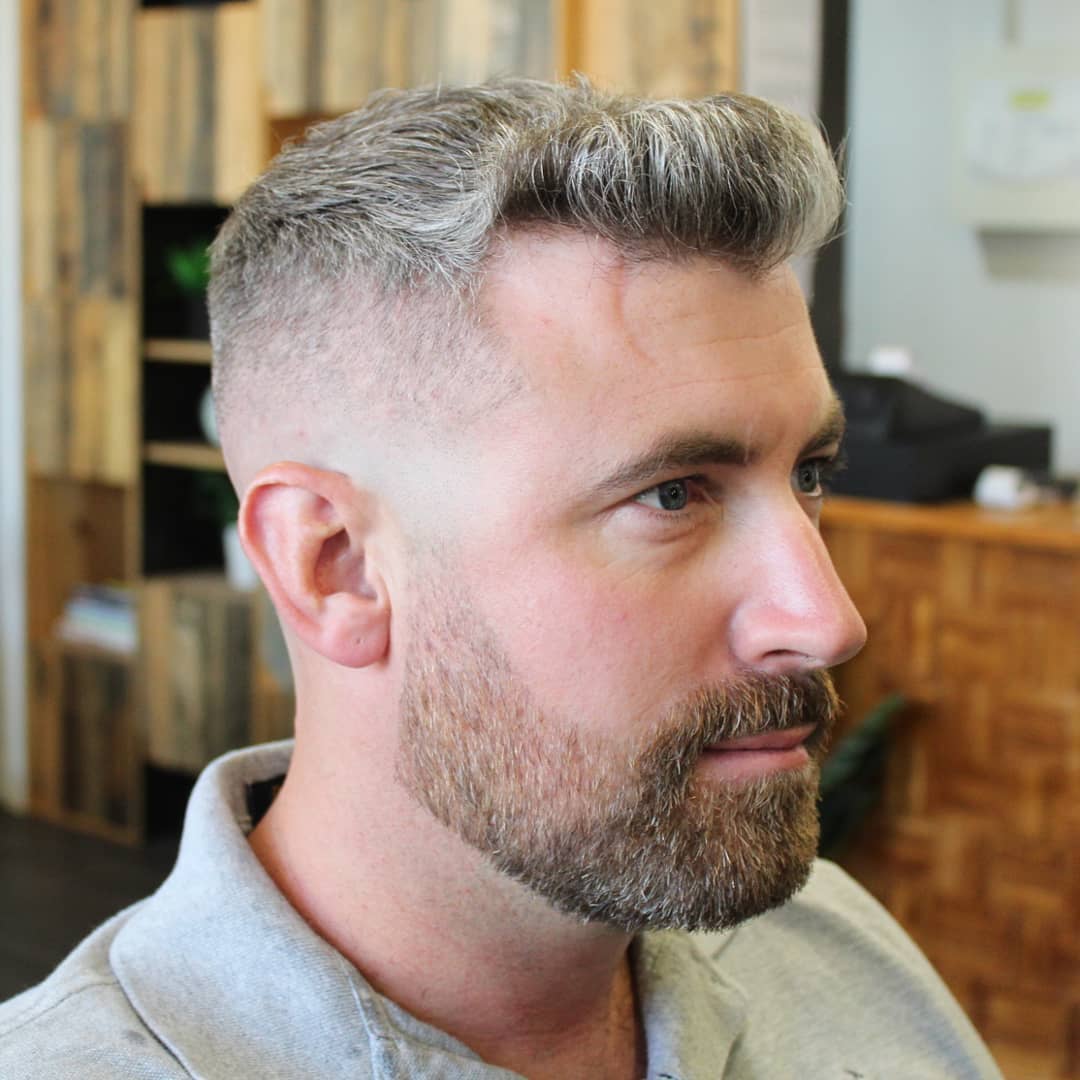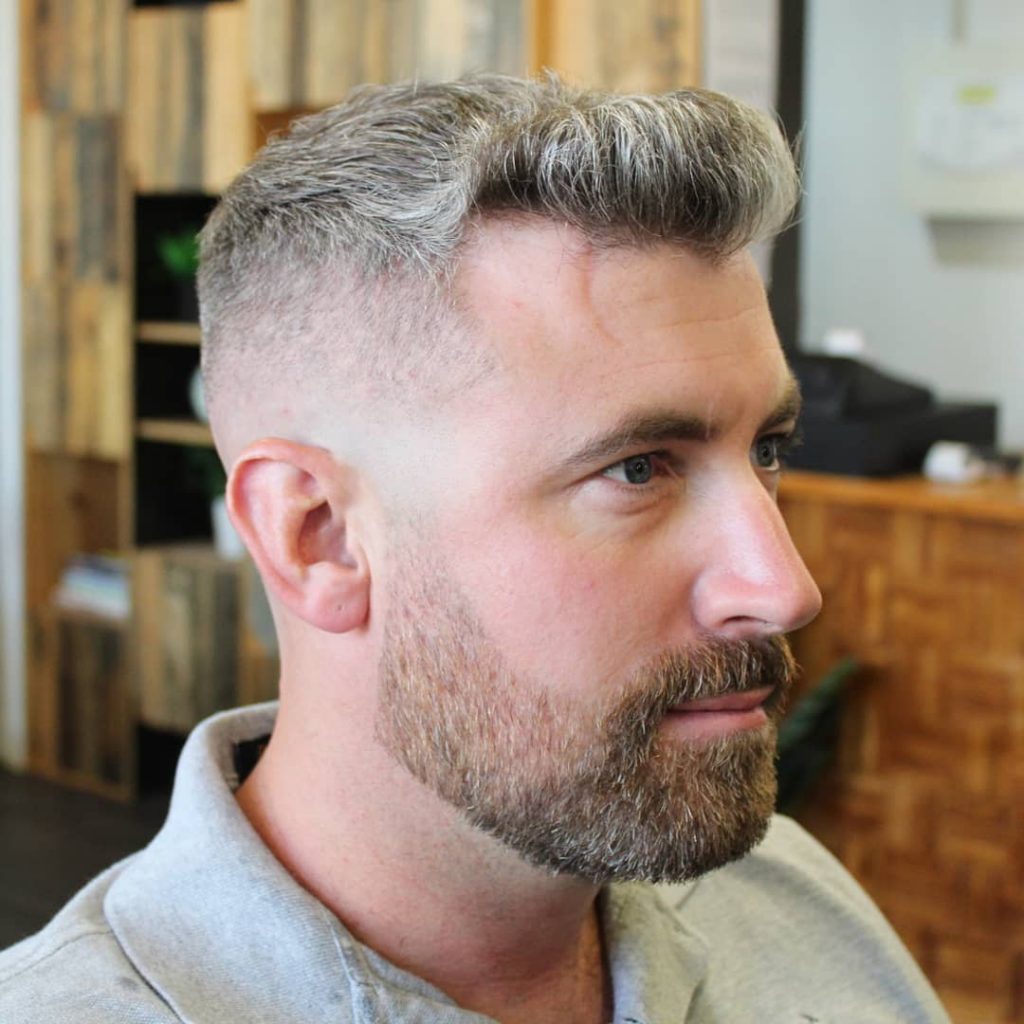 Okay, this guy is more gray than old but it's a flattering haircut for guys of all ages. The crew cut is styled into a quiff that helps this thin, fine hair type appear thicker.
25. Short Taper Haircut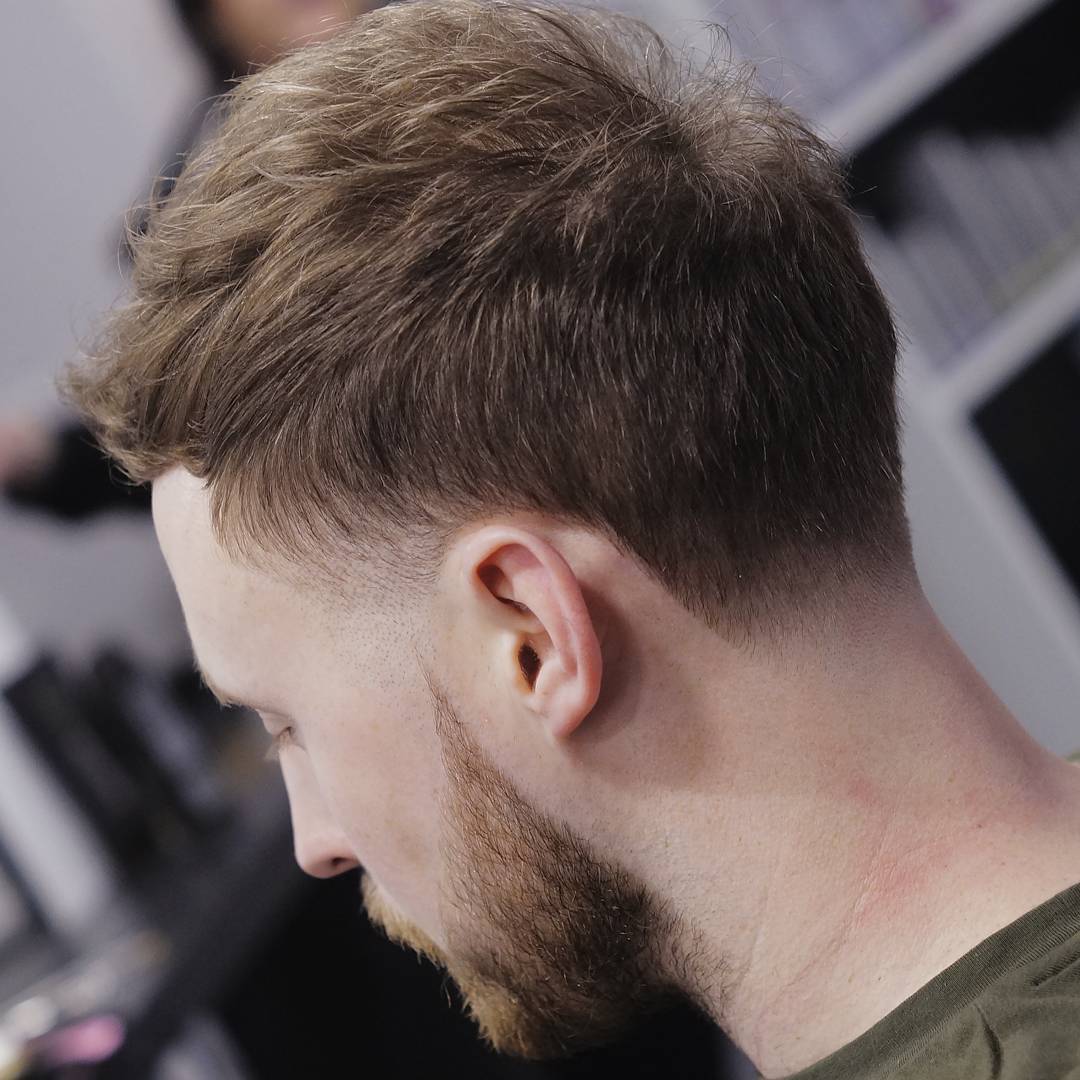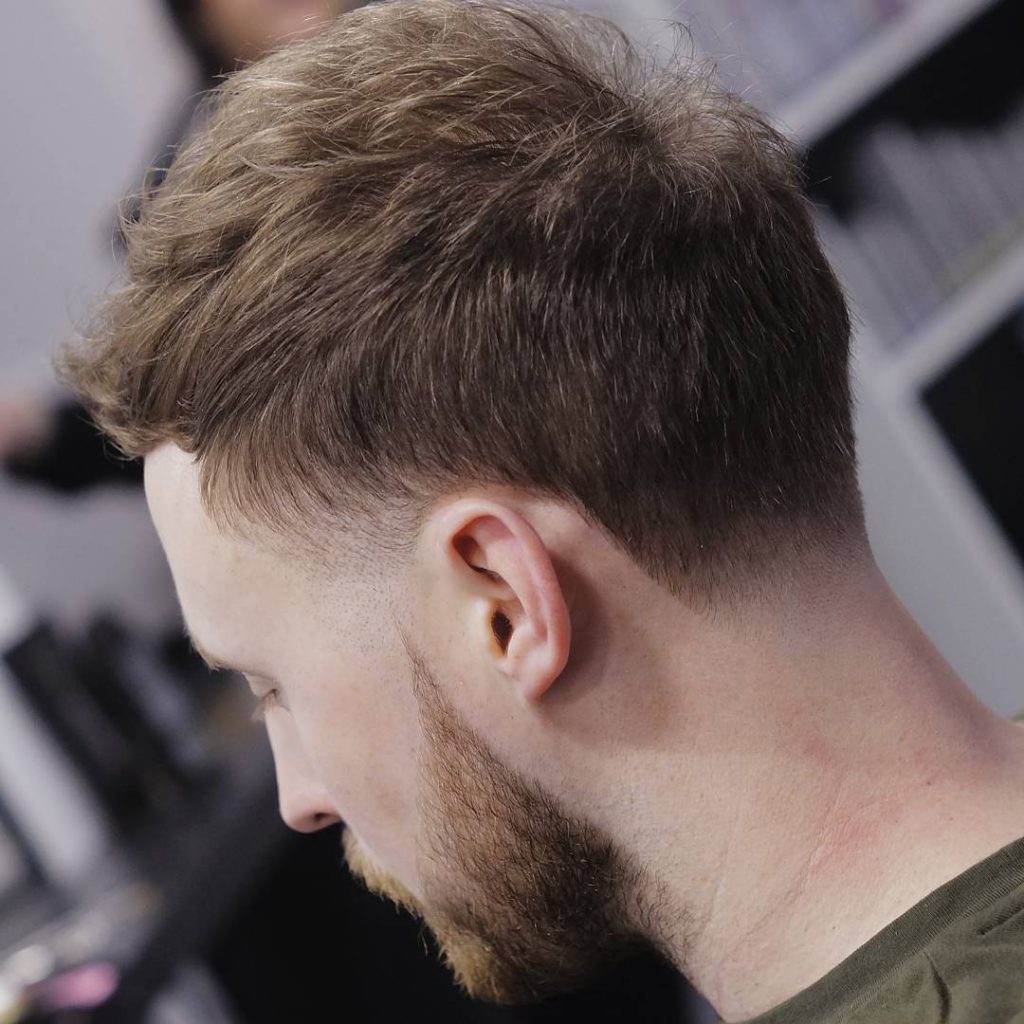 Many short haircuts for men are fades but certainly not all. This classic men's haircut is tapered all over with a taper fade at the sideburns and neckline that grow in clean.
26. Spiky Quiff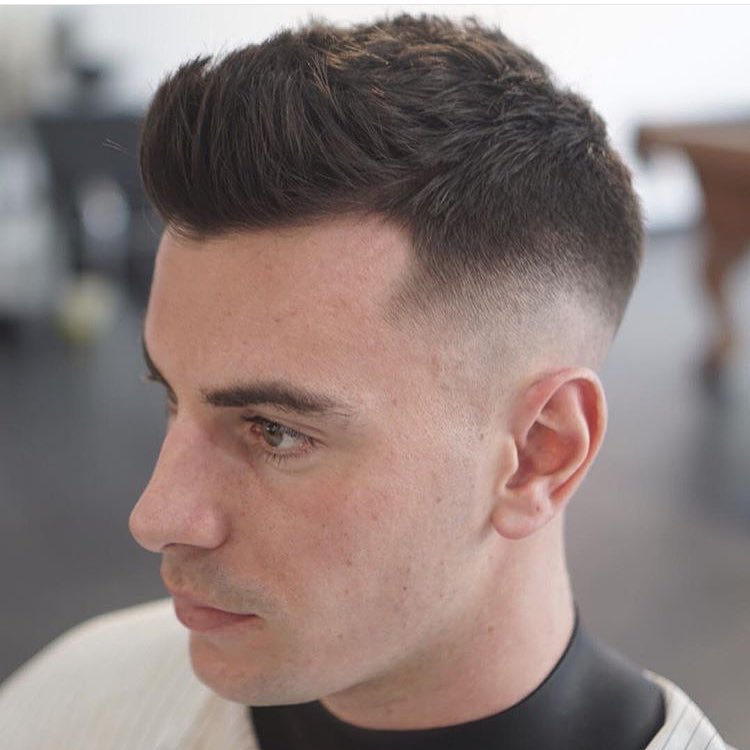 This classic meets modern style add some spikes to the quiff.
Short Haircuts for Thick Hair
These cool short haircuts simultaneously tame and highlight thick hair. The contrast of faded sides show how thick hair is while eliminating the possibility of hair sticking straight out. Most of these looks are clean enough for work and cool enough for play. Or for something a little different, try a short mohawk fade with a strip of hair down to the neckline.
27. Heavy Crop Haircut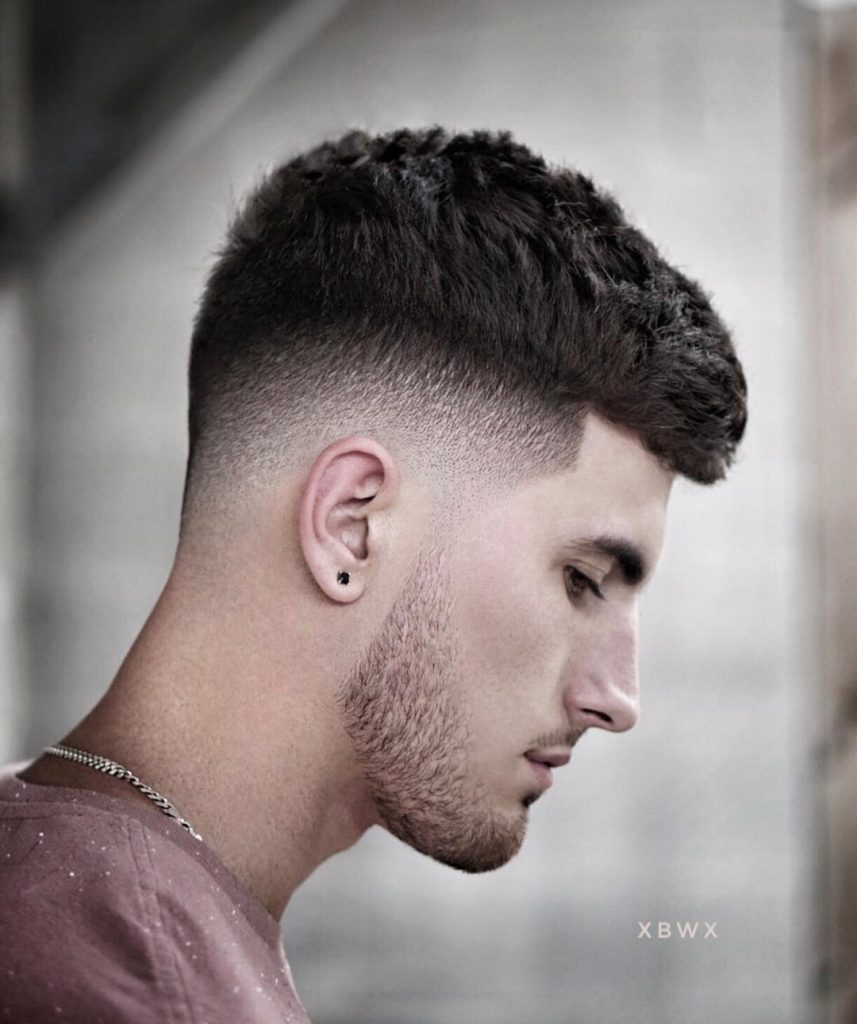 The crop fade is an ideal haircut for thick hair because it showcases hairs fullness while lightweight.
28. High and Tight for Thick Hair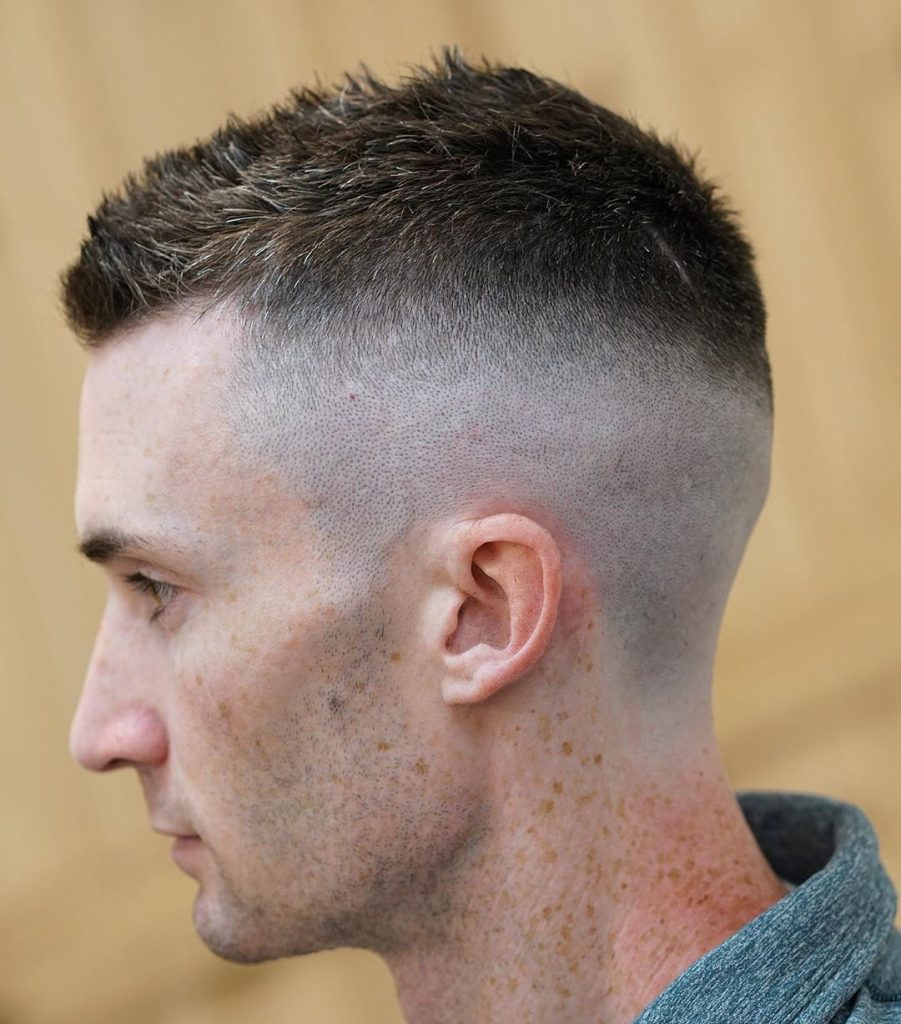 A drop fade and ultra thick hair make this high and tight more modern than military.
29. Business Haircuts for Thick Hair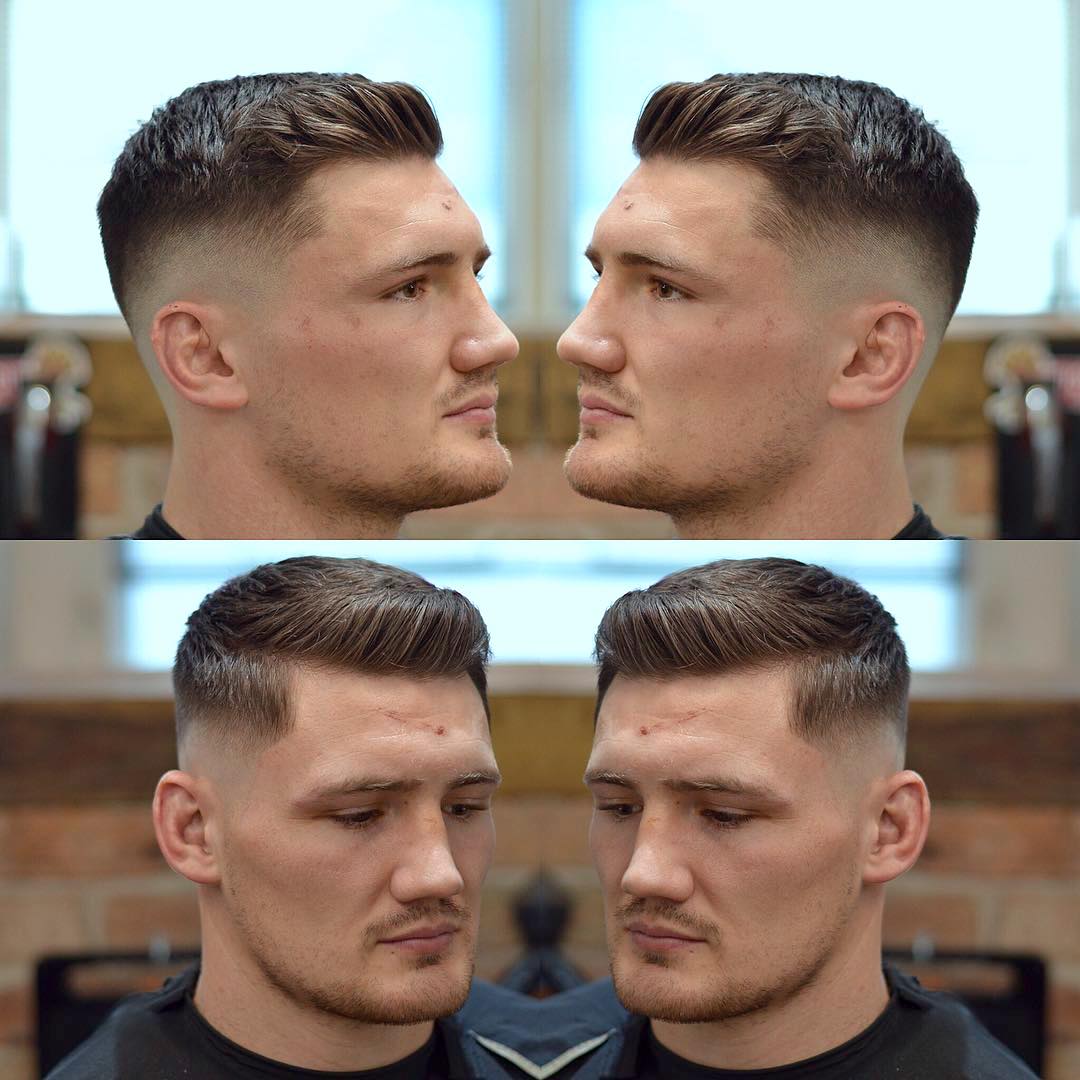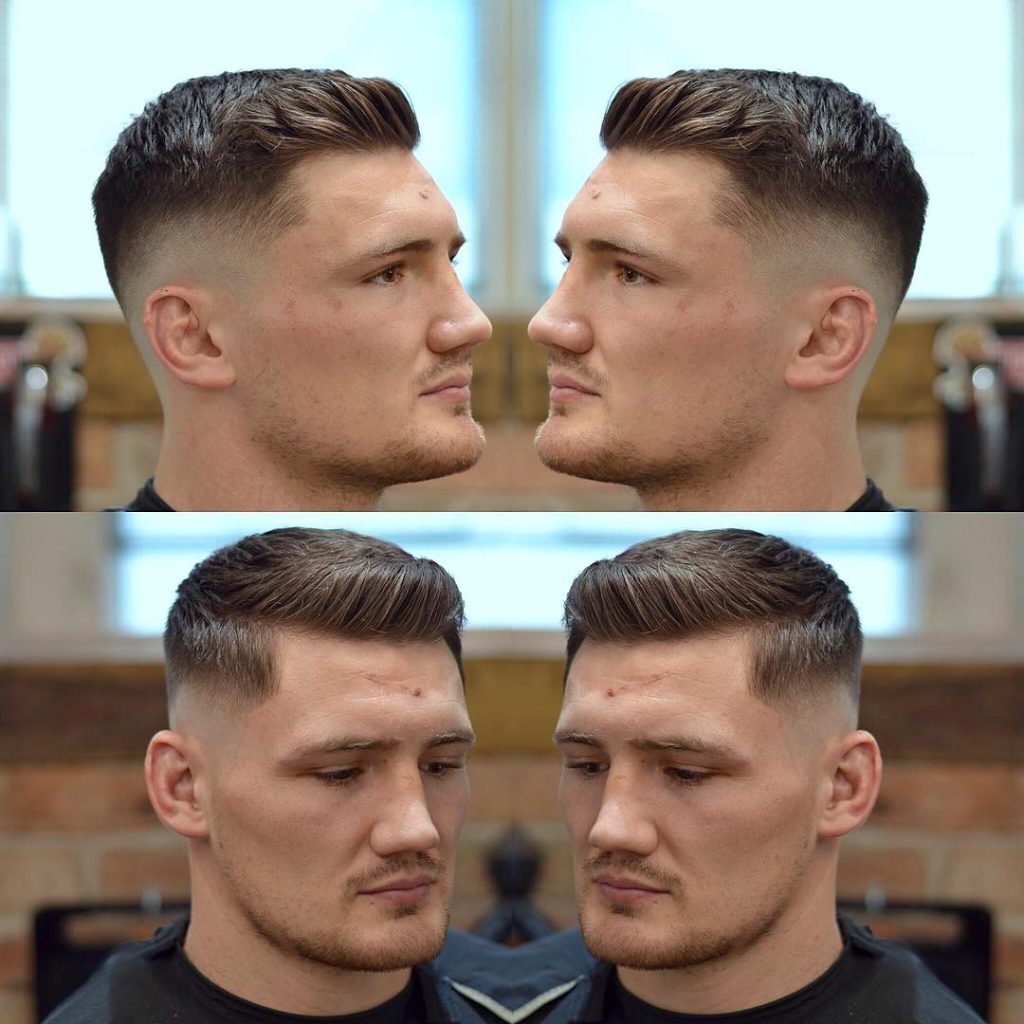 The classic quiff and clean fade make this cut suitable at work and play.
30. Wide Mohawk Fade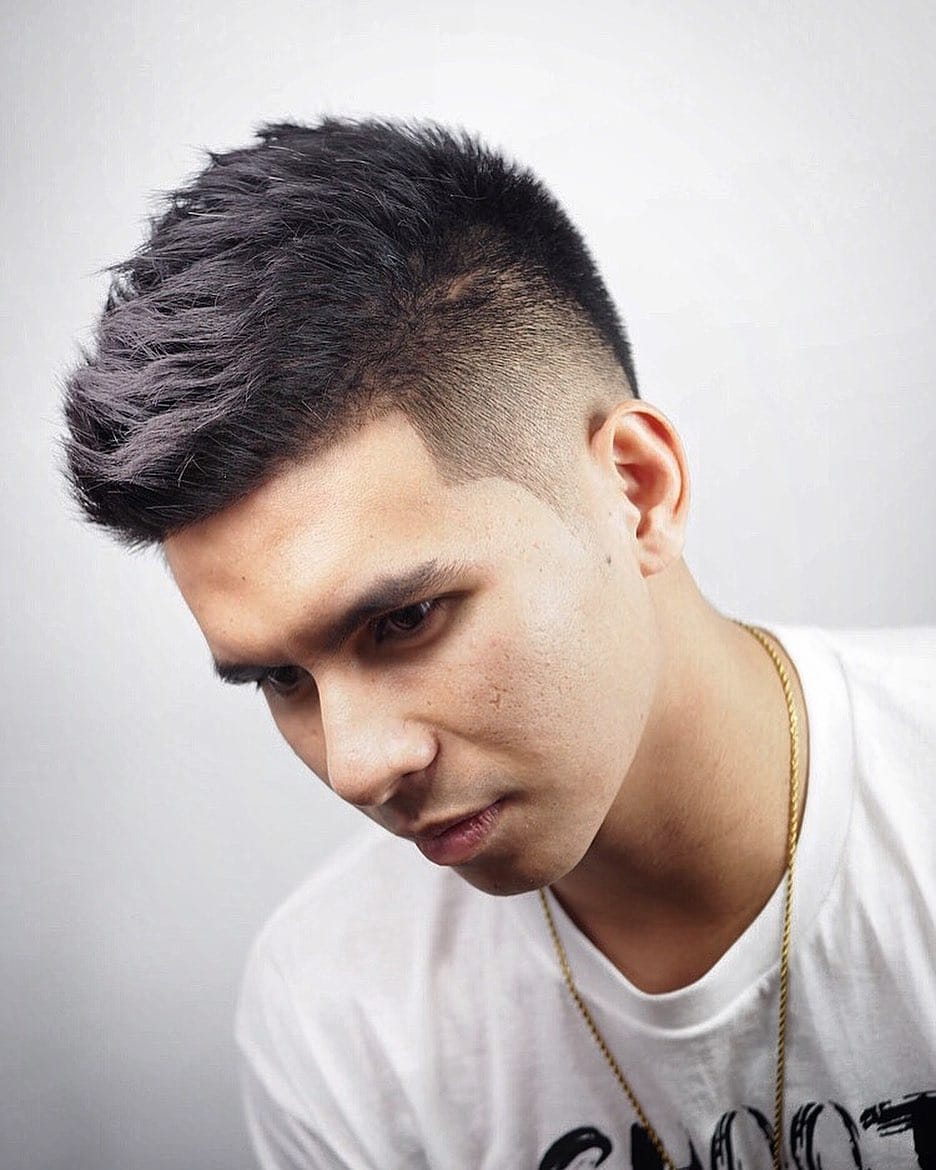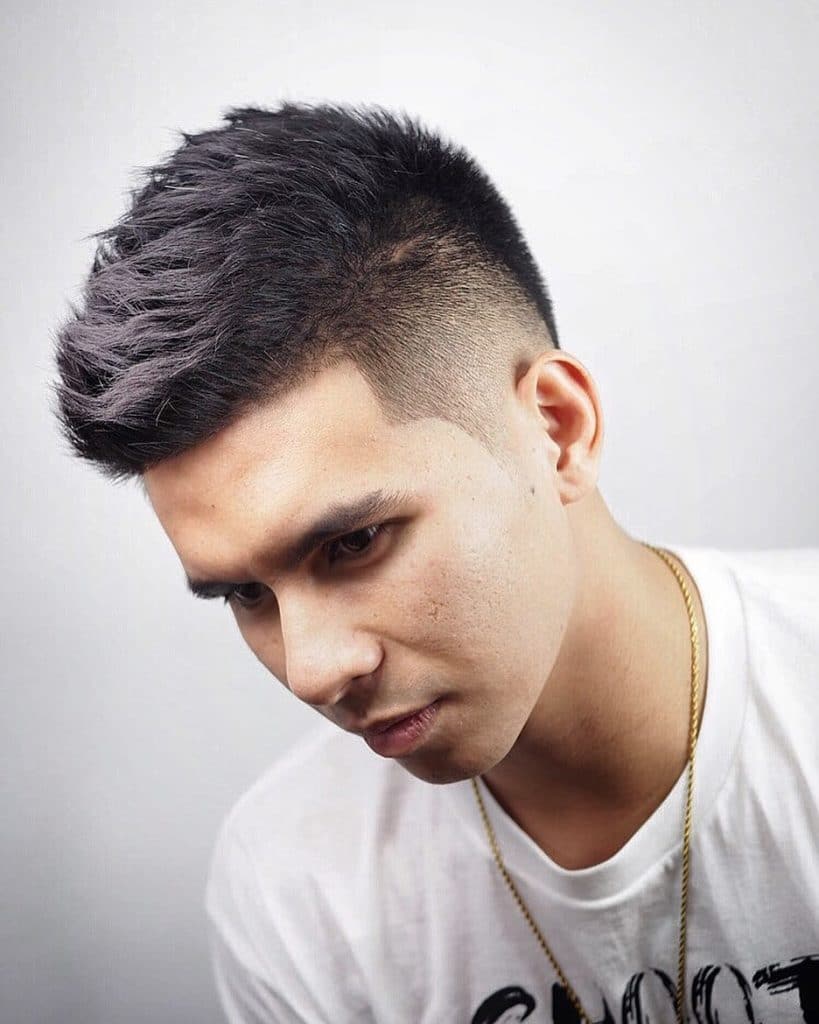 Some mohawks are narrow and long but this look is just as cool and much easier to wear with a wide cut and short spikes.
31. Burst Fade Haircut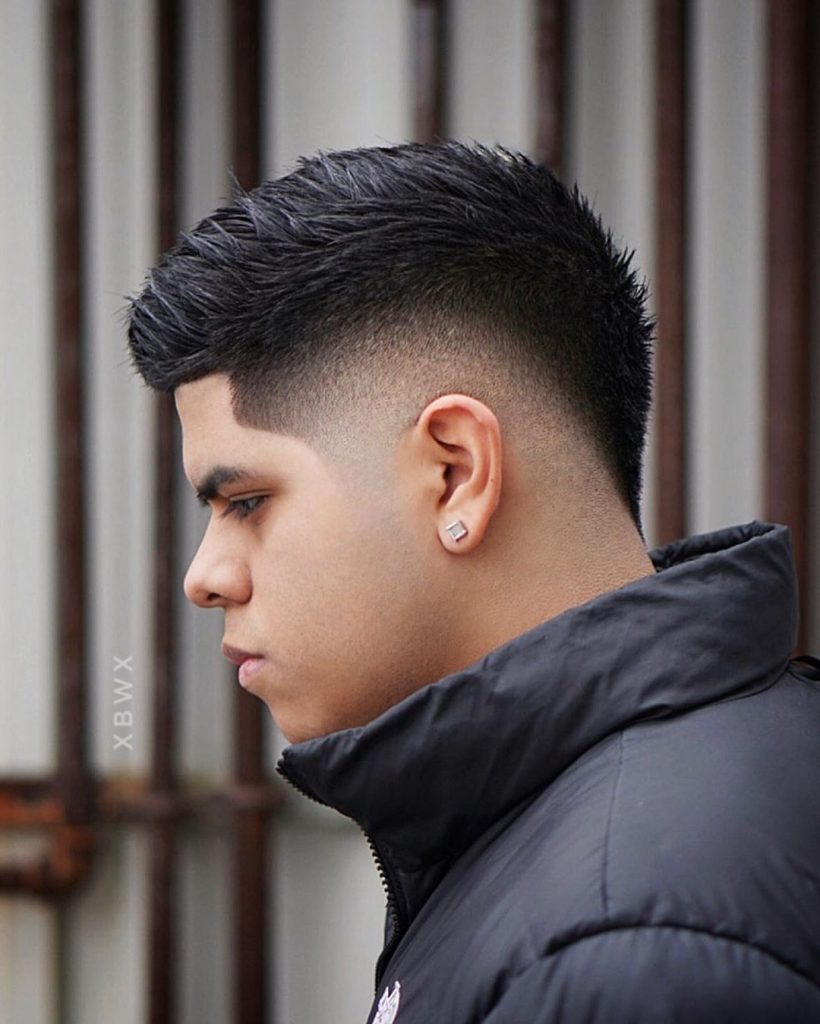 Here's another look at a similar wide mohawk and how it tapers into a pointed V at the back.
Short Haircuts for Wavy + Curly Hair
All of these haircuts should work for guys with wavy and or hair. The cuts are short but have enough length to reveal texture. Some are more conventional while other skew trendy.
32. High Fade Haircut For Wavy Hair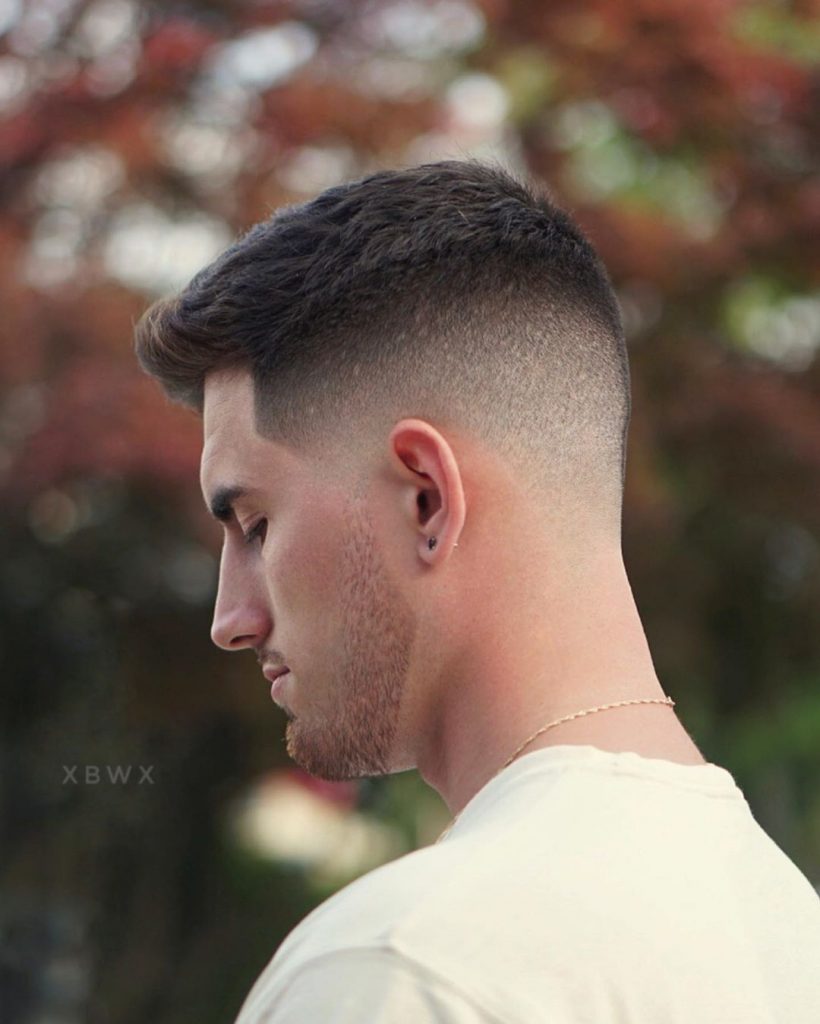 There are a number of short quiff haircuts on this page and here's another with some added volume and texture from wavy hair.
33. Wavy Crop Haircut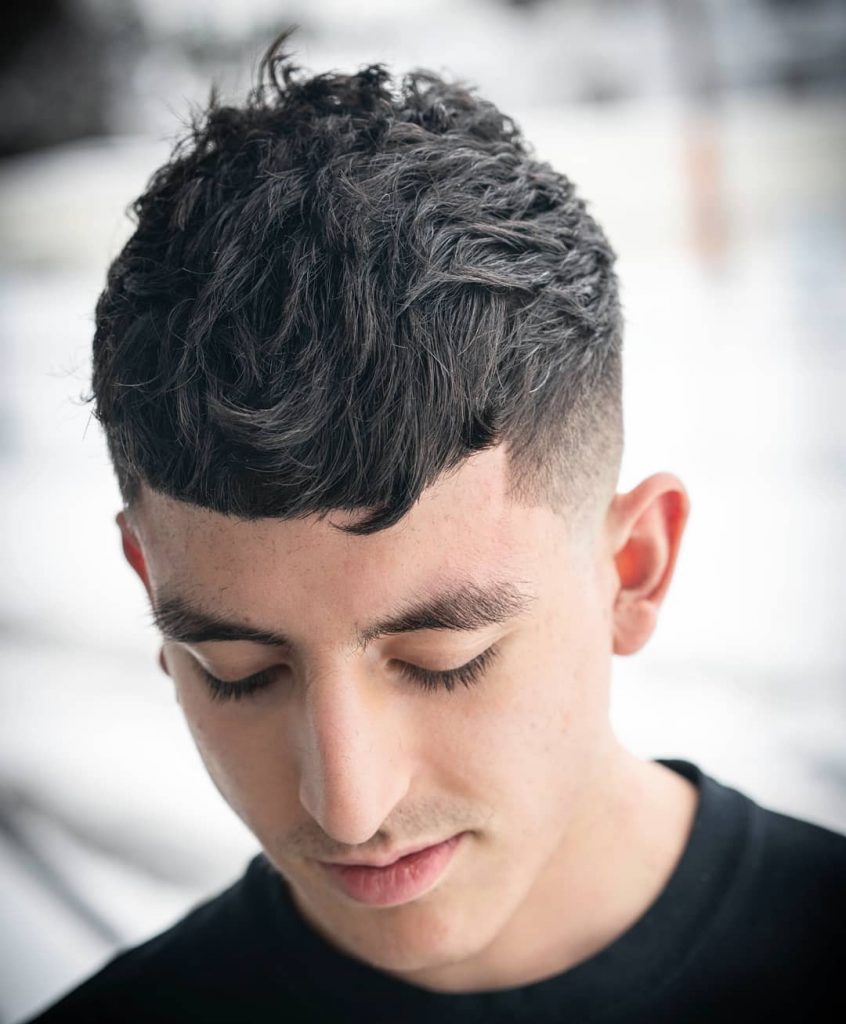 The crop haircut was made for wavy and curly hair types. This artful cut is short all over with a few longer strands of curls.
34. Business Haircut for Wavy Hair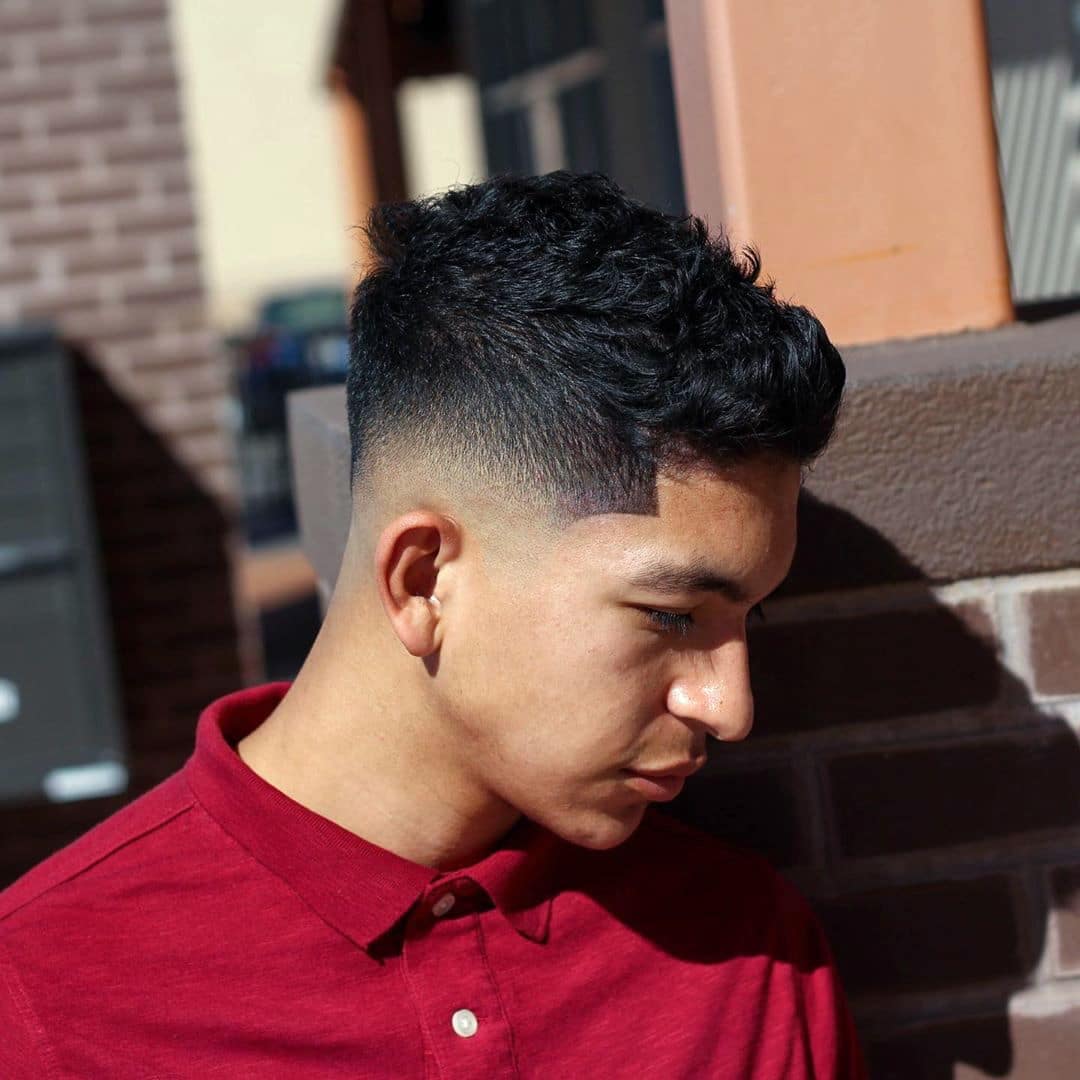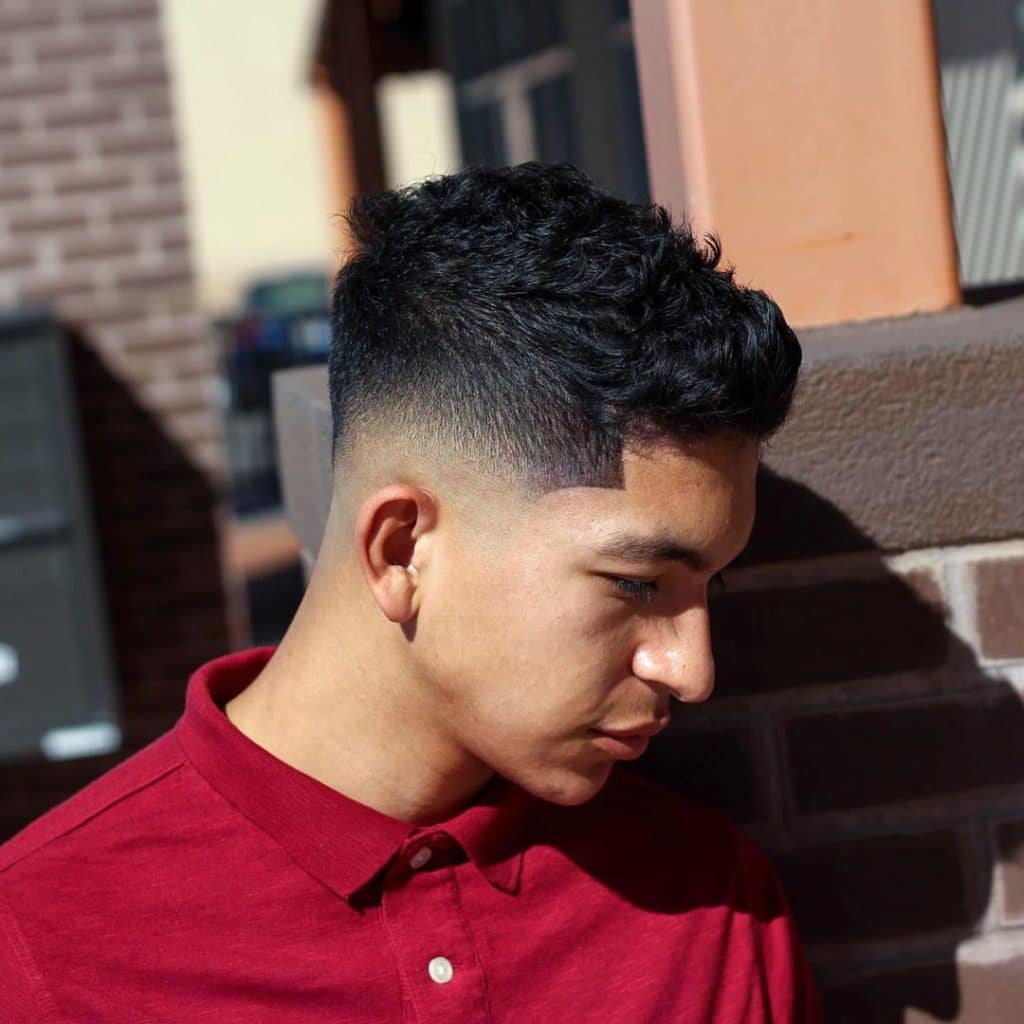 Yet another classic quiff, this version layers curly hair to add texture and volume in a cool yet professional hairstyle.
35. Curly Crop Fade Haircut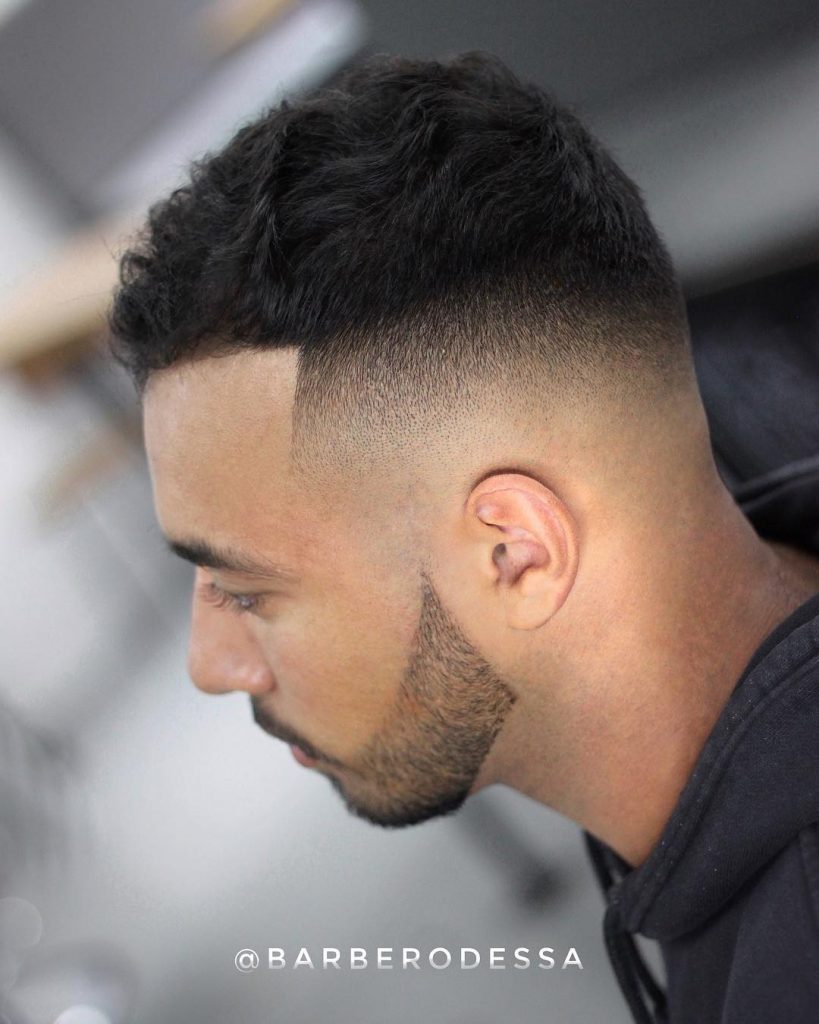 Here's a fresh new way to wear the high top with curly texture and a fade that drops down.
36. Curly Fade Haircut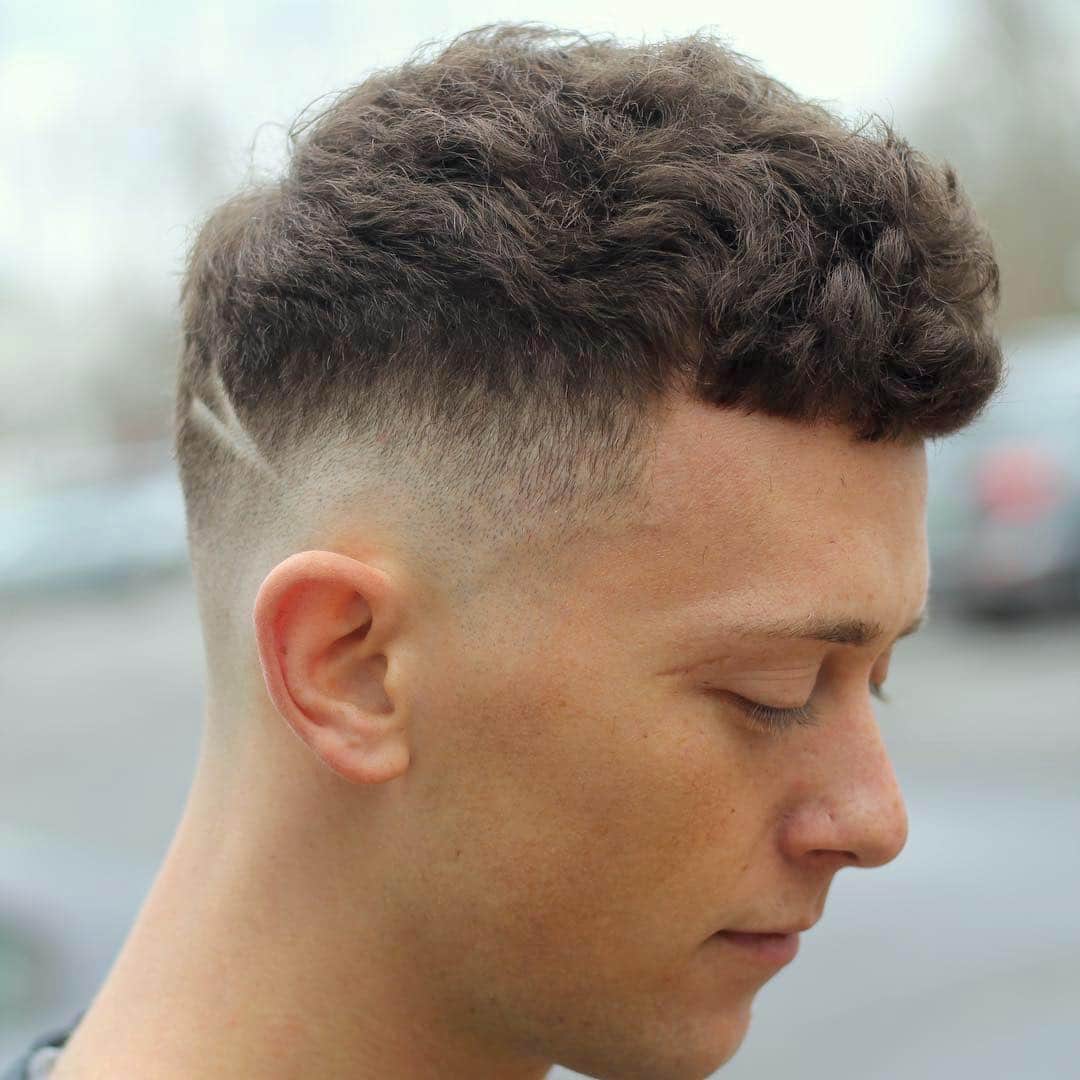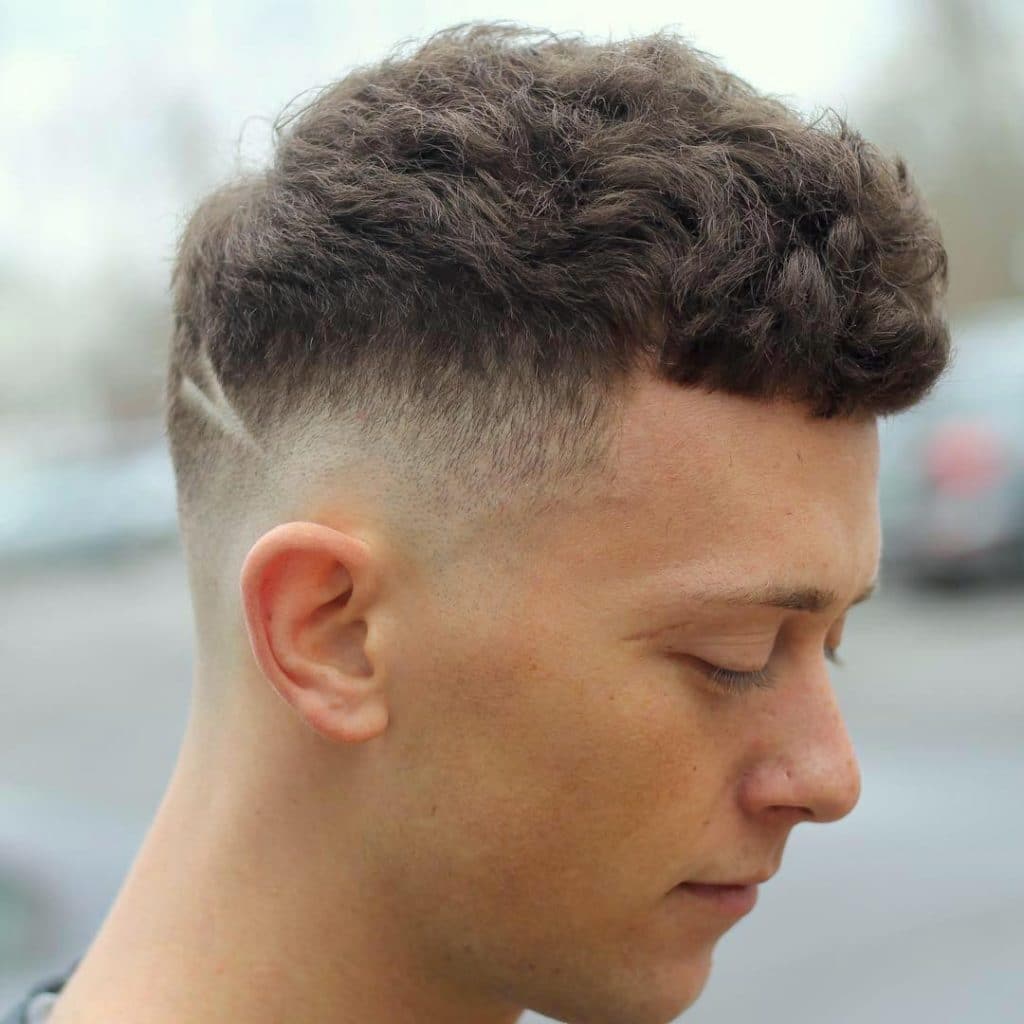 Curls up top, a fade below, and a shaved V in between.
37. Curly Mohawk Fade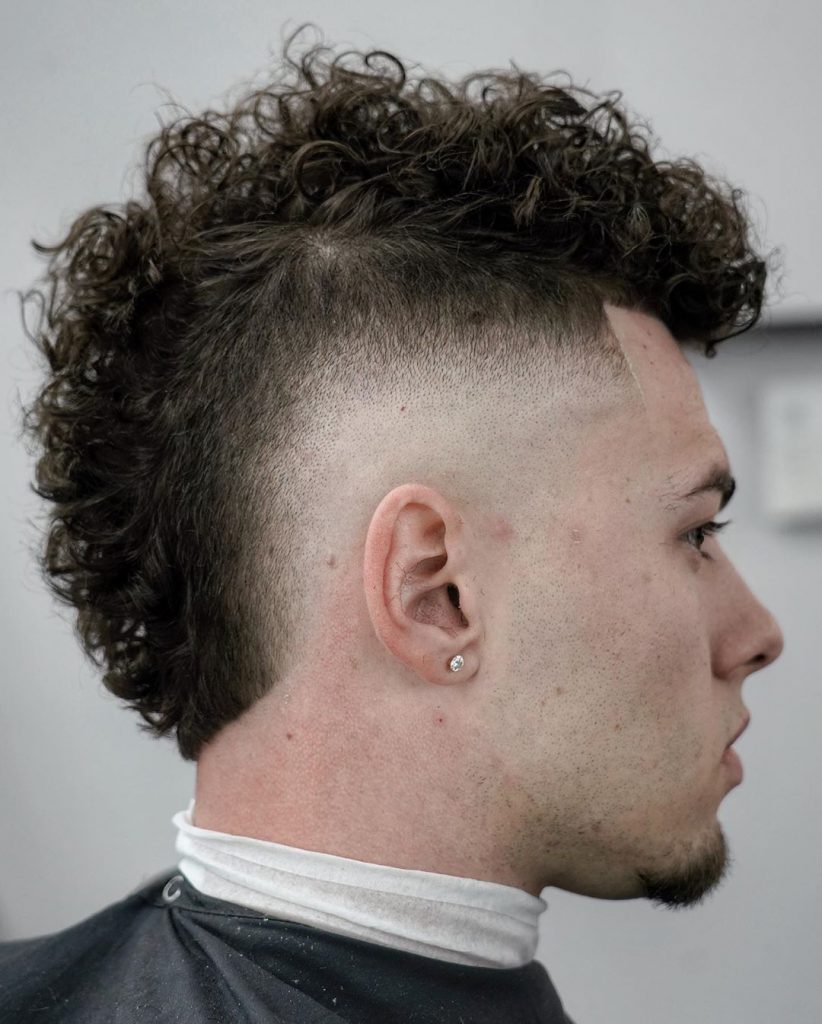 The mohawk fade makes short hair seem longer but just adds length at the neckline and in this case, a V-cut.
Short Haircuts for Black Men
Here are some cool short haircuts for black men that don't shave hair off but are also short enough not to need a lot of extra moisturizing and styling. From wolfed waves to short curls, these looks show off natural texture.
38. 360 Waves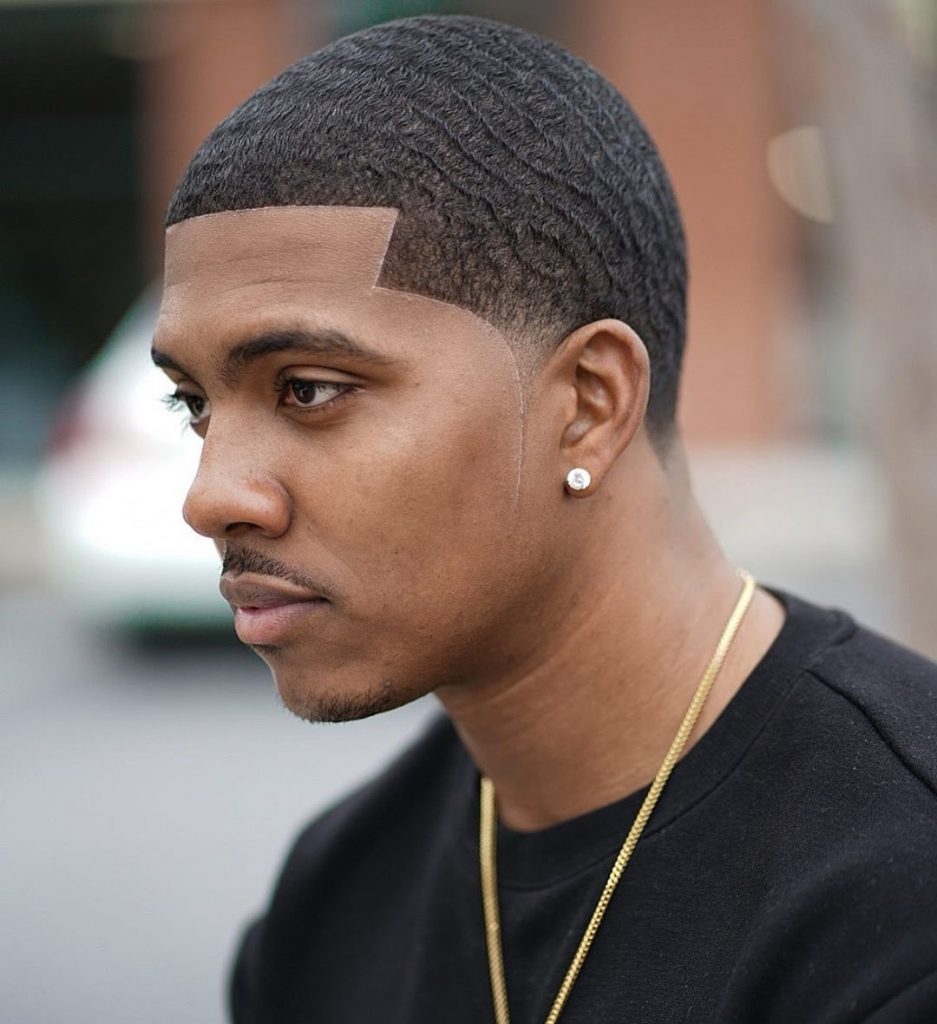 Waves haircuts are cool because it takes some length to get the waves but hair is still close cropped.
39. Waves + Fade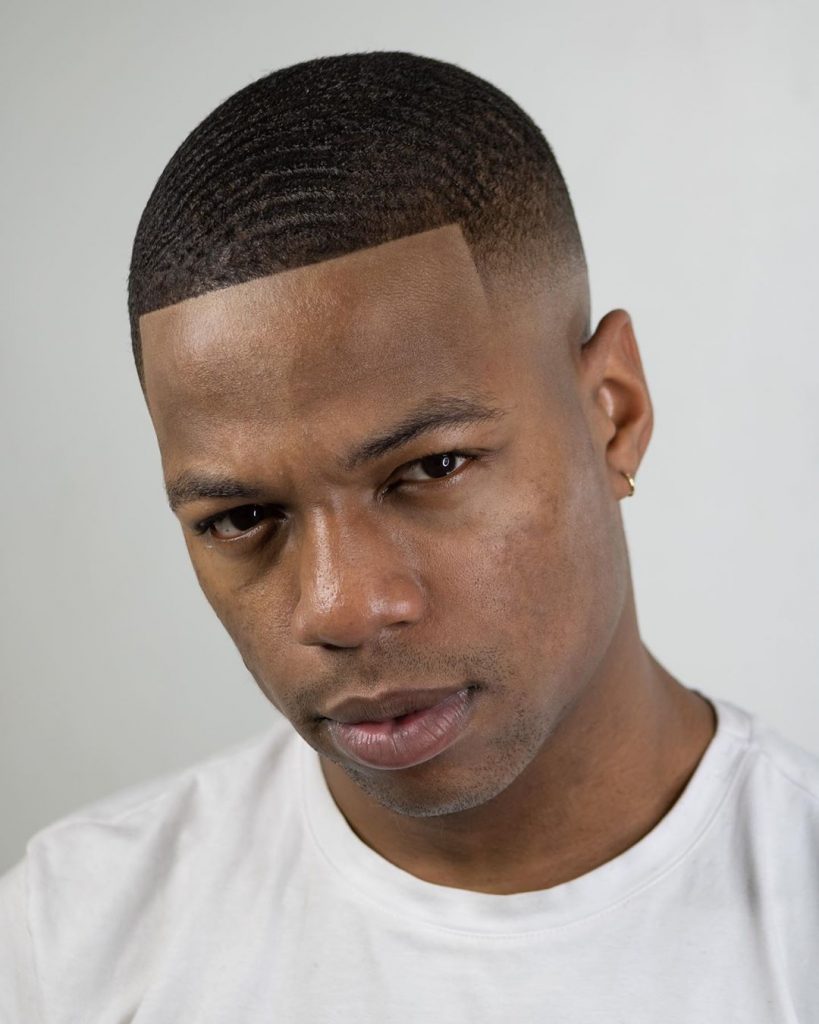 This medium-high fade turns those 360 waves into 180 waves.
40. High Fade Haircut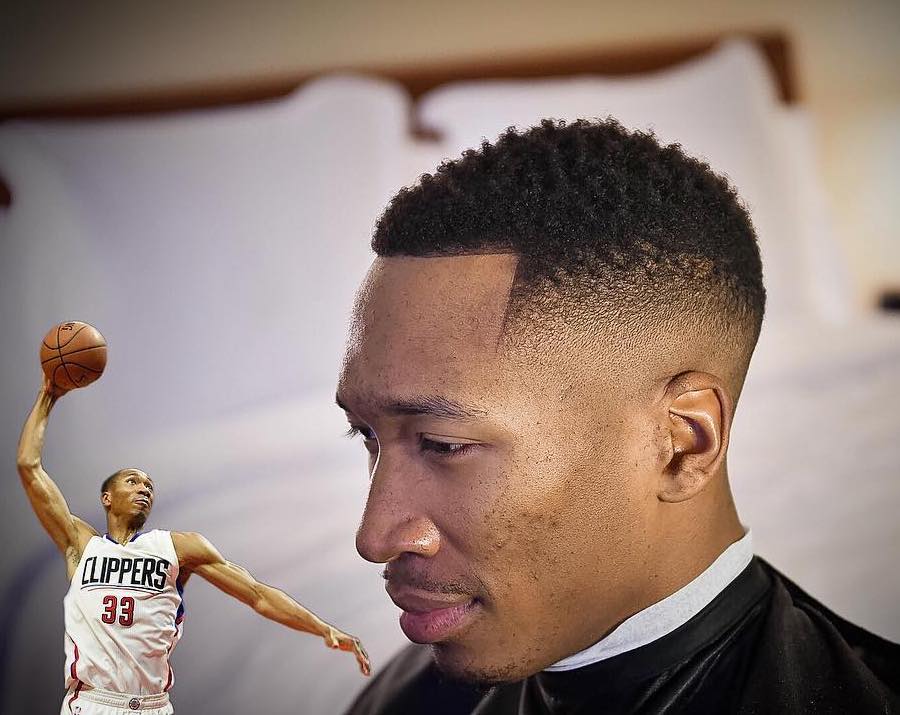 If these short curls with a drop fade are good enough for former LA Clipper Wes Johnson, they're good enough for you.
41. Short Haircut With Beard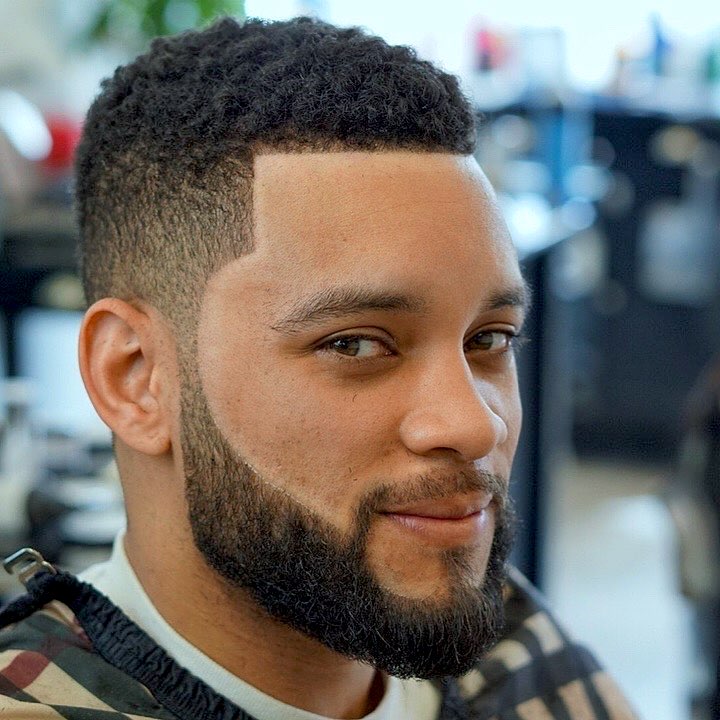 This precision beard fade creates a seamless transition between short curls and dense beard.
42. Short Taper Fade For Black Hair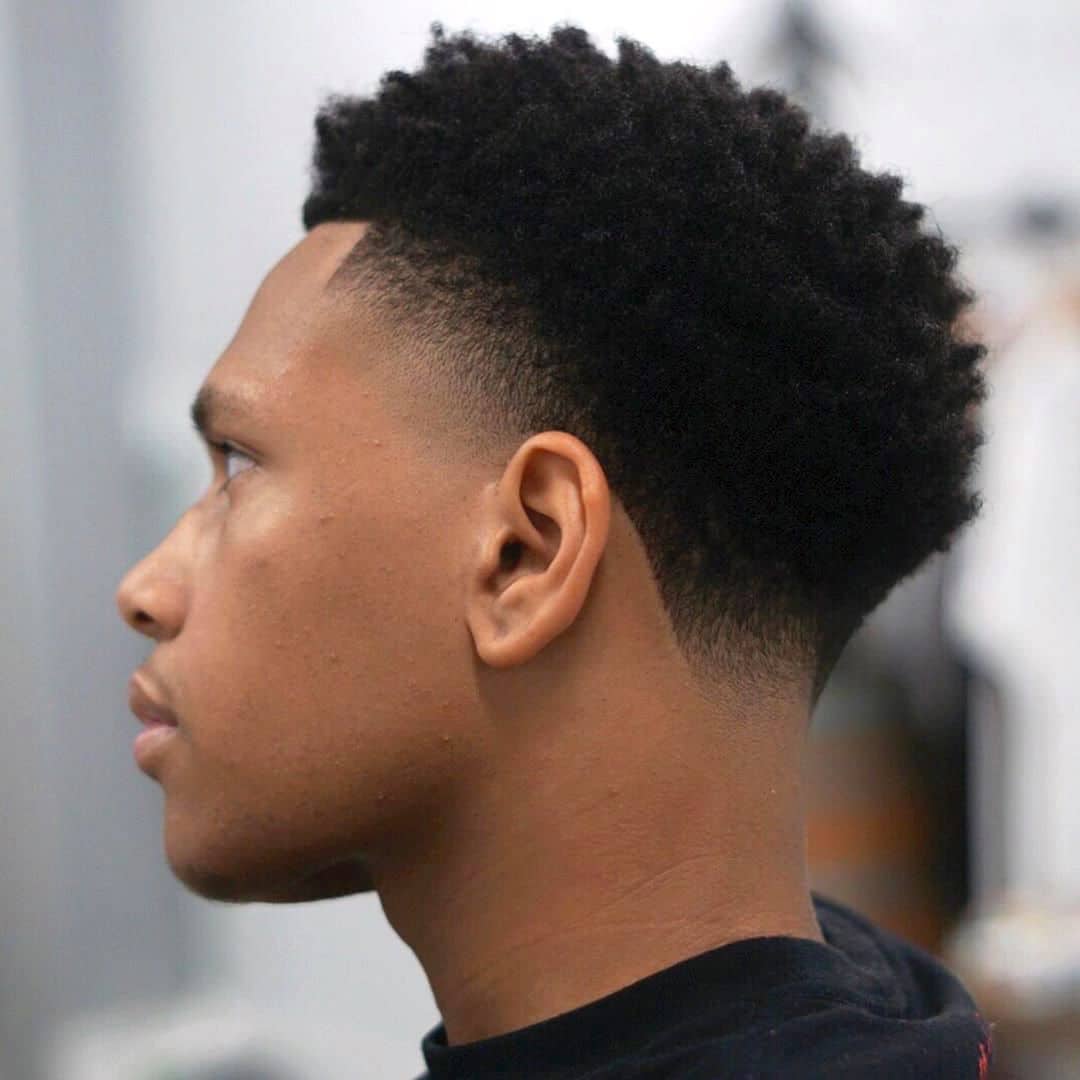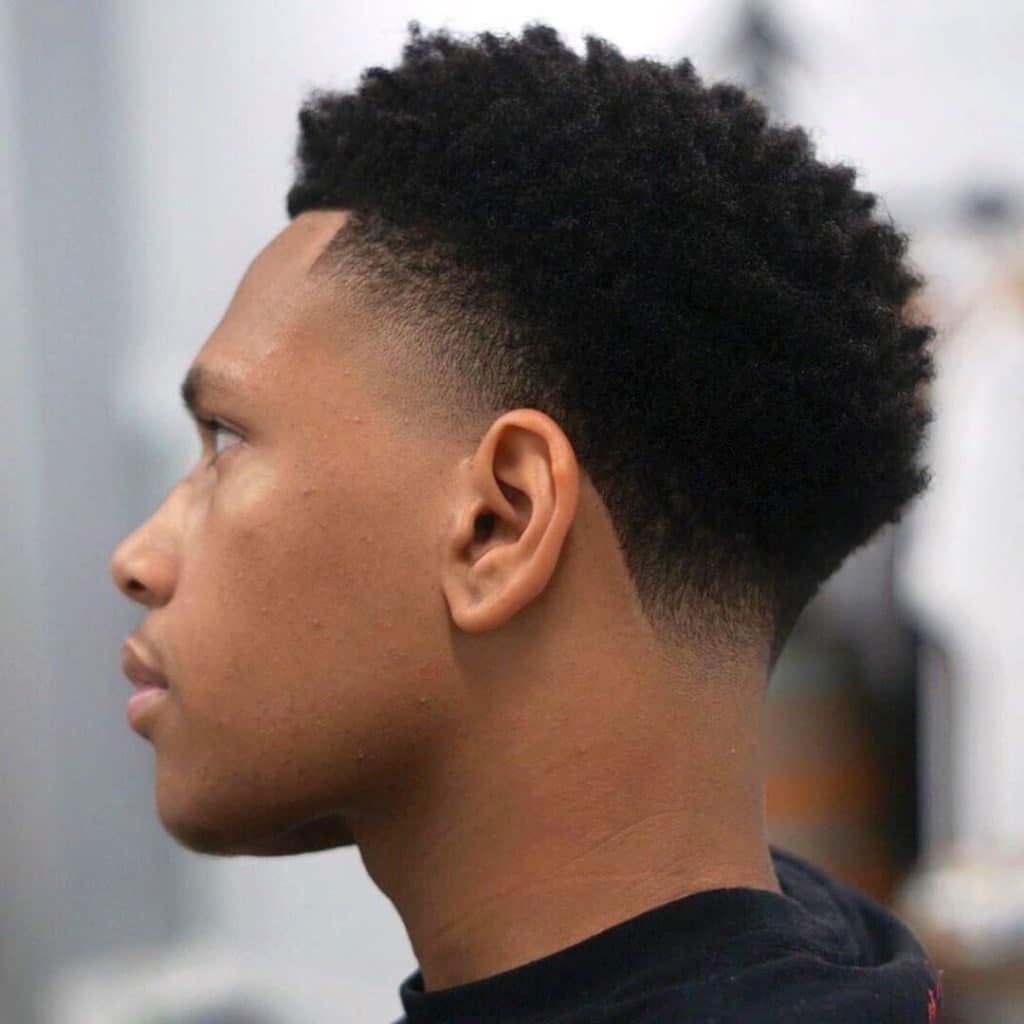 Here's a short blowout haircut with a medium taper fade.
Short Haircuts for Fine + Thin Hair
These short haircuts look good and help fine or thin hair appear thicker. The key is short sides that make hair on top look fuller in comparison. If hair is thinning, a very short haircut will minimize the effect against a skin fade. Otherwise, about an inch of length and some styling, volume and texture is the key to fuller-looking locks. A quiff, crop, and comb over are all flattering choices.
43. Shaved Sides + Short Top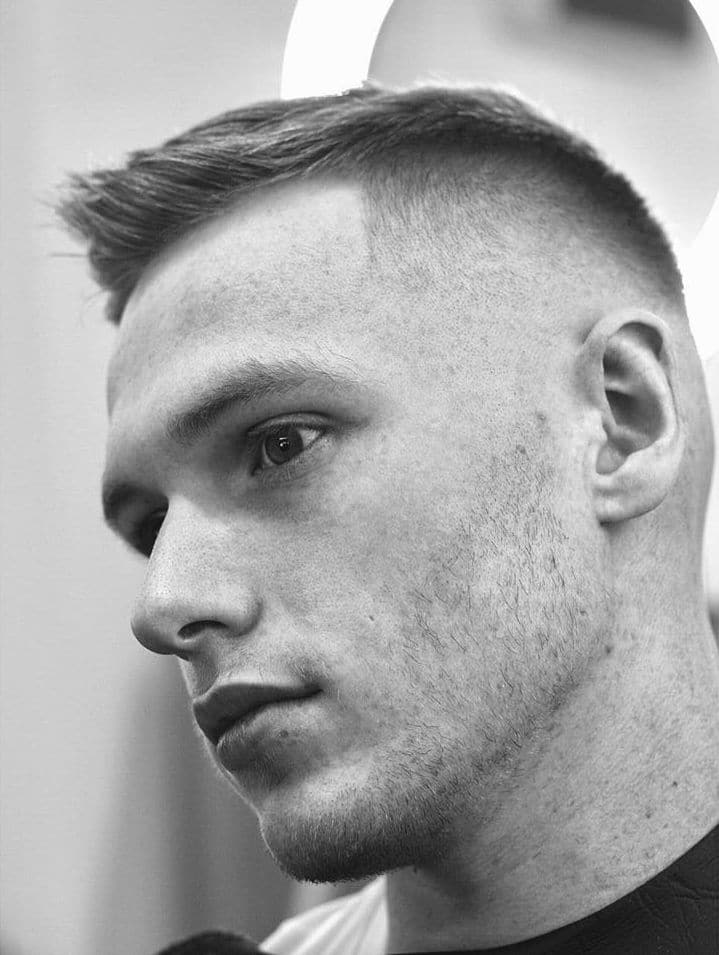 The high skin fade combined with extra length and volume at the forehead makes thin or fine hair look thicker.
44. High And Tight For Thin Hair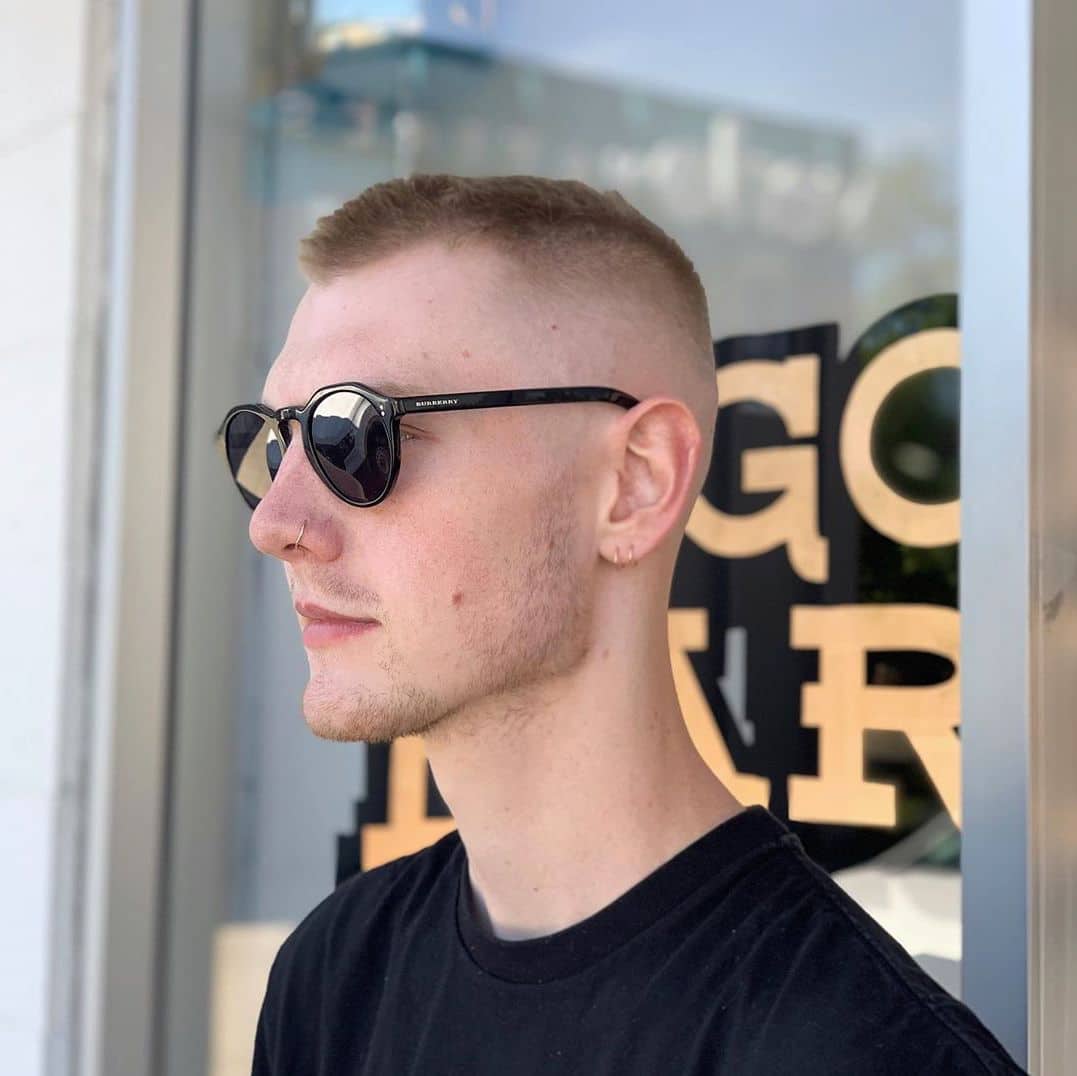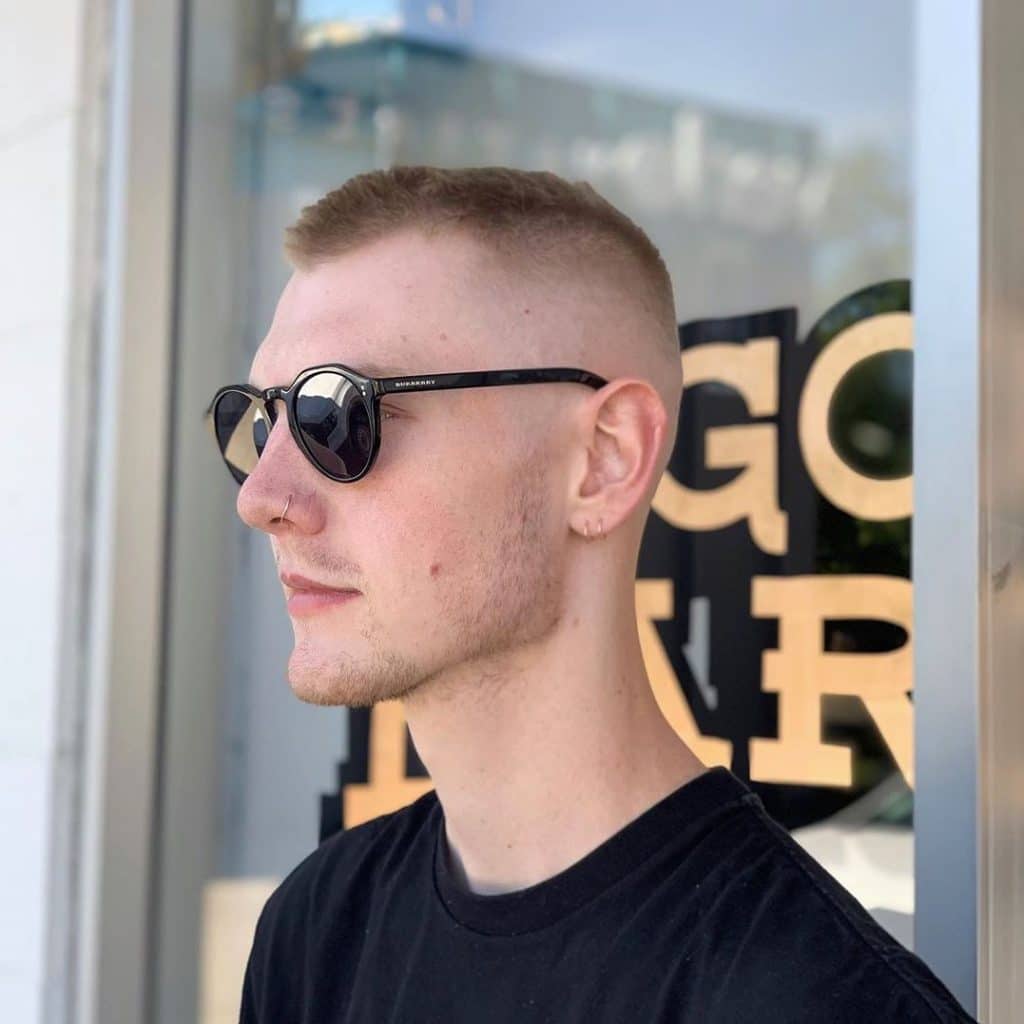 Before considering the cue ball style, try a high skin fade. Whether hair is fine, thin, or thinning, the contrast between nothing and something makes hair appear more substantial.
45. Quiff Haircut For Fine Hair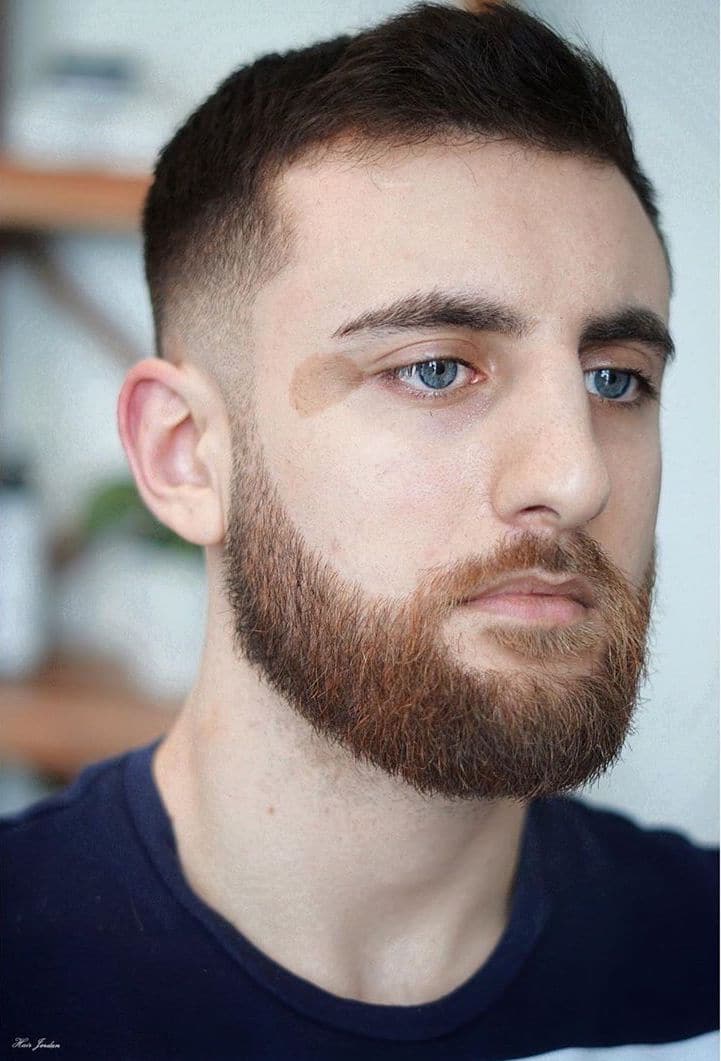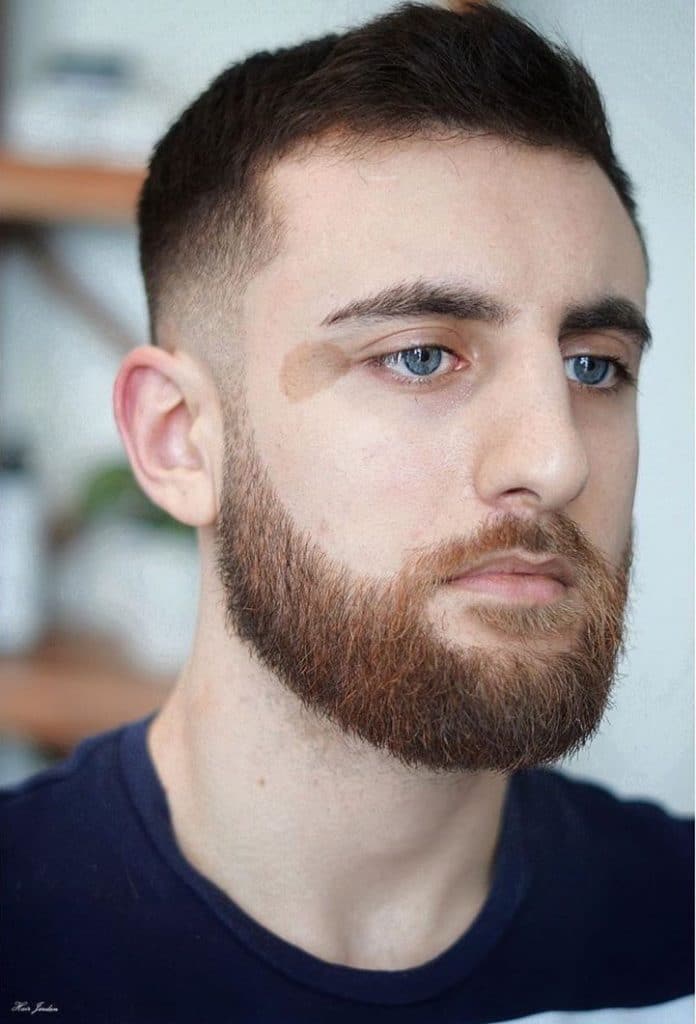 Almost two inches of length at the forehead is enough to style a quiff without weighing fine hair down with product.
46. Textured Crop Haircut For Fine Hair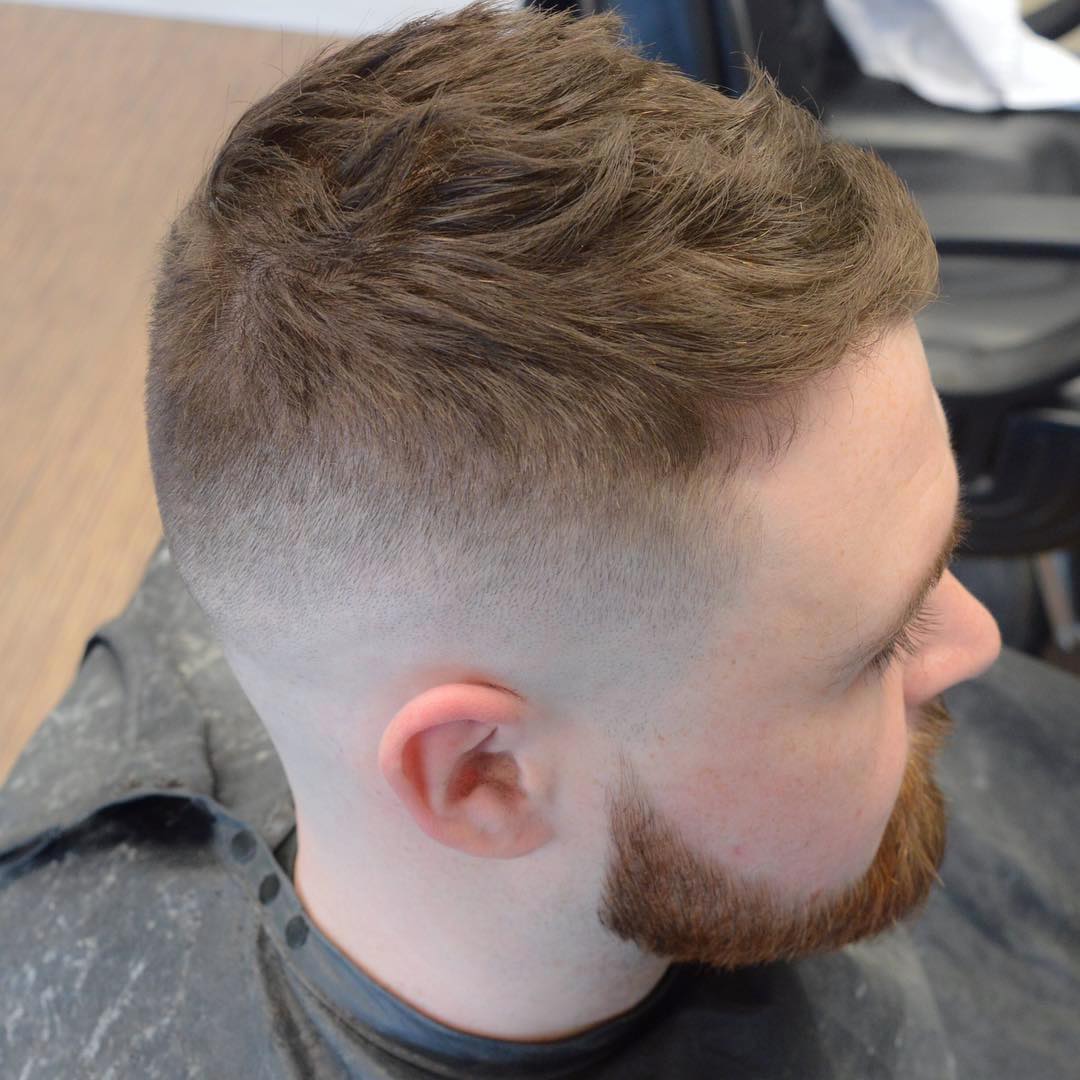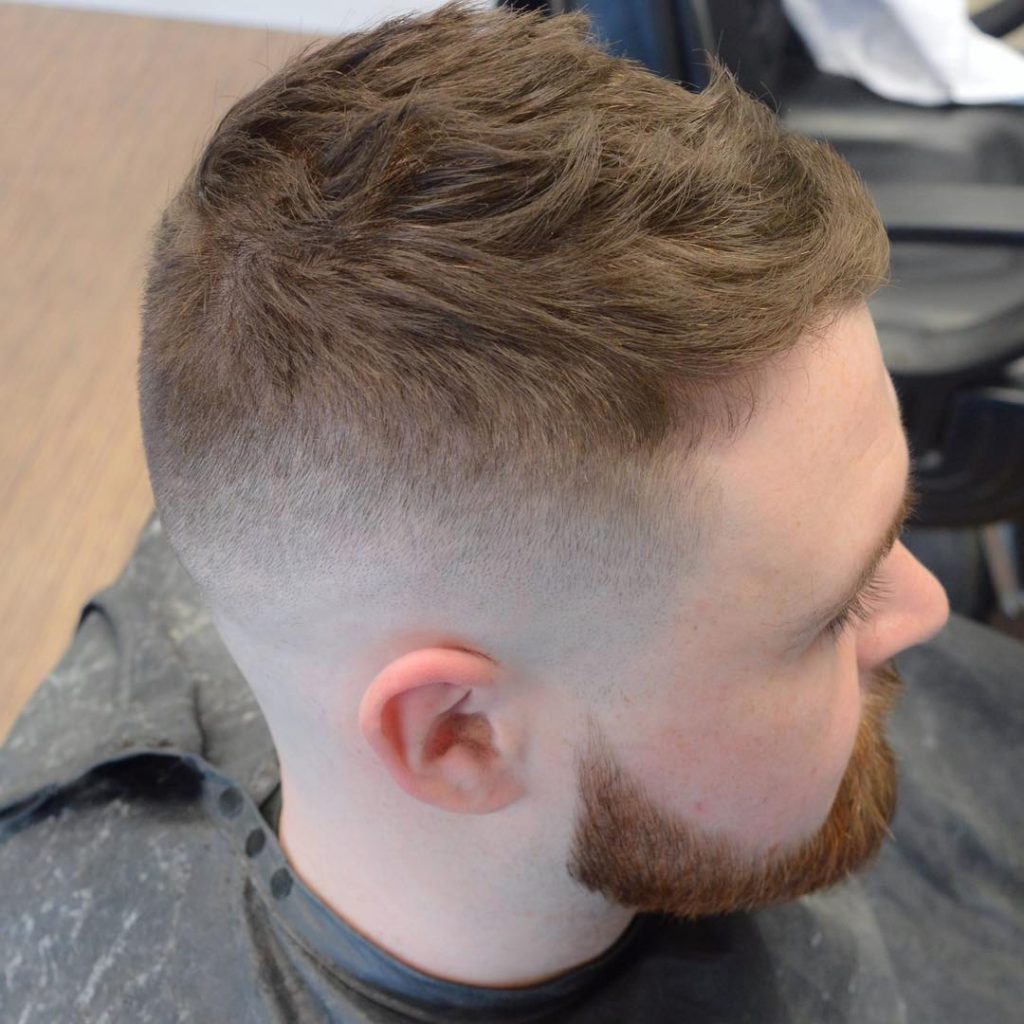 Piecey texture is another way to help fine hair look thicker and fuller. Try it with a textured crop or spiky style.
47. Comb Over Fade For Fine Hair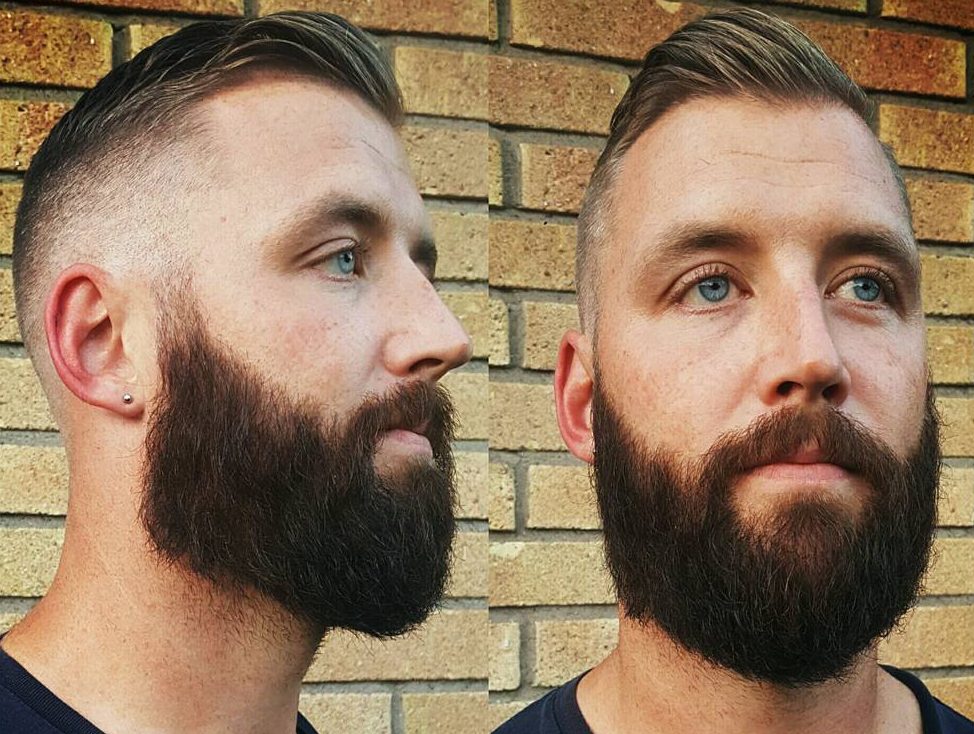 For fine hair, shorter styles can help hair look fuller.
Short Haircuts for Asian Hair
Nice to see you here at the bottom of the page. Asian hair may be last, but it is certainly not least. These short haircuts for Asian men are five cool ways to tame coarseness while showing off thick hair. For guys with wide cheeks or round faces, the shaved sides and height at the hairline help the face appear longer.
48. High Skin Fade Haircut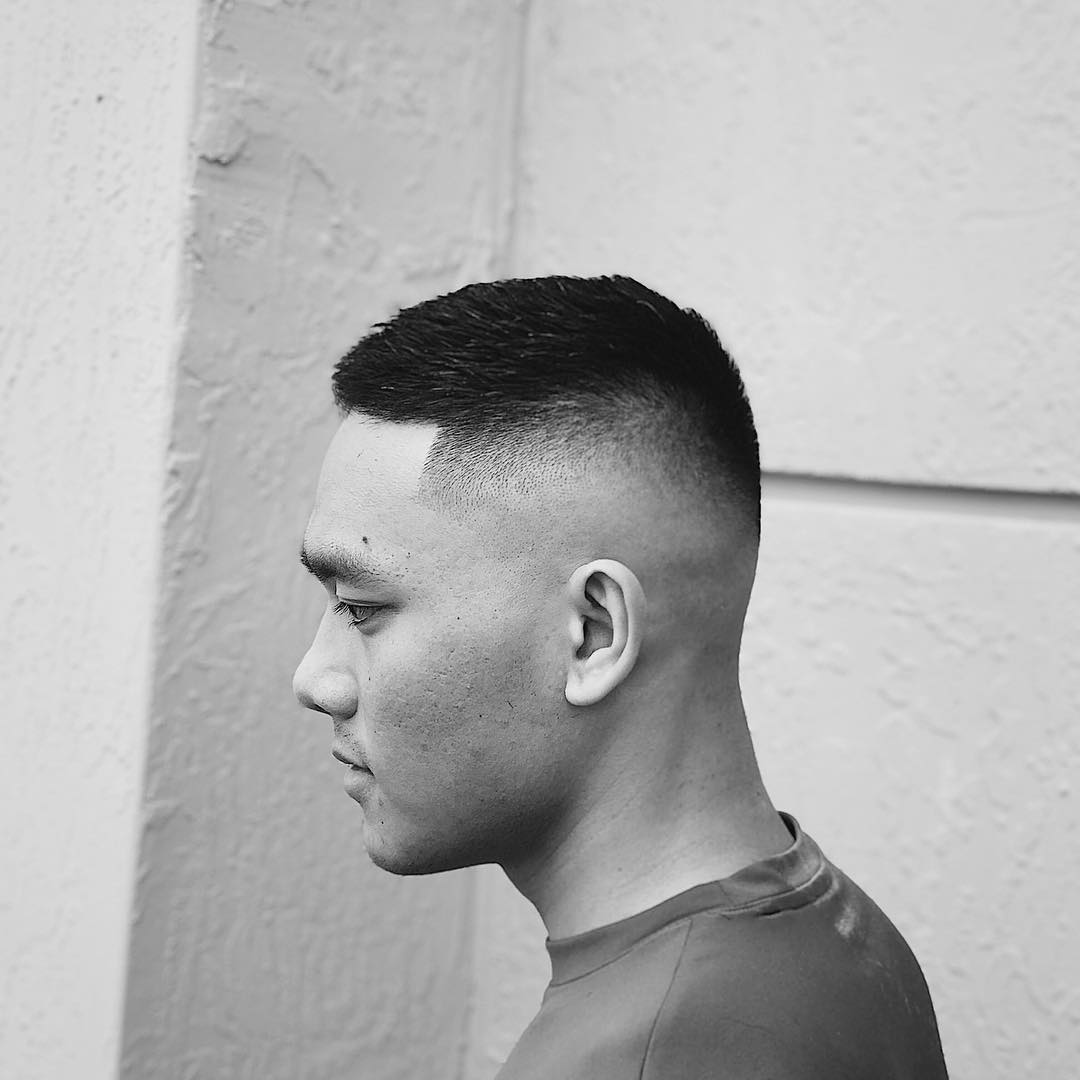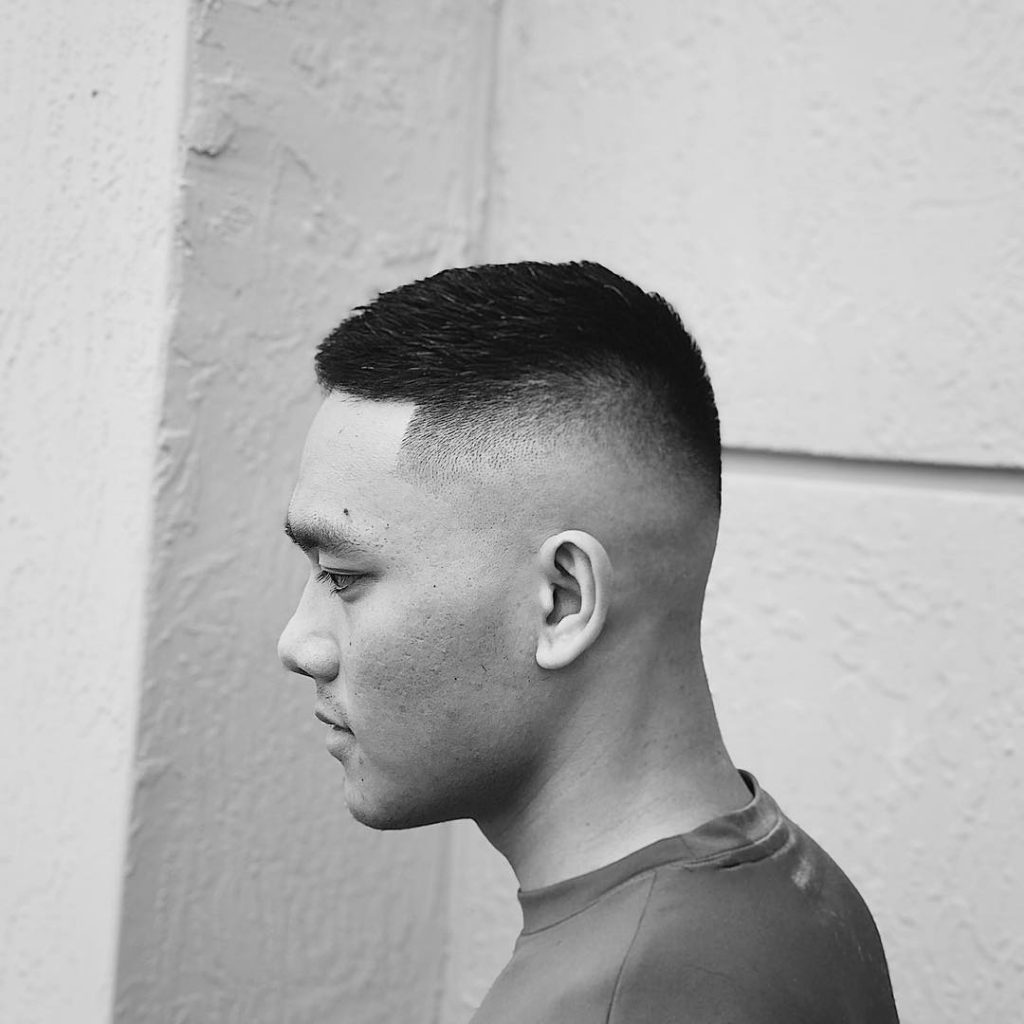 This high and tight with a drop fade is a cool wash-and-wear haircut, especially if for thick and/or coarse hair. This version has a touch of product to enhance texture.
49. Drop Fade + Line Up Haircut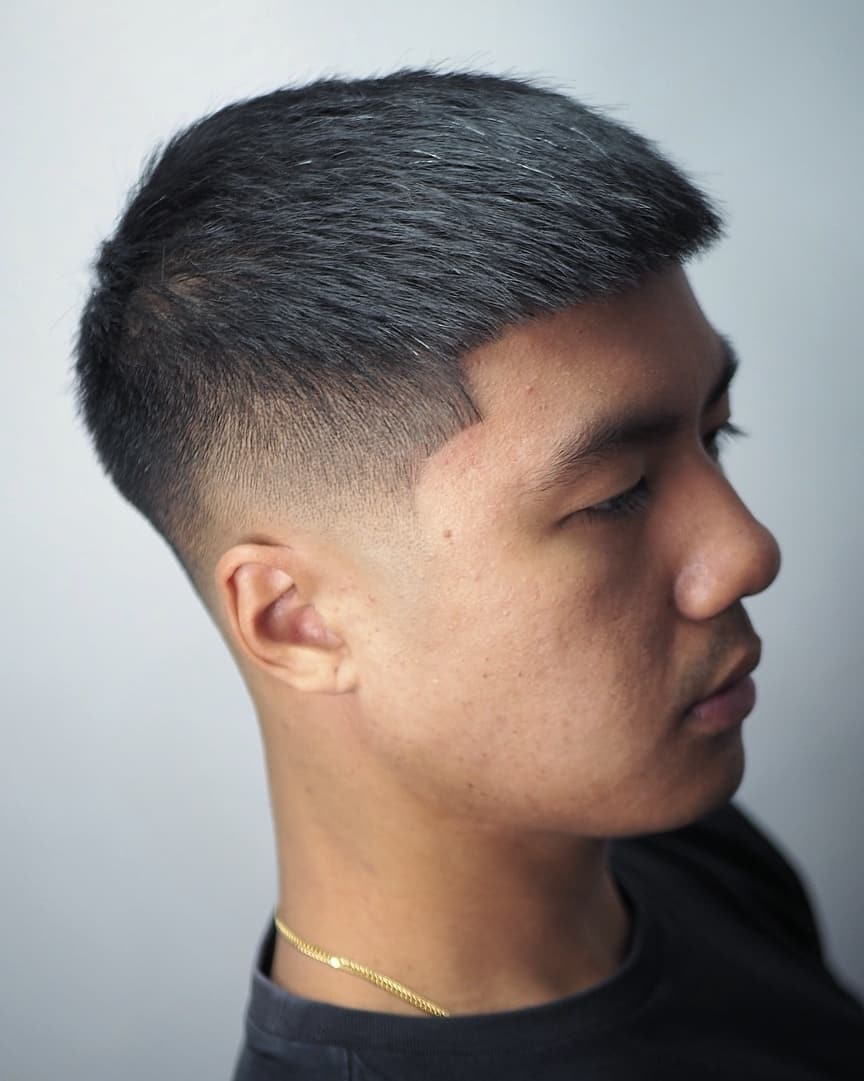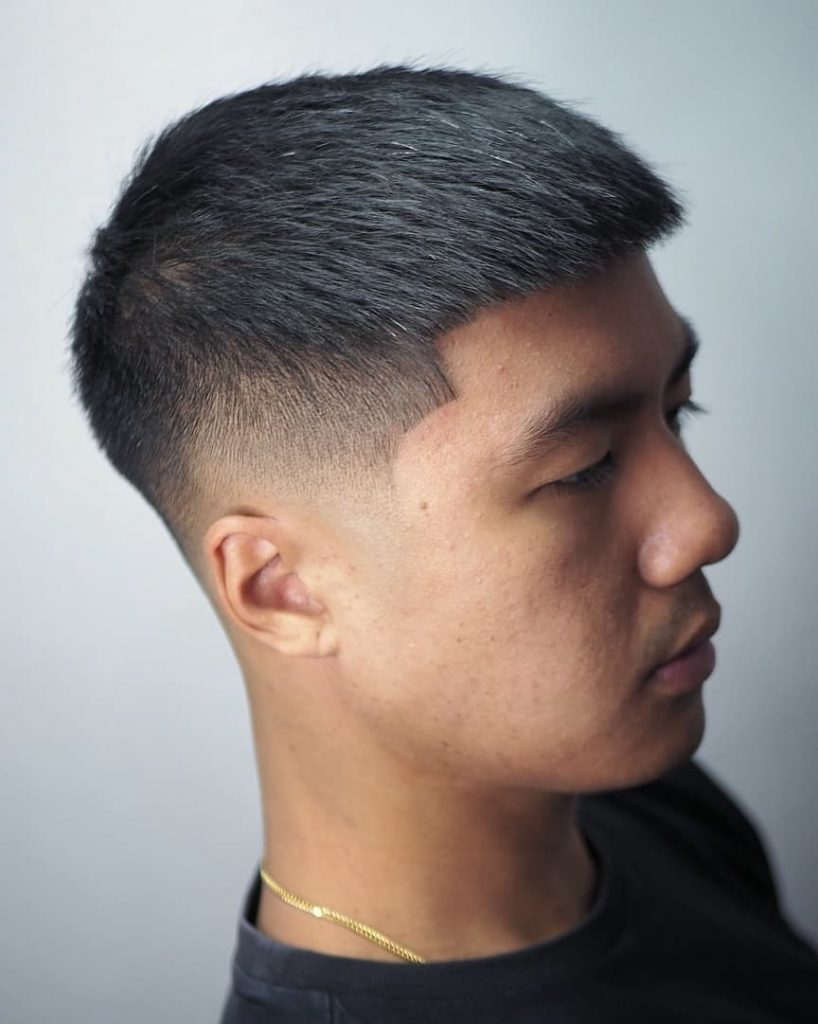 This fresh look contrasts a line of thick, blunt fringe with a blurry drop fade.
50. Drop Fade Haircut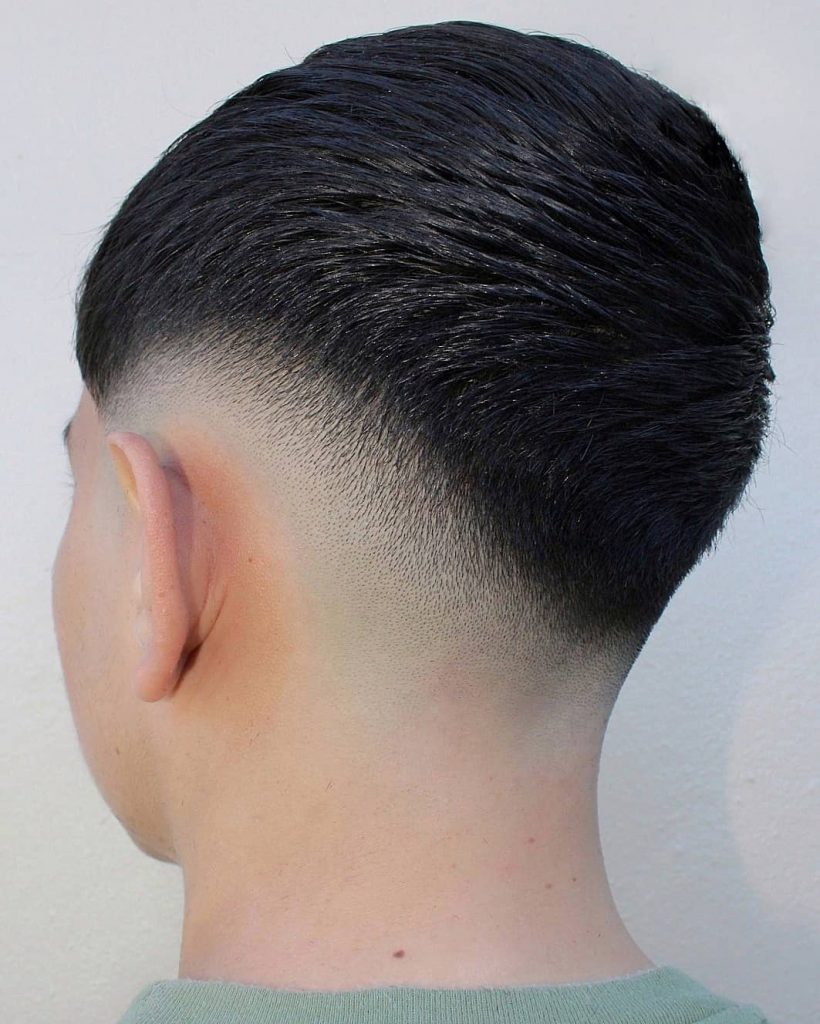 The arc of a drop fade looks cool with every haircut.
51. Short Quiff Haircut For Asian Men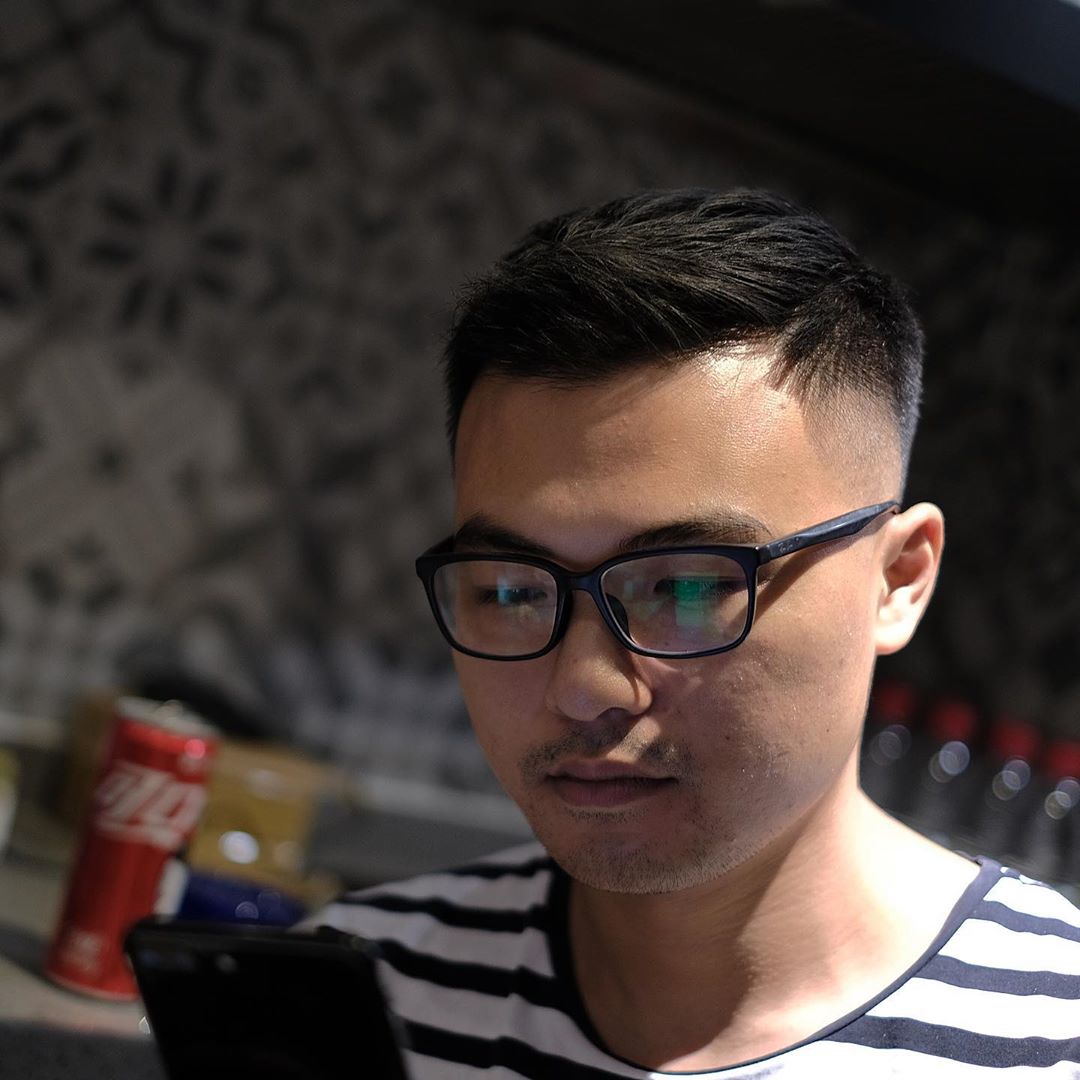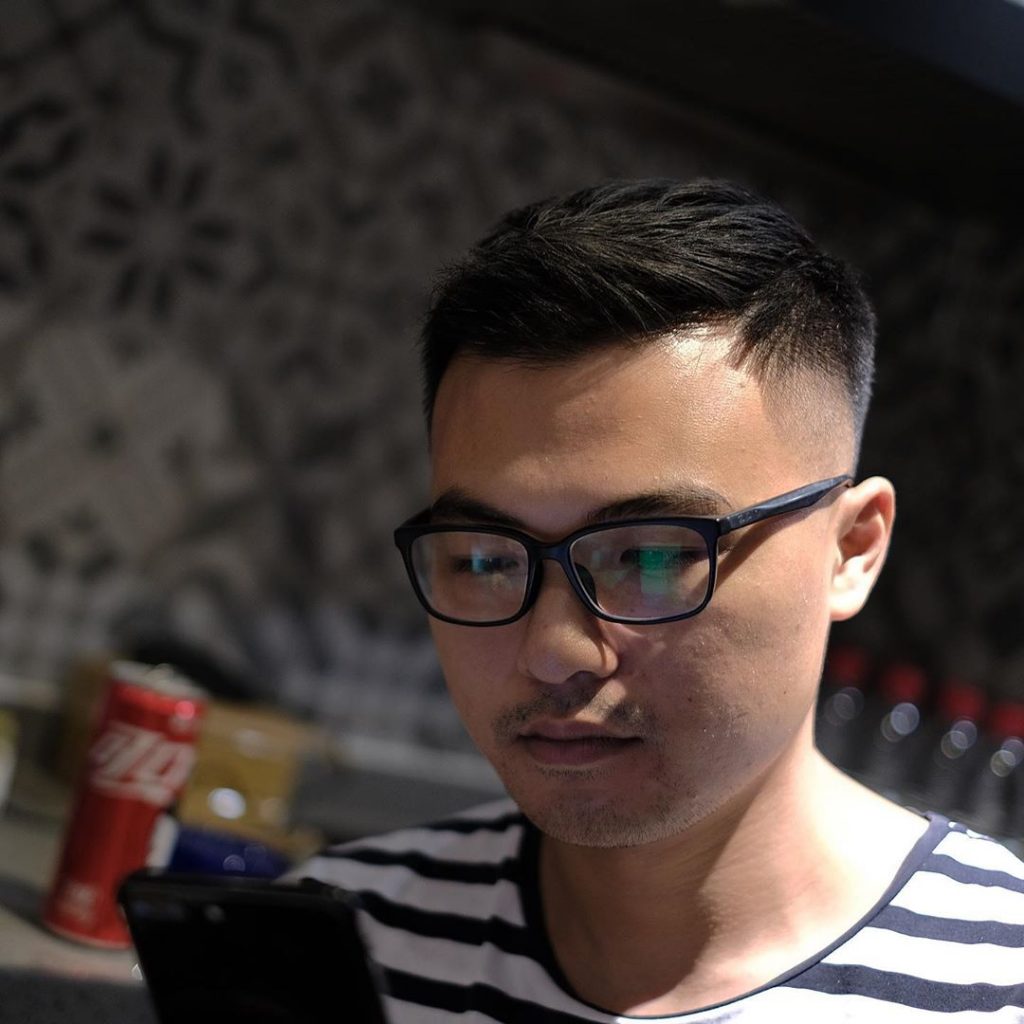 This faux hawk-quiff hybrid can also be styled spikier or quiffier.
52. Hard Part Haircut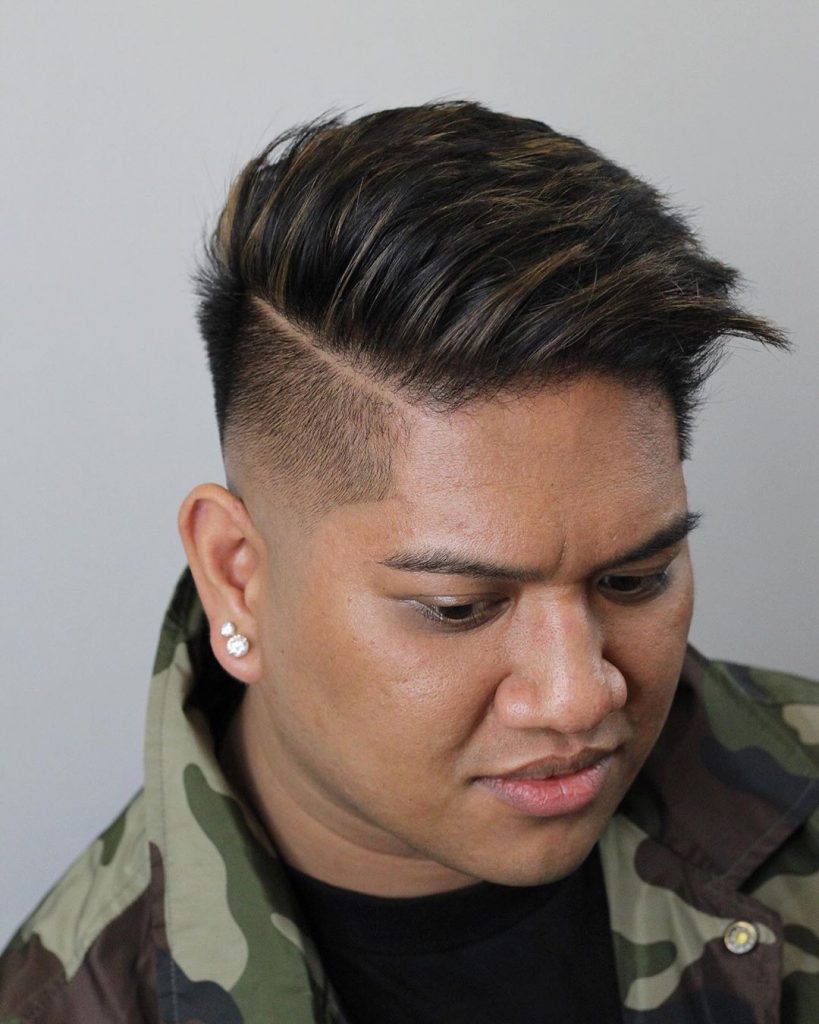 This cool style adds volume and a shaved part to the always popular combover fade.
Bonus Short Haircuts For Guys
53. Short Sides, Long on Top Haircut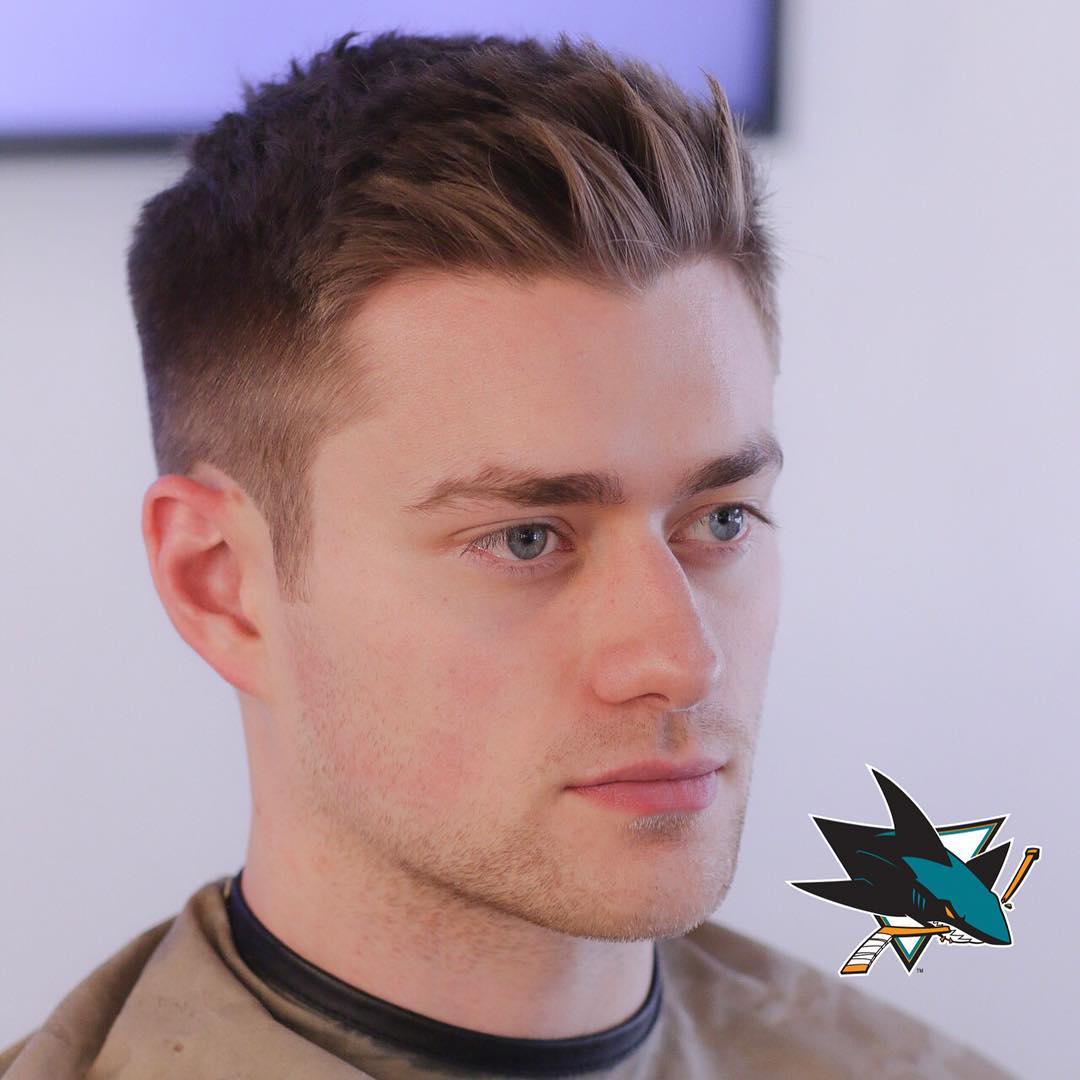 This short sides, longer on top haircut is a cool and clean cut look. Styled with some texture on San Jose Shark Dylan Gambrell, it could be also be worn with a side part for a more conservative workplace.
54. Men's Short Fade Haircut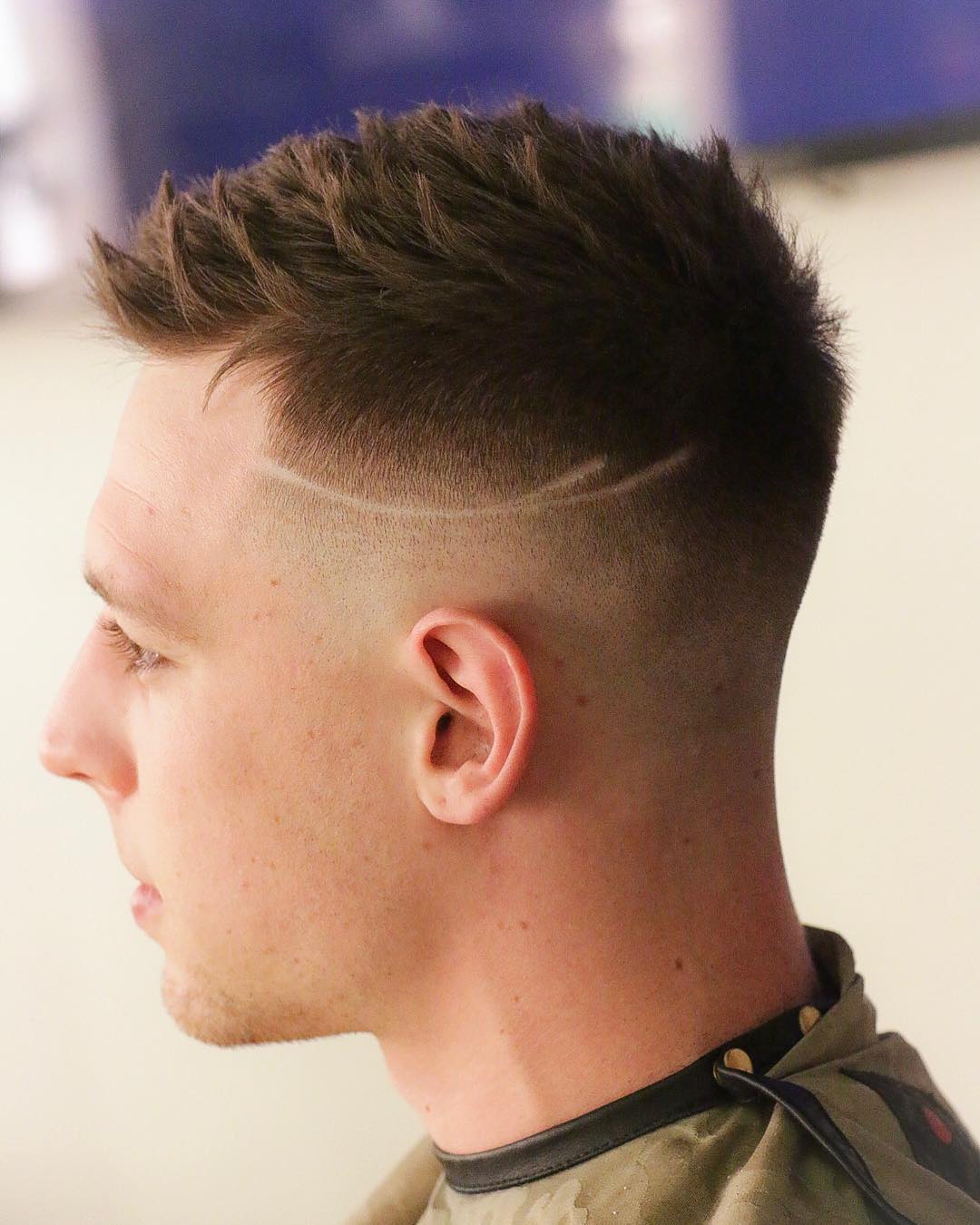 Fade haircuts cut the sides and back of hair ultra short or down to the skin. This skin fade makes short hair appear even thicker and fuller while creating a canvas for a subtle hair design at the temple.
55. Short Waves Haircut + Waves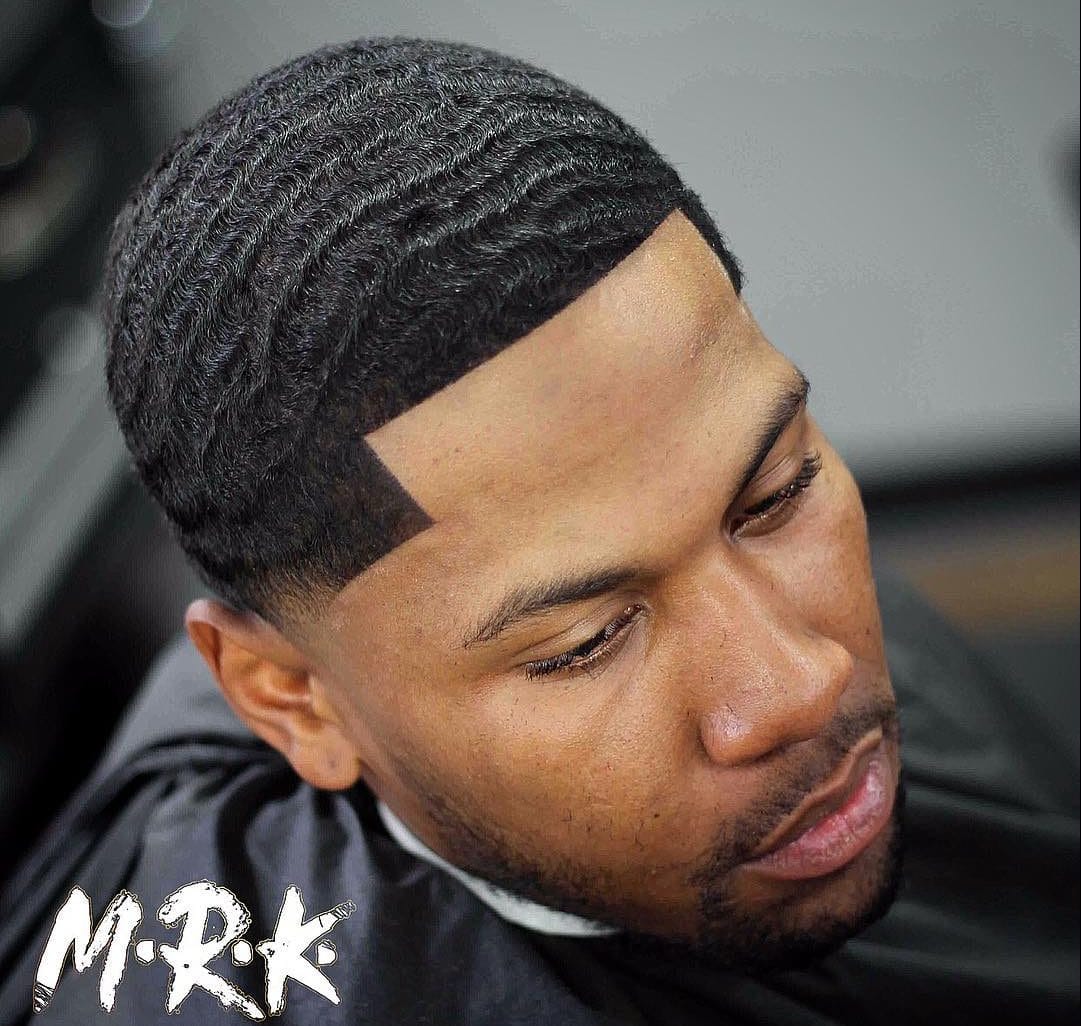 A waves haircut shows off curly texture in a very short haircut. A line up and sideburn fade clean up the edges.
56. Men's Short Haircuts For Thick Hair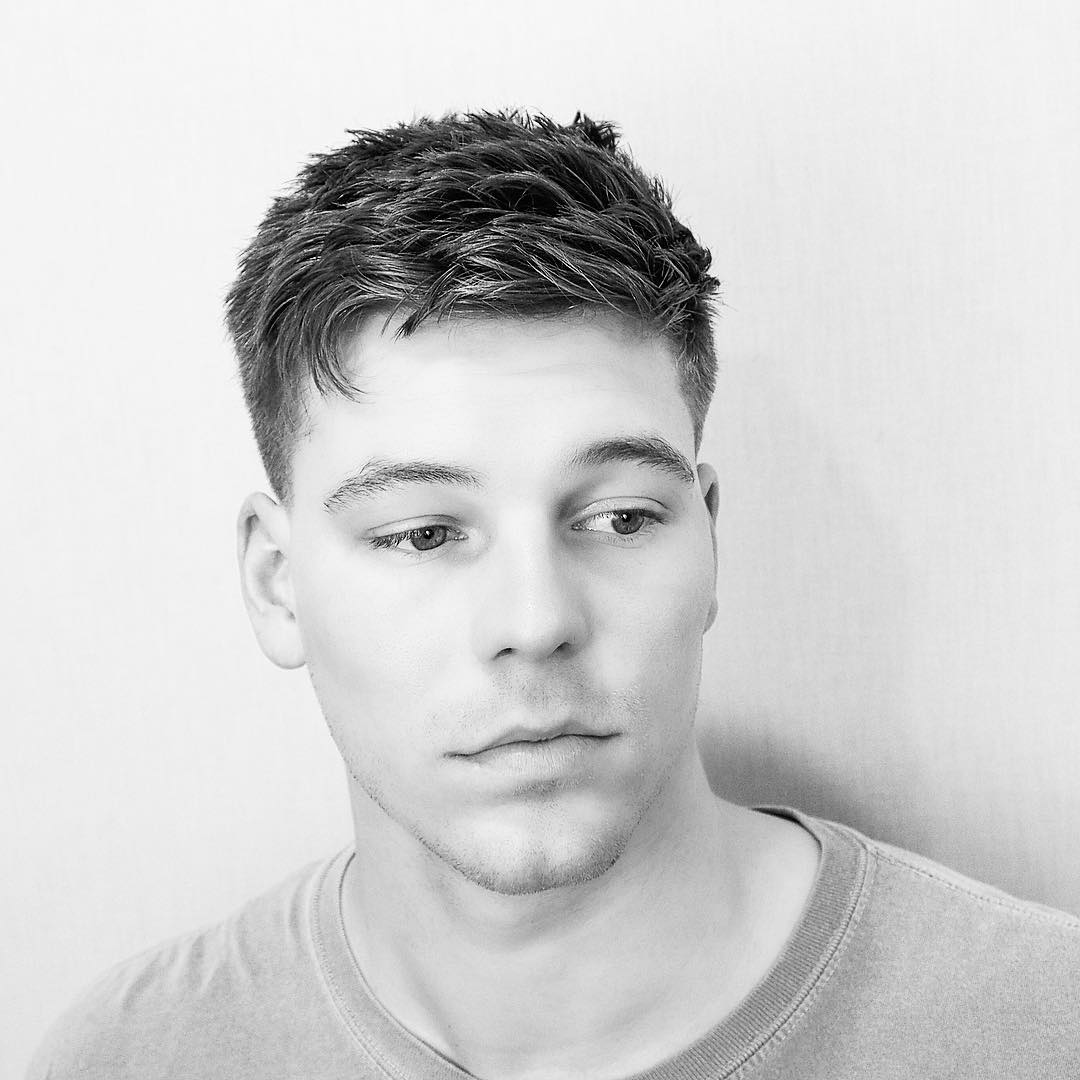 Short haircuts can make thick hair easier to style. This cool cut removes weight while adding texture. Work a dab of a medium hold, low shine product between palms and rub through hair and style with fingers.
57. Short Stylish Men's Haircuts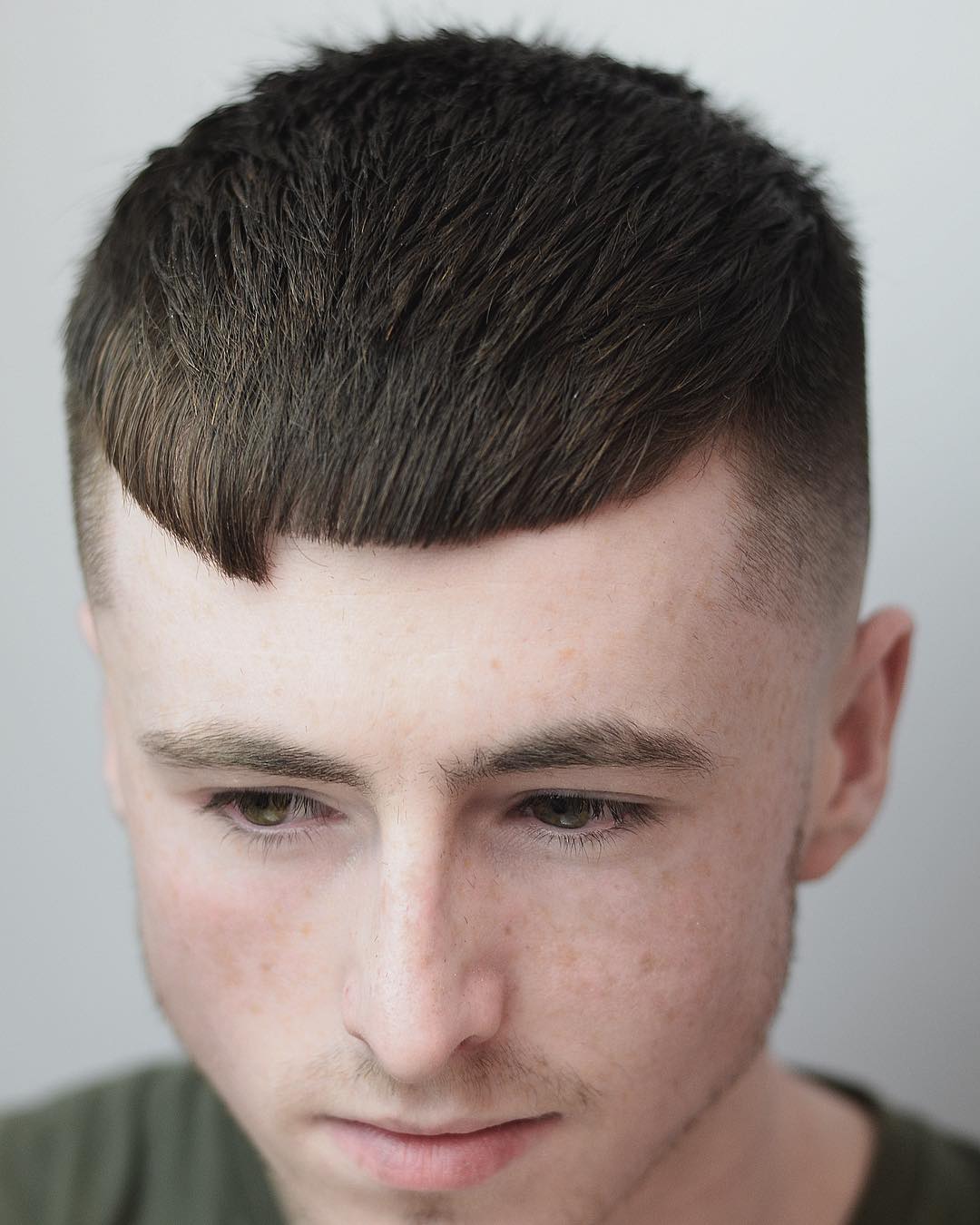 This fresh style features forward fringe cut into two intersecting curves. Maintain the shape with a matte product combed through hair.
58. Cool Short Haircuts For Men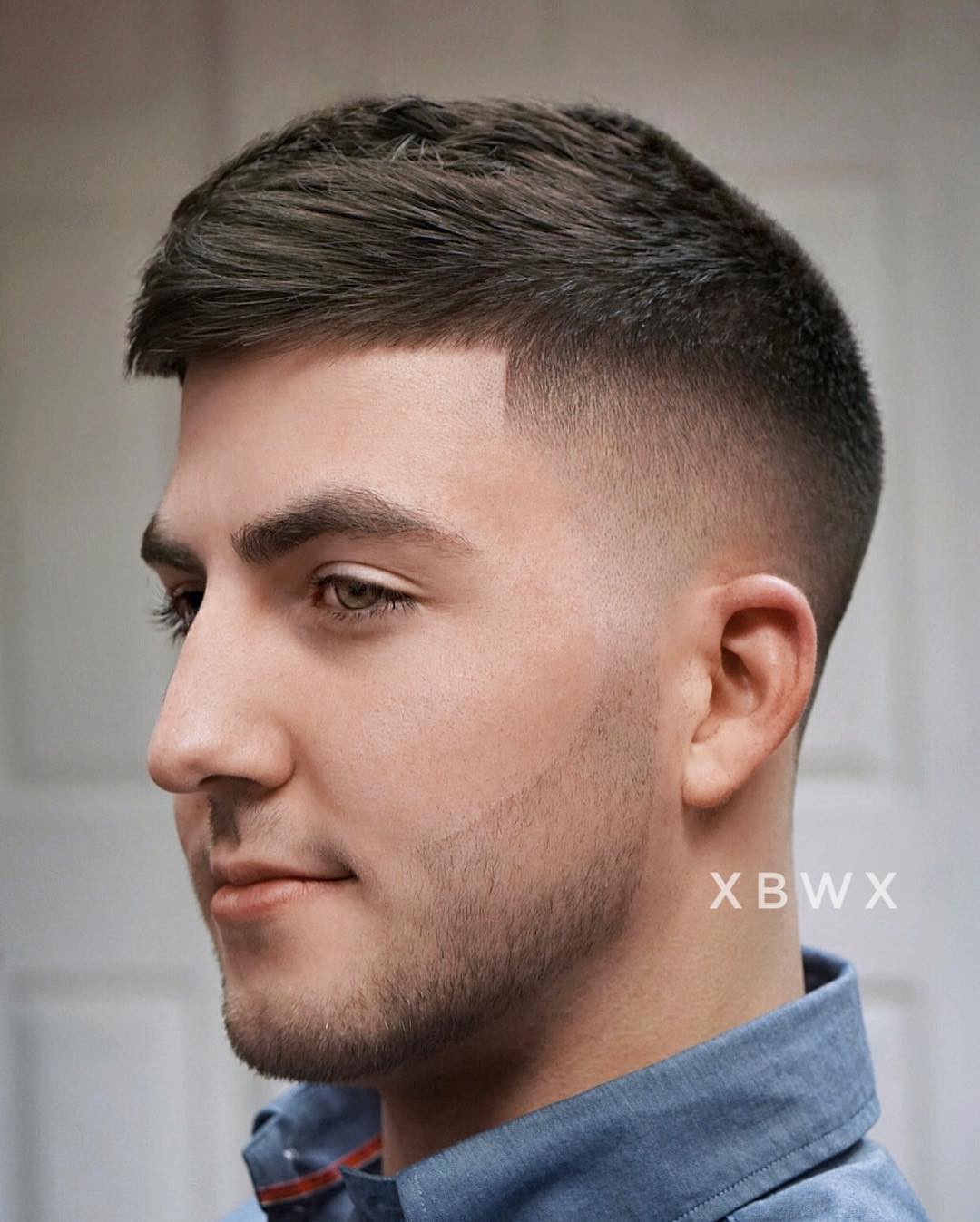 This cool short haircut for men is ready for work or a night out on the town. Longer hair at the forehead is swept over to one side but could also be spiked up into a faux hawk or quiff. Try a product like Layrite Natural Matte Cream Pomade for hold without shine.
59. Short Haircuts For Men With Curly Hair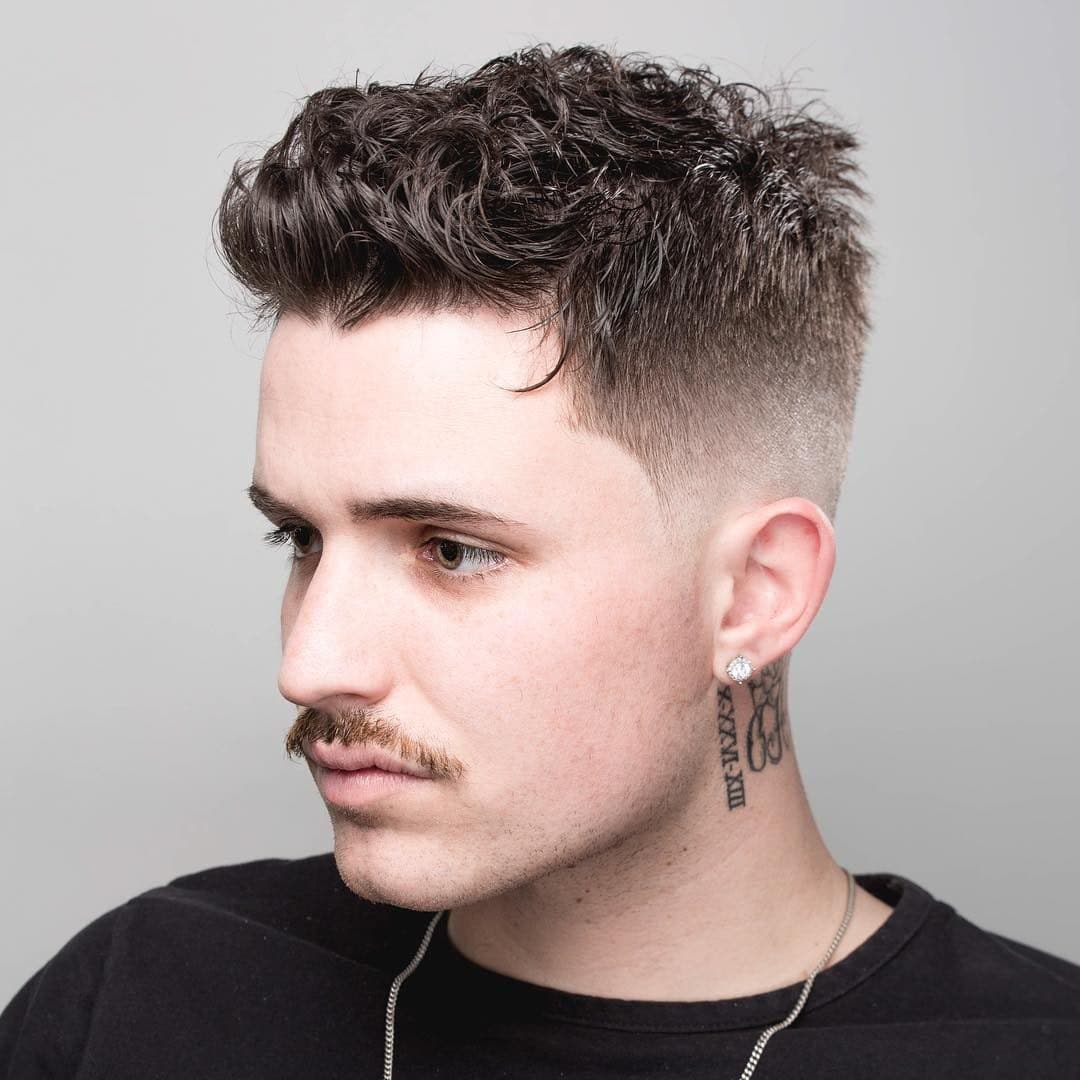 The best short haircuts for curly hair enhance hair's natural texture. This high fade haircut styled with messy texture is great choice for summer but looks great all year round. Try a curl cream or sea salt spray to define curl and minimize frizz. A great new fade haircut for you to get this year.
60. Short Curly Haircuts For Men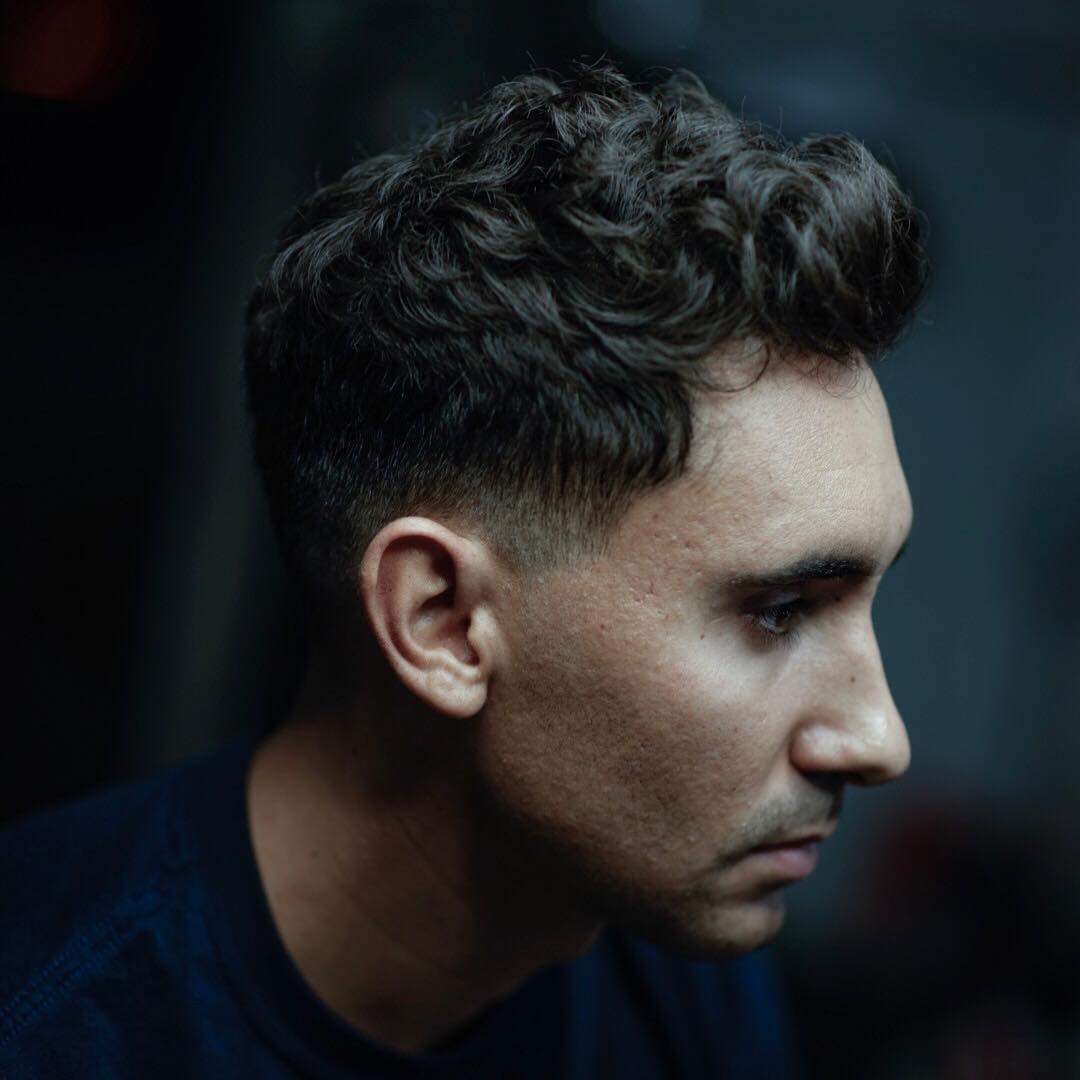 While faded sides can make curly hair easier to wear, these short sides reveal some texture while looking great. A little bit of extra length at the front can be styled into a quiff. Try a creamy pomade like Imperial Fiber Pomade.
61. Short Haircuts For Older Men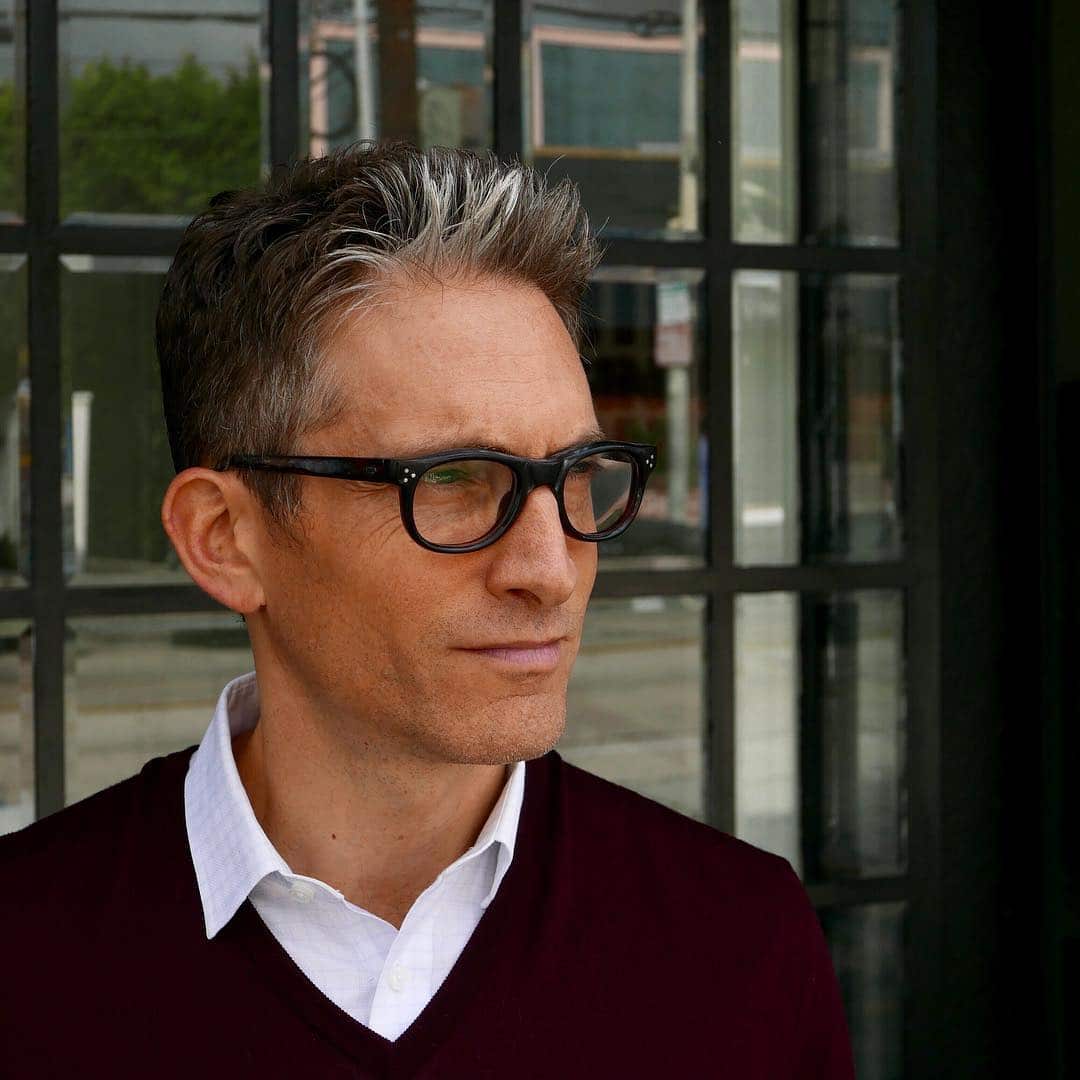 You're never to young or old to be stylish. This classic short haircut for men with modern styling works for men of all ages but is especially distinguished with streaks of silver. Gray hair looks best with matte hair products and with a gray-specific shampoo that uses blue and purple hues to counteract yellow tones.
62. Men's Short Haircuts With Beards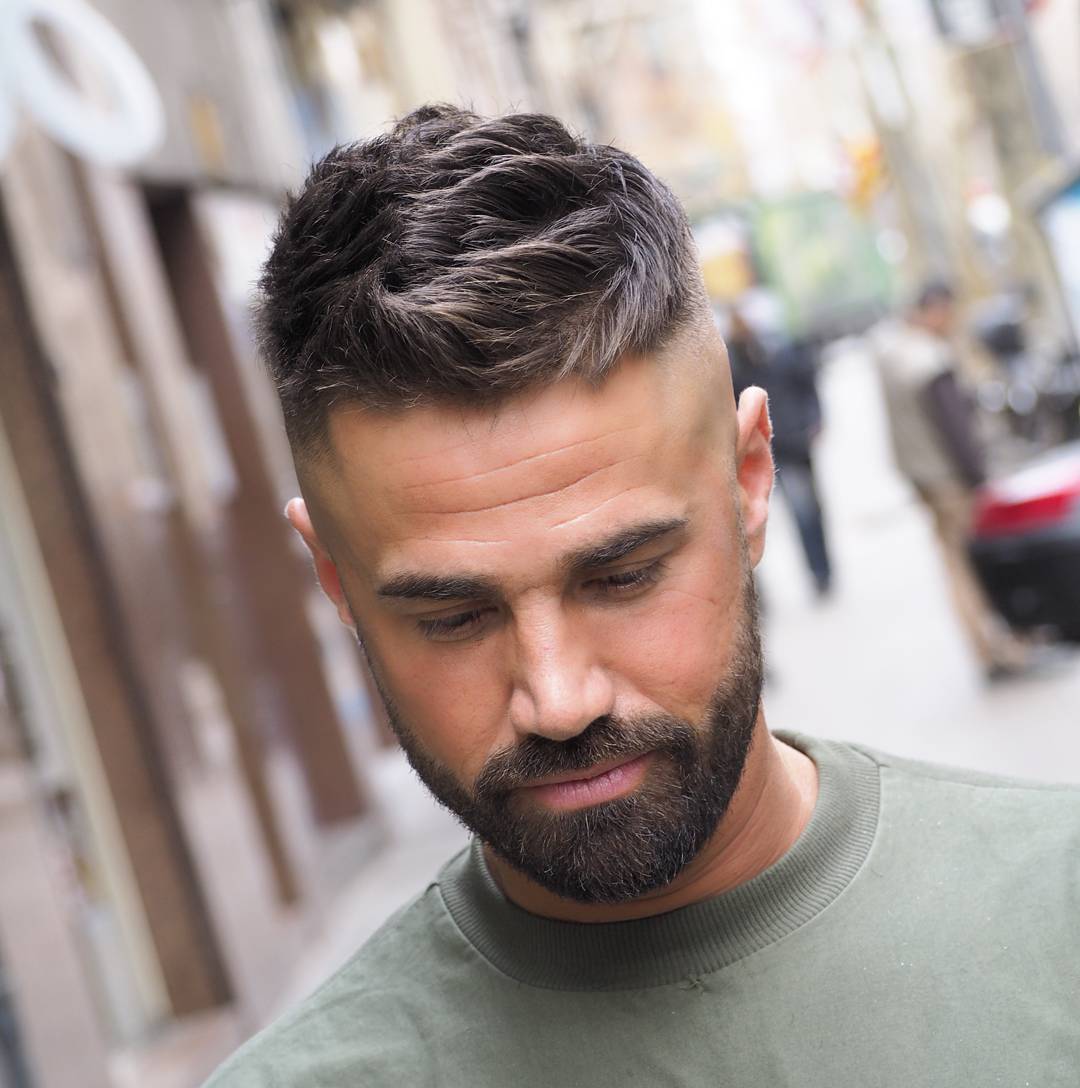 Hairstyles for beards can either echo or contrast what's happening with facial hair. This cool look does the latter with thick wavy texture on top and a short, groomed beard.
63. Men's Short Textured Haircut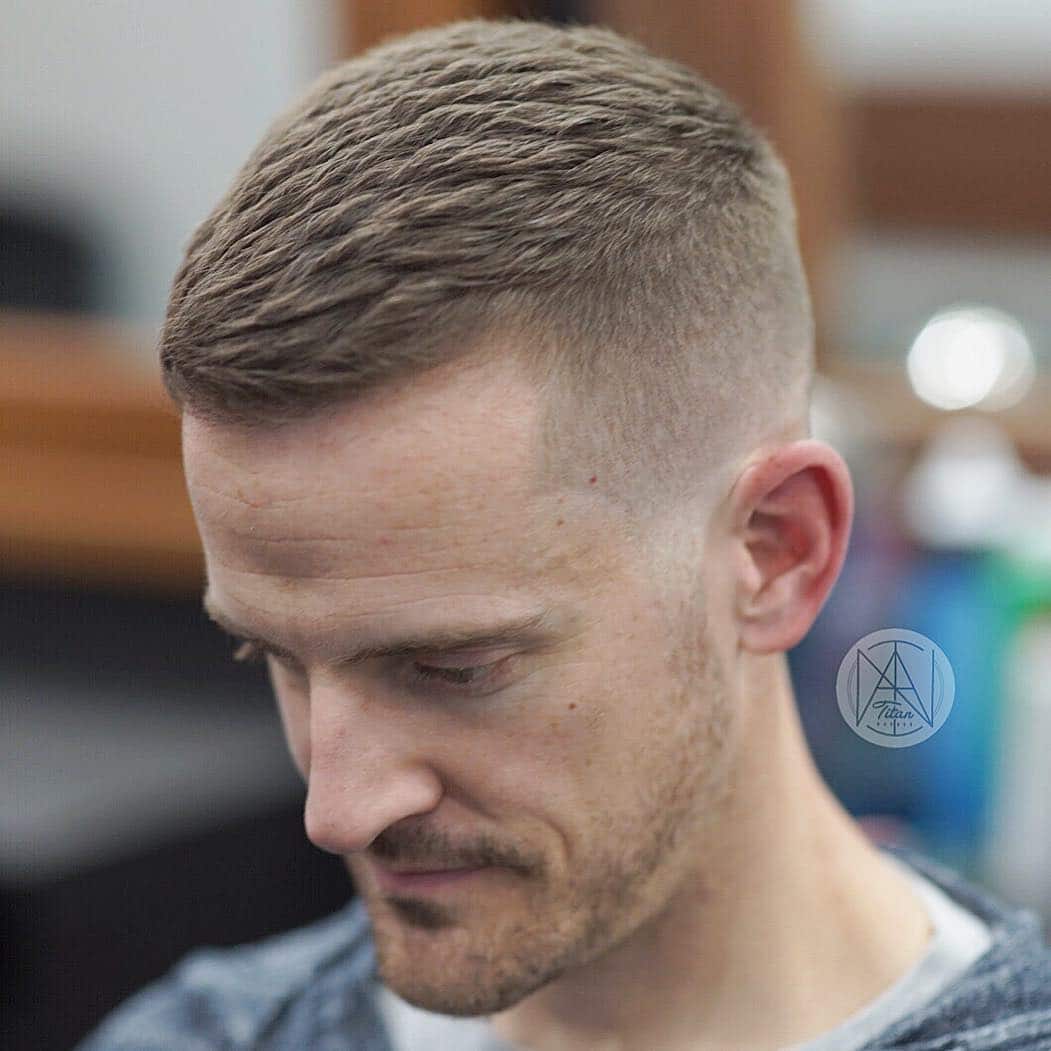 This textured haircut is enhanced by styling with a shake of styling powder like American Crew Boost Powder worked through hair with fingers and then brushed with a wide tooth comb.
64. Short Textured Men's Haircut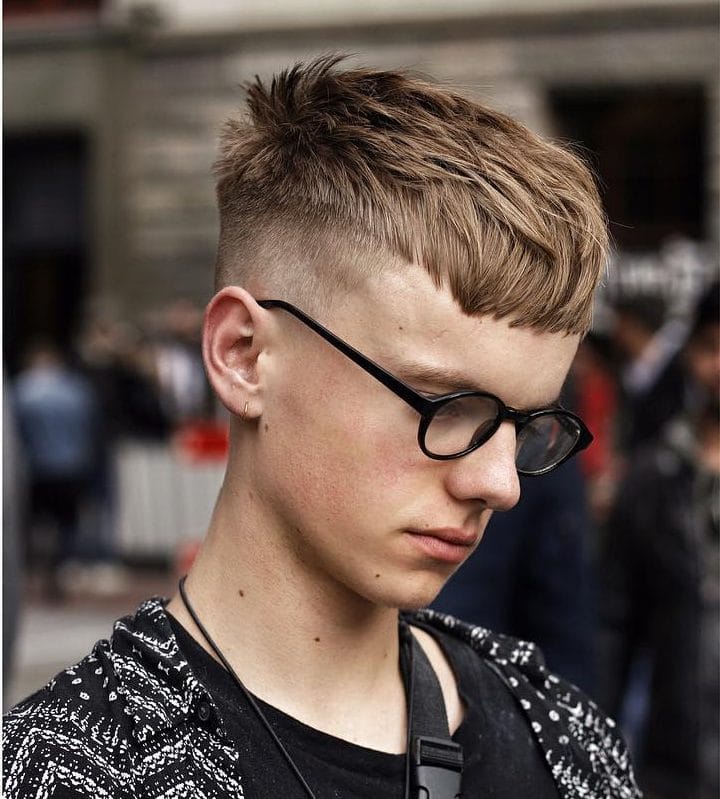 An edgy and bolder version of the crop trend, this style is all about texture.
65. Popular Men's Short Haircuts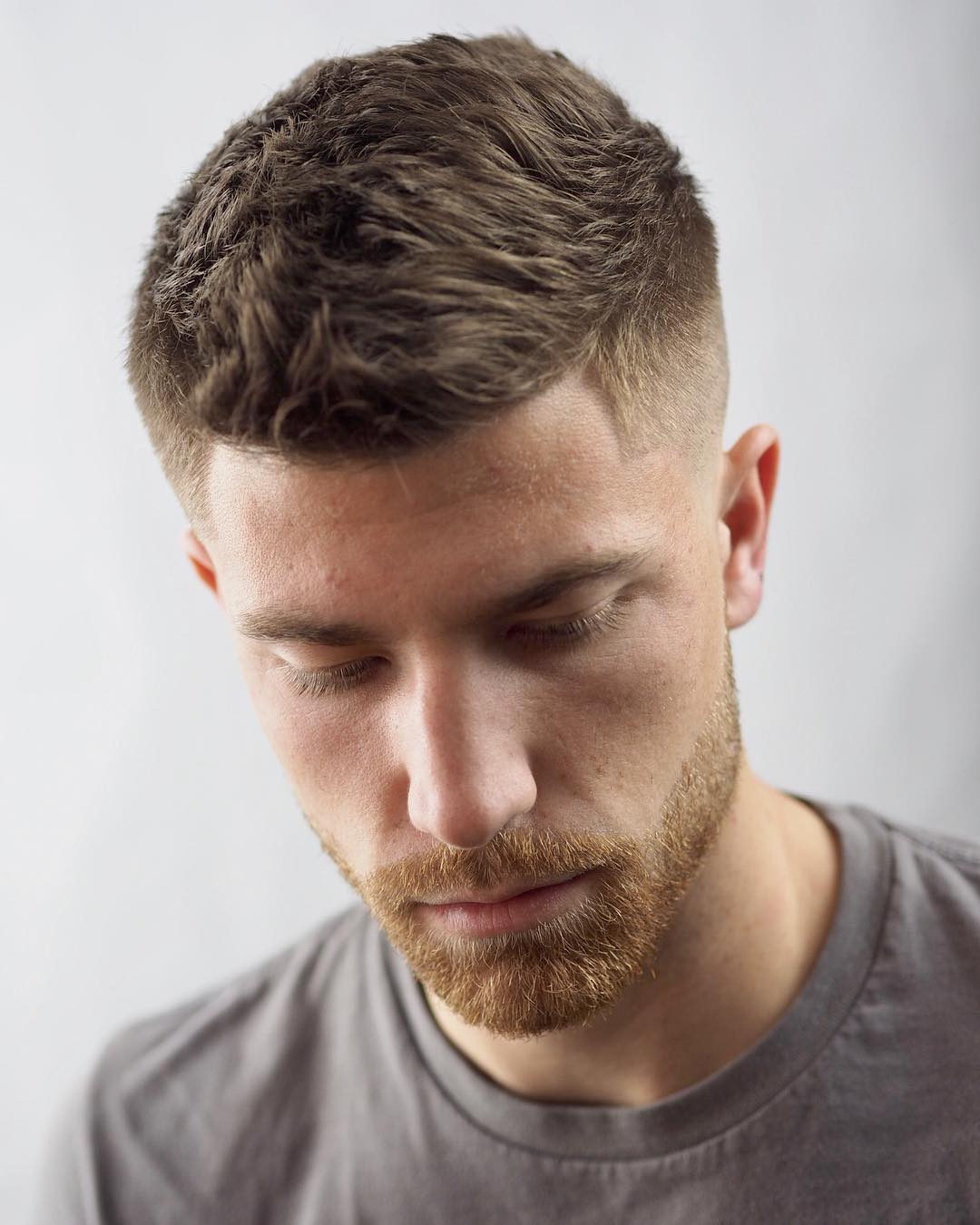 This short textured cut is one of the most popular hairstyles for men. It works with thick and wavy hair and the subtle quiff is flattering for everyone.
66. Men's Short Layered Haircut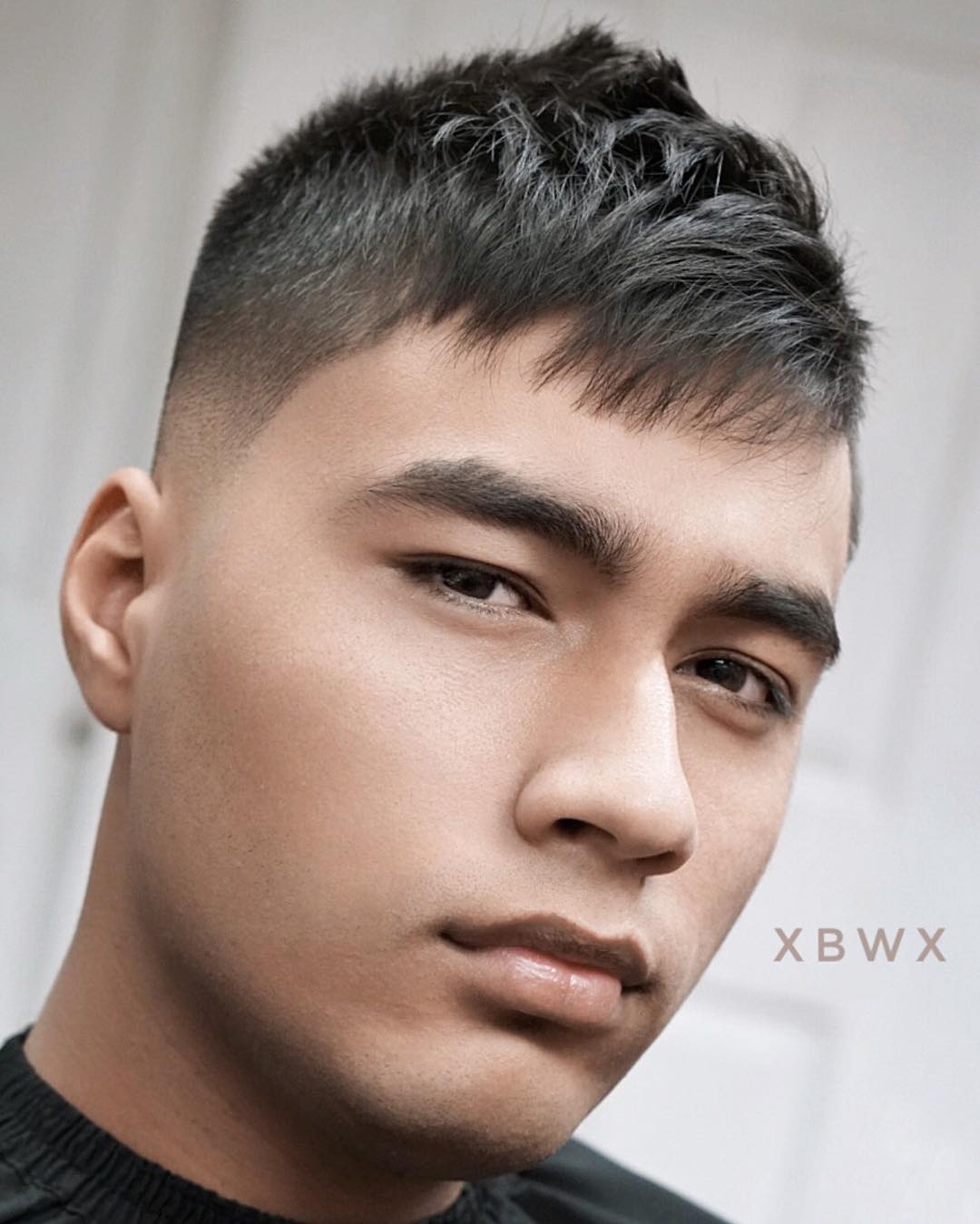 This layered cut creates cool dimension and texture in a lightweight, easy to style look.
67. Really Short Men's Haircut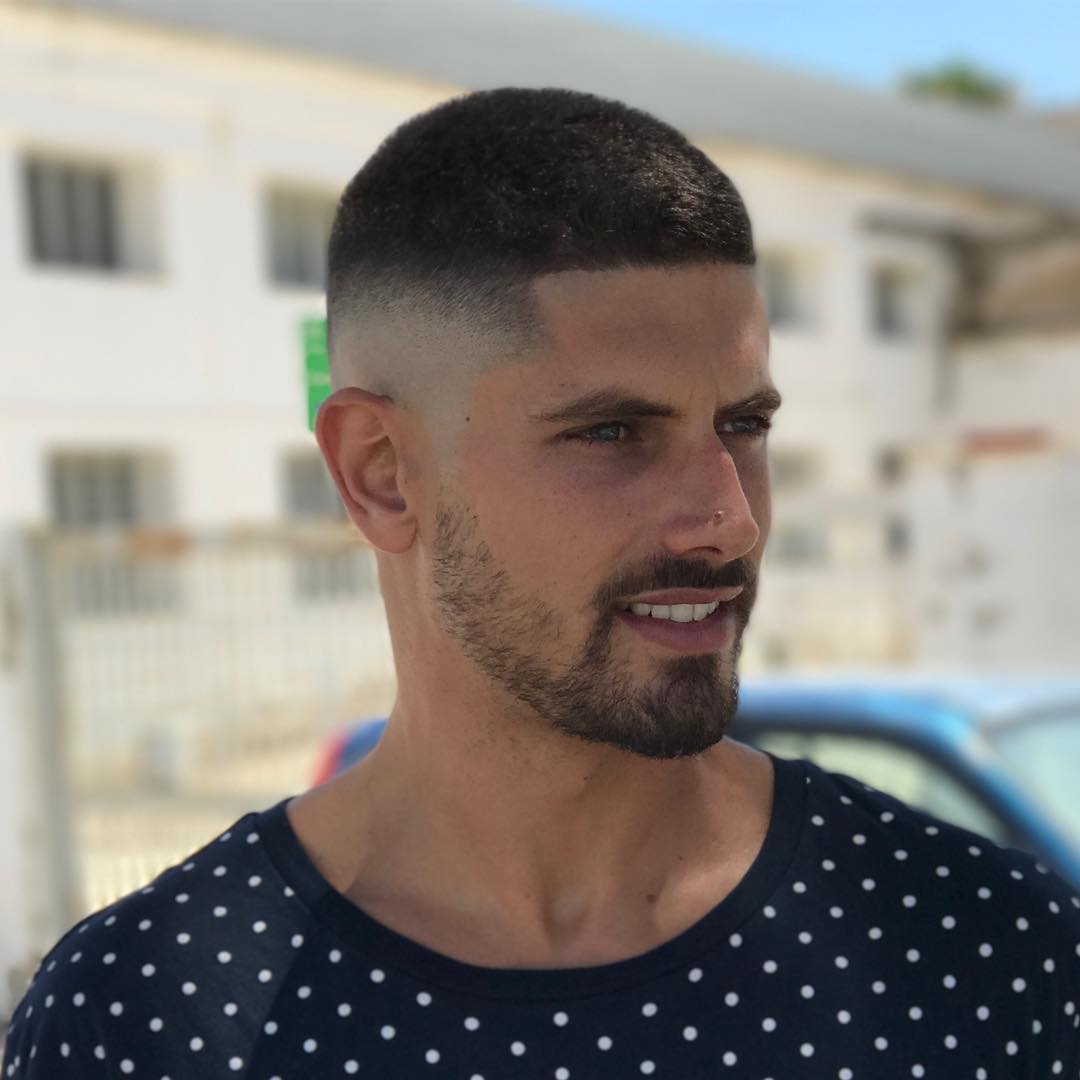 This buzz cut with a high fade is very short and very simple but effective. The bald fade lines up with the hairline and makes hair appear fuller even though it's a one length all over buzz cut.
68. Modern Textured Short Crop Men's Haircut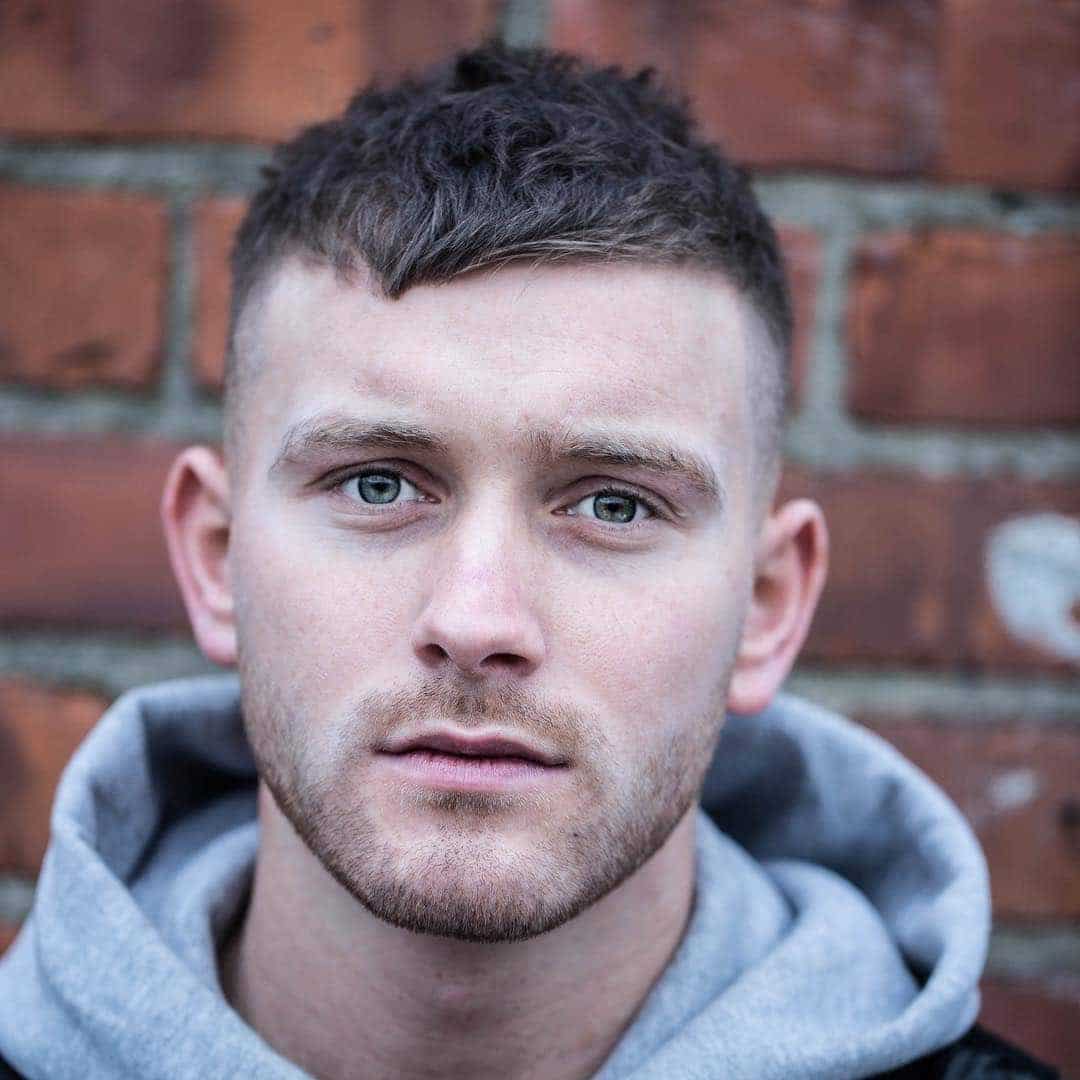 There are so many different ways to wear the textured crop trend. This modern version features plenty of layering and fringe styled into an off-center V.
69. Men's Short Quiff Haircut For Fine Hair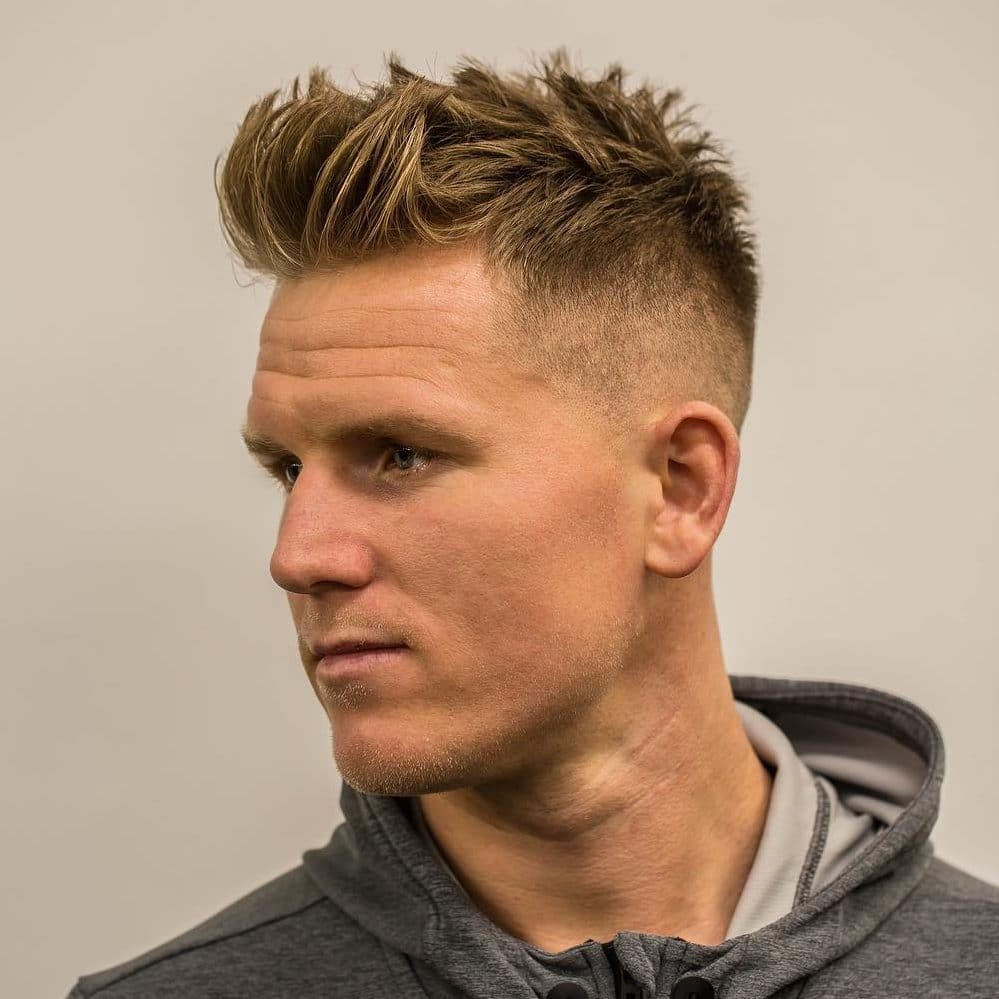 This short haircut for fine hair has a few elements that make hair appear thicker. First, hair on top look fuller next to skin faded sides. Second, longer hair at the front can be styled into a spiky quiff. Last, texture makes hair look thicker. Try a pomade like Paul Mitchell Tea Tree Shaping Cream to get the look.
70. Short Haircuts For Balding Men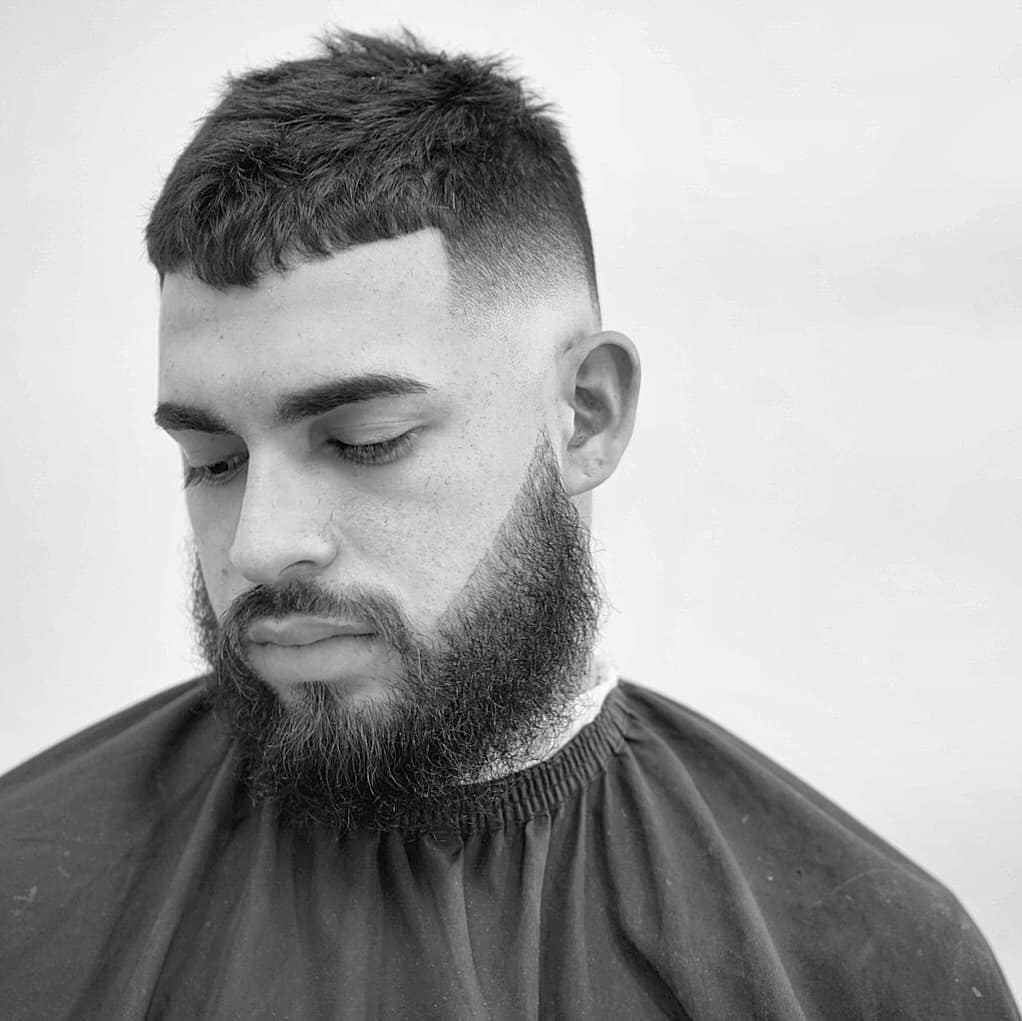 The Caesar haircut with blunt fringe and short sides is a flattering and classic option for balding men because it minimizes the appearance of a receding hairline and bald spot. This updated version is even better with plenty of texture and faded sides.
71. Short Haircuts For Men With Straight Hair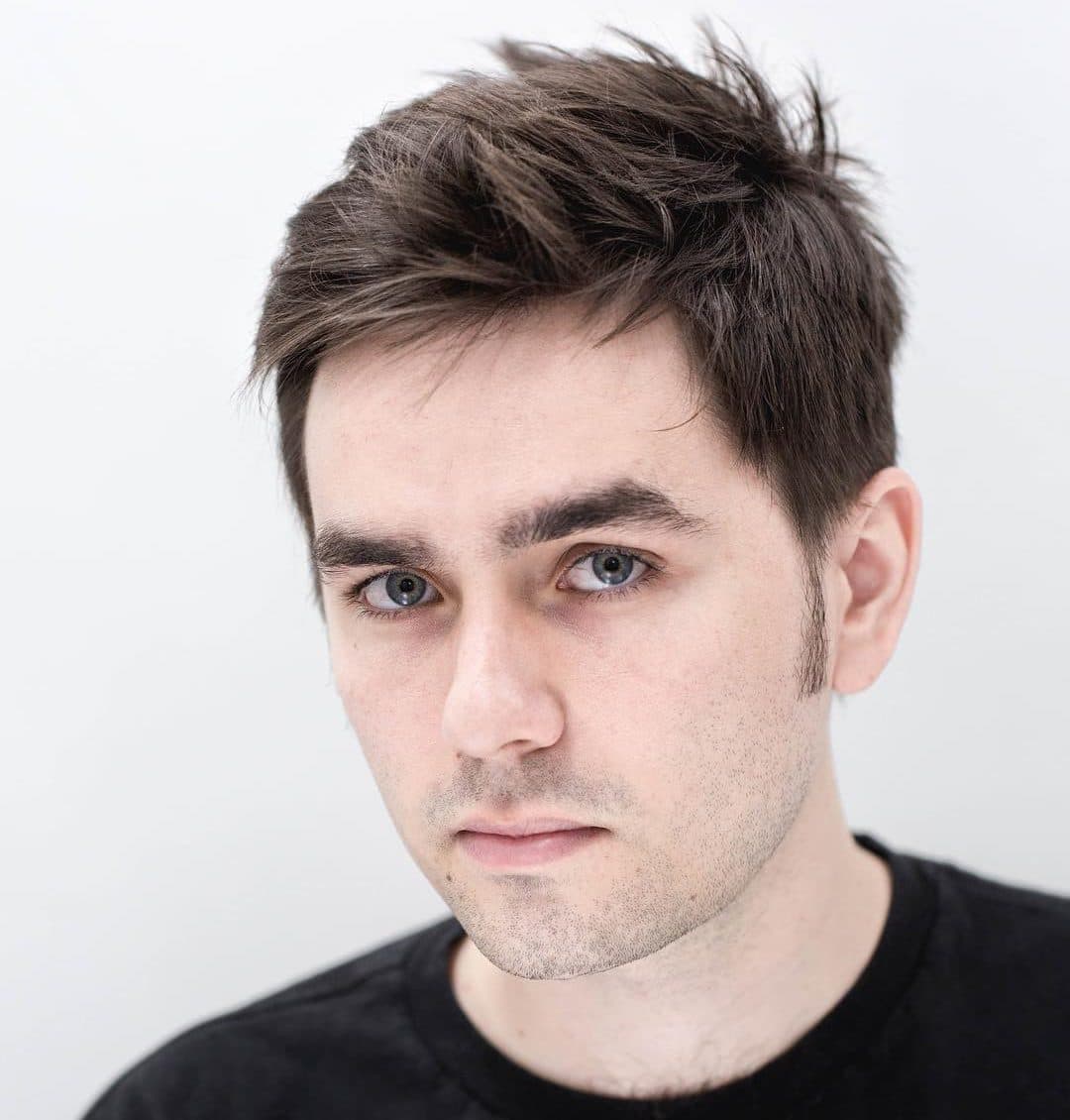 This classic men's haircut is a look that has never gone out of style. It is worn here with some tousled volume but can also be worn clean cut for work.
72. Super Short Men's Haircuts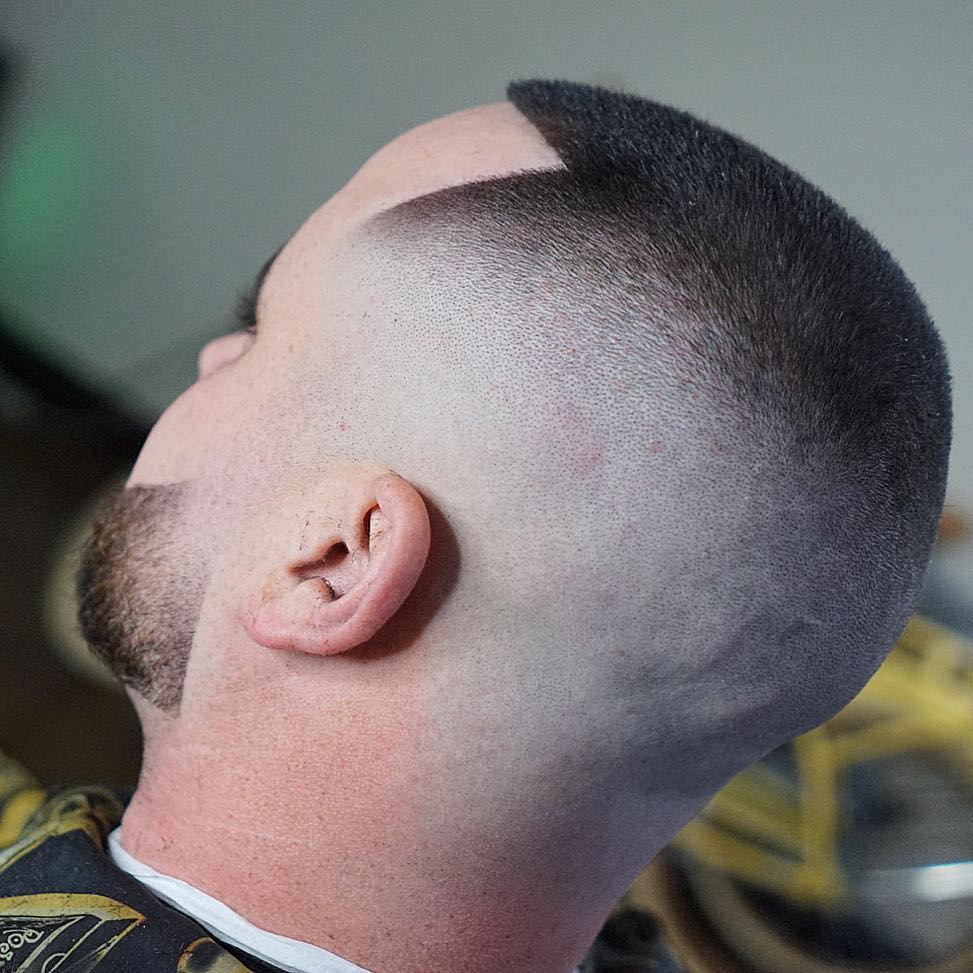 A buzz cut with a fade is as short as it gets with lots of style.
73. Trendy Short Haircuts For Men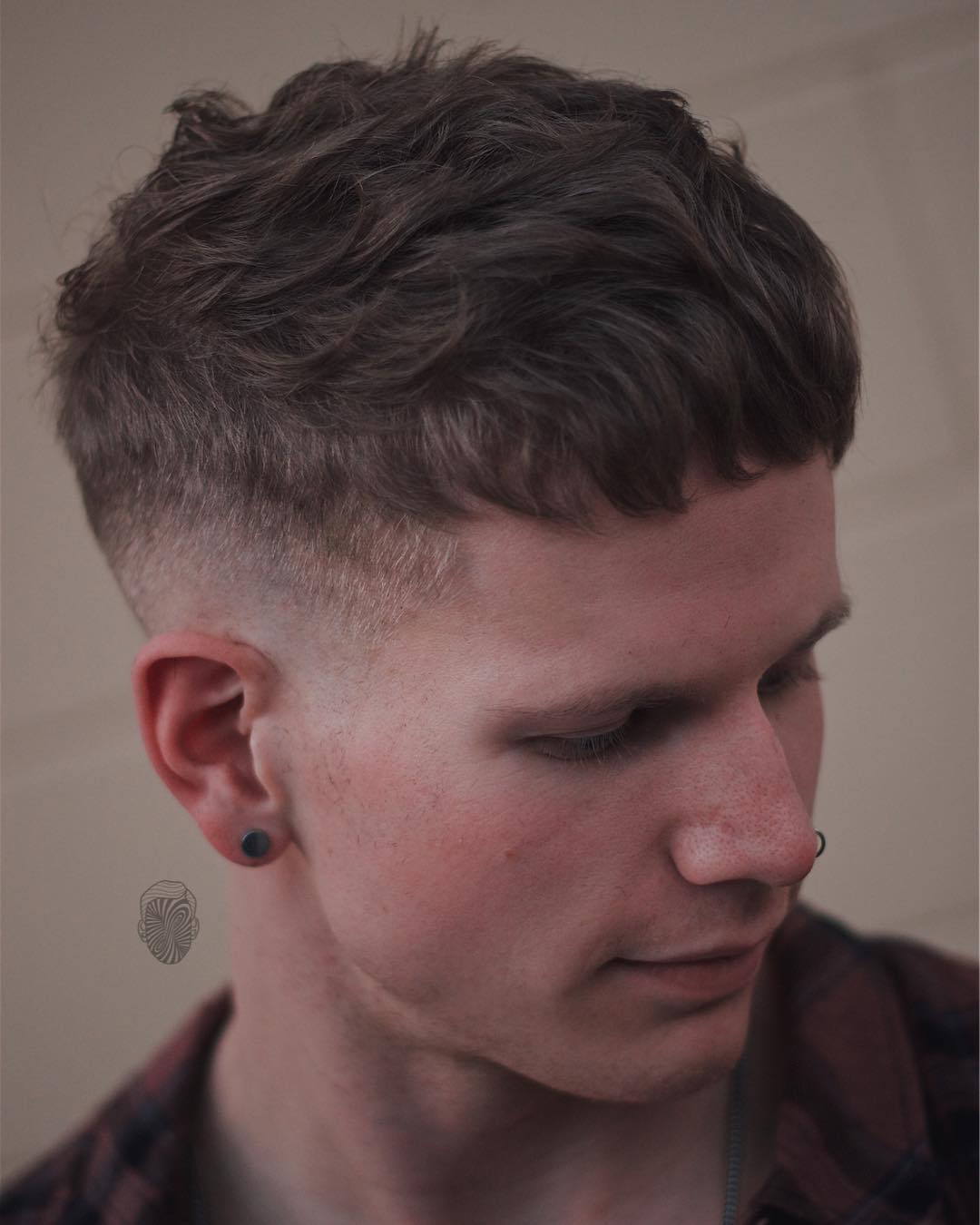 This cool short haircut adds texture and wave to straight hair or enhances your natural texture.
74. Men's Short Haircuts For Receding Hairlines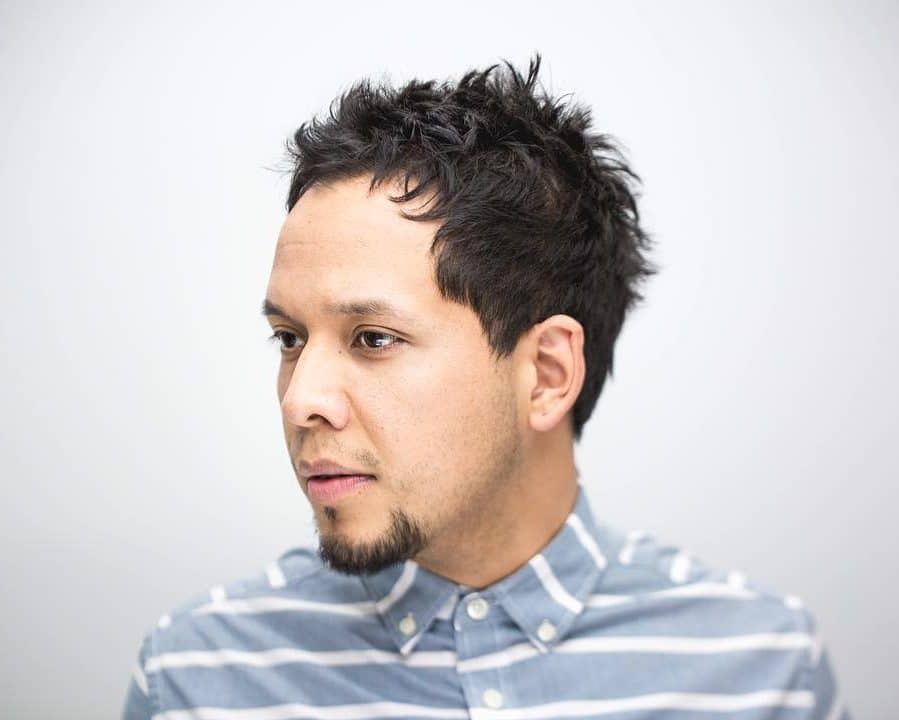 For a receding hairline, you want to go short but not too short. This cut makes the most of thick hair by keeping some weight all over and adding messy texture. Piecey fringe softens the high forehead without trying to hide anything. This is a great example of a haircut for high foreheads of the first phases of hair loss. Don't go right to the buzz. There are lots of ways to minimize the appearance of thinning hair as well as ways to slow or stop hair loss.
75. Short Haircuts For Black Men's Hair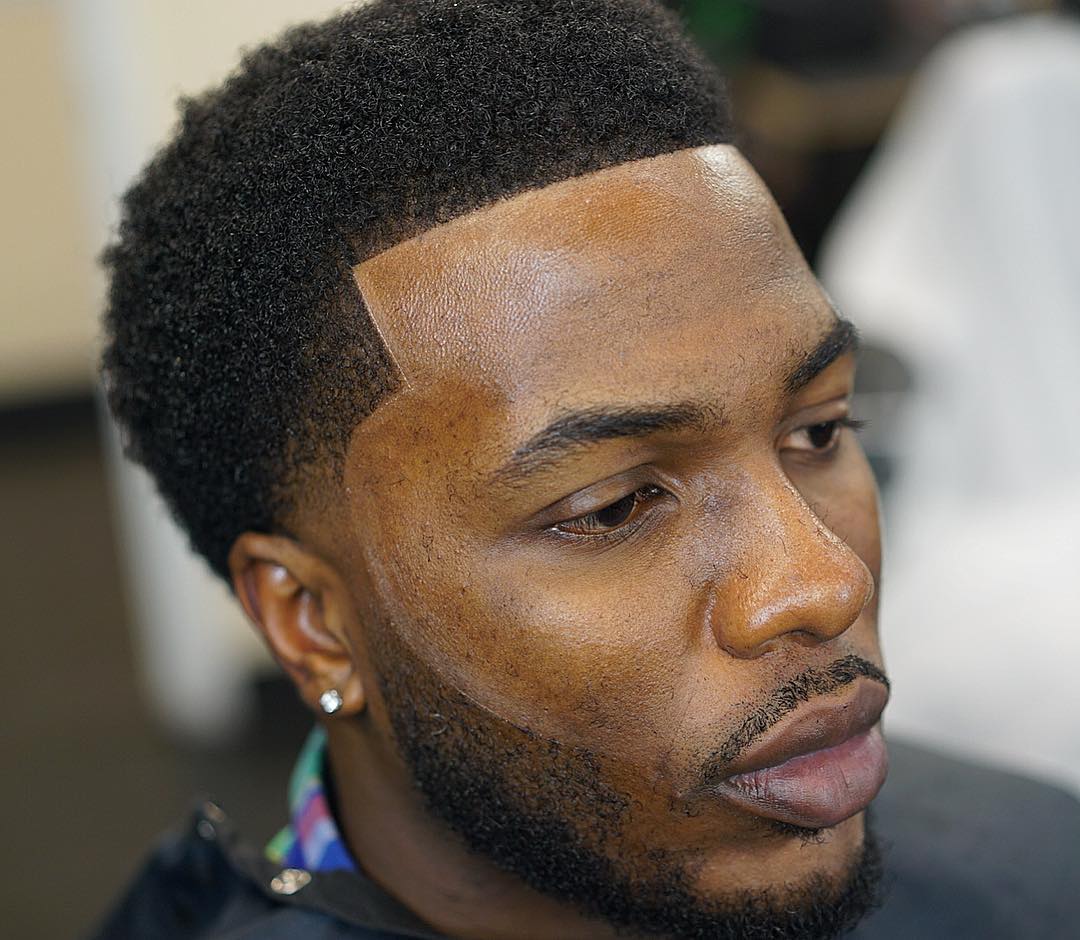 This cool short haircut for black men with enough length to create a subtle rounded profile. A temple fade transitions right into a short beard.
76. Thick Hair Haircut + Short Sides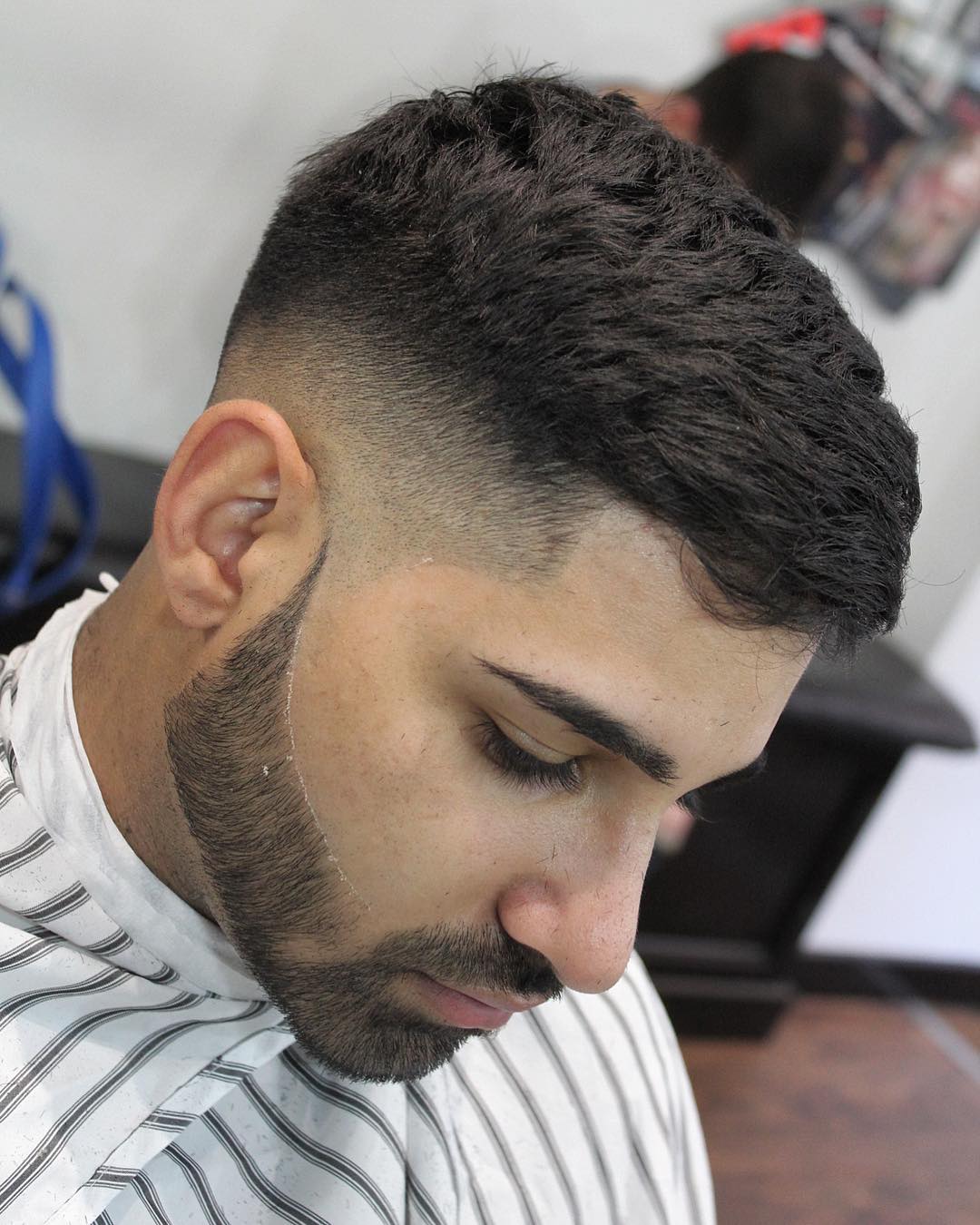 This short haircut for thick hair cuts out weight and enhances texture. It can be worn like this or messier.
77. Men's Short Messy Haircuts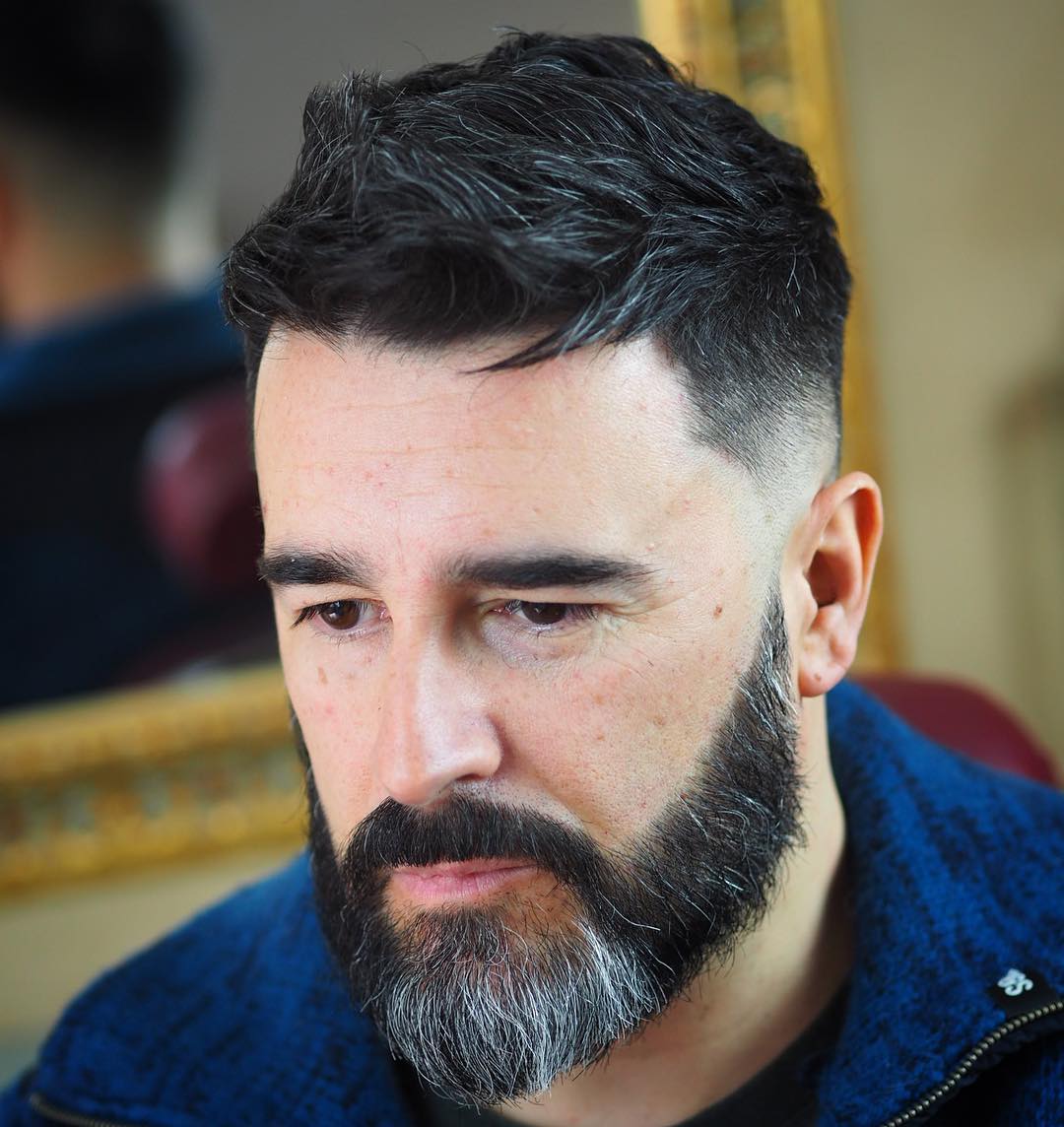 The texture trend is bringing back messy, tousled hairstyles. Just work a pomade through hair and pinch small sections of hair together with fingers to get the look.
78. Classic Short Men's Haircut Slicked Back + Taper Fade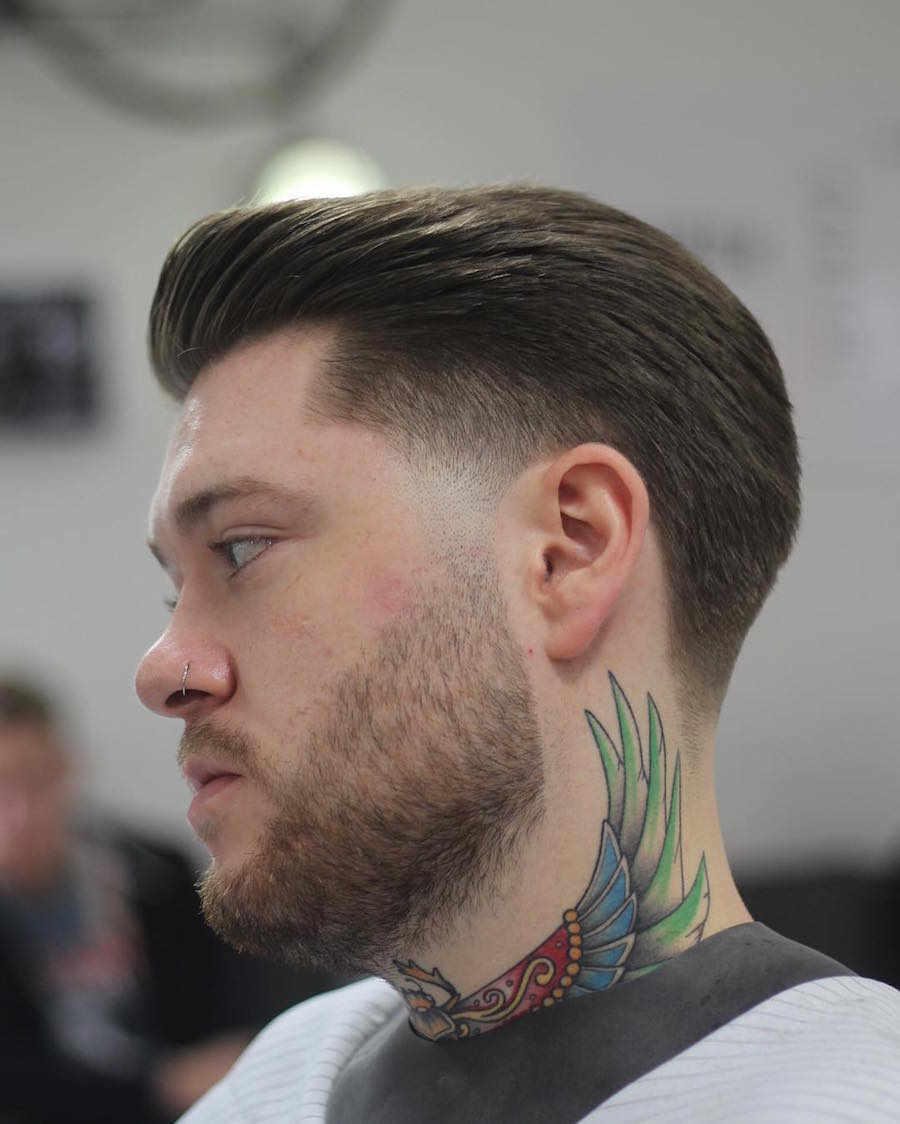 Haircut by Reece Beak
If you love the slick look, but don't want all that length, this is the cut and style for you. Hair is no longer than 2″ on top and styled straight back with a natural finish. A tape up around the hairline completes the clean cut style.
79. Modern Crew Cut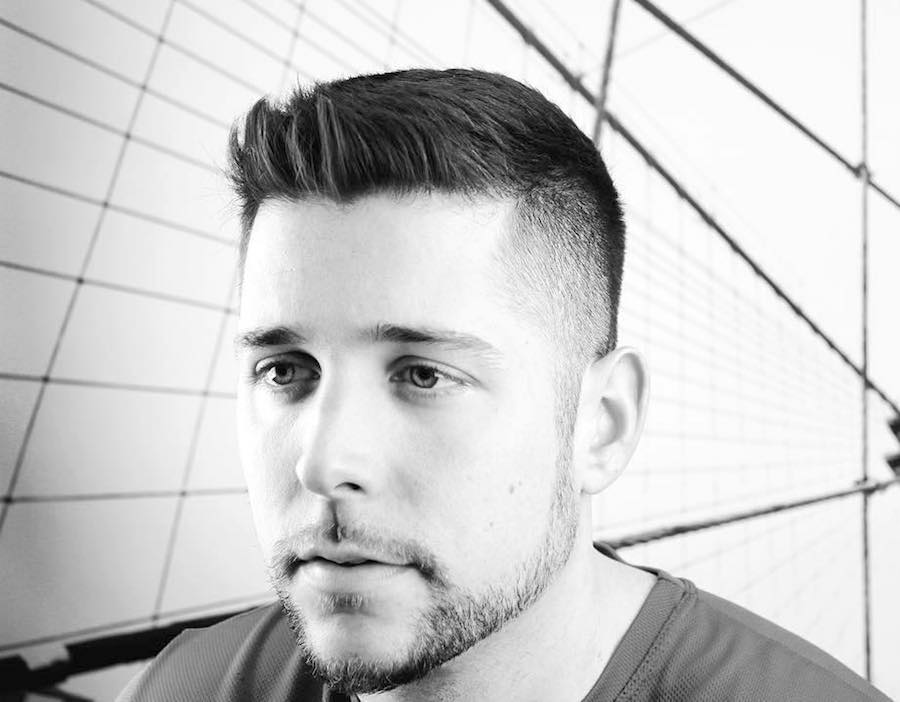 Haircut by Keller
This military-inspired cut is updated with faded temples that blend into a short beard. The top is a little bit longer than regulation but short enough for easy styling. Just work product through hair and push hair forward from the back, pulling hair along the forehead straight up.
80. Spiky Flat Top Haircut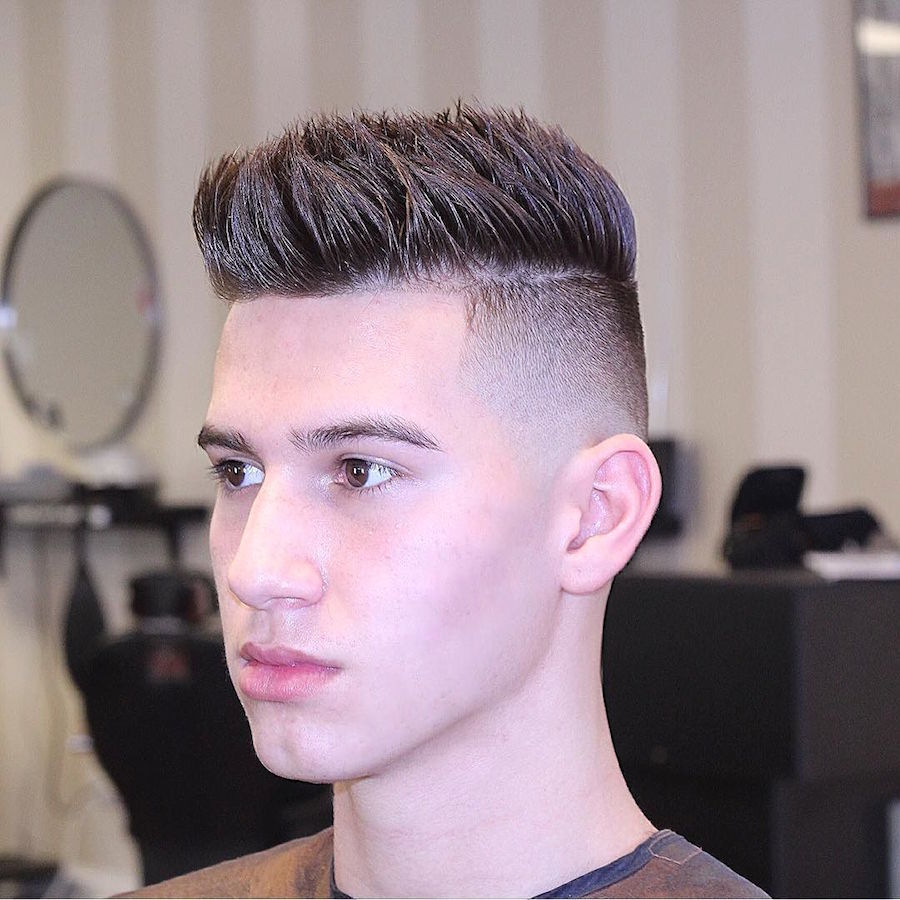 Haircut by Nieves Almaraz
Spikes with plenty of defined texture are back this year. Wear them with a burst fade for this modern version.
81. Messy Crop Undercut Haircut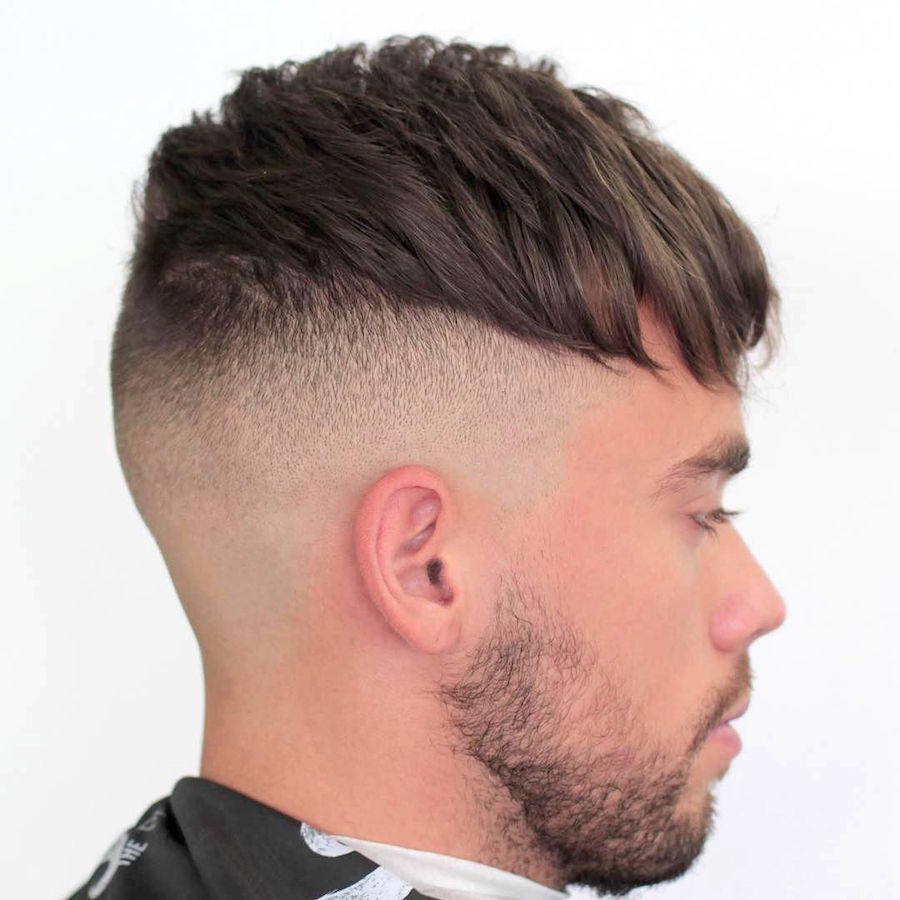 Haircut by Mark Marrero
Even without a lot of length on top, there are plenty of fresh styling options. This is working the textured fringe trend that works hair forward of the forehead with loosely defined comb marks.
82. Super Short + Clean Men's Haircut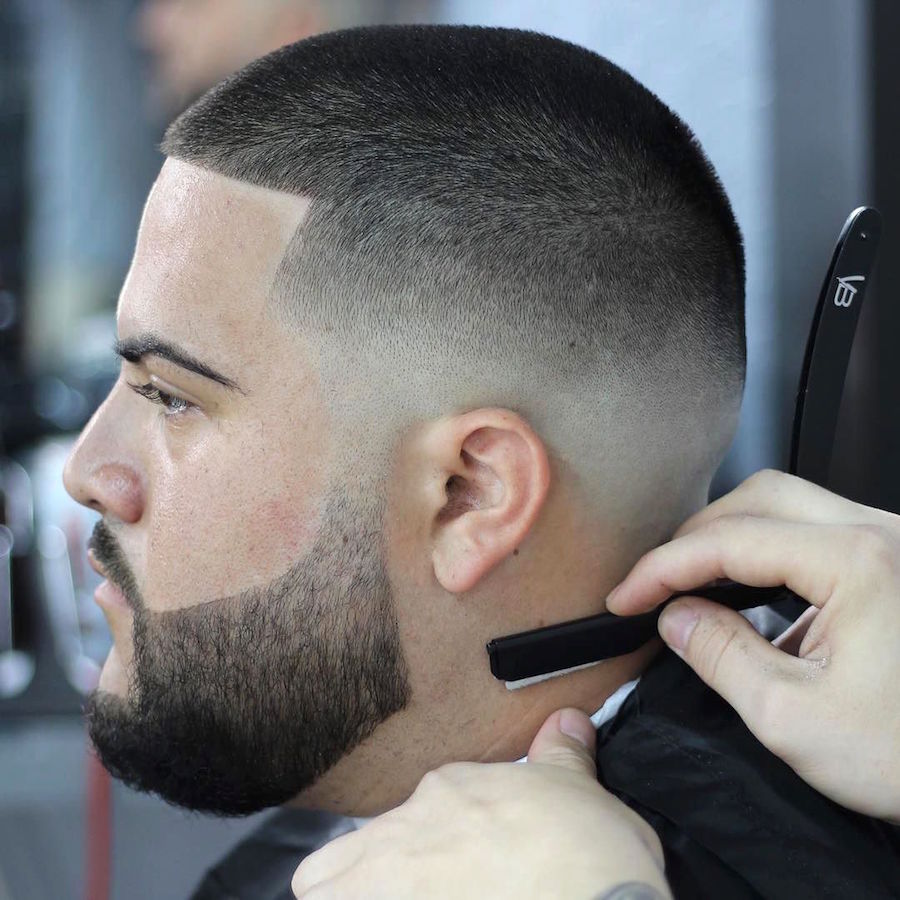 Haircut by Steve Trujillo
For a no effort, no nonsense cut there is always the buzz. With a blurry mid fade and line up beard, don't try this at home.
83. Short Pompadour Haircut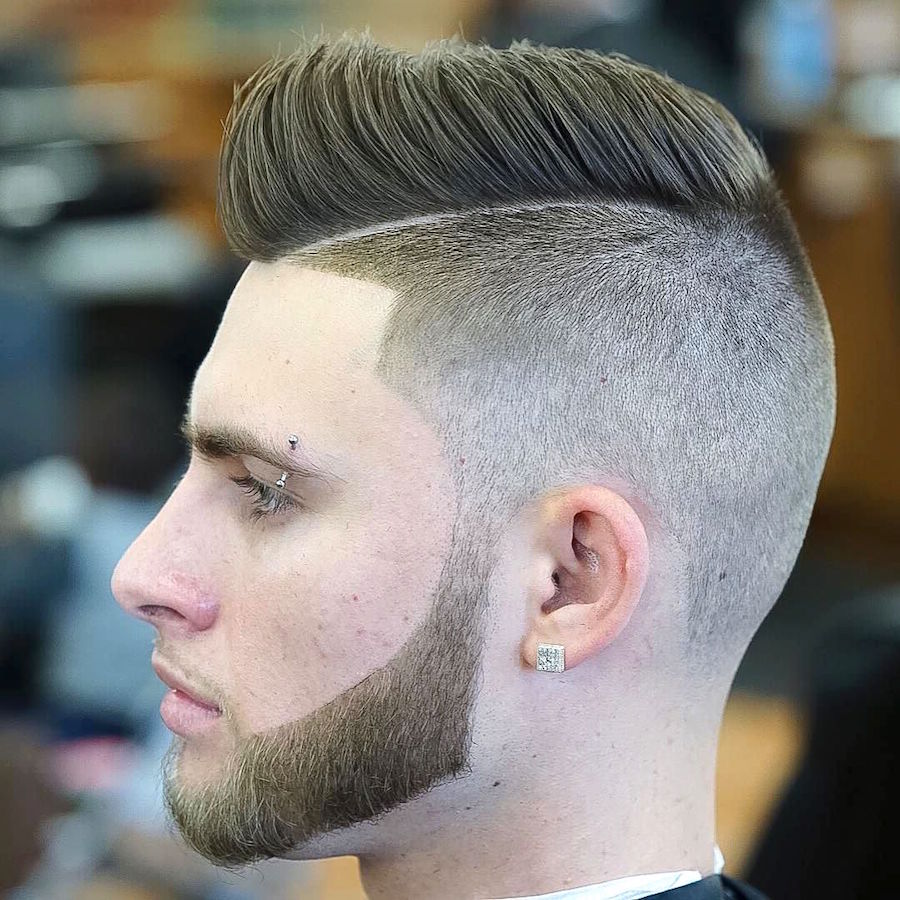 Haircut by Nick The Barber
The sick pomp gets plenty of height without growing hair long by styling hair vertically with rounded edges. A high undercut keeps length on the top of the head while a razor part and line up add defined angles.
84. Clean Taper + Sponge Curls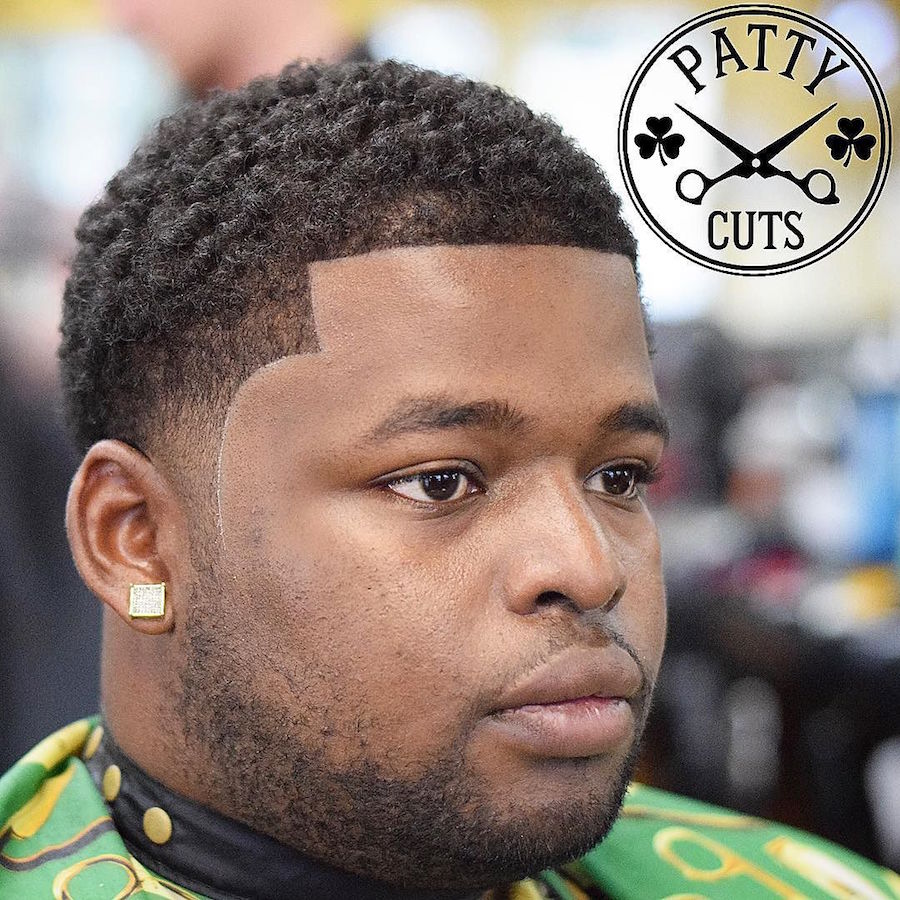 Haircut by Pat Regan
With tight curls, just a little bit of length is enough to see hair's texture. A quick taper around the hairline cleans up the edges all around.
85. Short Textured Haircut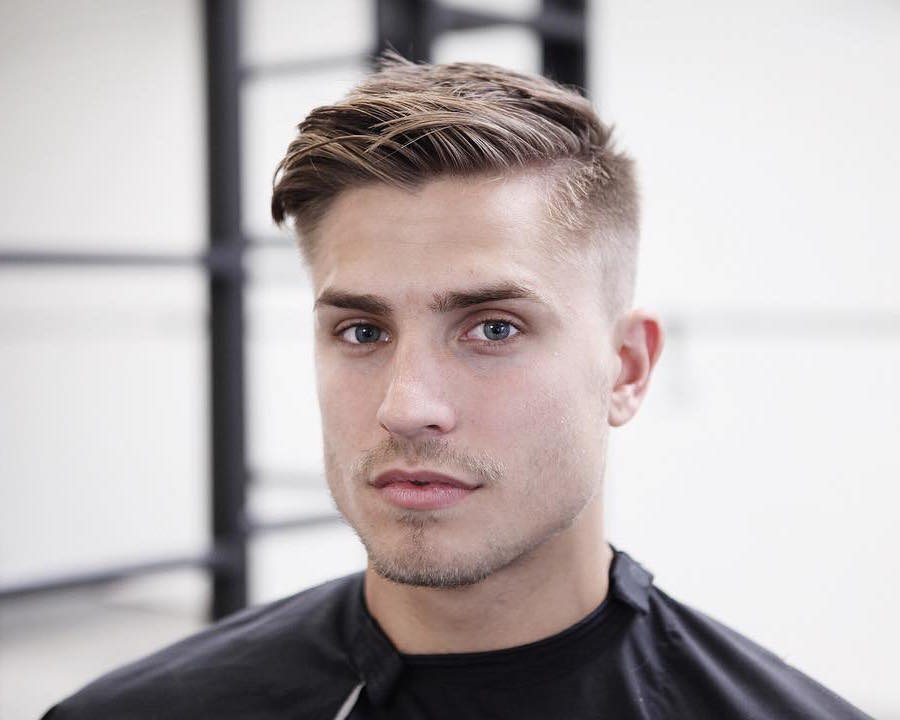 Haircut by Morris Motley
This longer on top, ultra short sides is a cut that works for all face shapes, enhancing the jawline. This textured and tousled look toes the line between slick and messy, for the ultimate cool.
86. Bald Fade + Curly Hair On Top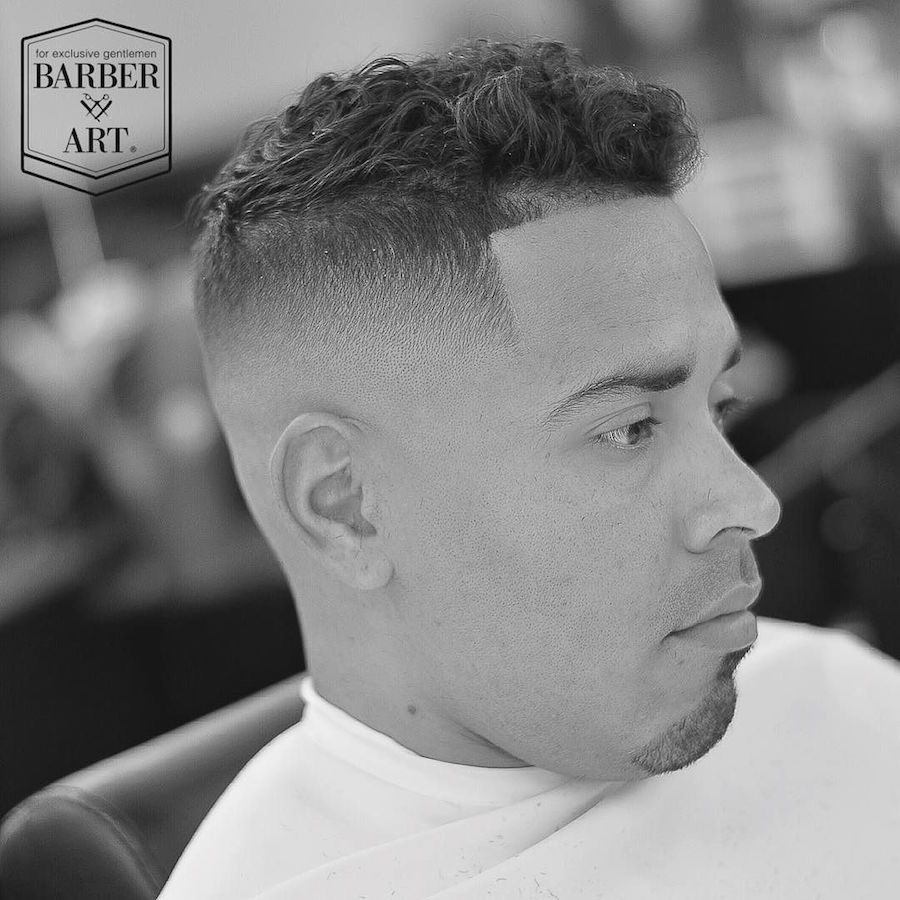 Haircut by Zeke
For low maintenance curls, a longer on top, short sides and back cut is the way to go. This cool cut styles curls on top while eliminating the sides with a high razor fade.
87. Texturized Taper Haircut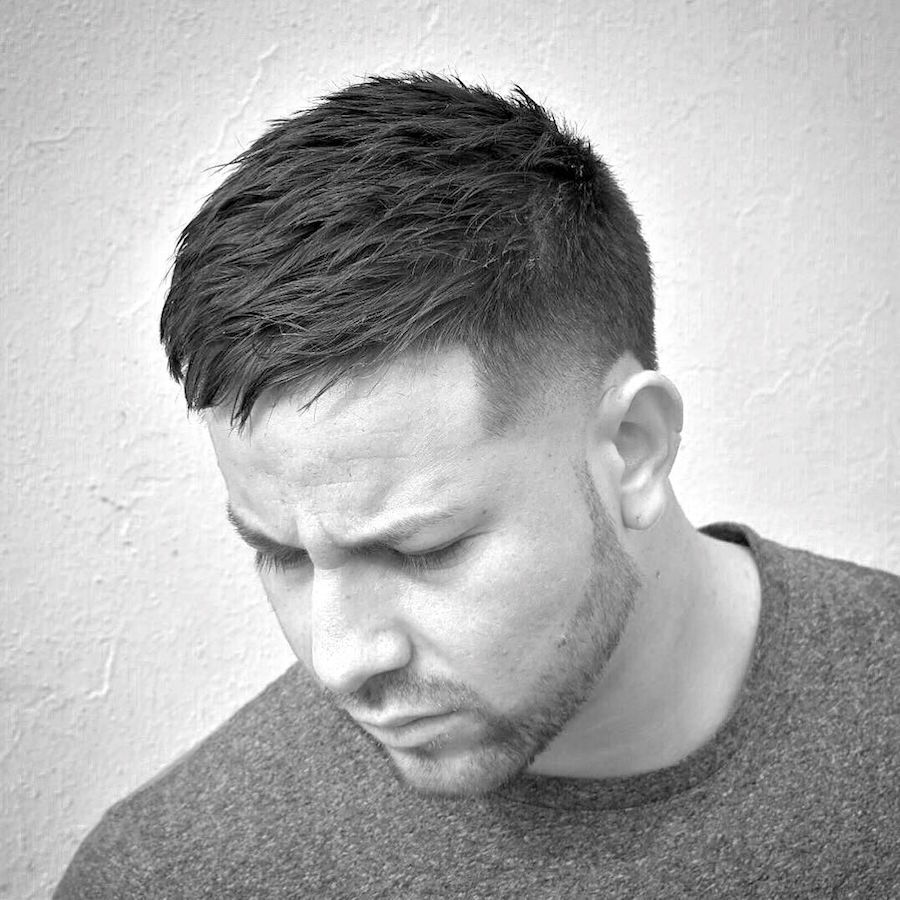 Haircut by Valentin Horta
Cutting hair short doesn't mean you have to skip product altogether. Just a dab of a matte paste adds texture and a uniform direction to this crewcut.
88. Spiky Crop Haircut + Disconnected Beard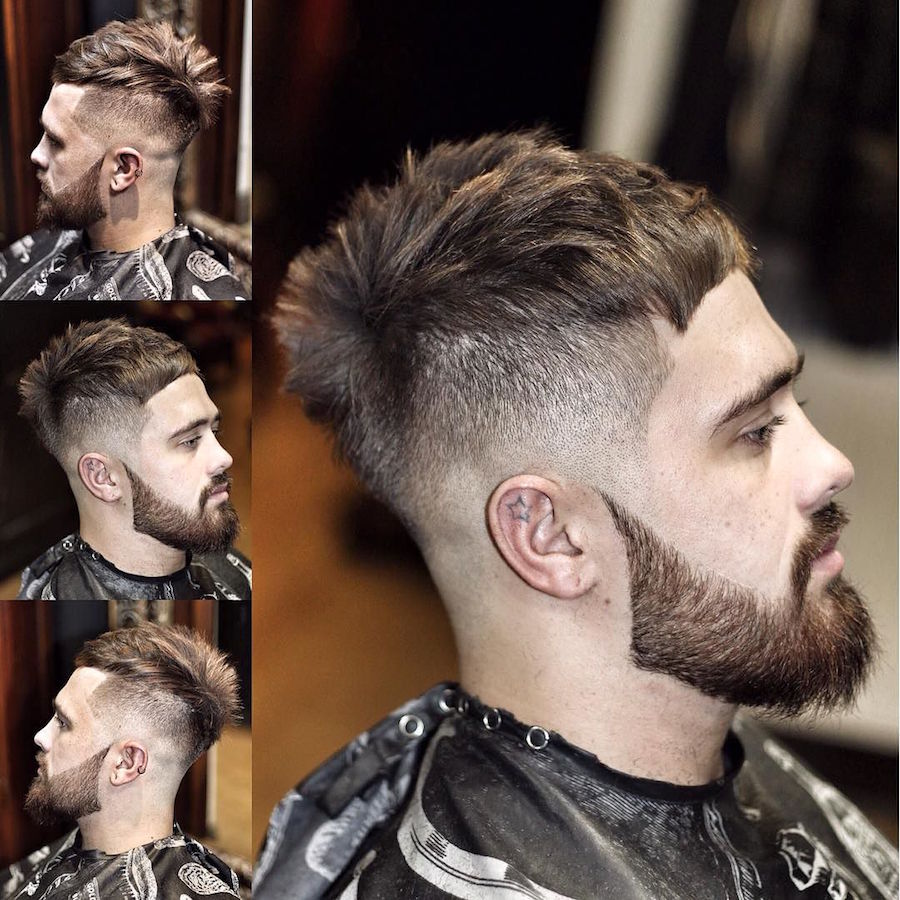 Haircut by Ryan Cullen
This bang and beard combo is not your usual cut or style. With textured volume at the back and straight cross fringe, it is an exercise in contrasts. A high-low fade and angled sideburn complete this fashion forward look.
89. High Taper Fade Haircut Short Curly Hair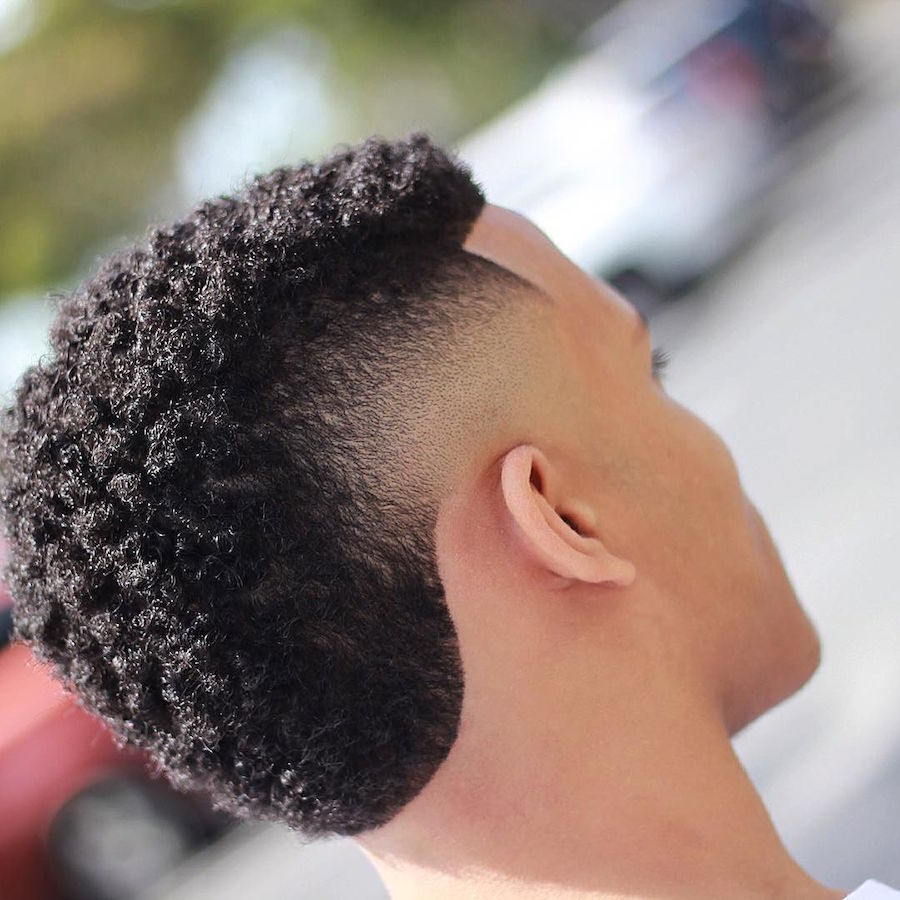 Haircut by Pedro Abreu
A temple fade down to the skin on both sides creates an ultra wide mohawk profile. The forehead is lined up straight while the neckline is cut in an arc.
90. Super Short Crop Haircut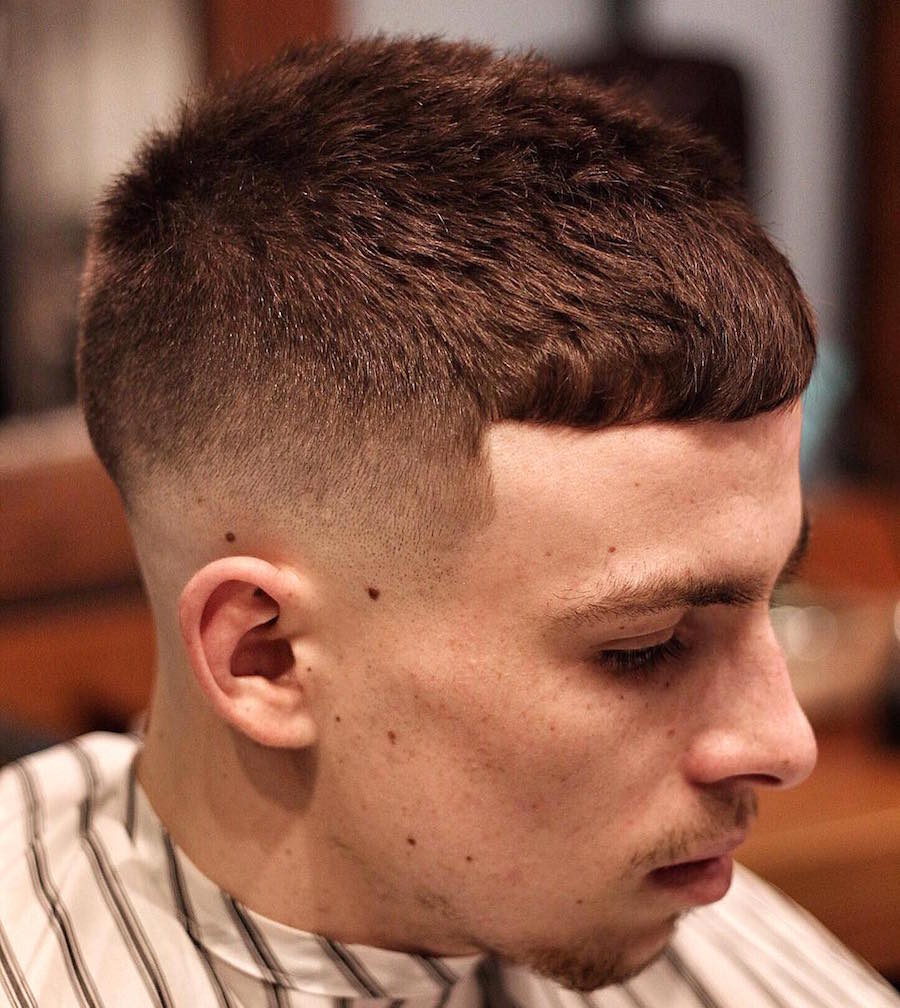 Haircut by The Gentleman Barbers
Add style to that ultra short cut with straight across bangs, spikes on top and a low skin fade.
91. Clean Taper Fade + Waves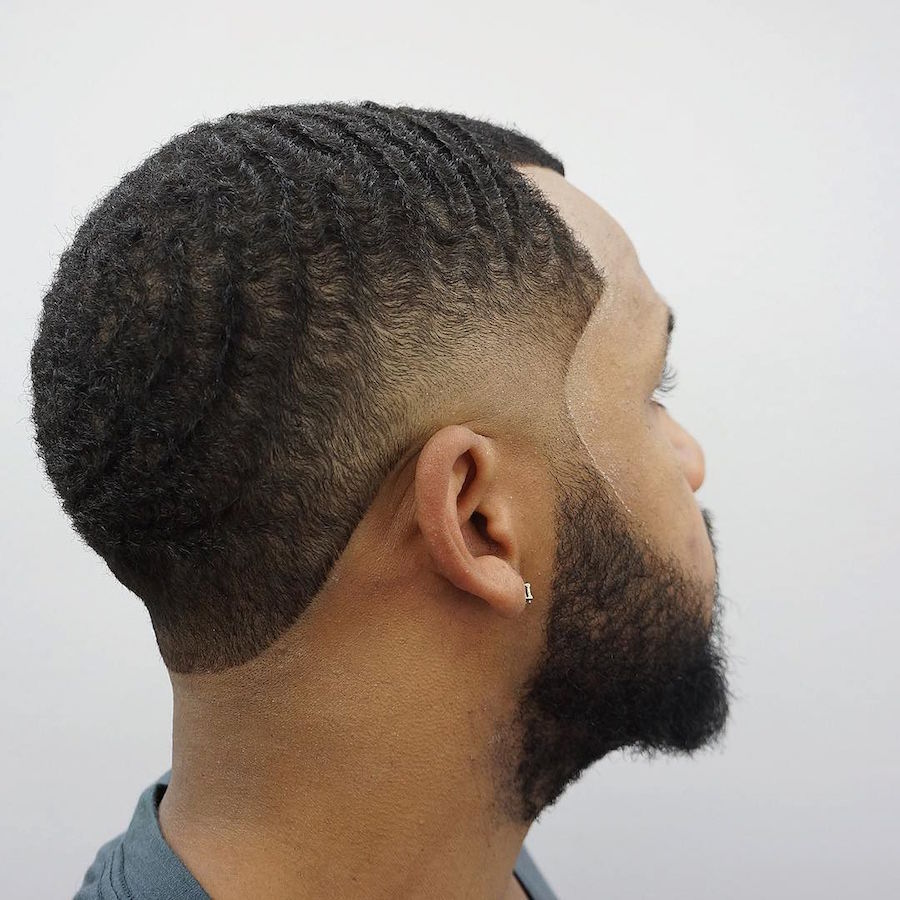 Haircut by criztofferson
Break up those those 360 degree waves with a temple fade. Create an ultra clean cut style with a line up that seamlessly blends with the beard.
92. Texture and Spikes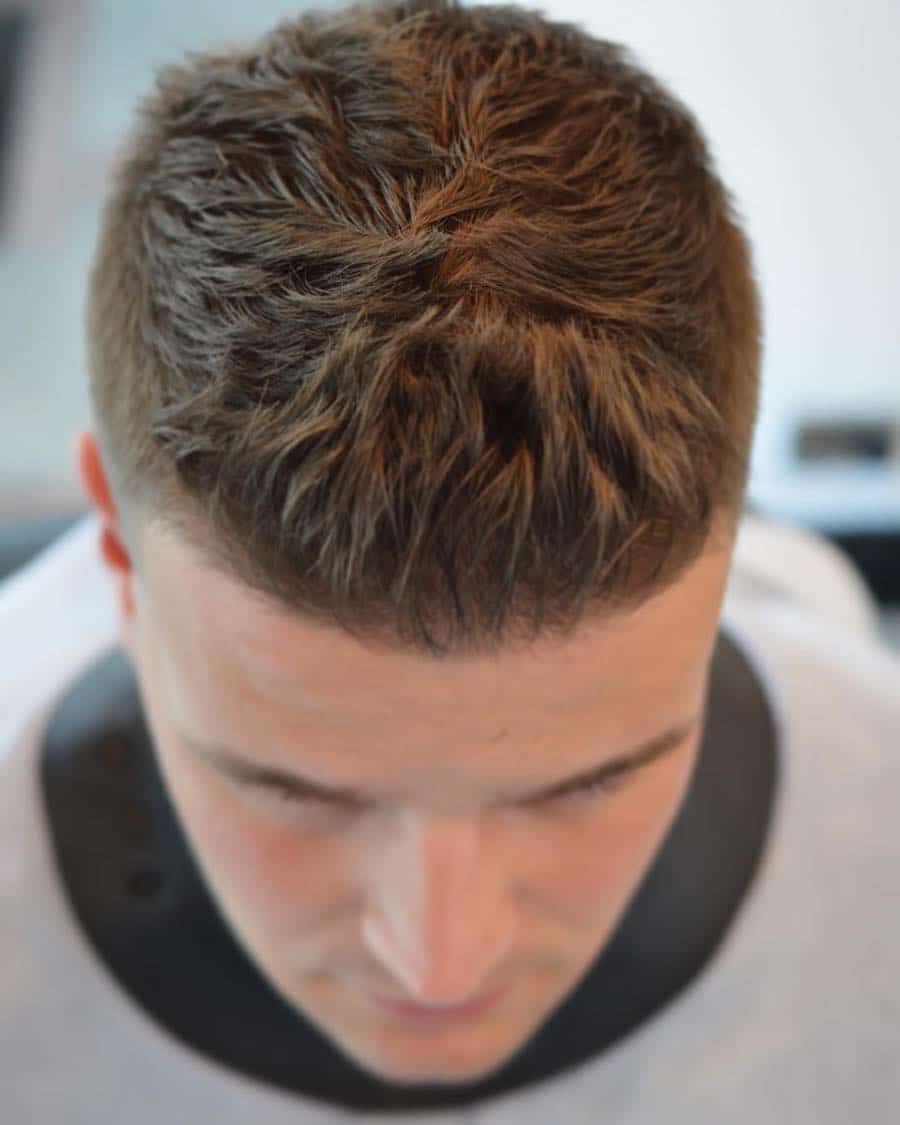 Haircut by Deakin And White
For a unique but on trend style, this look adds texture while pulling hair in towards the center from the sides and back. The front is spiked up for that classic and flattering height.
93. Men's Short Fade Haircut + Side Part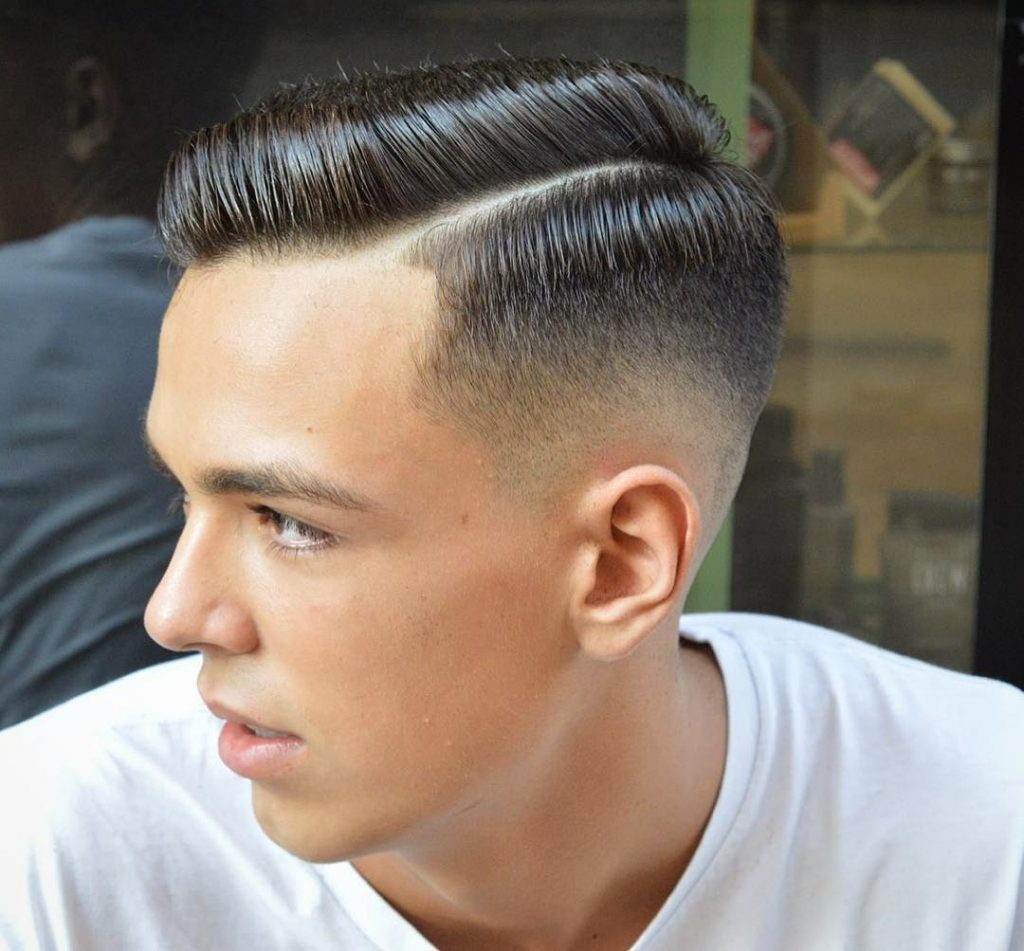 This is a great looking modern side part haircut for men. The high fade is super clean on the sides, with the long end of short hair combed over to the side up top. This can be a business haircut but it's also as cool as your attitude and outfit.
94. Very Short Haircut For Men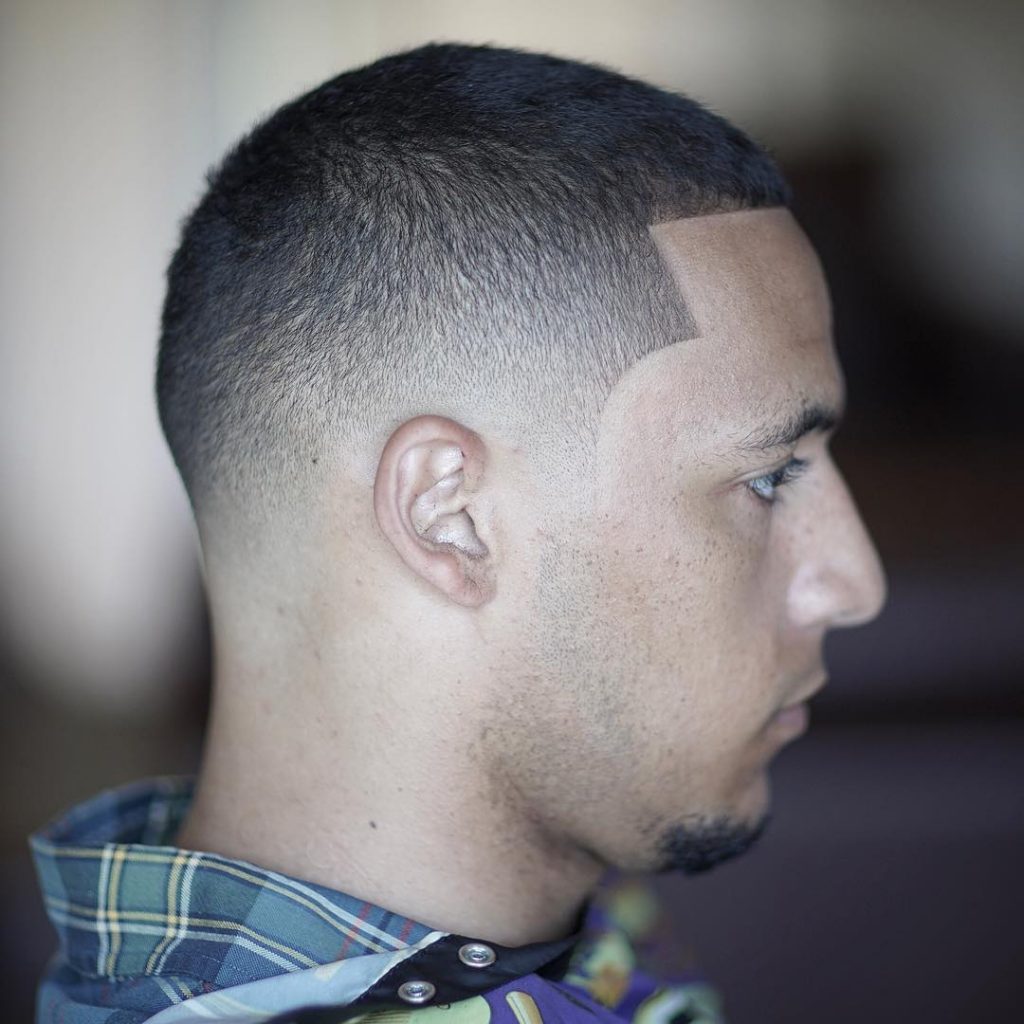 This buzz, fade with line up combination is one of the most popular short men's haircuts, especially for black hair. It's sharp, clean-cut, and requires no styling at all, just regular barber visits for upkeep. This cut is often seen on athletes but also plenty of other active and busy guys who don't have time to worry about hair.
95. Men's Short Messy Haircut + High Fade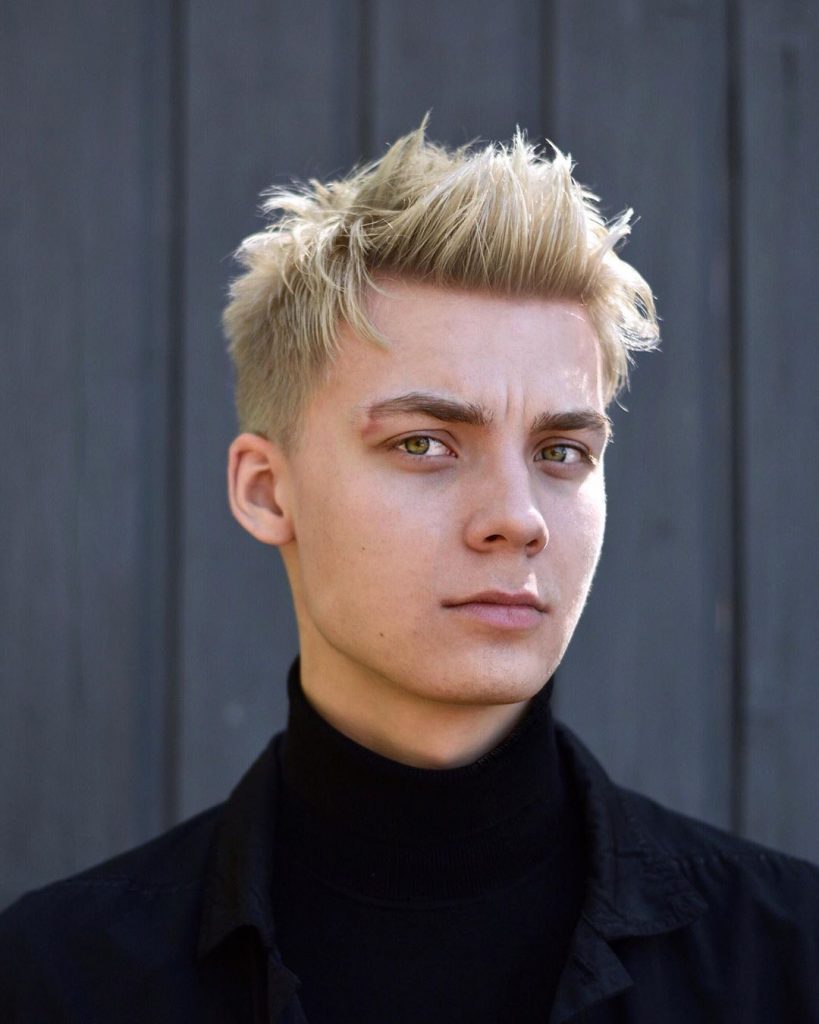 This messy-spiky style is perfect for guys with thick or coarse hair. The cut has plenty of shape and can be styled like this with a texturizing pomade. Just pull hair where you want it to go. Messy isn't the way to style this haircut. Try out different products and looks.
96. Men's Short Textured Haircut + High Fade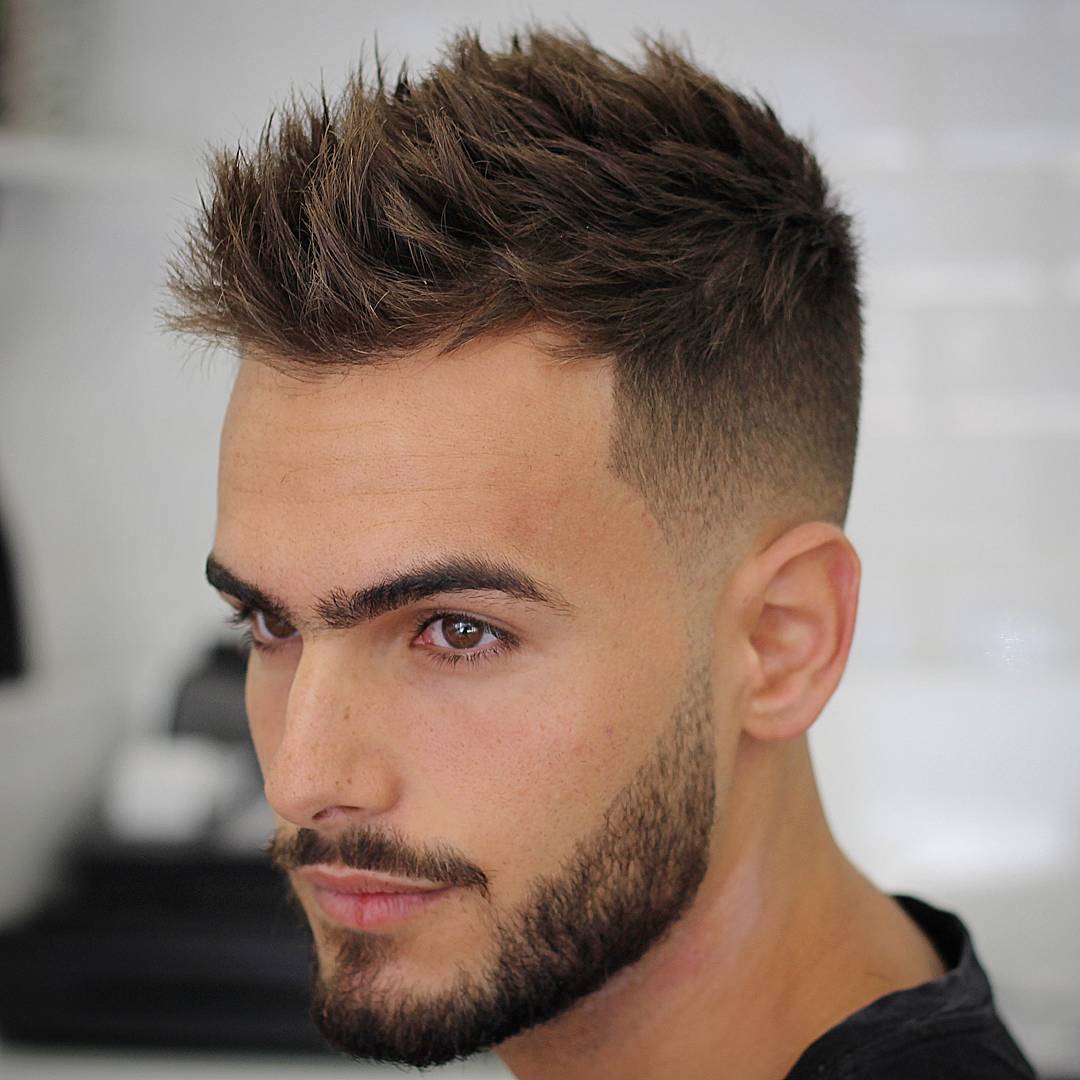 The latest men's hair trends are all about texture and these short spikes fit the bill. Use a matte hair product to separate hair and add volume. A low skin fade completes the fresh look. A secret product to enhance texture is salt spray. The ocean-like solution clumps here together in a flattering way. Use it on its own for fine to regular hair or along with pomade for thicker locks.
97. Short Crop Haircut + High Skin Fade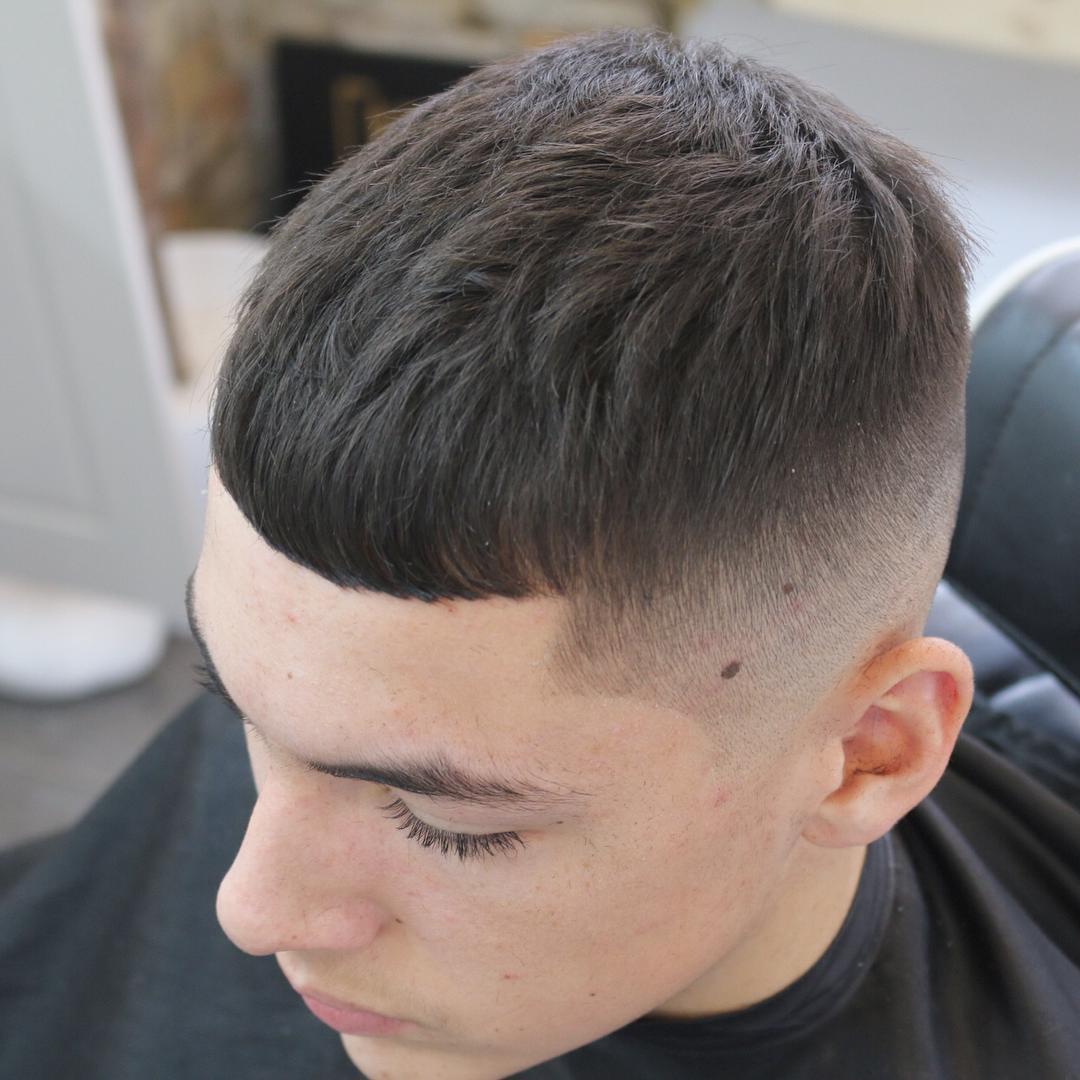 The textured crop is one of the top trending haircuts for men, first in the United Kingdom and Europe and now stateside too. This short version features blunt fringe, layers and texture on top, and a high skin fade for a new way to rock the always popular disconnected hairstyle.
98. Buzz Cut + Line Up
A shape up at the hairline adds straight edges that sharpen up any buzz cut. Rock the look with a fade or taper at the neckline. Hair on top also looks great in waves.
99. Modern Men's Short Undercut / Crop Haircut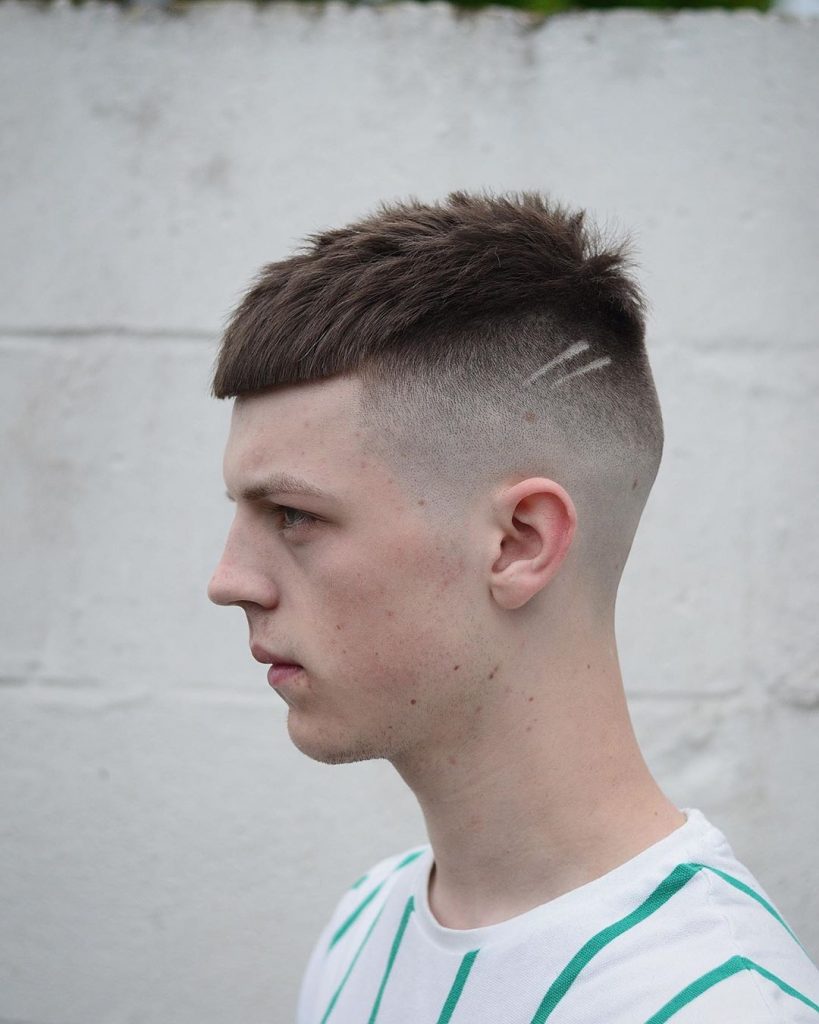 This is a cool men's short haircut for summer and the rest of the year too. It is a short textured crop haircut with blunt fringe, a skin fade, and pair of shaved lines. The look is designed to make a statement and that it does.
100. Stylish Short Haircut For Men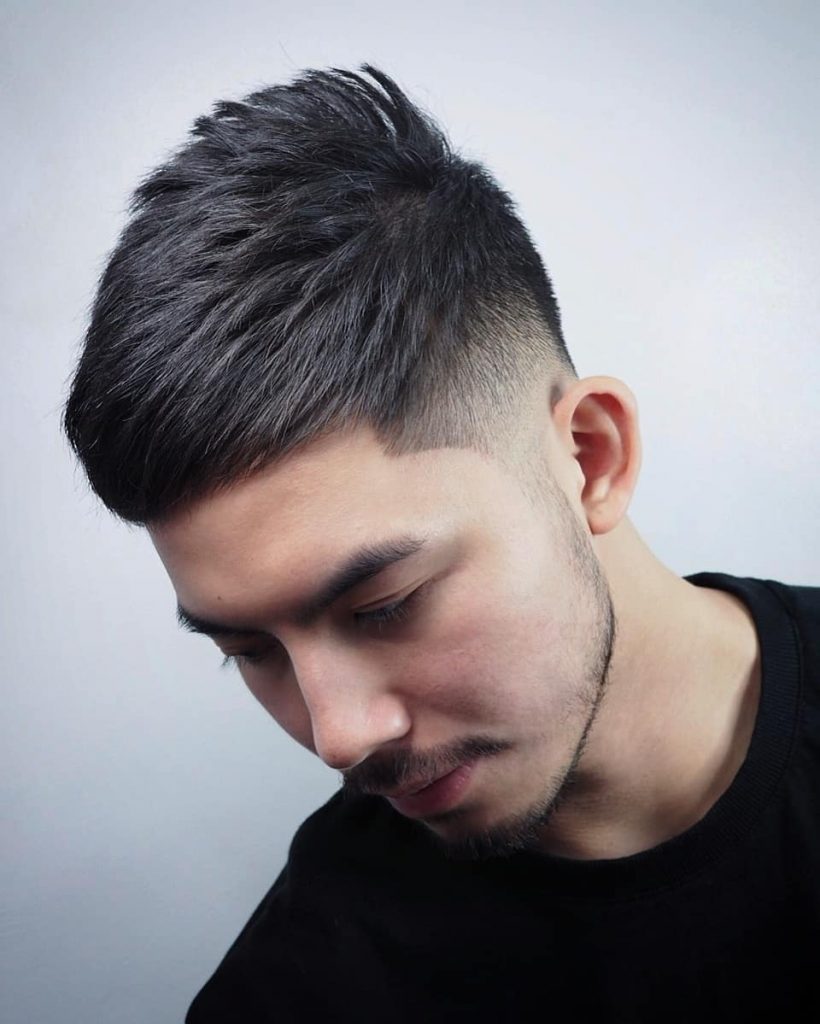 This short sides, longer top cut is a versatile and stylish short haircut for thick hair. Wear it with fringe like above, add spikes, or even a side part.
101. Classic Men's Short Haircuts – The Crew Cut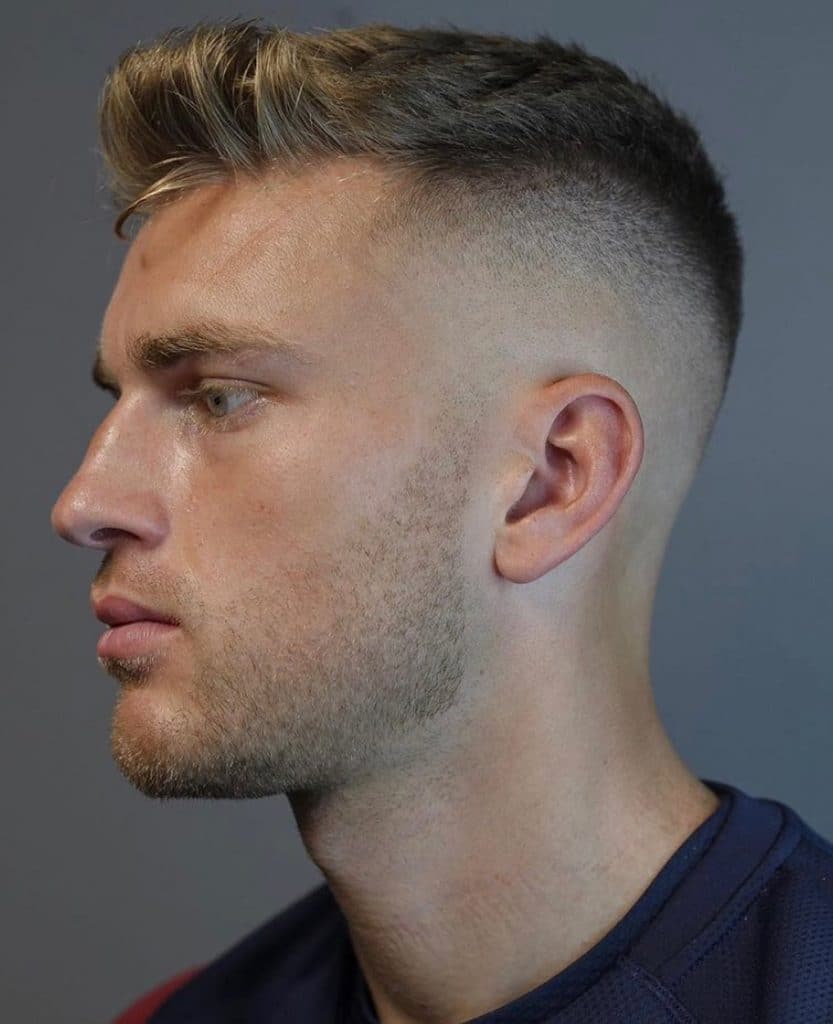 This modern take on the crew cut is a fresh way to wear the short and classic men's haircut. The forehead has some length that is pulled up into a short quiff while the sides and back feature a high skin fade.
102. Short Haircut For Men With Wavy Hair + Beard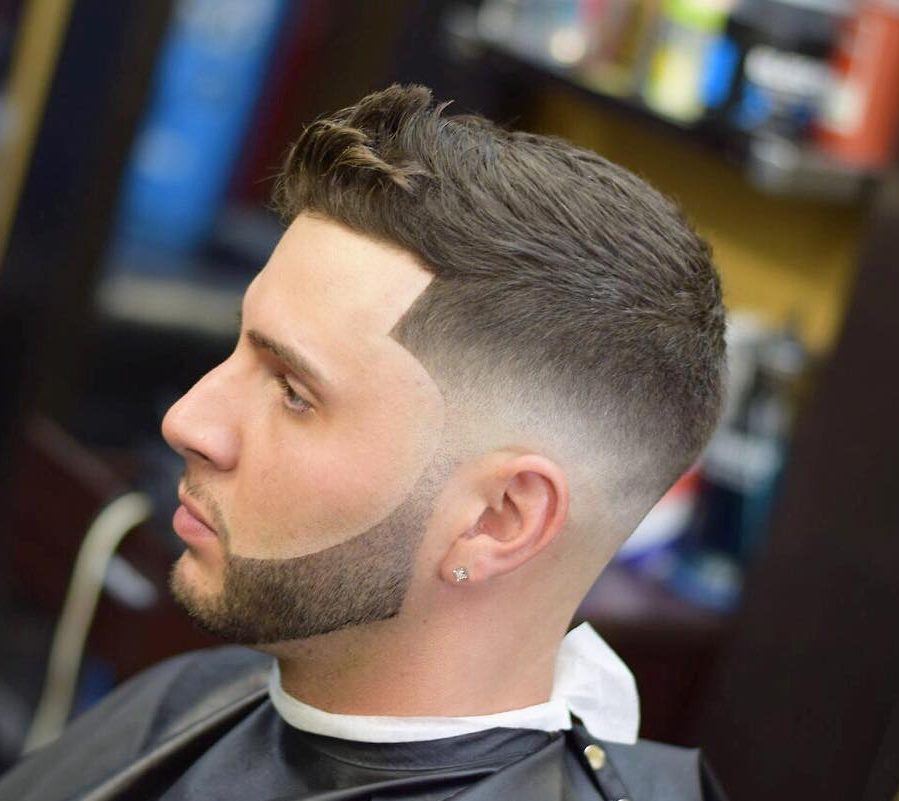 Instead of texture all over, this cool style features longer hair at the hairline spiked up into a modern quiff. This cut could also be combed over for a more formal look or worn loose. The blurry fade transitions into a geometrically shaped beard.
103. The Quiff -> Short Haircut For Thick Hair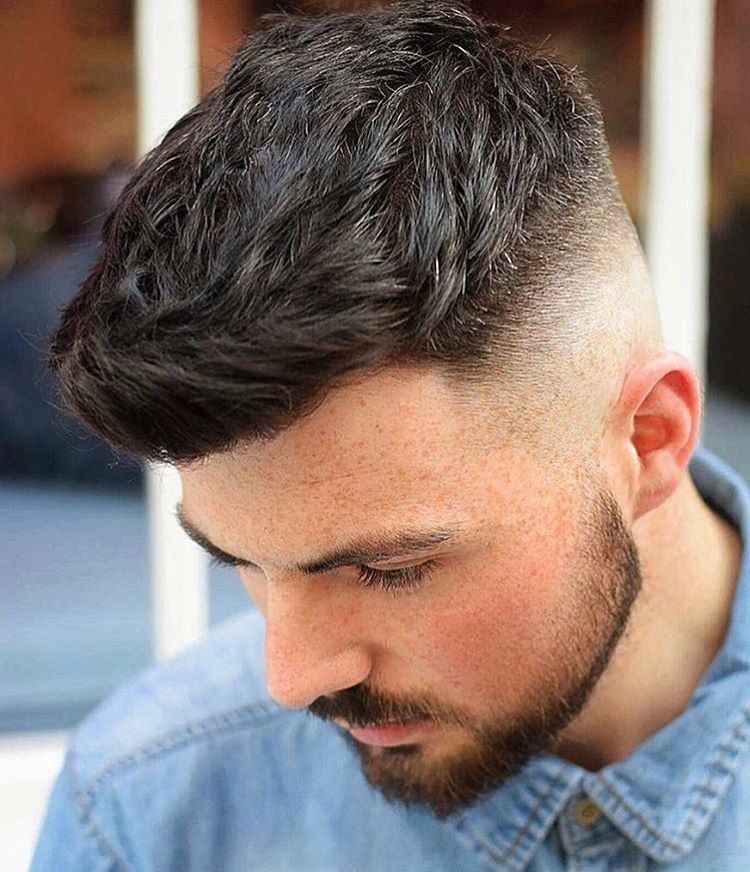 Short hair with lots of layers gives hair shape and makes it easy to style. This look is cut to enhance texture with some extra length at the hairline for styling. This type of crop can lighten up thick hair and help fine or thinning hair appear thicker.
104. Short Spiky Haircut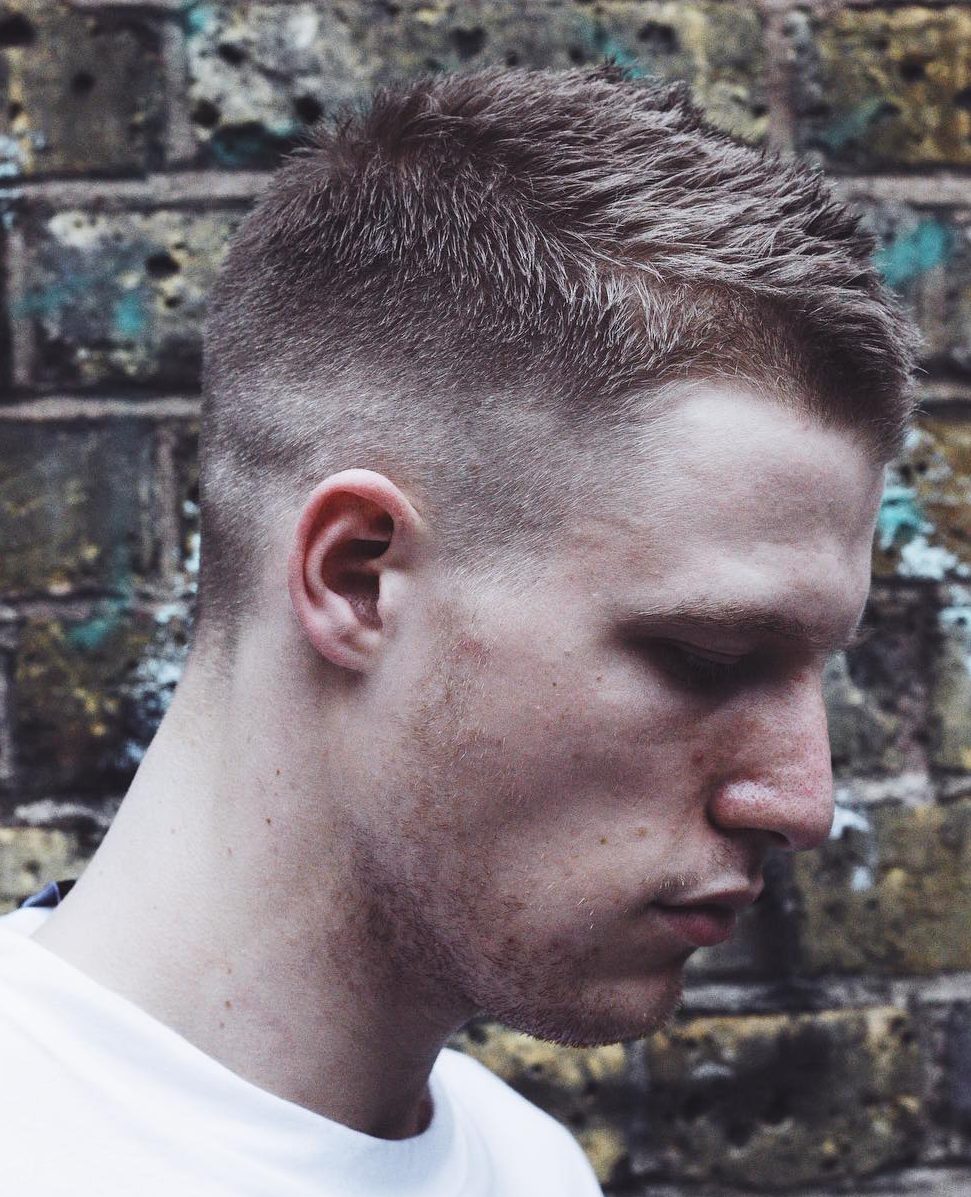 This cool short men's haircut is as short as it can get and still be styled. Work product into hair with fingers for these modern textured spikes. Or don't do anything. Hair at this length doesn't have to be styled.
105. Short Haircuts For Men With Beards + Curls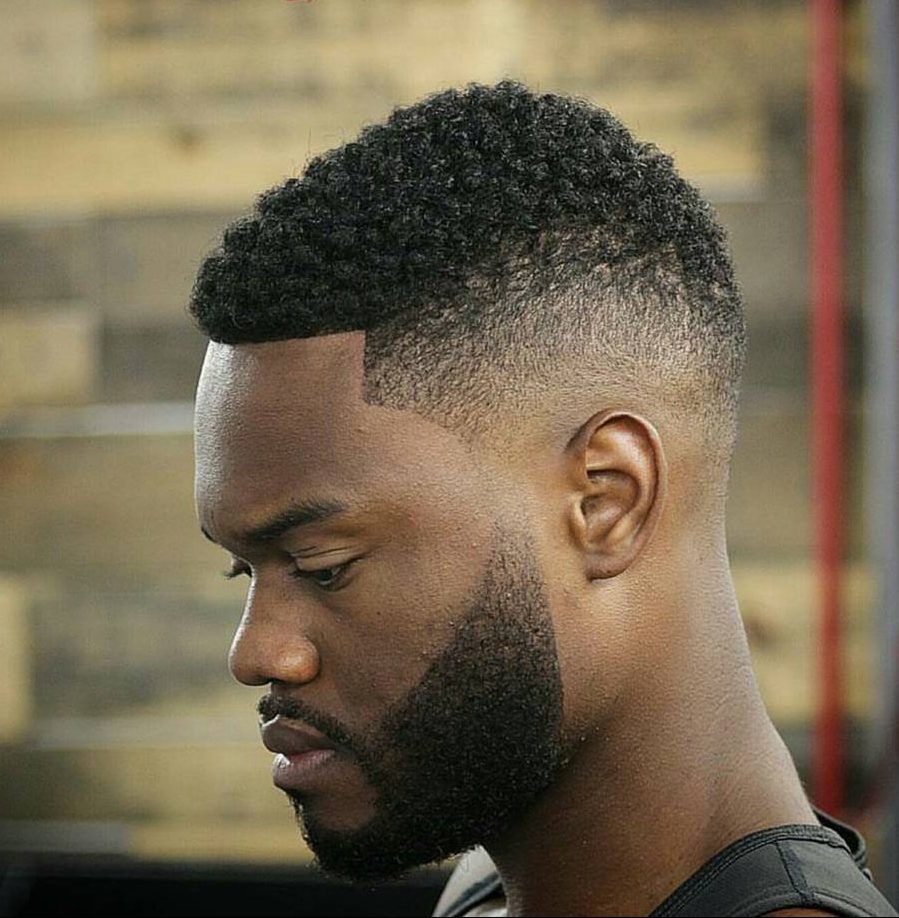 The high and tight is one of the most popular short haircuts. As the name indicates, it's all about ultra-short sides and some length on top. This version features a drop fade that arcs above the ears and down to the neckline. A beard fade makes for a smooth transition into facial hair.
106. Short Curly Haircut For Men + Bald Fade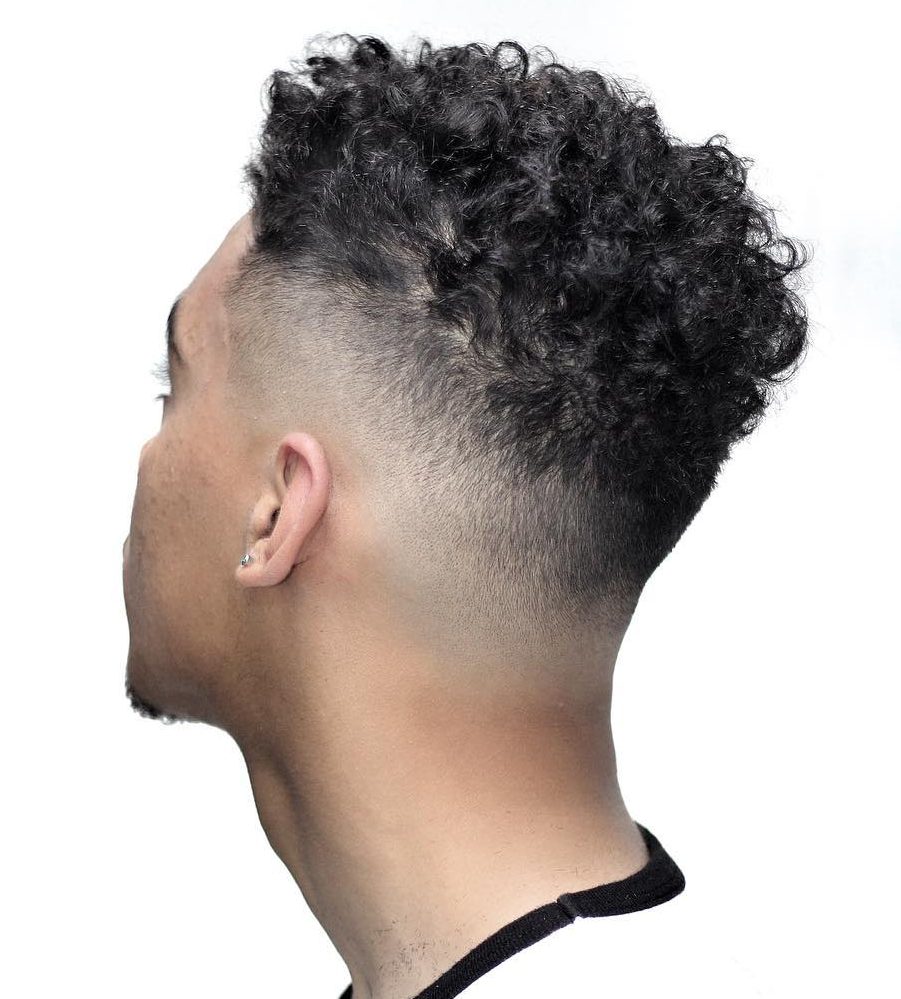 This men's short curly fade features a burst of curls over a high bald fade. Use a hair cream or cream pomade to define texture and fight frizz.
107. Short Men's Haircut + Shaved Sides + Medium Hair Length On Top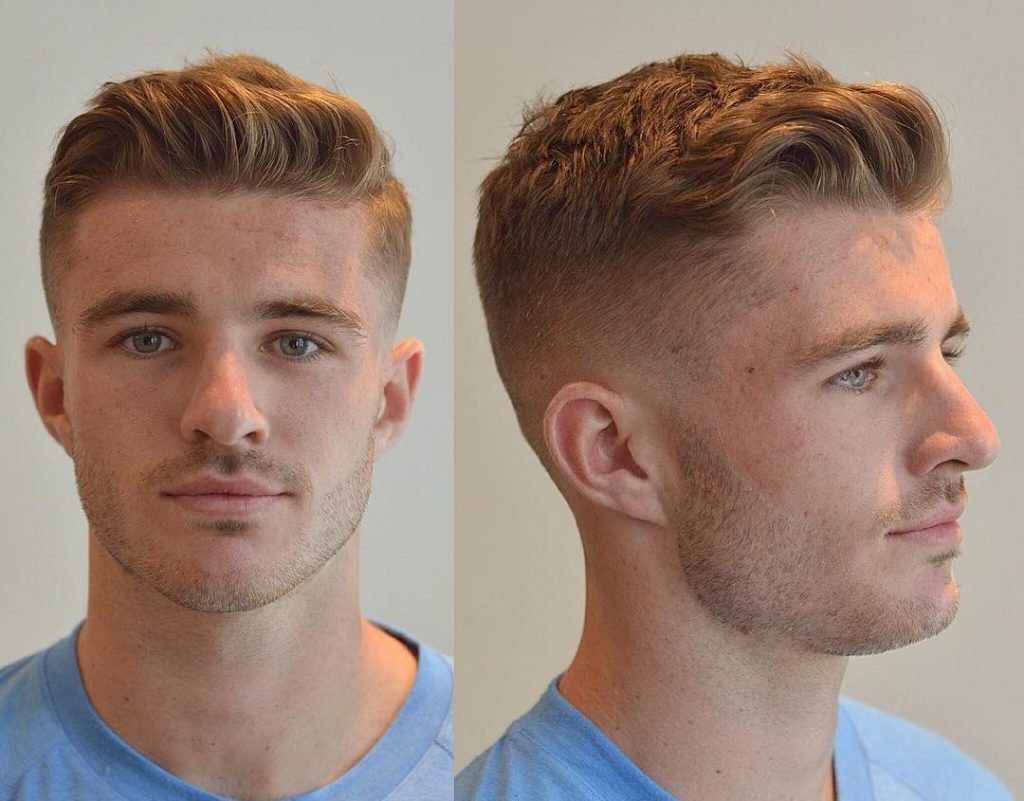 Here's another cool style for guys with thick hair. Add a side part and you have an Ivy League. Otherwise, the cut is short enough to be easy to wear and long enough for plenty of styling options.
108. Short Textured Crop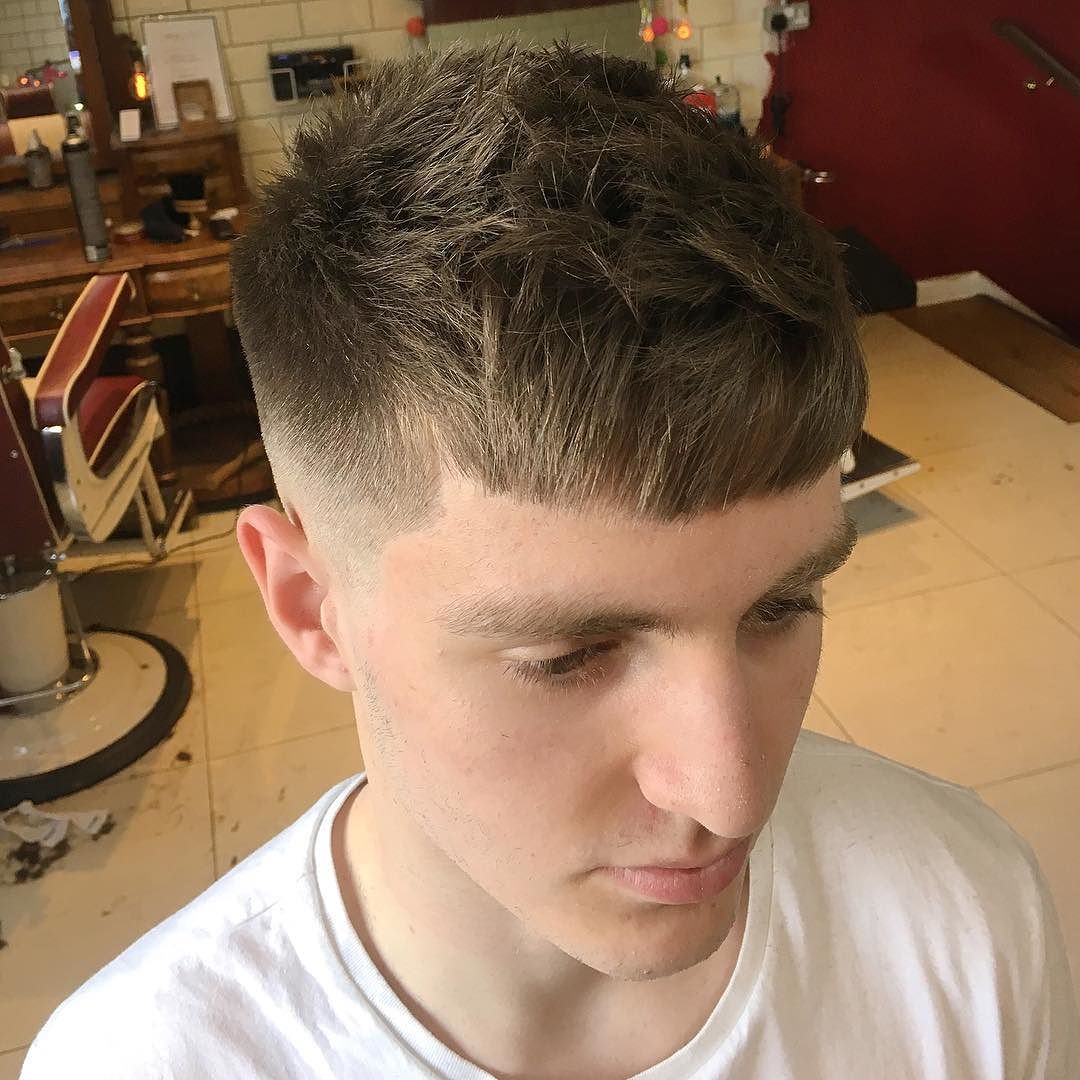 This is the short version of this summer's hottest men's hairstyle trend – the crop. It is cut and styled for maximum texture.
109. High and Tight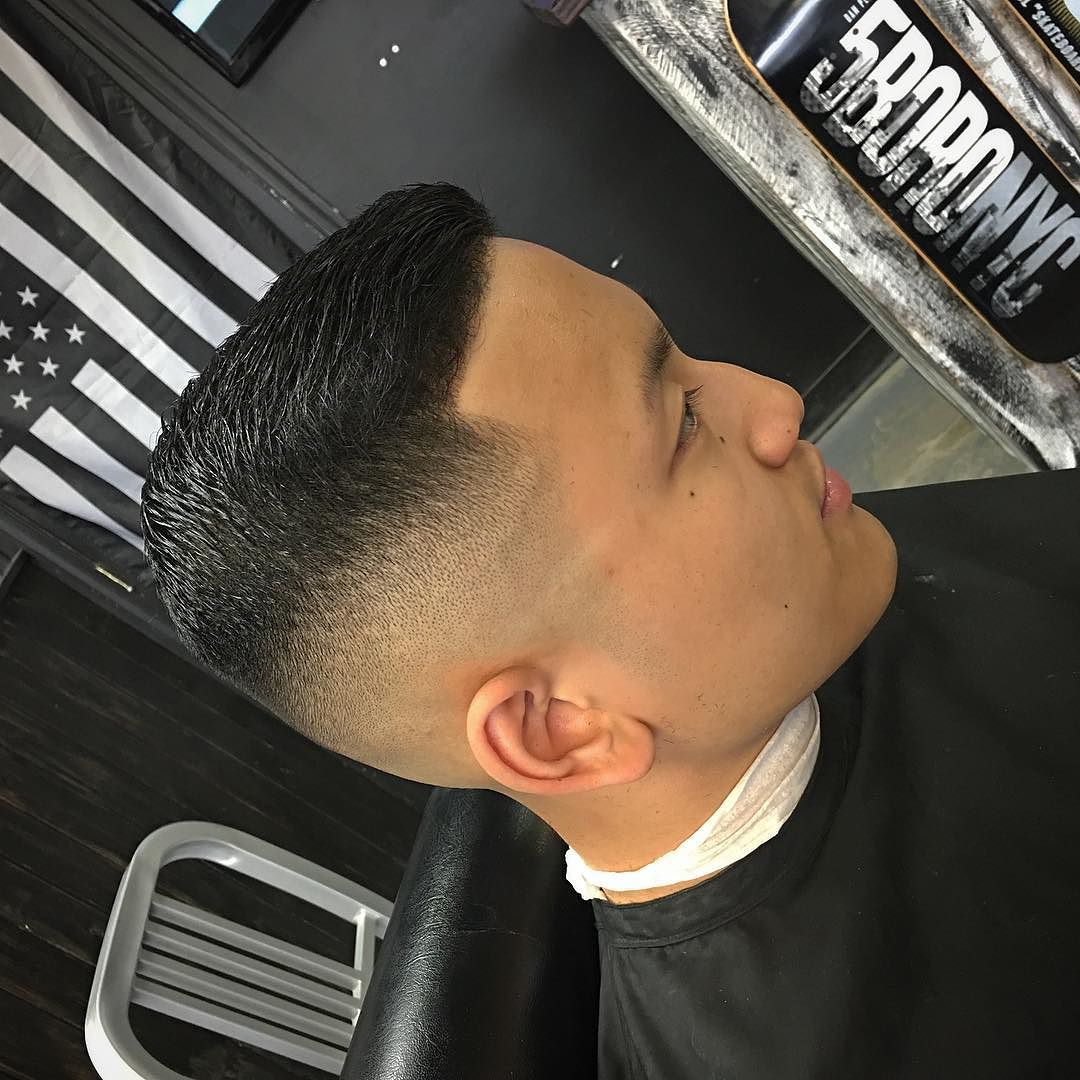 A modern version of the classic high and tight, this cut features thick hair on top with a mid-high fade. Thick hair is combed to one side with a medium shine product.
110. Length at the Hairline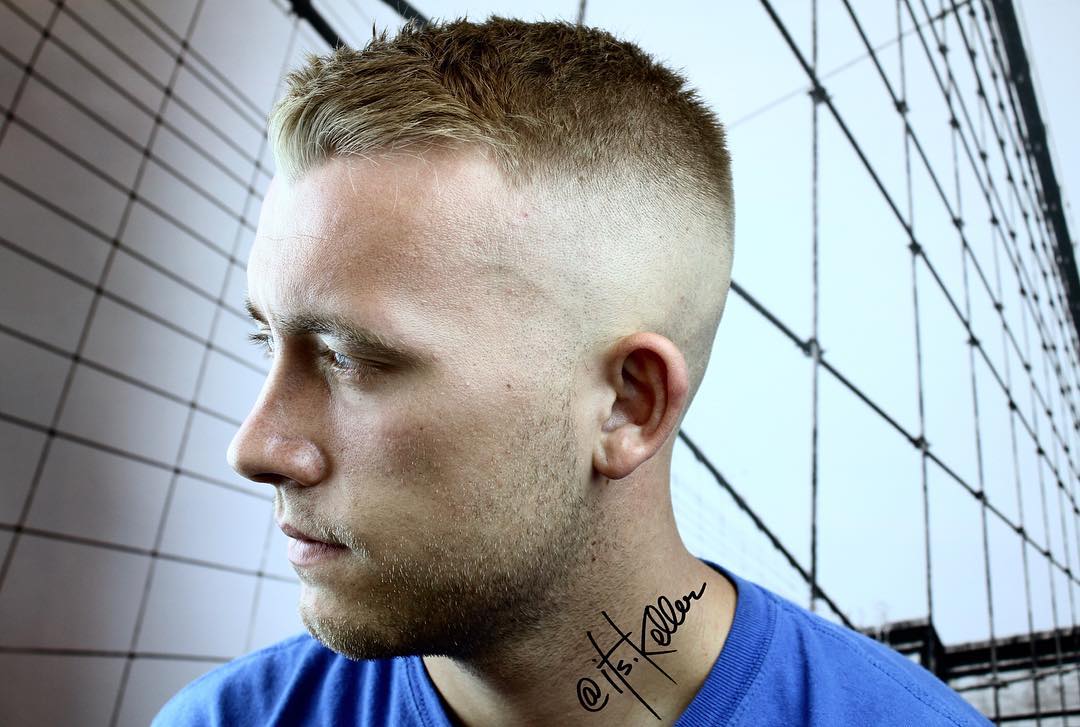 Men's hair is never too short to style! This cool cut features extra length at the front that is styled over to one side.
111. Short Curls + Burst Fade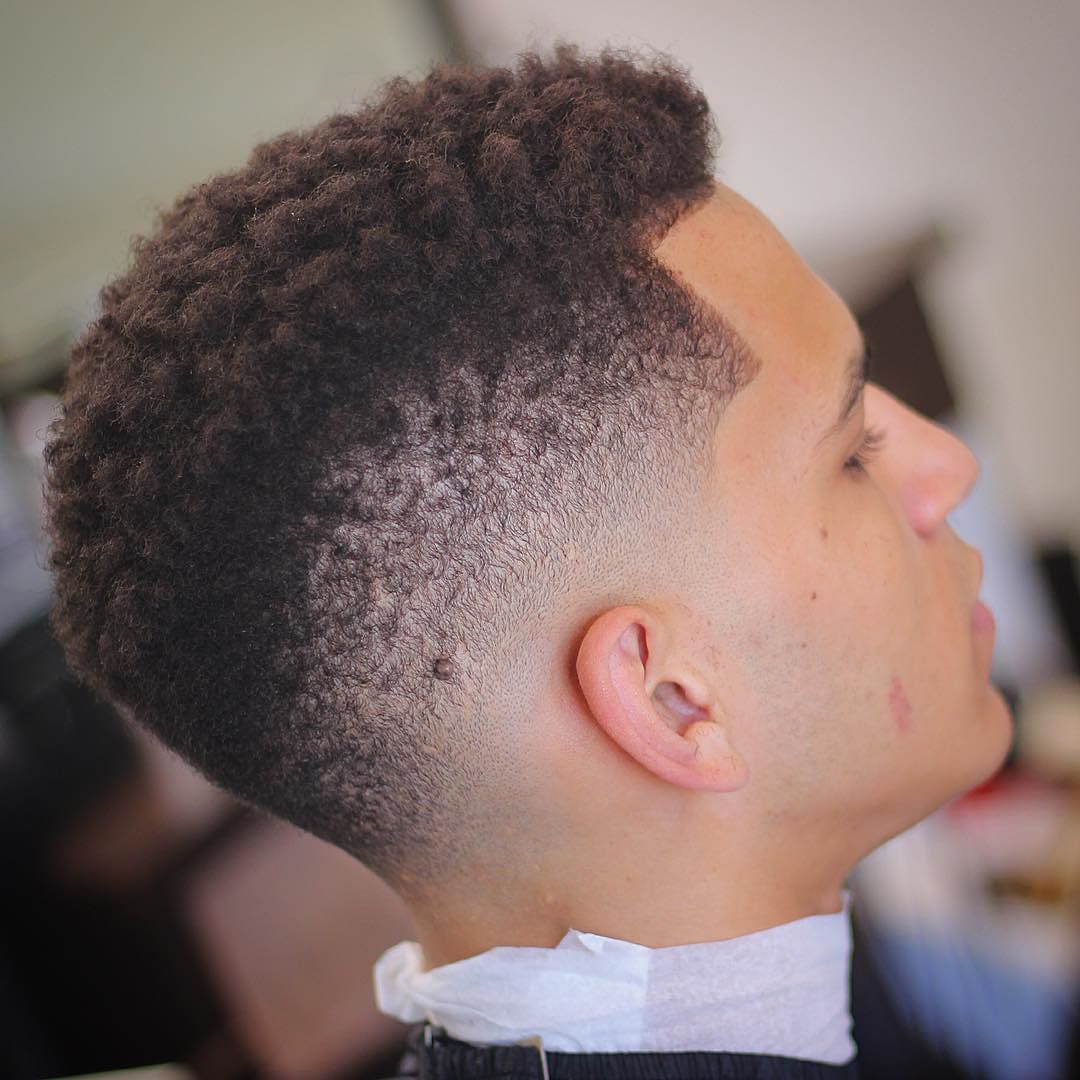 Kinky curls look great with enough length for some volume and texture. This fresh style features an oversized burst fade plus a crisp line up.
112. Buzz Fade + Zig Zag Part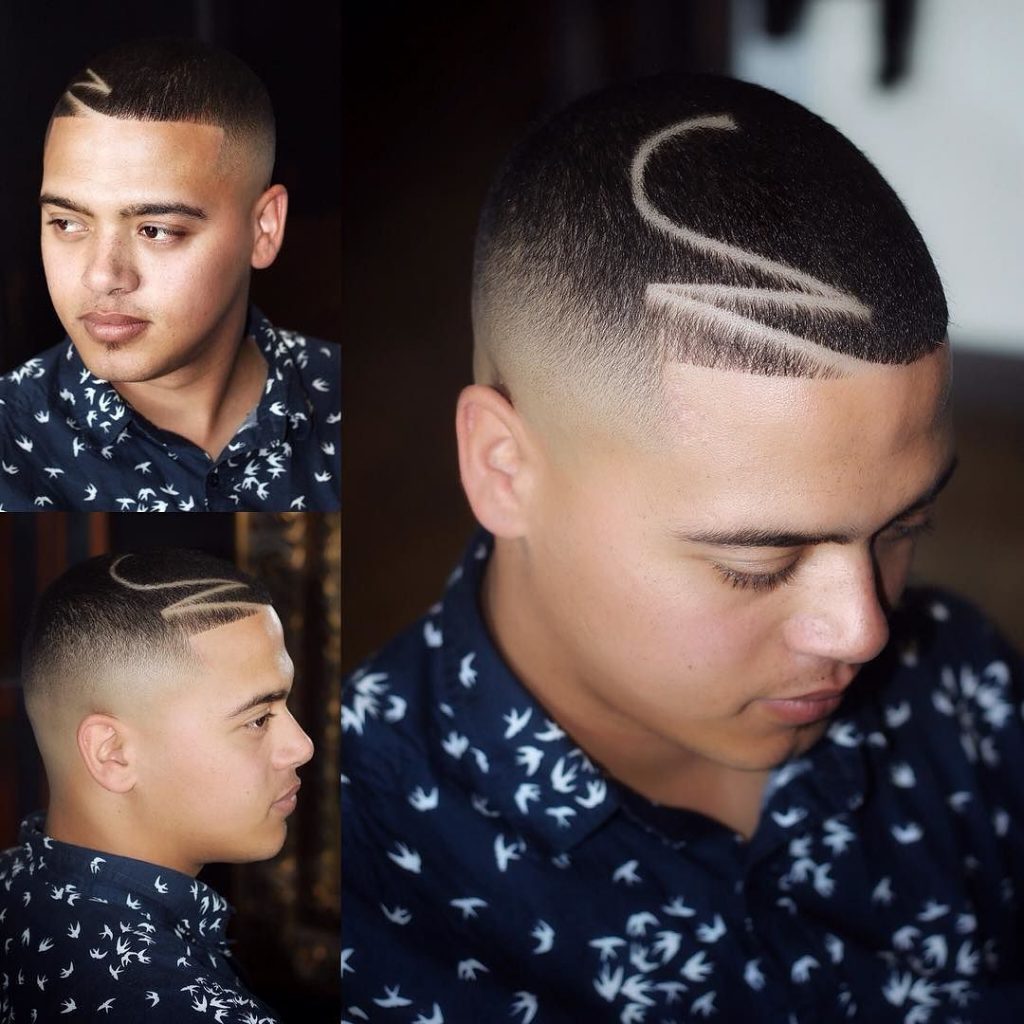 An exaggerated zig zag part stands out against dark hair cut short in a buzz cut with faded sides.
113. Buzz Cut + Fade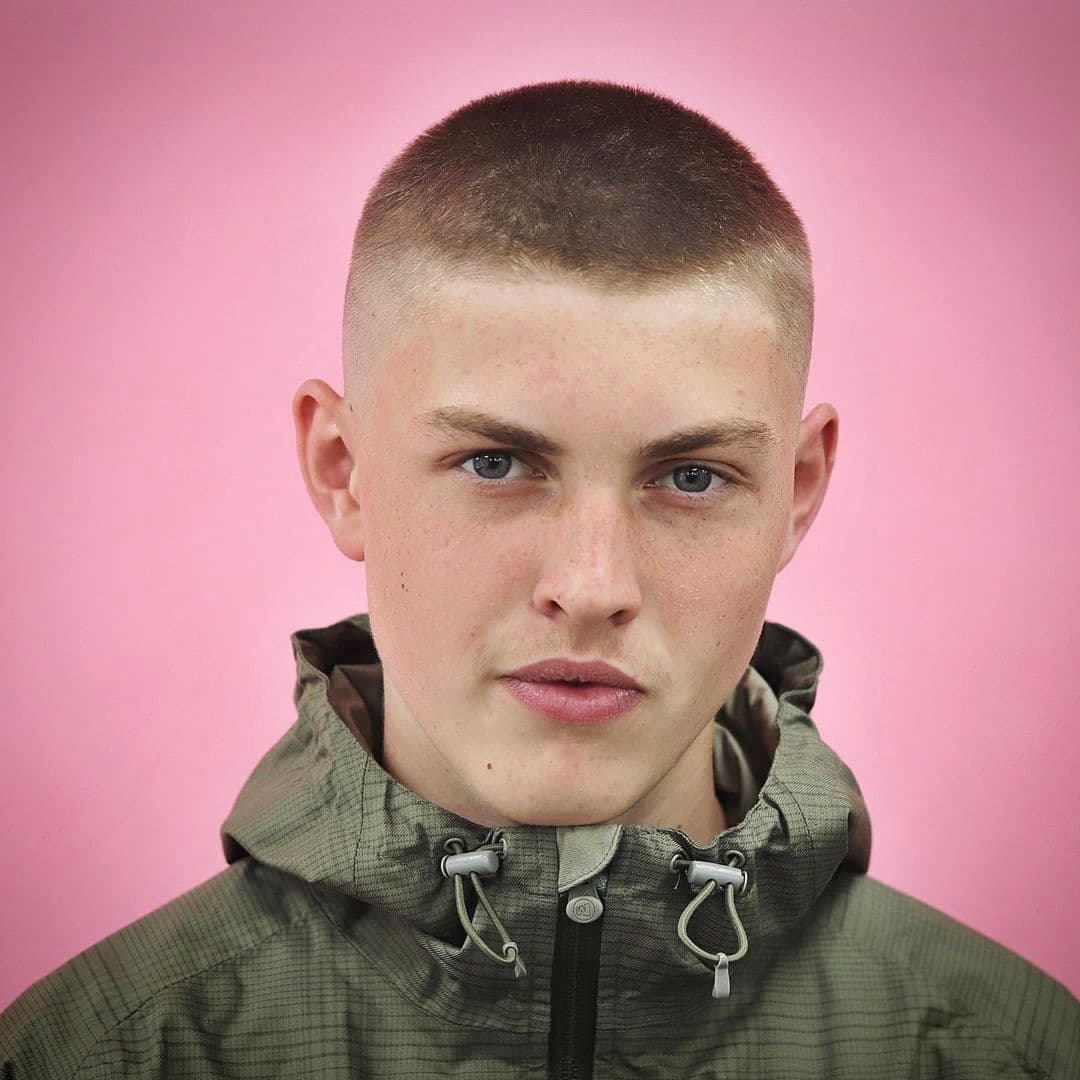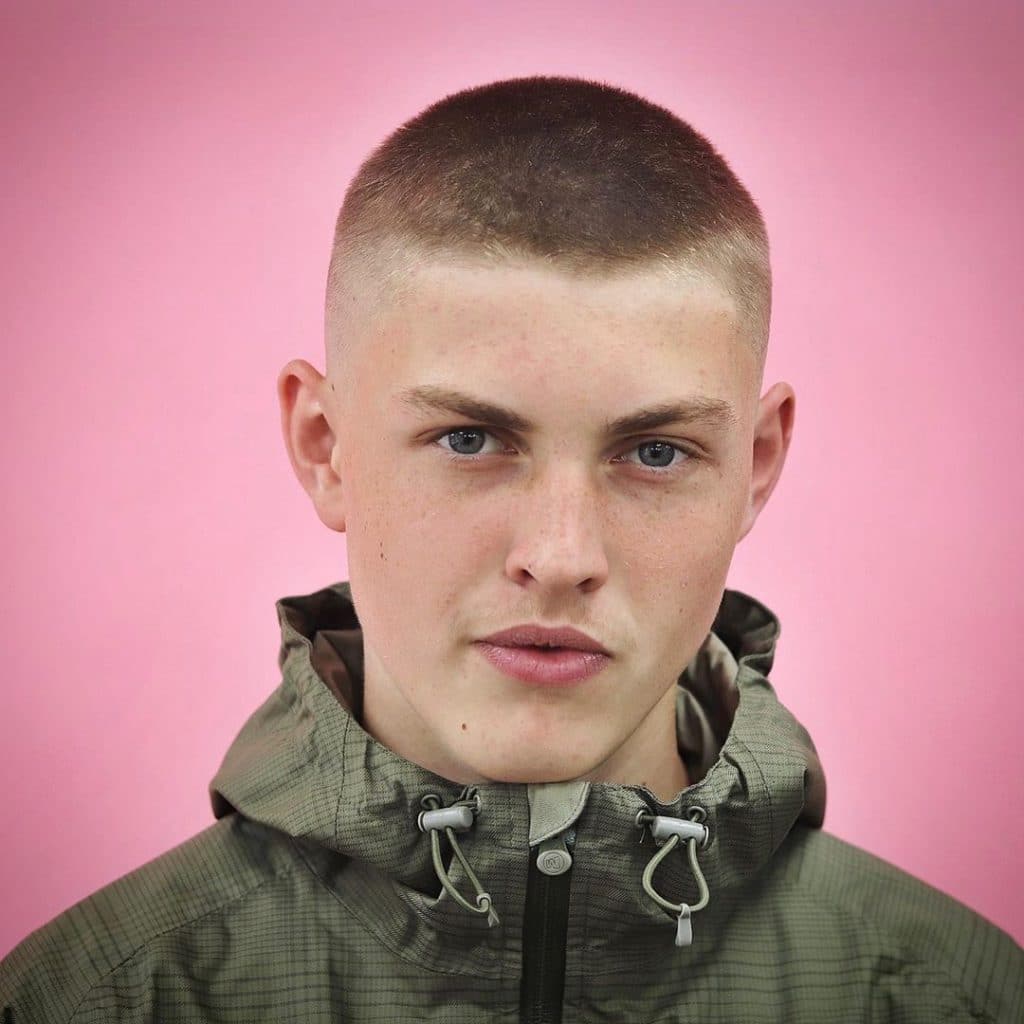 The combination of a buzz cut and fade is simple yet powerful. Your barber will customize the type of fade to flatter your features, hair type and head shape.
114. Very Short Spiky Hair + High Fade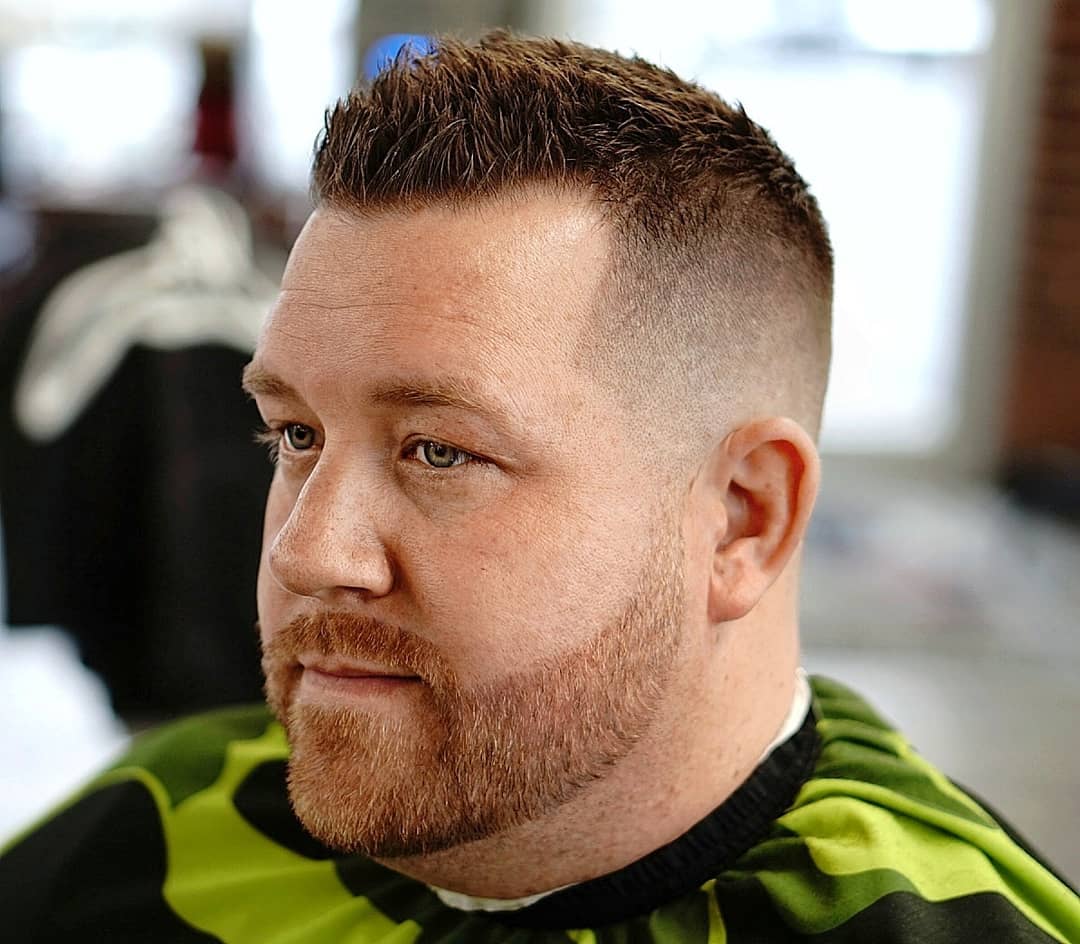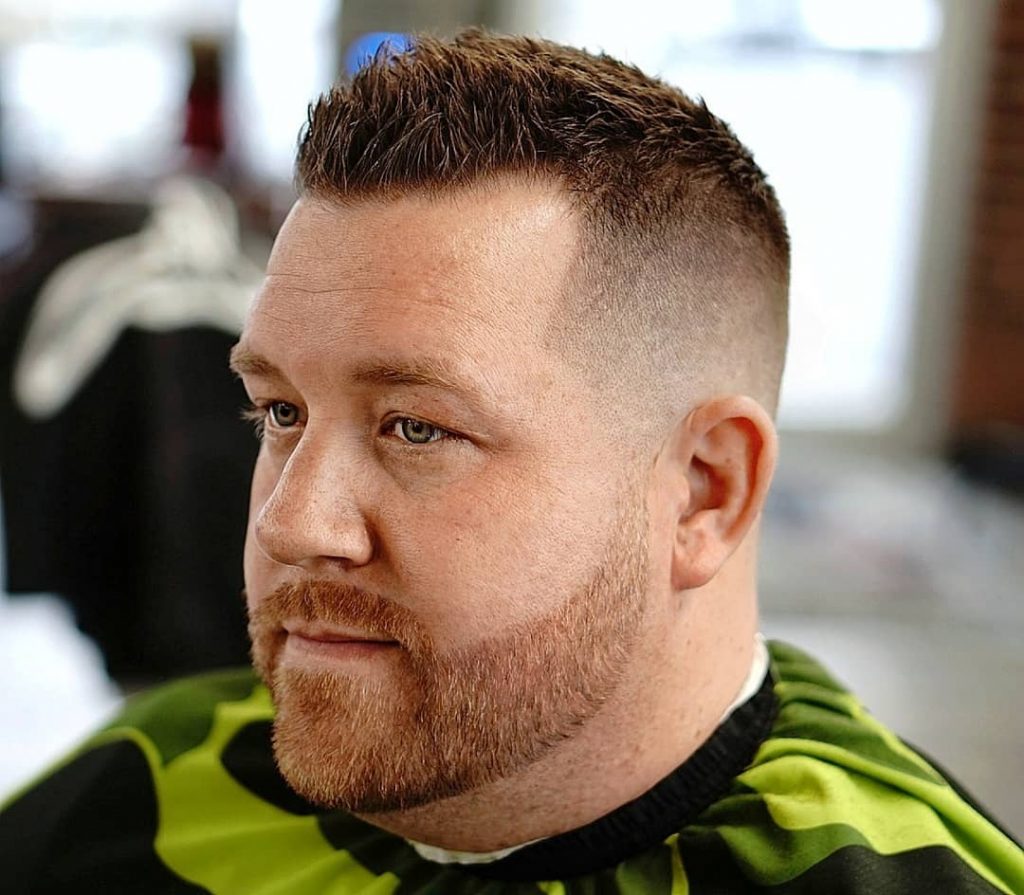 Spiky hair is just one of those styles that looks good on all guys. This short version with a neat beard is a great idea for both guys with thick or thinning hair.
115. French Crop + Fringe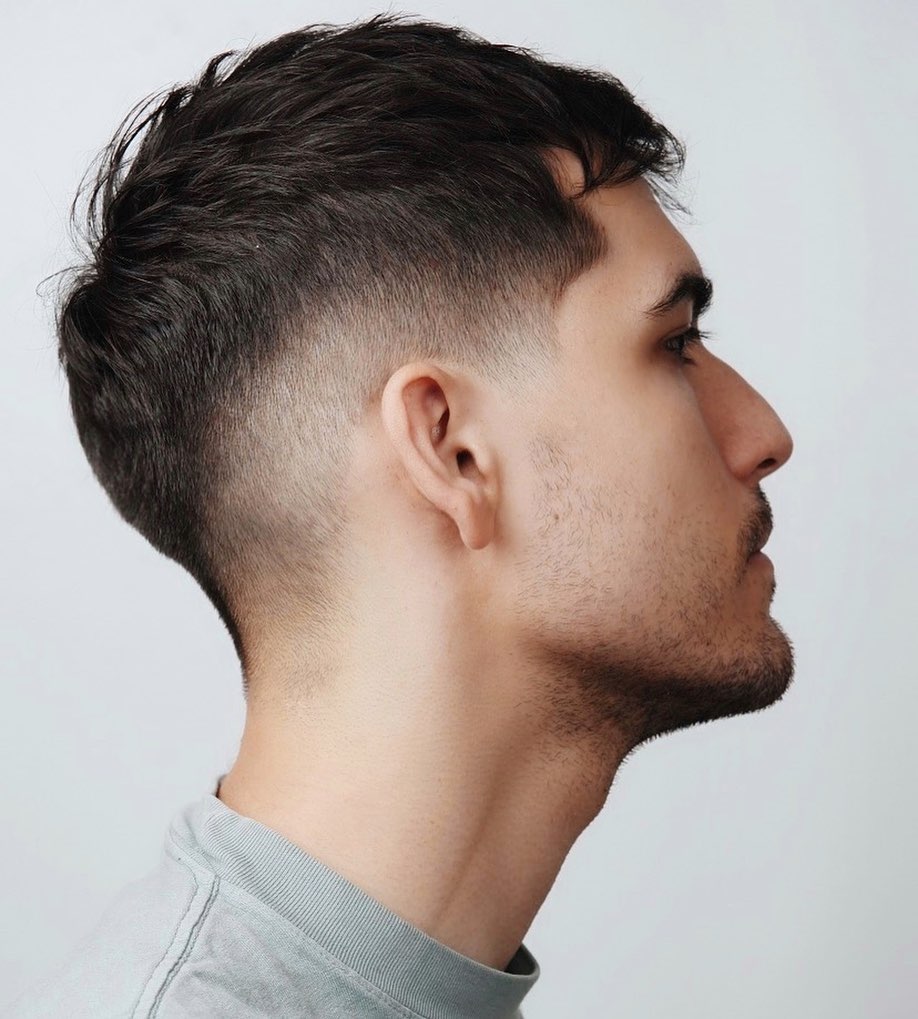 One thing we love about the crop haircut is how versatile it is. The same type of cut can be shorter or longer, lighter or heavier and cut with all types of fringe. This version trades in the blunt line seen above for piecey texture all over, including the bangs.
116. Faux Hawk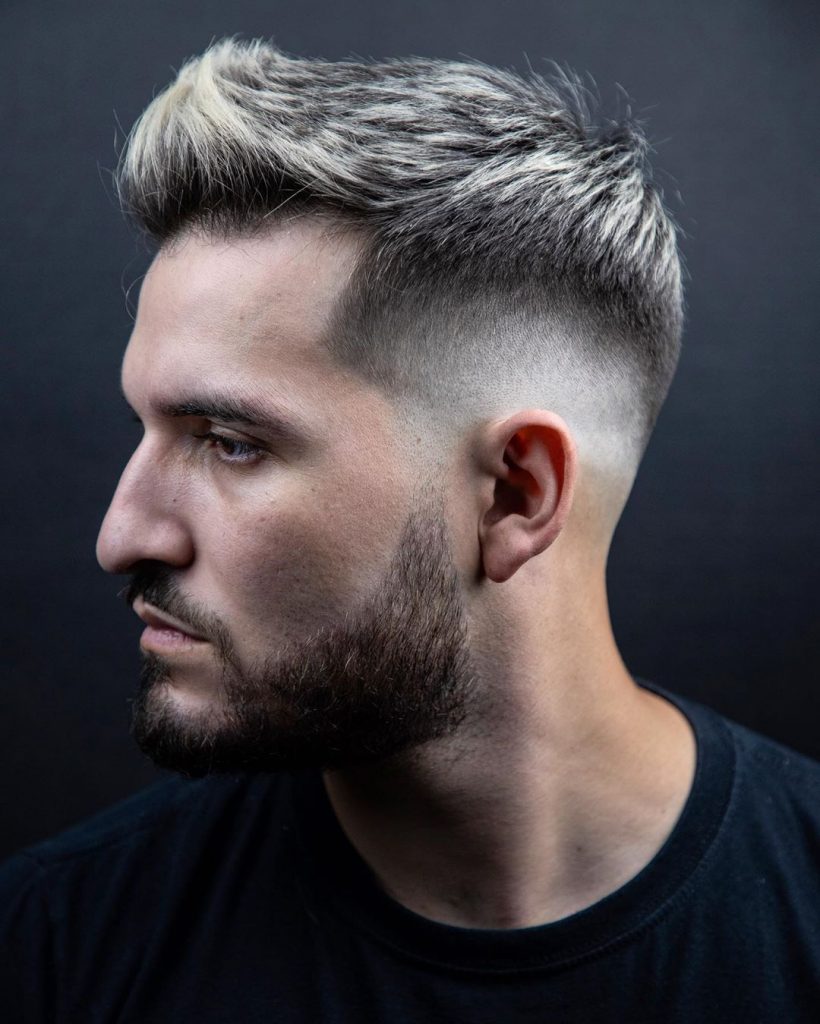 In addition to spiky hair, the faux hawk is the other men's hairstyle that looks good on everybody and never goes out of style. Here's the latest way to get the look with a low fade, hint of texture and beard.
117. Short Textured Crop Haircut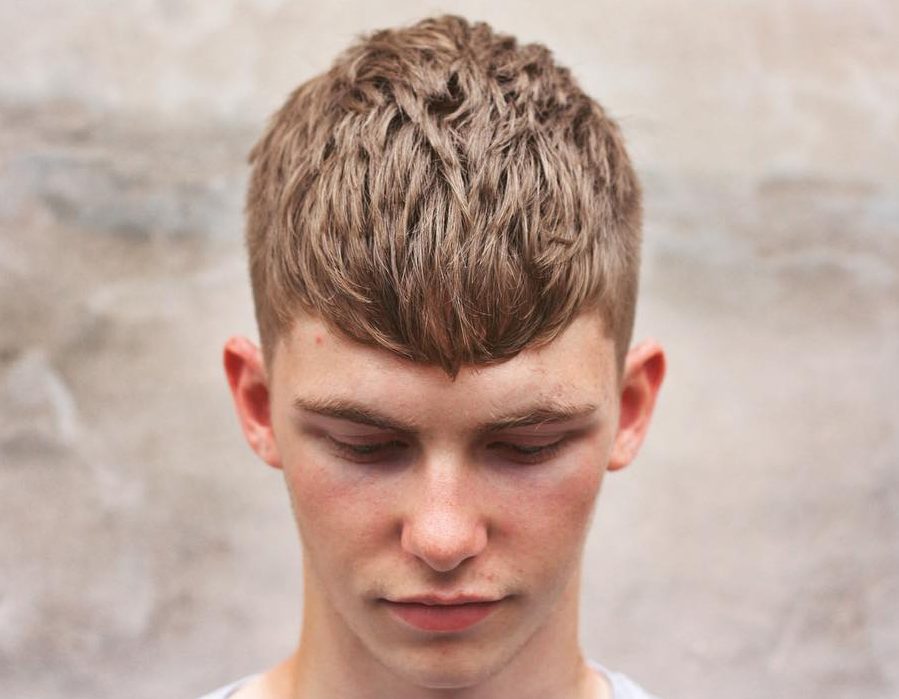 The textured crop is a major trend and there is a version of the cut that works for most guys. The scissor cut top removes weight for thick hair and can beef up the appearance of finer too. Look for a product that adds texture for even more definition.
118. Cool Short Haircut for Wavy Hair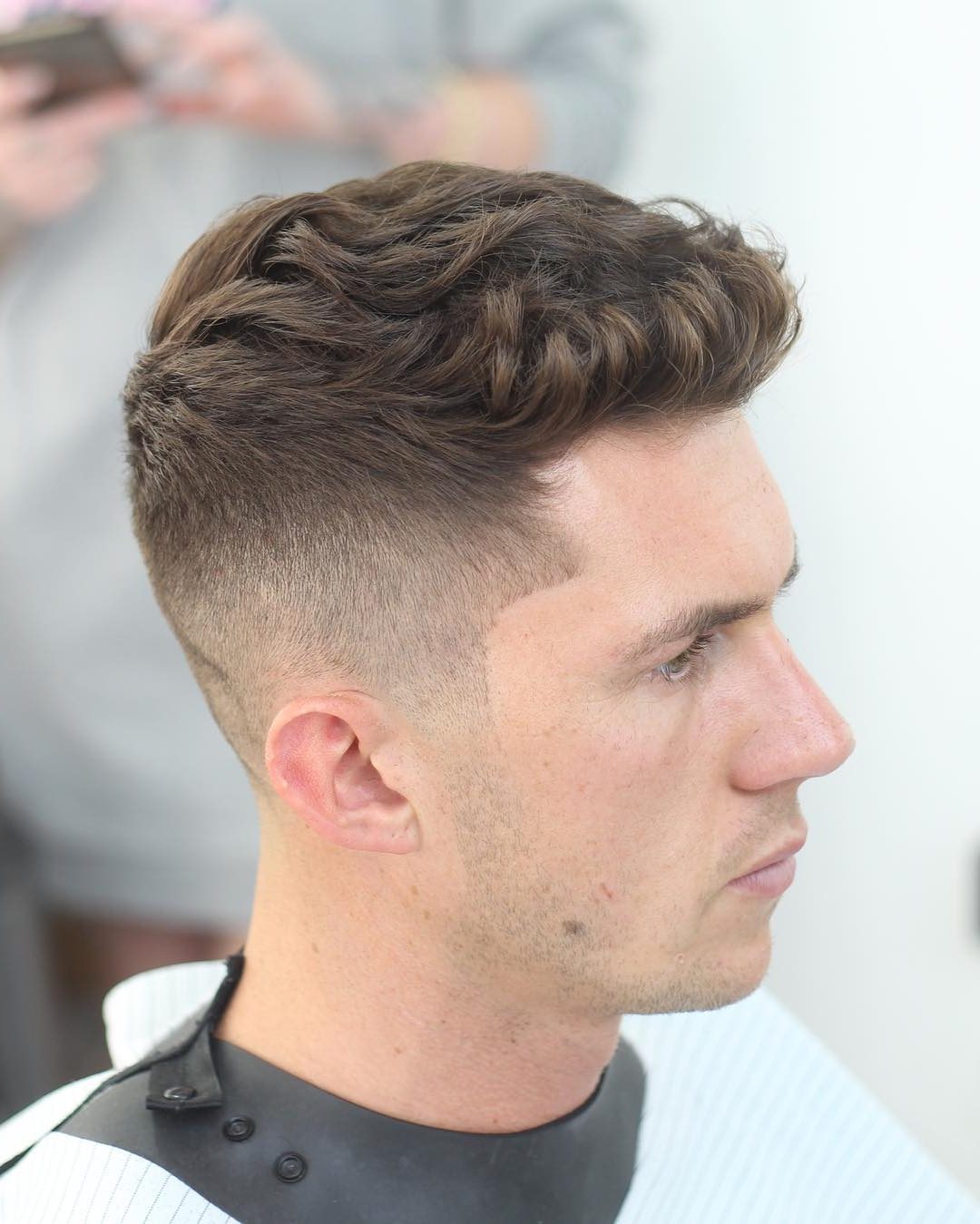 The best haircuts work with your natural texture. Instead of cutting wavy hair off, this cool cut uses length and angled cuts to bring out wave and volume while a high fade means no maintenance at the sides.
119. Short Spiky Pompadour Haircut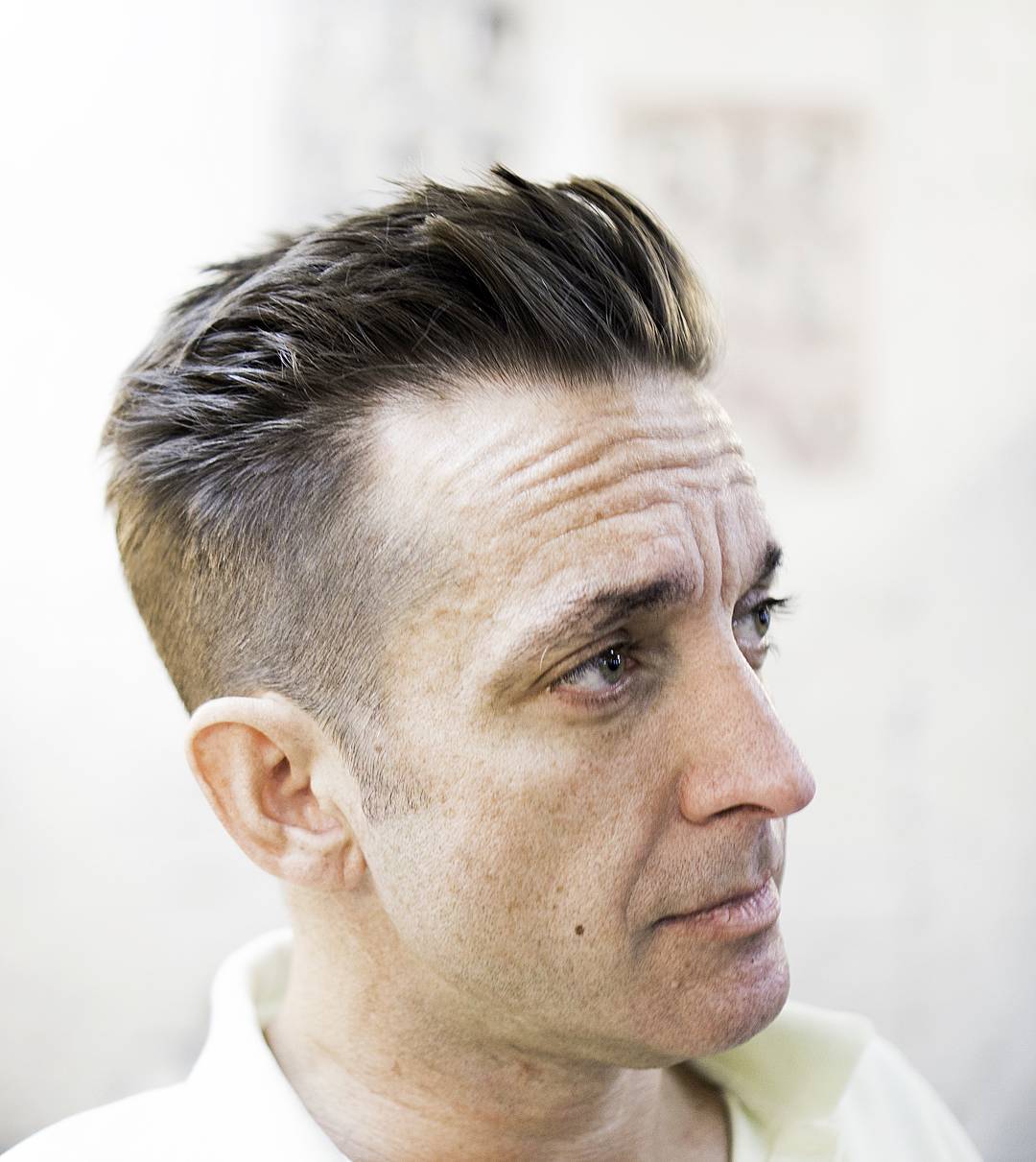 The pomp is another timeless hairstyle for men because it looks so good. Usually a medium length or longer haircut, this version styles short hair up and back to create that classic pompadour silhouette with a touch of modern texture.
120. Short Curls + Curved Part + Temple Fade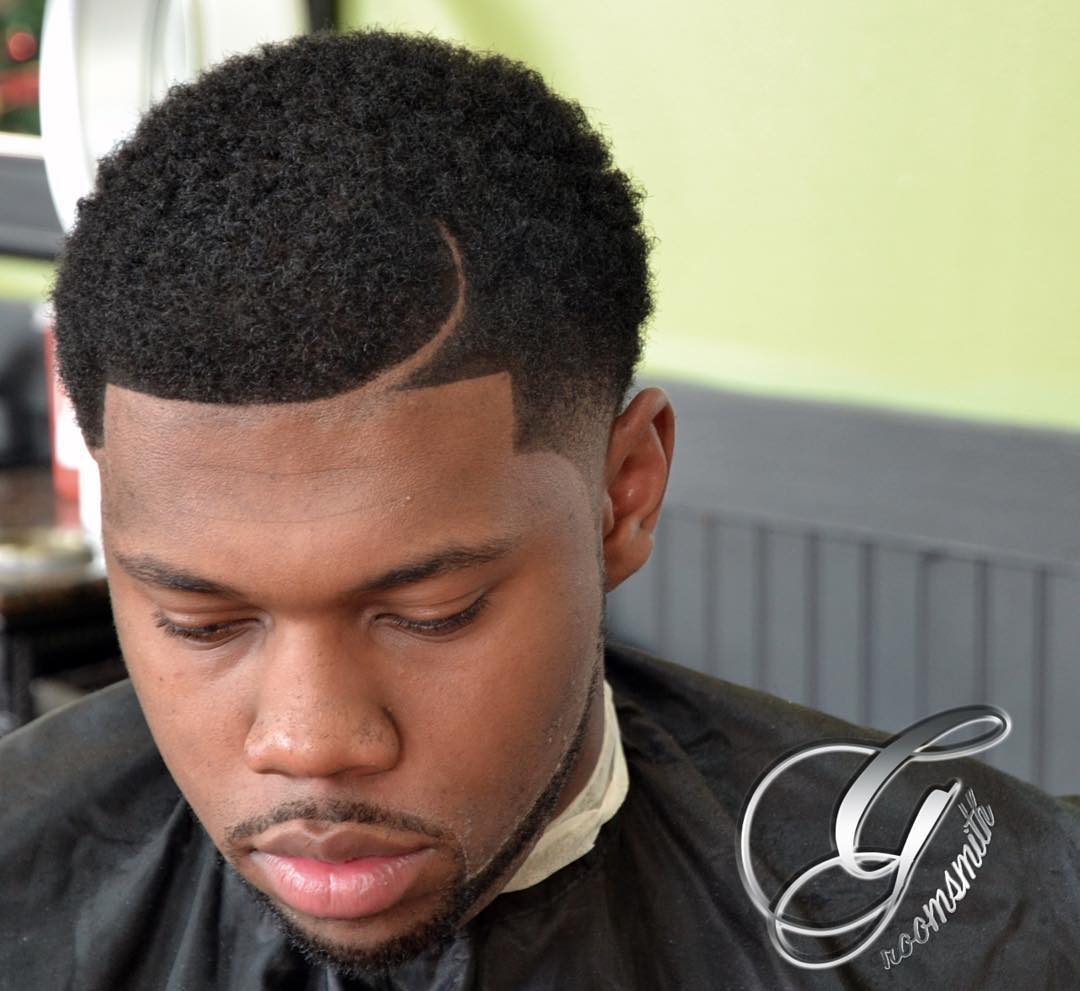 Some short haircuts can mix and match with different parts, fades and length on top. This cool cut features curls with enough length to reveal natural texture, a curved part and temple fade.
121. Short Haircut for Curly Hair + Drop Fade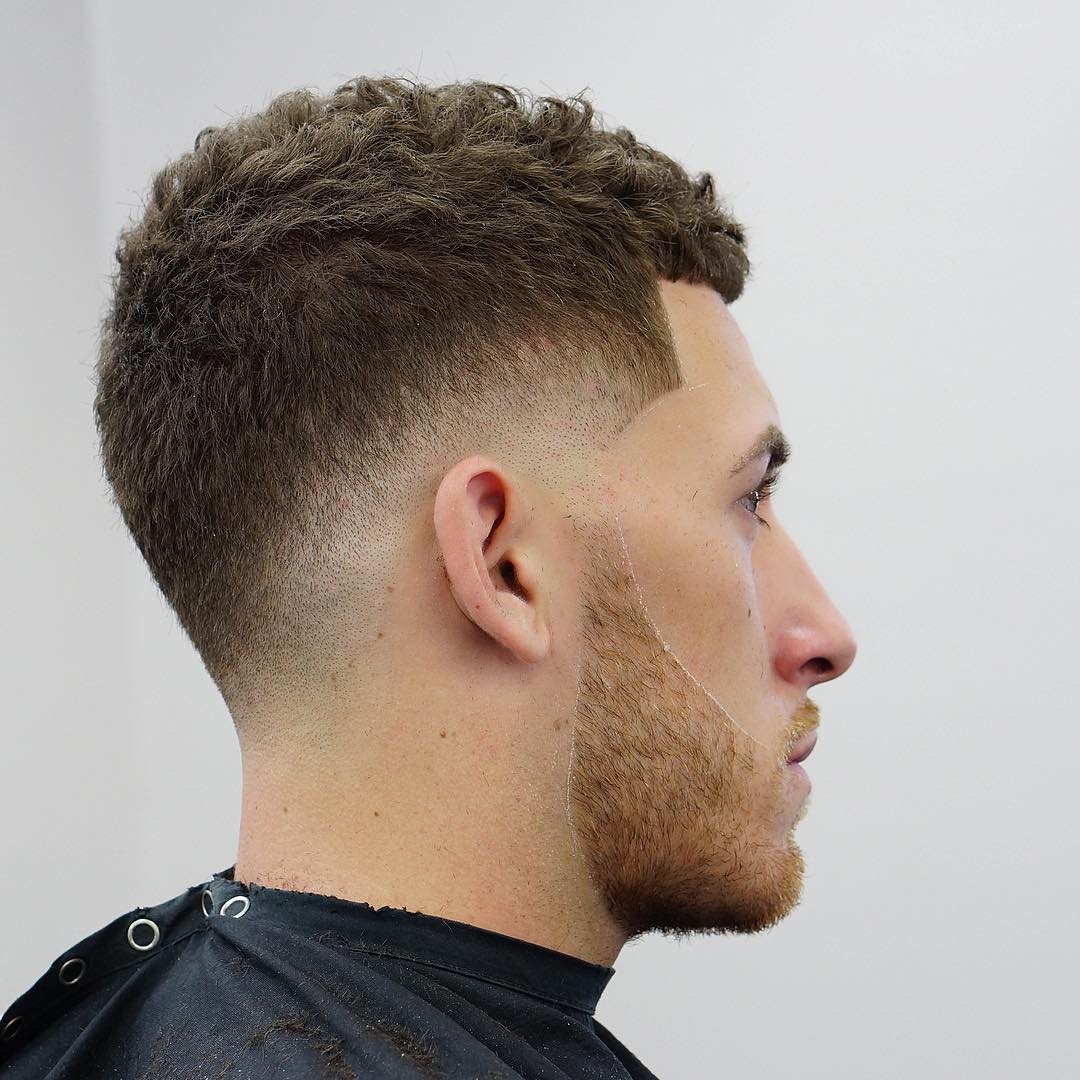 Here's another men's haircut that leaves some visible texture at the top and cuts the sides and back short. Tight curls are visible while a taper fade down the skin at the neckline keeps the rest of hair manageable.
122. Buzz Line Up + Burst Fade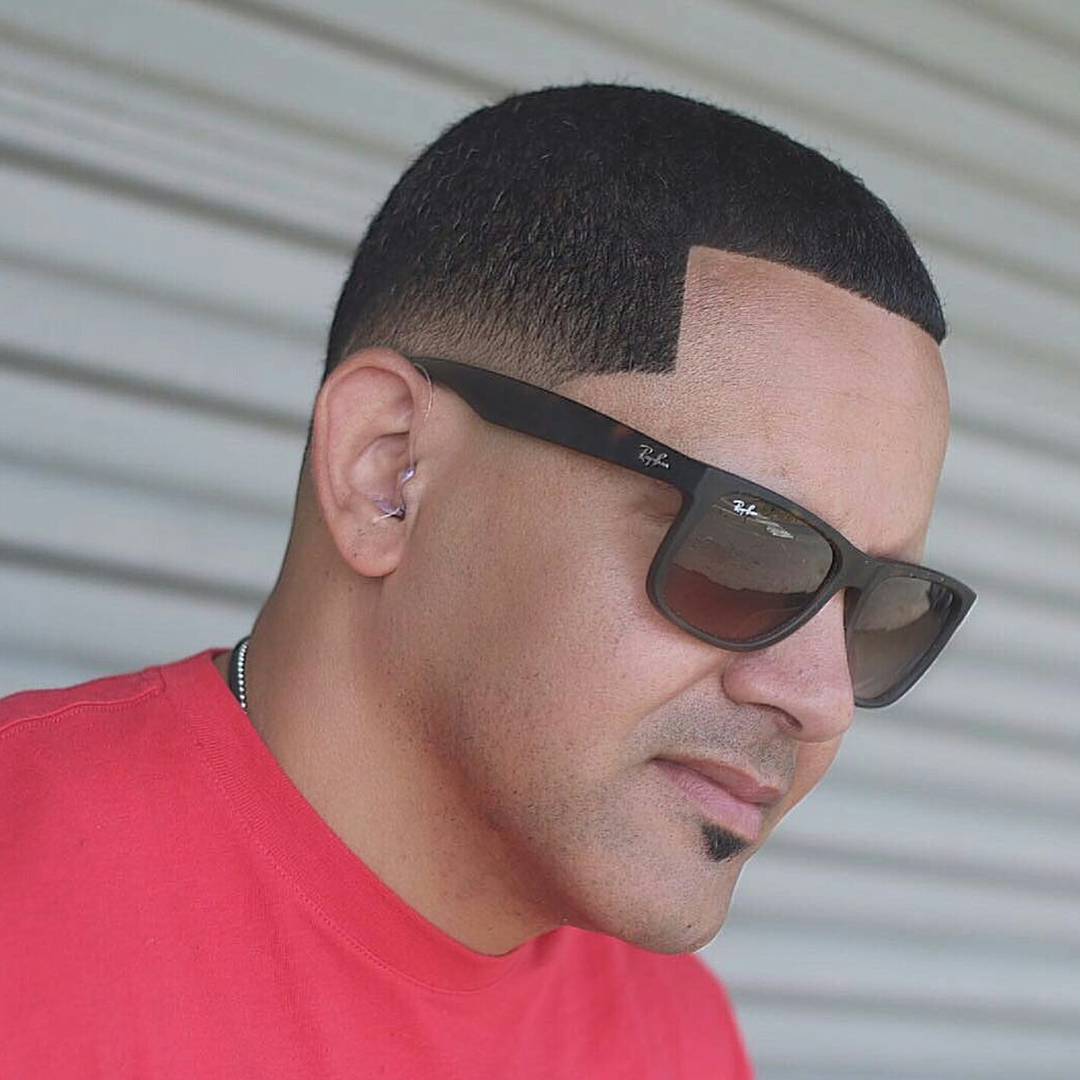 You can do your own buzz cut with clippers at home but it won't look this good. This cool style contrasts the sharp lines of an edge up with a blurry burst fade.
123. High and Tight + High Fade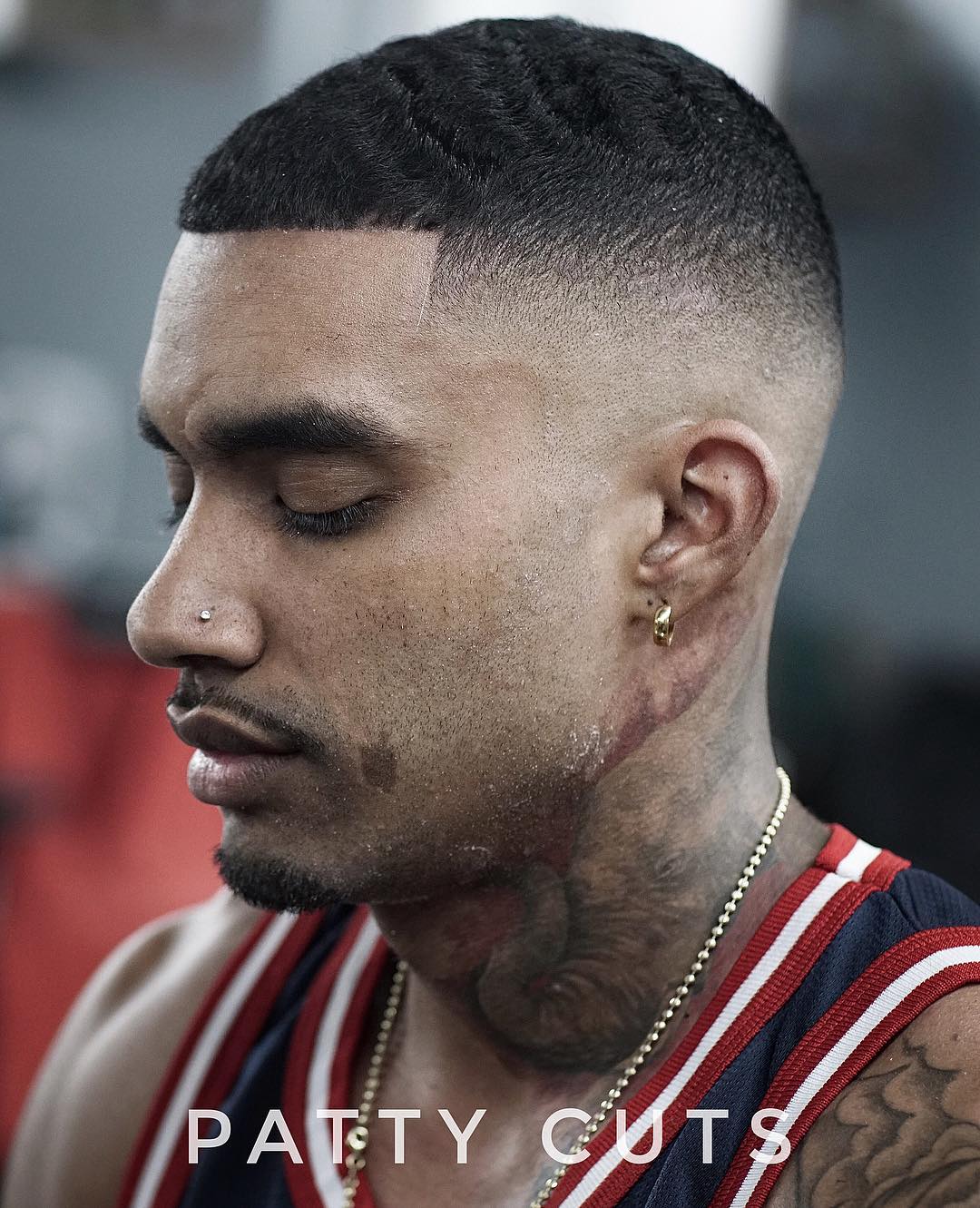 The high and tight is one of the most popular short hairstyles, especially for black hair. As the name says, longer hair is up high while the edges are cut tight against the skin. This version features a high skin fade.
124. Buzz + Line Up + Drop Fade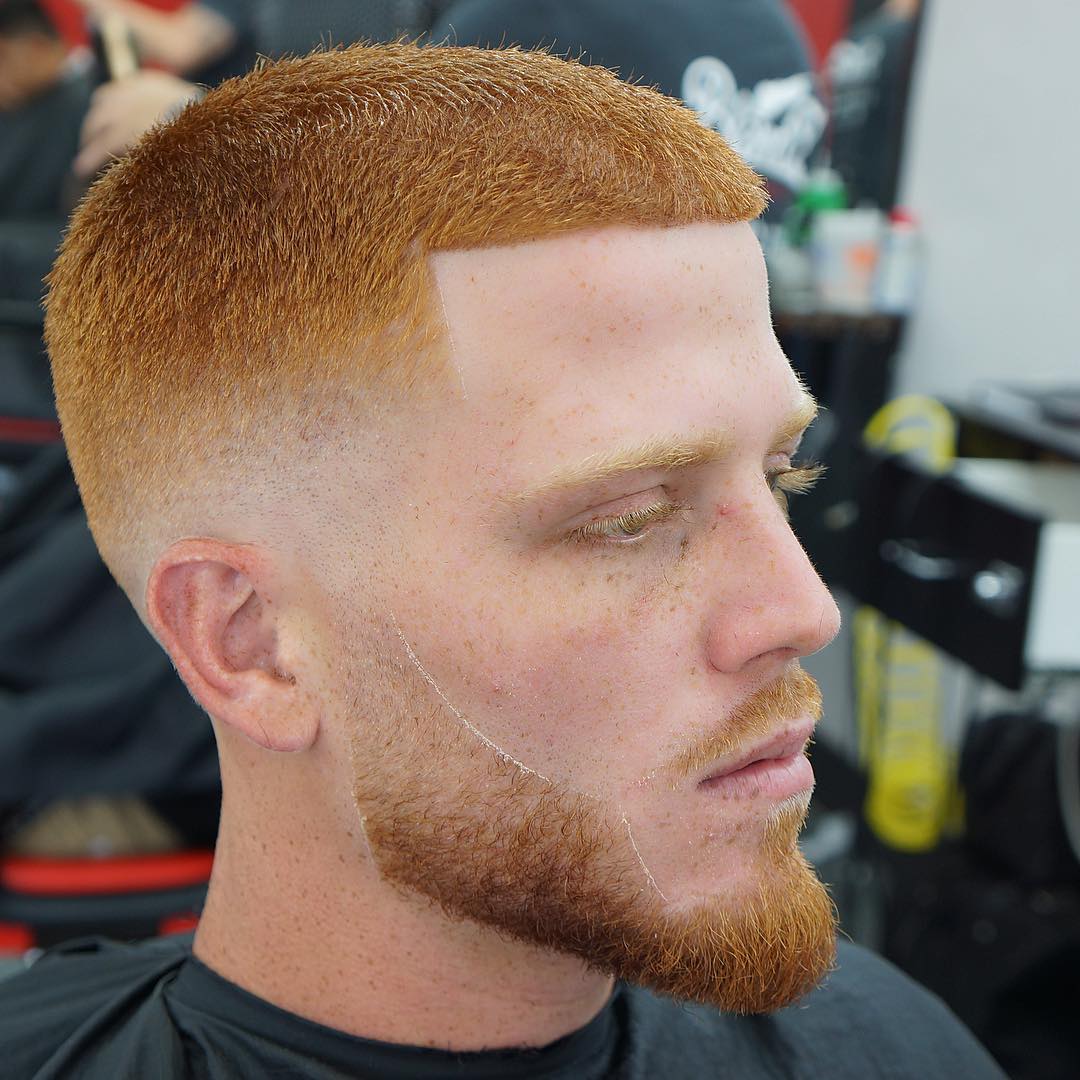 The buzz fade isn't just for guys with dark hair. The contrast between thick hair on top and a fade down to the skin is as striking with red hair as it is with black.
125. Ultra Short Crop Haircut + High Fade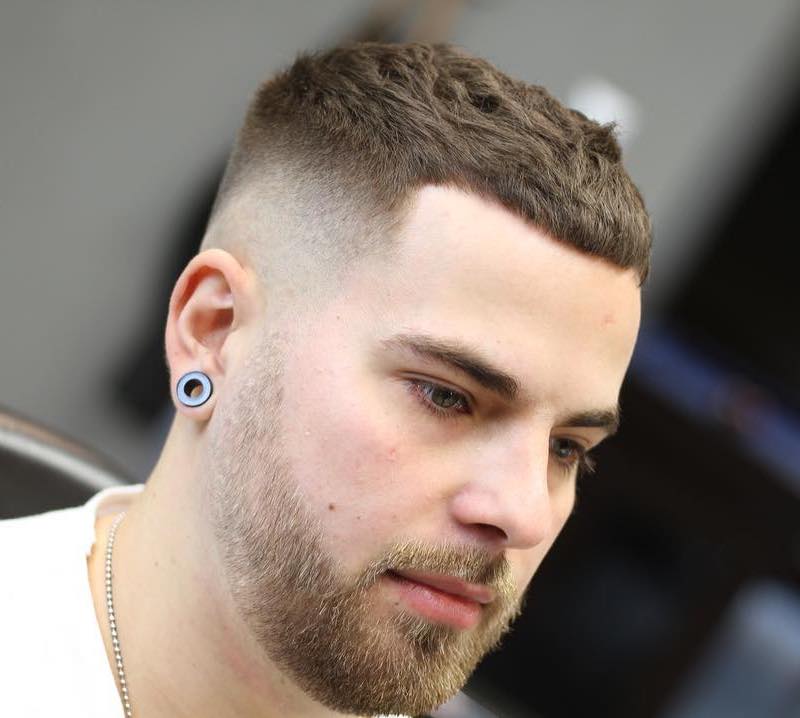 One of my favourite crop haircuts I have seen this year. I like how it has been trimmed short and close to the hairline. Looks great with the disconnected beard.
126. Classic Short Haircut For Men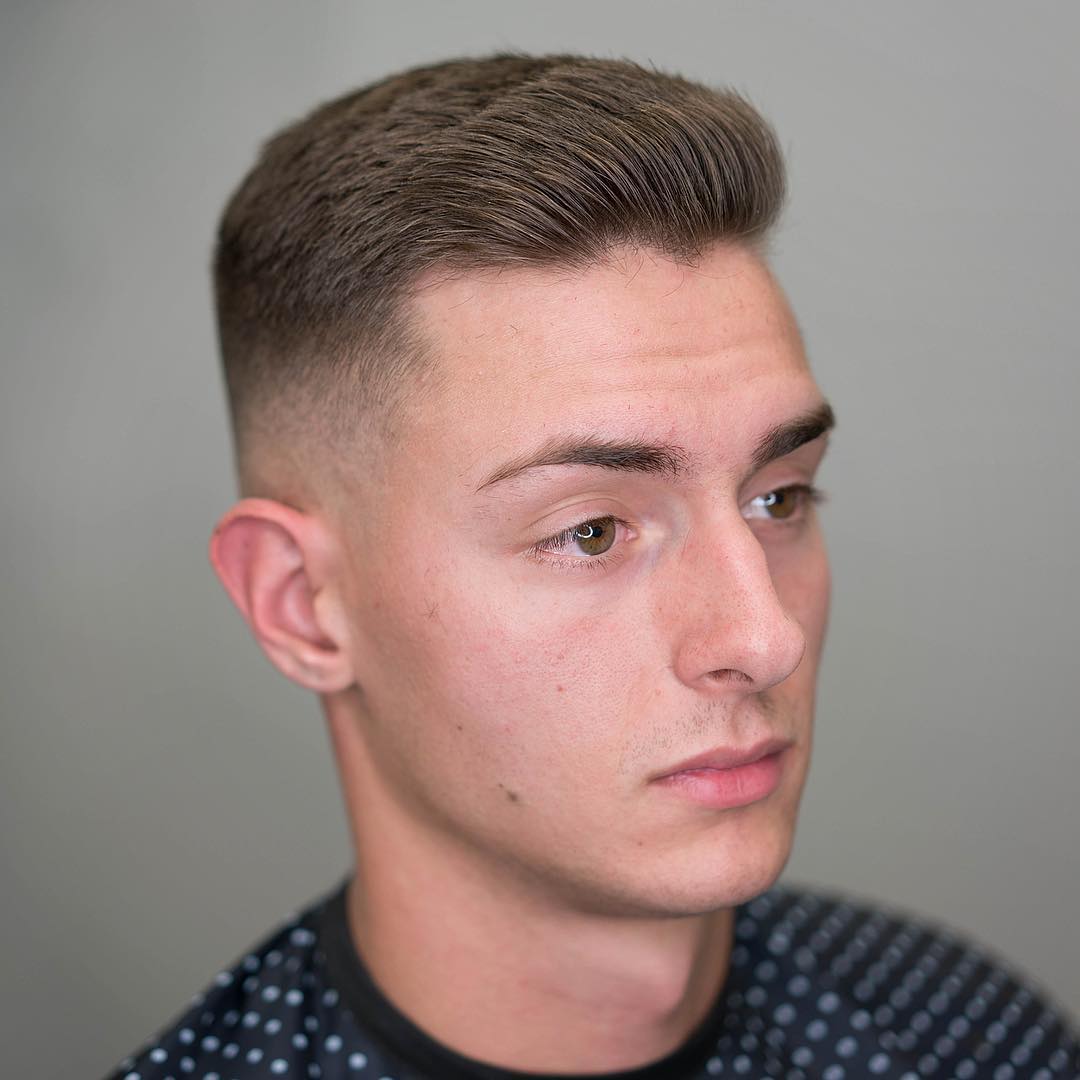 Your timeless classic short men's haircut styled back. Simple yet spectacular. Super clean cut. Nice job Russ.
127. Choppy / Spiky Textured Crop Haircut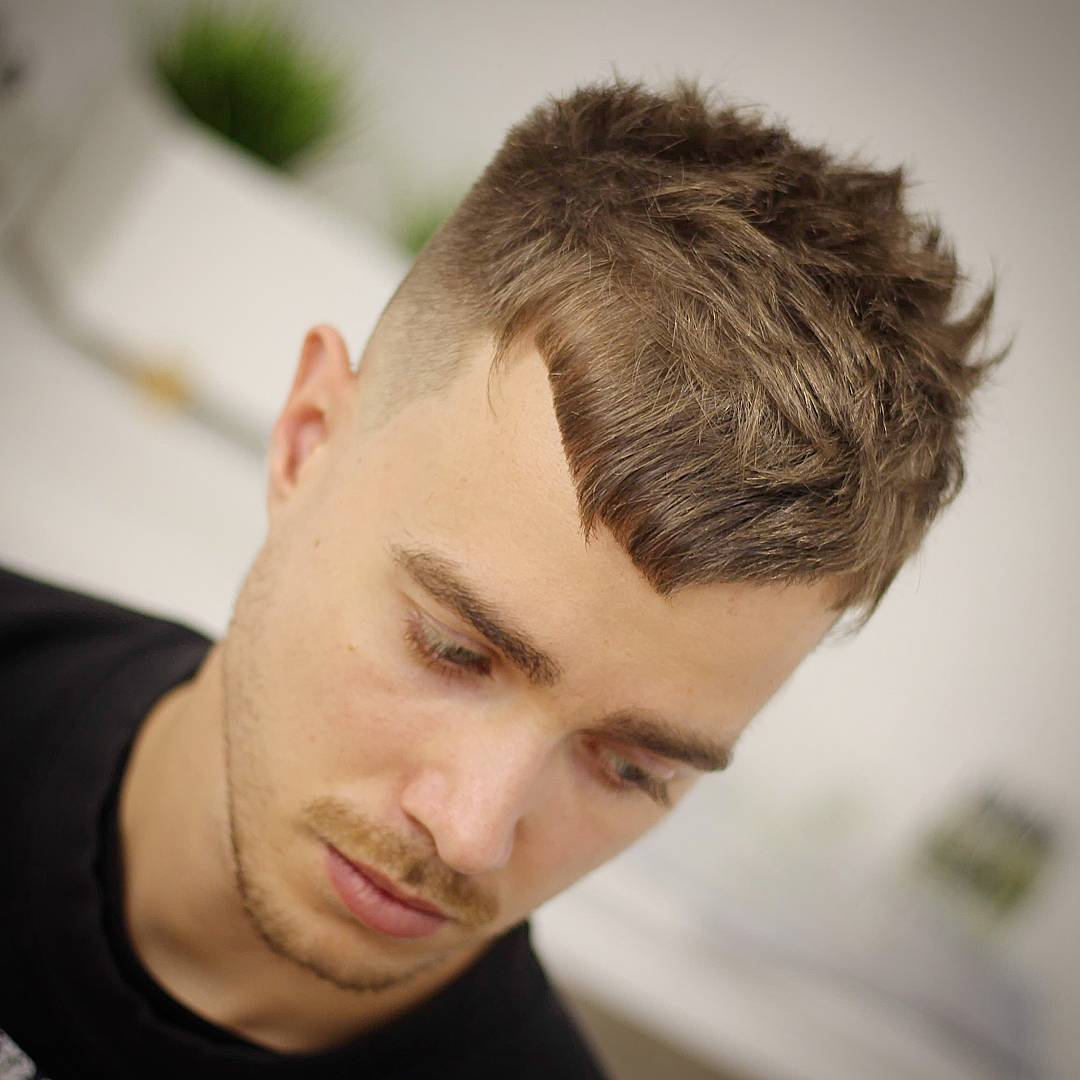 By Agus De Asis
Cool asymmetrical cropped fringe. I like it. Soft textures on top blended perfectly into a the high fade.
128. Short Textured Haircut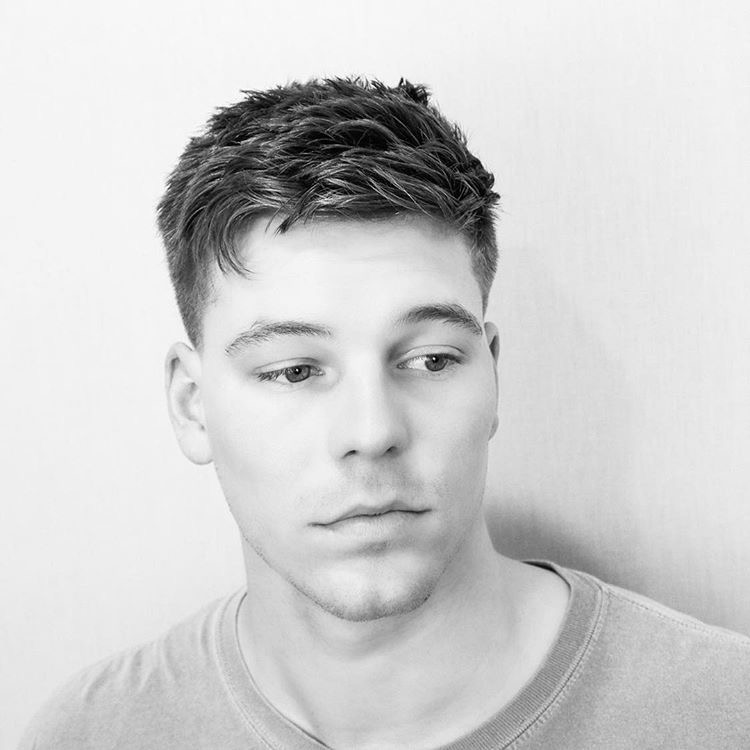 A great looking textured short haircut for guys. Cut to perfection.
129. High Fade + Crop Haircut For Curly or Wavy Hair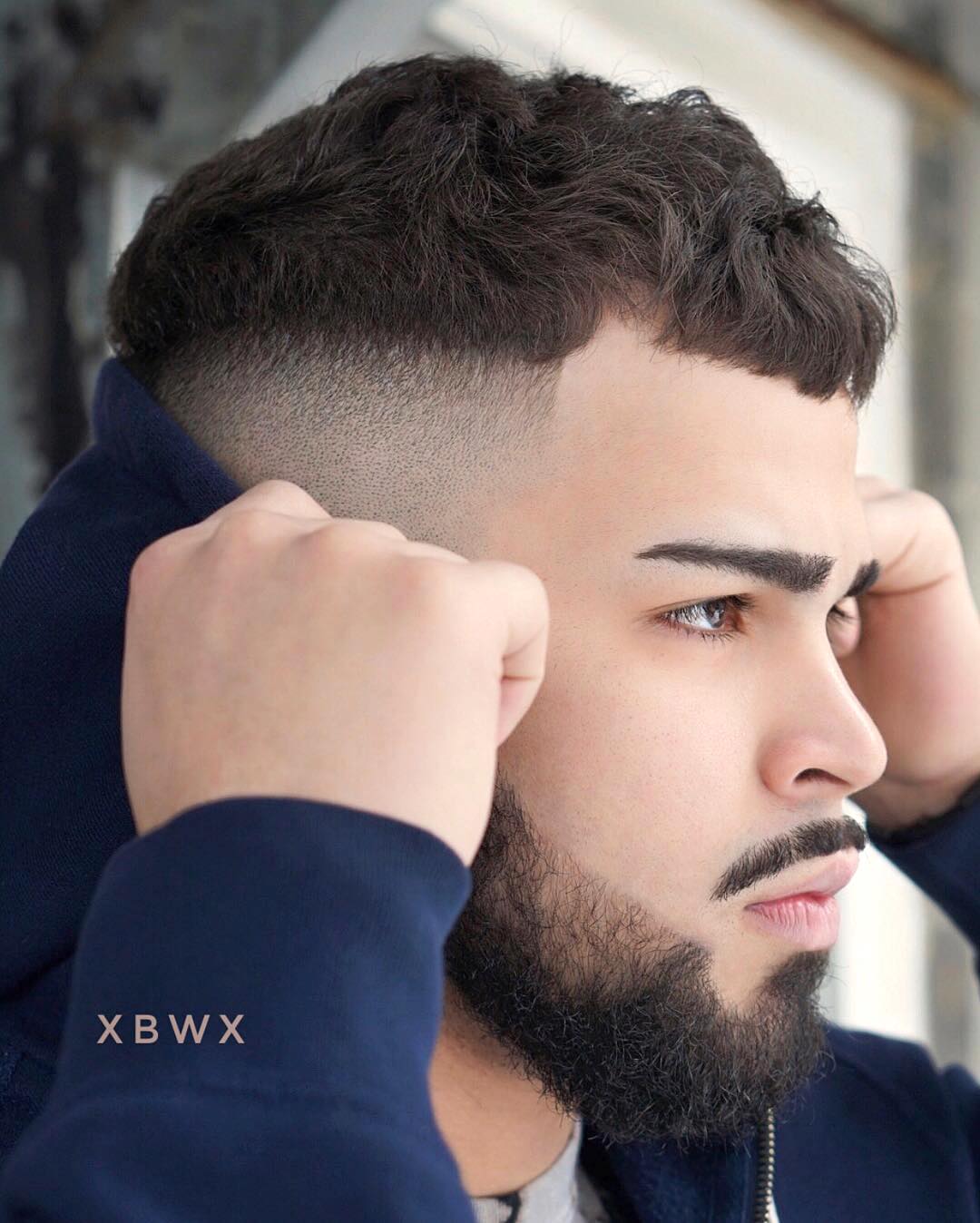 By Wes Staucet
Just because you have curly or wavy hair doesn't mean you can't get a great haircut. Any skilled barber or hairdresser can tame what you might think is wild and out of control. Here we have curly hair cut short into a crop.
130. Short Spiky Haircut + Temple Fade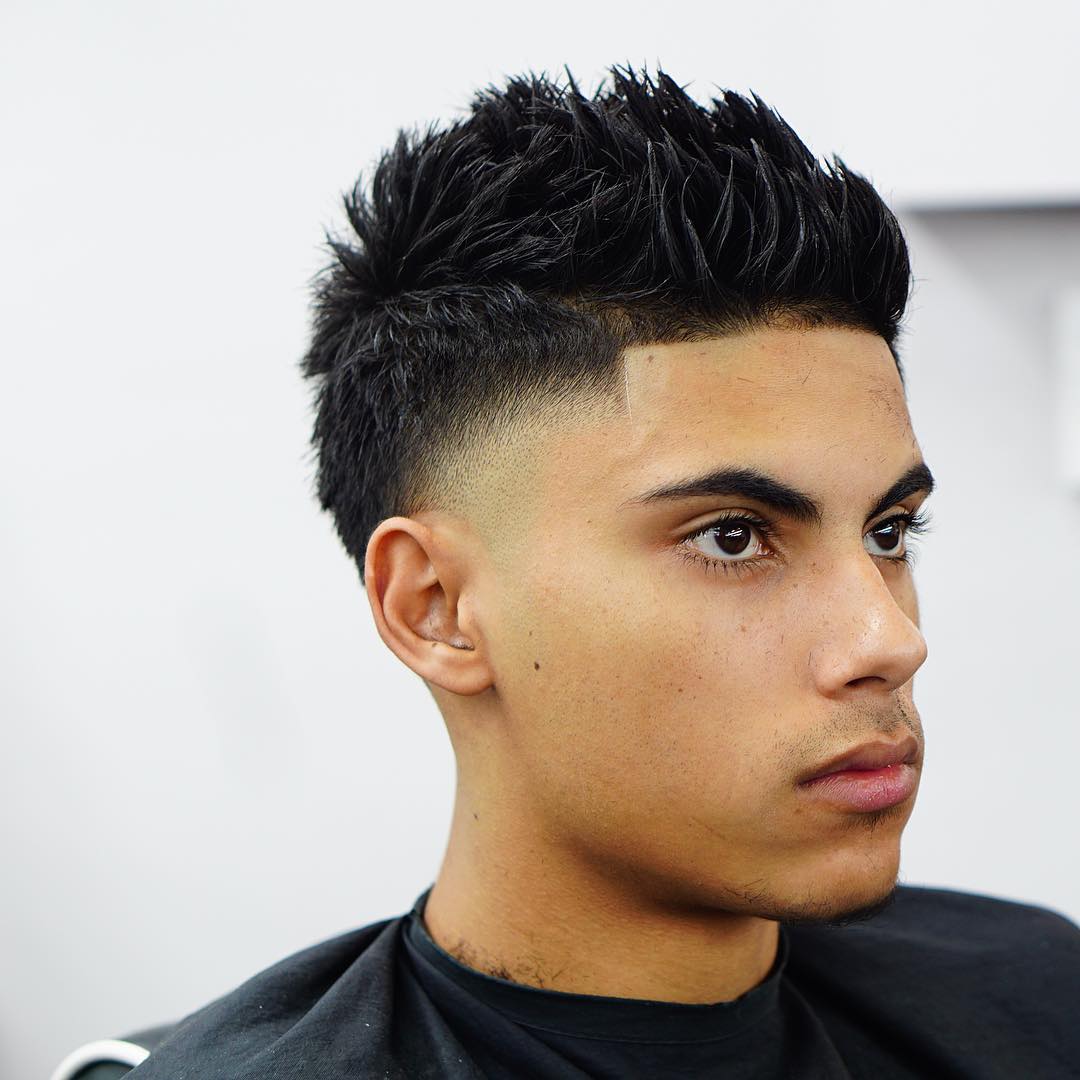 A slick looking choppy spiky short haircut with a super clean temple fade and line up in the front.
131. Ultra Short Classic Crop Haircut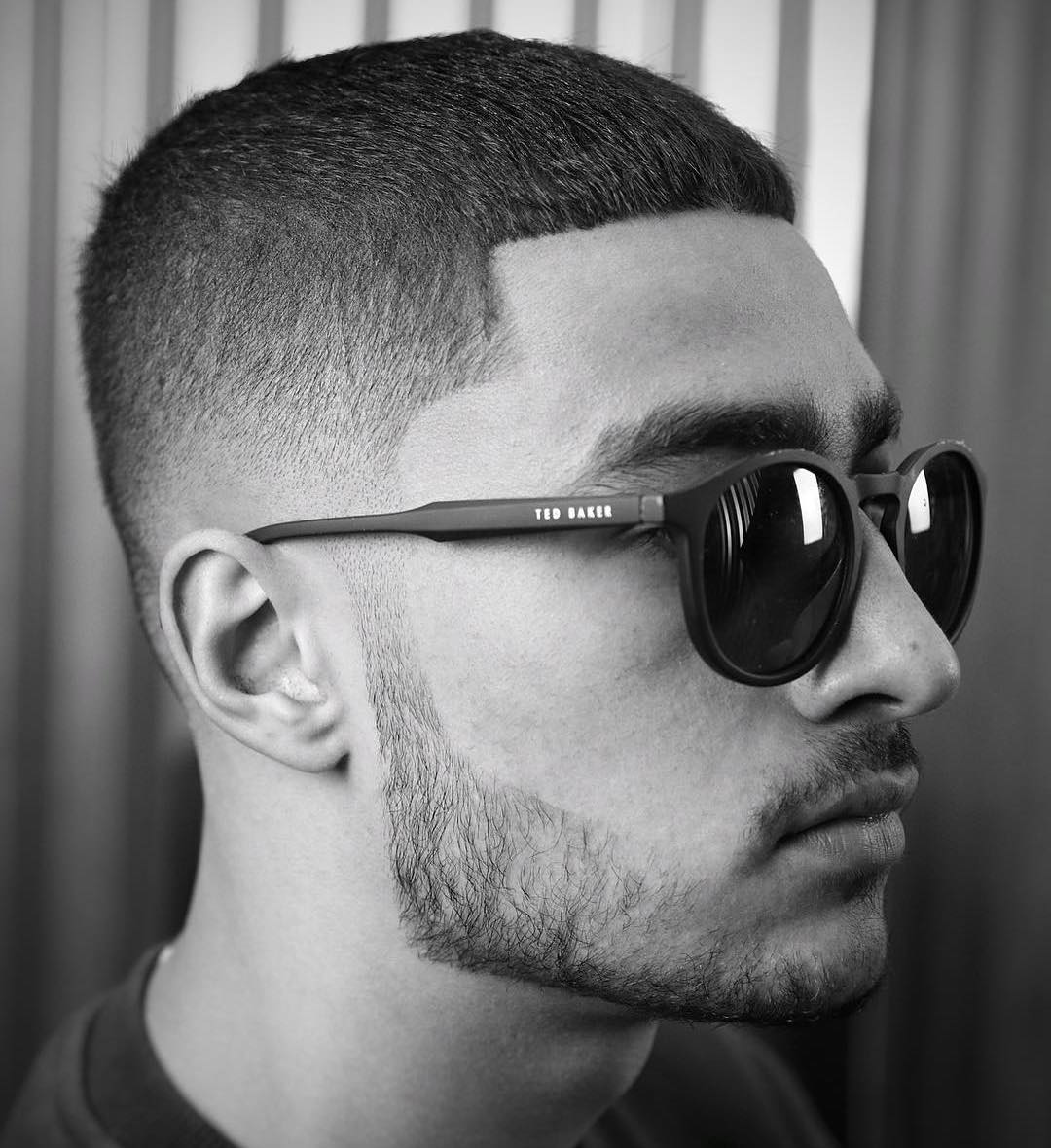 By rafaxhair
Super clean work. A picture perfect classic men's short crop haircut.
132. Short Textured Undercut + Slash Designs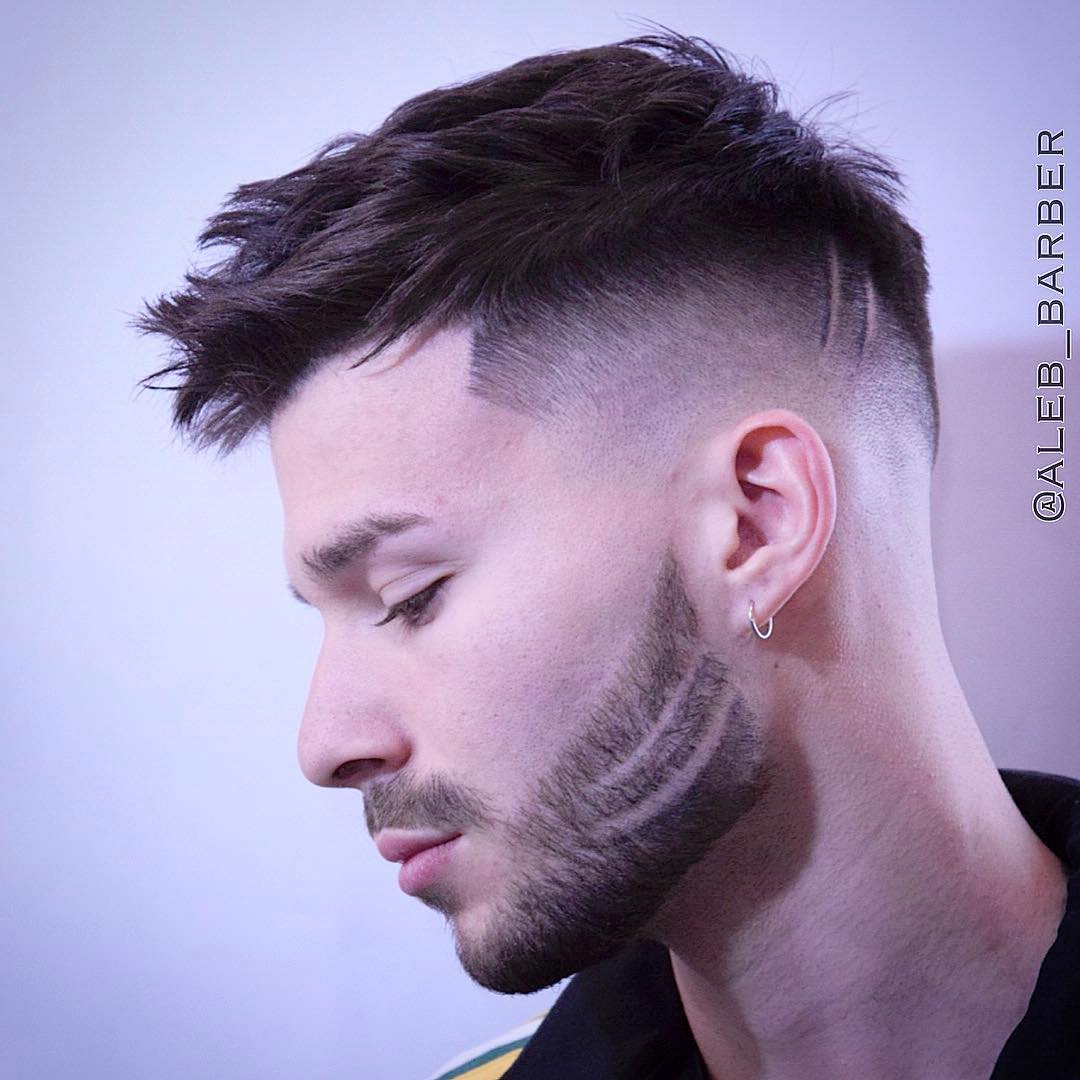 By aleb_barber
Super cool claw slashes in this high fade short undercut. This is a great easy to manage short haircut for guys.
133. Bald Fade + Natural Curls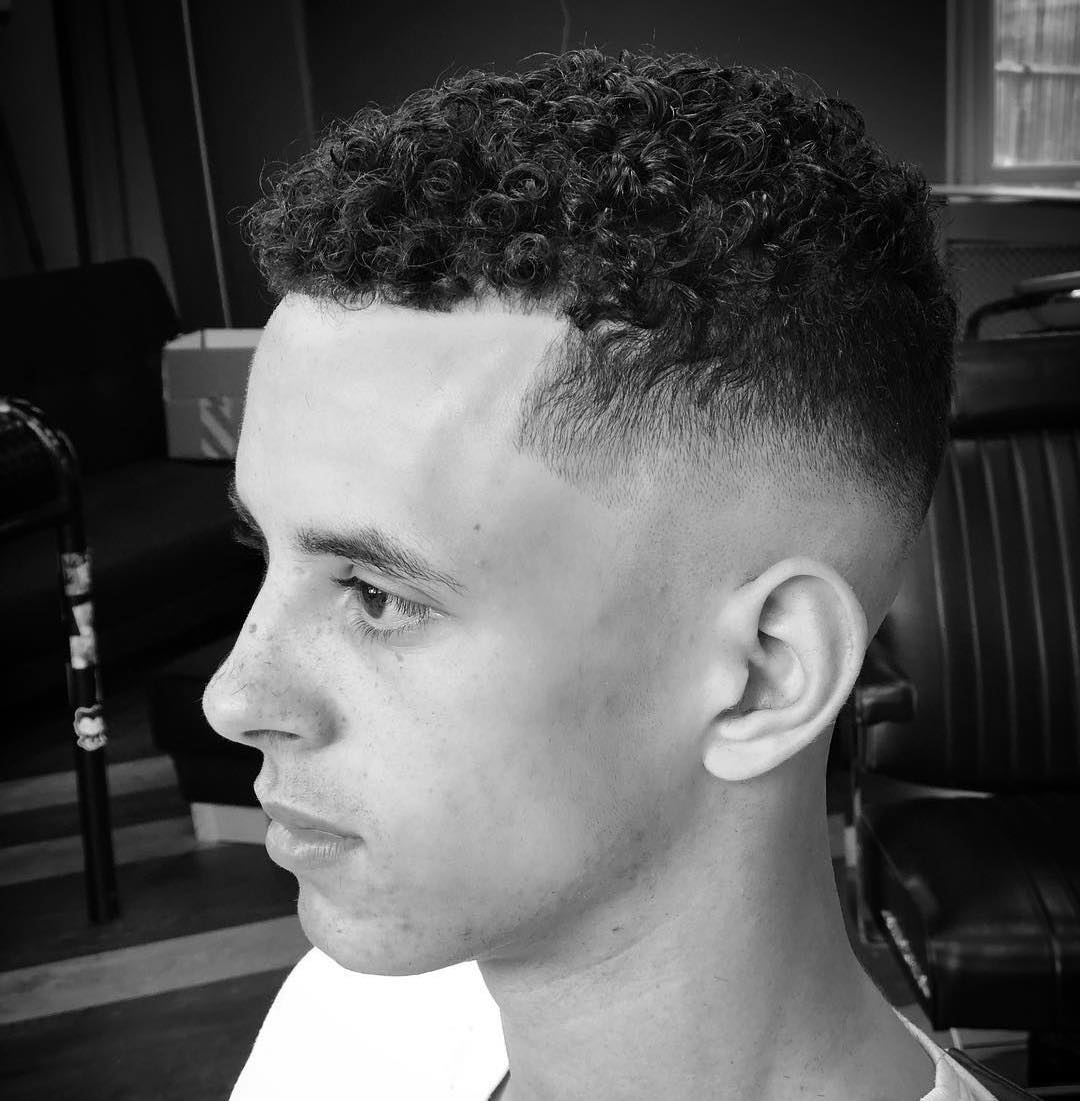 Super clean transition from a low bald drop fade into the natural curls on top.
134. Short Textured Quiff Haircut For Men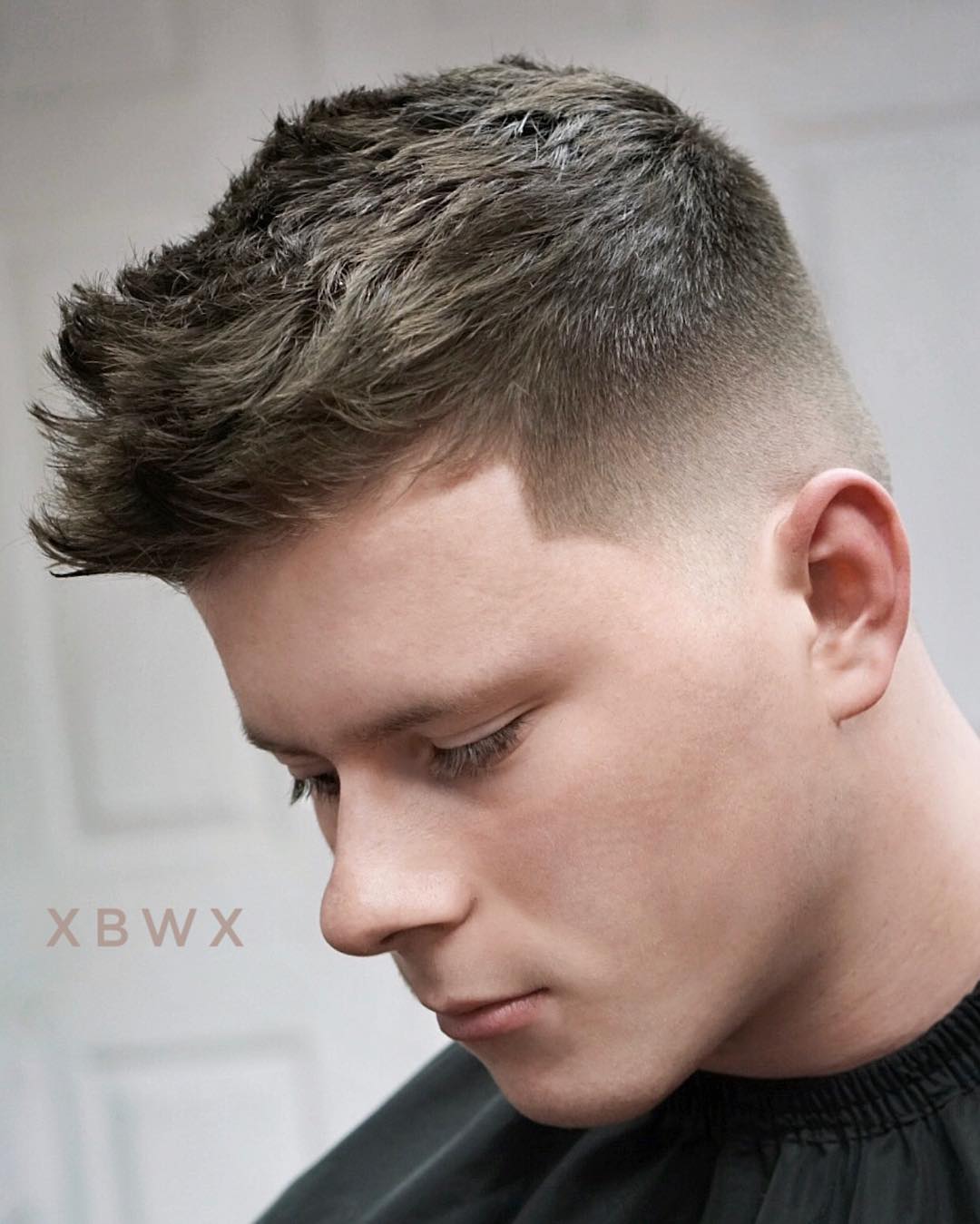 By Wes Staucet
Wes is putting out some of the cleanest fades around the globe. A beautifully sculpted short quiff haircut.
135. Short Crop Haircut For Wavy Hair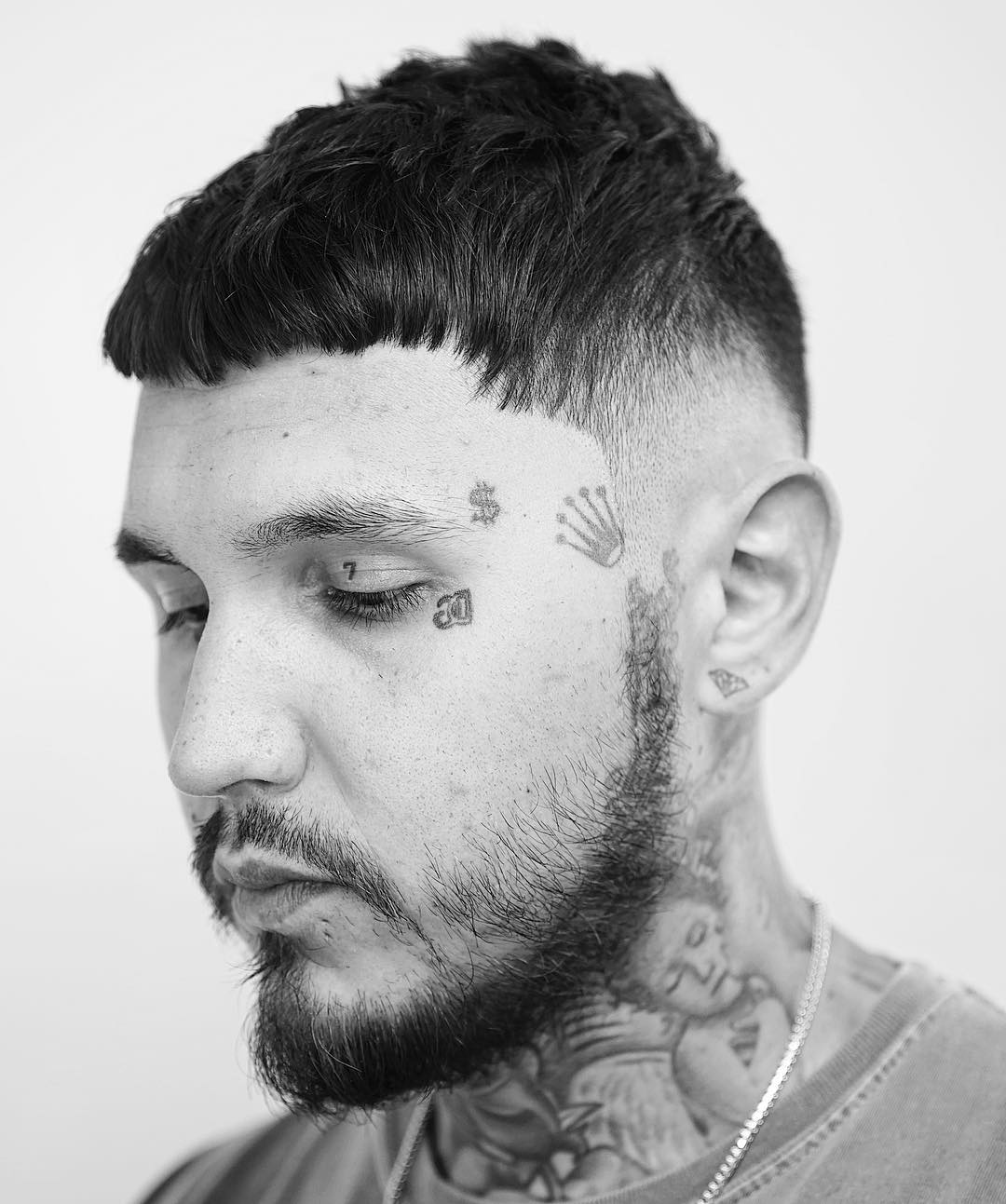 By juliuscaesar
Another great example of a shorter crop haircut. Totally a fan of the fringe being trimmed close to the hairline. The crops we saw emerging a couple years ago were a bit too much like your classic little boy haircuts. These days they are getting messy and edgy.
136. Spiky Textured Quiff + Drop Fade + Disconnected Beard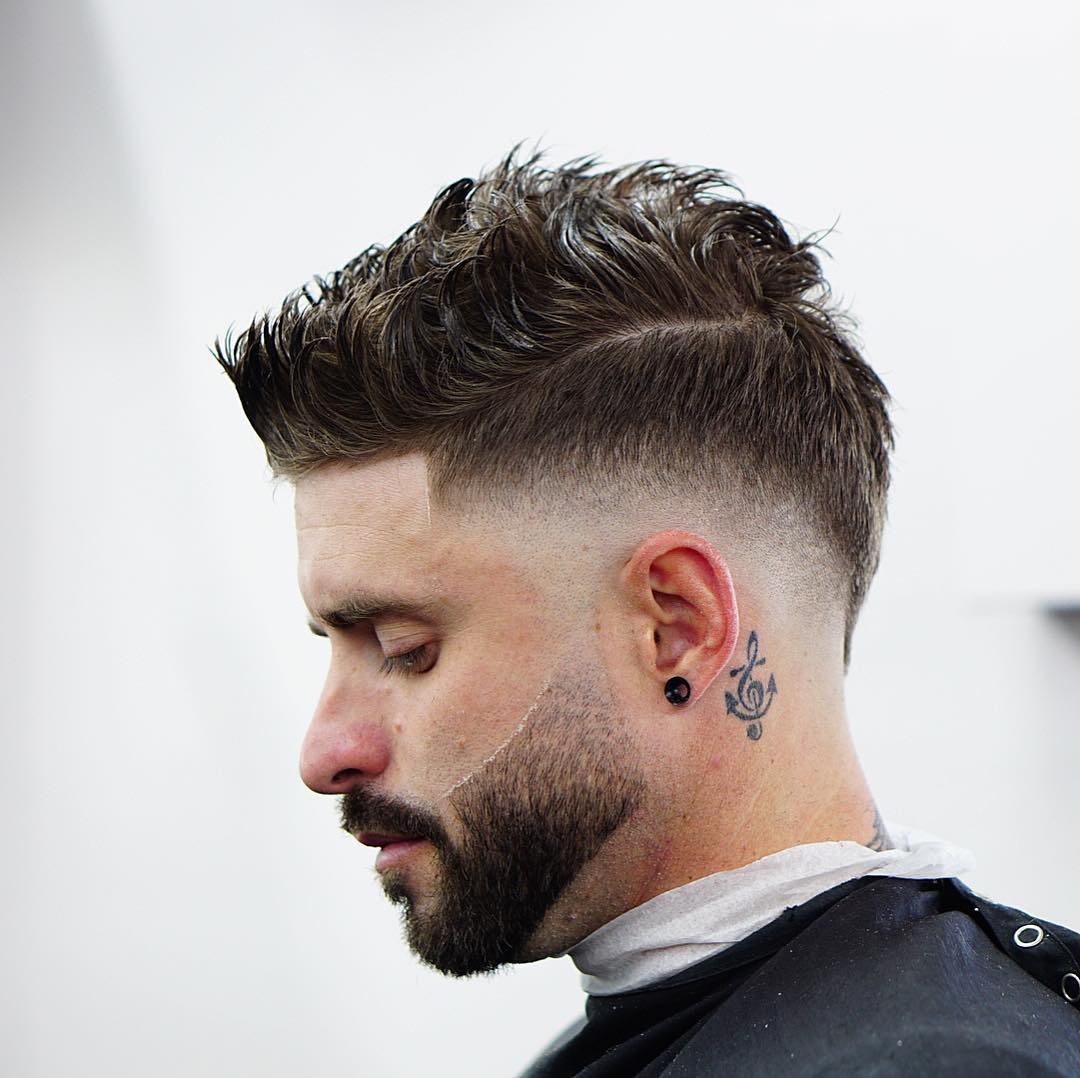 Another beauty by criztofferson. This cut can be styled as in the photo or as a side part comb over look. A super versatile short haircut.
137. Short Haircut For Thick Hair + Mid Fade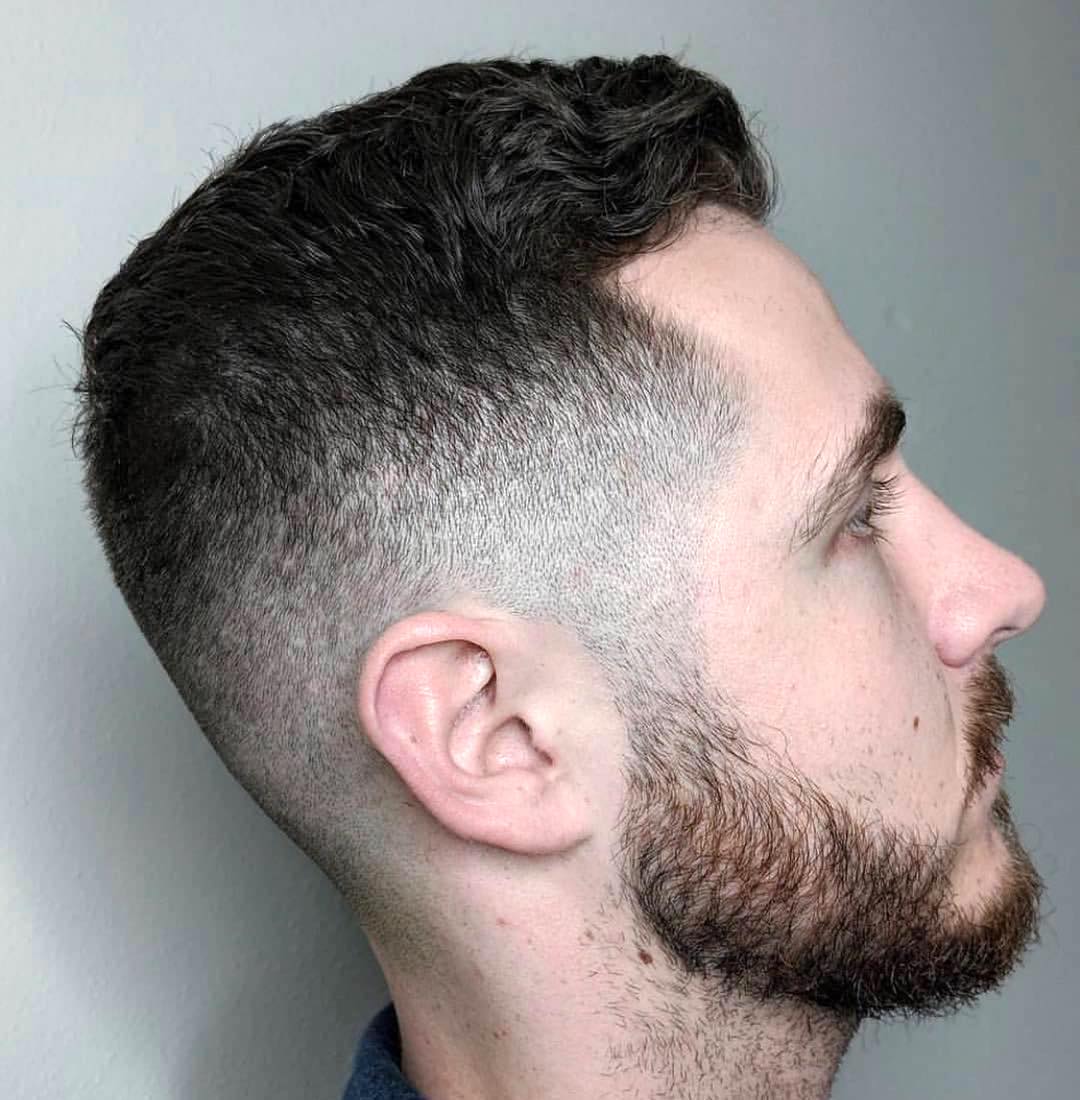 A classic men's short haircut that is perfect for thick, curly or wavy hair. Well done Y-Chrome.
138. Natural Looking Short Haircut For Thick Hair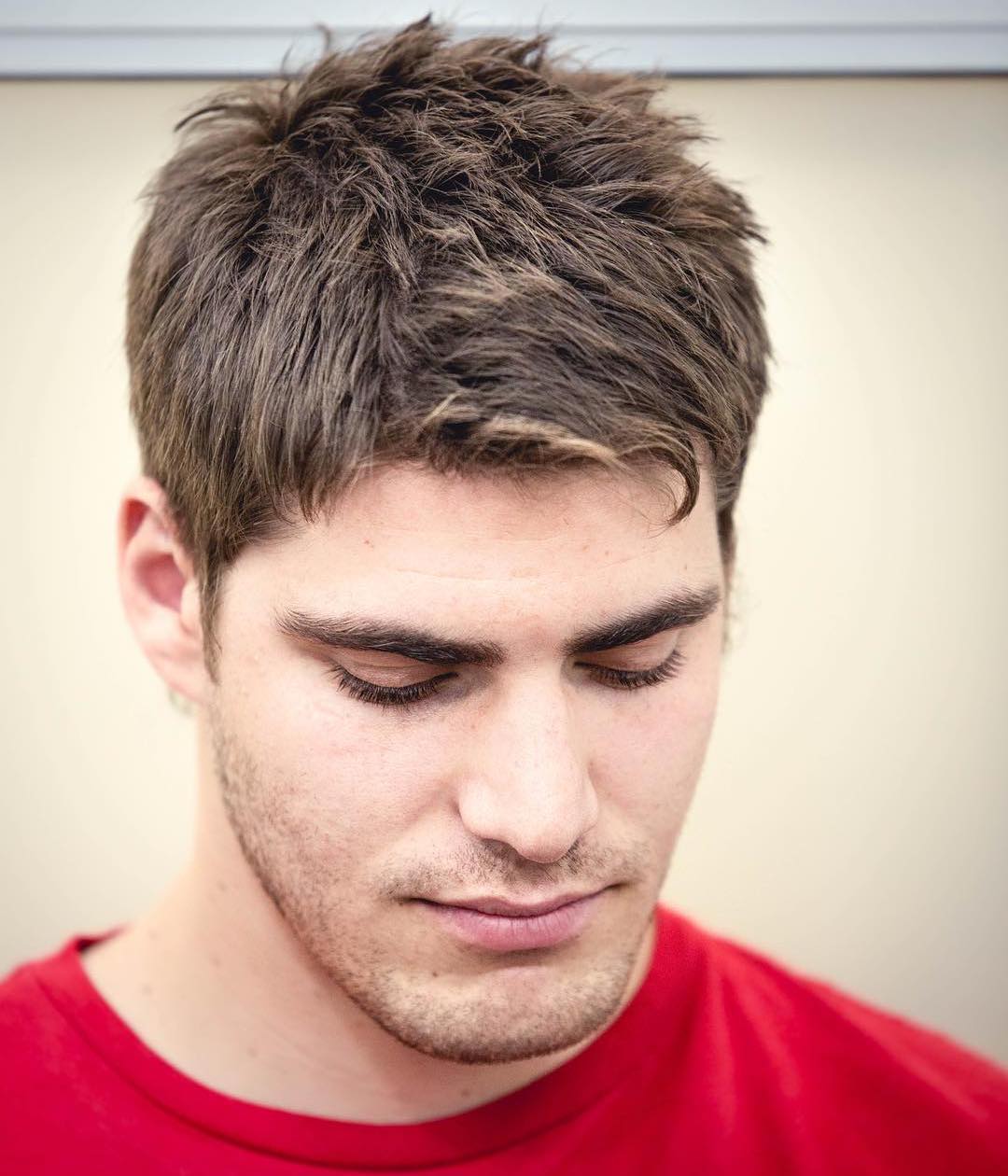 A very neat looking textured haircut for a guy that has thicker hair. No fade on the sides here. All scissor work.
139. Textured Crop + High Skin Fade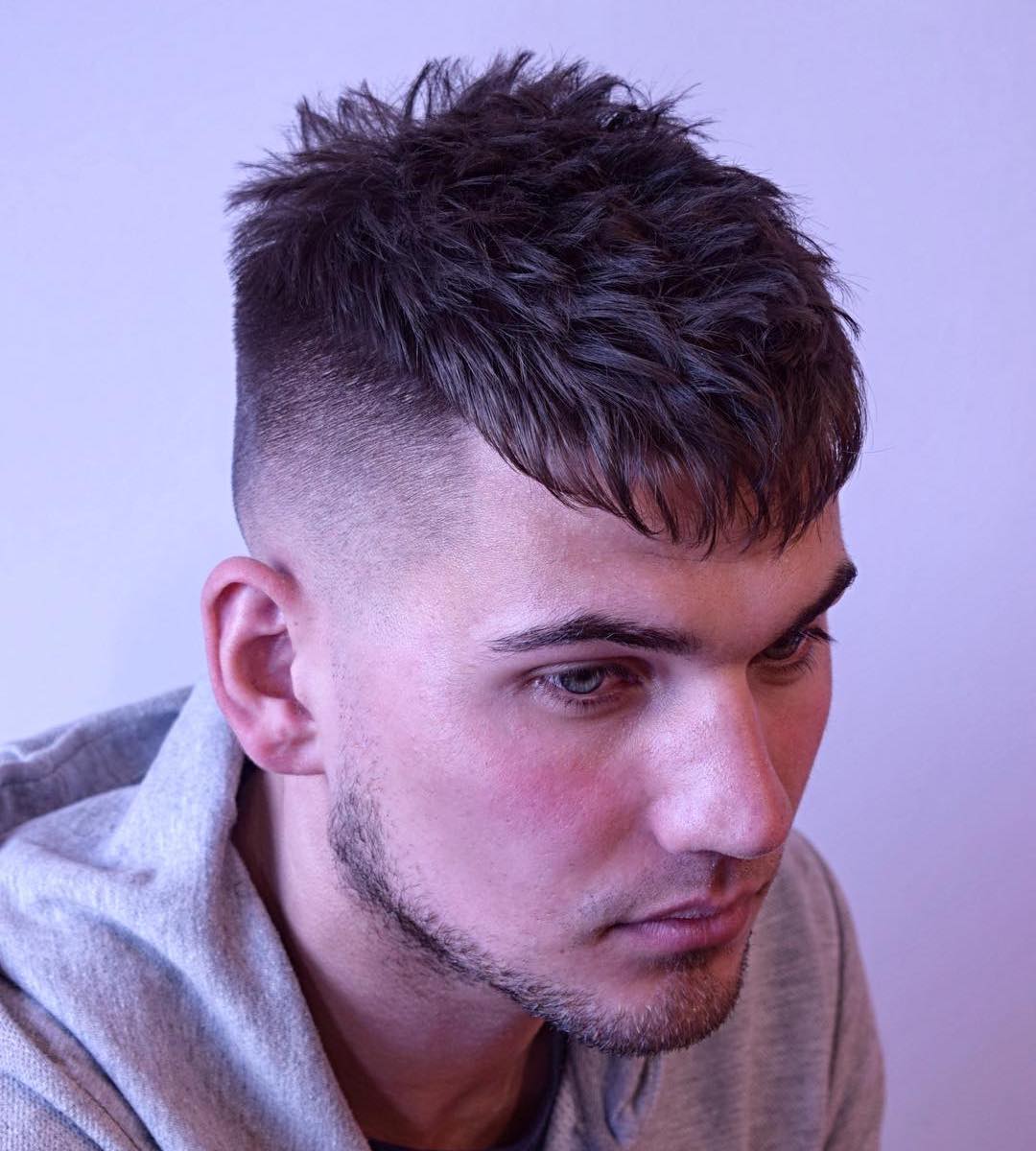 High fade contrast with short very textured hair on top. Can be worn neatly styled like this or on the messy side.
140. Short Textured Quiff Haircut + Low Bald Fade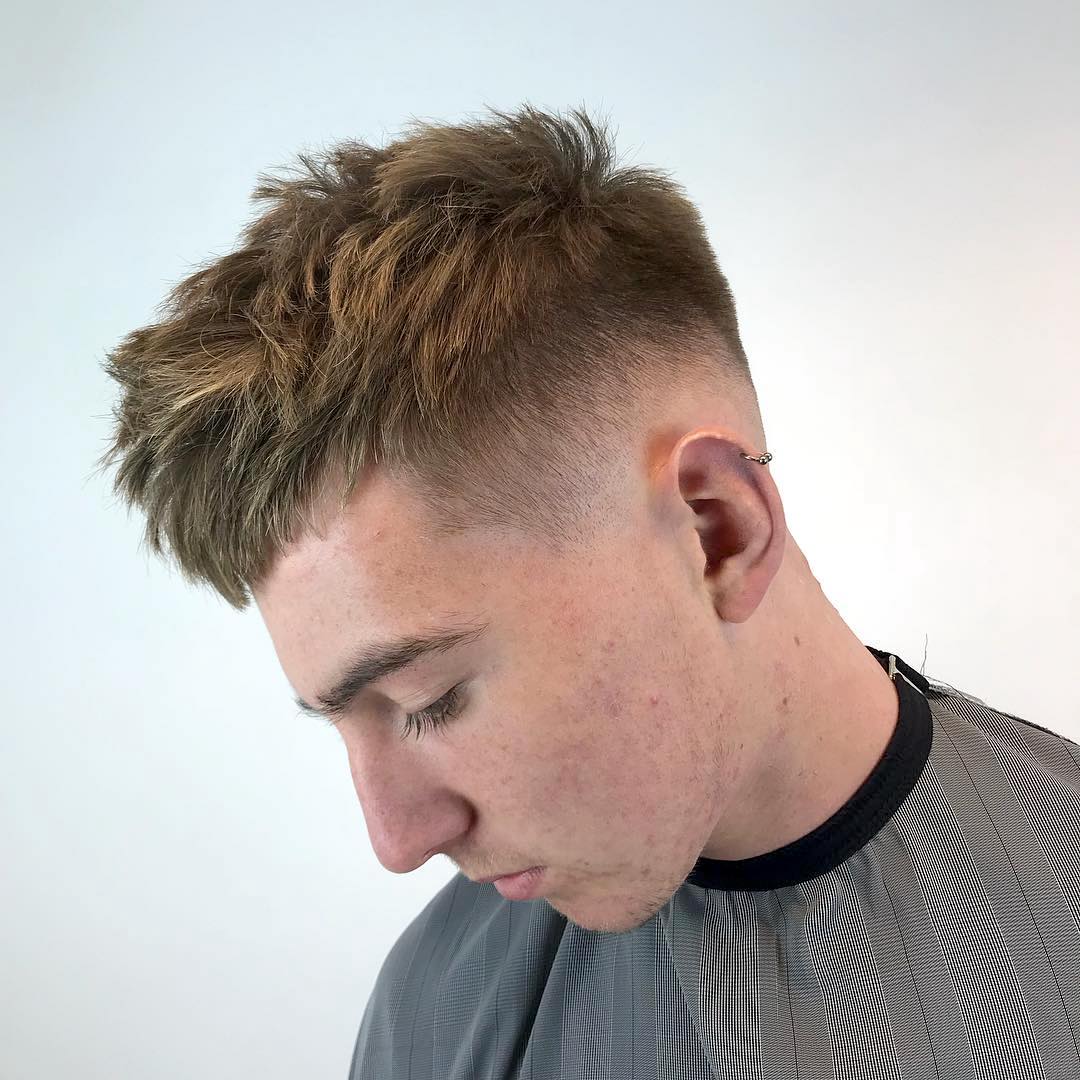 By hudson.hair
Half quiff half crop. Very nice. Lots of styling options with this haircut. Bald fade puts the focus on top. A great haircut for fine hair.
141. Quiff Haircut For Fine Hair + High Fade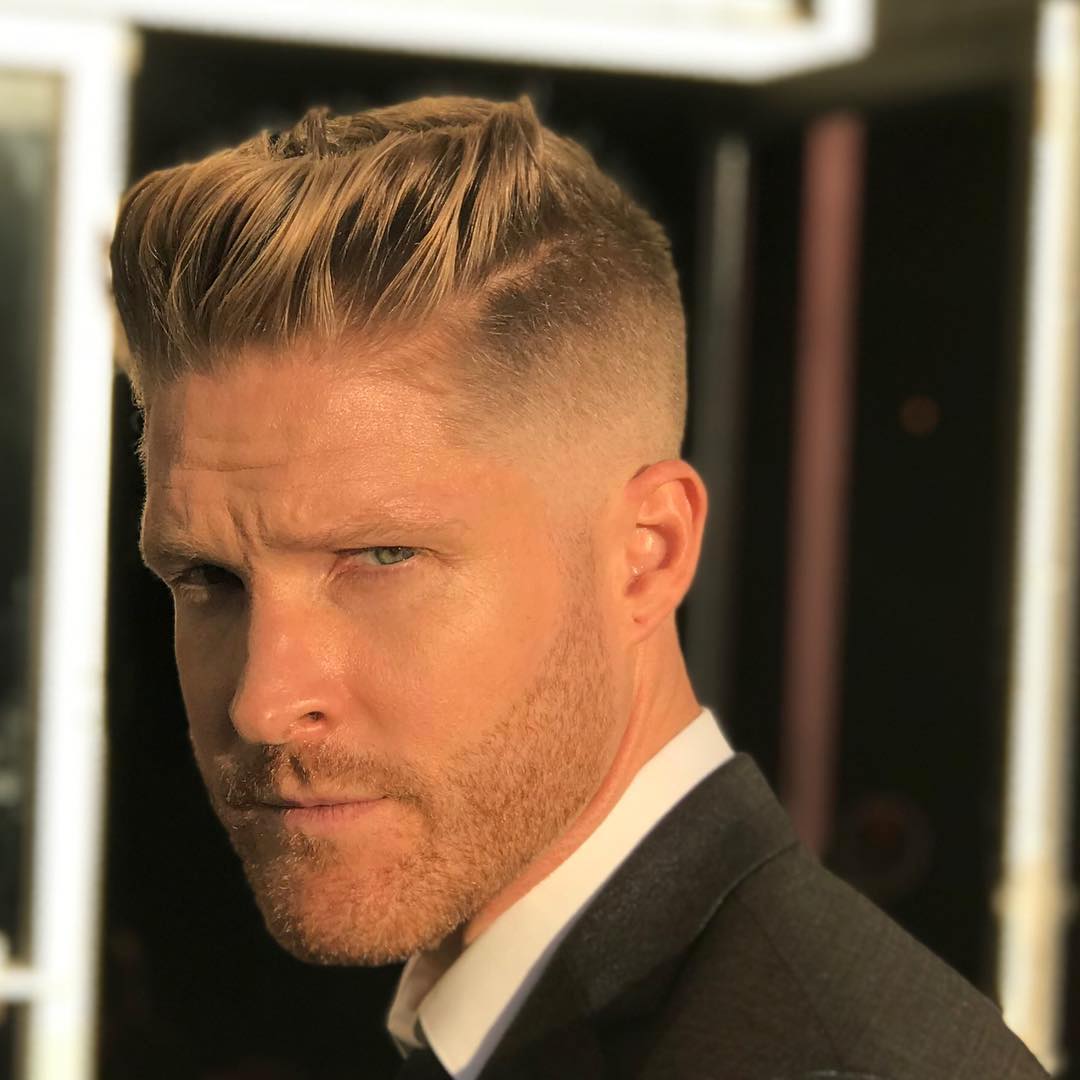 This is a great haircut if you have fine or thin hair. The high fade accentuates the hair on top.
142. Classic Comb Over Side Part Haircut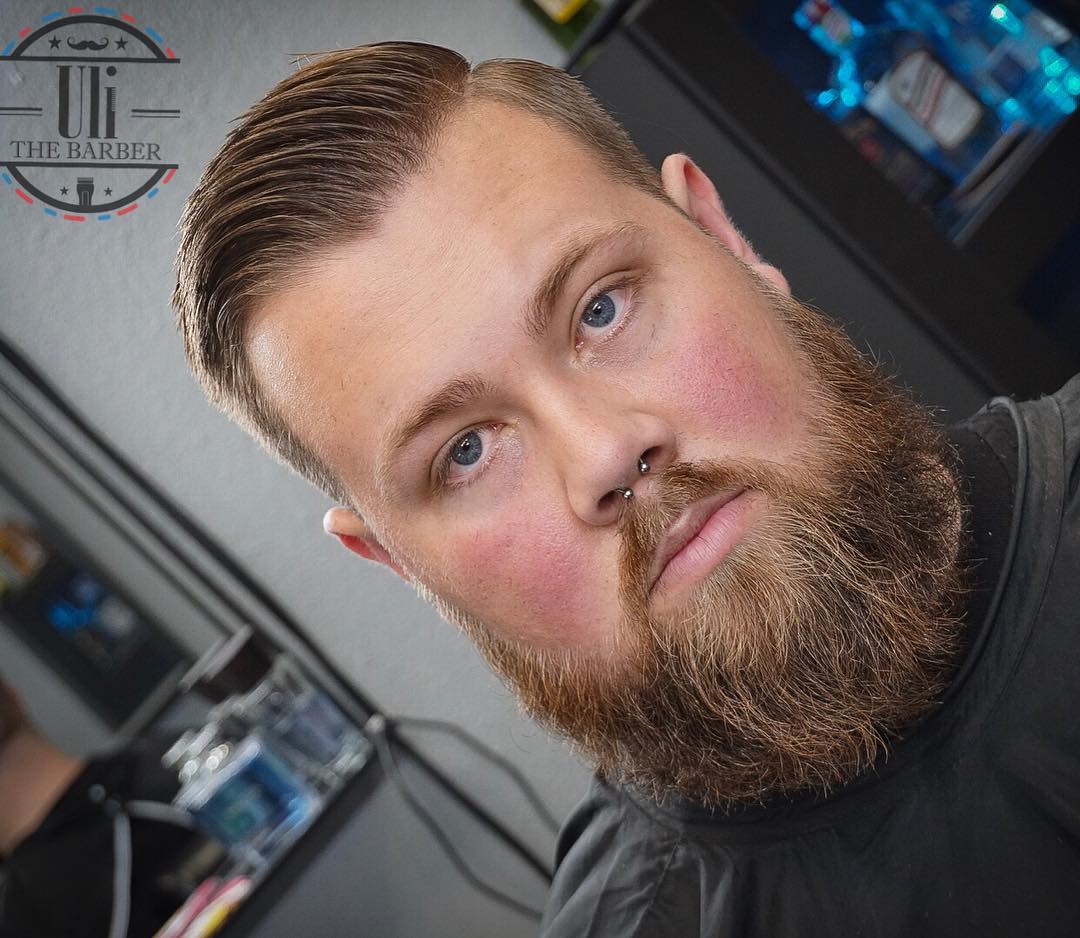 A nicely tapered haircut on the sides with shorter hair on top styled into a classic side part comb over.
143. Short Haircut + Neck Design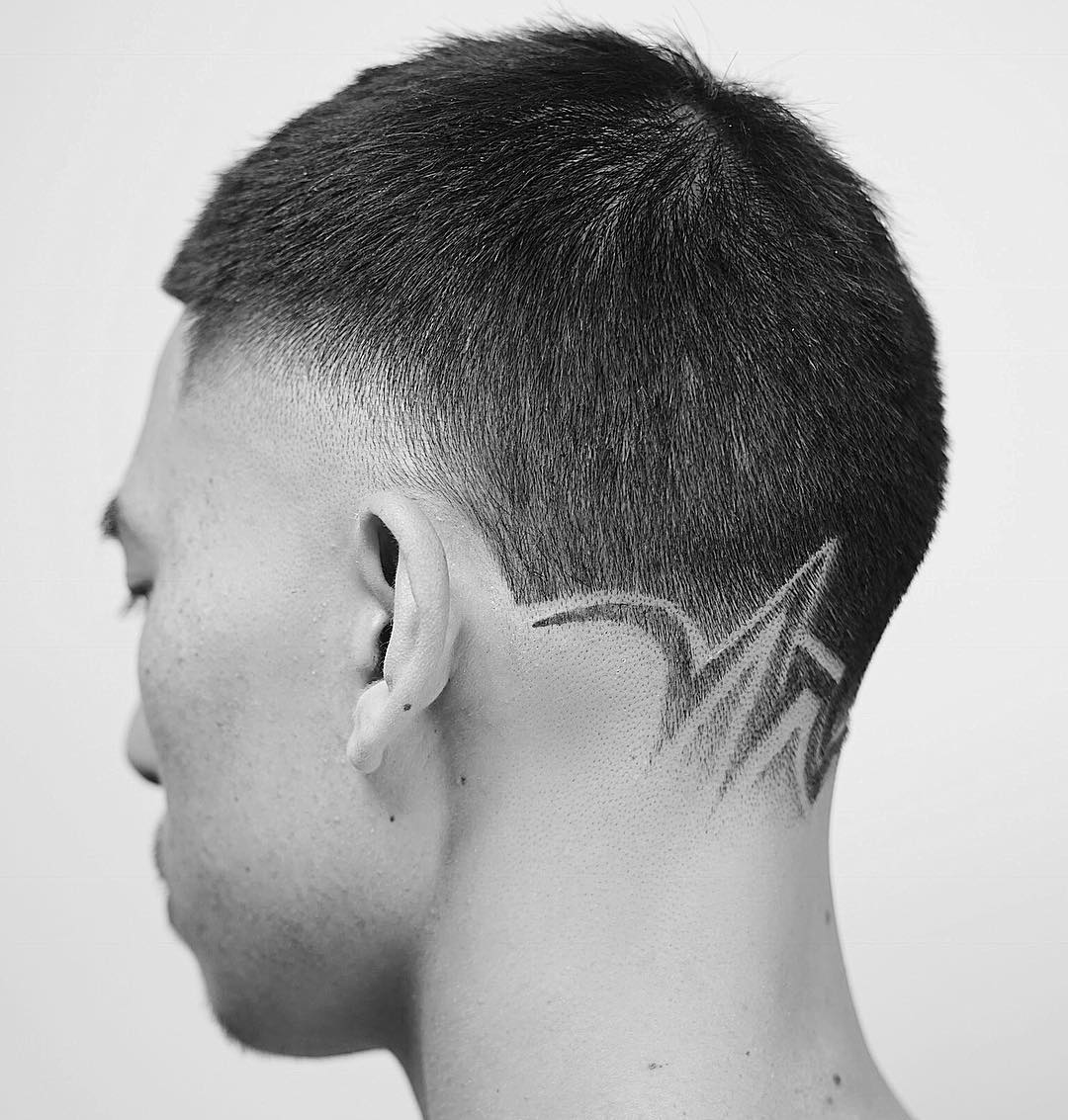 By juliuscaesar
A nice temple fade super short haircut with a cool neck design created by one of the masters Julius Caesar.
144. Ultra Short Crop Haircut + High Bald Fade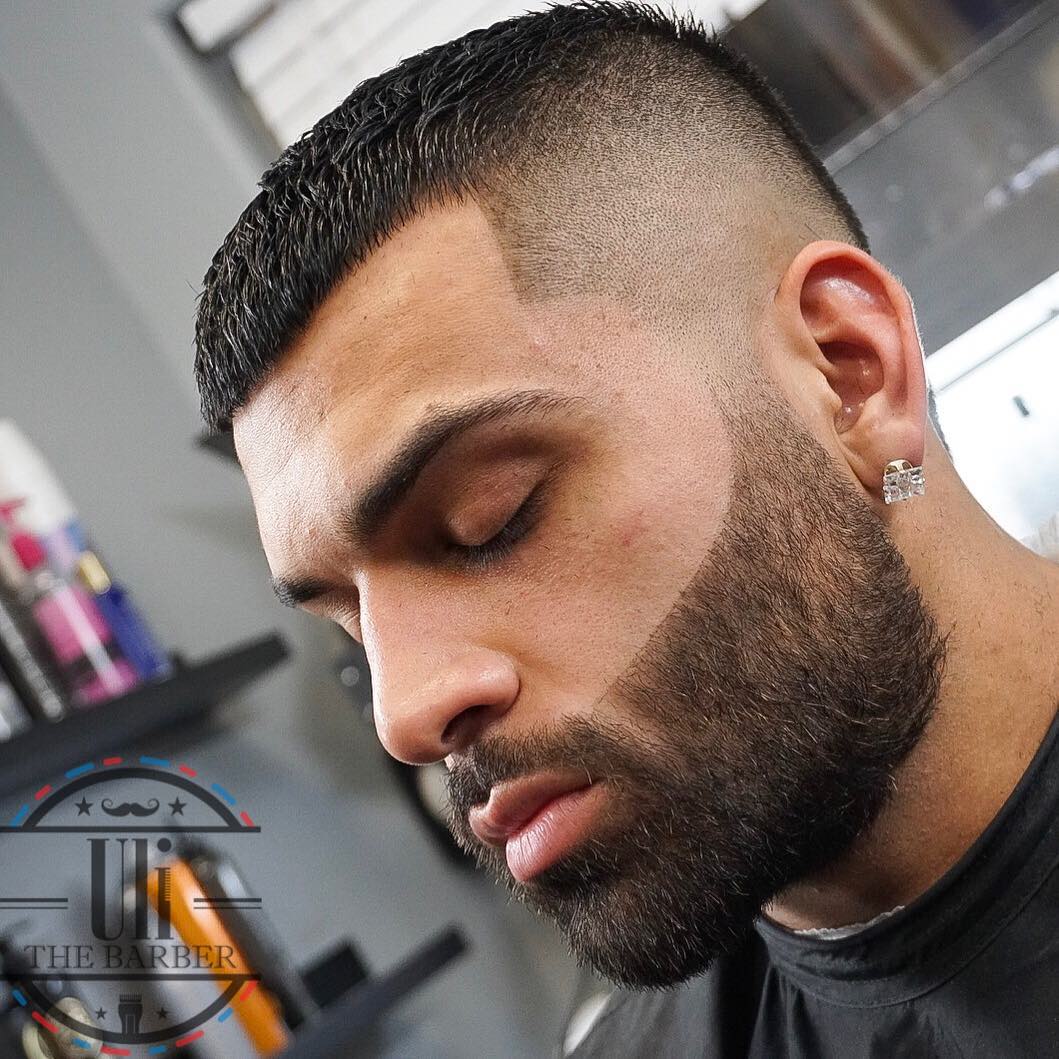 Super clean and super cool with a disconnected beard.
145. Cool Textured Swirl Haircut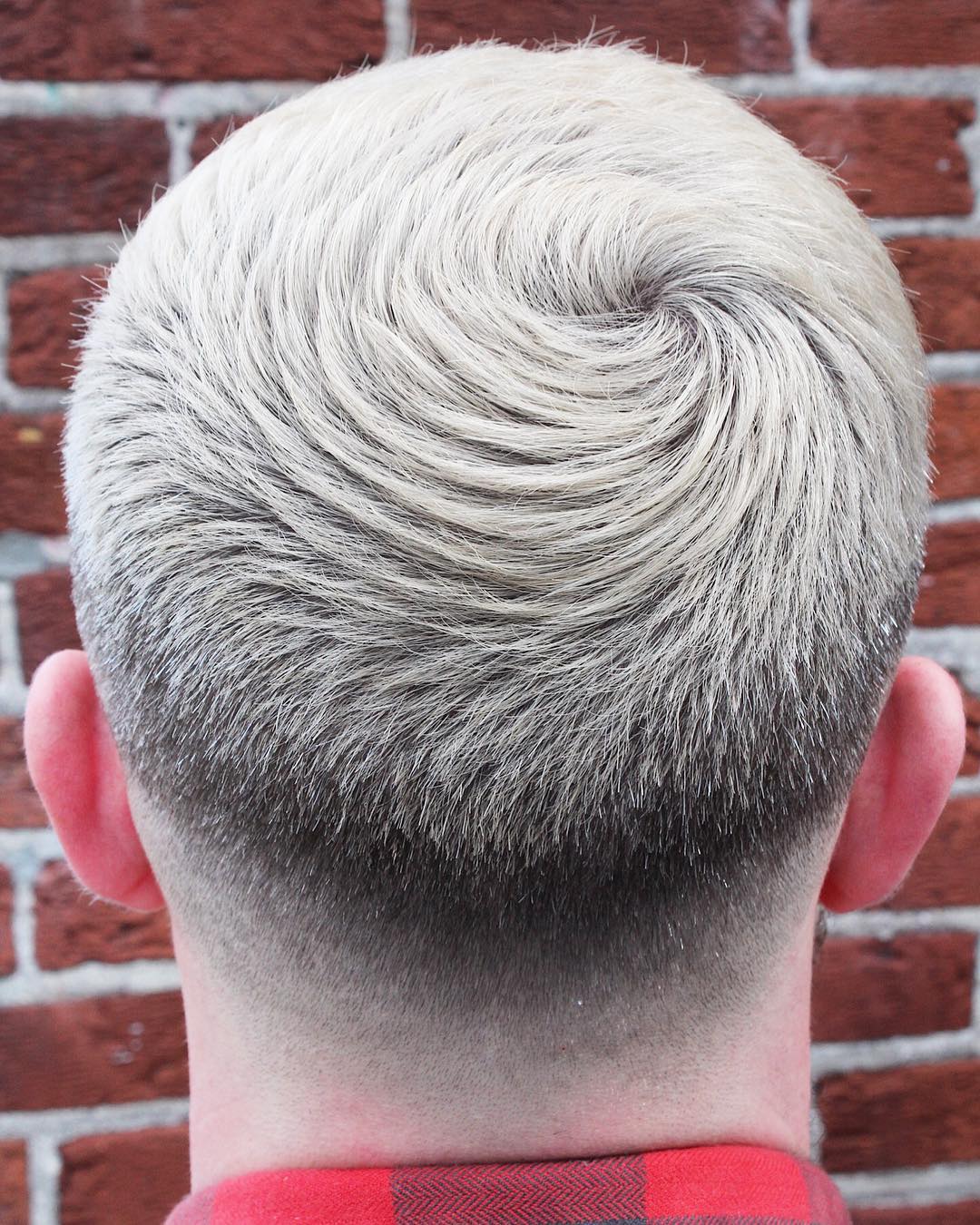 Short textured hair is styled into a swirl. A very cool effect.
146. Very Short Taper Fade Haircut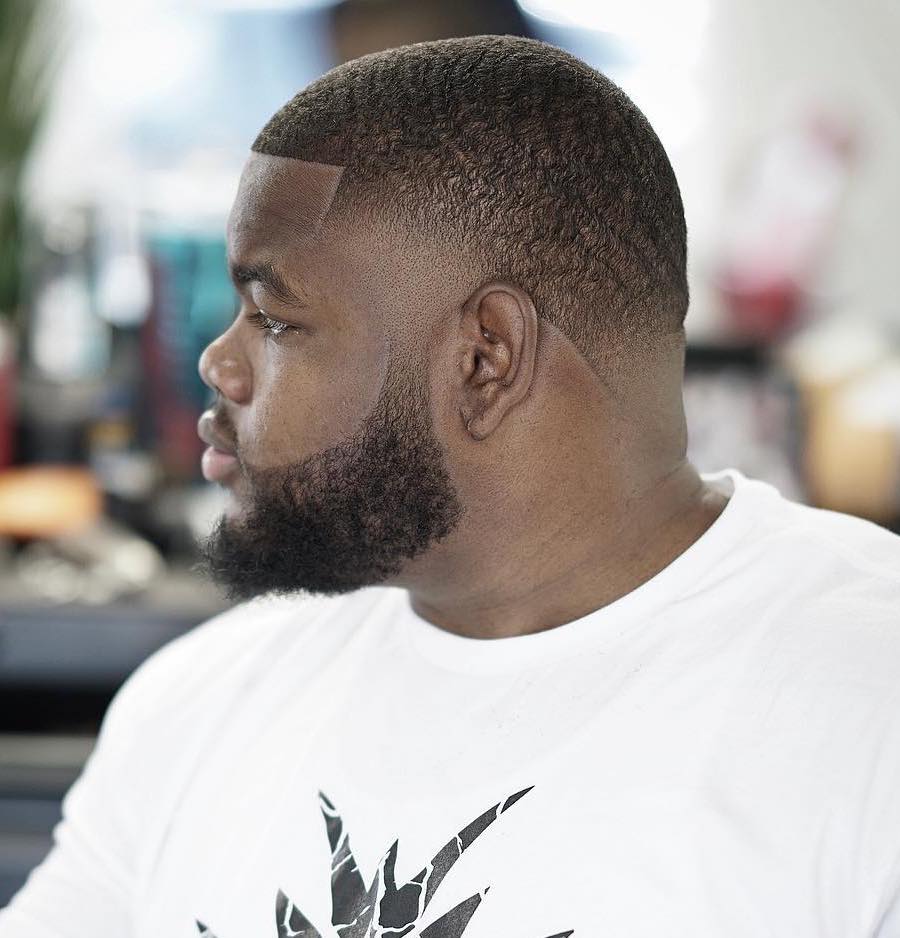 By Pat Regan
A perfect taper haircut by one of the masters at cutting classic short men's haircuts.
147. Classic Men's Haircut + High Bald Fade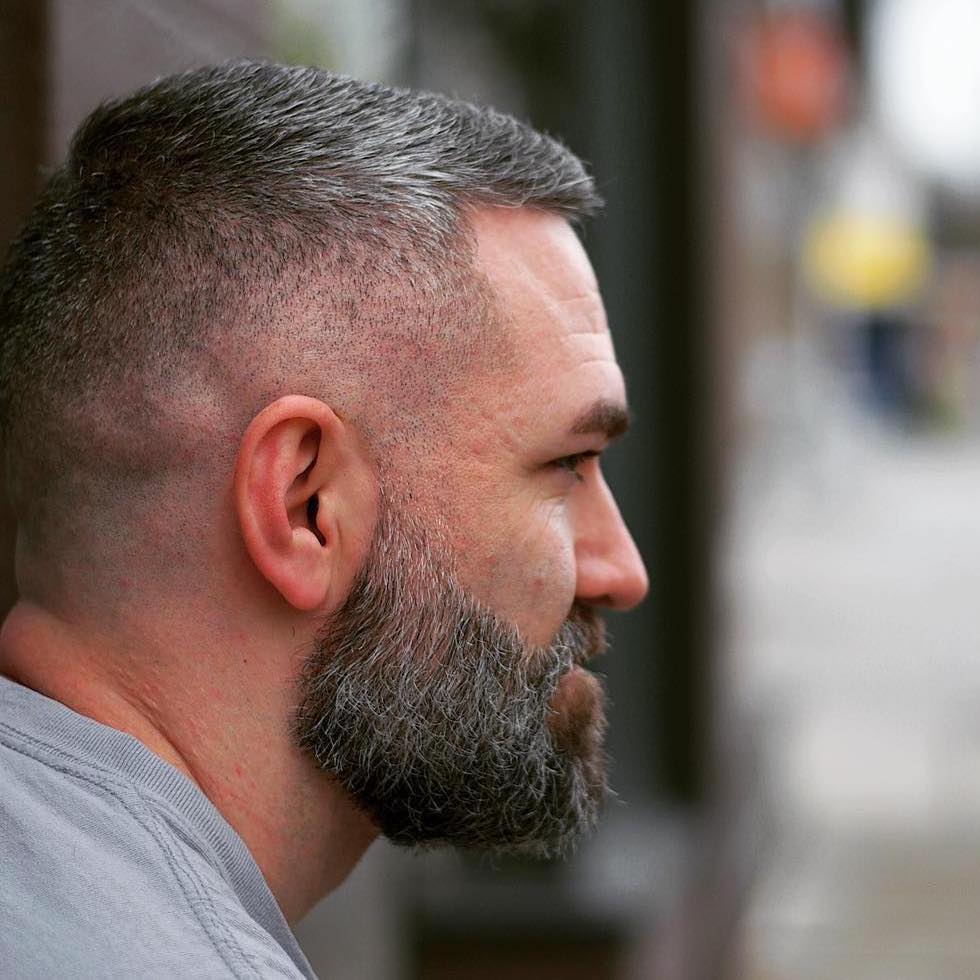 We are going to end with a beauty. Love this super short classic men's haircut with disconnected nicely trimmed beard. This haircut is going to look good on any man. Great work by Electric Barbering.
148. Short Textured Crop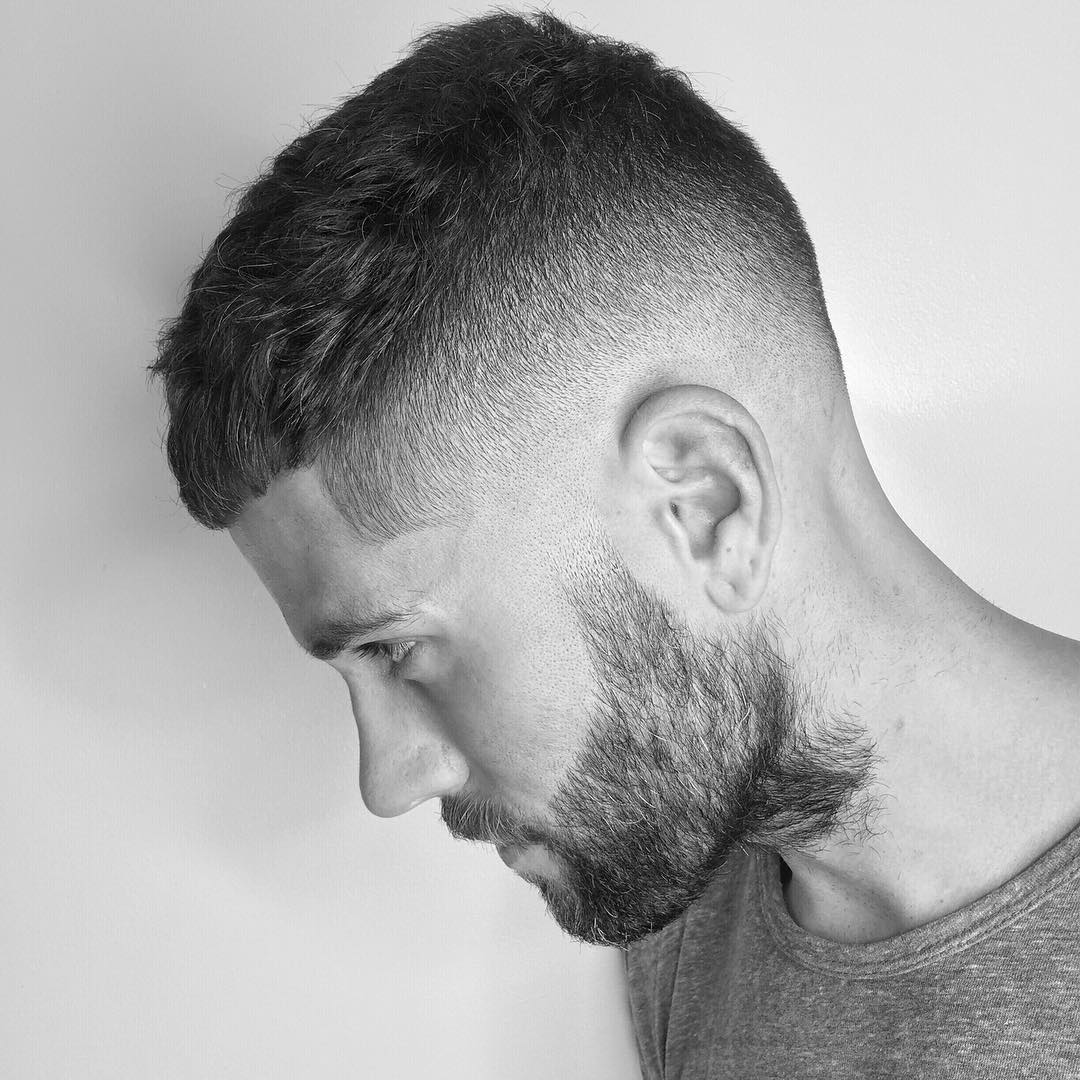 This very short version of the trendy crop has enough length to achieve texture but not much more.
149. Messy Buzz Cut + Shaved Line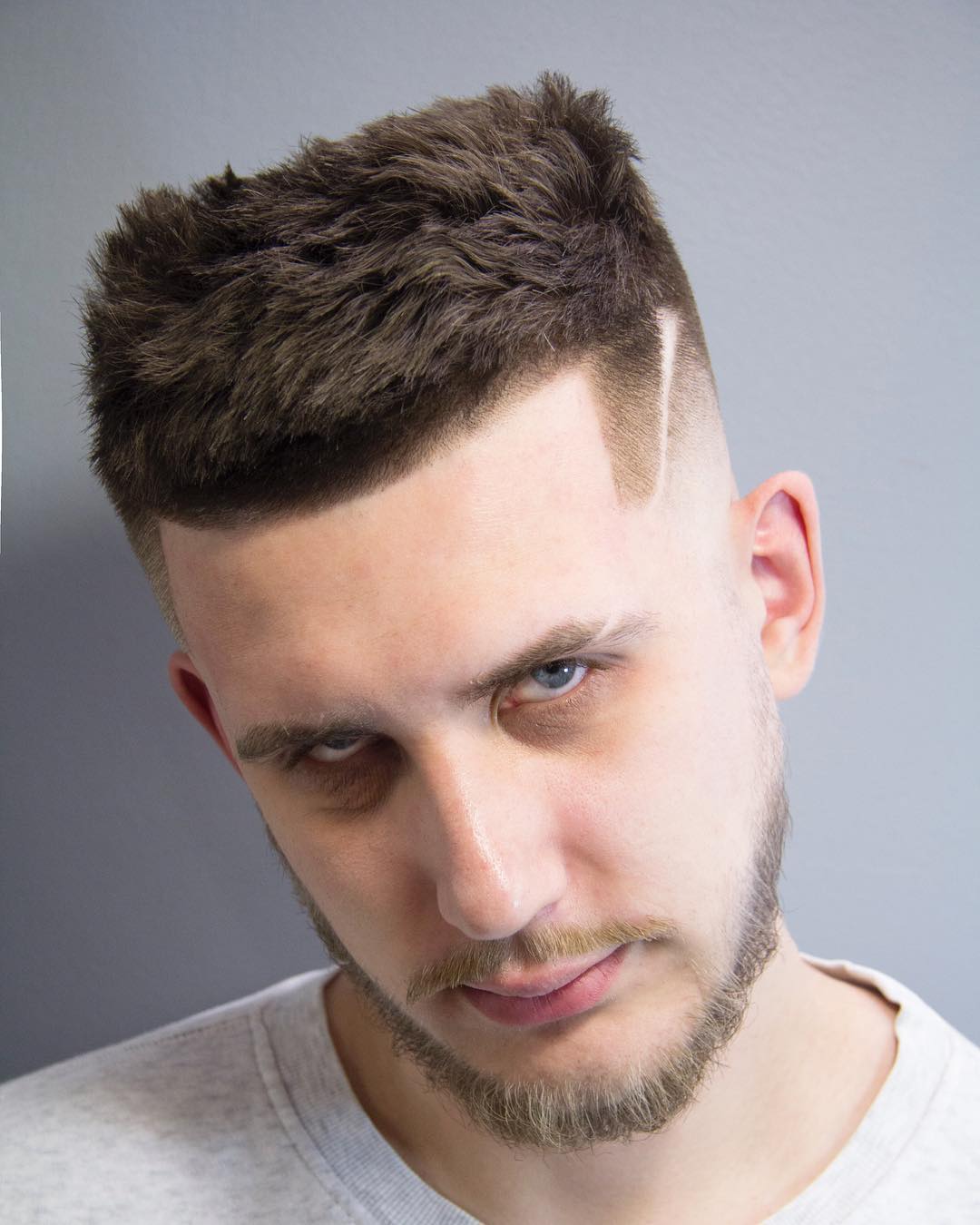 Simple designs can be as eye-catching as complex. A longish buzz is styled with some messy texture but the star of the show is a shaved line that crosses from the temple into the eyebrow.
150. Short Textured Crop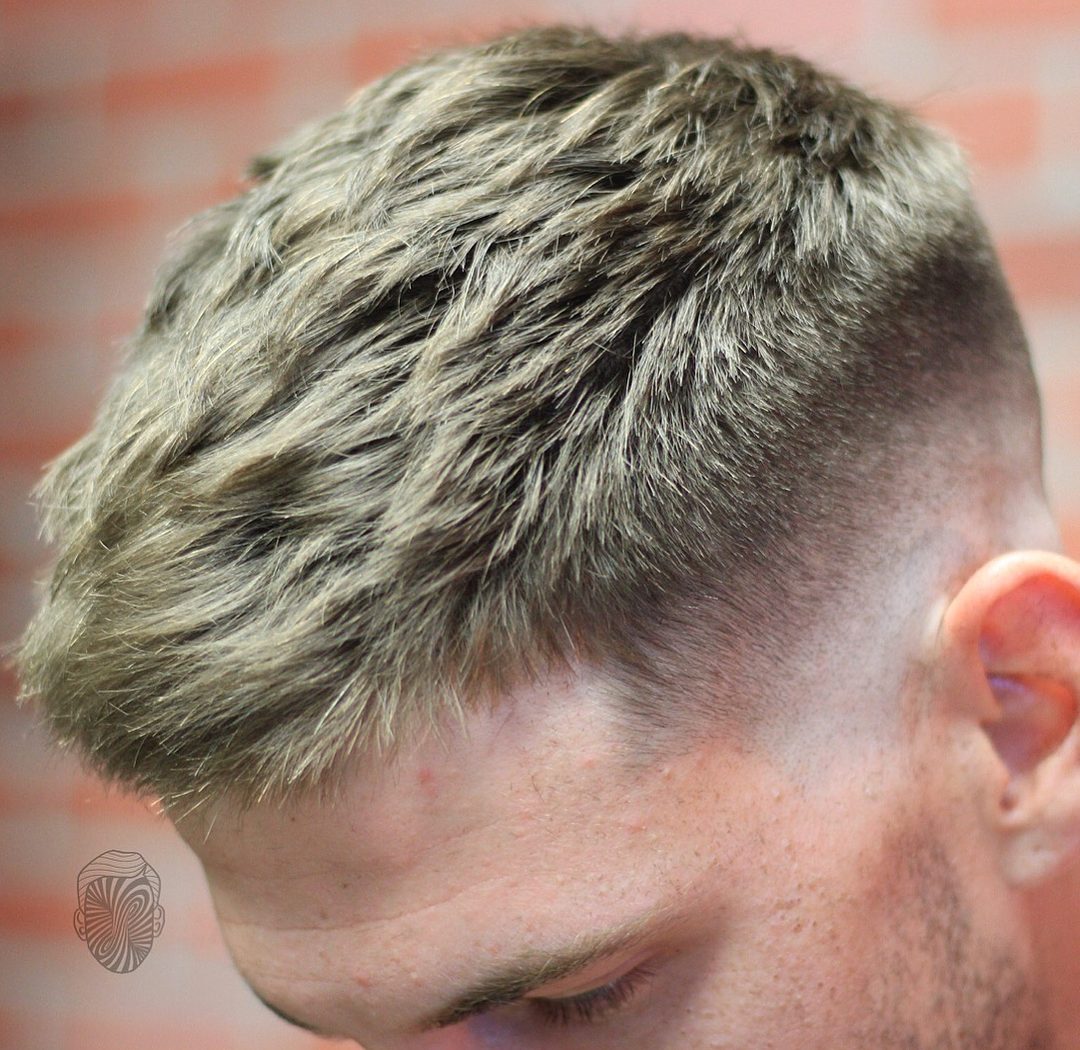 The current way to wear is spiky hair is more about adding texture than creating vertical spikes. This ultra short version is so easy to style. Rub pomade between palms, work it through hair and pinch small sections of hair together. This is one of the best short hairstyles for men with thick hair.
151. Messy Hair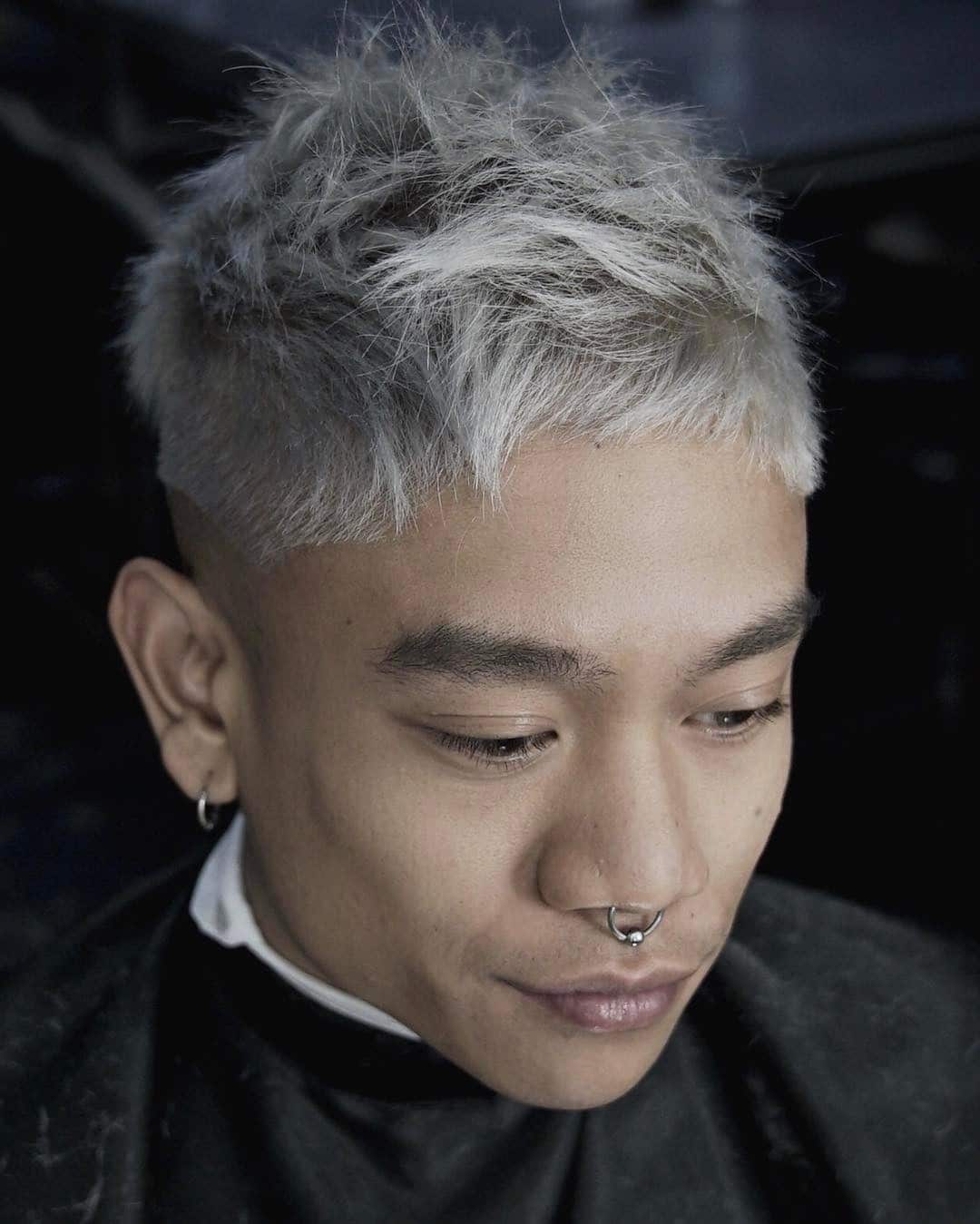 This tousled and textured crop is messy with style. Bedhead it ain't.
152. Crop Haircut + High Fade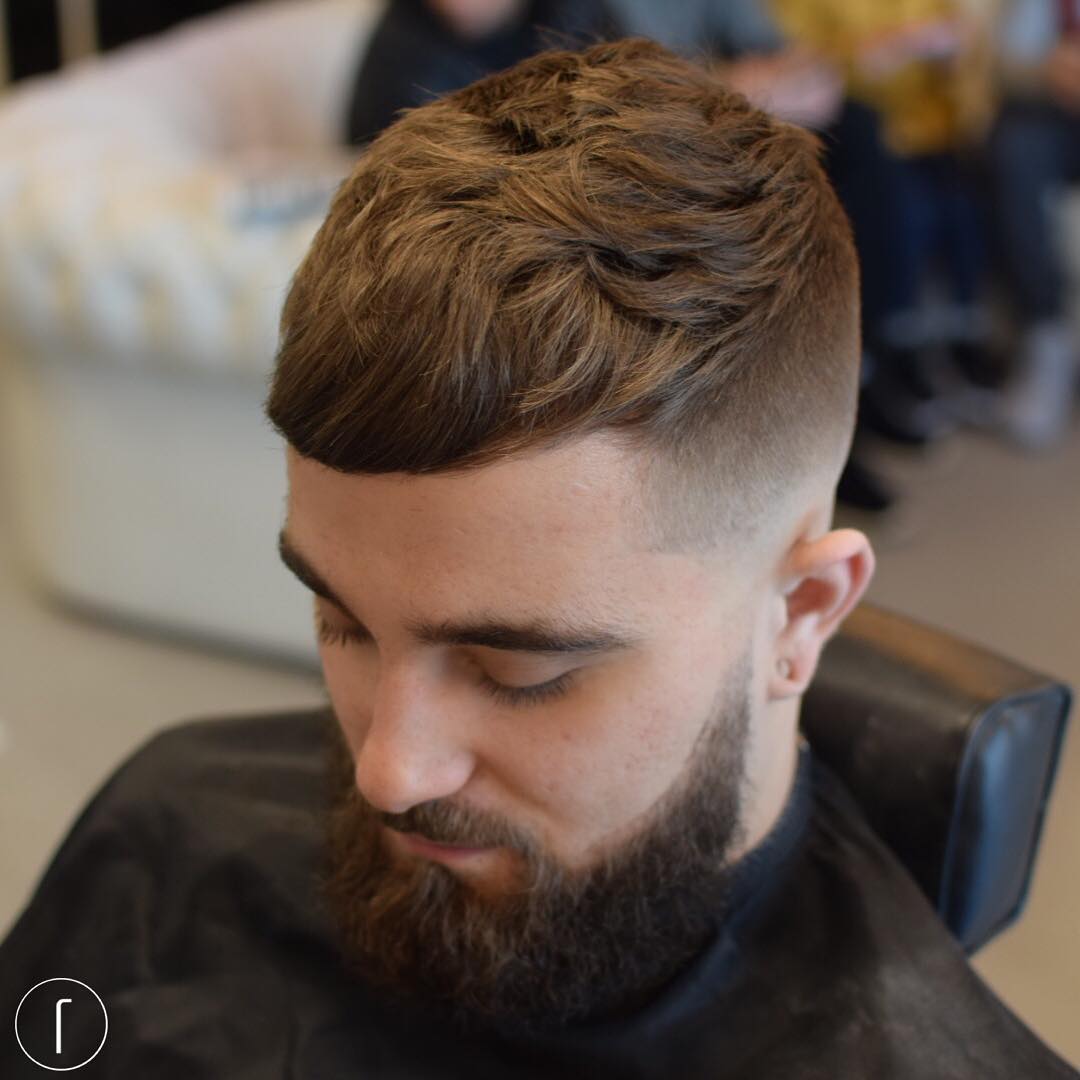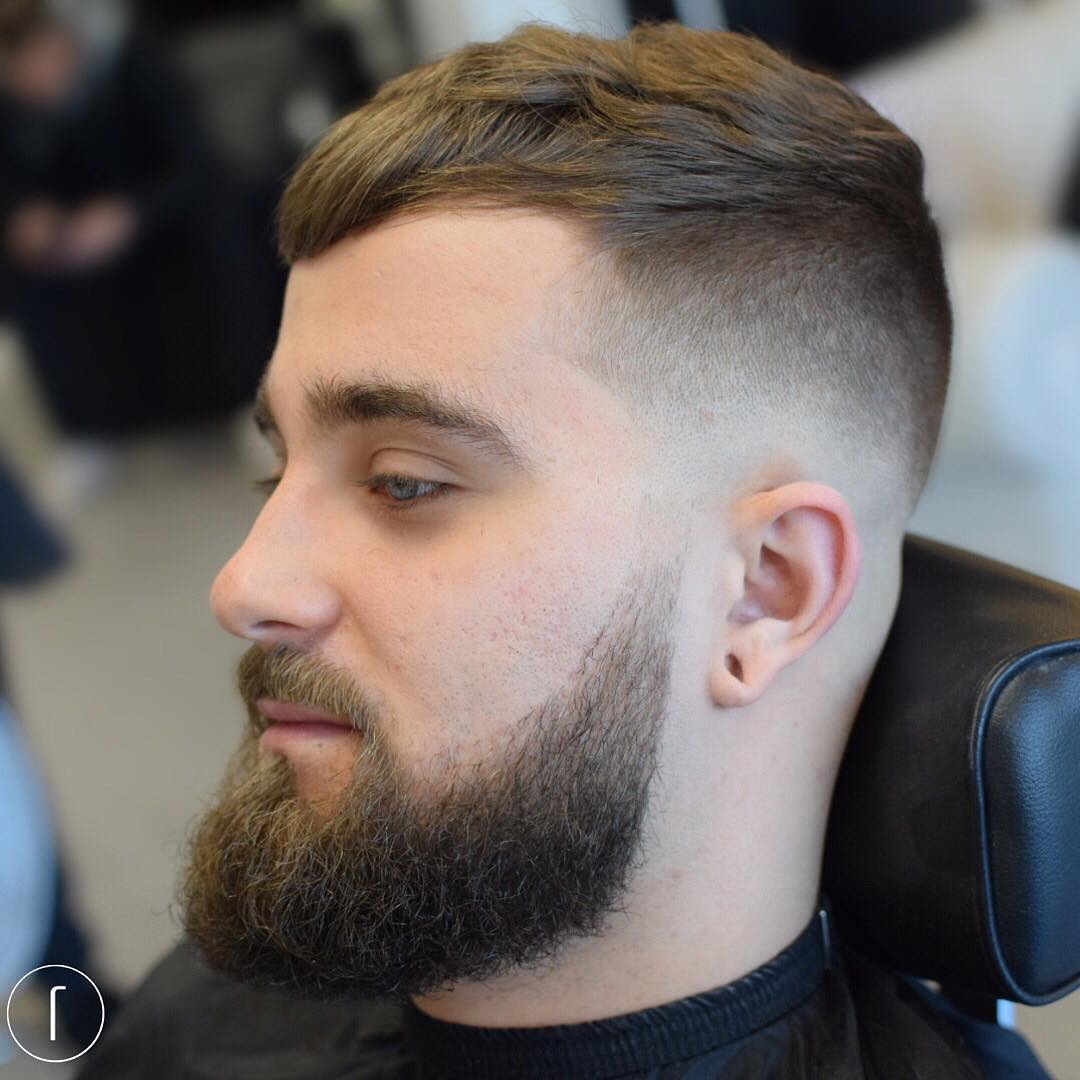 This textured crop is one of the top men's hair trends of the year and a really cool short men's haircut.
153. Textured Short Haircut for Thick Hair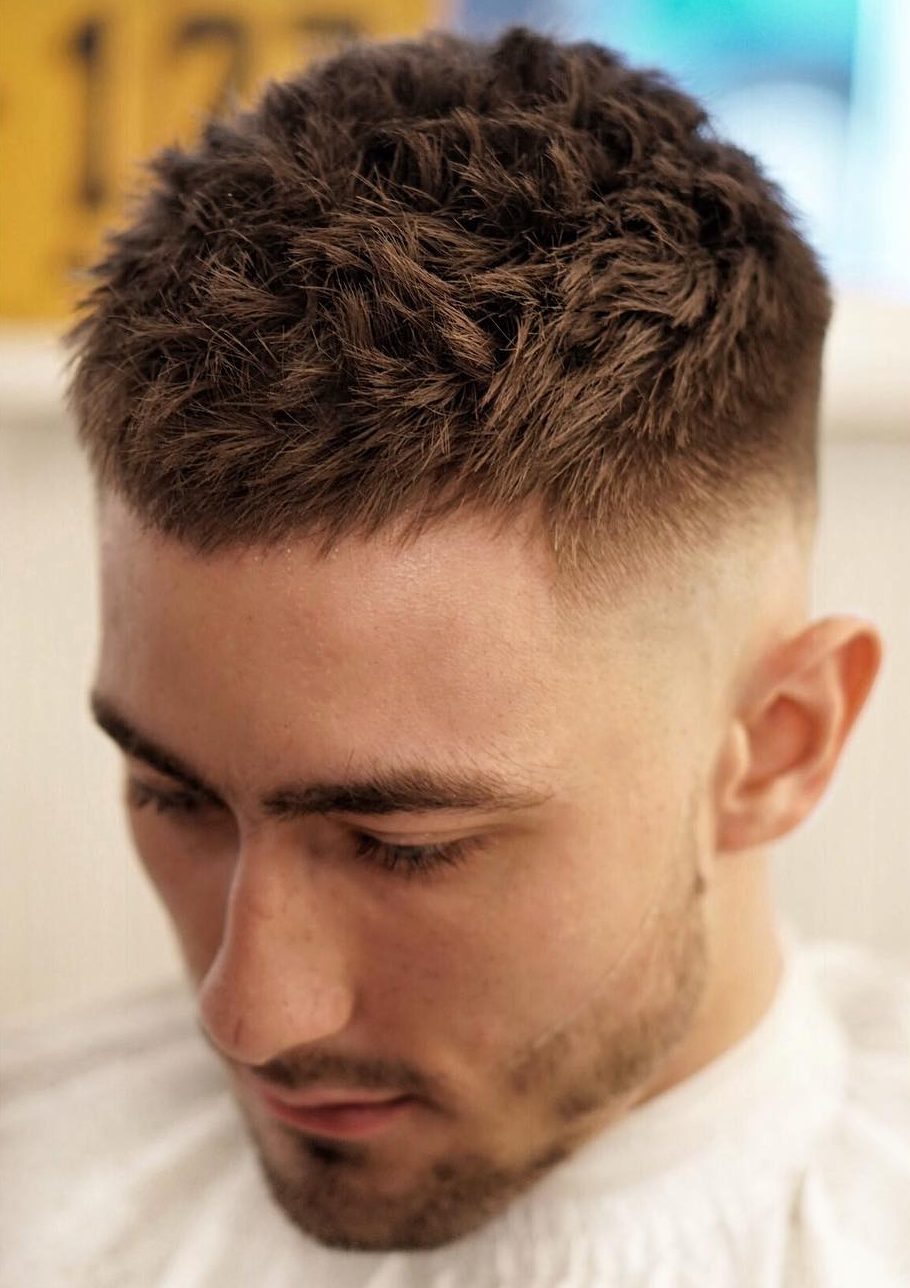 Another version of the crop trend, these cool haircuts spikes up thick hair for a textured finish.
154. Low Fade Haircut + Short Natural Curls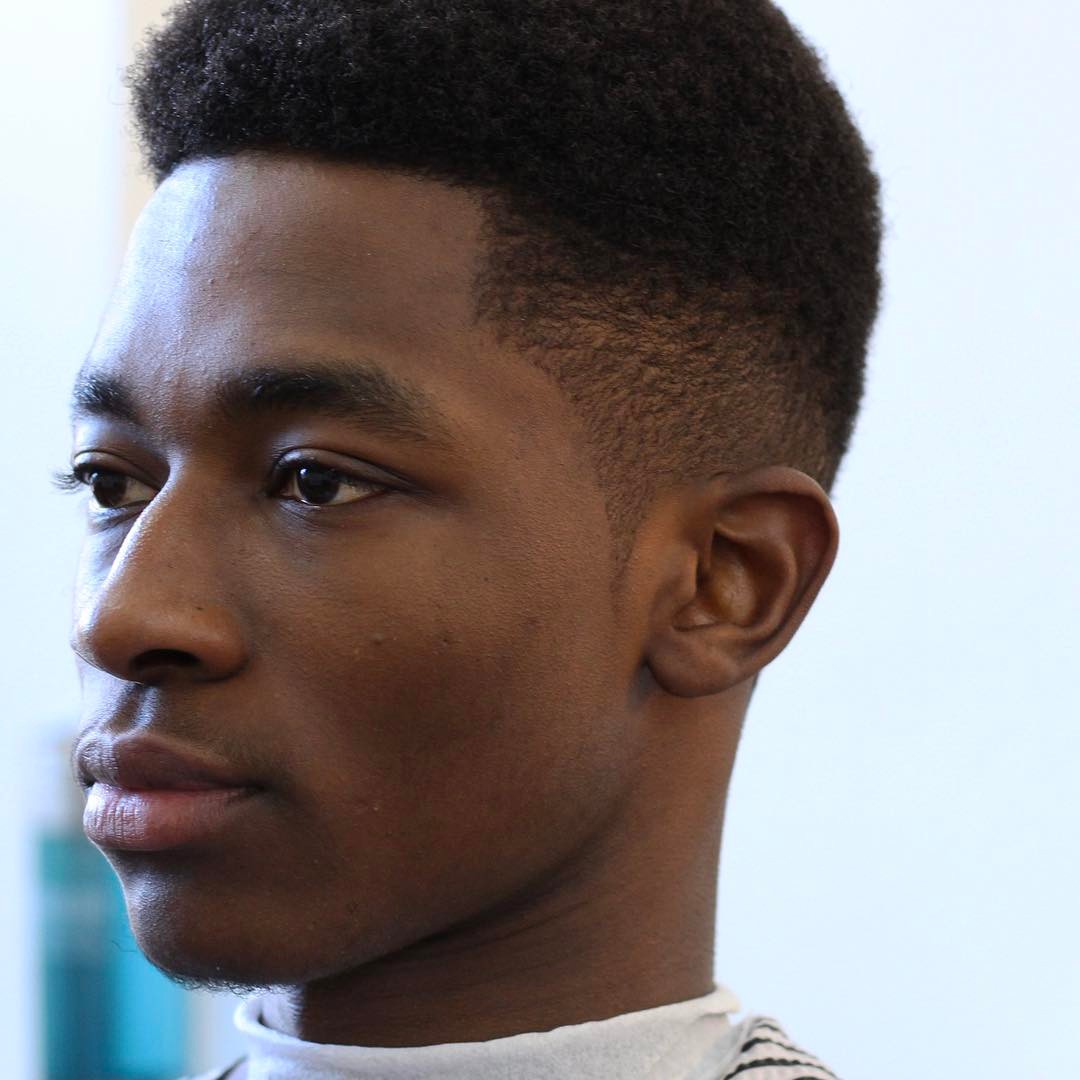 The buzz fade is one of the most popular short haircuts for black hair but we are seeing more longer cuts this year. This fresh look features a hint of length on top with a low fade at the sides.
155. Slick Quiff Haircut For Short Hair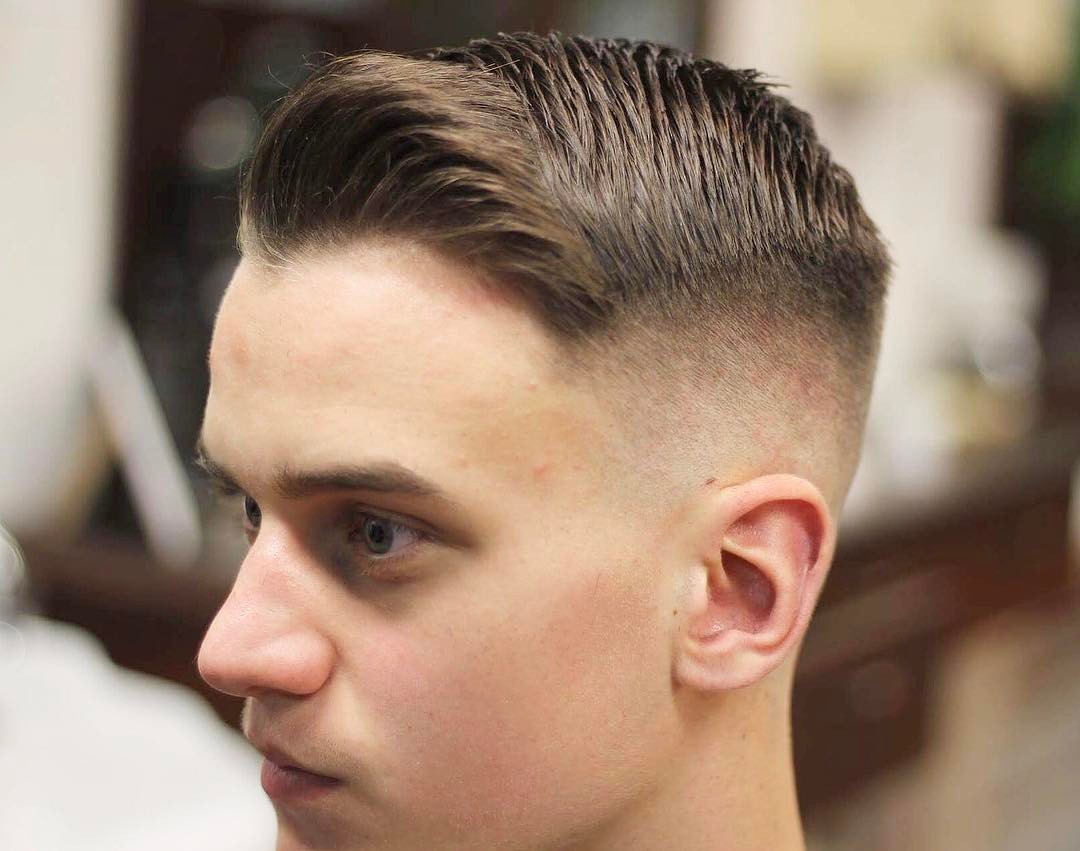 This fade hairstyle is styled slick with a swoop of volume at the forehead.
156. Short Haircut for Wavy Hair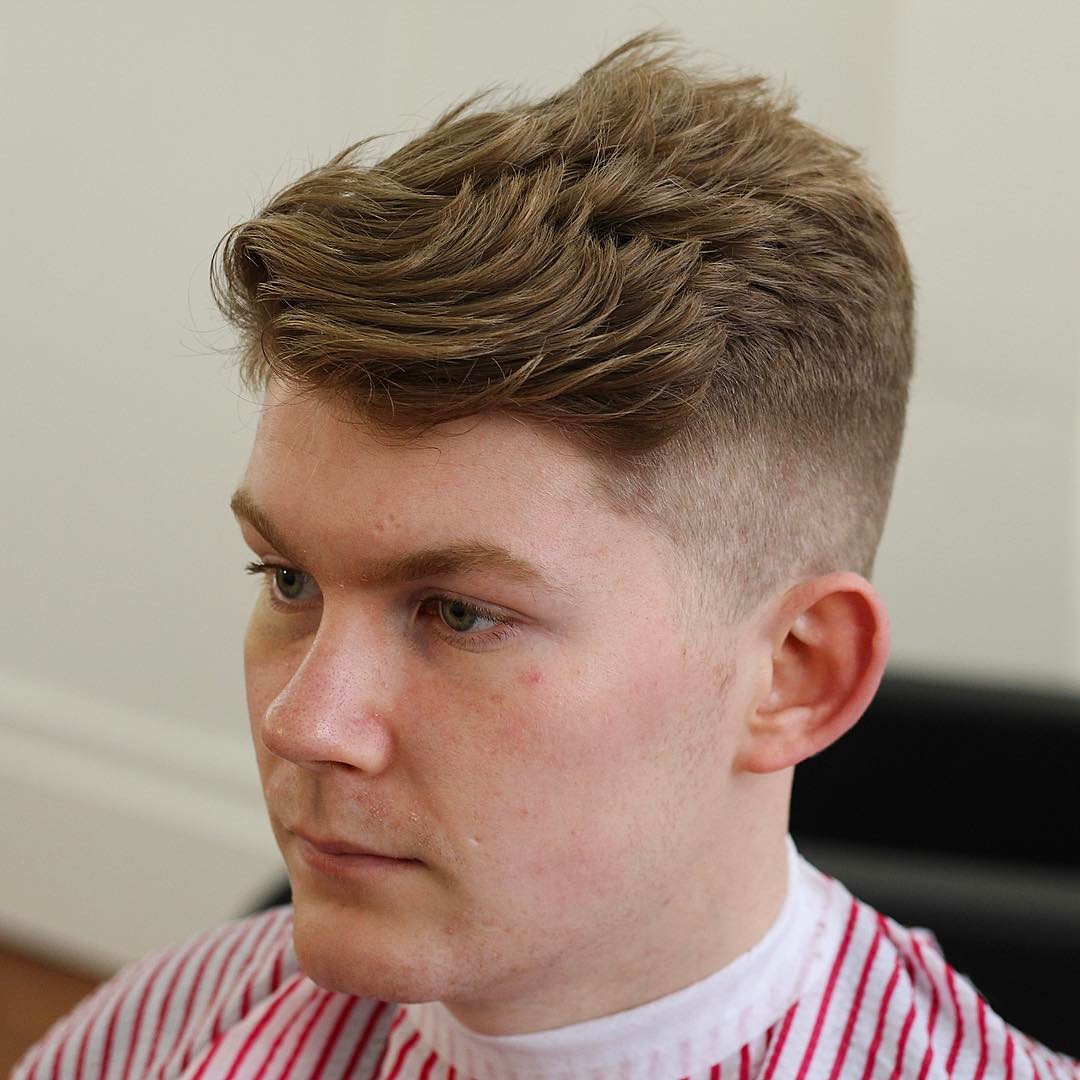 Another version of the crop leaves hair longer to work with the flow of wavy hair but has the same texture throughout.
157. Short Curls + Temple Fade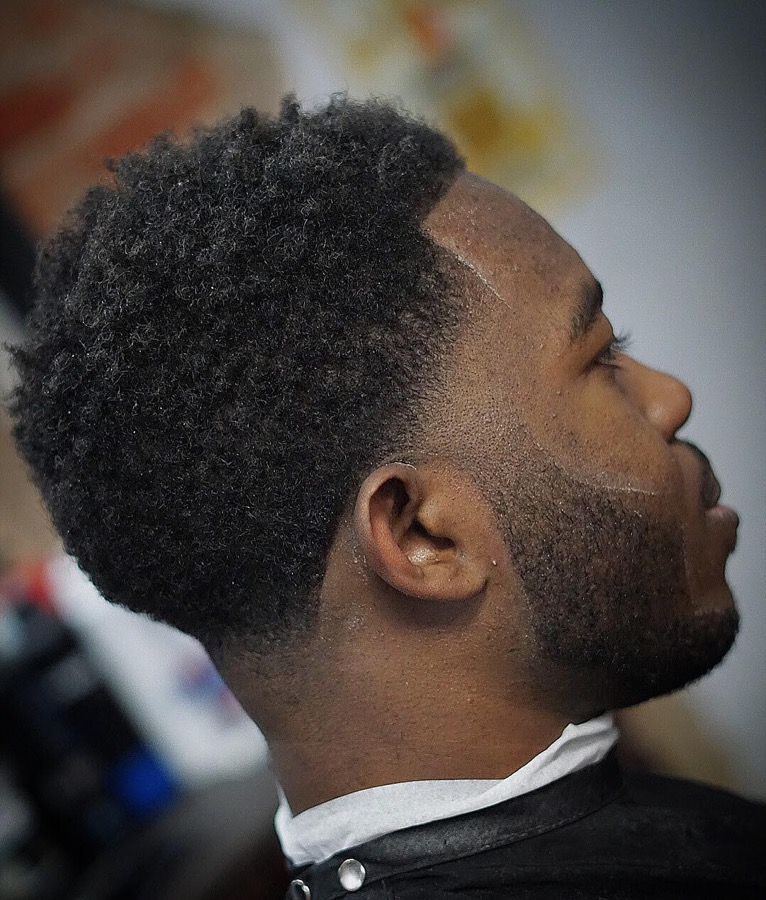 Textured hair is a huge trend this year and guys with curly hair already have. Sharpen up the edges with a temple fade and neck taper and you're all set.
158. Steve McQueen Haircut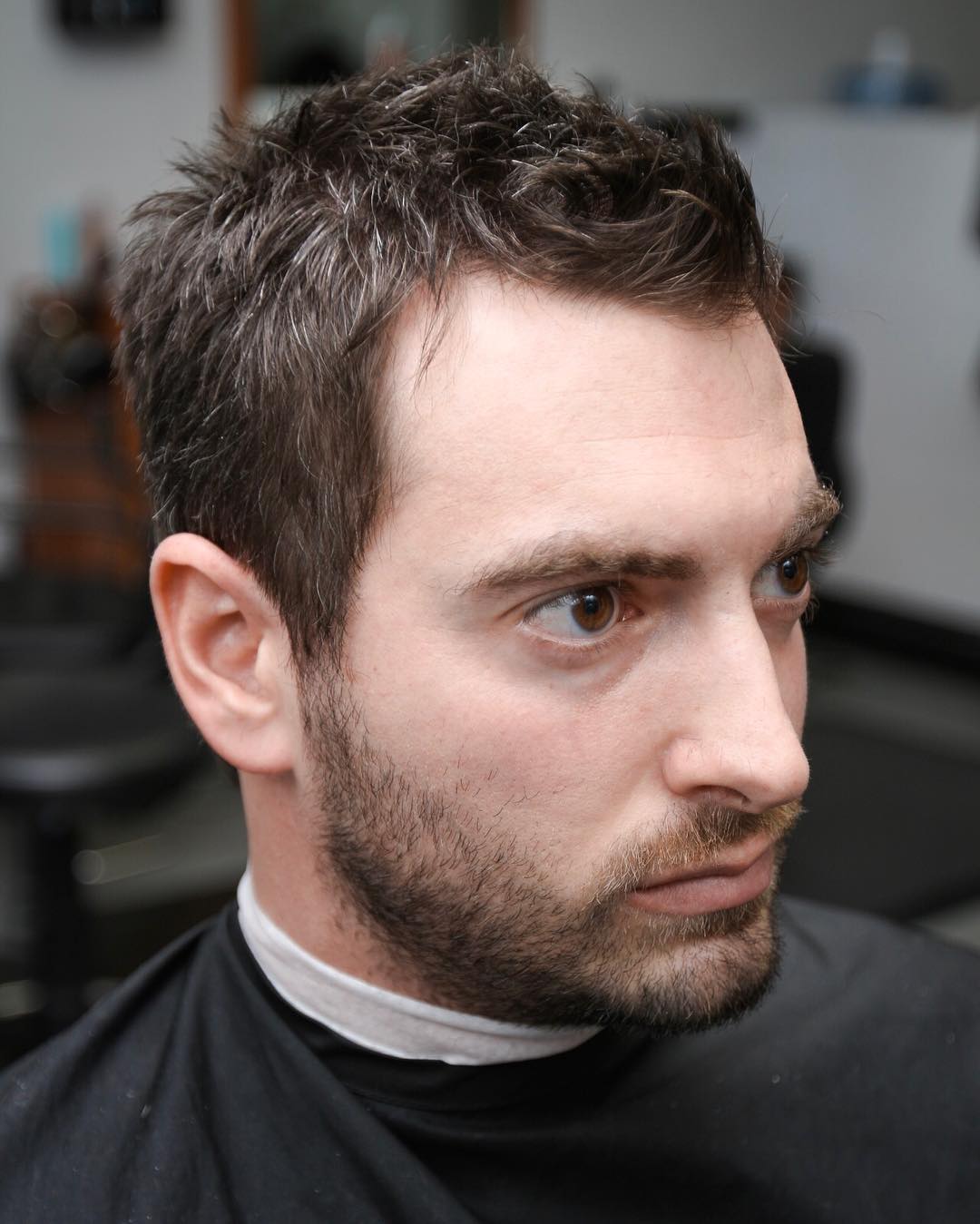 Like the Mustang he drove in Bullitt, Steve McQueen's one-length-all-over short haircut stands the test of time. It's one of those effortlessly cool looks. The cut features a touch of layering to enhance texture and movement.
159. Textured Fringe Haircut -> Short Hair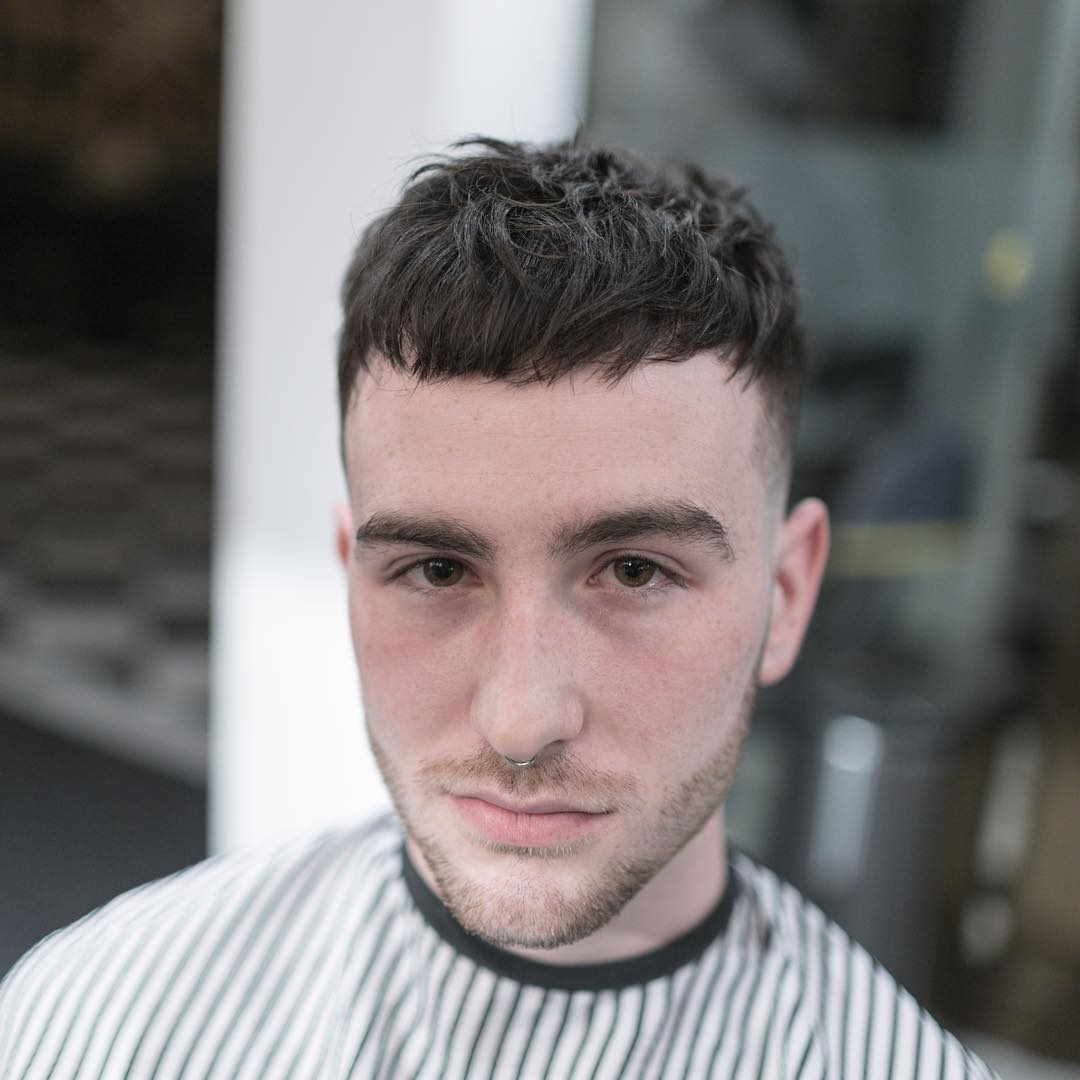 A popular feature of the textured crop trend is a thick line of fringe across the forehead. This one is tousled for a choppy finish.
160. Heavy Crop + Blunt Fringe Haircut For Short Hair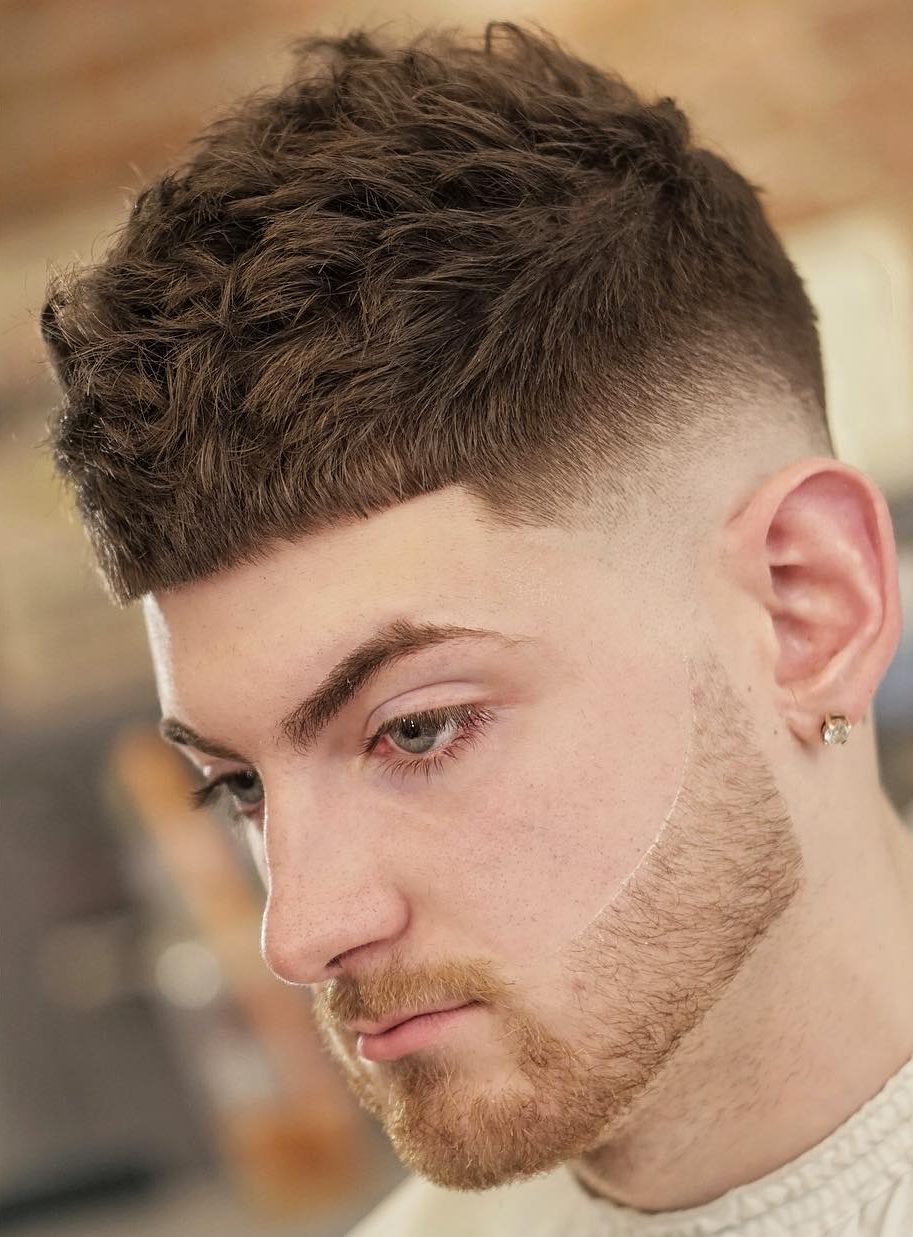 Similar to the crisp finish of a line up, blunt fringe creates a distinct edge that contrasts with the low fade at the neckline.
161. Short Wavy Hair Haircut + Mid Fade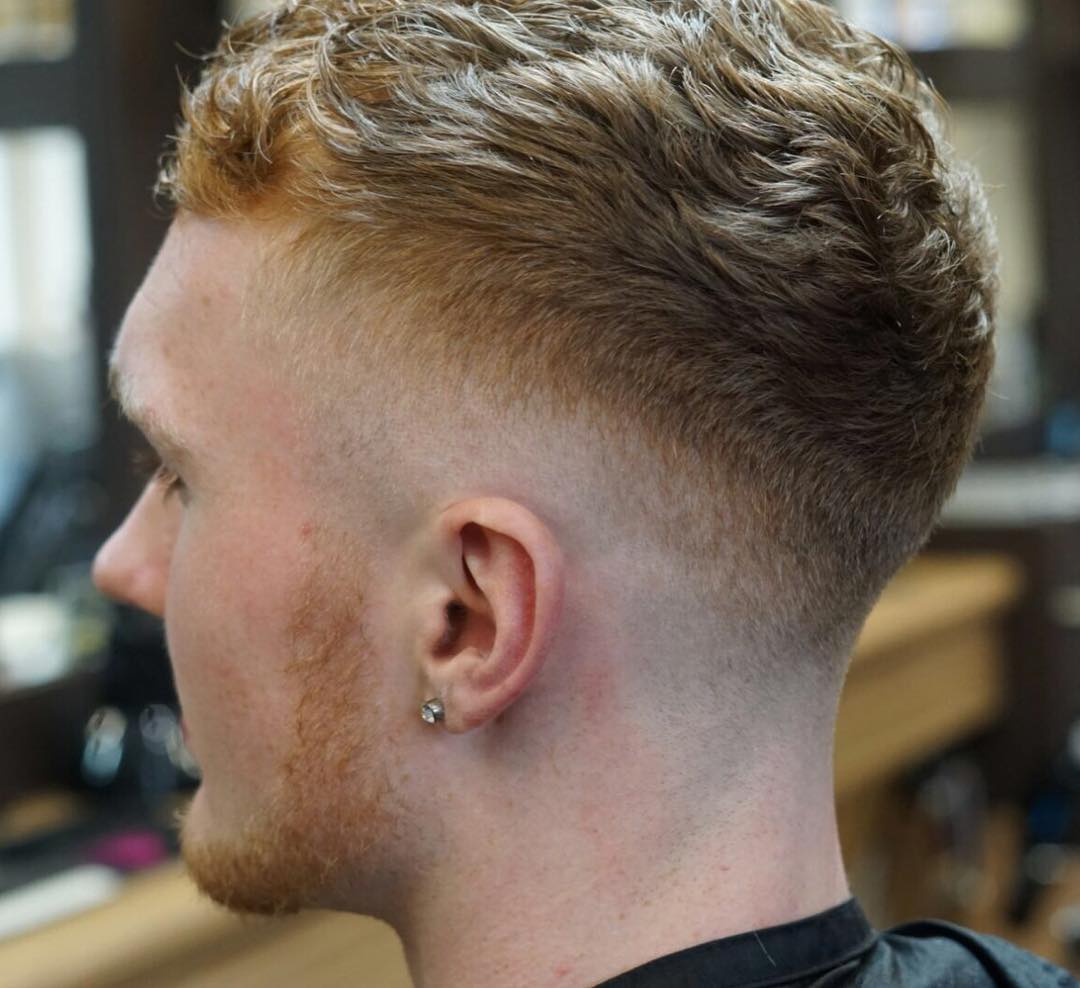 This layered cut enhances wavy hair on top with minimal length. A mid fade keeps the sides short and crisp.
162. Quiff Haircut For Short Thick Hair + Mid Fade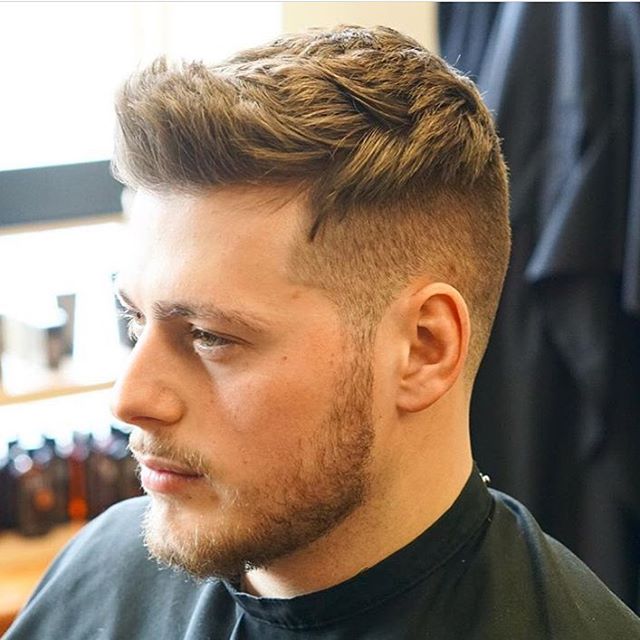 A fade accentuates the thickness of hair on top. Layering lightens up hair and brings out texture.
163. Buzz Cut + Fade + Line Up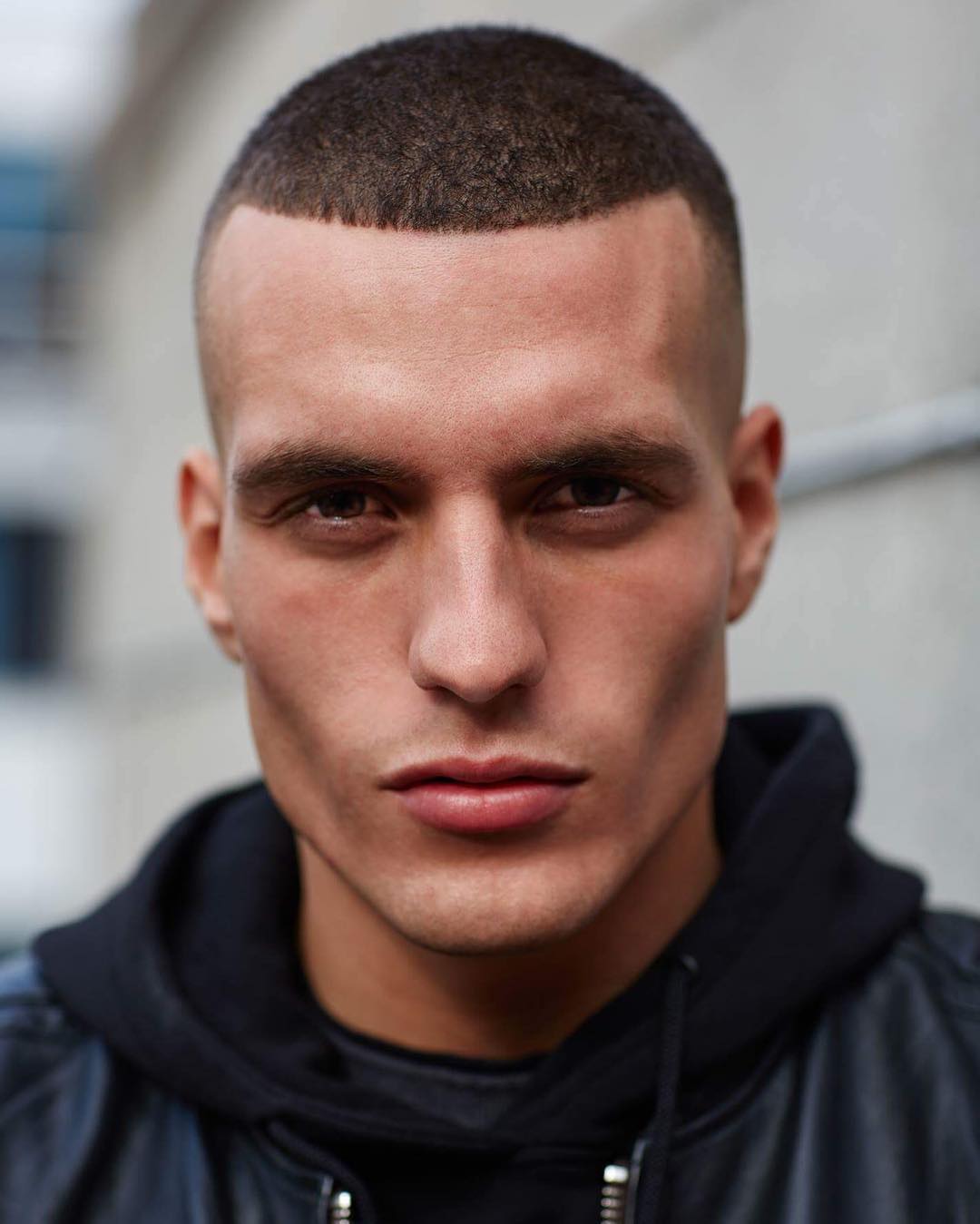 The combination of a buzz cut, fade and line up create maximum style with minimum hair. One of the best short haircuts.
164. Mohawk-Inspired Buzz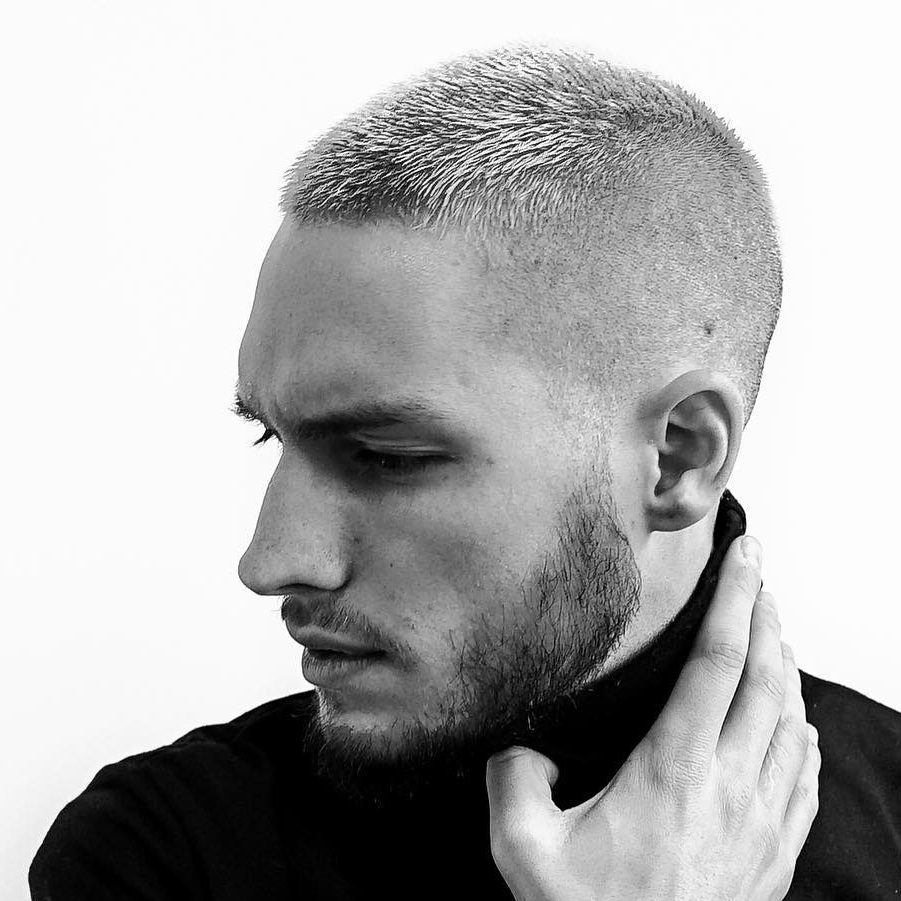 A real mohawk takes a lot of work but this buzz has a hint of a wide mohawk without styling.
165. Buzz + Drop Fade Short Haircut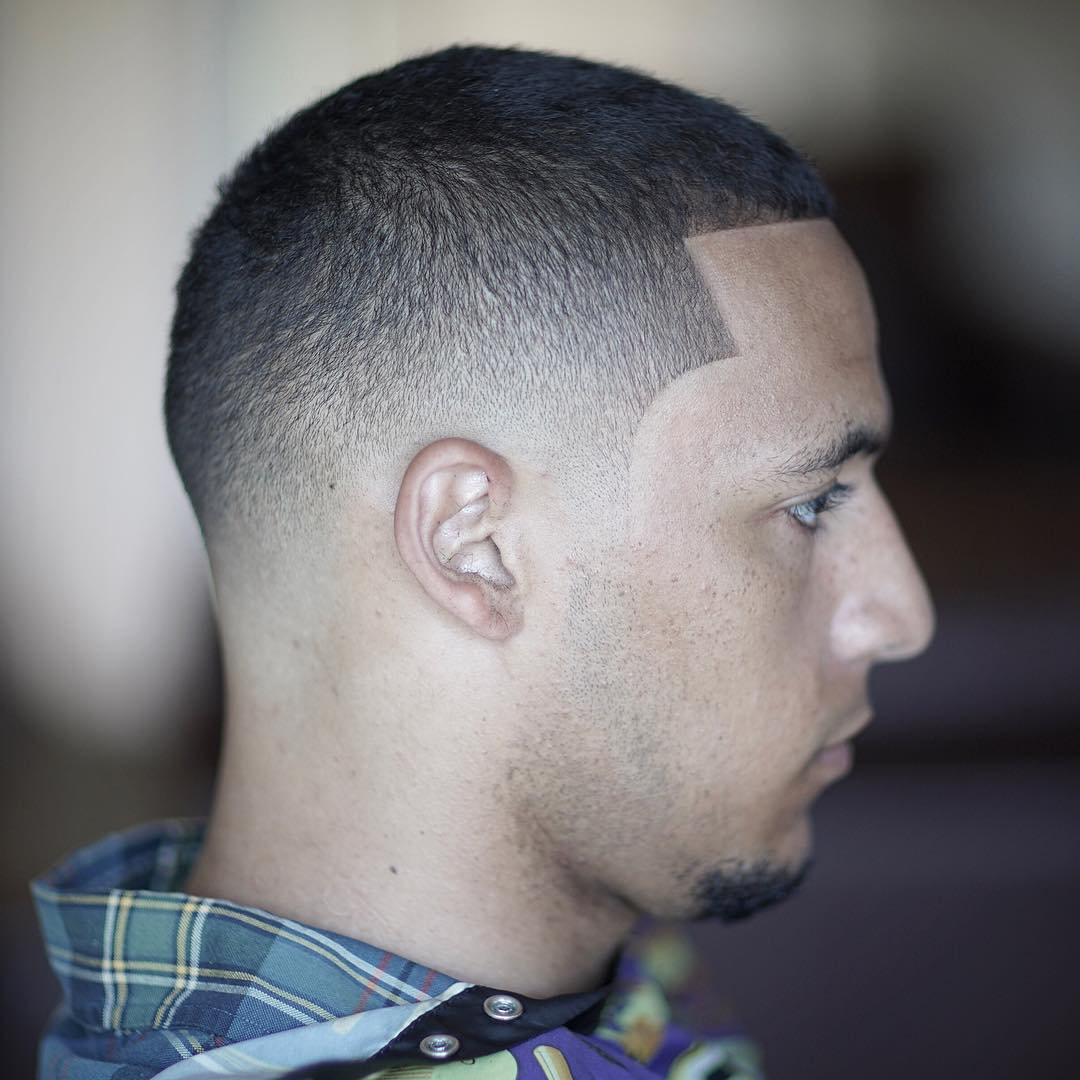 The fade in the buzz fade can be high, mid or low. This low fade version drops down behind the ear to follow the hairline. The classic of short haircuts for men.
166. Short Taper Fade Haircut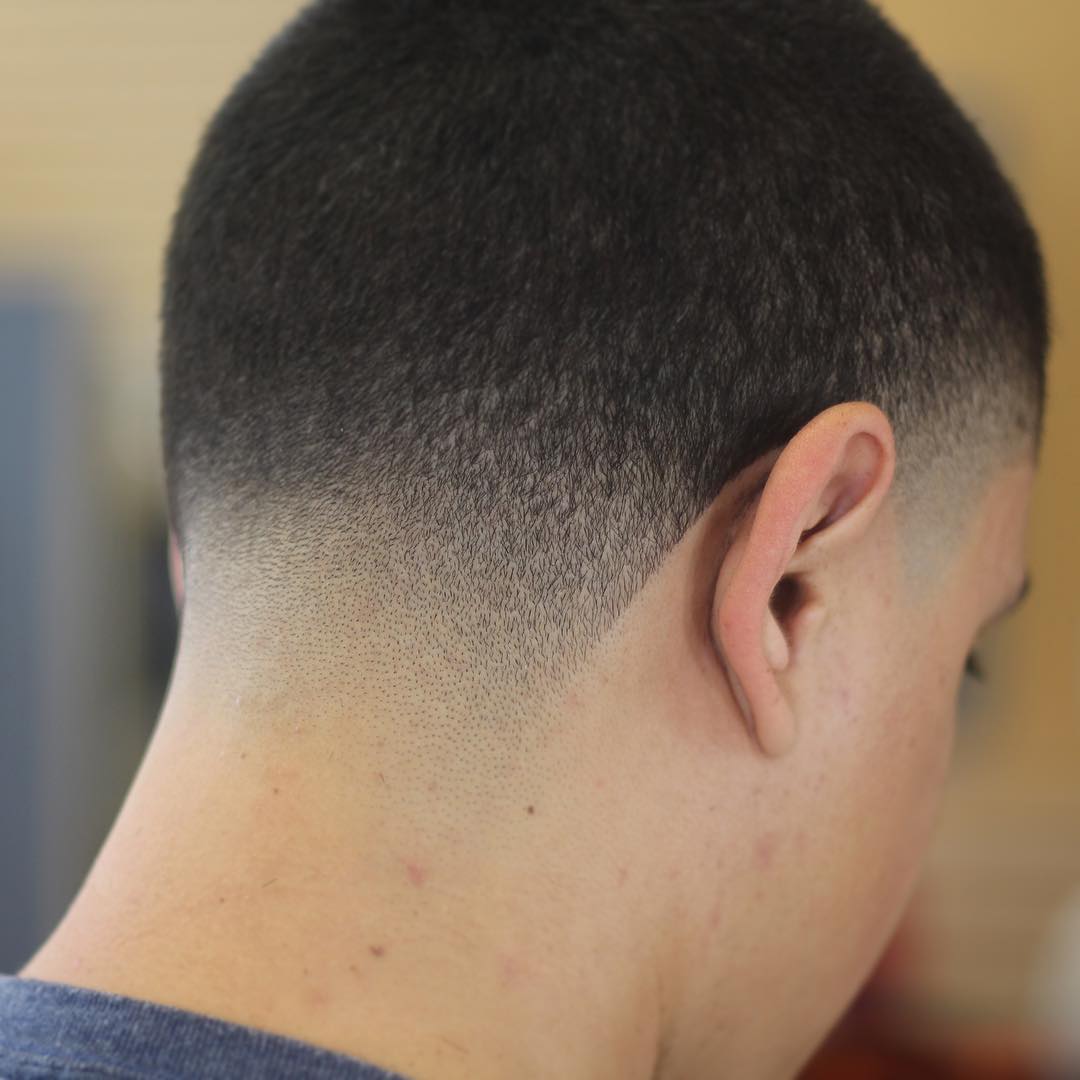 A quick fade at the neckline and temples creates blurry edges for this buzz cut.
167. Buzz Cut + Line Up + Burst Fade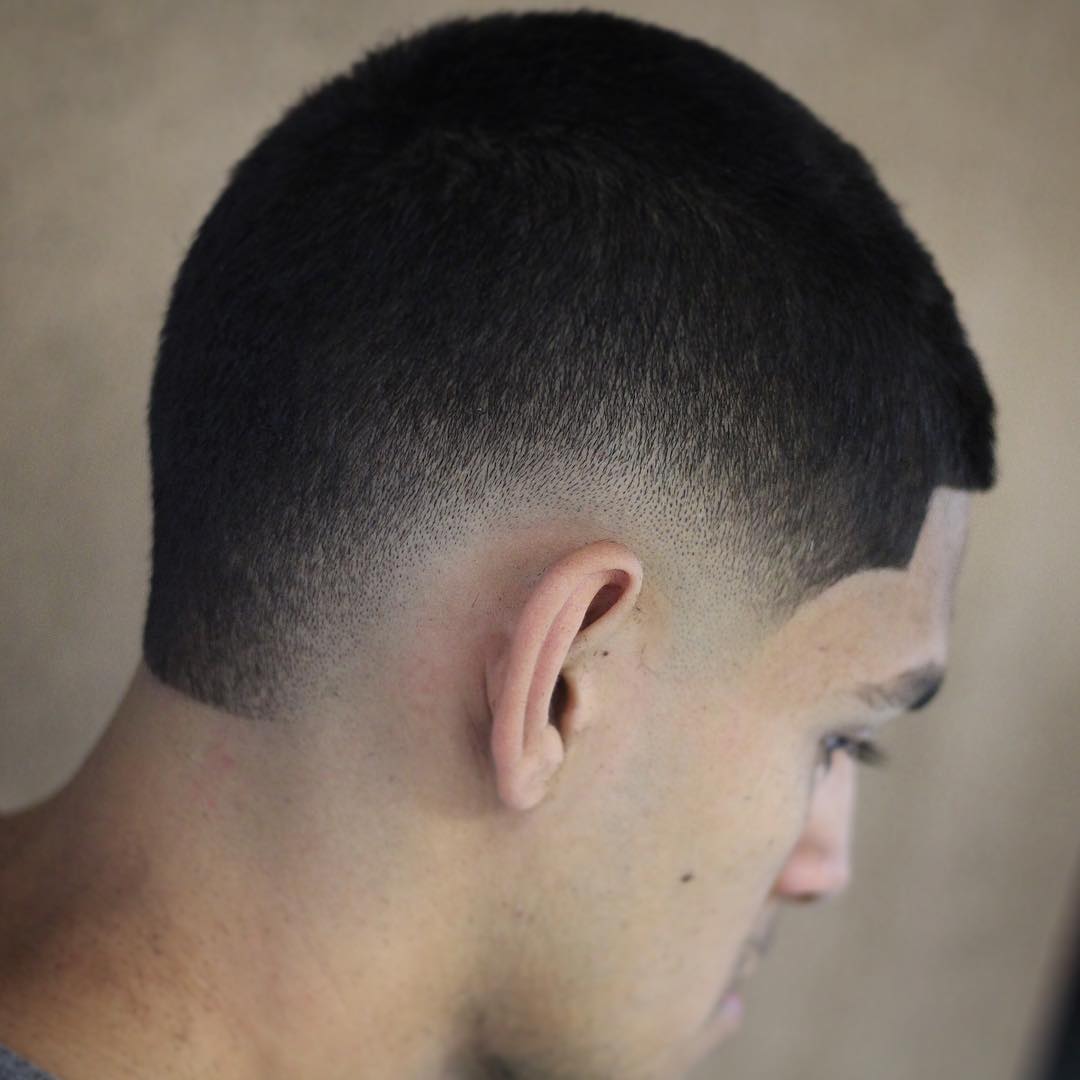 The burst fade is another way to add a unique finish to a short buzz.
168. Heavy Crop + Angled Fringe + Mid Fade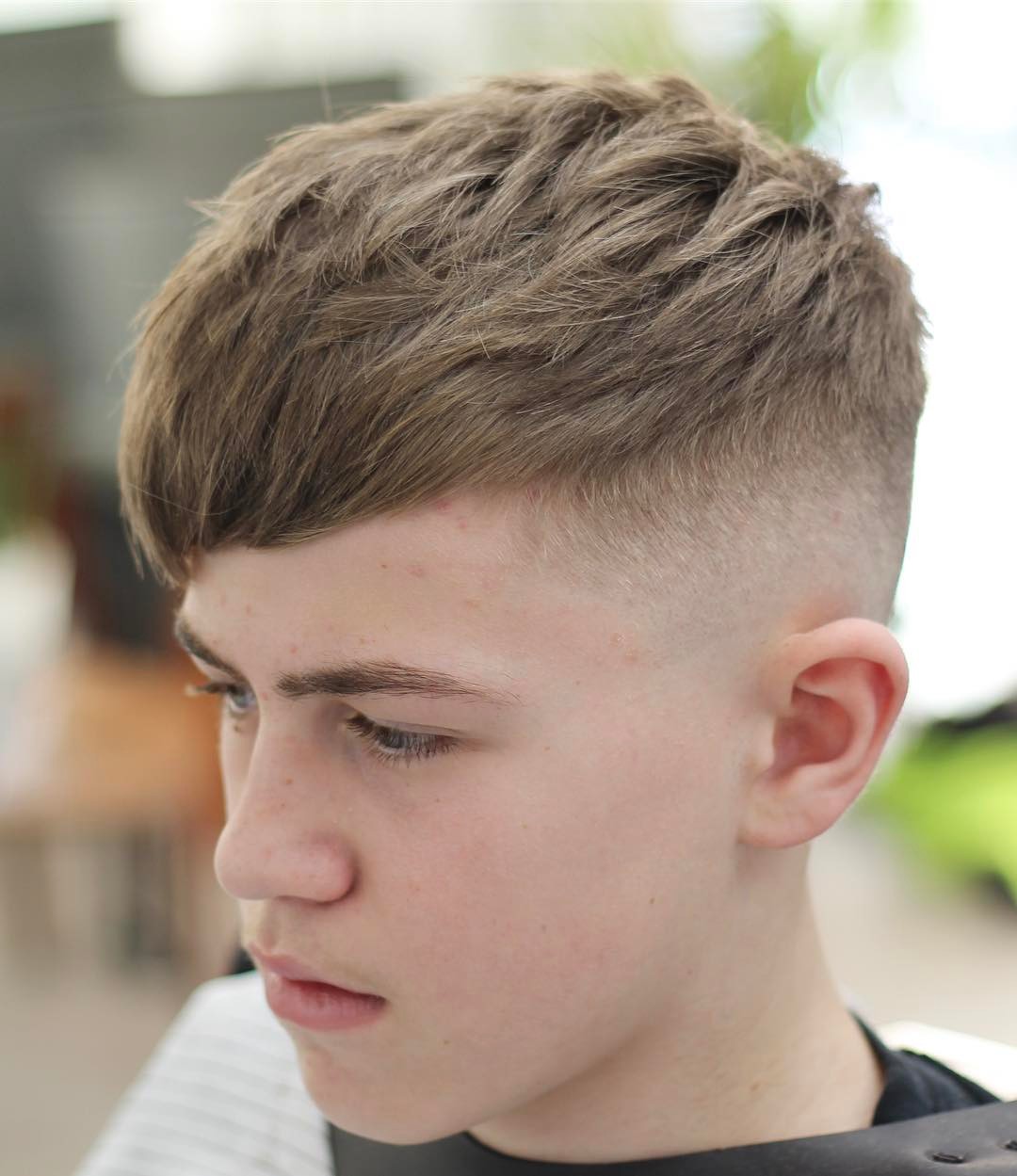 This long crop features a sweep of bangs on an angle and a mid fade at the back.
169. Fringe + High Fade Short Haircut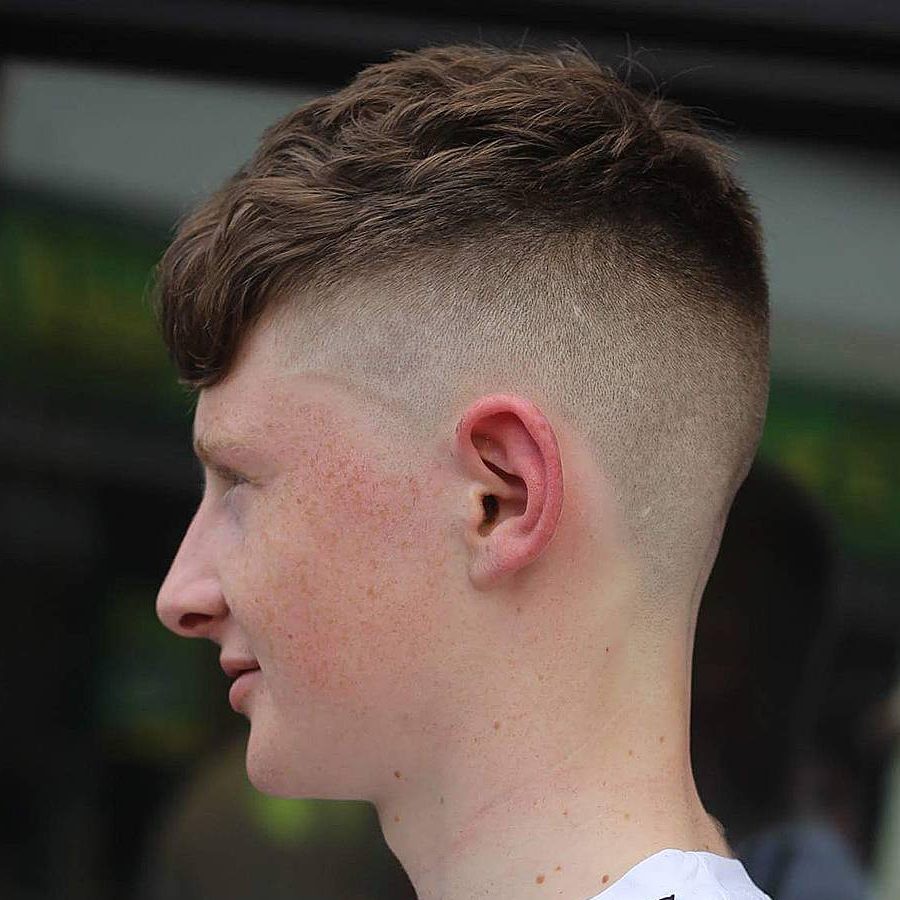 This disconnected hairstyle features heavy textured fringe and a undercut fade.
170. Short Curls + Temple Fade + Edge Up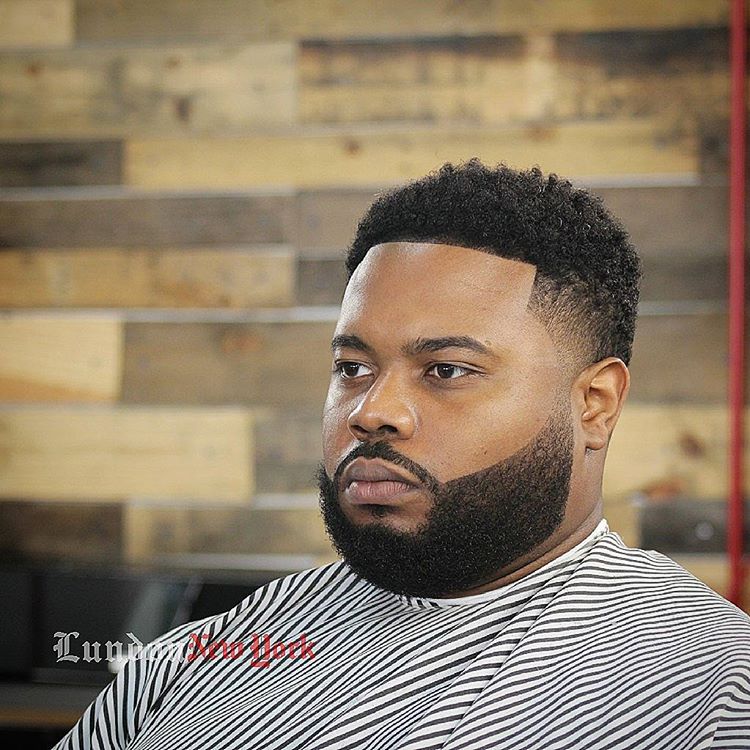 In addition to hair type, face shape is essential to finding your best hairstyle. This cut gets it just right with short curls and a temple fade that add height and length a broad face.
171. Side Part Hairstyle + Mid Fade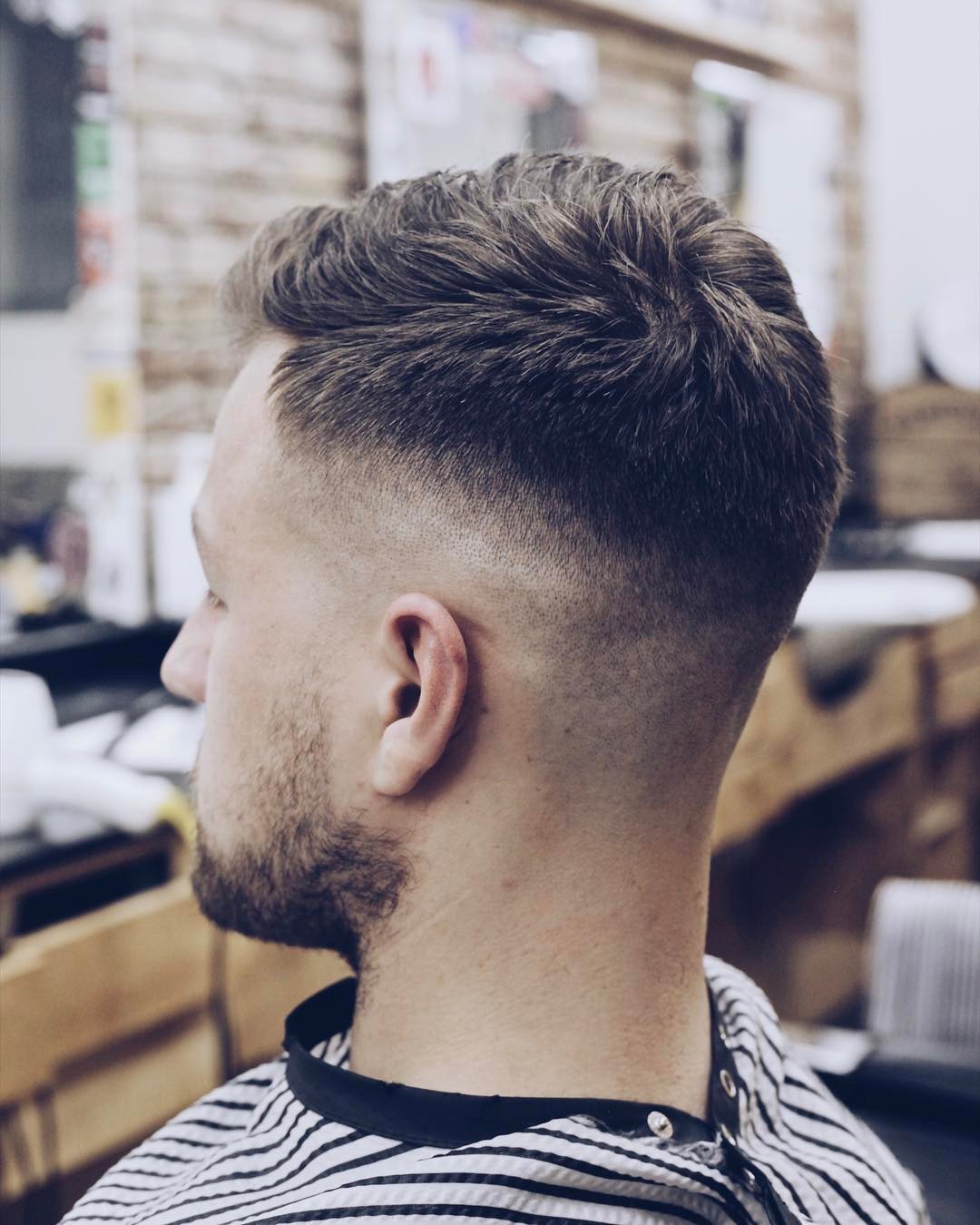 The classic side part hairstyle gets a modern touch from a mid bald fade.
172. Short Sweep Back + Low Fade Haircut For Short Hair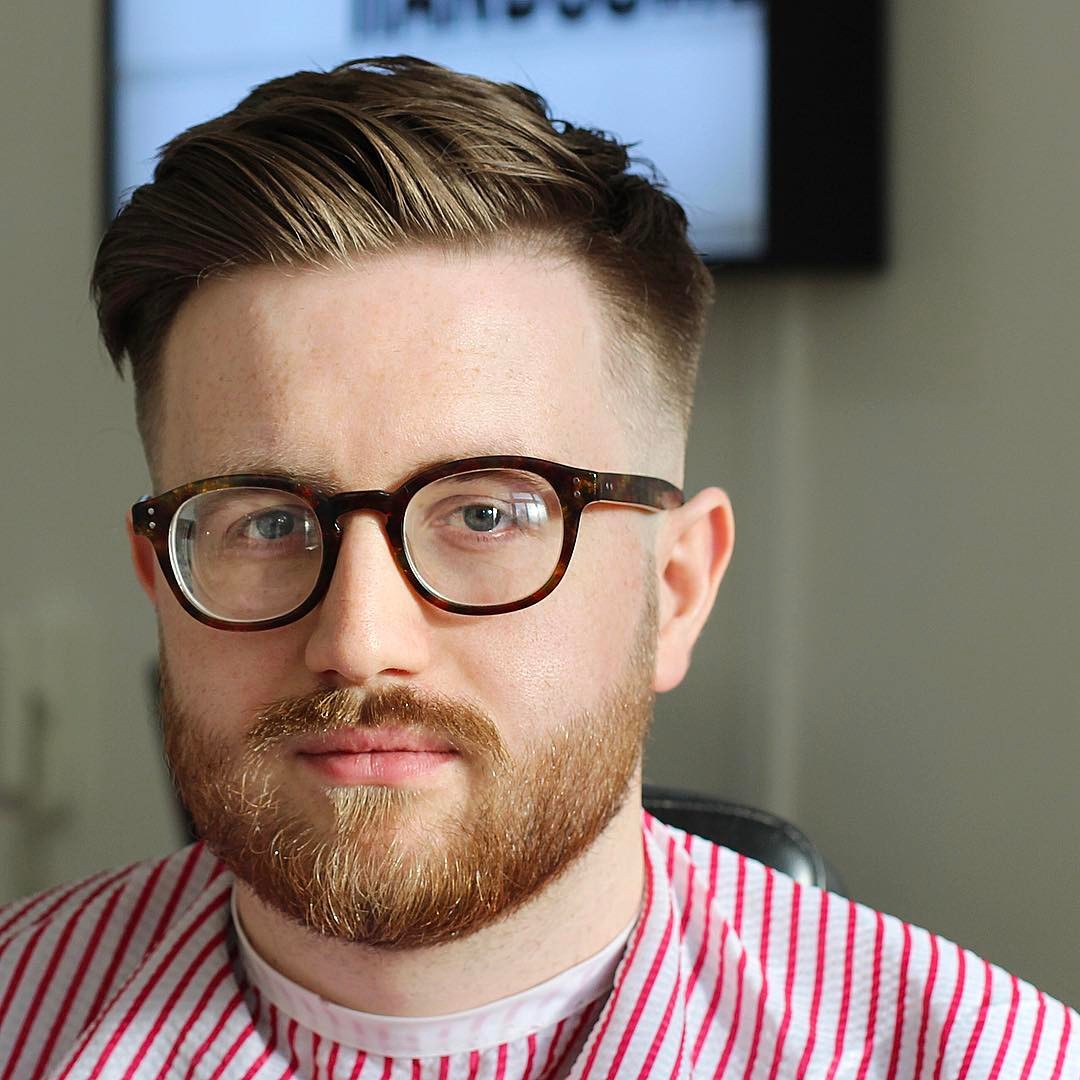 Popular men's hairstyles like the comb over, slick back and sweep back can be worn with longer or shorter hair. The key is to have enough length at the hairline for styling.
173. Dry Slick Back + Drop Fade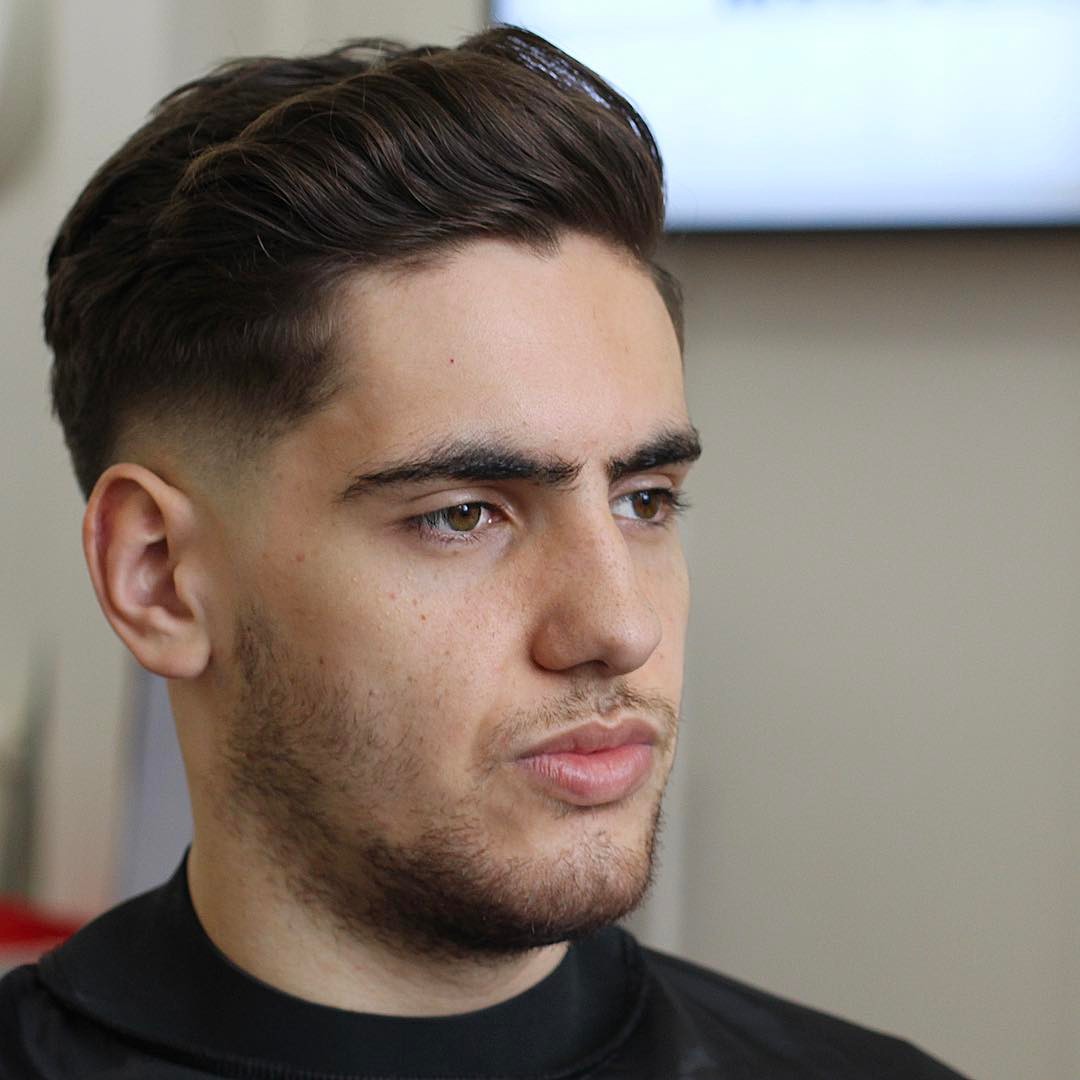 The slicked back hair trend of a few years ago has seen a few updates of late. First, slick products have been replaced by matte product for a natural finish. Second, add a fade or taper at the sides.
174. High-Low Fade + Fringe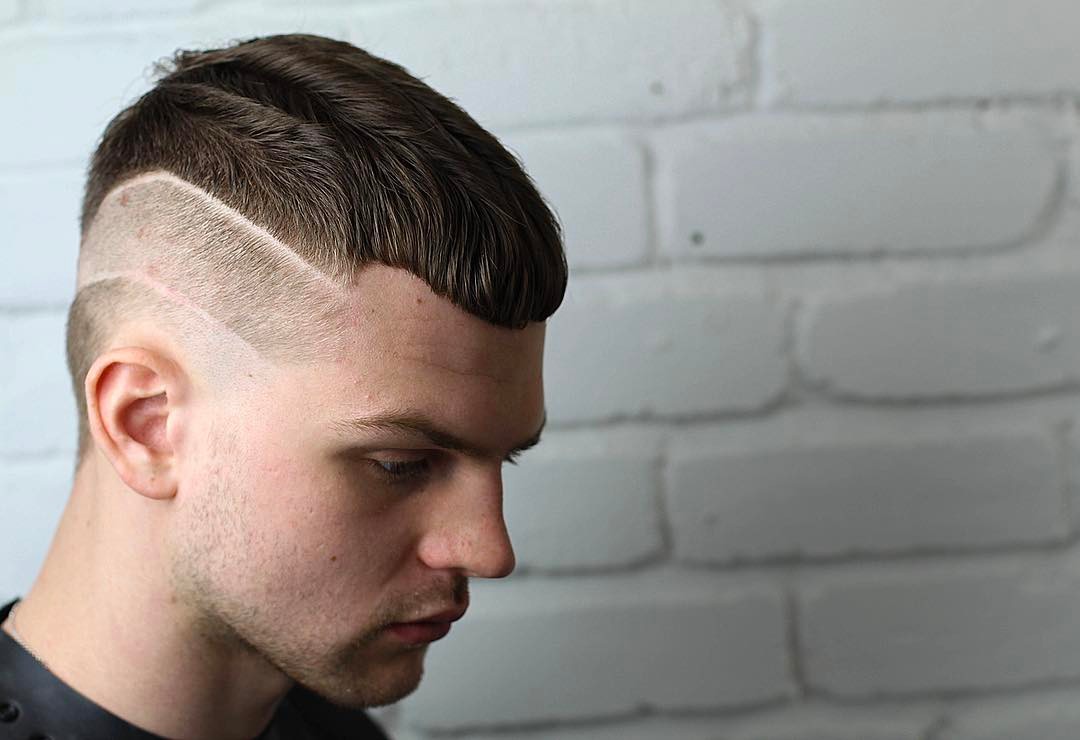 Two contrasting fades separated by surgical lines creates dramatic sides while curved fringe adds even more geometry to this new hairstyle for men.
175. Classic Short Pompadour Haircut For Men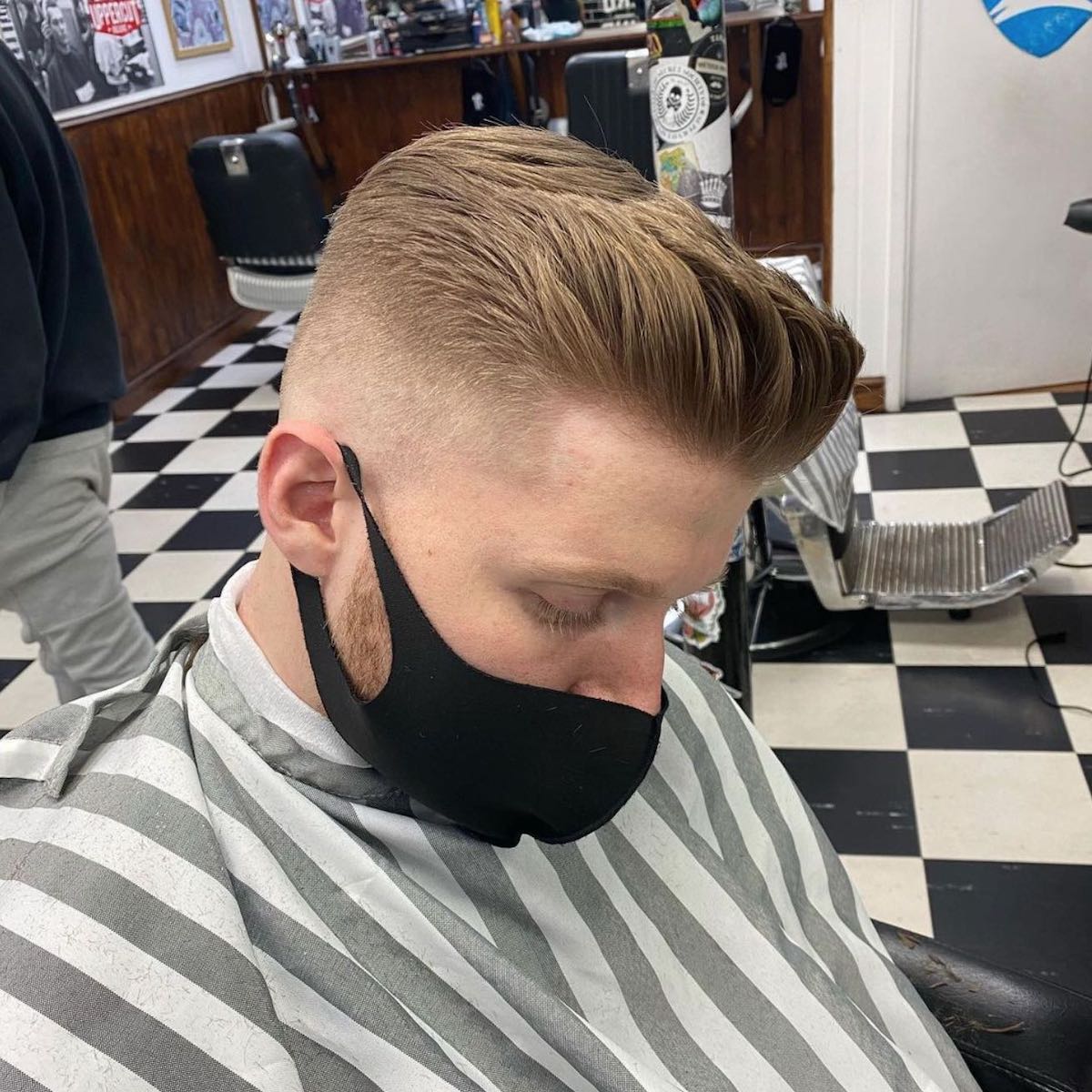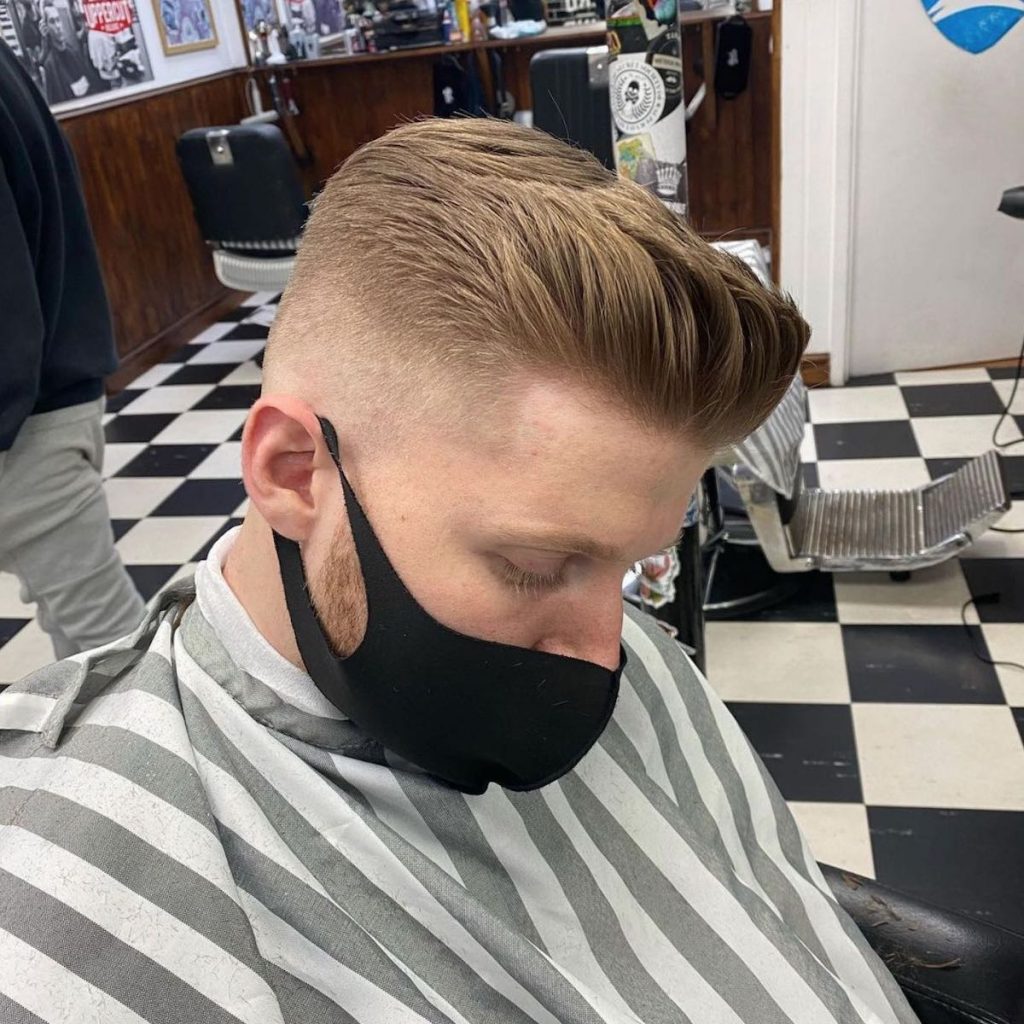 A very cool short hair pompadour haircut. A great looking classic men's haircut.
We use affiliate links and may receive a small commission on purchases. Please read our disclosure.