Short haircuts are the go-to for most guys. Leaving the barber with a clean and fresh look is super satisfying, especially the feeling of a new fade. Our newest update features all-new, super cool short haircuts for men. Update your style with a men's haircut that will get noticed and feel great.
Short haircuts can include anything from a couple of millimeters to a couple of inches long. Hair can look and feel even shorter, a type of fade at the sides. Or leave sides short but not shaved with a taper or taper fade. As far as styles go, short hair can be classic, trendy, or even trendsetting. It's up to you.
Here are 55 pictures of the most popular types of short haircut styles, and short hairstyles for men. We've divided these 55 looks into categories including short sides, long top styles, fades, very short hair and Black hair. Some haircuts are all of these things while others are just one so keep scrolling to find your next haircut.
The Best Men's Short Haircuts
Scroll down to get into the most popular short haircuts for men in greater detail and to understand how to style them. But first, let's list your options for a quick understanding of the different styles you can get.
These are the haircuts you can ask your barber to cut for you.
Buzz cut
Shaved head + faded sides
Short taper fade haircut
Very short men's haircut with a low fade, mid fade, or high fade
Short haircut with a hard part
Line up short haircut
Short spiky haircut
Short messy haircut
Textured crop haircut
French crop haircut
Crop fade
High and tight
Crew cut
Short comb over fade
Classic side part haircut – short hair
Short quiff haircut
Mohawk fade
Faux hawk – short hair
360 waves haircut
It can be helpful to know these terms but we always recommend showing your barber a picture of what you want to avoid any miscommunication.
One last thing before we get into it, short hair still needs to be take care of. For buzz cuts, all you need to do is take care of hair with a good shampoo and maybe conditioner too. Added moisture is more important if you plan to grow hair longer. Do use it for hair longer than half an inch.
Even the shortest hair can be styled and use pomade to stay in place. Find the right pomade for your hair type and give it a go. Here are 55 great ideas.
Short Sides, Long Top Haircuts
The short sides, longer top haircut includes so many popular styles if all lengths. from the pompadour, buzz fade, crop haircut, high top. Even a mullet if you really try.
2. The King of Cool aka Steve McQueen Haircut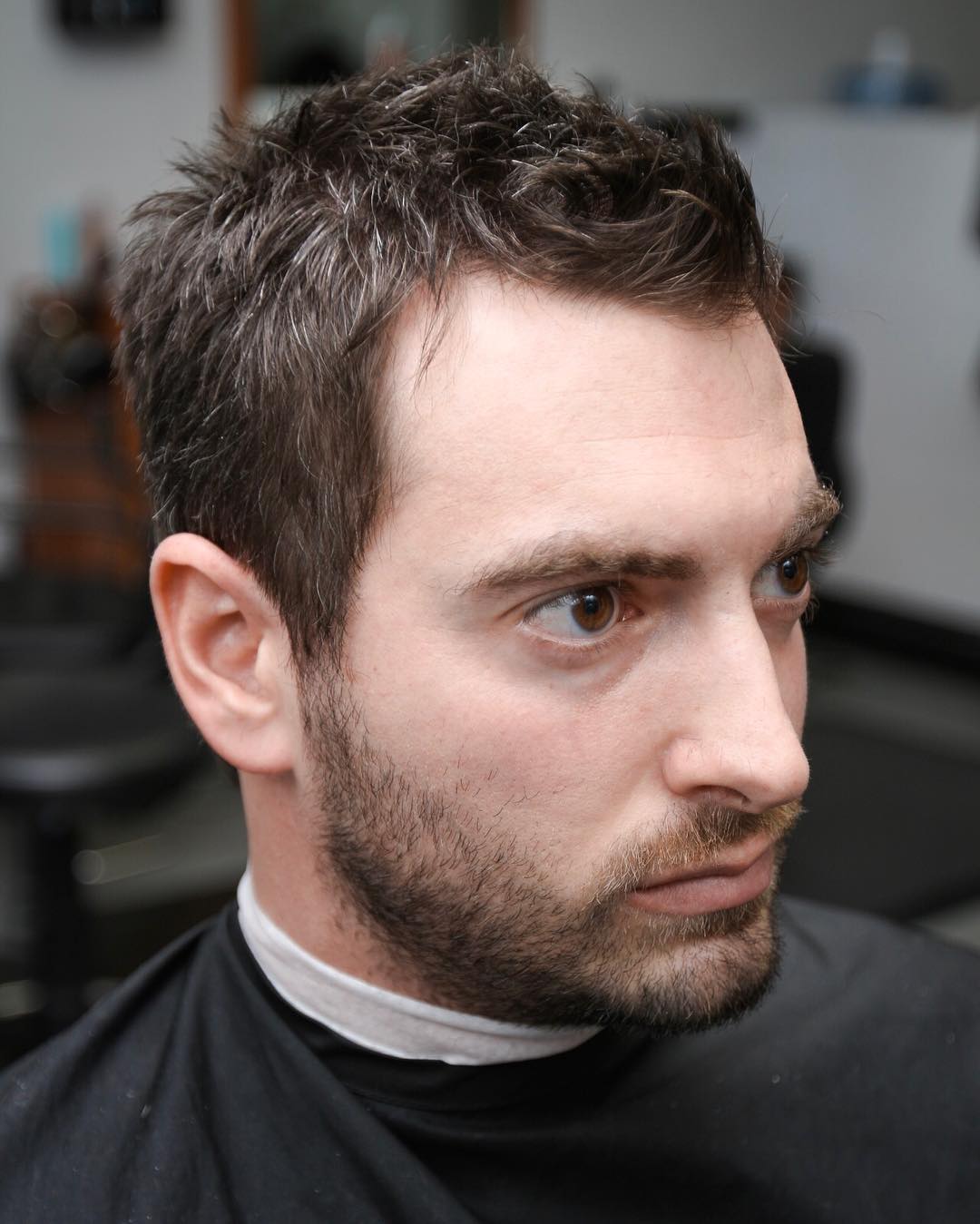 Like the Mustang he drove in Bullitt, Steve McQueen's short and choppy haircut stands the test of time. It's one of those effortlessly cool looks that makes you wonder if someone styled their hair or just always looks good. It's a bit of both but an excellent haircut like this practically styles itself.
5. Fades Sides + Wavy Hair aka French Crop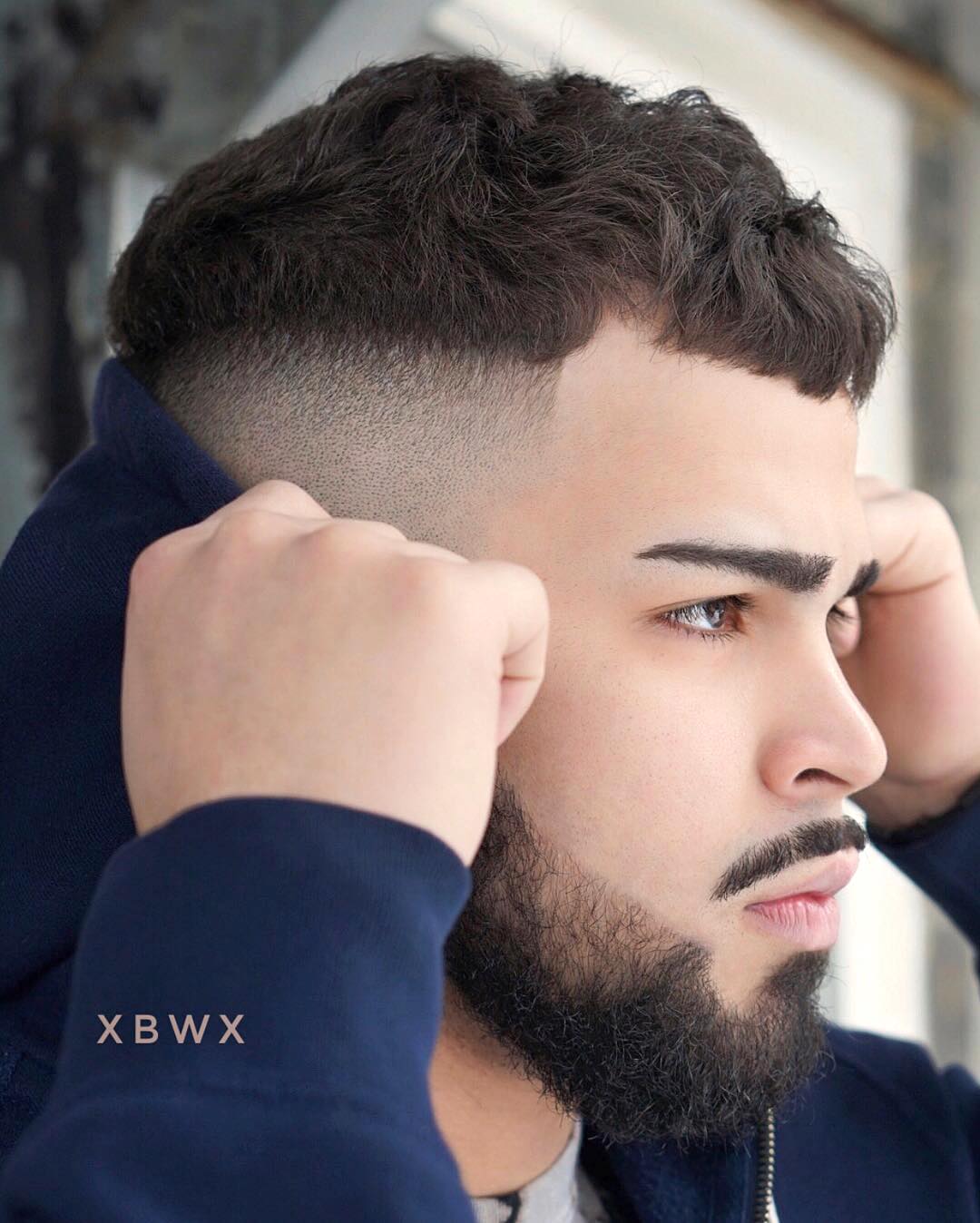 For even shorter sides, get a skin fade. This can be a great option for wavy or curly hair that quickly starts stick out at the sides.
6. Hard Part Haircut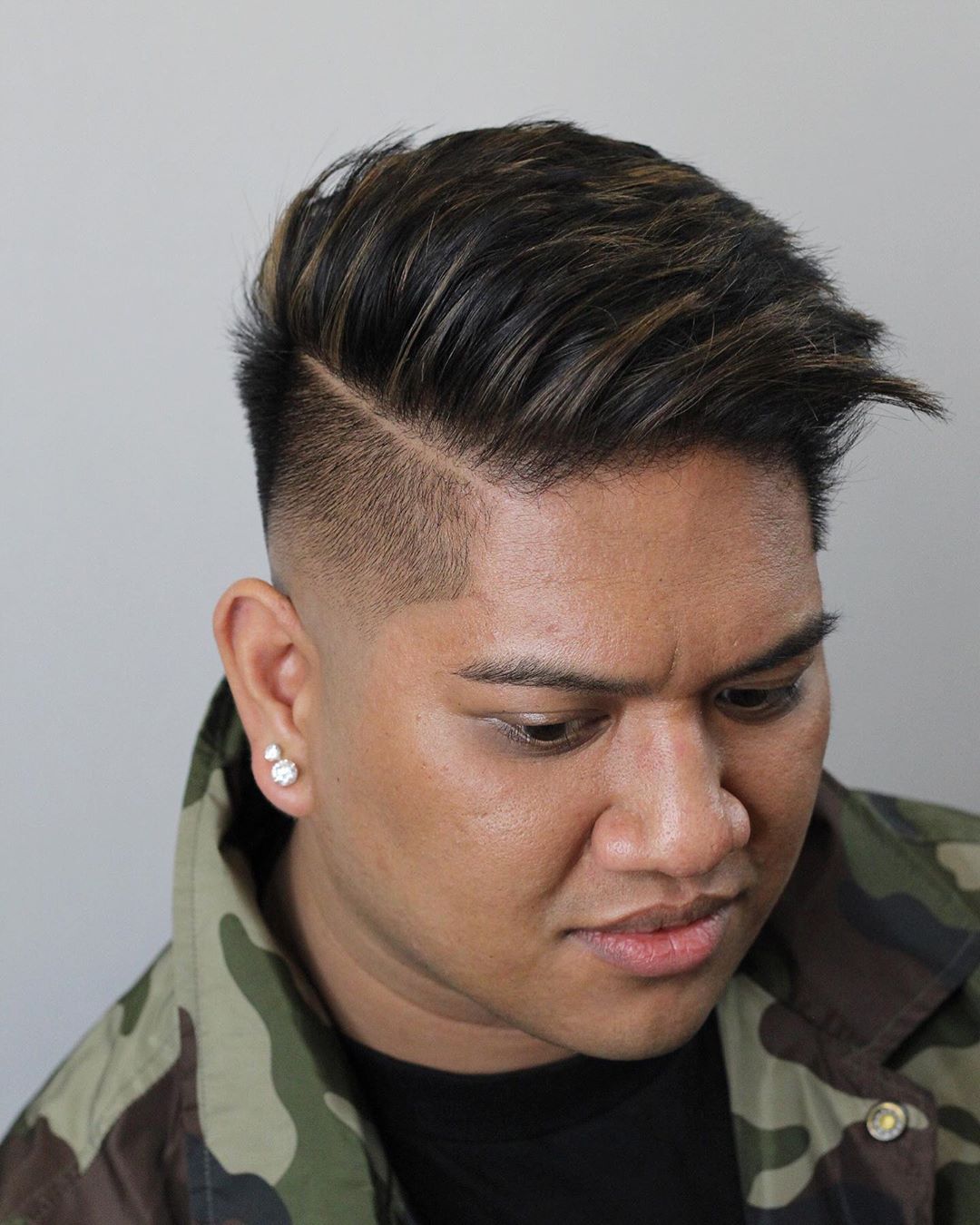 This cool style adds volume and a shaved part to the always popular combover fade.
7. Short Sides, Long on Top Haircut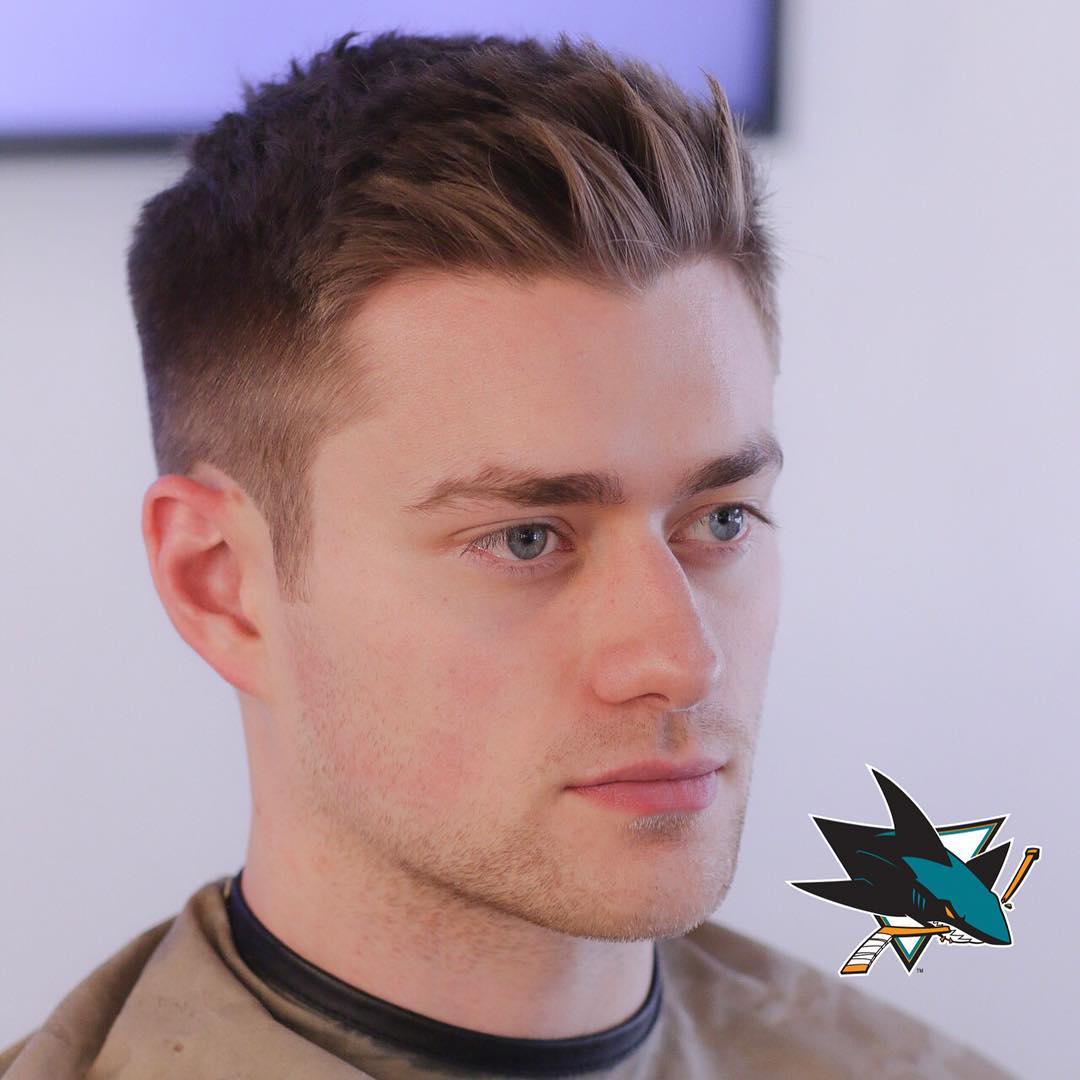 This short sides, longer on top haircut is a cool and clean cut look. Styled with some texture on San Jose Shark Dylan Gambrell, it could be also be worn with a side part for a more formal or conservative look.
8. Cool Short Haircut for Wavy Hair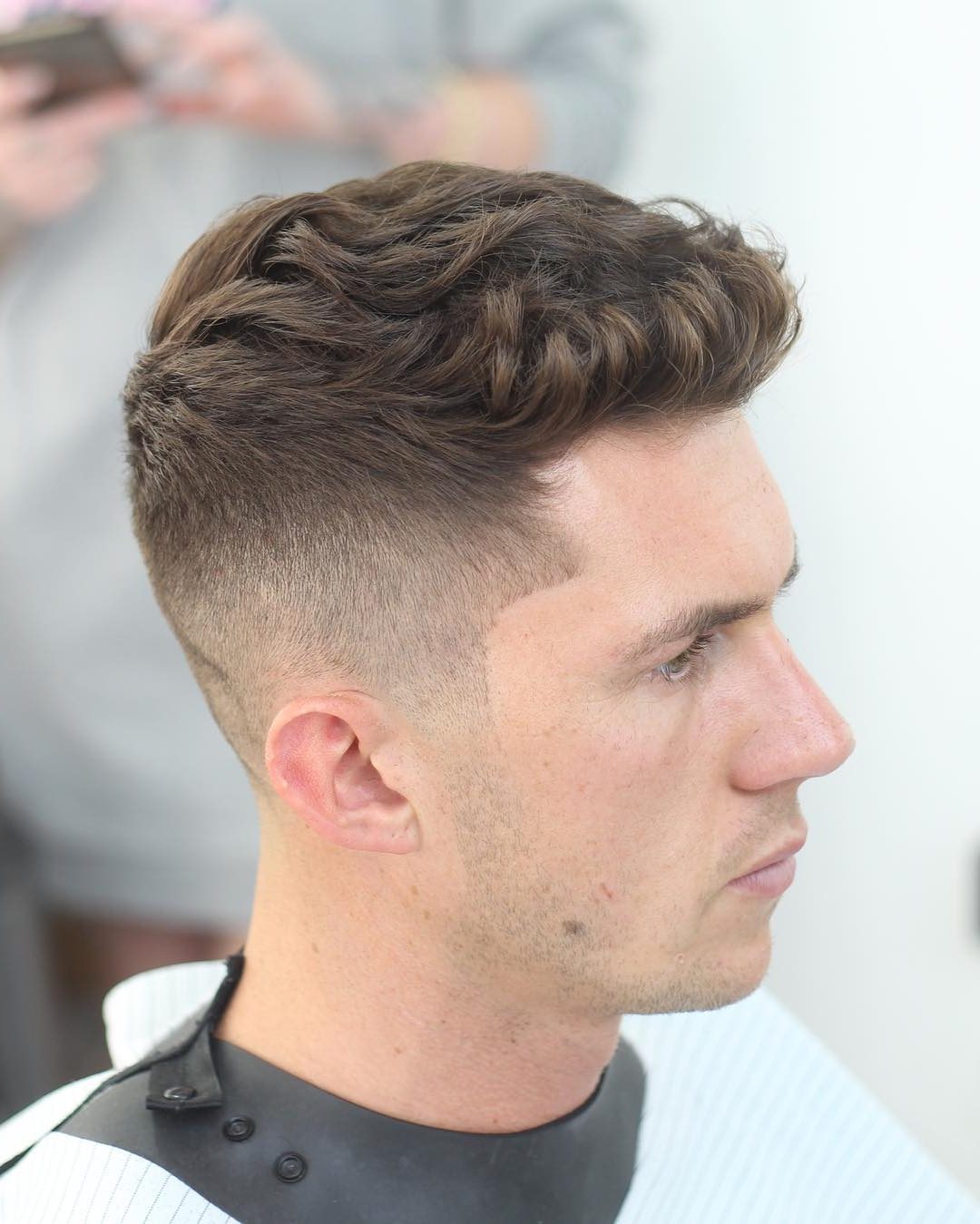 The best haircuts work with your natural texture. Instead of cutting wavy hair off, this cool cut uses length and angled cuts to bring out wave and volume while a high fade means no maintenance at the sides.
9. Short Haircut For Thick Hair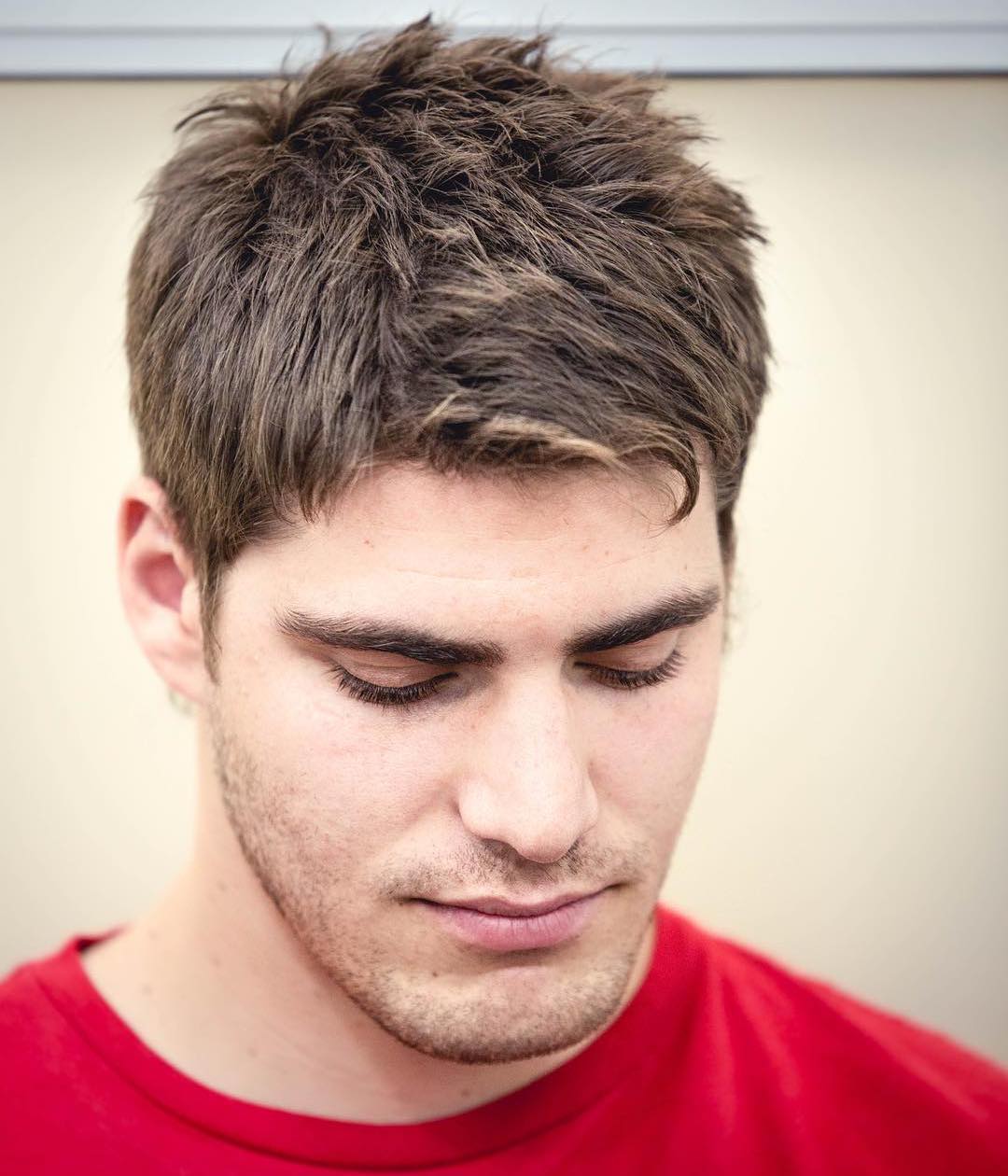 A very neat looking textured haircut for a guy that has thicker hair. No fade on the sides here. It's all scissor work.
10. Short Sides, Longer Top Haircut for Curly Hair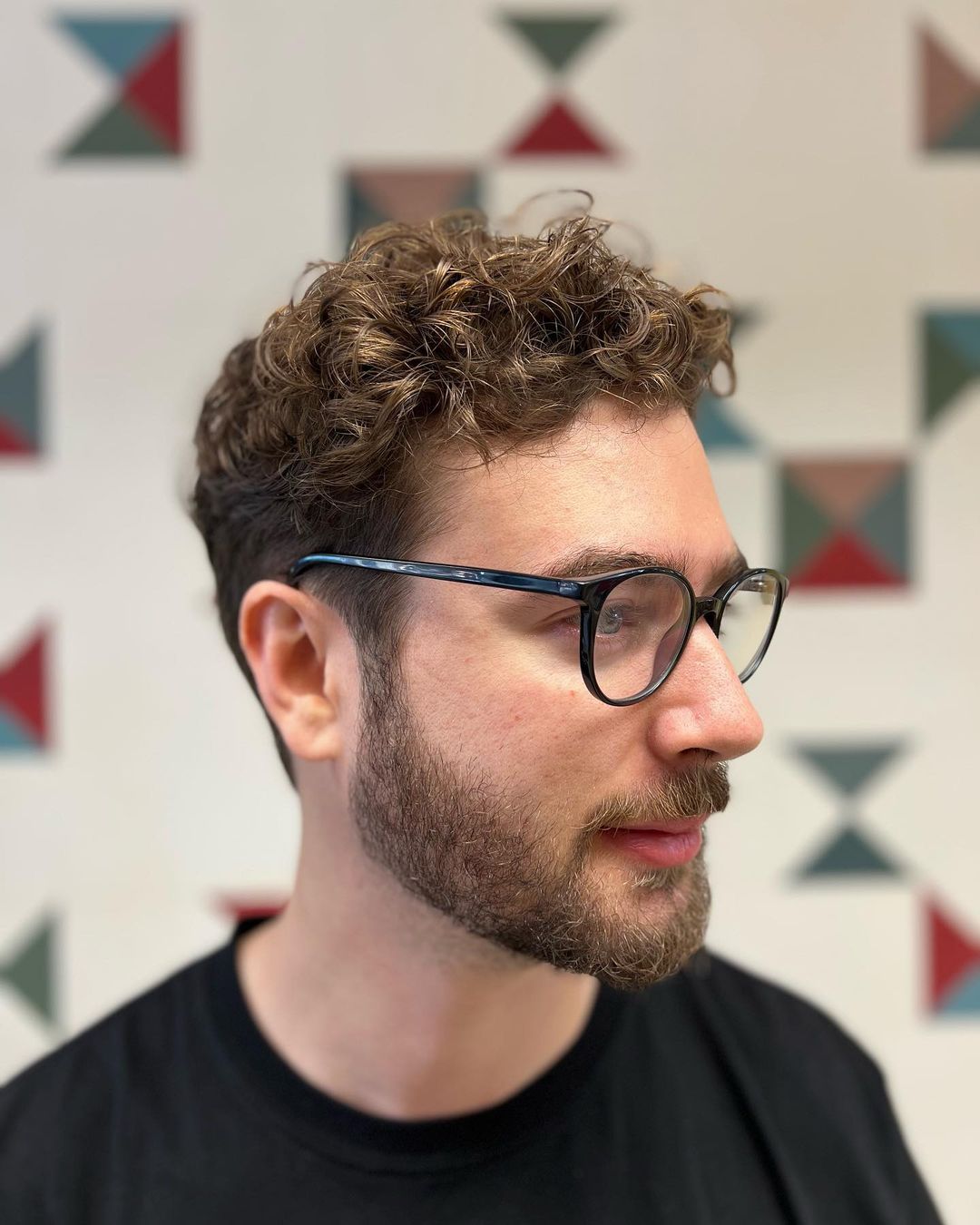 Show off natural texture with an even longer top and short sides. More length makes hair easier to style because it has enough weight to lie down instead of stick out.
11. Shaved Sides + Short Top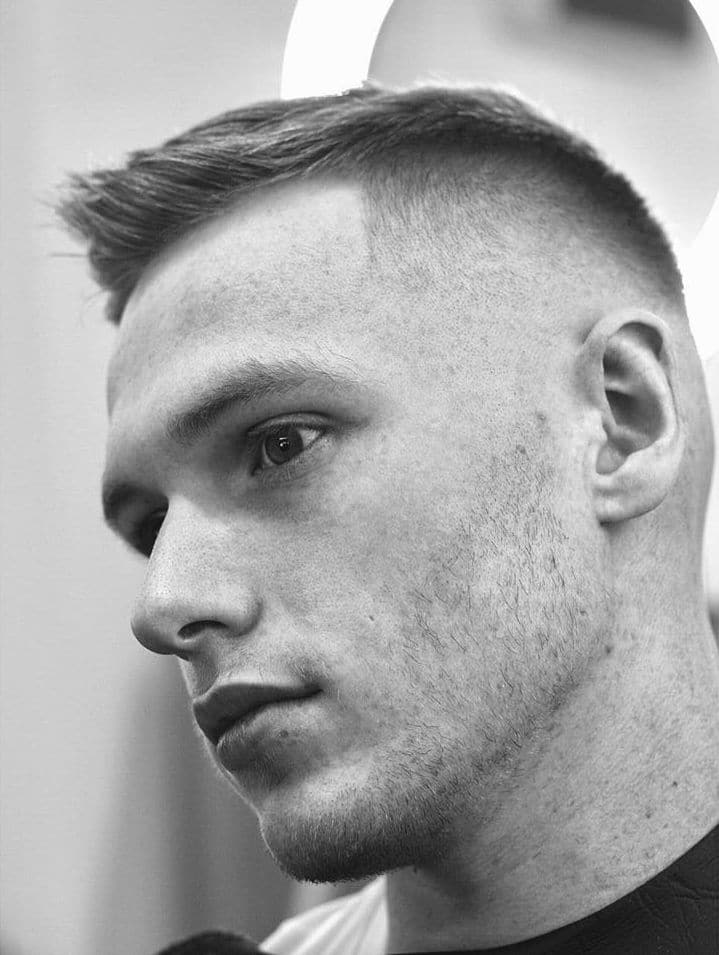 The high skin fade combined with extra length and volume at the forehead makes thin or fine hair look thicker. These short haircuts look good and help fine or thin hair appear thicker. The key is short sides that make hair on top look fuller in comparison. Otherwise, about an inch of length and some styling, volume and texture also help hair look thicker. A quiff, comb over and mini pomp, like above, are all flattering choices.
13. Short Haircuts For Older Men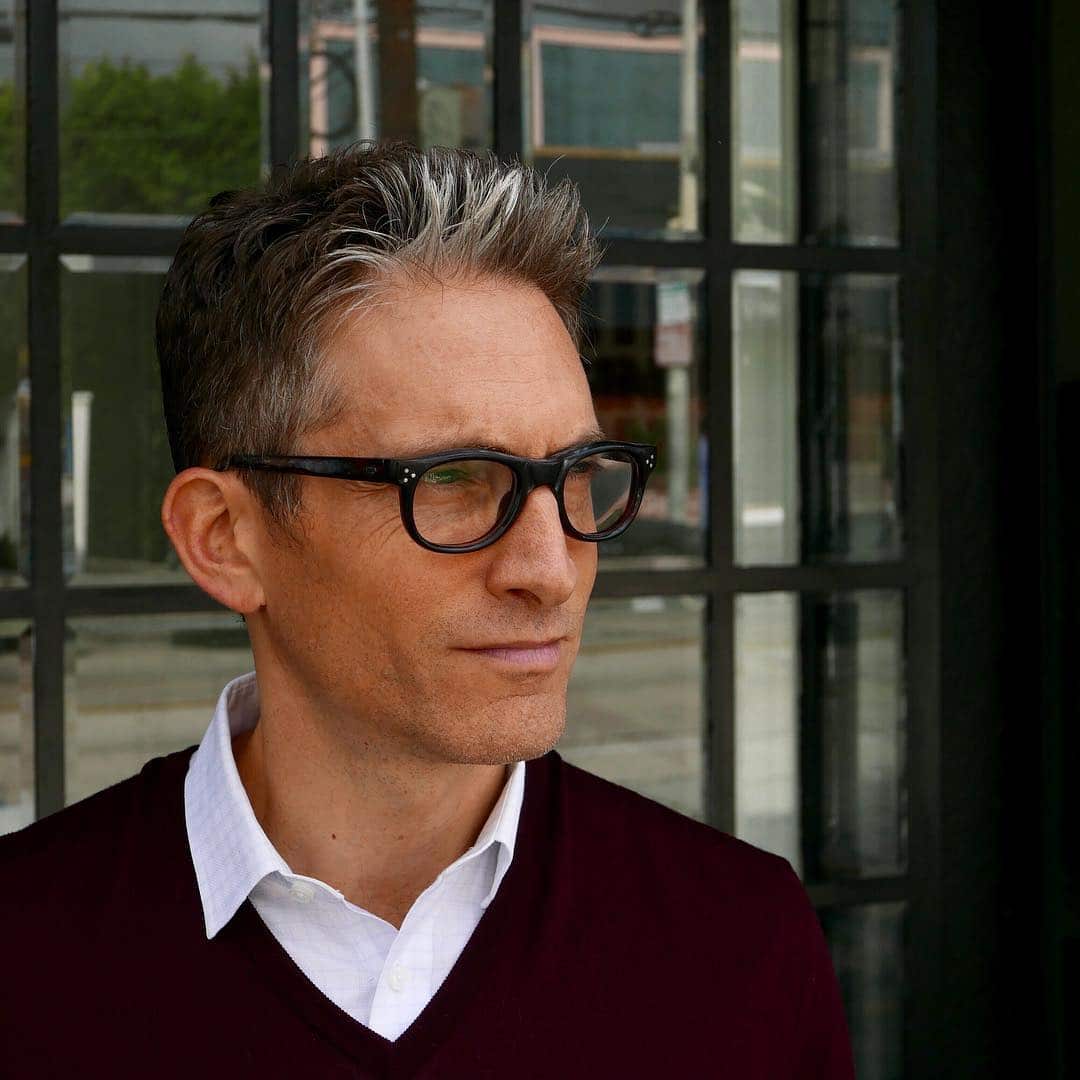 You're never too young or old to be stylish. This classic short haircut for men with modern styling works for men of all ages but is especially distinguished with streaks of silver. That hint of color is so good that it would be worth dying yourself if nature doesn't do it for you.
Silver and gray hair look best with matte hair products and gray-specific shampoo that uses blue and purple hues to counteract brassy yellow tones.
14. Layers + Color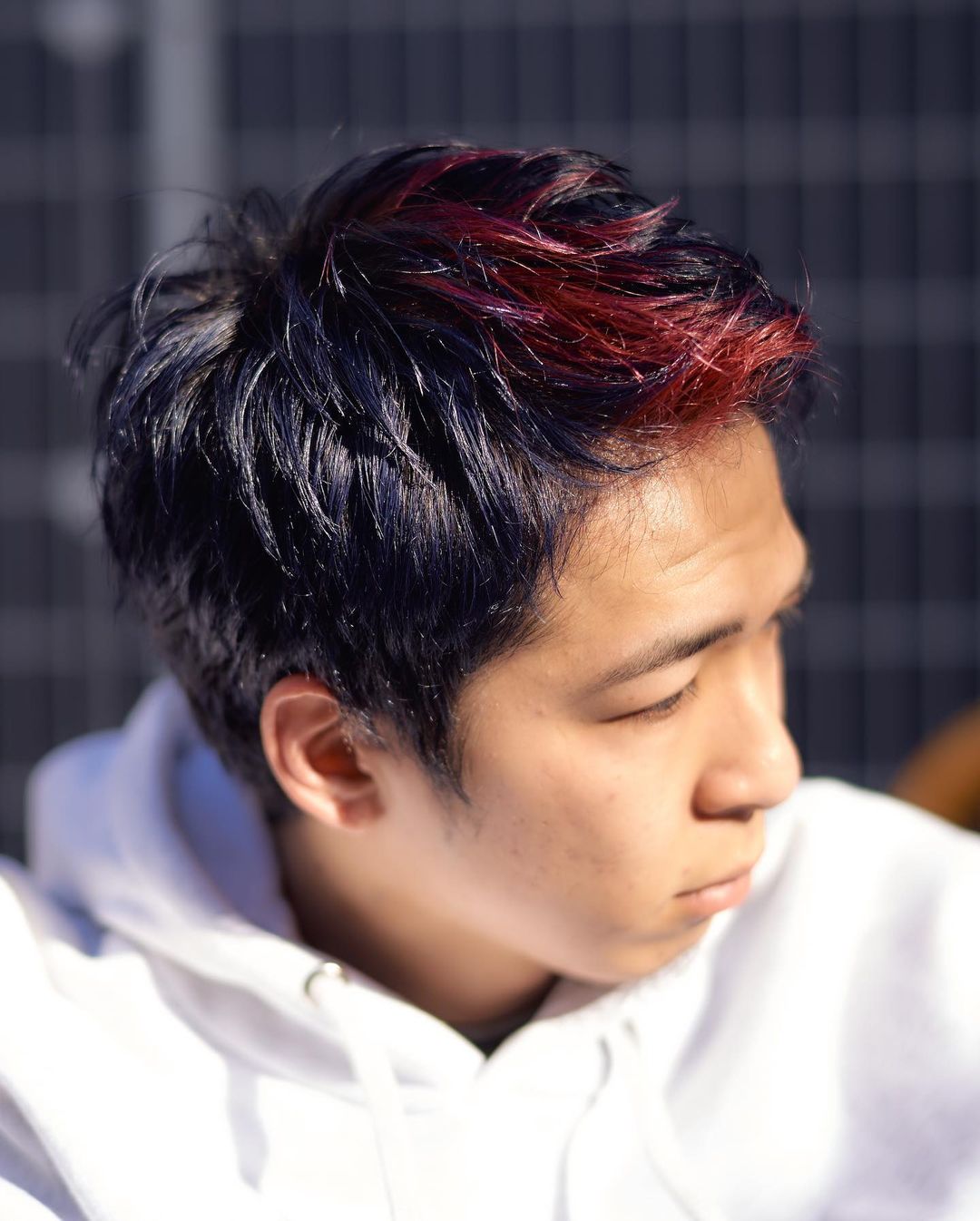 It can seem like every guy's haircut has a fade these days but that is far from the truth. Here's a layered cut for thick hair that gets shorter at the sides back. The streak of burgundy adds dimension to dark hair.
15. Short Mullet Haircut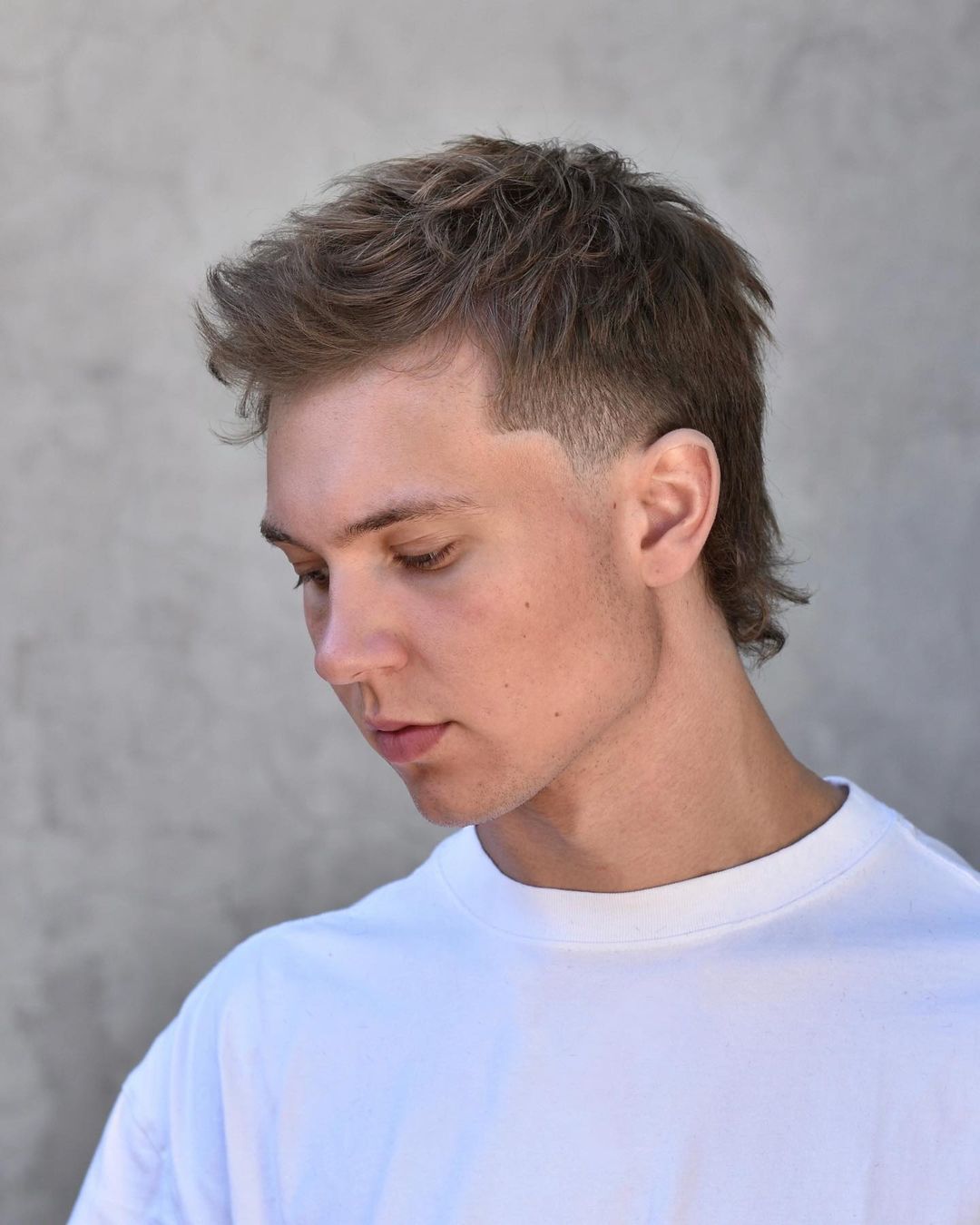 If you count a temple fade as short sides like we do, this mullet fits the formula. The question is, how long to grow the back?
Simple Short Haircuts
Short haircuts tend to be simple. Here's how to add some styling, fade or detail to add some interest and complexity.
16. Crew Cut Haircut + Part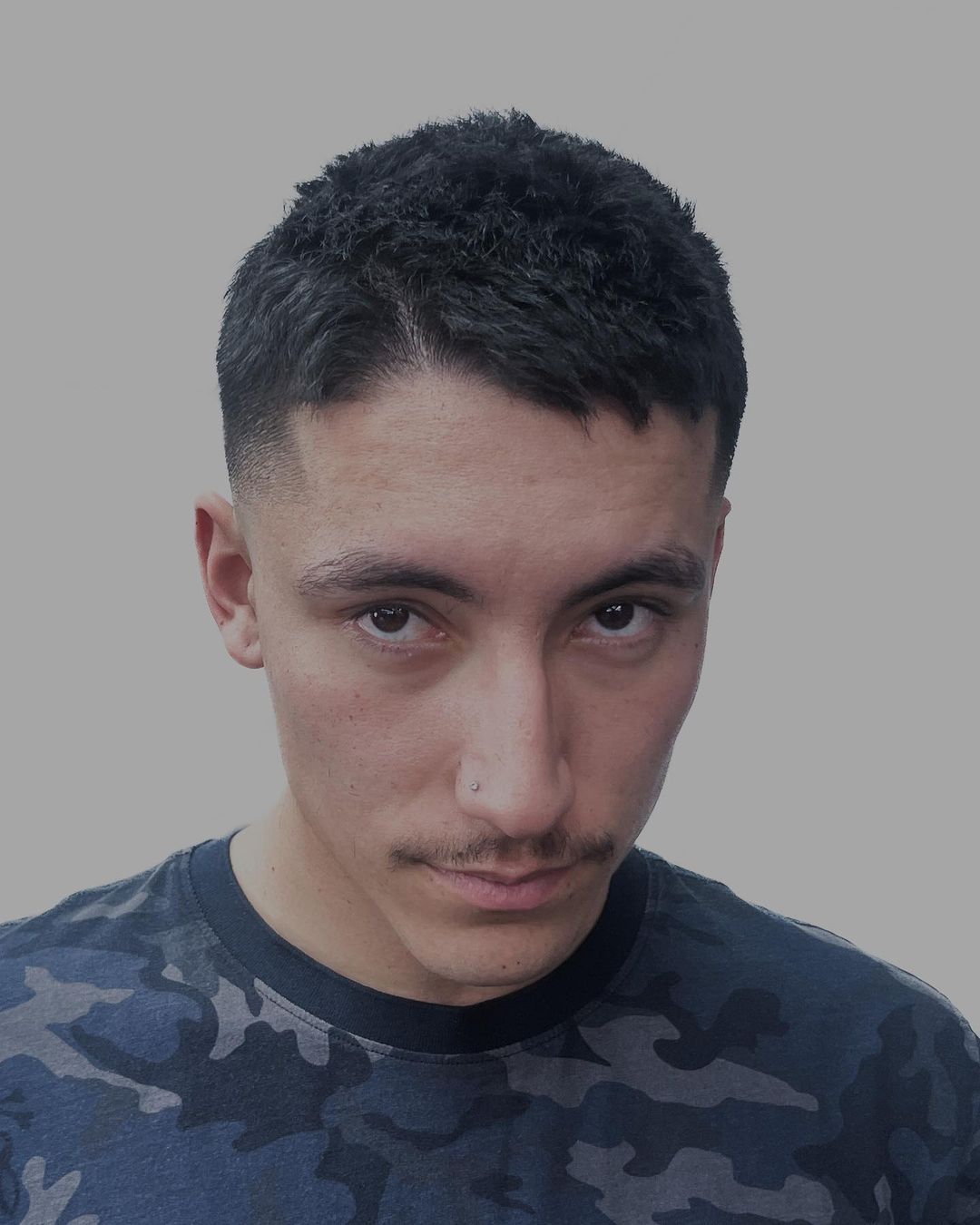 A hint of side part and hair styled forward transforms this classic crew cut into a fresh look.
Using hair product to pull hair up at the forehead is easy and looks great whether you have a this type of thick hair and fine hair too.
18. High Skin Fade Haircut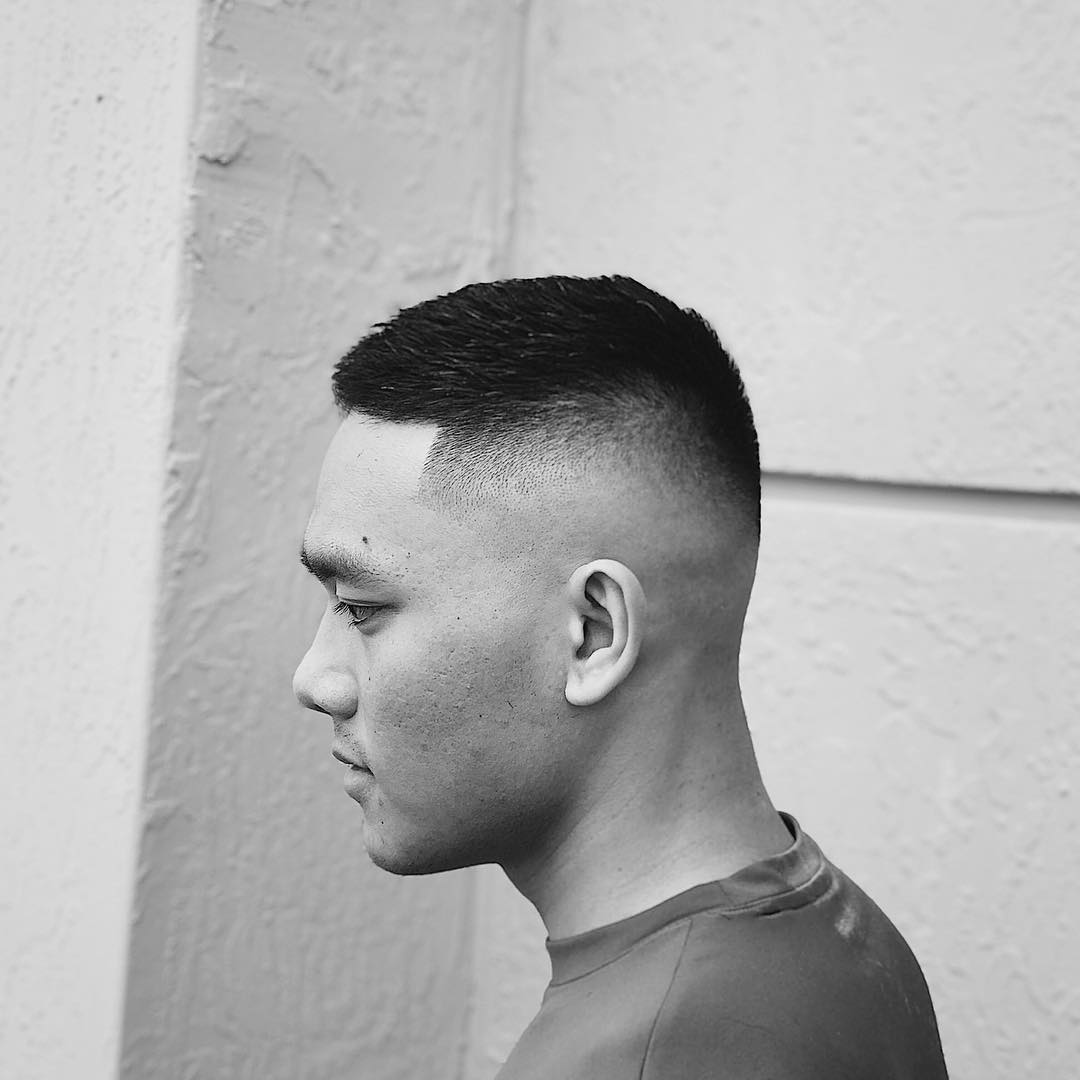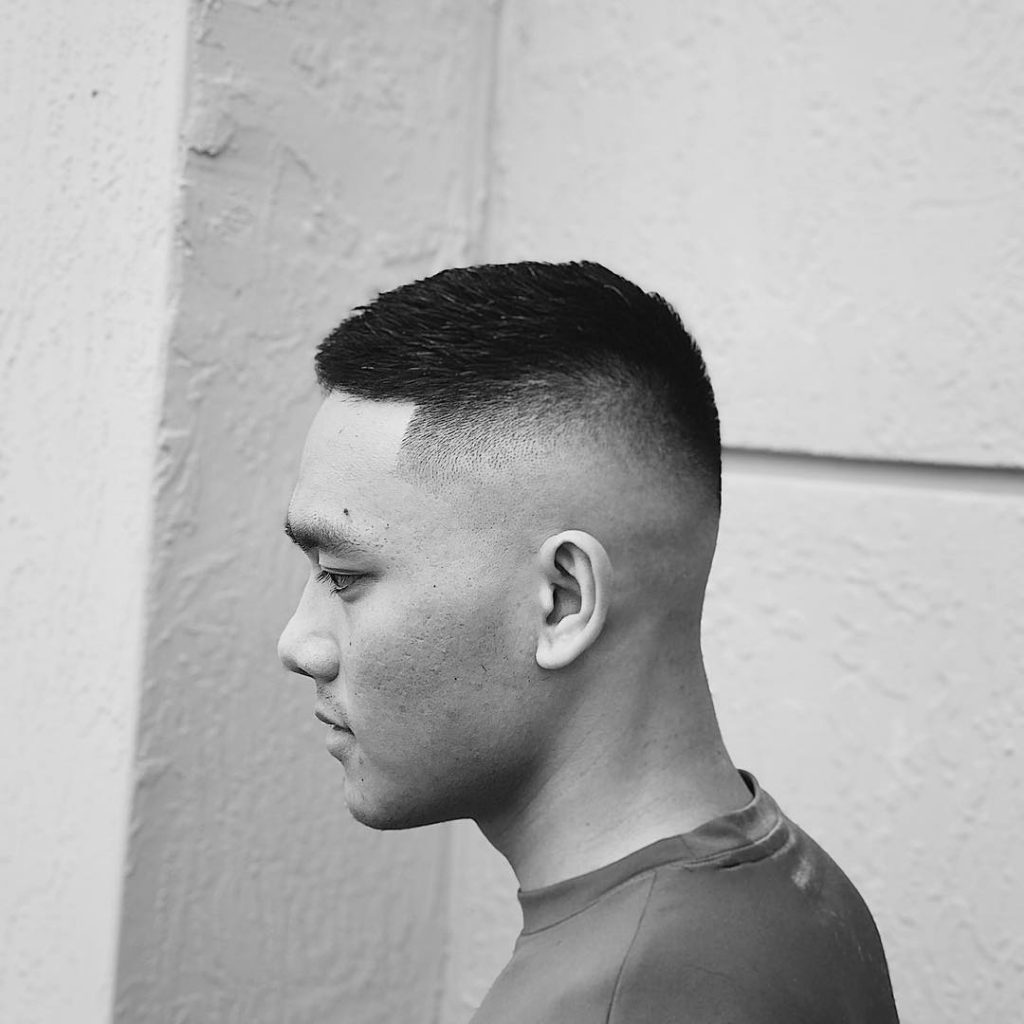 20. High and Tight for Thick Hair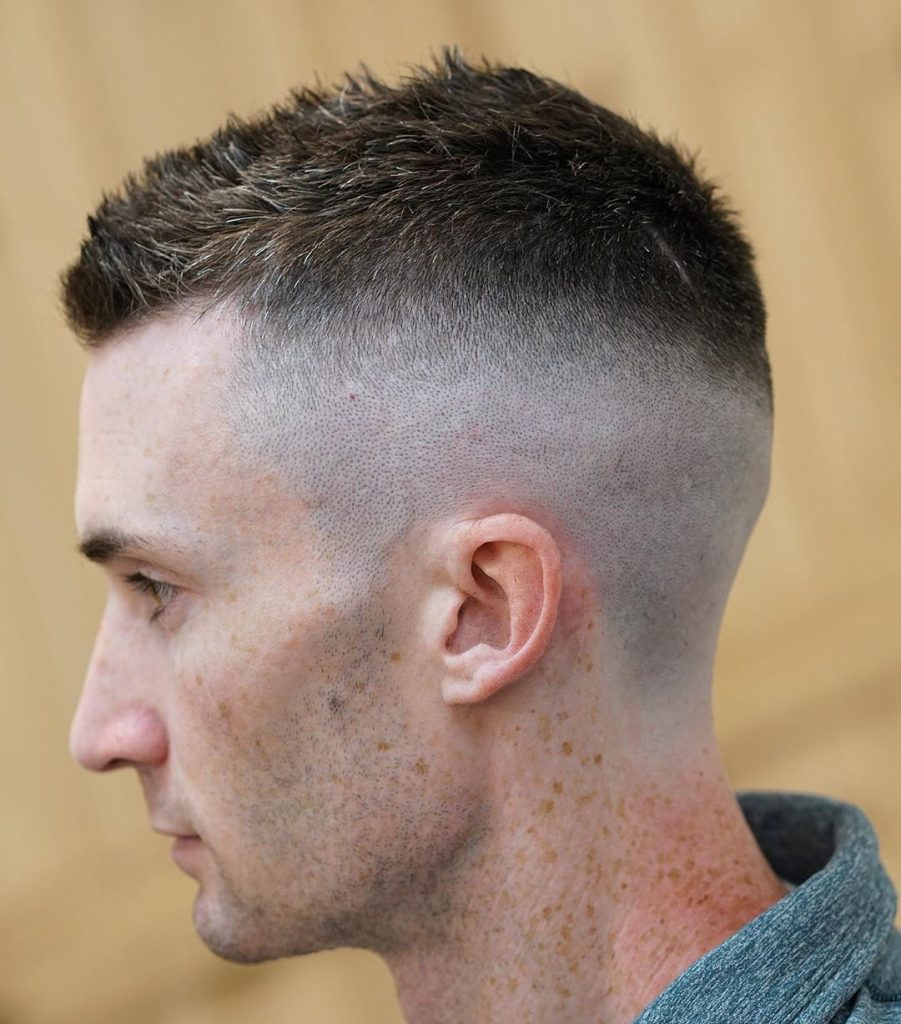 This high and tight with a drop fade is a cool wash-and-wear haircut, especially if for thick and/or coarse hair. This version has a touch of product to enhance texture.
21. Faux Hawk Hairstyle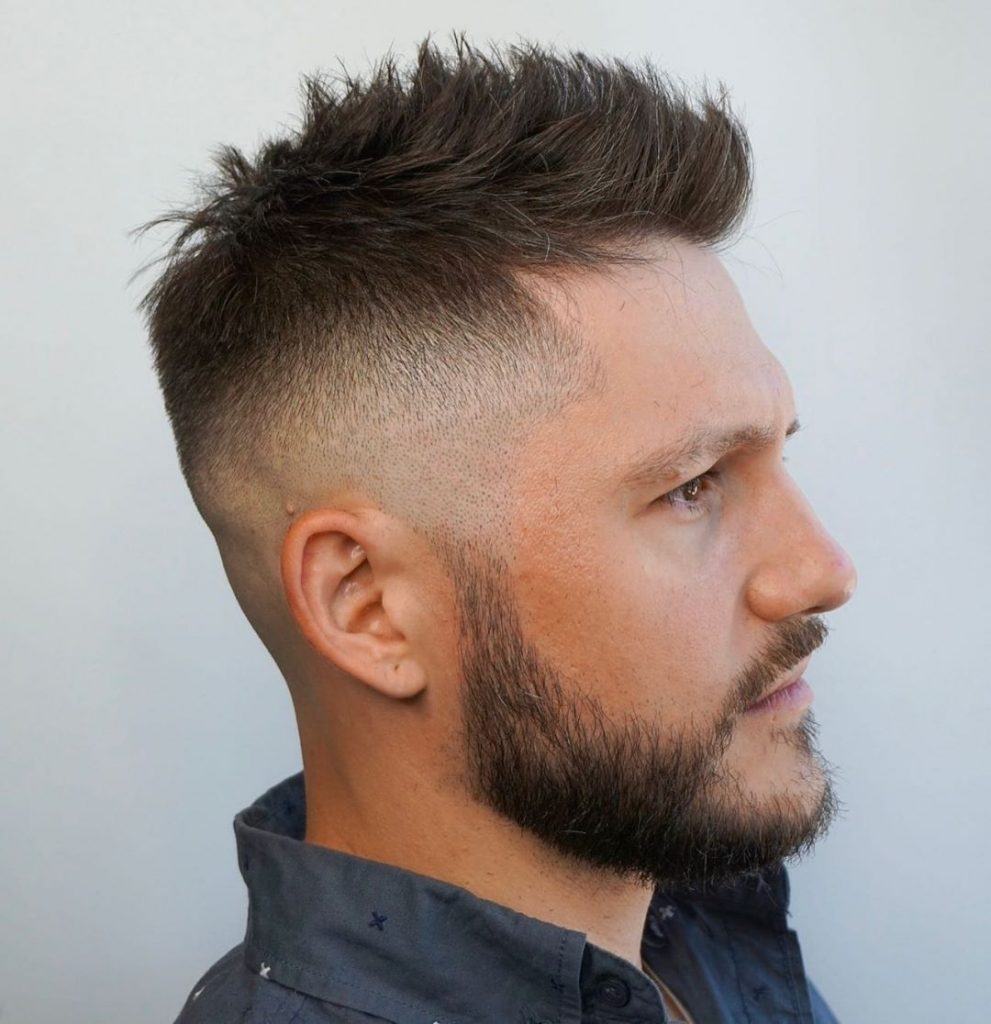 This cool short spiky cut and fohawk style is trendy and timeless at the same time. The bottom line is that it looks good.
22. Classic Men's Haircut + High Bald Fade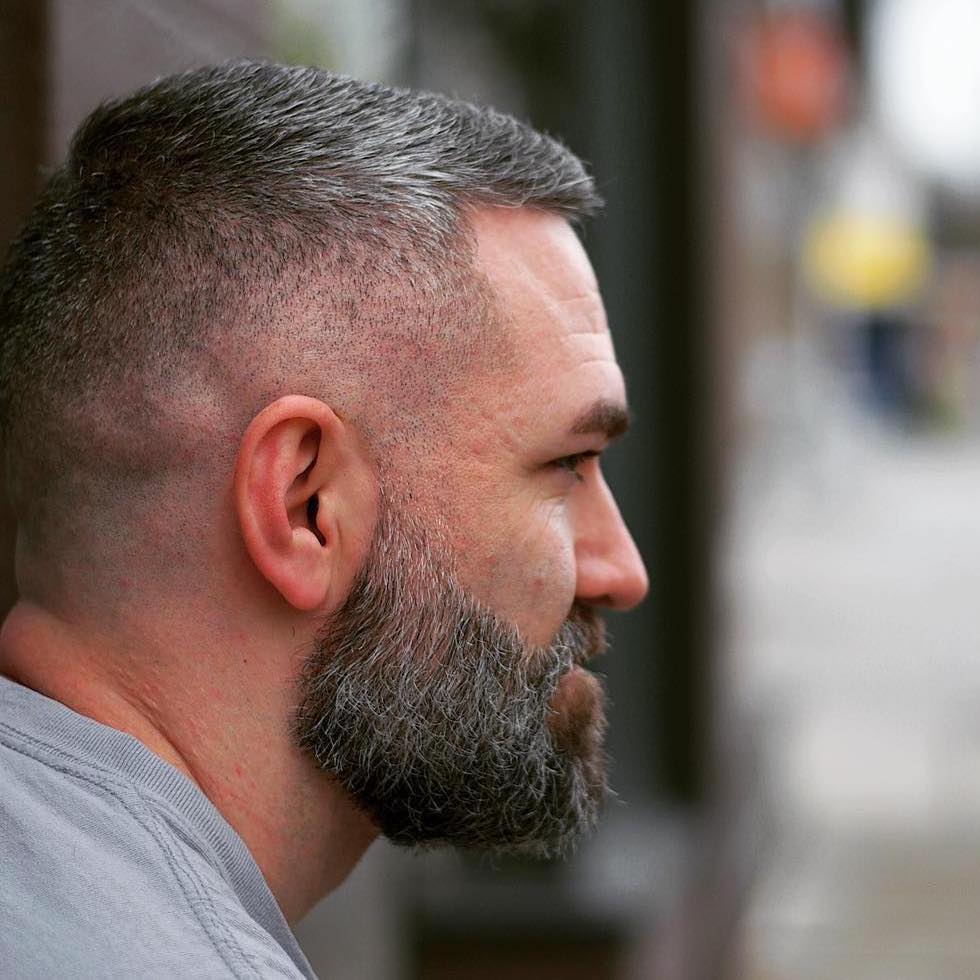 It seems like guys are going grey earlier these days so keep them guessing by wearing that salty hair proudly. This timeless classic men's haircut with a disconnected beard is a timeless look.
25. High Fade Haircut For Fine Blonde Hair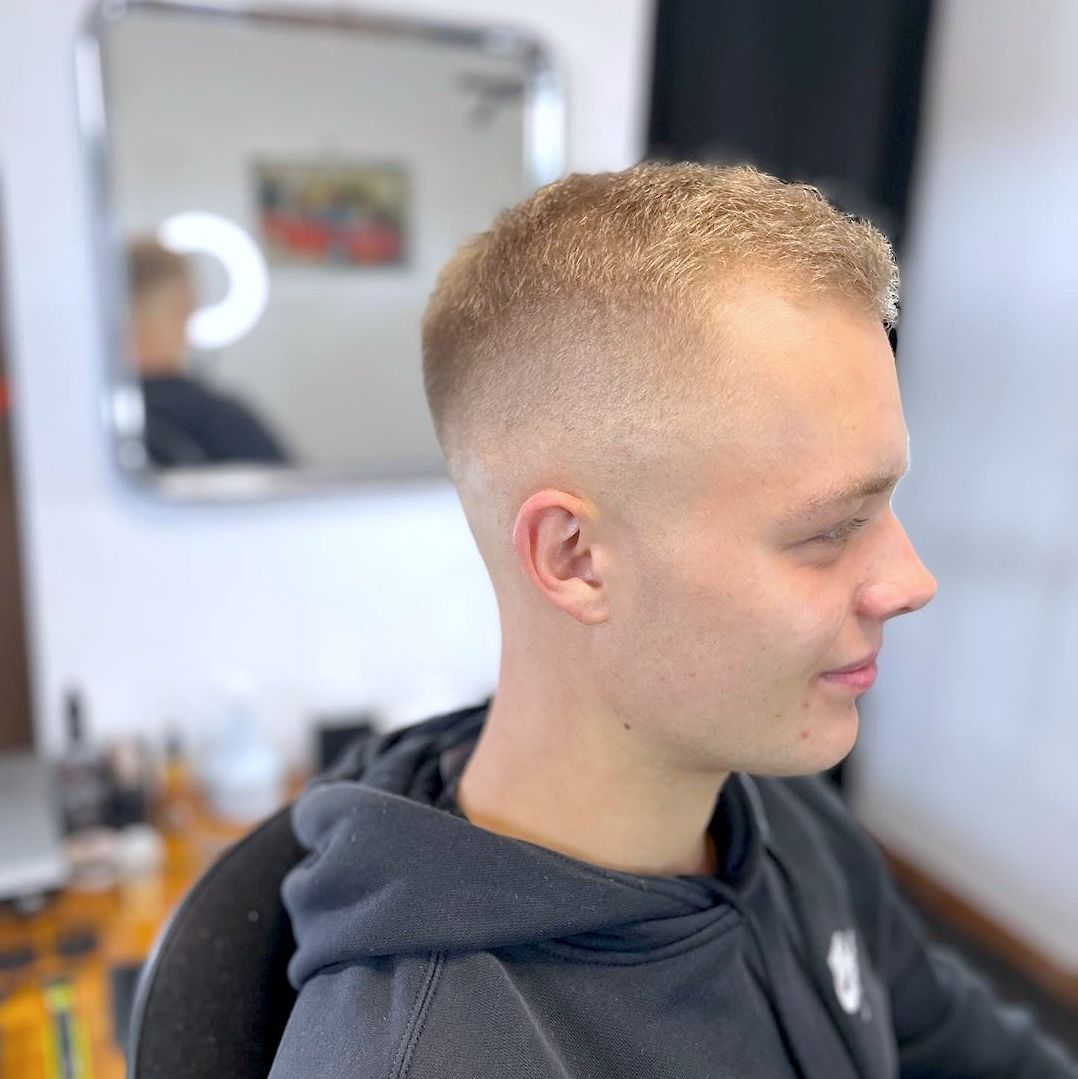 Light-colored hair can appear even finer than it is. Tactics that work for thinning hair help hair look fuller – like this high fade and textured styling. Use a styling powder or product designed for fine hair to avoid hair that looks greasy or gets weighed down.
26. The I-Didn't-Get-a-Haircut Haircut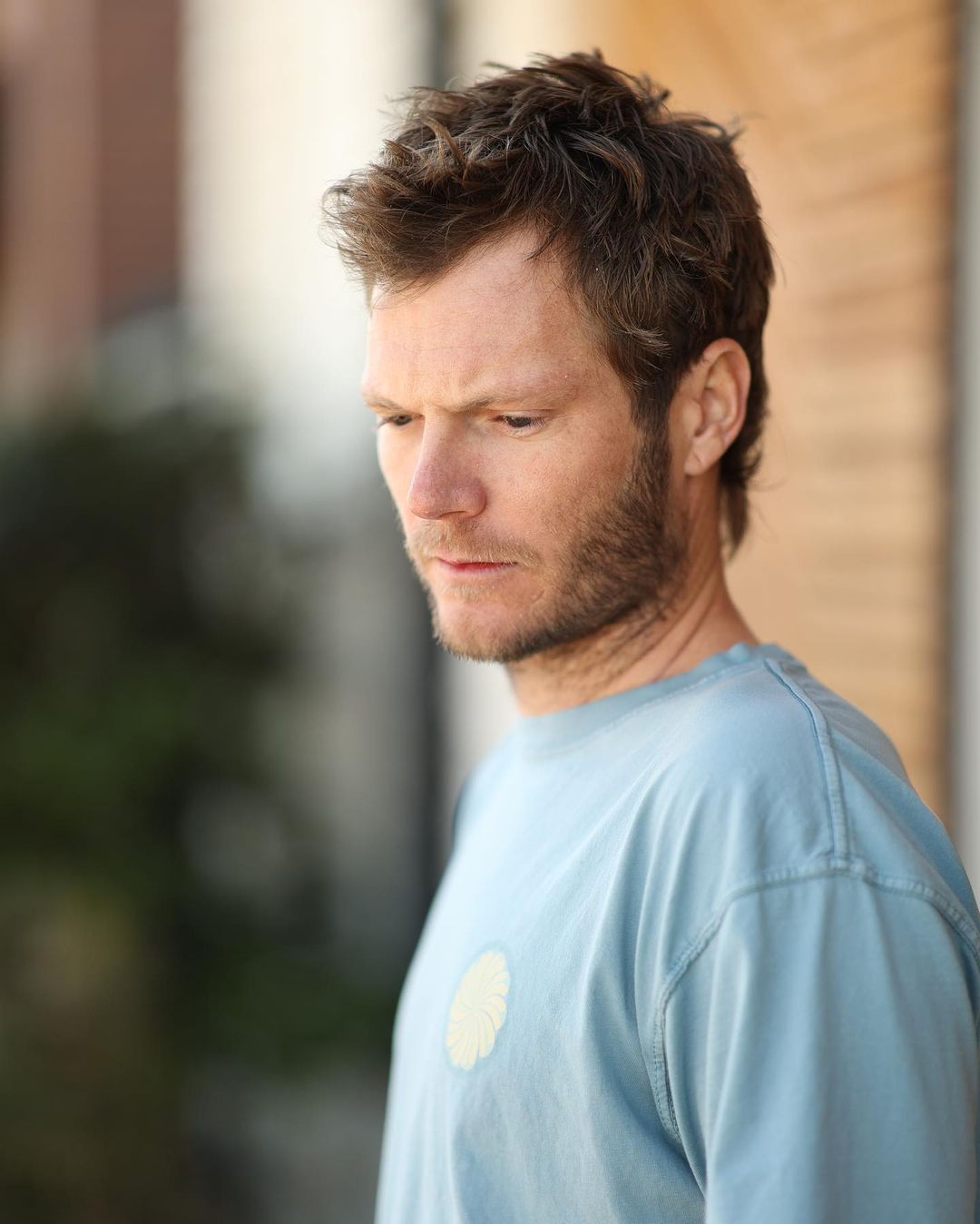 Looking good requires maintenance, from twice-daily toothbrushing to haircuts every couple of months or so. However, this cool look has a nonchalant messiness to it. Just like this gentleman, the layered haircut doesn't care if you style it or not – it looks good anyway.
27. Men's Short Haircuts For Thick Hair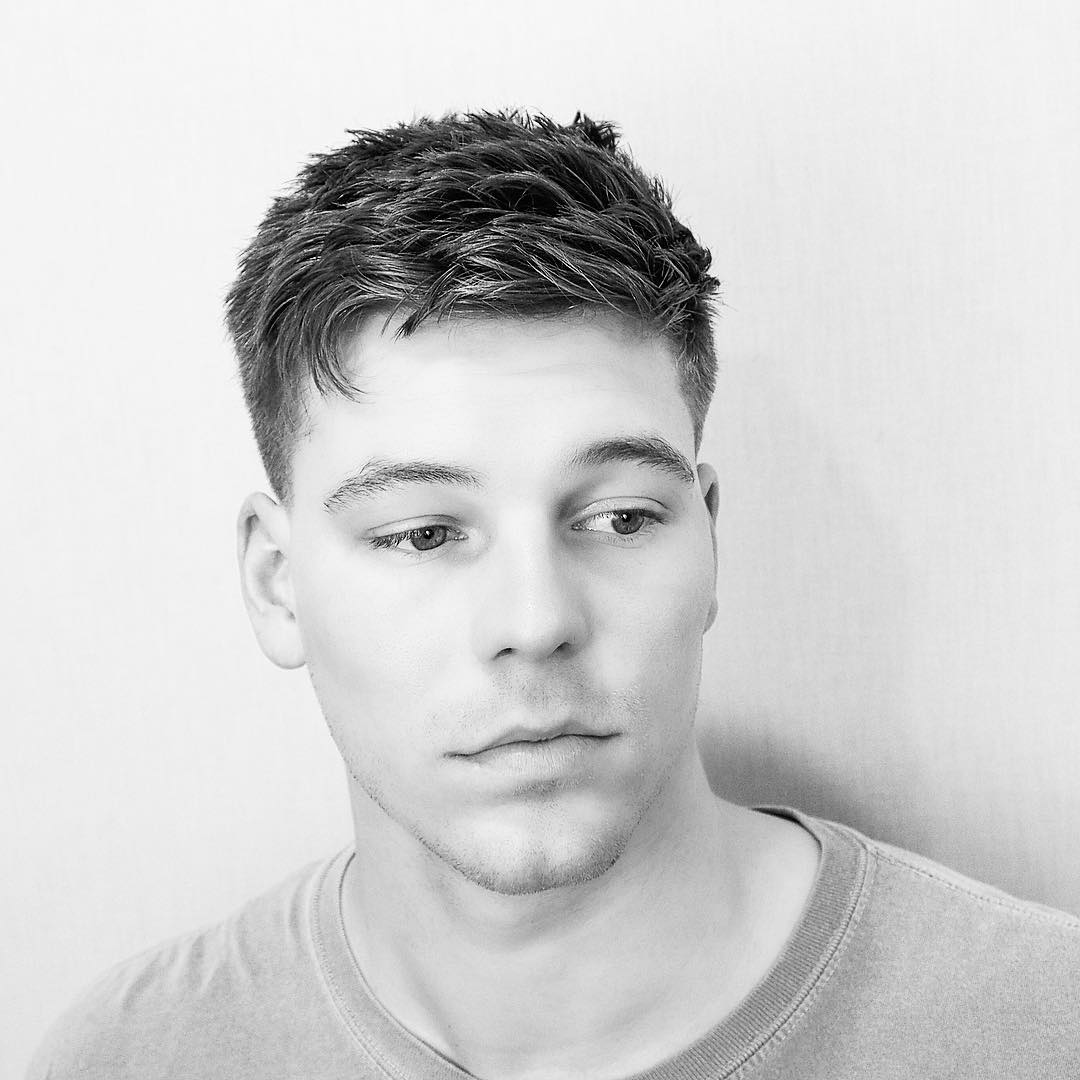 Short haircuts can make thick hair easier to style. This cool cut removes weight while adding texture. Work a dab of a medium hold, low shine product between palms and rub through hair and style with fingers.
Very Short Haircuts
There's short hair and then there's really short hair. All of these very short haircuts are similar – but different. The common factors are a defined line at the forehead and fade but that's what different too. Get your own look with a line up or fringe that suits your hair type and a fade that suits your head shape. And you don't need to know what that is – a good barber is trained for this.
28. Buzz + Drop Fade Short Haircut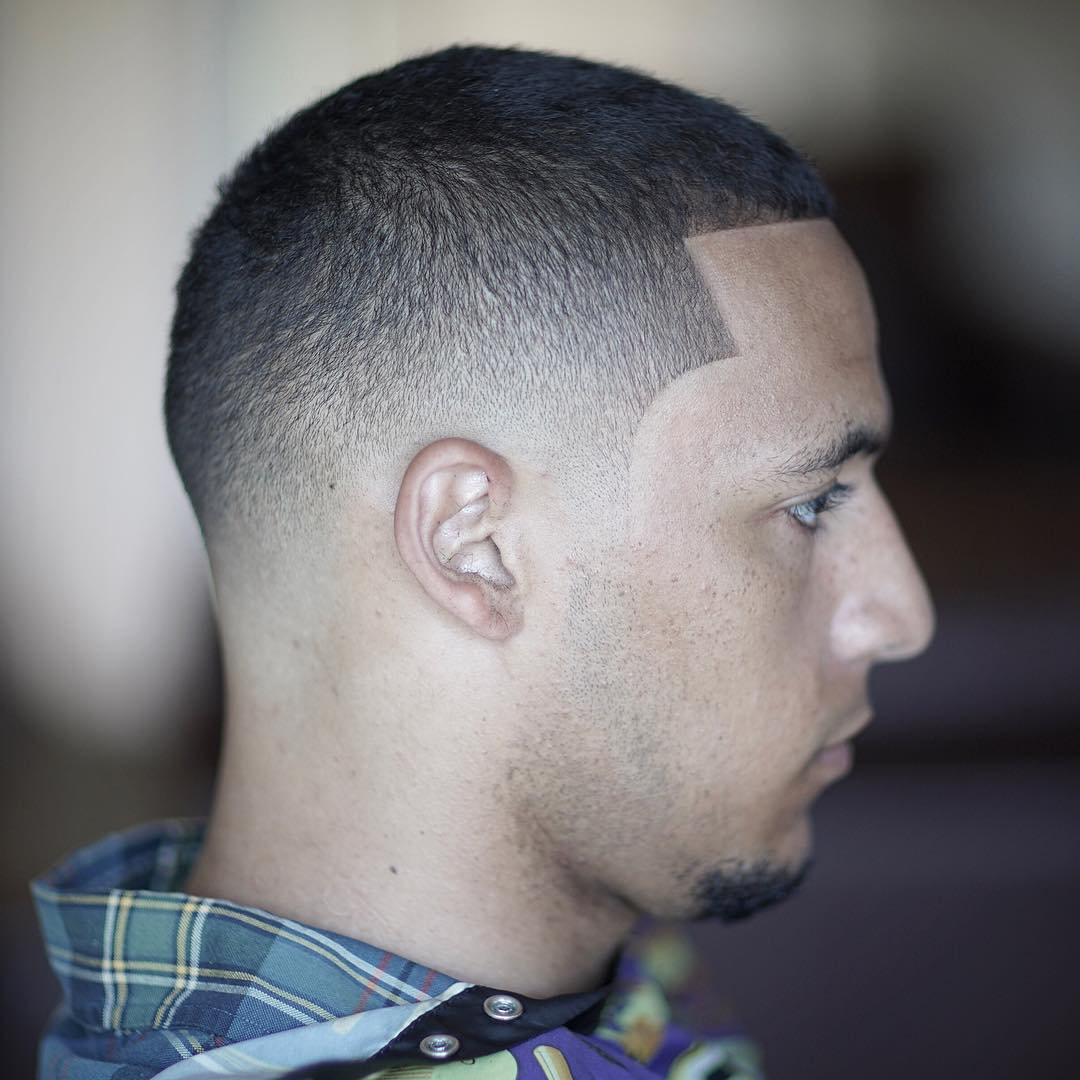 The fade in the buzz fade can be high, mid or low. This low fade version drops down behind the ear to follow the hairline.
29. Tape Up + Taper Fade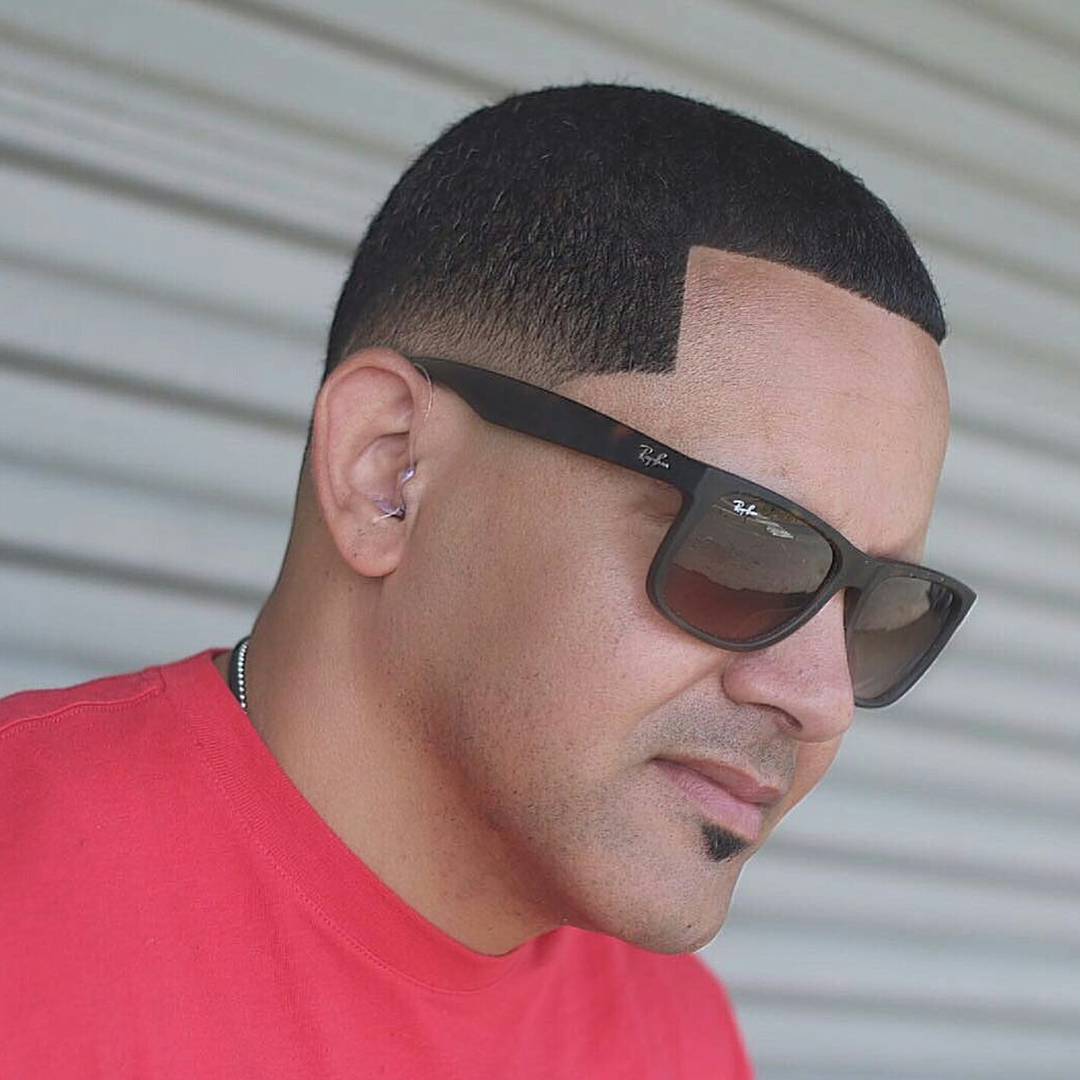 The type of fade totally changes the look and feel of a shaved buzz. The only hair removed hair is hint of a fade behind the ear plus clean edges.
30. 180 Waves + High and Tight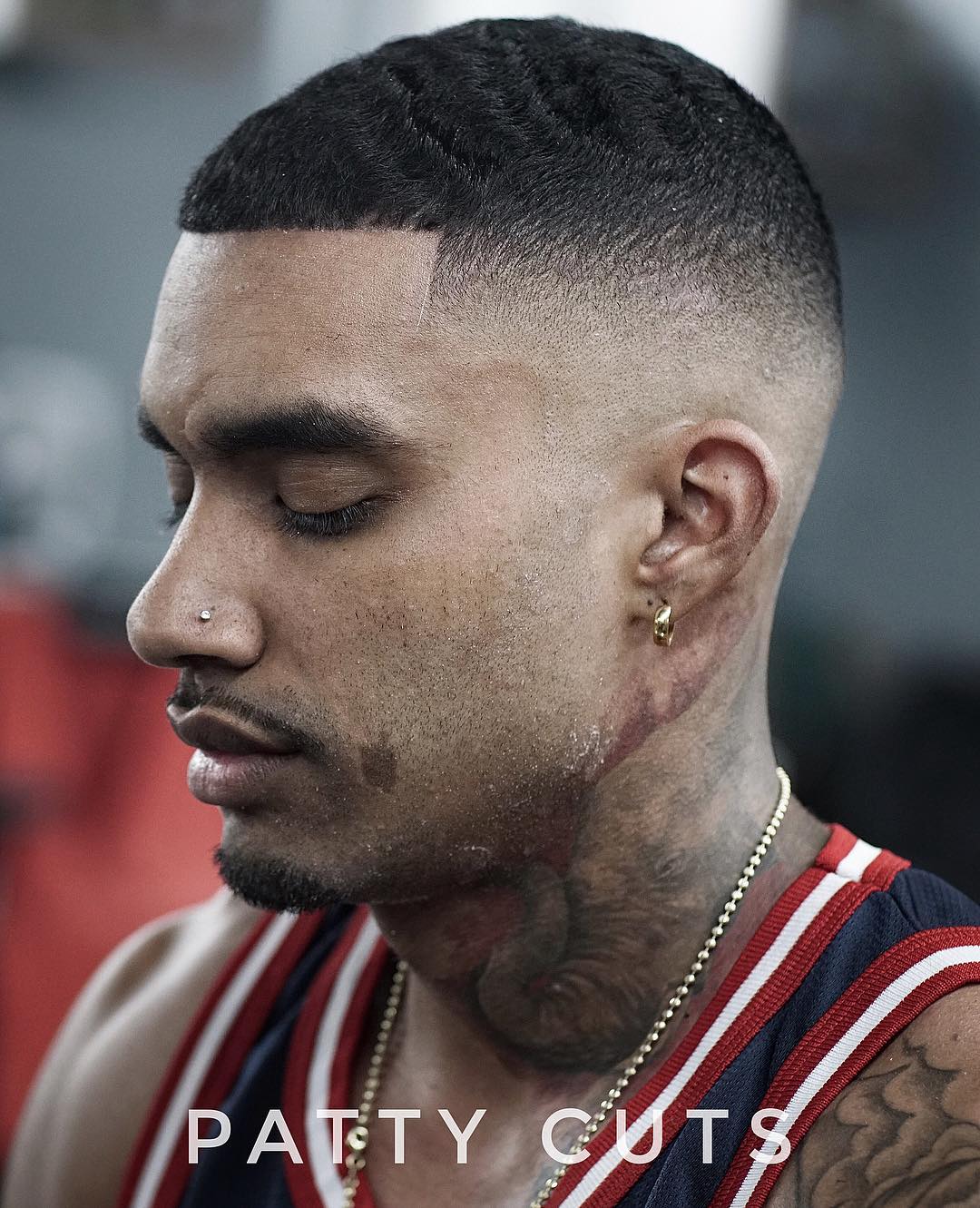 The high and tight is one of the most popular short hairstyles, especially for Black hair. As the name says, longer hair is up high while the edges are cut tight against the skin. The beginning of waves keeps the look interesting.
31. Shaved Haircut For Guys With Round Cheeks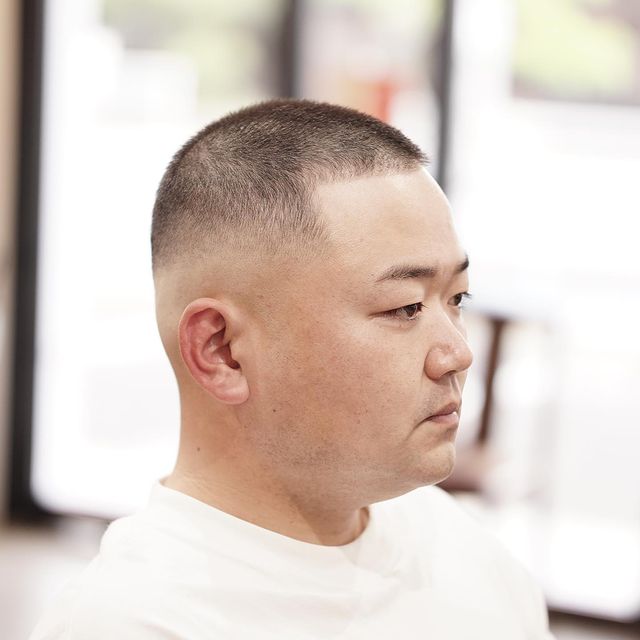 What is the best haircut for my face shape is the most frequently asked question. Your barber or stylist should know the answer. The shape of a fade can do lot to balance out head and face shapes. This medium-high fade leaves some hair up top works with a wider face and thick hair.
32. Short Taper Fade Haircut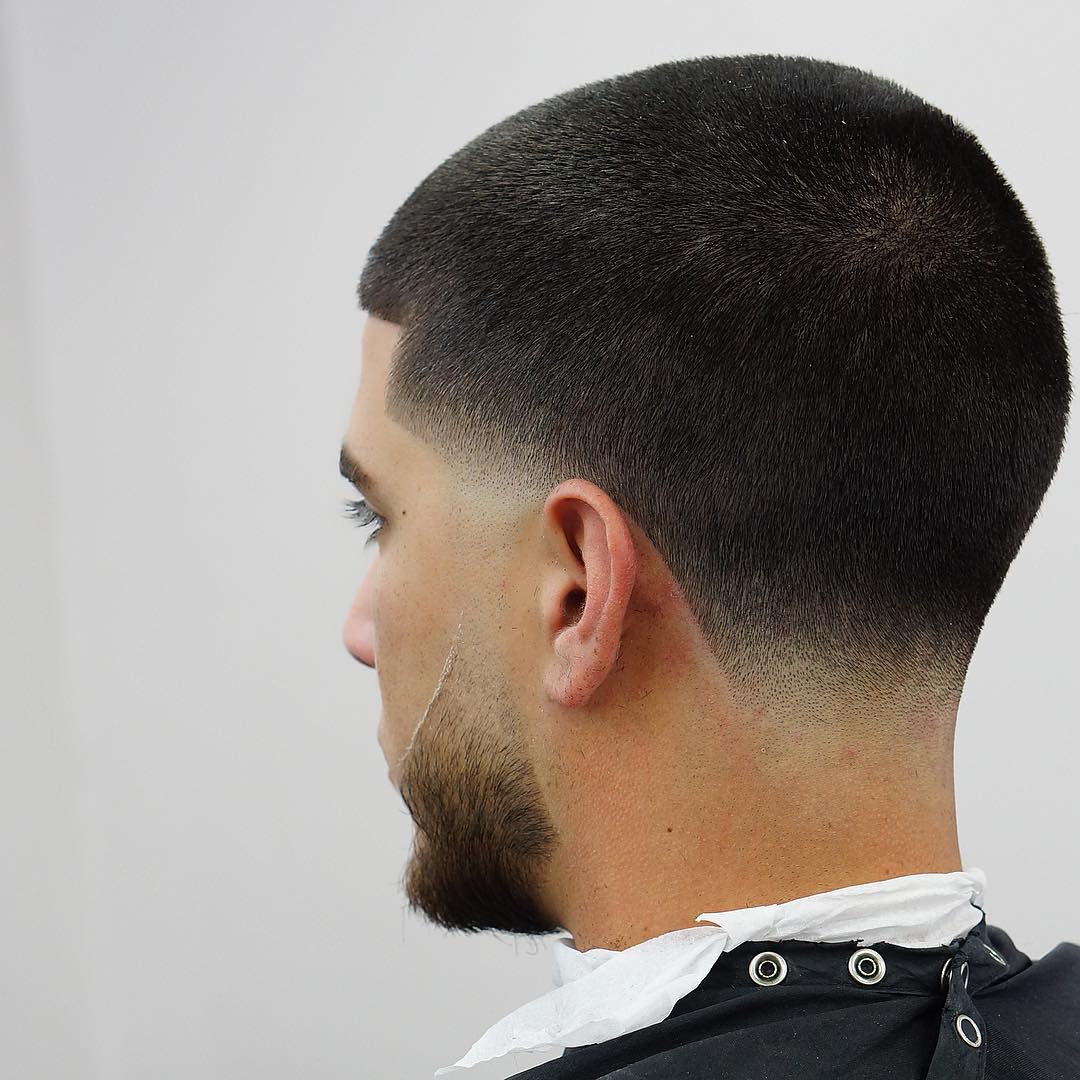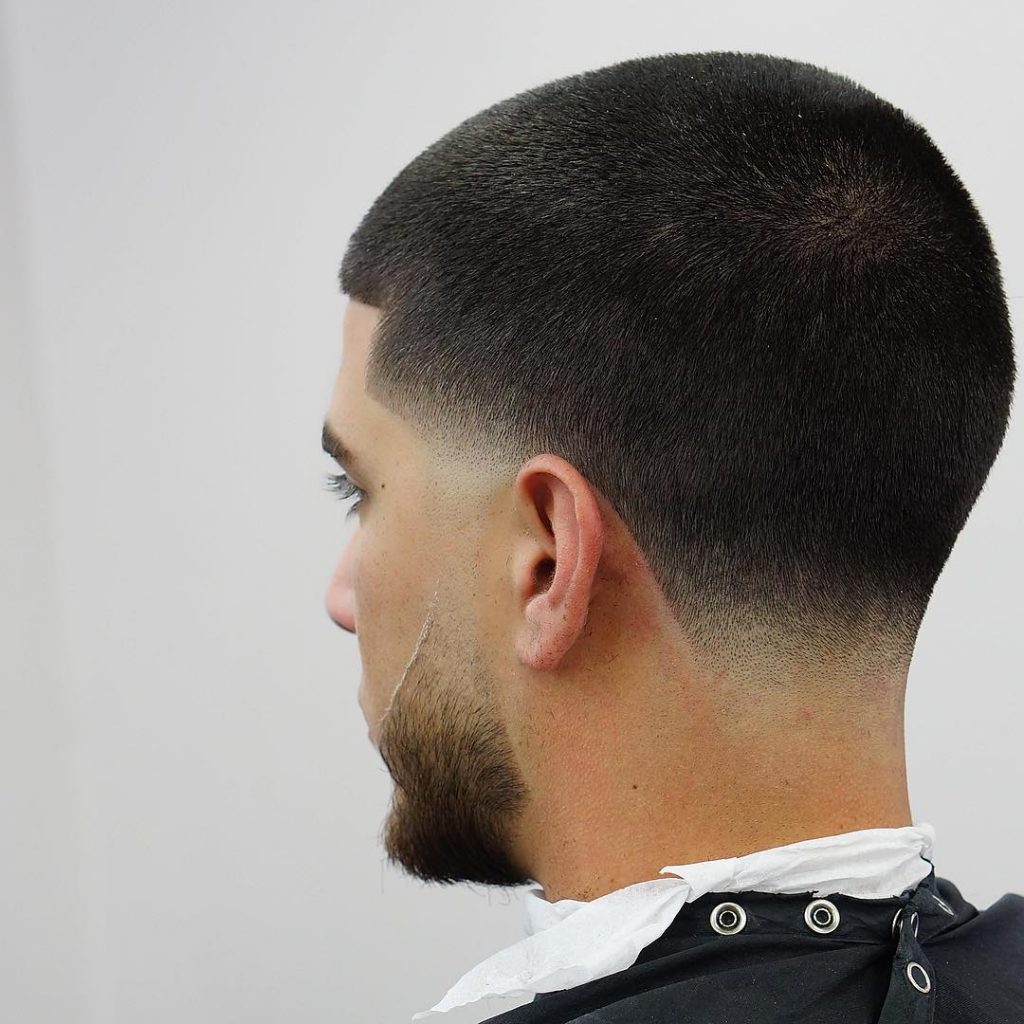 Style up that buzz cut with a line up and taper fade.
33. Crop Haircut + High Bald Fade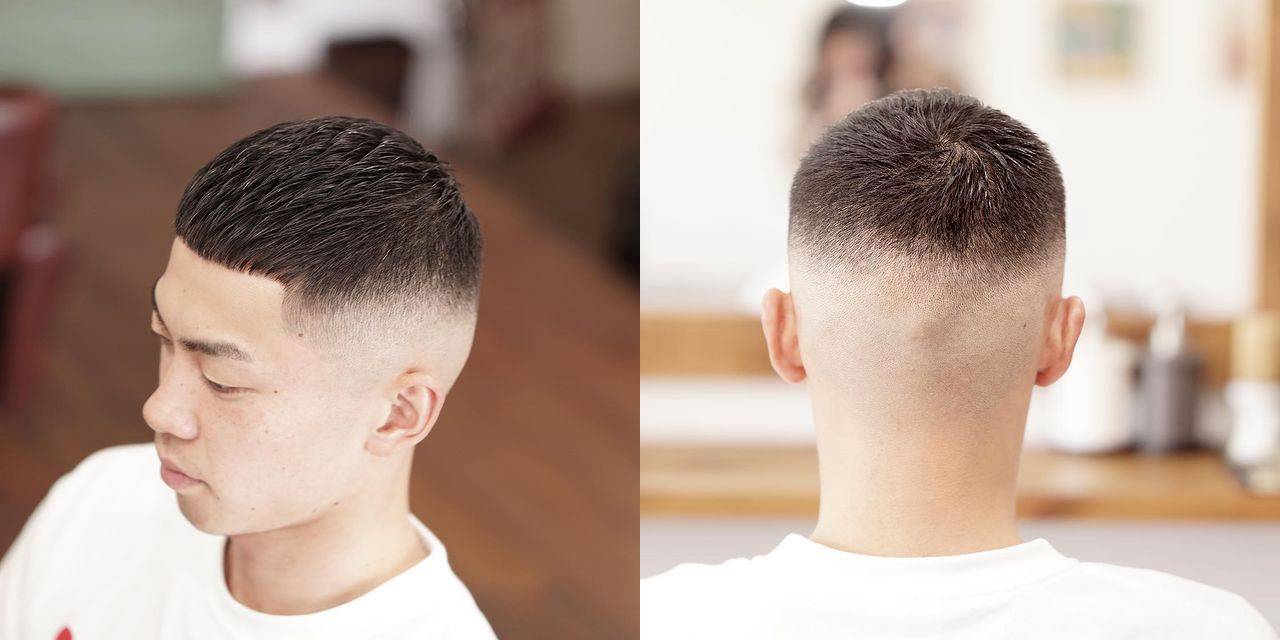 This is a very short version of the longer top, short sides cut. It's a great look for active guys and hot weather.
34. Blunt Crop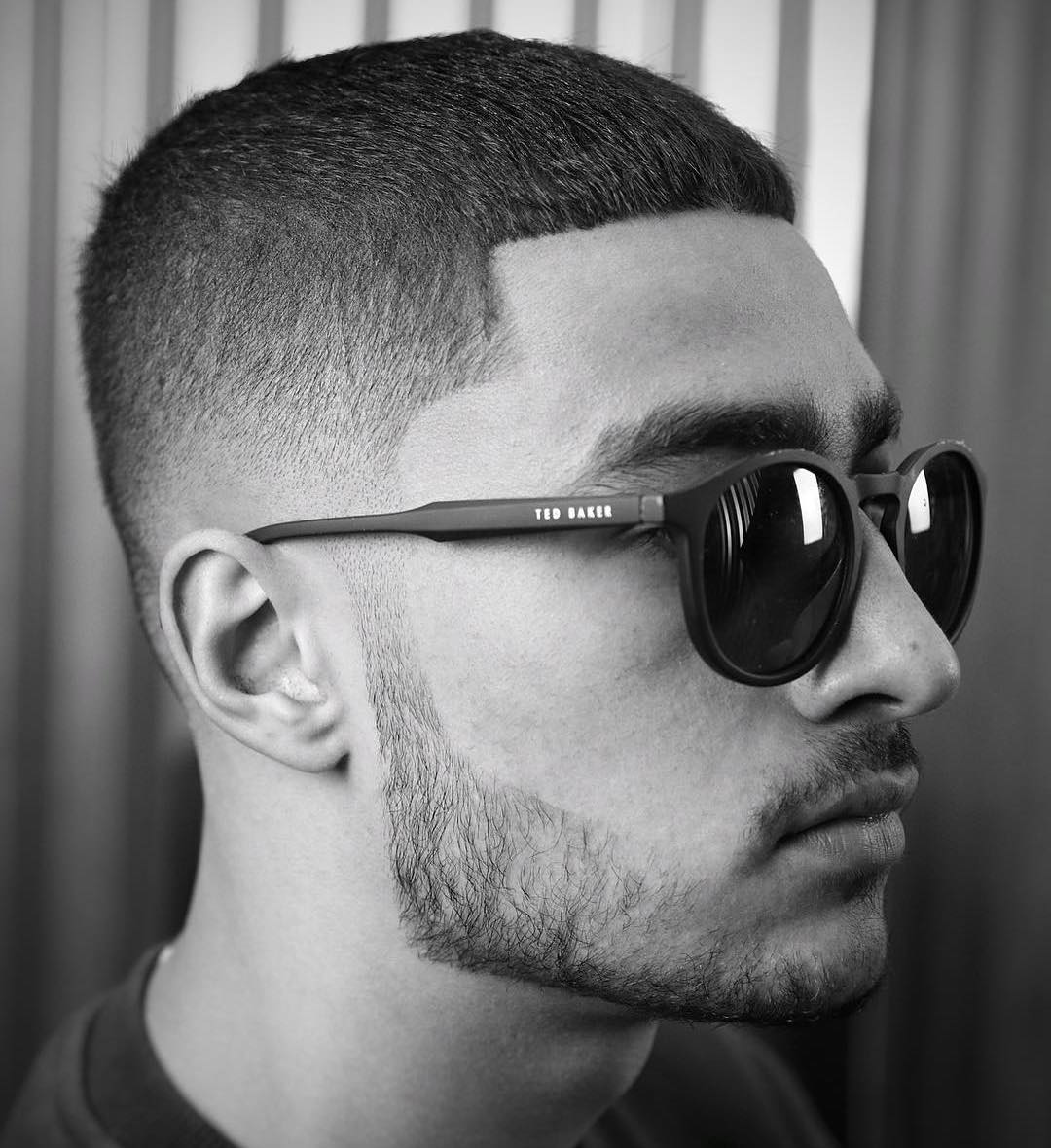 The shape is the same as a line up but the blunt crop keeps hair short versus shaving it short.
35. Hard Part Haircut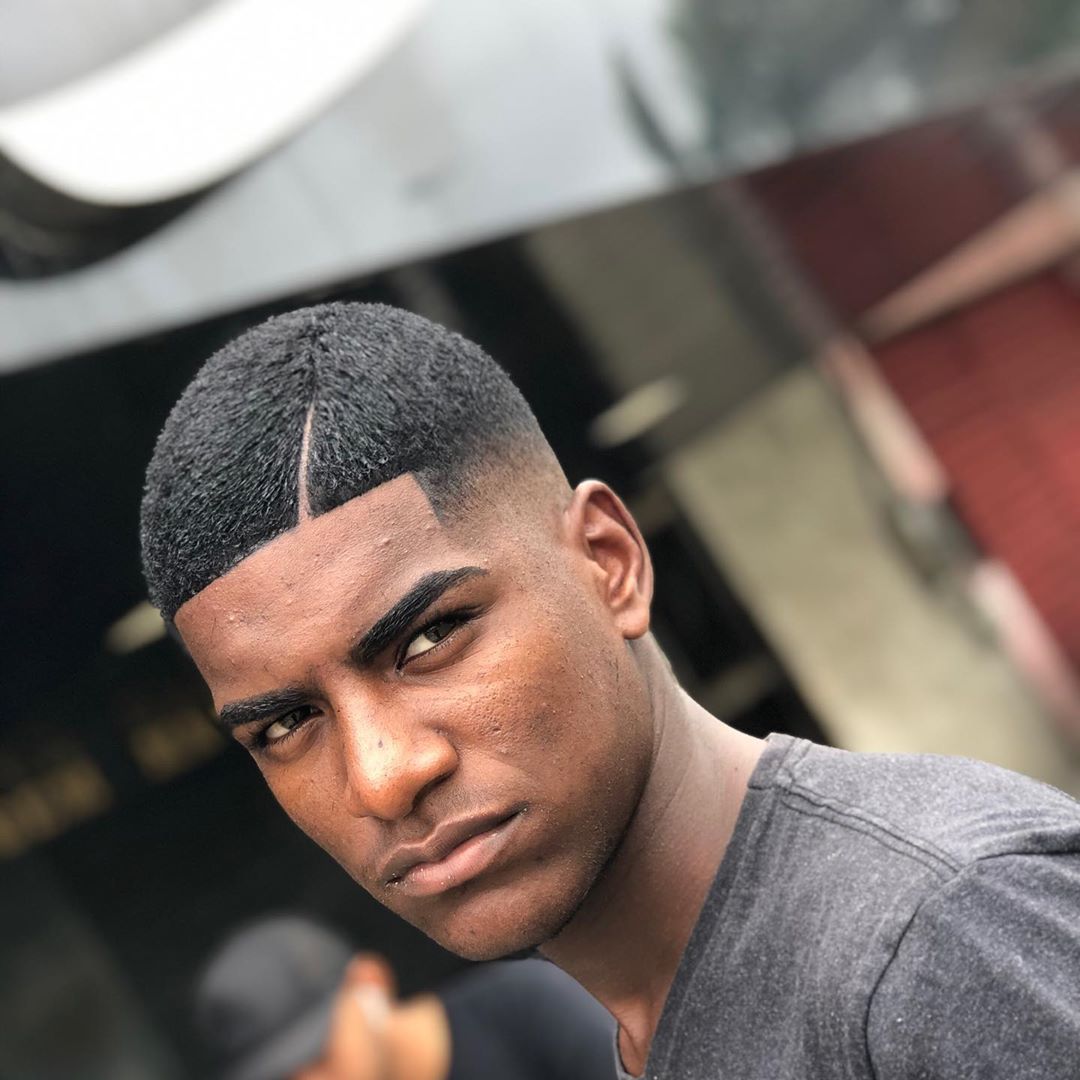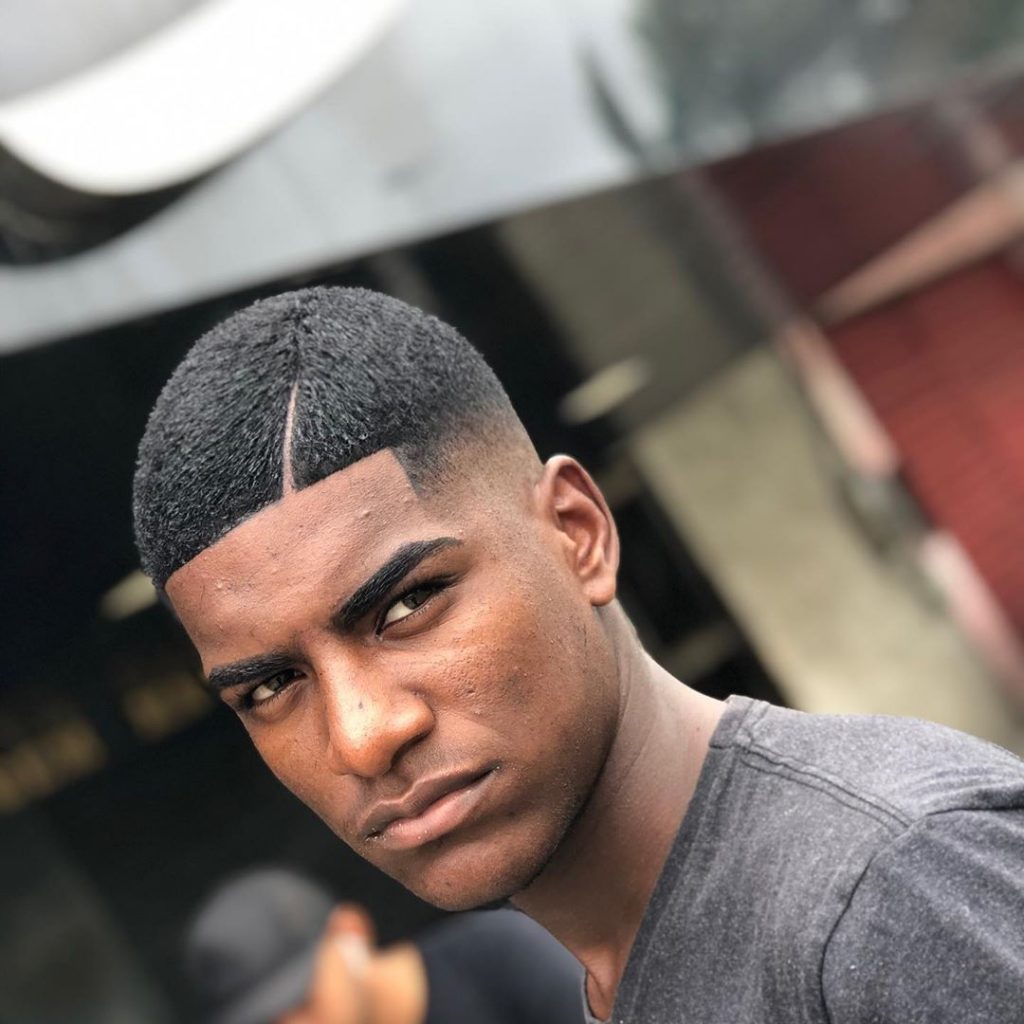 When hair is to short to comb a part, shave it in.
36. Rounded Line Up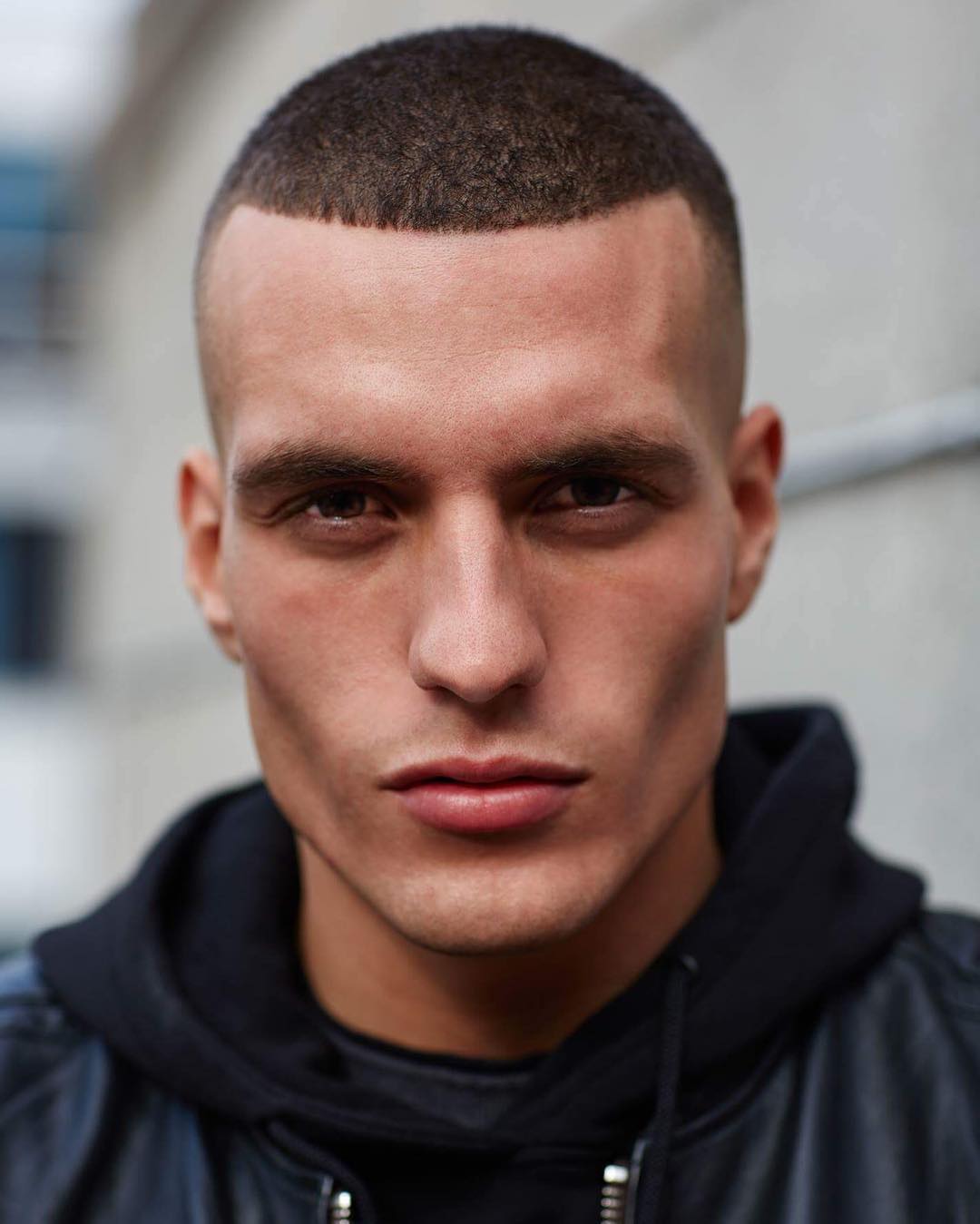 A line up is customized to your hair line so some guys may have a straight line across or a more curved one, like above.
Short Fade Haircuts
A fade can be as small as the sideburns or take up all of the sides and back, leaving only hair on top. Here are both of those, plus everything in between, paired with short haircuts.
40. How-Low-Can-You-Go Fade Haircut + Wavy Hair + Beard Shape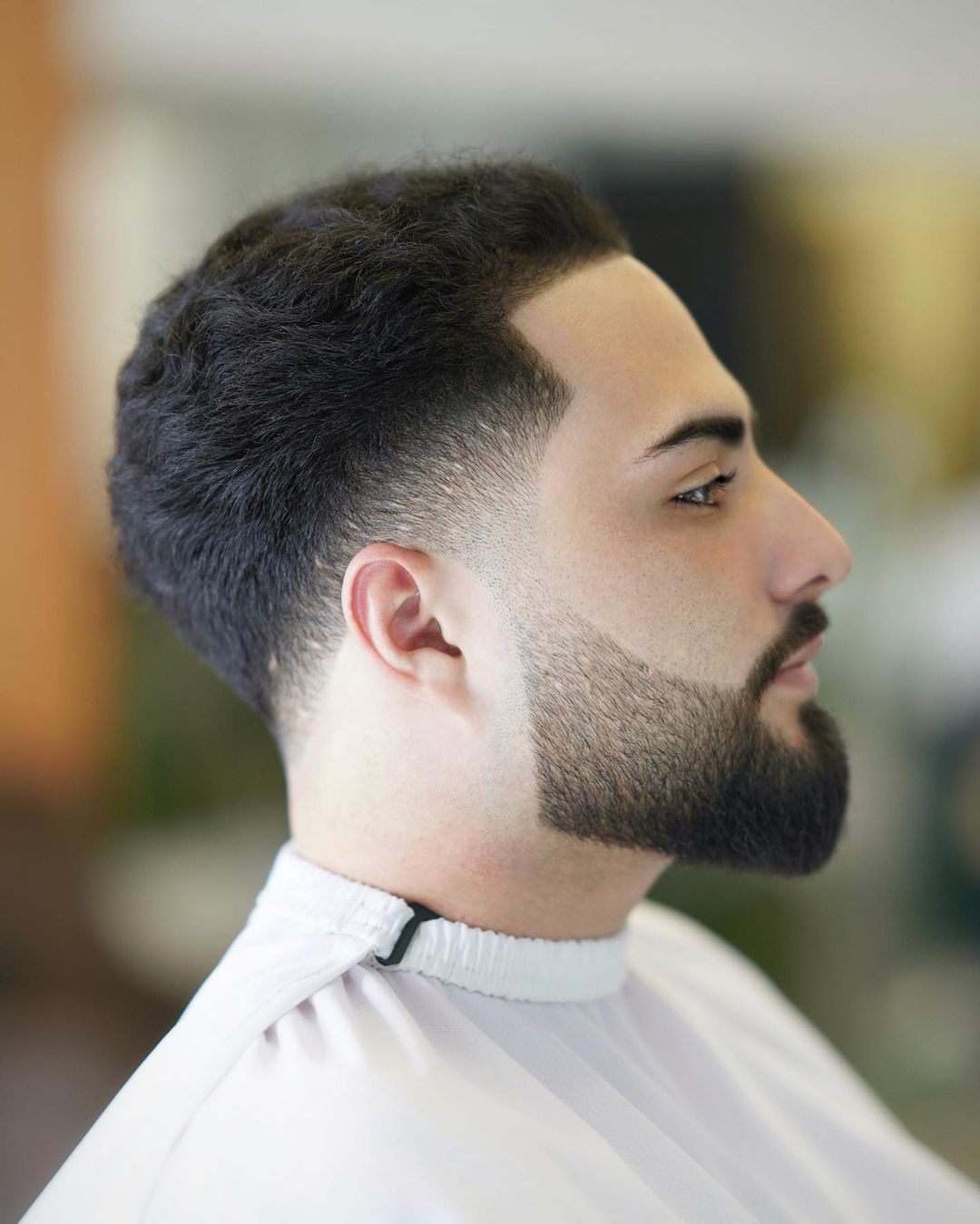 The most common low fade haircut is the blowout, which is supposed to mimic how your hair would look if you stuck your finger in an electrical socket. This is obviously not that but does feature the same ultra low fade and thick texture. The beard fade is a bonus.
41. Temple Fade + 360 Waves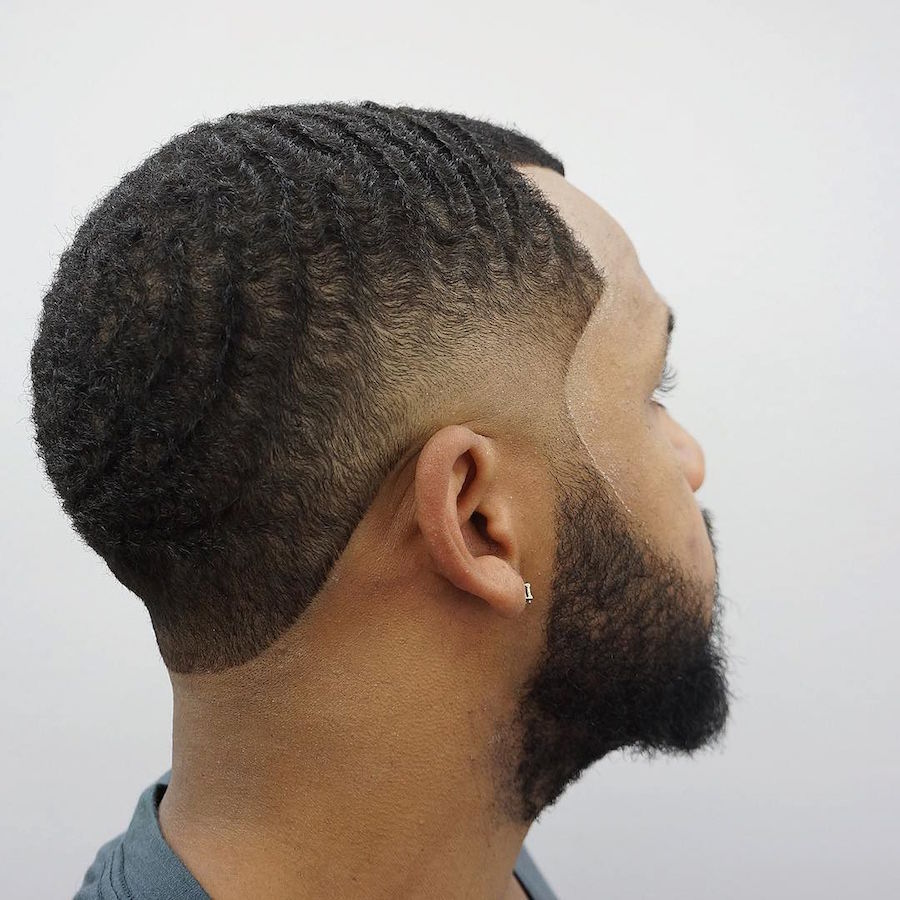 Break up those those 360 degree waves with a temple fade. Create an ultra clean cut style with a line up that seamlessly blends with the beard.
42. Short Haircut for Curly Hair + Drop Fade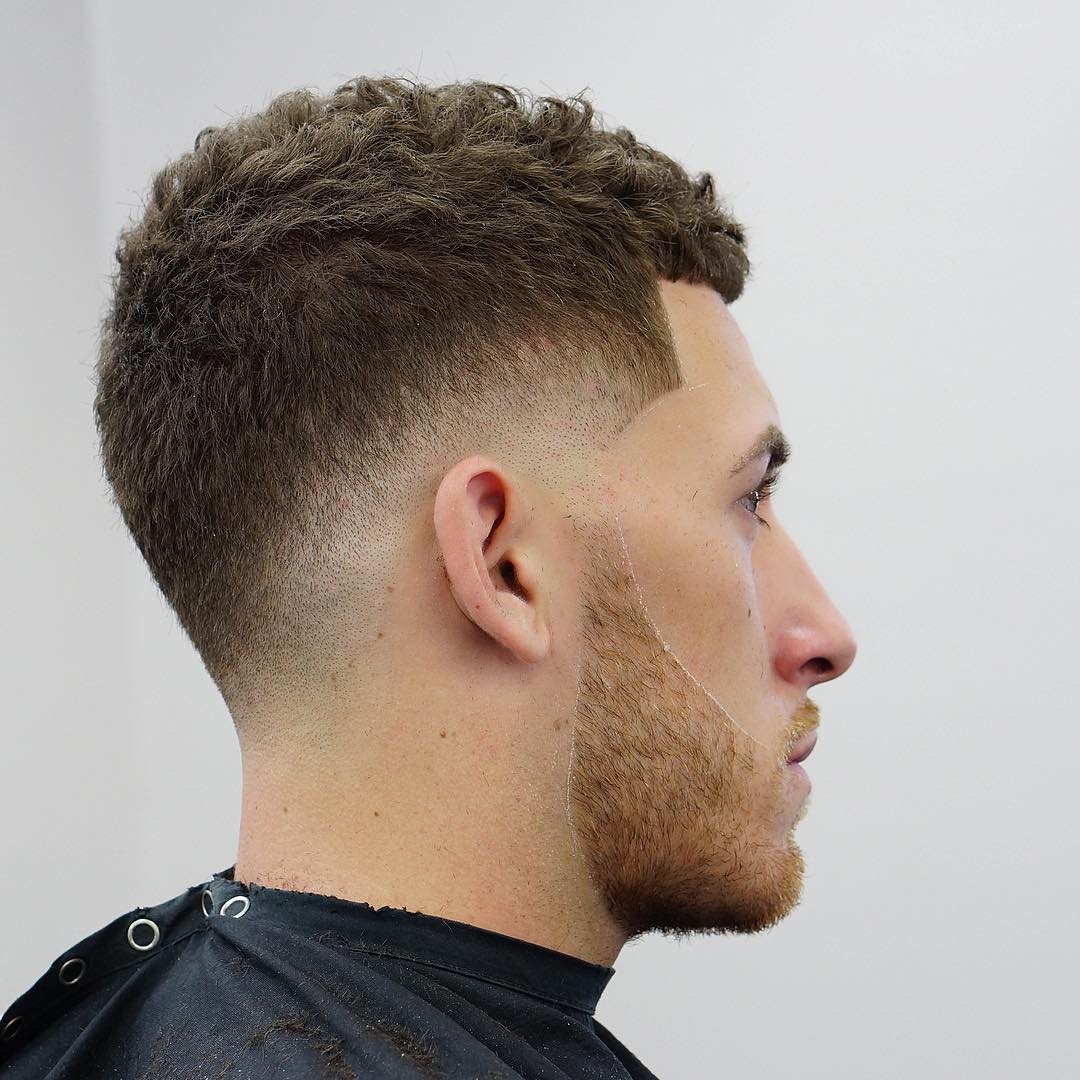 Here's another men's haircut that leaves some visible texture at the top and cuts the sides and back short. Tight curls are visible while a taper fade down the skin at the neckline keeps the rest of hair manageable.
44. Bald Drop Fade Haircut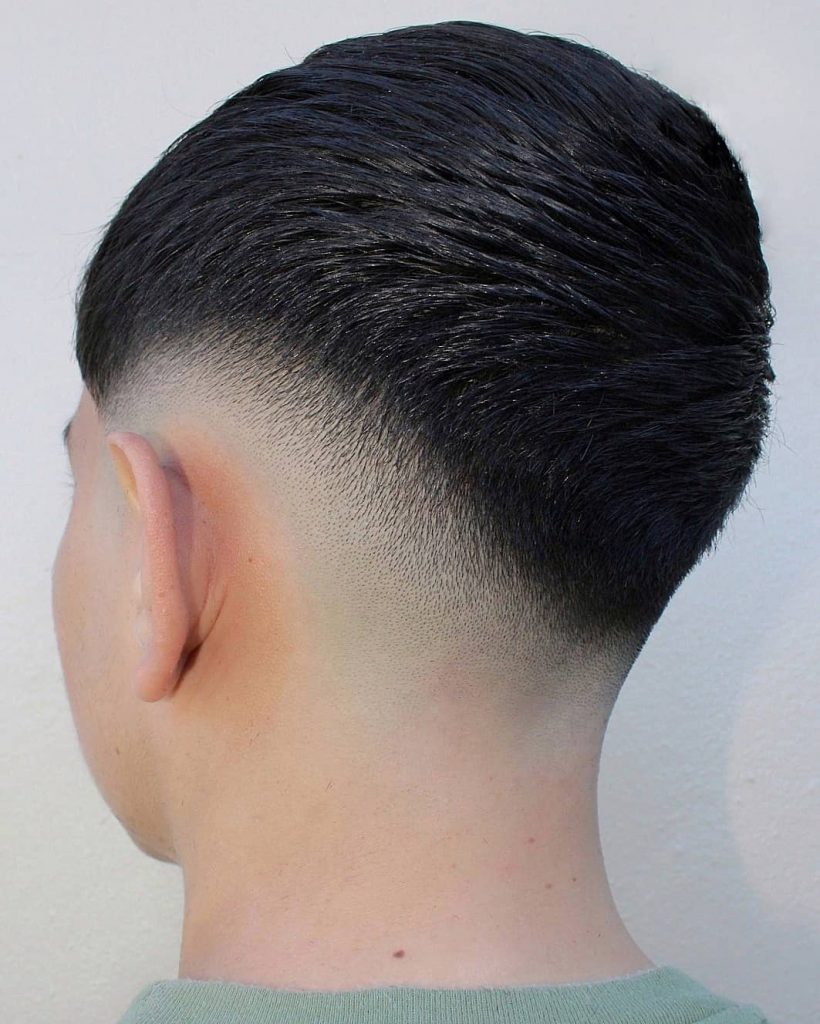 The arc of a drop fade looks cool with every haircut. The bald part means all revealing some skin.
45. Medium Skin Fade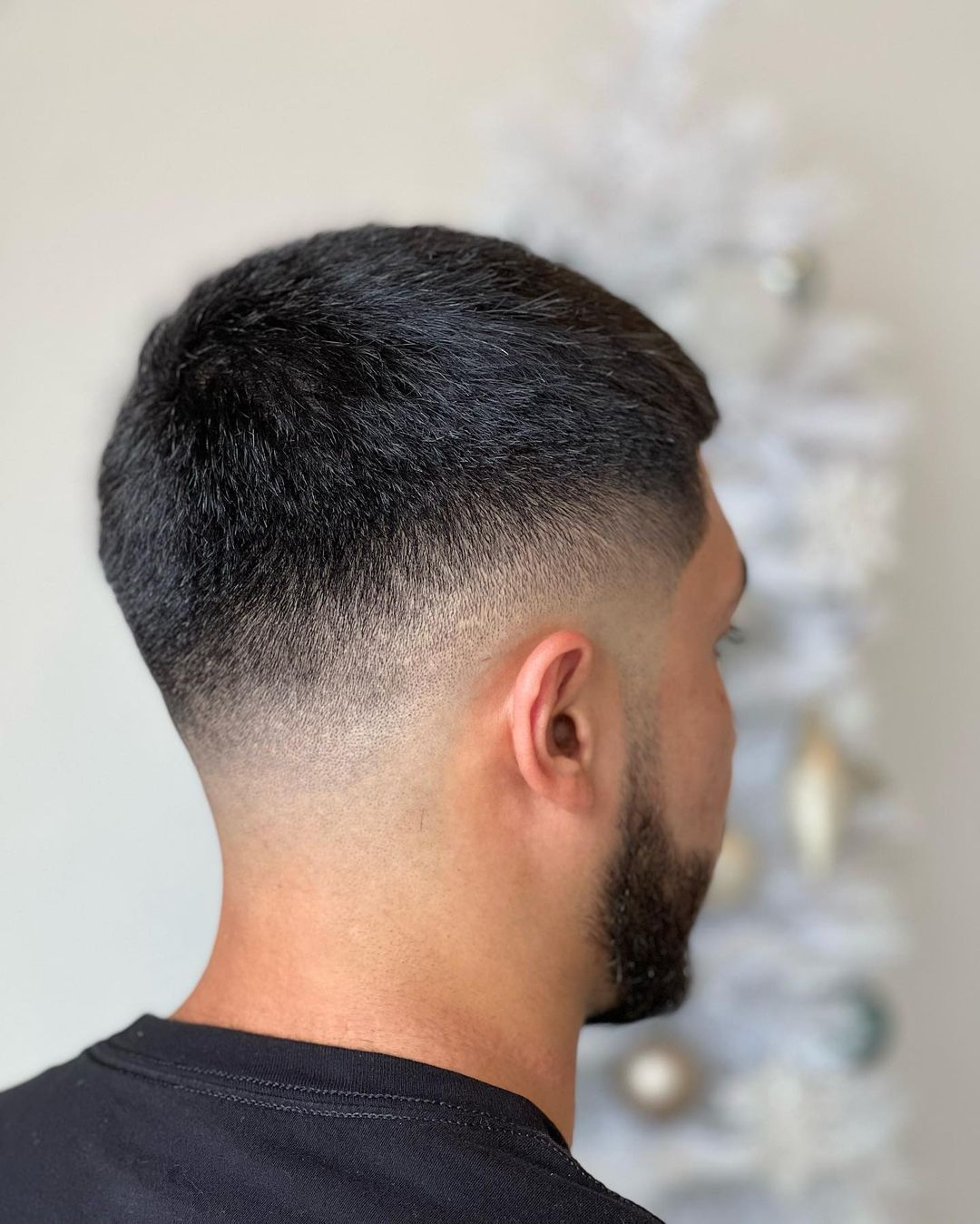 A fade can be any height. In contrast to the drop fade above, this cut follows a straight line toward the back of the head.
46. Short Taper Fade Haircut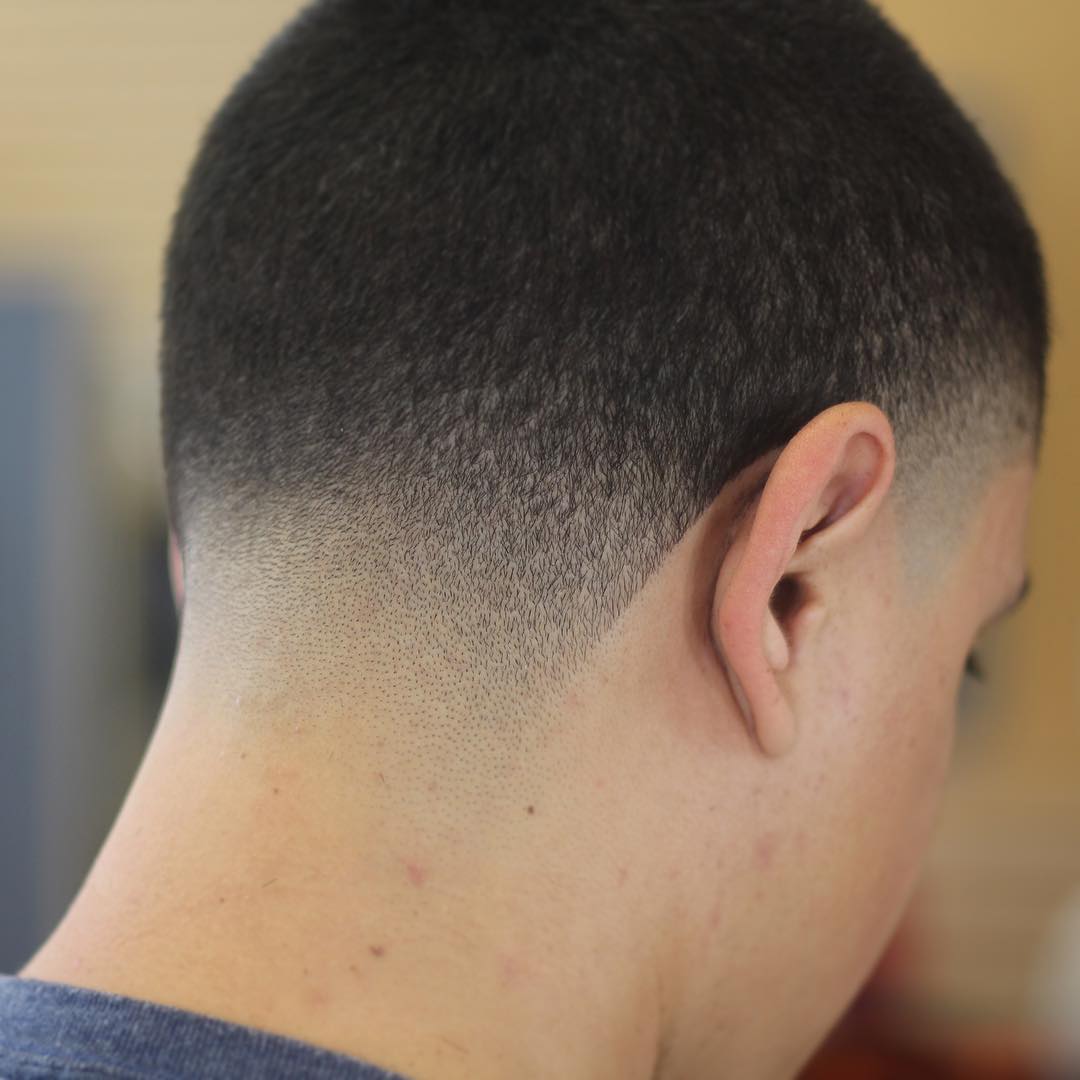 A quick fade at the neckline and temples creates blurry edges for this buzz cut.
47. Bald Fade + Natural Curls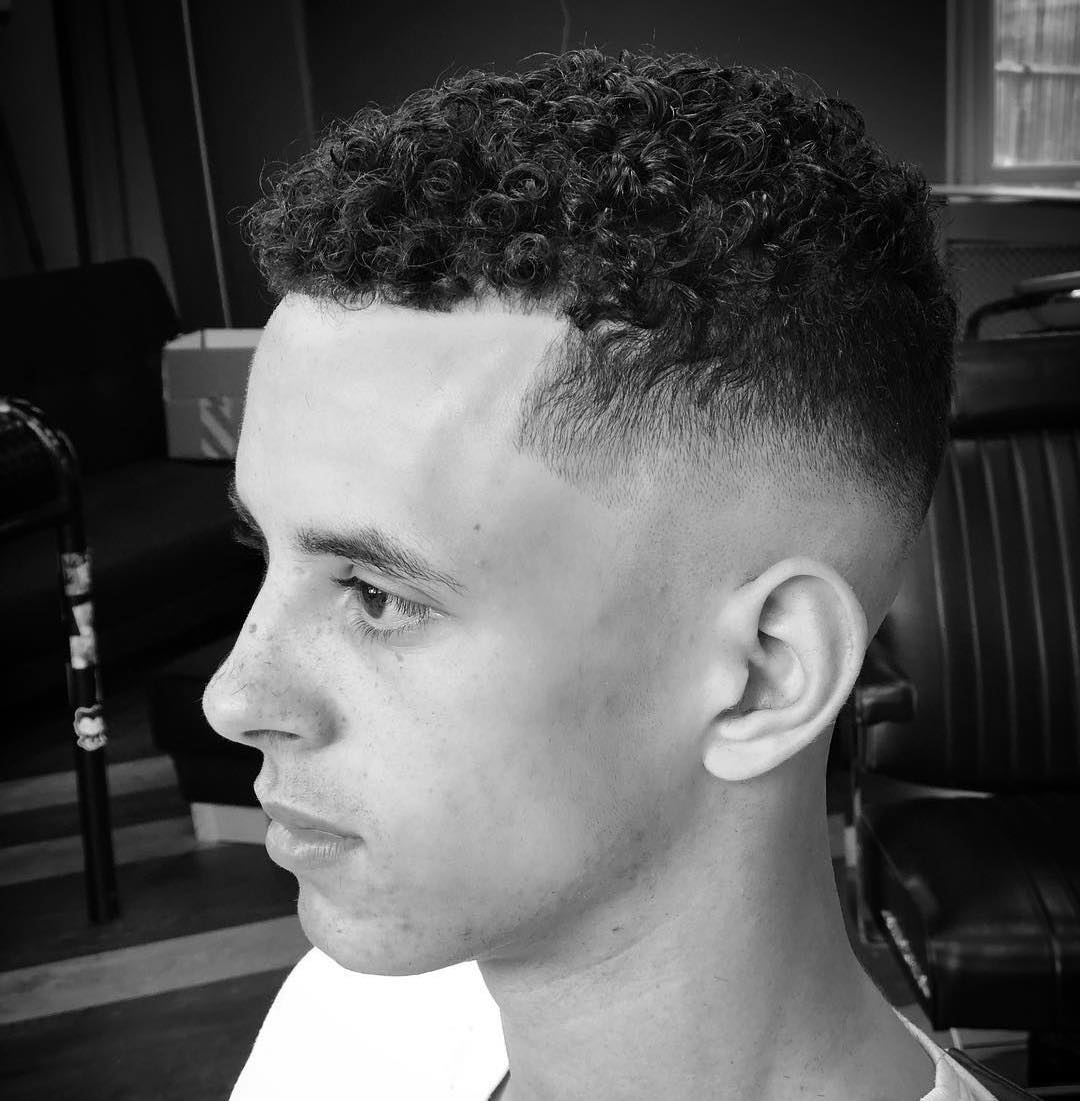 Super clean transition from a low bald drop fade into the natural curls on top.
48. Short Skin Fade Haircut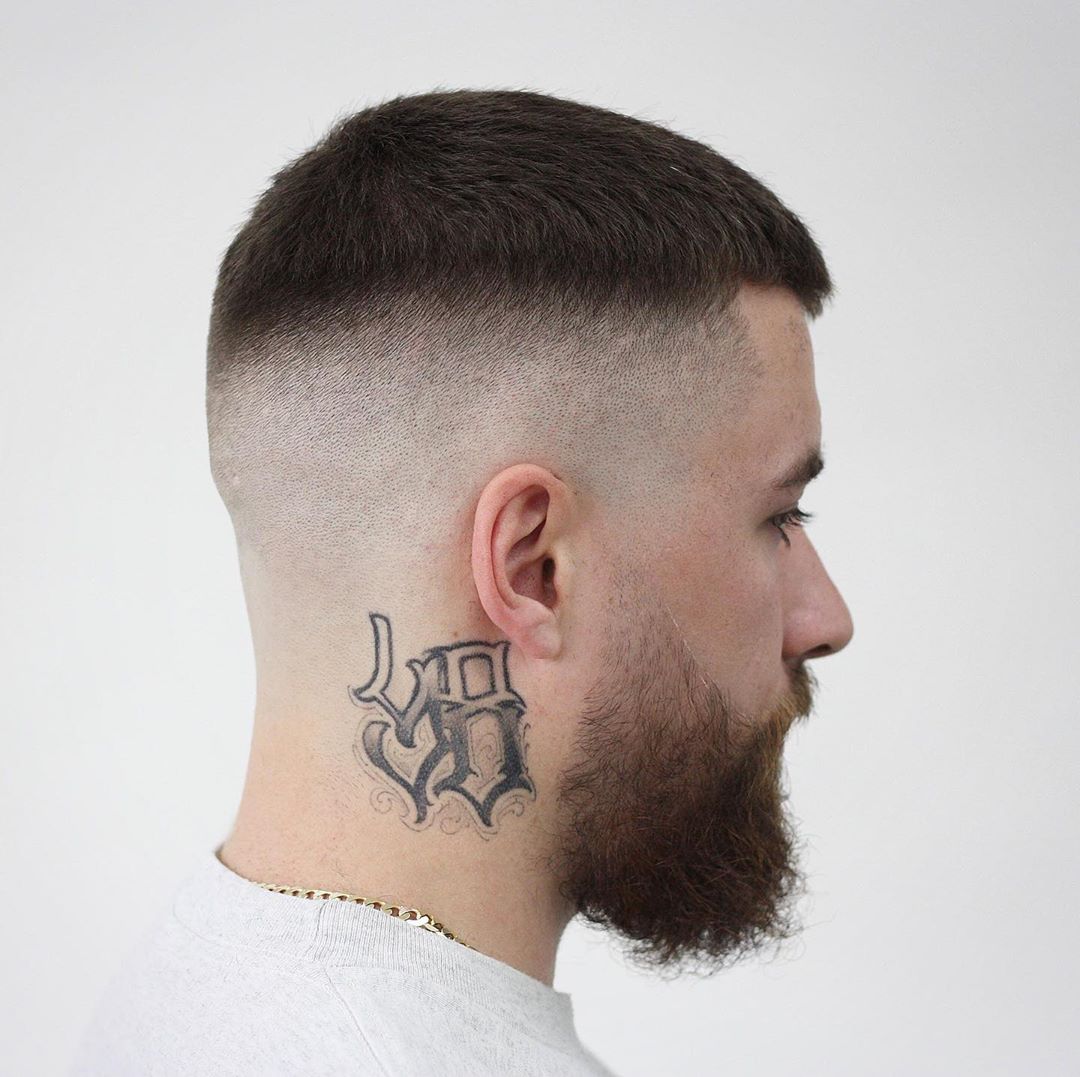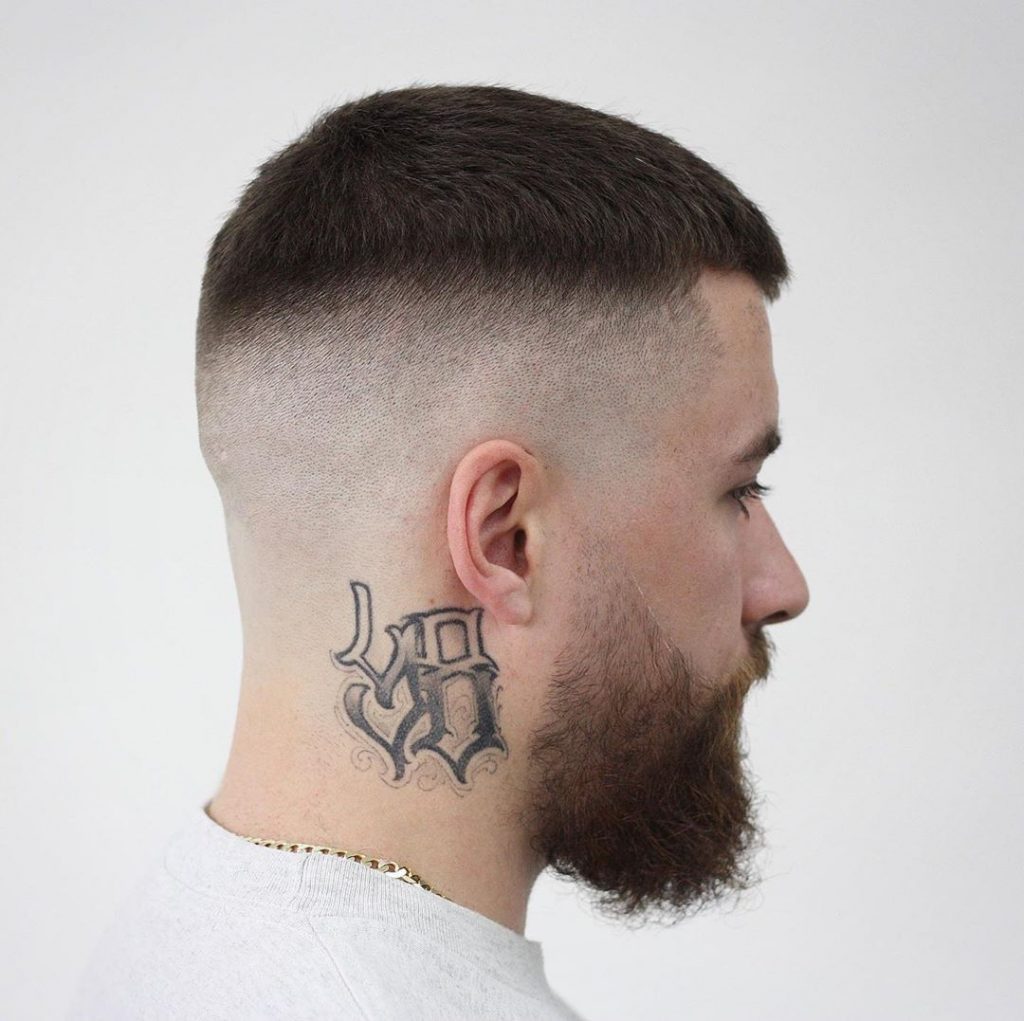 This high skin fade creates a more stylish, less severe version of the jarhead lid haircut.
Black Men's Short Haircuts
We saved the best for last and made sure these cool cuts are worth the long scroll.
50. Sponge Curls + Taper Fade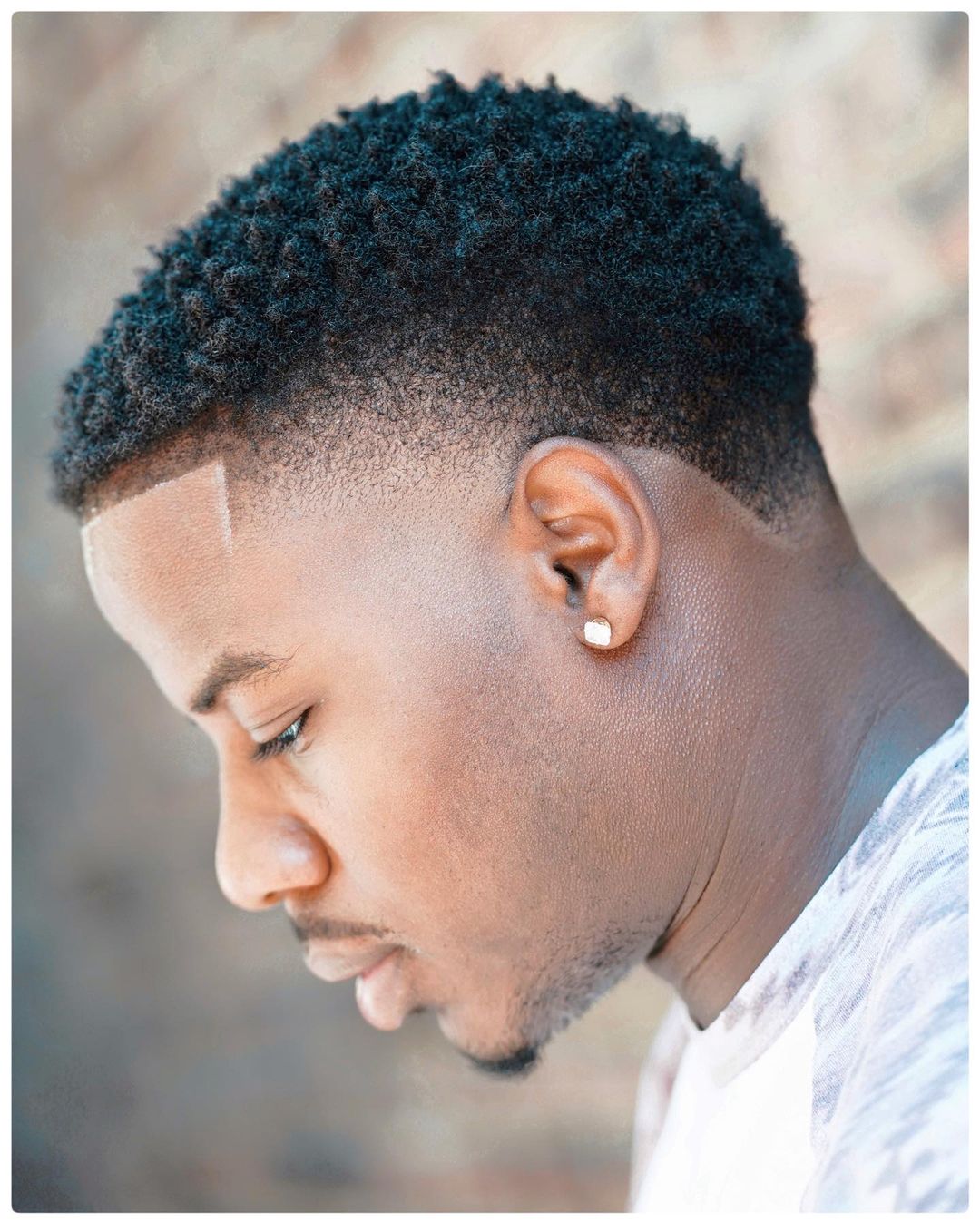 This almost perfect haircut has a beautiful combination of precise lines, blurry fades and textured curls. This deserves a chef's kiss.
51. 180 Waves + High Drop Fade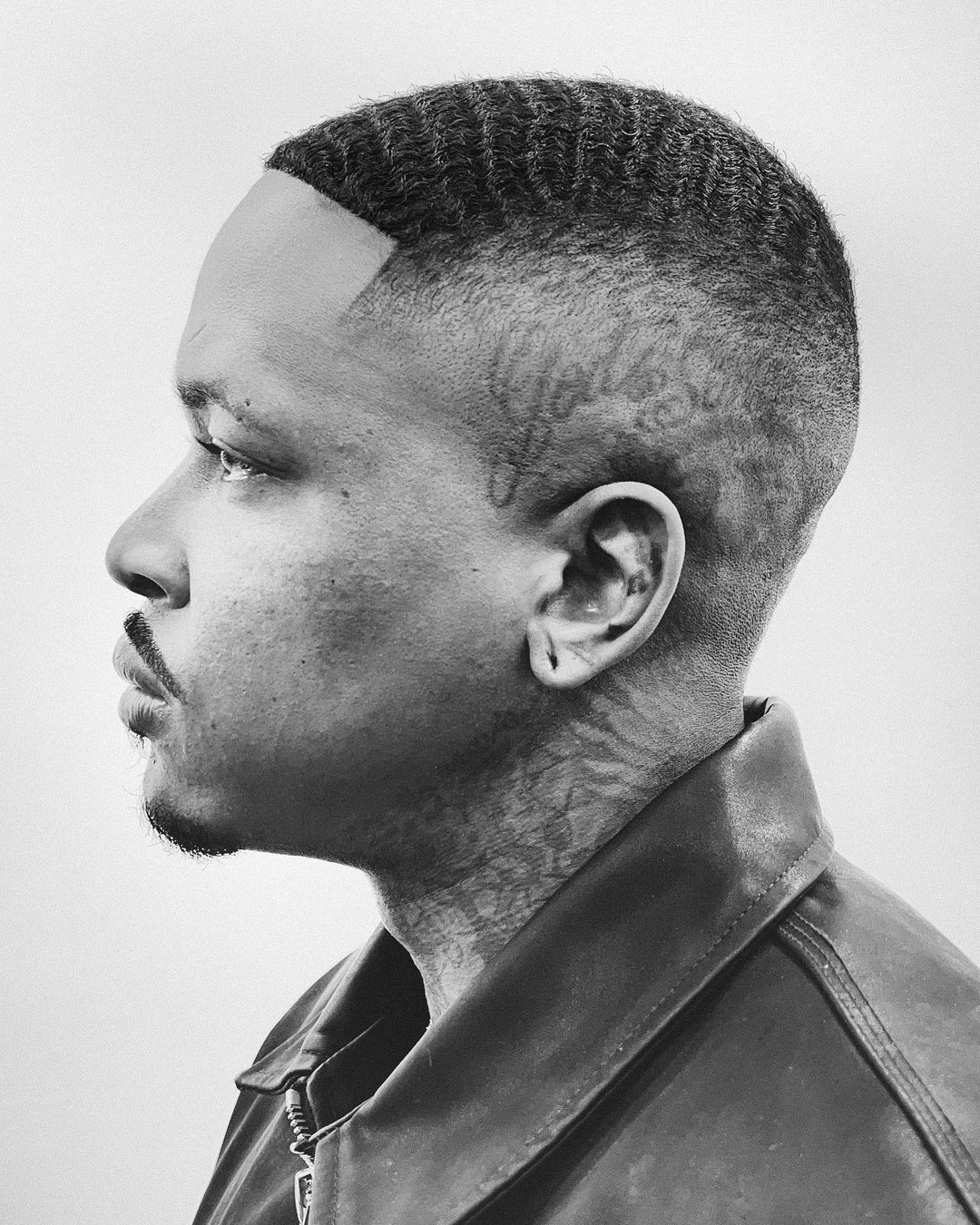 Short hair doesn't have to be boring. This beautiful fade by Julius Cvesar in Las Vegas mirrors the shape of this gentleman's head while waves add depth and texture.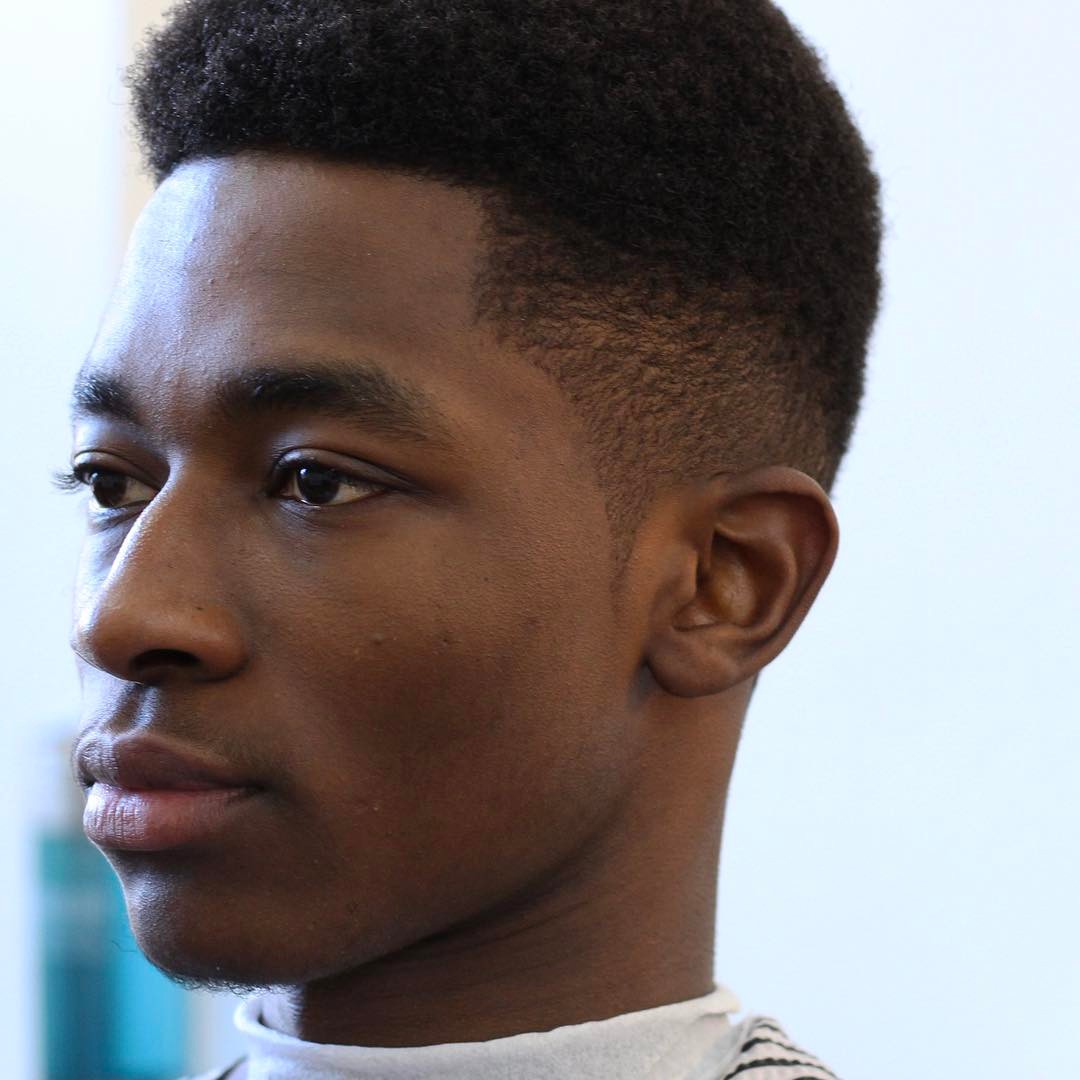 The flat top is the most well-known way to wear a high and tight. This version with a rounded top updates the lines for a fresh look.
55. Short Haircut With Beard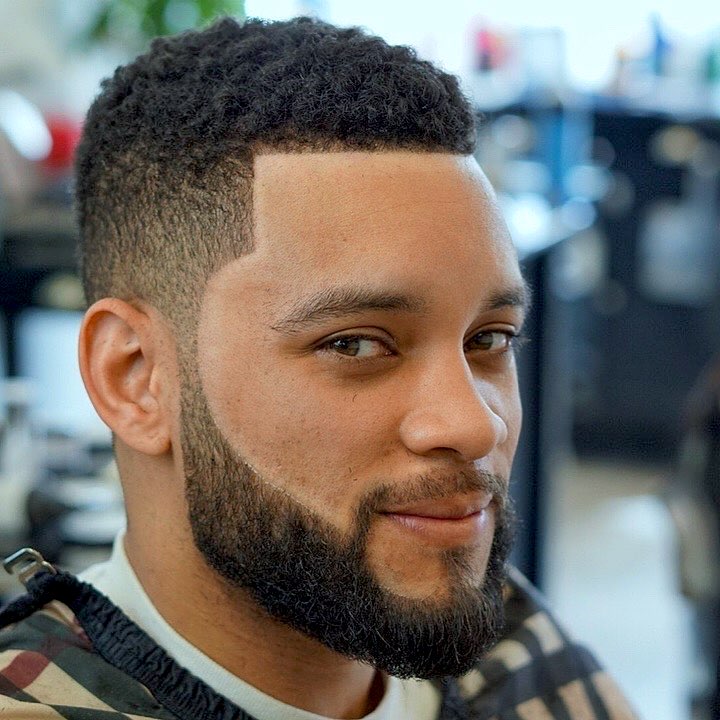 This precision beard fade creates a seamless transition between short curls and dense beard.