We've covered what is pomade before. Here are even more questions about this favorite men's hair product plus new recommendations. We talk about what to look for, some of the most popular brands, plus some smaller pomade brands that hold their own.
1. What is pomade?
Pomade is a greasy, waxy, or a water-based substance used to hold your favorite men's hairstyles in place. It has a long-lasting and flexible hold, unlike hair spray and hair gel that dry out. Modern pomades are available in formulas that provide low, medium, and high hold, matte to high shine, and for all hair types, from straight to curly and thin to thick.
Pomade used be oil-based with a high shine finish that was difficult to wash out, hence the term greaser. Today pomade can refer to any hair product with hold, including putties, waxes, clays, and muds.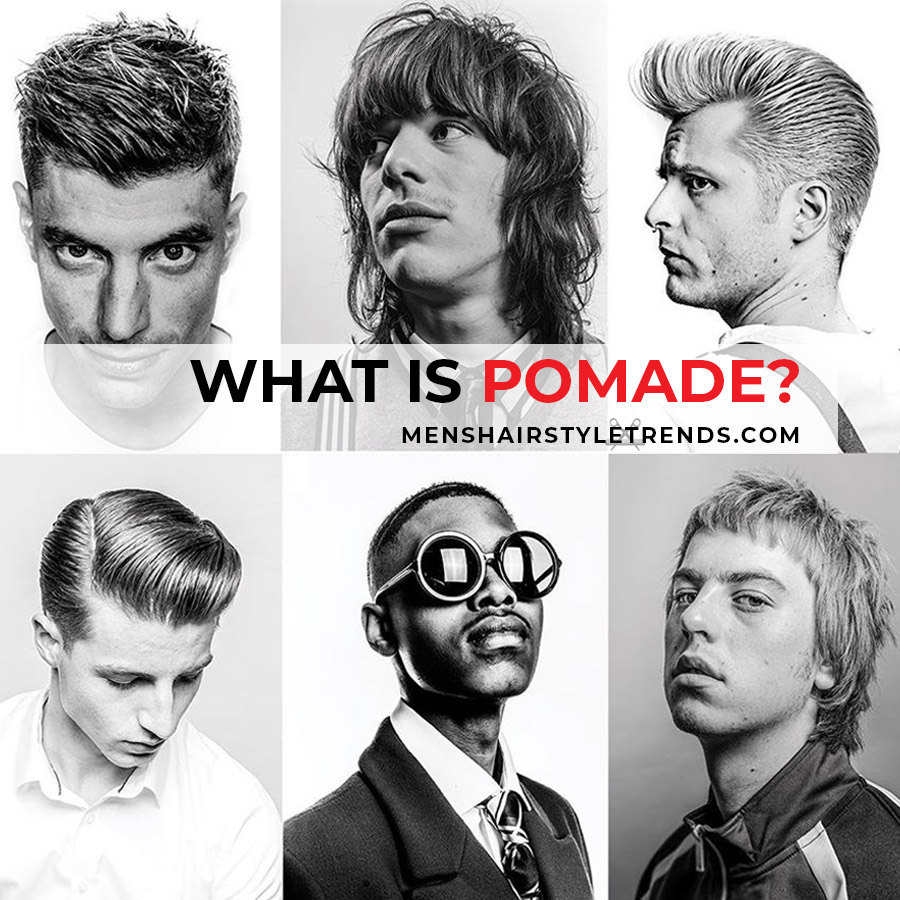 2. How to use pomade
A. Wet vs Dry Hair The easiest way to apply pomade is to damp, almost dry hair. The moisture makes it easier to evenly apply pomade. However, pomade can also be applied to dry hair. Do not apply any hair product to wet hair because the water will dilute it.
B. How Much Pomade to Use The right amount of pomade depends on the product, your hair type, and hairstyle. Start with a pea- to dime-sized amount and add more if necessary.
C. How to Apply Pomade Rub pomade between palms to heat it up and make it easier to apply. Then work it into hair evenly, from the forehead back, at both sides, and at the neckline. Spend some time getting pomade into the roots with the fingertips as well. Then style hair with fingers or a comb.
This application method works for straight and curly hair as well as all types of pomades.
D. How often should you put pomade in your hair Pomade can be used to daily on clean hair. If you're using an oil-based or clay pomade that doesn't wash out, re-application may not be necessary even after a shampoo. In that case,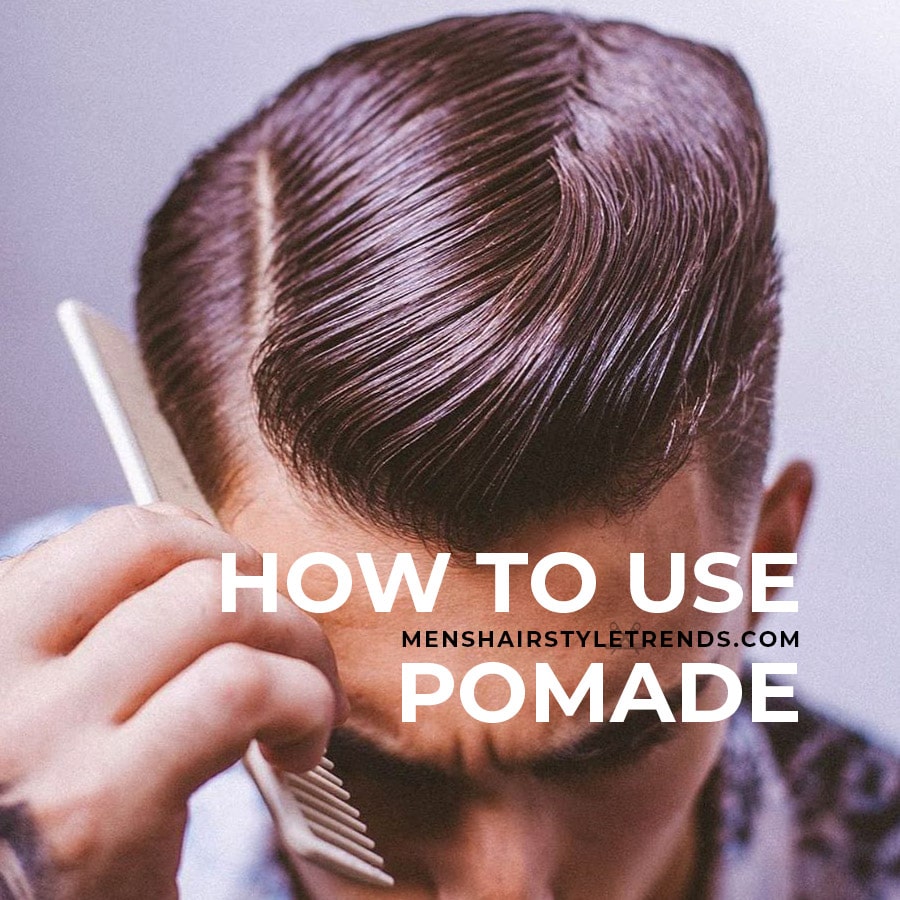 3. What does pomade do?
If pomade is doing its job, it holds hair in place all day long.
4. How much pomade to use
The right amount of pomade depends on the type of products as well as hair type, length, and hairstyle. Guys with thick, curly, and longer hair will need more than guys with fine, straight, and short hair.
Always start with a small amount and re-apply if required. You can always add more but removing pomade means taking a shower. Start with a pea-sized amount, work it between palms, and apply to hair evenly. Add more if you need to.
5. Is pomade good for hair?
Pomade definitely is not bad for hair. Many formulas condition hair and protect locks from damage from the sun and pollution in addition to creating your desired style. Pomade also does not cause hair loss. In fact, pomades can help thin hair look thicker. So, yes pomade is good for hair.
6. Can I bring pomade on a plane?
Pomades are subject to the same rule as any liquid on a plane. For carry on, pomade must be in a 3.4 ounce or smaller container and be placed in a sealed zip-top plastic bag. If your pomade can is larger than 3.4 ounces, scoop some out into a smaller container like these silicon cream jars or check your bag.
7. What is the best pomade?
The best pomade depends on your hair and hairstyle. Here are 5 of the most popular products from the top brands plus the best pomades for short, long, thick, and black hair.
Honorable Mention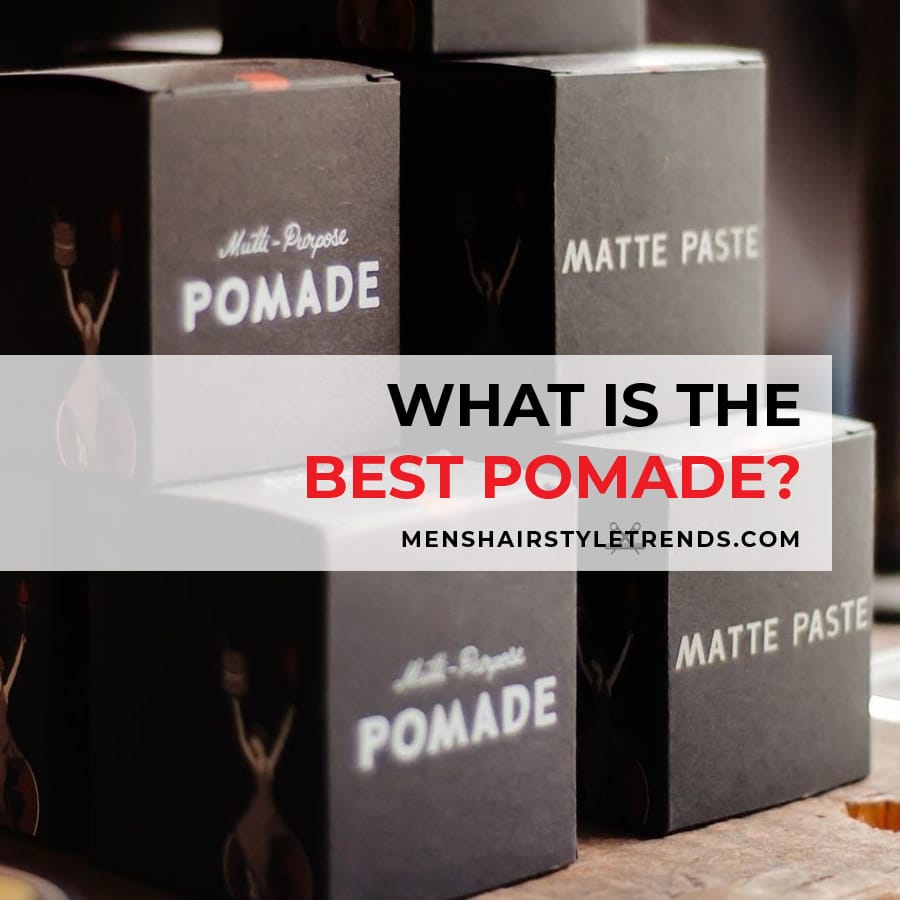 Short Hair The best pomades for short hair add some texture, enough hold, and wash out easily to avoid build up. At this length, many pomades will do the trick but here are a few to try.
Long Hair The best pomade for men with long hair depends on what you're trying to do. For control when wearing hair loose, low and medium hold products will spread through hair evenly, keep hair in place, and tame fly-aways. If you want to pull hair up into a high pompadour, it's all about the strongest hold you can get with a wax or clay.
Thick Hair Thick hair needs a lot of hold to do what you want it do instead of having a mind of its own. In addition to strong versions of water-based pomades like Layrite and Suavecito, clays and waxes also have exceptional hold while adding some texture.
Black Hair The same pomades that are recommended for waves also hold and moisturize other hairstyles for black men. Keep reading below.
8. How to use pomade for 360 waves
Using pomade for 360 waves is surprisingly controversial. Pomade does not create waves. Waves come from brushing more than anything. What pomade does for waves is enhance their texture and lay them down.
While old school pomades like Murray's have been used for waves, look for pomades that use something other than petrolatum. While petroleum-based product does smooth hair and add shine, is difficult to remove, builds up, and clogs pores.
Waves can be created without pomade with products like Luster's Pink Lotion, Kinky-Curly Curling Custard, or Shea Moisture Curl Enhancing Smoothie.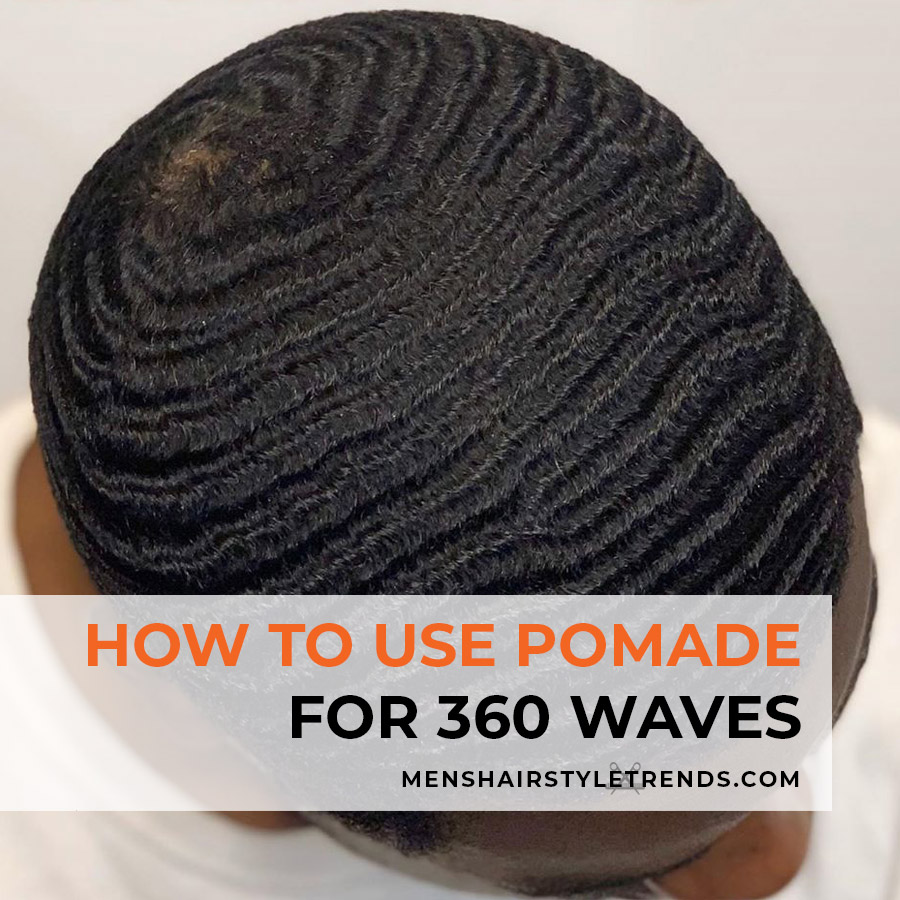 When you're wolfing or on days you need some extra hold, here are a few natural pomades that will get you sea sick.
9. Where to buy pomade
Quality men's hair products are available all over the place.
Obviously, there is Amazon. On the plus side there is a massive selection and helpful reviews. Many brands and sellers even offer money-back guarantees. However, fake products are a common problem so buy from an official brand or highly reviewed store.
The barbershop or hair salon is an excellent place to buy pomade. Your barber knows your hair and will use a product they trust to create your hairstyle. Plus you get a free how-to demonstration. If you like the look and smell, take home a jar.
Drugstores, grocery stores, and big box stores like Target all carry many more men's hair products than ever before. These tend to be at a lower price point and can offer sales. A few good big brands to look for are:
10. Is pomade better than gel?
Pomade is different than gel. Which is better depends on your hair, hairstyle, budget, and if you like a shiny finish.
Gel has the strongest hold, a shiny finish, and dries hard. It can be cheap. It can create spiky styles, flat tops, or tall pompadours out of the thickest hair. Gel was used to create the high shine, motion free look for Don Draper's slicked back style in Mad Men.
You'll often see warnings about alcohol in hair gel or alcohol-free gels. However, many hair products contain fatty alcohols that moisturize hair. If the ingredients say lauryl alcohol, cetyl alcohol, or, stearyl alcohol, the product will not dry out hair.
Pomade is known for flexible hold. A benefit of pomade is there are formulas for every hair type and in a range of shines and strengths.
Get the best of both worlds with Imperial Barber Gel Pomade. It is easy to apply, dries hard, and washes out easily. It's great for fine, thick, and curly hair types. If your pomade wilts or melts in heat and humidity, this hybrid product has got you covered.
11. How to get pomade out of hair
Water-based pomade rinse out of hair with water. In addition to traditional grease-based pomades, modern pomades with wax, clay, and mud may not wash out the first time you shampoo.
The easiest way to deal with pomade not washing out is work with it. You'll only need less product to create the same style. Or create a cool second- or third-day hairstyle.
If you really want to remove that pomade, here are a few things to try:
Shampoo Dry – Try working shampoo into dry hair. Without being diluted by water, shampoo is stronger. Then add water to lather and rinse out.
Dilute – Use the properties of a water-soluble styling product to remove stubborn pomade. Don't use the most expensive product for this but any water-based pomade or paste will work. Apply generously and evenly, wait a while, and then wash out. The water-based product should help dissolve oil or wax.
Hot Water – This works better for waxes, clays, and muds, but using hotter than usual water will help melt long-lasting pomade ingredients.
12. What pomade has the strongest hold?
For thick, curly, or long hair or to get the tallest styles, it's all about strength. Matte or shiny is up to you. Look for a product that suits your look, whether that is smooth or textured.
Boost the strength of any pomade by blow-drying hair into place first. The heat sets hair where you want it, making it easier for pomade to do it's job. Or use a pre-styler like BluMaan Meraki. Add it to hair before blow-drying for more volume or as a post-styler after pomade for longer hold.
13. Can pomade be used on beards?
Well, sure. It's not a bad idea to smooth a beard with excess pomade on your hands. However, beard hair is coarser than hair on the head while facial skin is more sensitive than the scalp. Beard products are designed with extra conditioning to soften and smooth beards and gentle formulas for the chin.
The best way to condition a beard is with beard oil or beard conditioner. For more moisture and hold, try a wax-based beard balm, which is essentially beard pomade.
14. What is matte pomade?
The definition of matte is without a shine. Matte pomades have a flat finish. They are recommended for guys with thin hair or light-colored locks that can easily appear greasy. Matte pomades often contain clay or mud, which can help with greasy hair.
15. Can pomade go bad?
Yes it can. Dipping your finger in it everyday can introduce bacteria so always use clean hands to apply pomade. Many products will indicate that how long it lasts after opening. Some pomades will have an expiration date. In general, you can expect pomade to last 2 years before it goes off. A change in color, texture, or smell will let you know that it's time for a new product.