Every city has a unique culture and that is reflected in the barbershop scene. In San Francisco, there are traditional men only barbershops, modern barber salons that offer a range of services, and mostly gay but straight-friendly shops. The hipster quotient is low but you can get all the latest men's hairstyles at every one of these fine establishments.
Check the 10 best barbershops in San Francisco based on the number and ranking Yelp reviews as well as other awards.
Honorable Mention
Male Image
4 stars – 117 reviews
People either love or hate Male Image. This Castro institution is known for Tom of Finland art on the walls, gay porn in the waiting area, and sassy service. It's a throwback to when mustaches outnumbered strollers on the Castro. If you want a great haircut and a different experience, check them out.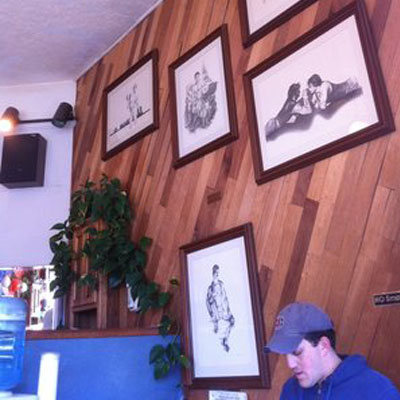 I really don't like getting my hair cut and hate making appointments and am super cheap. Thankfully I also love kitsch and vintage throwback gay art/culture. Male Image is the barbershop equivalent to that one enduring gay bar in your city which opened in the 70s or 80s and has never changed decor. I've always been able to drop in and get a cut without too long of a wait. I happen to have only been cut by the Asian gentleman who has always done a great job with the little direction I give.

Addressing rudeness/bitchiness in other reviews, I honestly think this is part of the appeal of Male Image, these bitches tell is like it is and don't have a problem NOT cutting your hair if you don't know what you want or are too difficult; or letting you know your current cut looks terrible. No candy coating.

This is not a salon, you should not pay less than $20 and expect an uplifting experience. I find the guys hilarious and would recommend their skills over many of the Castro area gay barbers who seem to only know how to do cookie-cutter military cuts. On top of that, the price can't be beat. – Alex A.
10. A Businessman's Haircut
4.5 stars – 62 reviews
For a convenient and dapper cut in the Financial District, visit A Businessman's Haircut. Benjamin will leave you looking fresh with his cutting expertise and a shampoo both before and after the cut, eliminating those itchy little hairs. This is a traditional barbershop with witty banter, just for men, and cash only.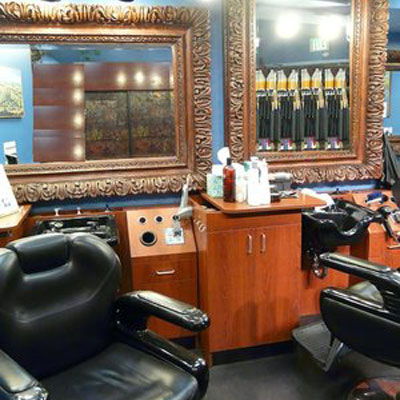 Benjamin gives the best haircut I've ever gotten. Only a haircut this good would make me keep coming back for $40 plus tip. Benjamin is the quintessential man's man. No BS, just honest and real conversation. Haircut comes with wash and shampoo before and after the cut. Do yourself a favor and come here. – Michael Z.

This a place where you get a haircut.

You tell the man how to cut it and he cuts it the way you have asked it to be cut.

No nonsense. No fluff. What else do you need?

If the answer is, "I need a lot more" – Then go elsewhere.

Simple, high quality, affordable and above all, convenient. Need a haircut outside of business hours at 9pm? This man will cut your hair at 9pm (that is, if he feels like it and if he hasn't found you to be the type to cancel on a 9pm haircut). – Eric O.

For my very first review, I have to give it up for the guy who keeps me looking oh so good. Ben the Barber is THE ONLY person that I trust to cut my hair these days. I've been seeing him exclusively (we're not Facebook official yet but I'm working on it) for over 3 years now, and if I can't see Ben… then I don't get my haircut. Seriously, I refuse to go to anybody else.

"But Nick!" you may be saying to yourself. "What makes Ben so great??"

Welllll, let's see:

– You get a shampoo before AND after the cut
– He will have you in and out in 30 minutes guaranteed
– He tells awesome jokes (ask him to give you the definition of "indefinitely" if you don't believe me)
– He WILL make you look good (hell, if he can do it for me then he can do it for anybody!)
– He is right in the Montgomery BART station area, so it's really convenient if you are a BART rider
– He is just an all around awesome guy

Now, there are a few things to note. He ONLY accepts cash, and don't you dare try to just walk on in. Call ahead and make an appointment, as most days he is booked up solid. Also, he will not cut women's hair. The business name should be an indicator of that, but just be sure you know that.

So, if you're looking for a down to earth, consistently awesome and all around cool dude barber, look no farther than Ben. You won't be disappointed, and if you are…. I suppose everyone is entitled to their opinion, even if it's wrong. – Nick T.
44 Montgomery St – (415) 788-4936
9. 1512 Barber Shop
4.5 stars – 92 reviews
1512 Barber Shop a one-man show in Nob Hill. Master Barber Salvatore Cimino is an experienced and knowledgeable barber who also distills on the side and may offer you one of his home-brewed liqueurs. The word about Sal is out so all cuts are by appointment only.
[new_royalslider id="52″]
Do you want your hair cut? Do you want it cut to look good that day and for weeks to come? Do you want a classic look delivered from an old school master barber who doesn't bullshit about what he does and what you need? Salvatore at 1512 Barber Shop is your man! Personally, I've had endless challenges with other barbers due to my very curly hair. I went in to see Sal and from the first cut, I was hooked. He's also great to chat with while getting your cut. Unless you want to talk about the latest hipster trends that is, cuz did I mention, he's classy old school? Not flashy trendy.

P.S. I almost didn't write this review because I don't want too many more people competing for appointments. This guy is booked up well in advance for a reason! – John V.

Best haircut I have ever gotten. Sal and four generations of his family have been cutting hair. He knows his stuff and often will tell you more about his hair then you ever knew. The line that sums him up is onehe often says on your first visit,

"Most people don't know how their hair should look, rather they are told by average barbers what number they are. I look at the jaw bone, facial structure and your personality when you enter the door to cut your hair the way you will look the best."

Been going to him for a six months now and love him. Only thing is that he is so busy you need to book him 3 weeks in advance but be warned once he cuts you're hair you will wait that time period if not longer to have him do it again. – Richie G.

This is less of a barbershop and more of a barber museum where you can get a haircut. Calling Sal a barber isn't really accurate; he's more of a hair scientist. This guy thinks about hair like the guy from "a beautiful mind" thought about math. He asks a lot of questions to get inside your head and try to figure out what you want while at the same time balancing what you think you want with what will actually work best for you.

It's a pretty intense experience. – Tom R.
1512 Pine St – (415) 286-4371
8. Joe's Barbershop
4 stars – 158 reviews
Another traditional barbershop, Joe's is celebrating it's 10th anniversary this year in the Castro and Duboce Triangle area. In addition to being award-winning, this is one of the cheaper options out there. This predominantly gay shop is mellow and straight friendly. All the shop's barbers get shout outs in the reviews so give them a call or walk-in. They promise that if you show up during opening hours, you will get a cut.
[new_royalslider id="59″]
I heard of Joe's Barbershop through a friend and decided to give it a try. If Joe of Joe's Barbershop can cut my hair I am going with Joe, however I saw a dedicated team of men cutting and grooming hair all over the shop. Lots of hot men and barbers too!

Joe spent time asking my what I wanted and took his time making sure that my hair looked perfect. The price is amazing for the level of service you get.

The shop had a sense of community with neighbors and friends coming in and saying hello. If you have that happening then you know that the owner and the employees are a welcome part of the neighborhood.

I am so happy that I finally have a permanent barbershop to get all my hair needs done! Try Joe's Barbershop. You will not be disappointed! – Alex T.

Got a haircut from Douglas. It looked OK when I left.

After I showered the next morning and looked in the mirror, I didn't recognize myself. I looked 6 years younger. I wanted to do me.

So, yeah, great haircut. – Frank K.

I found this place through Yelp. I gave it a try yesterday. I walked in without an appointment and waited for 10 minutes before Ben seated me.

He was so professional, listened to me carefully what kind of style or trim that I want, and went to work right away after my instructions. 20 minutes later I was out the shop.

I love my new haircut (maybe due to the fact that I got few compliments from my friends and coworkers!) and definitely come back again to this awesome barbershop.

Words to describe them: Fast, super affordable (now I can get back to get my haircut every 3 weeks without destroying my piggy bank savings!), clean, professional. – Reyner T.
2150 Market St (415) 255-9096
7. Peoples Barber
4 stars – 229 reviews
Peoples is a traditional barbershop in the Tenderloin that provides a full-service, luxury experience. They balance old-fashioned barbering like hot-towel prepping and close straight razor shaves with modern cutting techniques. An experienced barber isn't only for the latest styles. Visit one for a buzz cut or straight razor head shave to make your dome look the best it can. They also feature products for all your grooming needs including including pomades, shampoos, body washes, and beard and mustache waxes. All the barbers are recommended in the reviews so you can't go wrong.
[new_royalslider id="56″]
Absolutely stunning location with great atmosphere. Friendly staff, quality products and setup. Definitely has a modern take on a local Chi barbershop but with a San Francisco twist. – Jimmy K.

Josh has done it again! Like I said in my previous review, I've had a lot of would-be barbers that tell me sob stories of how hard my hair is to cut just because I'm Asian…Way to give me a complex. It one fell swoop of his sword (read: scissors) Josh destroyed this notion that was set forth by so many barbers in the past..

Thanks again, man! – Ben Z.

All I can say is: best $38 spent on a haircut ever.

And I didn't even get that much cut off. Josh was very helpful in advising me on what kind of look I was going for, and understanding when I pretty much admitted I had no clue. It was easy to tell he knows what he is doing as he suggested some looks.

Aside from the consultation, I really loved the experience at Peoples, which includes a free beer or whiskey with your cut. This was awesome, as I had just spent 2 hours commuting from San Jose. Also, a full shampoo and hot towel face massage. They really get you relaxed before you get your cut.

There's no doubt in my mind, Peoples is worth the price and I look forward to coming back to see Josh again! – Bryan P.
1259 Polk St San Francisco (415) 292-4099
6. Rick's Barbershop
4.5 stars – 106 reviews
No website, no Facebook, no Instagram. Instead Rick's Barbershop has a lot of history, experience, and a loyal customers. Ringing up at $13, you won't find a cheaper of this quality than this Inner Richmond chop shop. This is the real deal old school barbershop – a no appointments, cash-only, man cave. Rick and Caesar will treat you right.
[new_royalslider id="57″]
No reservations so be prepared to wait. The cuts are good and strait-forward. This is definitely a "man's man" type of place. No frills, no decadence, just a good old-fashioned hair cut and a hot shave.

Gentlemen if you've never had a hot shave I implore you to indulge. Then buy a properly tailored suit, order a nice rib eye (bone-in obviously) and a quality scotch. Boom. Instant man day. But make sure you start it sporting the right kind of hair cut from here. – Alexander L.

I've been coming to this little hole in the wall for some time now. These two brothers are great at what they do. Awesome atmosphere and a cool spot to chop up some conversation with just about anything.

The job they do is quick and simple and the best part after is these guys still give you a shoulder massage. Very few shops I know of still provide service like that. I highly recommend this shop, but be prepared to wait since the shop isn't very spacious and the line gets some what long at times. – Sol P.

I've been going to Rick's for 2 years and they always give me a decent cut. I get there 7:30am on weekdays and wait it out to beat the morning rush. I prefer Caesar, but Rick's got the skills to make you look good too. Also, don't be anti-social. Strike up a conversation, both guys are hilariously funny and down to earth.

They recently raised the price of a cut, I think it's $13 now. Seriously though, if you're over 21 and have a JOB, be a gentleman: give these guys a Jackson, thank them, walk off with your boss ass cut and go to work.

Gentlemen only. – Kevin C.
5349 Geary Blvd (415) 668-7670
5. Emilio's Barbershop
4.5 stars – 115 reviews
Emilio's is a legit old school barbershop in Outer Mission. Their reputation is out there so while they technically accept walk-ins, save time by making an appointment. He and his barbers cut all hair types and ages as well ladies embracing the undercut hair trend. At $23.00 a cut, you're getting vintage attention to detail and almost retro pricing.
[new_royalslider id="54″]
After trying out many talented barbers in the city, there is no barber who comes close to Emilio.

From the moment I stepped in to his business, I felt that I had found what I was looking for. Emilio is patient and meticulous with each customers hair, an example of his passion for cutting hair. Also, he is highly professional–remembering your name and the things you discussed with him on your last haircut, while giving all his attention on the customers hair despite the lively atmosphere which can be at his shop sometimes. In addition, the prices are very reasonable and the service is great.

After 4 years of living in the city and hopefully many more, I can say that no other person has touched my hair. Emilio is a consummate professional and simply the best. – ERIK H.

This place is awesome. Emilio cuts my hair and he takes him time to really do a quality job. He also recommends different styles that he thinks I might like and they've all come out great – he's never failed me. I highly recommend him and the laid back feel of the shop. – David A.

Found Emilio's on Yelp, saw that everyone gave him 5 stars, so I decided to go in for a trim.

I can see why he's getting excellent reviews. Dude is a damn good barber.
Meticulous, precise, versatile, and above all else, friendly. What more can you ask for?

Good job, Emilio. – Gil M.
5734 Mission St – (415) 715-8227
4. Mystic Haircutting
5 stars – 96 reviews
Mystic Haircutting in the Hayes Valley bridges the gap between old school barbershops and modern hipster joints. You get the expertise, camaraderie, and pricing of the former combined with the atmosphere and latest styles of the latter. Cash only and it's best to make an appointment.
[new_royalslider id="58″]
I think I found my new haircutters. I really liked this place. And Mike. Slightly edgy, but no pretense. Good location. Good price — $30 cash. Great haircut – he was super precise and took his time. Overall excellent experience. – Andrew K.

And as if Scott's amazing work weren't enough, Mystic Hair is simply a great place to hang out. David, Luke, Jorge, and Dennis are some cool cats, and the music they play is always on point. Don't be fooled by their hip stylishness; these guys are in it for you, the client, not just for their own image. And their prices and service are so much better than those other bougie barber shops too!

Also keep in mind they are cash only, so hit up that ATM first. And while they do take walk-ins and always do their best to accommodate them, I'd suggest calling in to make an appointment; they can get pretty busy, and unless you live in the neighborhood, it sucks to hear that the only free slot is in two hours' time (still worth it though!). – Ricky C.

If I don't have a barber that I love, I cut my own hair. I'd rather just run clippers over my head than deal with a bad or expensive hair cut from someone who's basically just doing that anyway.

Since I found Scott at Mystic, my clippers at home are getting rusty. I never use them anymore. He's a real pro with the scissors and a straight razor: an old school barber who isn't just awesome at what he does, he loves it.

The shop is great too. Reminds me of barber shops my dad took me to as a kid. Everyone is friendly, professional and for $30, you get more than your money's worth including a neck shave with hot foam and a straight razor. The hot spa towel is a nice touch too.

I can't recommend Scott and the Mystic highly enough. It's the only place in SF I get my hair cut. – Erik I.
14 Haight St – (415) 255-8473
3. J.P. Kempt Barber
5 stars – 78 reviews
Dubbed the "Rock and Roll Barber" by VH1 and the Village Voice and "one of the best barbers in the country" by Esquire and Best Life magazines, JP Kempt founder Shorty Maniace is an expert in men's grooming. This is his latest barbershop opening with distinct SF flavor. Your head is in great hands with any one of the barbers on staff.
This was not just a cut and shave, it was one hell of an experience and can hardly wait to go again.

Jourdan was my Barber and what a mighty fine job she did. I could barely leave the chair I was so relaxed, and my face just feels magnificent.

The scene is definitely grand, the decor, the people and the chairs. I highly recommend this place, it is one of the best and I have been around the world. – Piggly W.

This place does it right. I don't want to spoil the surprise but they straight razor the back of your neck with hot foam. It's amazing.

These guys just have an appreciation for grooming and their haircuts are amazing. Super detailed. When they're done they'll give you a once over and make some adjustments. Really nice that they take the time.

They also serve water and beer while you wait so getting there early isn't a bad idea. – Alex P.

There is nothing quite like a shave and a cut that makes you a new man. And J.P. is the only choice when feeling good is worth more than just looking good.

Lots of great cutters (especially Shorty), good stock of many care products and a chill atmosphere that would make your grandaddy proud. Time to grow up gents and start taking care of yourself for a change.

Oh yes, be sure to ask for the man-back shave specials! ;0) – Jai D.
351 Divisadero St – (415) 437-1300
2. Barber Lounge Salon & Spa
4.5 stars – 428 reviews
The Barber Lounge has reinvented the traditional barbershop, including salon and spa services and a rotating art exhibition. Don't be dissuaded by the Yelp photos featuring creative shaved designs because this barbershop is so much more. This busy shop requires appointments, from a few days up to two weeks in advance so book early to get the time and day that works for you.
Pricing is more expensive for the salon so for the best deal and wide range of shave, facial hair, and hair options, visit the barbers. In addition, barber pricing varies based on years of experience so there's another way to save or indulge. For new clients, check out their website for a $20 free gift.
[new_royalslider id="55″]
This place was freaking amazing. My barber David took such great care with my hair and beard that I would be willing to pay twice what I paid! (please dont raise the prices ). This was the best service I've ever had, – Daniel F.

Wow. What a a fantastic experience. I've never had my head shaved before and this was a great initiation! Kameron is fantastic at what he does. He really is GREAT and gives a great shave. The was THE most relaxing spa treat I've ever had. I was so relaxed I was worried I would doze off! He finished the cold towel wrap with a really nice head/neck massage. I am addicted to Kameron's shaves at The Barber Lounge and it is now a must have when I get to go to this wonderful place. – Daniel M.

I've had two visits to the Barber Lounge so far, and both times have been great. It's rightfully busy, so get your appointment early (I was able to get in within a few days of calling both times)

There are three barber chairs and 8 or so salon chairs (plus the hair wash area and other salon stuff). The barbers seem to be a bit harder to get into, but it's totally worth the wait.

Take the first appointment (9am) and get the deluxe barber experience and leave ready to take over the world. Easily the best cut I've ever had, great music, excellent staff and classy joint all round. – Brian D.
854 Folsom St – (415) 934-0411
1. Public Barber Salon
4.5 stars – 513 reviews
Recognized as the SF favorite in 2014, Public is a Barber Salon that serves up fresh and contemporary cuts for men and women. Enjoy a complimentary beer, cosy up to the shop dog, and relax while you get just the cut you want. There are two locations, one in the Tenderloin and another in North Beach featuring a 4,000 book library built into the walls reflecting the poets and writers that have occupied the neighborhood. Check out their model program to receive complimentary services.
[new_royalslider id="53″]
I heard good things about this place prior to my visit. I'm not accustomed to paying more than $20 for a hair cut. Public Barber takes the crown for most expensive place I've received a haircut ($34 +$5 tip), but it is worth the money! Heck, it even comes with a complimentary beer.

The salon is clean, and each stylist knows their stuff. From my experience with Josh, he had a good idea of how I wanted my hair to look, and tailored the cut against how my hair would grow out in the later weeks. He knows how to make a mean pompadour/side part hybrid. Talk about attention to detail.

Yeah the salon has that hipster feel to it, with the complimentary beer being a PBR (sometimes a Hamm's), but there's no pretentious vibe here. Just some people who care about being great at their craft and providing the best haircut experience for its customers. FYI, if you need to make an appointment, call on the Sunday of the week you plan on dropping by.

Job well done guys and dolls. Keep it up. – Loren John B.

I've always had trouble communicating what I want out of a haircut and used to always leave other barbershops disappointed because the stylist didn't understand, or took liberties with my hair. So – if you are a guy like me you have finally made it. – Anthony C.

Excellent hair place in the city. I've been coming here for over a year now. The staff are super friendly and accommodating.

I've been having my hair cut by Josh and he's amazing. I've had a variety or hairstyles since I've been coming here… From a legit Mohawk to a styled haircut. Josh is able to handle any style I can throw at him.

Aside from the excellent service and haircuts, the offer you a beer or water when you walk in, allowing you to relax just before your cut. They also have awesome art exhibits on the wall that change out from time to time.

They only do appointments a week in advance starting on a Sunday, so make sure you book one rather than just stopping in because these guys are popular! – S C.
571 Geary St – (415) 441-8599 and 1528 Grant Ave in North Beach – (415) 362-0040
We use affiliate links and may receive a small commission on purchases. Please read our disclosure.