When it comes to barbershops, guys in San Diego have plenty of options. It was a challenge to pick only ten shops for this list based on reviews and awards. So we chose eleven.
For selection, you've got the usual hipster shops but also ones with a surfer and greaser ambience. Of course, there are always the established traditional barbershops that give bring you back in time. Plenty of shops also welcome groomsmen events. The best one for you will depend on a combination of price, location, and feel.
There are plenty more great barbers to check out in addition to these best barbershops in San Diego. We also recommend The Dover Honing Co. featuring barber Brian Burt, DTown Barbers with barber Paul DeSales,  Capitol Barbershop, and Dink's. Here are a few more fine establishments that will ensure you look your best.
11. Freshly Faded
Freshly Faded is more than a barbershop. Check out their website for insightful blog posts, curated music, specialty store, and events. It's black-owned but also hipster-friendly with multicultural barbers and clientele. On the haircut front, they specialize in fades, tapers, mohawks, and straight razor shaves. – Paul G.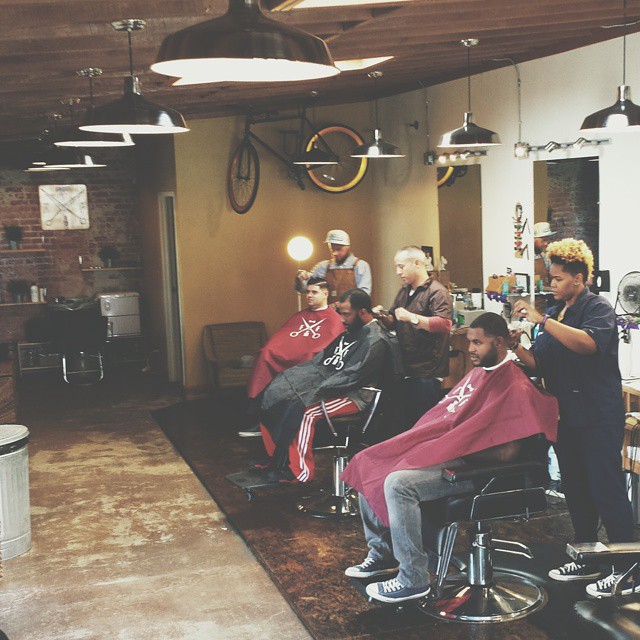 Rene is the man and my go to guy. A genius with his craft and the results are now 6 of my friends have gone to him because they love the cool cuts I get. Hands down the best barber shop in SD. I love this place and Derrick who runs the shop has created a great vibe, the people that work here are friendly fun and great at what they do!
2850 El Cajon Blvd. Suite 1 | 619-677-4733
10. Ducky's Barber Shop
Ducky's Barber Shop is a local fave despite the minimal Internet presence. They stay true to the barbering tradition with precision haircuts, luxury shaves, and welcoming experience. Come one, come all.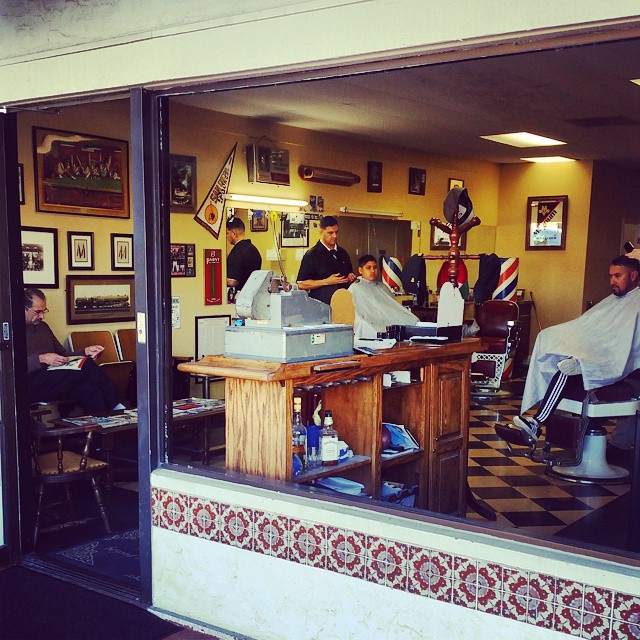 I  definitely would suggest this barber shop to anyone…After my experience at Ducky's, I feel that a certain standard has been set for me personally. I don't feel like they are catering to a niche, they sincerely want to provide quality haircuts and bring back a atmosphere where grandfathers, fathers and sons can all go to get haircuts and enjoy good company. – Joshua G.
941 Broadway Suite L | 619-456-3232
9. El Rey Tattoo and Barber
Whether it's a tattoo parlor in a barbershop or a barbershop in a tattoo parlor, El Rey Tattoo and Barber has got plenty of atmosphere but no attitude. There is a vintage greaser aesthetic and great pomade selection but they serve up a modern cuts with traditional barbering skills.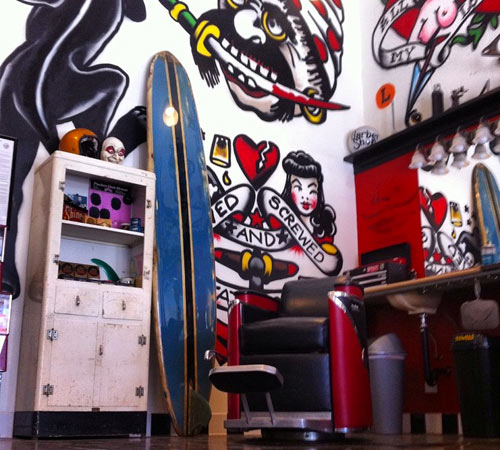 Great people. Good attitudes. Real helpful and knowledgeable. Beautiful clean shop. Amazing artwork on the walls. Barbershop is the real deal. Traditional. Hot towel straight razor shaves are a once in a life time must try thing. I recommend it. Men's spa type thing. – Robert J.
8. Vince's Barber Shop
You know a barbershop is good when they are booked solid based on word of mouth and some Yelp reviews. Vince's Barber Shop in Little Italy opened in 1952 and maintains the same ambience today. While founder Vince Bruno is no longer there, his successors Boris and Billy keep the tradition alive. Enjoy the throwback atmosphere complete with beer and Playboys in the magazine rack. Appointments are recommended and cash only.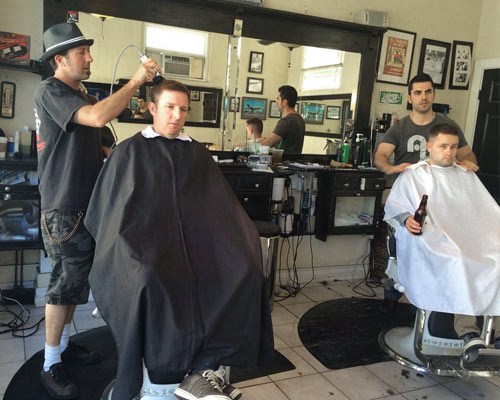 Boris is a true master of his art. With his attention to detail and passion for excellence he provides a haircut that is fitting and clean. The razor shave was as authentic as it gets, and the massage at the end made it a perfect finish to an already relaxing and great experience. Sitting in that barber chair takes you back to an episode of Mad Men, enjoying life the way men should. No salons or franchises come close to this experience. – Vlad G.
2030 India St | 619-623-0798
7. Debonair Barber and Shave Parlor
Debonair means confident, stylish, and charming and that is how you will feel when leaving. Some barbershops have a specific clientele but Debonair Barber and Shave Parlor can cut all kinds of hair including hipster, Latino, Asian, and black. They even cut 49ers wide receiver Kassom Osgood and Madchild of the Swollen Members. It's $25 for a cut and cash only.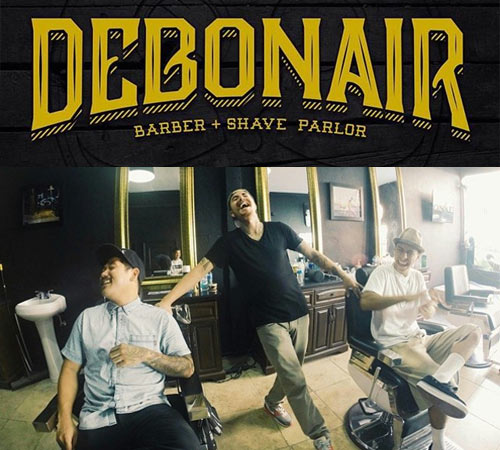 Right off the bat, these guys were relaxed and welcoming as I came in. They offered me a drink, and had me waiting less than ten minutes before getting in a chair. I believe I sat down with Justin – highly recommend him – he knew exactly what I was looking for just from a 2-3 sentence description. It's obvious these dudes pay attention to detail. When I got a better chance to check out the cut, I was very impressed.  Faded perfectly, a nice hard part, and perfect length on top. Not a single complaint or suggestion.

It's really cool that they like to joke around and have fun too.  They're constantly ragging on each other, making it clear that they like to have a good time and kick it.  It's a cash only business, but there is an ATM on the inside.

Overall, awesome experience.  I will be going back after trying 8+ barber shops in the area.  Great cut, great price, chill dudes, relaxed environment.  Recipe for success.  5/5, hands down. – Madj O.
6. OB Barbershop
Close to Ocean Beach, OB Barbershop was started by Bay Area surfer Darin Wright. The shop recently moved to a larger location. They are known for a great atmosphere as well as showing surf videos. Cuts are a competitive $18, shaves ring in at $25, and it's $40 for both.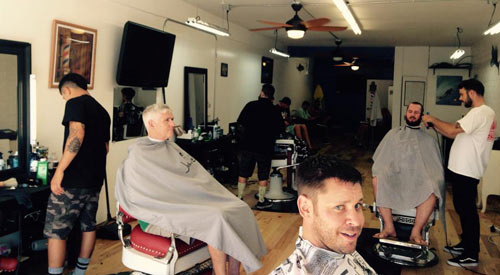 This place is great! Darin just moved the place down the street in OB. I followed him over from the last location and now there is more space. The atmosphere and service are great. The place is very clean and everyone in the shop is friendly and fun to be around. You will get a great cut here and they will make sure of it.

Long story short: Best cut, best price, best service, best atmosphere! Give them a shot and you wont want to go anywhere else again. – Doug L.
1917 Cable Street | 619-450-6565
5. Normal Heights Barbershop
Normal Heights Barbershop is your friendly neighborhood barbershop with the current hipster style. Enjoy a brew and eclectic music selection and bulldog Charlie in addition to expert razor fades. Their barbers are popular so make an appointment if you have a favorite. They also have a good selection of hair products so you can recreate your new look at home.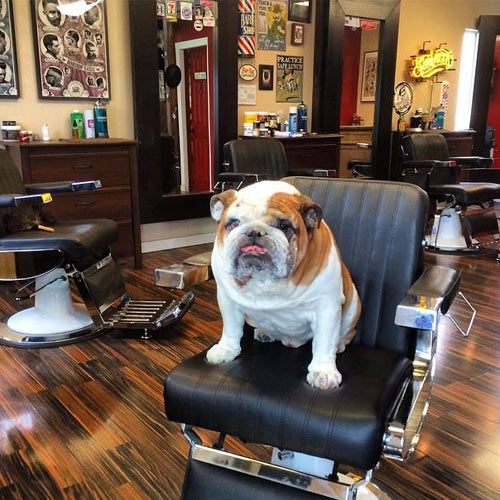 Nothing but good things to say about this place!  Walked in and was greeted immediately by one of the friendly barbers, nice cozy feel, offered beverages, and of course I got a fresh cut.  Benjamin made sure we communicated about what I was going for then he mastered it.  I've hopped around SoCal in salons and barbershops and have never been this pleased.  Highly recommended.  Ps.  The music was on point as well. – Amdrew F.
4684 Mansfield St | 619-564-8942
4. The Urban Shave Barbershop
The Urban Shave features traditional barber menu, vintage decor, and modern prices. There are two locations to serve you. The Hillcrest shop is appointment only while the Little Italy one is closed Mondays. Check out their well curated selection of hair products, Urban Shave Beard Oil, and shaving tools.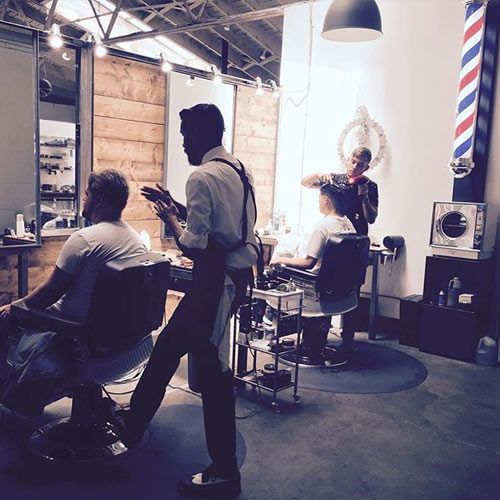 The best barber in San Diego! David O. is as good as it gets. Started going here a while ago and will not be going anywhere else anytime soon. The barbers here are super friendly and give fantastic haircuts, all while adding a great atmosphere to an already aesthetically pleasing shop. – Max H.
3774 Park Blvd | 619-297-4283
3. Mister Brown's Barber Shop
Mister Brown's Barber Shop has a traditional look with modern amenities. It's appointment only and at $30 a cut, on the pricier side. From the decor to the music to the drinks, it's more than a haircut, it's an experience. Mister Brown's is also a cool location for a bro-dal party.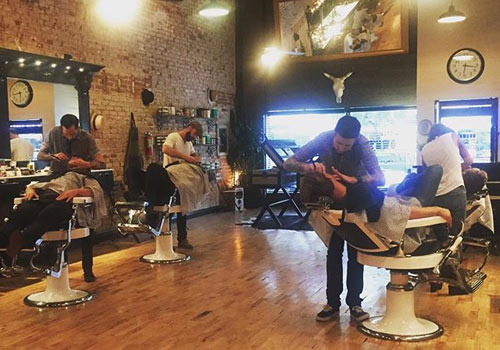 If you think you'd enjoy a good, old-fashioned barbershop with hipster flair, Mister Brown's is the place for you…Everything from the exposed brick, antique barber's chairs, Victorian-era advertisements adorning the bathroom wall, and a pool table make the experience enjoyable one.

Greeted with a friendly welcome and a cold Tecate, I waited for my appointment by sitting on a comfortable couch enjoying easy listening and watching football. BB the barber hooked me up with a great cut, my first hot shave/hot towel, and made my first barbershop visit a real pleasure.

Highly recommended. Friendly staff who are experts in their craft. I will definitely be returning. – Brett H.
3064 University Ave | 619-501-8407
2. Lefty's Barbershop
Lefty's Barbershop on Garnet Avenue was established in the 1950 and maintains the original decor and attention to detail. The second location on Cass Street is modeled after the original. Enjoy their almost old school pricing as well with $16 cuts and shaves and $10 line ups.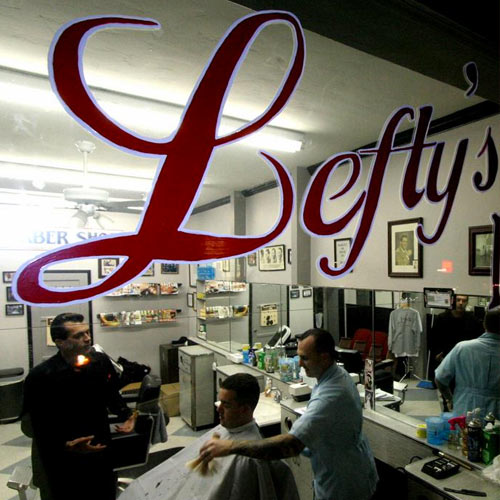 I thought it was a little weird to have to make an appointment at a barbershop….but once I got there I understood why. It's not a very big place and they don't have very much of a waiting area. There is also only street parking available, but that wasn't that big of a deal as there was plenty available.

My barber was named Chuck and he was great. He talked me through some general consultation and answered some questions I had and then gave me one of the best haircuts I've ever had, even down to to straight blade on the neck with the hot shaving cream that feels so nice! Needless to say I've found my new barber in San Diego! – Scott K.
1339 Garnet Ave | 858-274-5913 and 4684 Cass St | 858-274-1878
1. Barber Side
Originally, a private gentleman only club, Barber Side opened to the public at a larger location in 2009. It's a popular place and walk in only so expect a wait. Just put your name on the list and sign up for a particular barber if you have a preference. Grab a beer from the fridge while you wait. Cuts are only $16 and it's cash only. They also host groomsmen parties.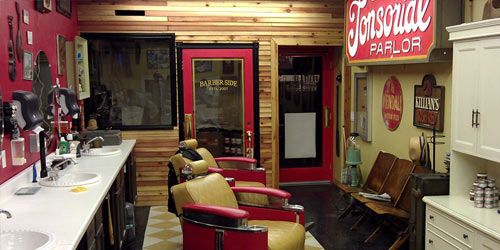 I was back in San Diego and in need of a haircut. Though there are seemingly barbershops on every corner, I refuse to go anywhere except Barber Side. I went on a Sunday and got there at 10:20 a.m. (It opens at 11.) There was already someone in line, and then a bunch of guys followed. Marvin gave me a great haircut and shave. He took his time, did a fantastic job, and had a nice convo. Highly recommend. I suggest you get there early. Oh, and grab a beer. Very affordable, btw. – Anthony L.
3506 Adams Ave | 619-347-1057
We use affiliate links and may receive a small commission on purchases. Please read our disclosure.