This is the best collection of modern undercut haircuts and also the cool classic undercut styles.
Below, you will find many different versions of the undercut that you can try out.
Each shows off a modern twist to this classic men's haircut.
So, what is an undercut haircut / hairstyle exactly?
In the past, these haircuts for men were very straightforward and were more of a DIY at home type of hairstyle. This classic men's undercut haircut is achieved by simply buzzing the sides and the back at one (very short) length with clippers. Then snip hair on top with scissors to the desired length and slick it all back.
This is one of the best and easiest haircuts that you can give yourself. If you dare try, haha. Even though it is doable at home, we highly recommend getting a friend to help out, or just get it done by your barber to be safe.
Today, there are many different and very cool looking variations of this popular men's haircut.
Whether you have curly hair, wavy hair, thick hair, or straight hair there are definitely some undercut designs that will work for you.
1) The Classic Undercut + Slick Back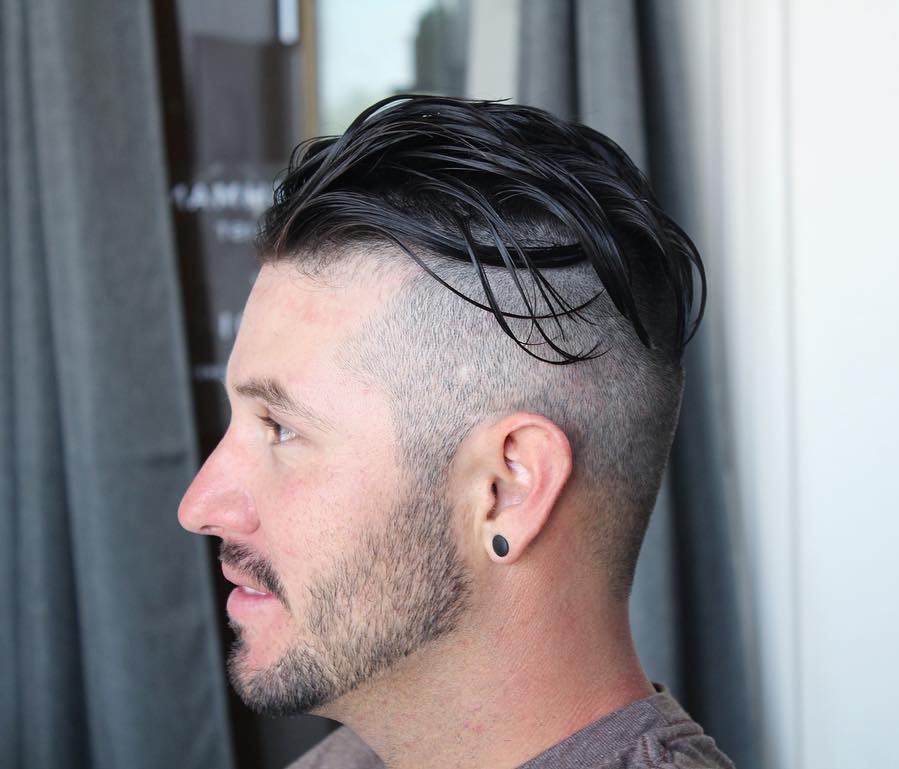 Haircut by Keller
This is a very cool looking long undercut hairstyle for men that has been slicked back in long waves. To get this look use a pomade with a bit of shine, work it evenly into damp hair, and then blow dry back using your fingers to style.
2) Long Hair Undercut For Men + Bald Fade + Disconnected Beard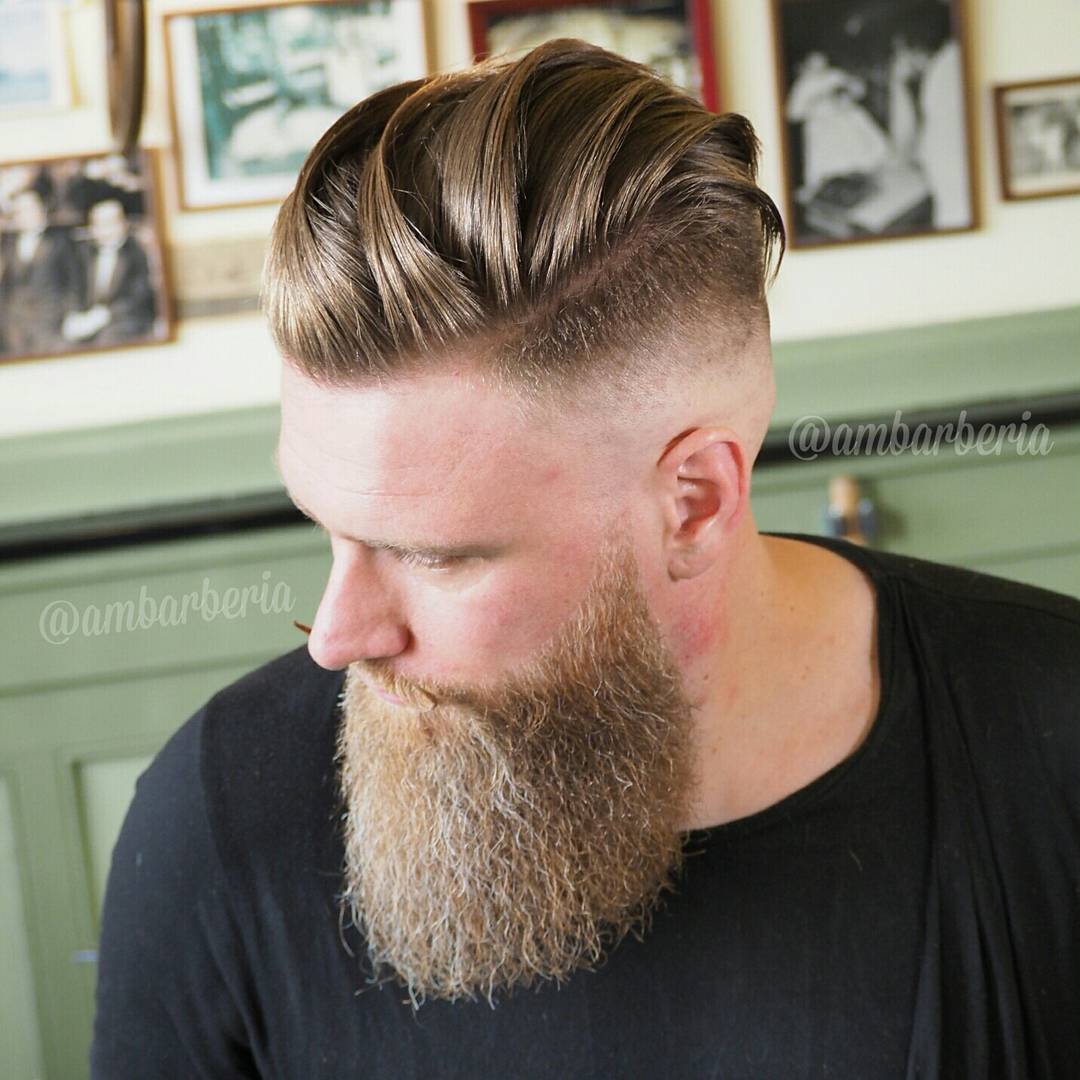 This faded undercut shows long hair styled back and to the side in sections. Totally cool.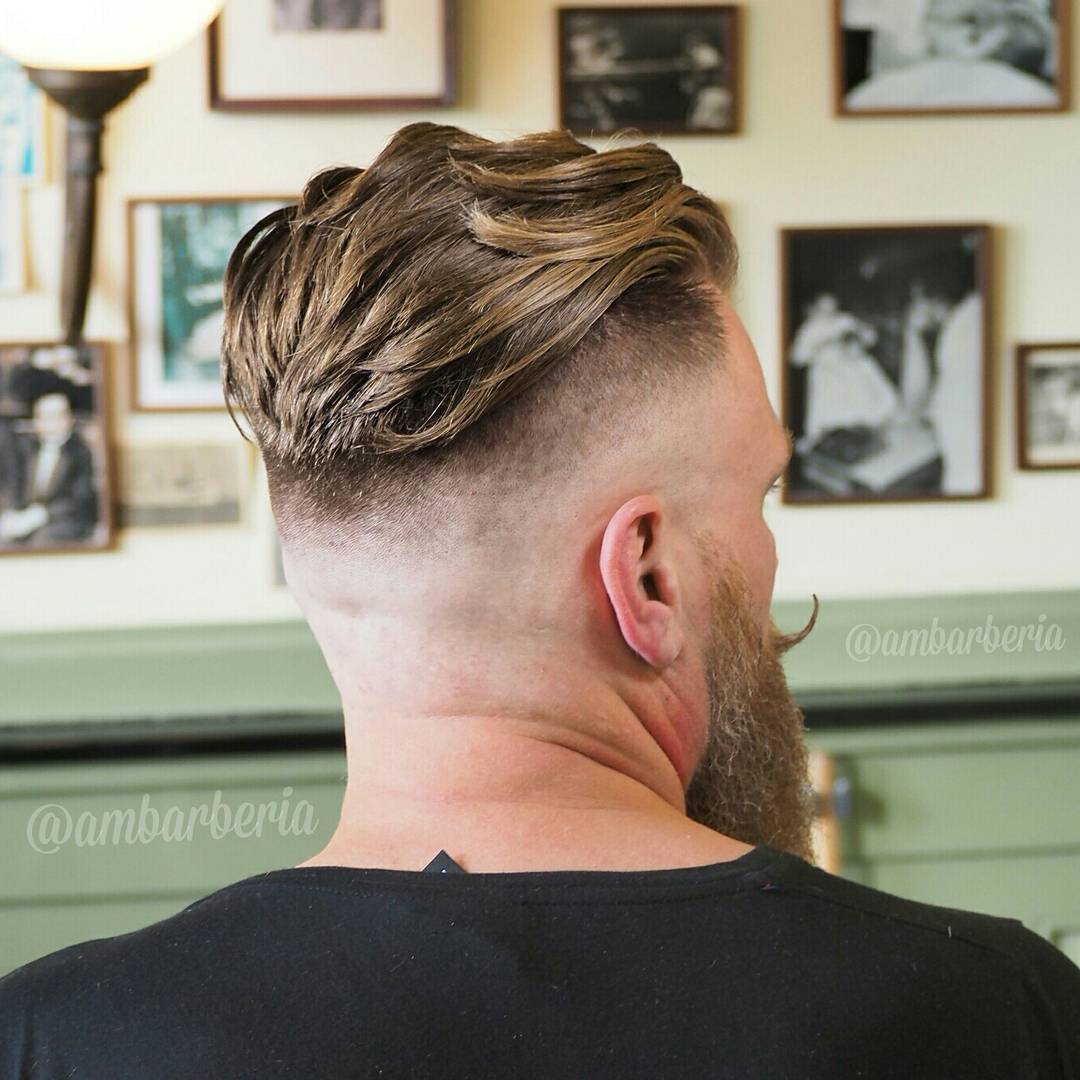 Haircut by ambarberia
Here is a look at the back view. A very cool looking haircut with skin fade and beard.
3) Men's Undercut Fade: Styled Two Ways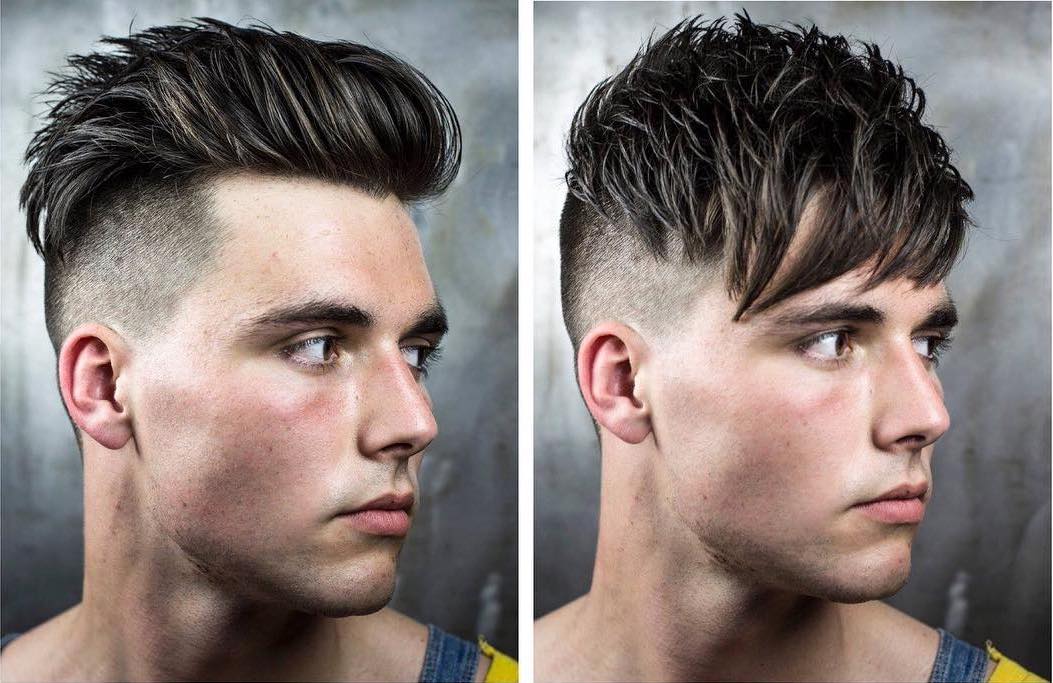 Haircut by Braid Barbers
A perfect demonstration of just how versatile this haircut can be when it comes to styling. Here we have one haircut styled in two very different ways. On the left the hair has plenty of volume created by a blow dryer. If you have thick hair like this guy use a stronger hold pomade and style the hair front to back into a slicked back look. On the right, the textured hair has been styled back to front into a messy crop look. Two cool hairstyles for men! This modern take is called an undercut fade.
4. Undercut With Beard + Medium Length Hair + Line Up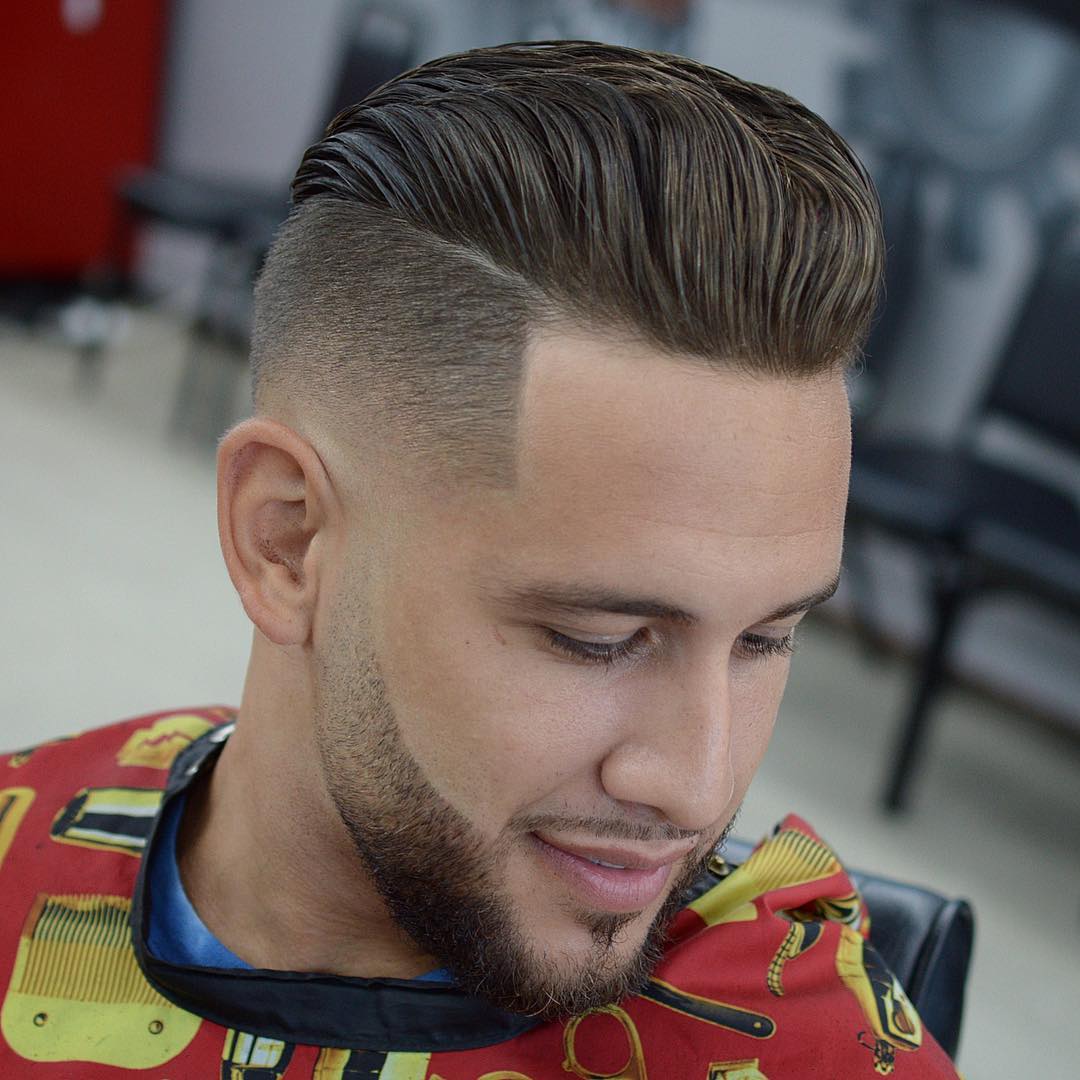 Haircut by Andy Authentic
This is a great haircut for guys that have medium length hair. Apply a strong hold matte finish pomade to damp hair and simply comb into place.
5. Undercut For Curly Hair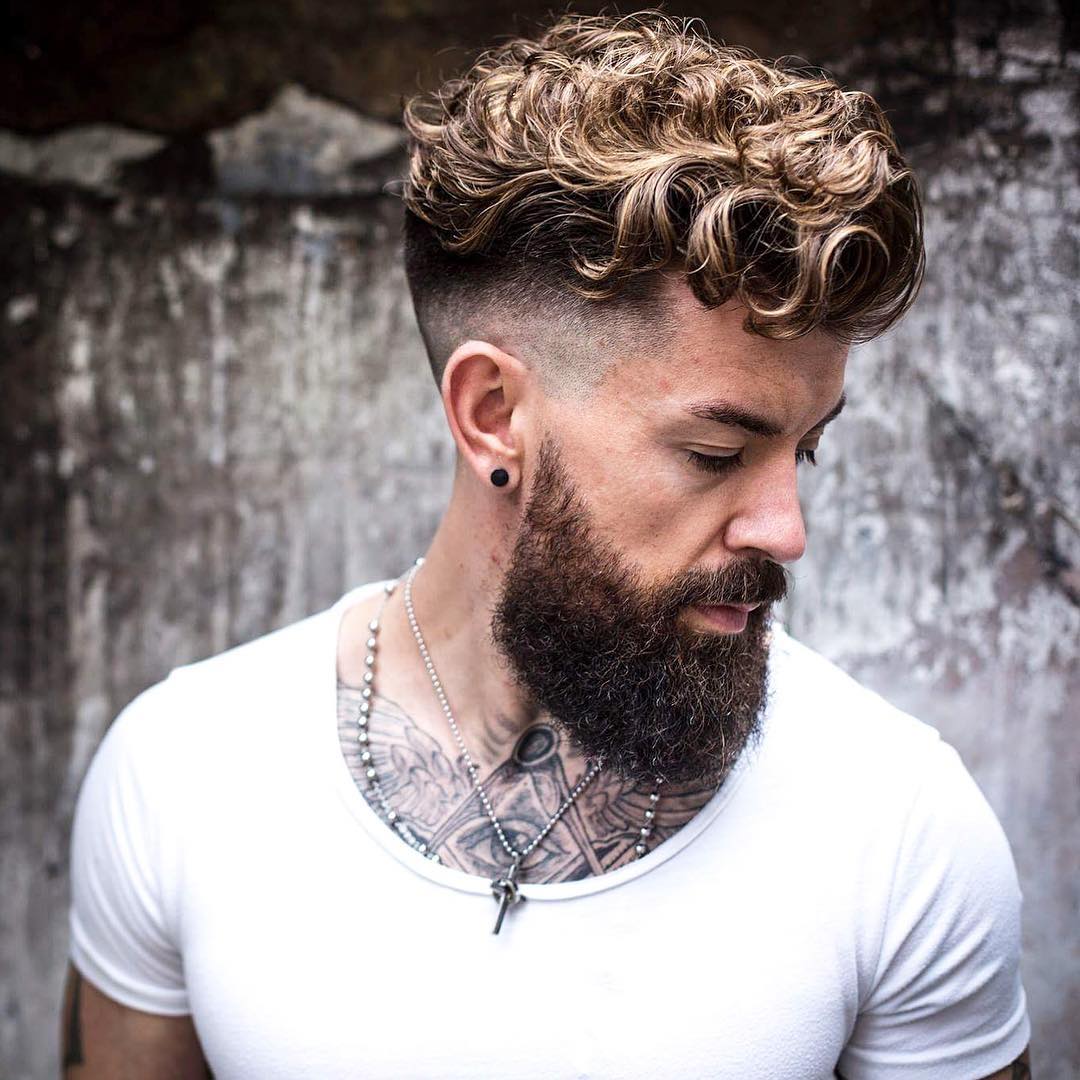 Haircut by Braid Barbers
Another beauty but with curly hair and a beard. We have a high skin fade that creates a sharp contrast with the thick curly hair. Use a medium hold pomade to give your curls extra bounce and life.
6. Undercut Short Hair + Shaved Part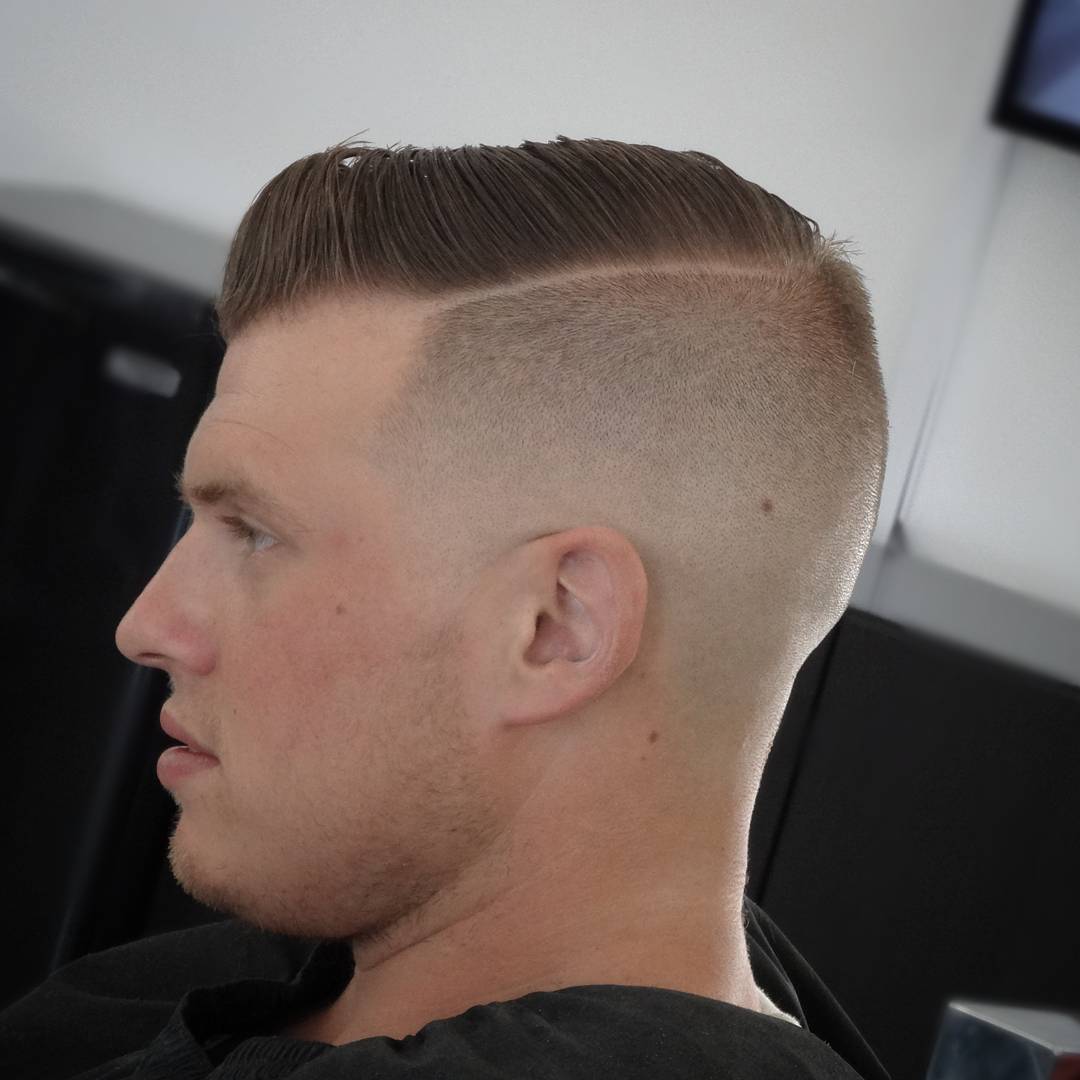 Haircut by Kev
A great looking short hair undercut. This haircut has been styled into a classic combover mini pompadour hairstyle and is disconnected with the hard part.
7. High Fade Undercut with Thick Waves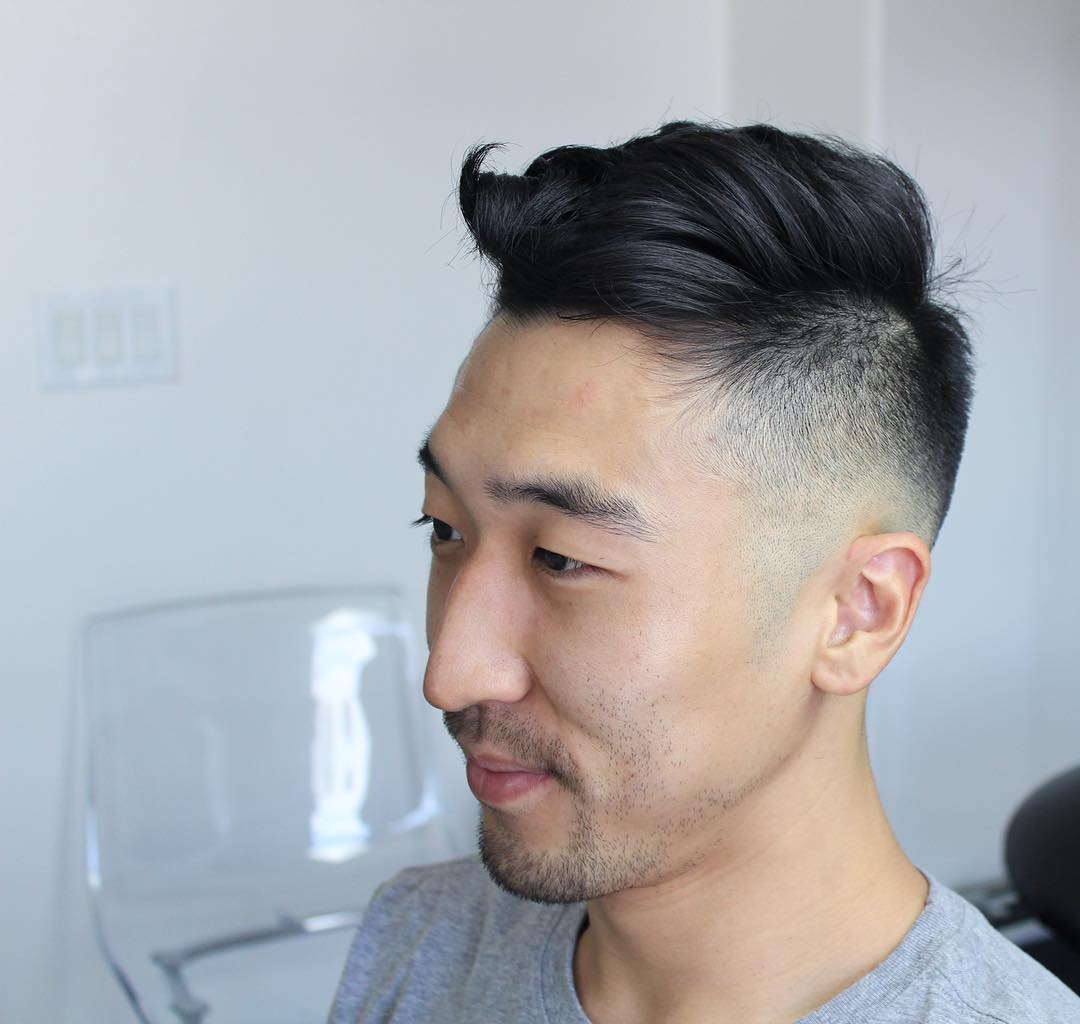 Haircut by Keller
The high bald skin fade shows off the thick black hair on top that is styled into cool looking waves or a version of the combover quiff hairstyle.
8. Undercut With Long Fringe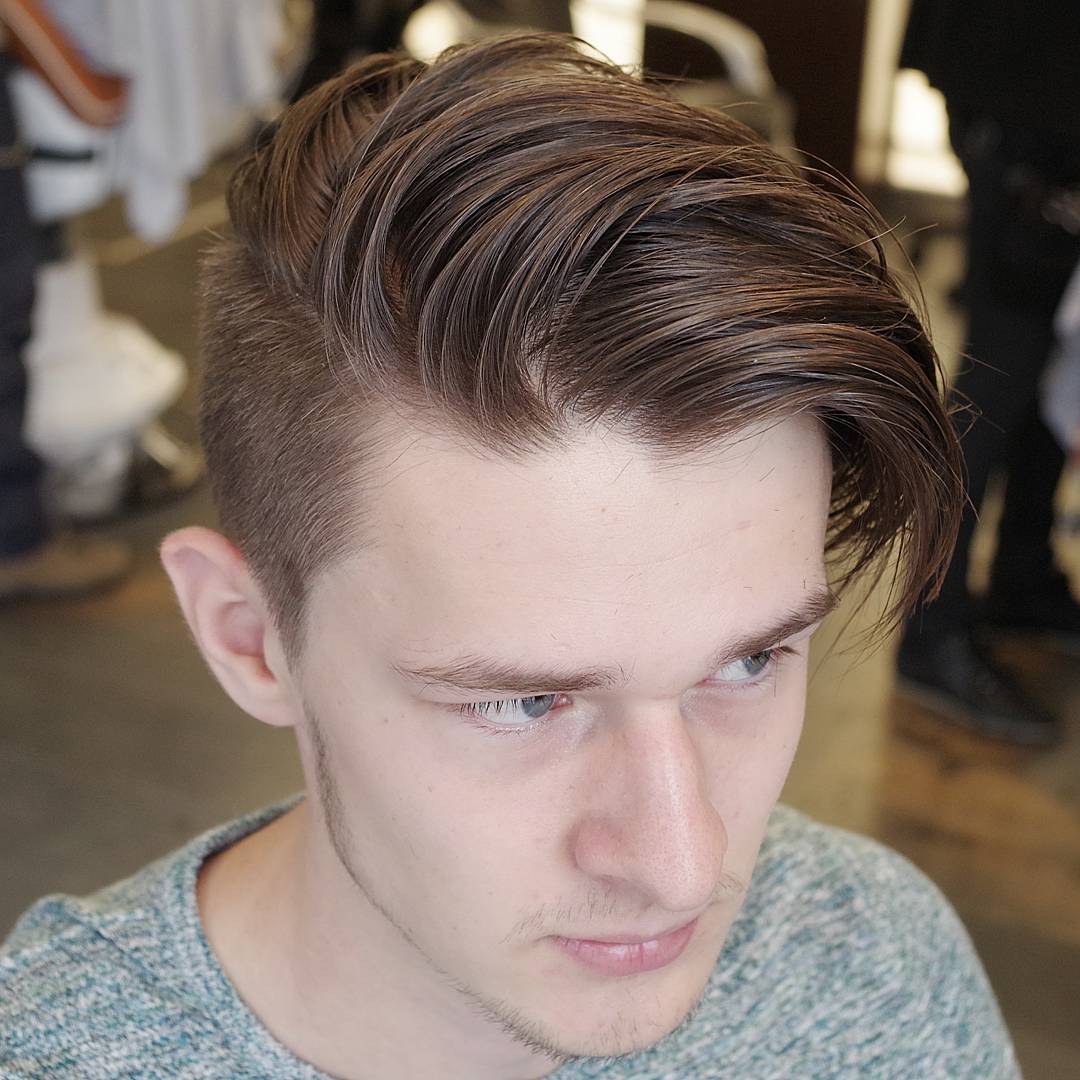 Haircut by Men's World Herenkappers
The sides are short but not shaved down to the skin, and the fringe is kept longer which hangs down in front. This is a more natural-looking side-swept undercut that is styled with less product and also more to the side.
9. Hard Part Pompadour Undercut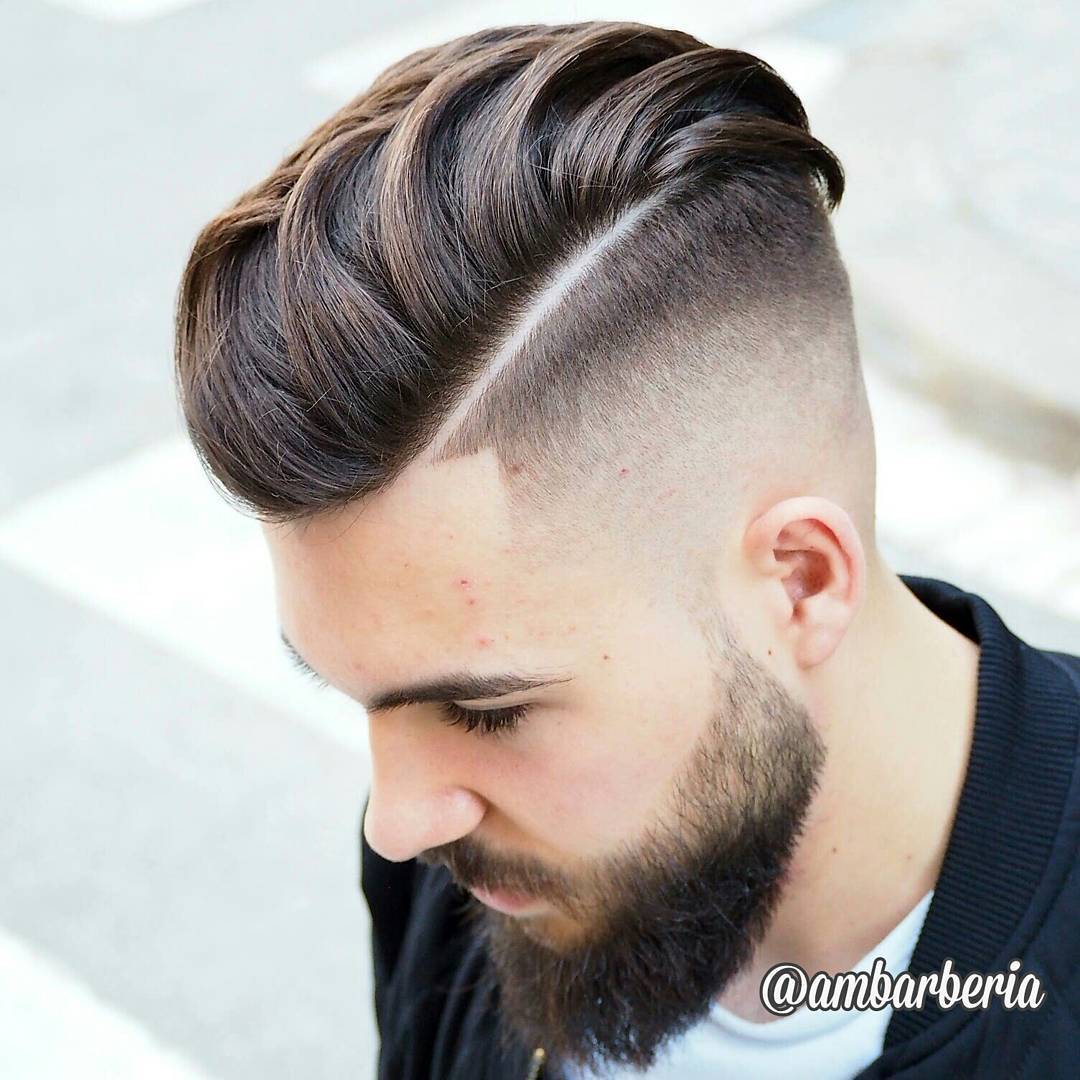 Haircut by ambarberia
Another disconnected undercut hairstyle with a hard part. Longer hair on top is blown dry to give it some nice natural looking flow.
10. Spiky Messy Undercut Hairstyle + Low Fade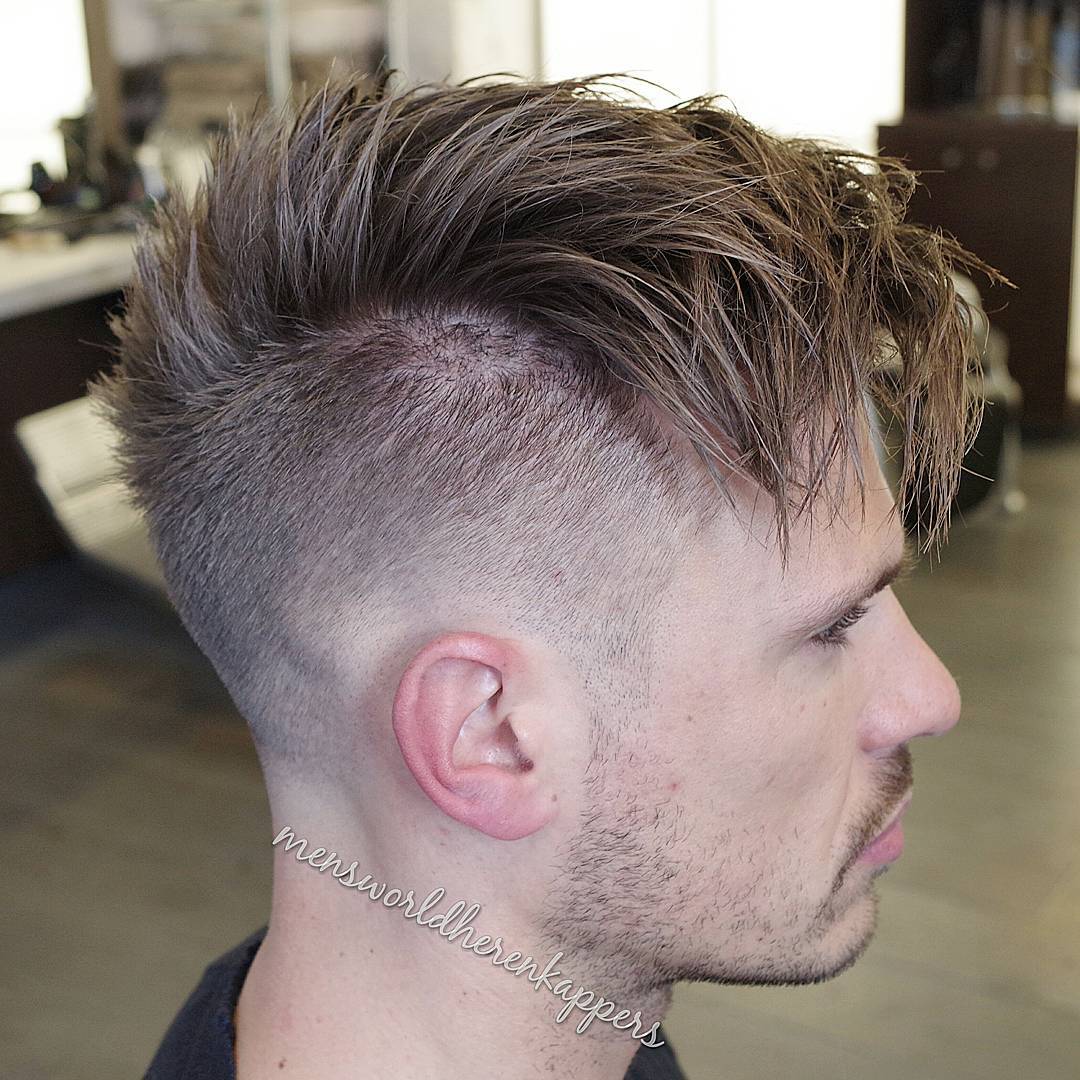 Haircut by Men's World Herenkappers
A super cool haircut. This new men's hairstyle is a mashup of several different looks. This haircut has longer textured hair on top that gives it a spiky messy look and is styled back to front into a crop hairstyle with longer fringe. Use a strong hold pomade in slightly damp hair to keep the choppy textures intact all day long. The messy undercut has been a super popular choice.
11. Cool Pompadour Undercut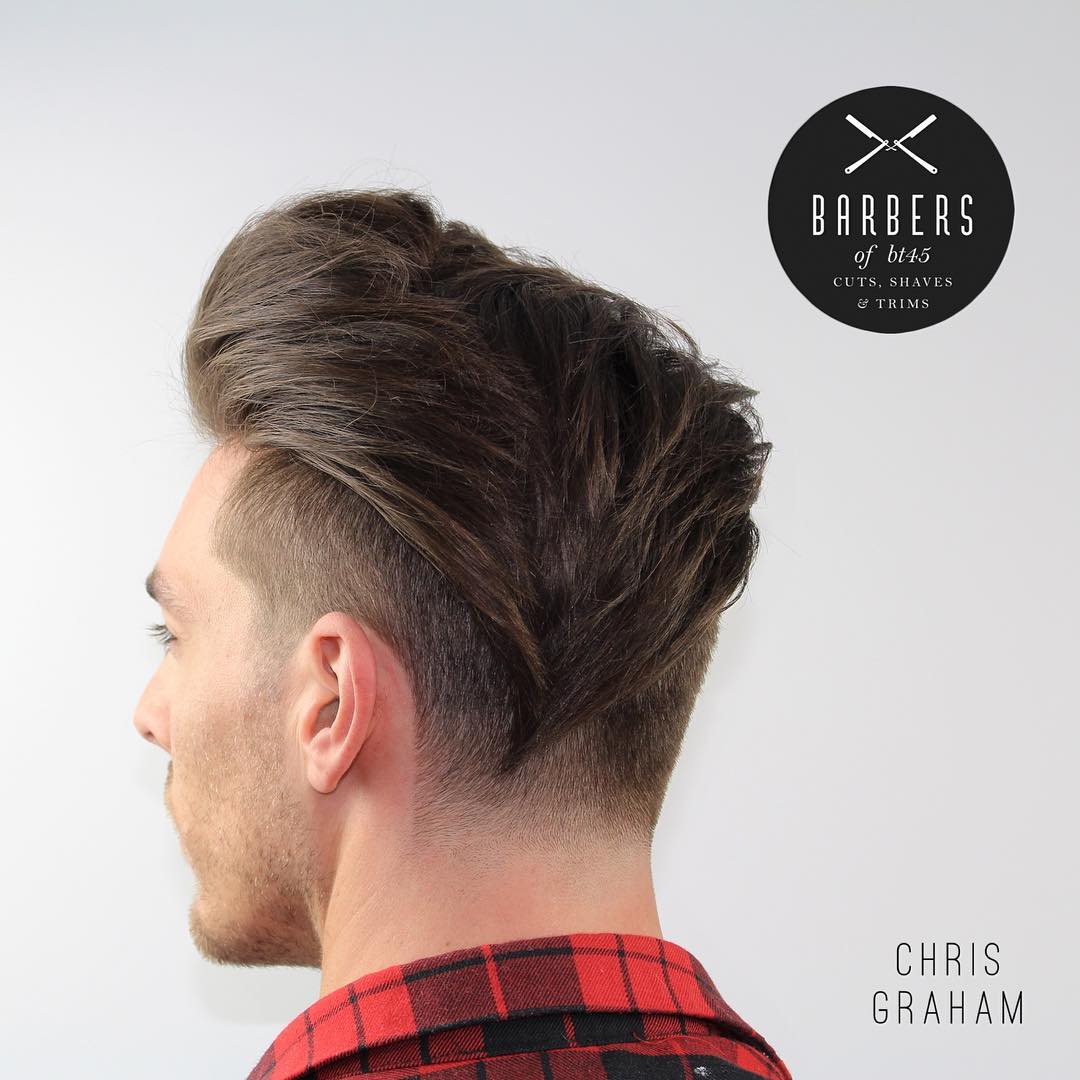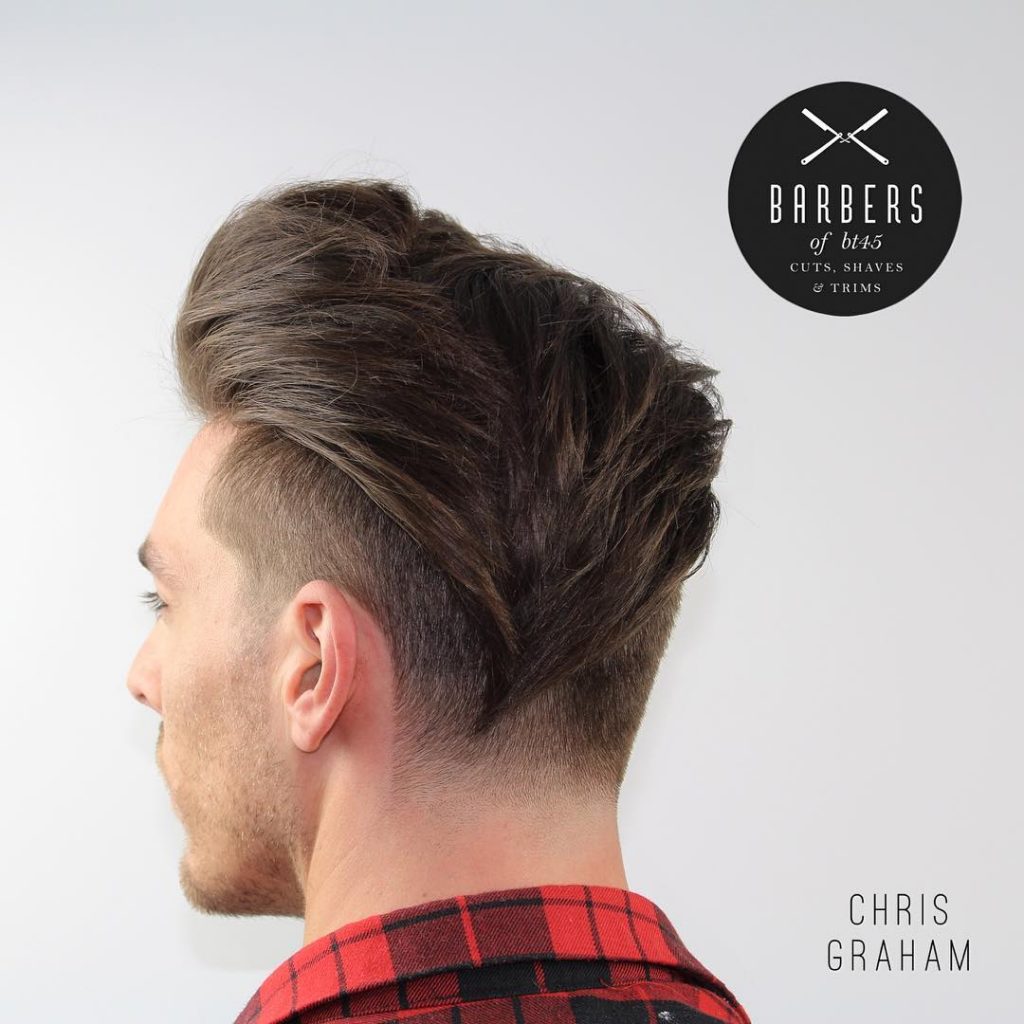 Haircut by Chris Graham
Another modern haircut that is a mashup of the pompadour (front) and hair that is very long in the back and cut into a V shape. To get this look simply blow the hair dry and use a light hold pomade.
12. Long Hair Undercut With Beard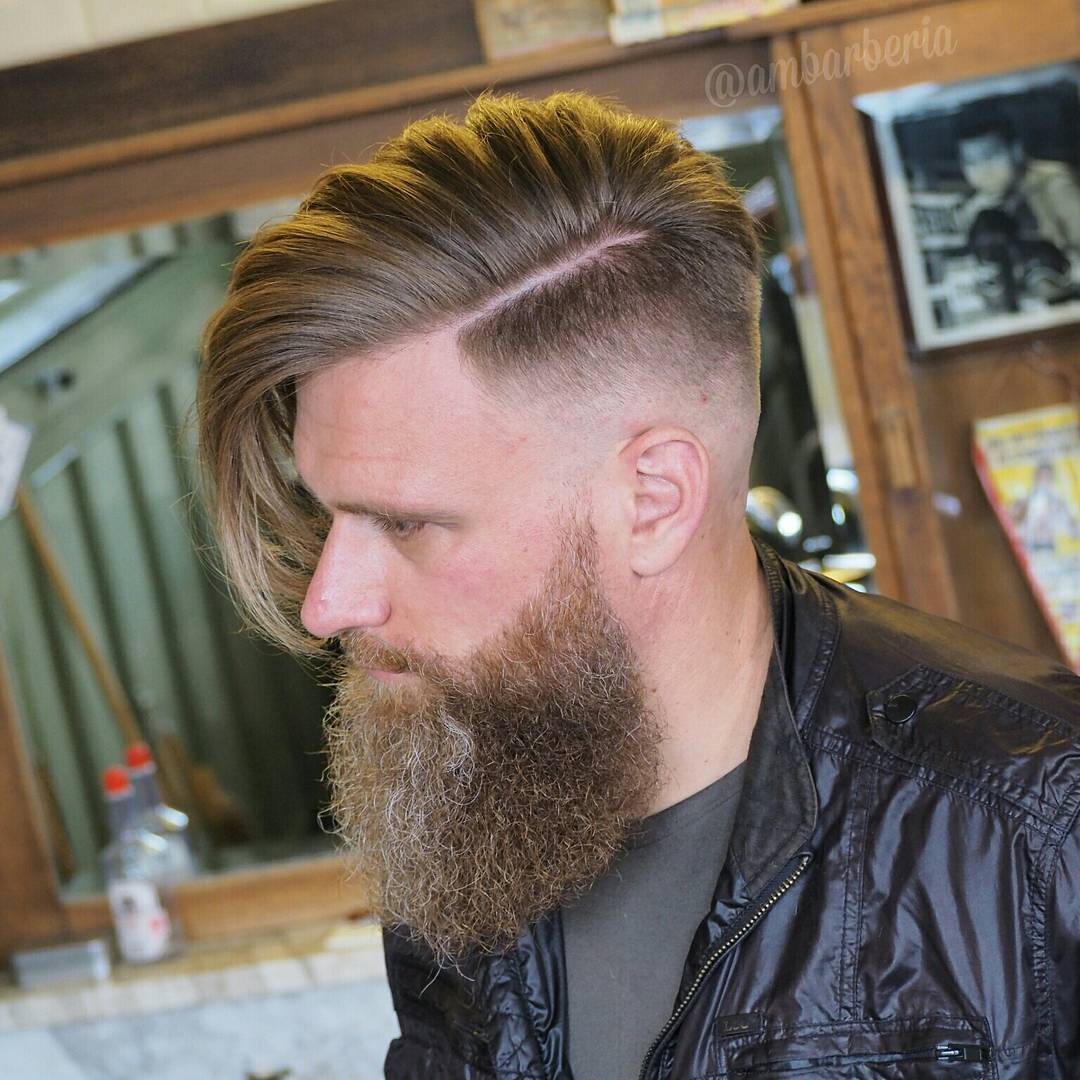 Haircut by ambarberia
A combover side part undercut with a very long fringe (bangs) in front and big beard. The skin fade accentuates the longer length of hair on top and disconnects the beard. Very cool.
13. High Fade Undercut With Medium Textured Hair + Line Up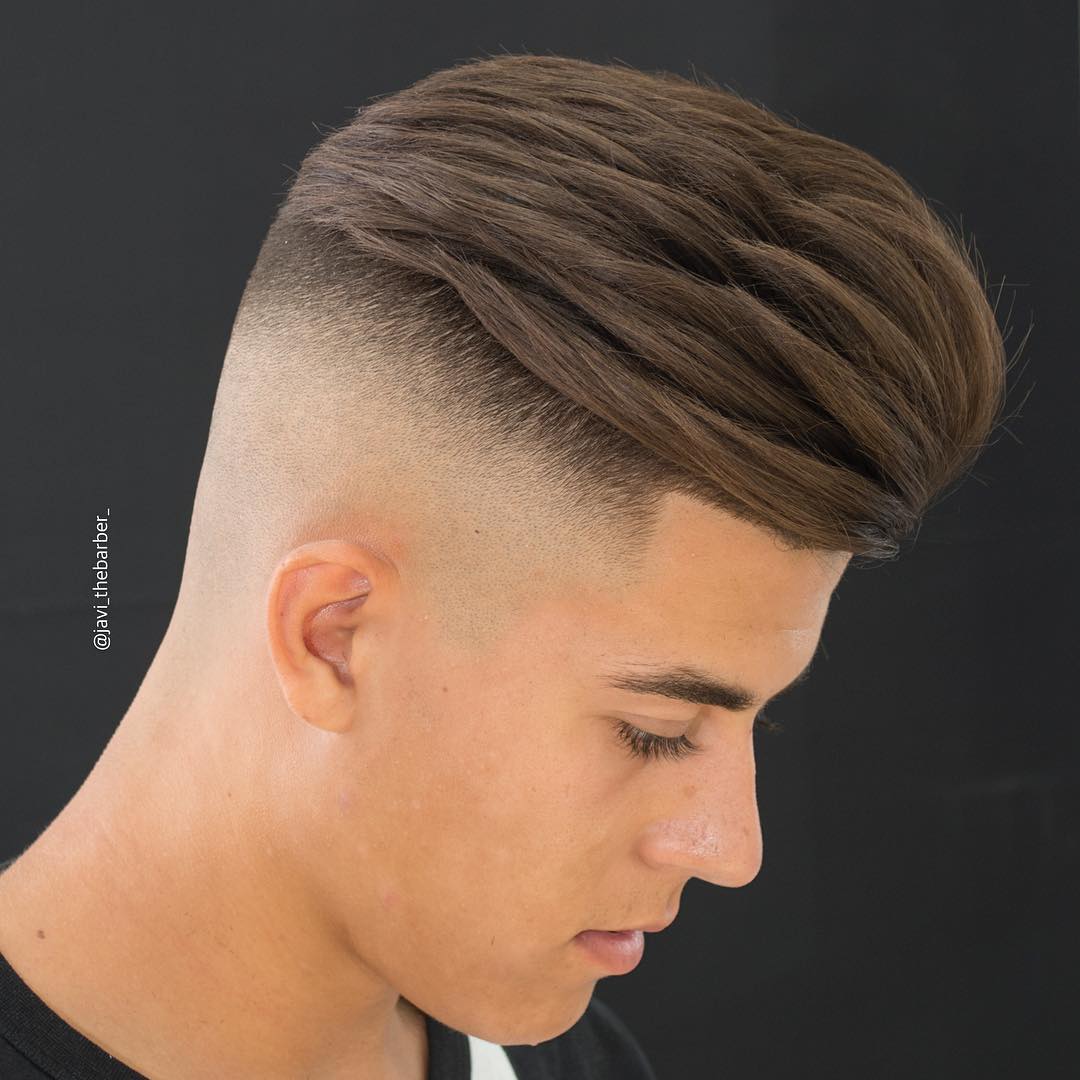 Haircut by Javi The Barber
The fade is taken very high up to the forehead hairline. The medium length hair is styled back into place with a blow dryer for a natural flow look. This is the high fade undercut.
14. One Haircut + Two Styles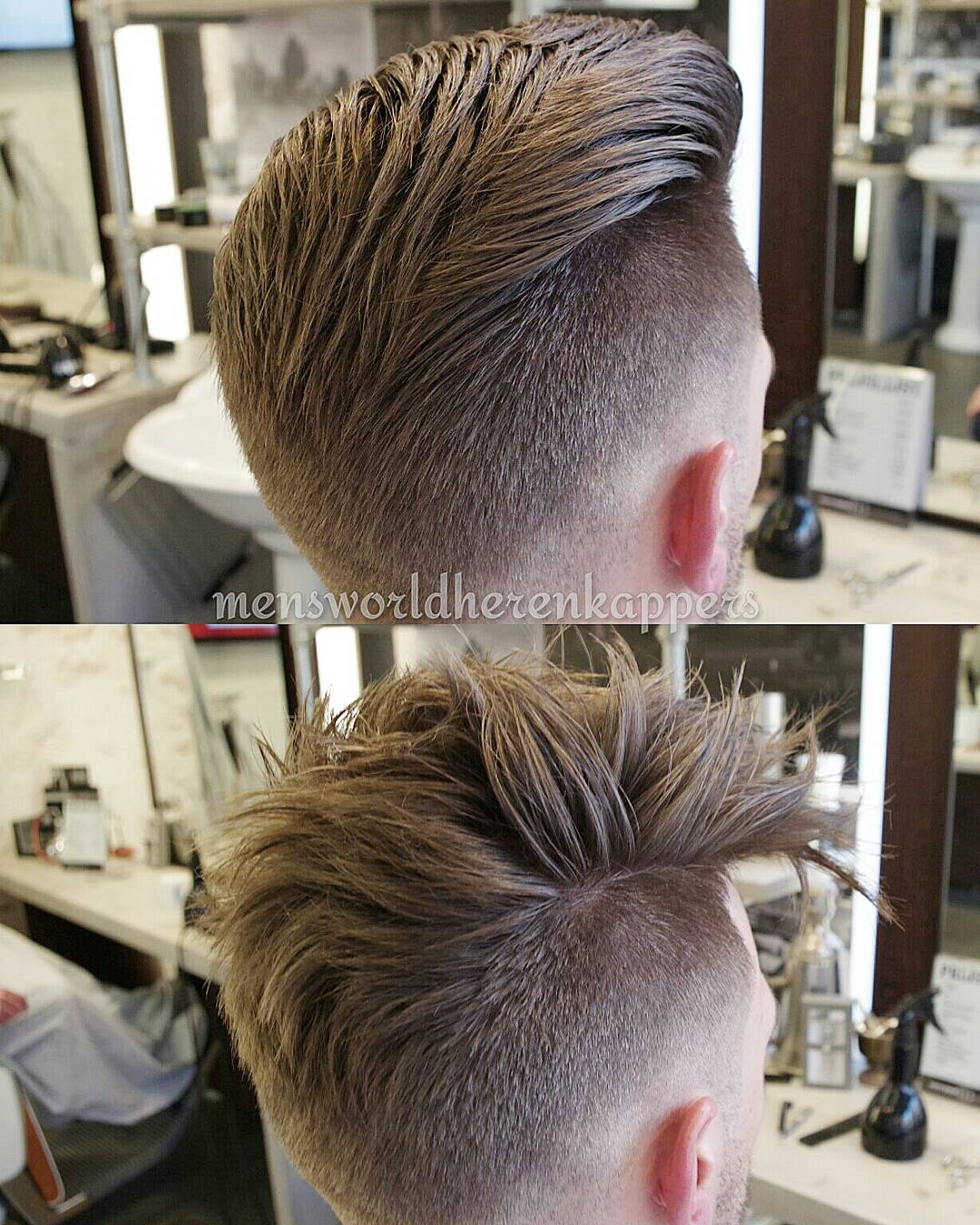 Haircut by Men's World Herenkappers
Another great example of how to style one haircut in two completely different ways. At the top, the hair is blown dry and back. It is held in place with a medium hold pomade. Or use a stronger hold pomade and bring the long textures to life with a messy choppy look. One haircut can be styled all business or all party time, take your pick!
15. Hidden Undercut + Long Hair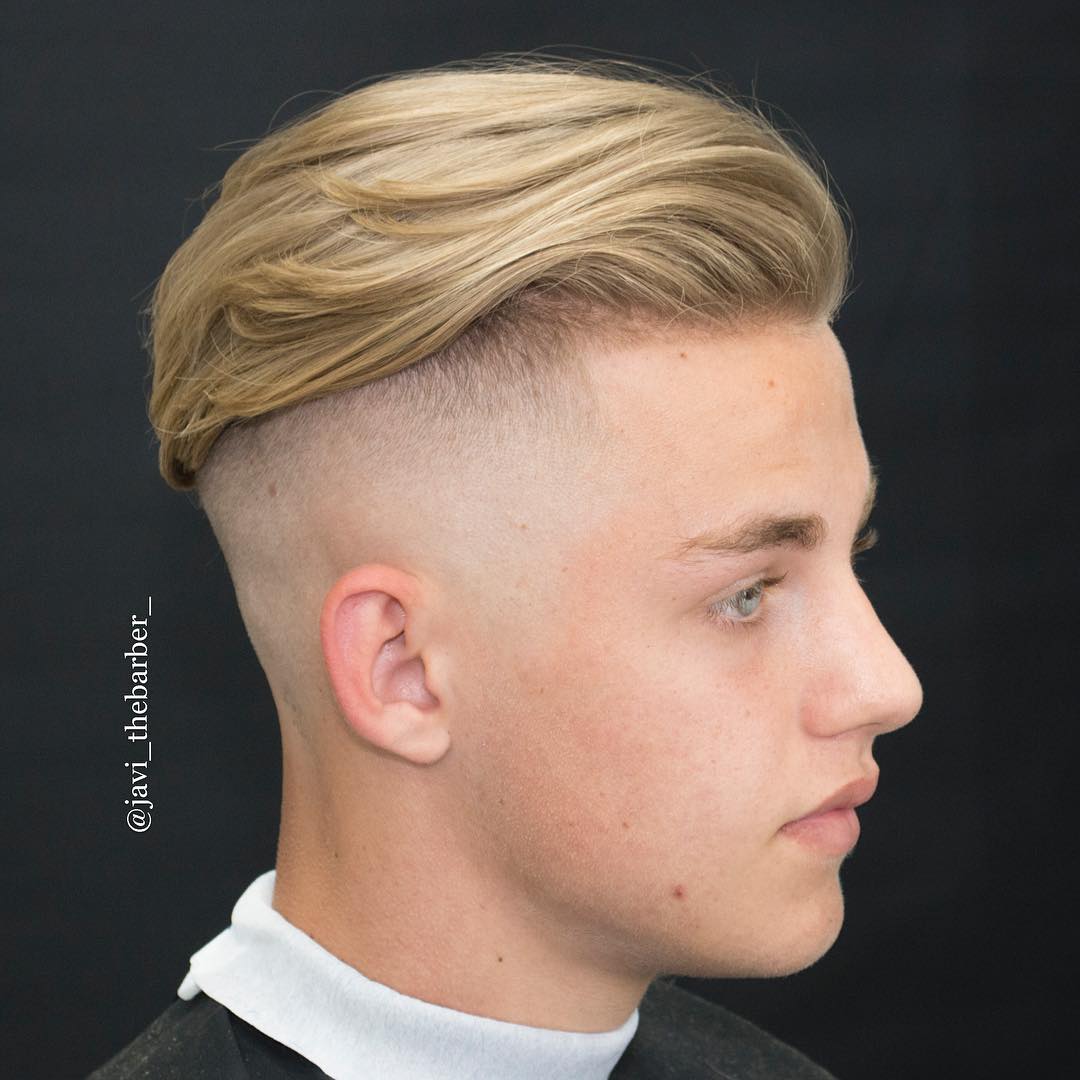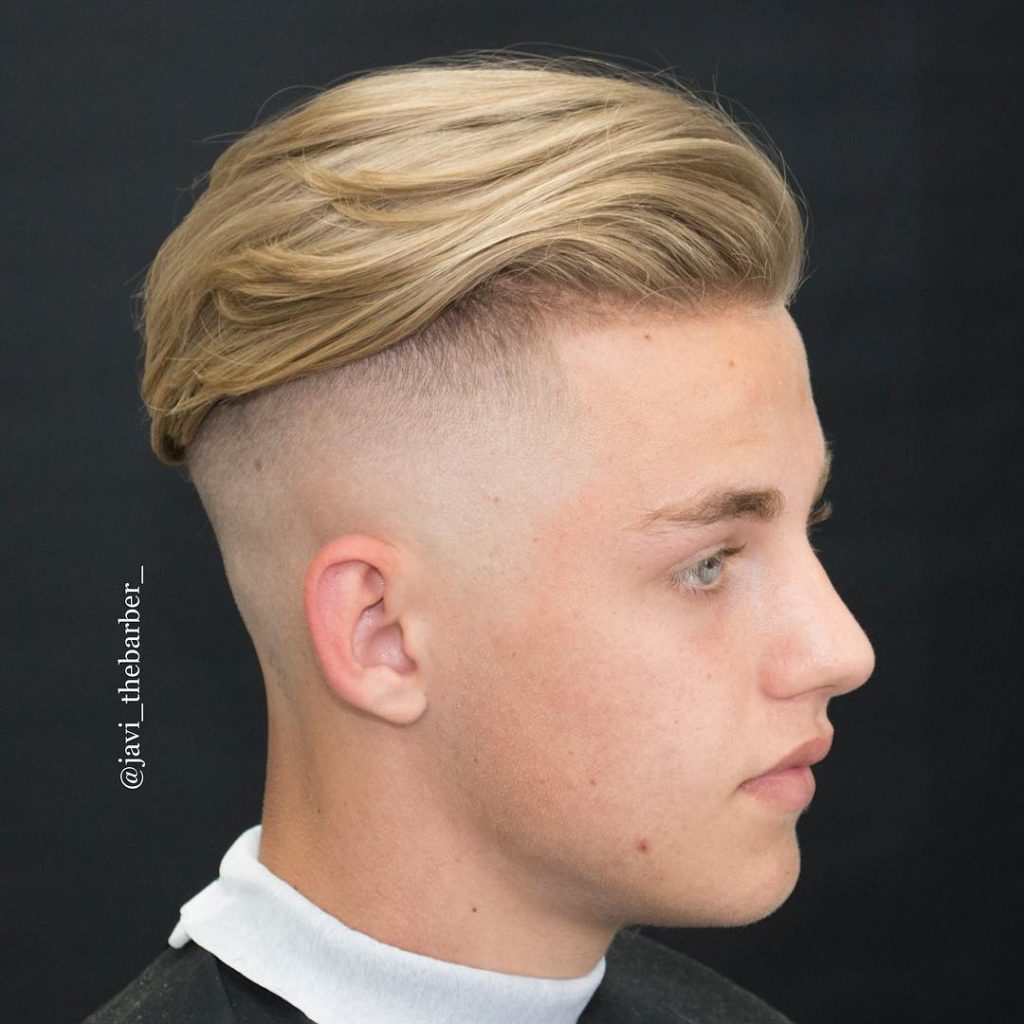 Haircut by Javi The Barber
A very high bald fade that sharply disconnects the long flowing hair on top. To get this look either towel dry or blow dry and brush your hair back off the face. A great example of a men's long hair undercut that you could get if you want longer hair.
16. Cool Disconnected Style + Long Fringe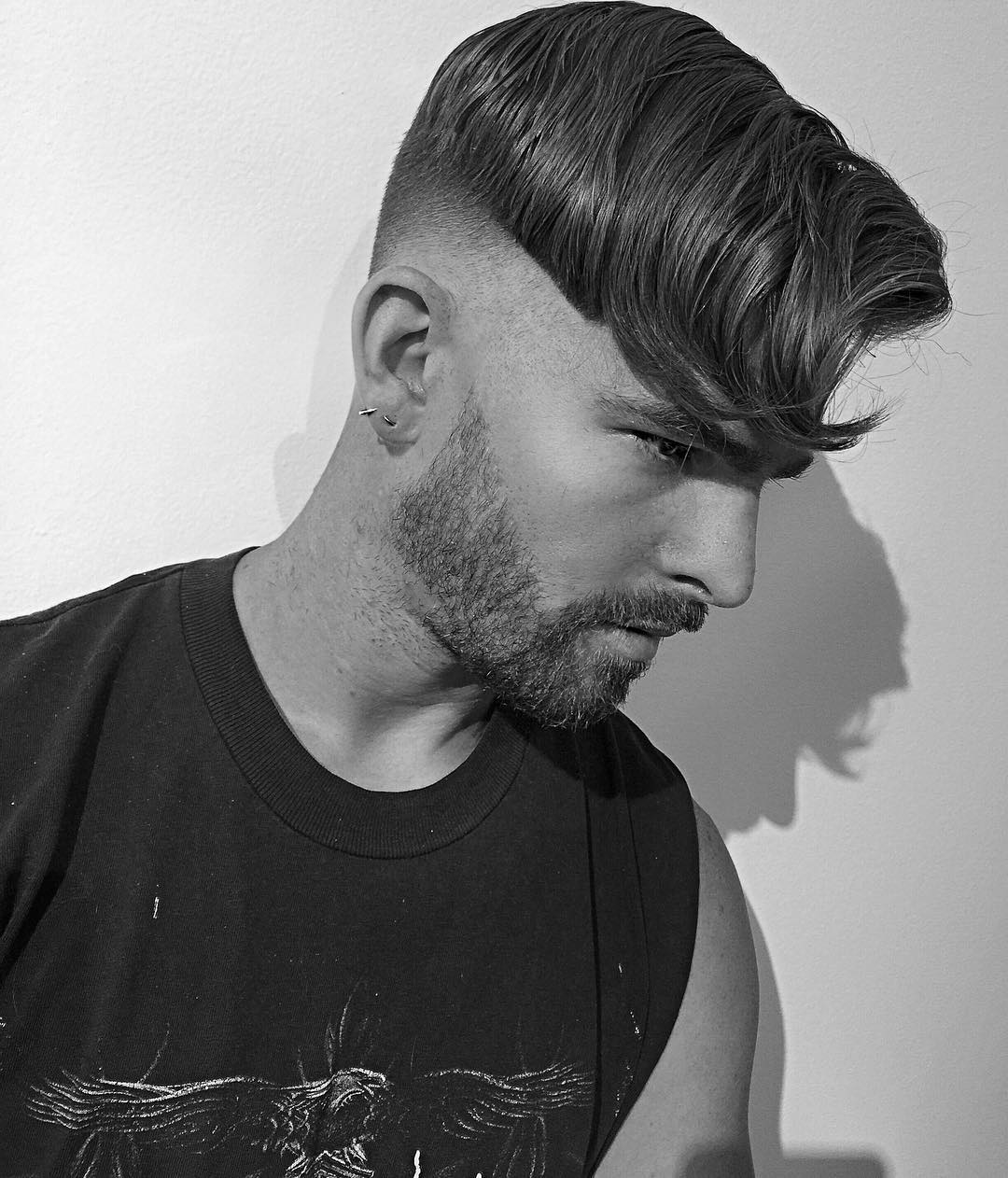 Haircut by Mikey
This haircut is 100% COOL. Love this haircut by Mikey one of the most creative barber/stylists. Medium length thick wavy hair styled neatly on top with fringe hanging down to the eyes. Disconnected well-groomed beard looks amazing with this very cool men's hairstyle. Hair is styled to one side and is a great looking modern comb over hairstyle.
Definitely a top pick of the bunch.
17. Under-Hawk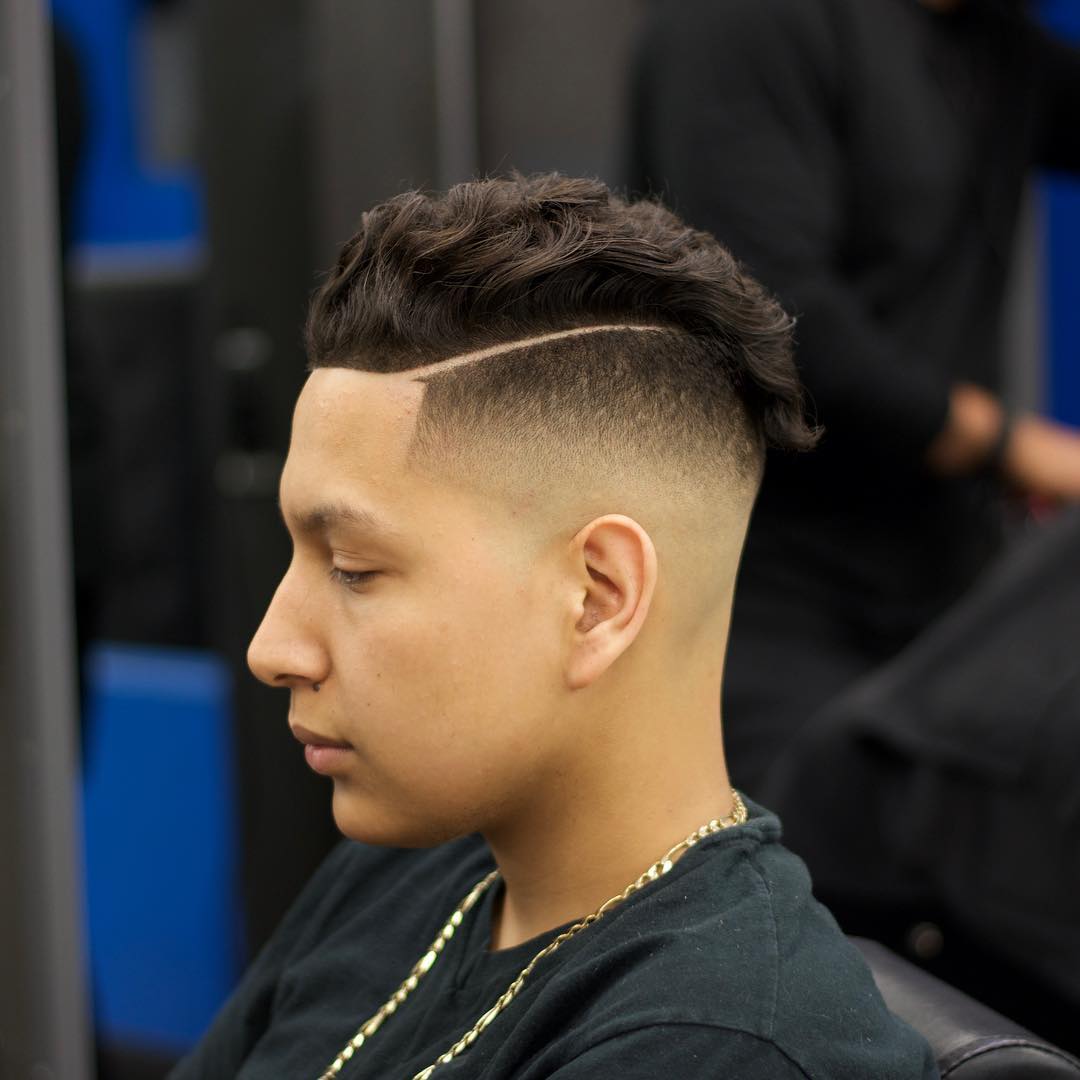 Haircut by Andy FadeMaster
The very high fade and hard part give a mohawk effect.
18. Long Undercut With Beard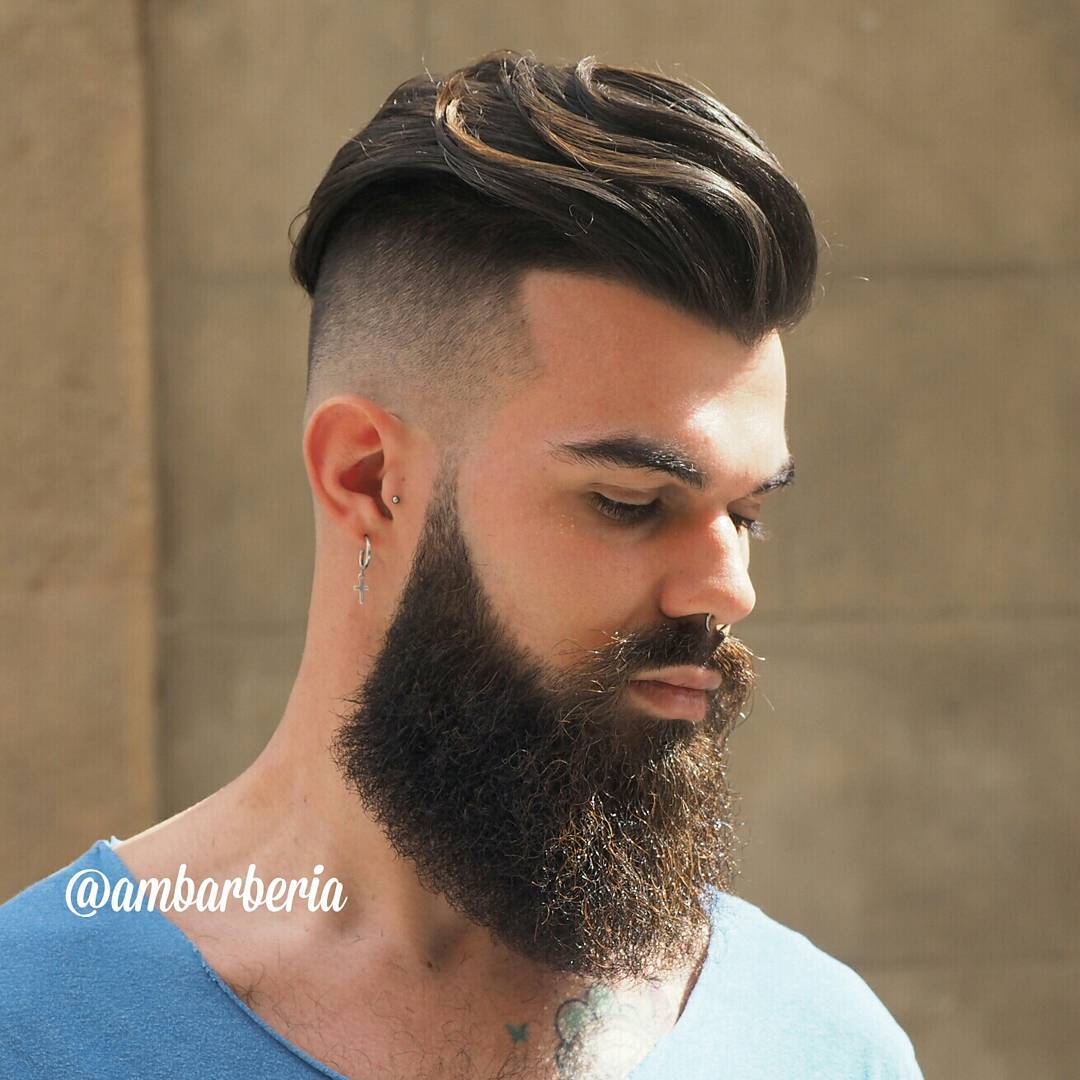 Haircut by ambarberia
The long undercut. Long hair works so well with this haircut. Again the short sides have been taken quite high which gives the long hair a lot of movement. To style, this haircut use a blow dryer to set the hair back. After the hair is dry take small amounts of light to medium hold pomade and work into the hair back and also towards the side.
19. Medium Hair Undercut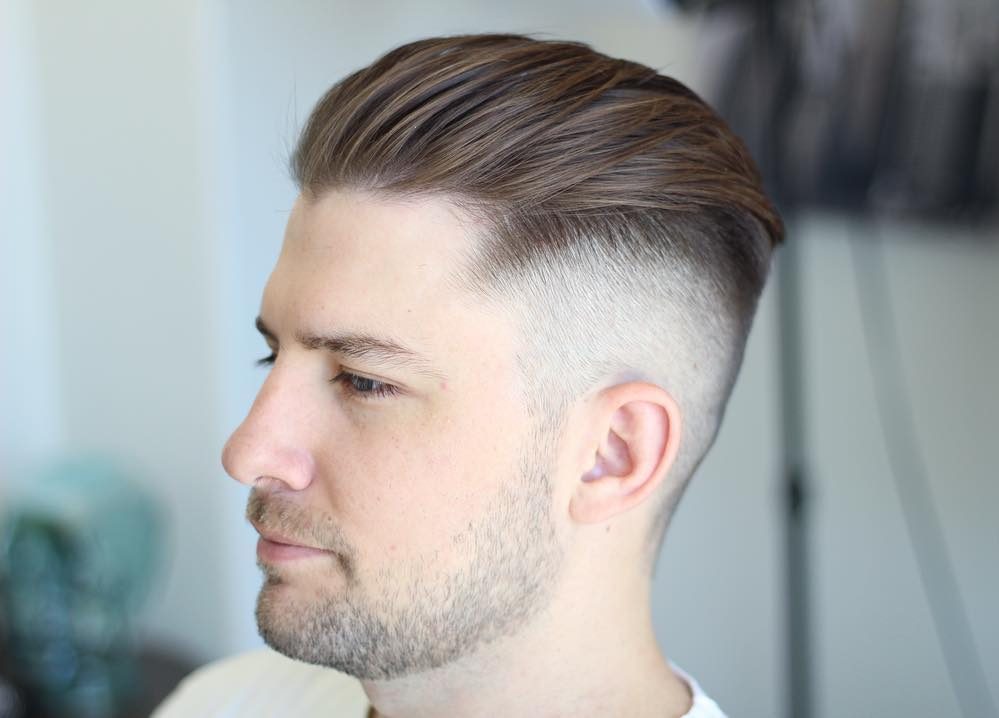 Haircut by Keller
This short undercut with high skin fade looks awesome. Simply blow-dry the hair back to get this look. A classic look but such a cool men's haircut.
20. Disconnected Undercut Haircut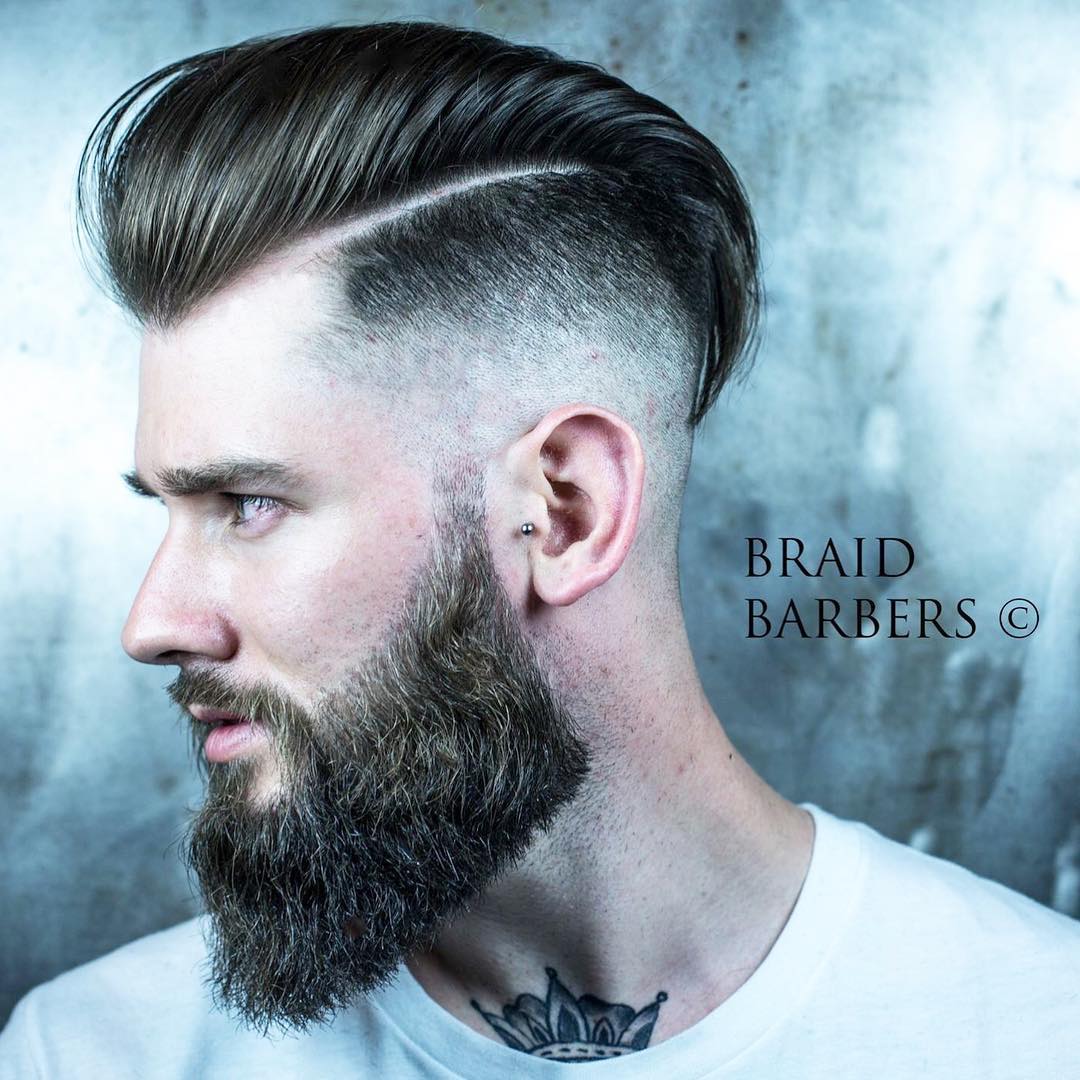 Haircut by Braid Barbers
A high bald fade and hard part disconnect both the beard and the longer hair length on top. The hair has been styled back off the face into a type of pompadour comb over hairstyle.
21. Side Swept Undercut Hairstyle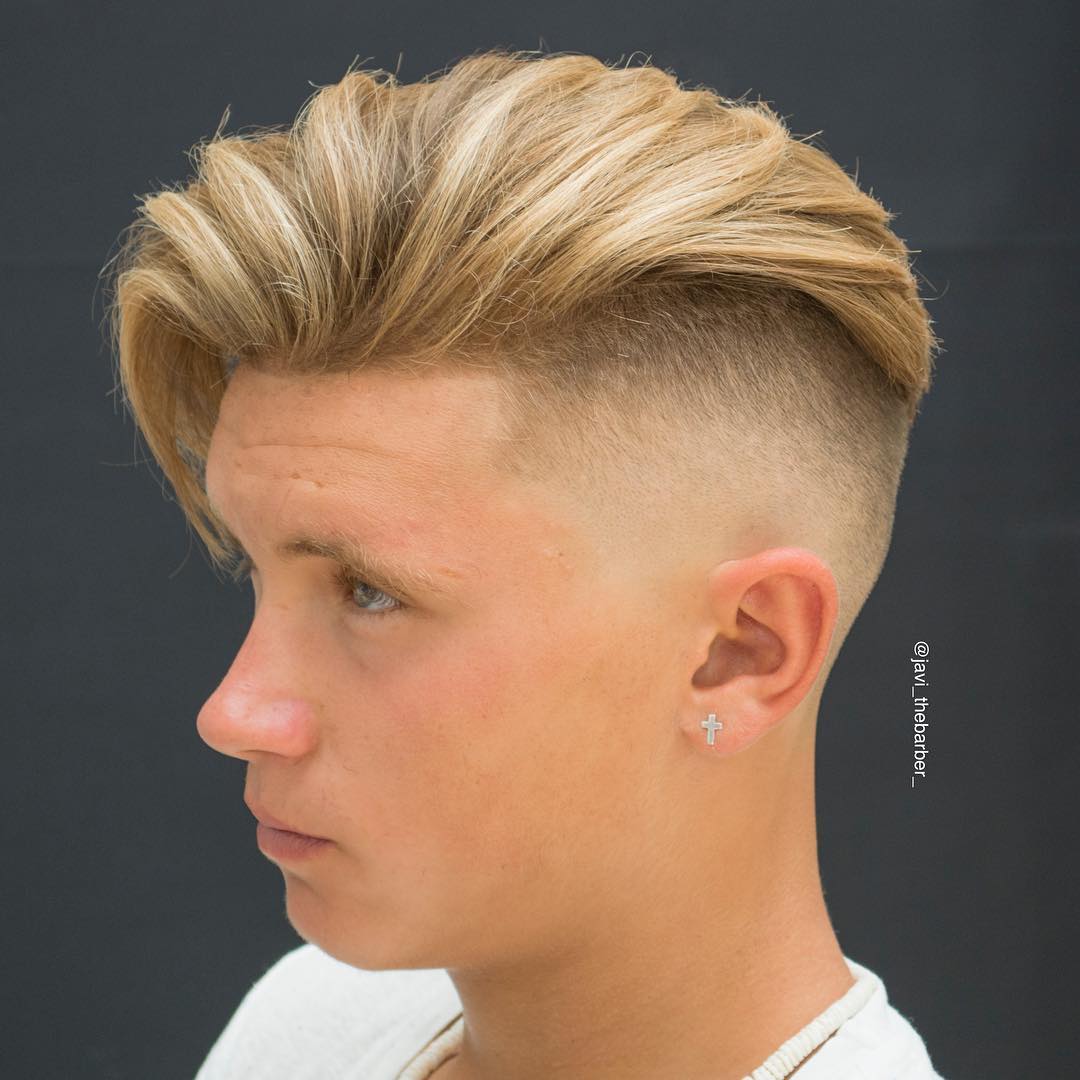 Haircut by Javi The Barber
Longer natural hair is brushed to the side. To get extra volume, apply a medium hold pomade evenly to damp hair and then use a blow dryer. Brush the hair into place. A totally cool undercut haircut.