Boy's haircuts can be short and easy, fun and unique, or somewhere in between. These popular haircuts for boys feature classic cuts, hot trends, and all-around good looks.
There's no reason not to get creative with kid's hair. Hair color, shaved designs, or trendy cuts may be forbidden later so why not let them have fun now. You're never too young to be stylish or express yourself.
Some of these haircuts for boys are styled but all will look great with or without hair product or styling (sometimes even brushing if that's a battle you're fighting). Whether your kid has short, long, curly, or black hair we've got a cute haircut for him.
These are 55 of the most popular boy's haircuts to get right now.
For more haircut ideas that also work for boys check out our guides to the top 100 men's haircuts and types of fade haircuts.
1. Short Textured Haircut For Boys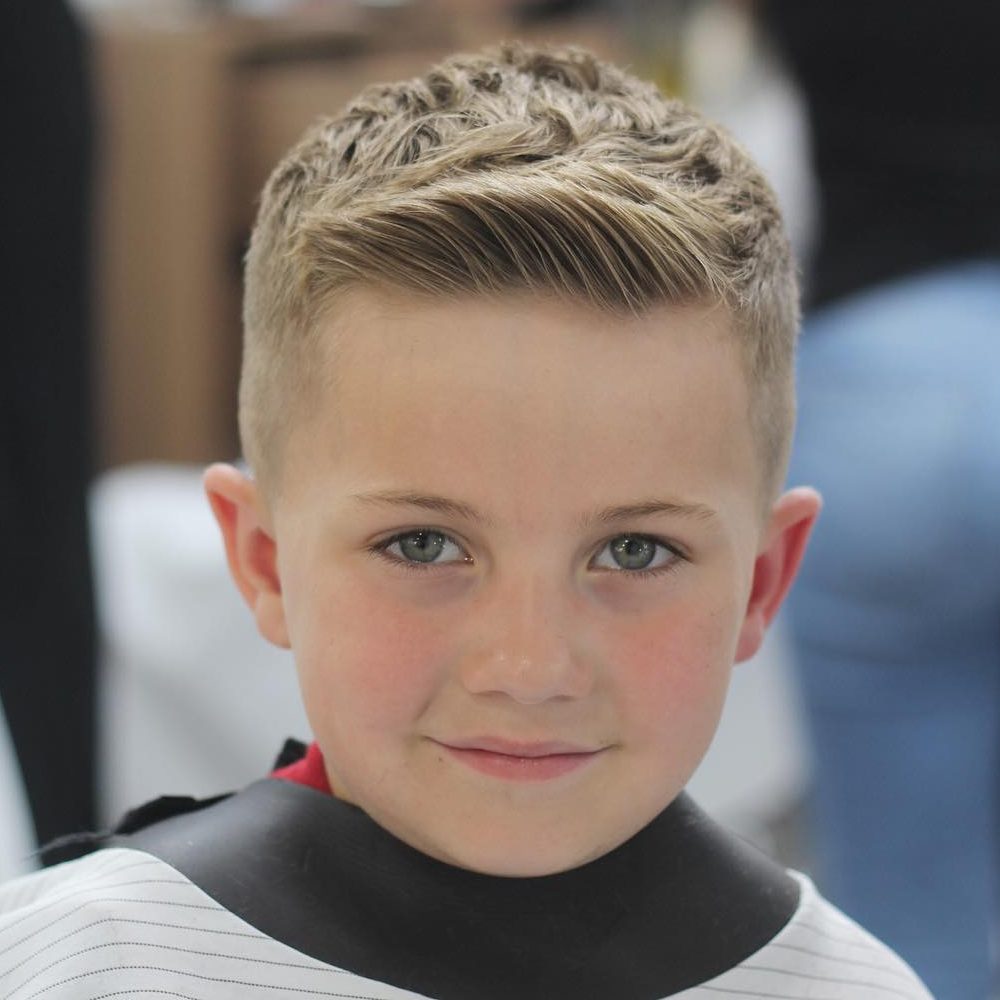 Short spiky styles are one of the most popular haircuts for boys. They also look great without styling but a touch of product goes beyond for special occasions or superhero outfits.
2. Classic Haircut vs. Crop Haircut For Your Little Boy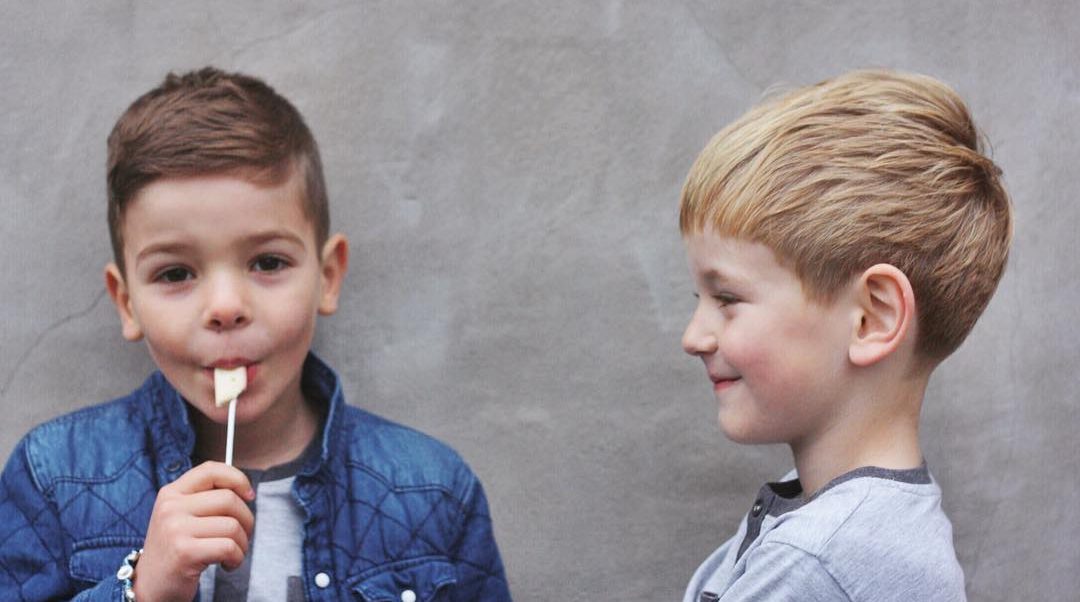 Haircuts for little boys can skew classic, like the cut with bangs on the right, or trendy, like with popular crop haircuts.
3. Short Crop Haircut For Toddler Boys With Wavy Hair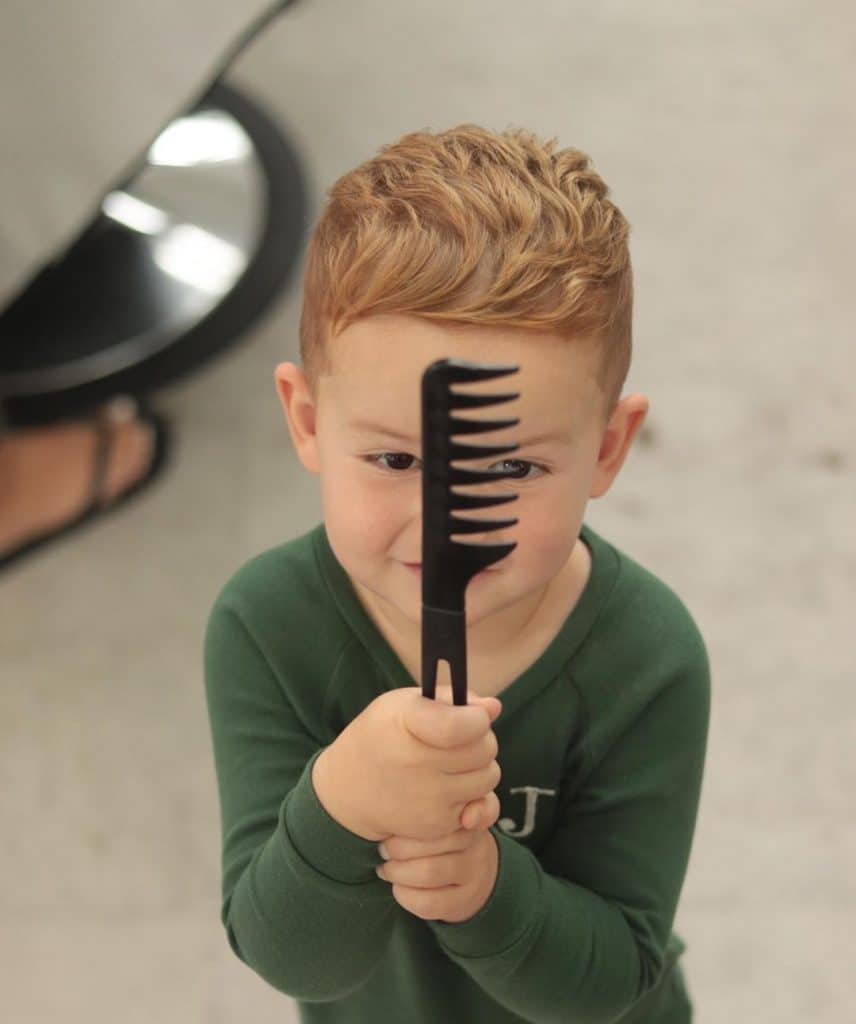 This short crop haircut should keep you and your toddler out of the barbershop for a good while. This wide-toothed comb is how you get this textured style but the cut will look just as good with some bedhead.
4. Boy's Short Haircut With Textures + Mid Fade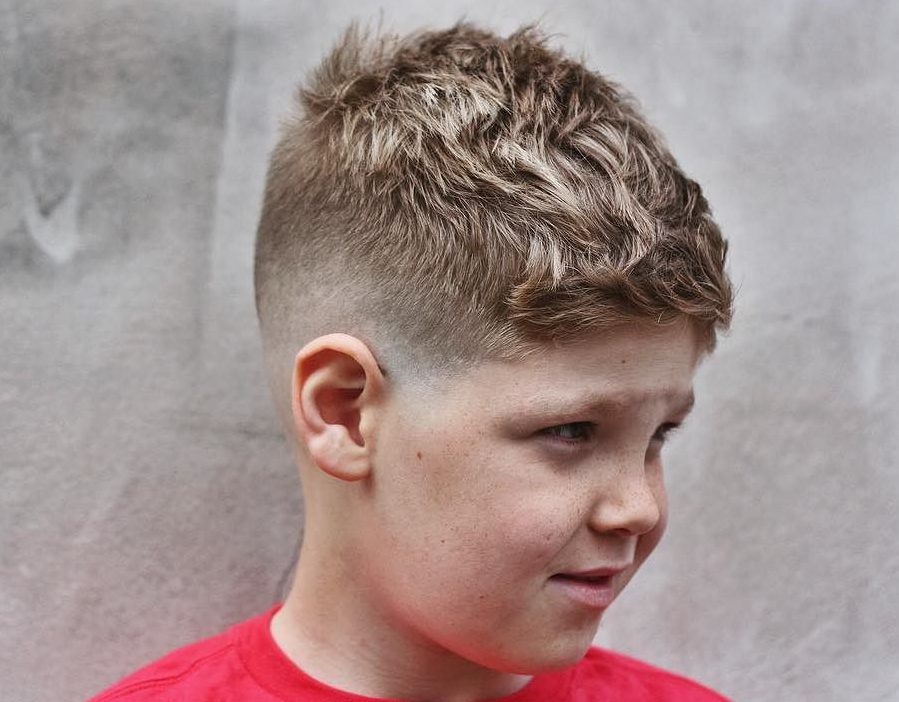 This textured crop is one of the top men's hair trends of late and also one of the best haircuts for boys. It works for every hair type and tames wavy, curly, and thick hair.
5. Black Boy's Haircuts With Taper Fade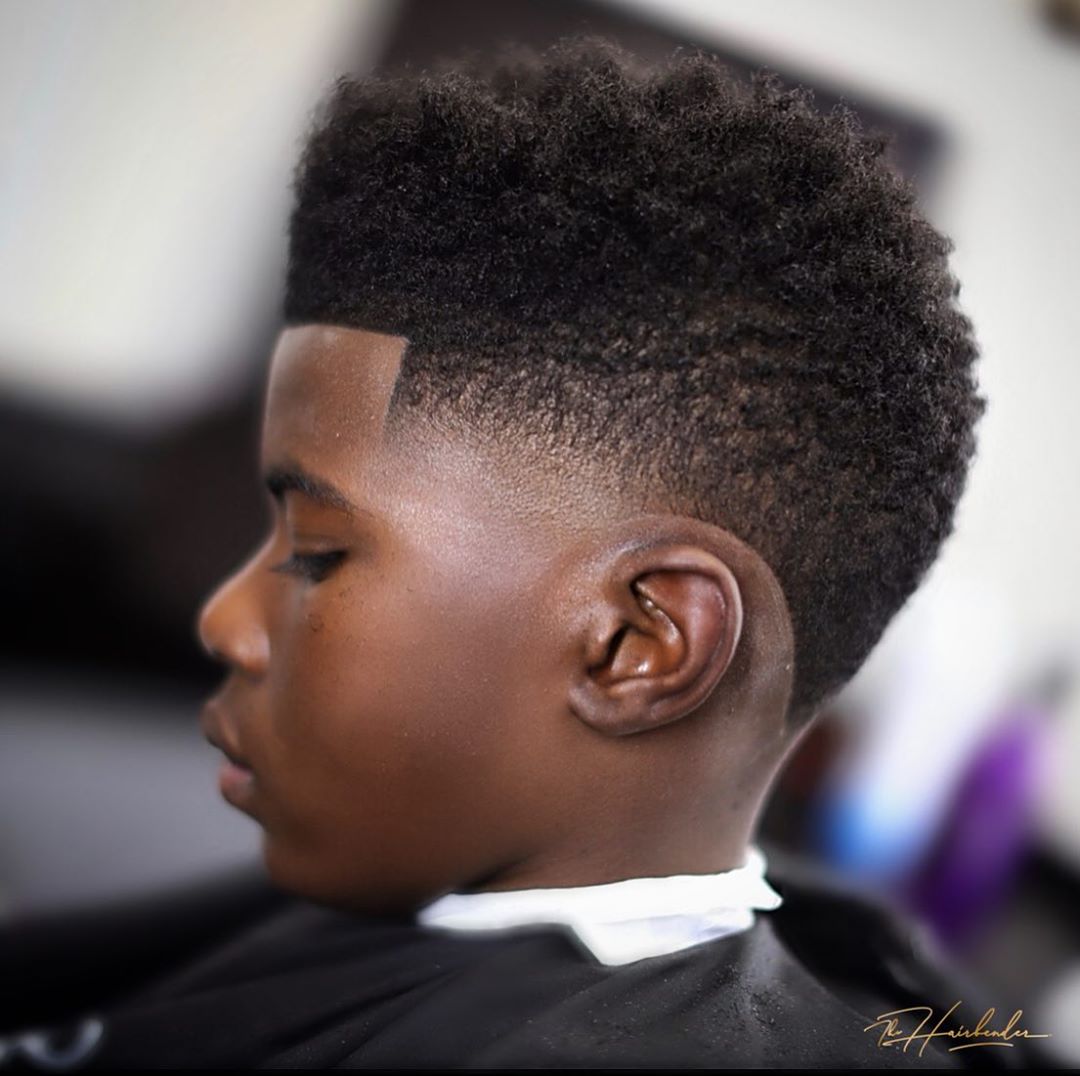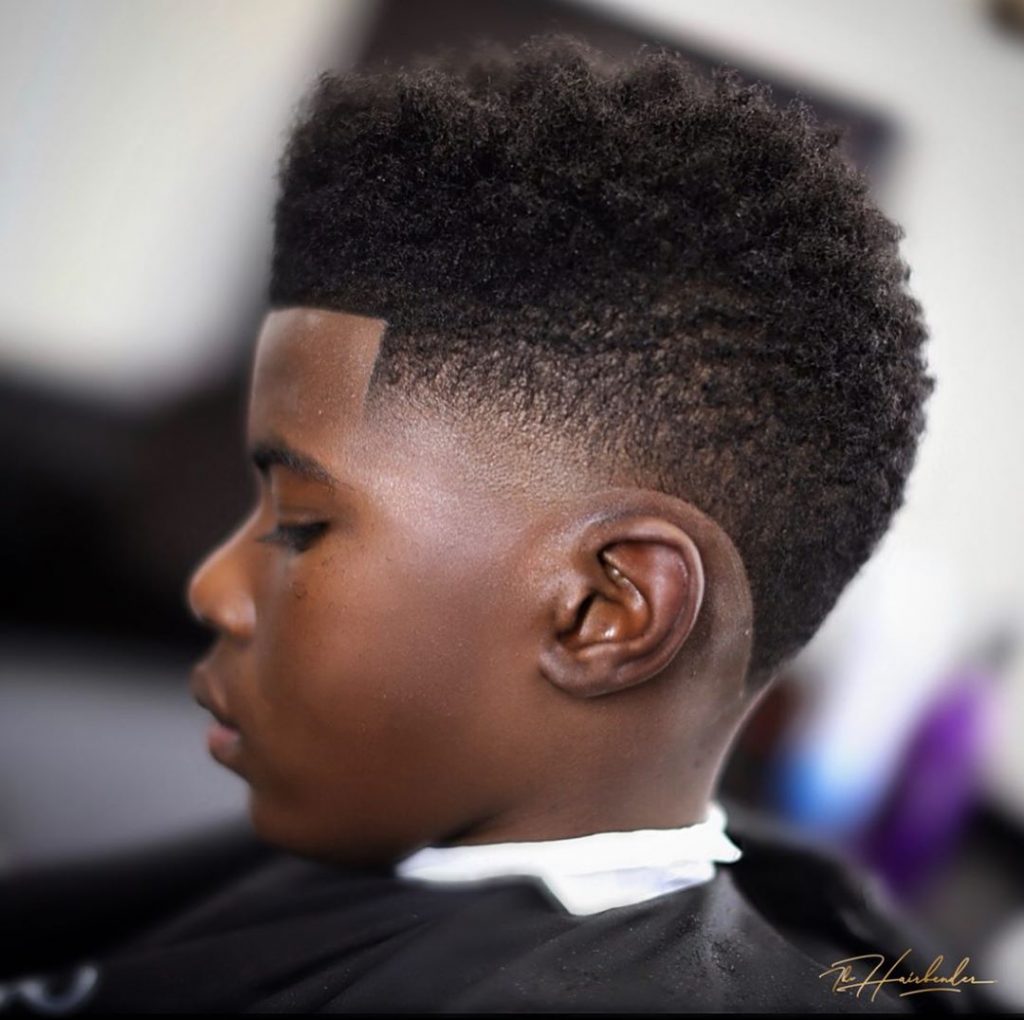 This cool taper fade keeps the edges sharp while the hair on top has some textured volume. It's a good-looking haircut for black boys of all ages.
6. Teen Boy Crop Haircuts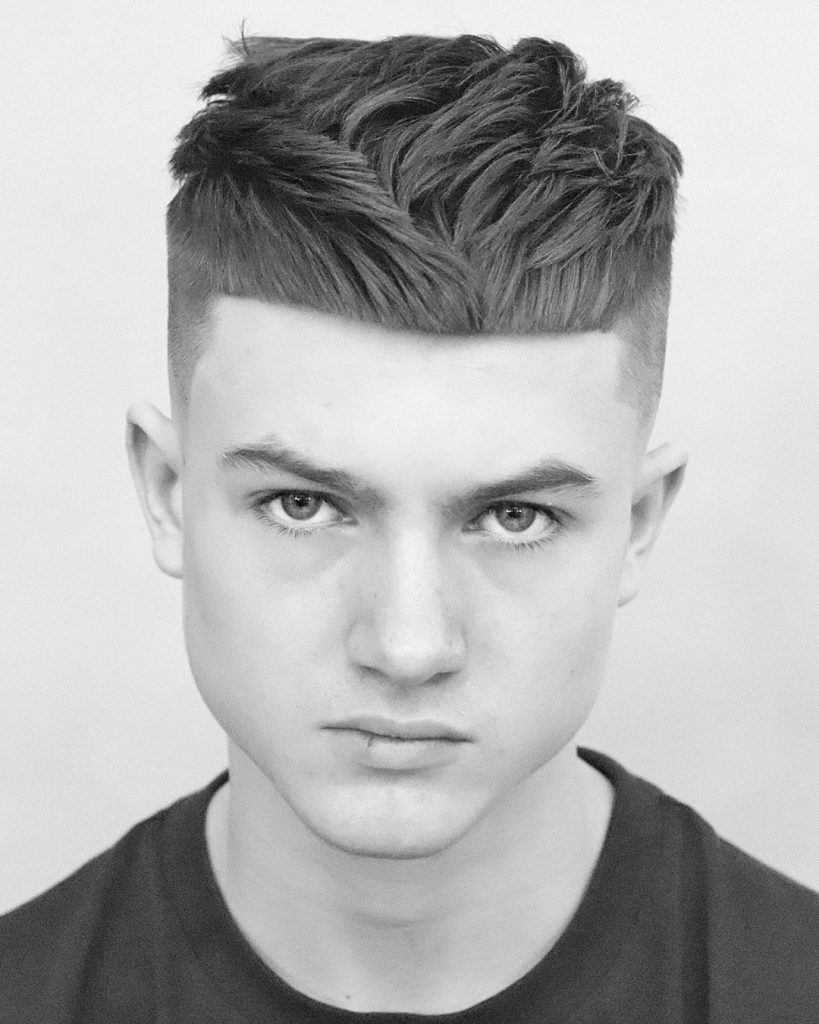 Most men's hair trends can be adapted for boys and teens, especially if they want to style their own hair. The textured cuts and tousled styles that are popular this year cool short styles that are easy to style. Try a hair wax to get this textured look. It's a great product for guys new to the hair game.
7. Boy's Long Haircuts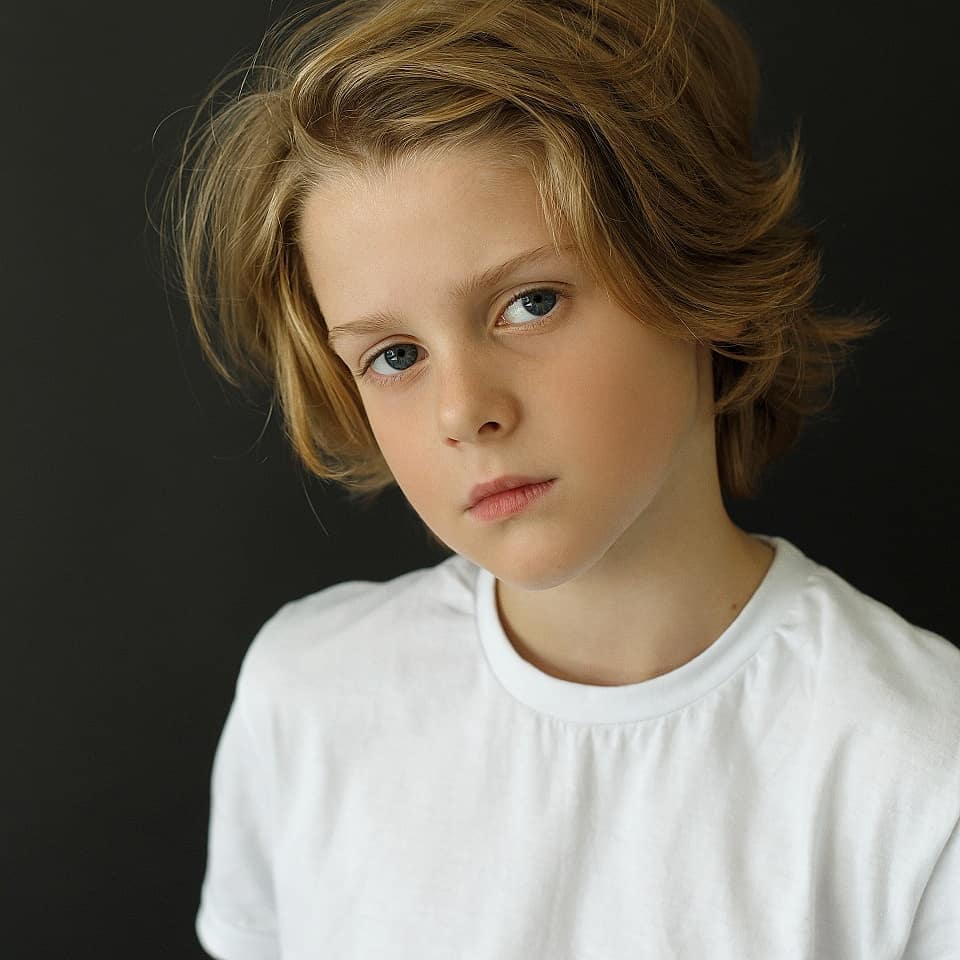 As we've said before, growing hair out takes more than quitting the barber. Regular trims maintain an attractive shape and cutting out the weight. With a great cut, the need for styling is minimized.
8. Toddler Haircut For Boys With Textured Fringe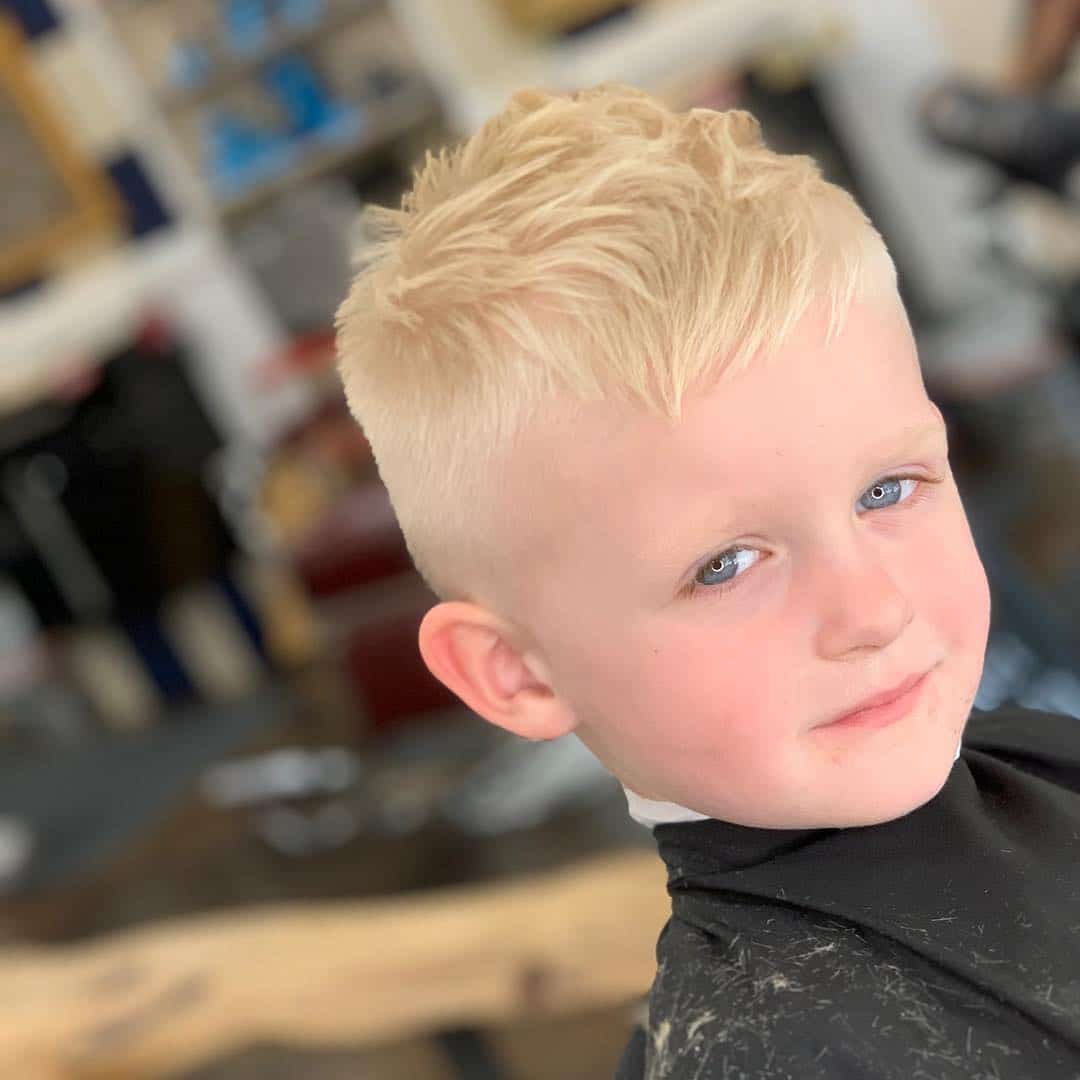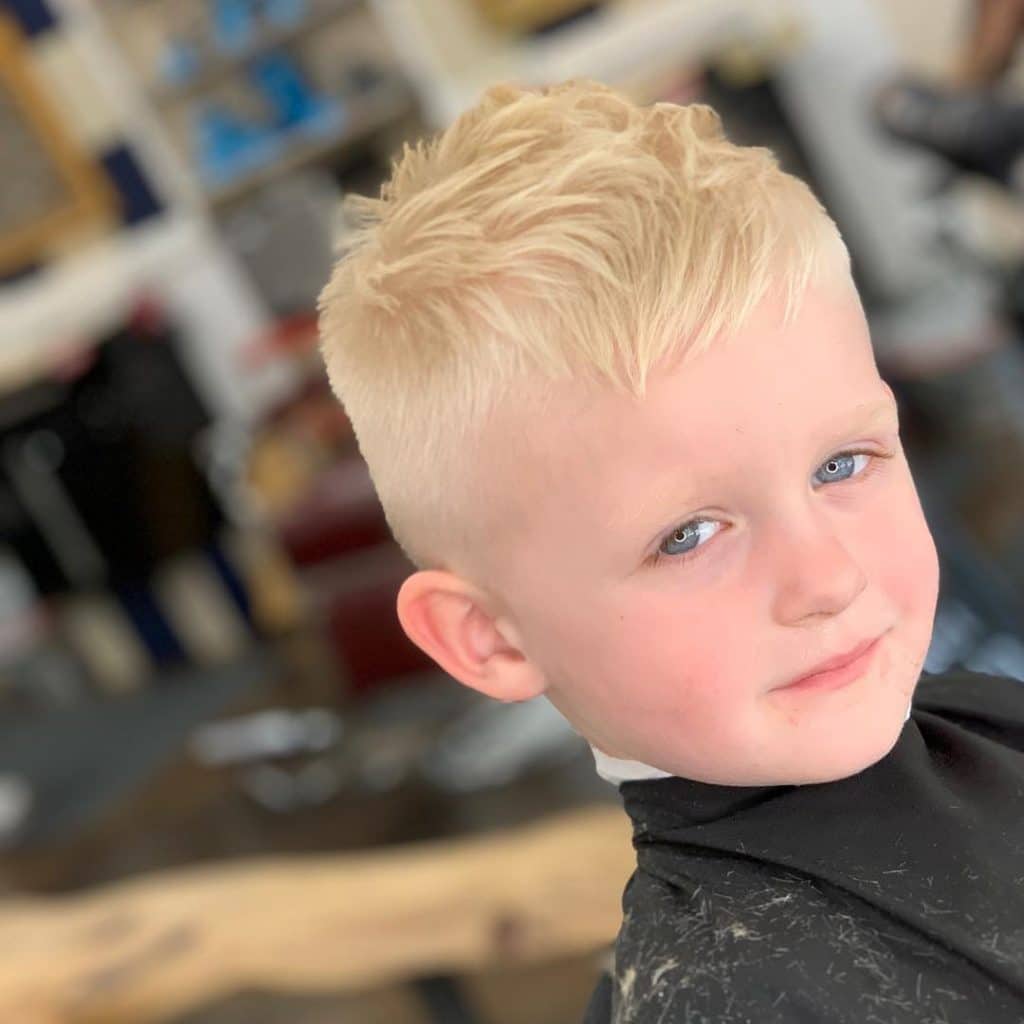 Fine or light-colored toddler hair shouldn't be cut too short. This cut leaves enough length on top to fully cover the scalp.
9. Textured Undercut Cool Haircut For Boys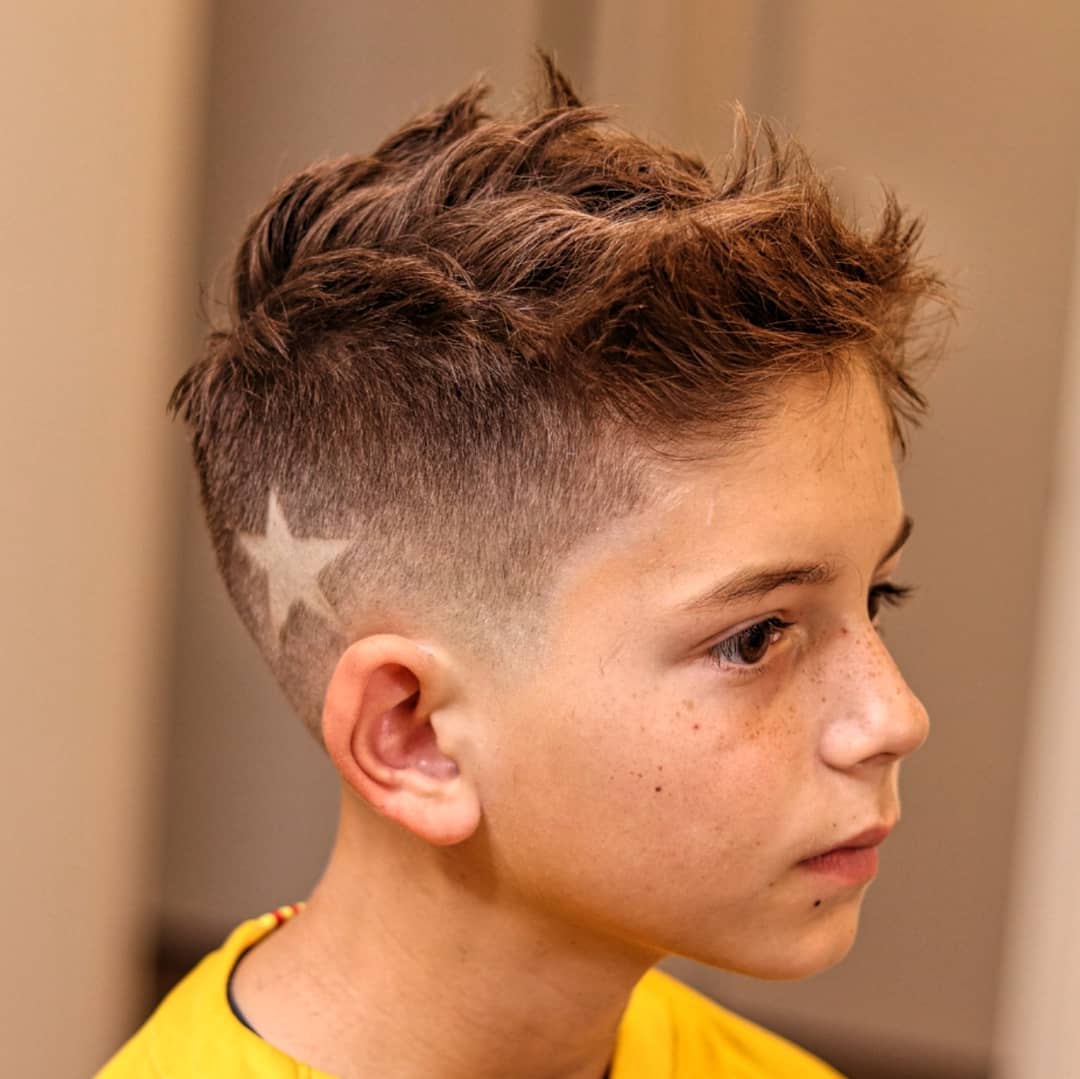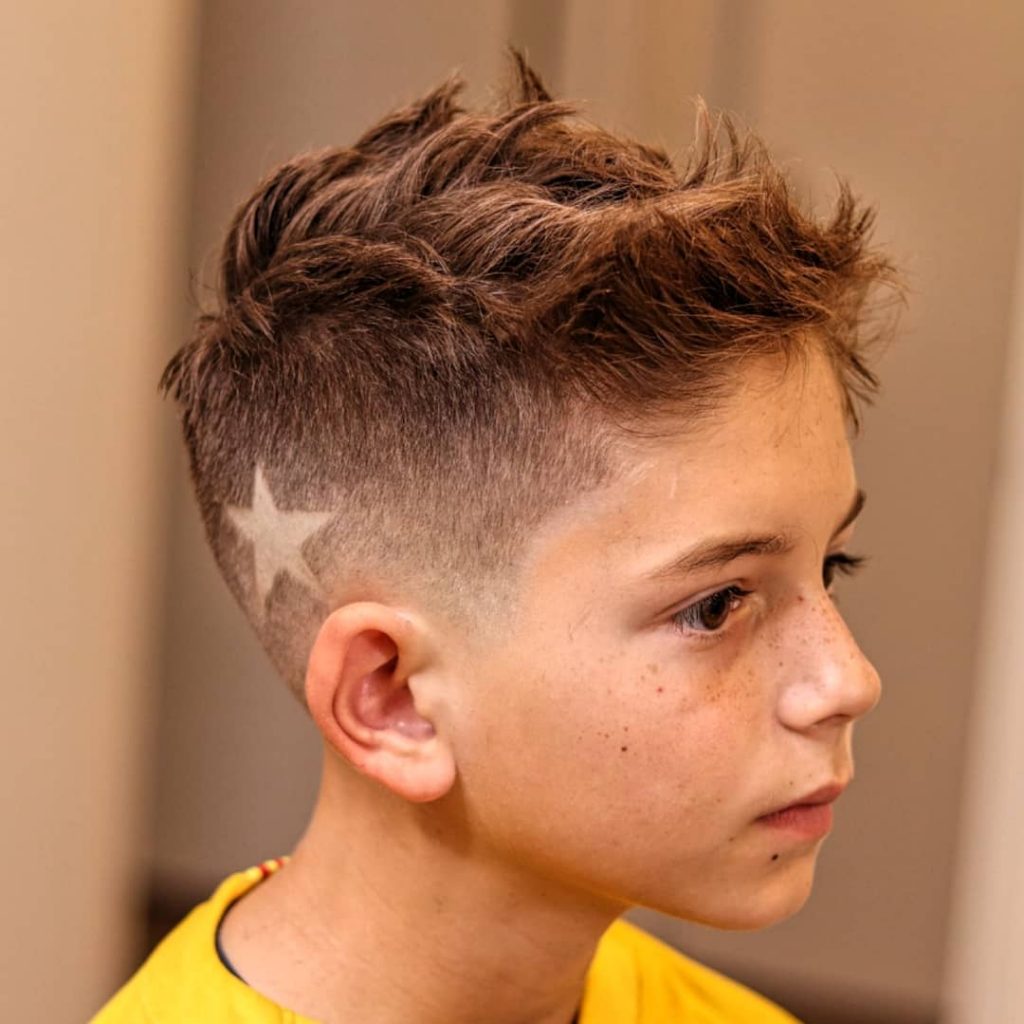 Either the shaved star hair design or designer bedhead on top is cool but together, they are unstoppable.
10. Buzz Cut + Fade Haircut For Boys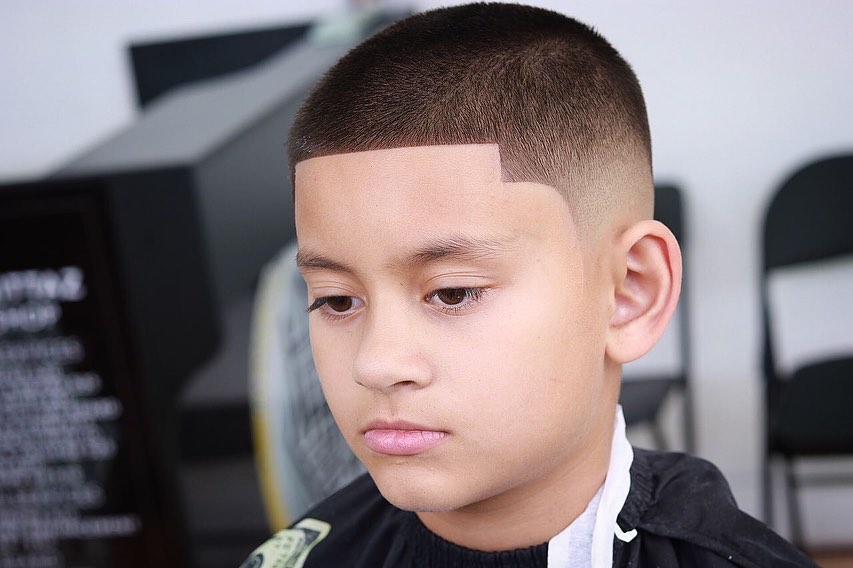 This combination of a buzz cut, line up, and fade is one of the most popular haircuts for men and kids alike. It's super short but so smooth.
11. Hair Designs For Boys + Spiky Pompadour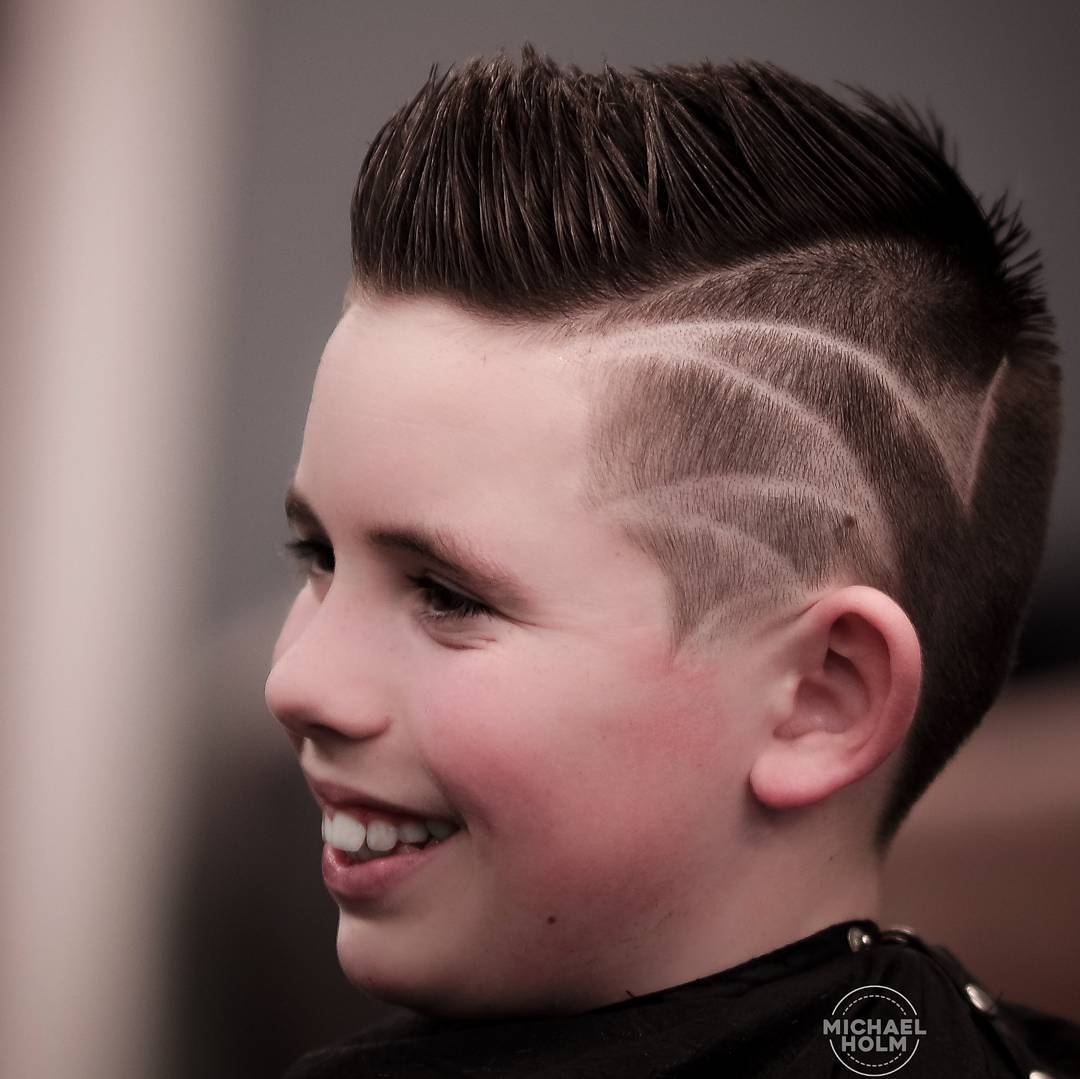 Kids hairstyles can get really creative, especially when it comes to hair designs. The shaved sides leave a wide mohawk-style strip up top that looks cool spiked up but doesn't have to be styled.
12. Short Spiky Crop Haircut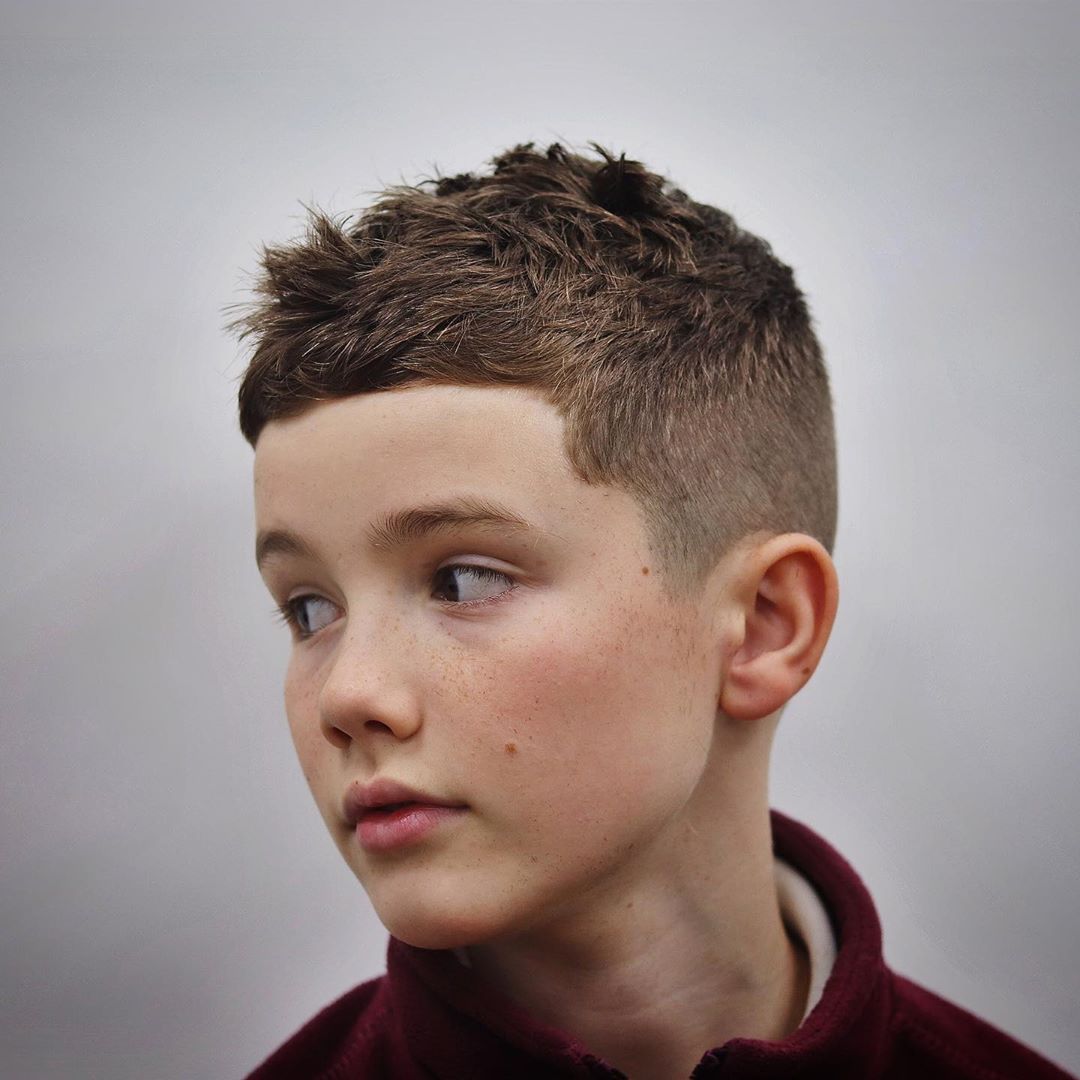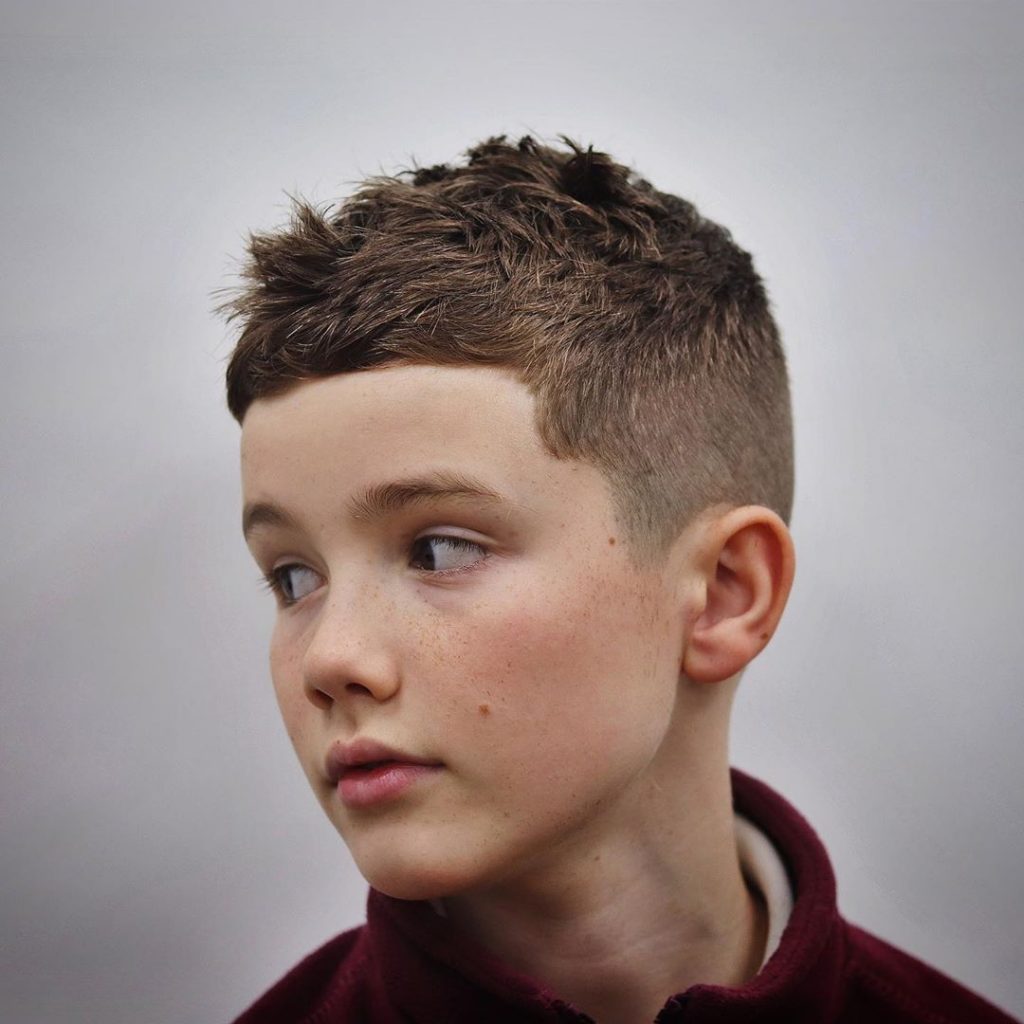 It's not too surprising that this trendy and popular short haircut for men is just as trendy and popular with boys. The cut is designed to enhance texture even without any hair gel or pomade.
13. Haircuts For Little Boys With Curly Hair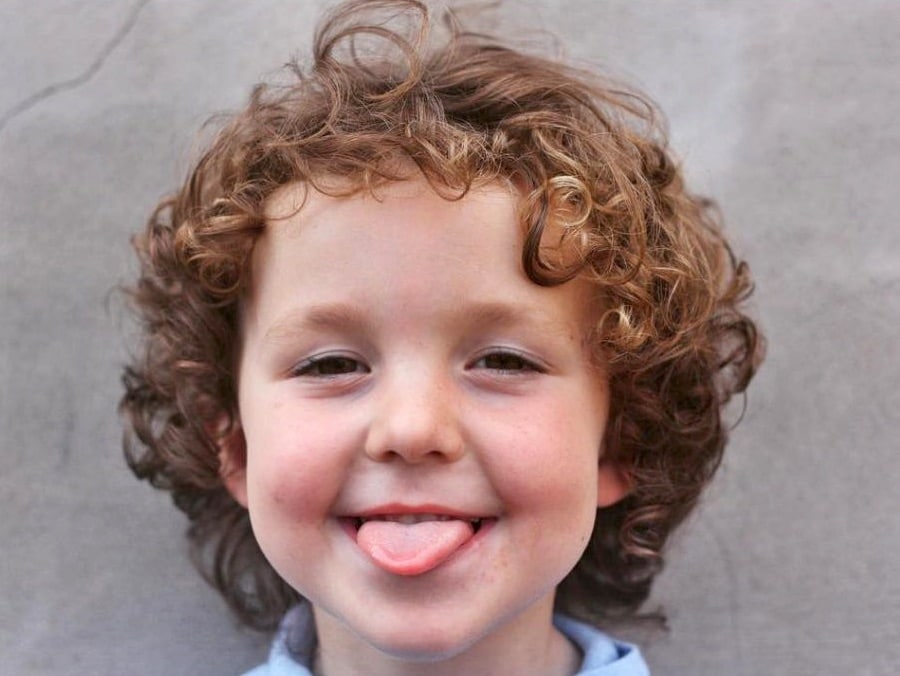 These ringlets are cut into a perfect halo of curls.
14. Haircuts For Boys With Curly Hair + High Fade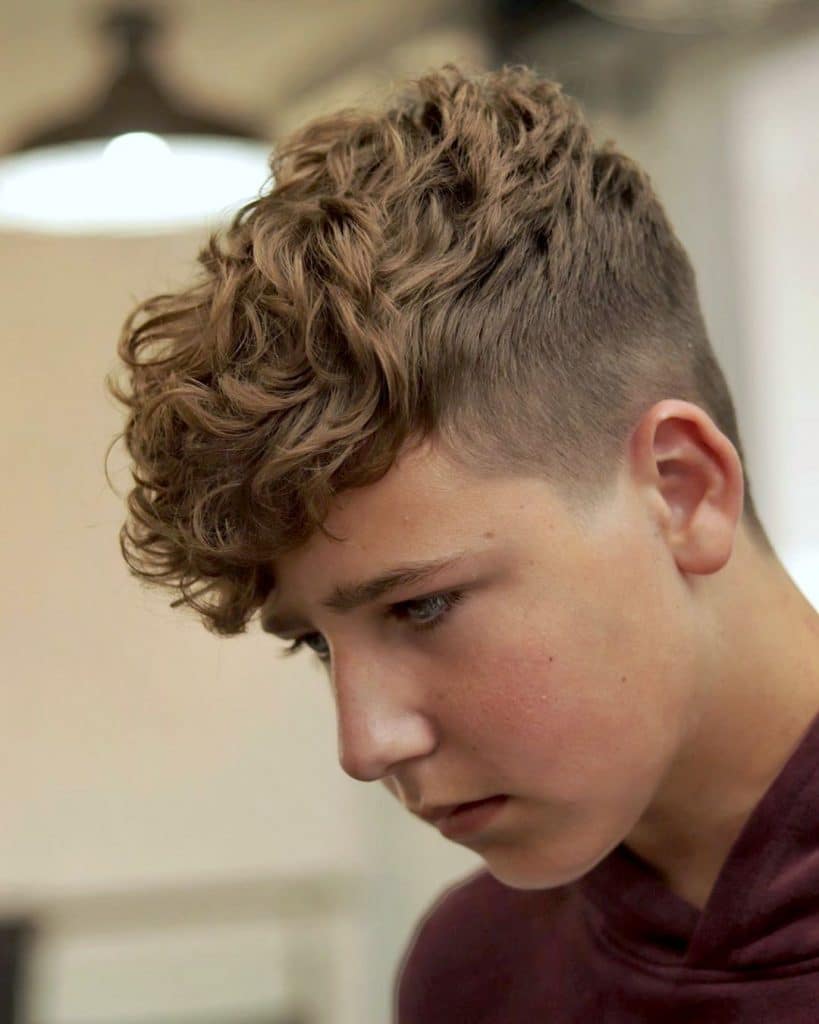 Older boys with curly hair will want this cool version of the trendy French crop with plenty of textured fringe.
15. Mixed Boy's Haircuts For Natural Curls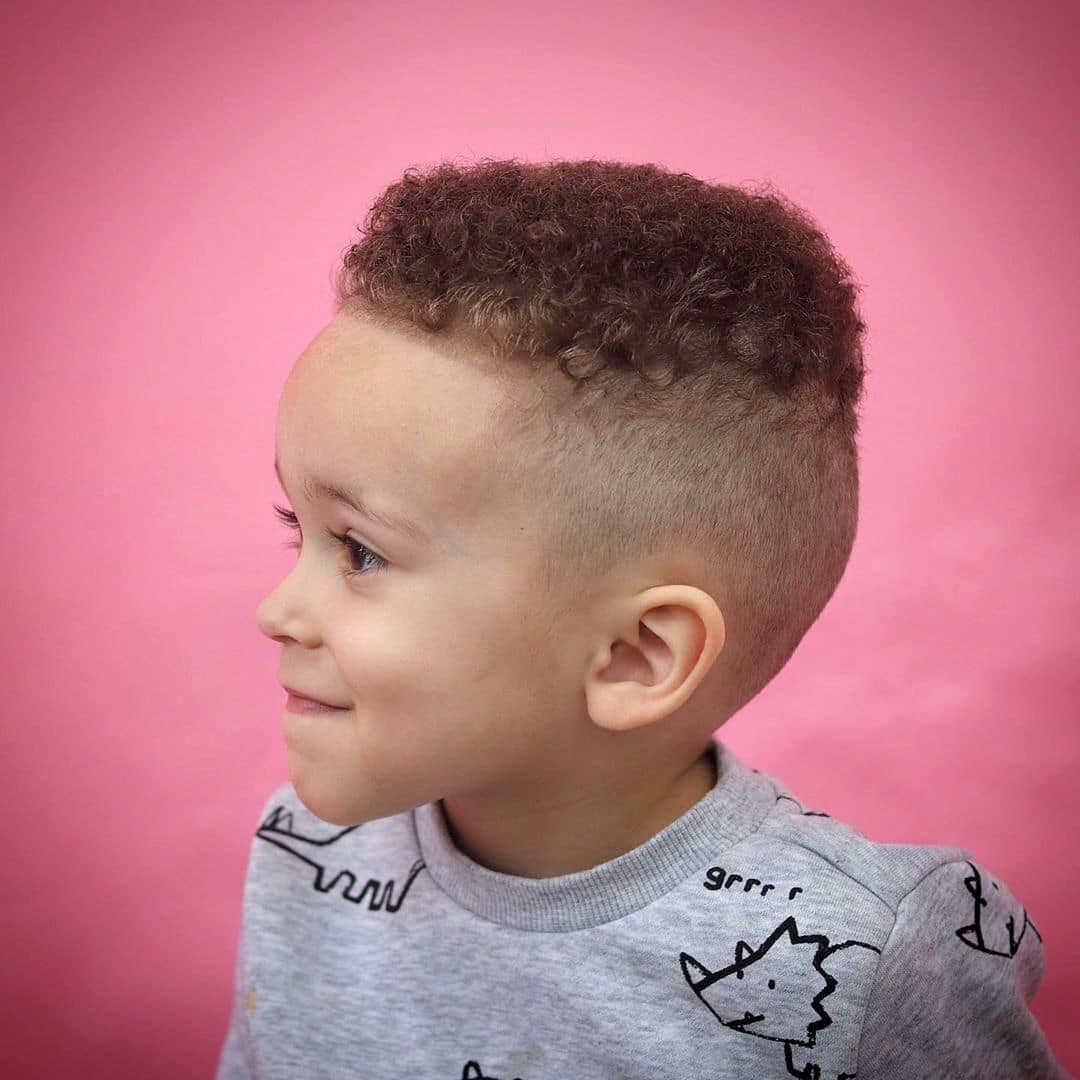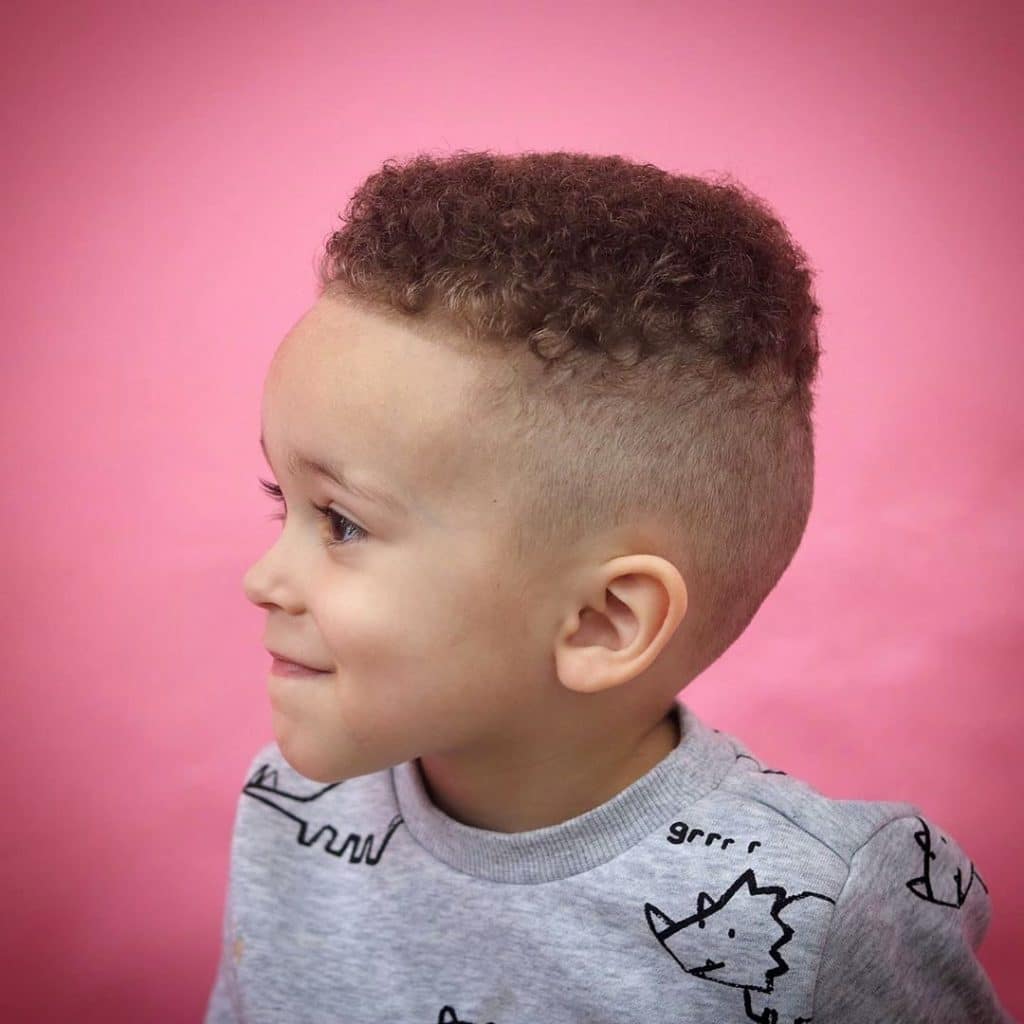 Mixed boys tend to have tightly curled hair. This high top fade is a cool way to wear curly hair for kids.
16. Haircuts For Boys With Curly Hair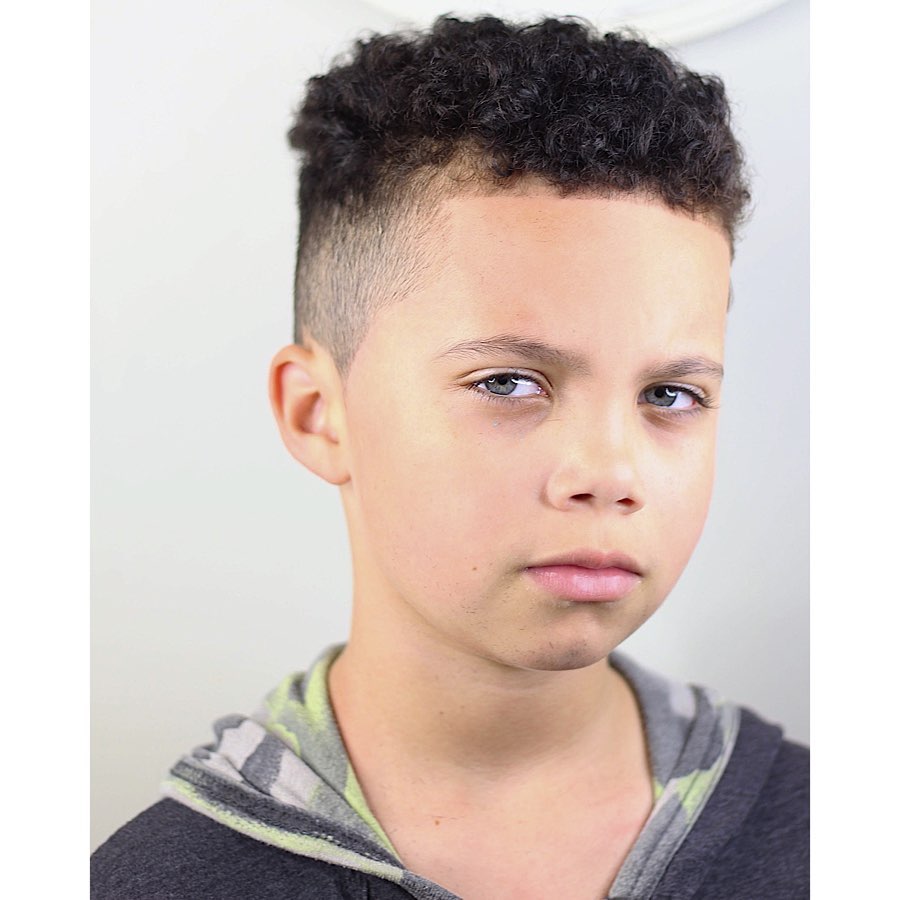 Here's another curly high and tight that holds on to textured hair without needing any styling.
17. Little Black Boy Haircuts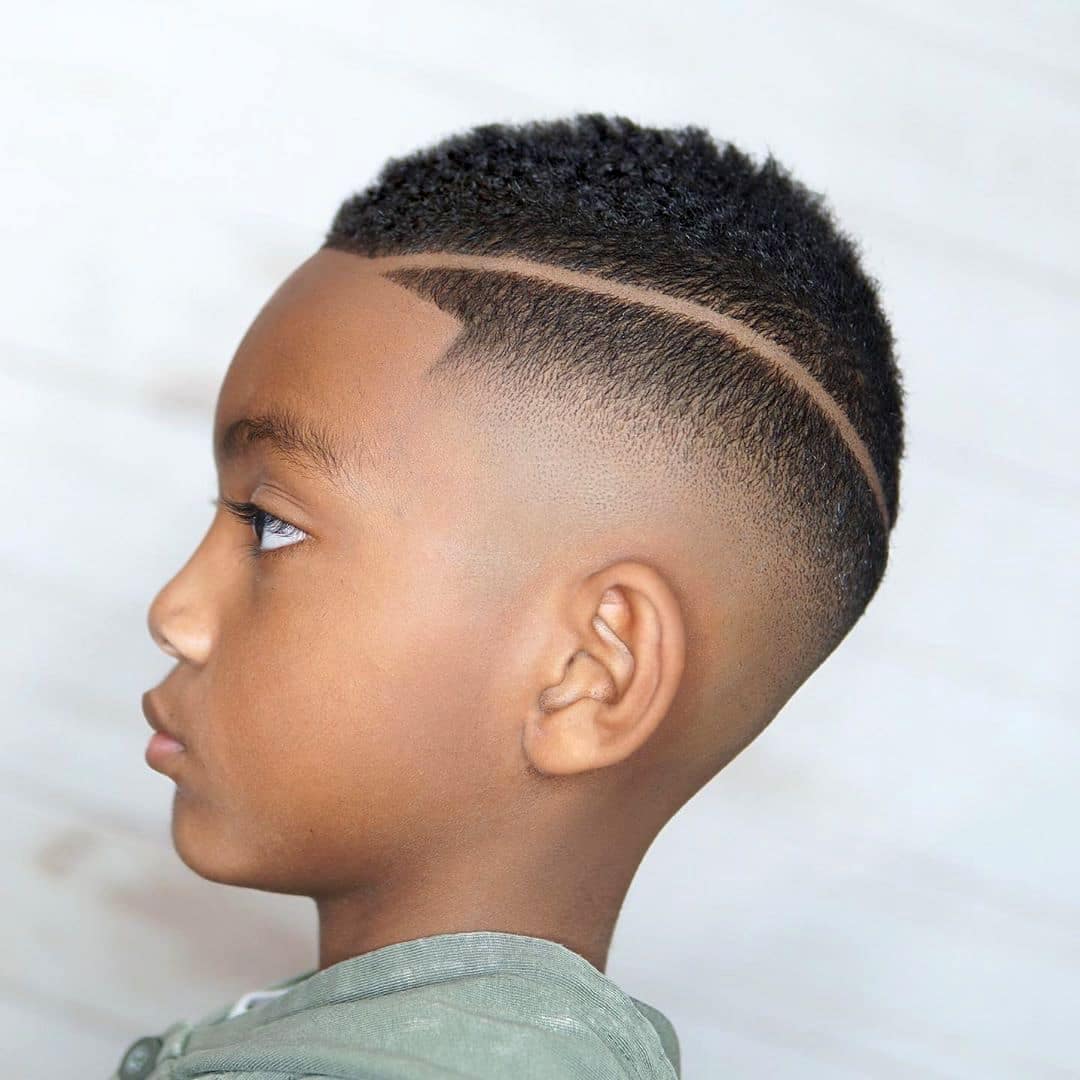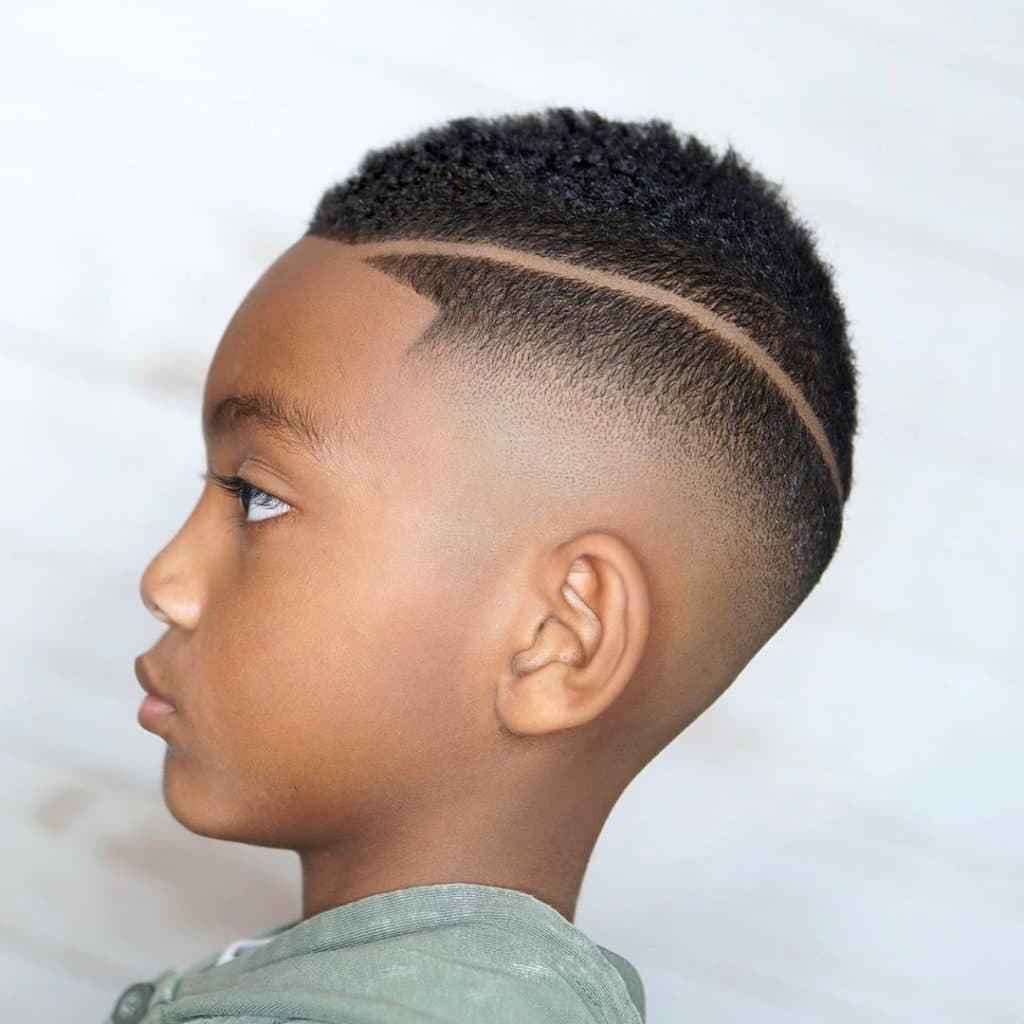 This short fade haircut with a shaved line would look great on boys of all ages but is especially cute on this youngster.
18. Cute Boy Haircuts For Longer Messy Hair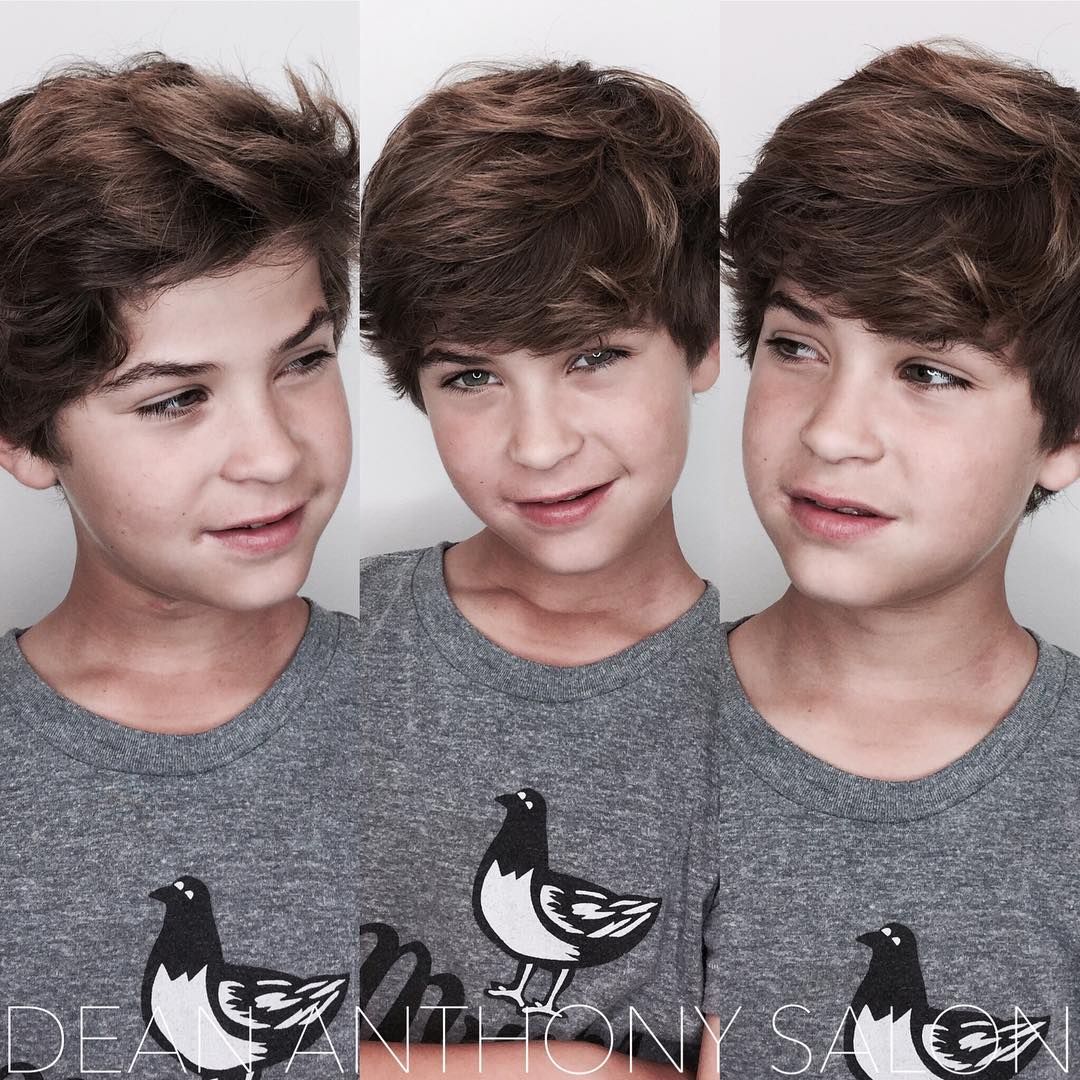 This longer cut is a messy take on the classic cute boy's haircut. Layering adds some texture that adds a cool touch to an otherwise preppy look.
19. Long Hairstyles for Boys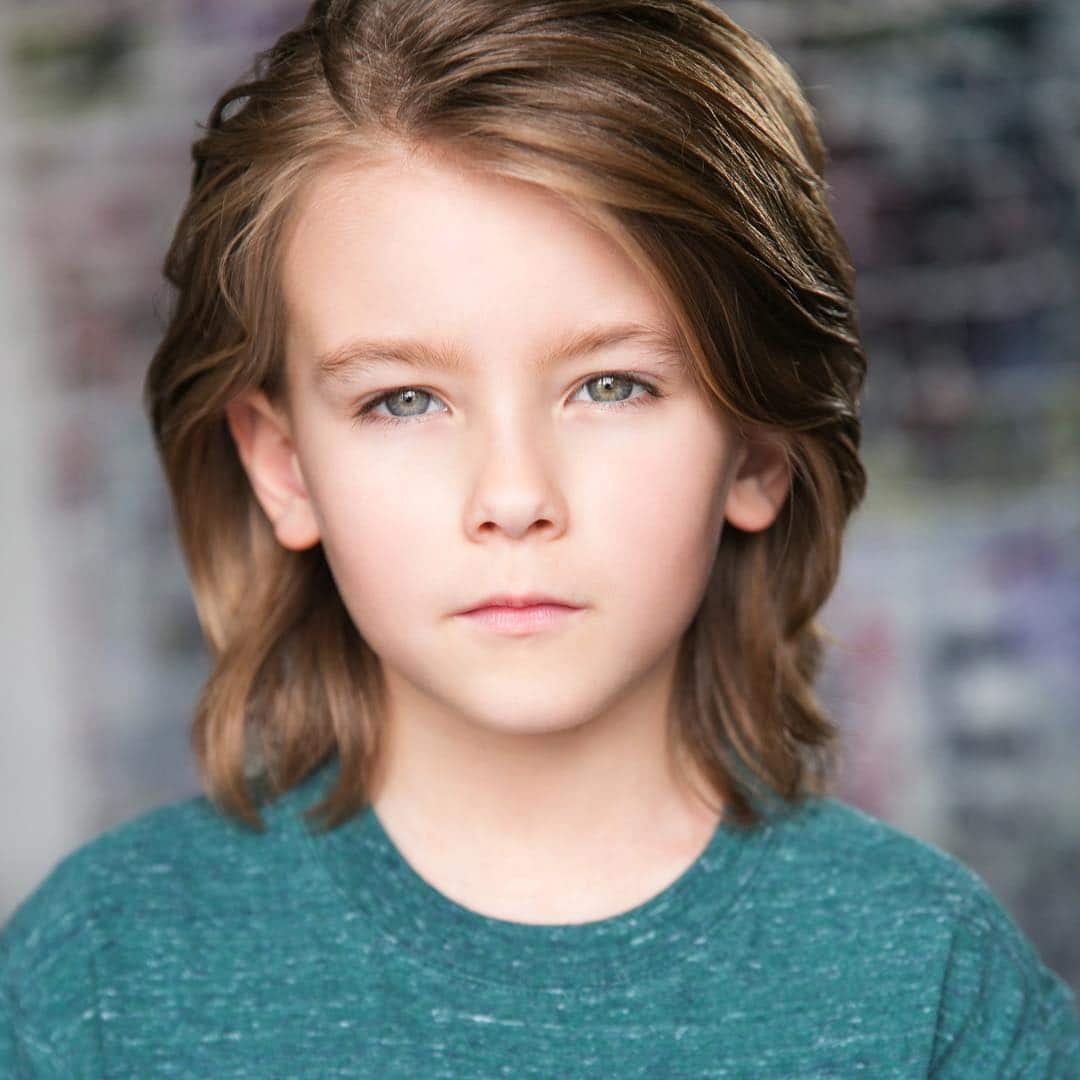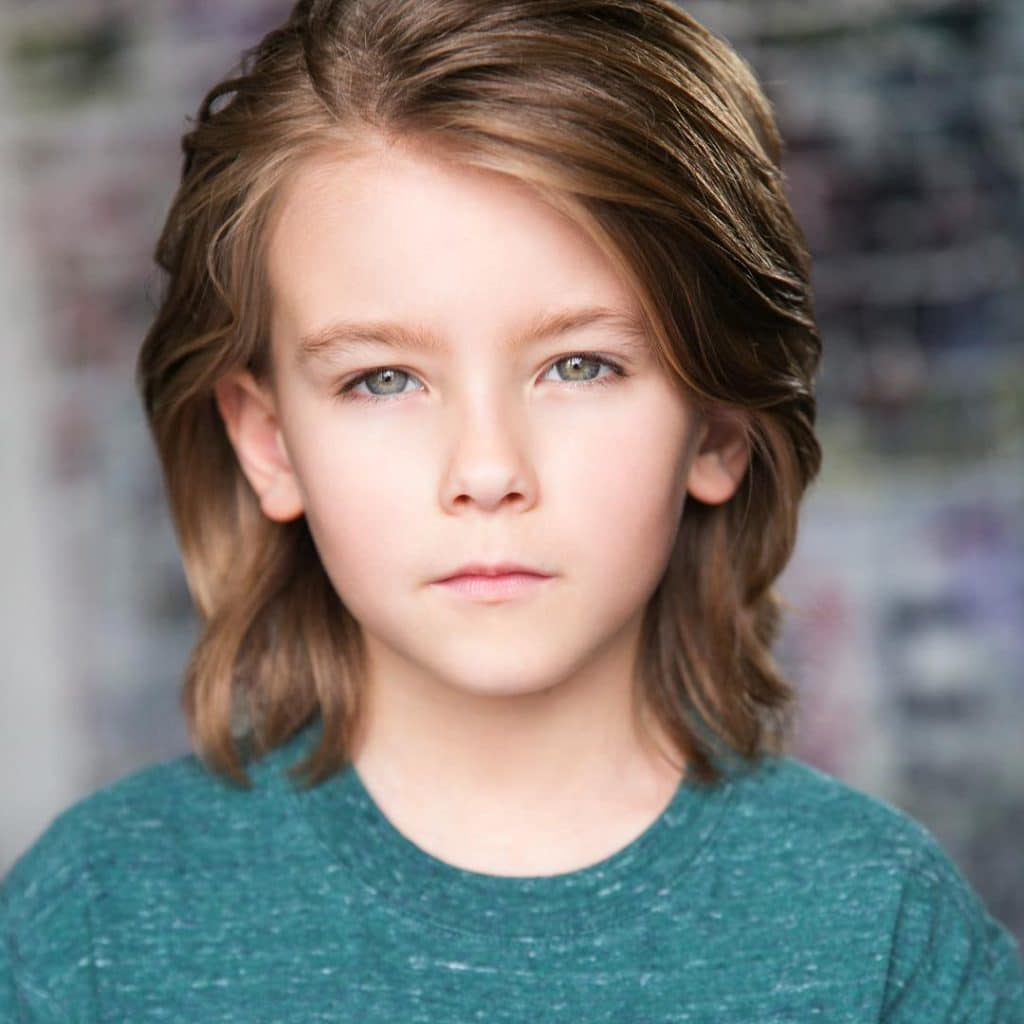 Long hair is increasingly popular for boys. This gorgeous mane is cut to one length all over to highlight healthy, thick hair.
20. Long Hair Undercut Haircut For Boys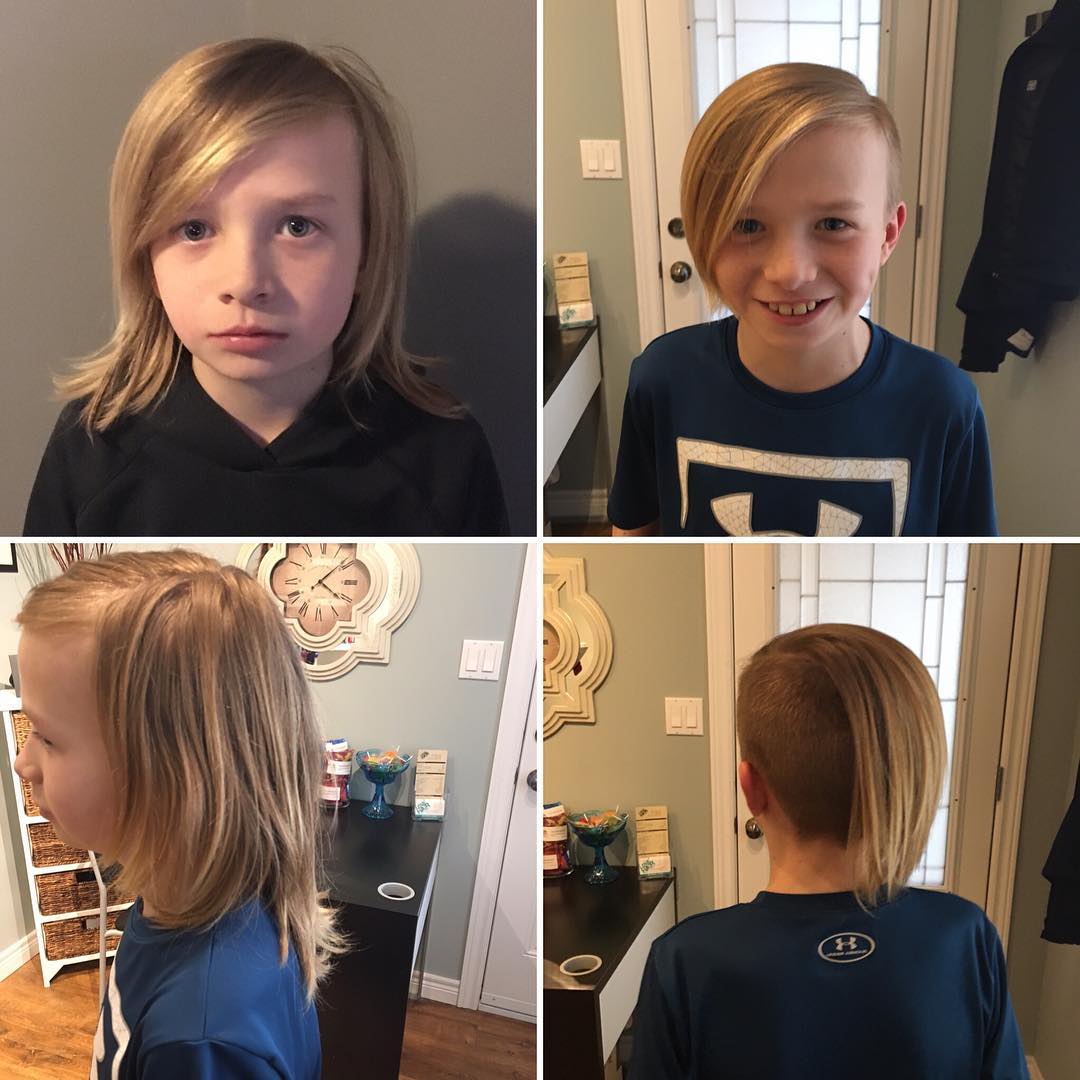 This undercut hairstyle with long hair couldn't be cooler. One of the coolest boy's haircuts. Hair is long and short at the same to so you can wear down or pull it up into a man bun.
21. Little Boy Hairstyles For Wavy Hair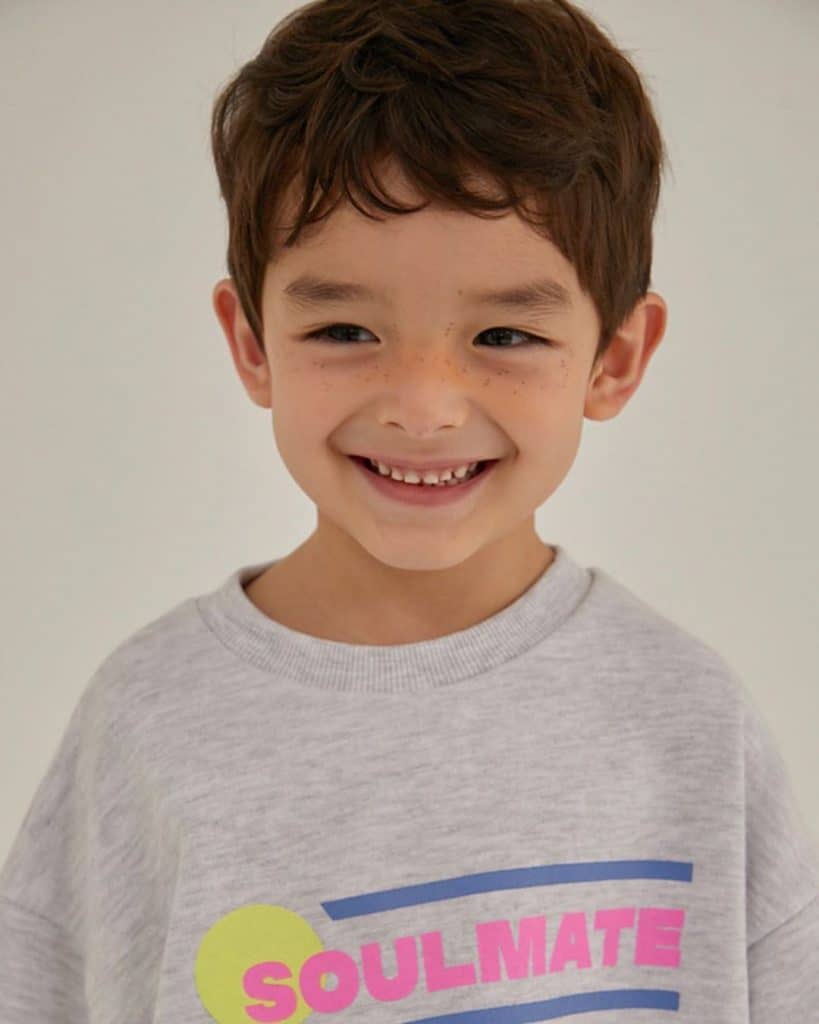 It doesn't get much cuter than this. A simple classic boy's haircut.
22. Cute Toddler Boy Hairstyles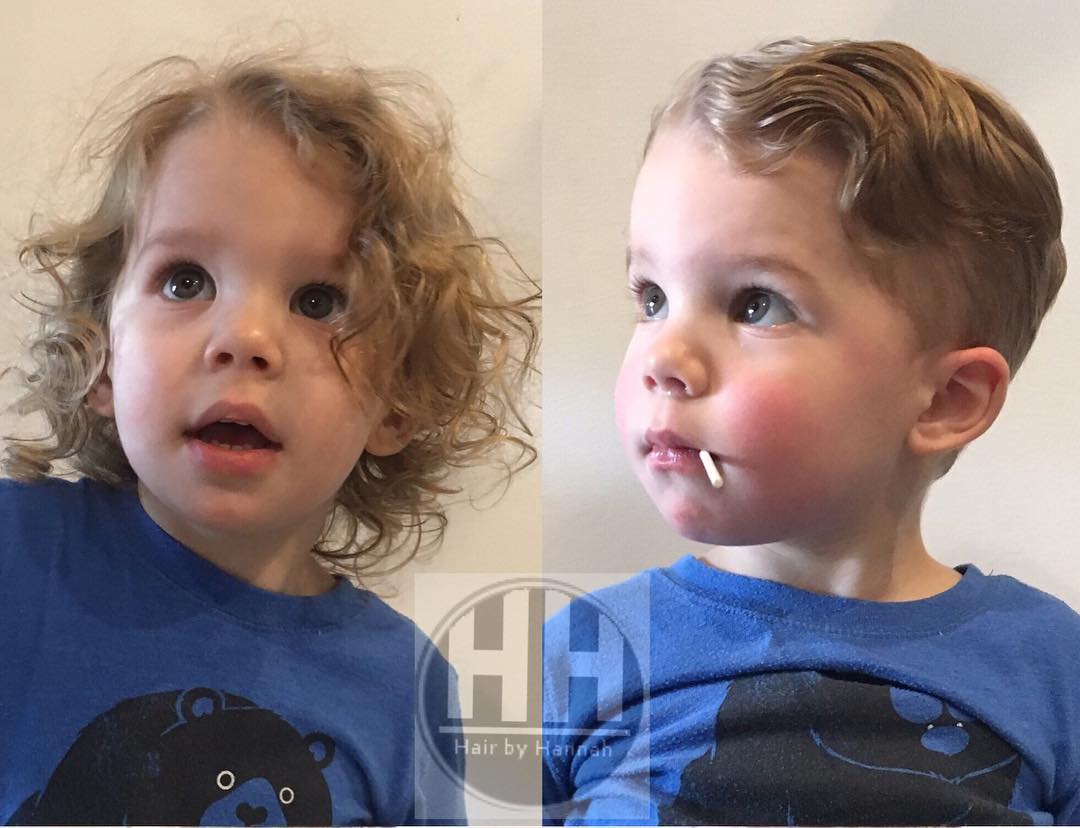 Those toddler curls may not last so don't rush to cut them off. This side part haircut keeps plenty of waves while cutting hair manageably short at the sides and back.
23. Boys Haircuts With Long On Top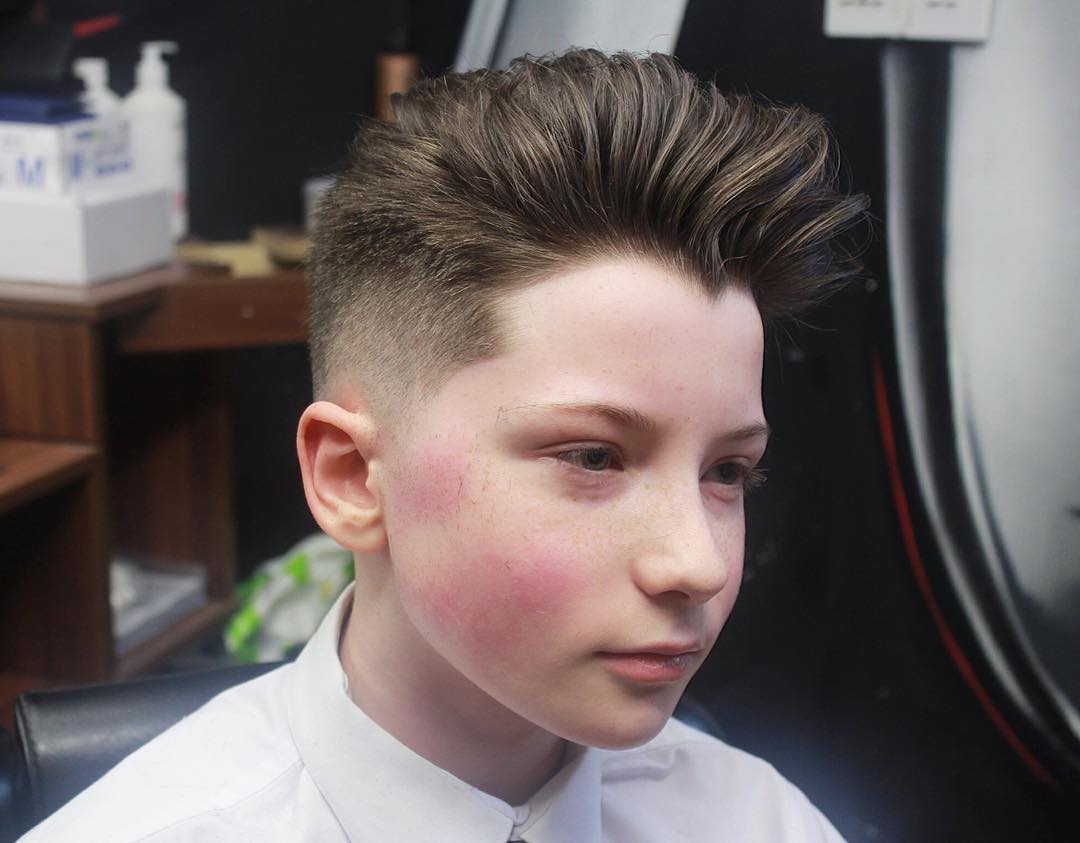 This cool cut shows long hair on top styled into a pompadour. Hair also looks great worn loose and over to one side.
24. The Classic Boy's Haircut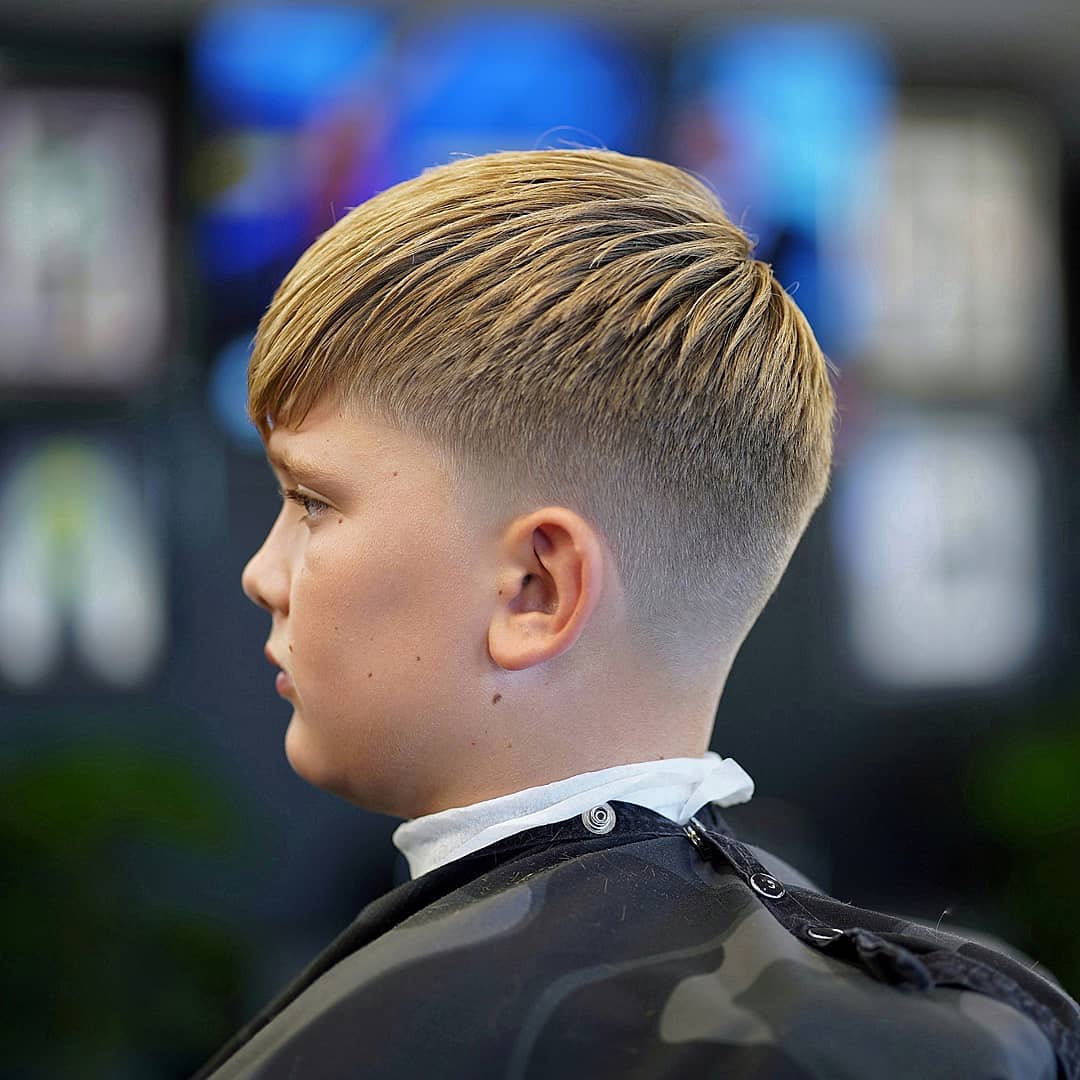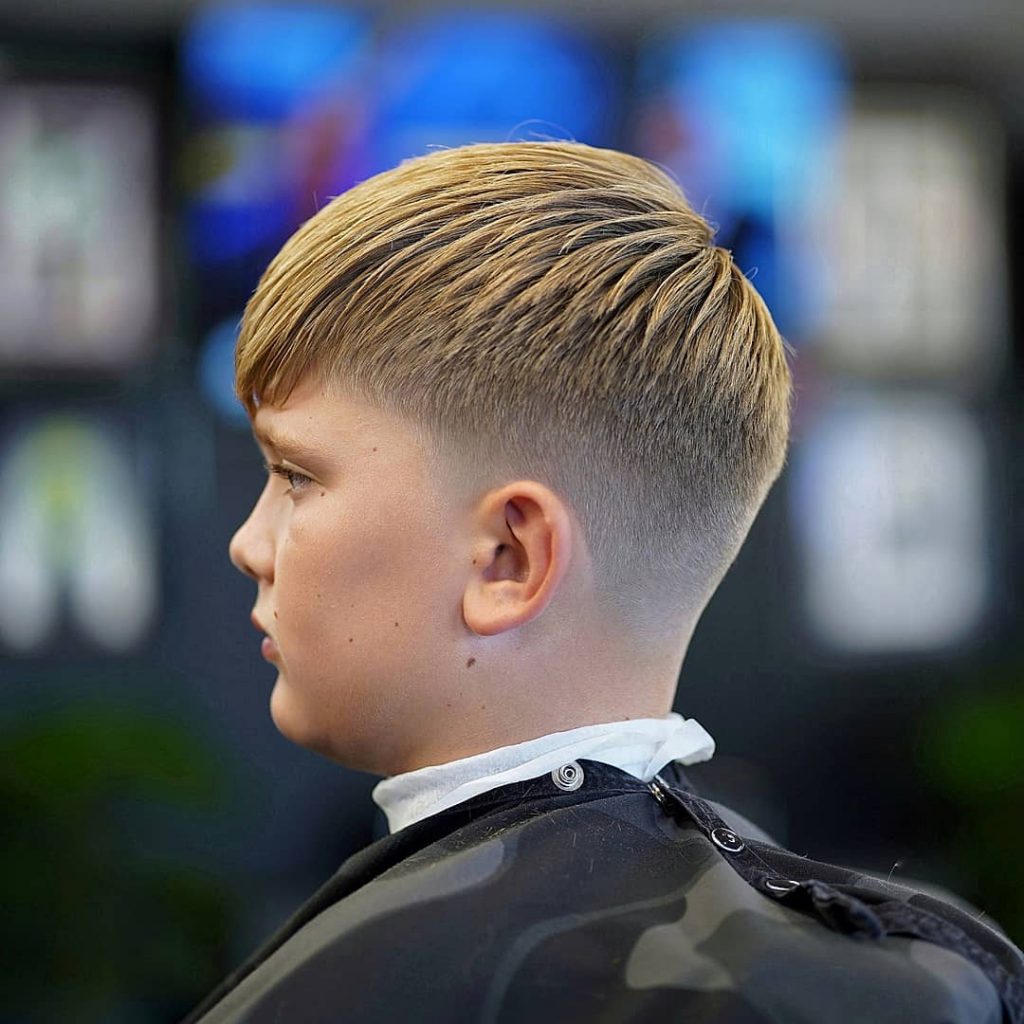 Here's a fresh boy cut with that classic fringe and a modern fade at the back.
25. Cool Kid's Haircuts For Short Hair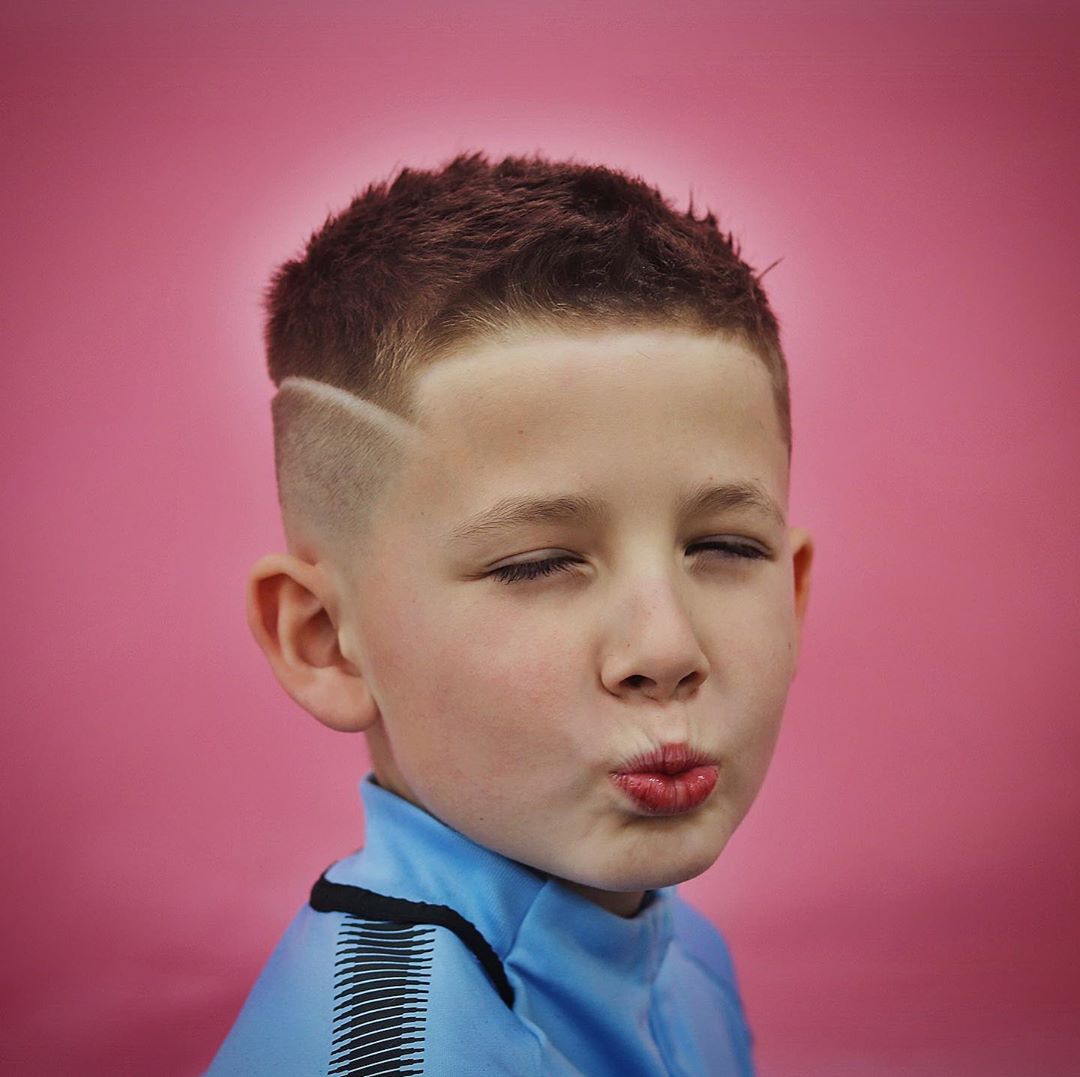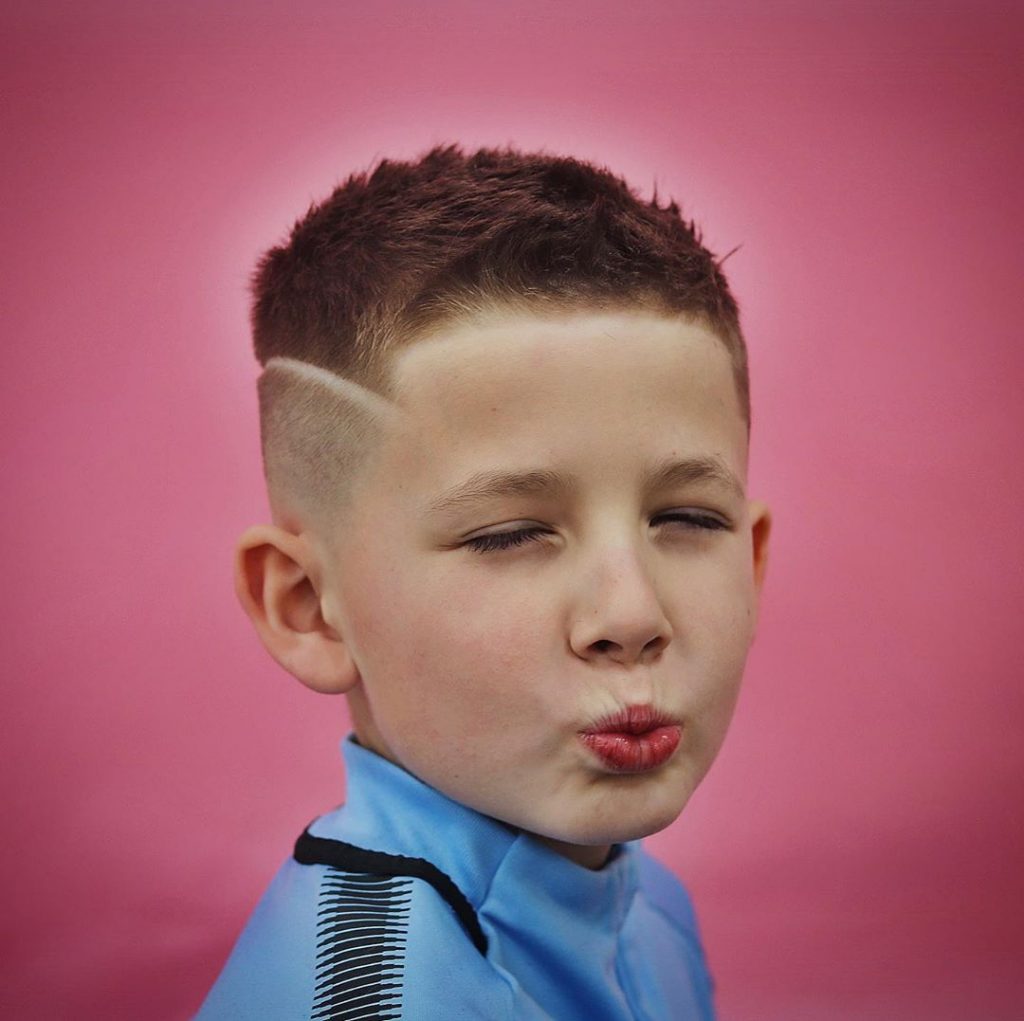 This short haircut wouldn't be as exciting without the shaved line but it would still look good.
26. Kid's Fade Haircut For Thick Hair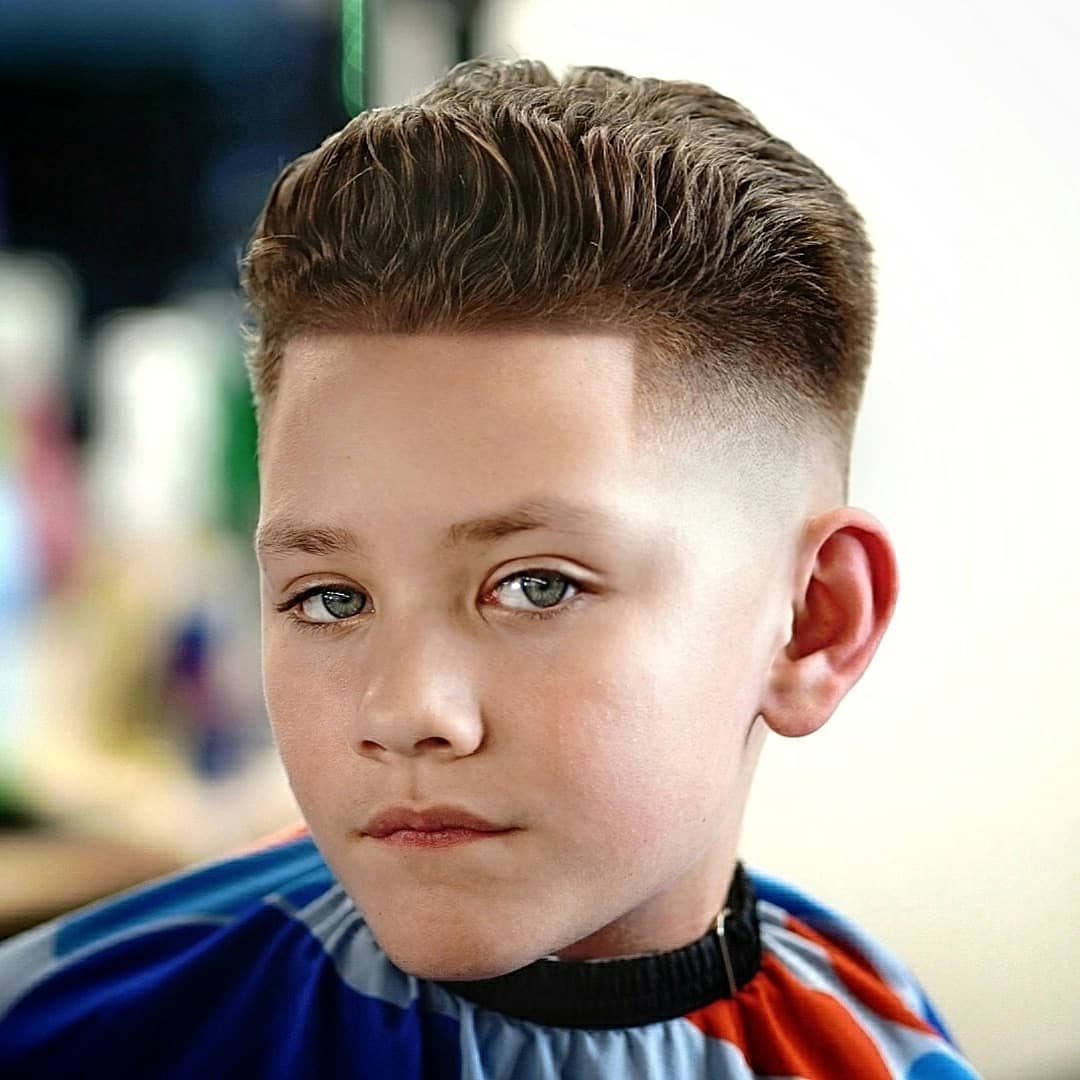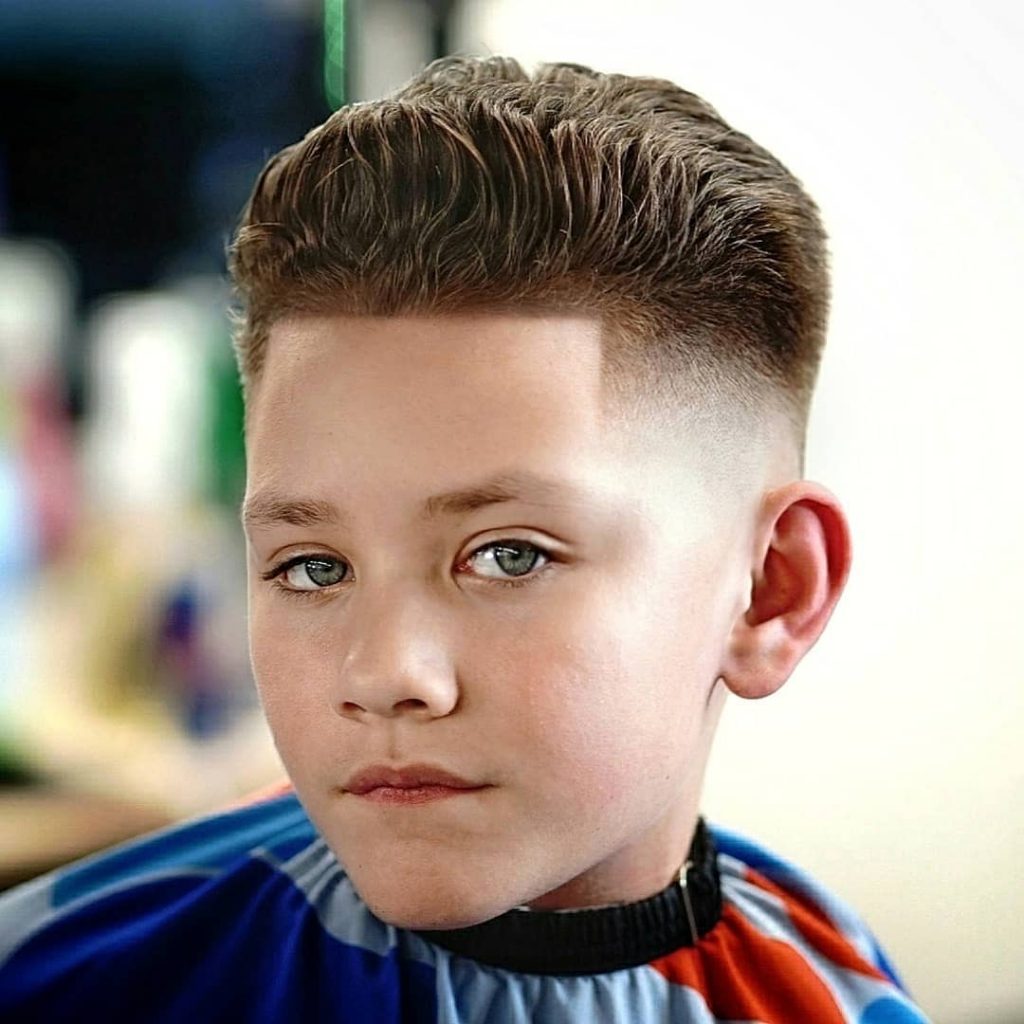 The fade is popular with boys for the same reason it is popular with men: it looks great, grows out clean, and elevates every hairstyle. It's also an attractive way to manage thick hair for guys of all ages. This is one of the best boy's haircuts for thick hair.
27. Boy's Trendy Haircuts: Side Part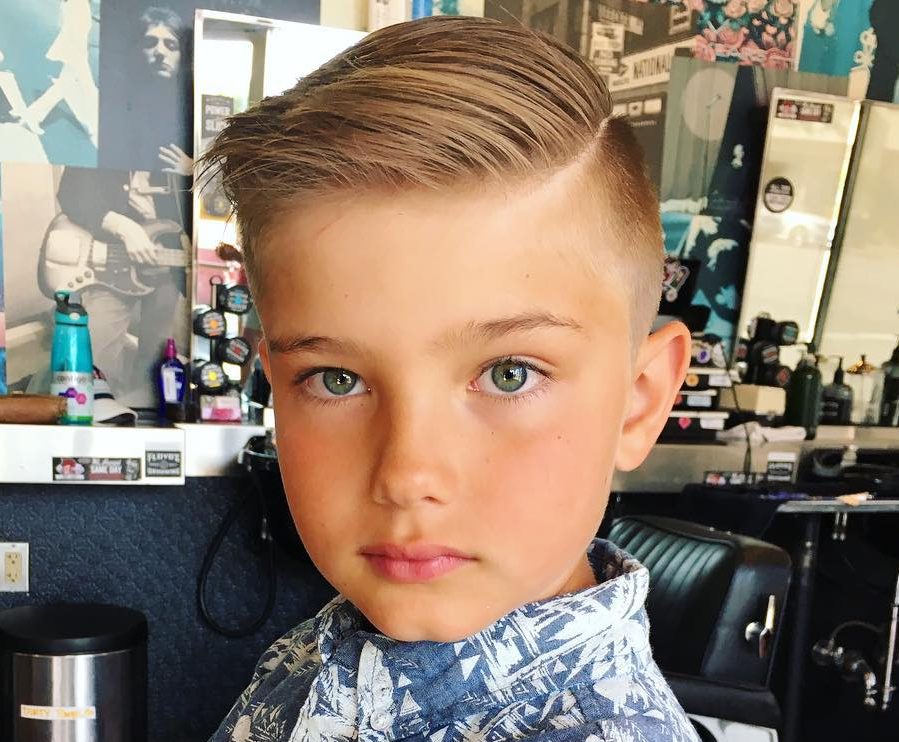 This comb over fade is a cool haircut that boys can wear. It's so easy to style too. Work some pomade into the hair and comb it over to the side.
28. Short Hairstyles For Boys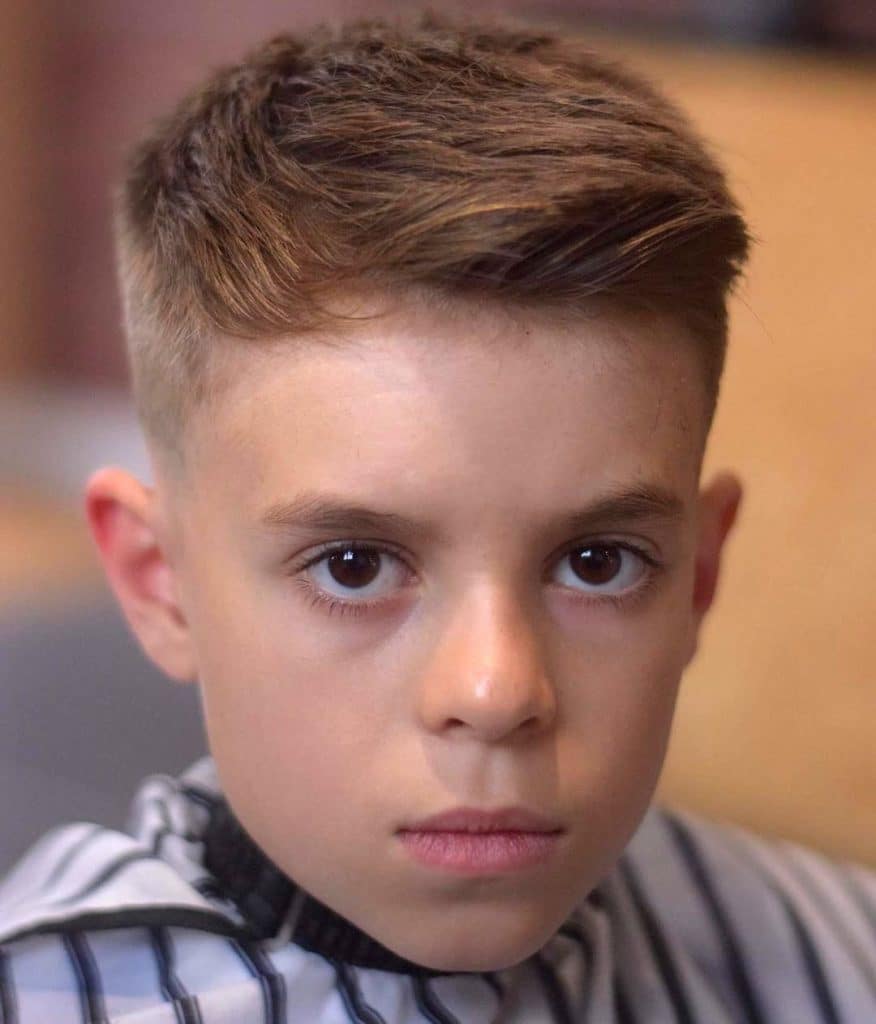 Here's a modern and young take on the Ivy League, the longer version of the crew cut.
29. Cool Hairstyles For Boys: Textured Faux-Hawk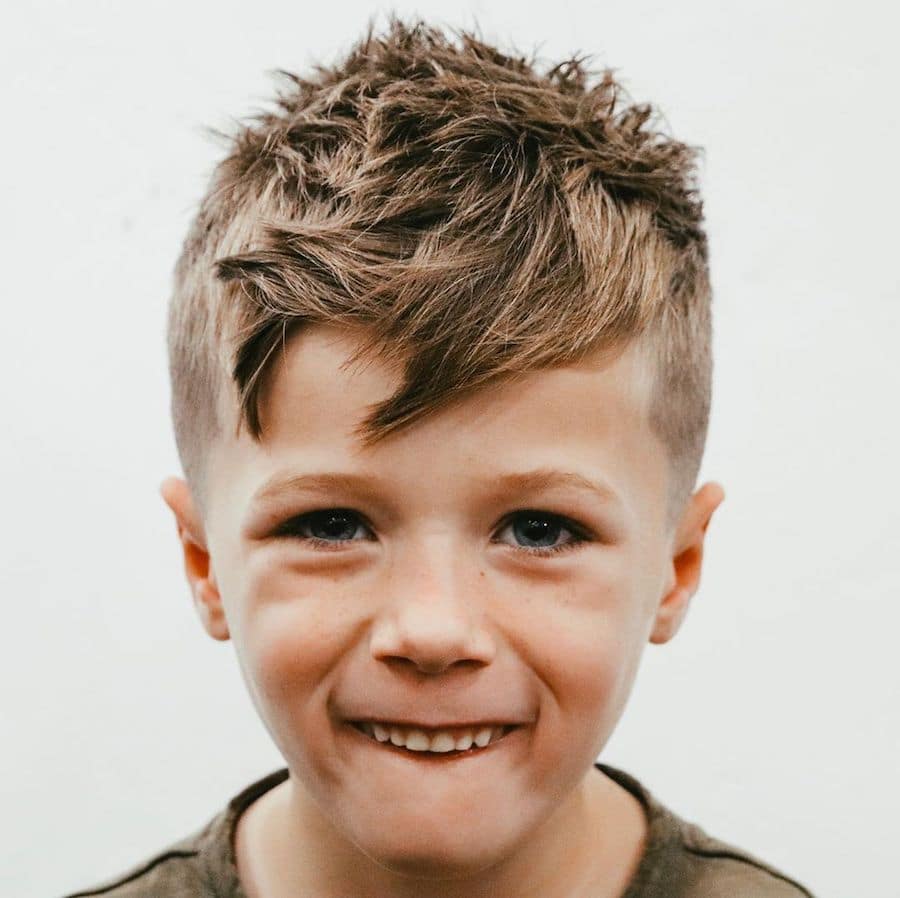 This cut is mostly short with longer hair at the center of the head and at the hairline. This tousled look is stylish beyond his years but would also be cool up in a faux hawk.
30. Low Fade Haircut For Black Boys + Flat-Top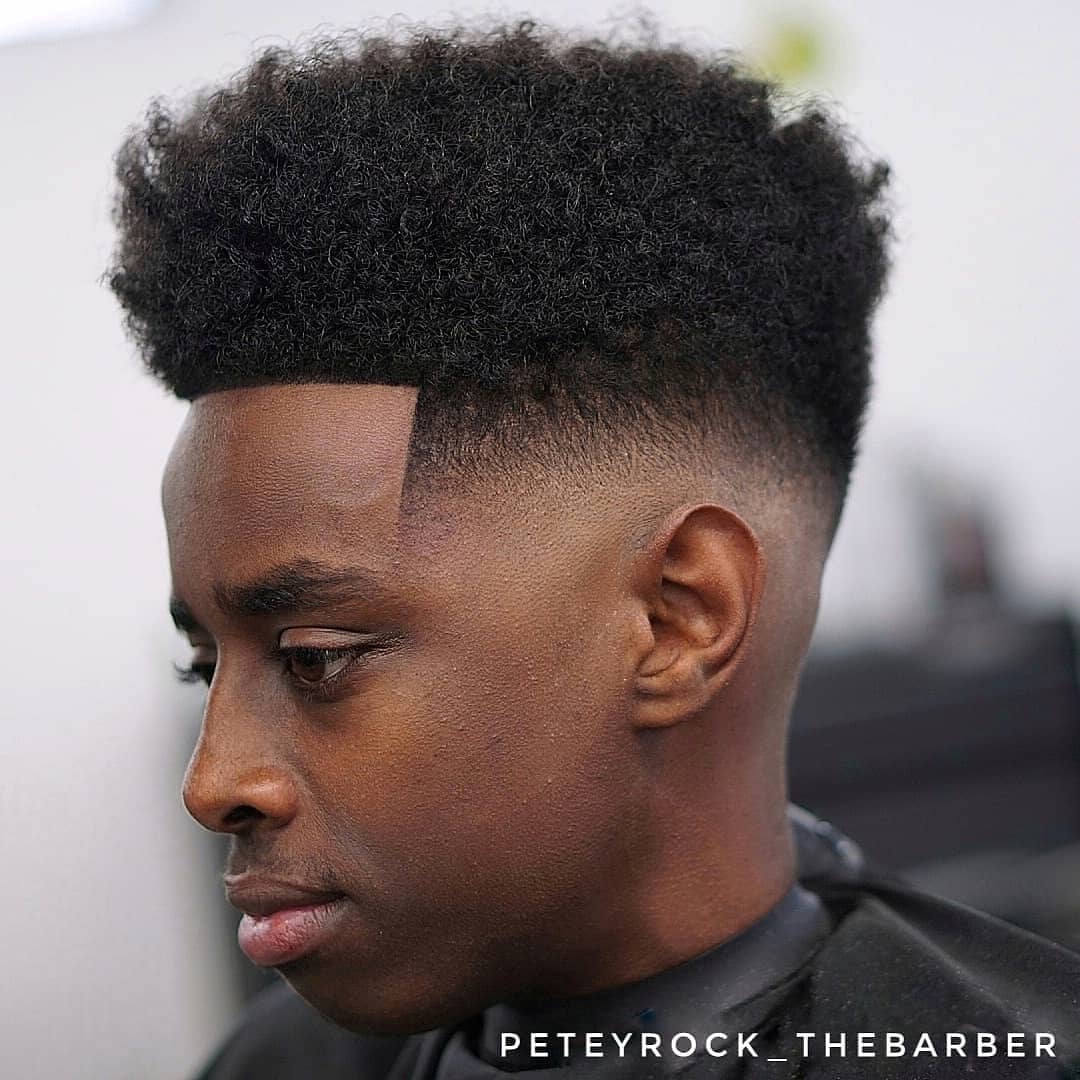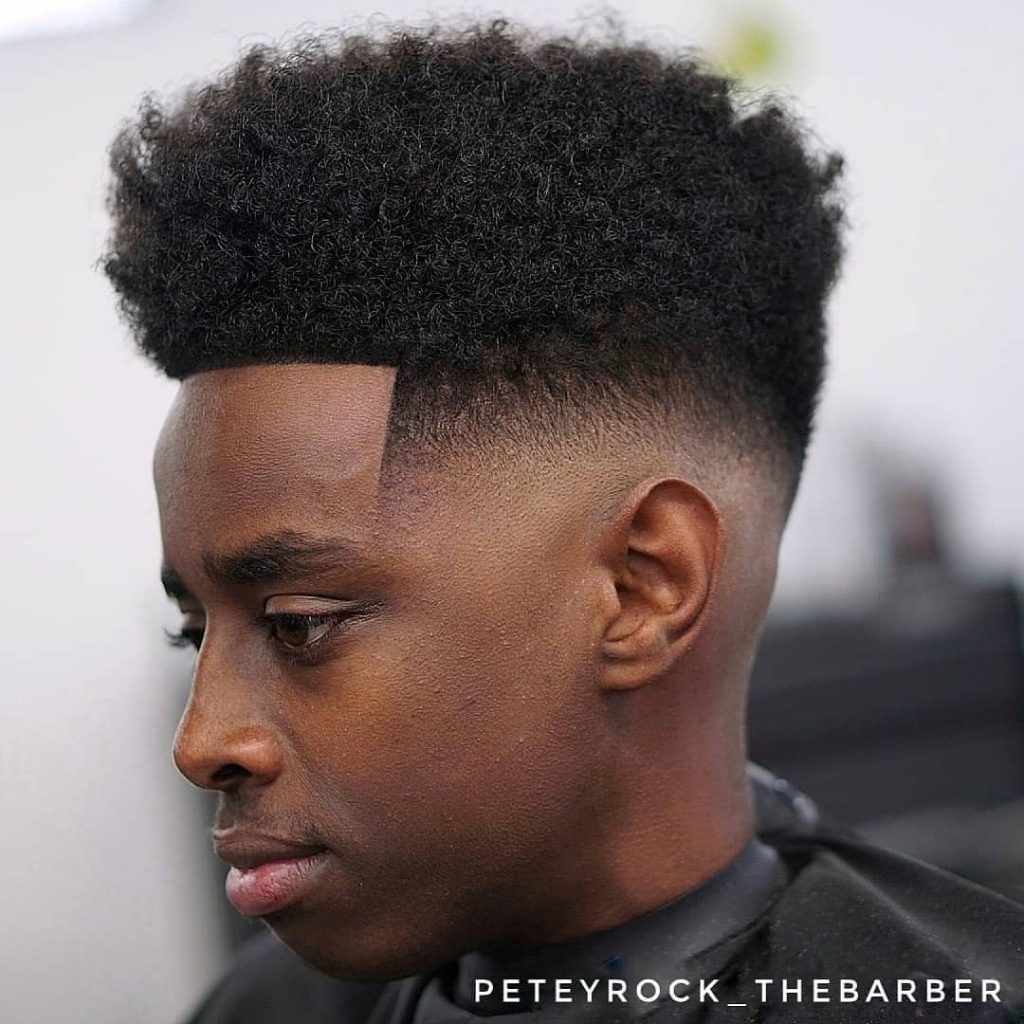 The fade drops down while the hair on top goes up.
31. Boy's Crew Cut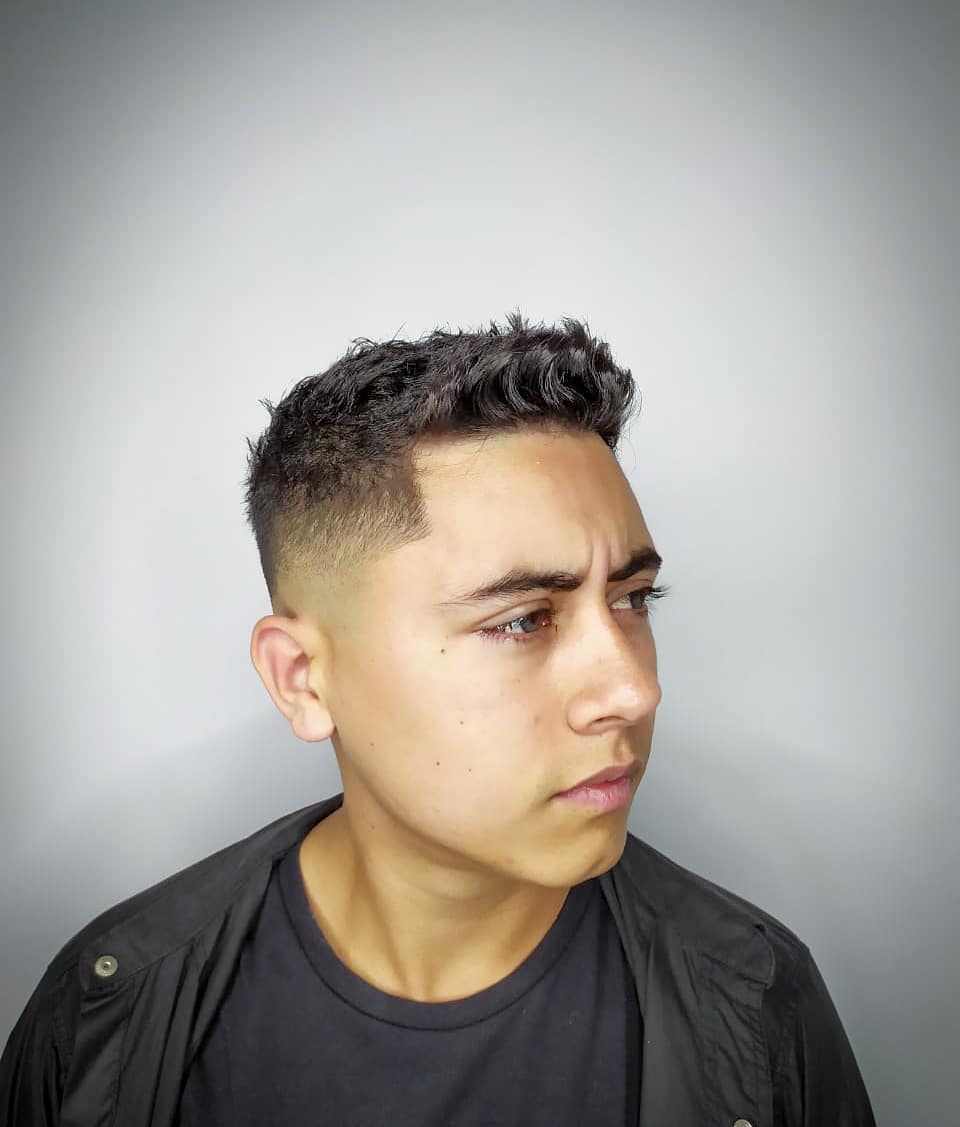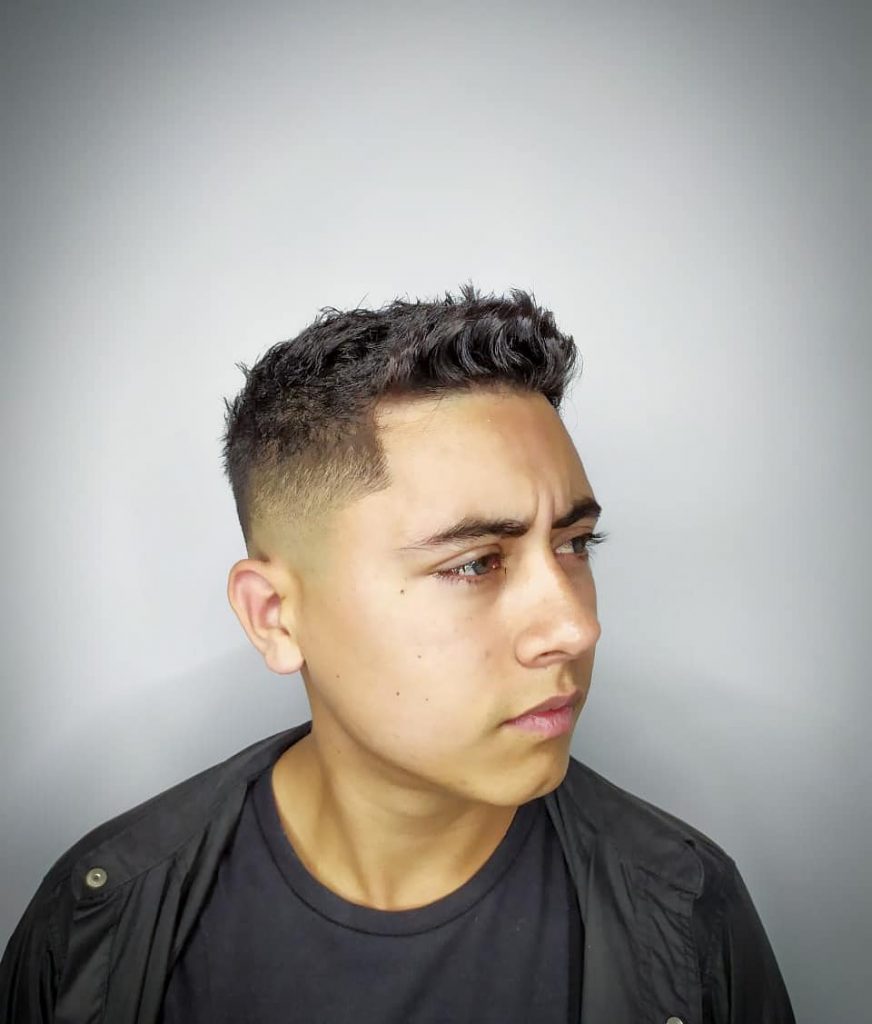 This longer version of the crew cut is a good length for boys but shorter versions work too.
32. Best New Haircut For Boys With Textures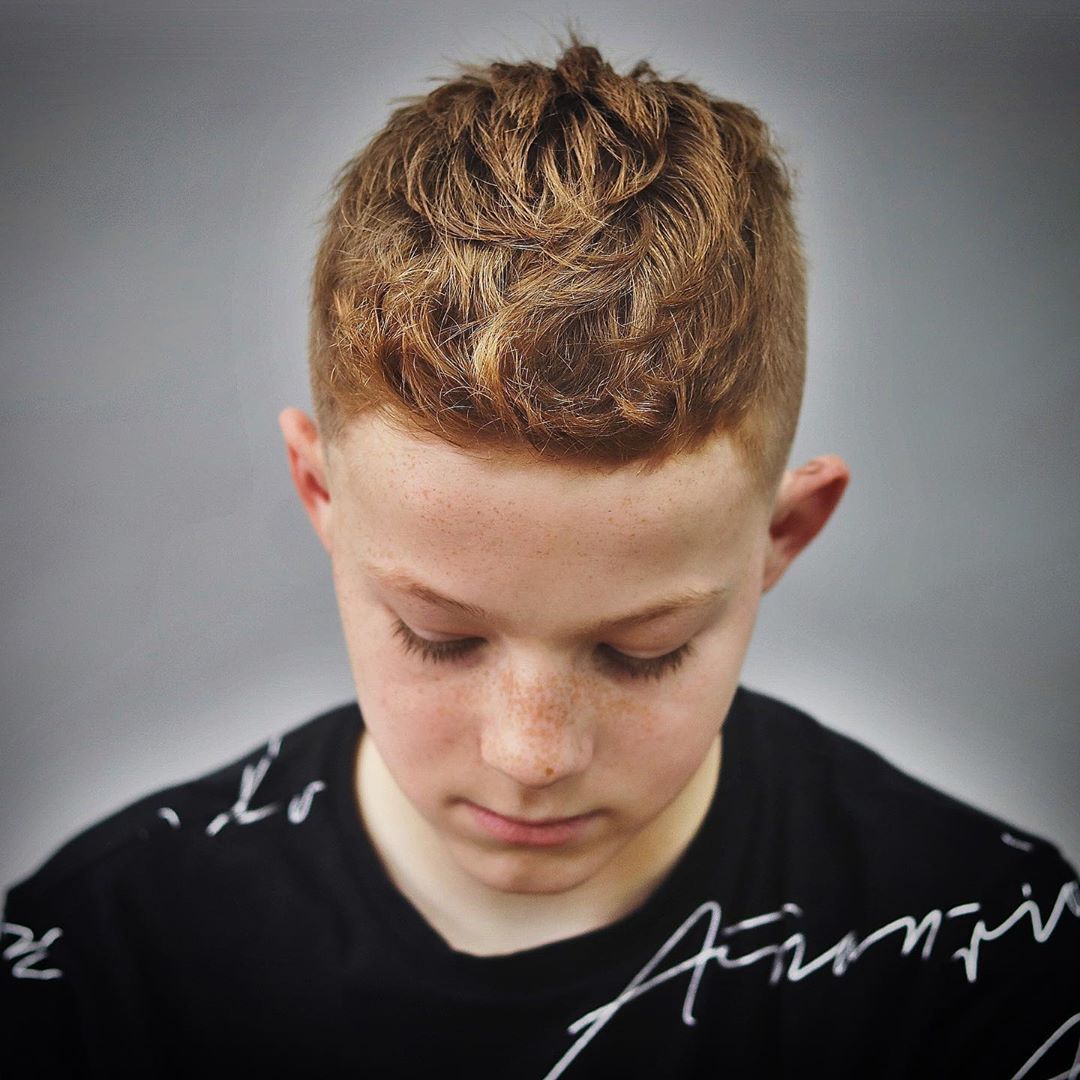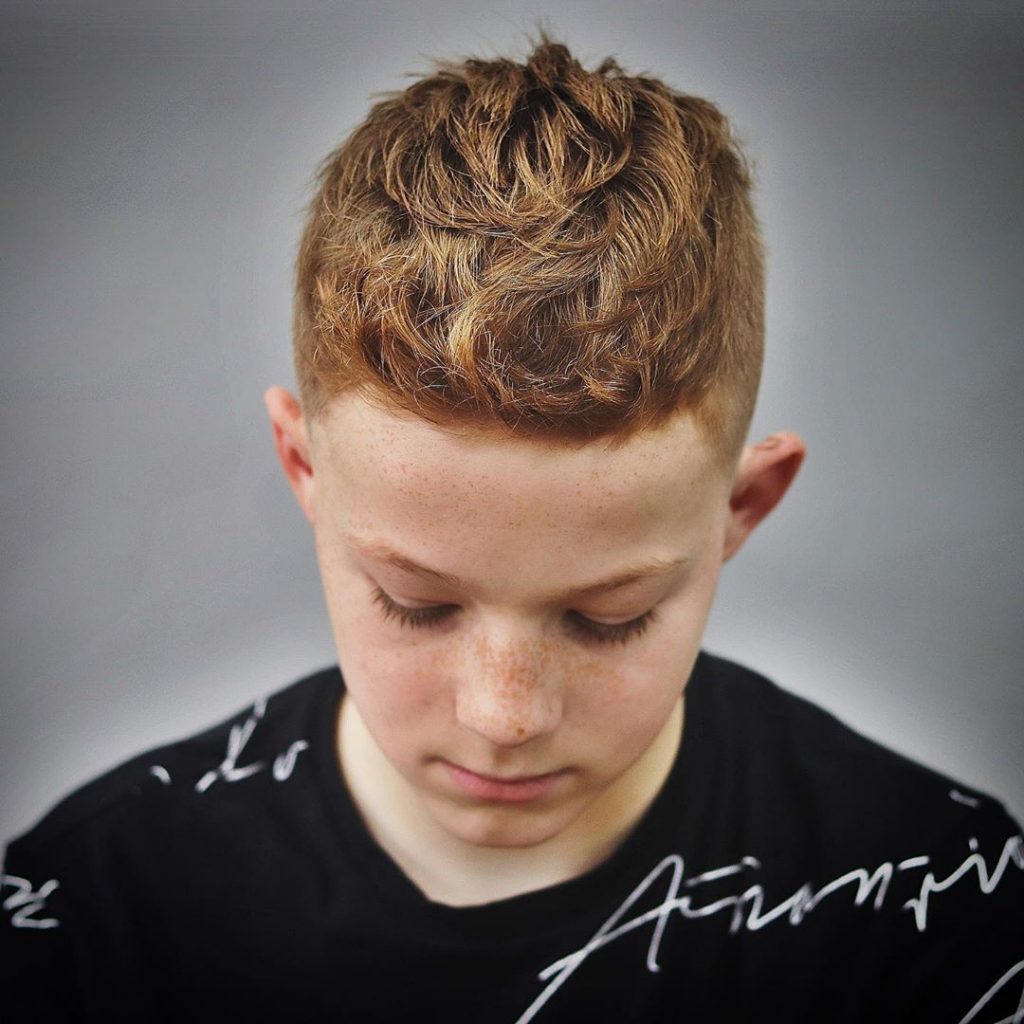 Of course the best haircut for boys suit their wishes, personality, and hair type. This cut ranks high because it's a top trend for guys around the world with a flattering shape and texture.
33. Good Haircuts For Boys With Thick Hair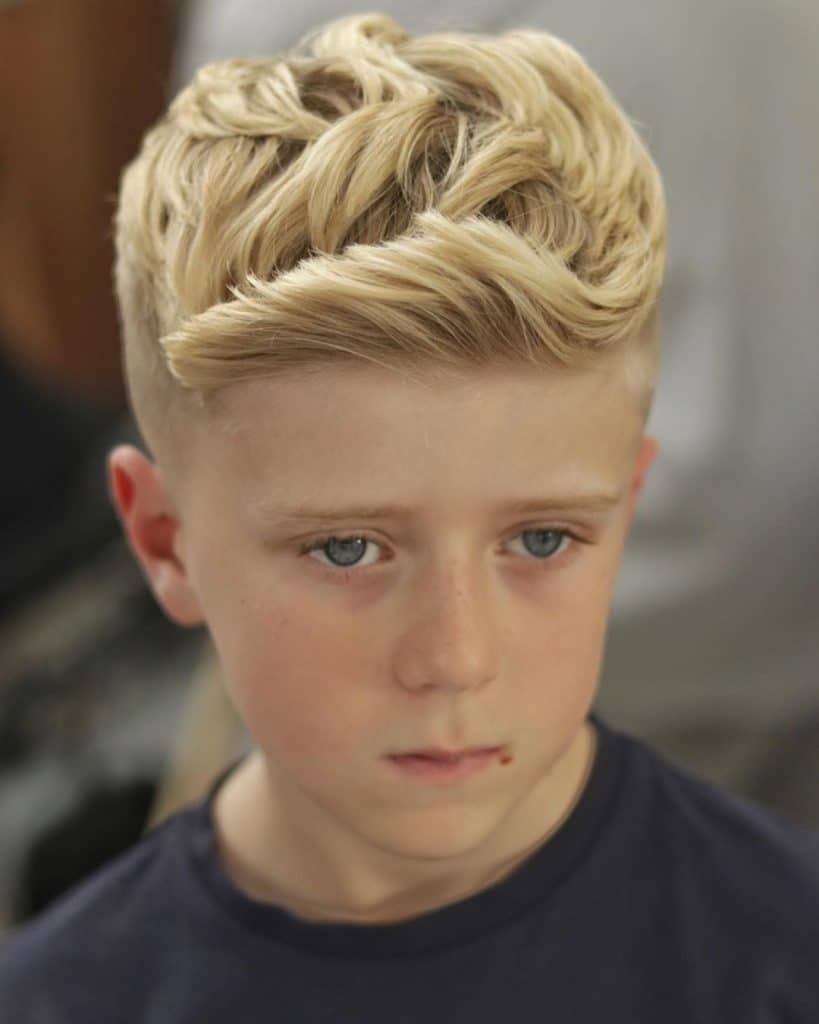 Here's a modern day version of Dennis the Menace with so much more style.
34. Fade Haircuts With Hair Color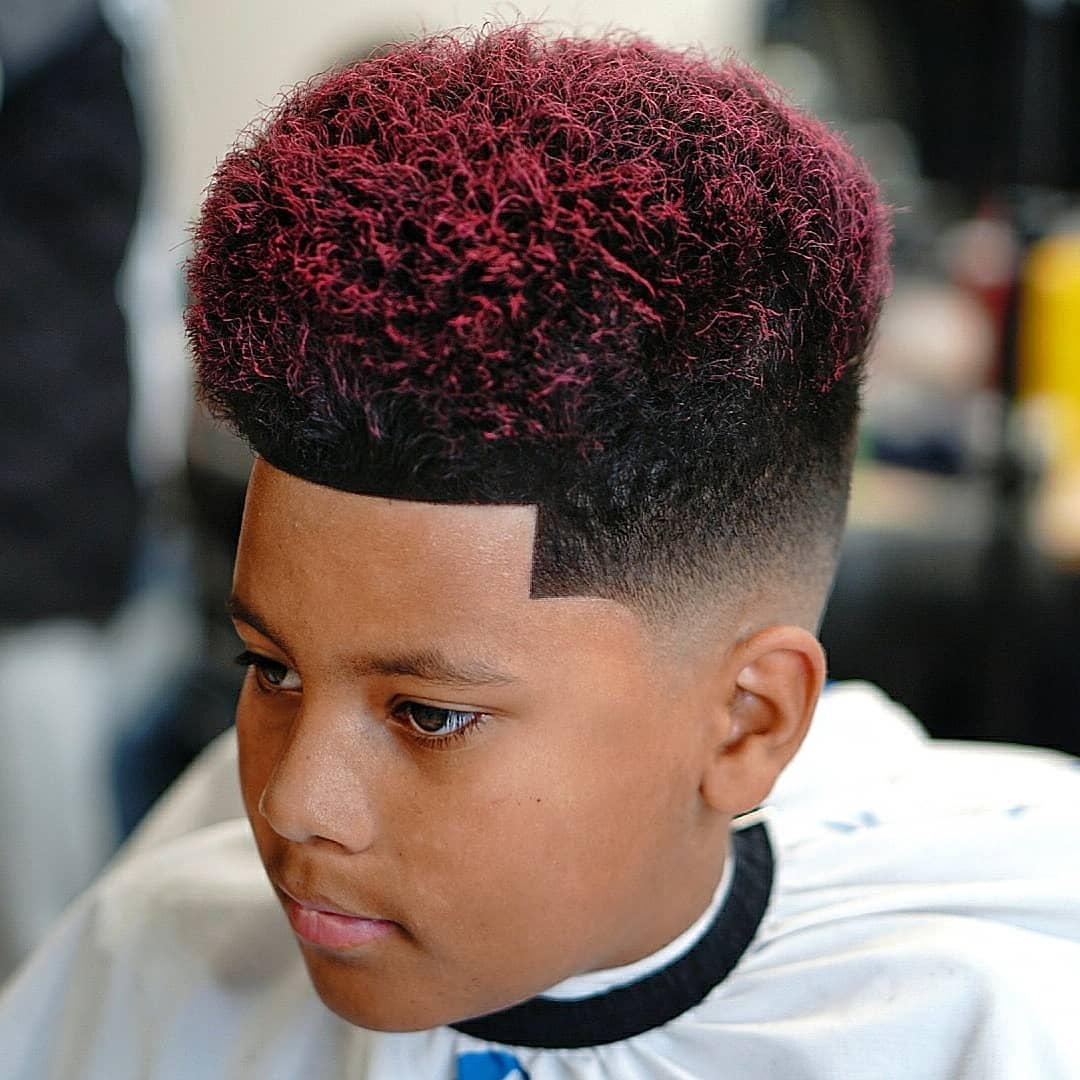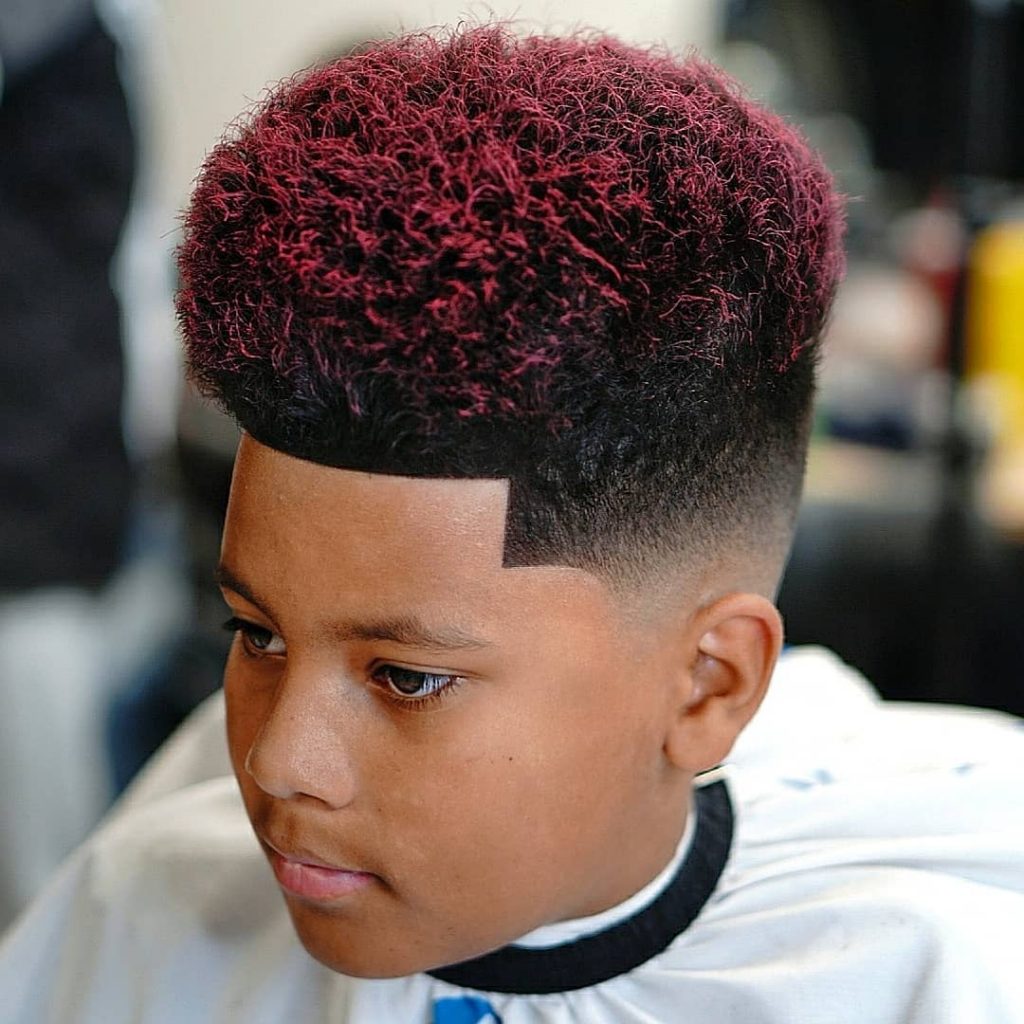 This high top haircut has it all the cut, the color, and the fade.
35. Short Haircut For Boys With Thick Hair + High Fade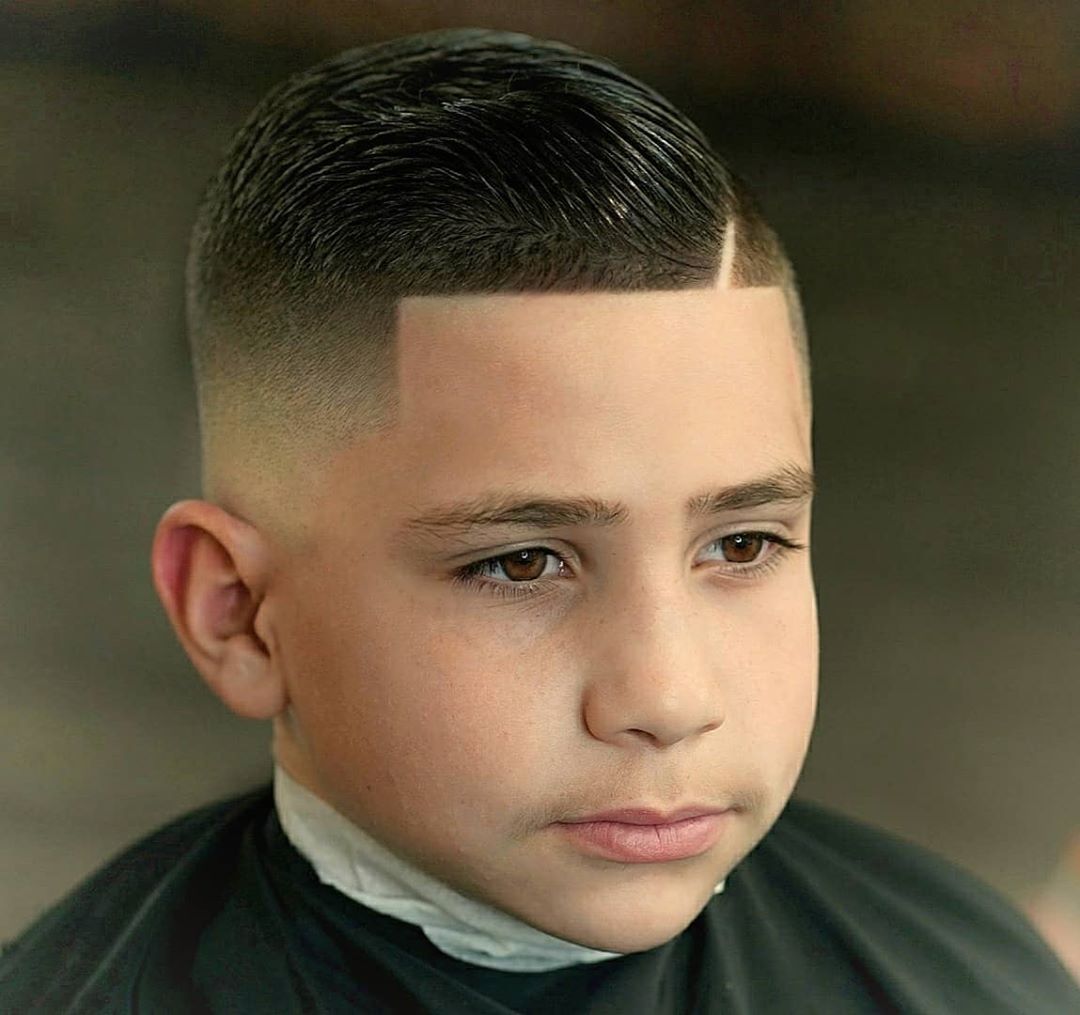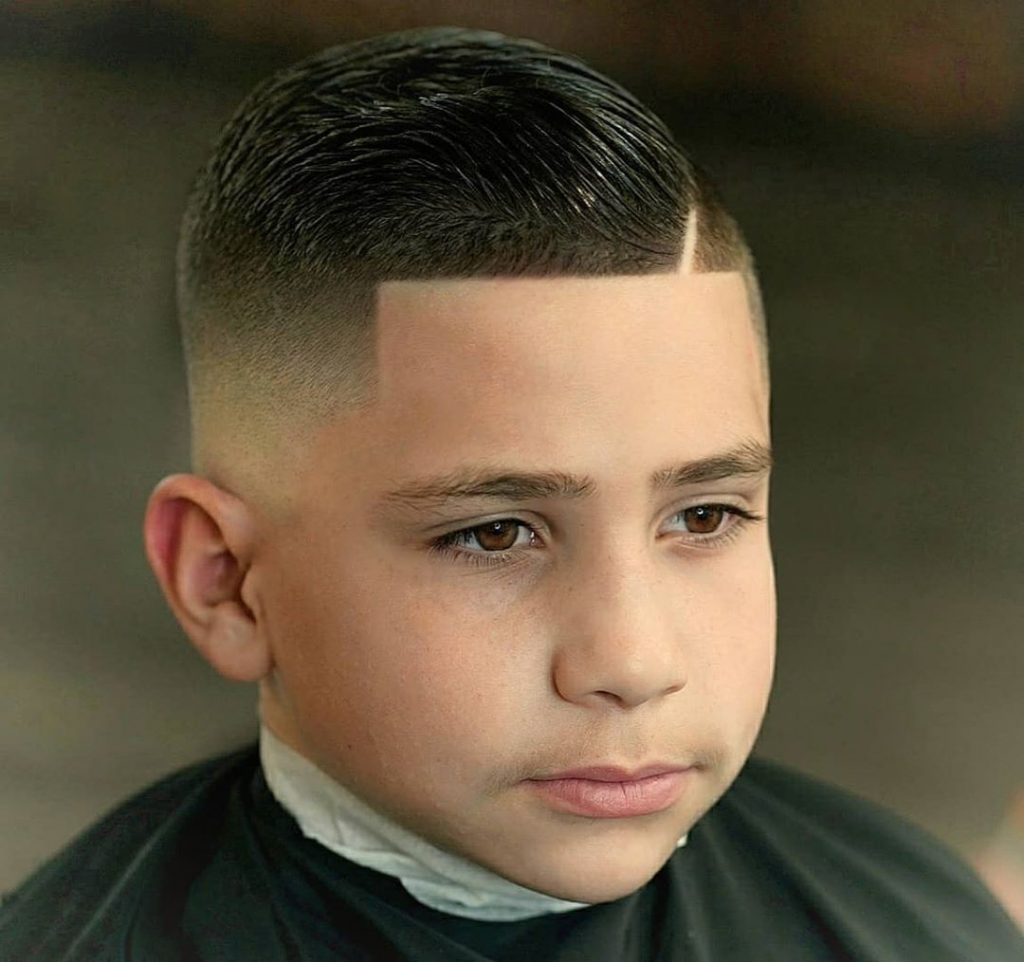 Here's another haircut that's popular with boys and men alike. It's crisp, clean, easy to wear.
36. 5-Year-Old Boy Haircuts With Spiky Textures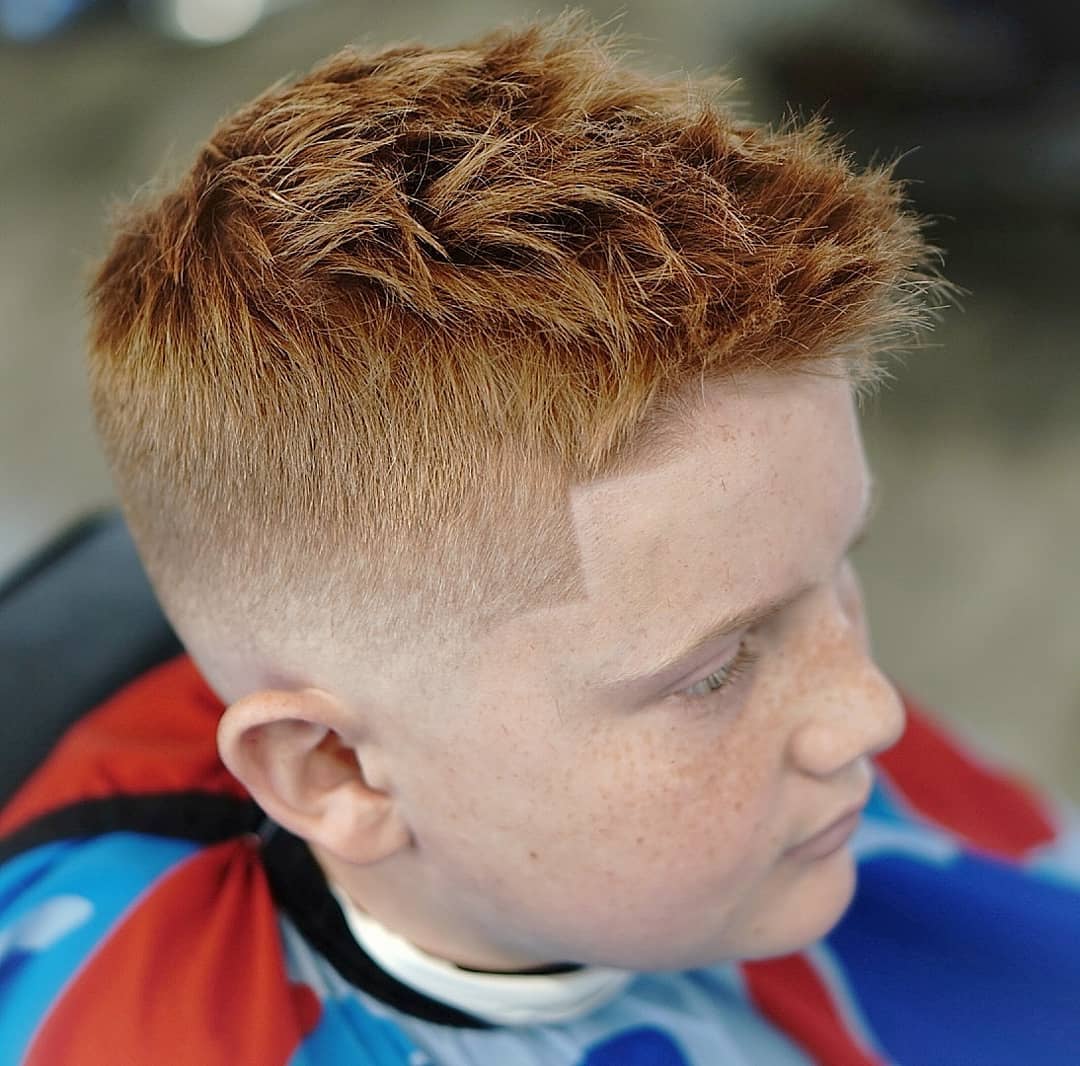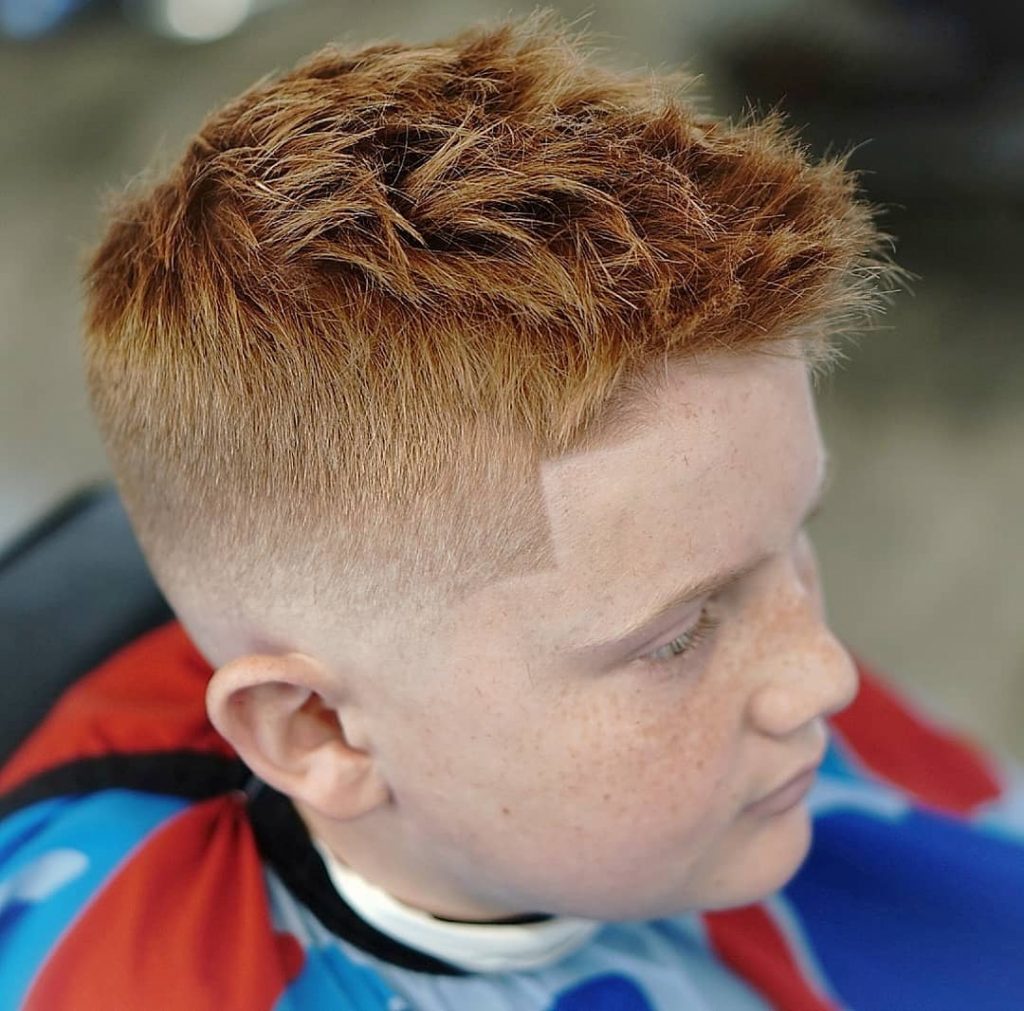 Here is a fun and stylish haircut for making that preschool to kindergarten transition. Spike it up a bit for the first day of school or special events. This is one of the most popular boy's haircuts for short to medium hair.
37. Stylish Haircut For Boys With Long Fringe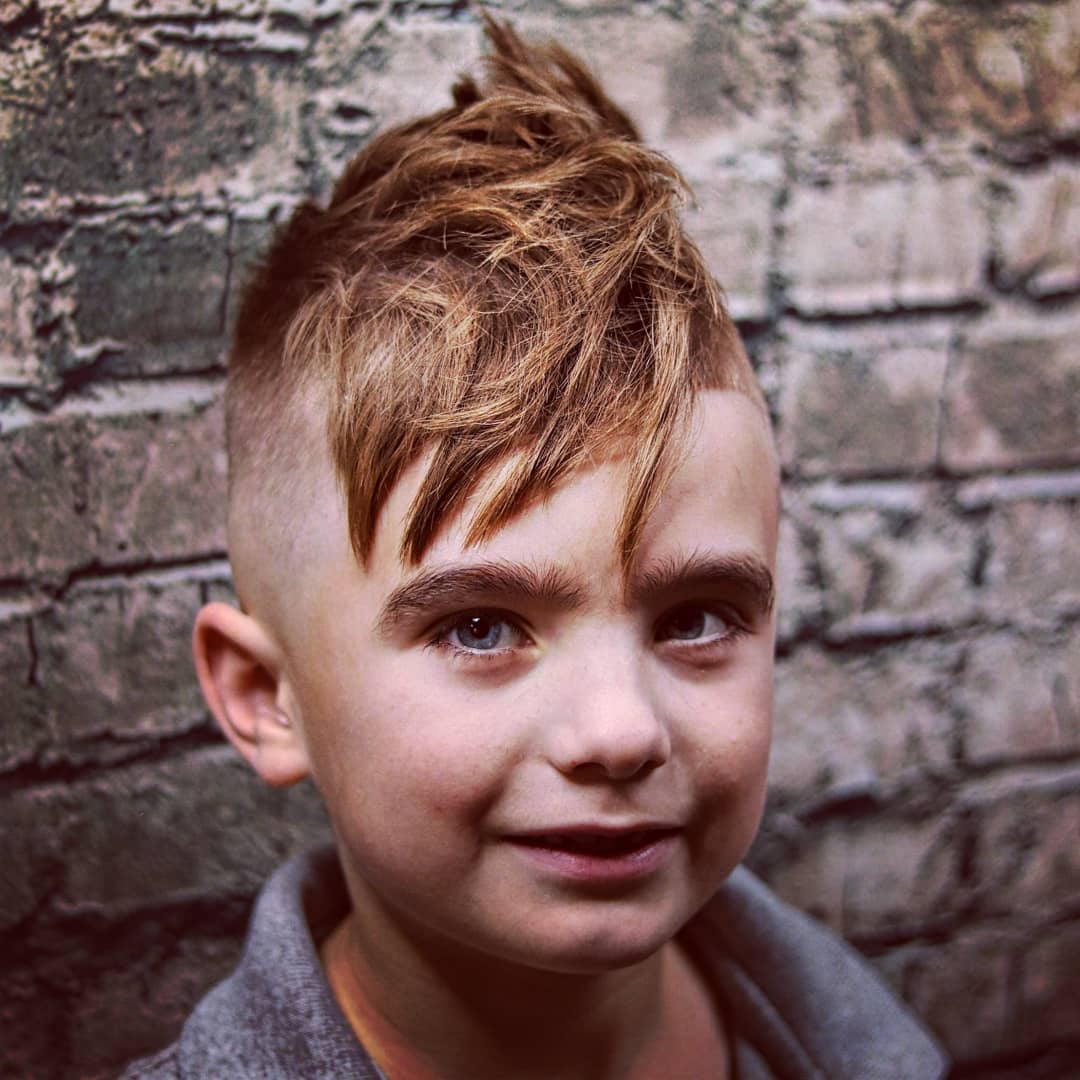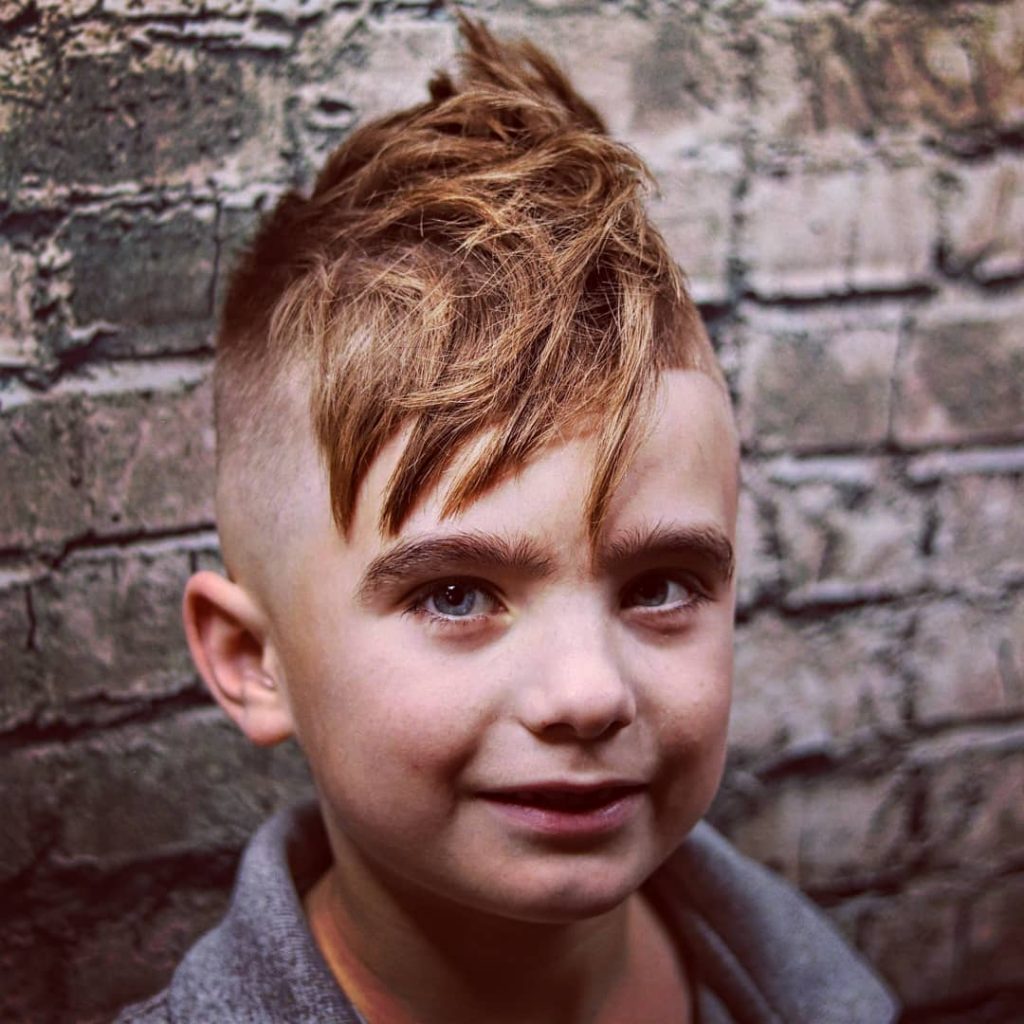 This is kind of a fohawk-mohawk haircut but styled with lots of trendy texture. It's a cool punk-skater-sports style for all kids.
38. Cool Flat-Top Haircuts For Black Boys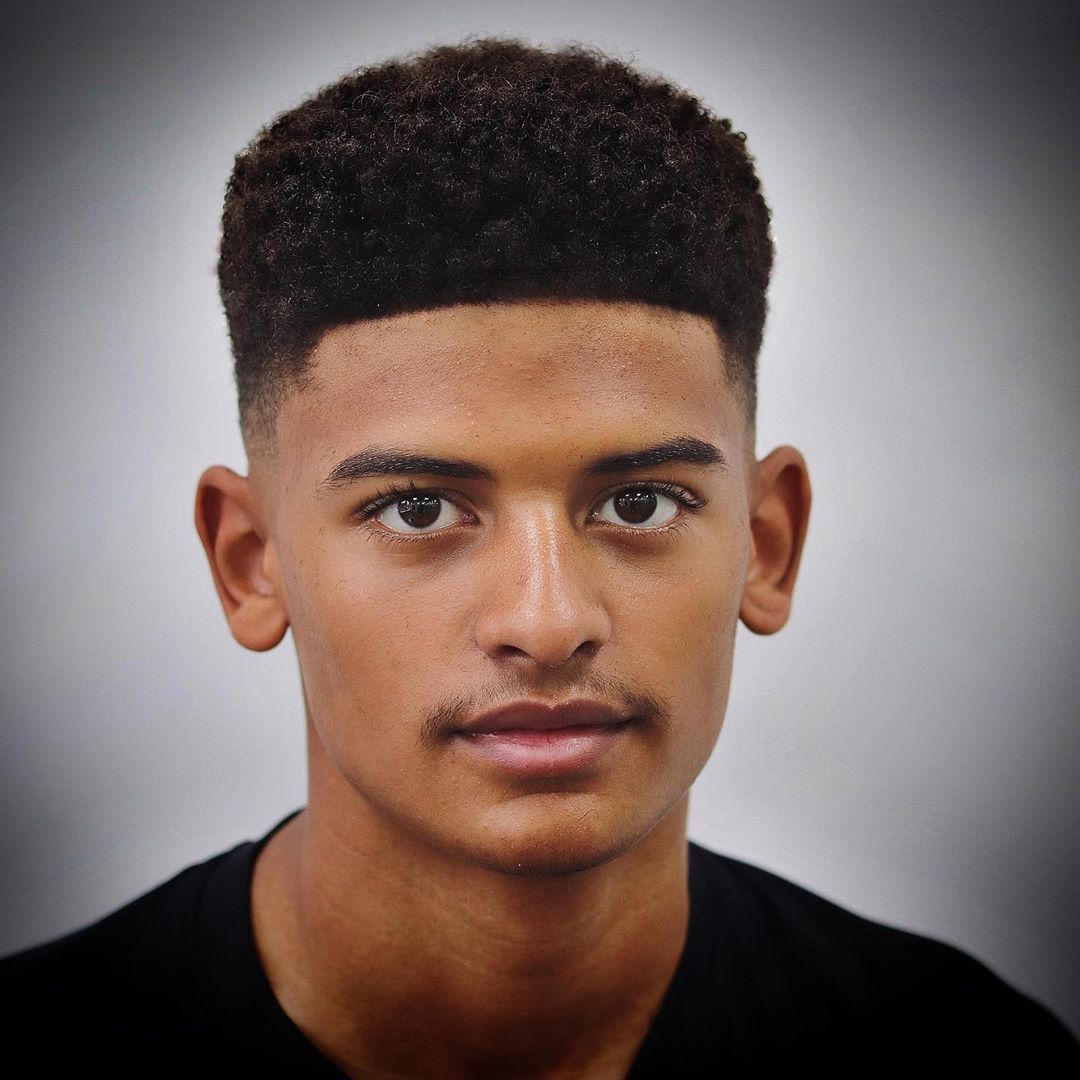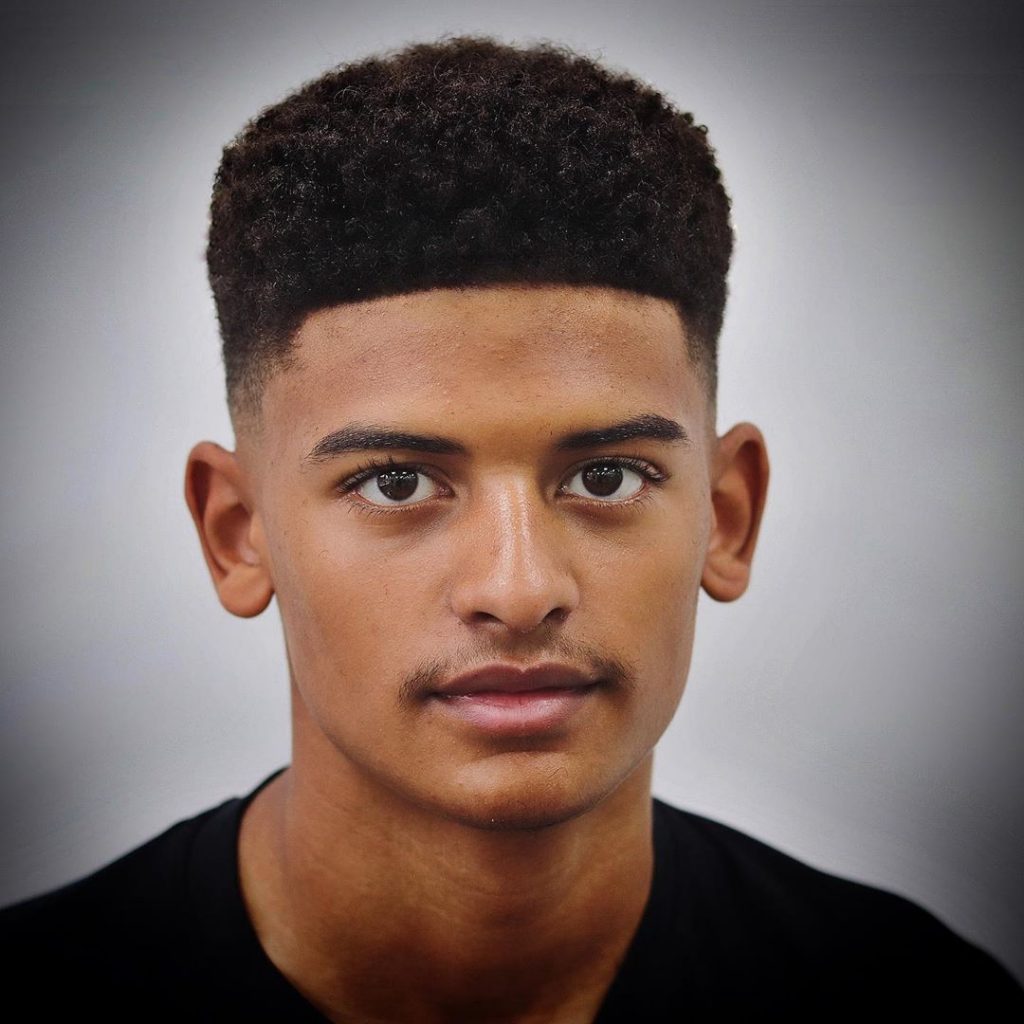 This timeless men's haircut adds height and panache.
39. Boy's Haircuts For Medium Hair With Messy Textures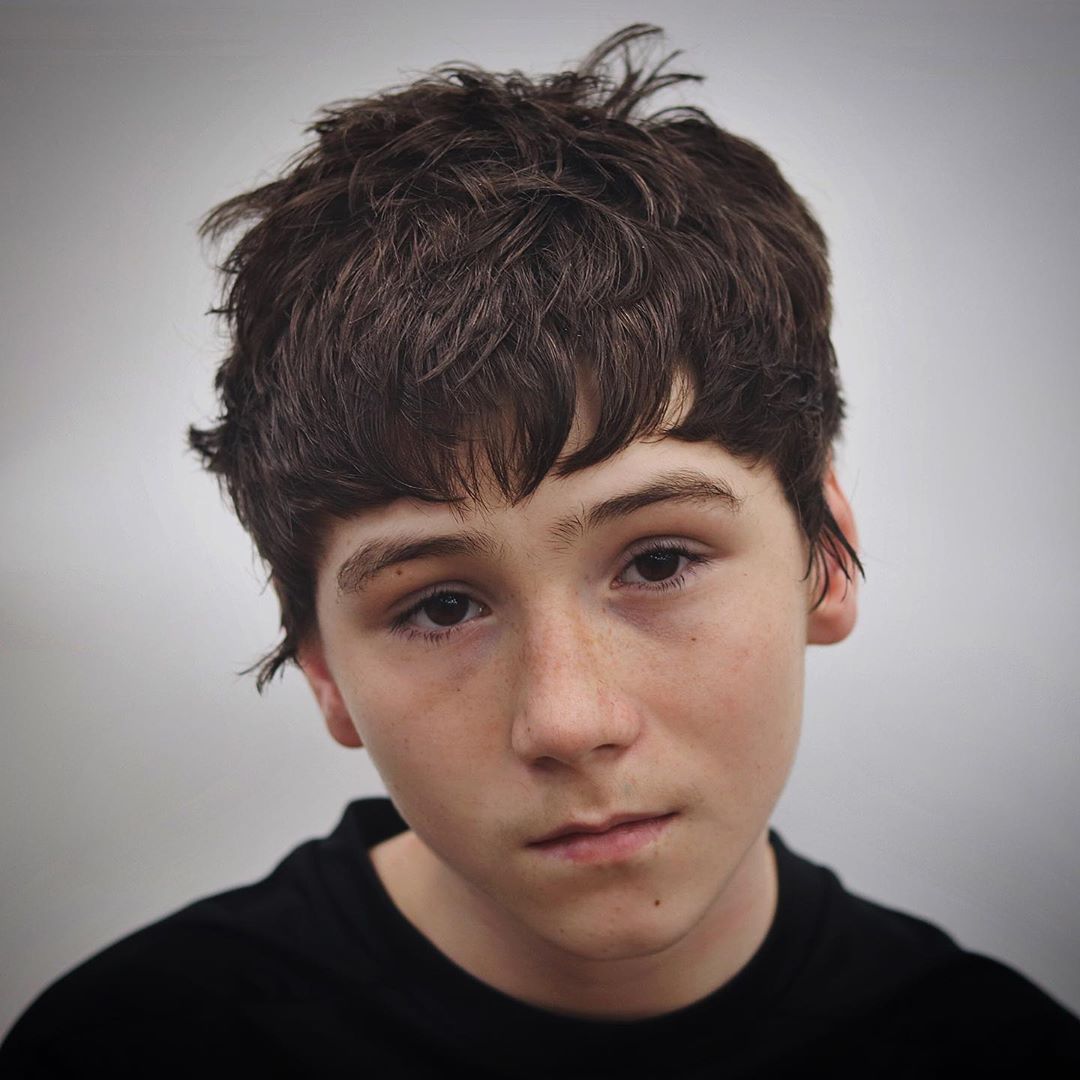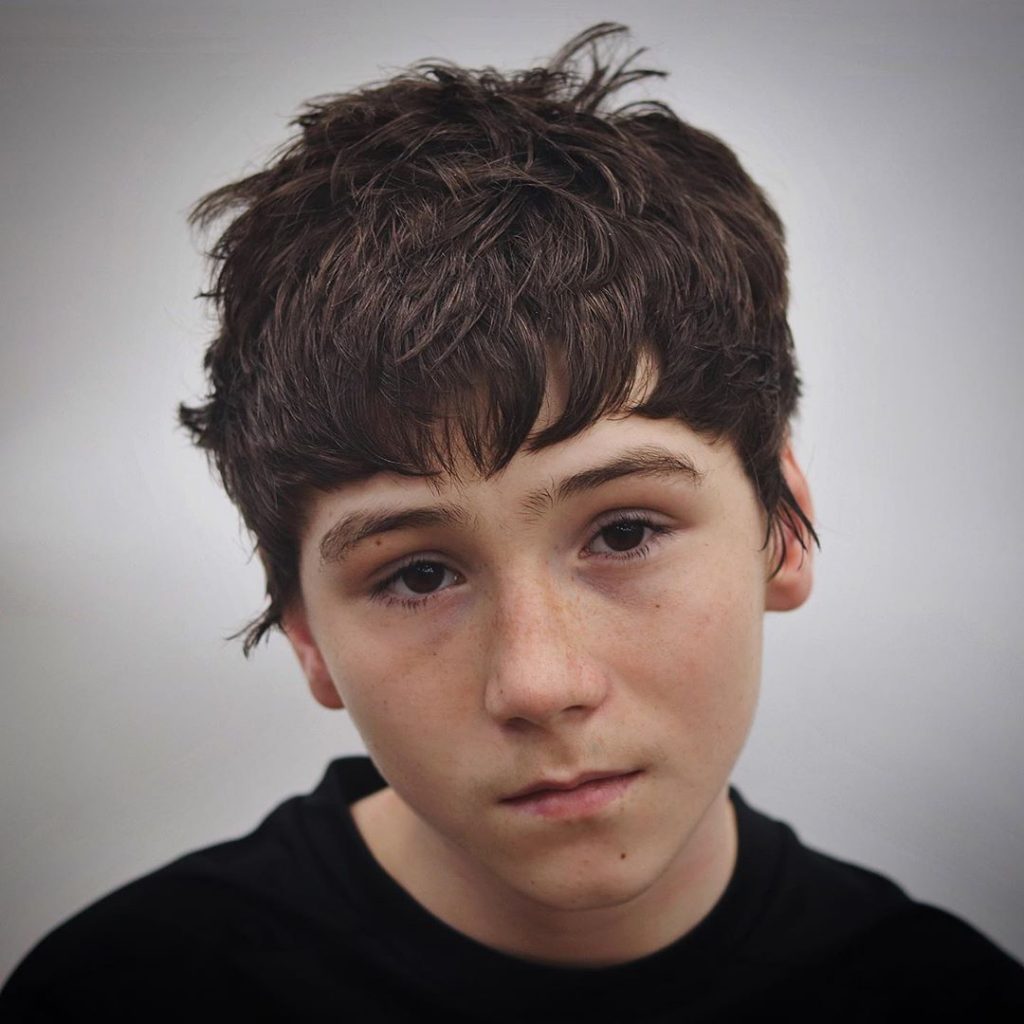 Chunky texture adds some cool factor to this cute medium length hairstyle for boys.
40. Cute Boy Hairstyles For Longer Hair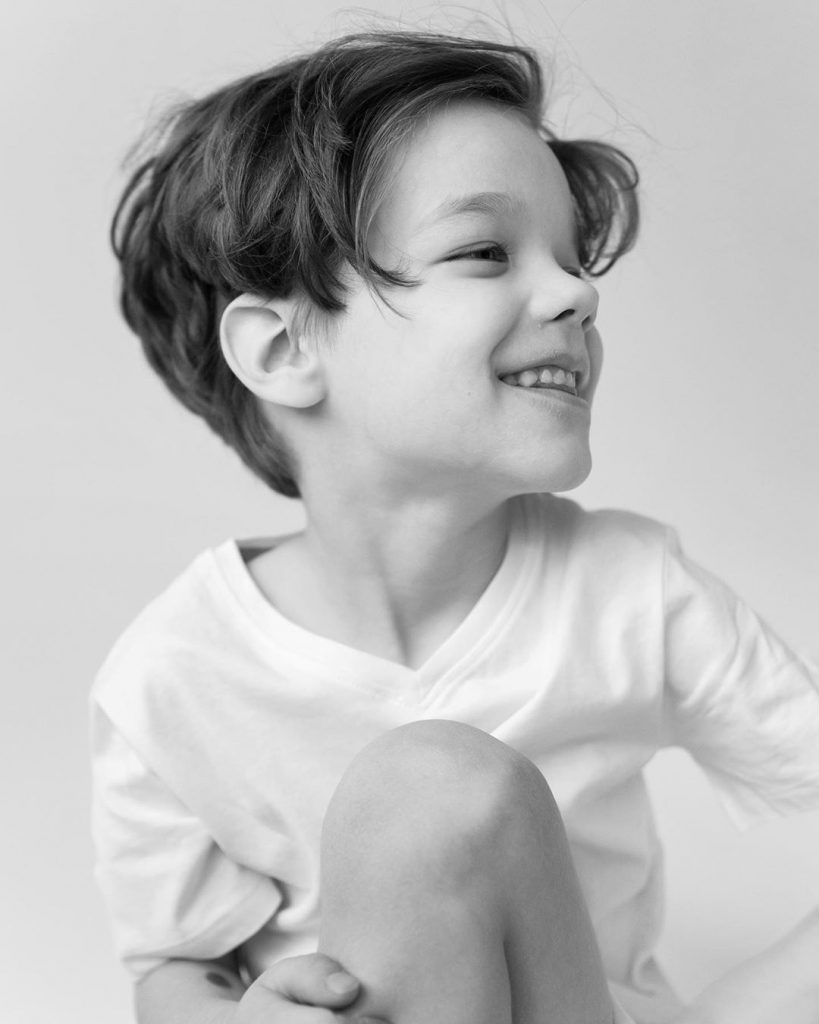 Childhood is the time of your life with the healthiest hair and skin so celebrate it with some length.
41. Very Short Textured Boy's Haircuts + High Fade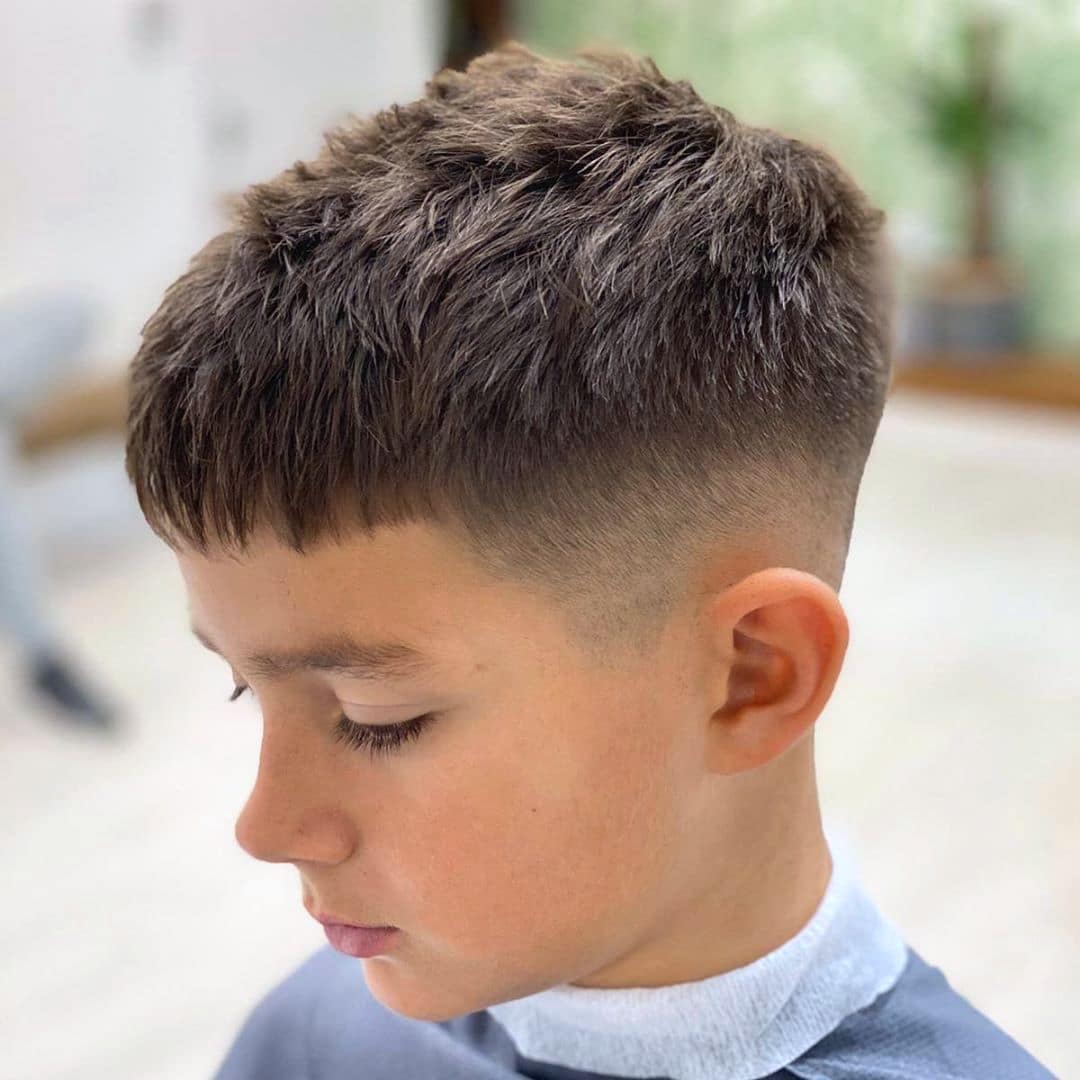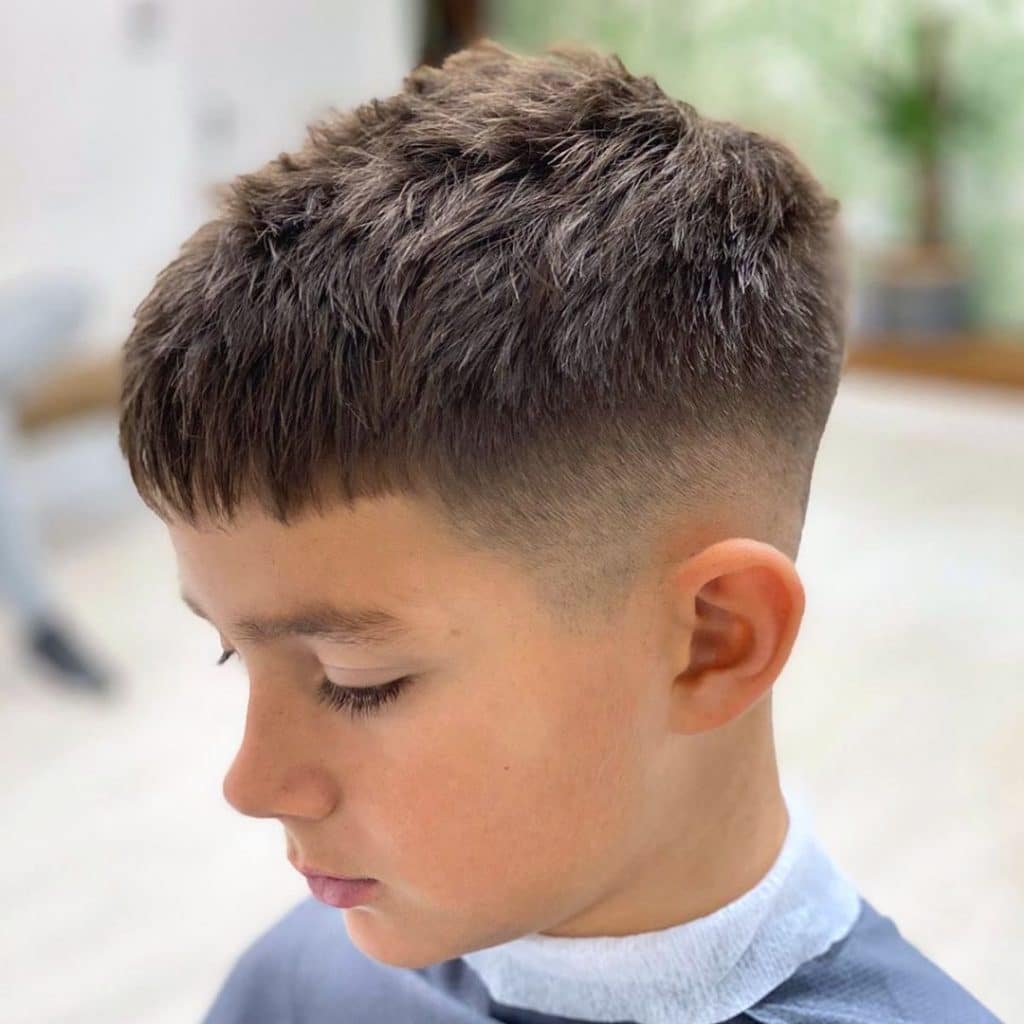 This is a great looking short crop haircut for boys with a mid to high skin fade.
42. Buzzcut + Bald Fade Haircut For Boys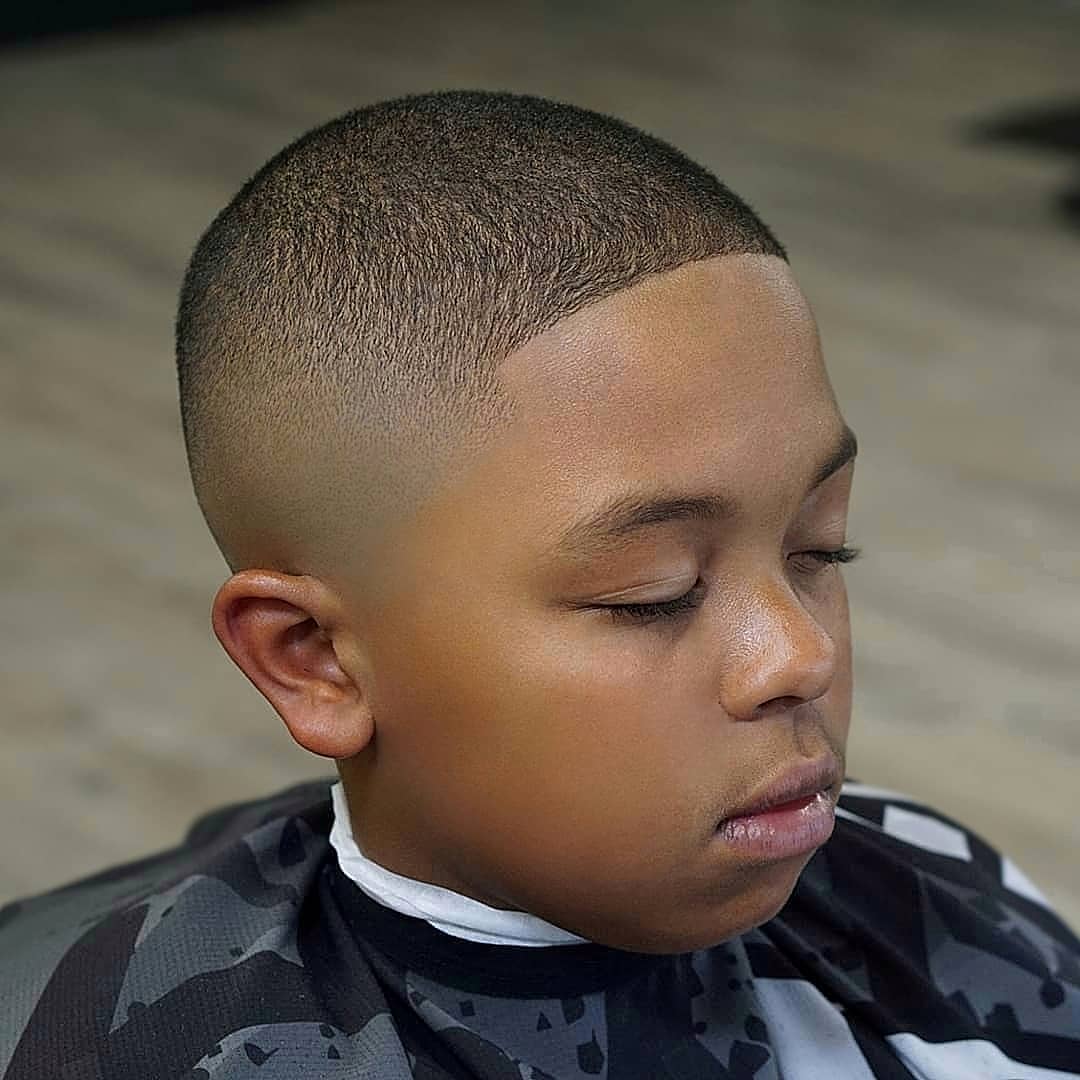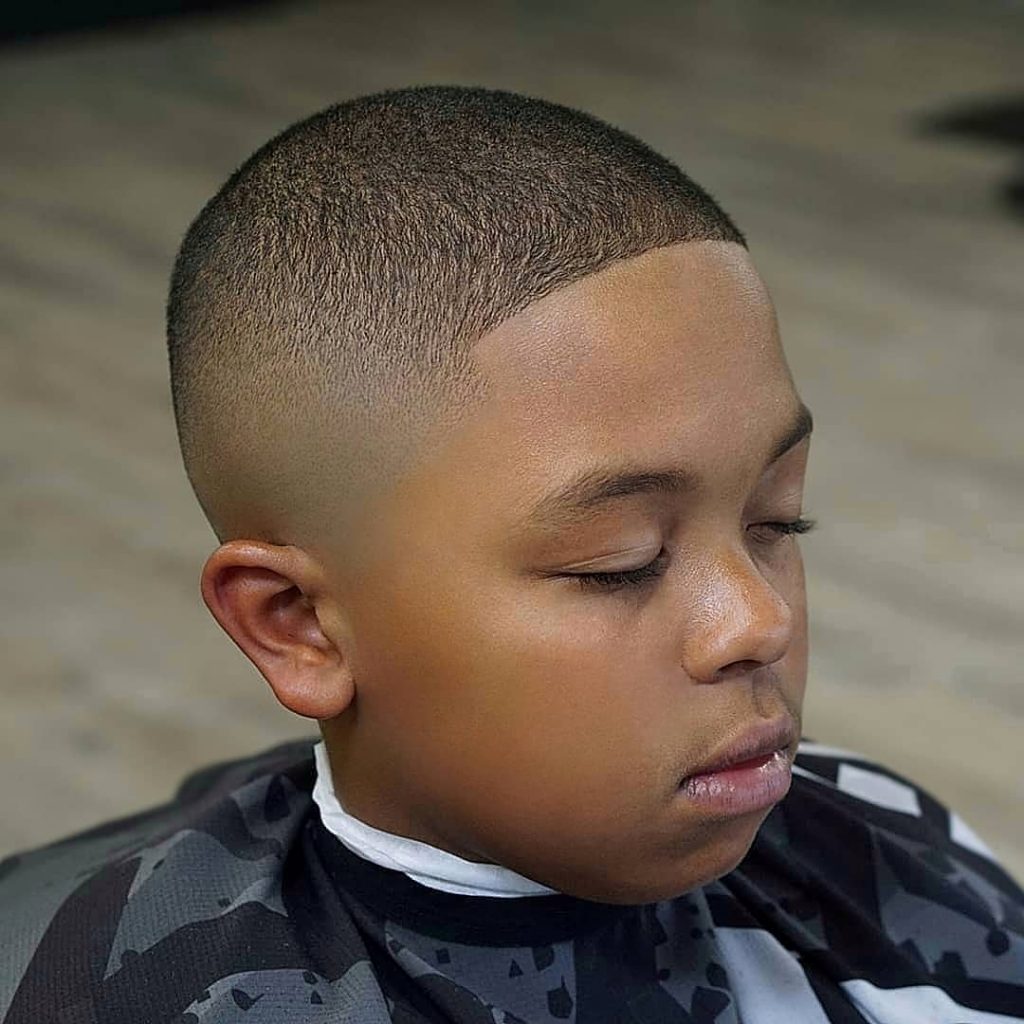 After growing hair out, it's a delight to expose see your little one's beautiful eyes and chubby cheeks. This buzz cut is also so fun to rub.
43. Short Spiky Little Boy Haircuts With High Fade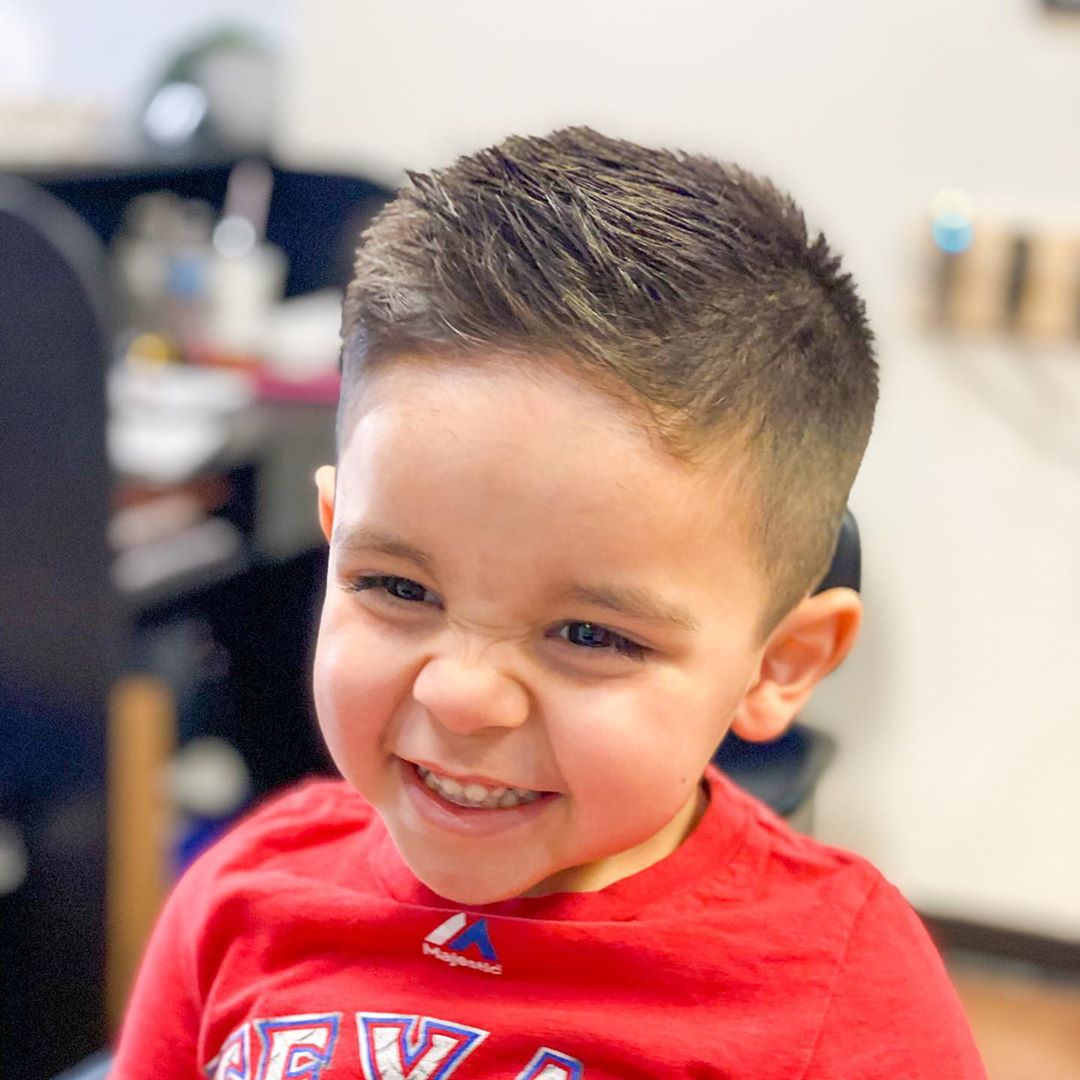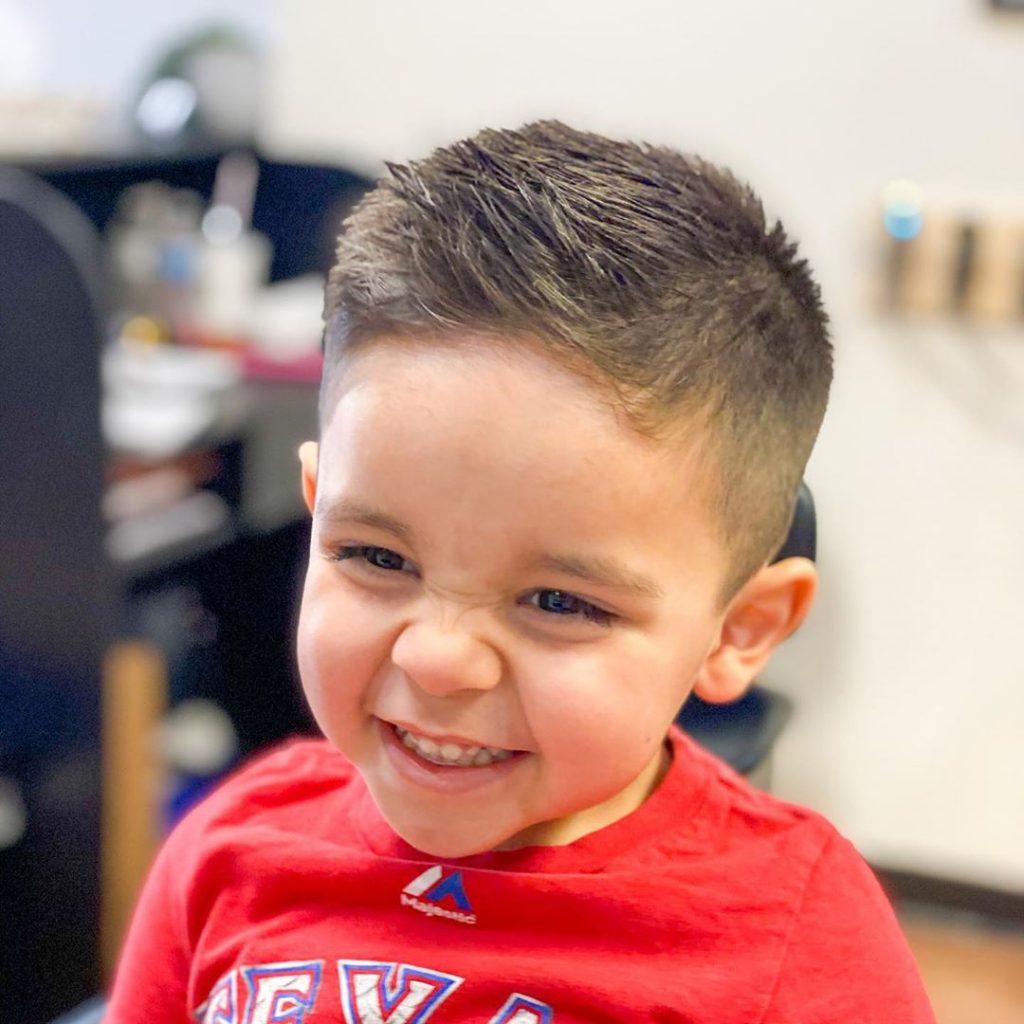 Here's another example of revealing those lovely little boy features with a short haircut.
44. Boy's Faux Hawk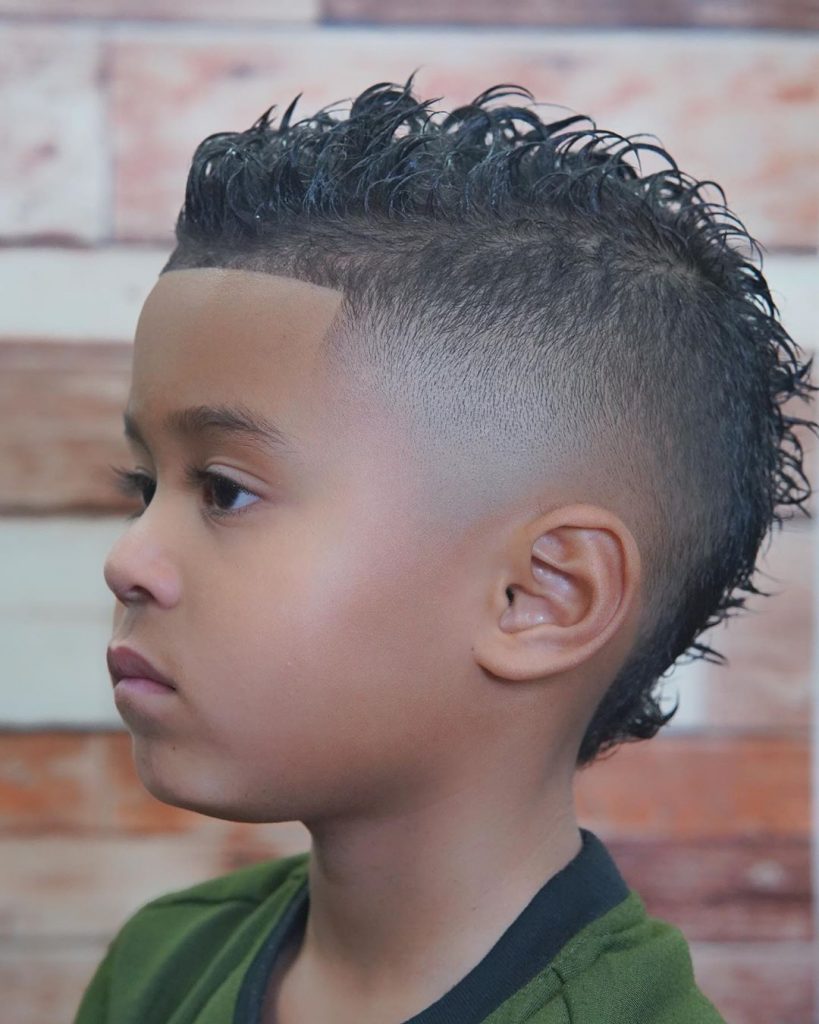 If hair isn't long enough for a mohawk, try this cool short faux hawk that starts off wide at the hairline and tapers into a V at the neckline.
45. Boy's Haircuts For Long Wavy Hair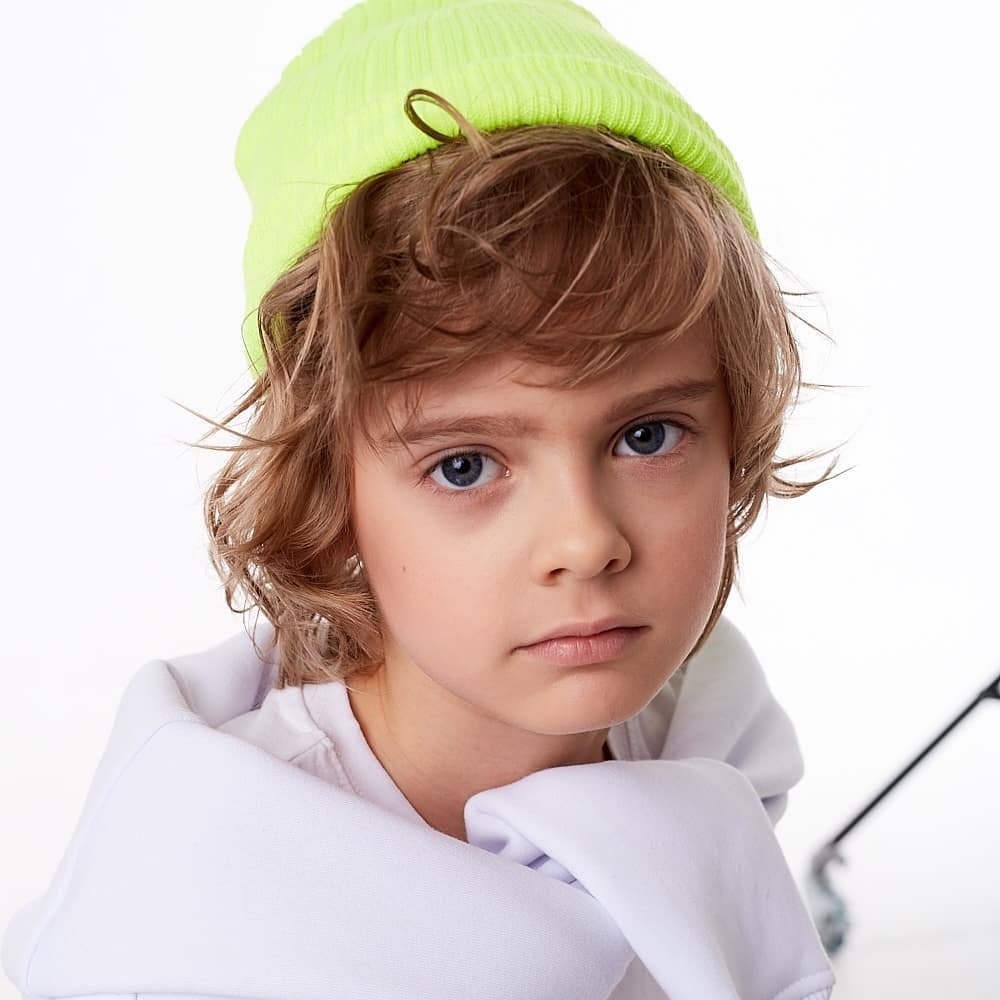 In addition to being popular with the really big kids, longer hair on boys is a huge trend. Keep fringe short enough to see and try a hat or beanie as well as a boy bun to keep hair under control.
46. Boy's Shaggy Haircut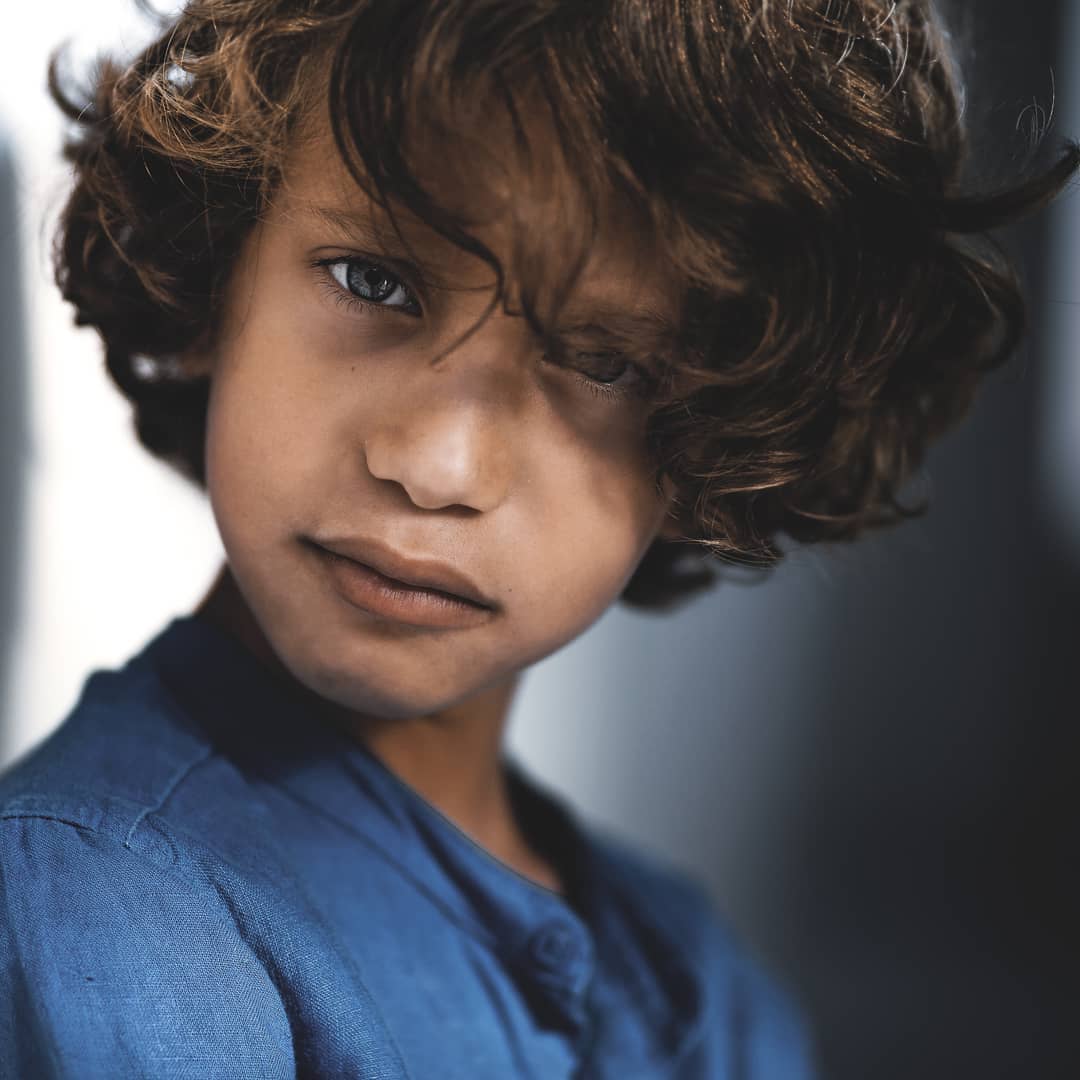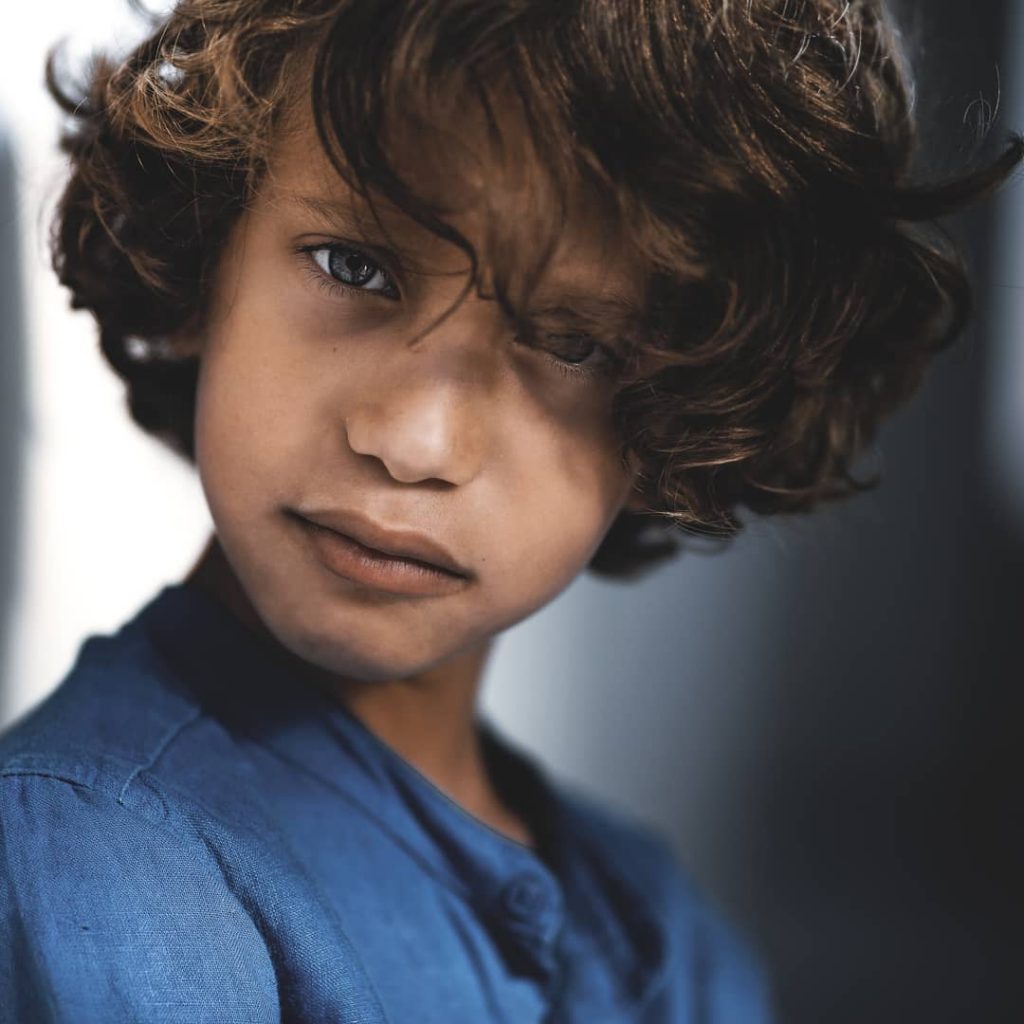 Curls at the end of medium hair and a hint of a part make this a modern version of the classic bowl cut.
47. Curly Mohawk Haircut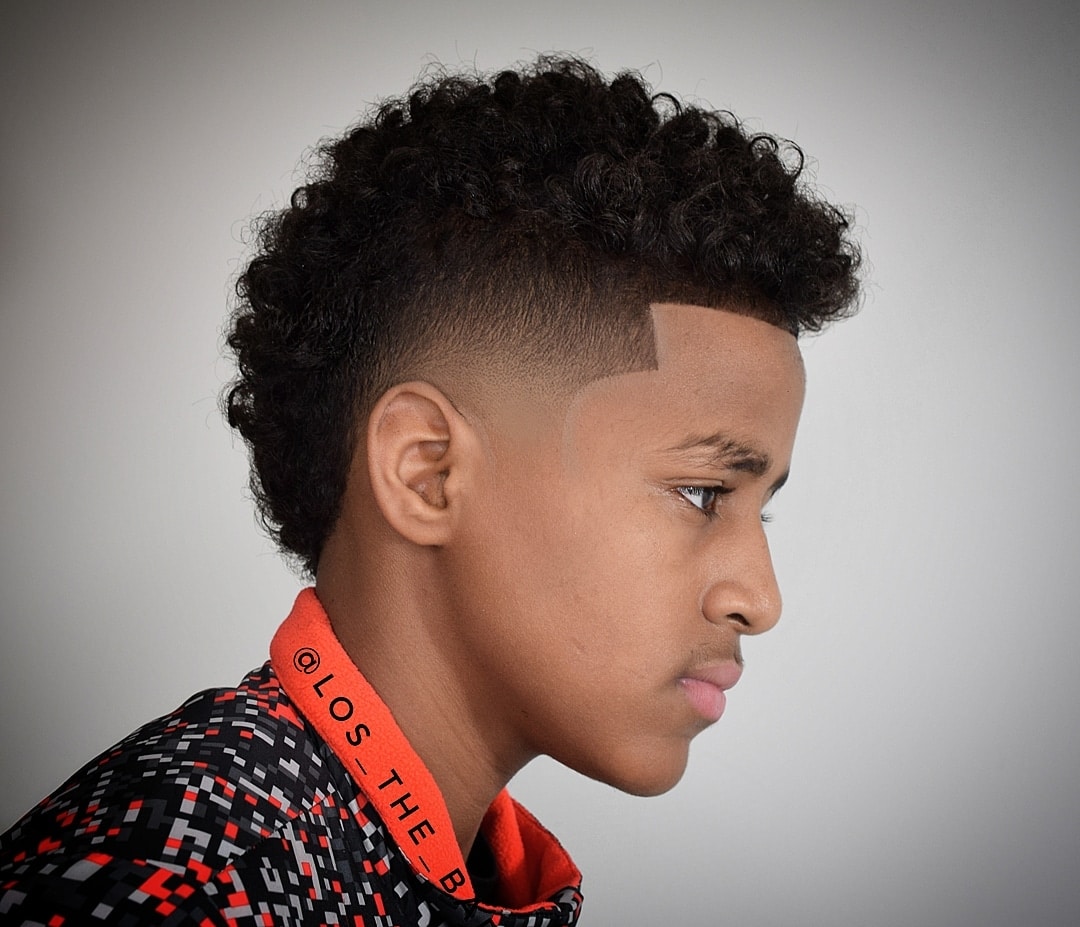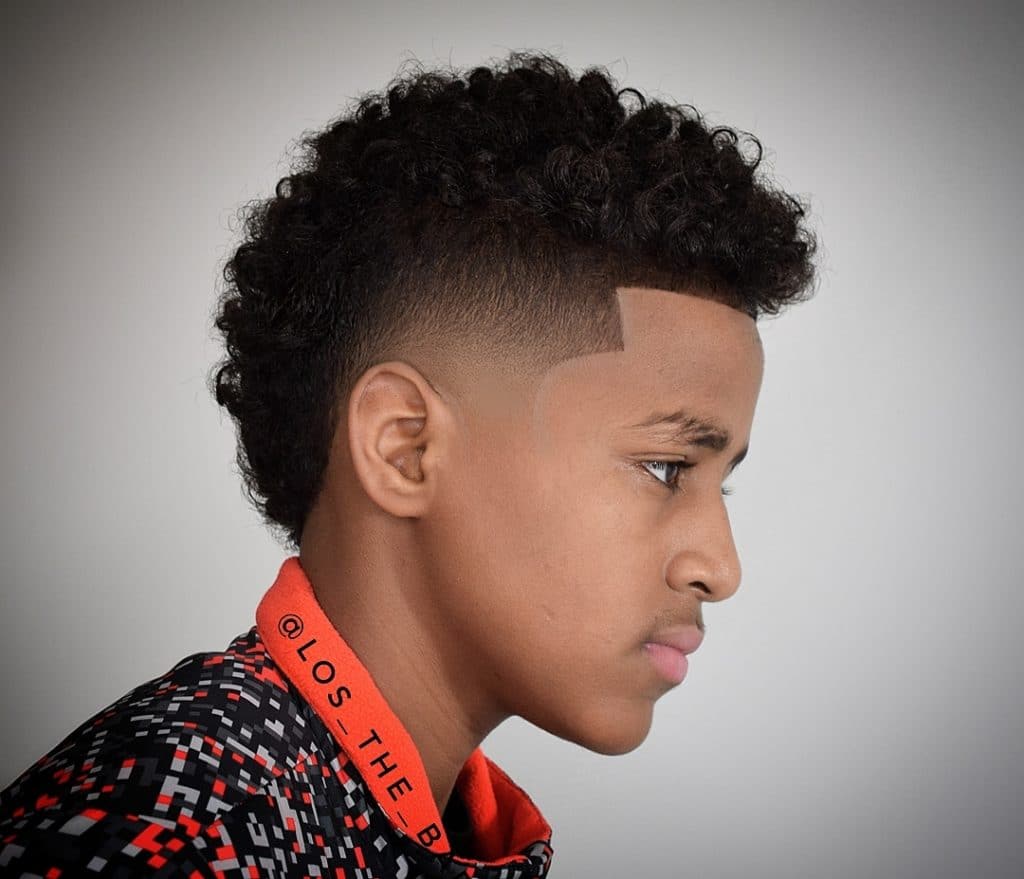 Curls bring height while a burst fade gives that mohawk shape. It's a cool and fun cut for boys with curly hair.
48. Boy's Mohawk Haircut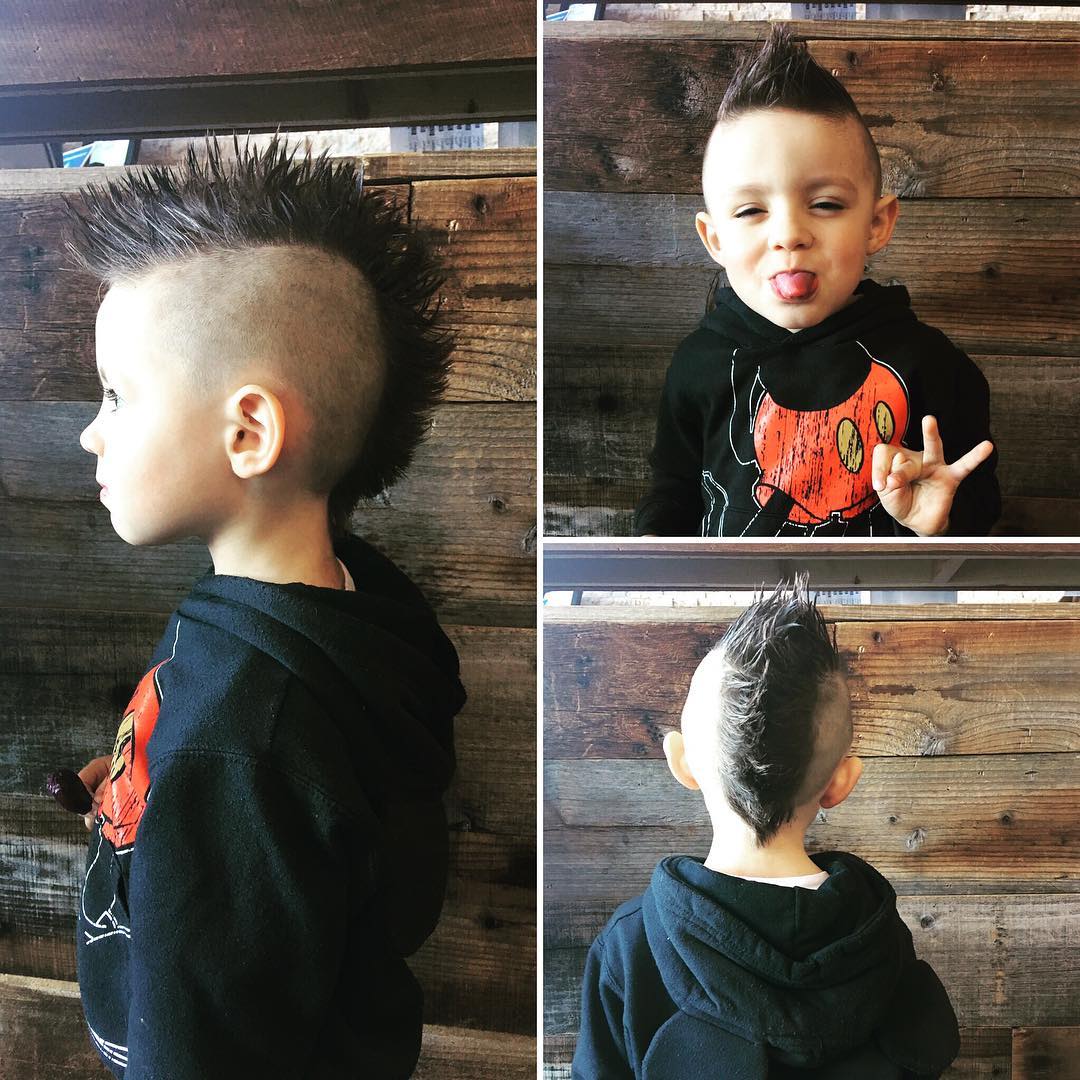 This boy has the attitude for this mohawk hairstyle. Try a hair gel to spike hair up but the mohawk looks cool down too.
49. Cute Hairstyles For Preschool Boys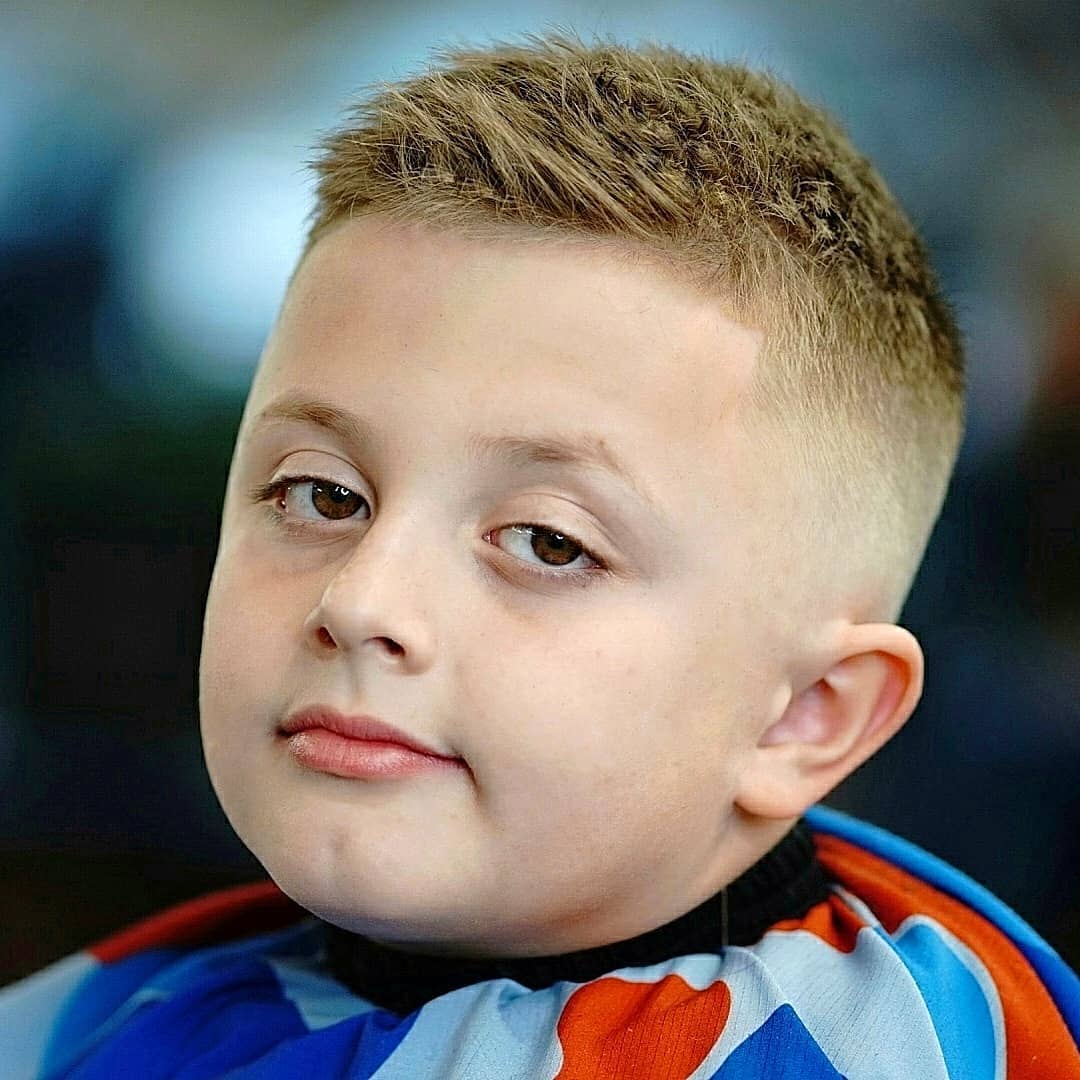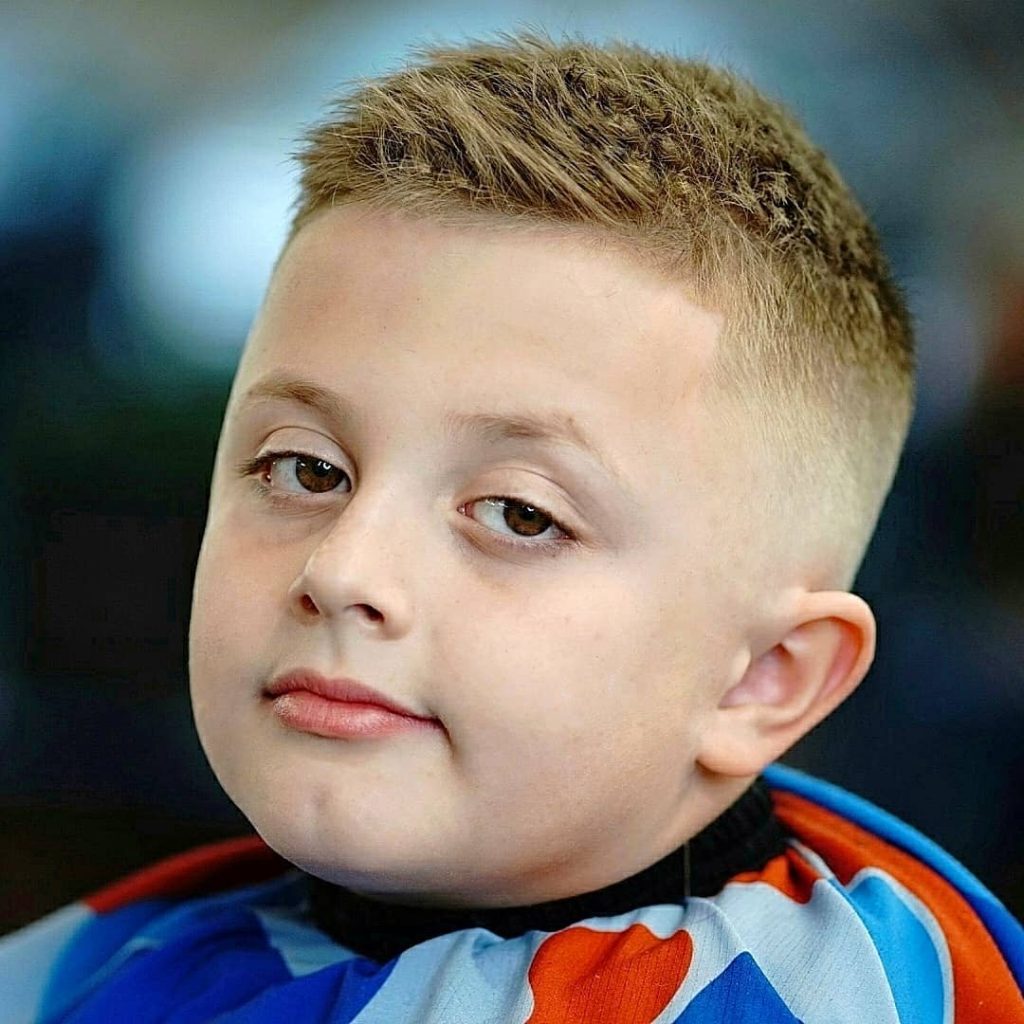 A big boy haircut to start preschool right.
50. Curly Haircuts For Boys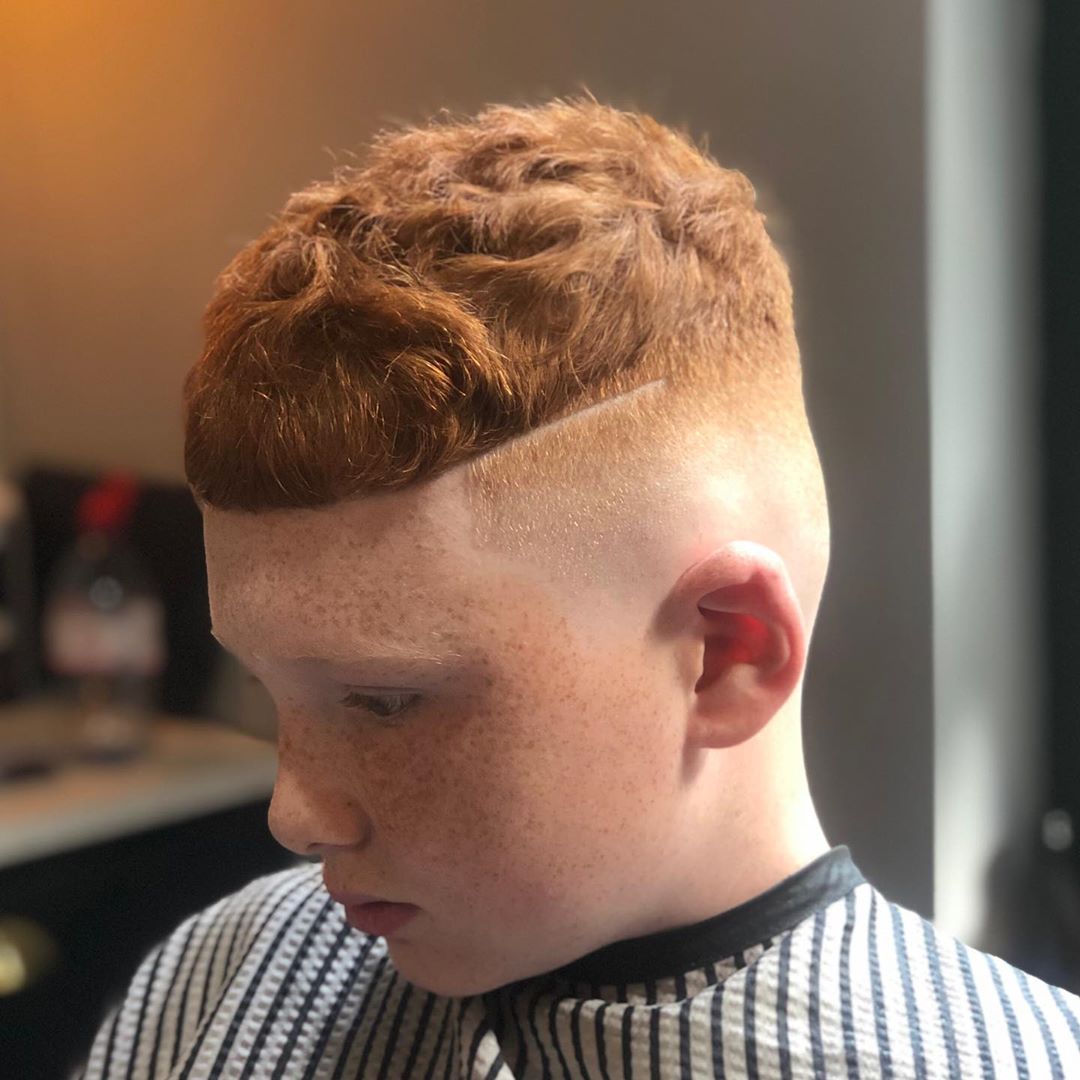 Here's that trendy French crop fade with texture from curly hair. One of the most trendy boy's haircuts of the past few years.
51. African-American Boy's Haircuts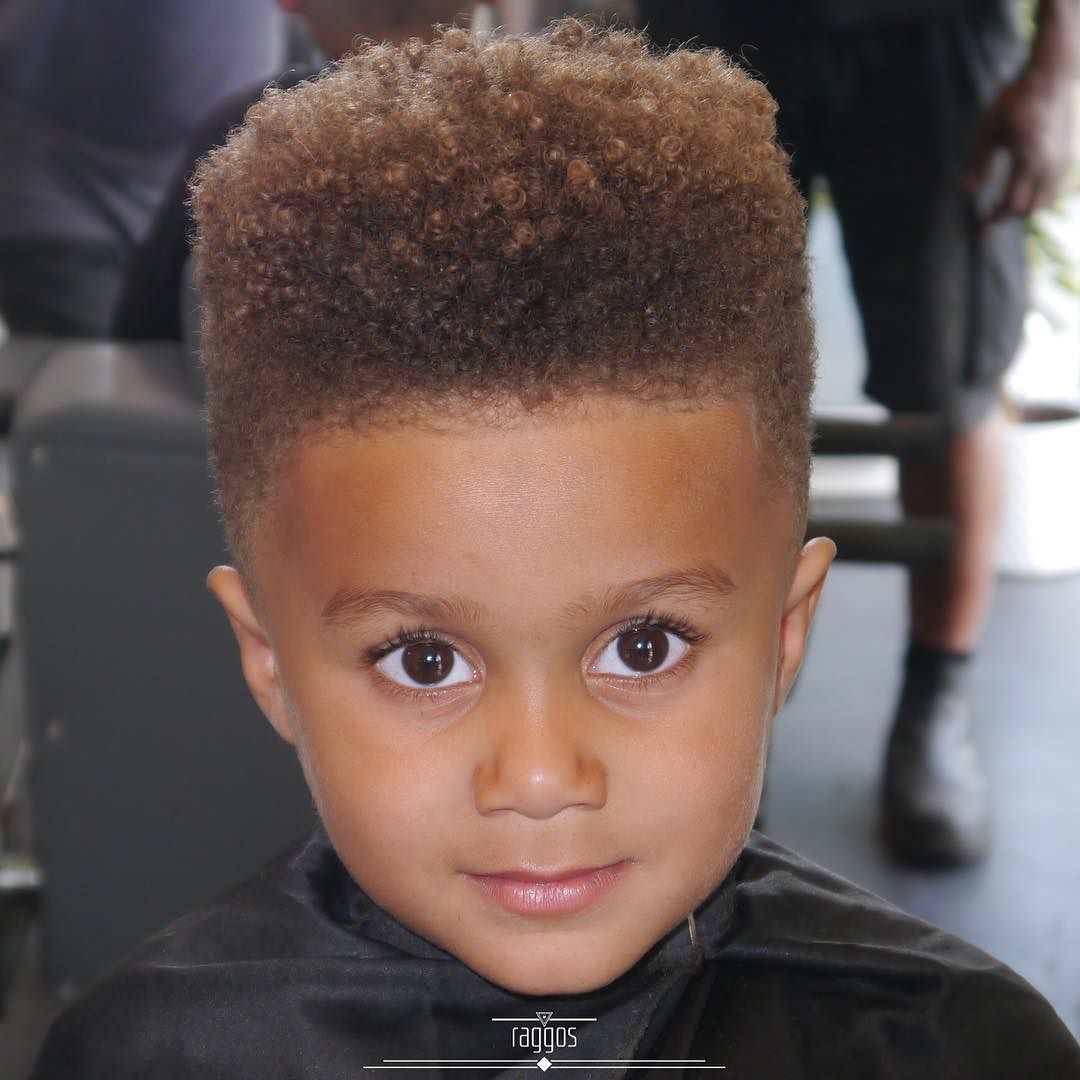 This high top fade is on point for all ages but looks especially cool on a kid.
52. Boys Undercut + Hard Part + Slicked Comb Over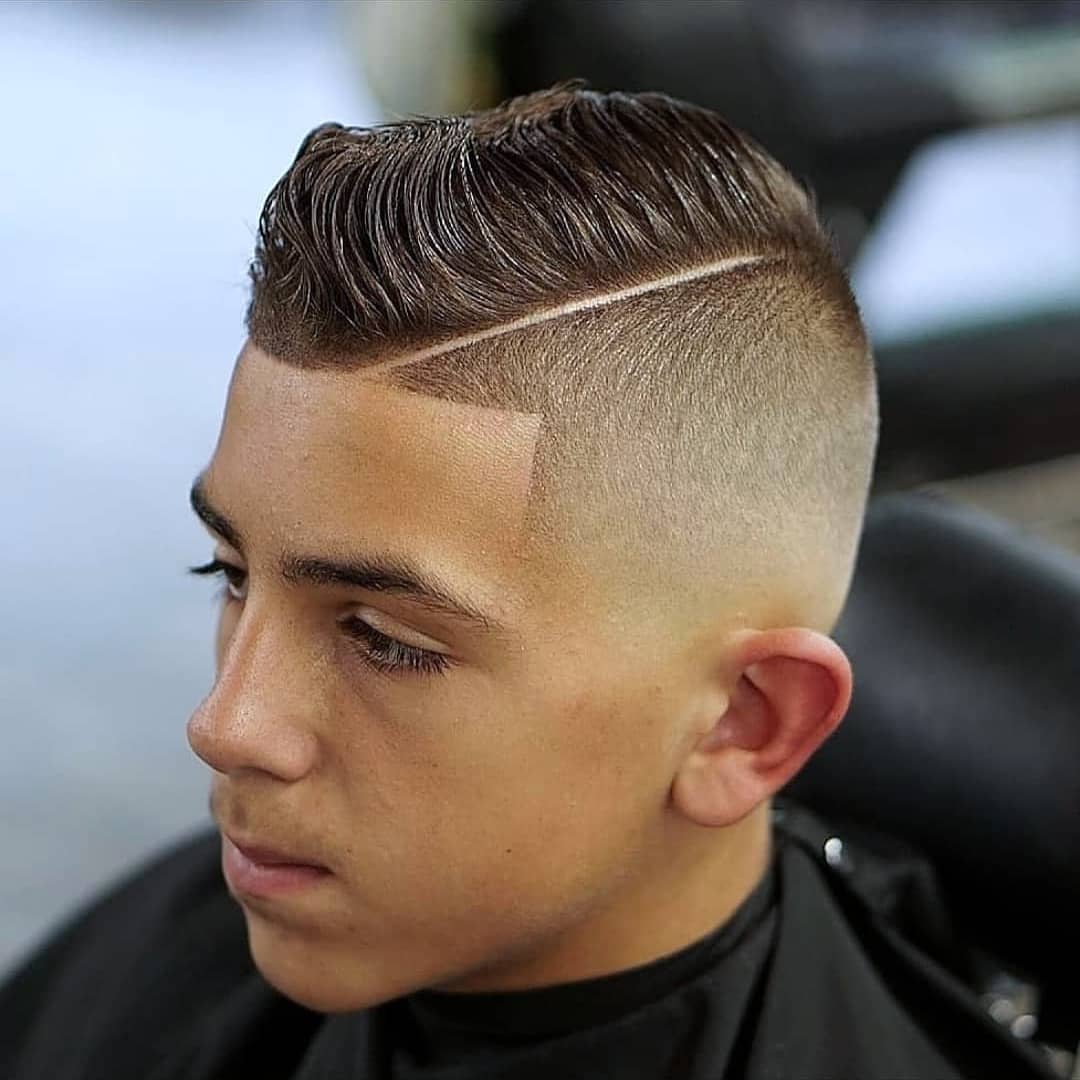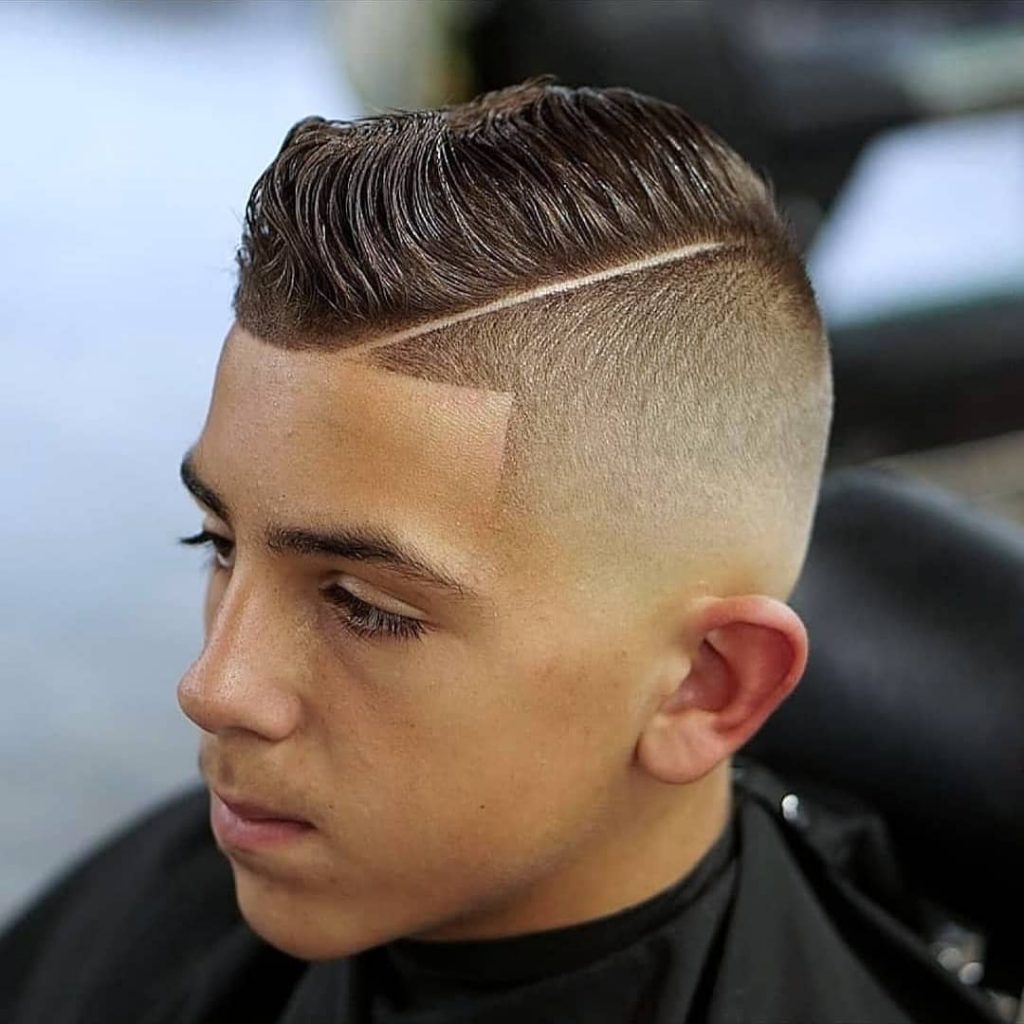 This stylish fellow is rocking a shaved undercut with combed over. This cut can also be styling into a slick back, combover, spikes or worn down.
53. Skater Boy Hair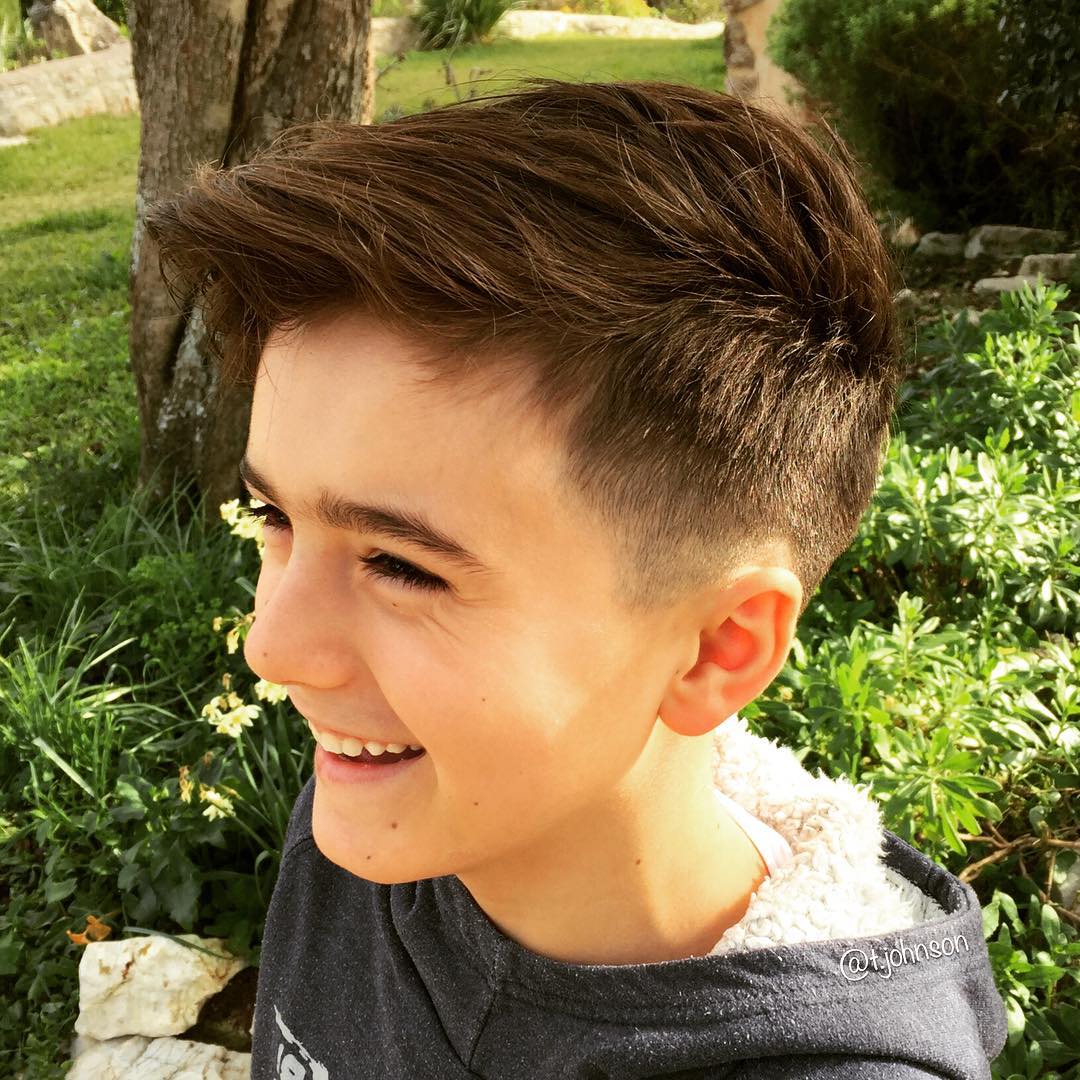 That long side-swept fringe is the signature of skater boy hair. One of our favorite boy's haircuts.
54. Soccer Haircuts for Boys
This undercut fade – side part – comb over hairstyle has been a favorite with soccer players because it looks great, even during a game. Grown-up haircuts can have the opposite effect and make kids look their age by revealing their youthful features.
55. Trendy Hairstyles for Boys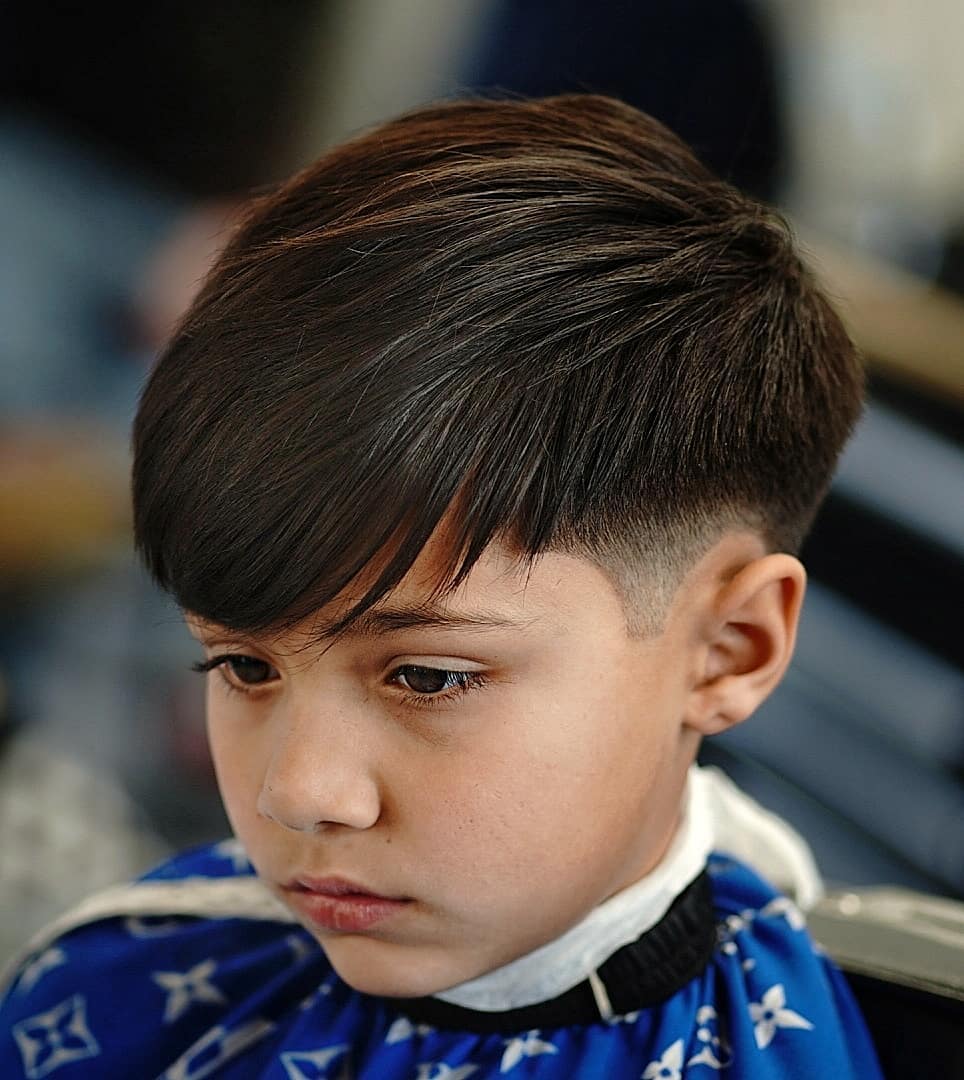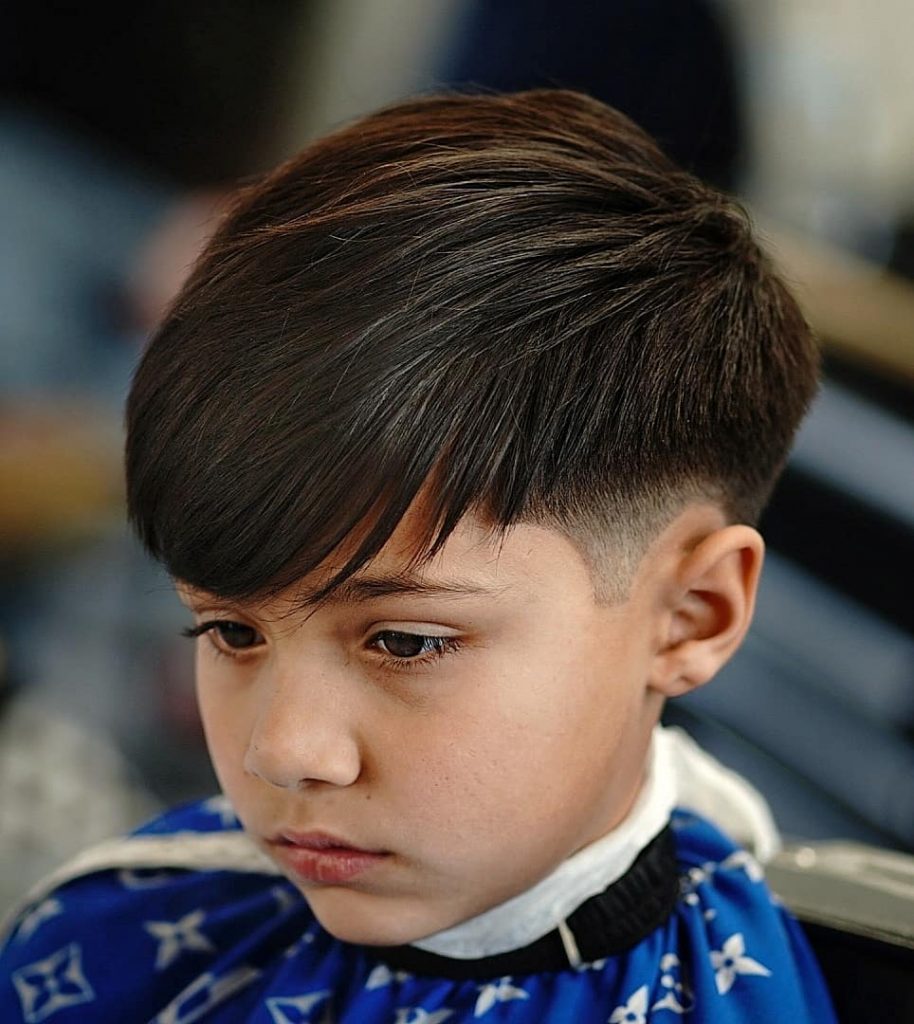 We'll leave you with an on-trend look that is adorable for boys too. This is a heavy French crop with lots of length and weight in the fringe. Sides aren't too short and have a taper fade for clean ages. It's the ultimate balance of cute and cool.
So there you have it, 55 boy's haircuts that are on trend this year and look great.
For more ideas, check out this article showing the best haircuts for teen boys.
We use affiliate links and may receive a small commission on purchases. Please read our disclosure.