The planets have aligned to bring back one of the greatest hair men's hair trends of all time – the permed mullet. Nineties hair is back, along with the perm. Lots of guys are rocking long hair and cleaning it up with a mullet haircut. Combine the two and you have a mullet with a perm.
In addition to the golden age of the 80s and 90s, the mullet haircut has been associated with baseball, country music, and rednecks. More recently, the mullet has been popular with K-pop bands, work-at-home guys who only need to show business at the front, and ironic hair lovers everywhere.
Whether your mullet is serious or just for fun, take it to the next level with a perm to add texture from surfer waves to tight ringlet curls.
All mullets follow the short "business" at the front, longer "party" back formula but there are two ways to wear the mullet perm. The first perms all hair, including the front. Or just perm longer hair at the back, keeping hair straight at the front.
Check out these 20 retro and fresh ways to wear the permed mullet.
1. Mullet With Perm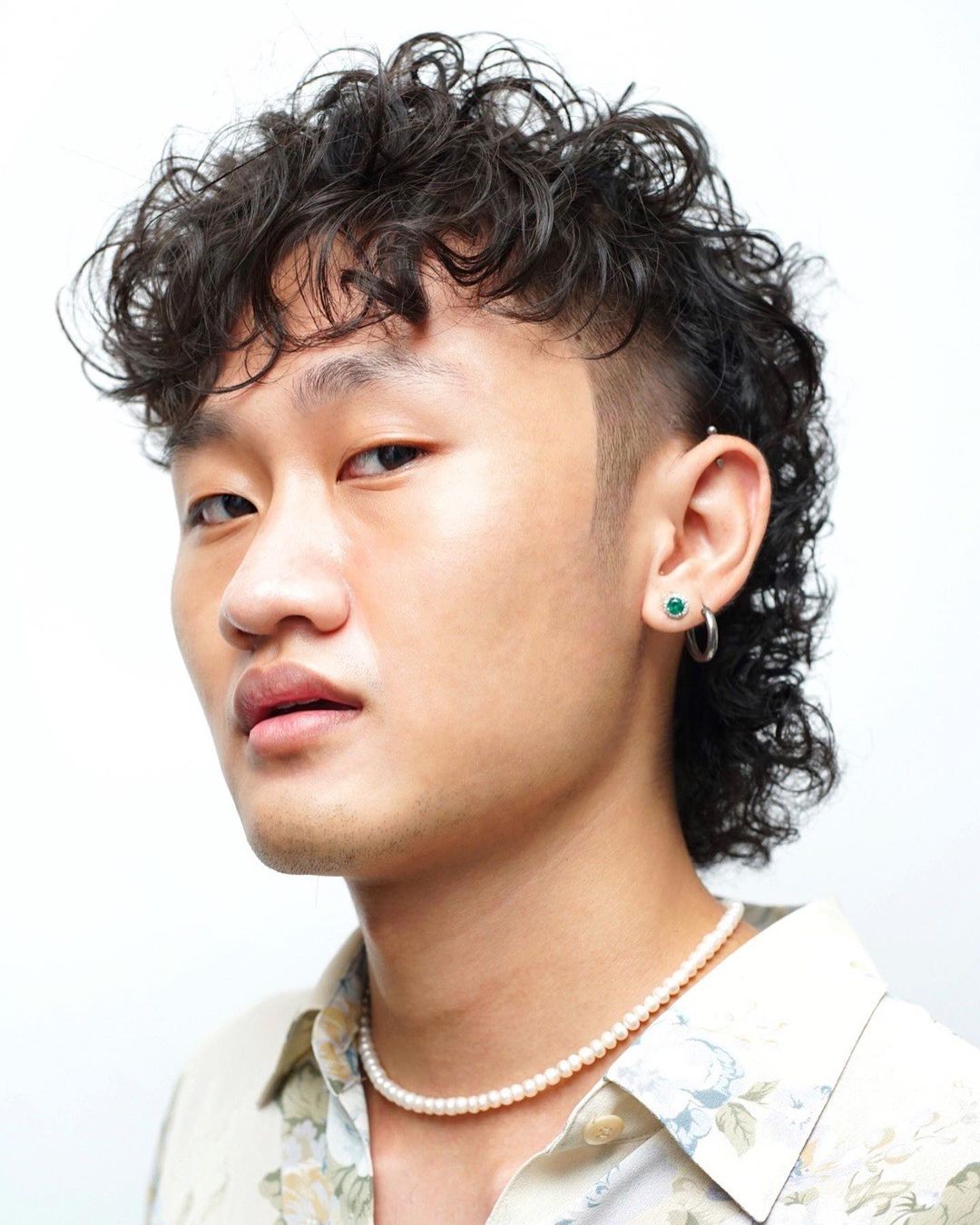 Perm-fection? We think so. The earrings and necklace complete the 90s look and feel. Hair is permed before it is cut because straight and curly hair have different requirements.
This cool cut contrasts a light layer of bangs with full curls at the neckline.
2. Long Permed Mullet + Faded Sides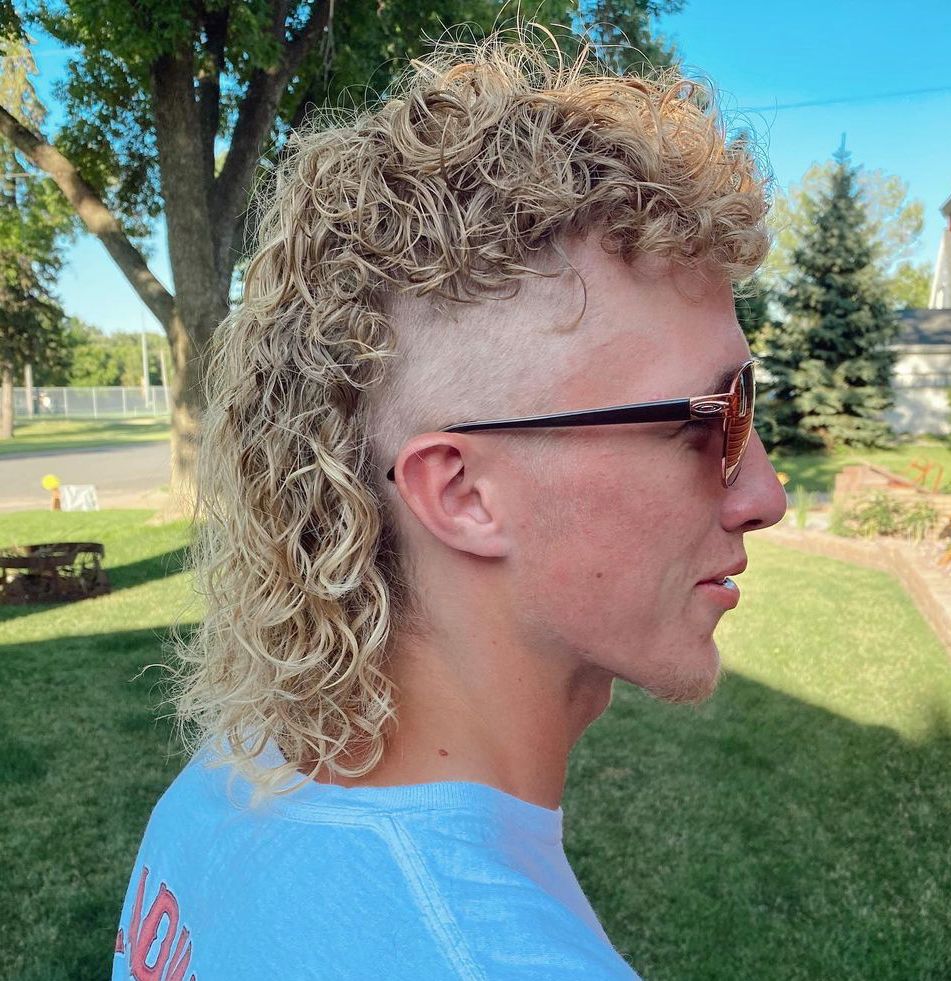 The most popular type of fade for a mullet is a temple fade but this cool look shaves off most of the sides, emphasizing permed curls.
3. Mullet + Fade + Line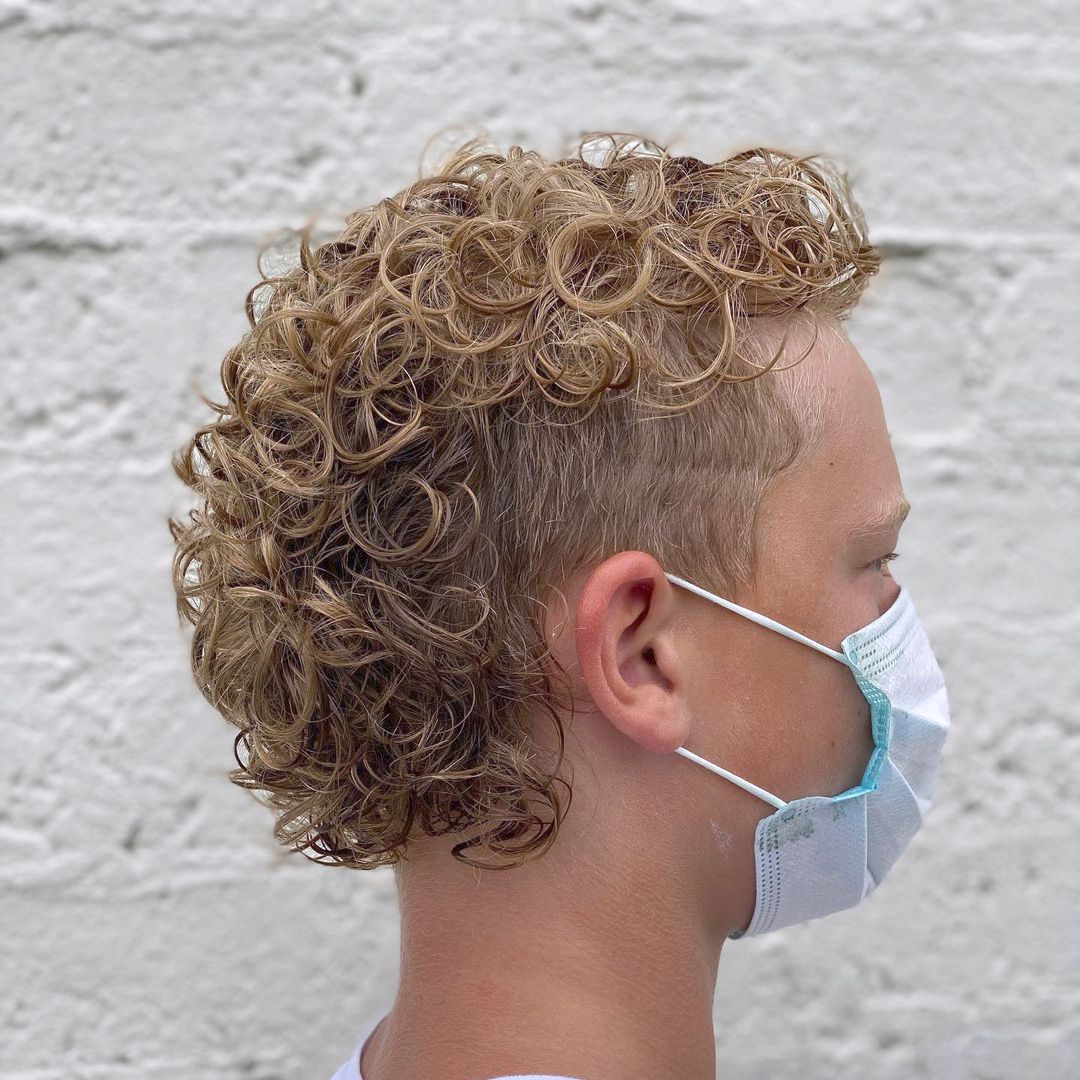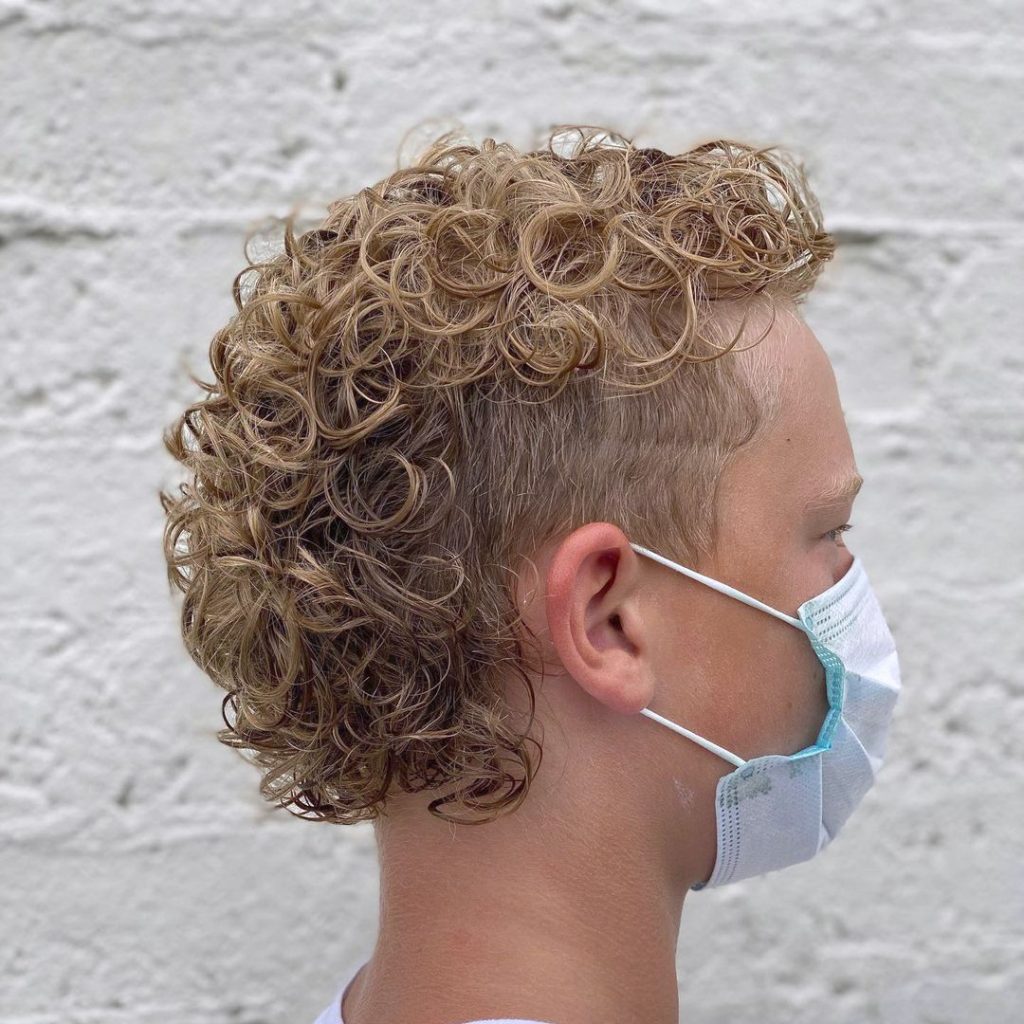 Curls make hair shorter so start with as much length as you can to get a curly mullet that begins to cover the neck.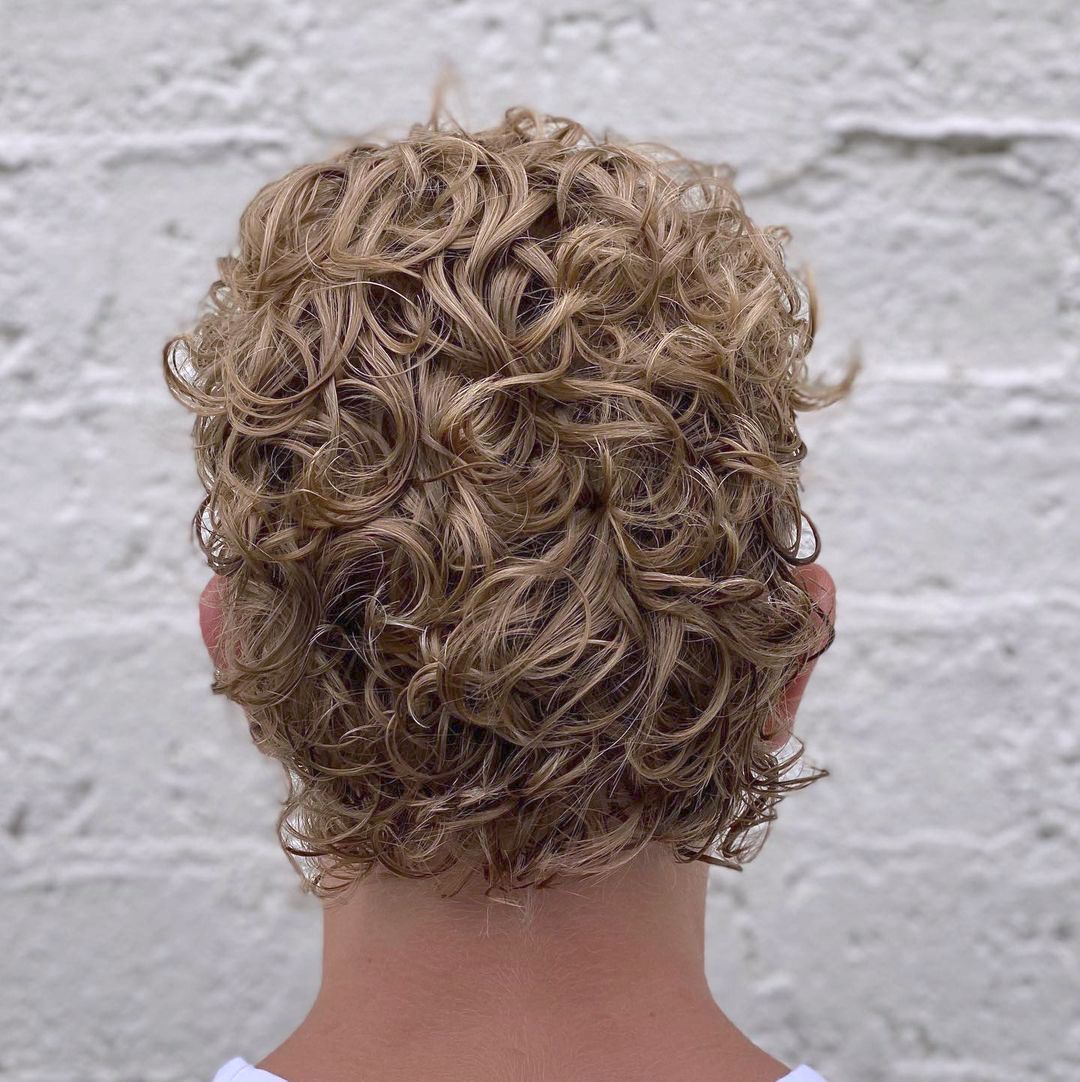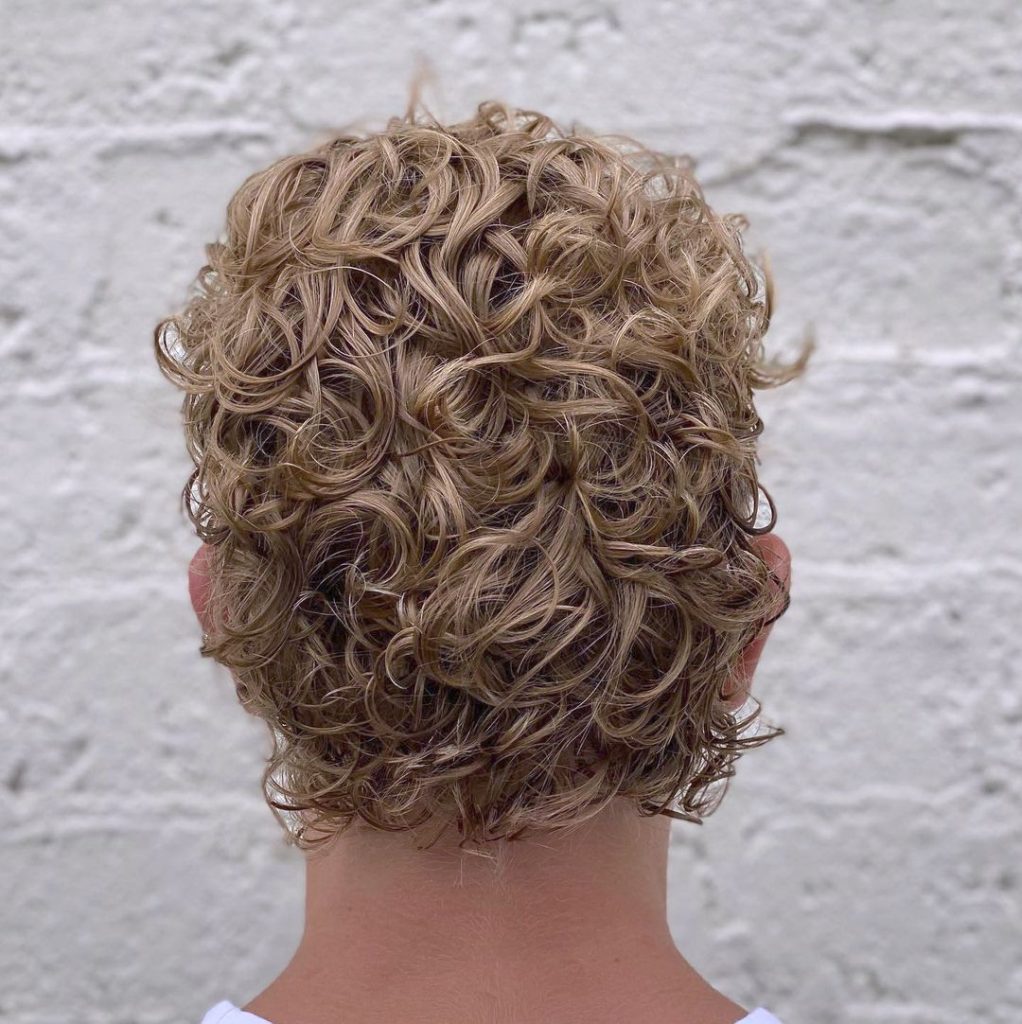 What does it look like from the back you ask? Boom.
4. Baseball Mullet + Beard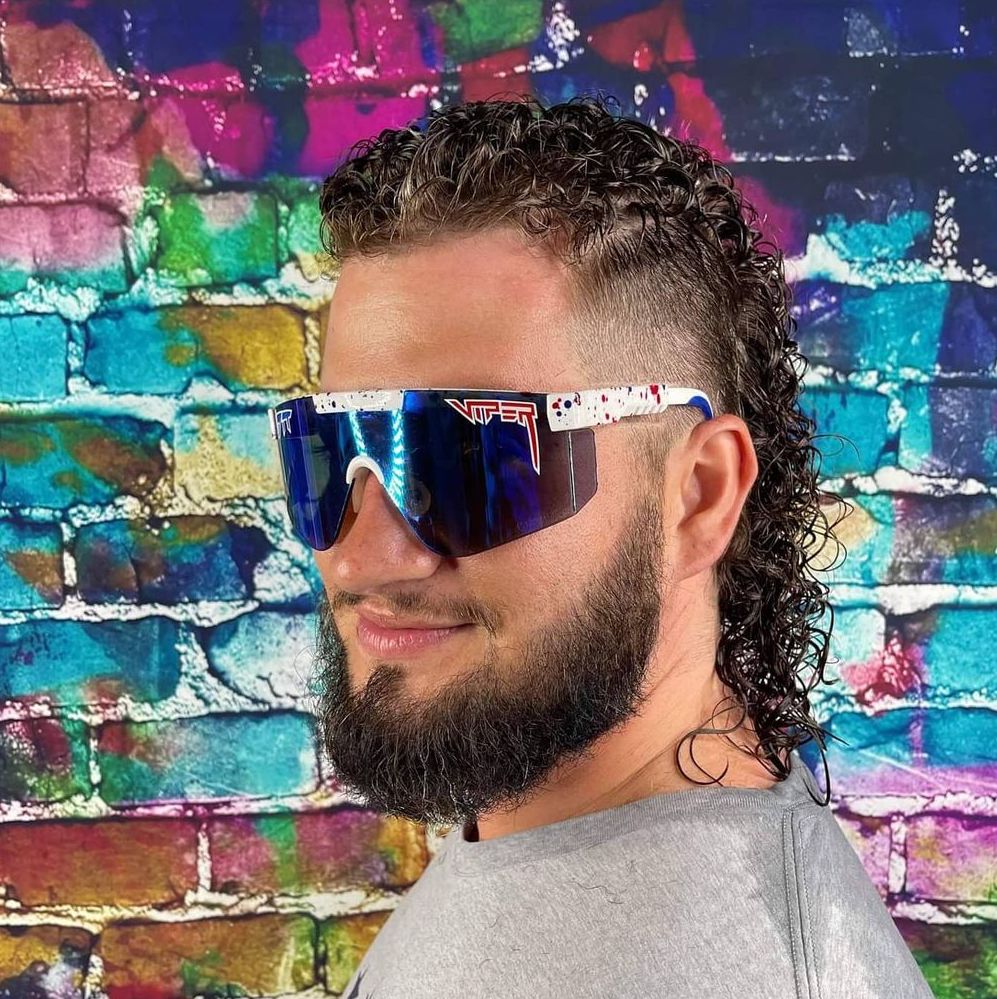 Channeling Eastbound and Down's Kenny Powers in his glory days, this dude clearly looks and feels good. Do you have to accessorize with Pit Viper sunglasses? No, but you might want to.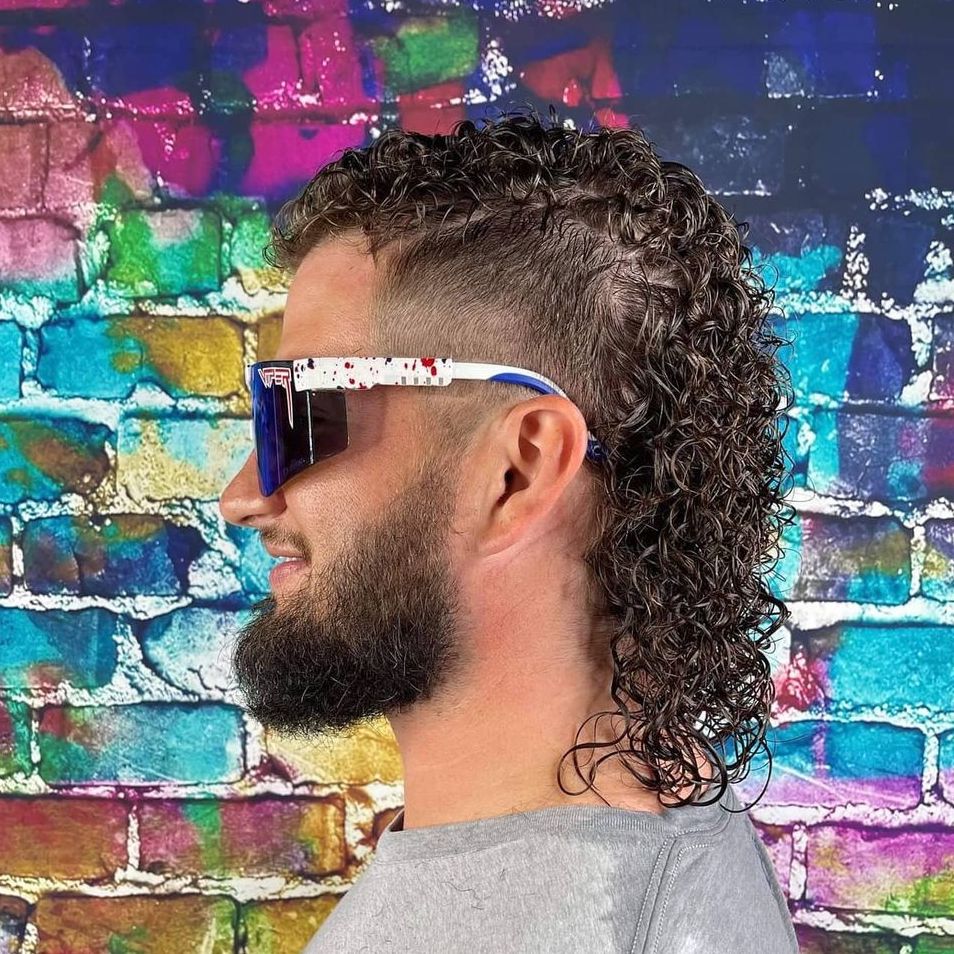 Now that is some beautiful flow. It will keep looking good as the perm fades into waves and starts growing out on top. For hot climates, a fade along the neckline keeps things cool without affecting length.
5. Mullet Hawk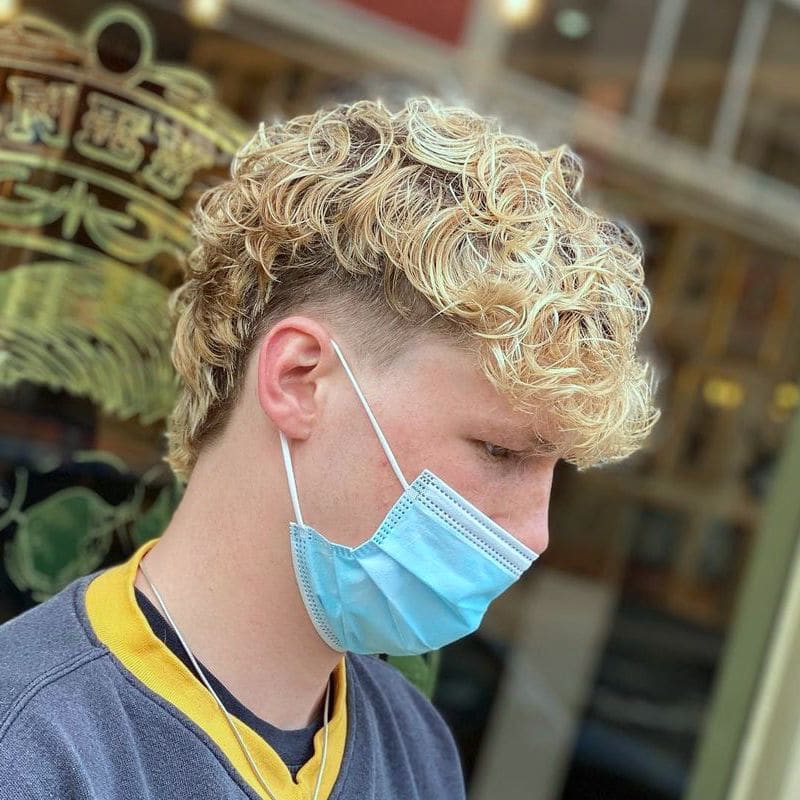 Curls cut into a V at the neckline pushes this haircut into the popular mullet-mohawk territory, trading spiky hair for curls.
6. Permed Mullet + Fade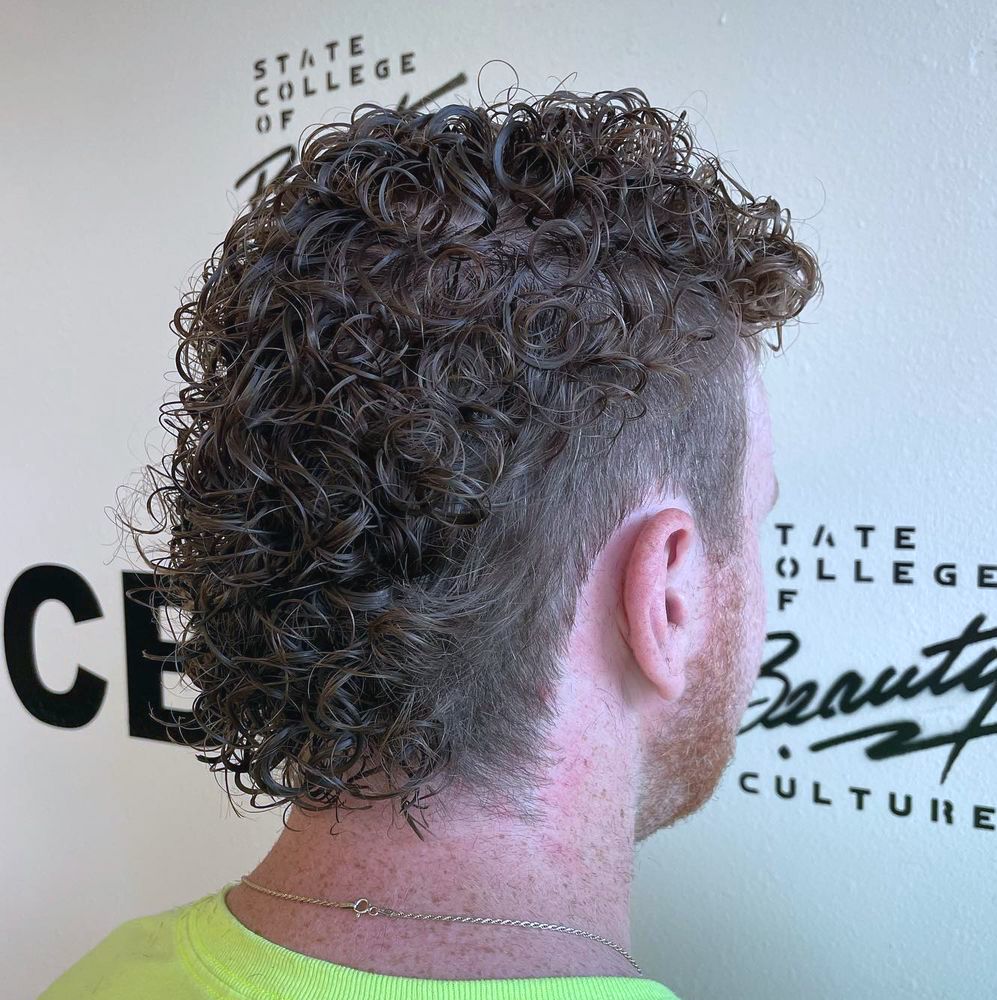 All of these mullets have a fade at the side but this one keeps that fade going all the way down to the neckline.
7. Slick Back + Mullet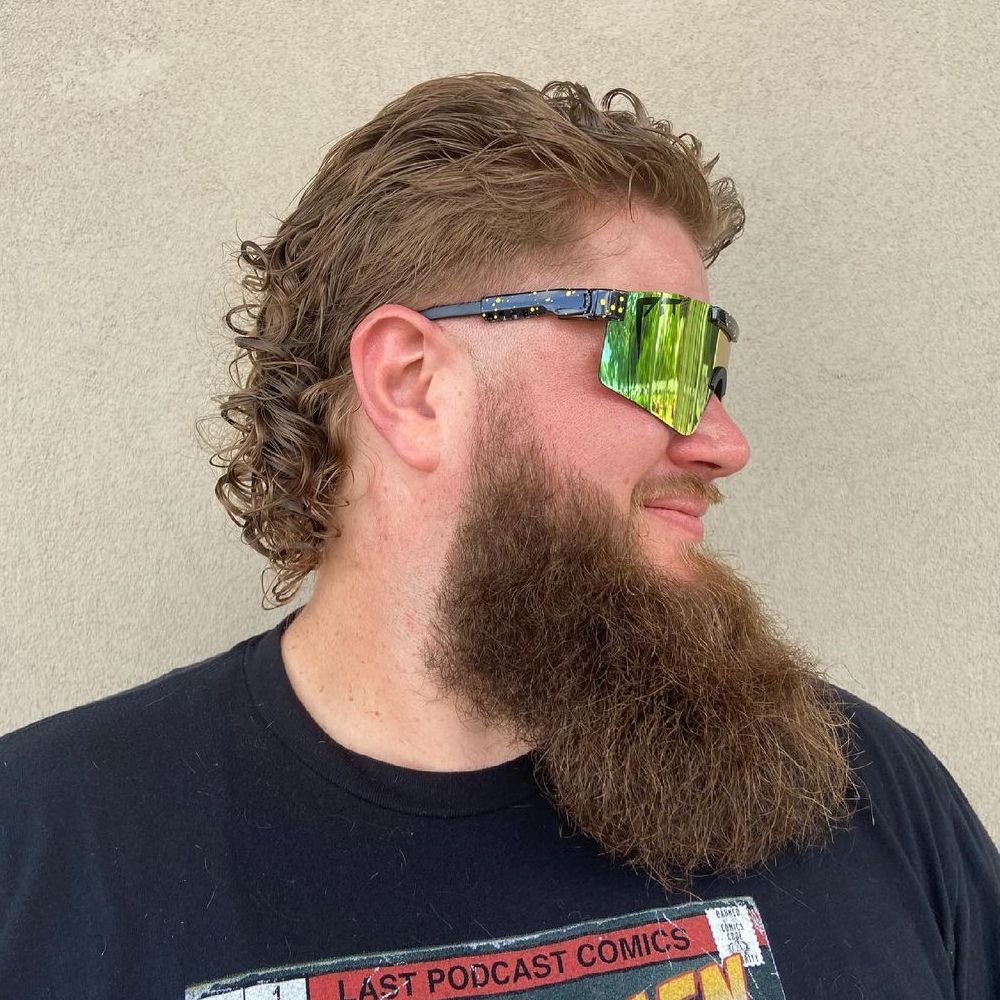 Longer hair at the front has a lighter perm than the back for a wavy slick back that blends with curls at the back.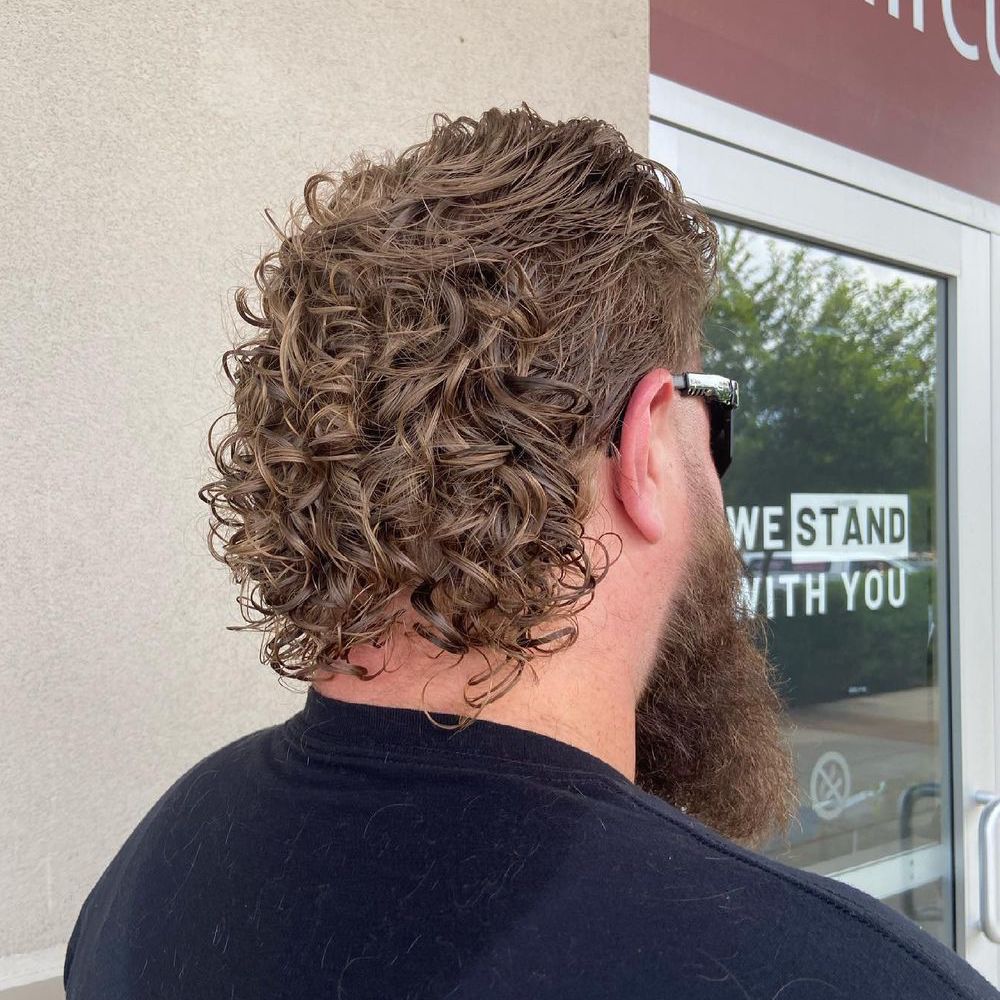 With a permed mullet and full beard, this gentleman has hair volume all over.
8. Long Mullet With A Perm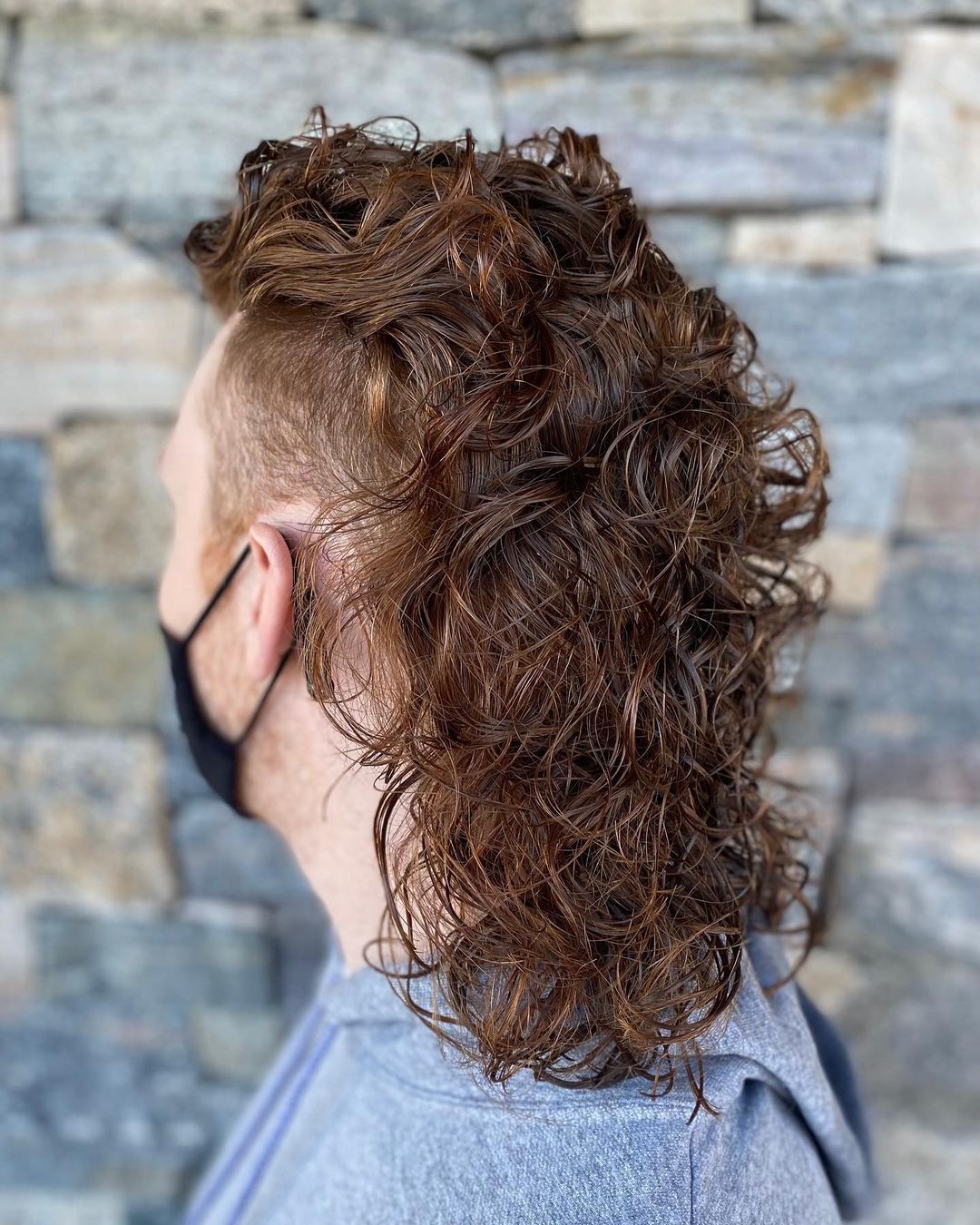 As far as we're considered, the longer the better. Tight sides make it easy to style. Work in a light product or curl cream to hold hair in place and you're good to go. For those really hot days, this would also look great tied back into a ponytail or up in a man bun.
9. Permed Mullet: Before + After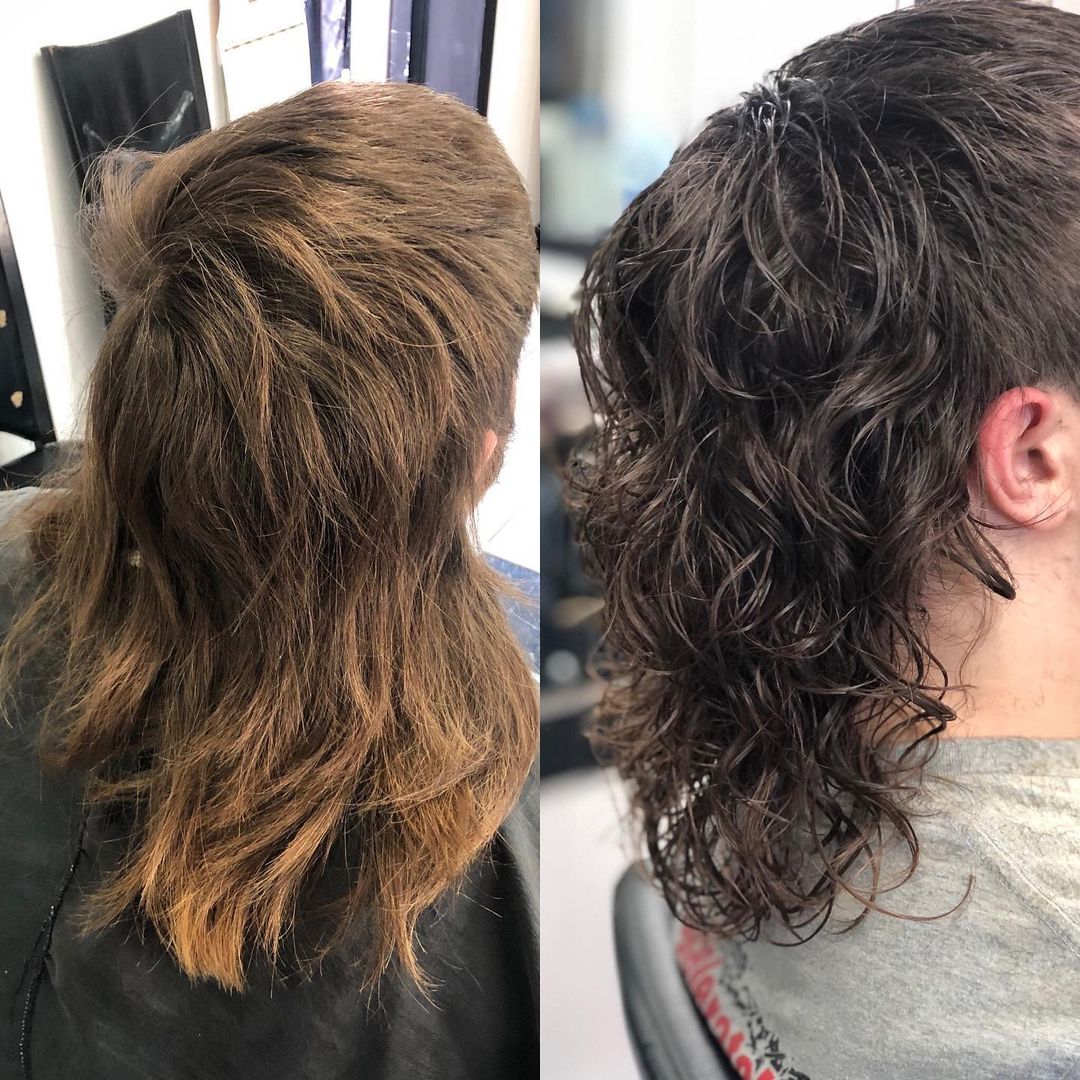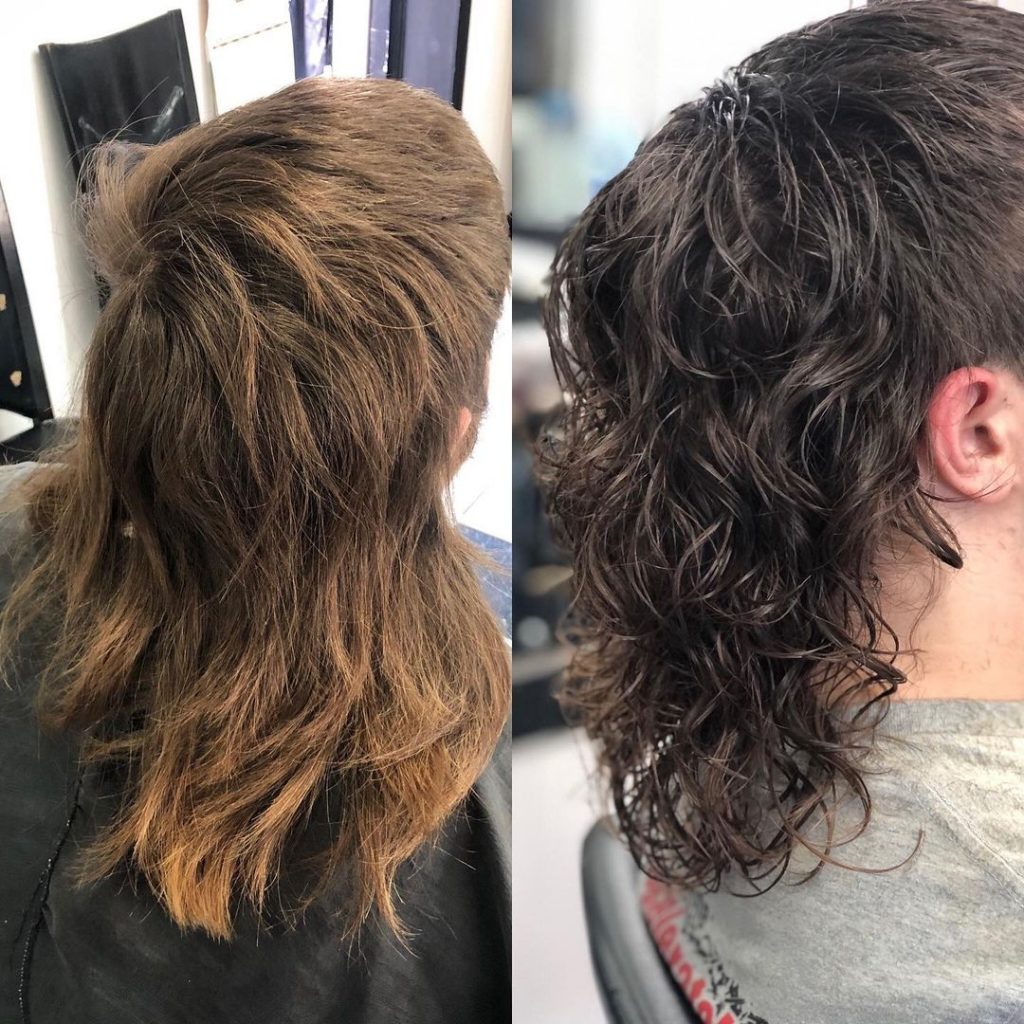 Can changing your hair change your life? It's absolutely possible. Even though a perm is chemical processing, the shape and volume makes hair look healthier.
10. Mullet With Perm In Back
This is one of the signature country music/country boy hairstyles. The front has some fluffy fringe with a part and a cascade of curls at the back. The sides are short but not faded.
Hair does get shorter with a perm but not so much shorter. This mullet goes from touching the shoulder to about an inch above. The volume makes hair appear fuller and thicker though.
11. Permed Mullet For Boys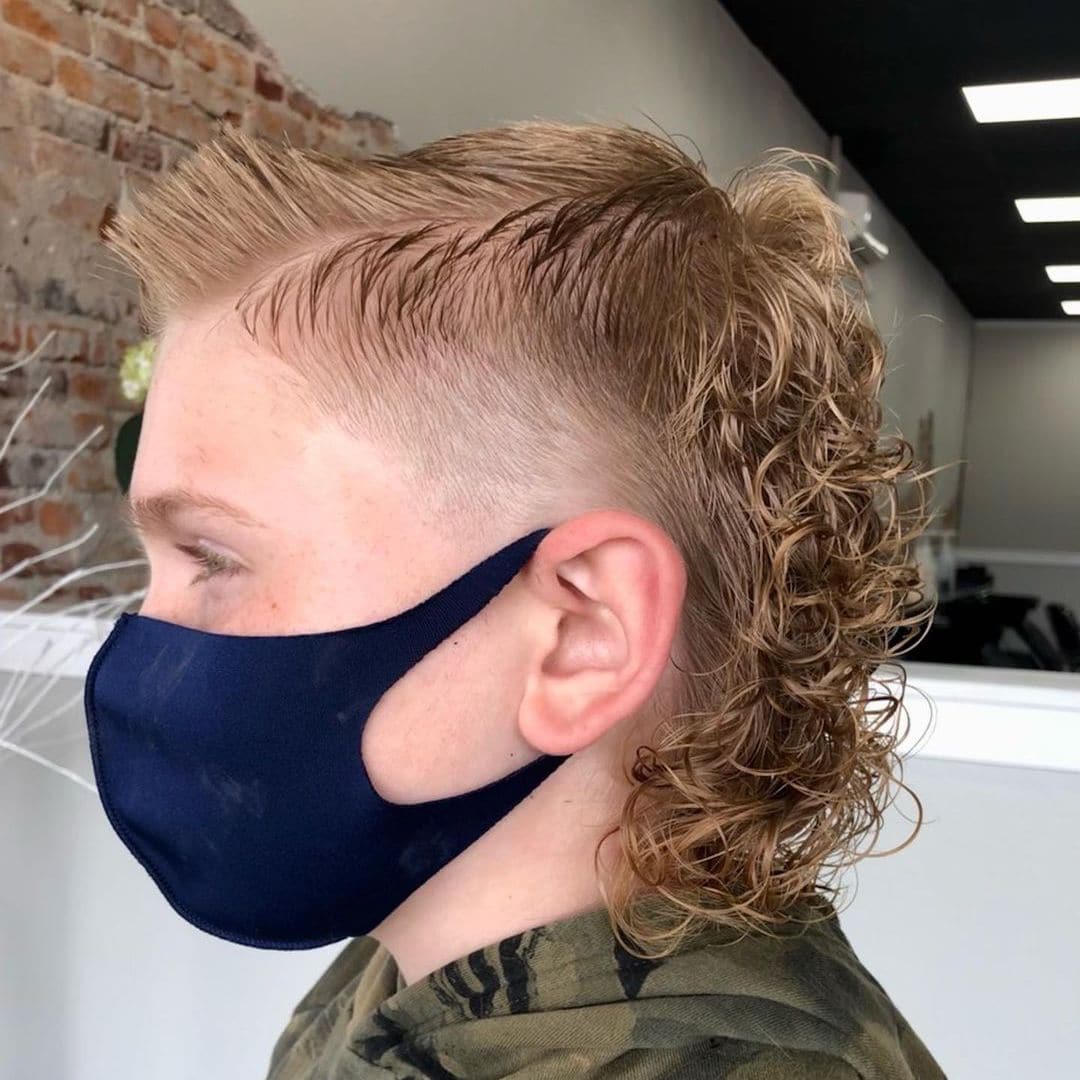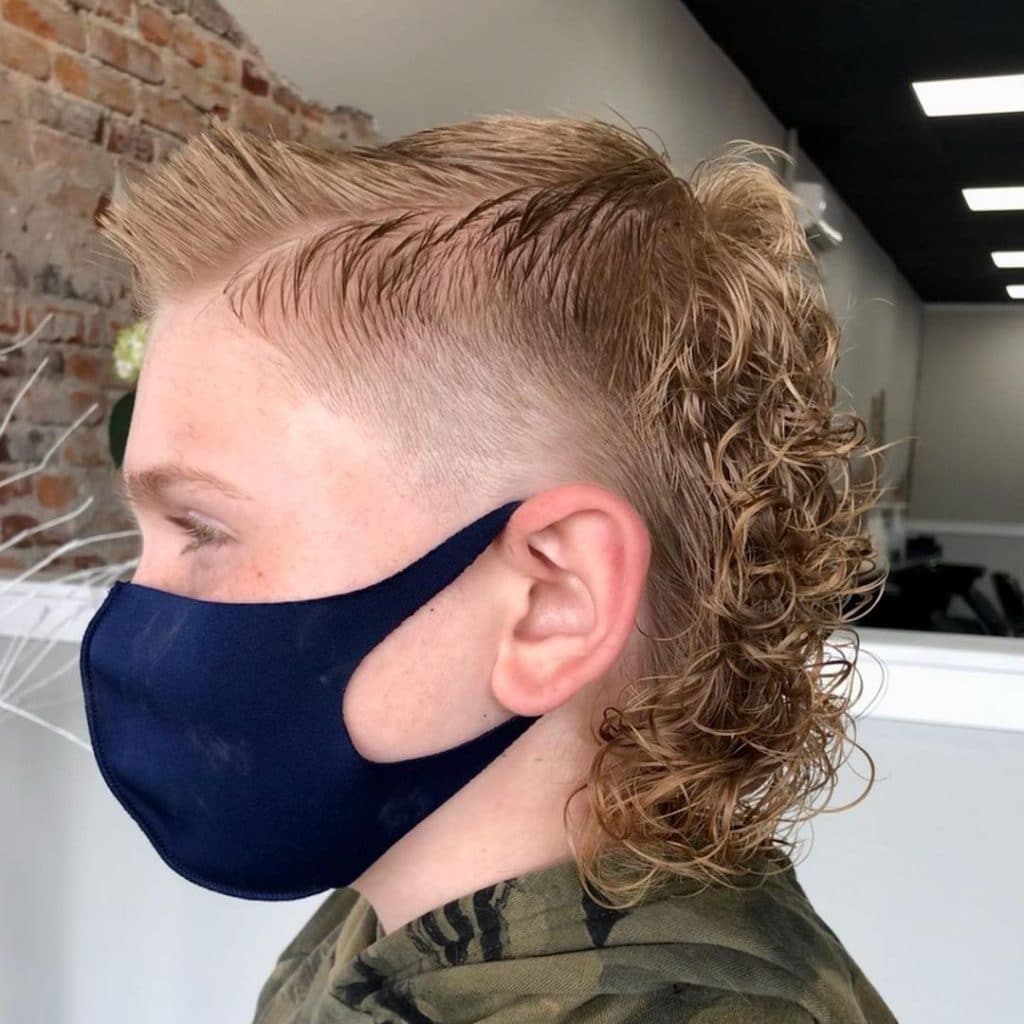 You're never too young or too old to have fun with your hair. This cool kid (or maybe his cool parents) opts for a short spiky front with long hair permed tight curls at the back.
12. Mullet Perm For Boys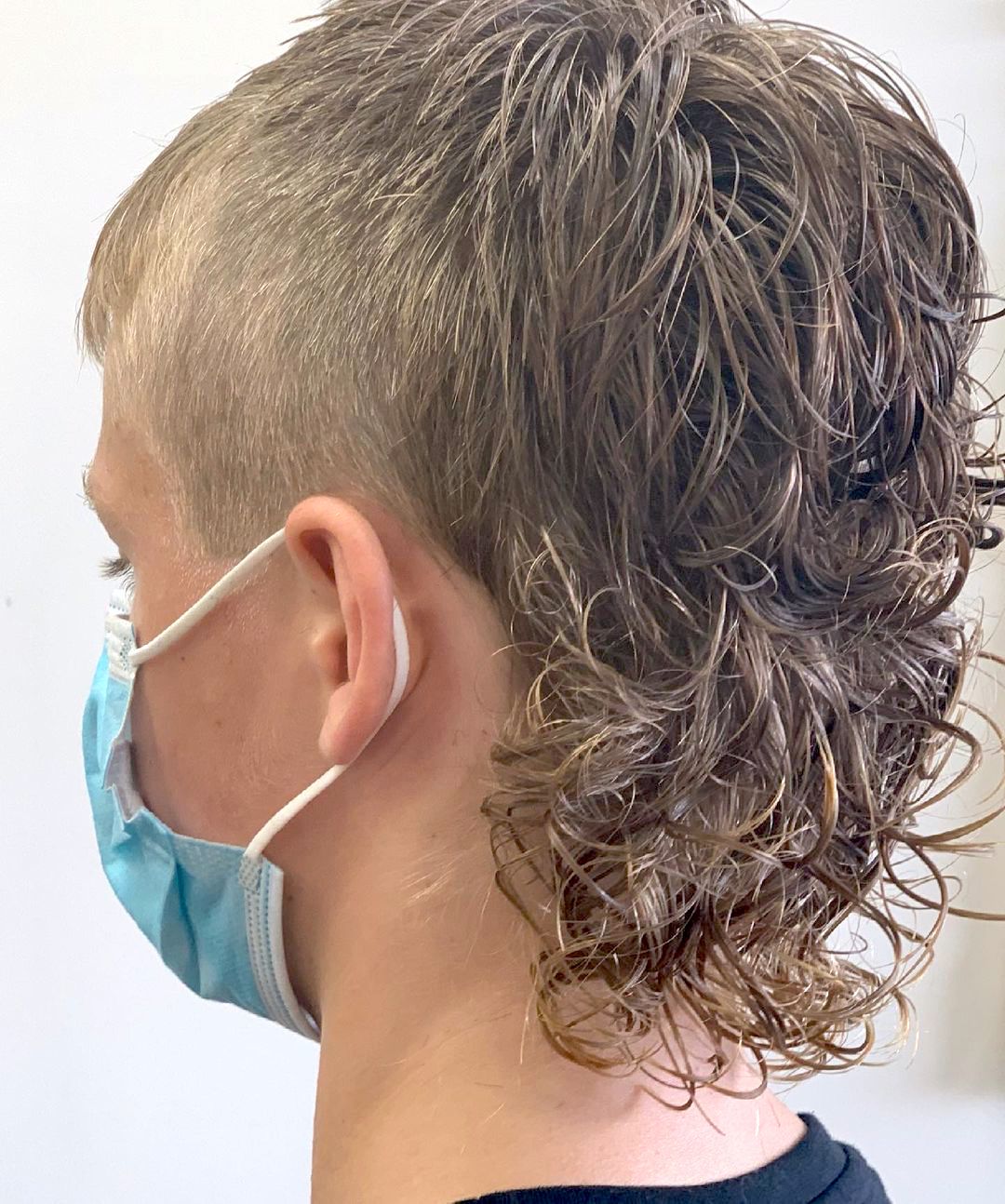 With very short hair and longer curls, this mullet perm doesn't need any styling, a great choice for boys on the go.
13. Long Perm In Back Mullet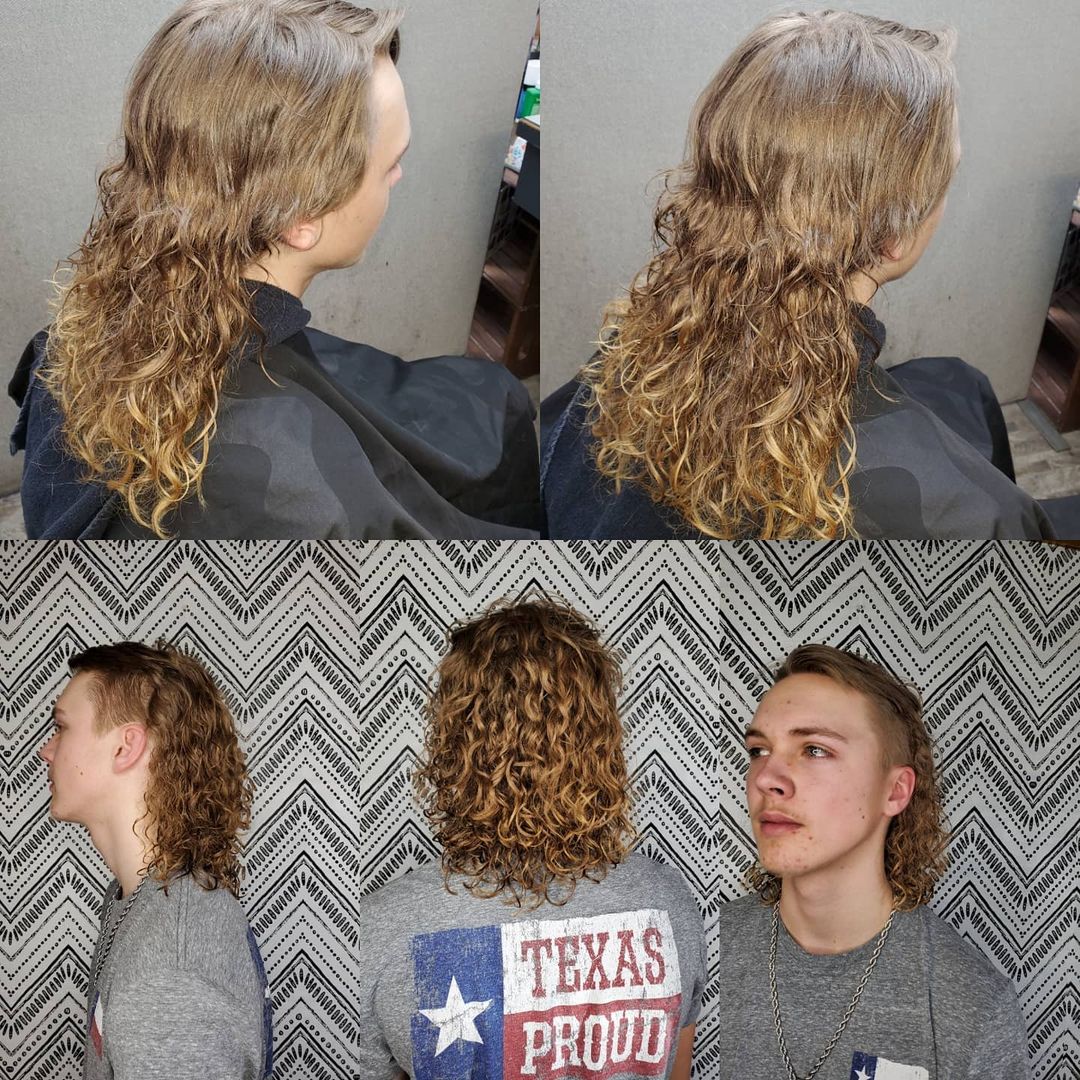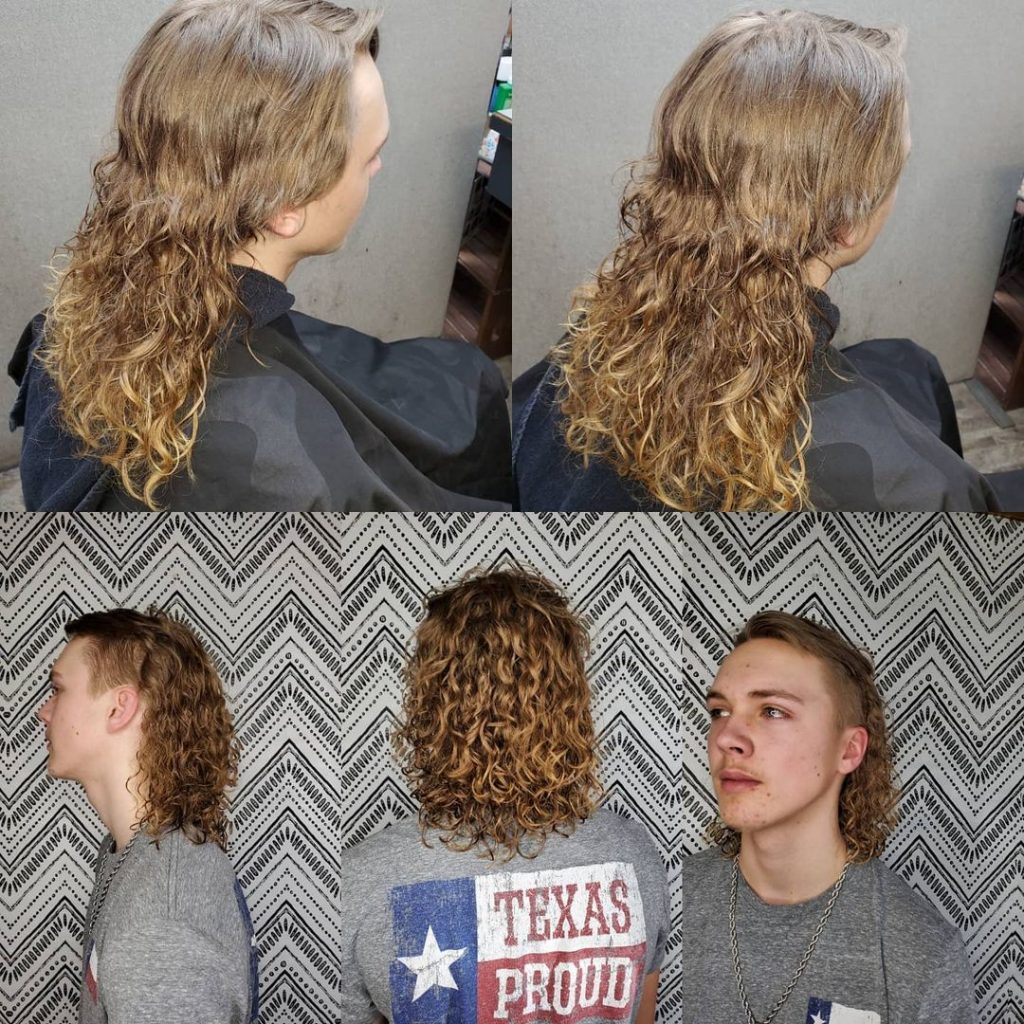 If you're wondering what a perm looks like grown out, here it is. The curls get looser and new hair grows in straight, or whatever it was before. When you're ready, tighten it all back up with a fresh cut and perm. Now that's a sweet Kentucky waterfall.
14. Mullet With Tight Curls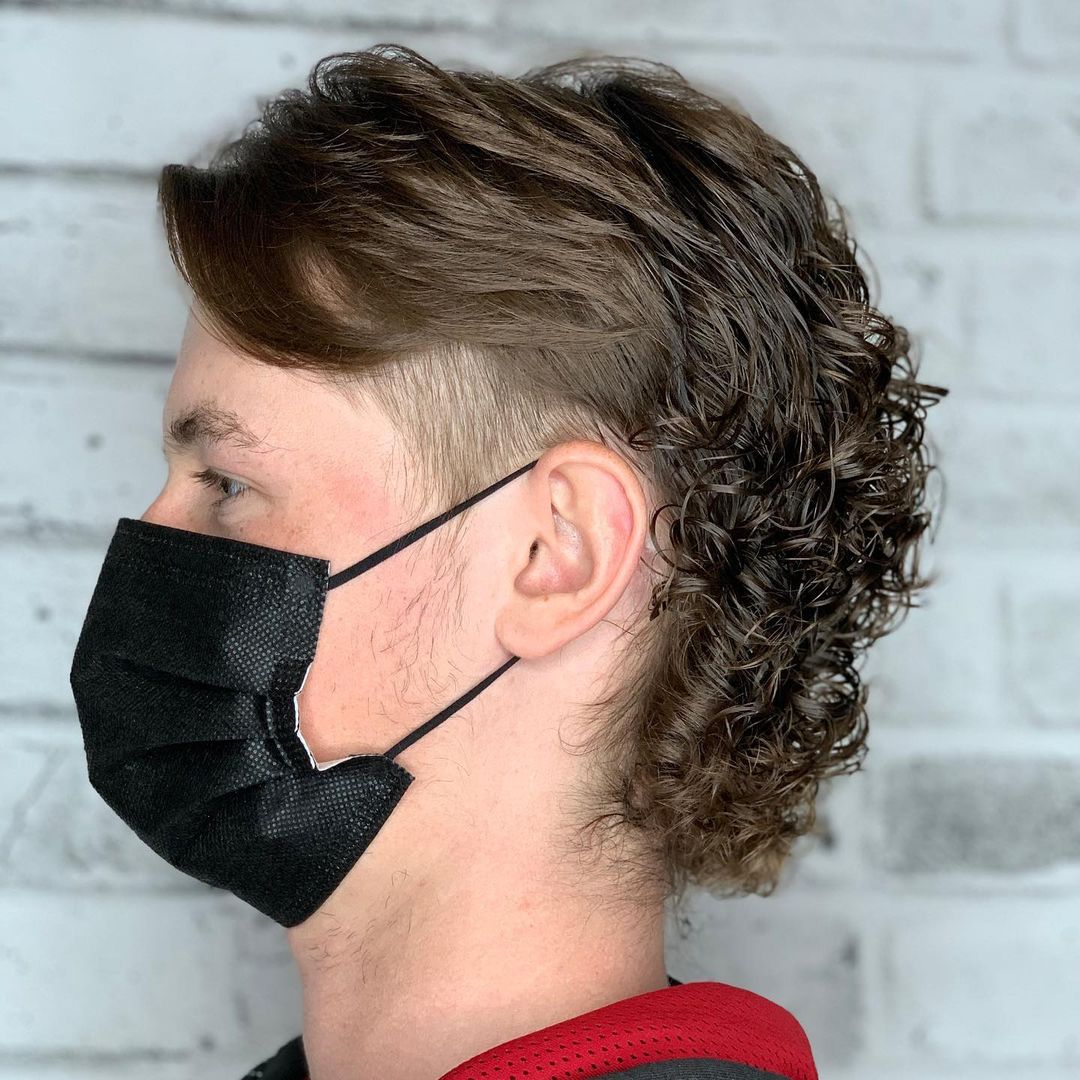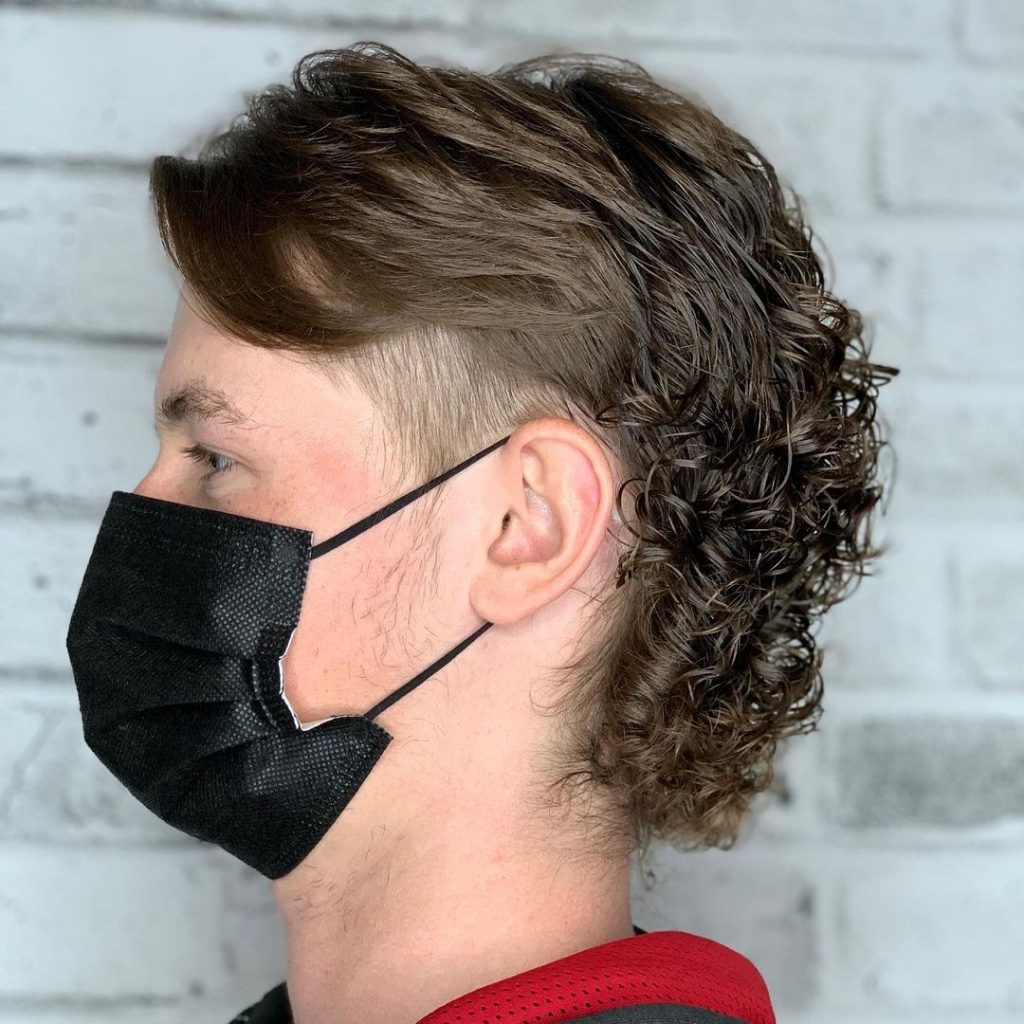 Because of the way a perm grows out, perming only the back of hair keeps the look going longer because hair at the top and front is already straight.
15. Short Top, Long Back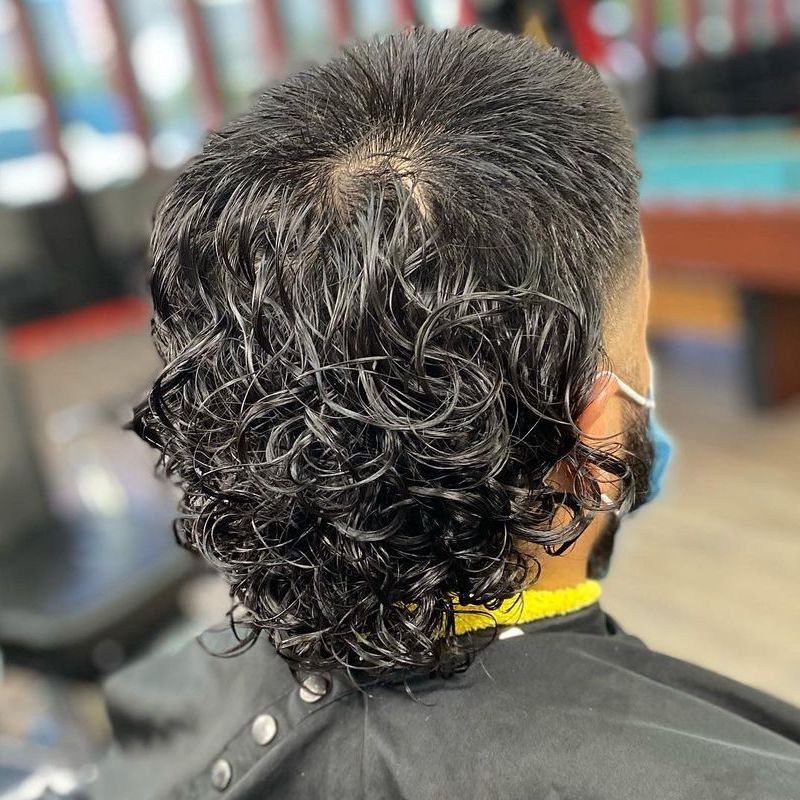 Keeping it simple with short hair at the front and long curls at the back.
16. Perm On Top Mullet Haircut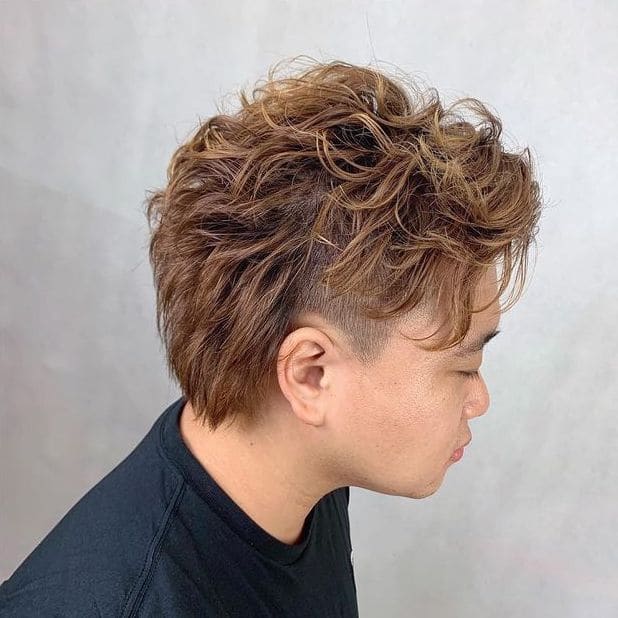 Or for something different, perm hair at the front and keep it straight at the back.
17. Temple Fade Mullet With Perm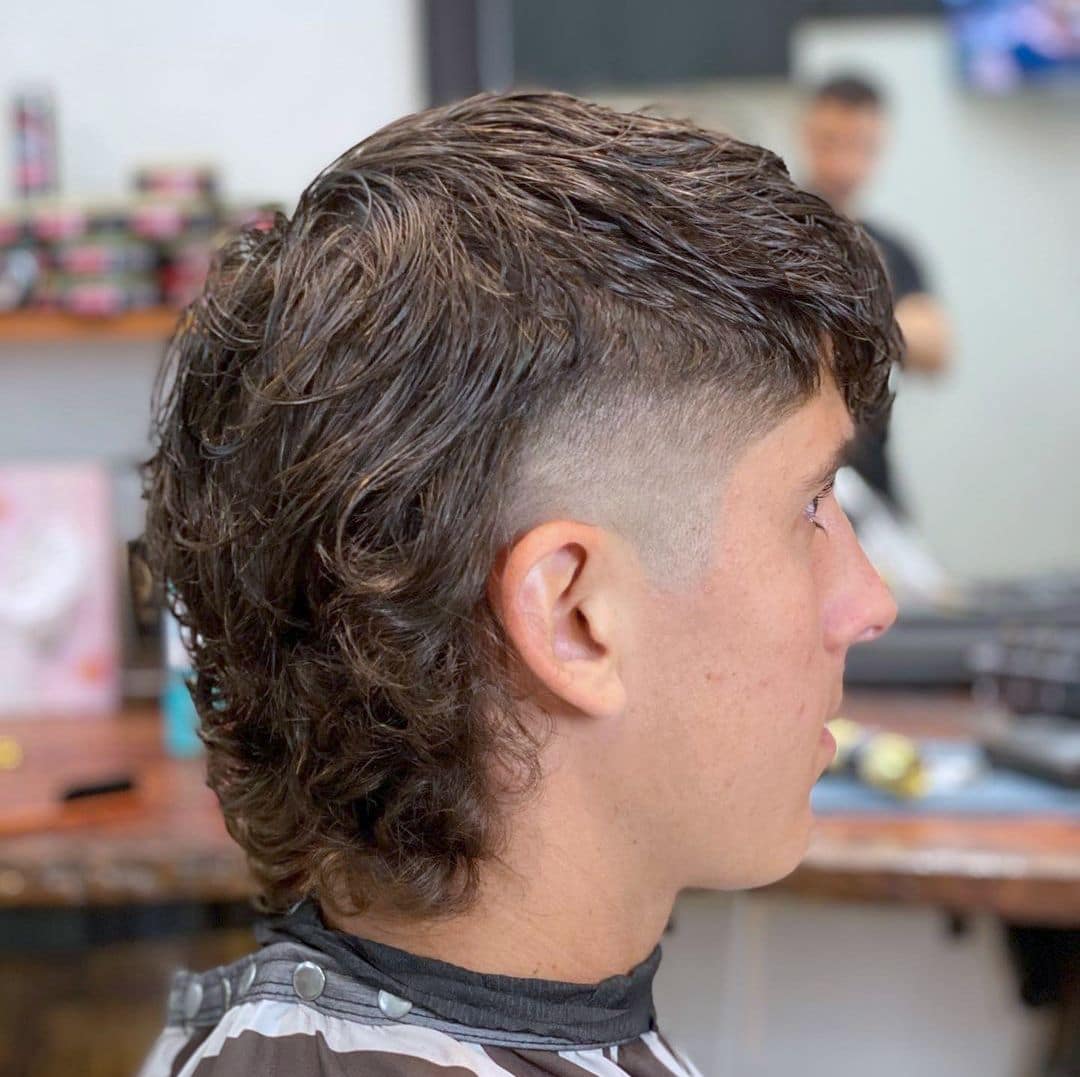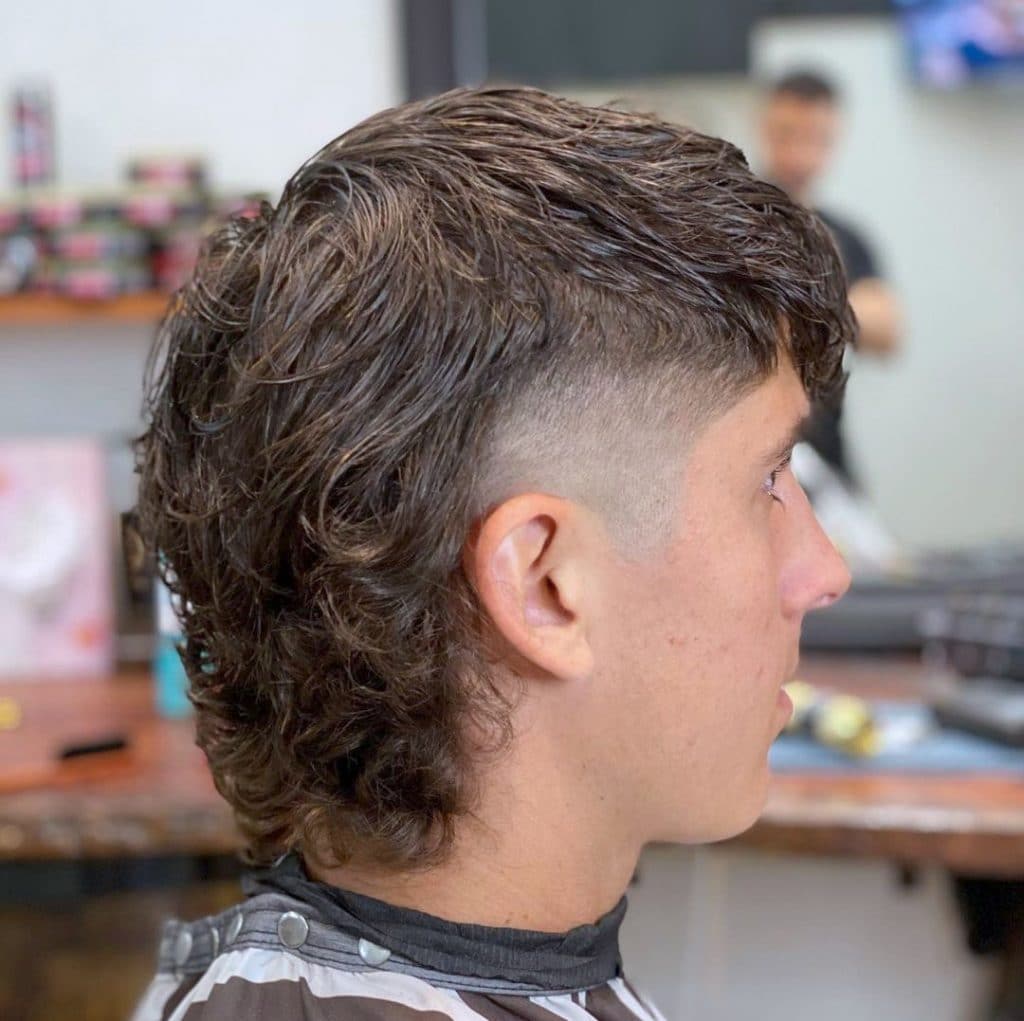 Straight hair on top with curls at the back also occurs naturally when hair is cut too short for the curl pattern to emerge. This permed haircut mimics that look.
18. Short Bangs + Curly Back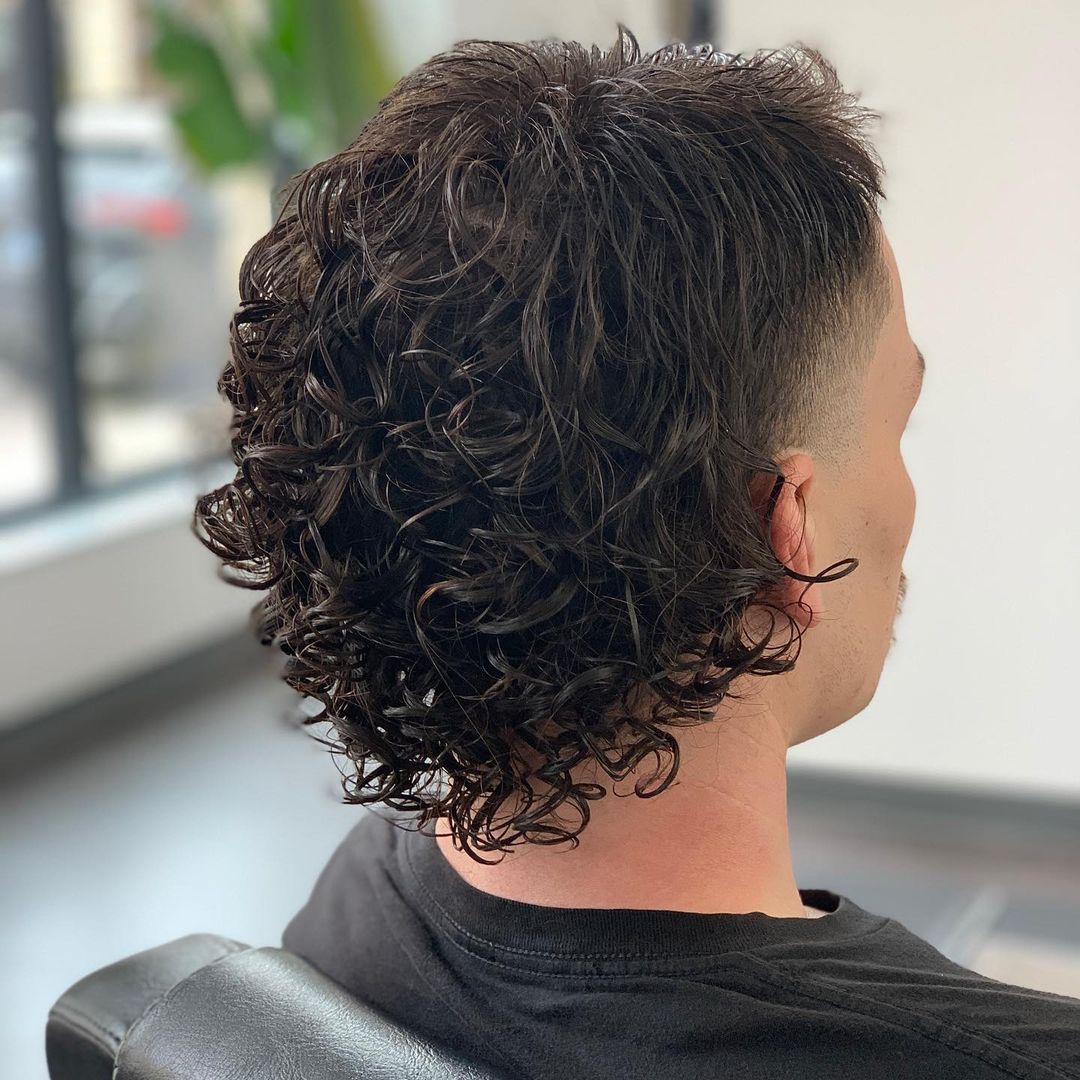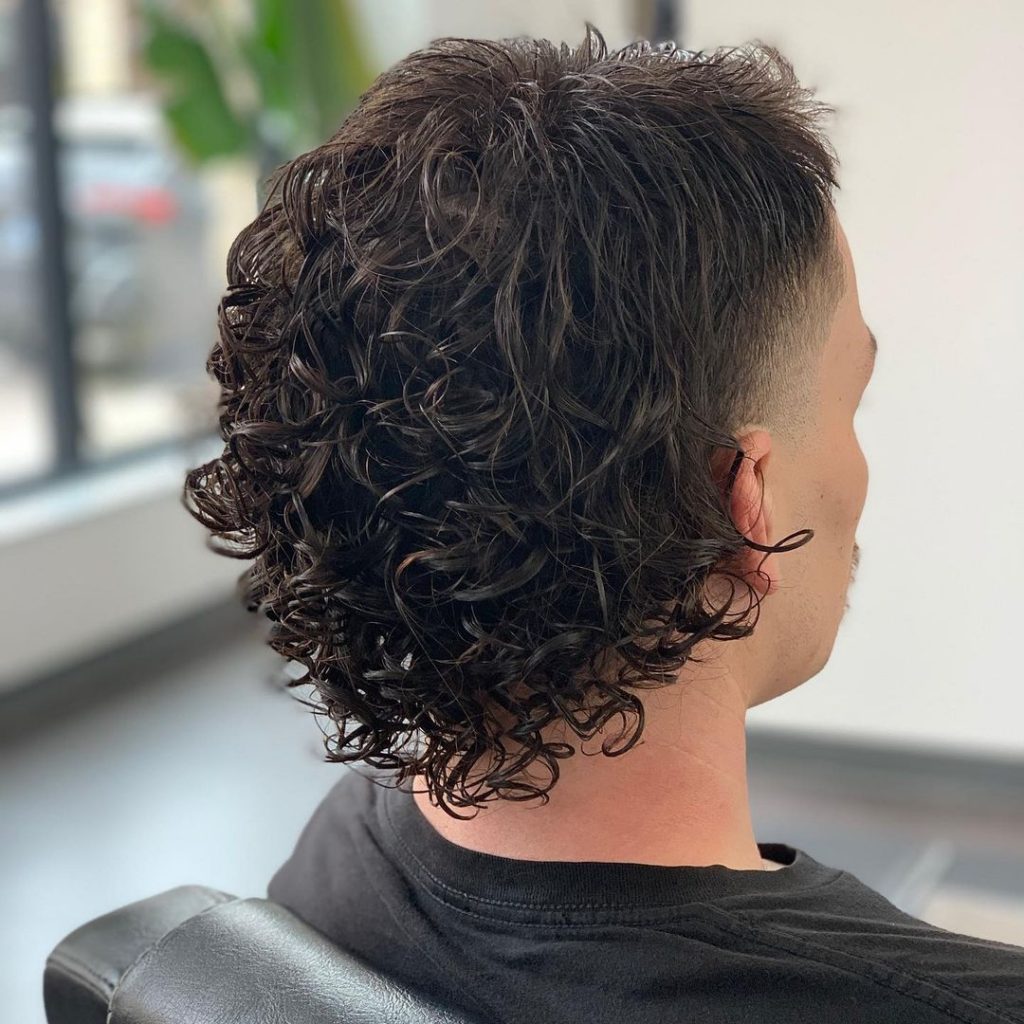 This cool cut emphasizes the extremes of the mullet perm – the business is very short with a temple fade. The party at the back is full and curly with a flattering rounded shape.
19. Spiky Front + Curly Back Mullet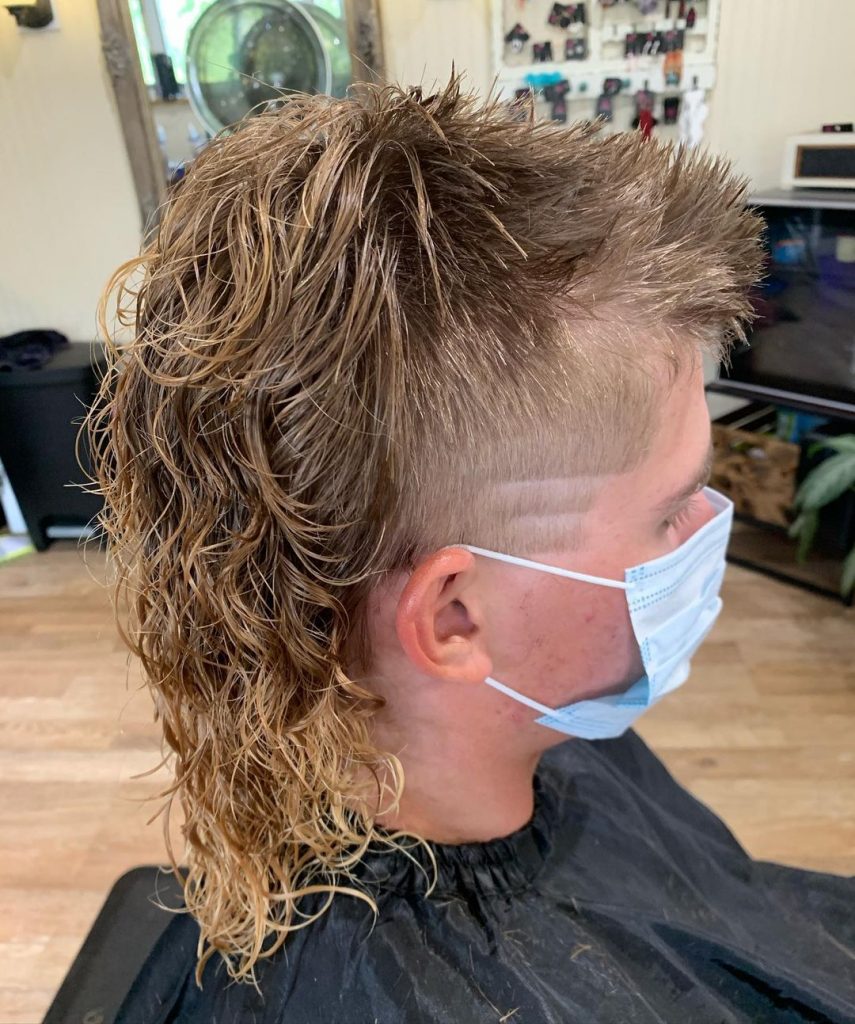 There is a lot happening hair with spiky hair, vents at the side, and golden curls. Now all he needs is some Pit Vipers.
20. Permed Mullet At The Back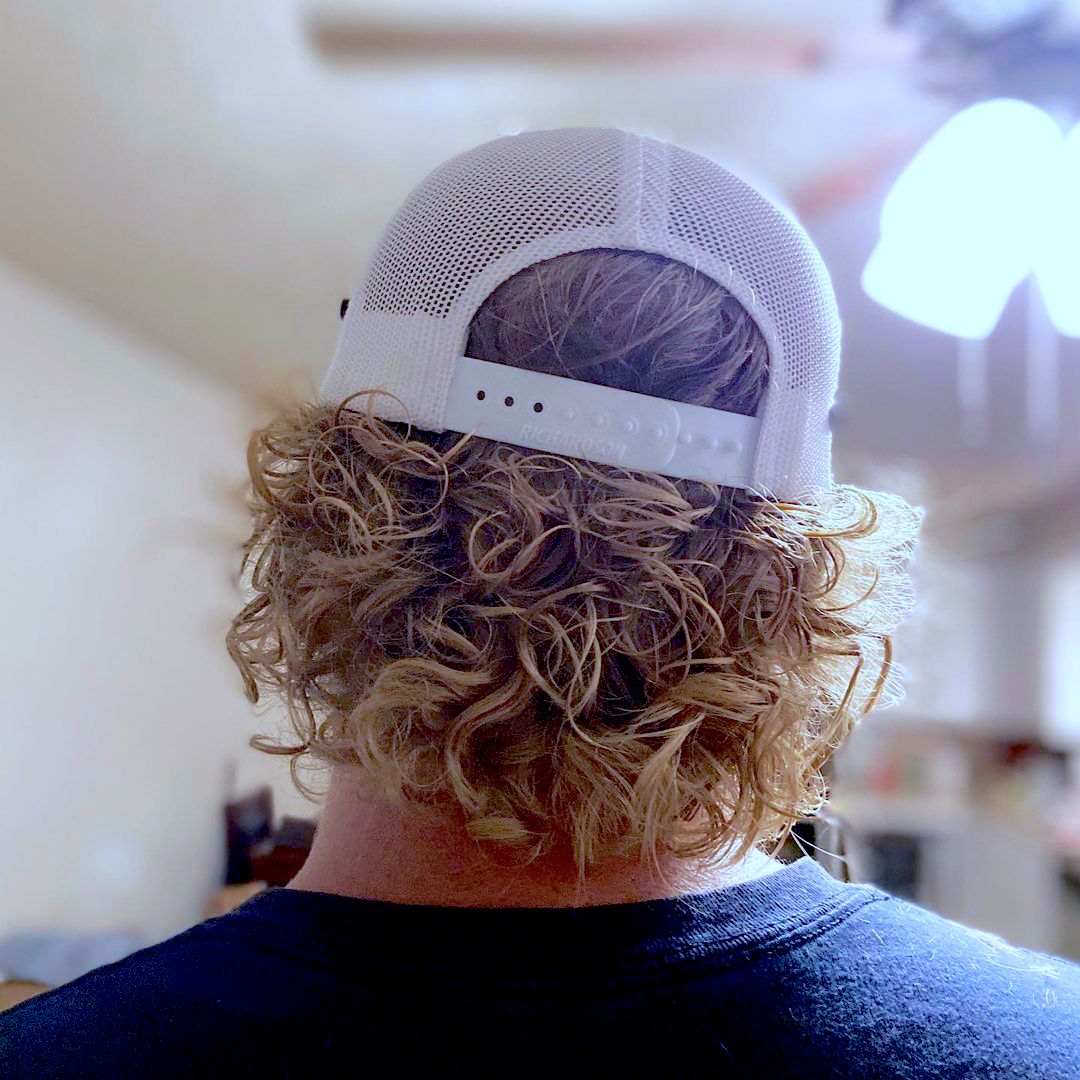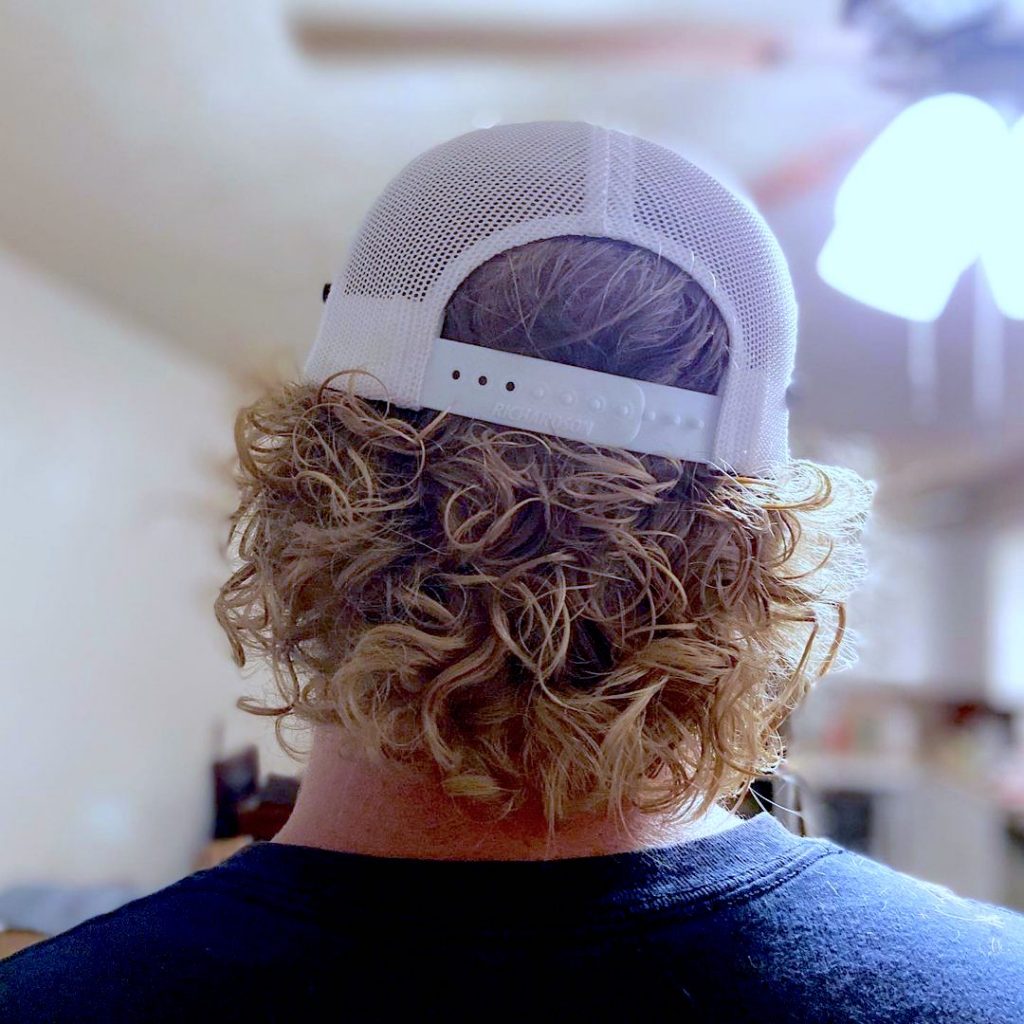 Of course you don't get a haircut for how it will look while wearing baseball cap, but this might be an exception.