Low fade haircuts may be the most popular type of fade. They look great with every type of men's haircut, from short to long. There is no cleaner cut finish to a haircut and the low fade looks great growing out, meaning you can go a couple of extra weeks between cuts.
What is a low fade haircut?
The definition of a low fade is that the shorter faded area is lower down and closer to your ears. In other words, from low down your hair is quickly faded upwards into longer hair above. With a low fade, you will typically have more hair higher up on the sides of your head compared to a mid or high fade which is clipped more closely to the skin and in both cases higher up.
What are the different styles of a low fade?
There are a couple of different ways to wear low fades. First, there is the drop fade vs the regular fade. The drop fade drops down behind the ear while a regular fade is more of a straight line around the back of your head. Most low fades are drop fades but far from all. You'll see the difference below.
Next, pick between the shadow fade and bald fade. The shadow fade tapers down from short to very short while the bald fade goes all the way down to the skin. They both look great, it just depends on if you want the fade to blend in or stick out.
On top, anything goes. Hair can be buzzed short, a medium length, or worn long and messy. Or style it into a pompadour, bring out the curls, or even try a faux hawk. The key is finding the best product for your hair type and hairstyle.
Let's take a look at the different low fade styles that you can get.
1. Modern Pompadour Haircut + Low Fade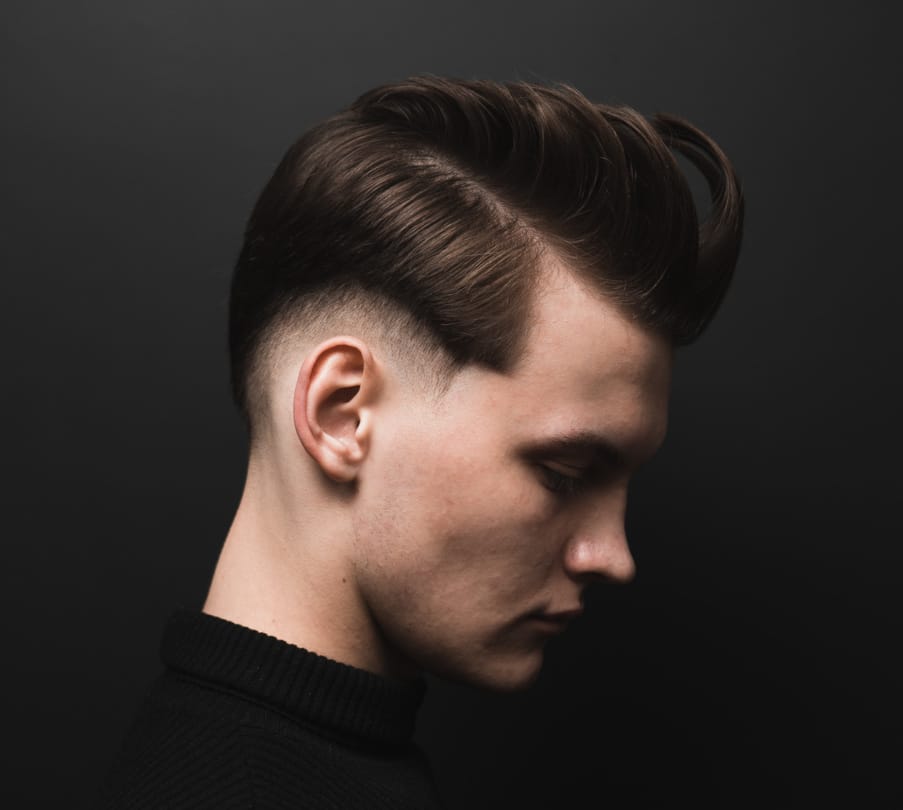 This low shadow fade stands out against thick hair in a modern side part pompadour.
2. Low Fade Haircut For Black Men + Natural Curls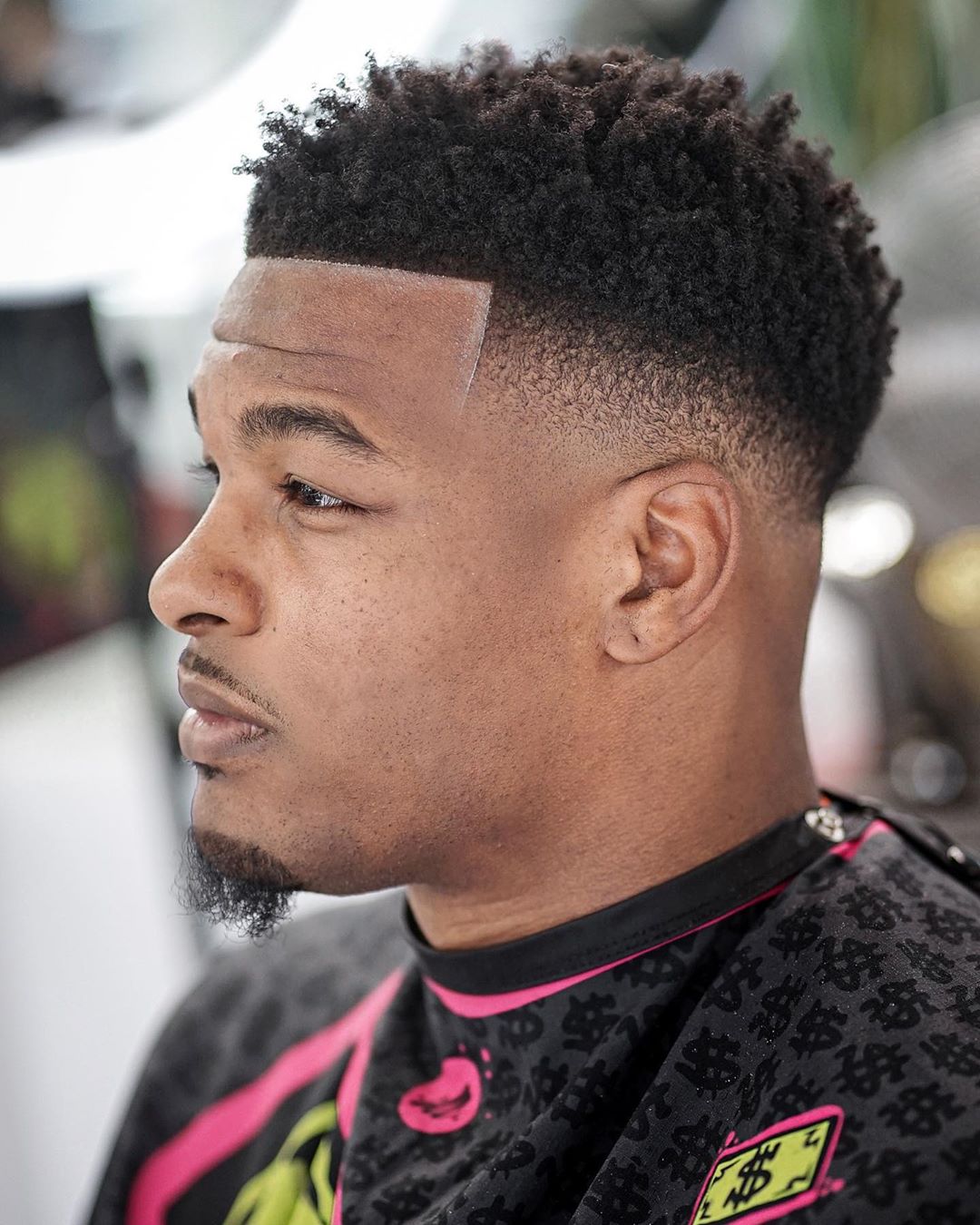 Here's a crispy example of a fade cut into a line instead of the drop fade.
3. Low Bald Fade + Messy Hairstyle On Top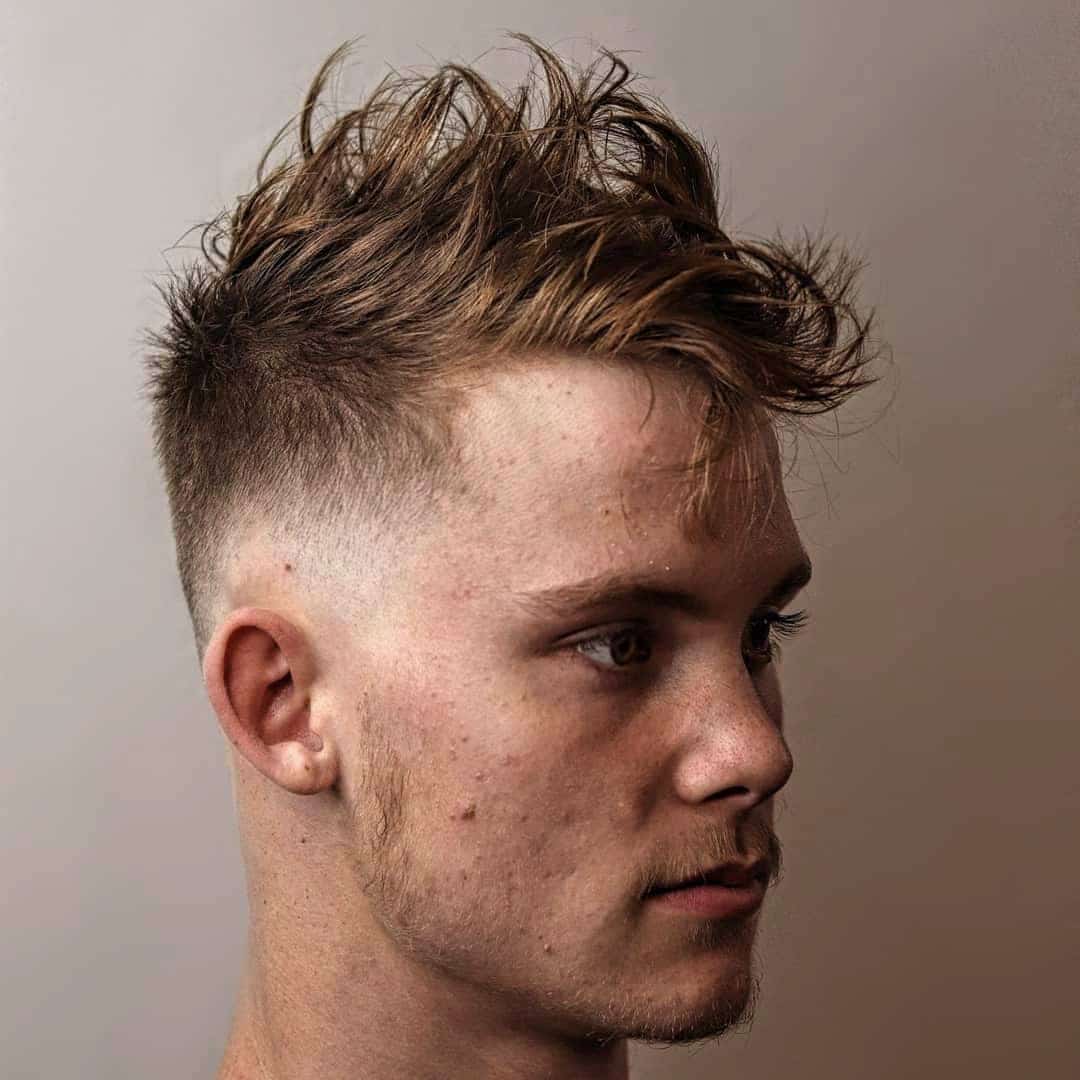 Clean sides contrast messy hair on top.
4. Low Taper Fade Haircut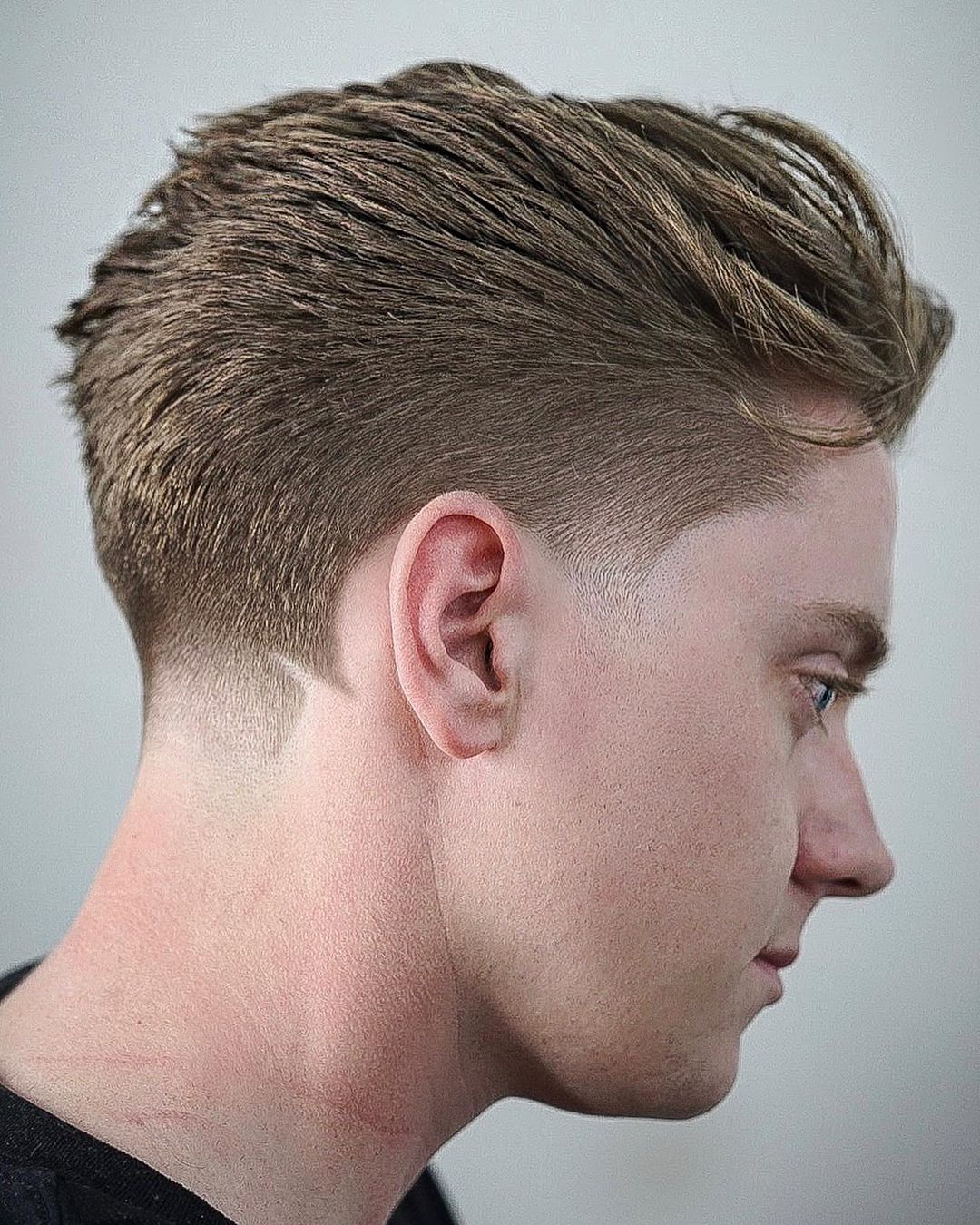 The taper fade is a type of fade at the sideburns and neckline. The main difference is the defined line behind the ear, as opposed to a faded line. This low version also features a nape shape.
5. Box Haircut + Natural Curls + Low Fade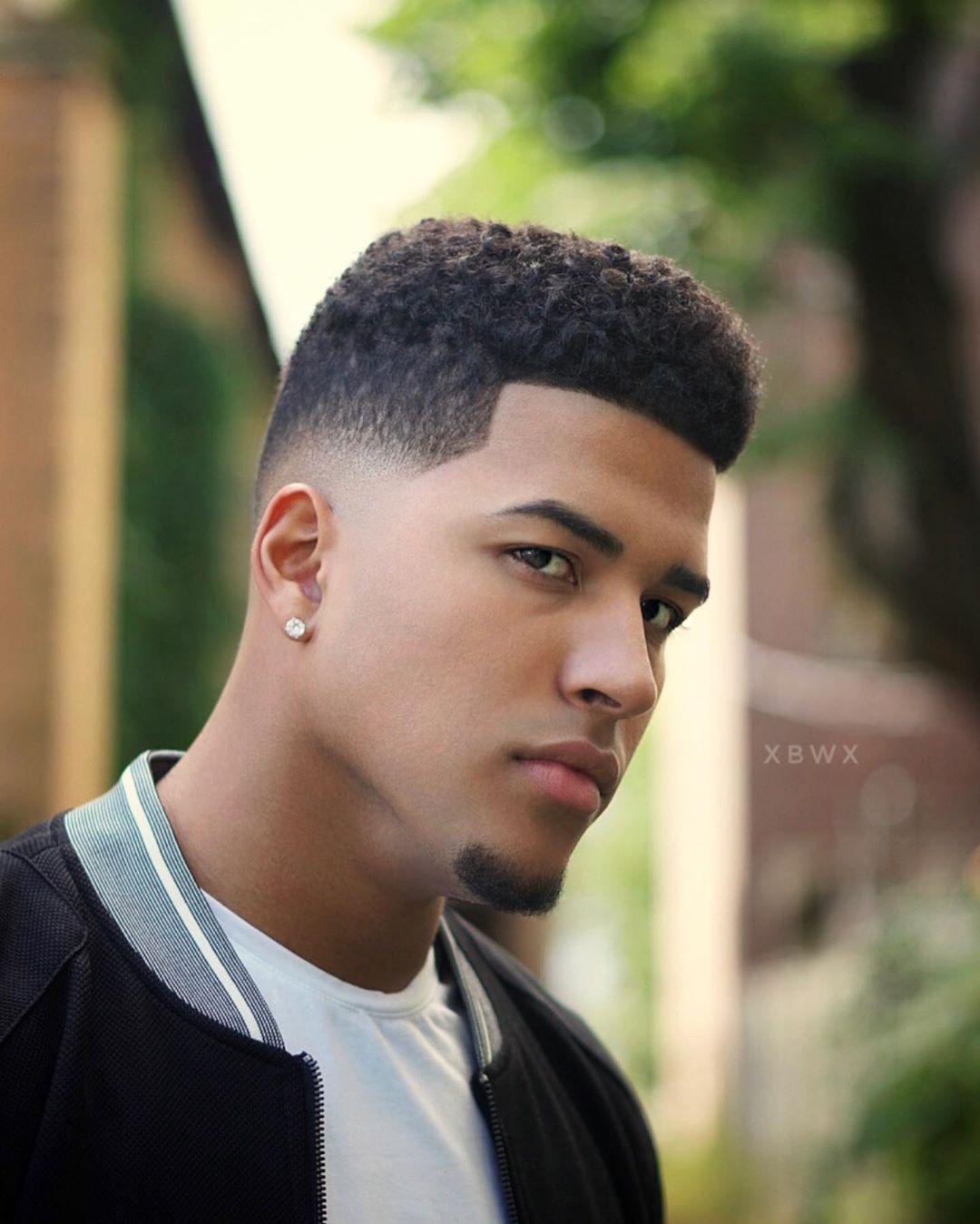 Close cropped sides make this curly high top look even taller.
6. Low Skin Fade + Side Part Haircut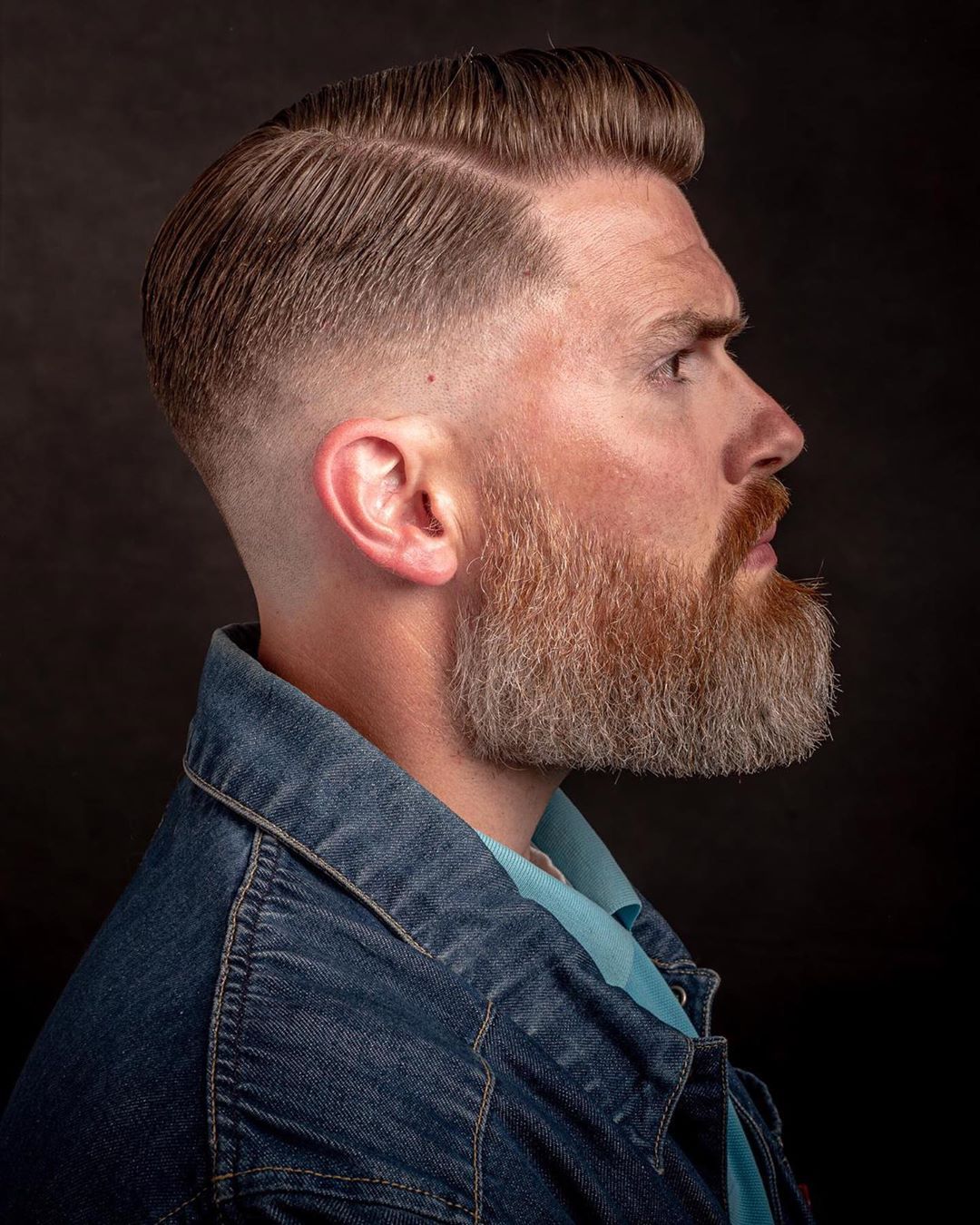 Here's a cool beard fade that separates hair from facial hair and adds a modern finish to this classic style. This look works for guys of all ages.
7. Low Bald Fade + Thick Medium Hair On Top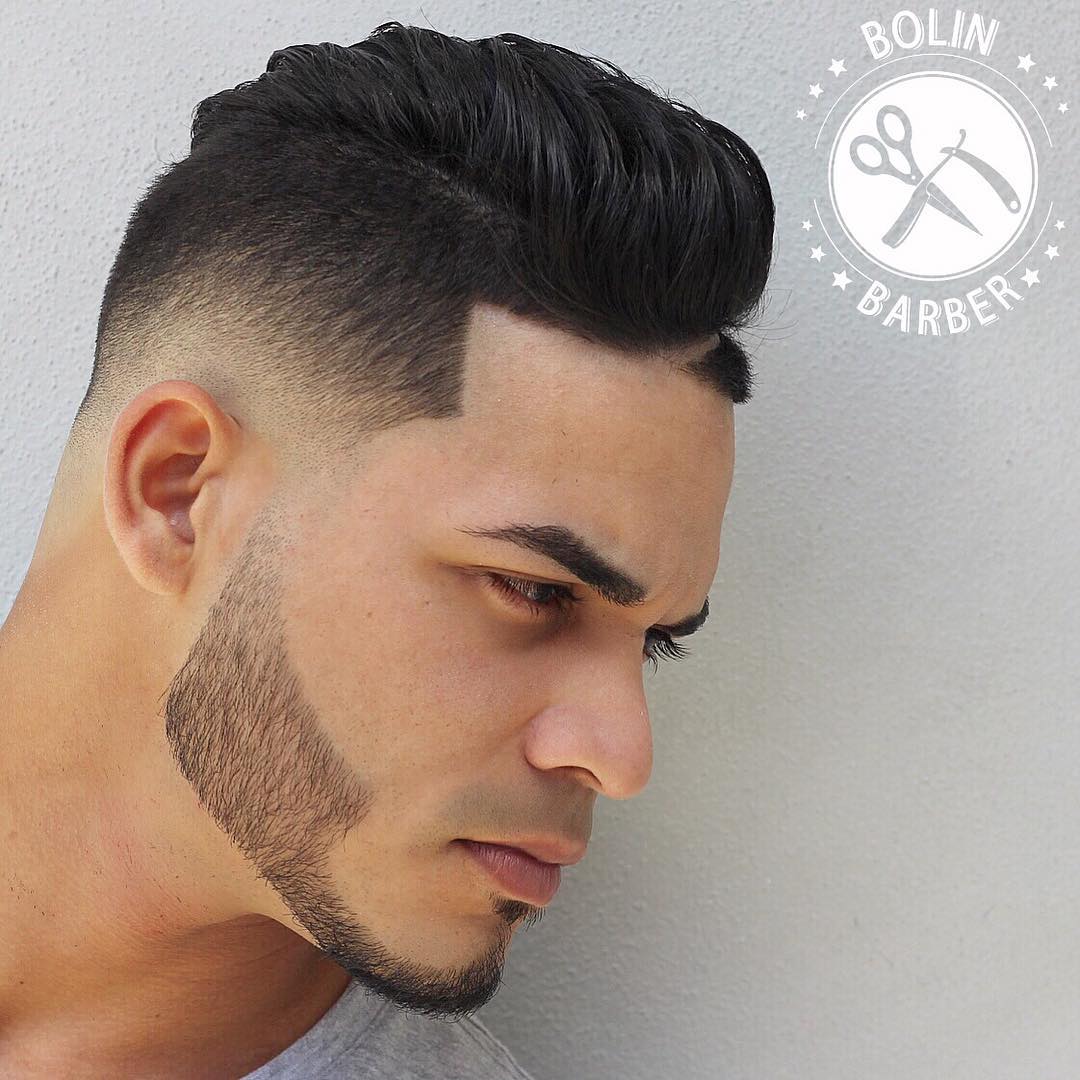 A low skin fade cuts hair down to the skin, making the hair on top seem even thicker and longer. Skin fade haircuts also work with beards of all lengths. The sideburns are gone but hair tapers back up into facial hair.
8. Short Men's Haircut + Low Drop Fade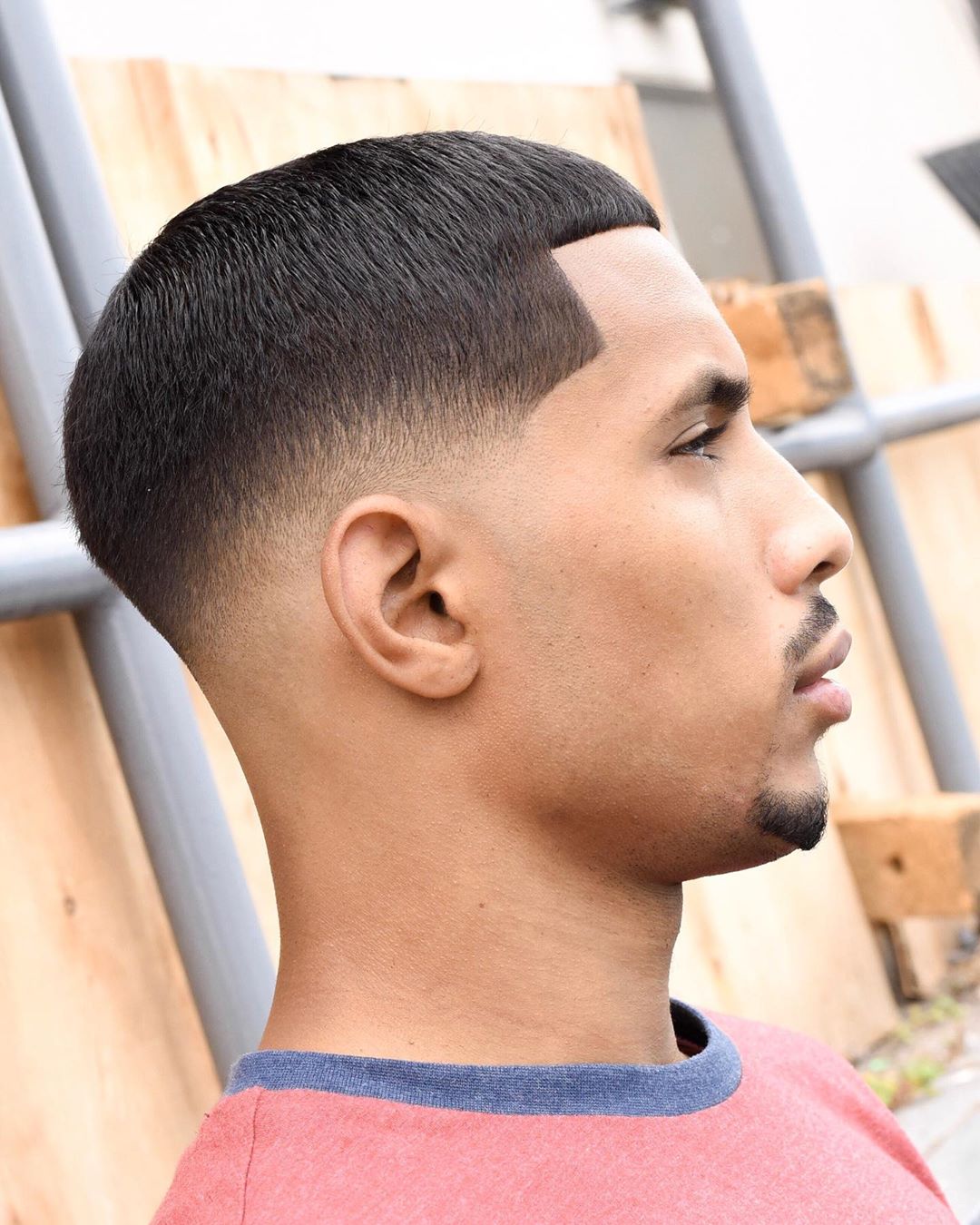 The arc of the drop fade contrasts with the straight line of blunt fringe. It doesn't take a lot of hair to have a lot of presence.
9. Rounded Flat-Top Haircut + Low Fade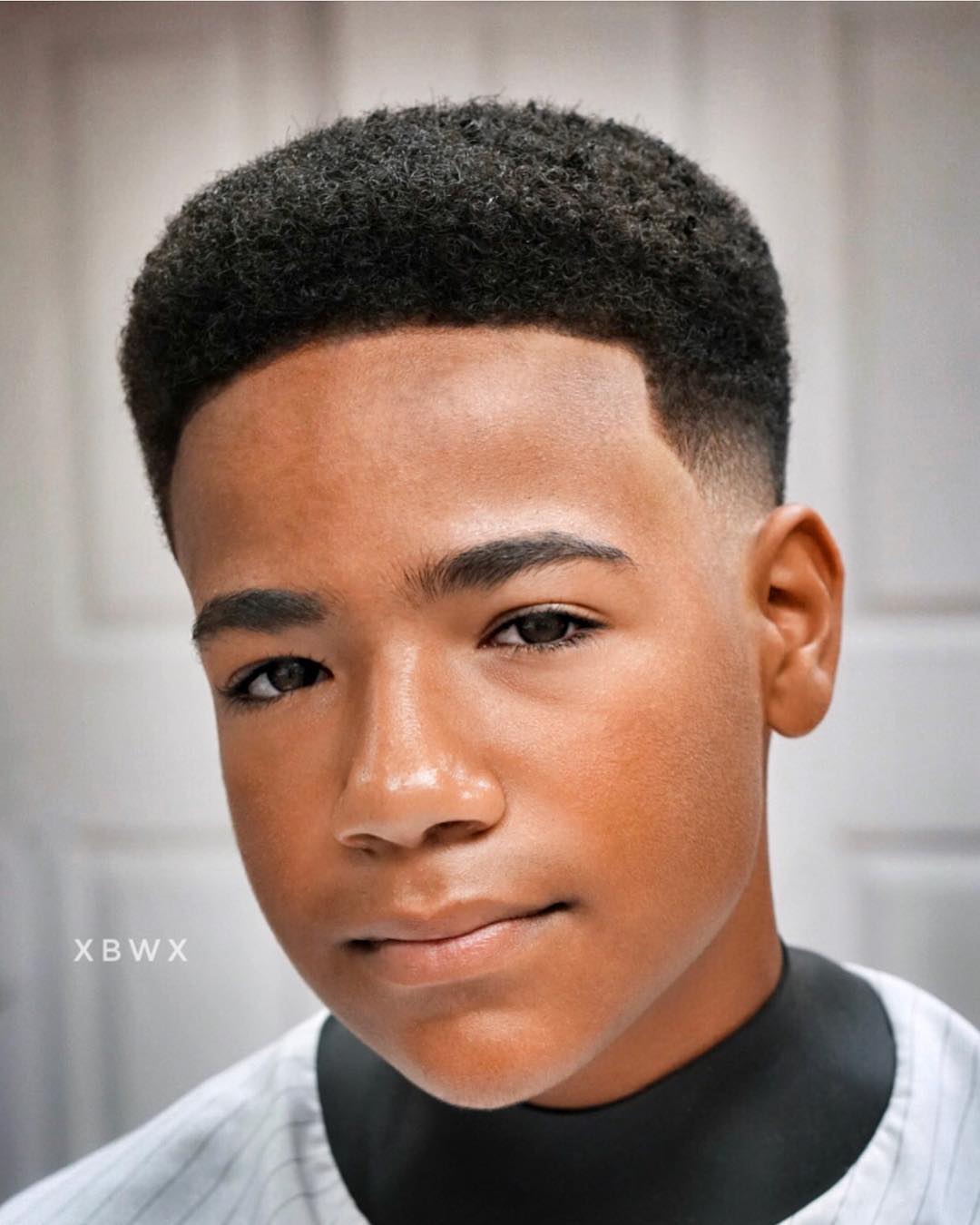 It's a low top, not a high top and rounded instead of flat.
10. Low Fade + Curly Hair Men's Haircut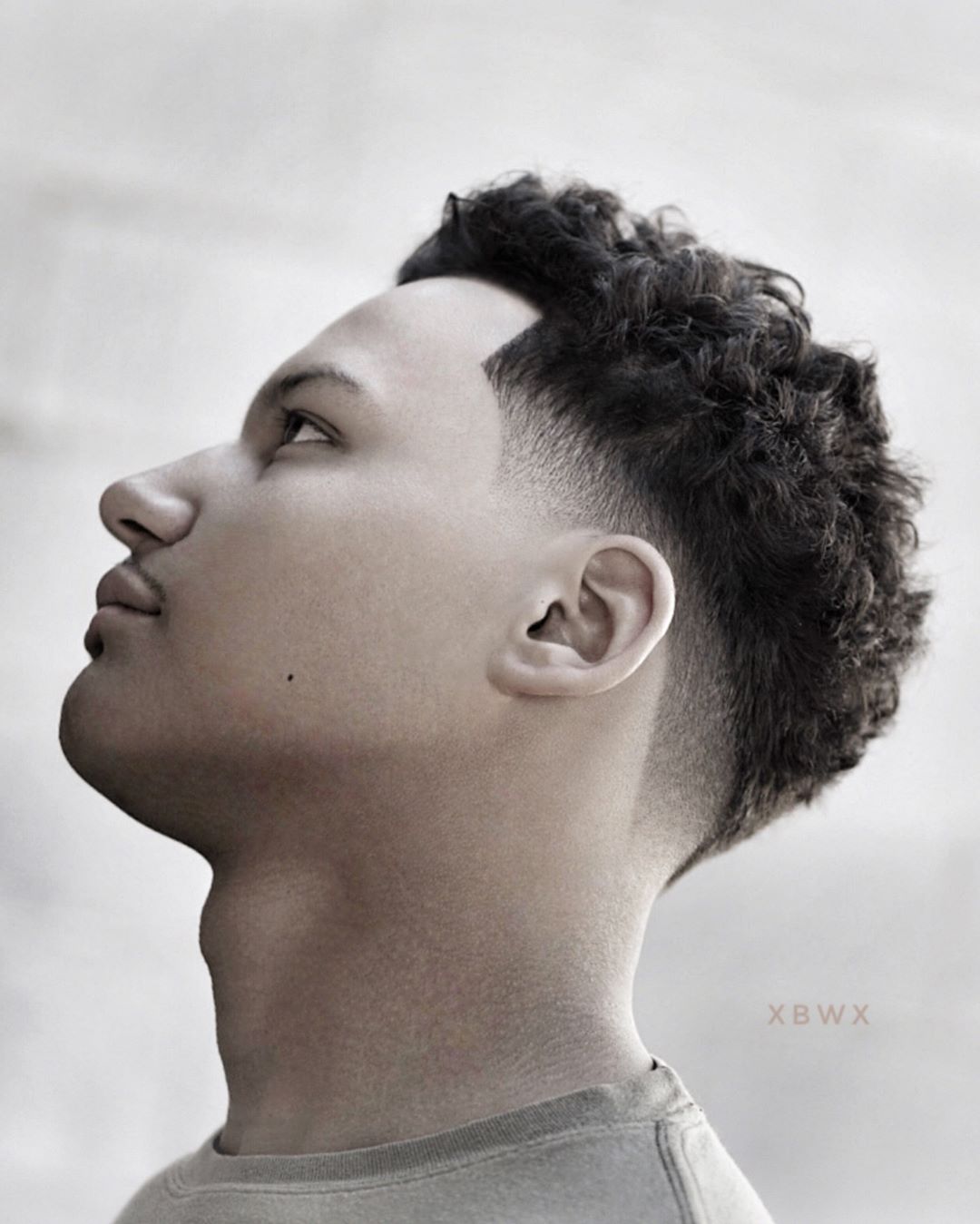 The low line of this fade makes curly hair on top stand out.
11. Curly Fro-Hawk Haircut + Low Bald Fade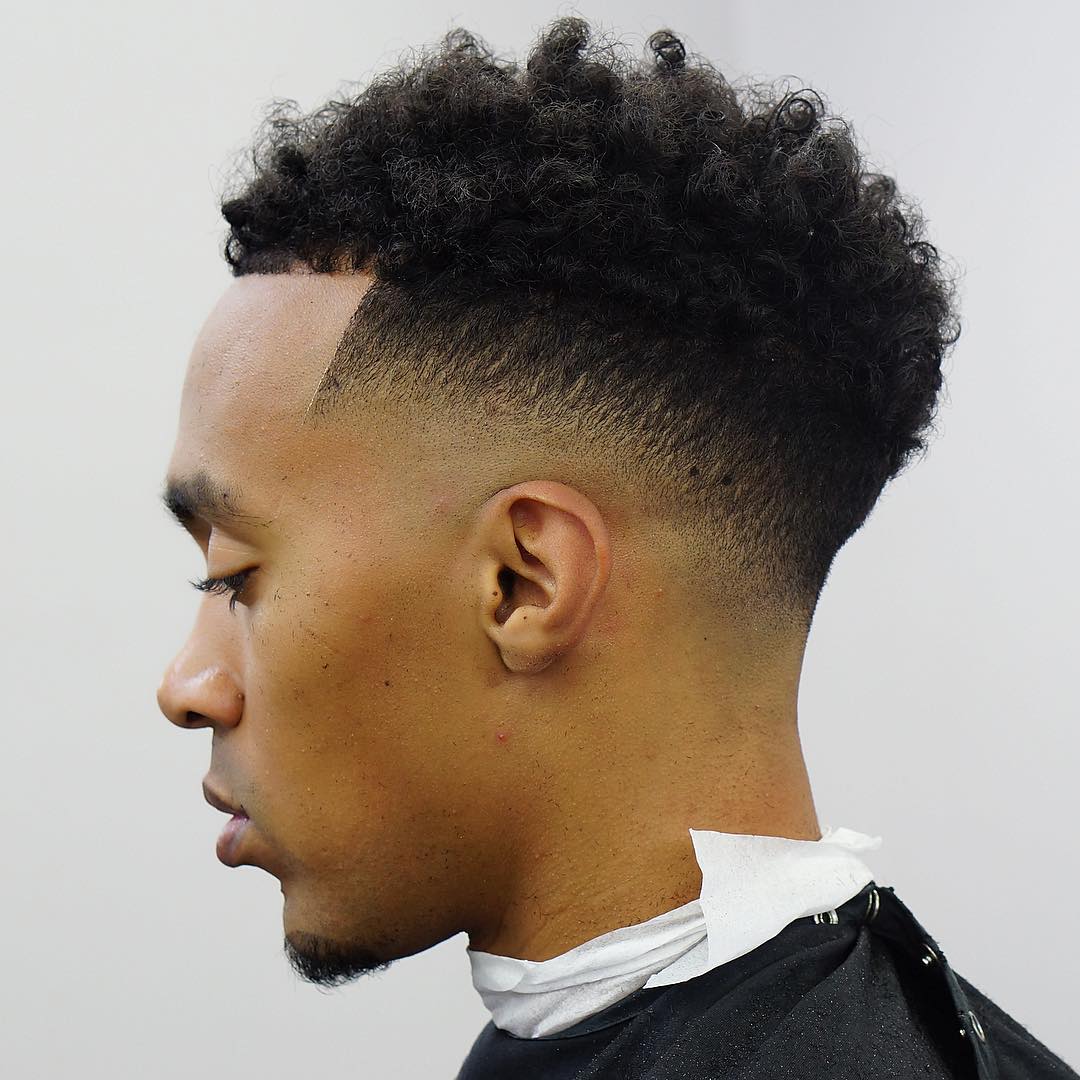 For longer curly hairstyles for men, a low fade cleans up the edges for an easy to wear but cool look. Go all the way down to the skin or ultra-short.
12. Military Haircut / Buzz Cut + Low Bald Fade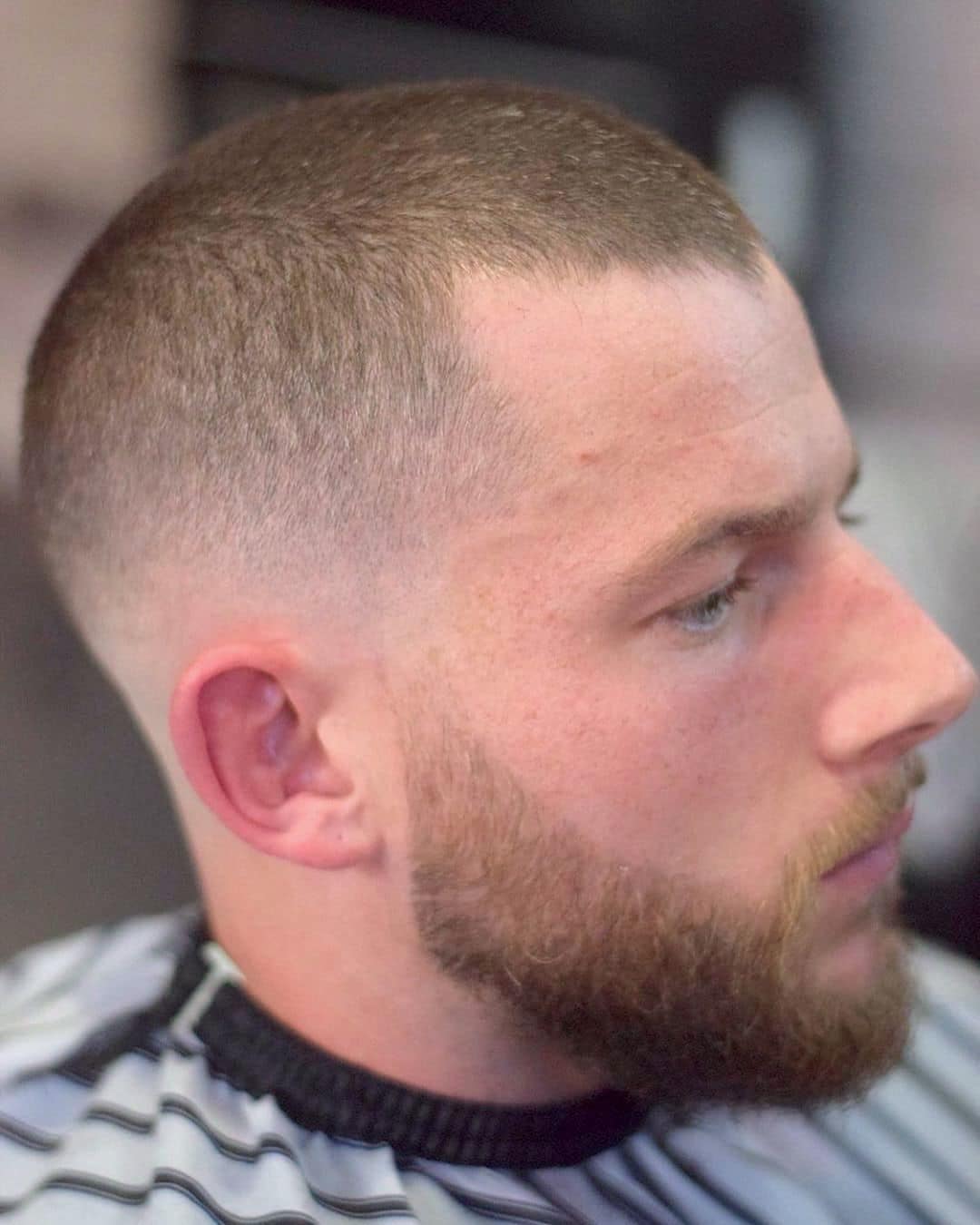 For a military look, keep hair short and cut the fade even shorter. It's a step up from your at home buzz cut.
13. Low Taper Fade Haircut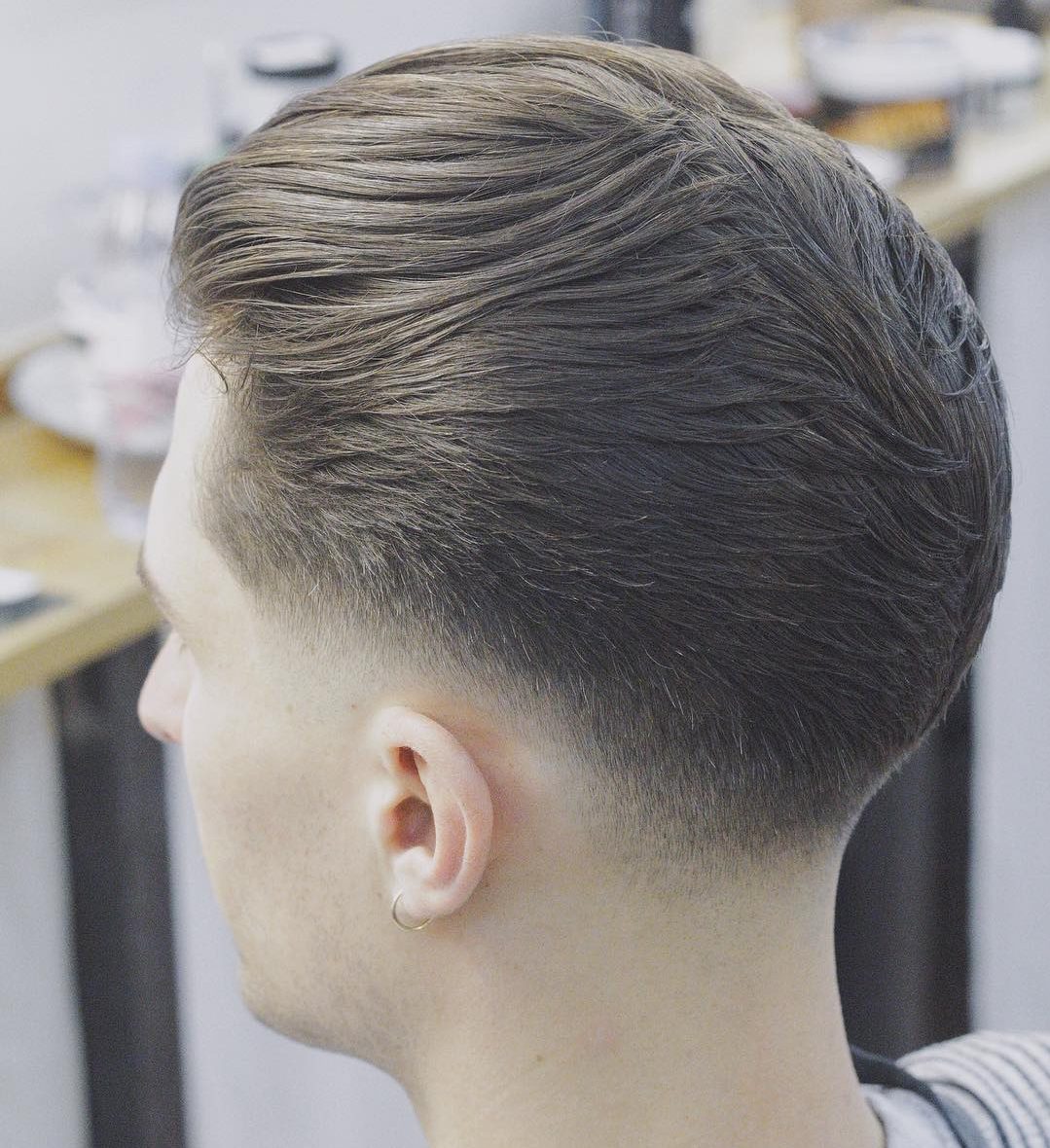 This is as low as you can go with a fade. It's a cool way to create a clean-cut hairline.
14. Low Fade + Hard Part + Side Part Haircut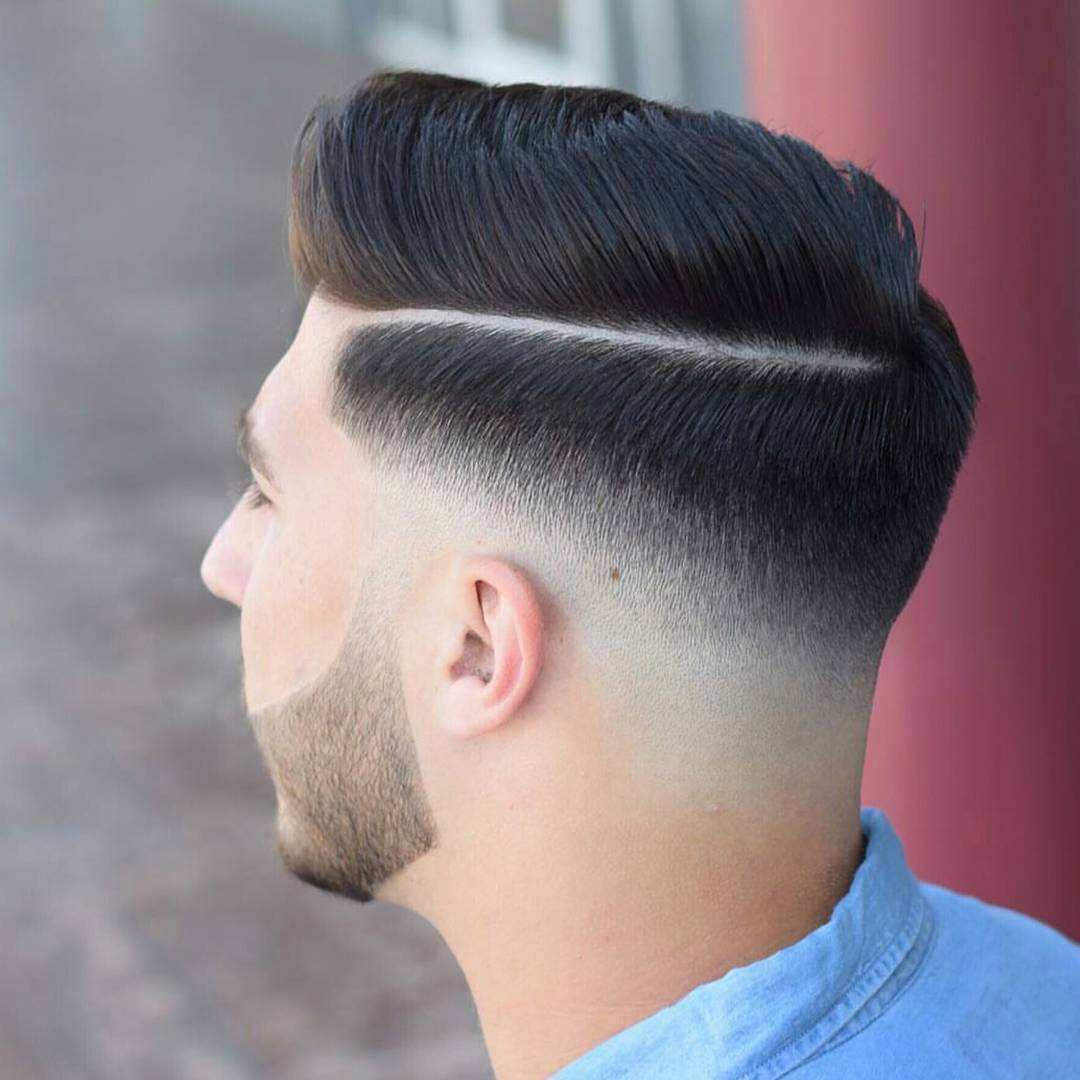 The straight line of the hard part contrasts with the blurry diagonal of the fade. This comb over can also be worn with a combed part and drop fade.
15. Medium Length Curly Hair Low Fade Haircut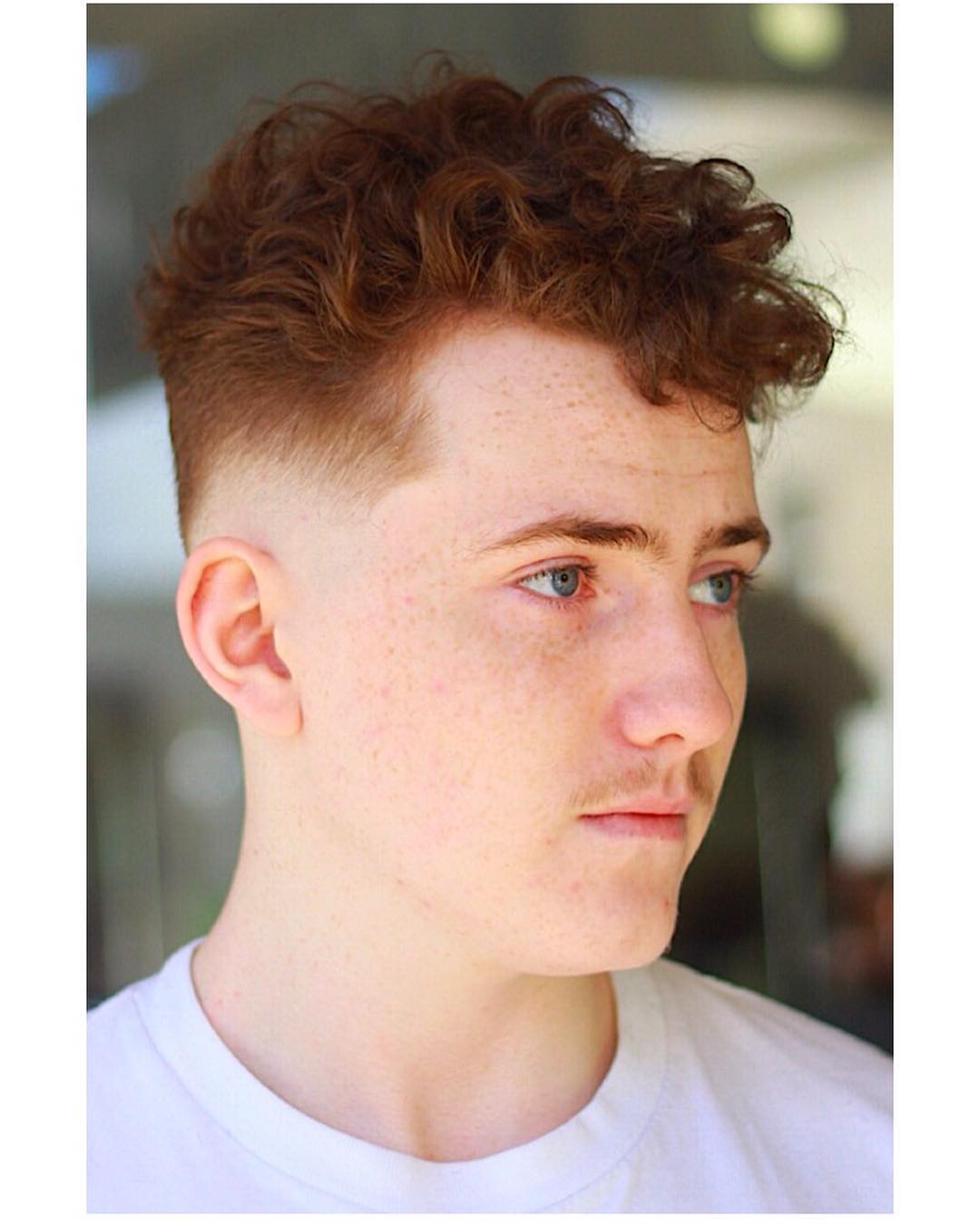 Short and faded sides make it easy and stylish to wear a tousled tangle of curls on top. Try a hair cream for just enough hold plus some frizz-fighting.
16. Undercut Pompadour Haircut + Low Fade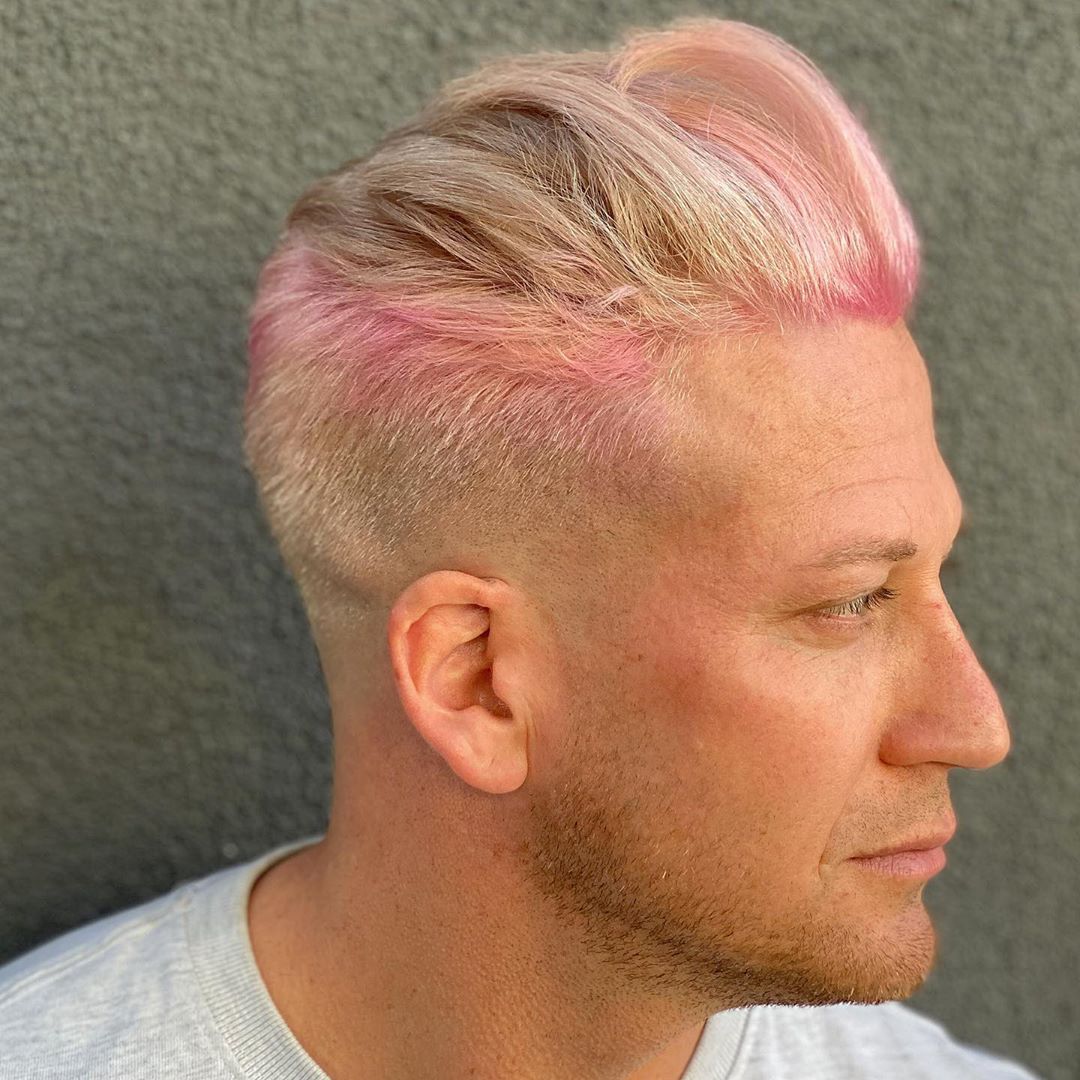 There isn't one best low fade haircut but the contrast between a medium length messy pomp on top over a low and tight fade is striking. Platinum and pink tones take it to the next level.
17. Twist Sponge Haircut + Low Drop Fade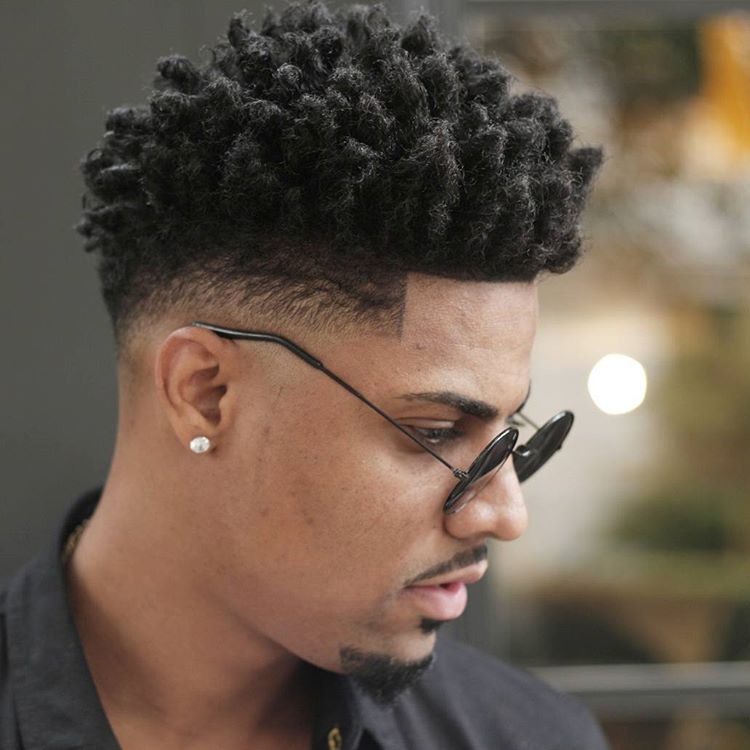 The fade goes low and the curls go high.
18. Short Textured Men's Haircut + Low Fade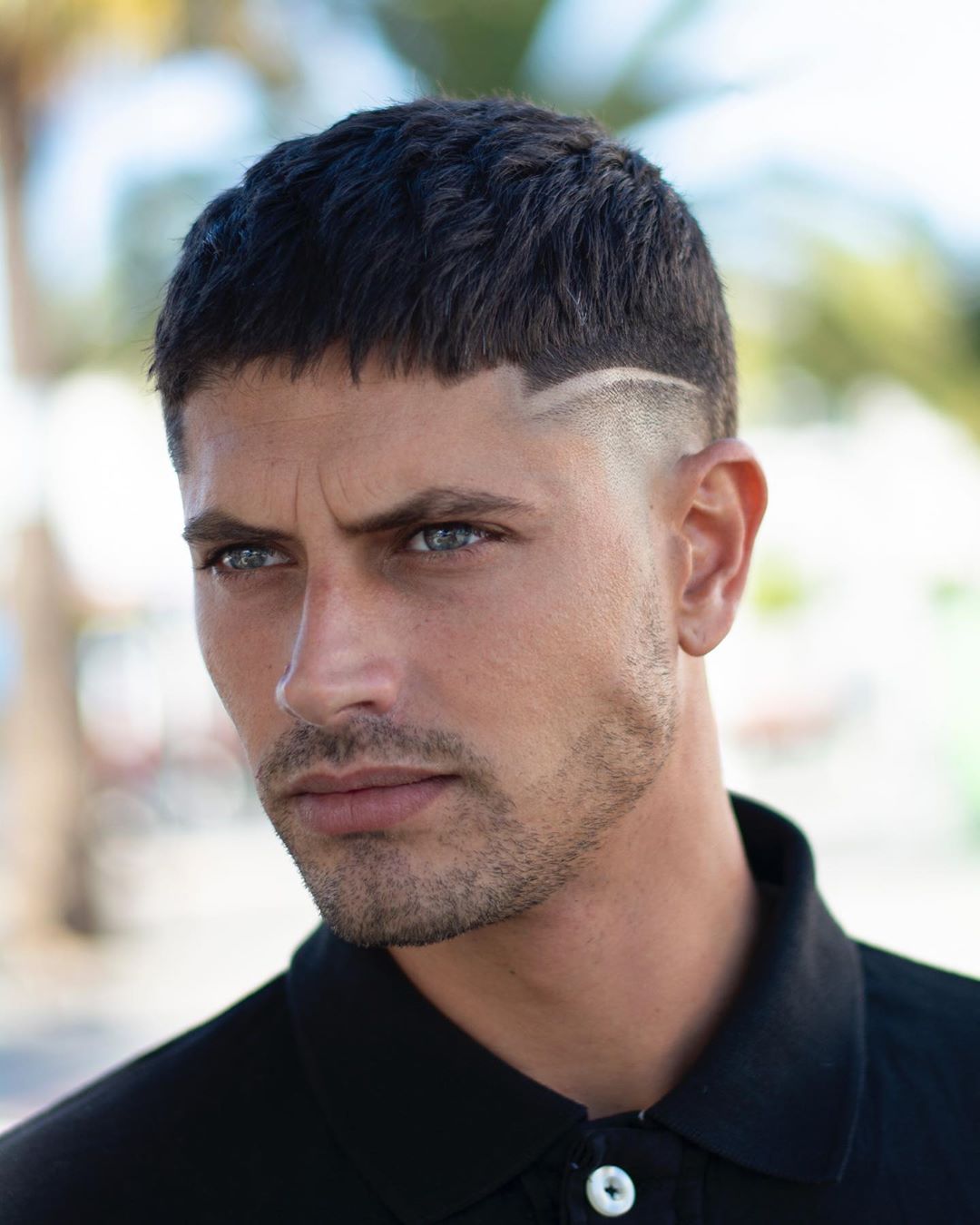 There is a symmetry between wearing short hair with a low fade. This isn't just any short men's haircut but the top trend, a textured crop fade.
19. Crop Haircut + Low Fade + Beard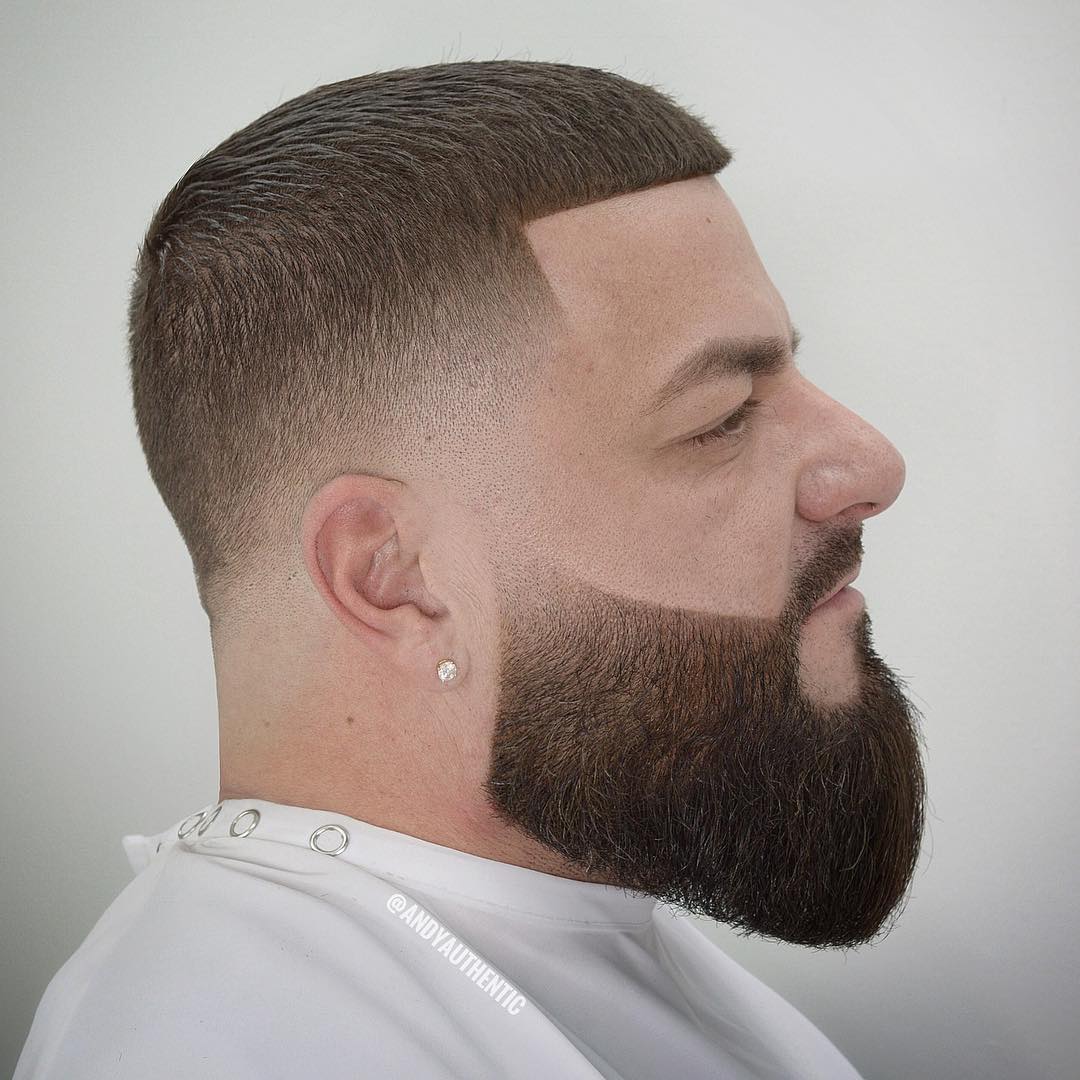 There's something to be said for growing facial hair longer than the hair on your head. Show it all off with clean lines and a blurry fade.
20. Buzzcut + Line Up + Low Fade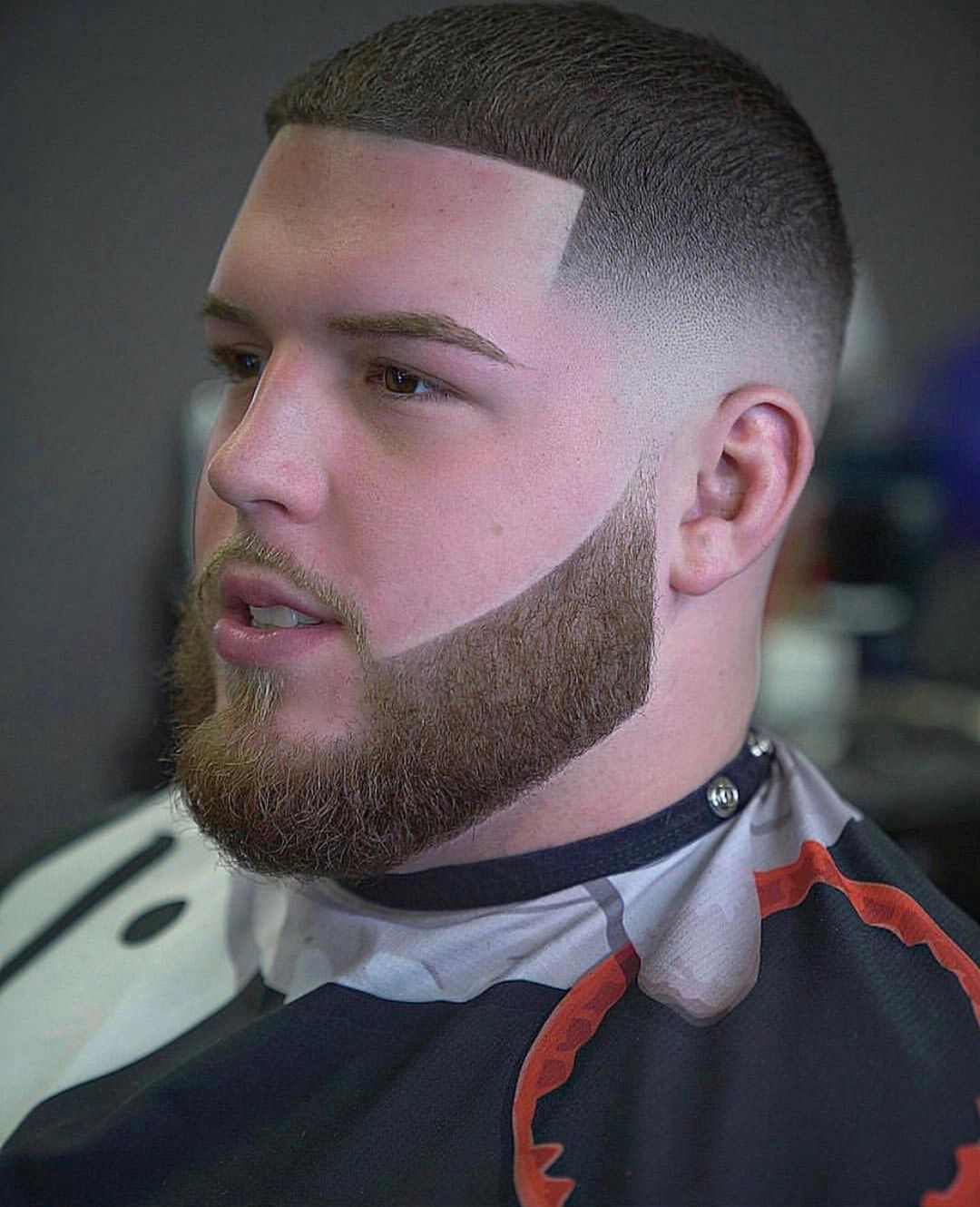 Short hair and a short beard are the easiest to way to look really good. Trim that beard yourself in between barber visits but leave the fades to the experts.
21. Short Haircut For Black Men + Low Fade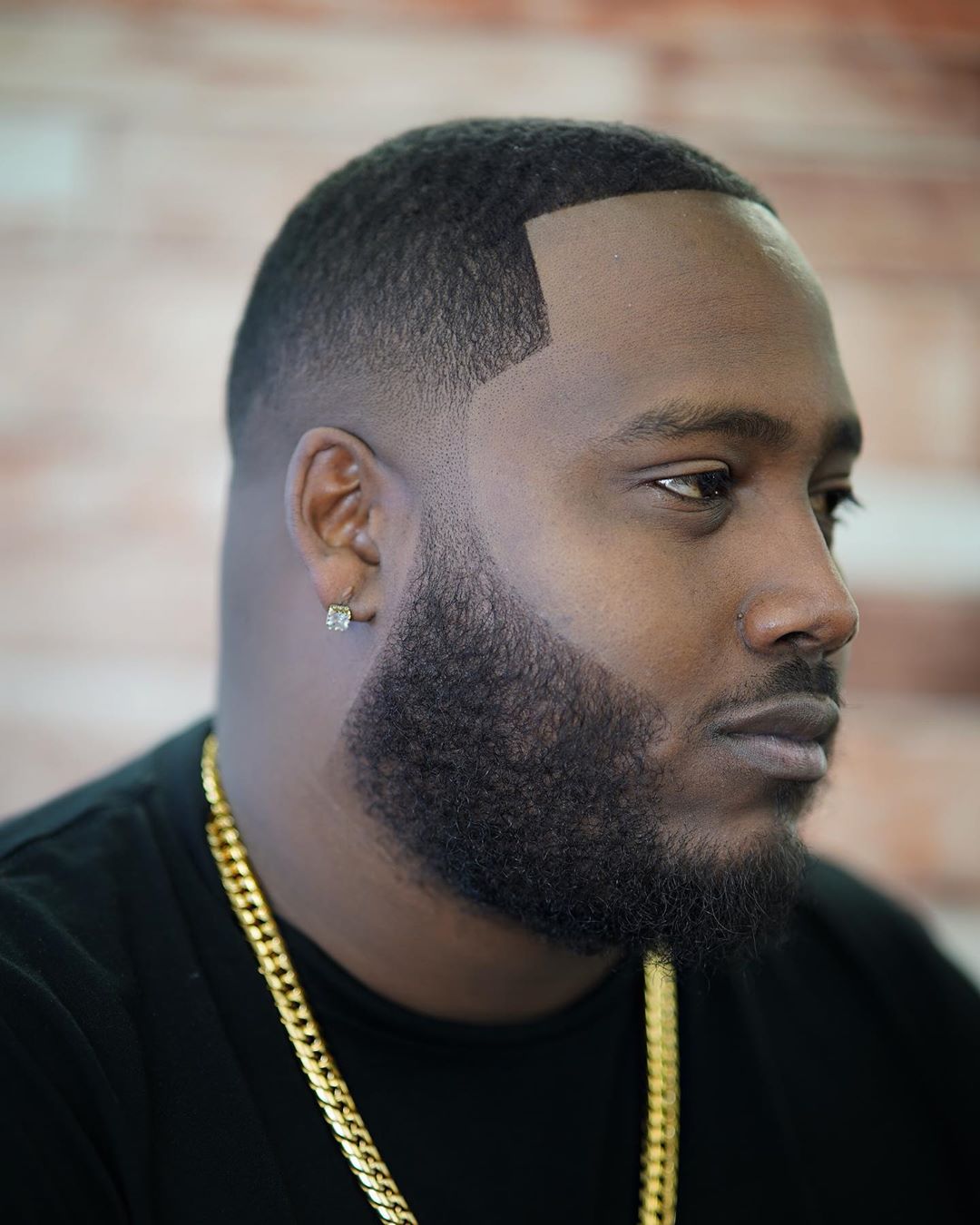 And here's a cool short hair look for black hair, with waves on top and a clean fade around the bottom. Wear it with a beard, or not.
22. Long Hair Men's Hairstyle + Low Fade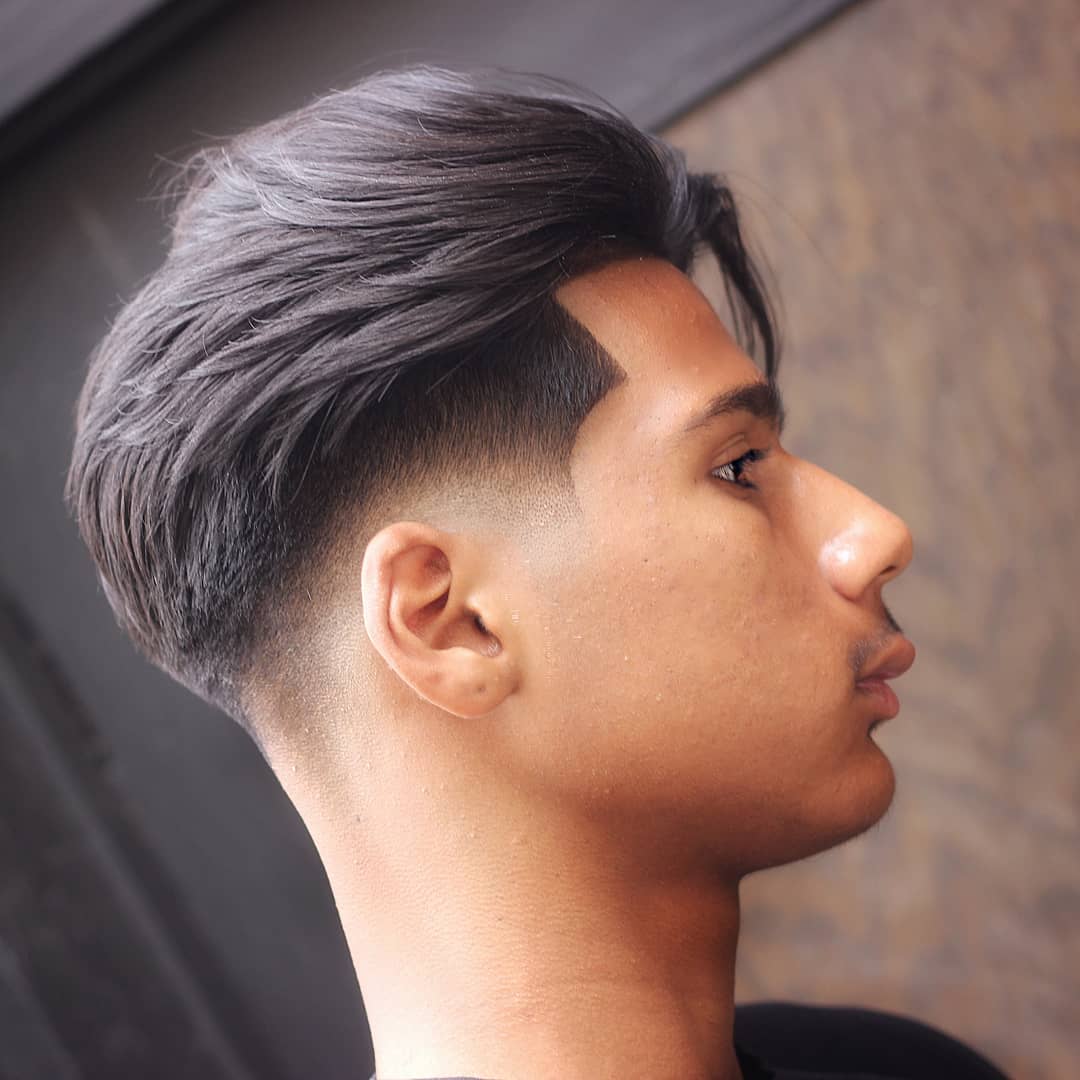 This fresh style lets medium hair flow over a lower fade. Let it flow, bro.
23. Medium Textured Haircut + Low Drop Fade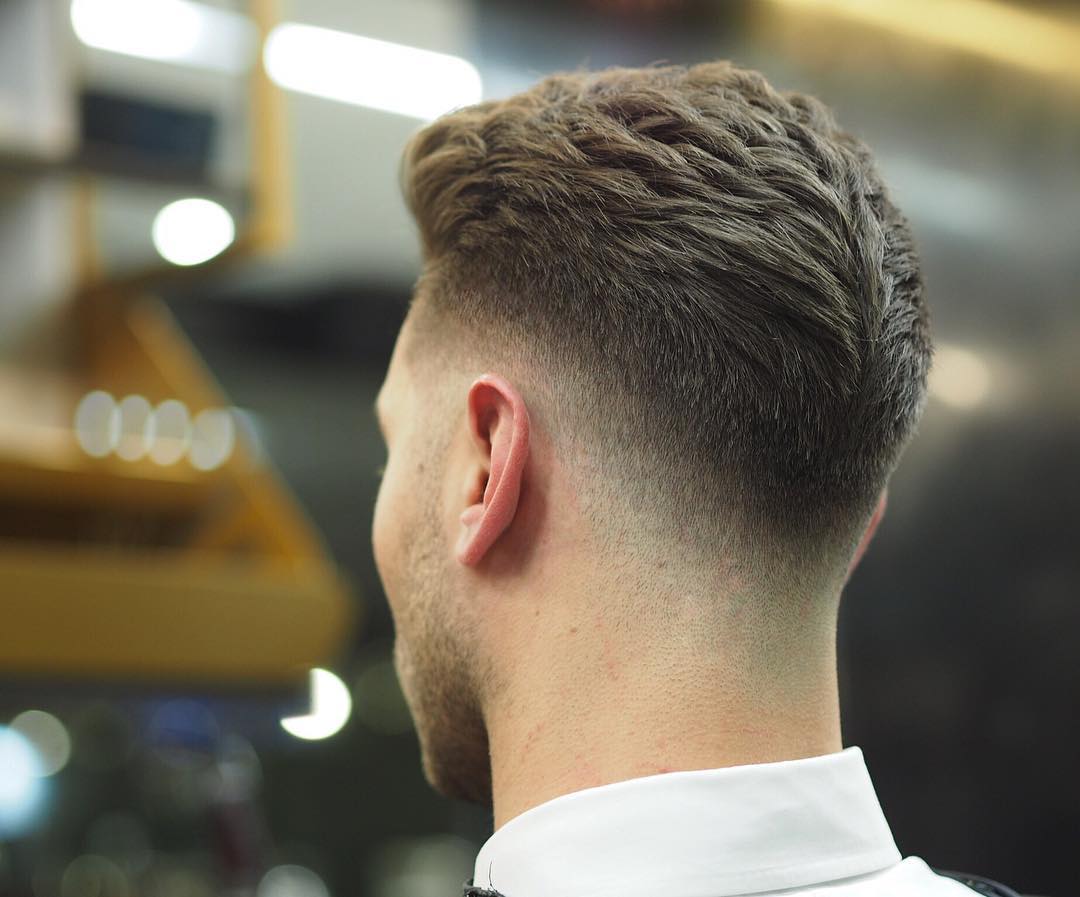 This blurry fade creates a striking frame for thick textured hair. This look is simultaneously modern and classic, cool and professional.
24. Slicked Back Low Fade Haircut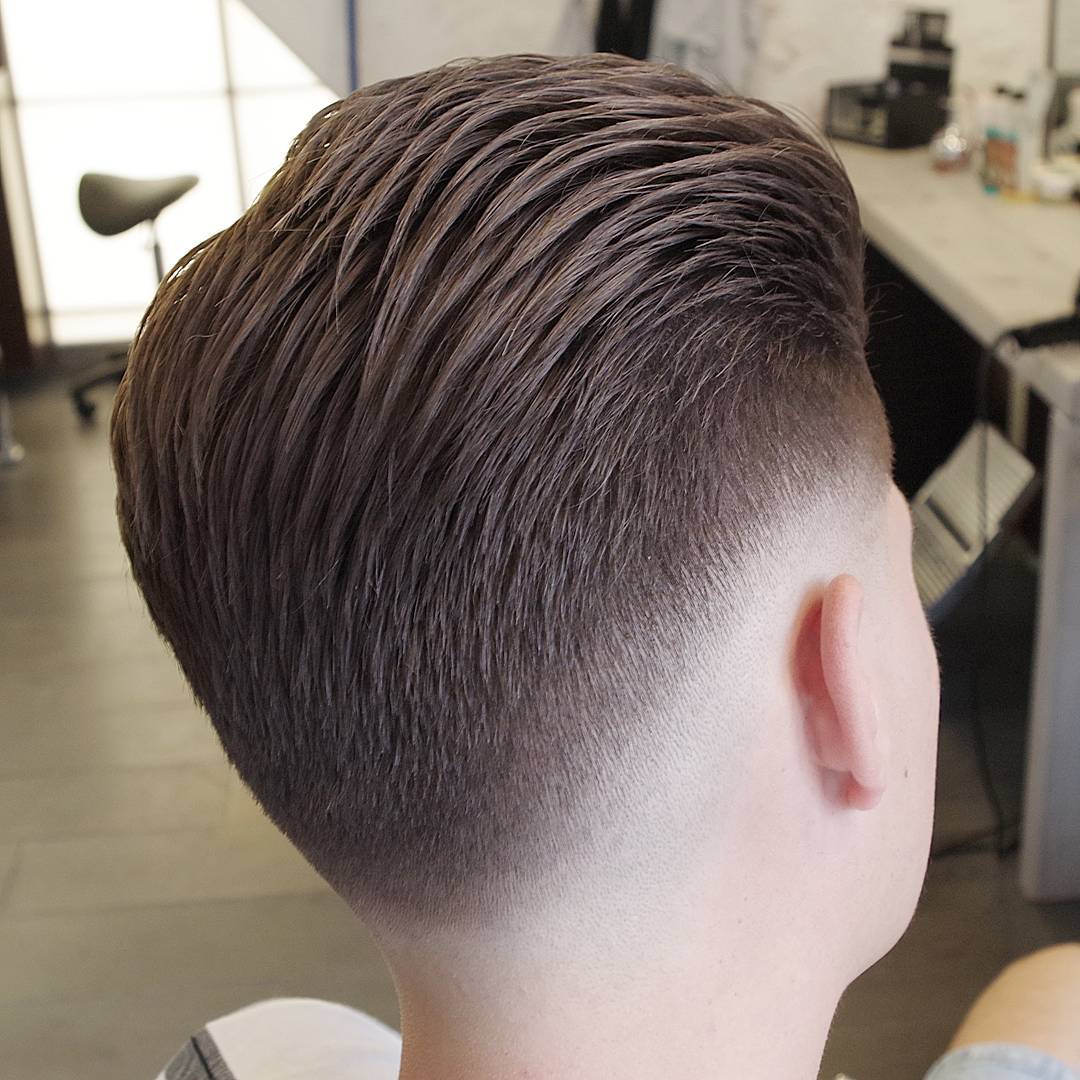 The pomp fade is a popular hairstyle because it is easy to style and looks great. It can be worn with a mid or high fade but this low fade follows the lines of long hair on top.
25. Low Fade + High Pomp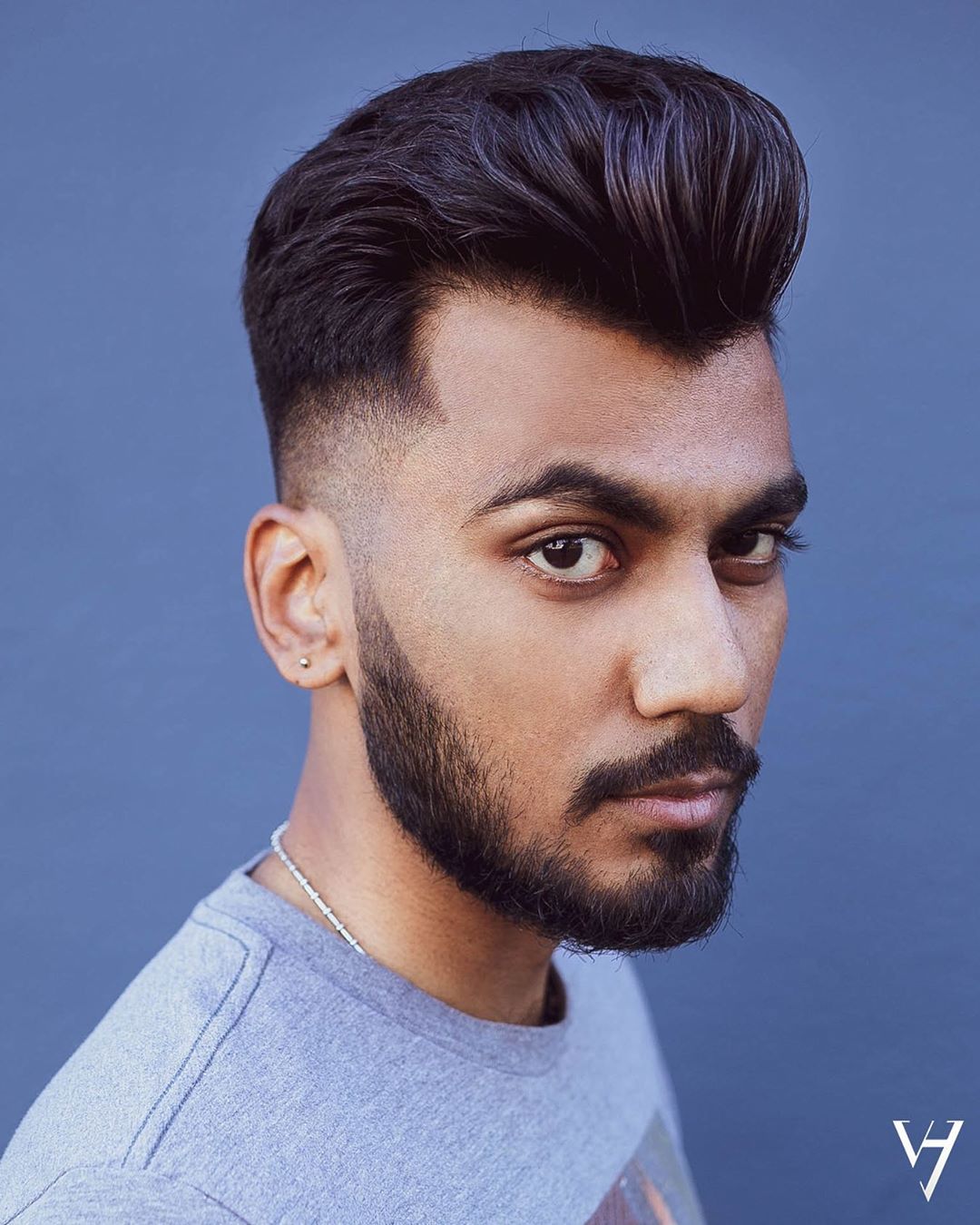 And another pomp fade from the front. The low fade emphasizes how thick and full hair is at the sides. On top, it's a modern look with some trendy texture. Try a hair wax to get that combination of hold and separation.