Don't believe everything you read on the internet, except this site of course. There is no way to prevent grey hair. Like everything else, including thinning hair, healthy living is the secret to looking and feeling your best. So, eat lots of healthy protein, even more vegetables, get in as much sleep, relaxation, and exercise as you can, quit smoking, get some extra B12, and drink more water.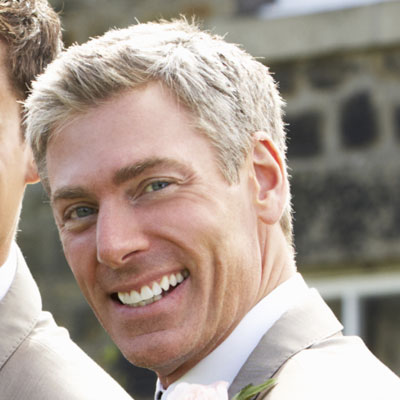 Don't fight going grey, at any age. On the bright side, you're on your way to being a silver fox. Hair dye is an option but never looks quite right. Replicating the subtle nuances of natural hair is expensive as well as time consuming. So make the most of grey hair by taking care of it.
Going grey changes not only the color and texture. Strands tend to be drier, finer, and sometimes more unruly than before. Without any color of its own, grey and white hair can pick up pigments from the environment, chlorine, and dyes in hair products resulting in unwanted tints, including yellow and green. The simple solution is to use a products formulated to care for more salt than pepper locks.
If hair is only partially grey, all of these options take care of natural color while adding luster to grey or white areas. For a no commitment boost of dark color, check out Imperial Barber Blacktop Pomade, a tinted hair product that enhances darker shades of hair to naturally cover grey.
Here are the best shampoos for grey hair:
Jhirmack Silver Brightening Shampoo – Many prefer this shampoo for grey, silver, or white hair to some of the other available options. The light formula can by used more than once a week but not everyday.
Kevin Murphy Maxi Wash – This sulfate-free formula solves a range of hair issues in addition to brightening dull, grey hair. It also soothes irritated scalps, detoxifies sluggish or flaky scalps, and balances sebum production. If you style hair everyday, this shampoo also removes product build-up.
Clairol Shimmer Lights Shampoo + Conditioner – You won't see ads for this popular shampoo but it's still well-known. The protein-enriched shampoo, brightens white and grey hair and removes yellow while leaving hair thicker and healthier.
This isn't for daily use though. The dark blue formula can build up, turning you into a "blue hair." Be warned that the blue can also stain light-colored grout.
Klorane Shampoo with Centaury – For a gentle, daily use this shampoo, choose this formula is derived from botanical extracts. Centaury brightens silver highlights, prevents grey hair from becoming yellow, and leaves a soft, smooth texture.
Pantene Silver Expressions Daily Color Enhancing Shampoo – The grey hair dedicated formula from the popular drugstore brand isn't always available on store shelves so but it is online. It's the lowest cost option available that brightens hair and leaves locks hair shiny and manageable.
There's one more important aspect to caring for grey hair. The lack of pigment means that your scalp is susceptible to burning in the sun. An alternative to donning a hat all summer is using a shampoo or conditioner with sunscreen. Goldwell DualSenses Sun Reflects Leave-In Protect Spray shields hair and scalp from the harmful effects of UV rays, chlorine, and saltwater.