Whether your hair is naturally fine or starting to thin, here's how to thicken men's hair. There are a couple of different ways to get thicker hair that can be used alone or together for maximum effect.
The first thickening method uses products designed for that job. The second way to make hair appear fuller is to add volume with products and styling. The last method is a lesser-known hair loss product that can benefit all guys.
1. How To Get Thicker Hair For Men
Judging by the number of products out there that promise thickening properties, plenty of guys are looking for fuller hair. These products work in two ways, either by coating hair strands or plumping them up with additional moisture. Some also add volume but we'll get more into that in a bit.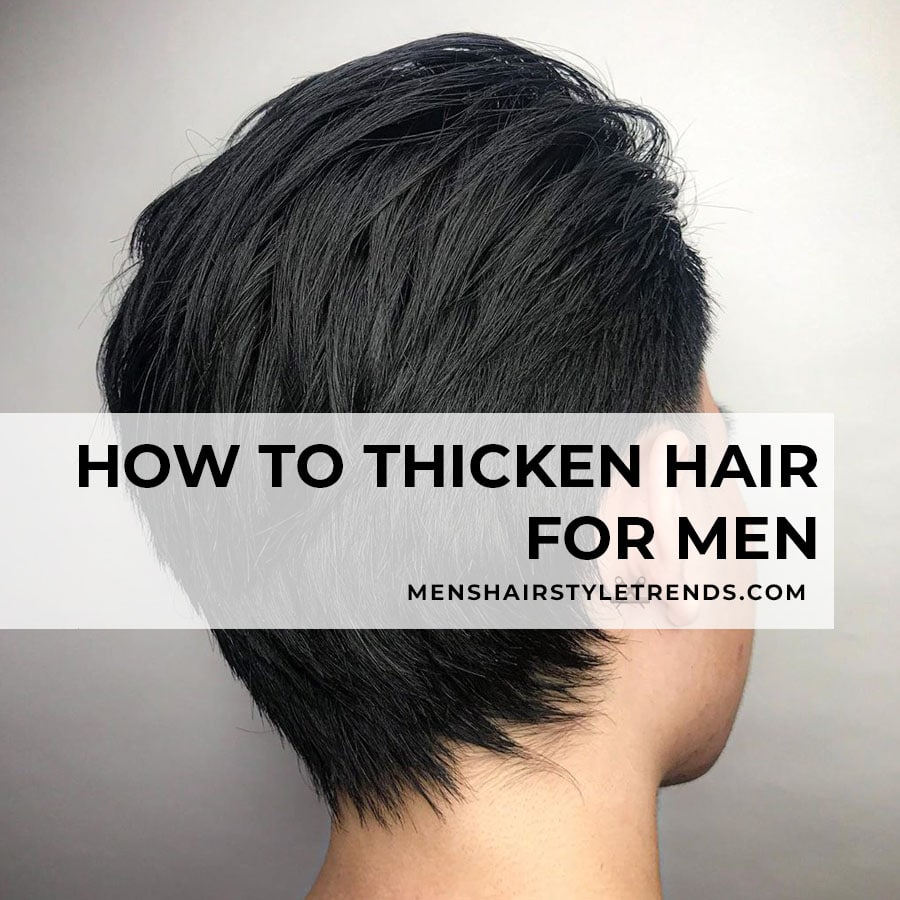 Thickening Shampoo + Conditioner
The easiest way to help hair appear denser starts before styling. Shampoo and/or conditioner build on the main components of hair to make strands fuller. Use one or both to build a great foundation for thicker hair. Look for products that contain keratin, protein, and panthenol. Here's why.
Hair is about 90% keratin, also known as protein, so the most effective products contain keratin or protein. Keratin proteins smooth hair and coat individual strands to plump it up. The second largest component of hair is water. Panthenol, a form of Vitamin B-5, is a humectant that swells hair strands with more moisture.
Thickening Sprays
This may add an extra step to your hair care routine but it is quick and easy. Most of these sprays add both fullness and volume and make an excellent pre-styler. Spray damp almost dray hair, work it through, and dry as usual.
There are many thickening sprays out there but many of them focus on volume rather than increasing the diameter of each hair strand. Sprays designed for men do tend to get the results you want.
One of the best out there is Redken Brews Instant Thickening Spray. This review says it all: "this thickening spray work phenomenally well on my little brother's balding thinning hair he managed to be able to find a girlfriend and she's kind of cute too he gives it to thumbs up and I'm happy he found somebody
Another top product is boldify thickening spray. It adds texture and volume to make strands fuller and taller. It also absorbs oil and moisture to fight grease and frizz. It sounds too good to be true but is backed up by a money-back guarantee.
Sea Salt Spray
Salt spray is a product we mention frequently. It can be cheap (but doesn't have to be) and does so much for hair, adding texture, grit, and thickness. The salt also makes hair more rigid, adding to the appearance of fuller hair and making it easier to style. There are many salt sprays available at multiple price points so find one that fits your budget. And be sure to condition well to counter the drying effect of salt.
2. Pomades That Thicken Hair
Pomade is the most familiar hair product for most guys and it can also enhance thin or fine hair. Some pomades advertise their thickening properties while others don't mention it. Texturizing pomades with clay, wax, or fibers and hair putties also boost thickness and volume.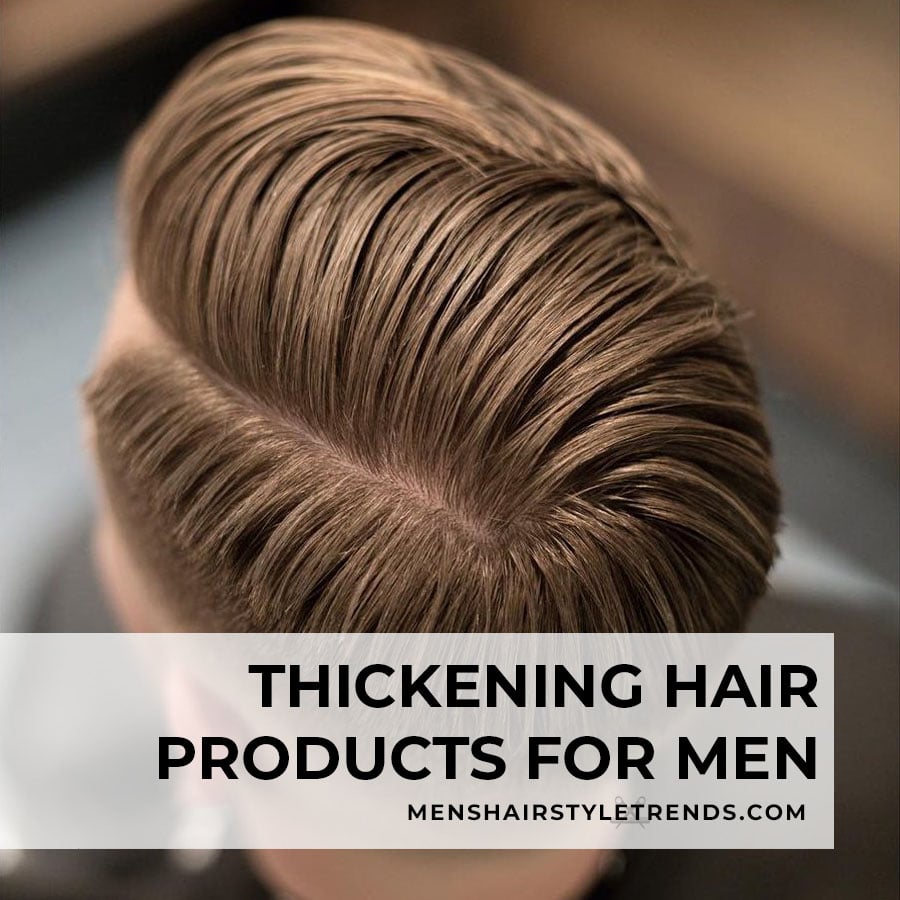 In terms of hold, that depends on your hair type, length, and style. In general, low to medium hold is best for fine, thin, and curly hair types. Use a strong hold for shorter hair and high volume looks. Hold really varies by brand so look for other qualities first.
Other than that, be sure to use a matte product because shine can weigh hair down and make it look thinner. Here's what to look for.
Thickening Pomades
Redken Brews Thickening Pomade – Designes as part of Redken Brews Thickening product line, this mild hold pomades boosts thickness and volume for fuller looking hair plus re-workable control. Like styling powder, it uses starch and silica to coat hair and add height.
Every Man Jack Thickening Grooming Cream – Like thickening shampoo and conditioner, this cream contains keratin and soy protein to smooth and plump hair strands. This hair cream is medium hold and can be used for shorter hair as well as natural styles, longer hair, and wavy to curly locks.
American Crew Fiber – Like we said, plenty of pomades thicken hair without putting it in the name. This pomade holds strong with a flexible finish and no shine. A combination of resinous fibers and wax thicken up hair while holding it where you want it to go, even with a cowlick.
With the massive texture trend plus crop haircuts, there are more texturizing products available than every before. There are a few ways to get the look but all of them coat hair strands for the appearance of fuller hair.
Clay Pomade
Clay, usually bentonite and or kaolin, adds body, thickness, and structure to the individual strands for a fuller look. They boost volume without weighing hair down and as a bonus absorb scalp oils.
BluMaan Monarch Matte Paste – This high hold, matte finish paste adds shea butter to give it a creamy feel that is easy to apply. It also uses bentonite and kaolin clays for thicker hair, texture, and volume plus minerals that promote hair growth. Also check out Hair Craft Co. Clay Pomade.
Wax Pomade
Hair waxes provide have strong, reworkable hold with a low shine finish. The coating of wax adds thickness to thin hair as well as texture. Wax formulas may also contain polymers, fibers, or clay. Wax sounds hard to wash out but most formulas are water-based.
Bed Head Matte Separation Workable Wax – This medium-weight formula combines beeswax, cera caranauba, plus flexible polymers for separation, texture, and fullness. This matte workable wax washes out easily.
Hair Putty
Yes, another type of pomade. Hair putty is a newer product that uses a combination of ingredients to add bulk, body, and lift at the roots. A putty will have a flexible finish like a wax or fiber.
Pete and Pedro Putty – This Shark Tank featured product uses lanolin, beeswax, and polymers to create a a firm yet pliable hold. It works well for thin hair as well as wavy and curly hair.
3. How To Add Volume To Hair
Hair volume or body refers to how much it sticks up and out. This helps cover thinning spots by spreading hair out for the appearance of denser hair. Pomades also add volume but if you're looking for something lighter, here are some more ways increase the stature of hair.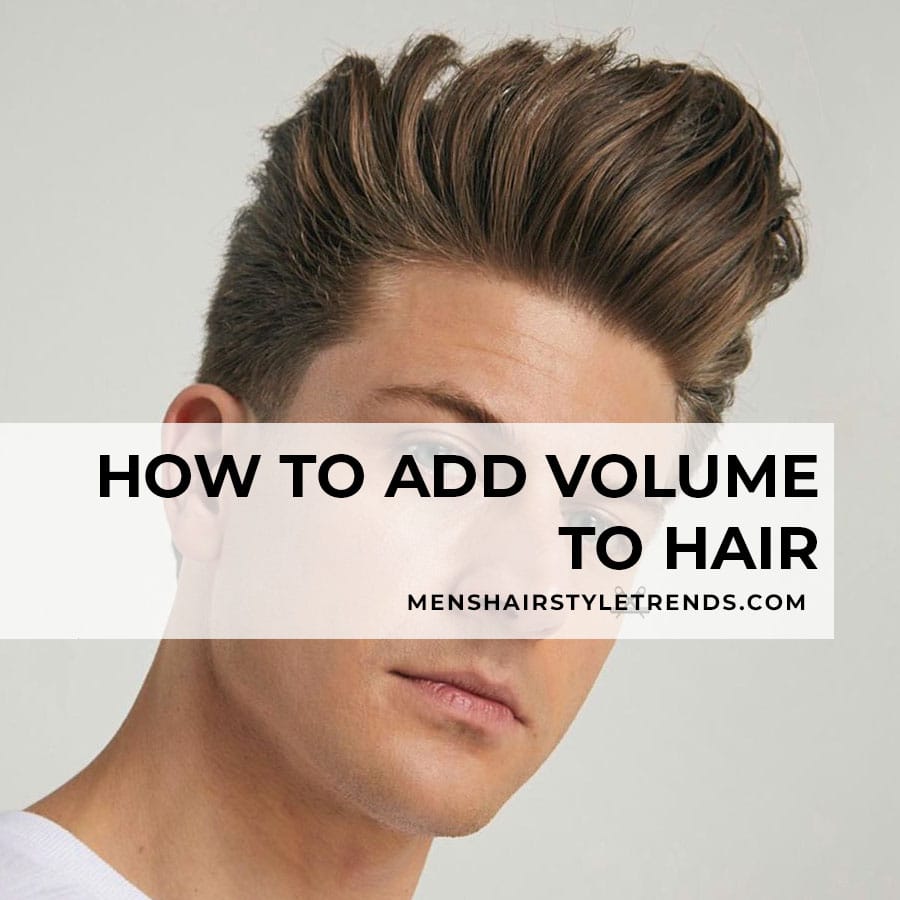 Styling Powder
Hair powders are mostly silica silylate, a rough particulate. The powder sticks to your hair fibers, increasing the friction between the hairs to boost volume. Styling powders also absorb oil, which also helps keep hair perky. This product can be used alone or with pomade.
Slick Gorilla Hair Styling Texturizing Powder – When you look at the volume or the price per ounce, this is one of the cheaper hair powders out there. That doesn't sacrifice quality though. You'll get invisible hold with plenty of lift, strength, and volume.
Mousse
Yes, men do use mousse. In addition to salt spray, it is an underused product that makes hairstyles easier to achieve and last longer. Mousse is a lightweight foam that is easy to apply and provides ample body and a hint of healthy shine. Let this product do double duty by finding a thickening mousse. Mousse can be used on its own or as prestyler with pomade.
L'Oreal Paris Boost It Volume Inject Mousse – We're a fan of drugstore brands too, especially when trying out new products or styles. You won't be disappointed with volumizing product that also contains thickening agents. If you are disappointed, it was only the cost of a nice coffee.
Hair Spray
Just like men use mousse, they also use hair spray. Those slick styles that you like on Instagram? They probably used hair spray. Today's hairspray is strong yet touchable. It doesn't create volume but locks in your look all day long.
Big SexyHair Spray & Play Volumizing Hairspray – Firm hold hair spray is the best product for mohawks and spikes that don't move. In contrast, this is a medium hold hairspray with a flexible finish that can be combed or re-styled. It also blocks humidity for 72 hours and can ensure that your hair does what you want it do in the heat.
4. Haircuts + Hair Styling
A great haircut is the best foundation for thicker hair. Reading this is no substitute for talking to your barber. Trust the pros to help find the most flattering style for your hair type and face shape.
First off, short or faded sides makes the hair on top appear fuller. A longer on top style can work at any hair length.
The crop trend with textured styling can also help hair look thicker. Layers and piecey styling give straight hair some texture while the popular fringe is flattering for receding hairlines.
Hair styles also can change the appearance of fine, flat, lifeless hair. Think high volume styles like pompadours, quiffs, and modern spikes. Anything that pulls hair up. Use the hair products we recommended above to get the look.
Last, get a blow dryer. Again, most of the super stylish looks have been blow-dried. It is essential for maximum volume as well as all day hold. Okay, not necessary for short hair, but it makes a significant difference for longer locks.
How To Make Hair Look Thicker
We've recommended a lot of products but how to use them? Well, you don't have to use them all but here is what a hair styling routine could look like.
Wash hair with thickening shampoo and conditioner
Towel hair off
Work a thickening spray or sea salt through damp hair
Air dry until hair is damp-dry
Blow dry (use a heat protectant product first) with fingers or a brush
Apply mousse or styling powder
Use a thickening, wax, or clay pomade or hair putty
Set the look with hair spray
While professional stylists may use all these steps, they are not all necessary. The thickening shampoo and/or conditioner is a must. Other than that pick one, two, or maximum three products to use.
5. Fighting Hair Loss
If hair is thin due to hair loss, you probably want to hang on to as much hair as possible. Even if you're not, this is an excellent product for any guy, especially with an itchy scalp.
Most guys have heard of Rogaine (aka Minoxidil) and Propecia. They work well but this is the easiest and cheapest way to prevent thinning hair.
What is it? Shampoo with Ketoconazole. It is an anti-fungal that treats seborrheic dermatitis but that's not all. Shampoo with 2% Ketoconazole on its own has been proven as effective at increasing hair growth as using 2% Minoxidil solution. Or combine it with Minoxidil and Finasteride to see hair regrowth in as soon as 30 to 90 days, compared to the usual 4 to 6 months.
The only product out there is Nizoral A-D Anti-Dandruff Shampoo. It has 1% Ketoconazole but that is better than nothing. Finish with a thickening conditioner and you're on your way to thicker hair.