A beard straightener is the fastest and easiest way to tame wild facial hair. When blow-drying with a brush, using a flat iron, or testing the strength of beard balms don't work anymore, try one of these beard straighteners.
A beard straightener is a heated brush designed for use on facial hair. The hot brush is not a new styling tool but it is probably new to most men.
Why do you need a beard straightener? There is nothing wrong with a curly beard but facial hair can have a mind of its own. In addition to kinky texture, some beards want to stick out in all directions. Conditioning and moisturizing with beard oils and balms can help but they aren't always enough.
A beard straightener won't flat iron hair facial hair until it's stick straight but it will give you a lot more control.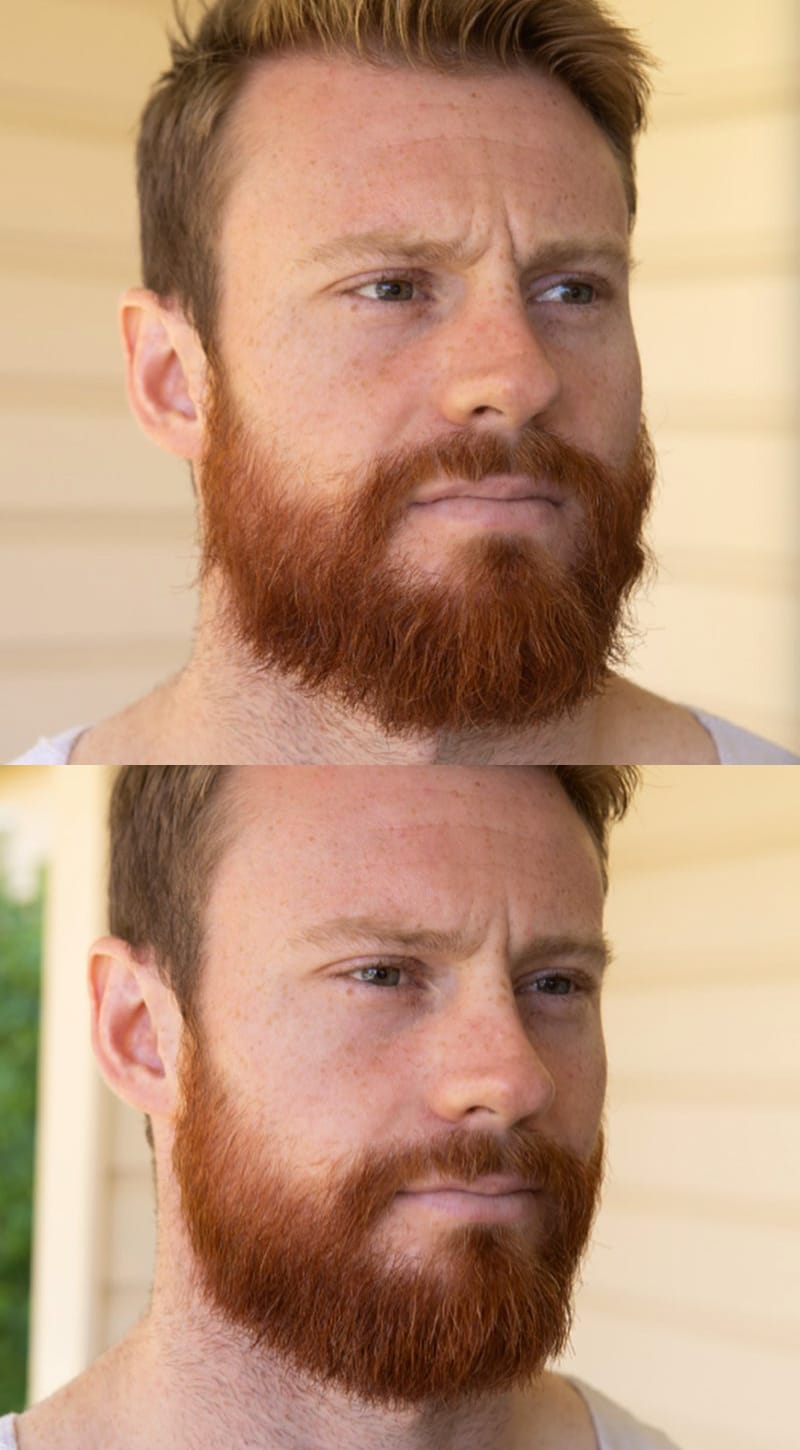 Best Beard Straighteners
You may have seen the Kuschelbär Beard Straightener on social media. At $100, it is by far the most expensive option out there. If that's out of your budget, here are some other options.
The best beard straighteners have all of these features:
Anti-Scald Teeth – Hot-air brushes place electrified teeth in between regular teeth to smooth hair with every brush stroke. The longest teeth should be at least 1″ long so that the shorter heated teeth can work their magic while staying away from your face.
Adjustable Temperature -Different hair types require different temperatures. Some straighteners allow you to pick a temperature while others have low, medium and high settings. Don't just jump to the hottest setting though. Try out lower settings first to minimize heat damage.
≤300°F – Fine or chemically treated hair
300-380°F – Regular hair
>350°F – Thick, coarse or extra curly hair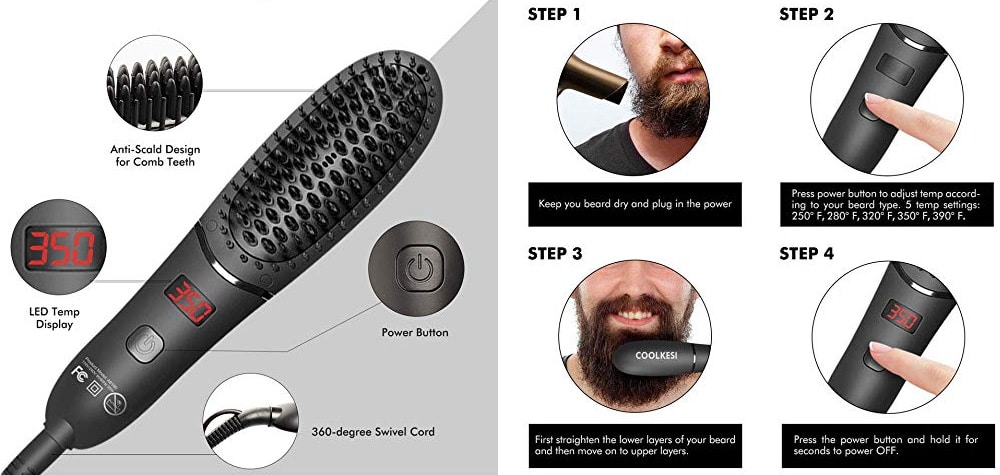 Heat Protection – Most current hair appliances have ceramic or ionic technology to minimize the damage to hair heated styling tools can cause. Ceramic indicates that the heating tines are ceramic-coated to warm up quickly and evenly distribute heat. Ionic styling tools neutralize the positive ions that cause frizz and fly-aways.
TLDR; ceramic and ionic beard straighteners are good.
Temperature Indicator – Like a waffle maker, it's essential to know when your beard straightener is ready. It should have a light and/or sound to indicate that the desired temperature has been reached.
Swivel Cord – A fixed cord will get quickly get tangled so look for a swivel cord that makes it easy to switch sides and reach every angle of your beard.
Wide Brush – Look for a brush that is at least 1.5″ wide, ideally wider than 2″. This ensures maximum coverage with each brushstroke to straighten the curliest, longest, thickest of beards.
Price Point – Any beard straightener that has the above features and fits your budgets will work. In fact, any hot-air brush should be fine, whatever the color or section of the store it's found in. This is a unisex product that can be used by men and women.
These beard straighteners range from $25-40 and are all available on Amazon. The brand names can change but if you look for the essential features, you can't go wrong.
COOLKESI Ionic Beard Straightener – At $24.99, this is the cheapest beard straightener that we recommend. In addition to the basic requirements, it includes 5 temperature settings, an anti-scald design, and heat glove.
Iston Beard Straightener – This brush works well and looks great too. It heats up in 30 seconds, automatically shuts off after 30 minutes, and includes both ceramic and ionic heat protection. The same brush is sold under the name Aberlite. This Arkam Ionic Beard Straightener is also very similar.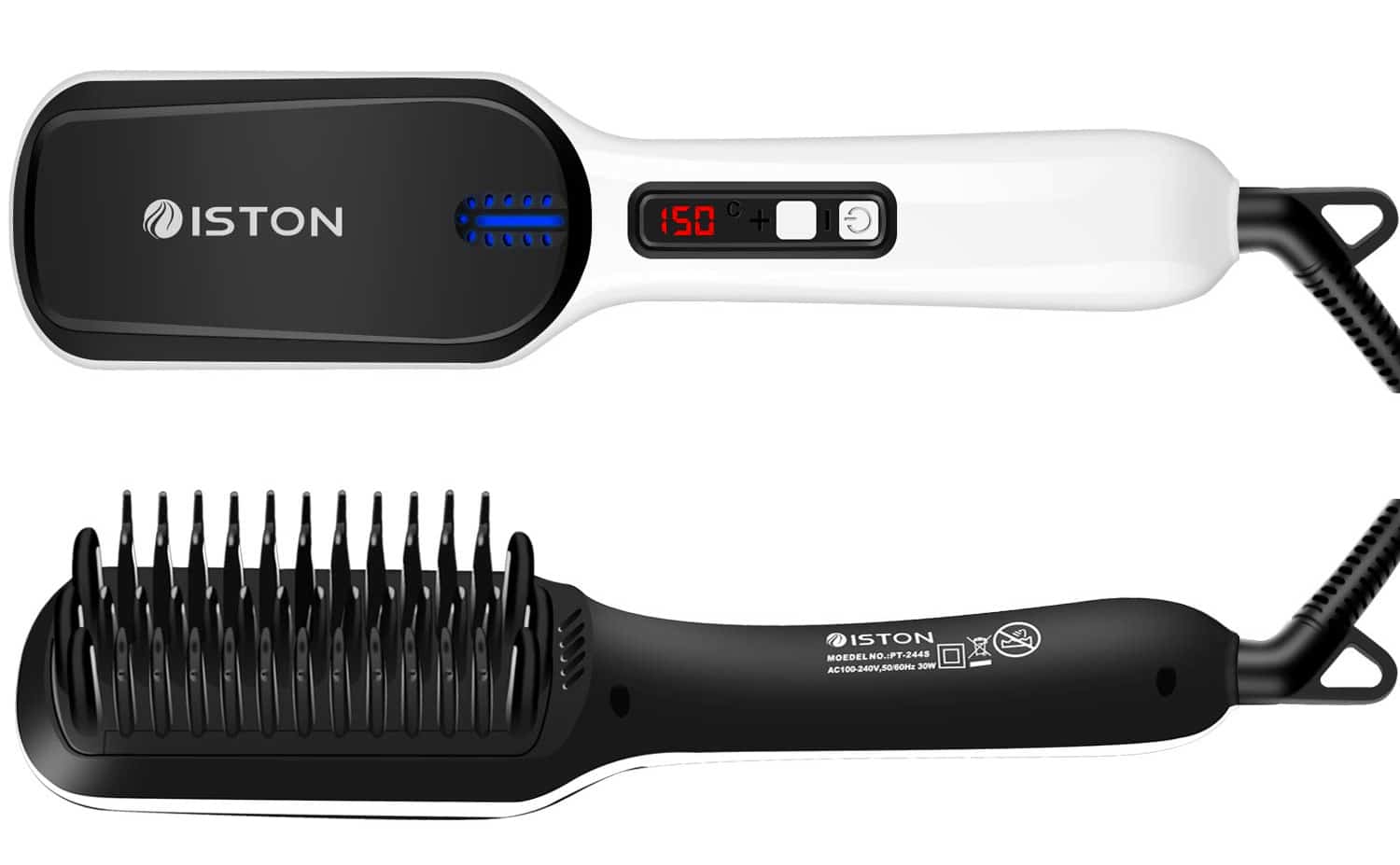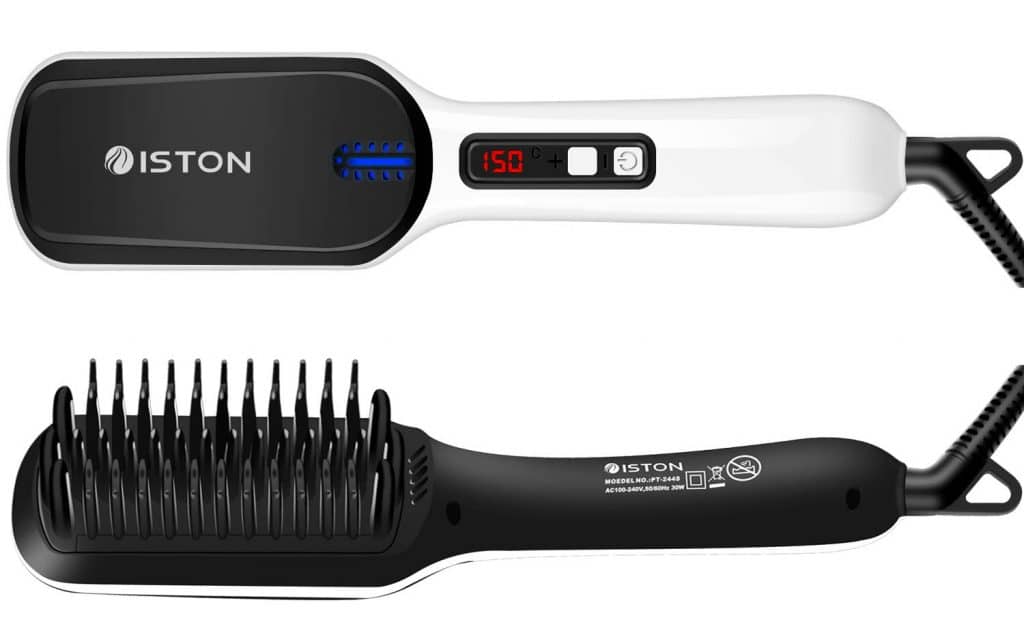 CNXUS Ionic Hair Straightening Brush – This unisex heated comb features both ceramic teeth and ionic technology, 5 heat settings up to 450°F, and a crescent-shaped brush that fits the curves of the face and head.
Best Cheap Beard Straightener
If you want a similar type of beard straightener at a lower price point, check out the Cutie Acadamy Beard Straightening Comb. It's a flat iron with a protective comb to prevent contact with skin. This beard straightener works differently than the brushes but is very effective and only costs $22.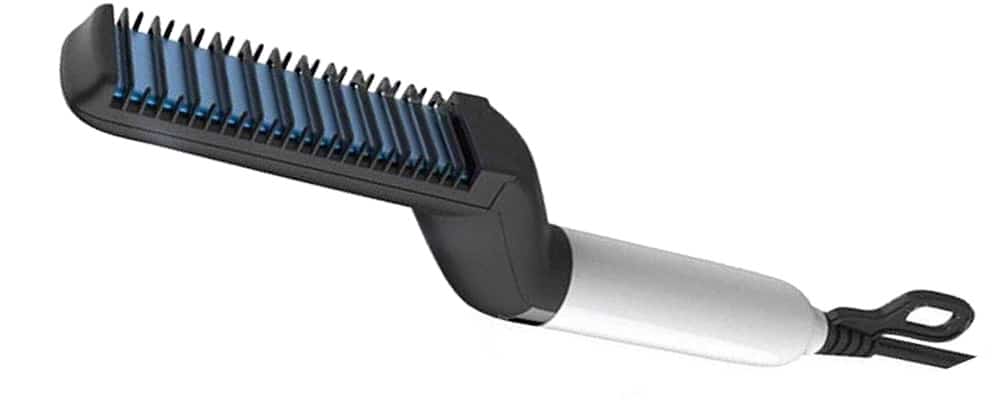 How to Use a Beard Straightener
The process of straightening a beard with a beard straightener is as simple as brushing it until your beard looks the way you want it to. If this is something you want to do daily, or close to it, there are two more essential steps to include.
Beard Heat Protectant
Before straightening your beard with a hot brush, always use a heat protectant product to keep hair healthy. Argan oil prevents heat damage while conditioning hair. Find Argan oil in a spray bottle for easy application or go for this large bottle for the best value. Argan oil works well as a beard oil any time of day.
Just a note, the oil may sizzle for a second when it comes in contact with the hot beard straightener.
Beard Balm
After straightening your beard, keep it that way with a beard balm. Beard balms provide long-lasting hold, conditioning, and smooth hair. If your beard is unruly due to a lack of moisture, using a beard balm will also help smooth and straighten hair.
A few top choices are: