It doesn't take long for men's hair trends to be seen on kids. Whether boys want to look like their father, older brother or favorite sports star, imitation is the sincerest form of flattery. In this guide, we look at the latest boy's fade haircuts to try out.
Fade haircuts are one of the most popular styles for men because they are stylish, flattering and versatile. Fades transition hair from short to shorter or all the way down to the skin. The fade can start up high on the head above the temples, down low above the hairline or somewhere in the middle.
Fades are only at the sides the back. On top, hair can be short or long, flat or spiky, straight or curly. A fade makes any cut easier to wear and look great.
Some of these haircuts for boys are longer or require styling. For more complicated cuts, let kids choose hair for themselves to ensure that they embrace the look, drying time, and styling requirements. Some guys want to put in the work to be dapper while others want a wash-and-wear cut.
Check out all these different ways to wear boys fade haircuts, from toddlers to teens and for every hair type.
1. Thick Crop + High Fade Haircut For Boy's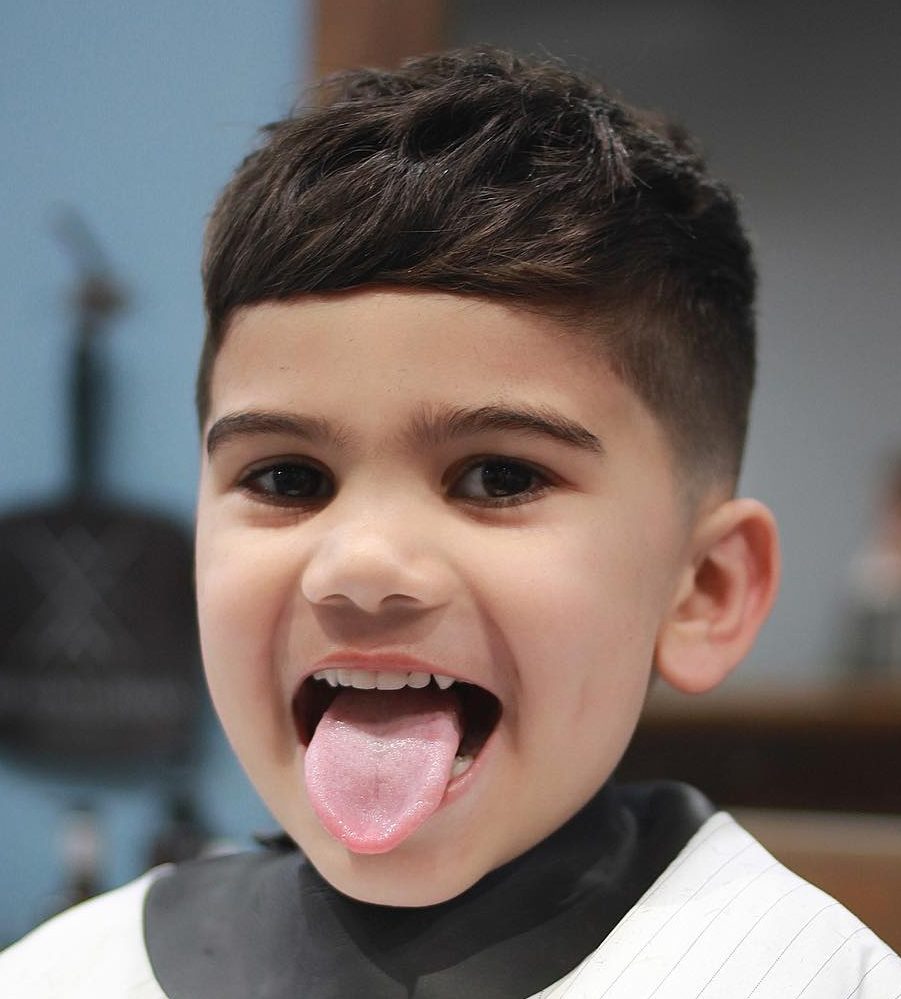 This textured crop is one of the most popular haircuts for men right now. It also works well for children because the layered cutting creates the texture so styling is optional. Combined with a high fade, this cut lightens up thick hair.
2. Spiky Boy's Fade Haircut + Hair Tattoo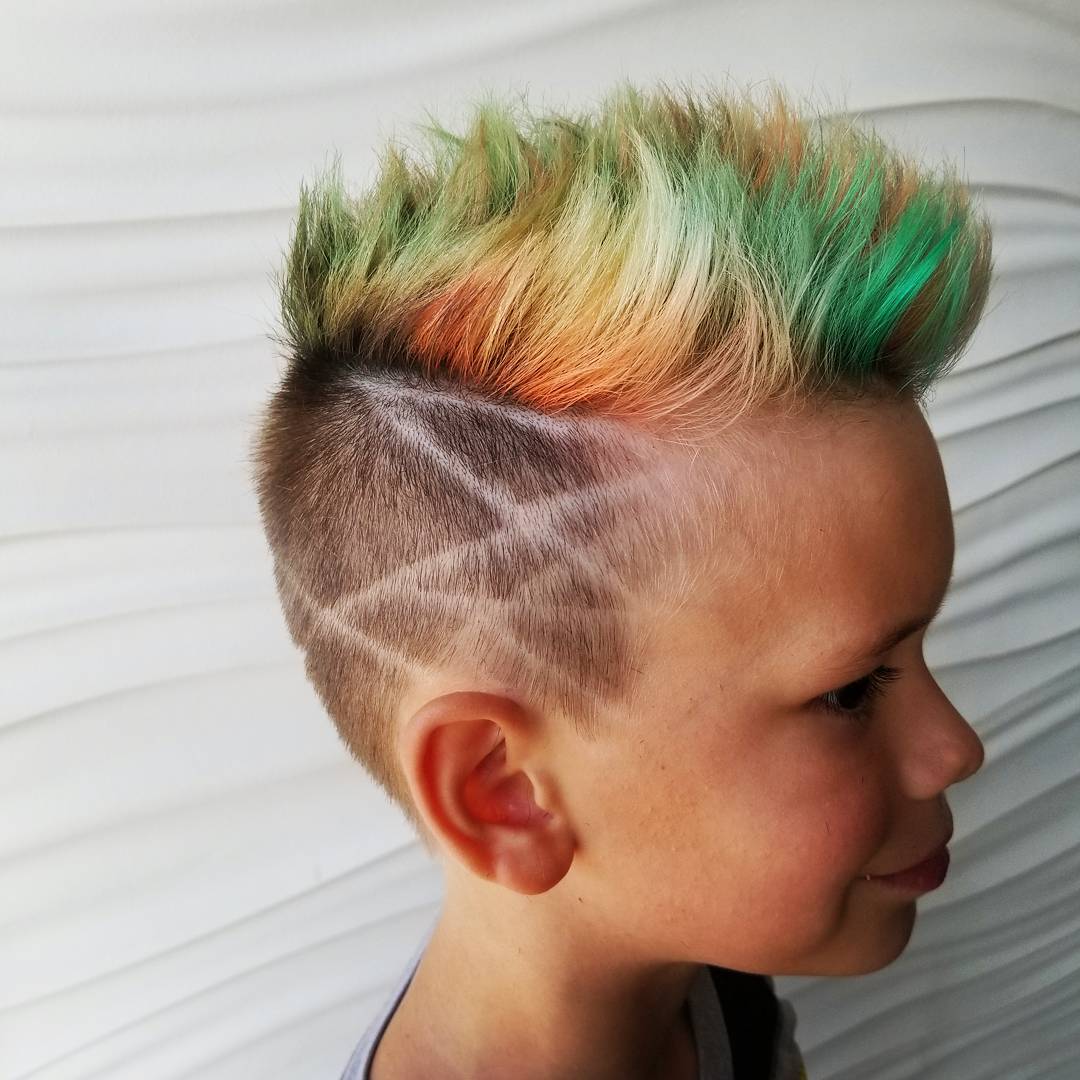 This bold look combines rainbow color on top with a zig-zag hair design over a high fade. Comic book-worthy hair is possible and a wonderful childhood memory. A very cool boy's fade haircut.
3. Quiff Haircut With High Fade + Hair Design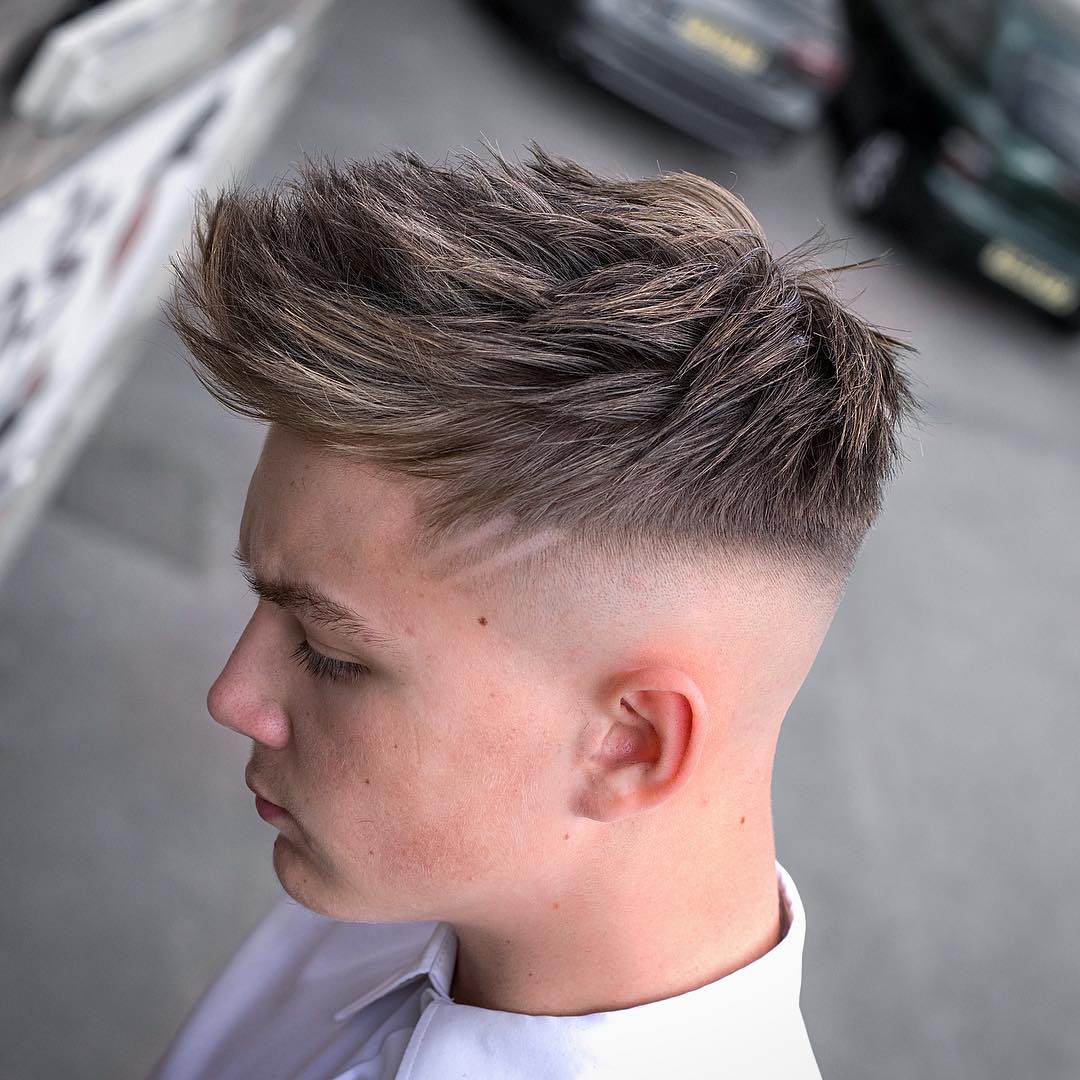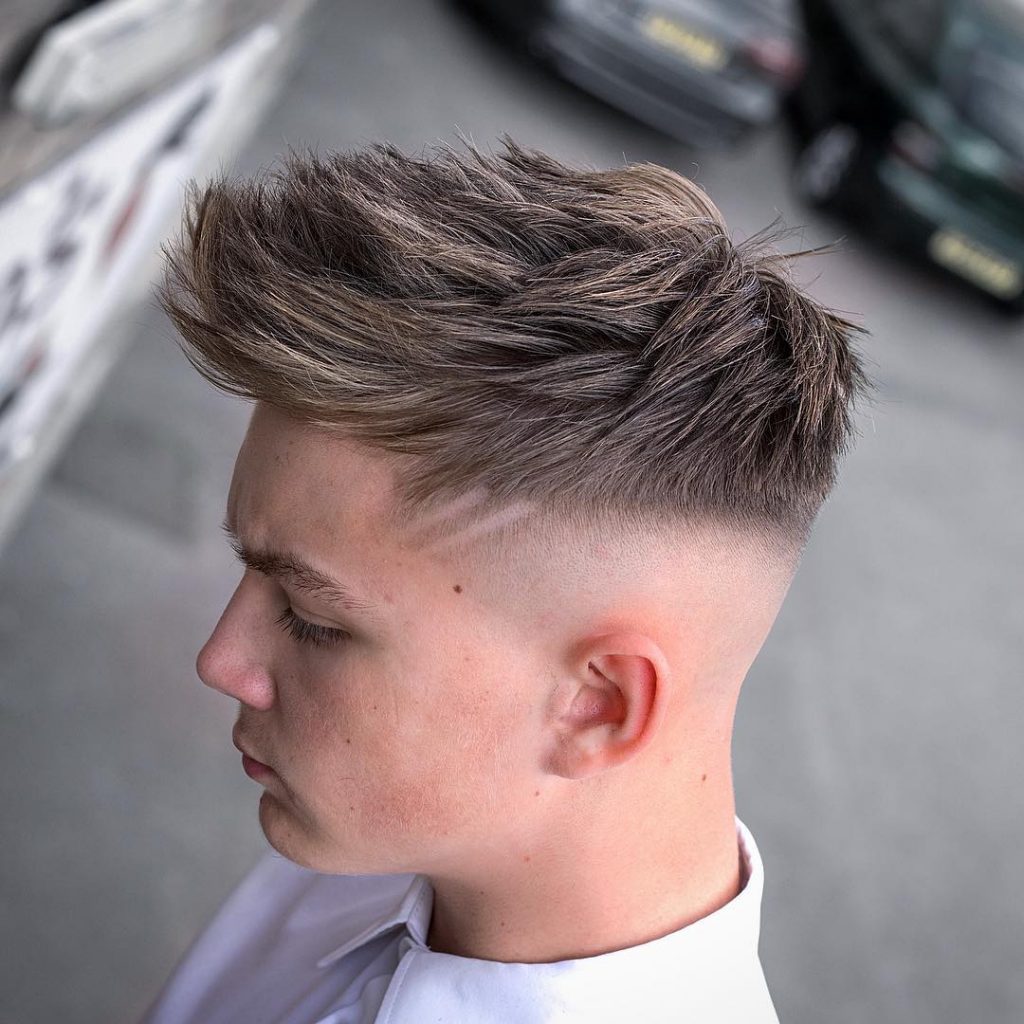 Hair designs can be anything from a geometric design to logo to intricate picture. This cool style combines thick spikes with a freeform hair design that is repeated with a fade. Boys can also choose super hero symbols, team logos or any other statement they want to make.
4. Comb Over Boy's Fade Haircut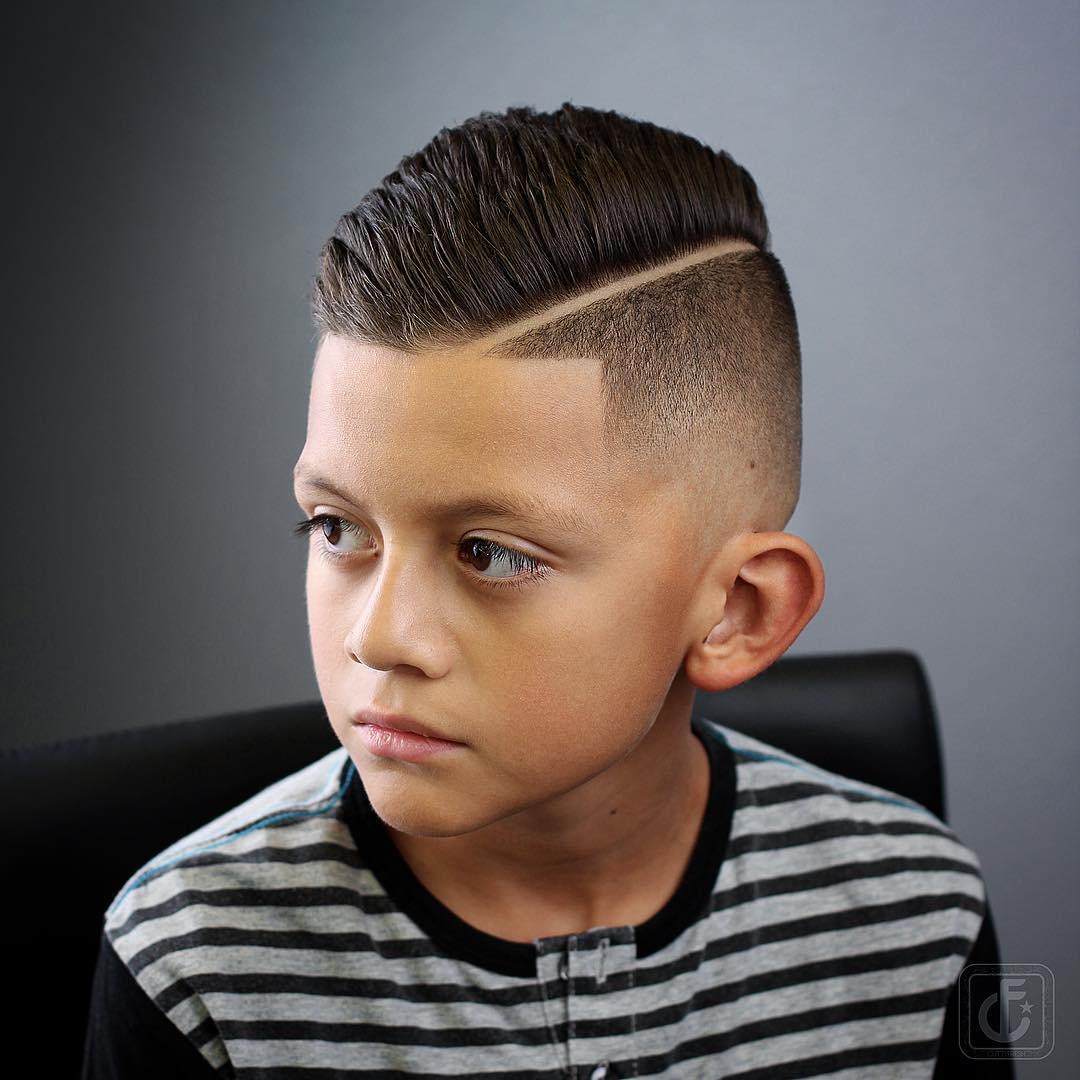 The comb over fade is a popular hairstyle because it is so easy to style but looks great. Combined with a high fade and hard part, it's a great choice for a boy who wants to learn to style hair.
5. Medium Length Hair On Top High Fade Haircut For Boys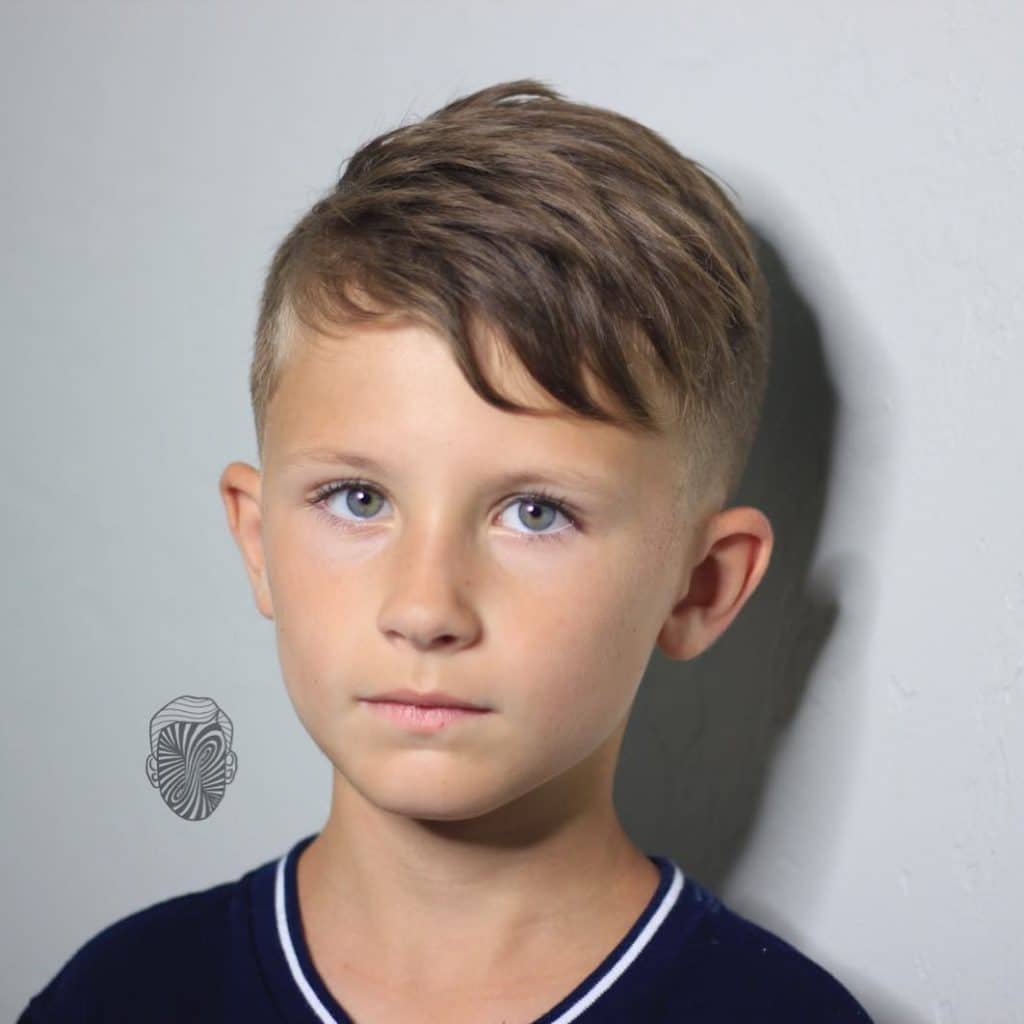 Another way to wear the comb over fade, this side part hairstyle doesn't need any styling. A classic boy's fade haircut.
6. Buzz + Fade Haircut for Curly Hair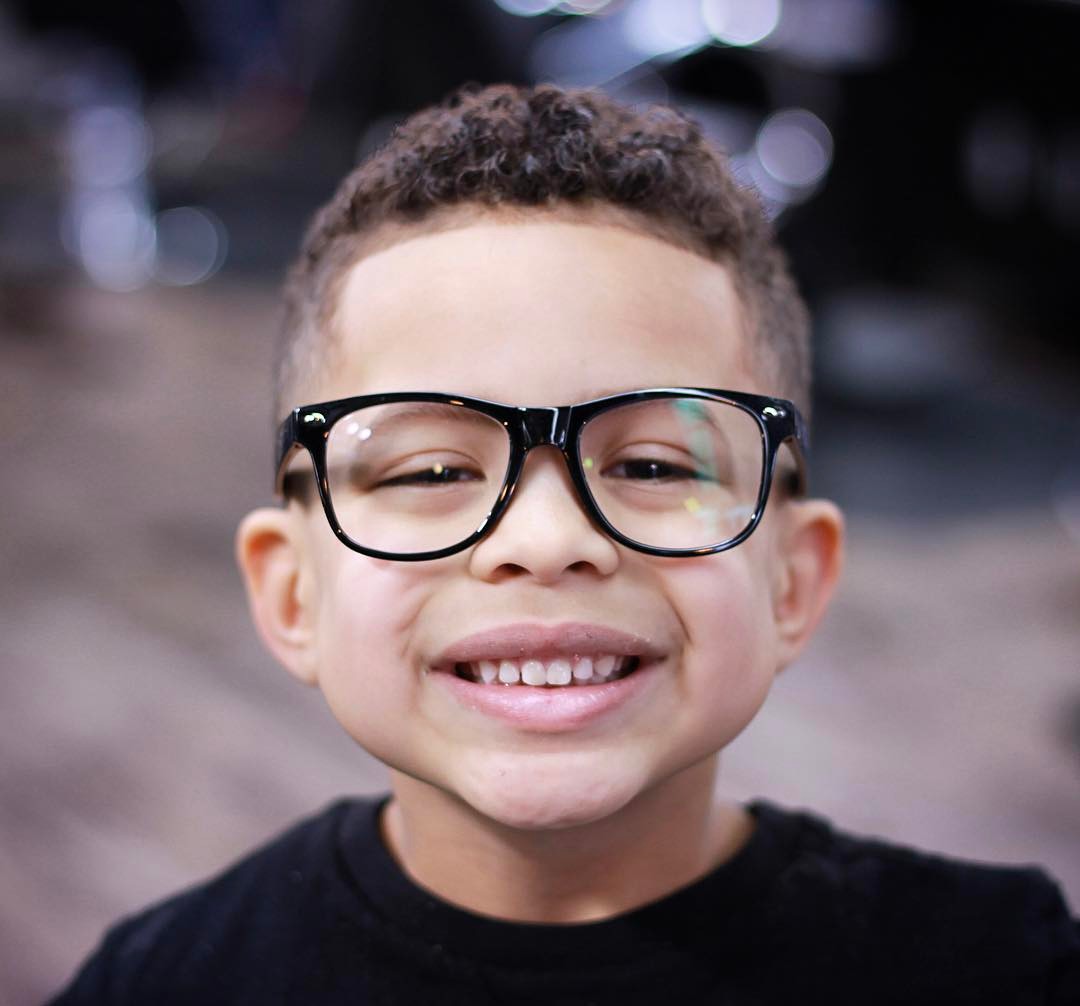 The fade is a cool addition to any boys haircut but can especially make harder to style hair types easy to wear. This slightly longer on top cut leaves some curls while eliminating the need for styling.
7. High Fade Haircut for Fine Hair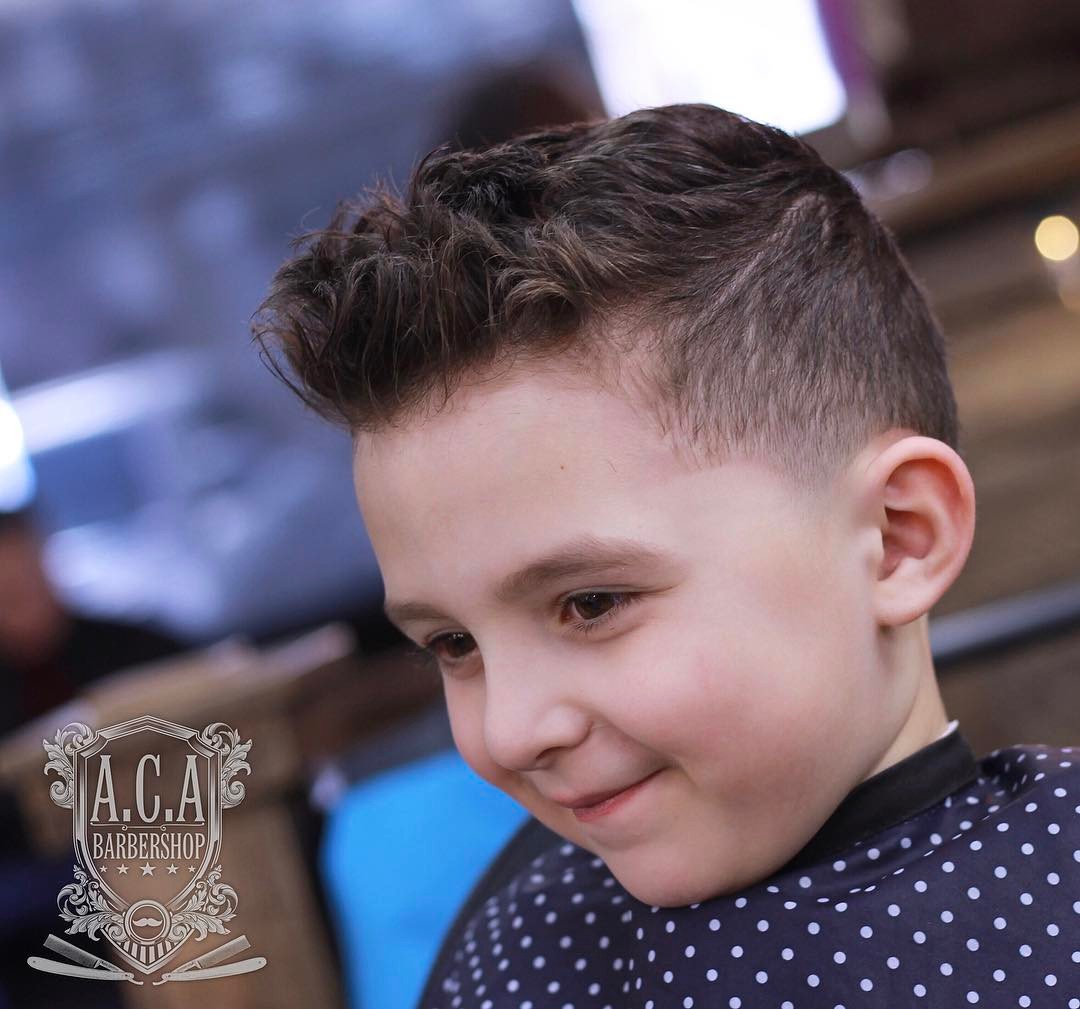 Boys fade haircuts are also flattering for fine hair. This high fade with hair styled with plenty of textured volume enhances fine hair and would like great without product too.
8. Short Haircut + High Fade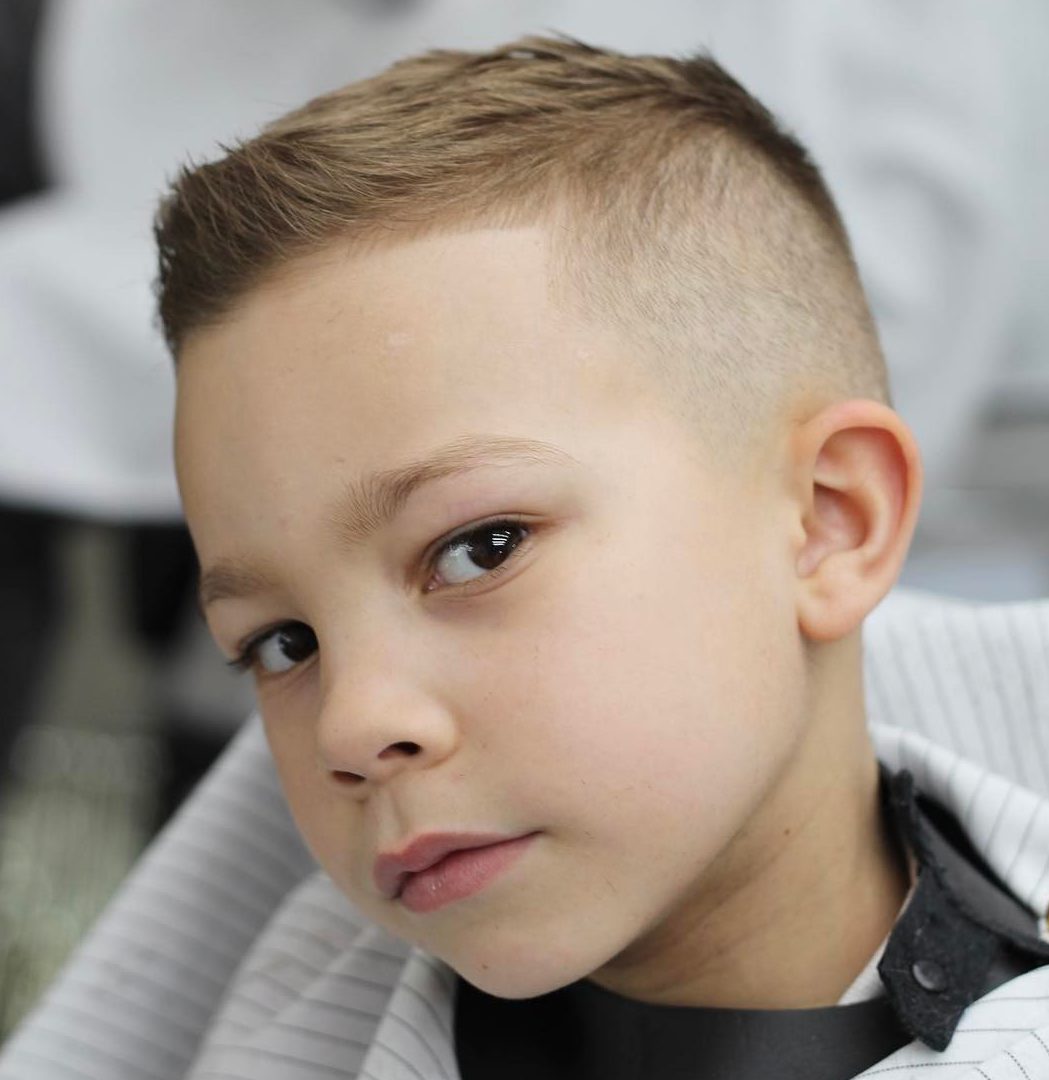 Boys are never too young to be stylish. This buzz plus fade haircut is the easiest toddler boy haircut that looks great and at this length, bedhead is almost entirely eliminated. A super good looking short boy's fade haircut.
9. Spiky Quiff Haircut + Low Fade + Line Up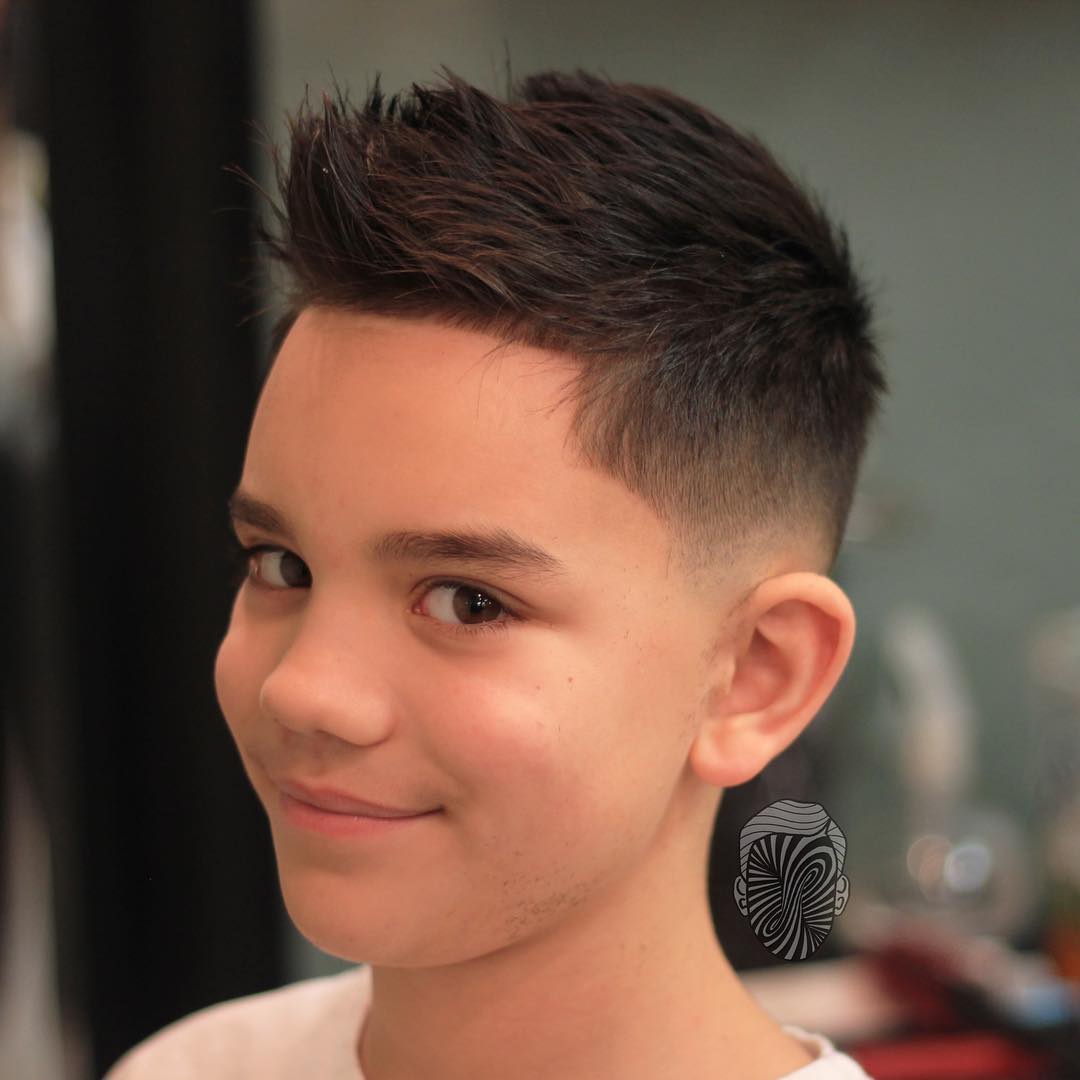 Another great cut for thick hair, boys can style this look on their own or leave it. A low fade almost down to the skin keeps the edges ultra clean cut.
10. Textured Haircut For Boys + Low Fade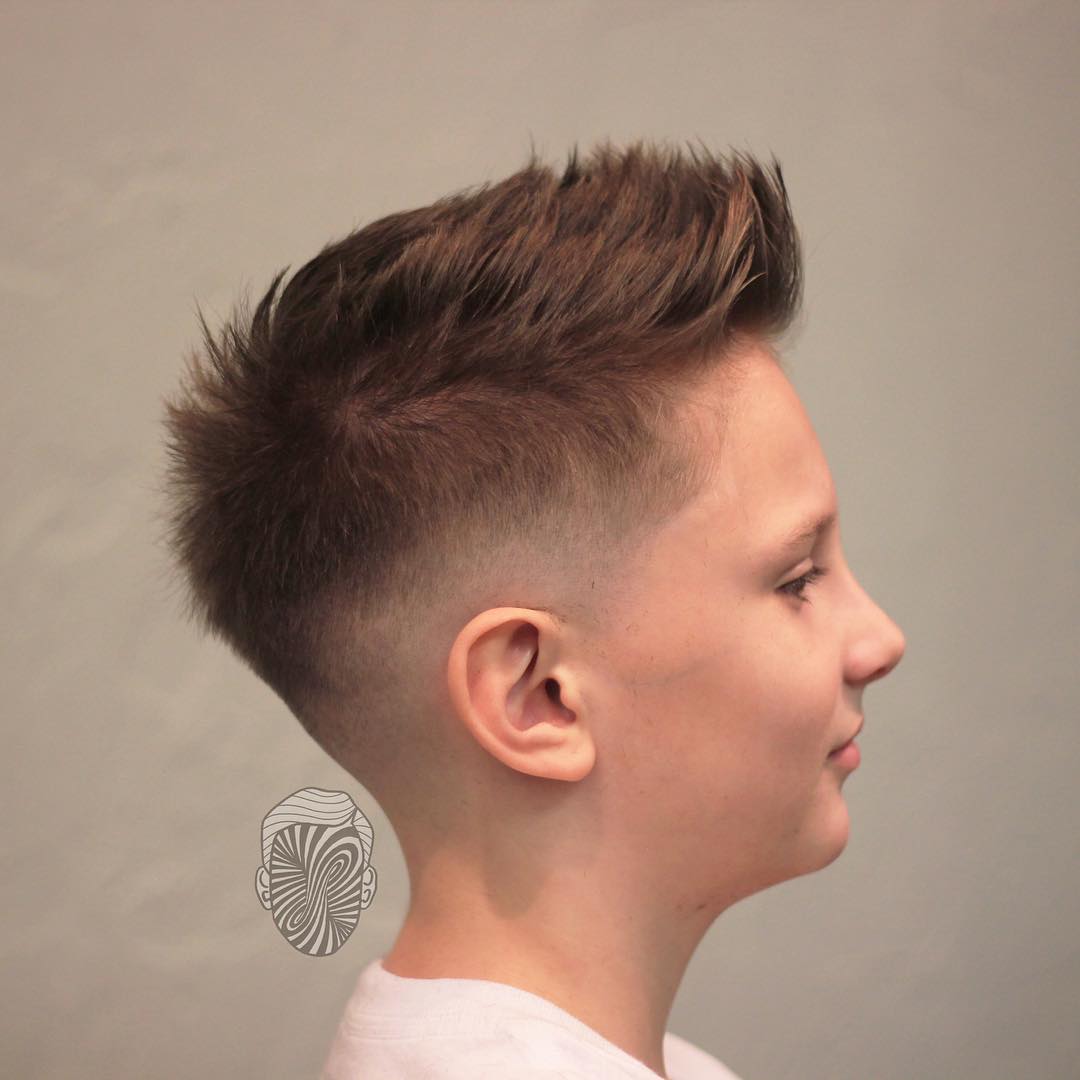 Here's the same spiky hairstyle with a low fade for normal to fine hair. This cut and style works with the growth pattern of the crown, creating a profile that works with hair that sticks up at the back.
11. Pompadour Haircut For Boys + Low Fade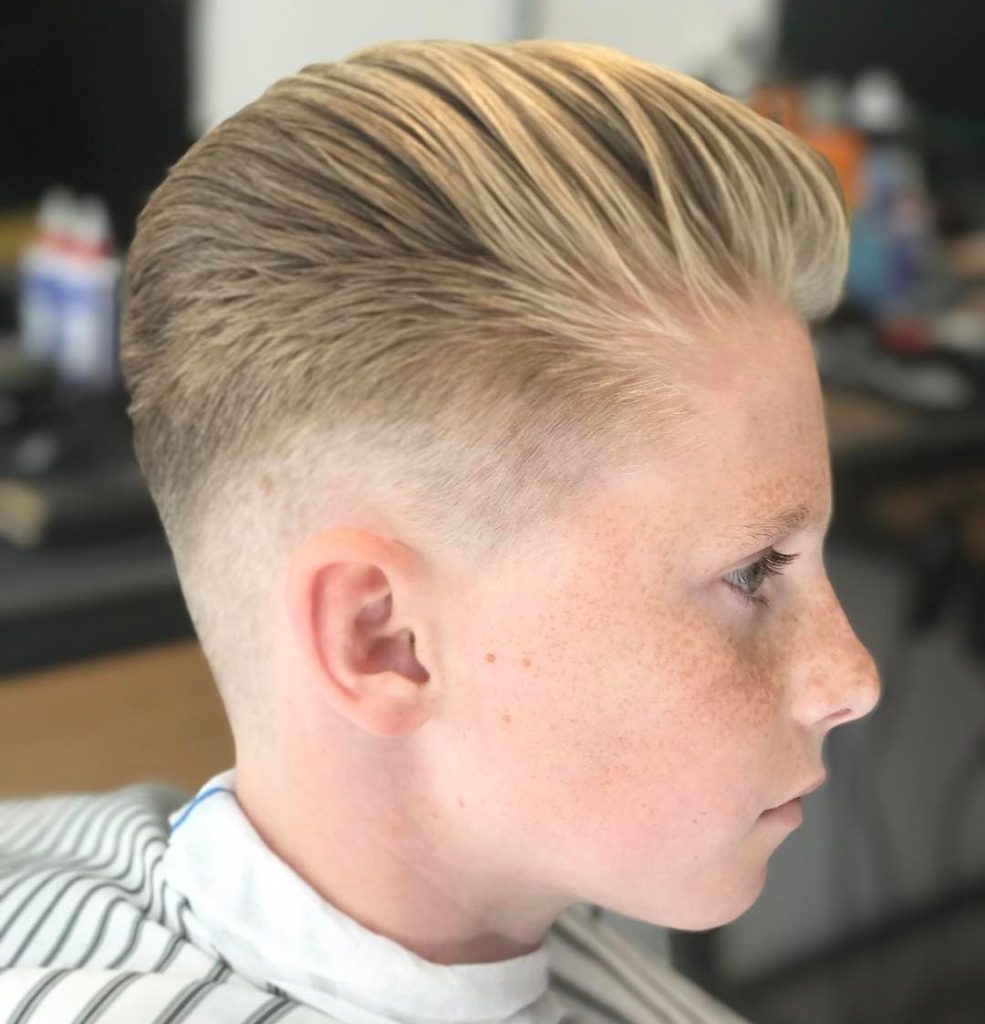 This young man has another very popular haircut, the pomp fade. It looks great when styled up into a pompadour but can also be worn loose. This is a totally stylish boy's fade haircut to try out.
12. Cool Textured Boy's Haircut + High Fade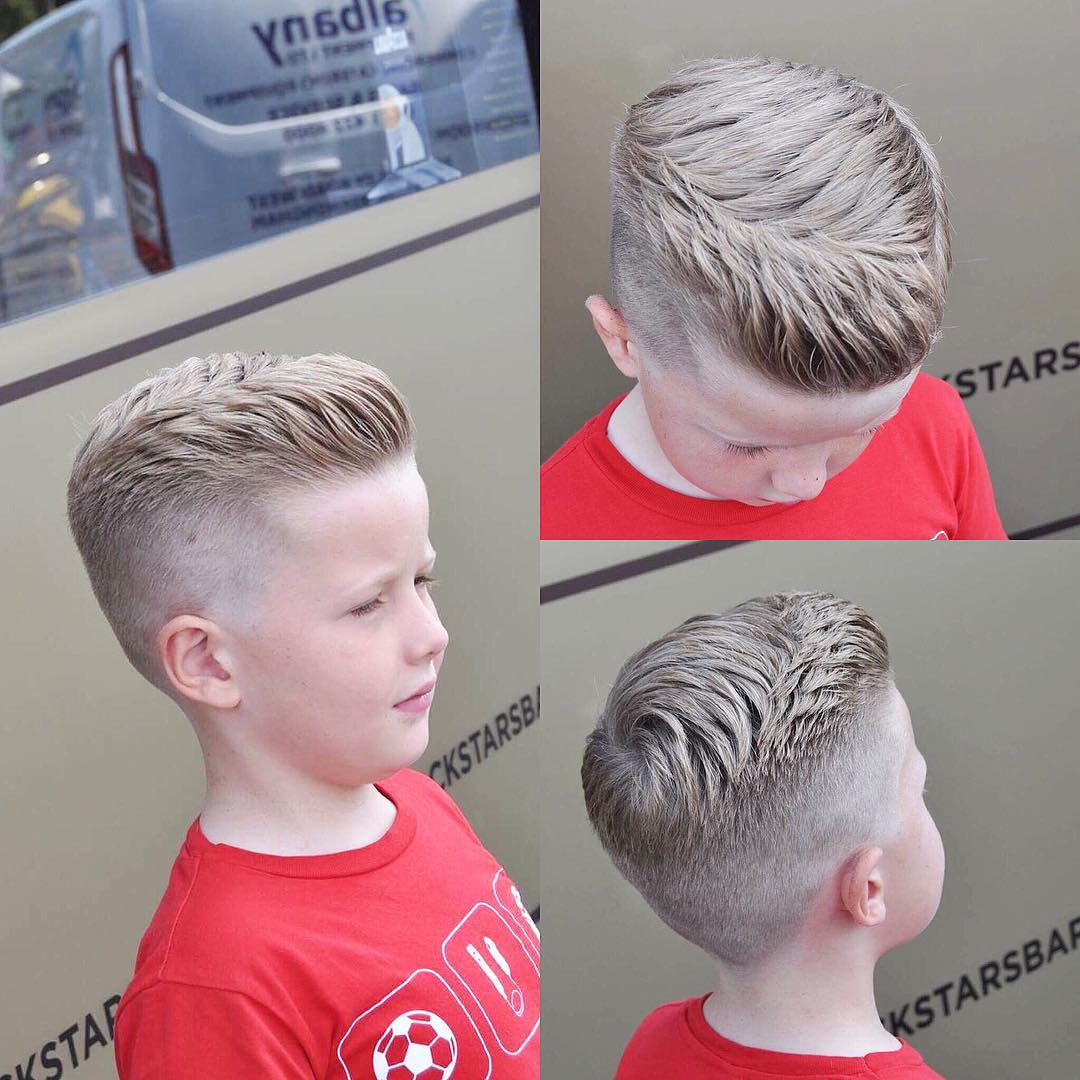 This swept back hairstyle is another cut that looks great at any age and can be worn styled or loose. A fade around the sides and back keeps it ultra clean.
13. Low Fade Haircut For Boys With Thick Hair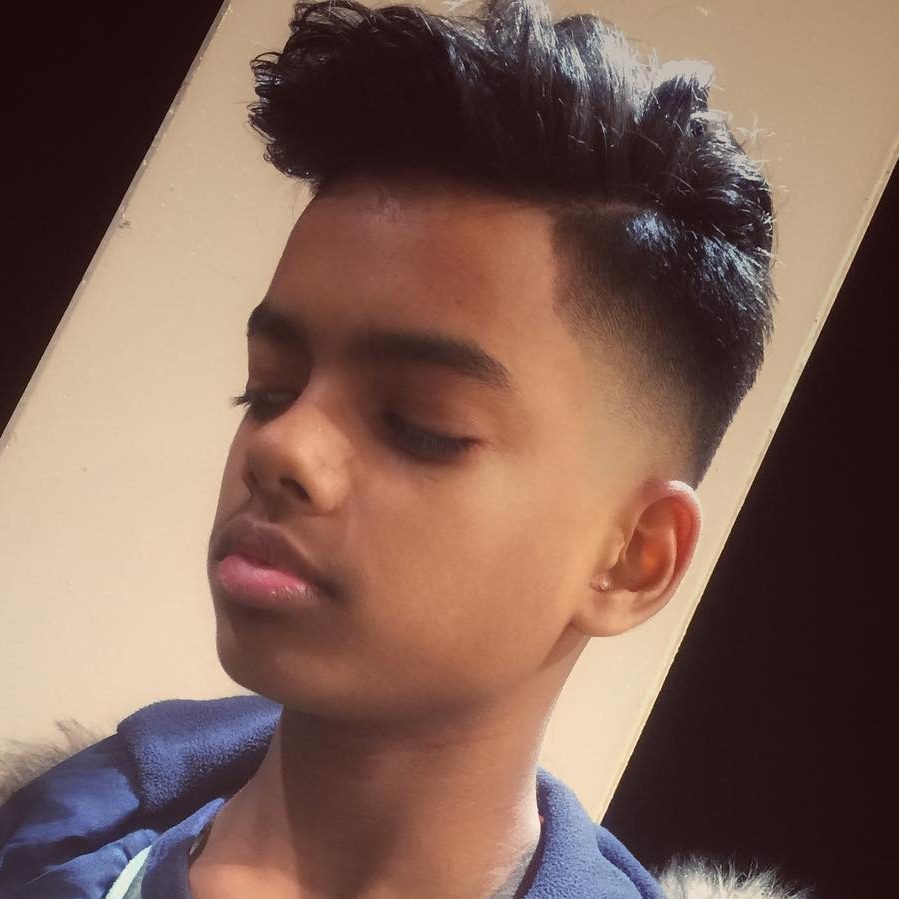 This low fade haircut provides a striking contrast against thick hair worn in a side part hairstyle.
14. Quiff Haircut + Skin Fade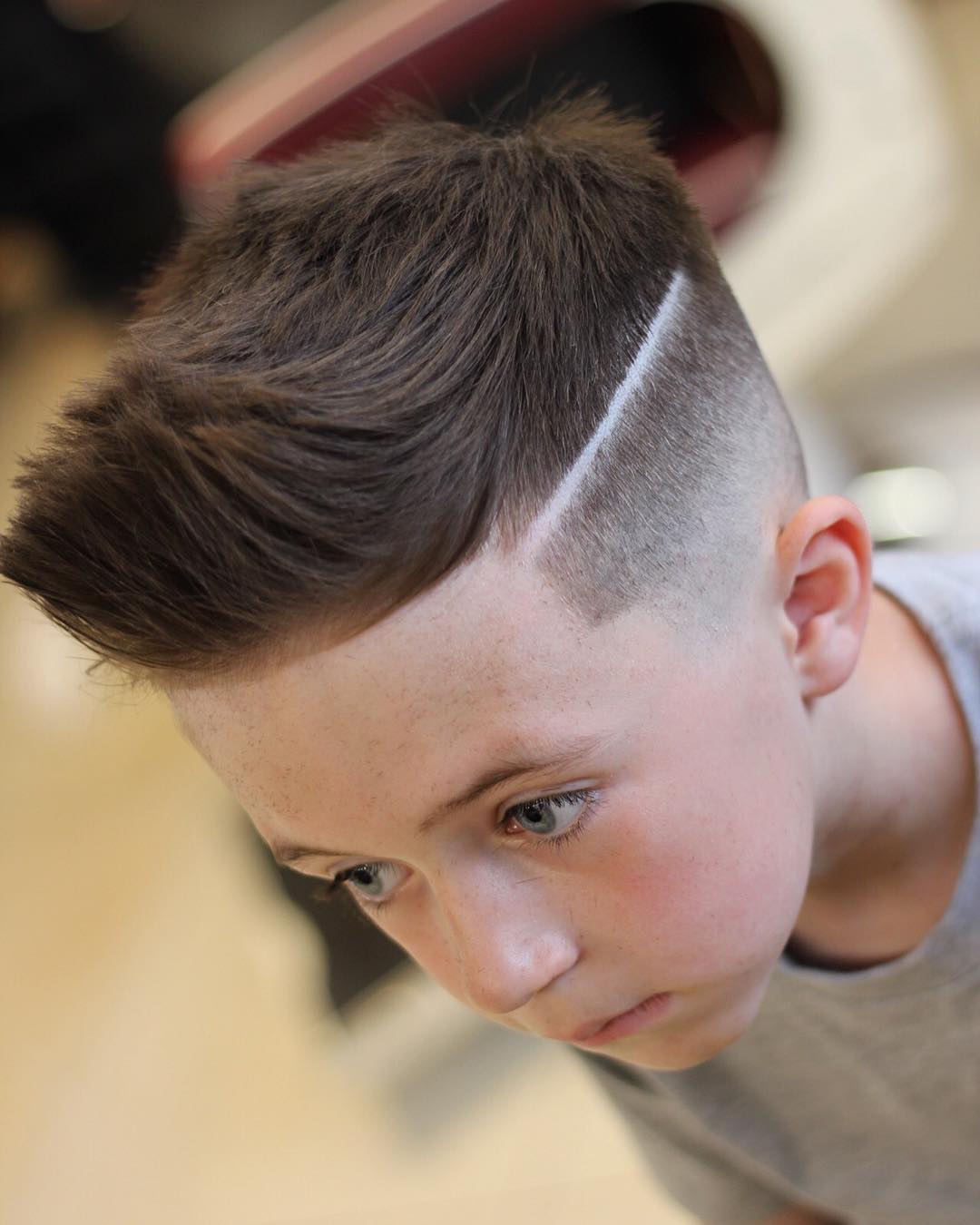 This modern and trendy cut and style is cool at any age. A ski jump quiff at the front can be styled in other ways or not styled at all. The side features a shaved line and bald fade.
15. Boy's Fade Haircut for Curly Hair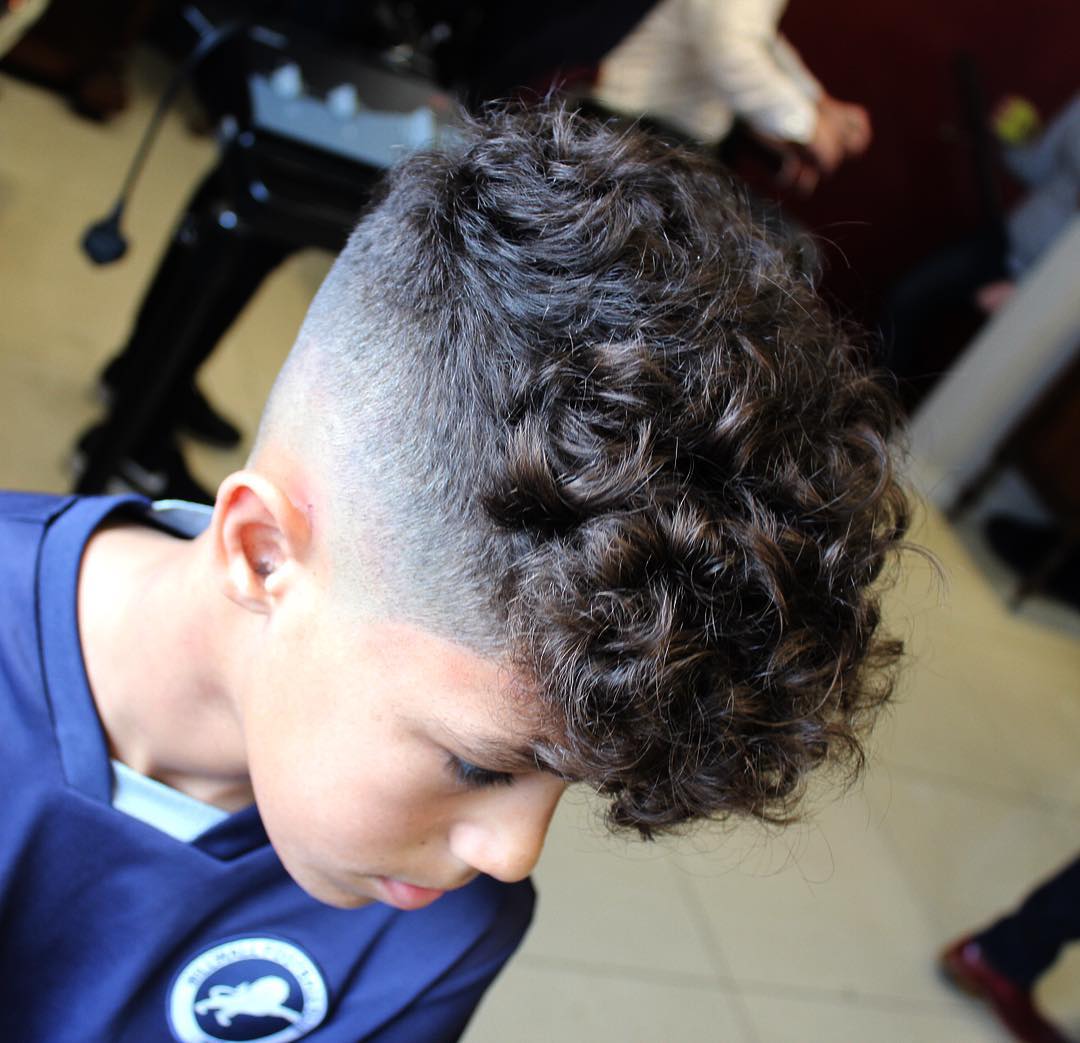 The easiest way to show off curly hair is wear it longer on top and shave the sides and back into a fade.
16. Textured Crop Haircut with Fringe + High Fade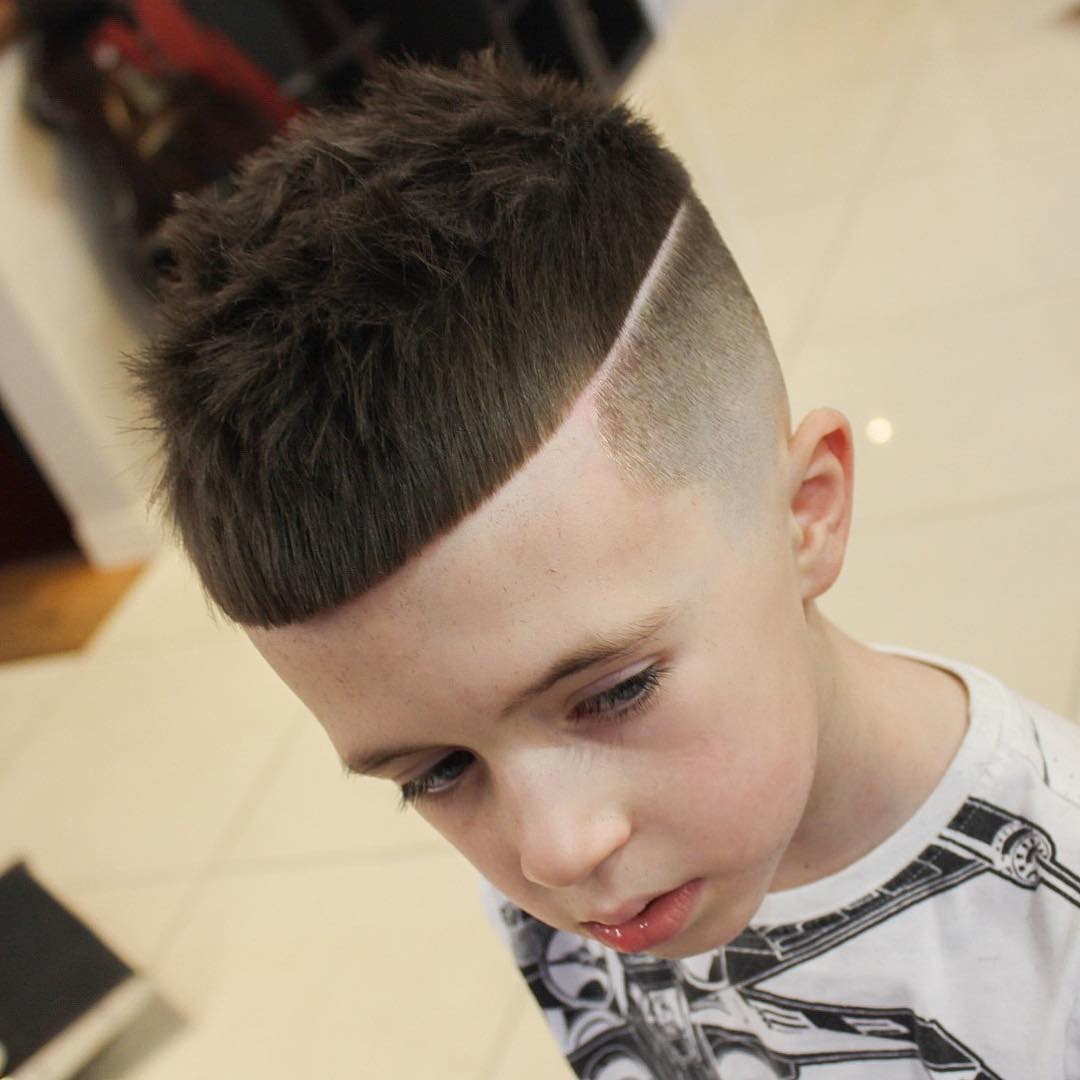 This crop with blunt bangs is a popular short hairstyle for guys. Textured spikes and a blurry fade contrast the sharpness of straight across fringe that continues into a shaved line.
17. Undercut Haircut For Boys With A Mid Bald Fade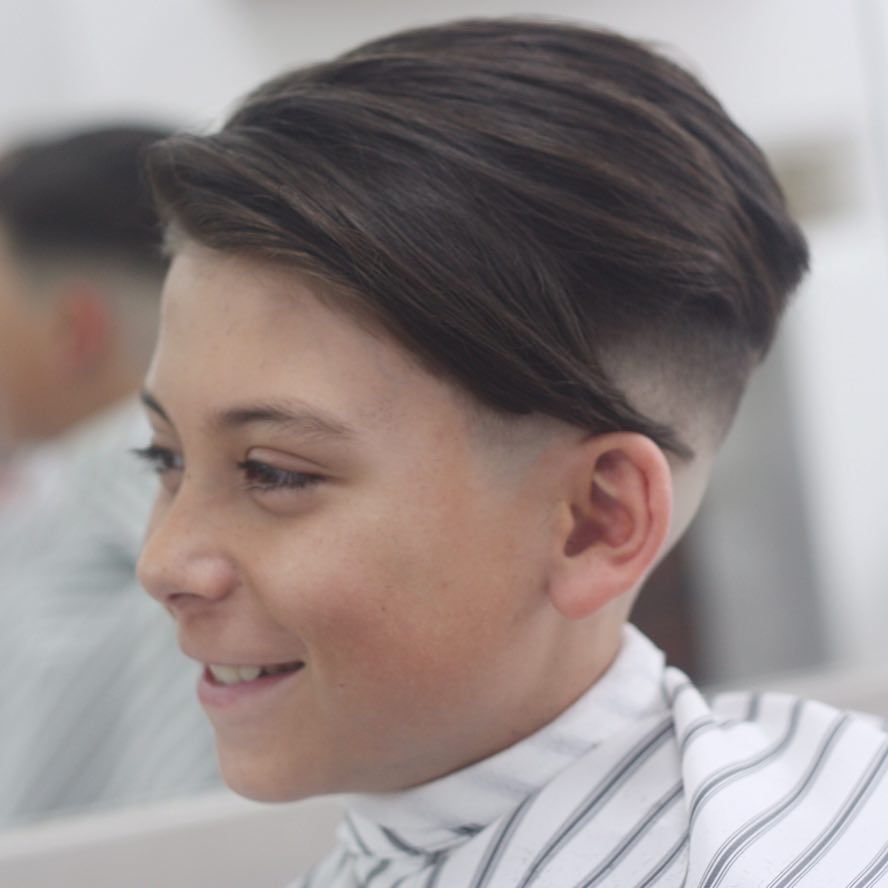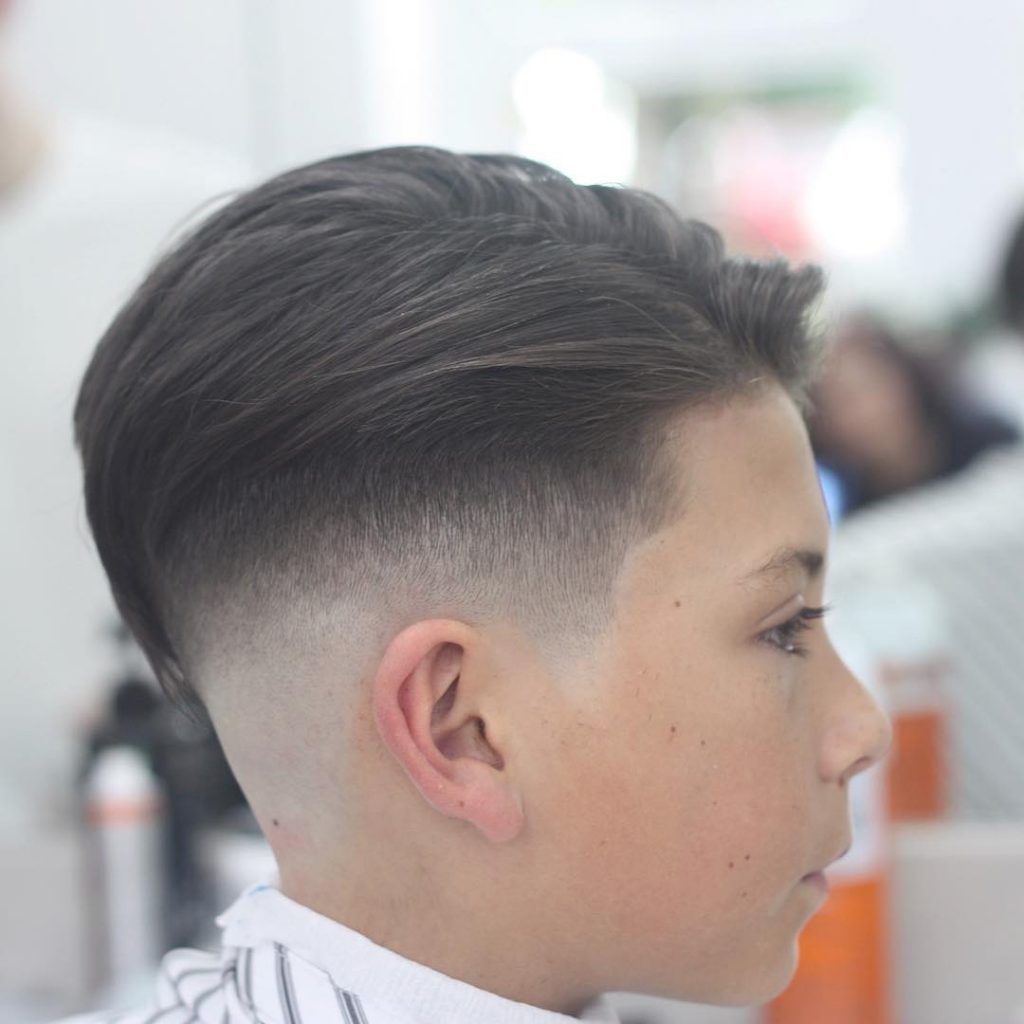 This is the kind of haircut a boy should choose for themselves. It looks great but needs some product every day to stay out of the eyes.
18. Long Textured Mohawk Haircut + High Fade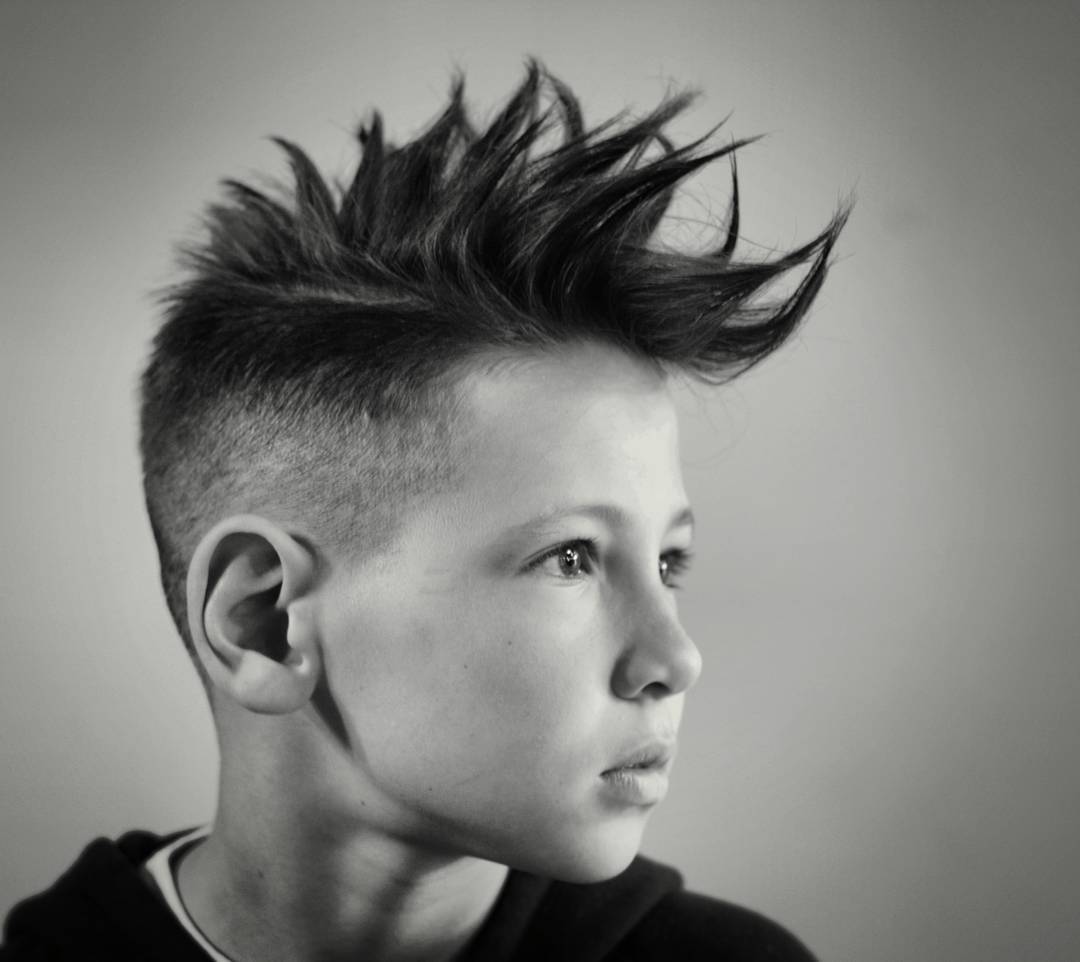 The mohawk haircut is a cool hair trend and fun look for boys. A drop fade that follows the hairline is a cool finish to the look and makes this cut look great spiked up or worn down.
19. Wavy Comb Over Fade Boy's Haircut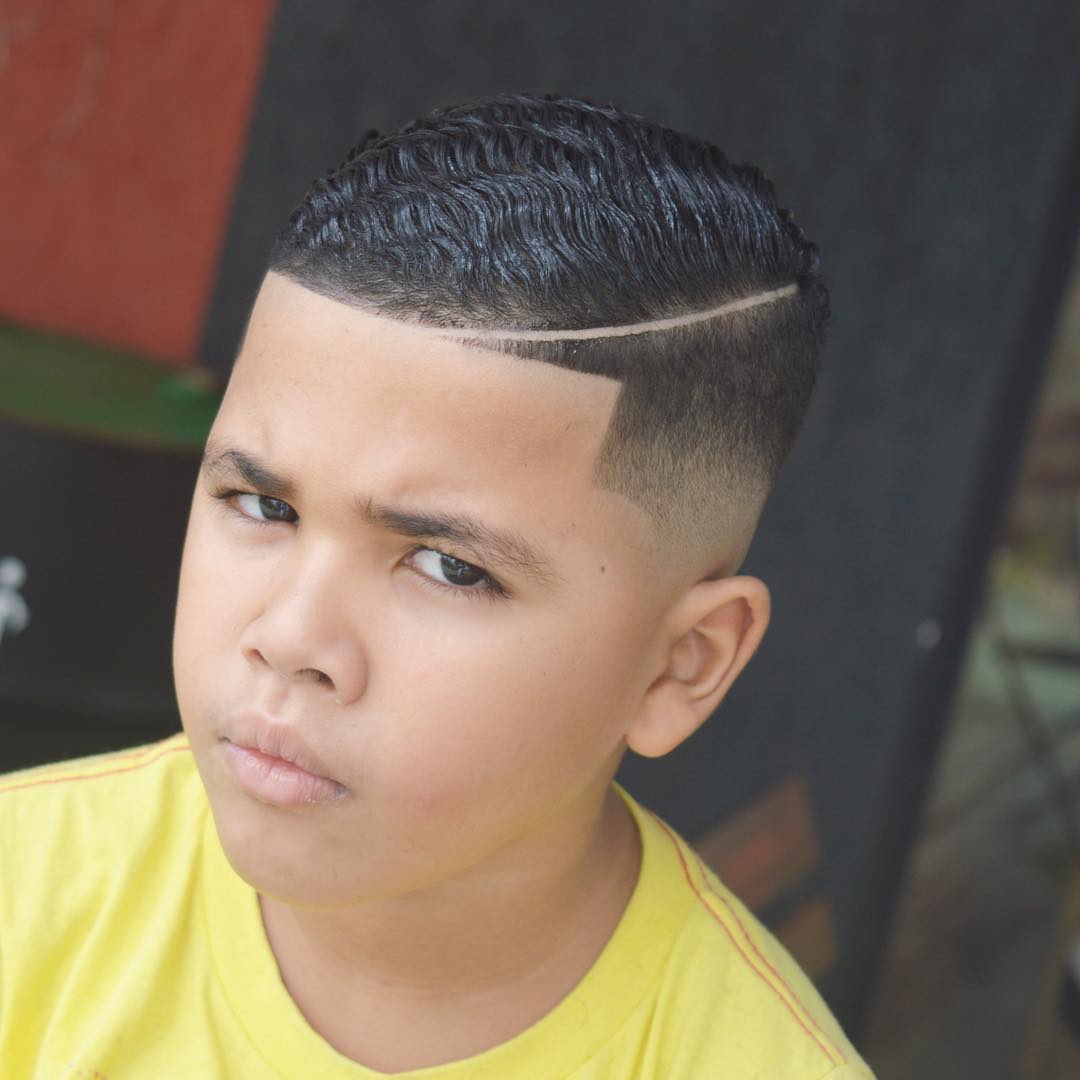 This comb over style with a high fade is easy and stylish. The shaved part is a dramatic details but the cut is just as good without it.
20. Cool Slicked Back Boy's Haircut + High Fade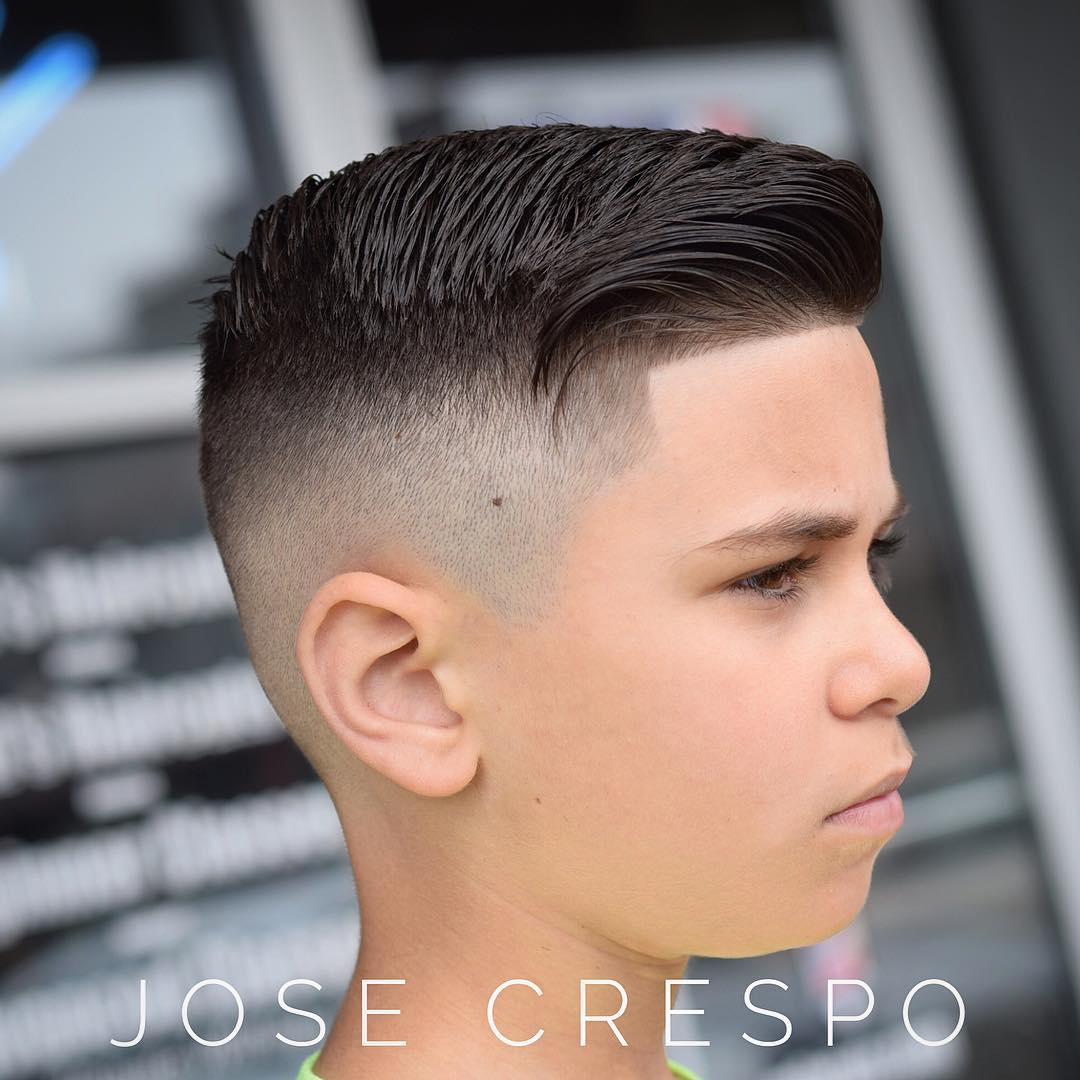 This cool comb over looks ultra thick worn over a high fade. The fade drops down at the back to leave enough length at the crown to prevent hair from sticking up.
21. Easy Haircuts for Boys + High Fade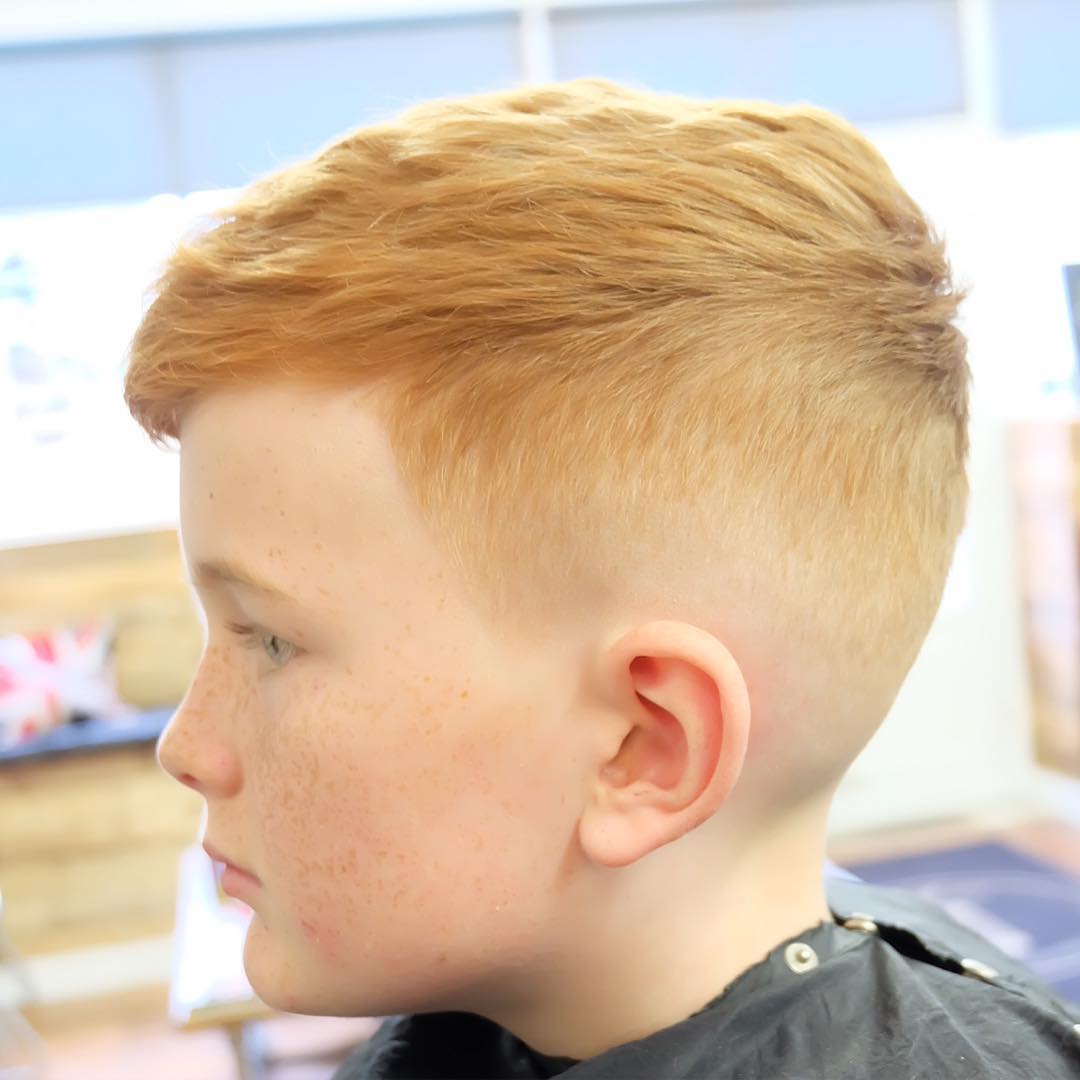 This cute haircut is also an easy look for active boys. Hair is layered on top for minimal length and weight while adding texture and training hair across to one side.
22. Mohawk Haircut + Long Fringe + Fade Design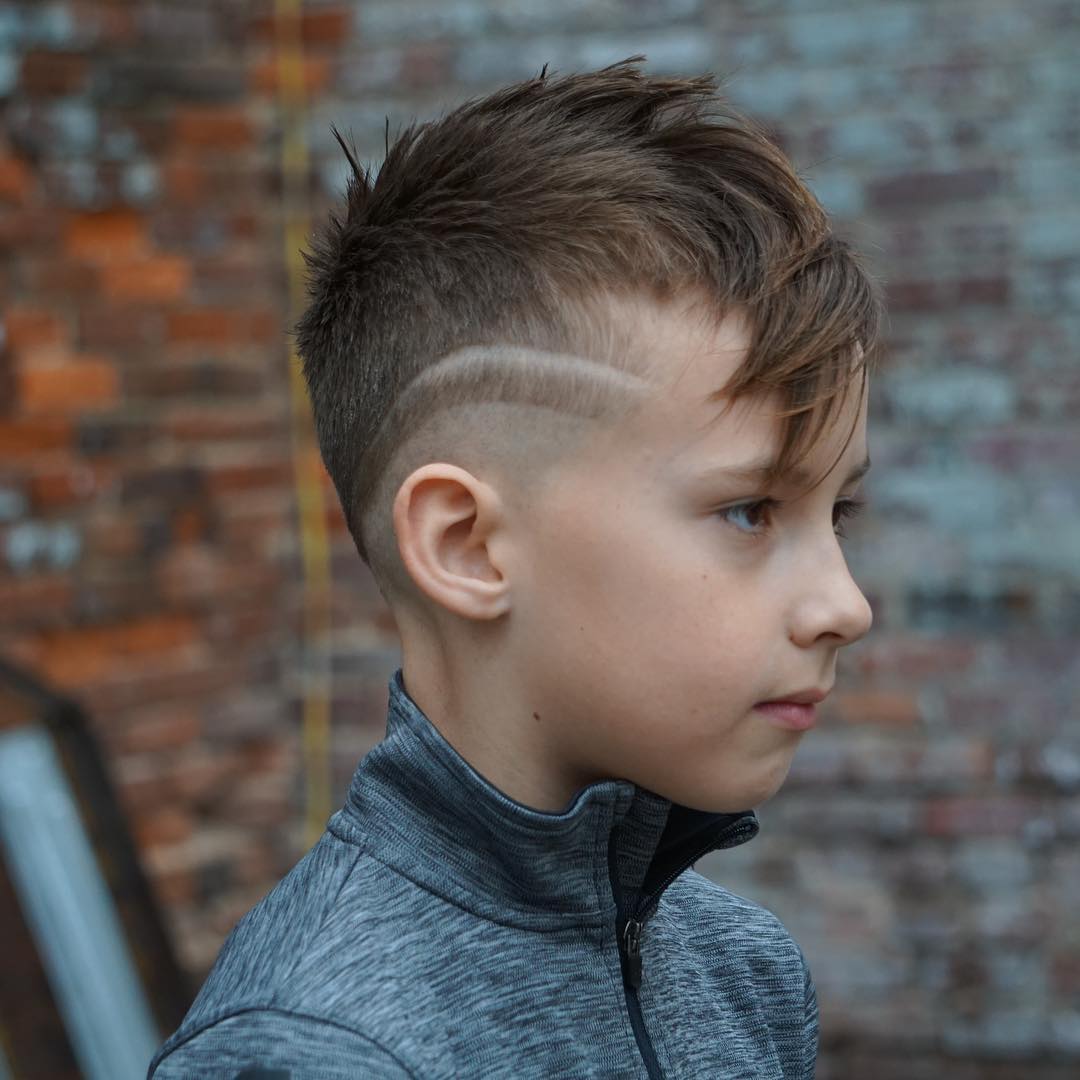 This burst fade mohawk haircut has that distinct mohawk shape, even without being spiked up. Shaved lines, faux hawk styling and a few points of bangs complete the look.