The mohawk haircut has come a long way from the punk rock style. Punk may be dead (or not) but the mohawk lives on.
To be a mohawk, a haircuts has to be strip of hair down the center of the head with shaved, faded, or shorter sides. That is where the similarities end. A mohawk can be short, wide, curly, finish in a V-shaped neckline or do something else entirely.
Wikipedia tells us that the mohawk haircut is an "emblem of non-conformity" and that is certainly true for punks but that's not all. It is also the hairstyle of warriors, as far back as 2000 years and more recently by American soldiers in World War II and Vietnam.
Today, the mohawk, and it's cousin the faux hawk, are popular with for lots of guys, especially for athletic hairstyles, Black hair, curly hair, and with a mullet. Keep reading for all of these and more.
1. Mohawk Haircut Styles
Here are some of the typical mohawk haircuts available. Typical for mohawks but not at all boring.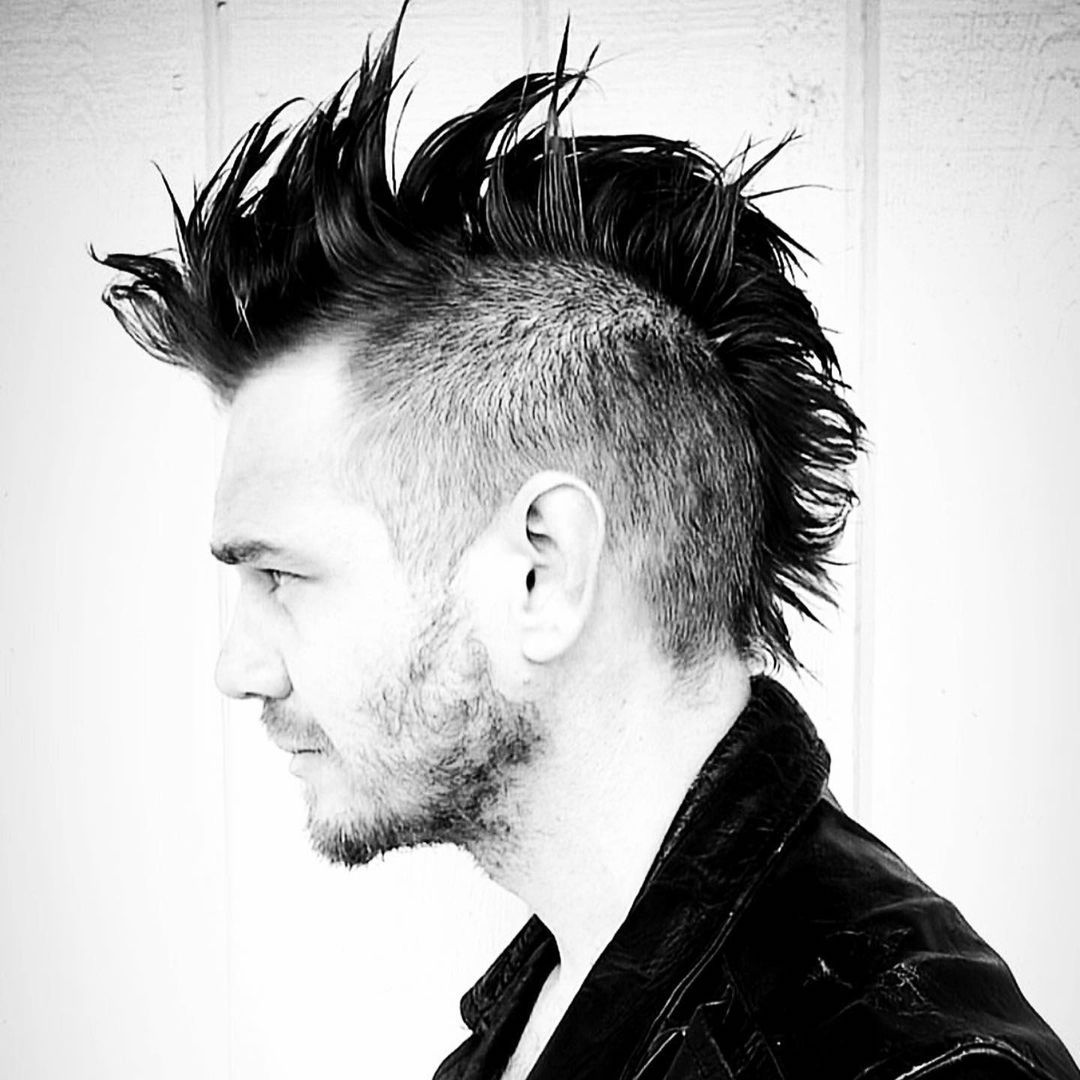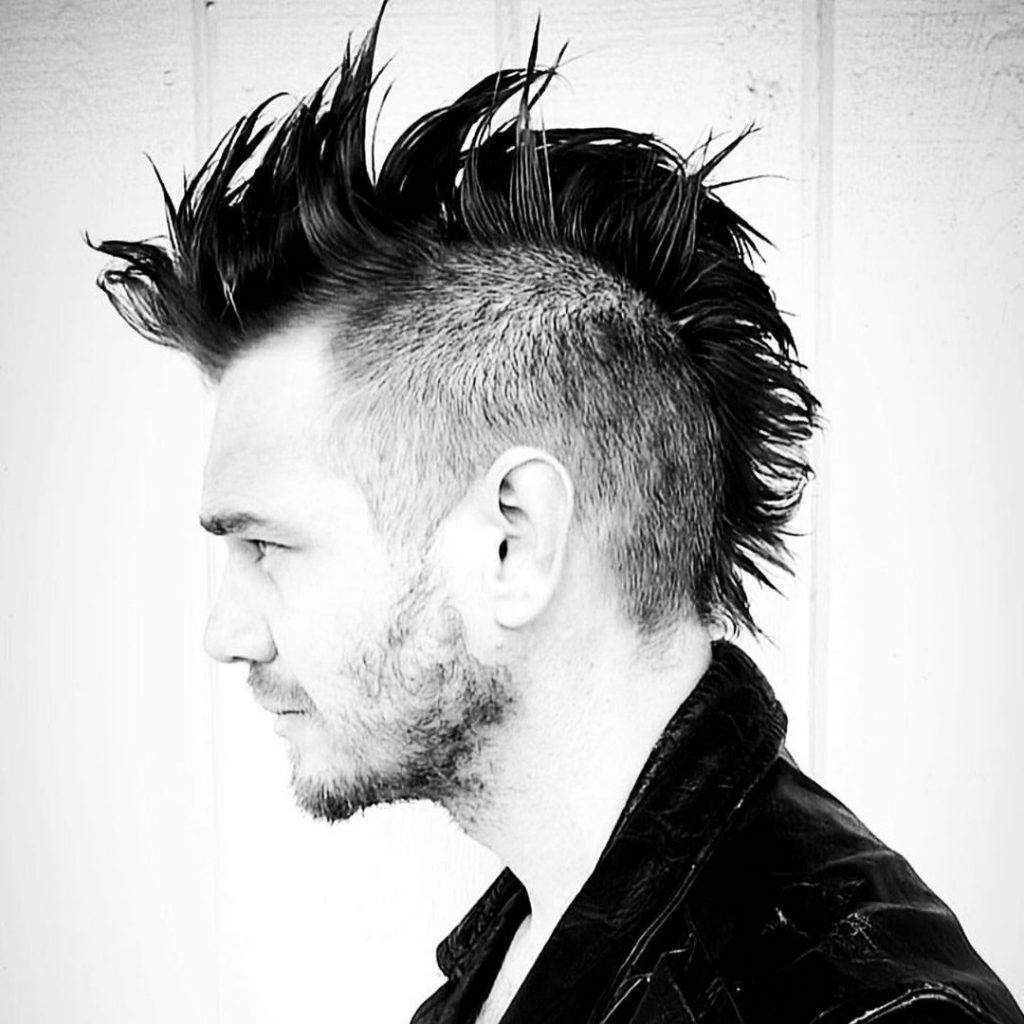 The classic punk mohawk with messiness that projects the NFG attitude.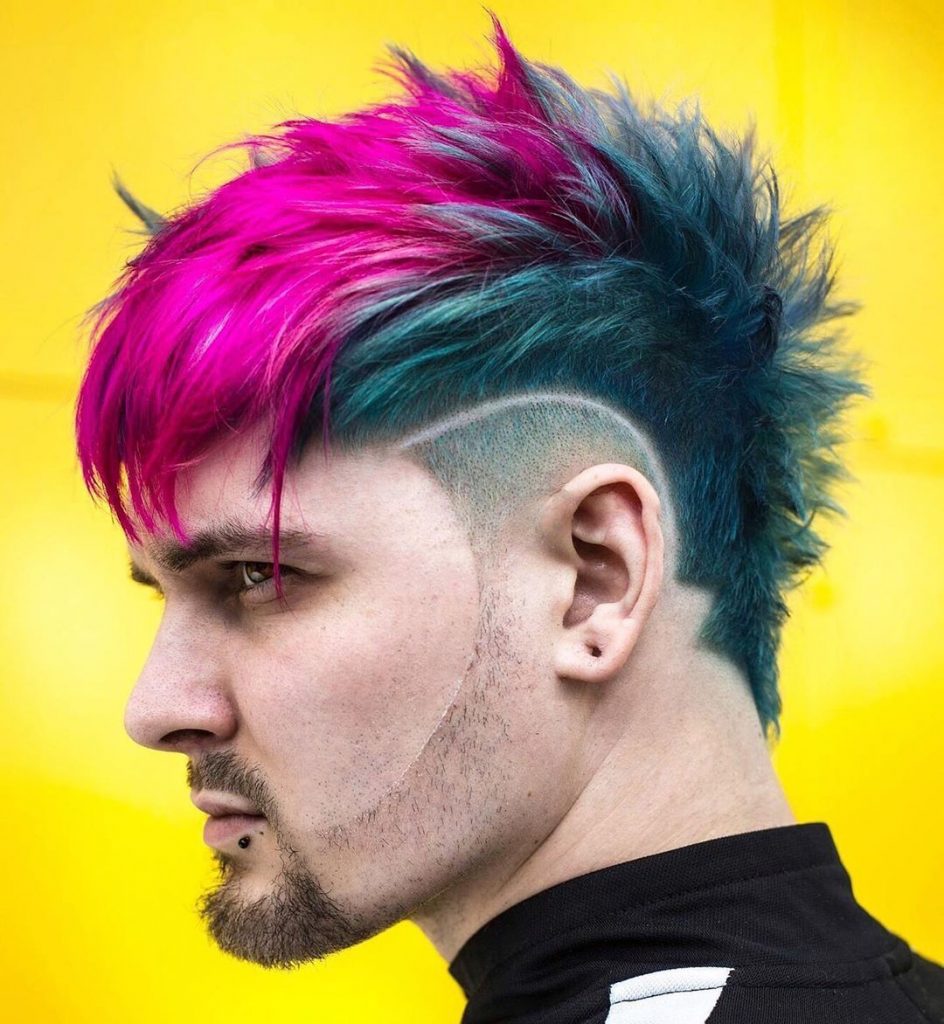 This is a modern, or even futuristic, mohawk. A burst fade shaves the sides while a shaved arch, zig-zag neckline, and bold color embody that counter-culture spirit. Fringe is worn down but spikiness all over is in the spirit of the hawk.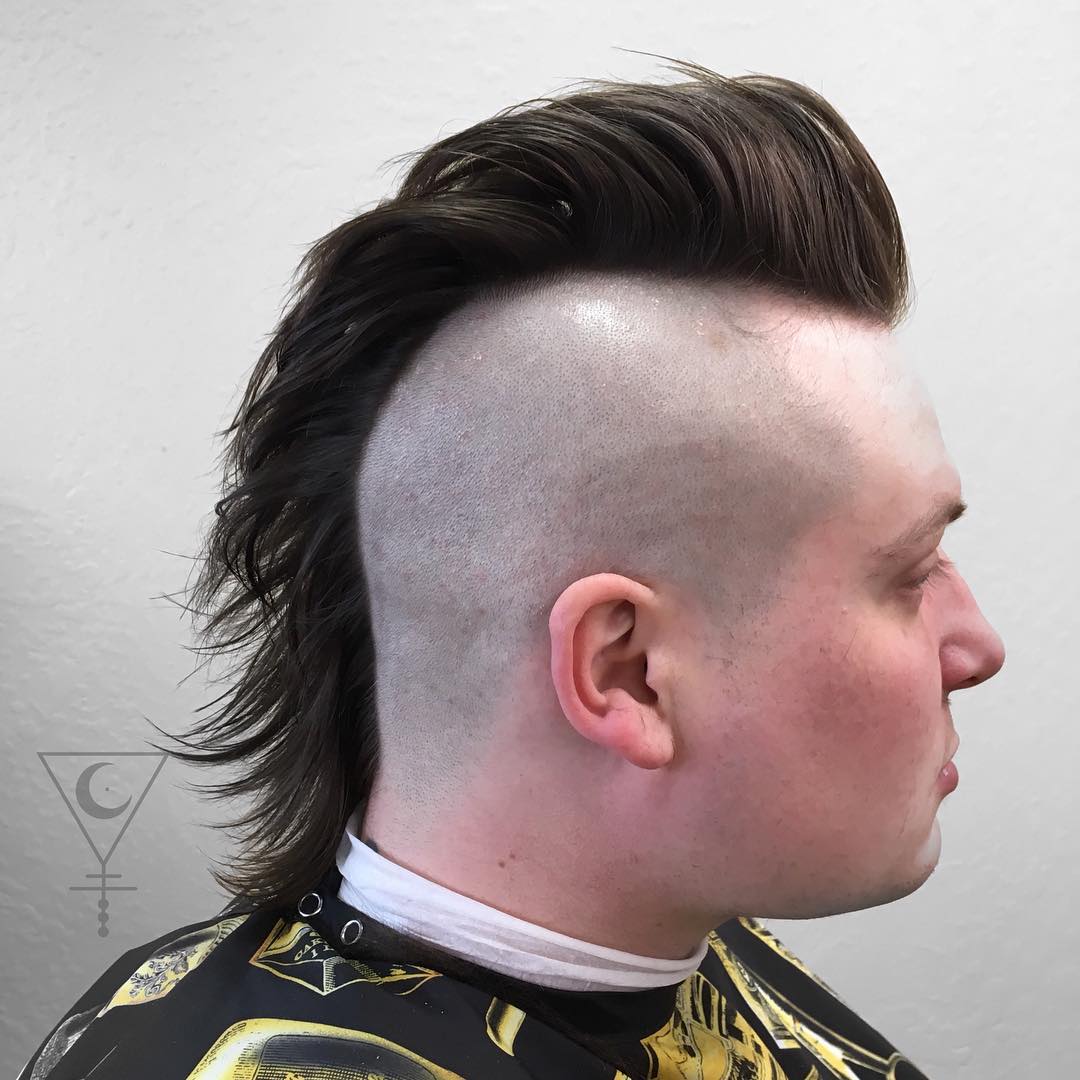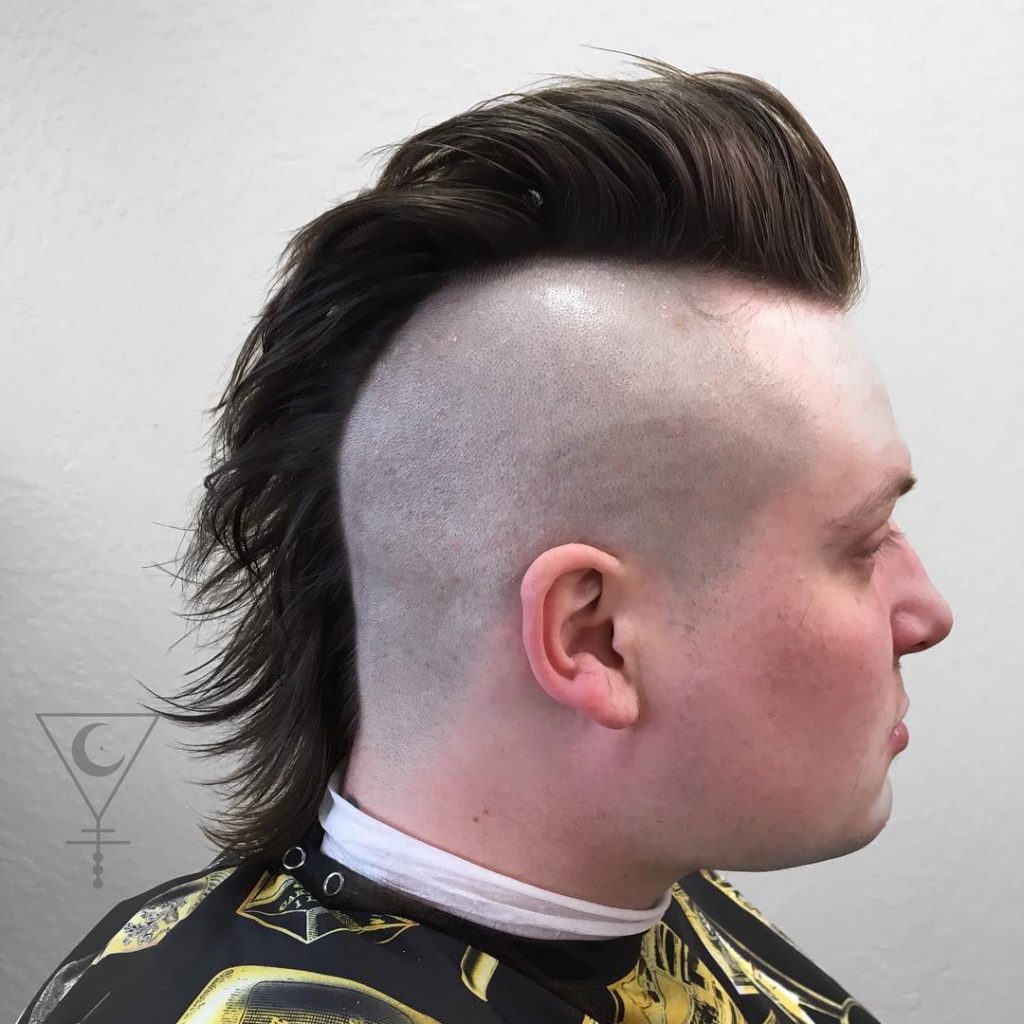 A mohawk is endlessly adaptable. This version combines the iconic haircut with modern styling. The front has hints of a pompadour while the rest of hair flows free like the mane a wild horse running in the wind.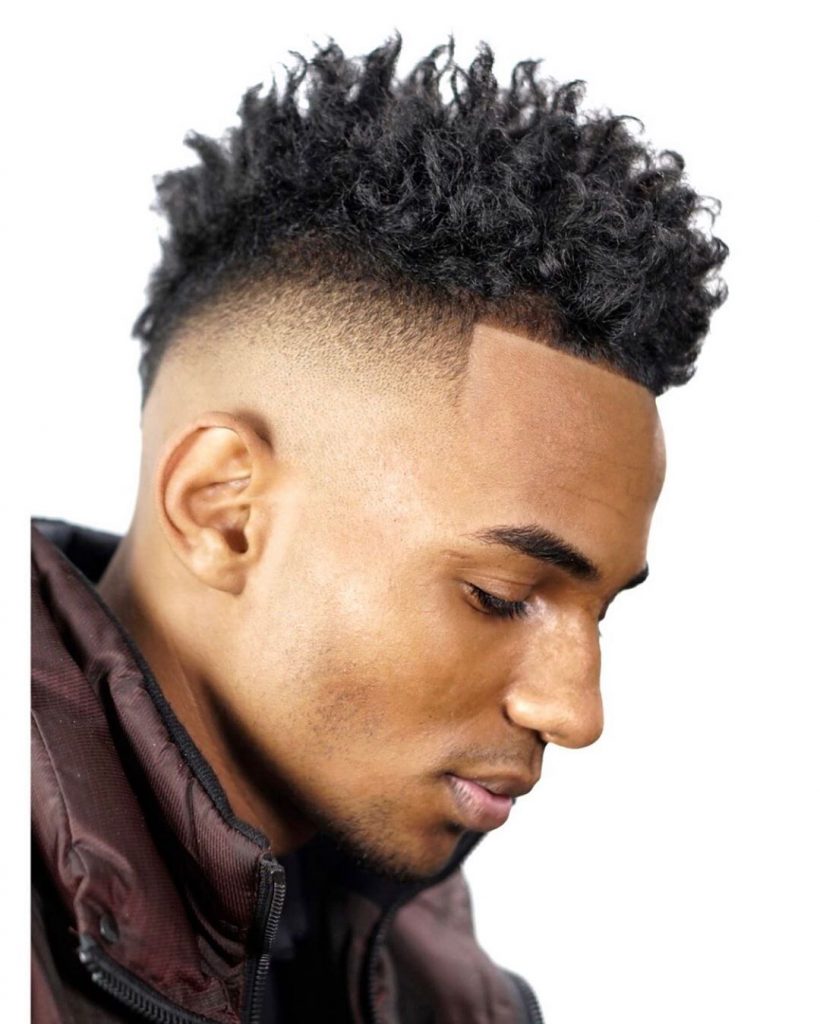 Curly mohawk, frohawk, whatever you call it, this is cool. This wide cut mohawk peaks in the middle and ends in a V.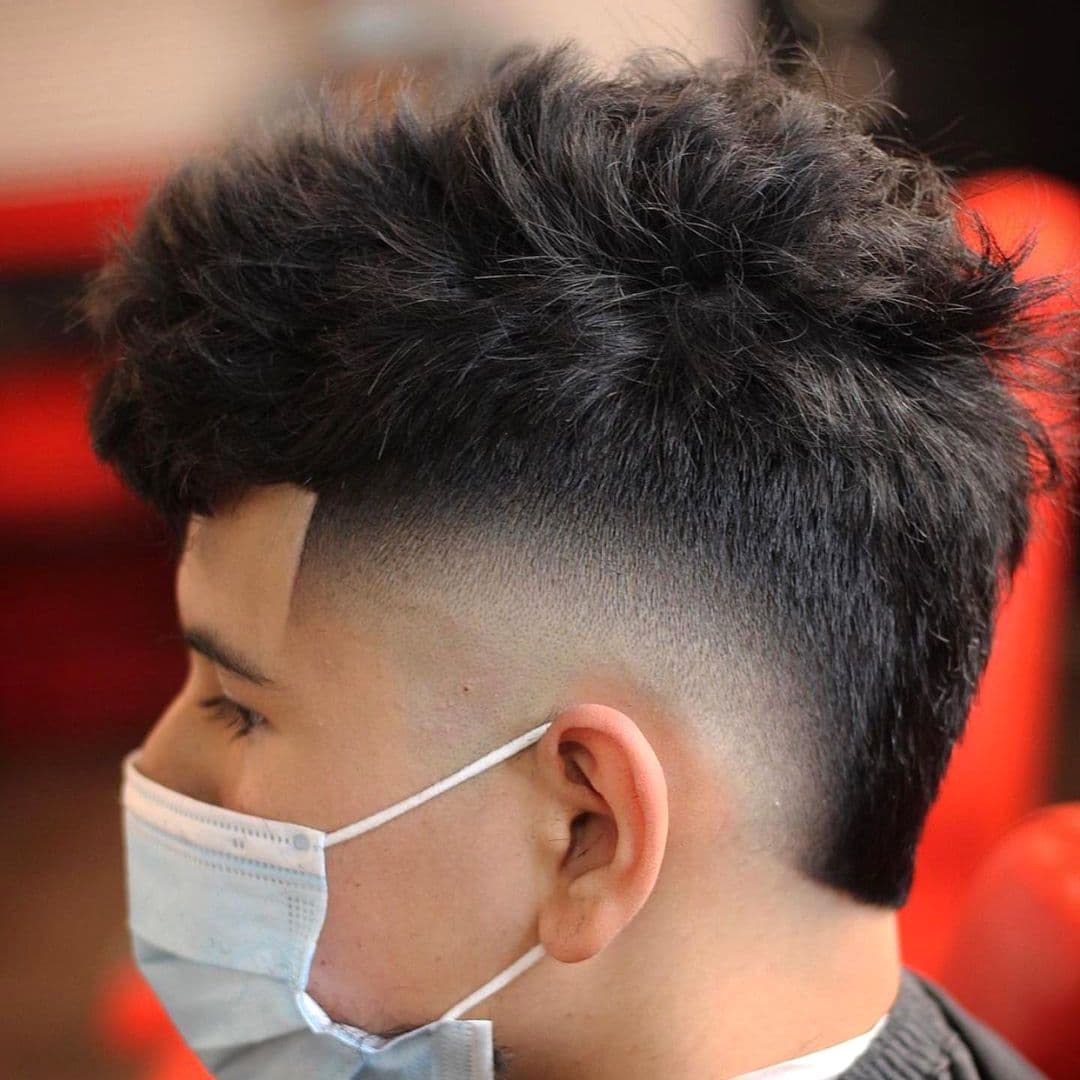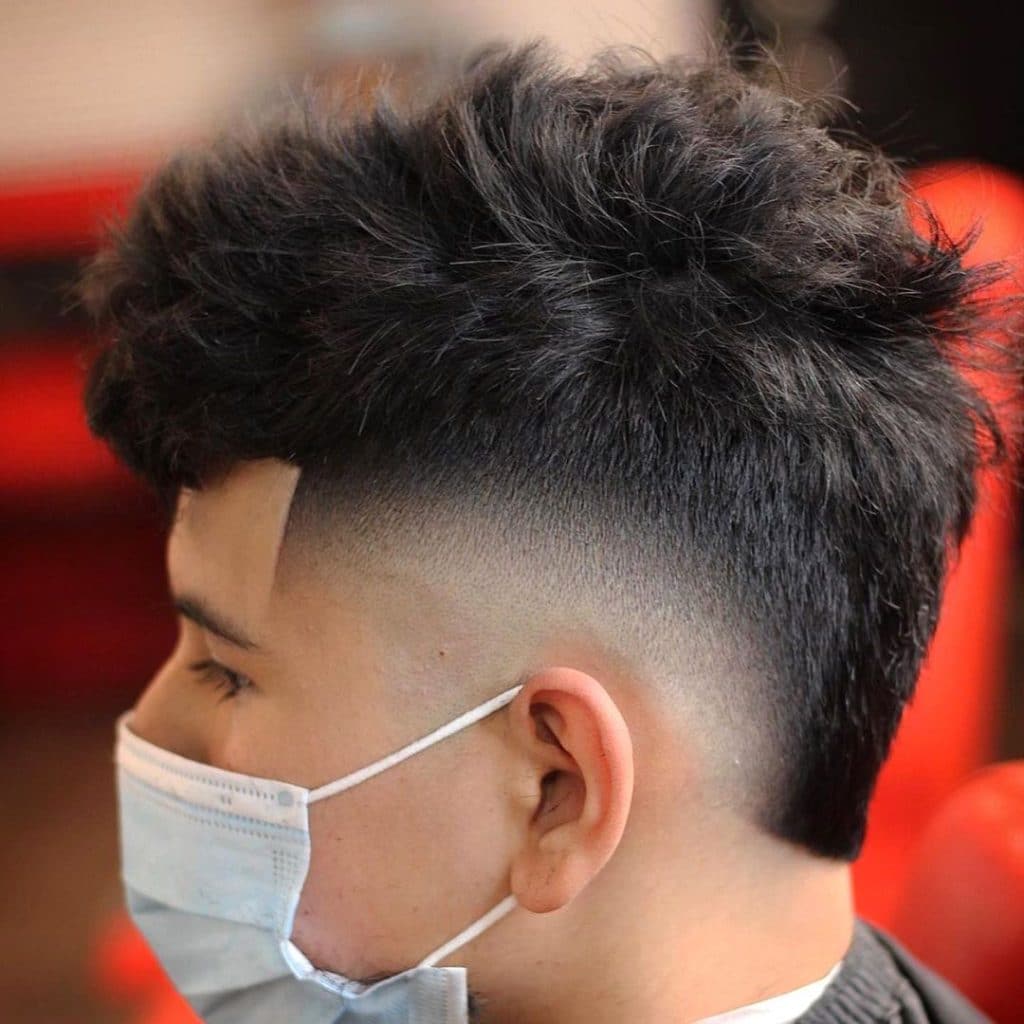 This modern mohawk looks like the popular crop fade from the front. Then a burst fade trims down the sides, leaving a strip of hair at the neckline.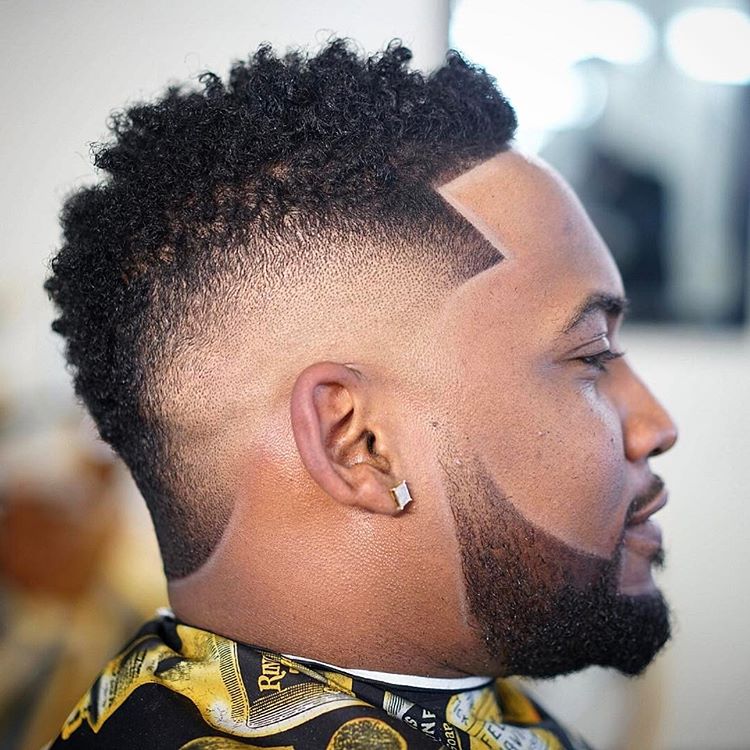 This is the gentleman's mohawk, aka the South of France. Here, defined edges are interrupted by the blur of a burst fade. The angles continue into the beard.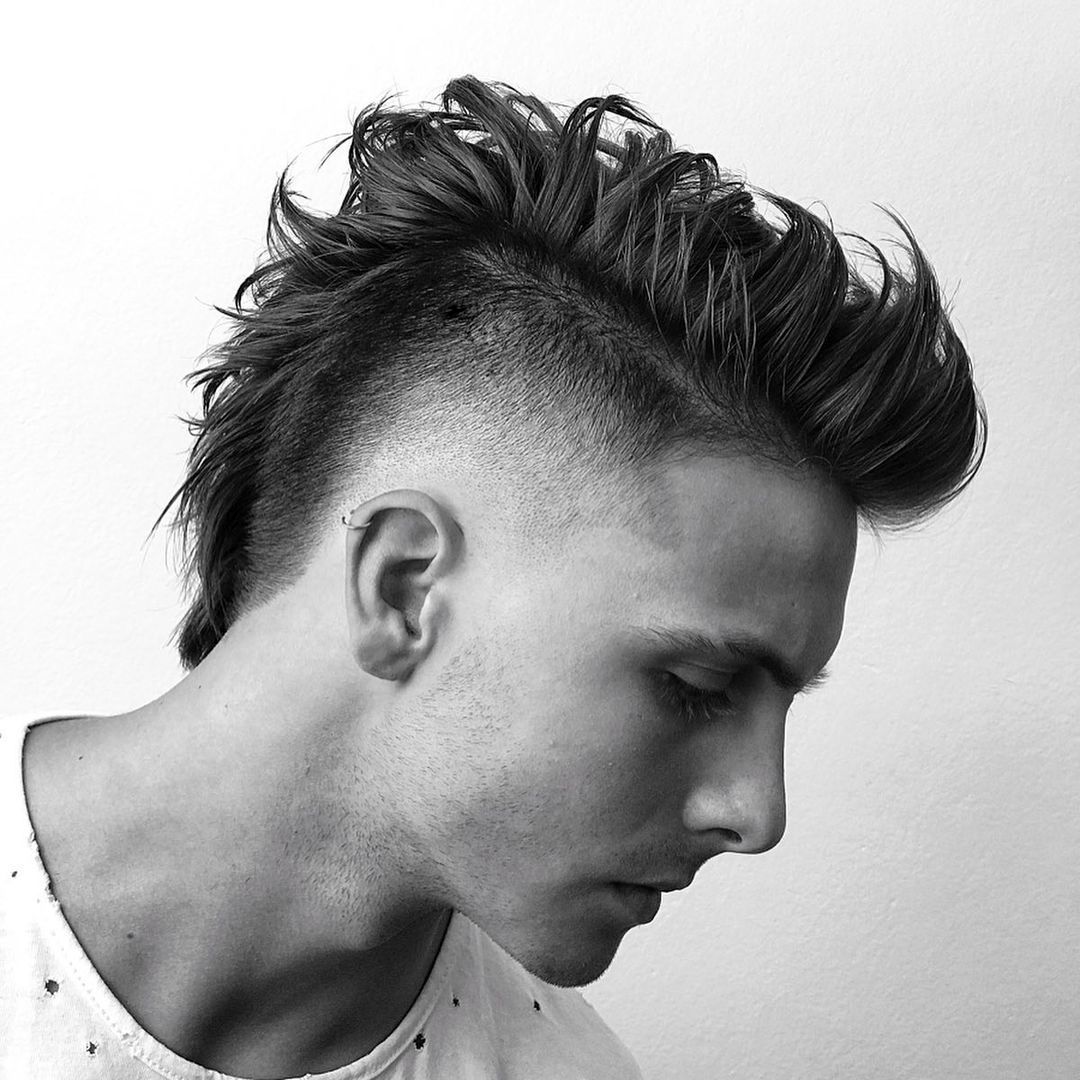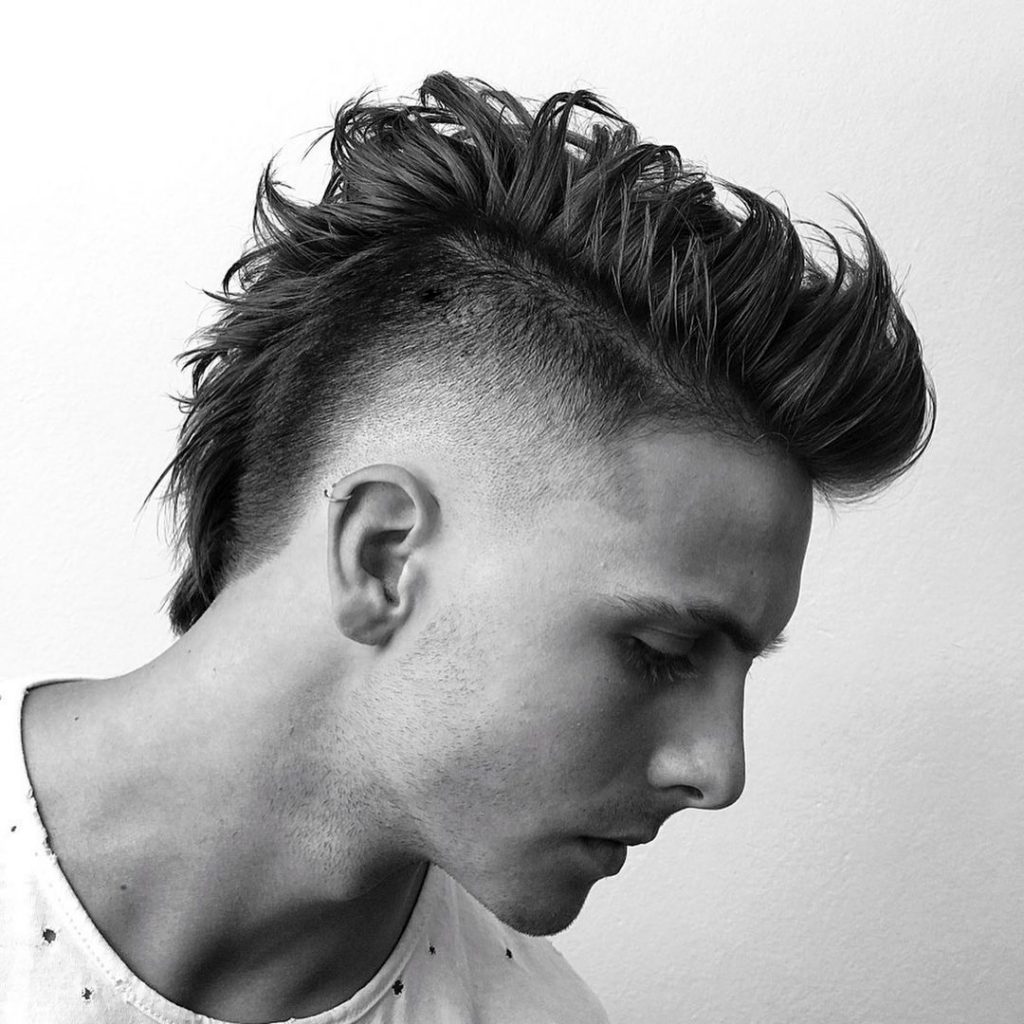 The mullet is back and better than ever, especially when combined with a mohawk. Wear it spiky, messy, or curly.
From the front, this cool cut looks like a messy pomp. It's still more mo than faux though.
2. Mohawk Fade Haircut
The classic mohawk has shaved sides but today mohawk fades are more popular. Here are some different ways to get the look.
Short Mohawk Fade Haircuts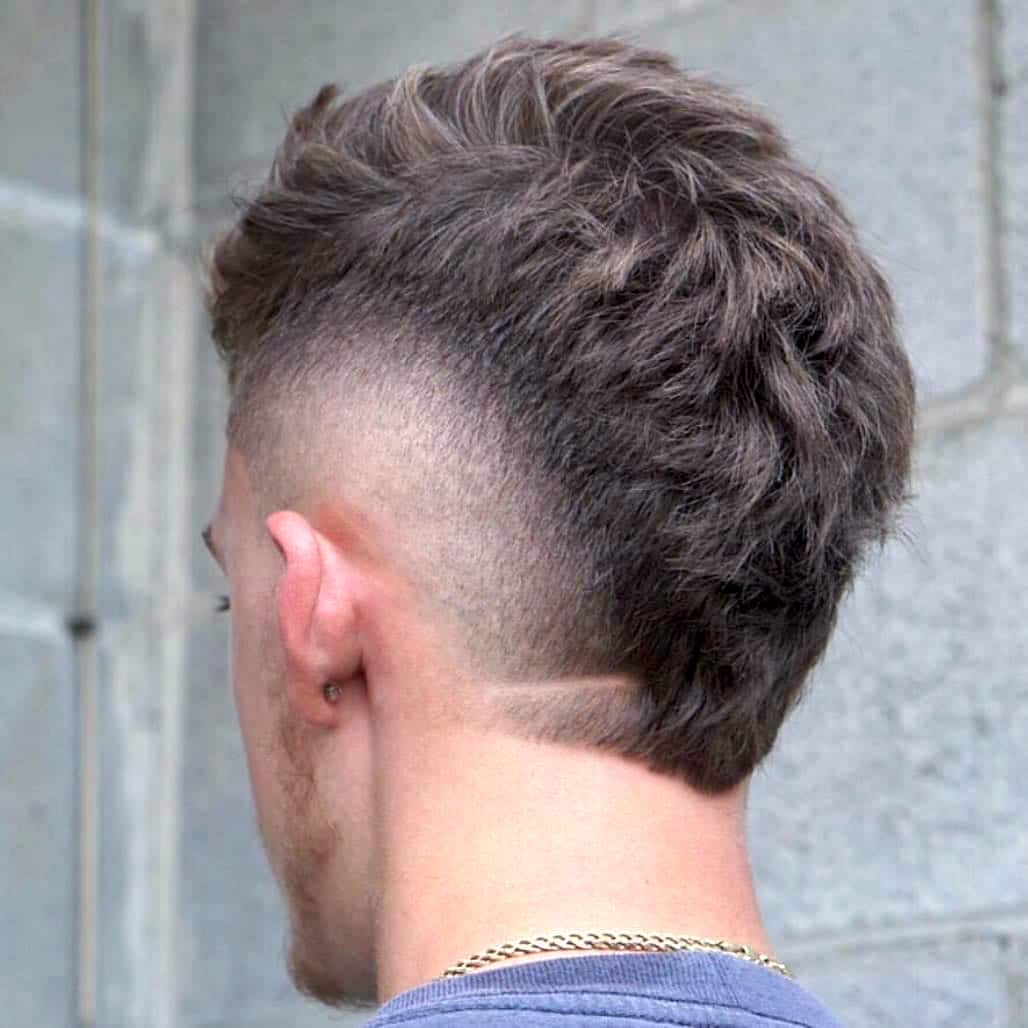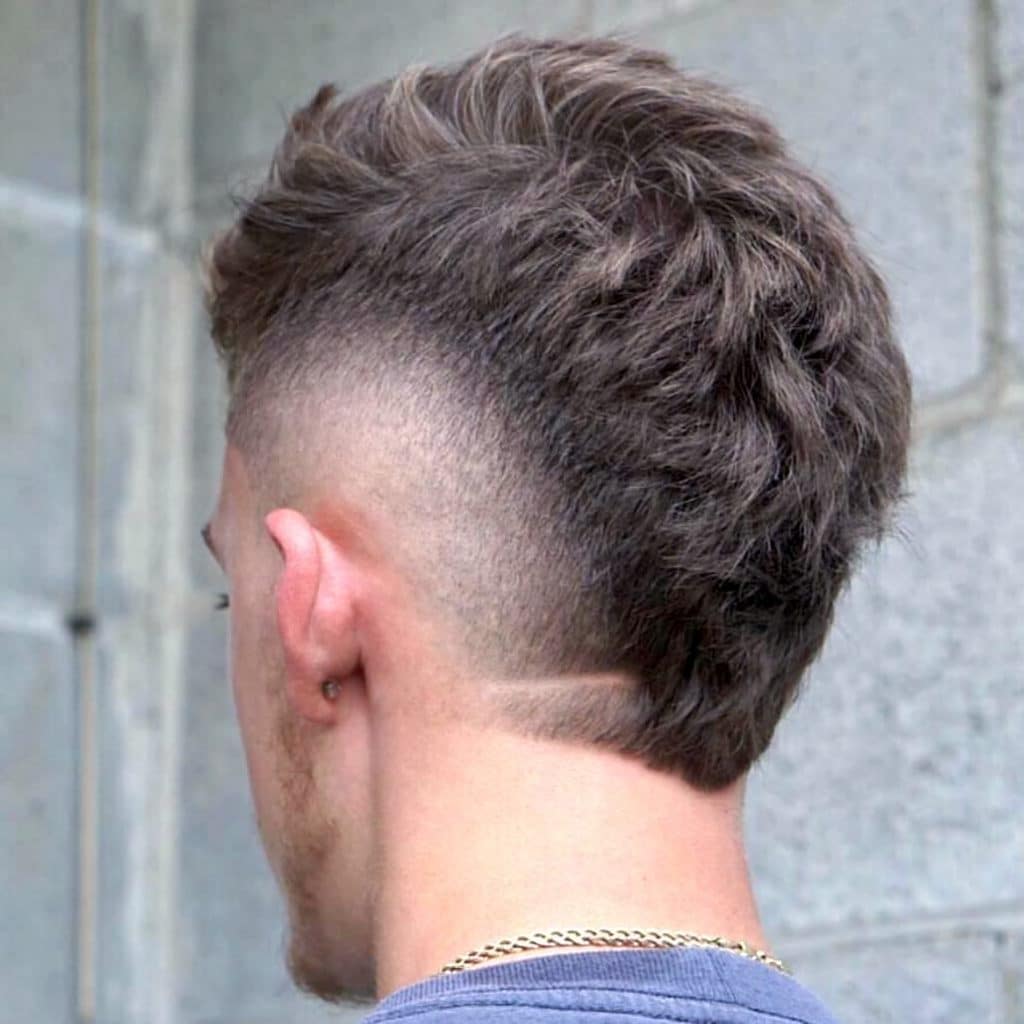 The V-shaped neckline is a cool way to end a wider mohawk style. Even better, add a slash somewhere unexpected.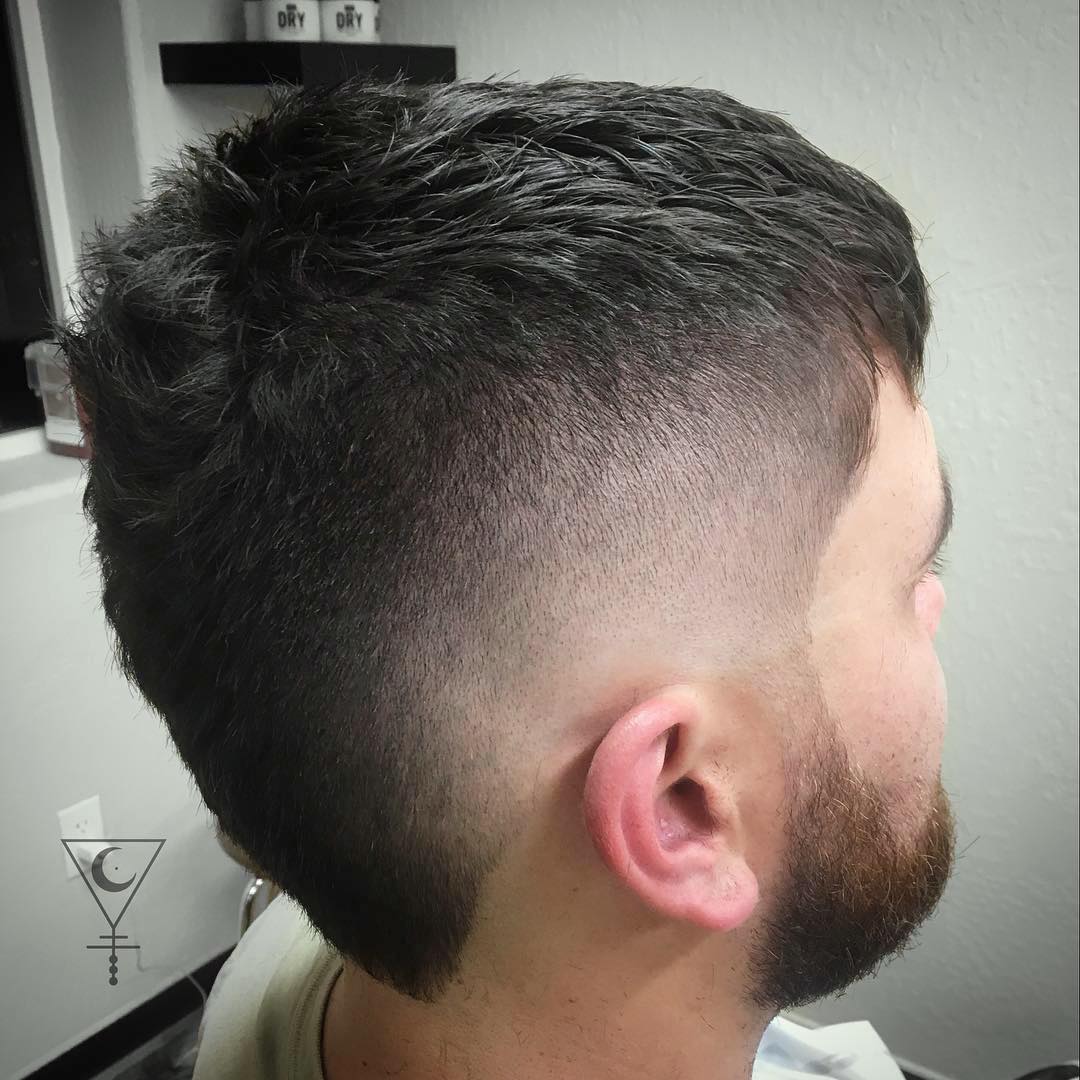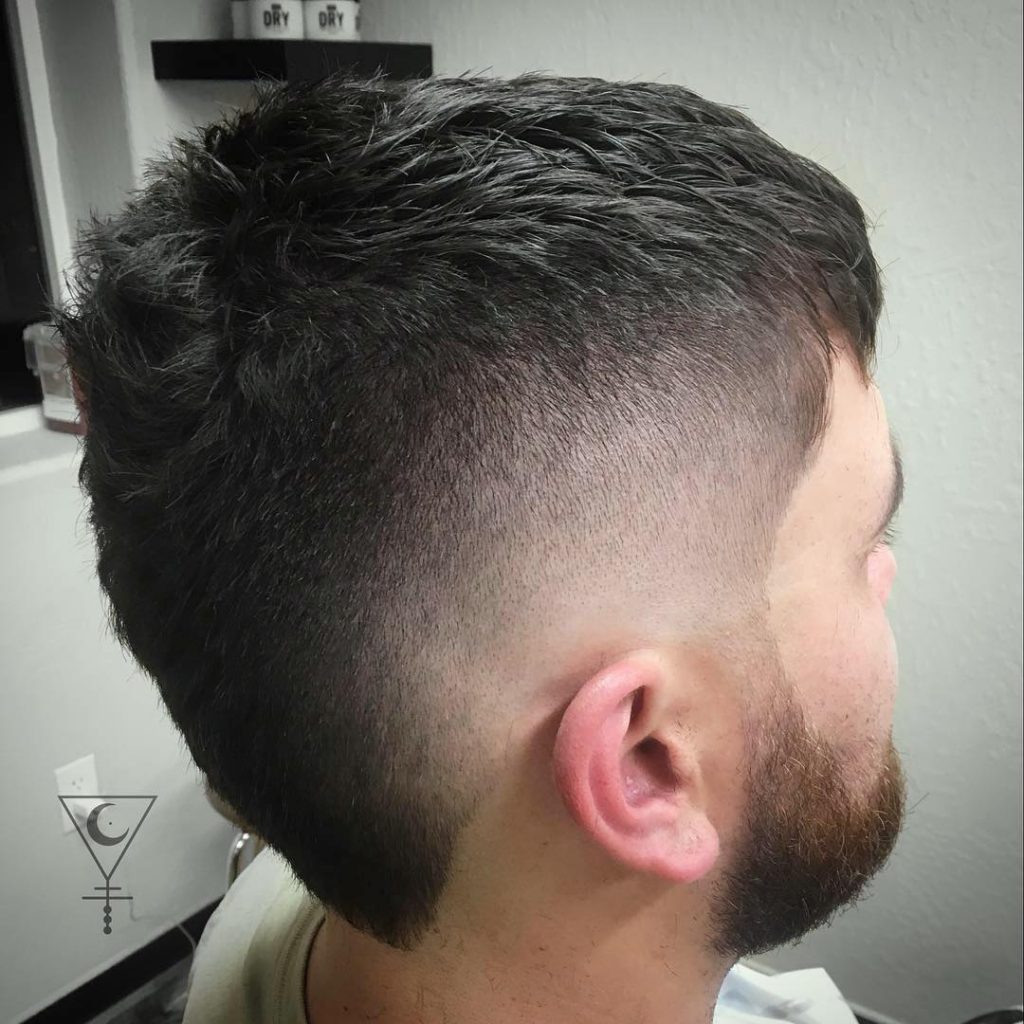 Another South of France look but for straight hair.
Black Mohawk Fades
This is pretty much the same bald burst fade haircut but with different hair (and beard) lengths.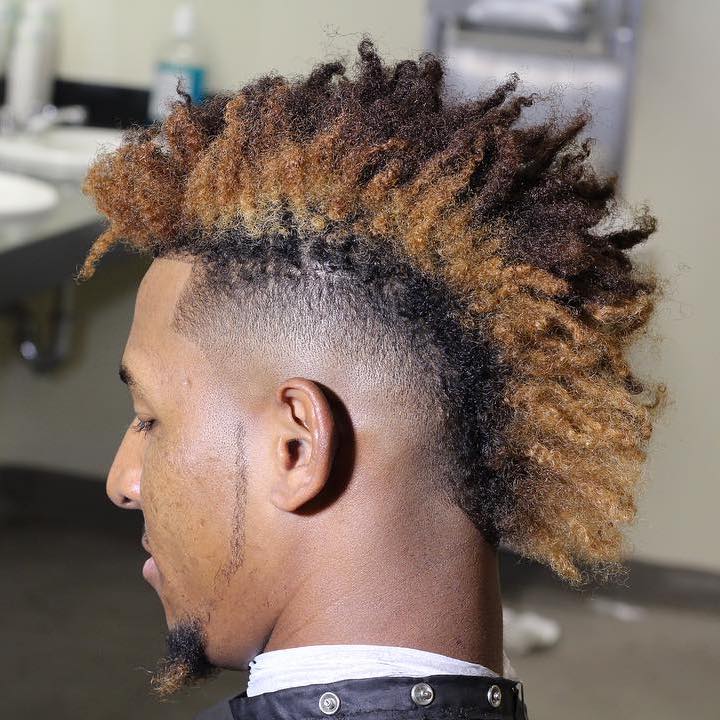 Here's an even longer hawk with texture and curl seen on former Major League Baseball pitcher Edison Frias.
Pompadour Styles
The pompadour is especially popular for guys with thick hair. These cool looks combine that classic shiny pomp at the front with a burst fade mohawk.
Faux Hawk Styles
Is it still a faux hawk with a mohawk cut? We'll allow it.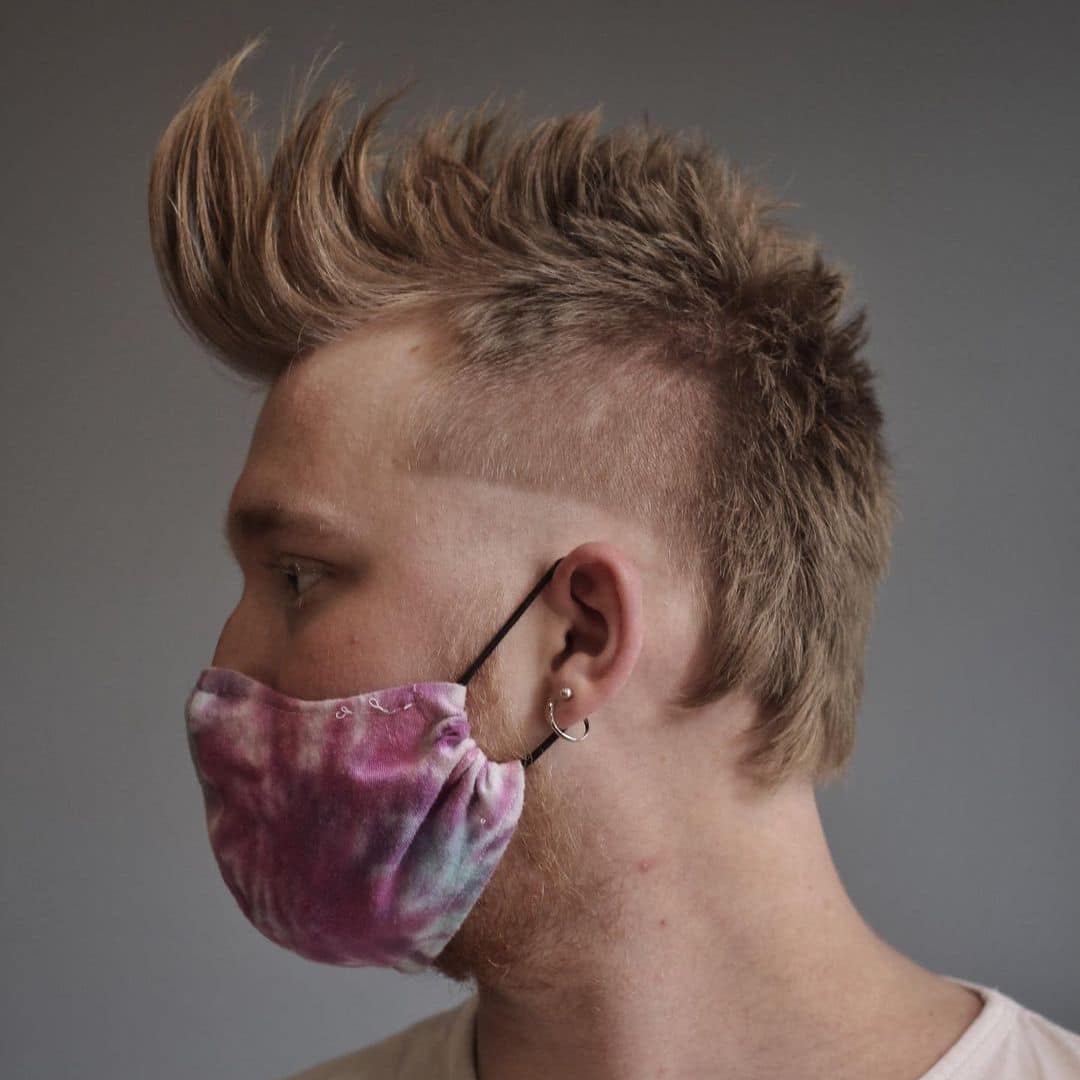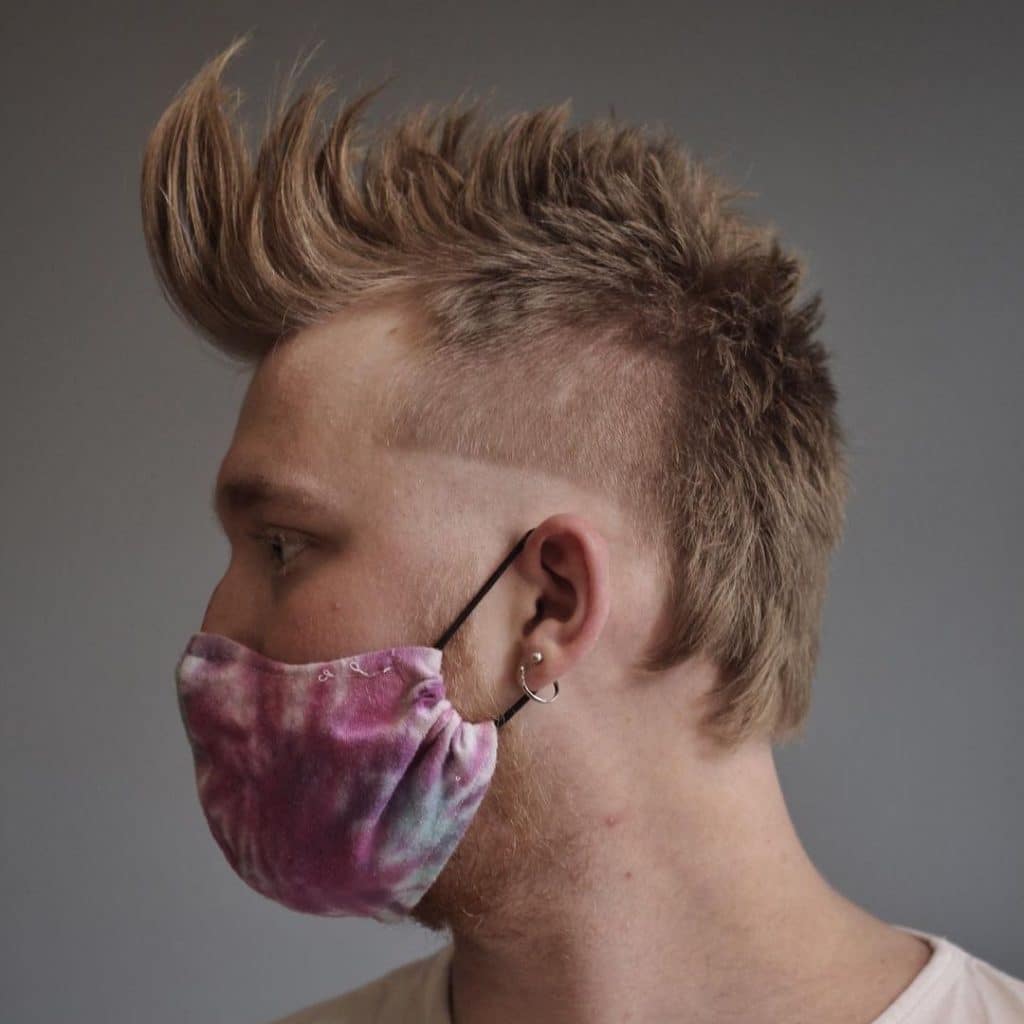 These bold looks appear to be a faux mo from the front but go all in at the sides and back.
3. Short Mohawk Haircut Styles
A mohawk is defined by the shorter sides so can be any length. Here are some ideas for short mohawk styles.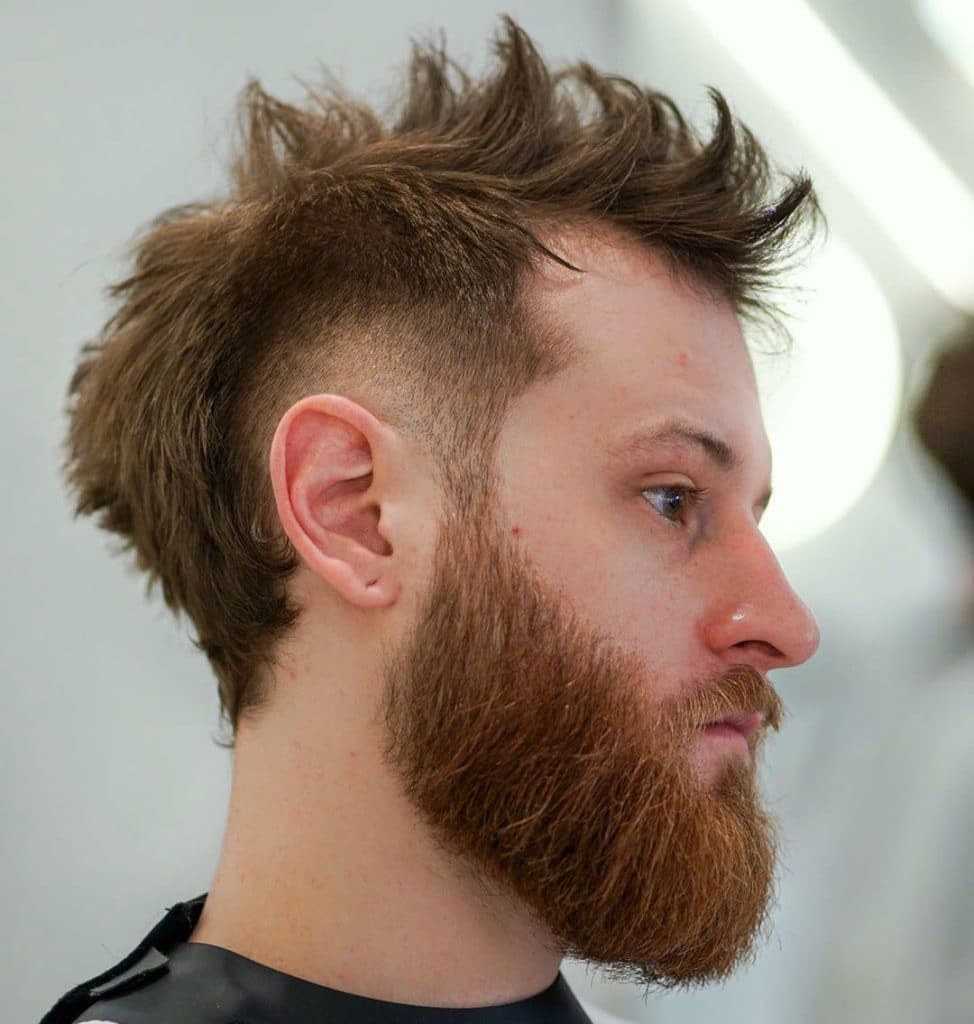 There's a lot happening hair with spikes at the top, a full beard, and hint of mullet. Style it up, pomp it back, or do whatever.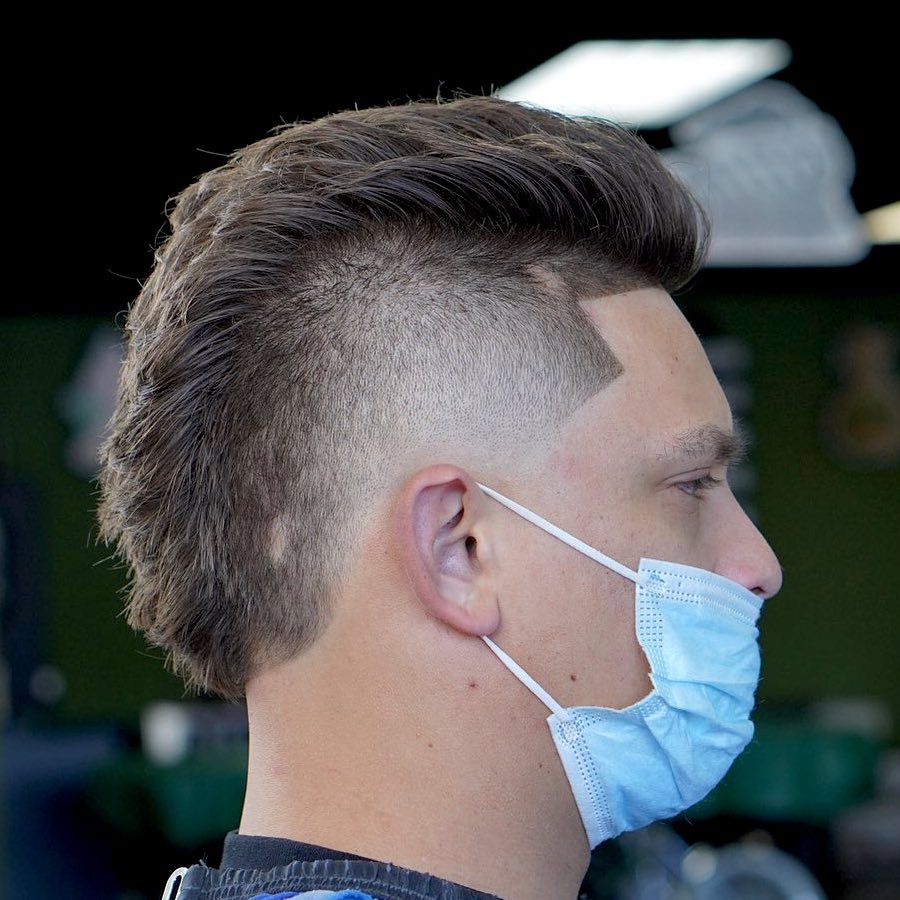 This is a great look for summer that keeps you cool and leaves a bit of flow at the back of a ball cap.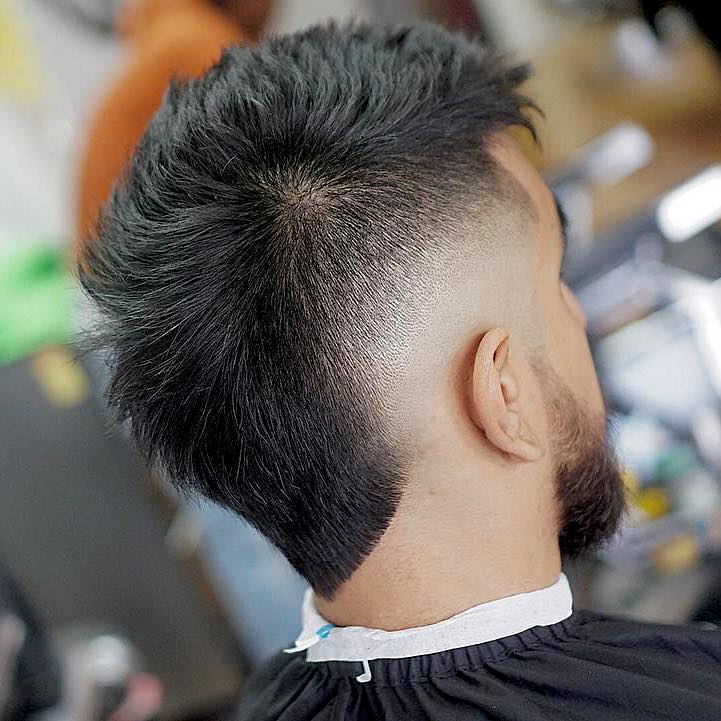 The pointed neckline makes it clear that this is a mohawk.
Punk's not dead. It loves on in these hairstyles and in you.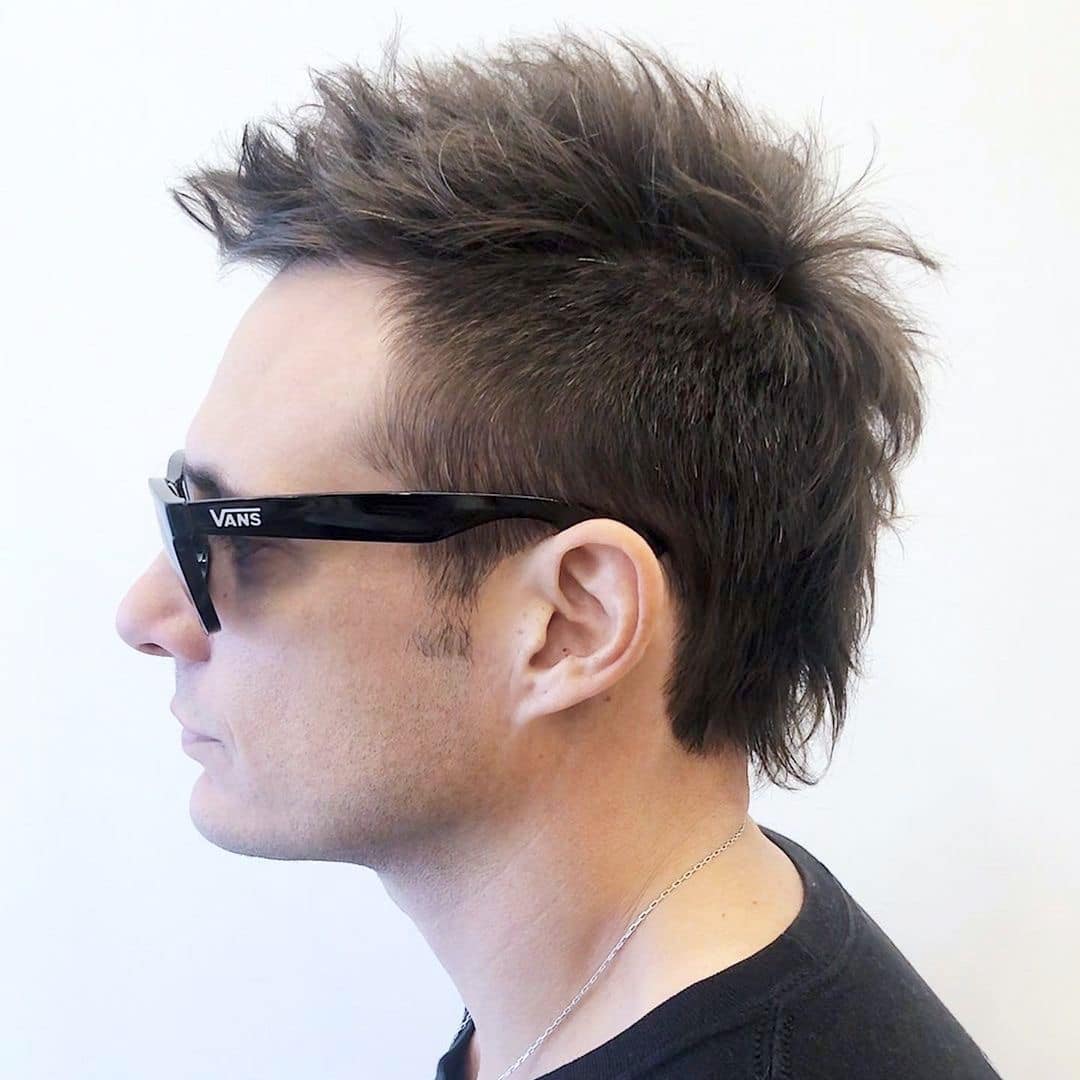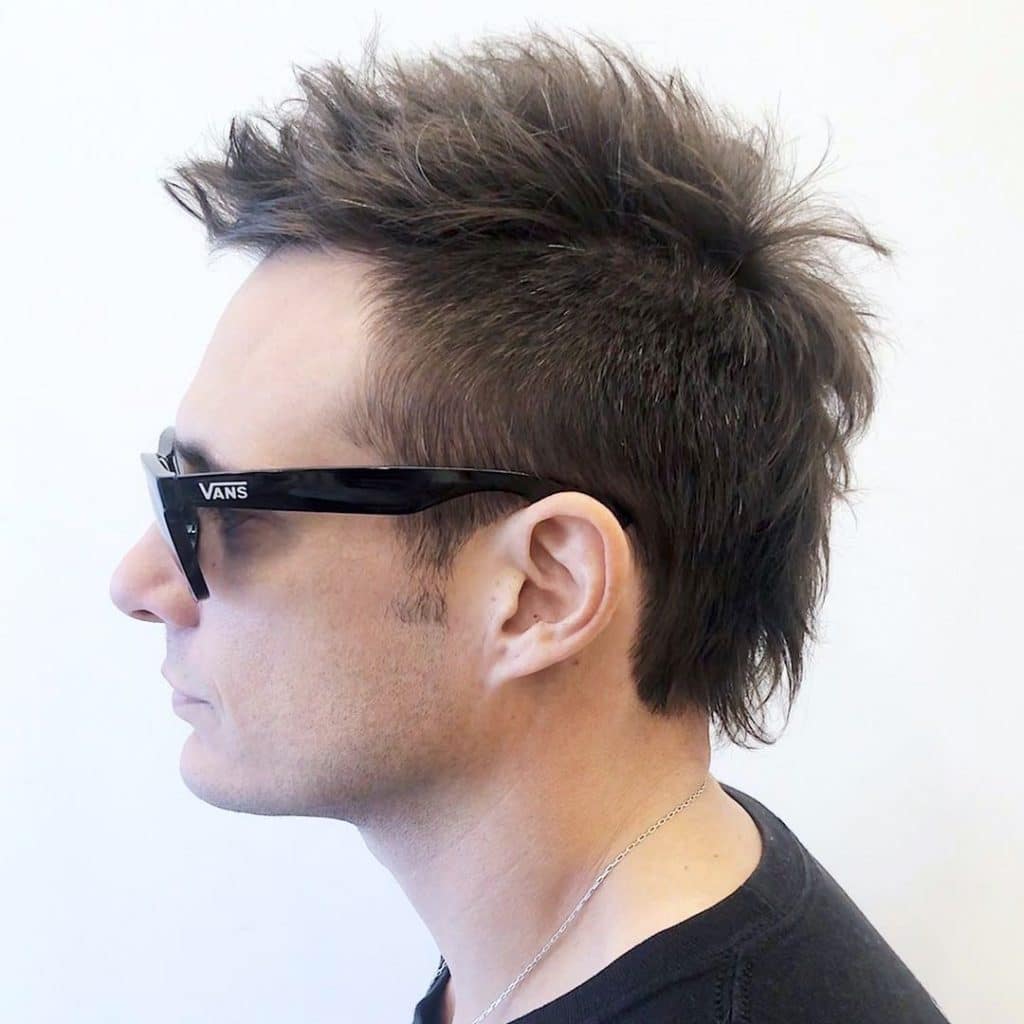 And finally, a mohawk without a fade. It still reads as punk with longer hair down the center plus some vertical styling.
4. Mohawk Haircuts For Black Men
The burst fade mohawk is a popular look for Black men. Check out these different looks with curls and braids too.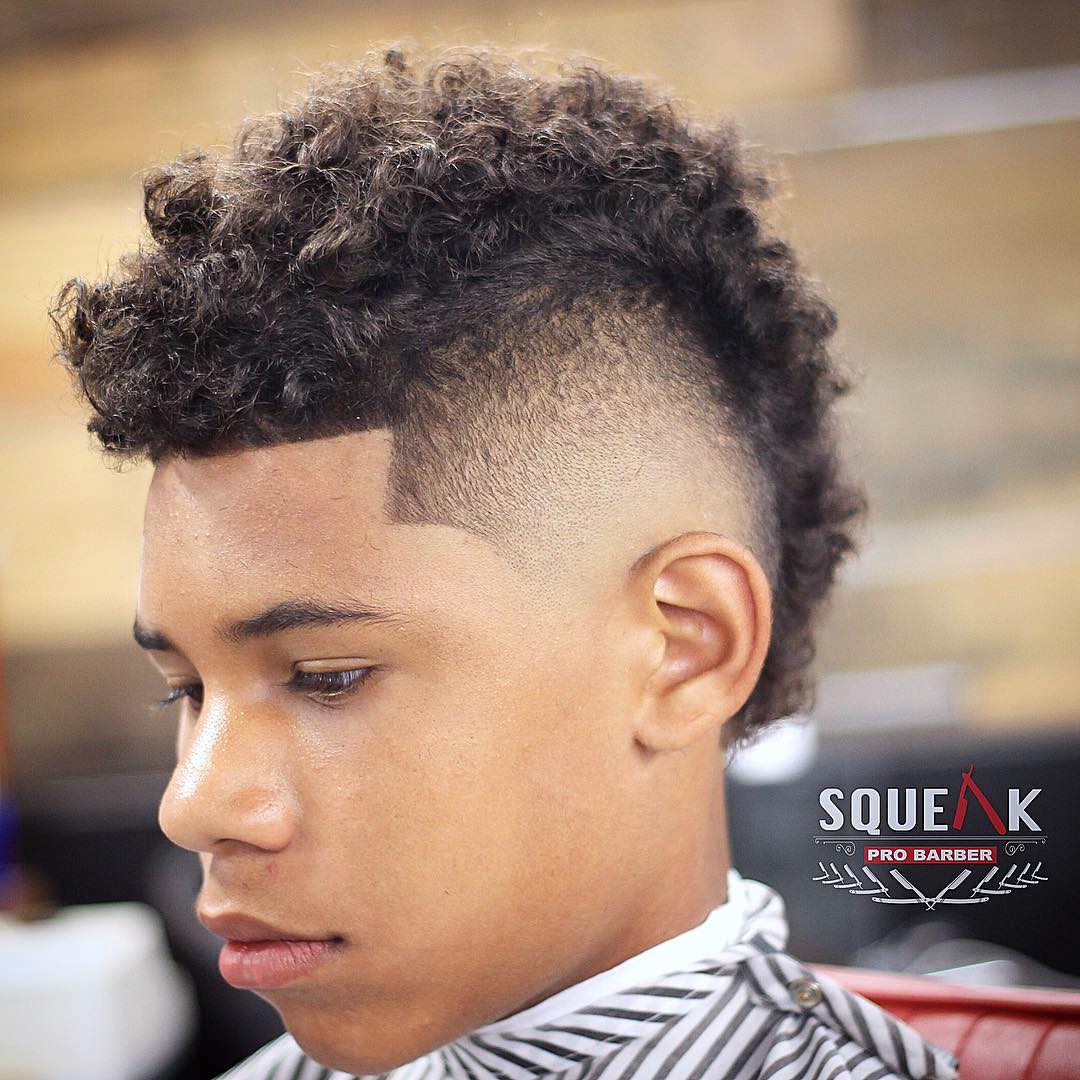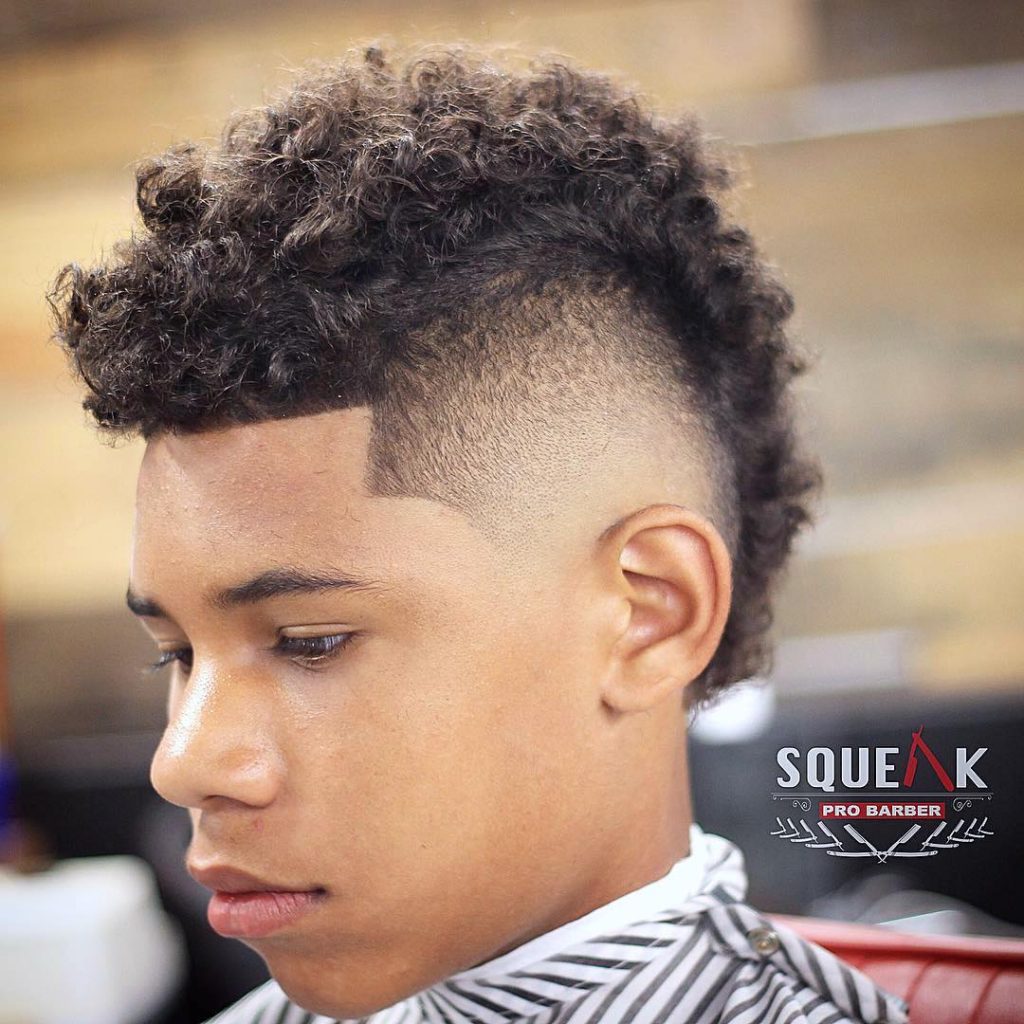 This cool curly cut looks good at every age.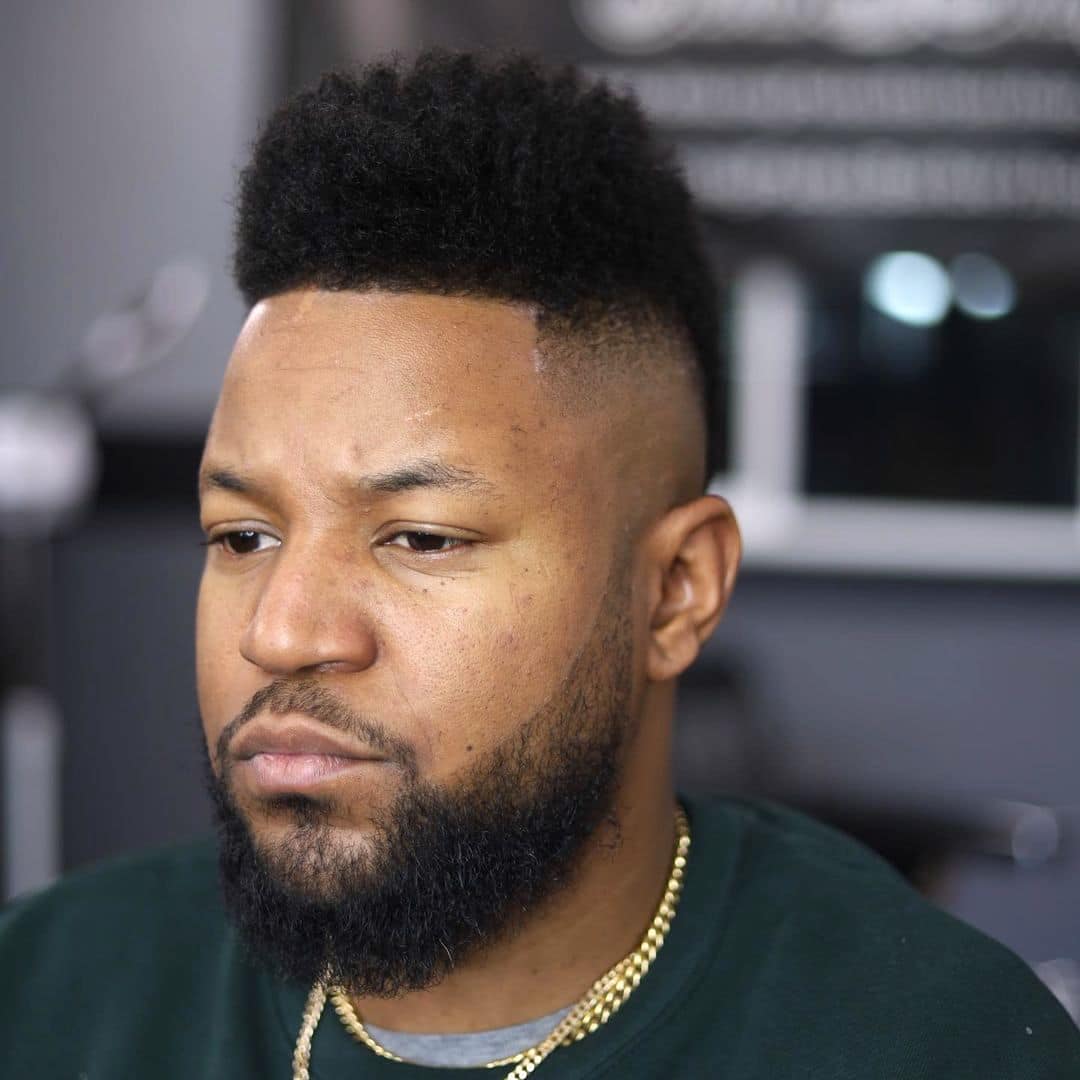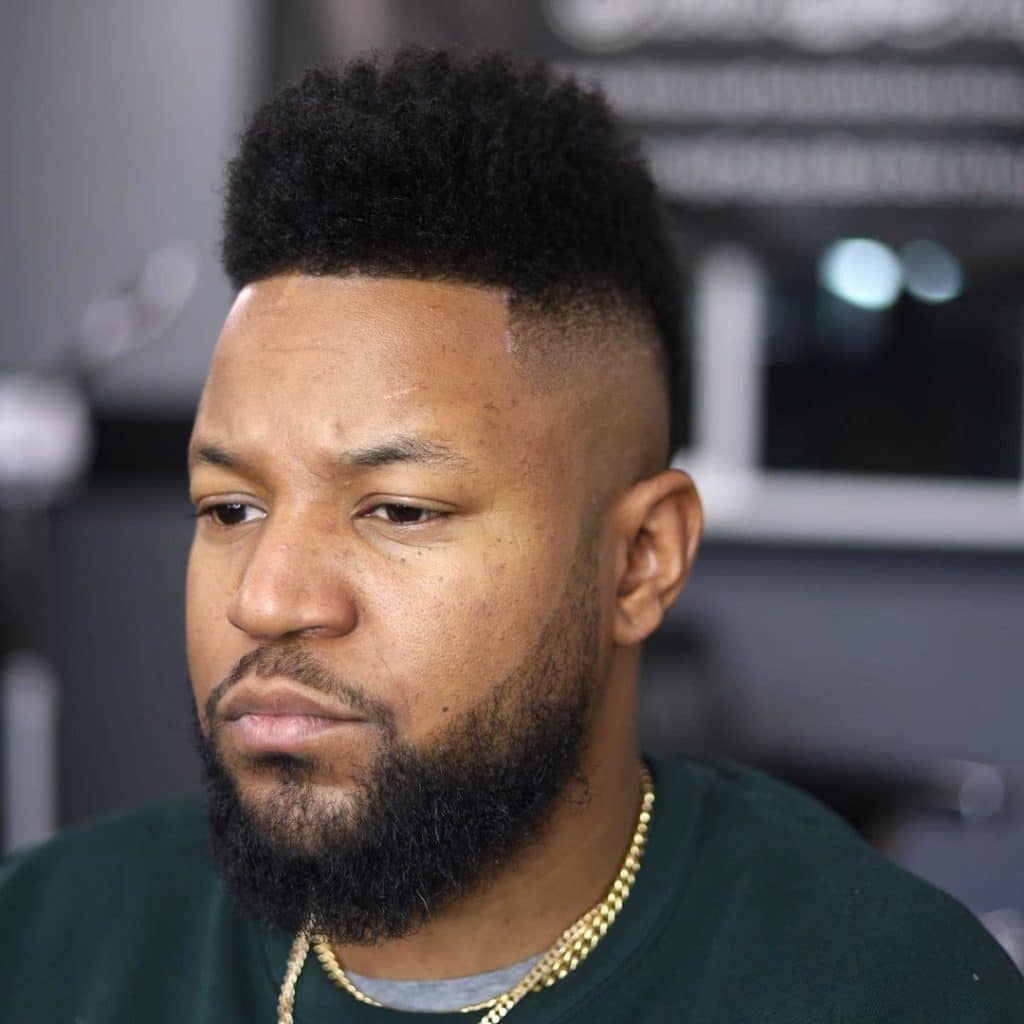 This vertical hawk with a beard has Mr T. vibes that we are here for.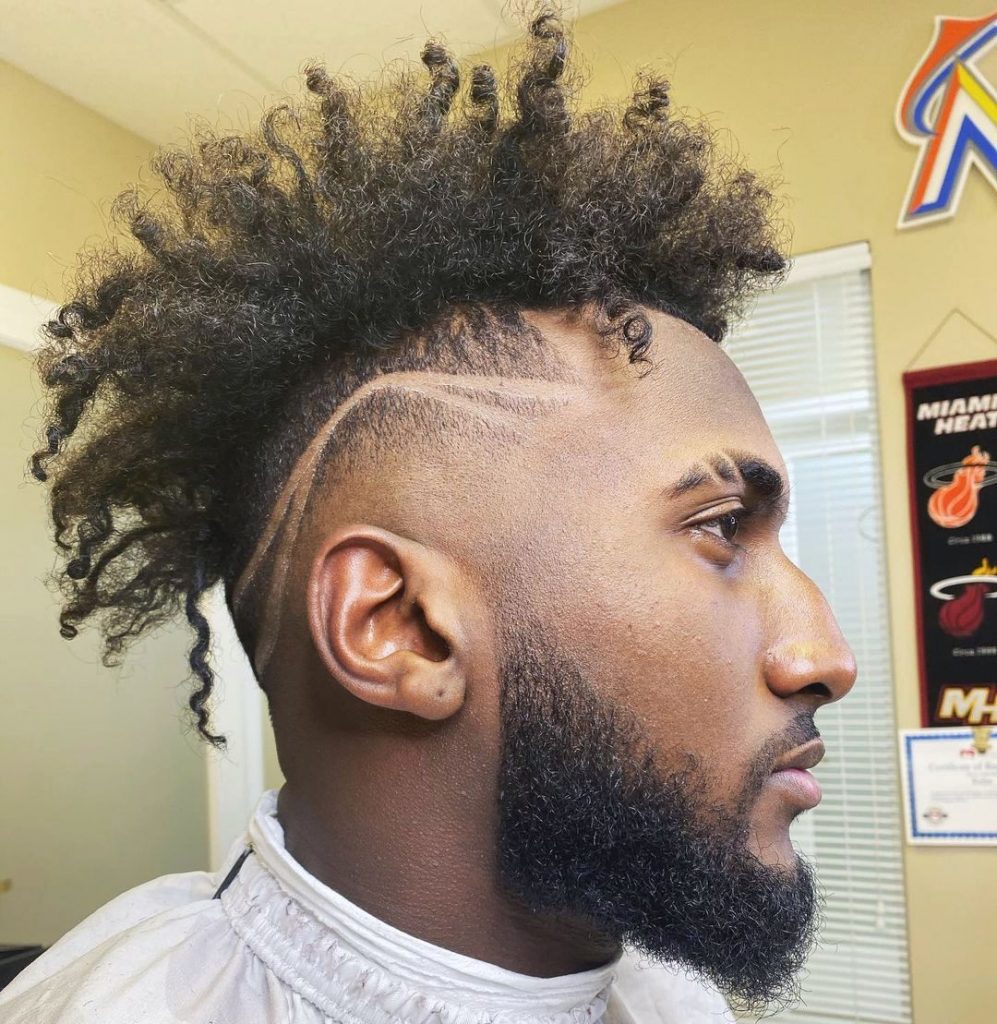 Tight, kinky curls bring natural volume to a mohawk plus an organic shape. Or keep it tight with some product.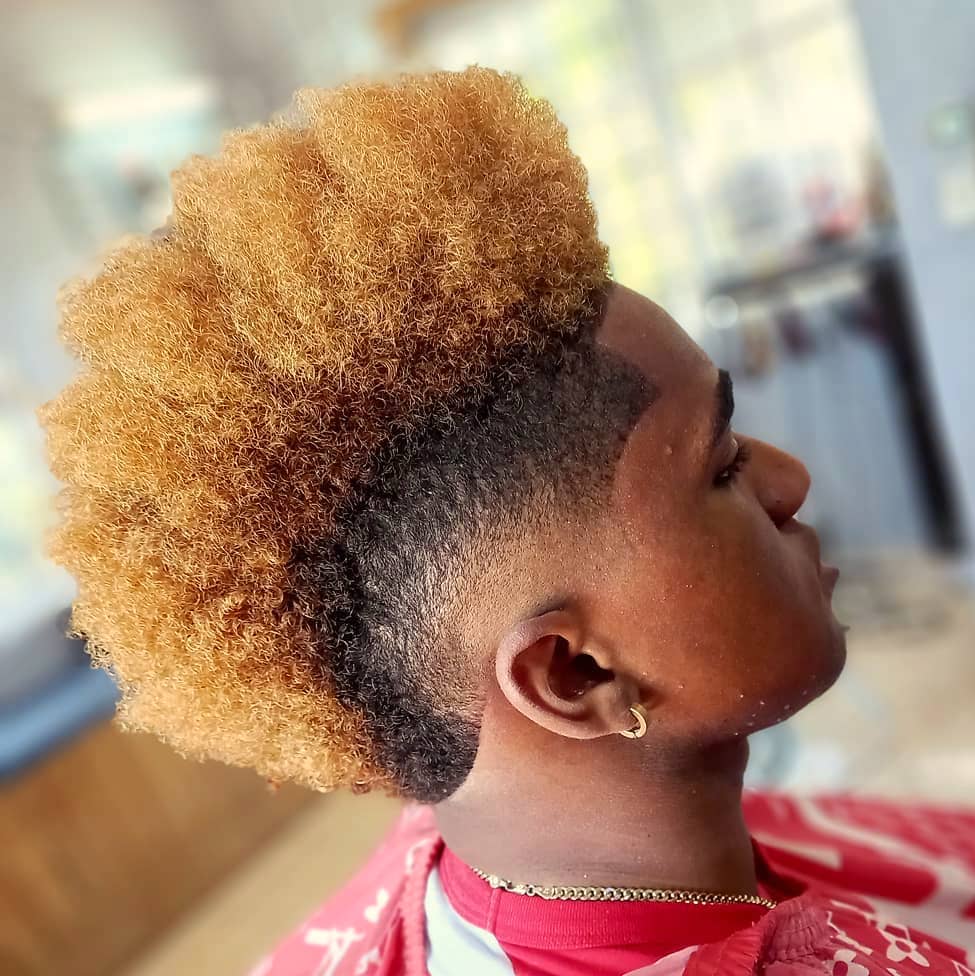 Color takes this already next level burst fade mohawk to whatever level is after that.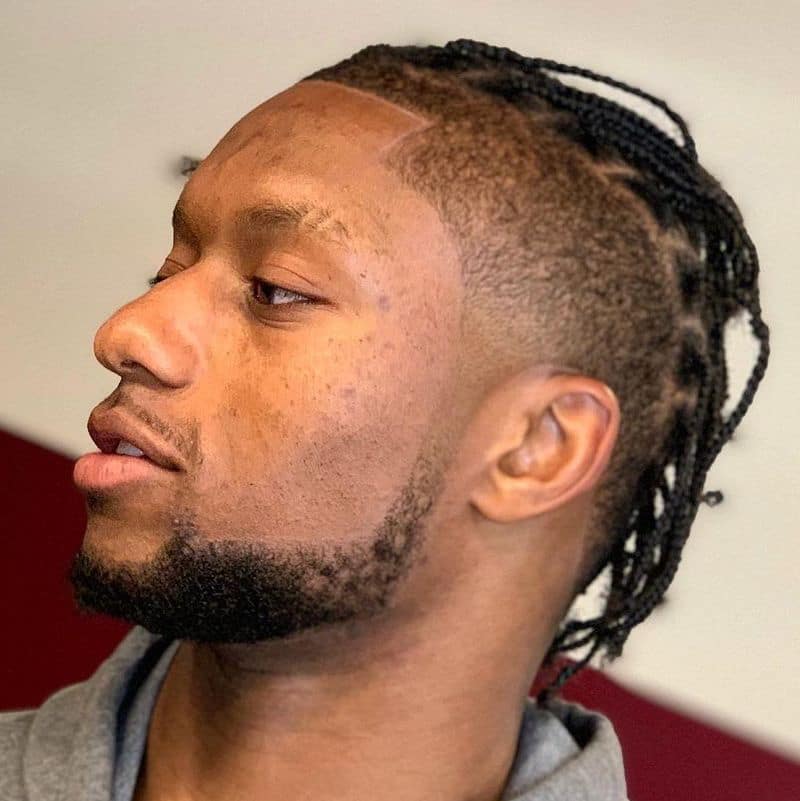 Box braids with a fade look great in every combination but this mohawk cut is extra cool.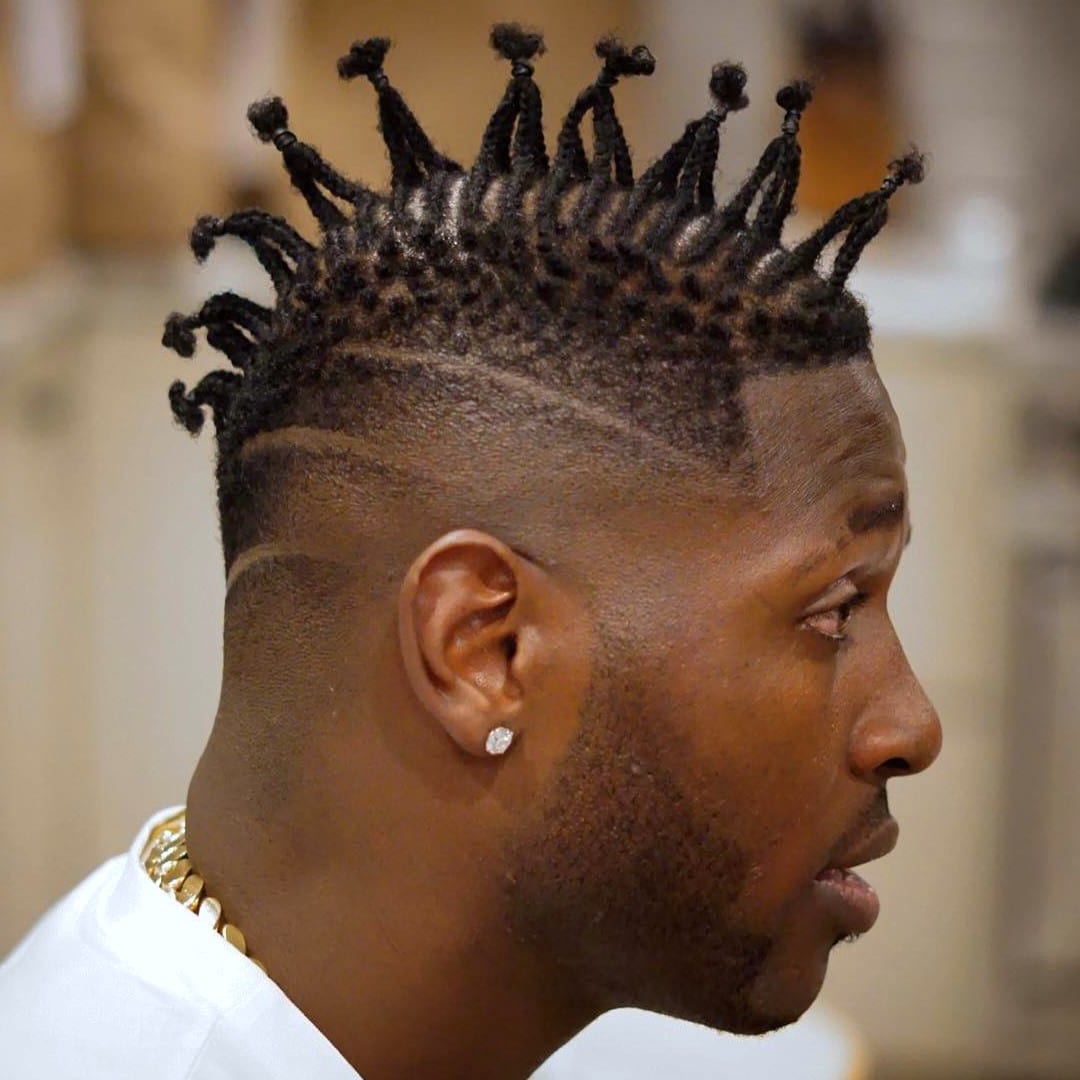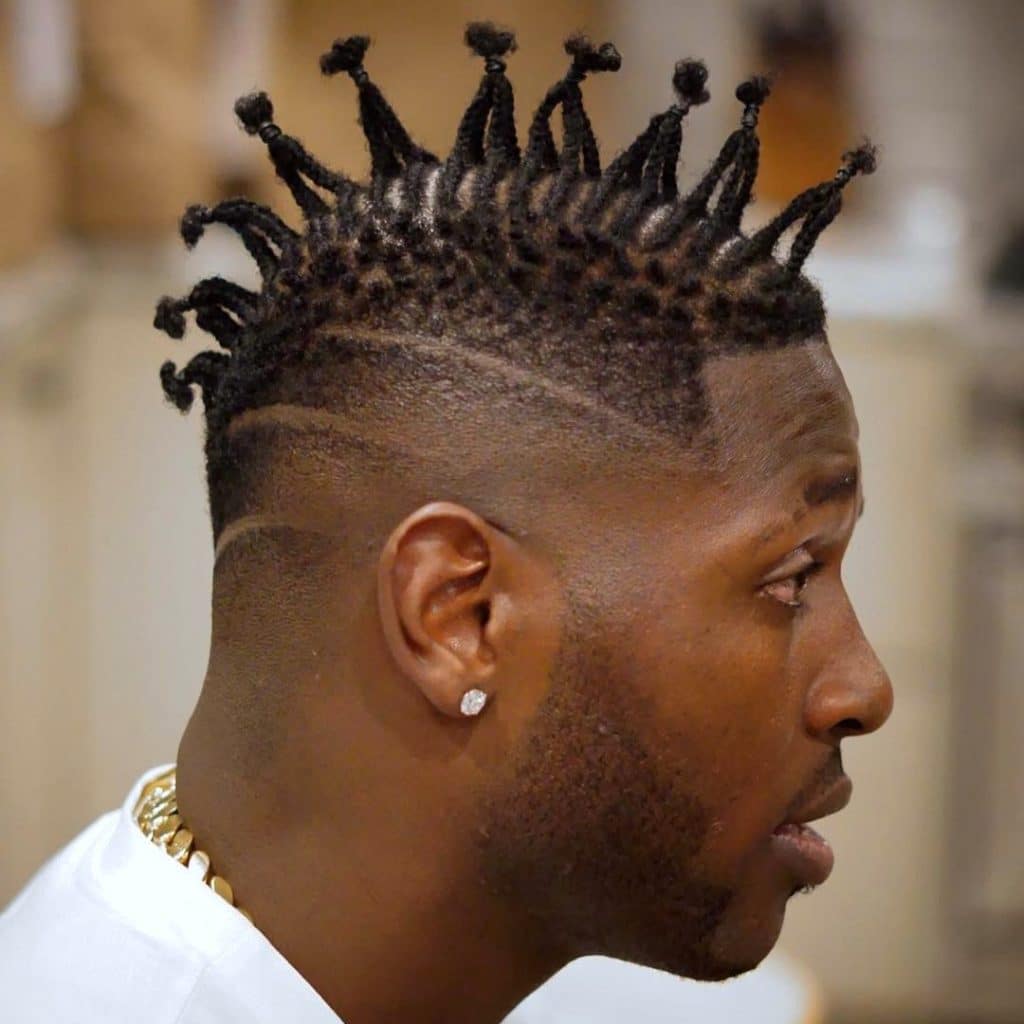 And wide receiver Antonio Brown with a graphic look of a braided hawk plus shaved lines.
5. Curly Mohawks
Curly and even wavy hair have enough texture to stand a mohawk up. Here are some short, medium and long curly mohawks.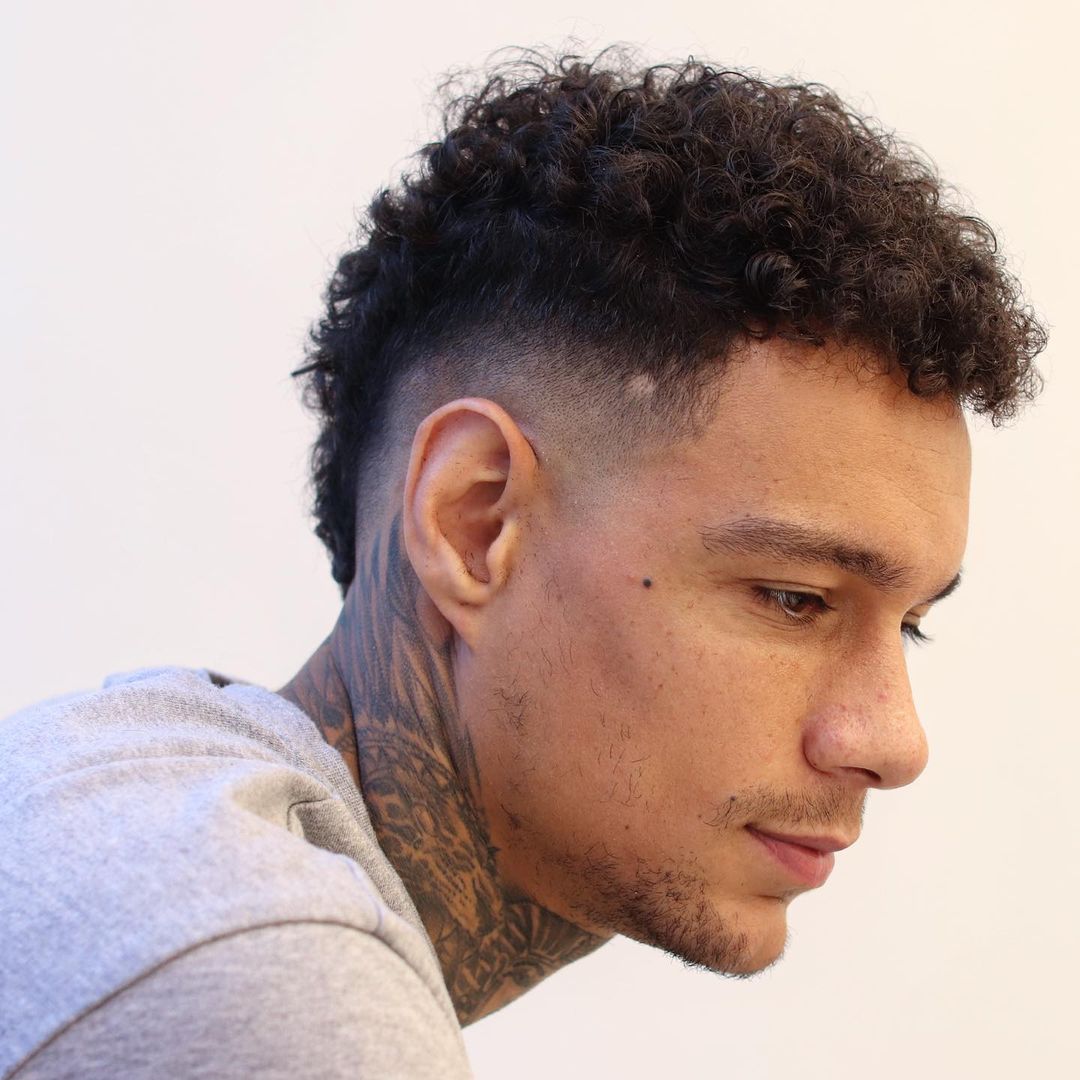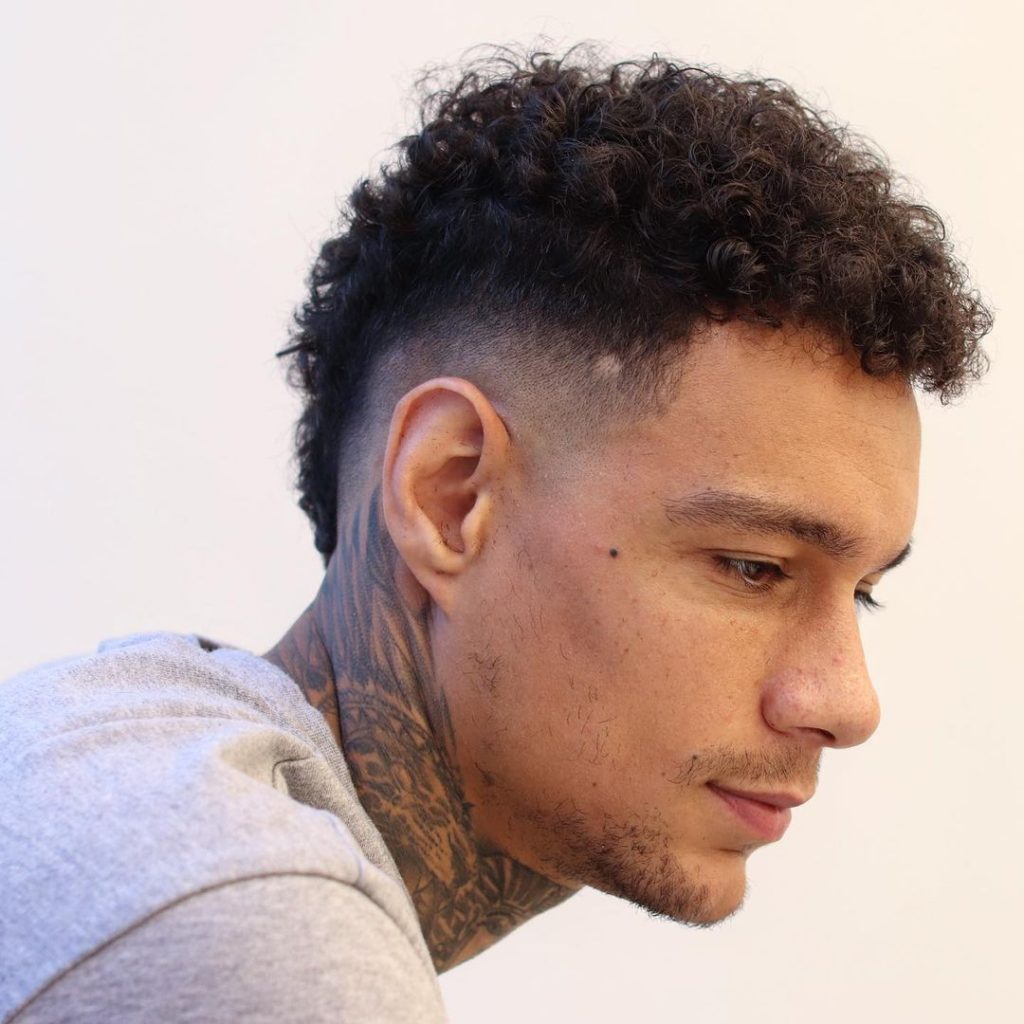 This mohawk style is mullet-like in that it's business at the front and party at the back.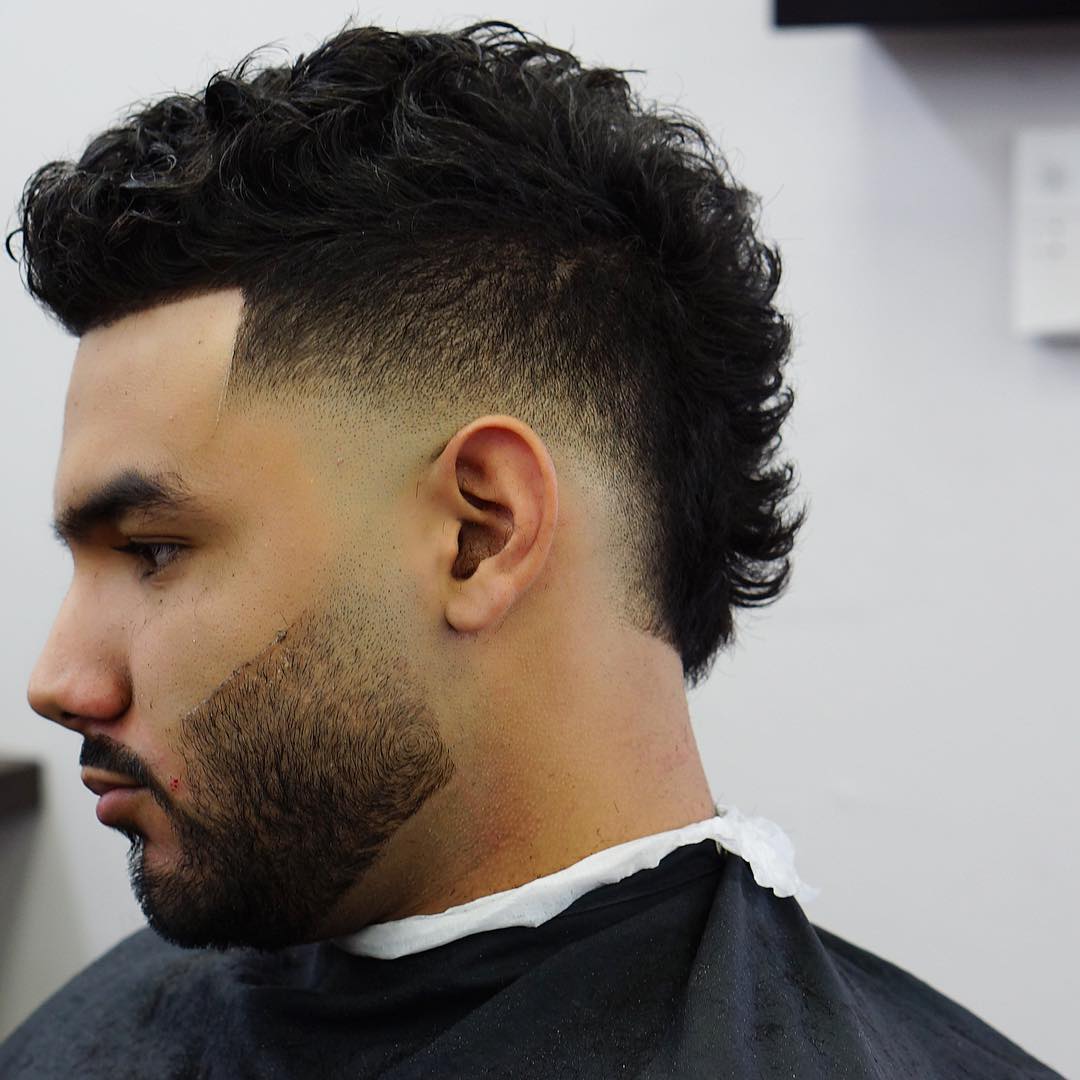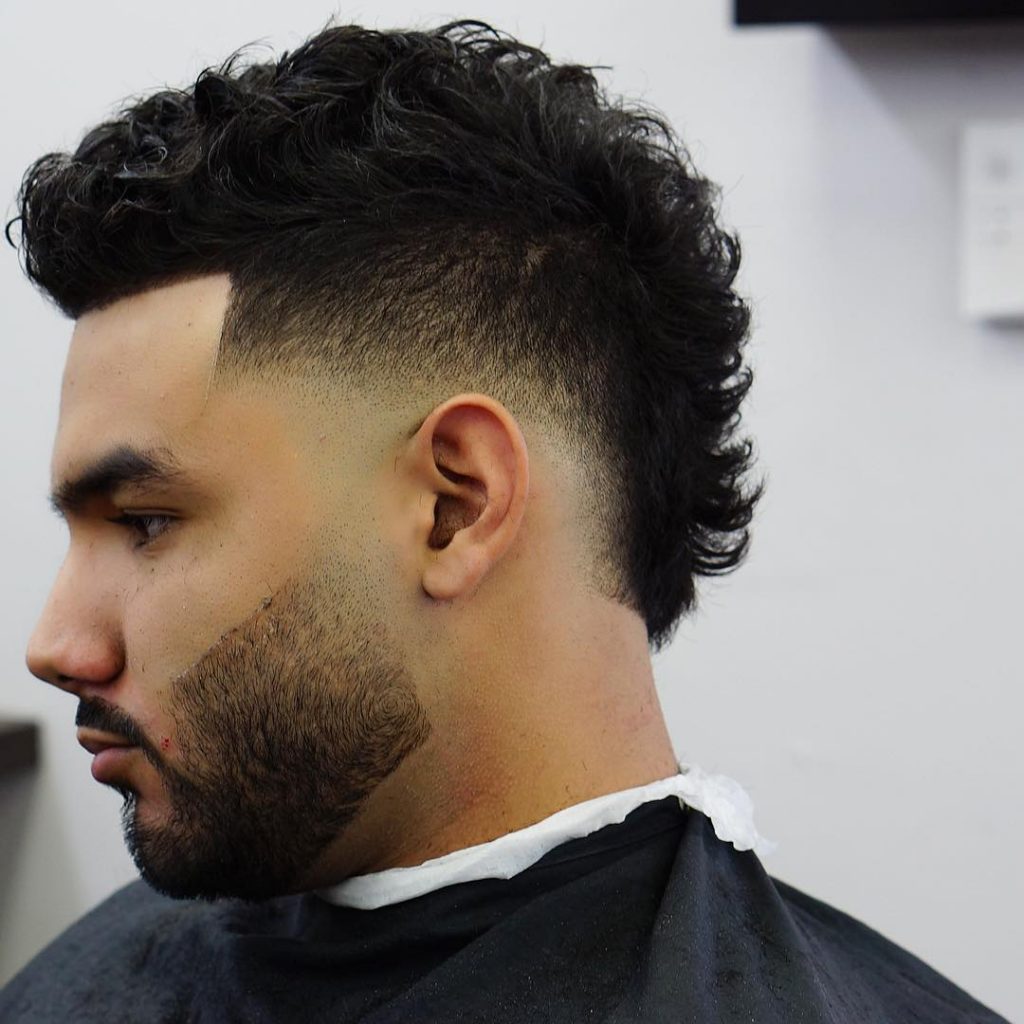 This burst fade mohawk is one of the popular curly hair fade styles.
These cool cuts are on the verge of mohawk mullet territory. Keep reading for more on that cool look.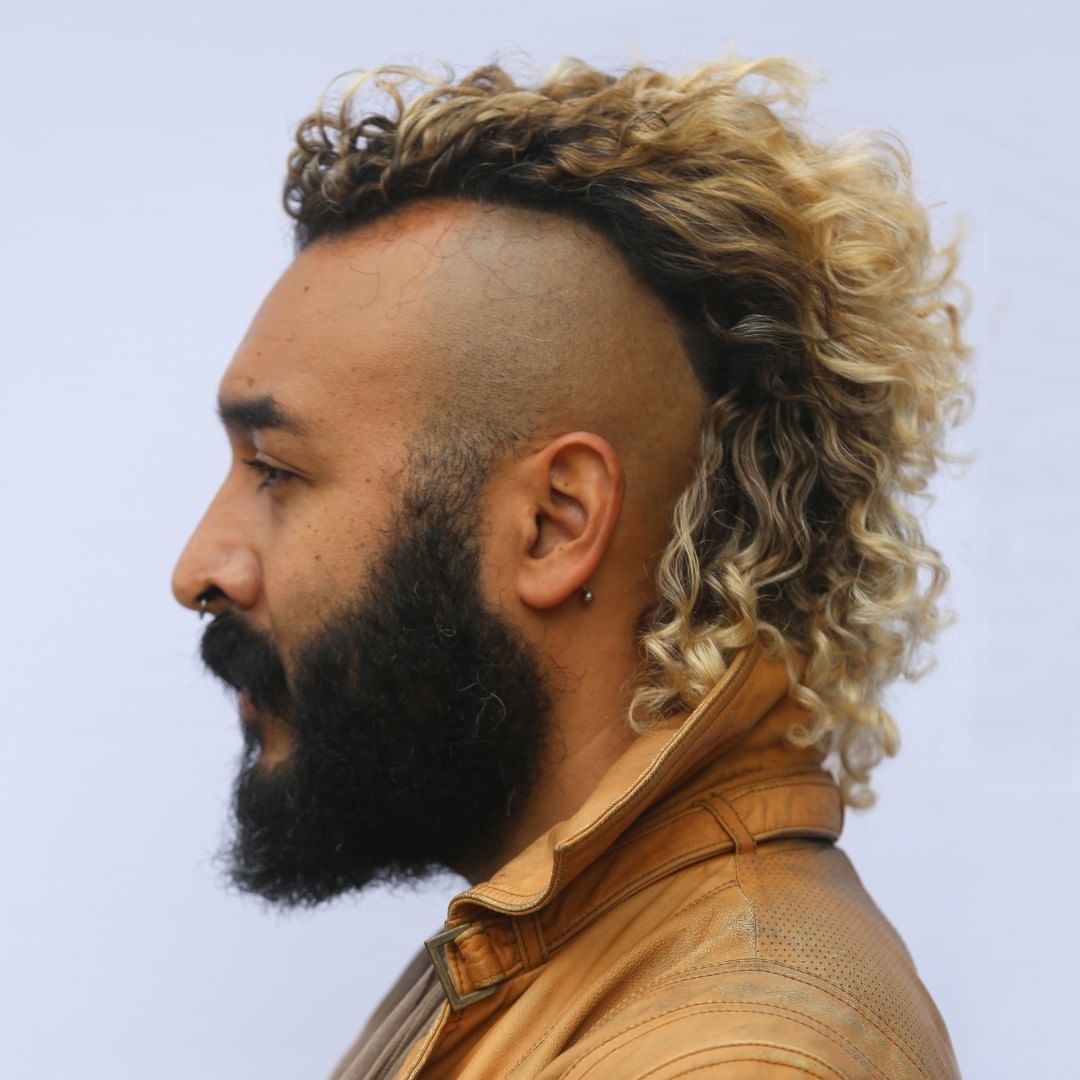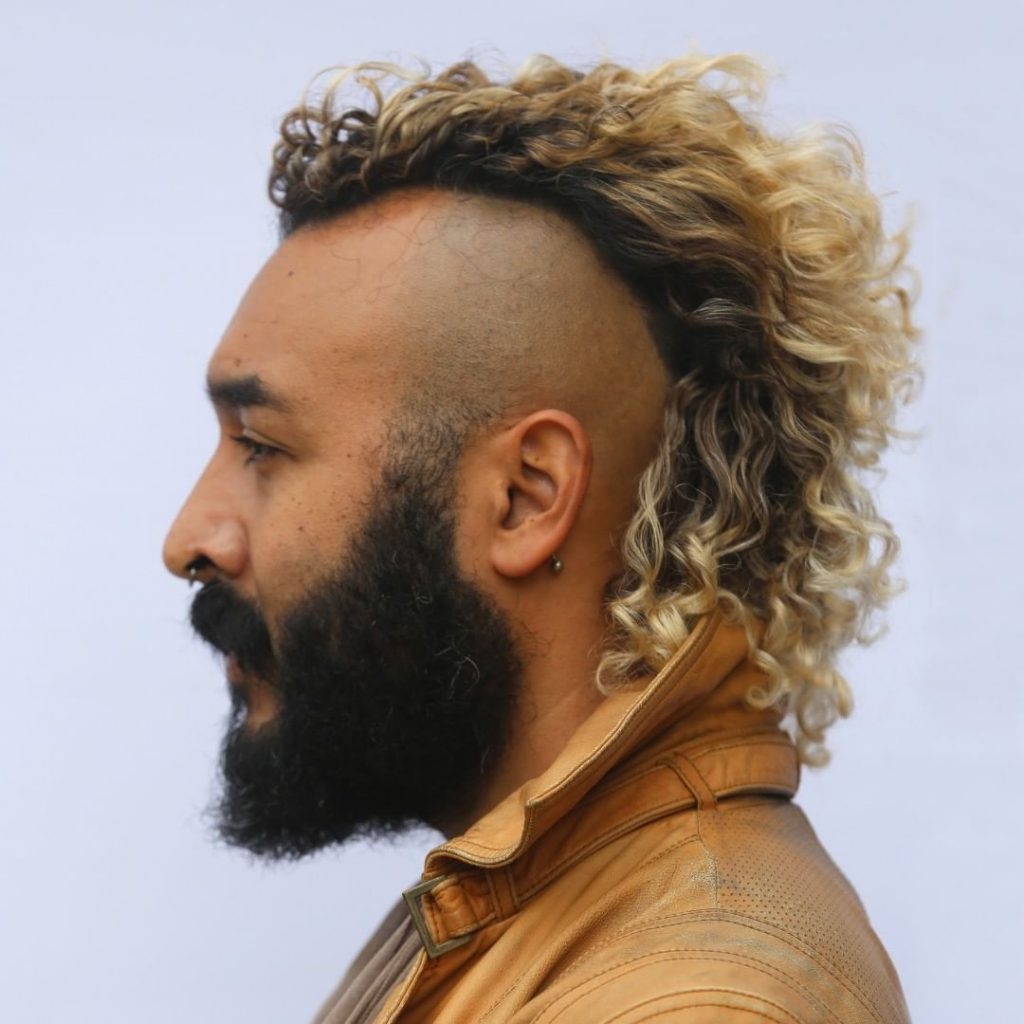 Long hair has plenty of volume without being styled.
6. Mohawk Mullet Haircuts
The only thing that makes a mohawk better is a mullet. Or vice versa.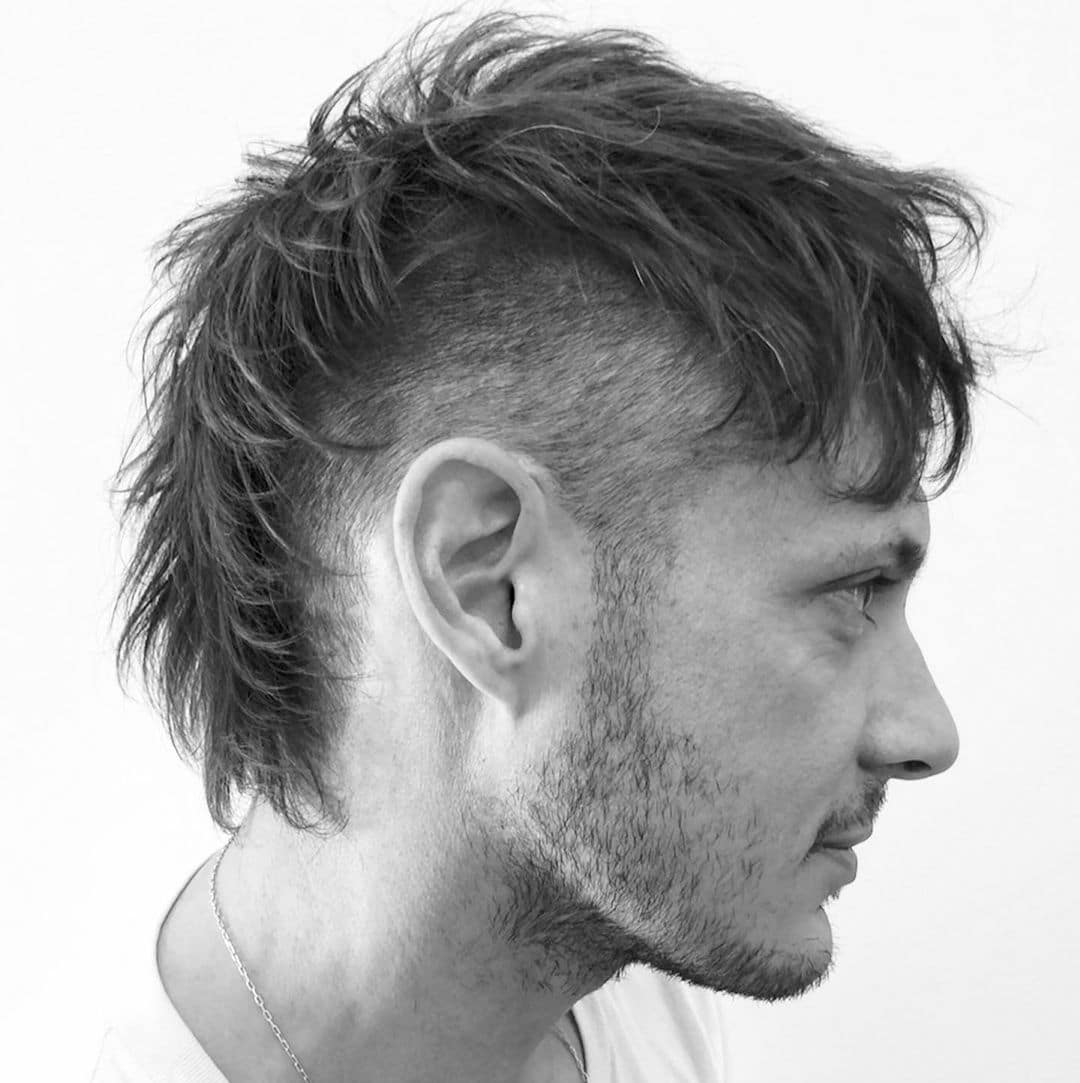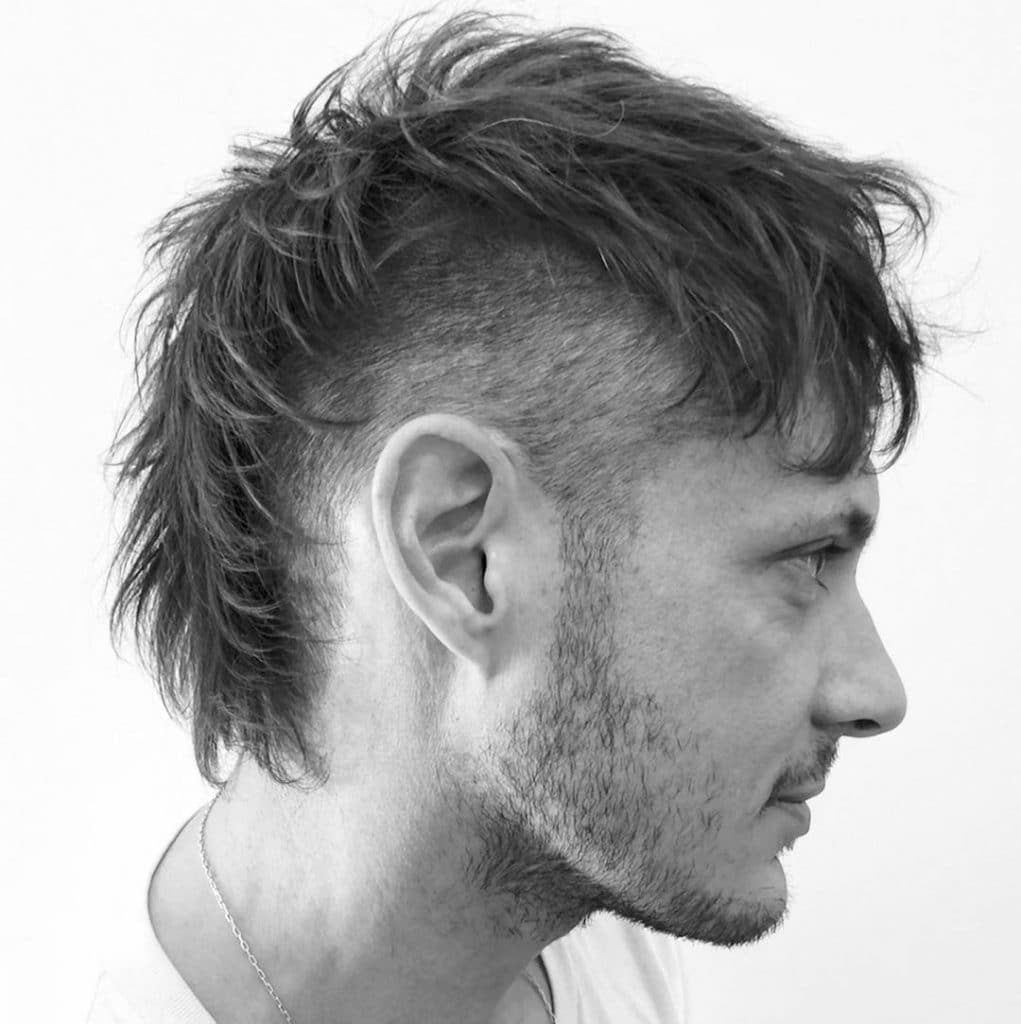 A lot of guys have been missing haircuts and getting some flow. Keep that growth and clean it up with this cool cut.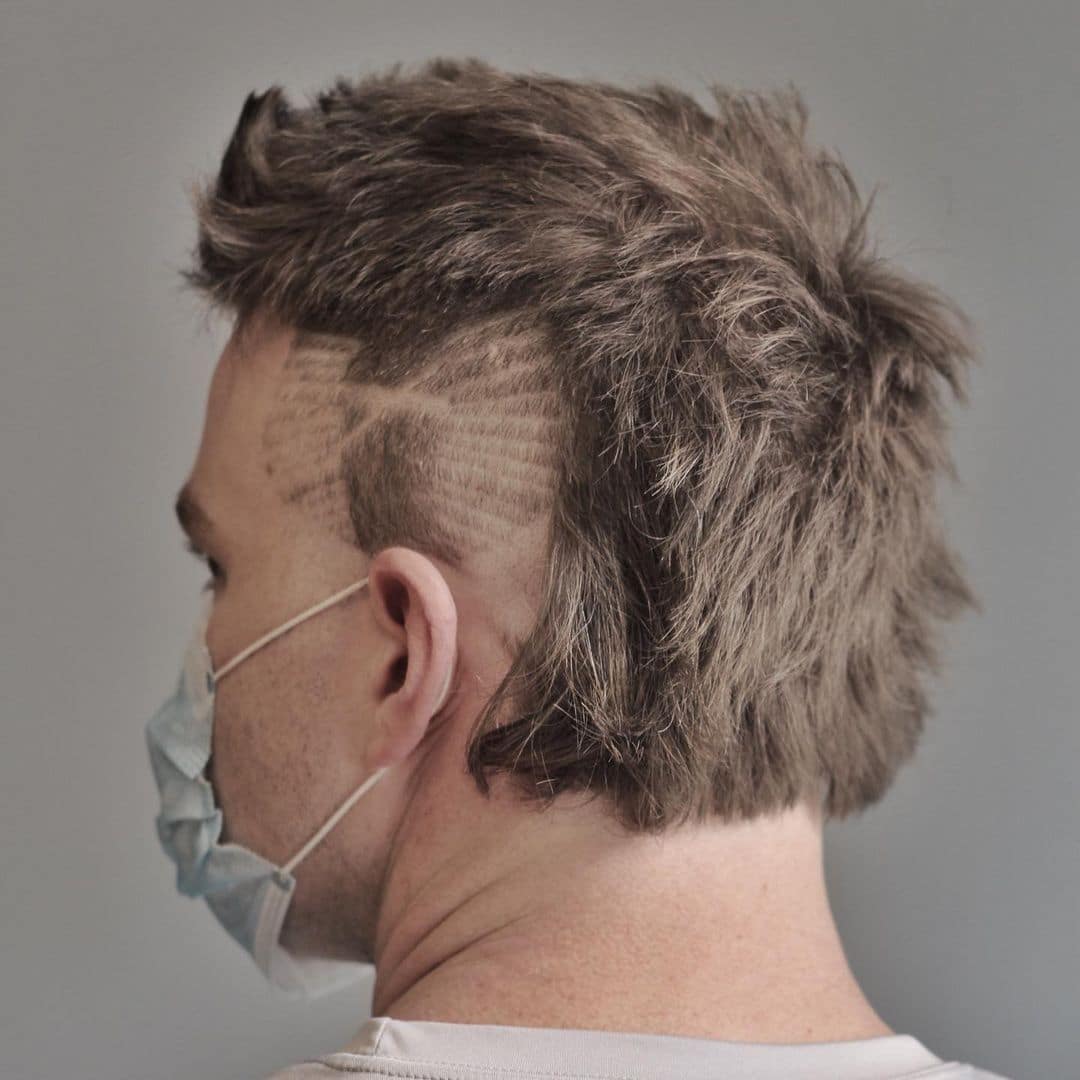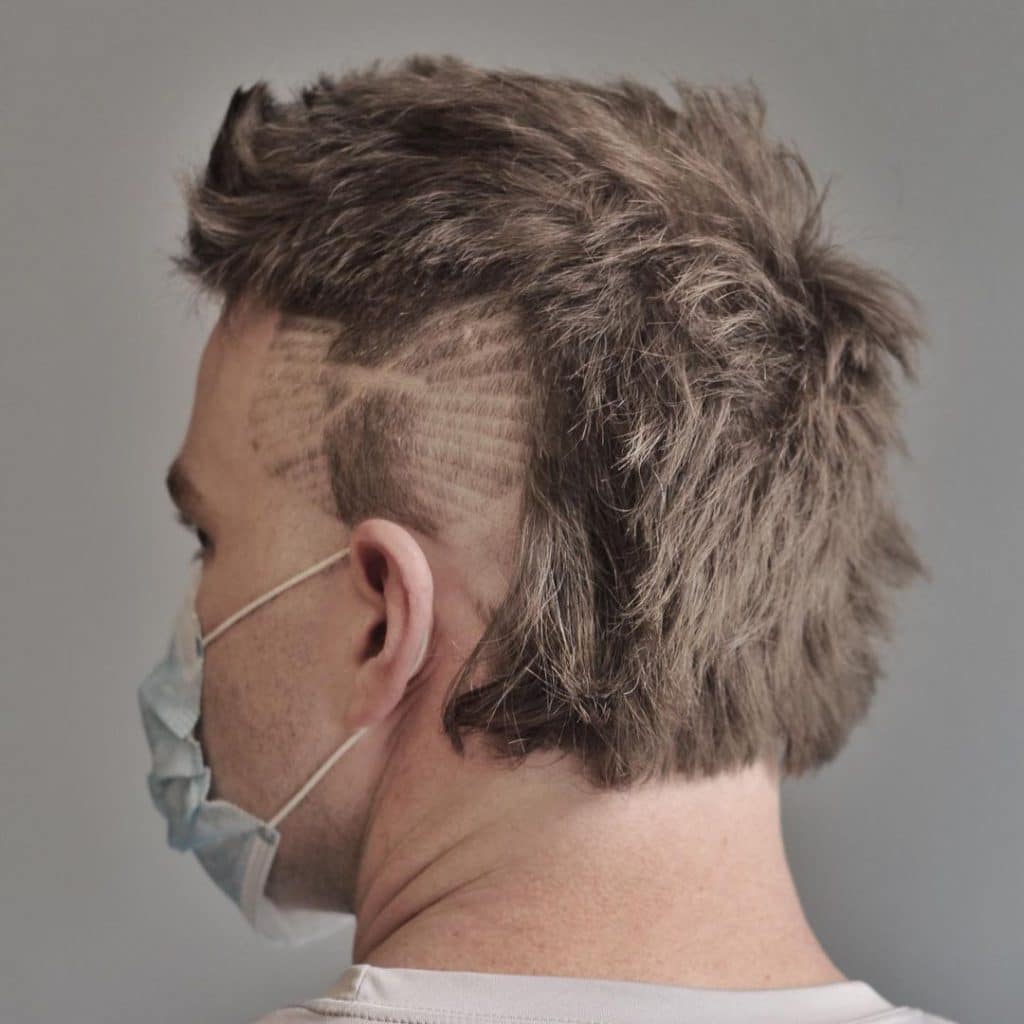 This is about as wide as a mohawk can be but there's still plenty of room for a design. This look will only get better with more length.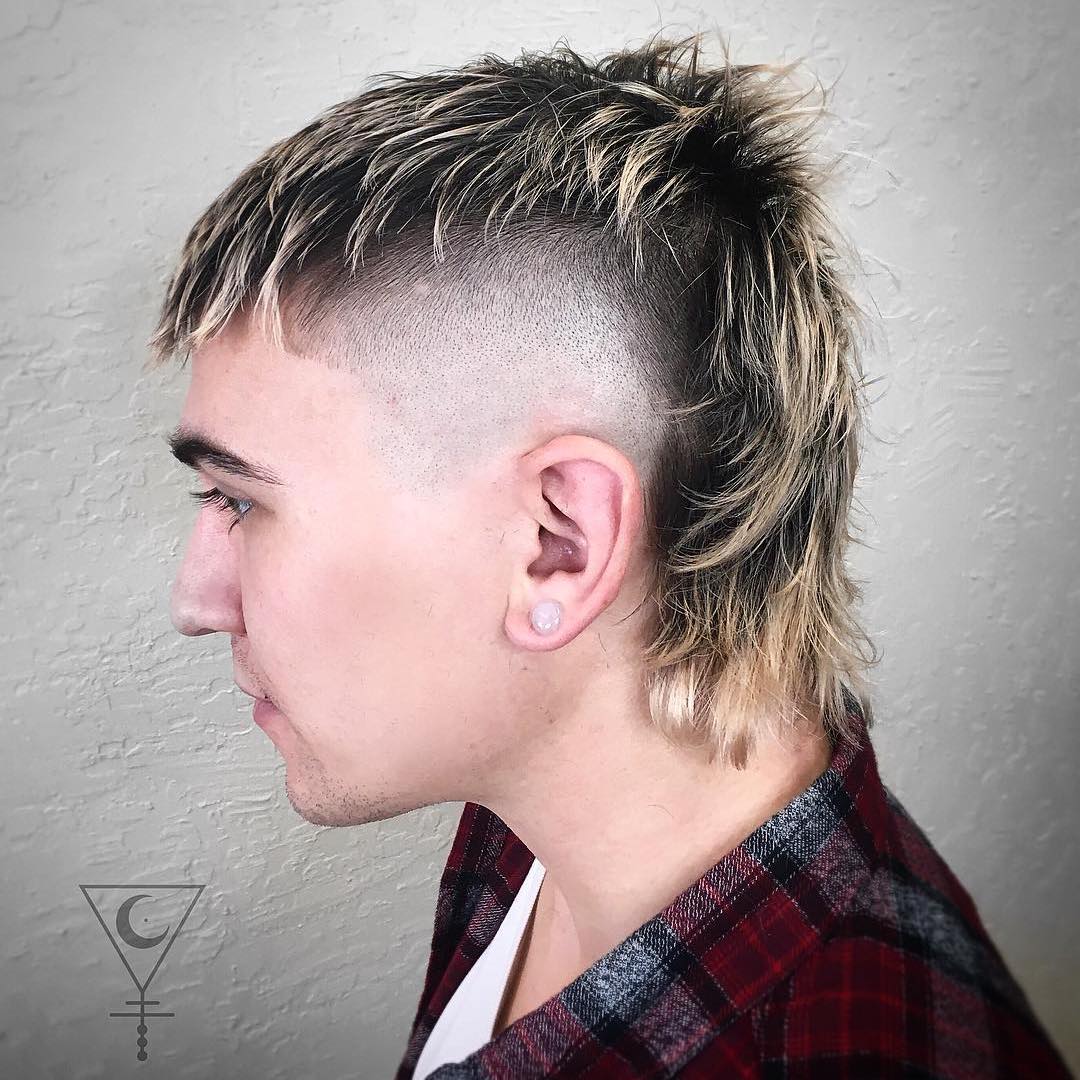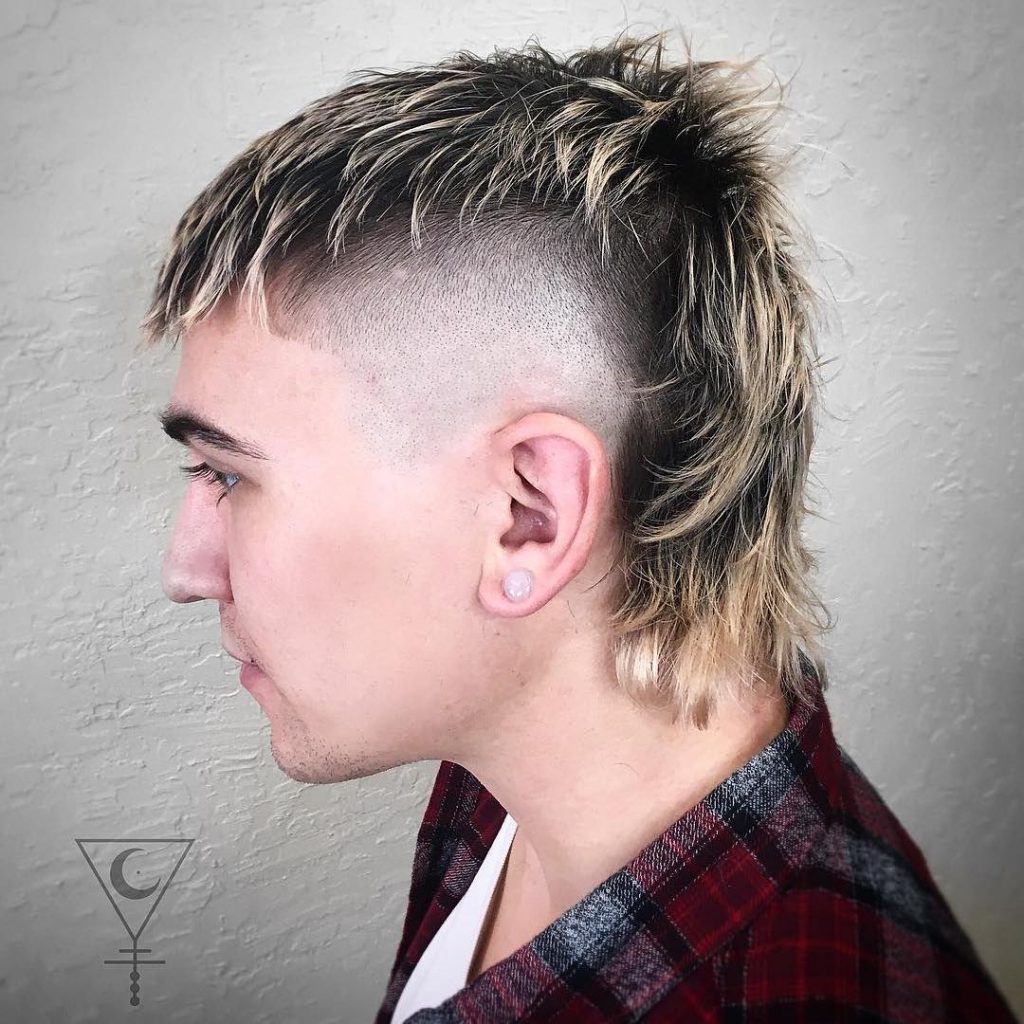 The choppy, piecey cut has plenty of attitude without any vertical or spiky styling.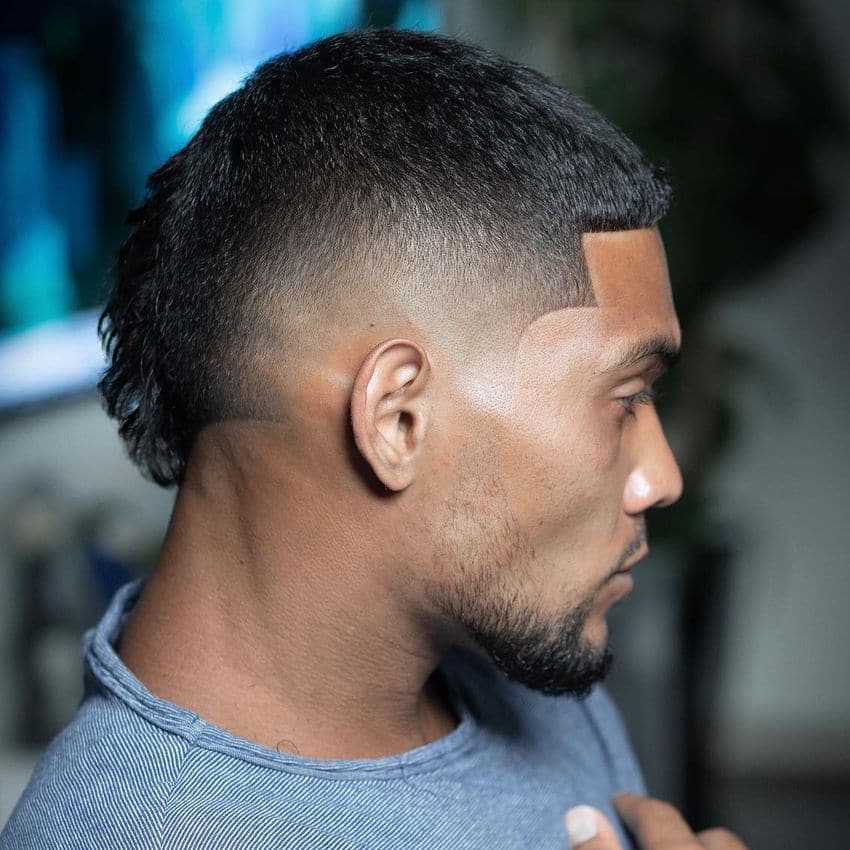 Running back James Conner is known for beating Hodgkin's Lymphoma but let's talk about his hair for a minute. In the great tradition of the Pittsburgh Steelers and Yinzer culture, he grew out his mullet. Here's it is with a short mohawk at the front.
7. More Mohawks
A mohawk can be anything you want it to be. Here are some ideas.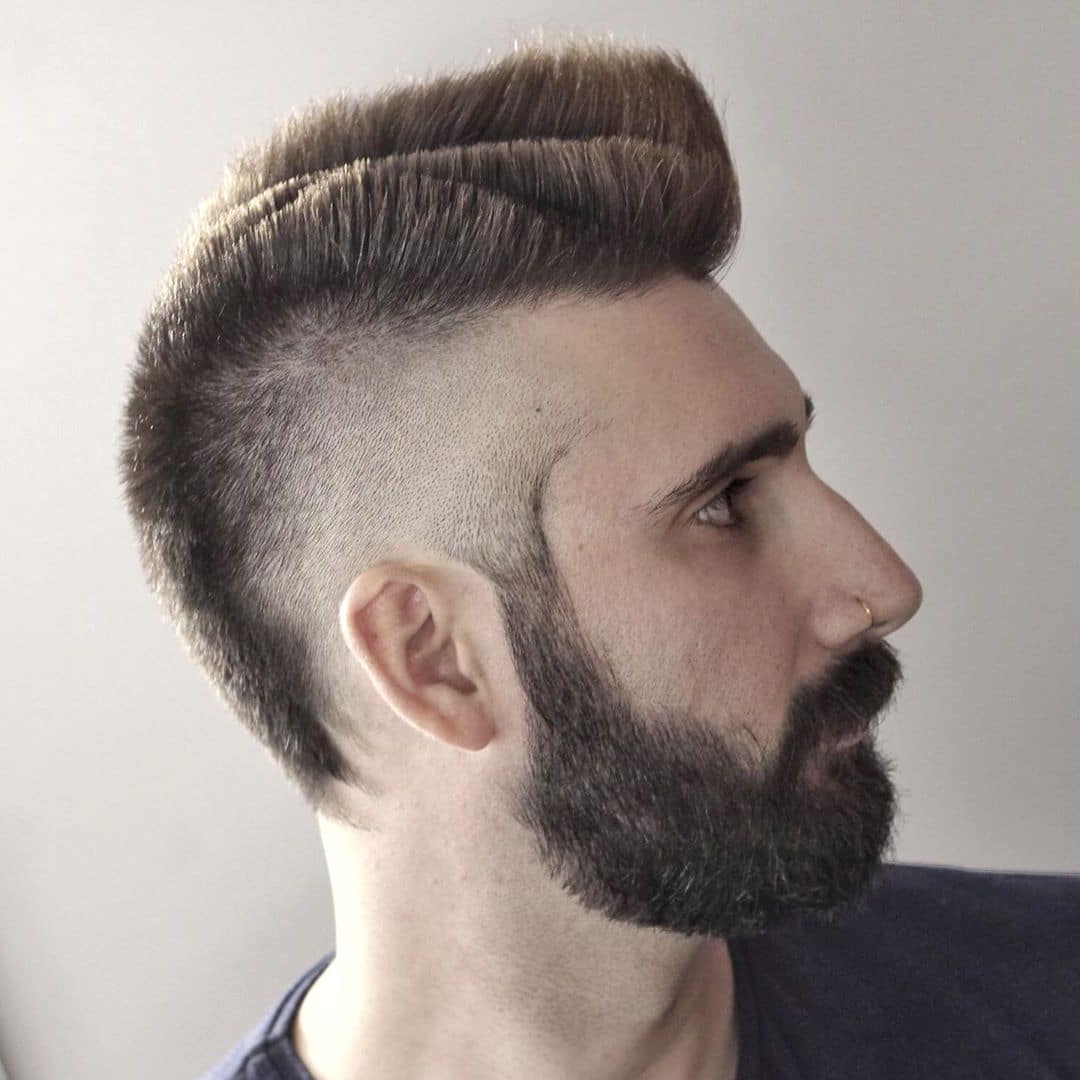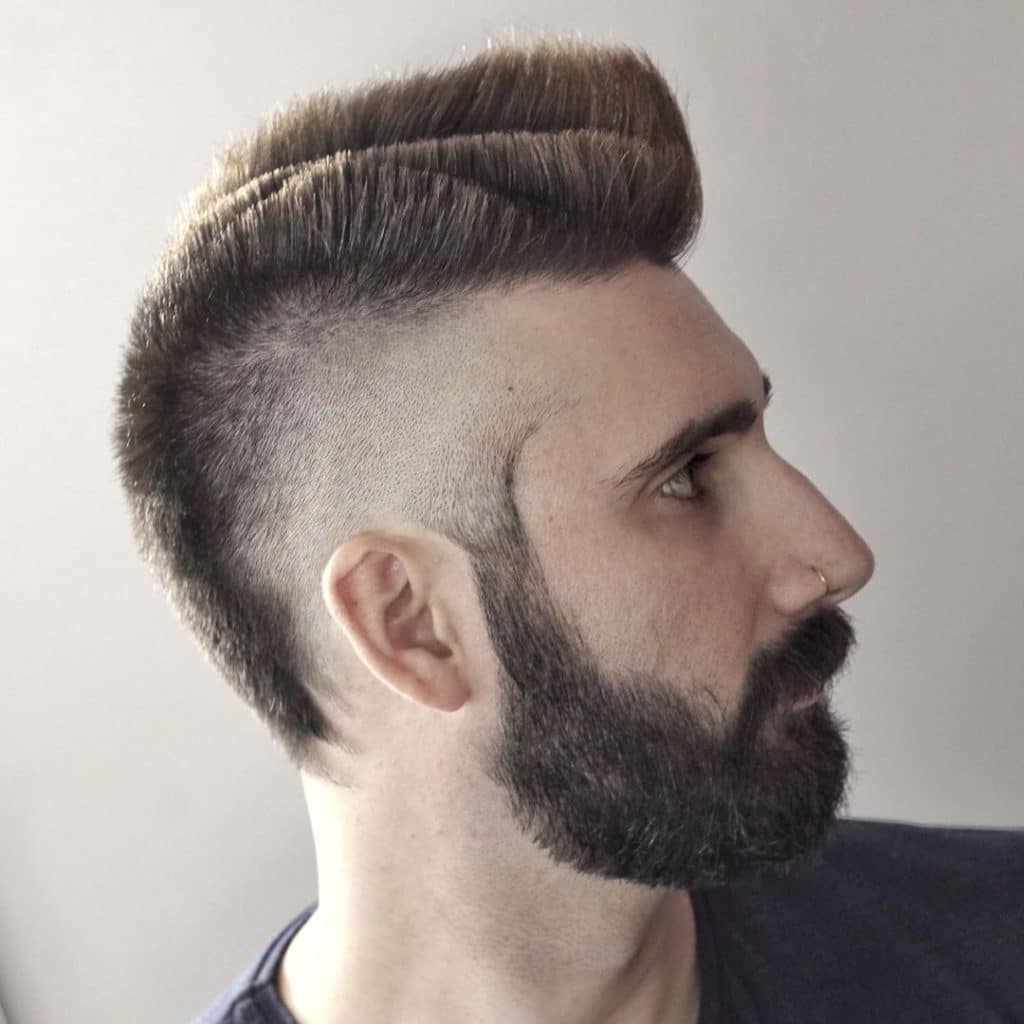 Taking that stepped flat top literally to the next level with three levels plus a reverse fade at the sideburns.
A futuristic take on the retro duck's ass is a whole new way to style a mohawk.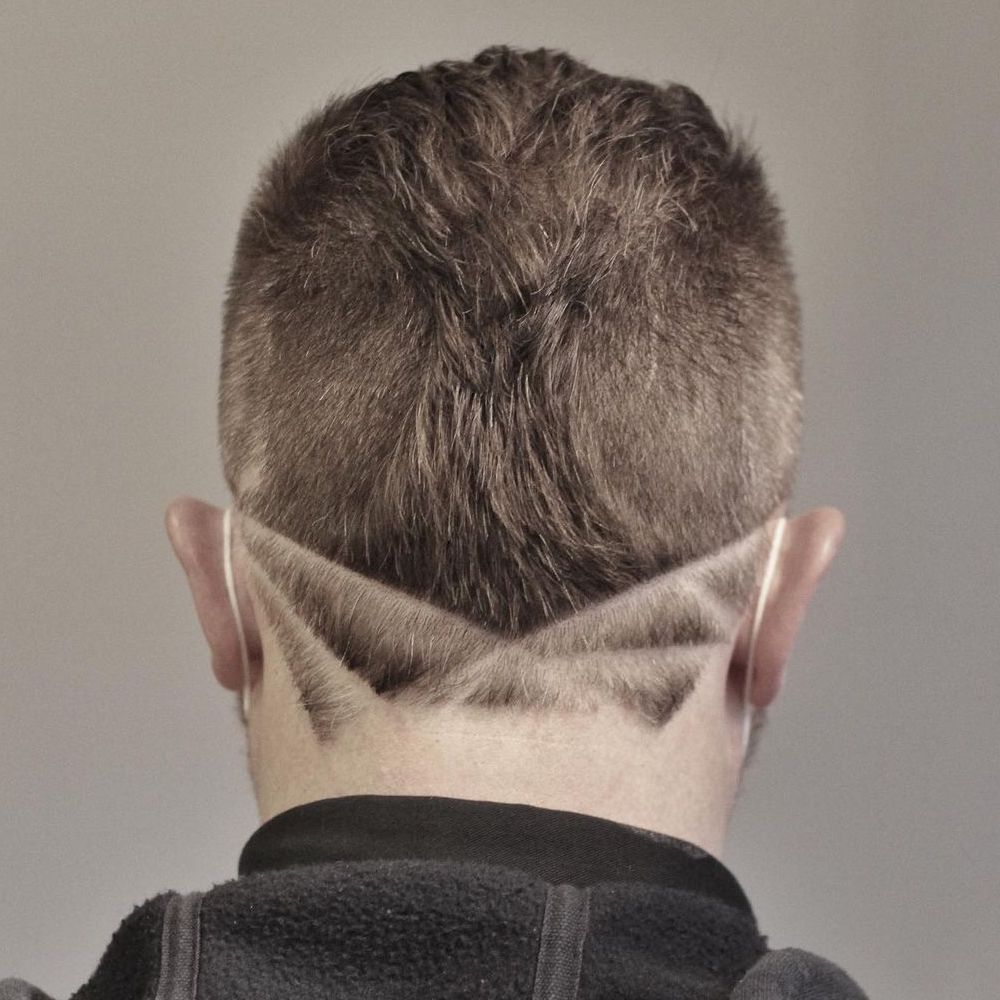 Here's another cool way to finish off a short mohawk.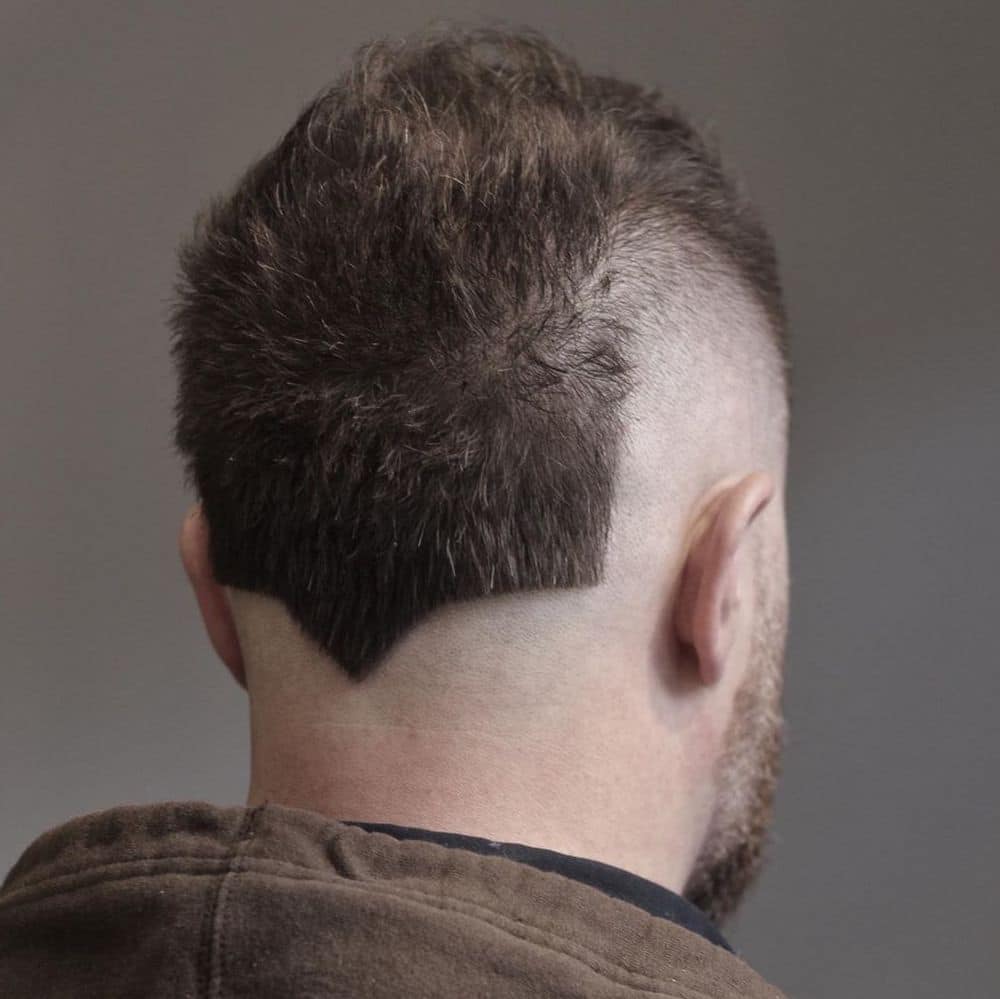 And so is this.