It is nearly Summer so time to pick out a cool new haircut. Here is a collection of 25 cool men's haircuts and fresh looks coming out of the best barbershops around the world.
This gallery of cool men's haircuts includes a variety of fade haircuts, short haircuts, medium length haircuts, classic men's haircuts, undercuts, textured looks, spiky men's haircuts, crop and quiff haircuts.
Find your next haircut and stay fresh!
Modern Side Part Haircut + Hair Design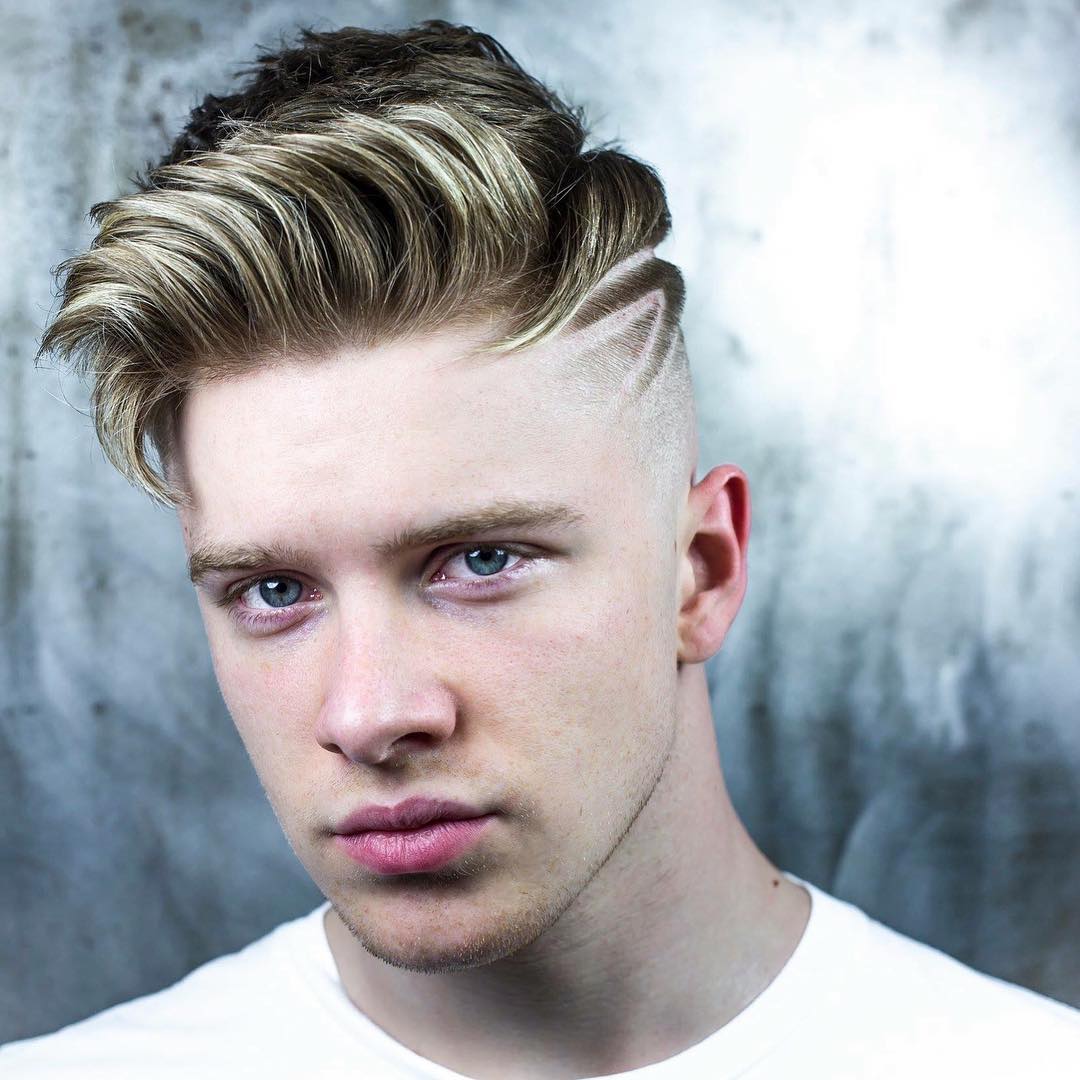 By r.braid
This is a great haircut for guys that have thicker hair. Hair is styled into a side part. The haircut features a cool hair design in a high fade. Hair on top is textured and cut at a medium length.
Short Textured Undercut + Disconnected Beard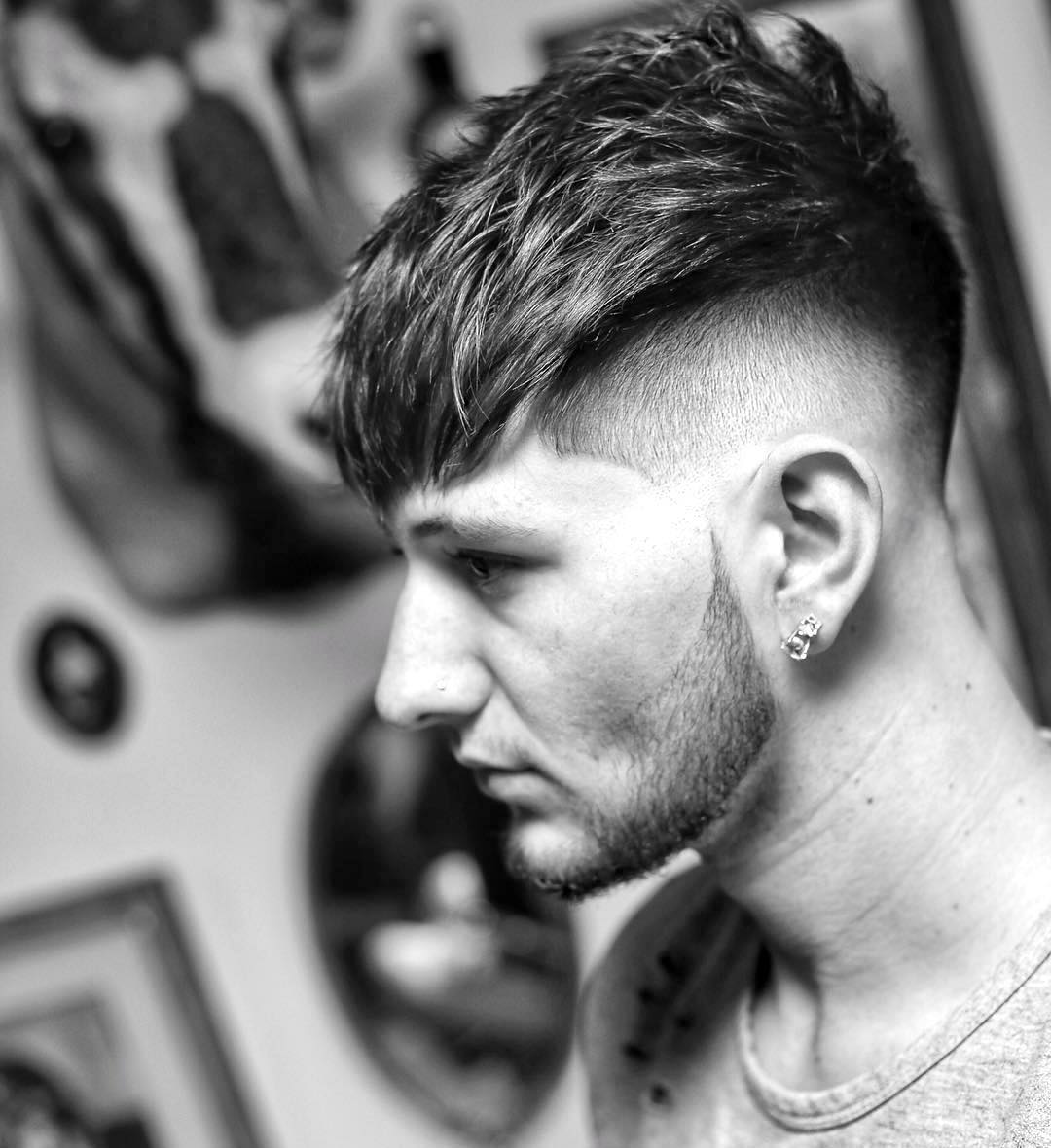 By Mikey
A cool looking undercut hairstyle for men. Loose natural flow hair on top. Longer fringe in the front.
Medium Length Side Part Haircut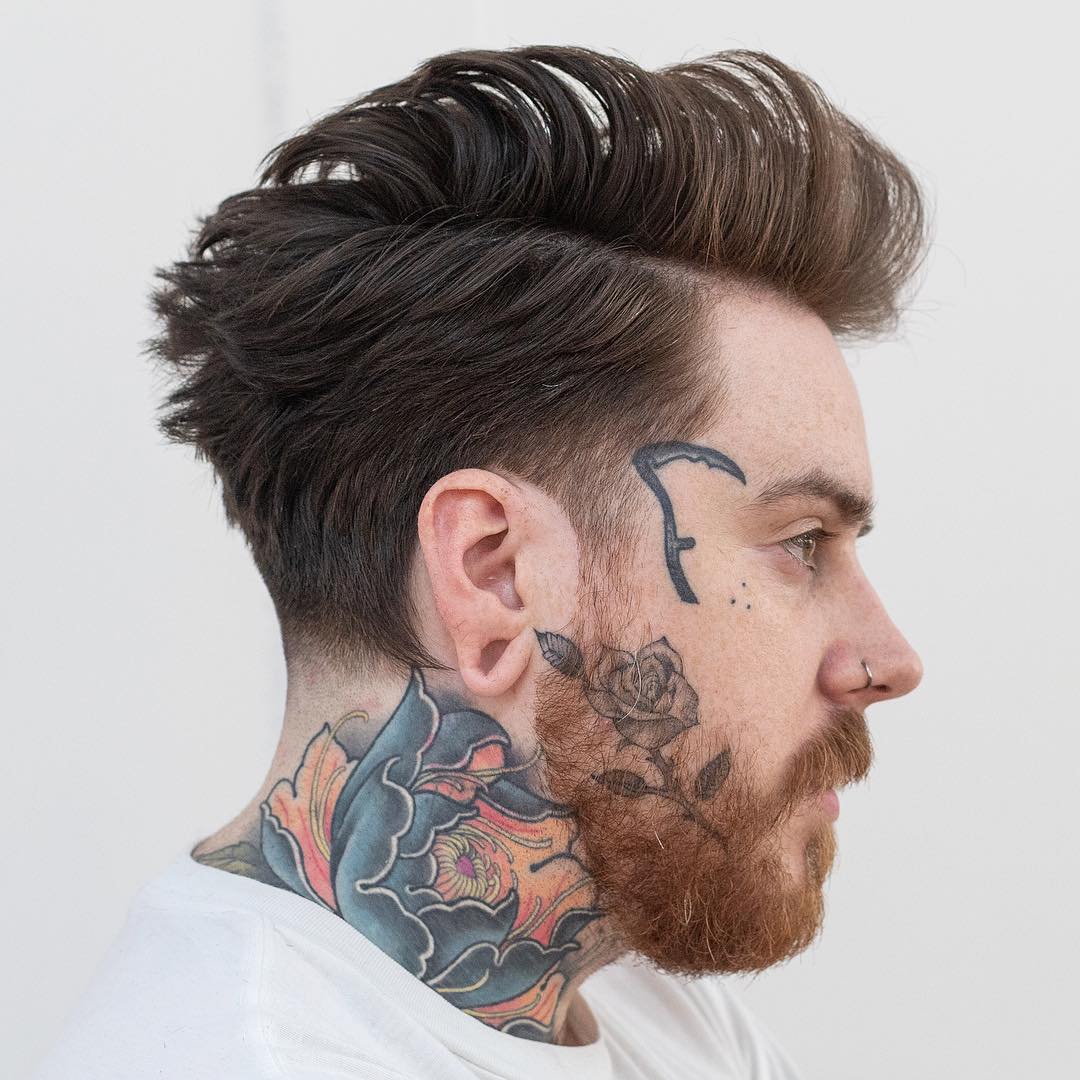 By cutscoolcats
This is a great looking medium length haircut with plenty of natural flow and movement.
Short Textured Haircut + Surgical Part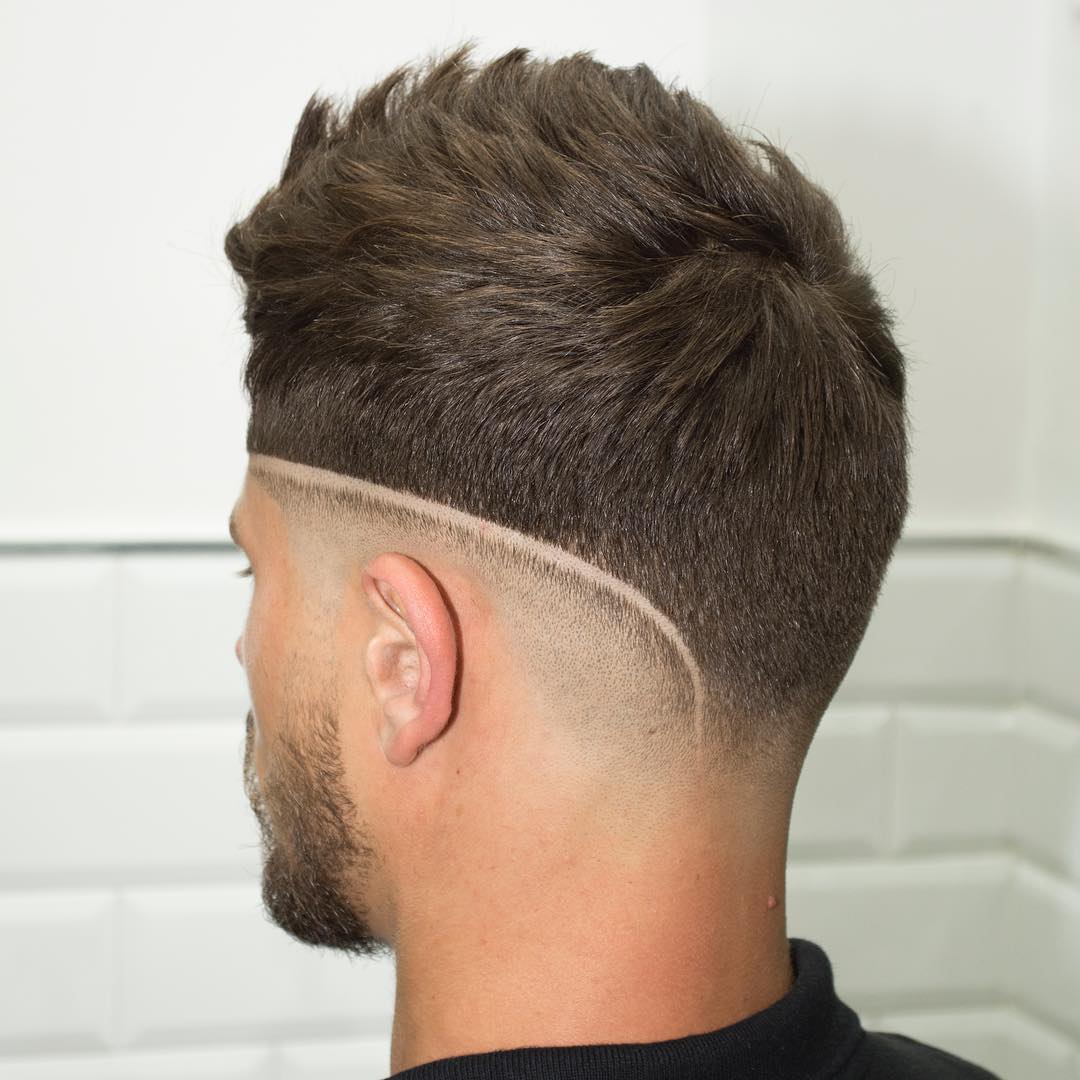 A slick looking short textured quiff haircut for guys with thick hair. This mid fade has a surgical part separating the two lengths of the fade area.
Textured Crop Haircut + High Fade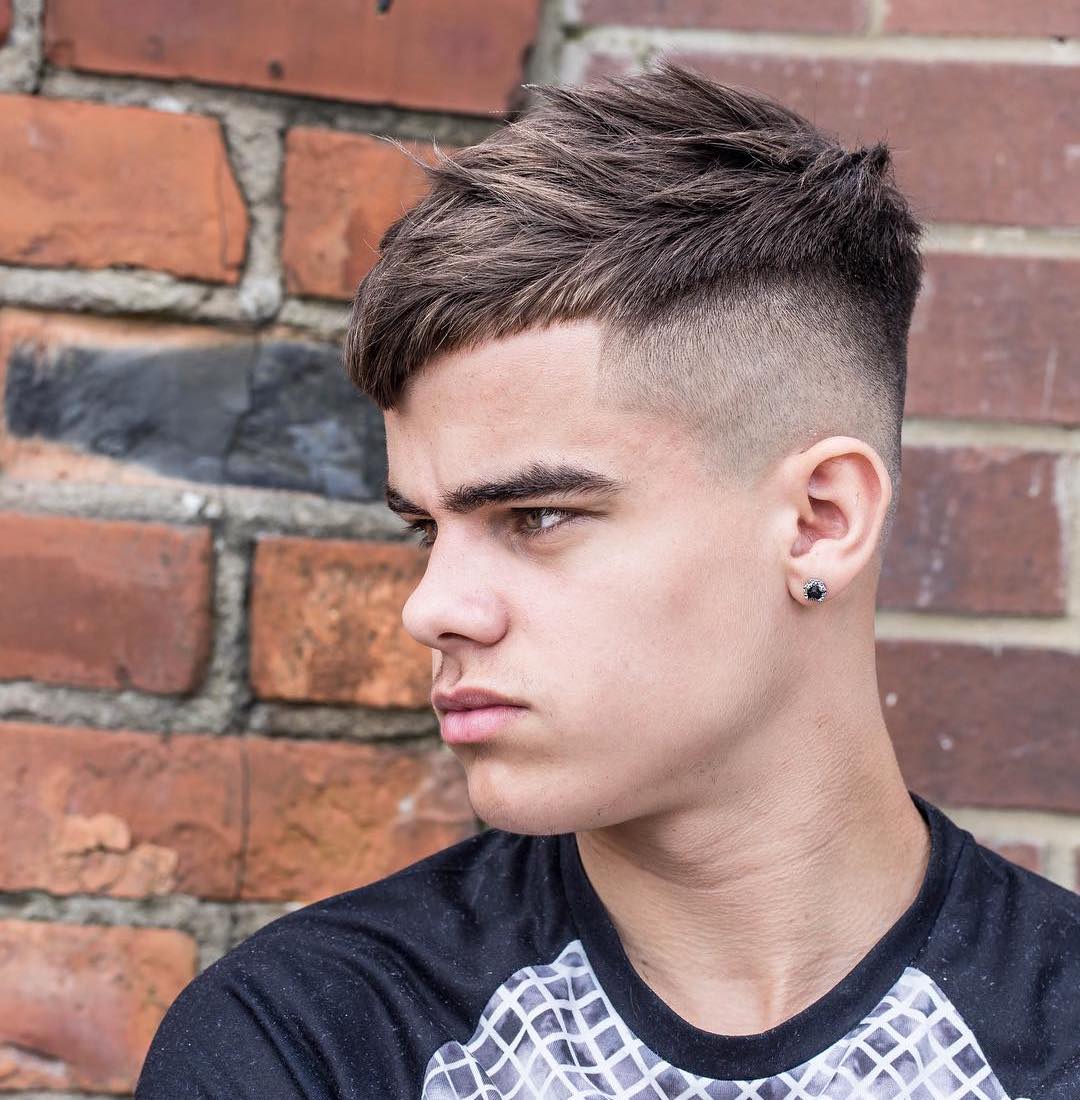 A killer short haircut. A high fade crop haircut with textured hair on top that can be styled in a neat or messy way.
Medium Length Men's Haircut + Drop Fade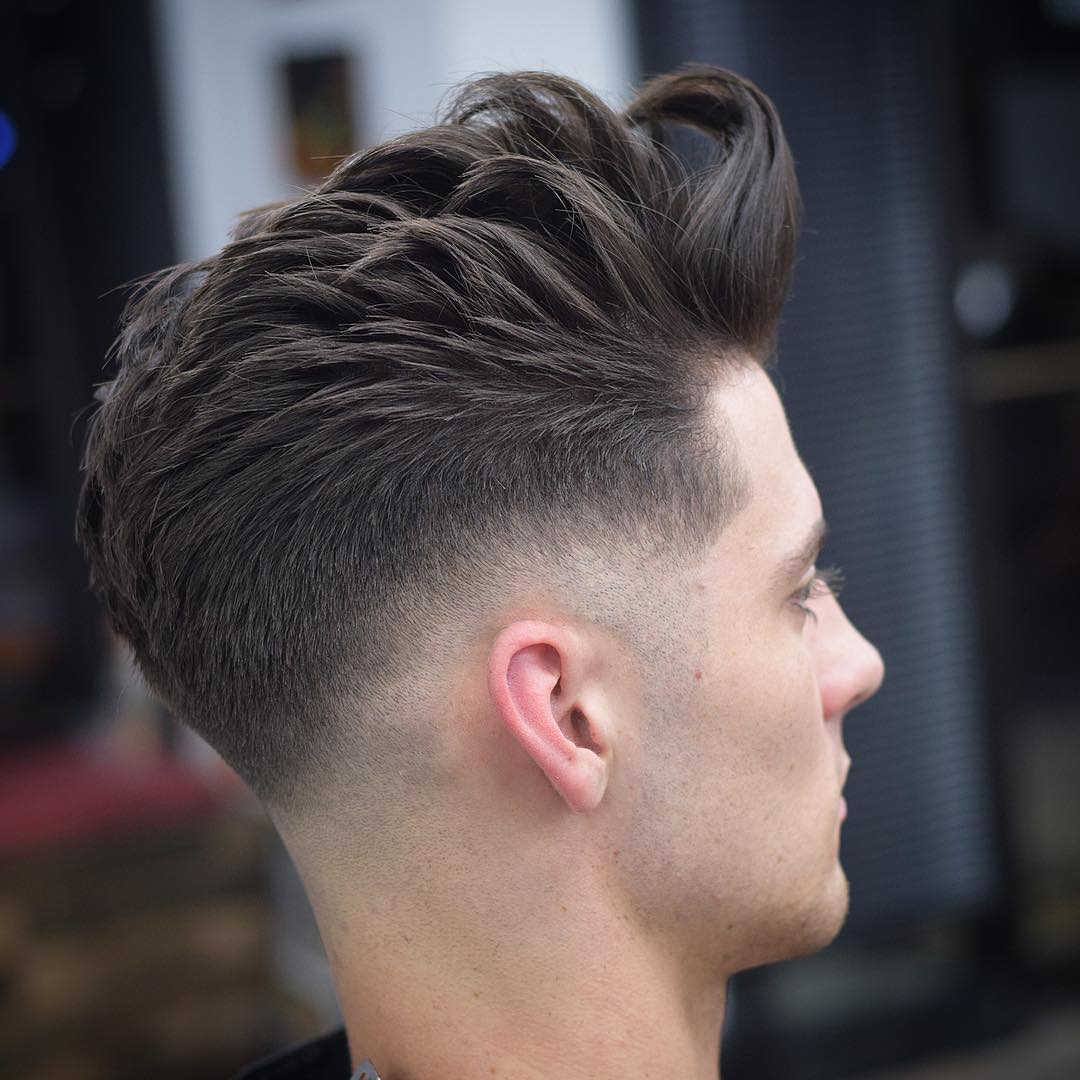 Messy natural medium length haircuts for men have been popular the past few years. Here is a great looking messy pompadour hairstyle. Great looking drop fade.
Short Classic Men's Haircut + Simple Hair Design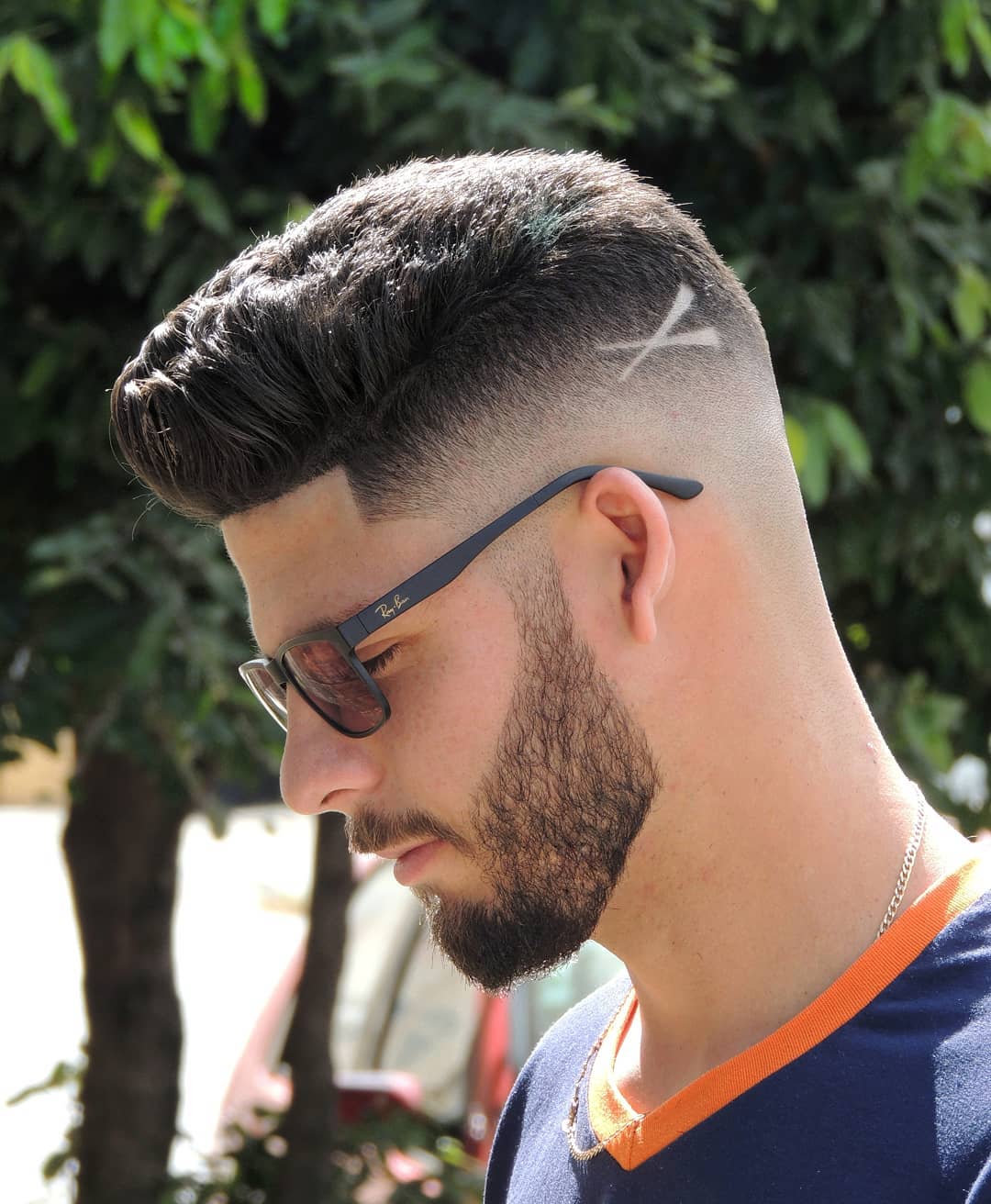 A classic, simple men's haircut styled into a pompadour up front.
Side Part Pompadour Hairstyle For Men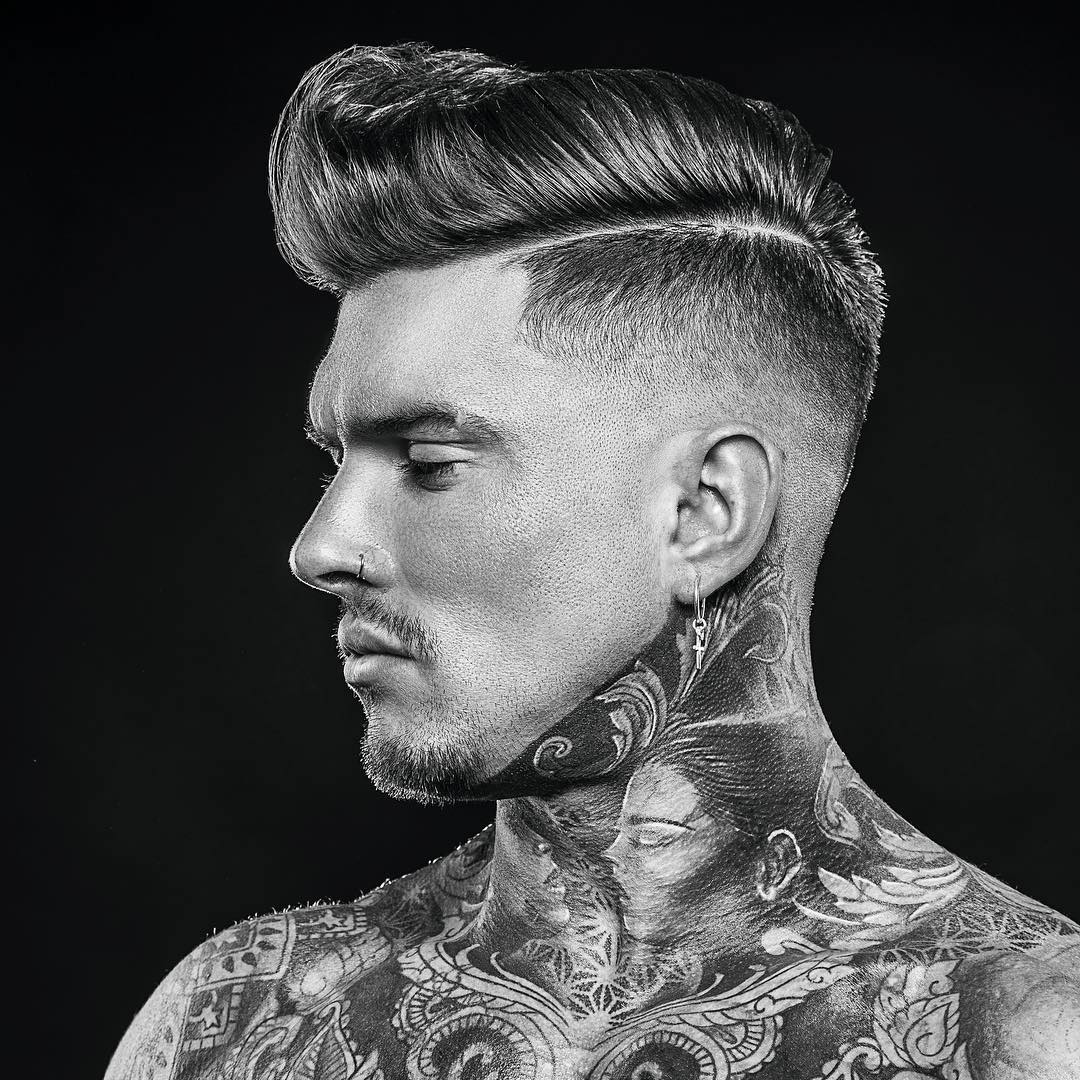 By r.braid
Totally cool side part pompadour hairstyle. Perfect low skin fade.
Cool Messy Men's Haircut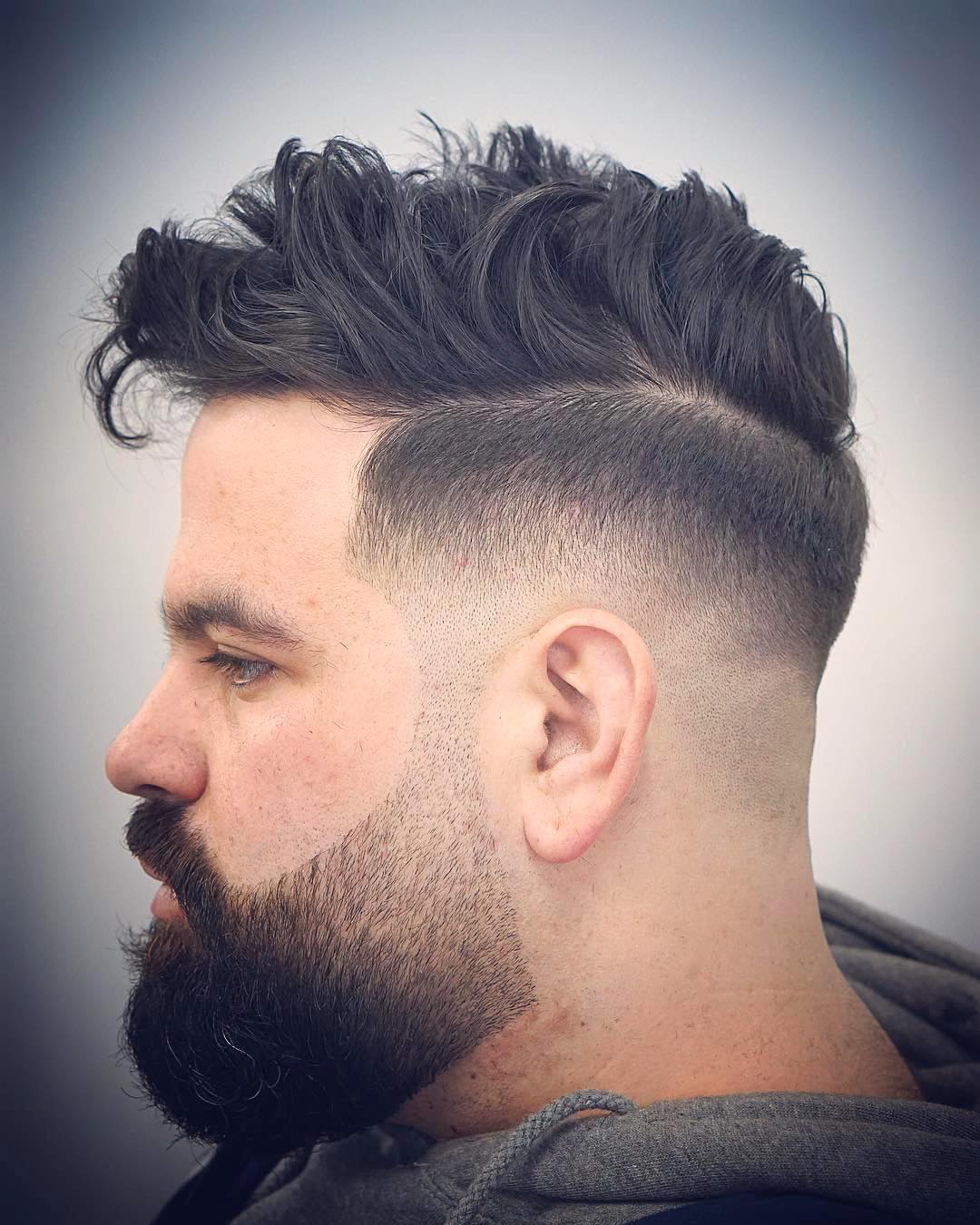 This is a great look for guys that have thick hair. The messy hair on top is let loose to flow and show off some natural movement. Nicely contrasted with bald fade and disconnected beard.
Short Men's Haircut + Cool Neck Design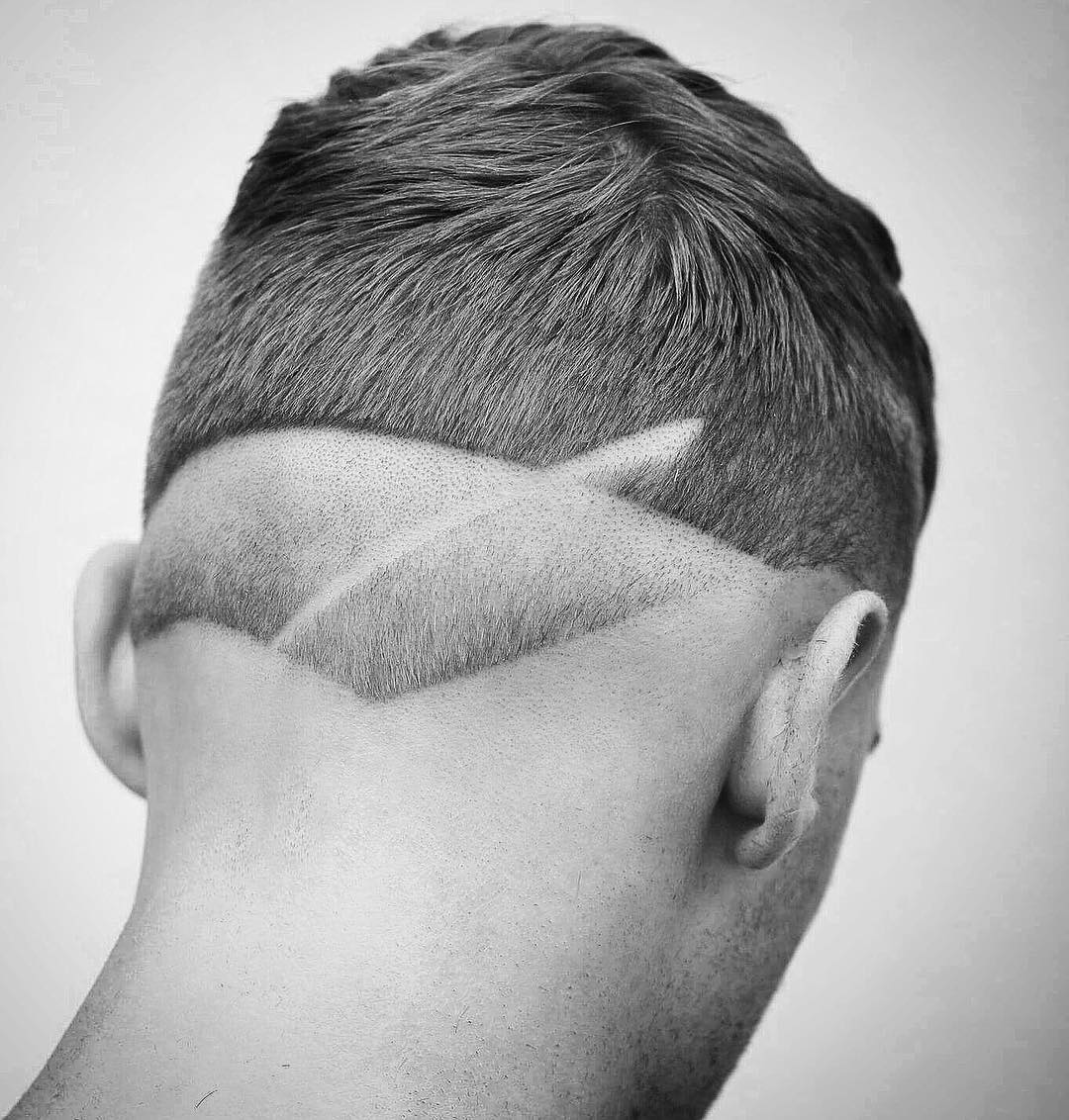 Barber Josh O'meara-Patel is the master at precision neck designs. This one is totally awesome and looks great with a short textured haircut.
Mohawk Fade + Cool Design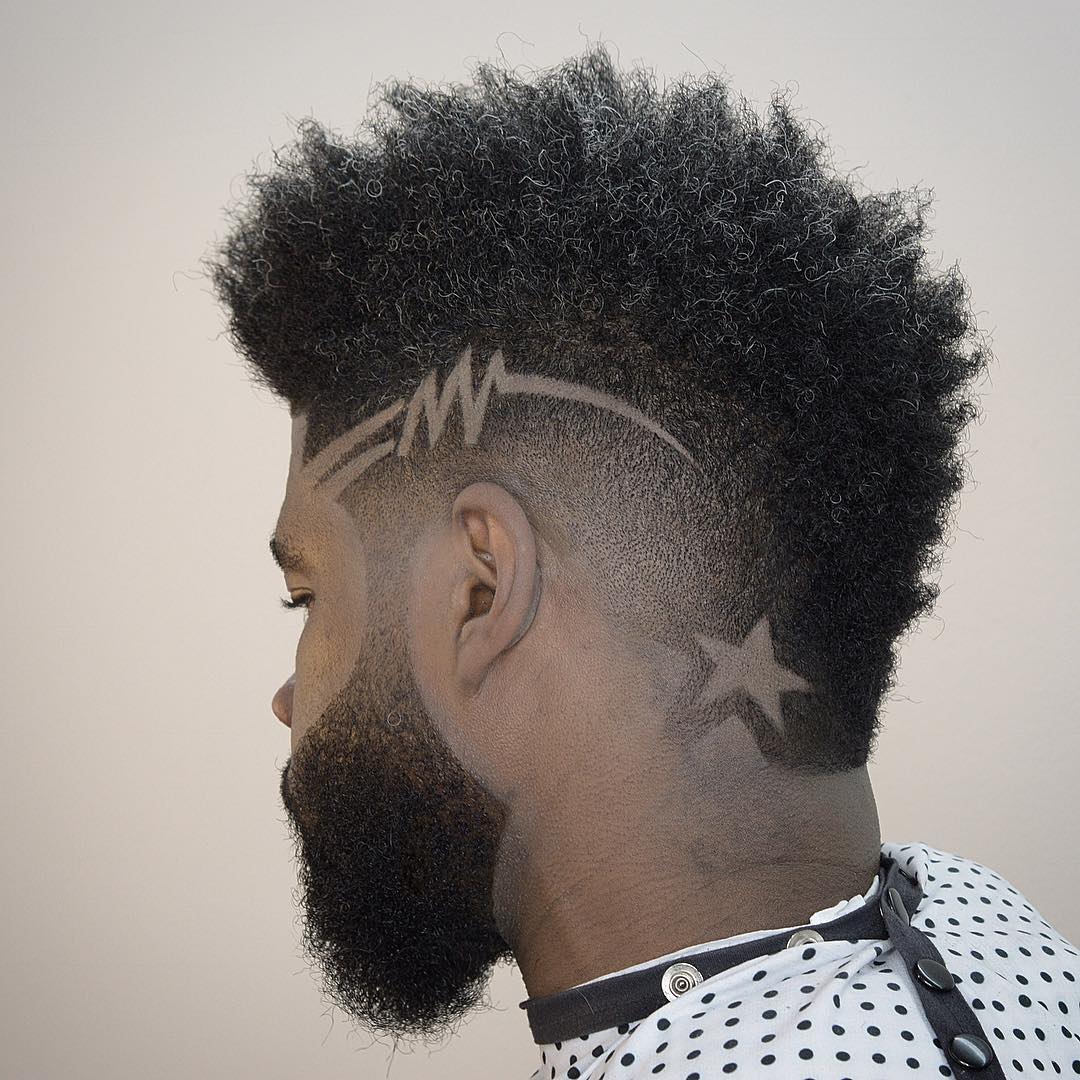 Super clean skin fade and hair design offsetting a cool mohawk fade haircut.
Simple Classic Undercut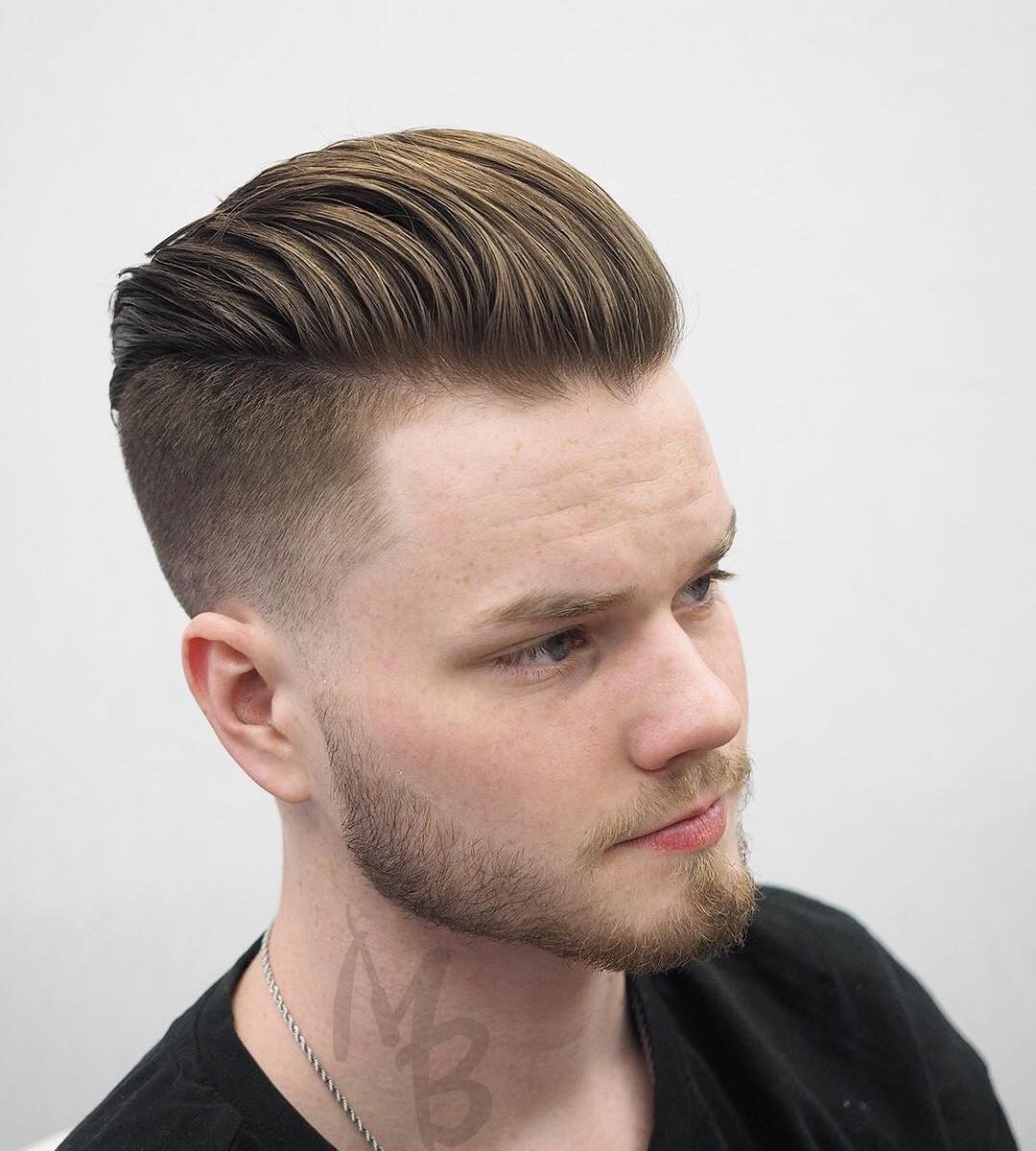 A great looking classic men's undercut hairstyle brushed back. Use a matte pomade, work a small amount into wet or slightly damp hair. Use a blow dryer and hair brush to style back into place.
Cool Spiky Mohawk Haircut + Bald Fade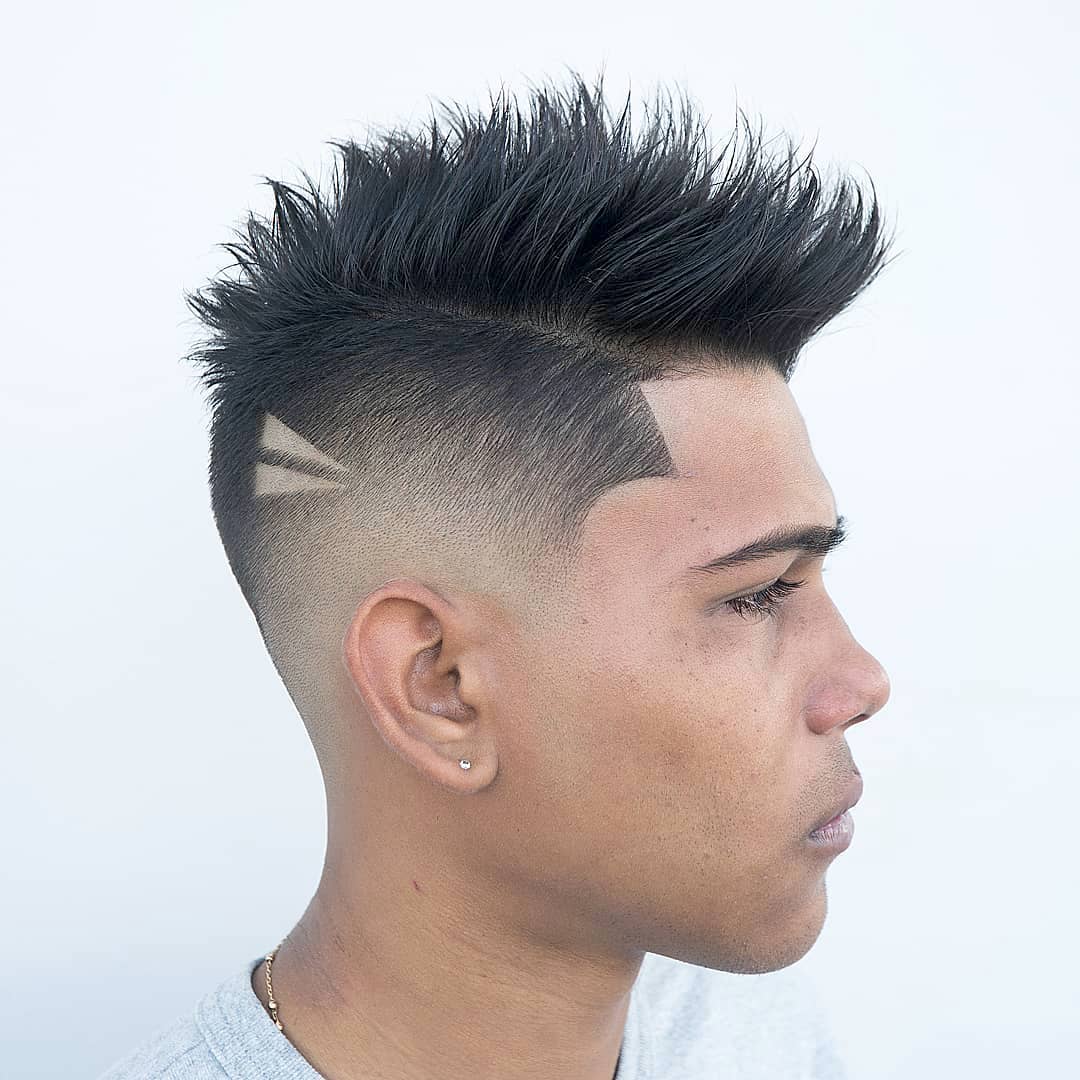 Spiky haircuts for men are totally in again. This is a great looking bald fade with hair design that contrasts with the spiky medium length hair on top.
Short Haircut + Killer Hair Design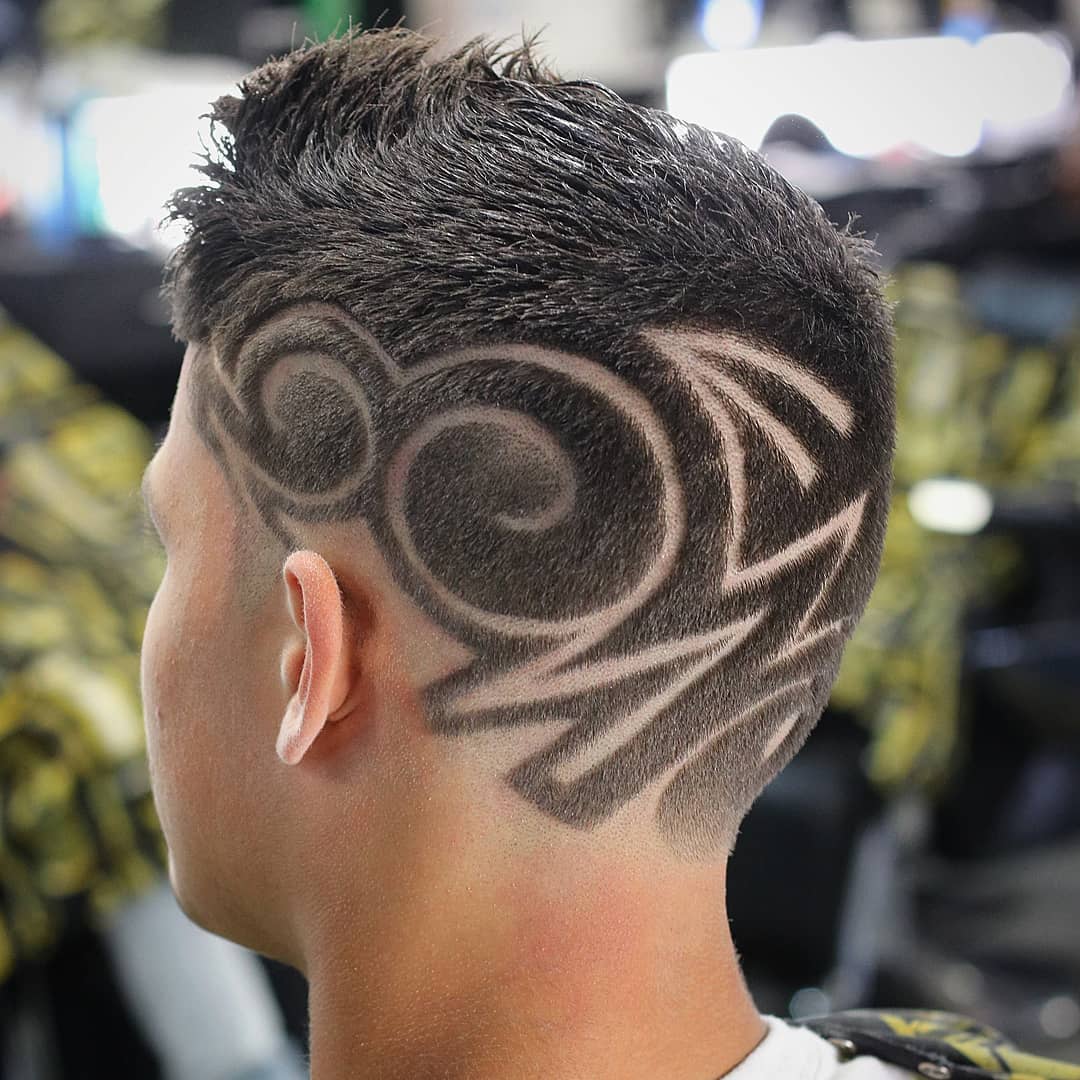 By ricanbarber_
Very cool tag style hair design worked into a short haircut.
Undercut Hairstyle For Thick or Wavy Hair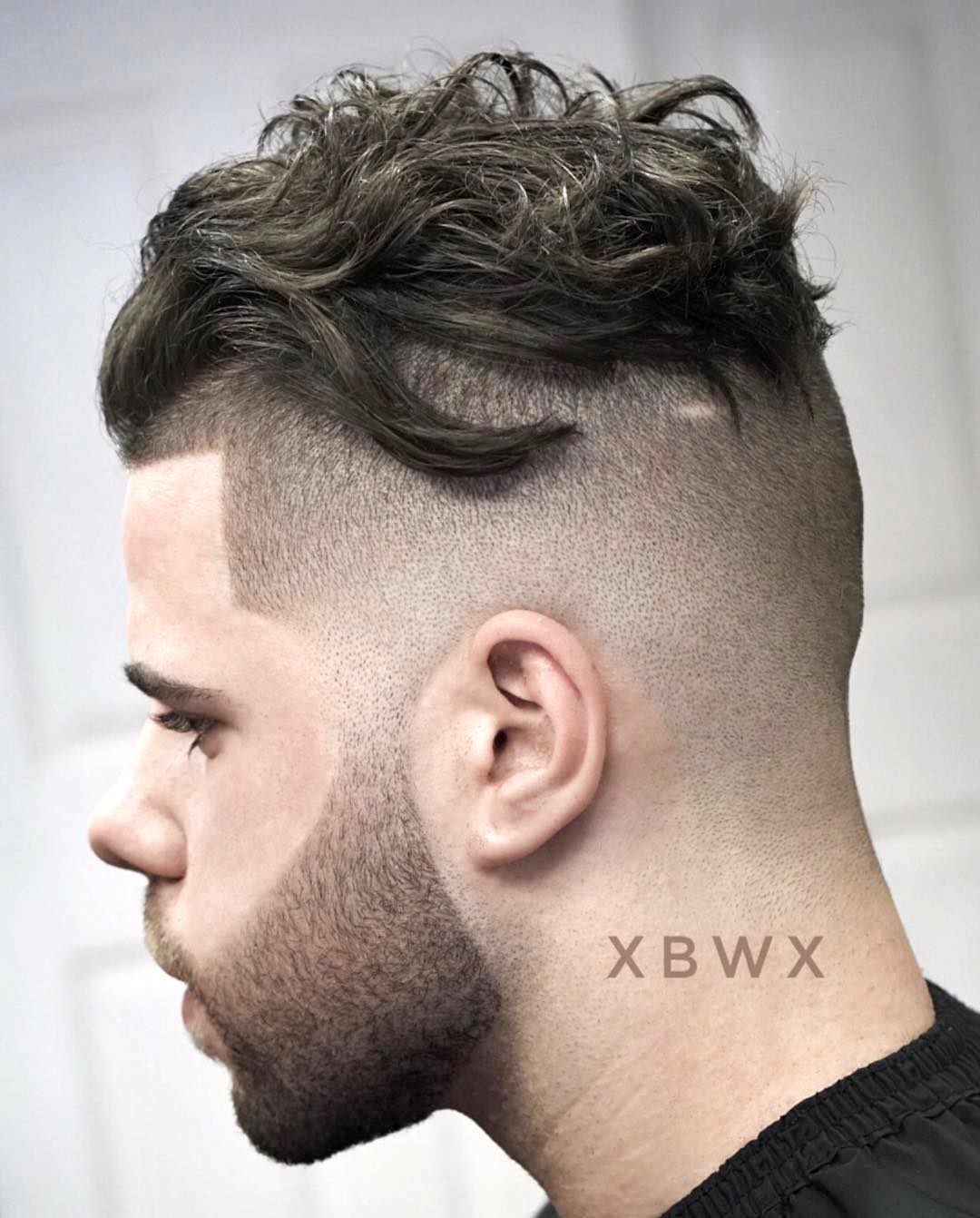 By xbigwesx
Undercuts look great on men with thick or wavy hair. Here is a great example. Nice contrast with the disconnected beard.
Side Part Pompadour Hairstyle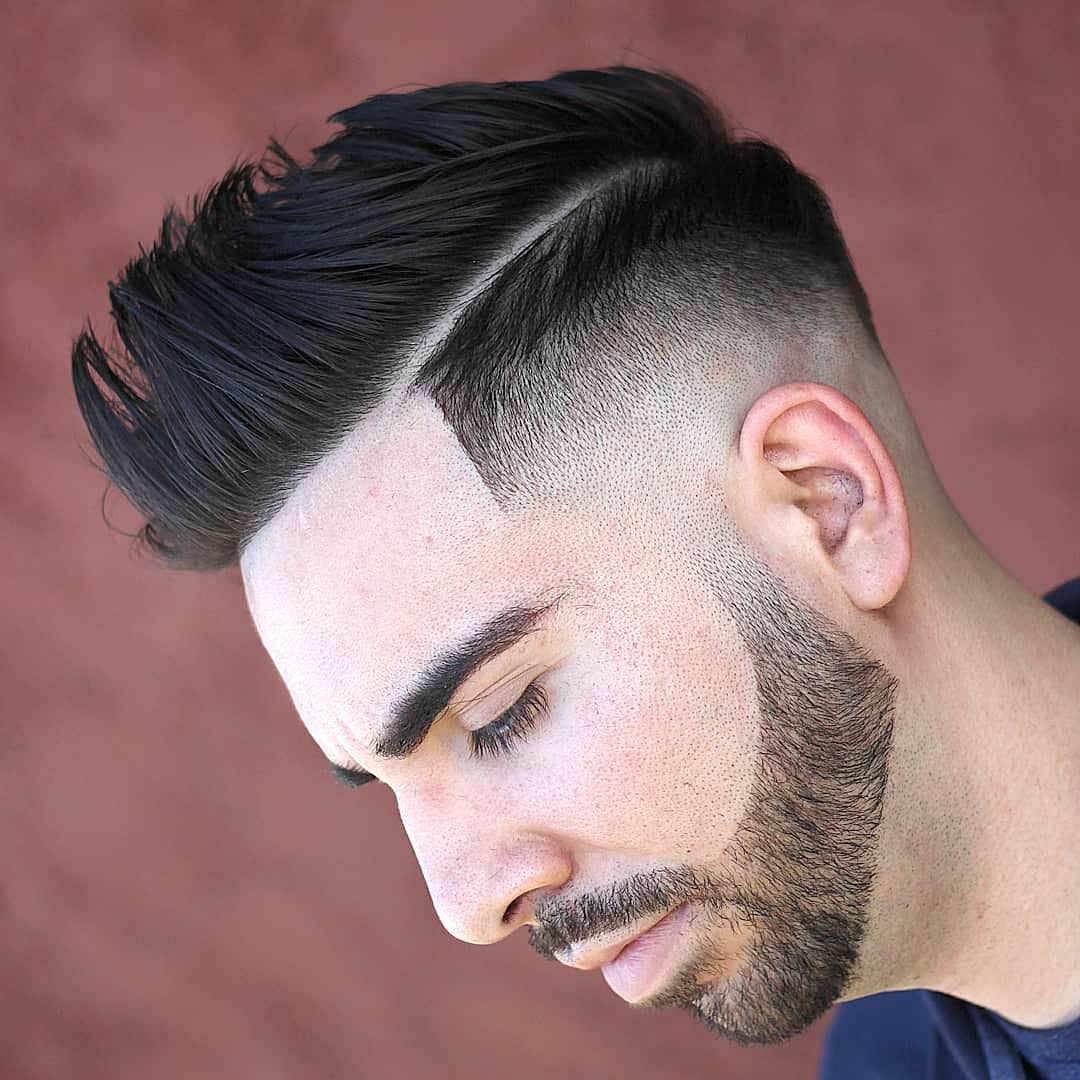 By odyzzeuz
A cool looking half pompadour half fohawk haircut with a hard part and bald fade.
Textured Fohawk + Low Fade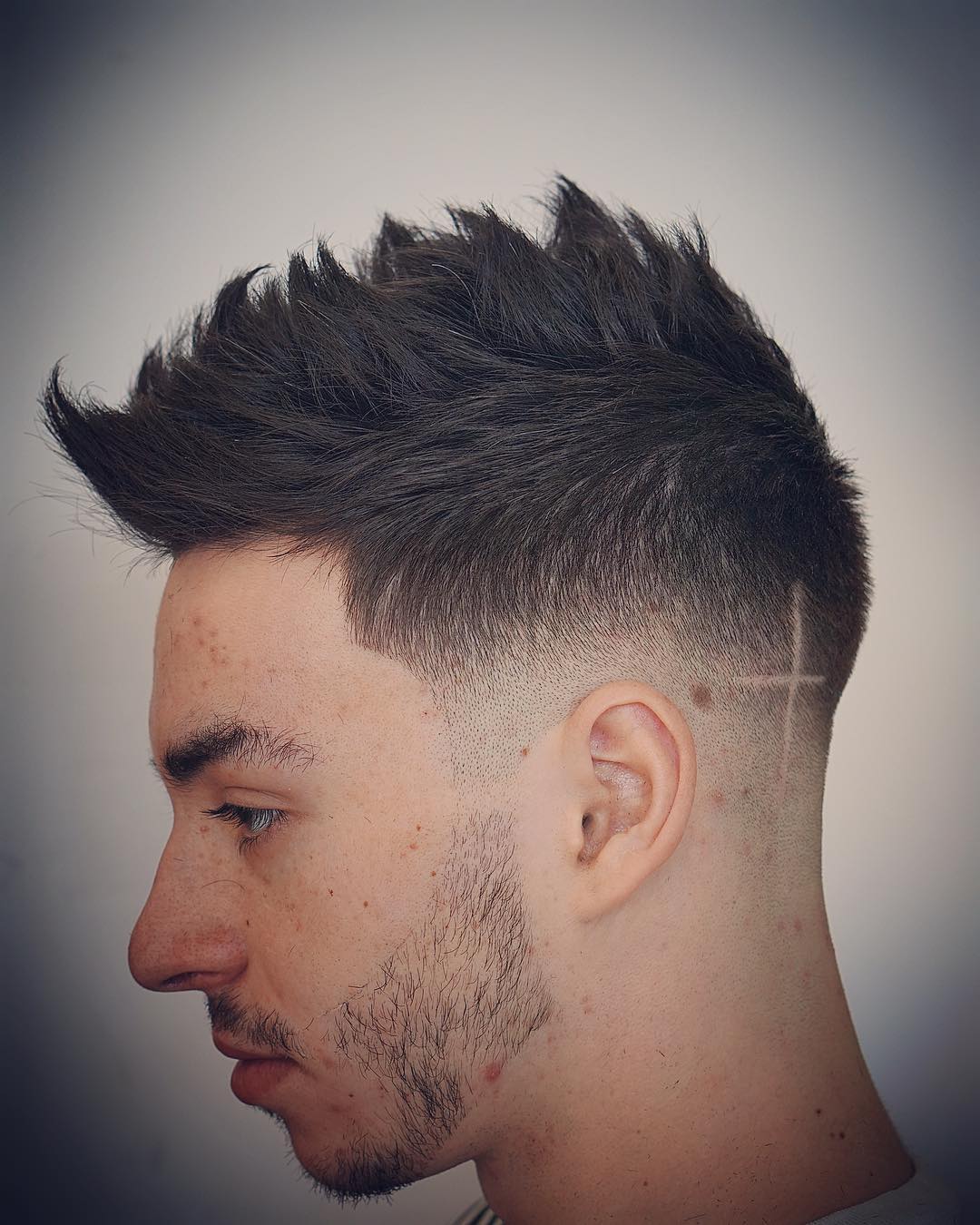 A versatile easy to style short haircut for guys. A great Summer haircut.
Bald Undercut / Crop Haircut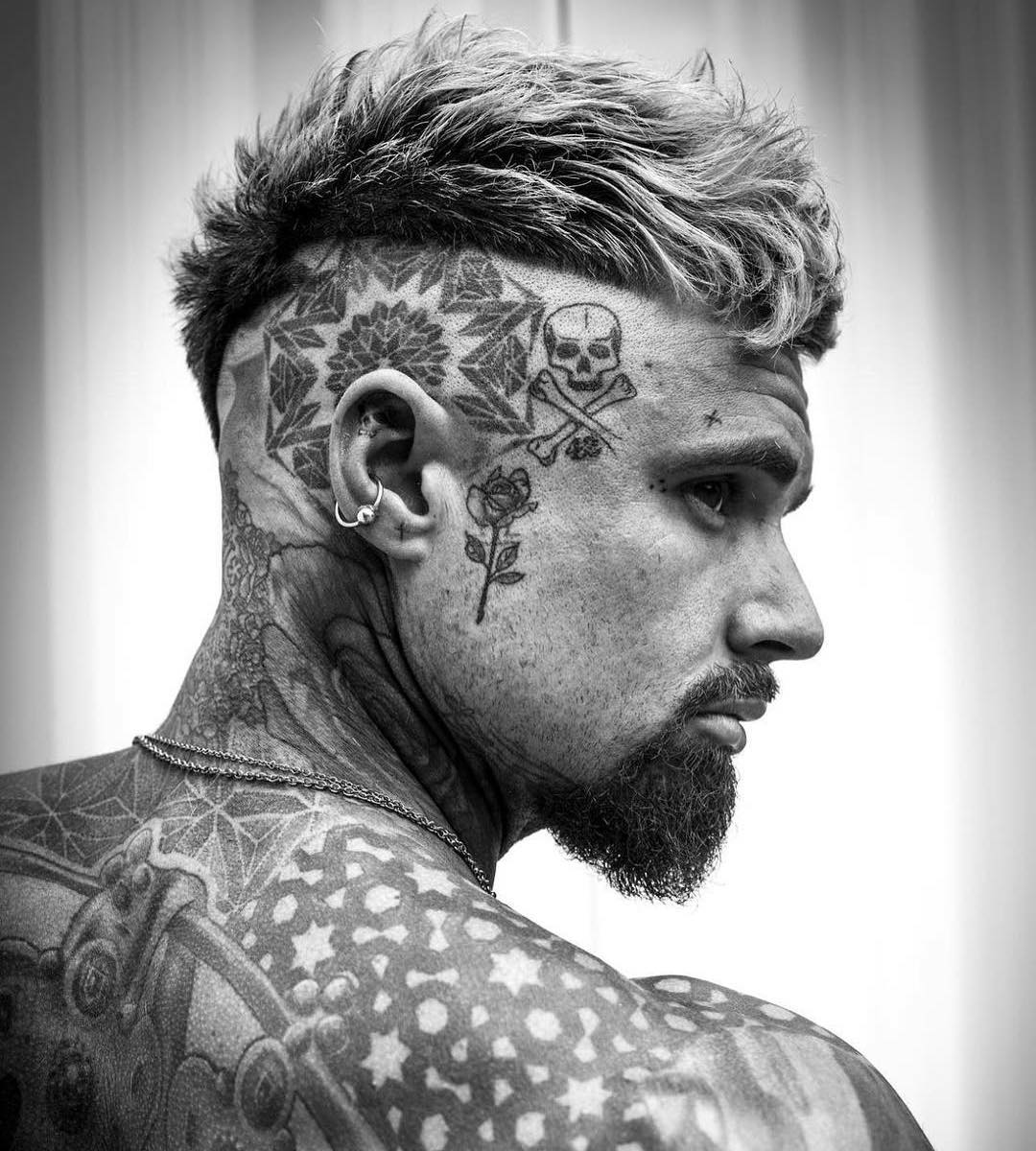 By r.braid
If you have a lot of tats than this haircut could work for you.
Quiff Haircut + Surgical Part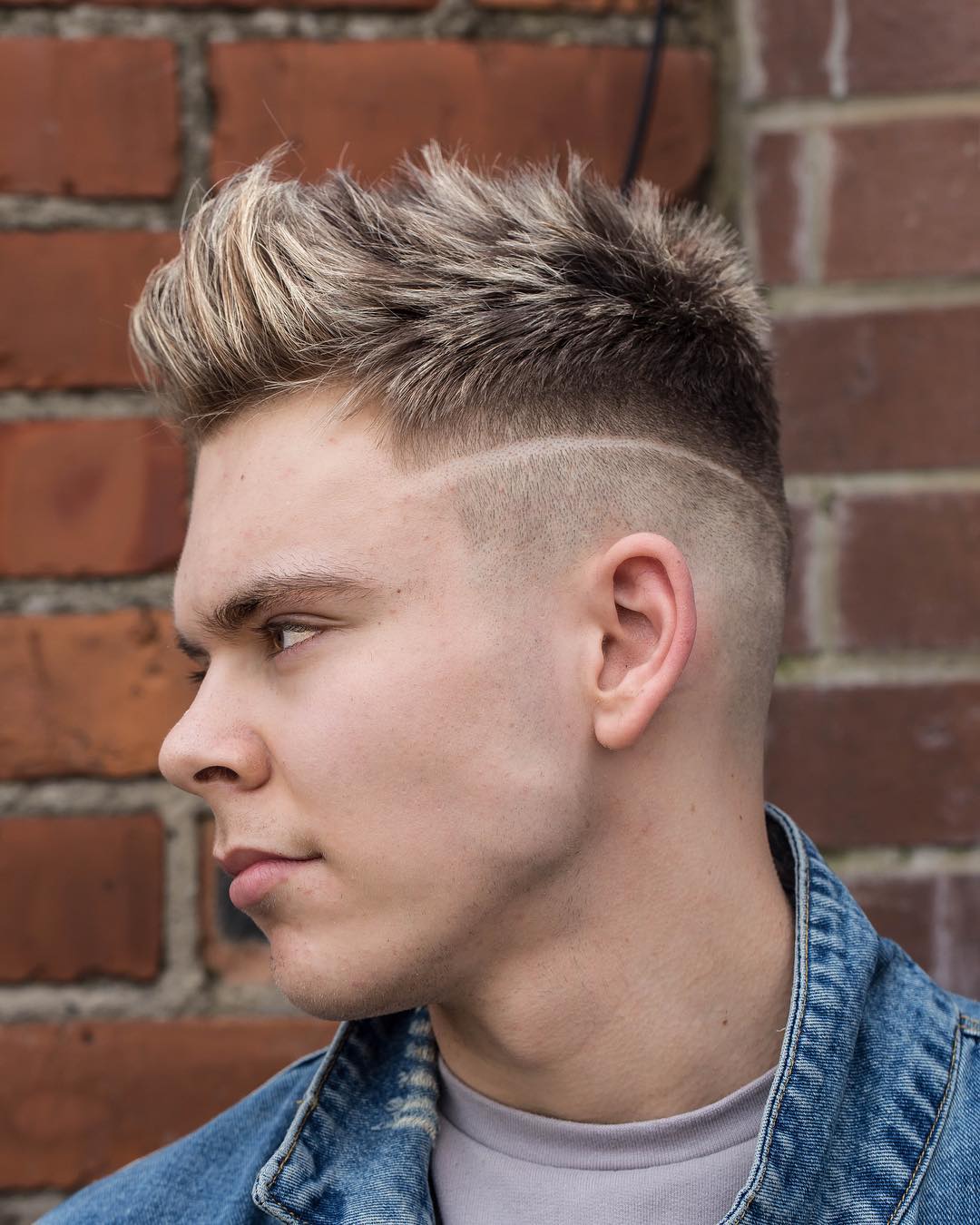 Quiff haircuts for men are still super popular. A perfectly blended high and low fade split by a surgical part.
Cool Haircut For Wavy Hair + Low Fade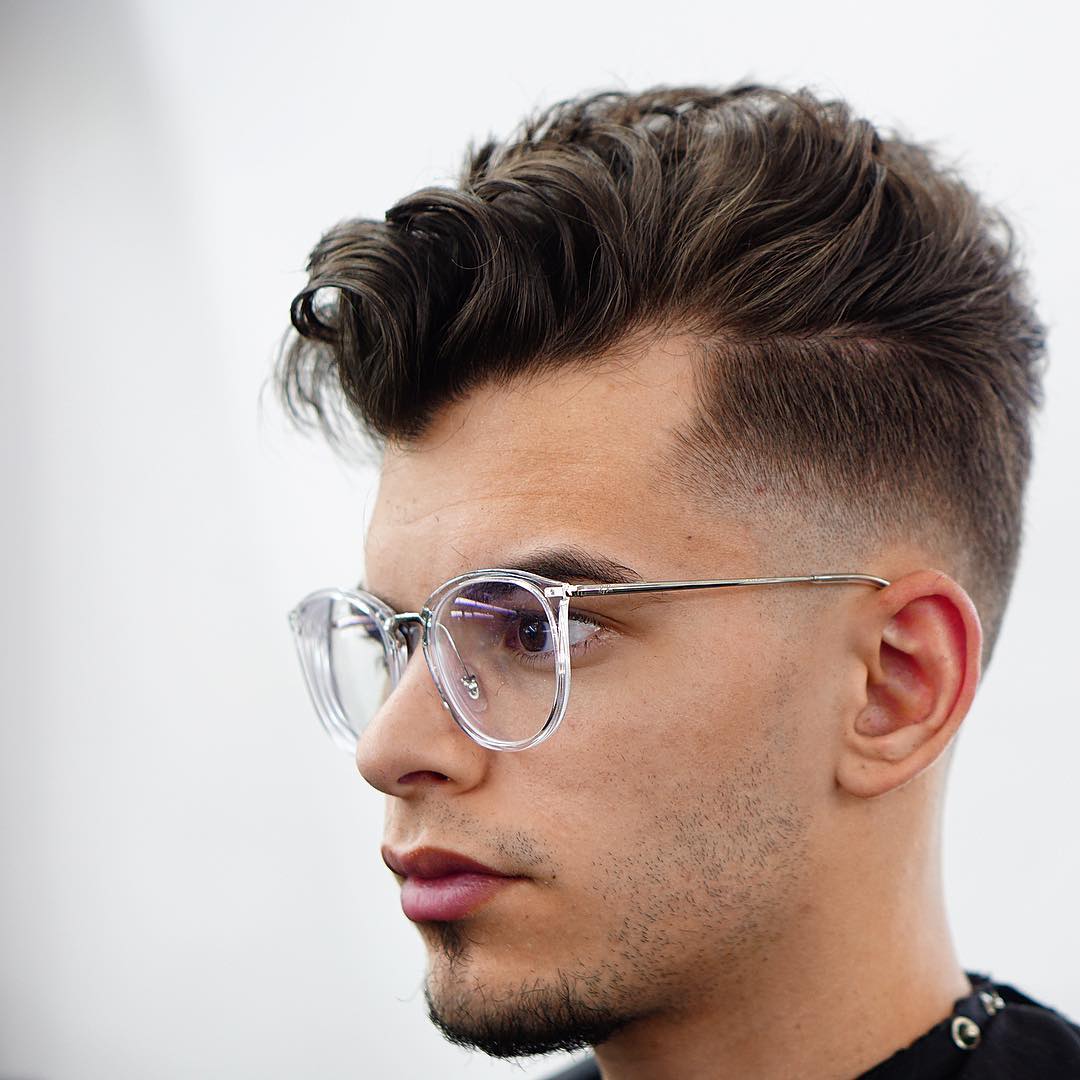 A very popular haircut this year. It features a low fade perfectly blended into a medium or longer length of hair on top. Styled in a loose side part comb over.
Medium Length Textured Undercut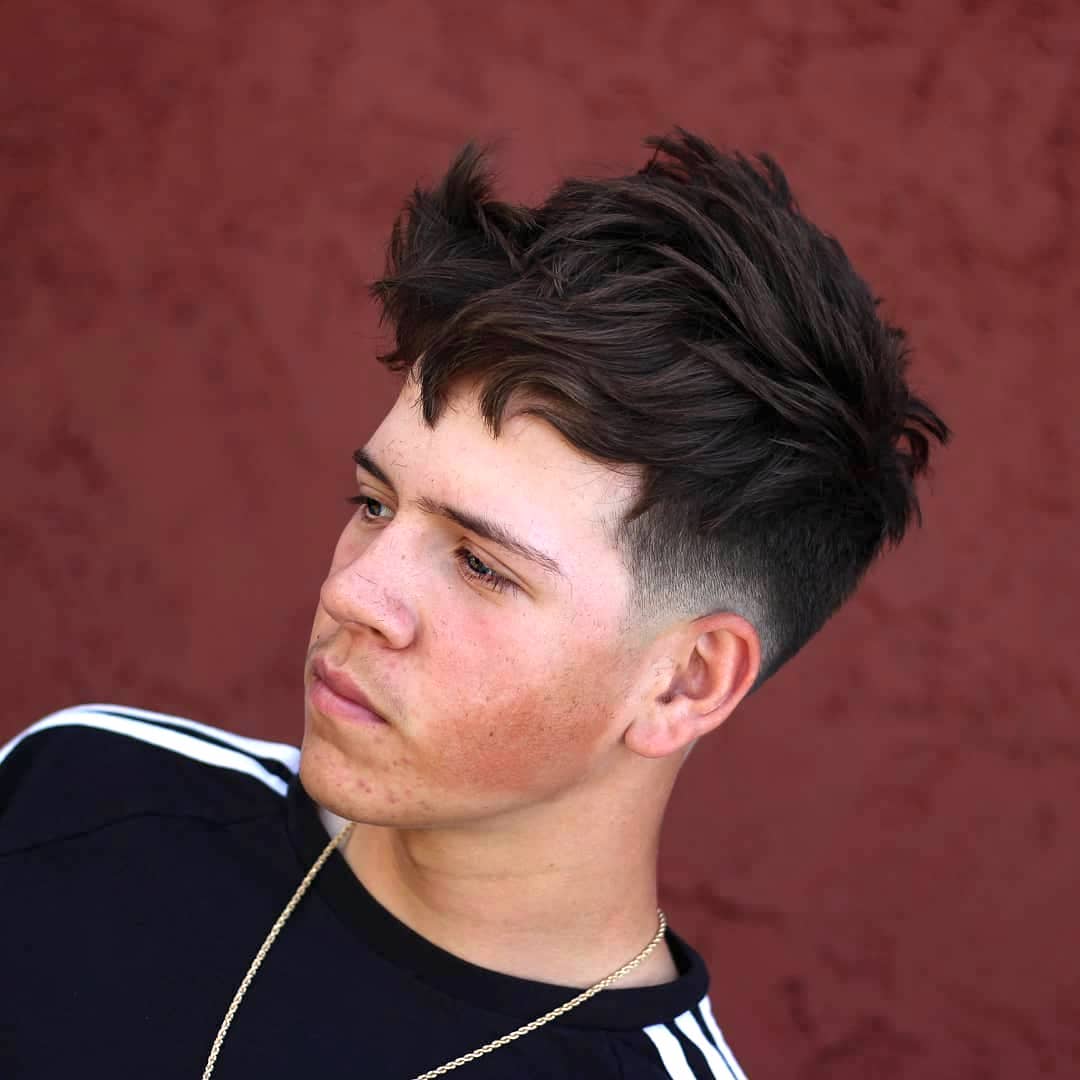 By odyzzeuz
Another great looking undercut with textured hair on top. This time the hair on top is a bit longer and messier.
Curly Hair Mohawk Fade Haircut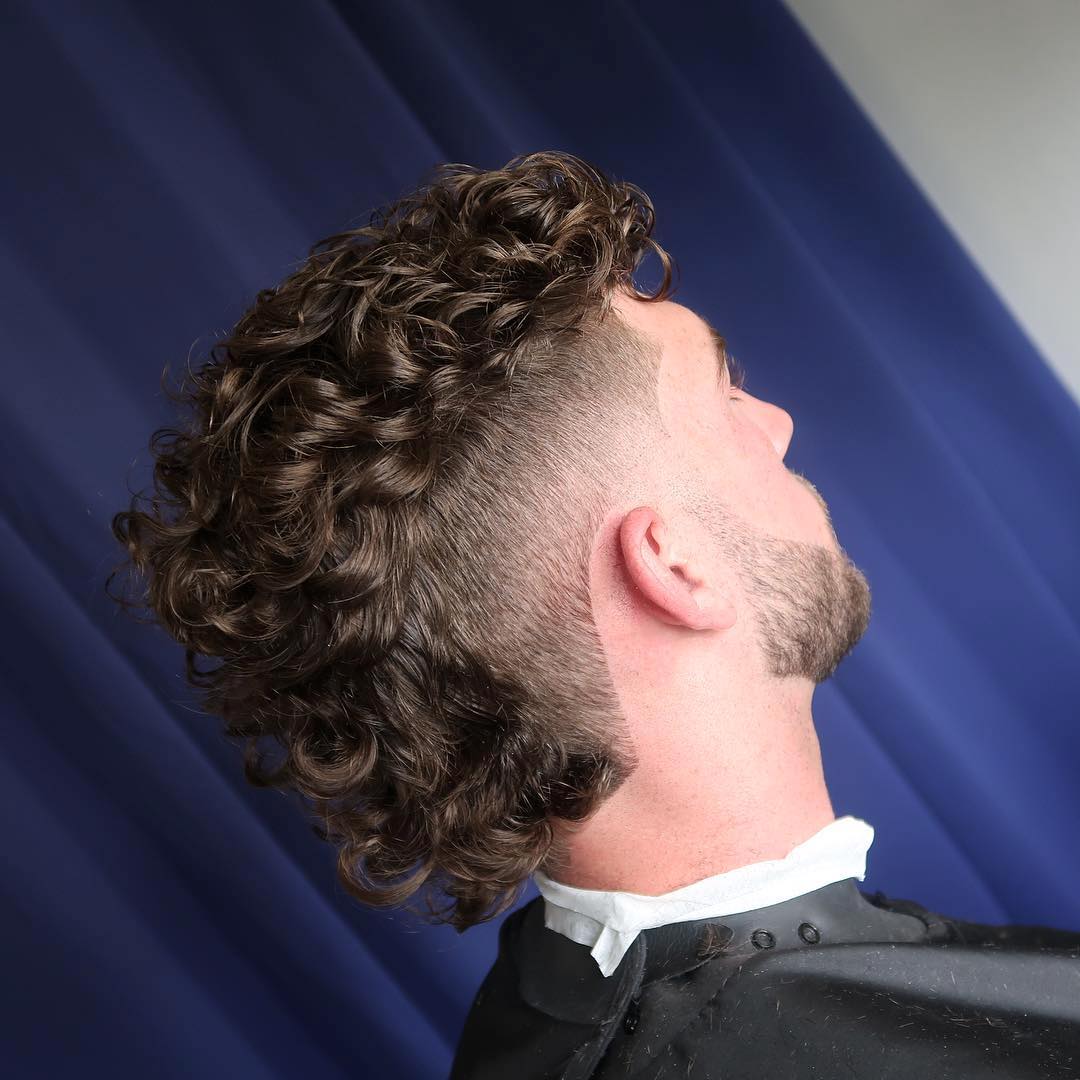 By cutsbywatts
If you have curly hair you should try out this haircut. The Loose curls look amazing in contrast to this temple/mohawk fade.
Side Part Pompadour Hairstyle For Men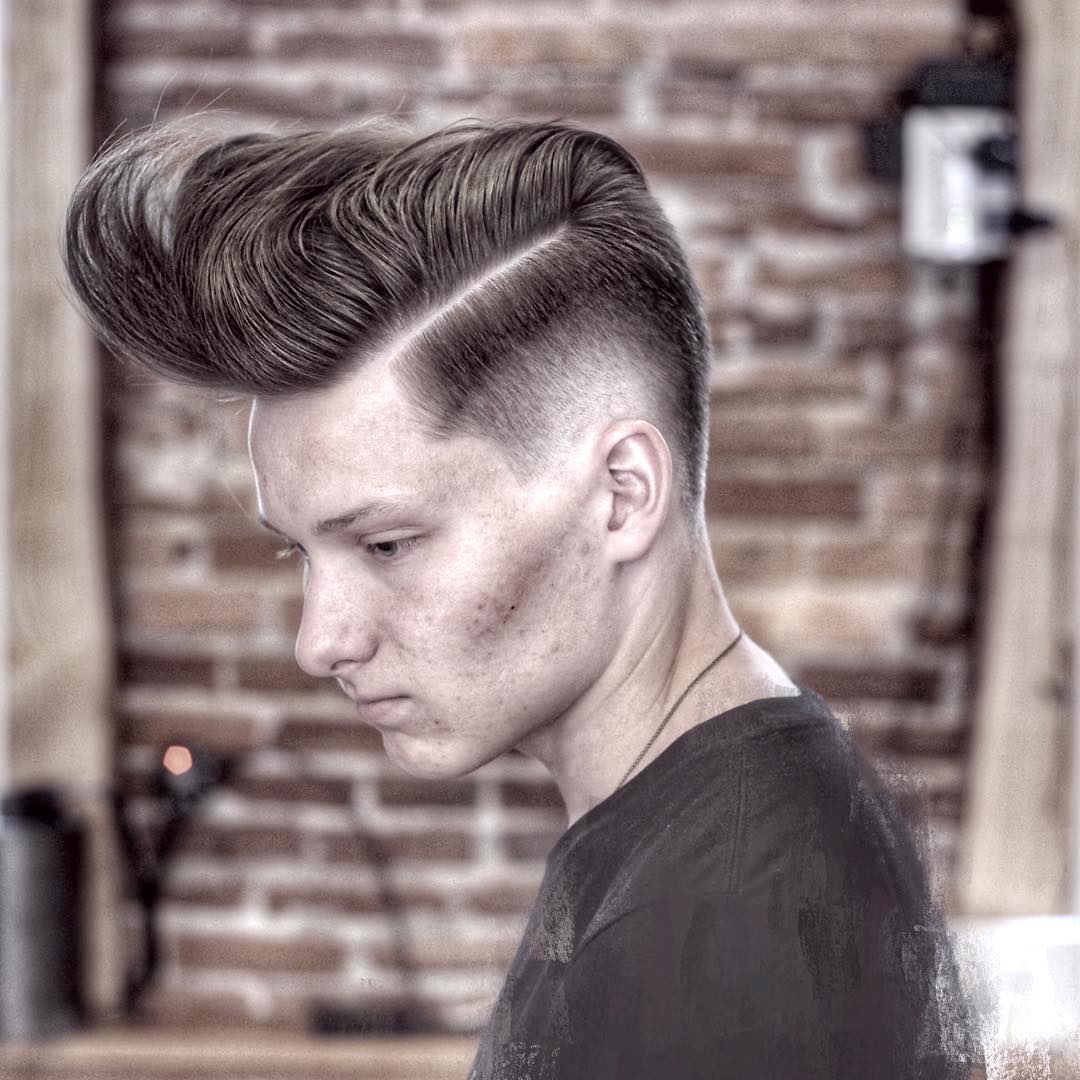 By jenegafpas
Awesome long fringe side part pompadour with mid fade.
The Classic Short Men's Haircut + Bald Fade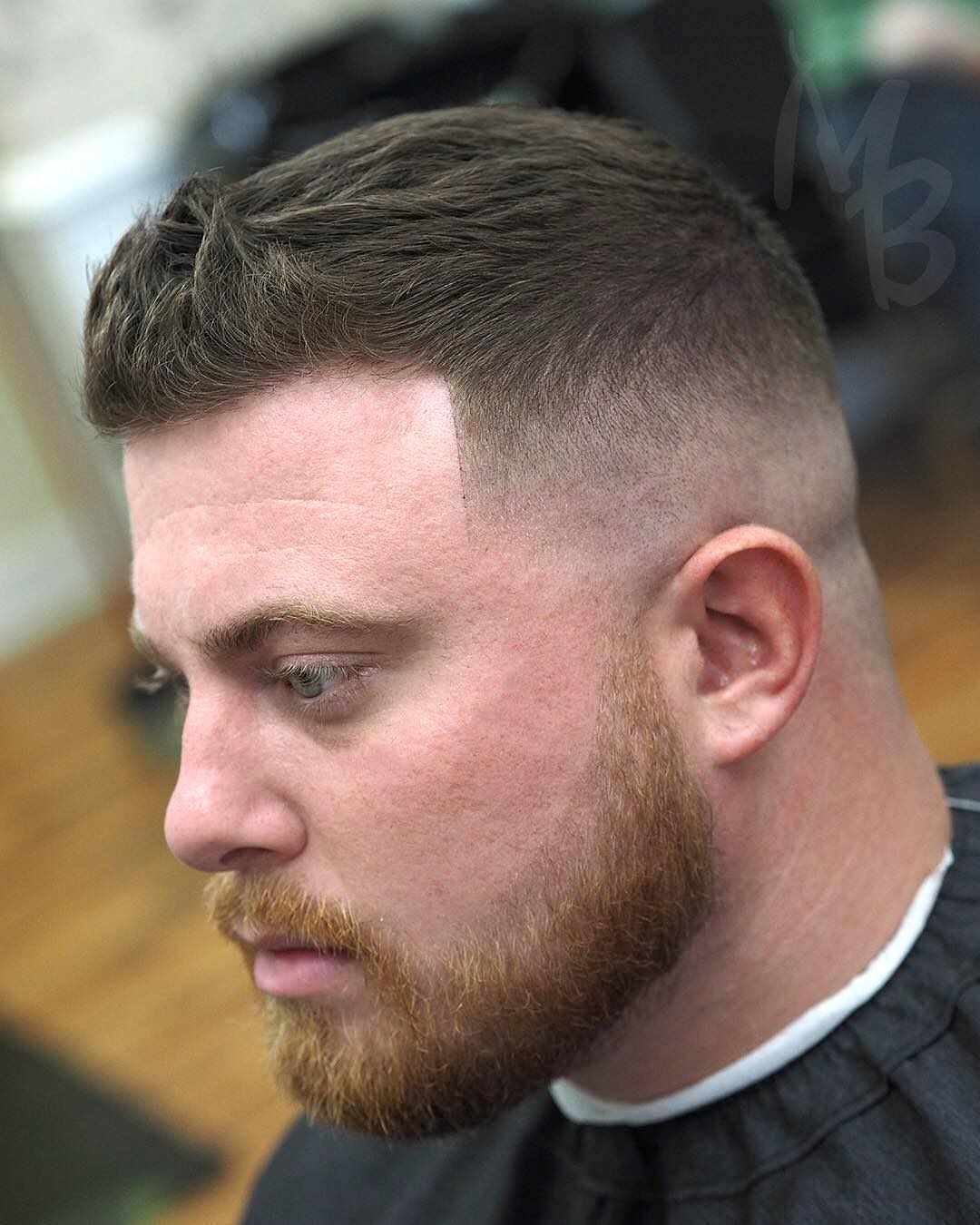 This classic men's haircut is never going to go out of style. Always cool, always great looking.
Killer Mohawk Fade Haircut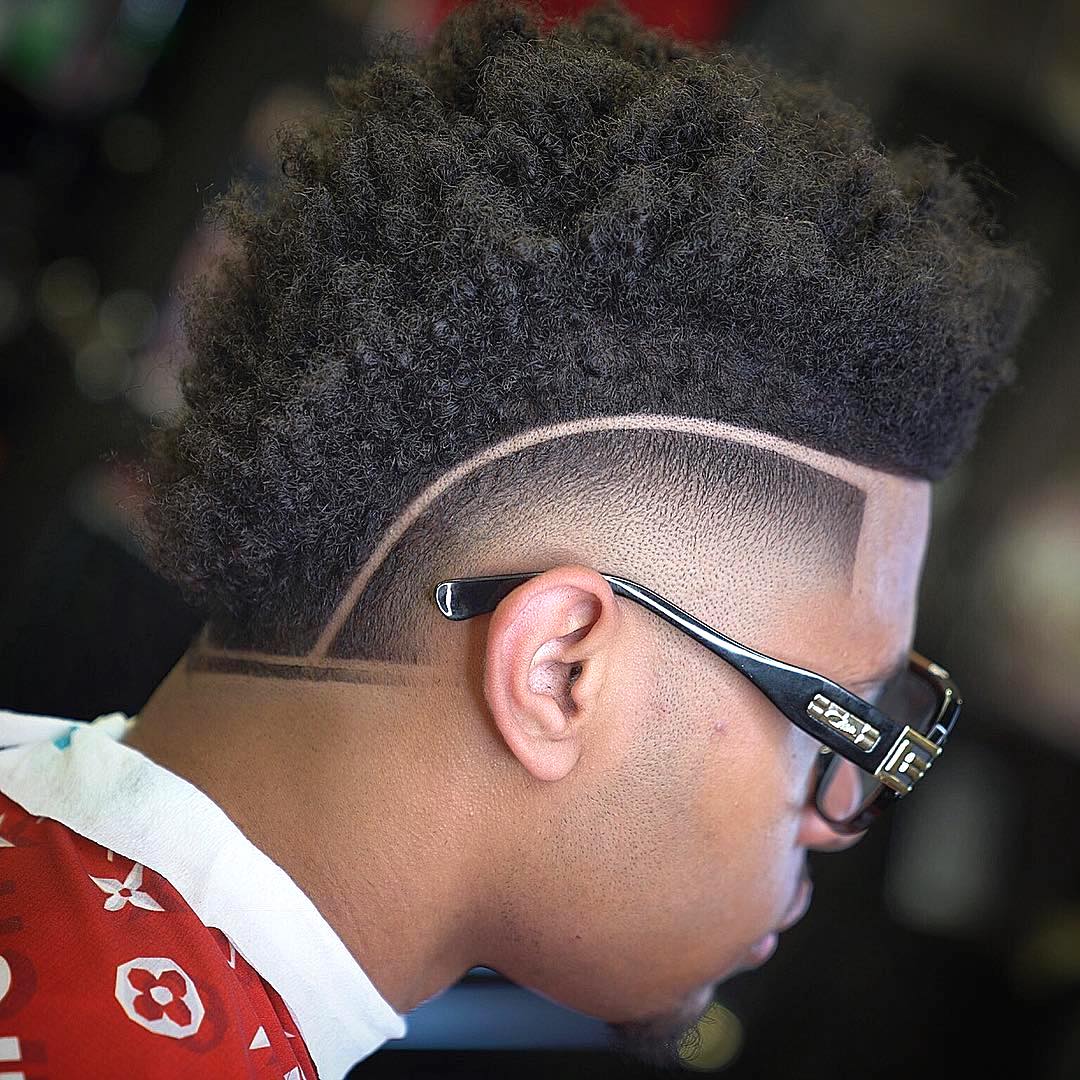 By jmdabarber
Super clean hair design and a great looking mohawk.
So, there you have it our latest cool men's haircuts. Be sure to take a look at our other quick browse men's haircut galleries for more inspiration and haircut ideas.