There is much more to men's hair than short, medium, and long. Length is a key part of a haircut but is so is the part, bangs, and taper fade around the sides and back. Many of these types of men's haircuts are classic looks while others are newer trends. There are also modern ways to wear traditional classic looks.
This list covers most of the types of haircuts for men but there are many different ways to wear each cut too. Customize any look with different types of fades, various necklines, and shaved lines or hair designs.
On top of that, whether it's short, medium, or long, each haircut can also be styled in a number of different ways. And last but not least, the same cuts look different with different hair types, from fine to thick and straight to wavy to curly.
Don't worry about using the right terminology when going to a barber or stylist though. Not everyone uses the same language so it's always best to bring a picture of what you want.

Buzz Cut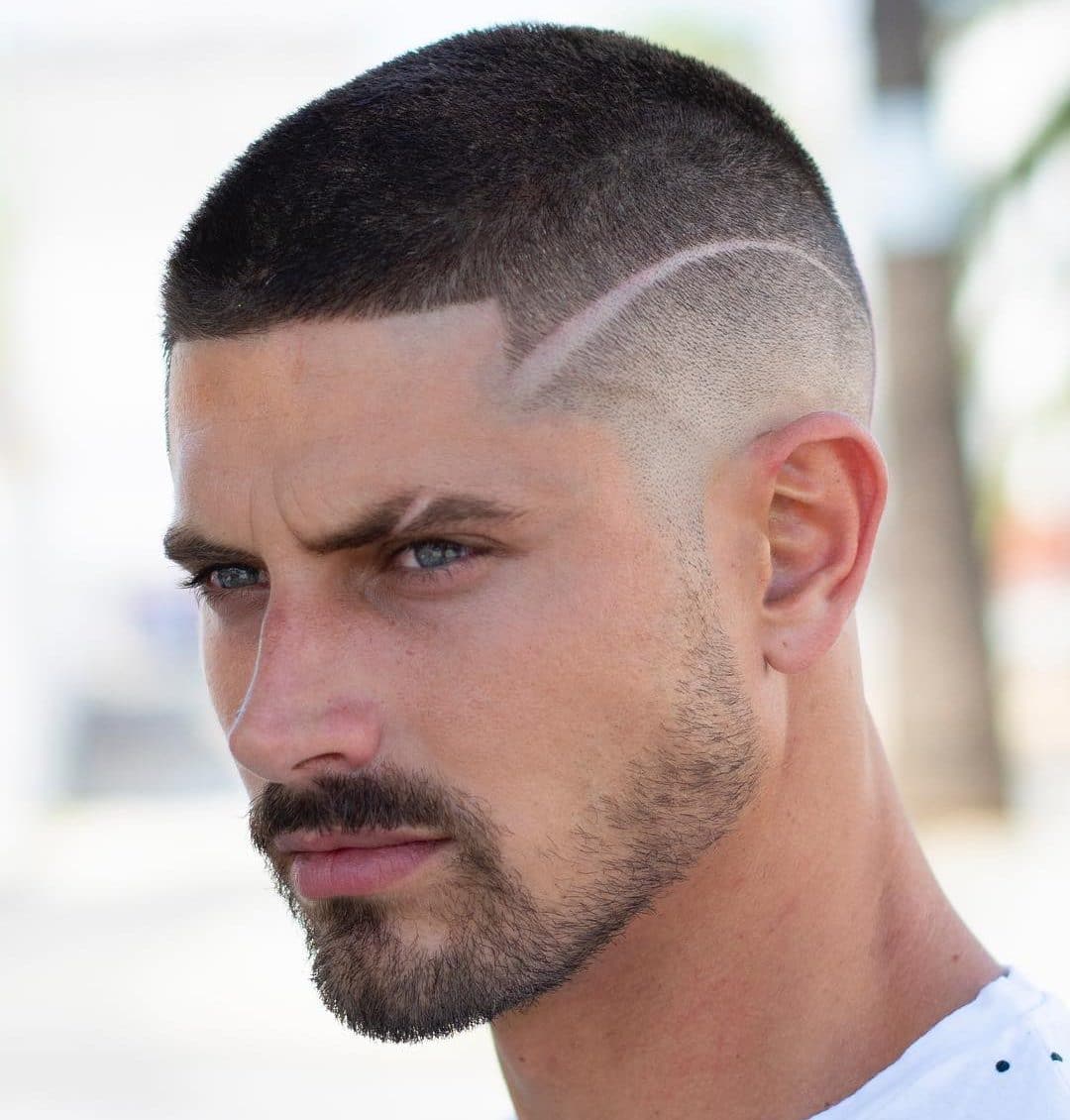 Named for the buzzing sound that clippers make, this is the shortest men's haircut. It's a common military cut (minus the hair design) but also a great choice for active lifestyles or hard to manage hair types. Cut it and you're done, no styling required.
This is the only cut we would every suggest doing yourself. However, at home buzz cuts are going to be one length all over. A blurry fade and line up at the forehead add clean cut edges and some style to the ultra-short look. An arced line that continues into the eyebrow makes this buzz cut impossible not to notice.
Crew Cut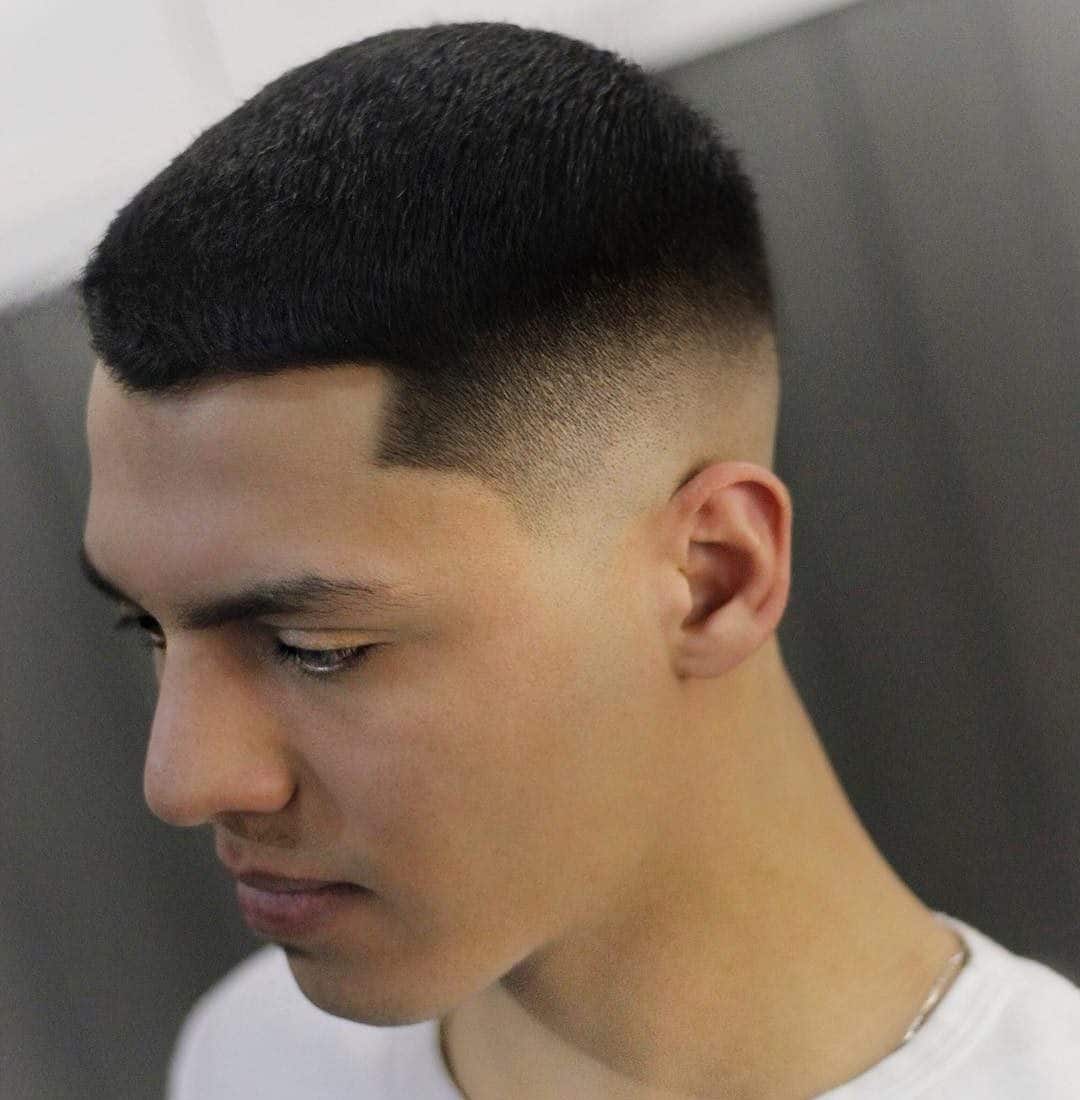 The crew cut is a longer type of buzz cut with more length at the front that tapers off towards the back. It can be styled with hair up into a short pomp, combed over to one side, or left as is. This is very short crew cut but they can be worn longer, but still short. Other types of crew cuts are flat tops and Ivy Leagues. A cool classic haircut for men.
Ivy League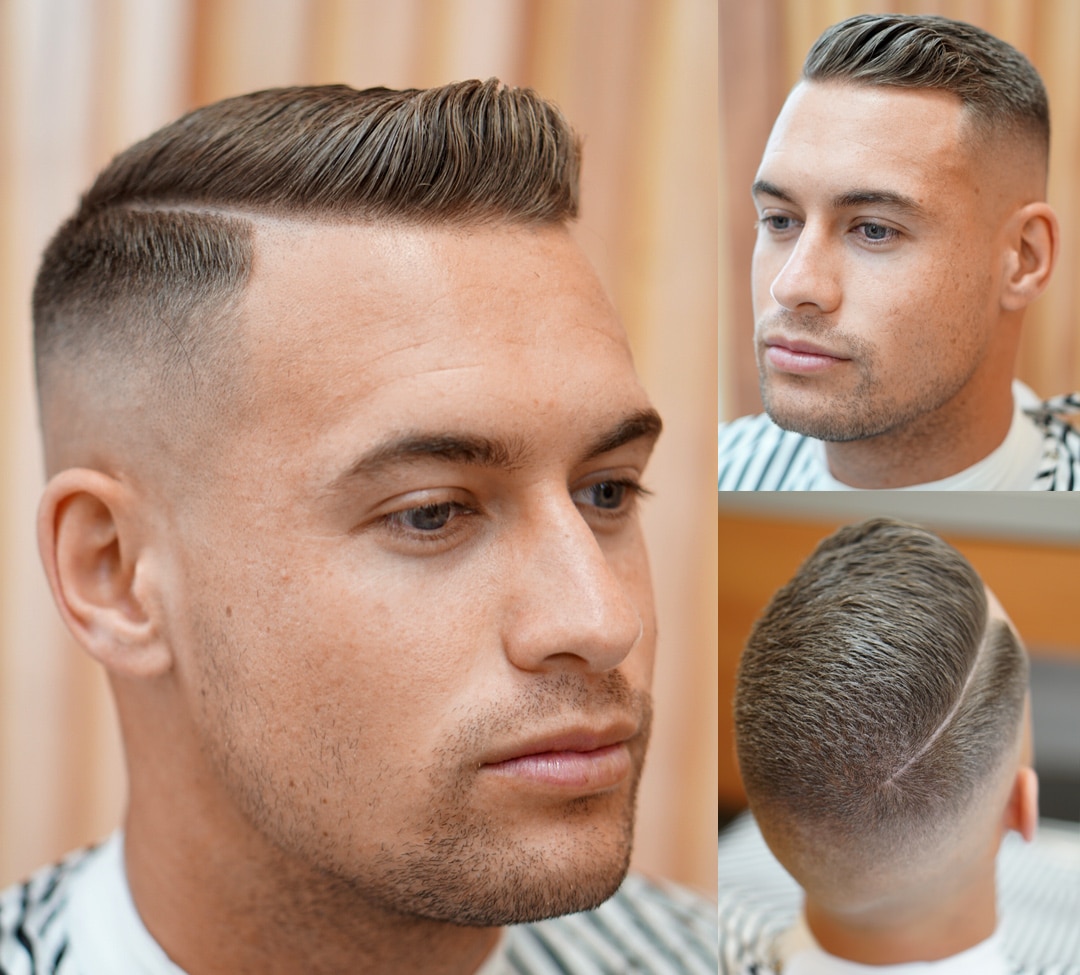 Another longer type of crew cut, the Ivy League is long enough to part on one side. Hair at the forehead can also be styled up into a short pomp or quiff or combed over to the side. This men's haircut is traditionally quite short but can also be worn longer.
Caesar Haircut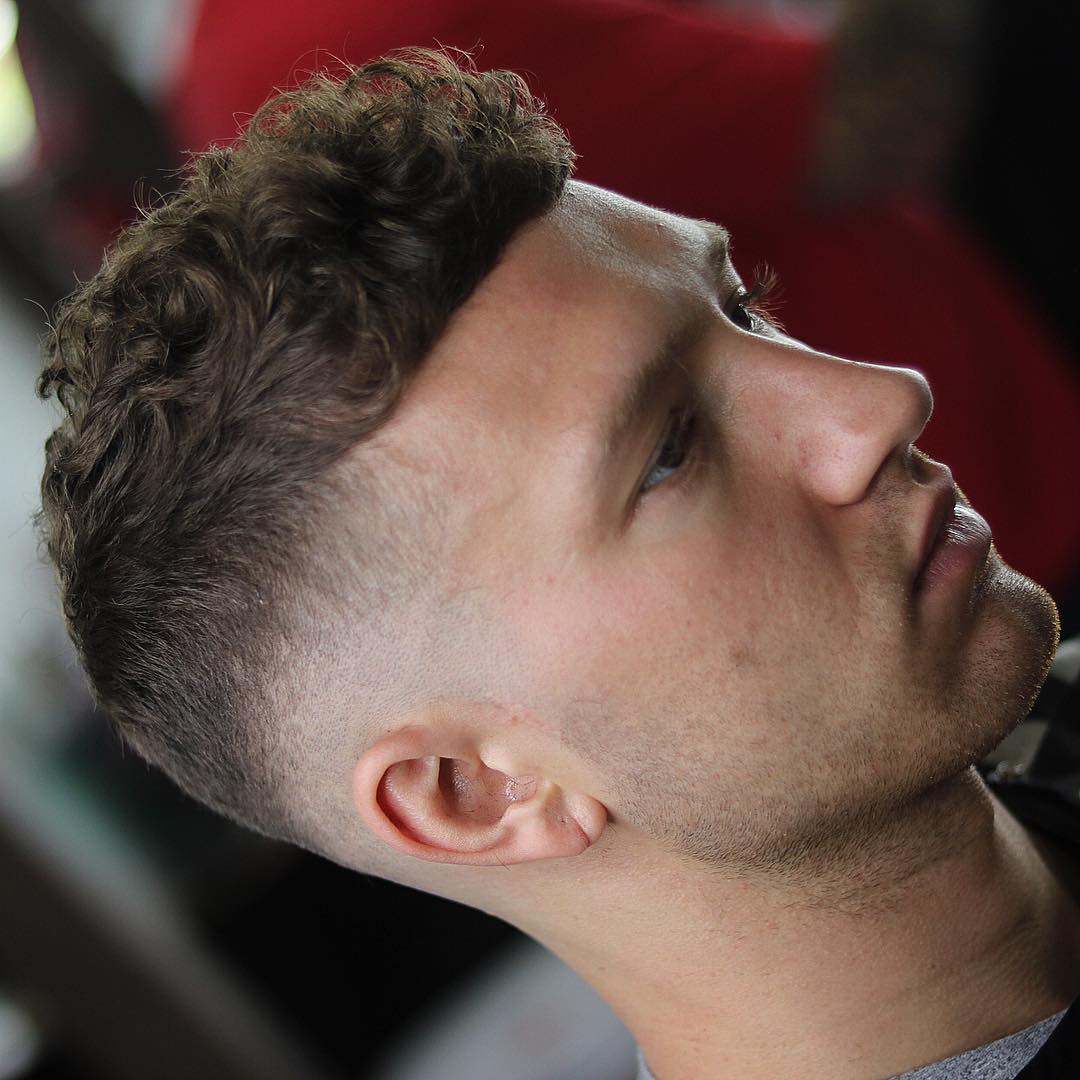 The Caesar haircut is a short men's cut that dates back to Julius Caesar and the BC calendar. The short haircut has short textured bangs. It works for many hair types, including thick and curly hair. This is also a good cut to make fine or thin hair appear thicker.
Similar to the Ivy League or crew cut, the Caesar is a short haircut with a little more length for styling.
Textured Crop Haircut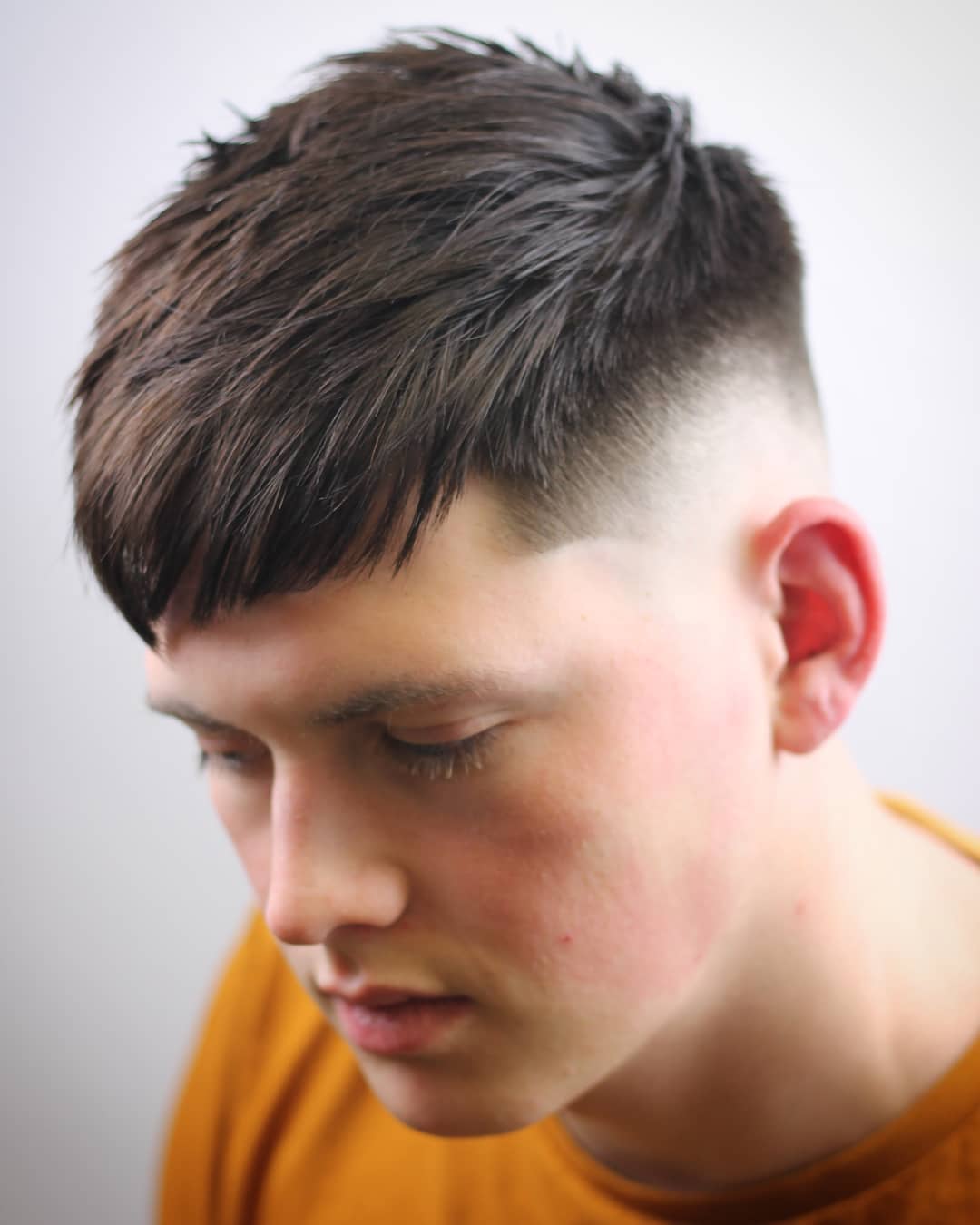 Sometimes also called a French crop, this short men's haircut with fringe is longer than the Caesar. This textured crop is a major men's hair trend that can be worn in a wide variety of ways to suit different hair types and styles.
All versions of this look are both cut and styled to bring out texture. Guys with thick, wavy and curly hair have a head start. A texturizing hair product gets the look for straight hair.
Faux Hawk/Spiky Hair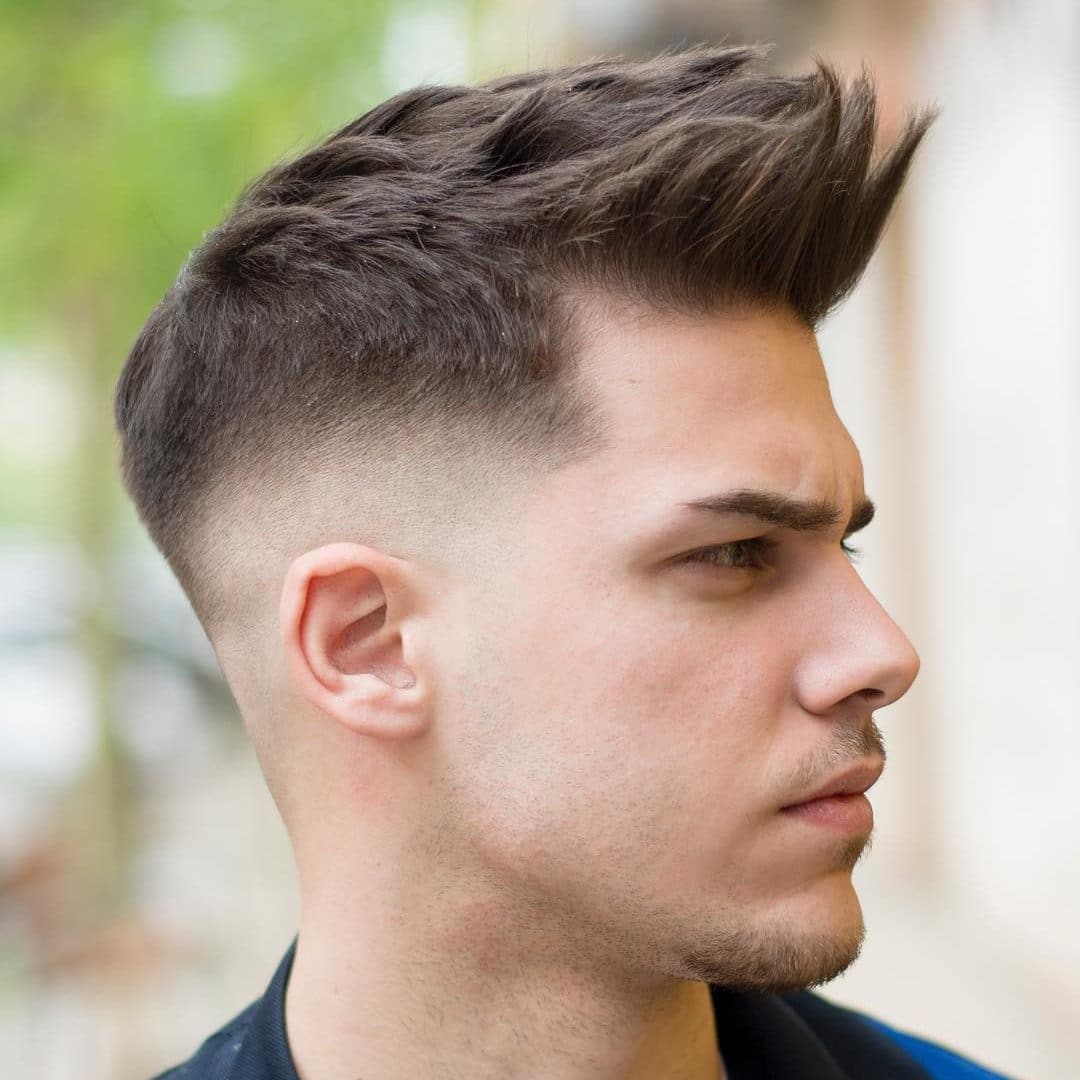 The popularity of textured crops has brought about a modern version of spiky hair. Instead of small crispy gelled spikes, use a matte product and pinch sections of hair together to create fewer, thicker spikes. This oversized texture can be worn up all over, down the middle in a faux hawk or into a quiff with height concentrated at the forehead.
Fringe Haircuts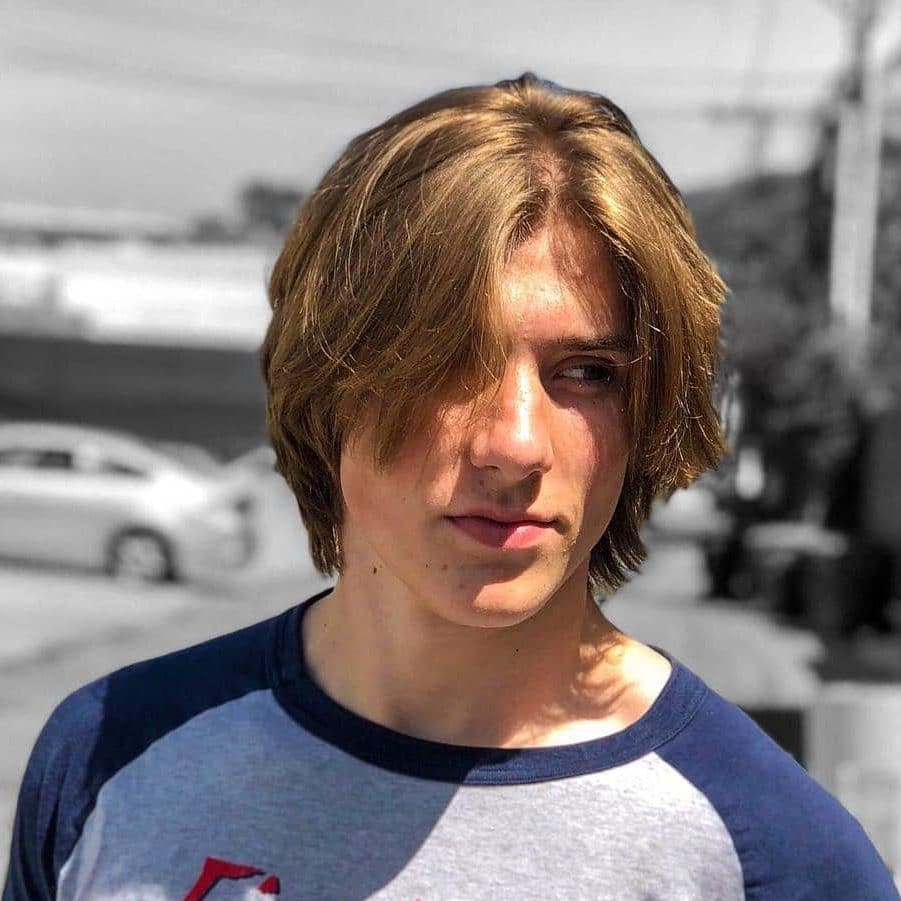 Men's hairstyles with fringe come in and out of fashion. To name a few there have been mop tops, mod haircuts, the mushroom, nineties Johnny Depp, emo hair, and the Zac Efron. Right now, bangs are back. Wear them short, long, blunt, angled, thick or jagged.
That's not all though. Any cut with longer hair on top that can be styled up or back can also be worn with fringe. This chin length layered cut takes a bit of inspiration from Kelso in the early season of That 70's Show and looks cool with plenty of bangs and a slightly off-center part.
Medium Length Haircuts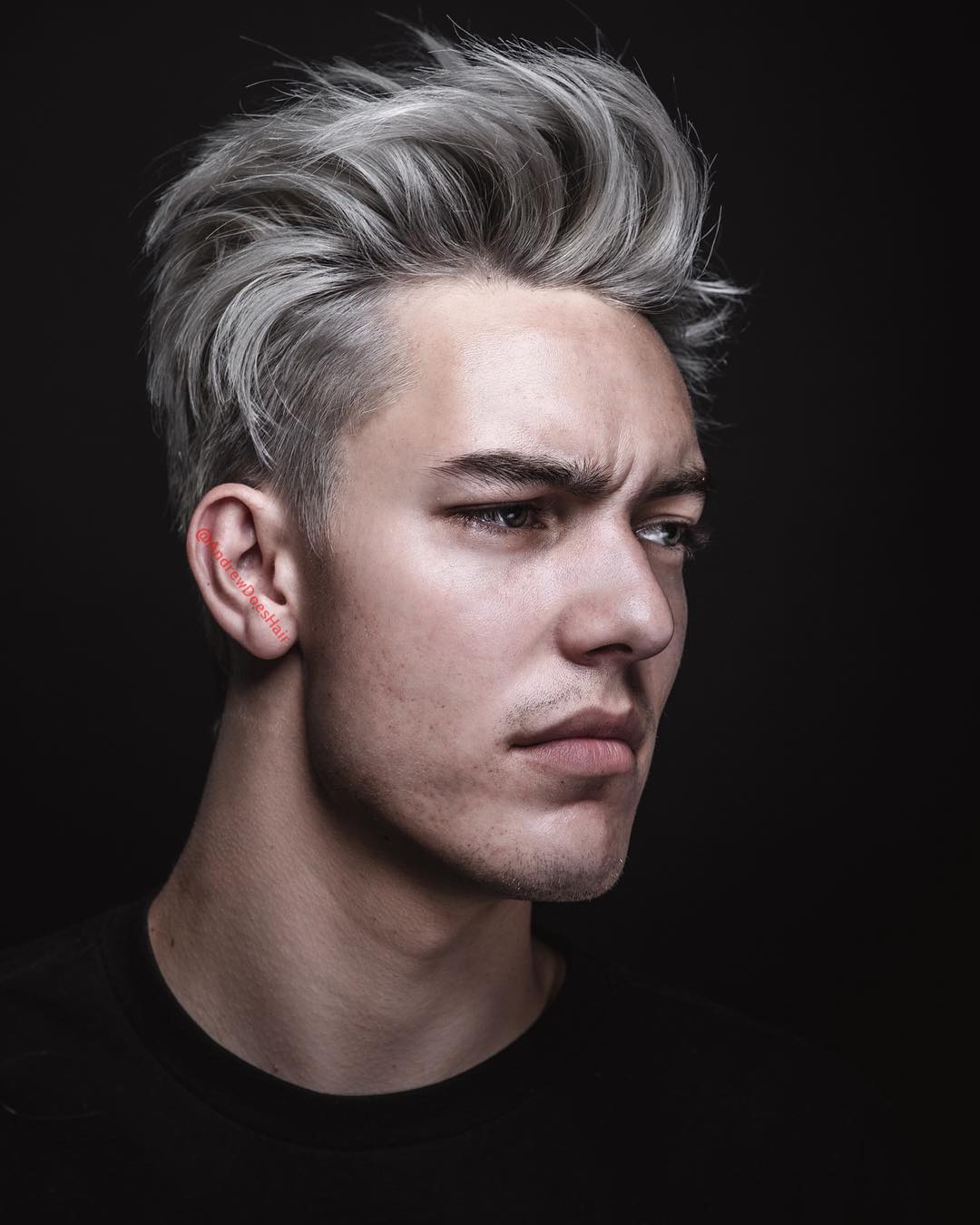 Somewhere in between short and long, medium length haircuts can be just right for many guys. In addition to the classic pompadour and side part hairstyles, looser styles with texture, volume, and flow also look great at this length.
Pompadour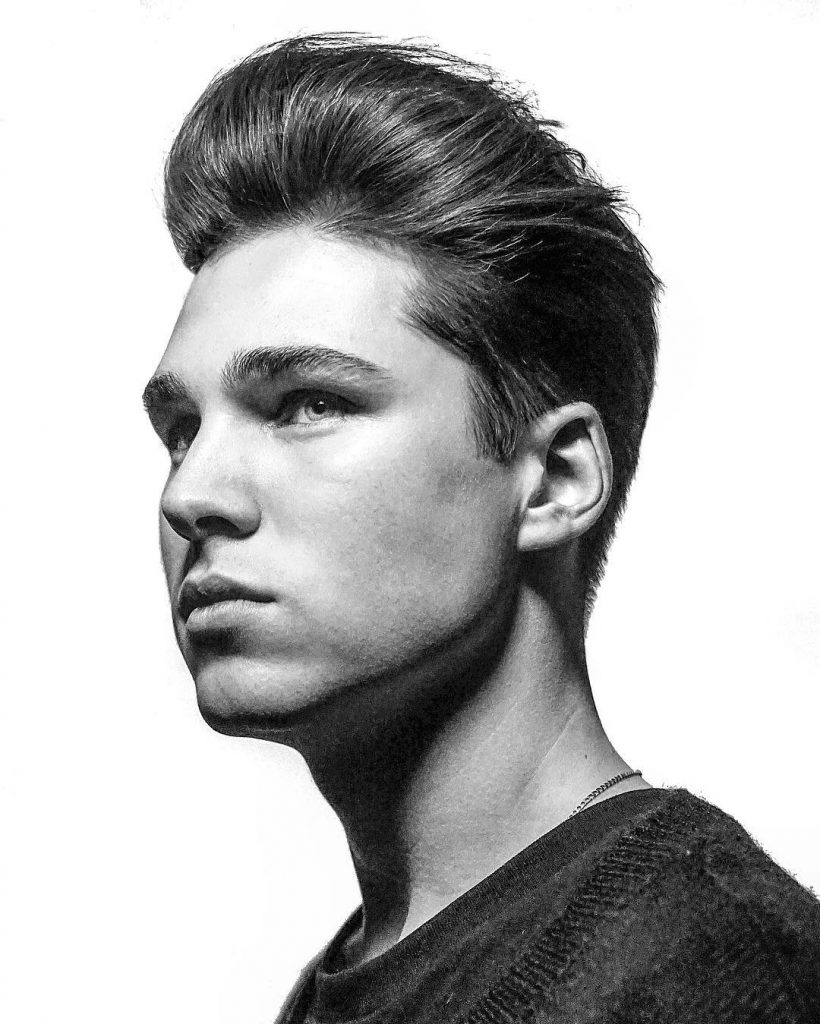 The pompadour, aka the pomp, is one of the most enduring men's hairstyles. The short sides, long top men's haircut can be worn with a fade or taper and short to long hair on top.
The classic slicked back style continues to be popular, especially with the renaissance of oil-based pomades. There are also modern pompadours like the one above with a natural finish. Another trendy look is to add texture to the classic pomp shape.
Quiff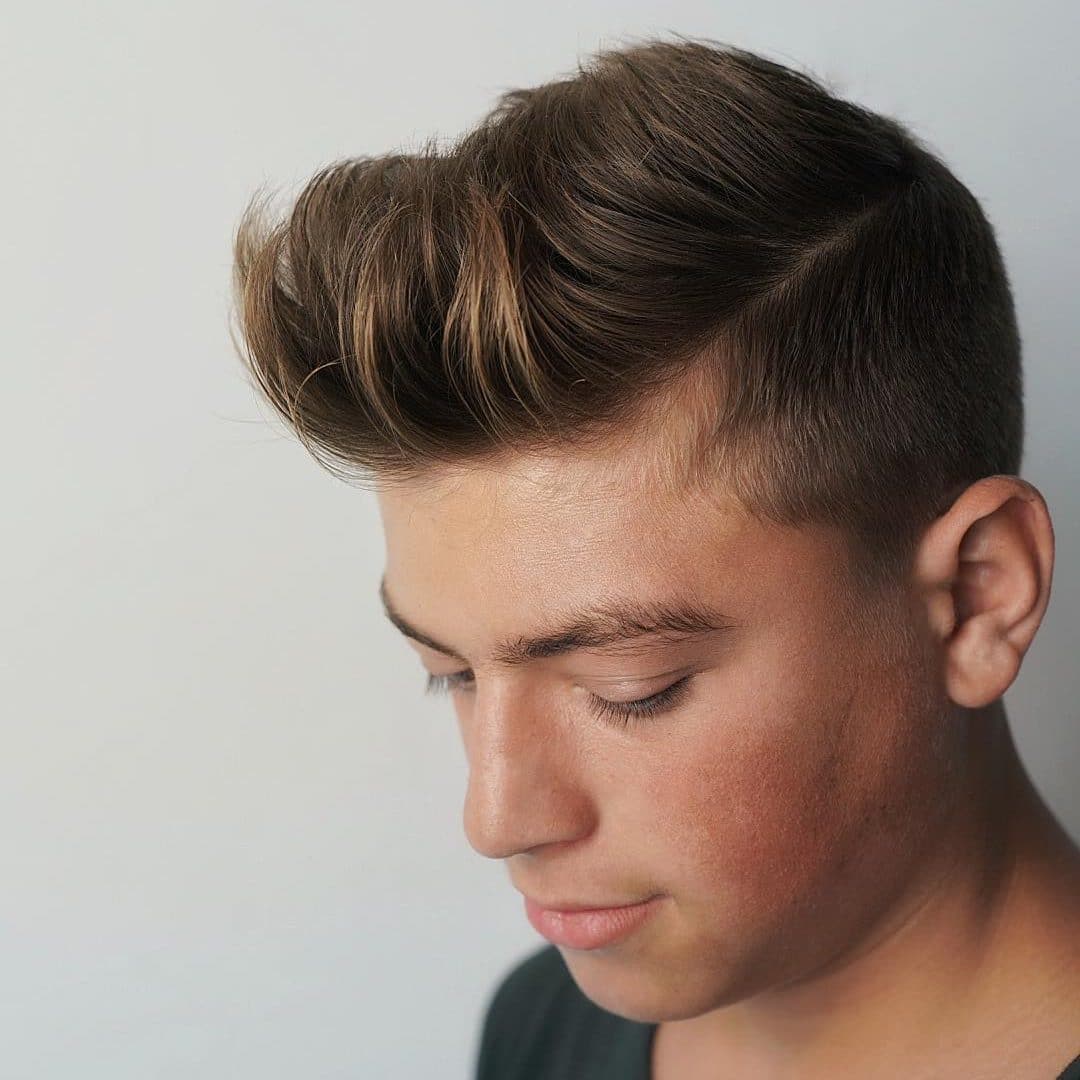 A quiff haircut is longer at the hairline so it can be styled up. It's another classic men's look that stays popular because it looks good on nearly everyone, similar to a pomp. This modern quiff has some textured volume and is a great way to beef up fine or thin hair.
There are many other ways to get his look though, for short hair up to medium length. It's all about pulling up longer hair at the forehead. Work up into spikes, a pomp-inspired look or even just vertical texture.
Side Part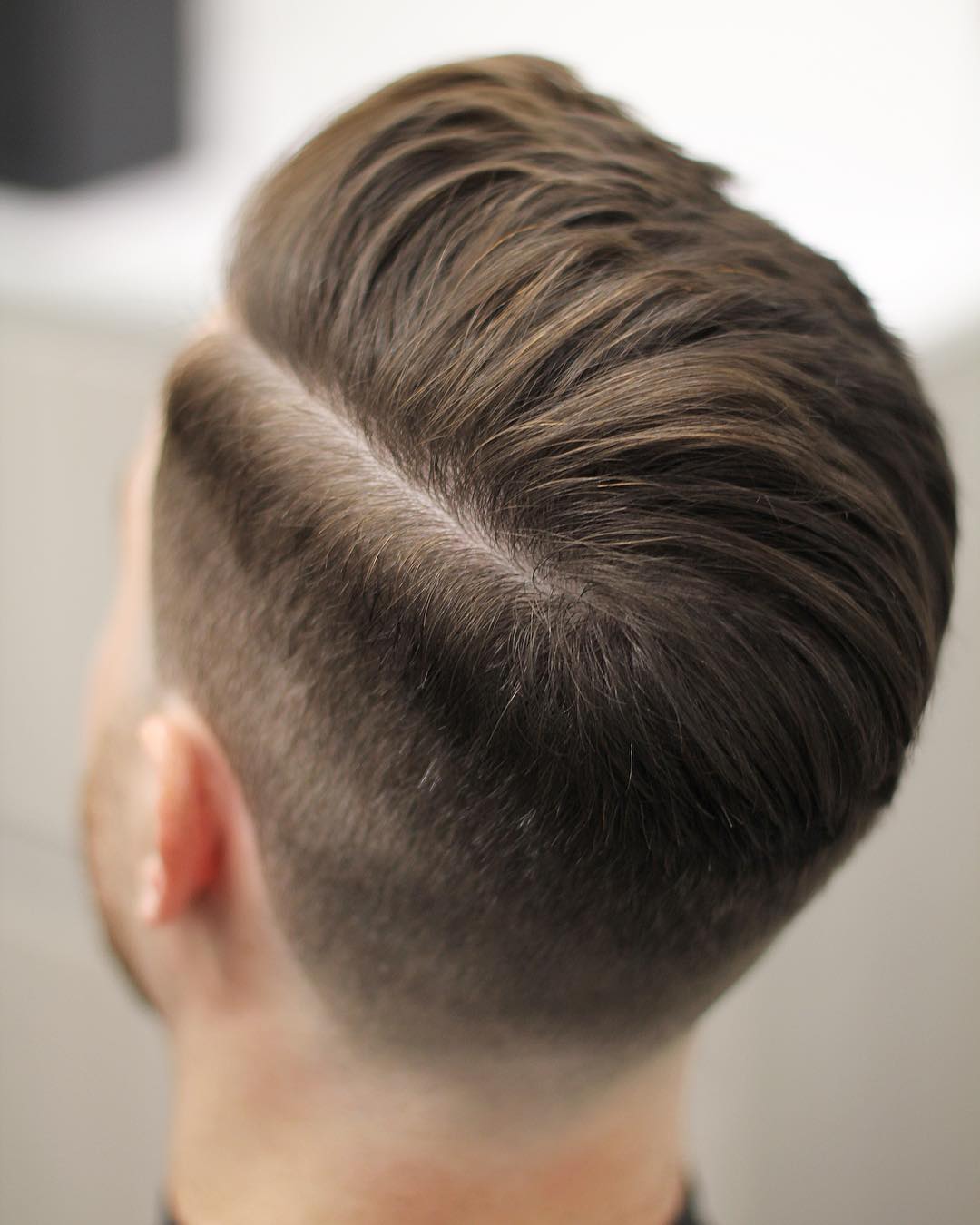 The side part hairstyle is exactly what it sounds like, a hairstyle with a side part. Other than that, hair can be styled in all kinds of ways. Slick or messy, short or long, up high, or left low on the head. The same haircut can be styled into a pomp, quiff, or side part.
A comb over is similar to a side part hairstyle. Usually the sides are faded or undercut undercut, with longer hair on top swept over to one side and no part but there are plenty of ways to get the look.
Taper Haircut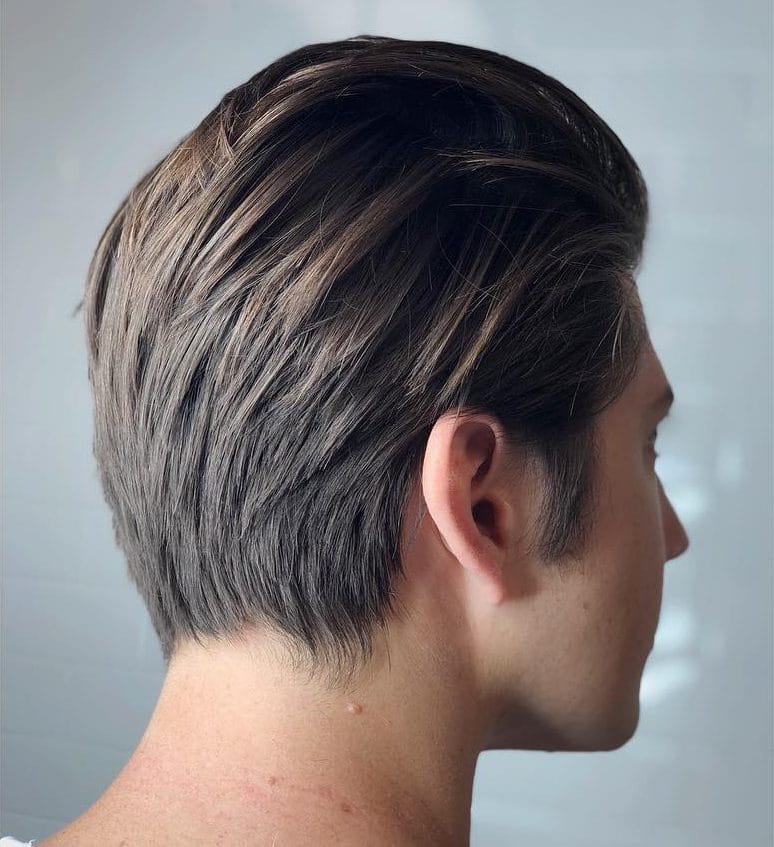 Taper haircuts are scissor cut all over. The classic version usually has short sides with longer hair on top that is styled into a sweep back, pompadour or side part. This medium length hairstyle has a bit more length all over that is still clean cut but has plenty of movement and flow. Another one of those types of haircuts for men that never will go out of style.
Mohawk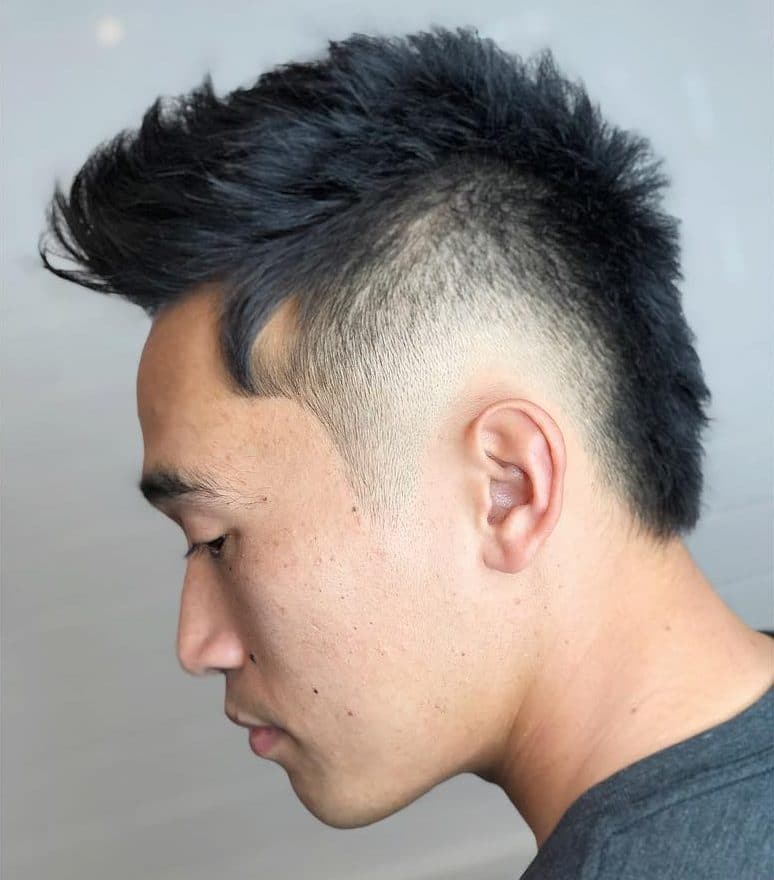 The mohawk is an iconic men's hairstyle. Many people think of punk when they hear that word but the hairstyle originated with the Mohawk Indians. This style continues to be popular among warriors, especially athletes.
The definition of a mohawk is a strip of hair from front to back. The sides can be shaved or faded. The mohawk can be narrow or wide, short or long, straight or curly. A popular way to get the look is with a burst fade at the sides. Spike it up or wear it down, there's no wrong way to get the look.
Mullet Haircut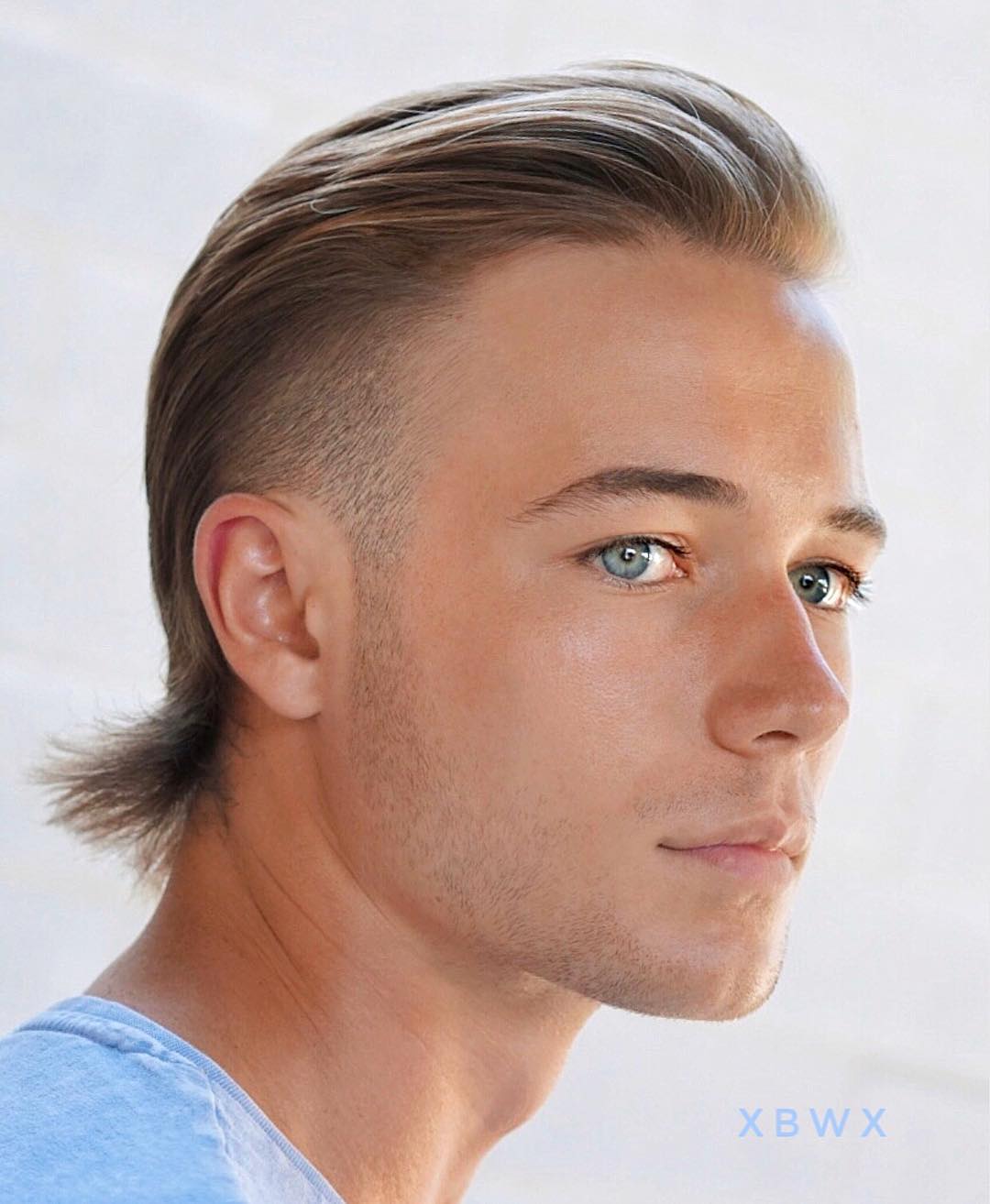 Whatever you think about the mullet, it is a bold look. The "party at the back" hairstyle has never entirely gone out of style since it was embraced in the 1970s. A few famous mullets include David Bowie, Sonny Crocket, Wayne Gretzky, and Charlie Blackmon.
The mullet haircut isn't for everyone but we think some short or long flow at the back is a cool look. Some length at the neck can be added to all kinds of hairstyles including mohawks, pomps, slick backs, and more.
Short Sides, Long Top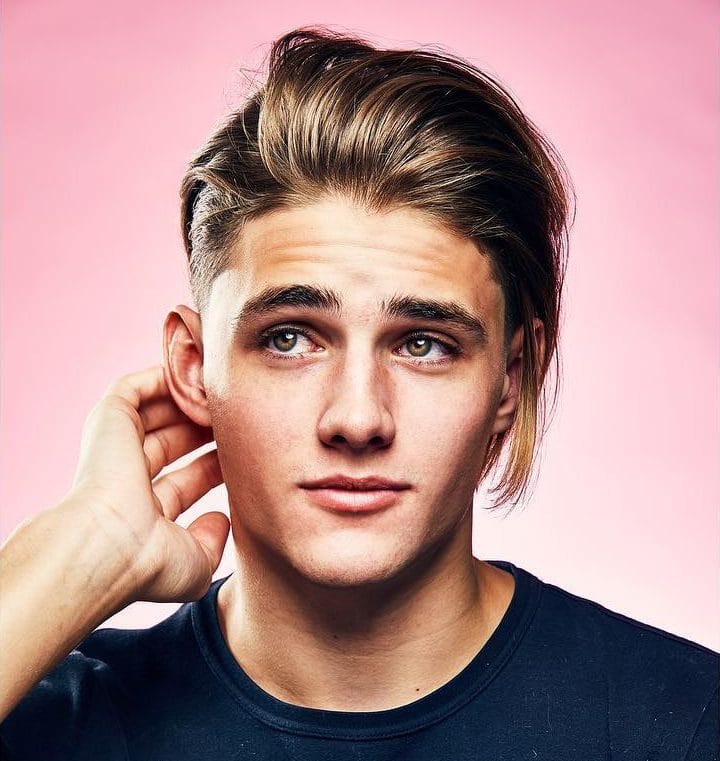 The short sides, long top haircut is a popular combination. In addition to a slicked back style, it looks cool when worn messy. Hair on top can be medium length or longer.
Undercut Haircut For Men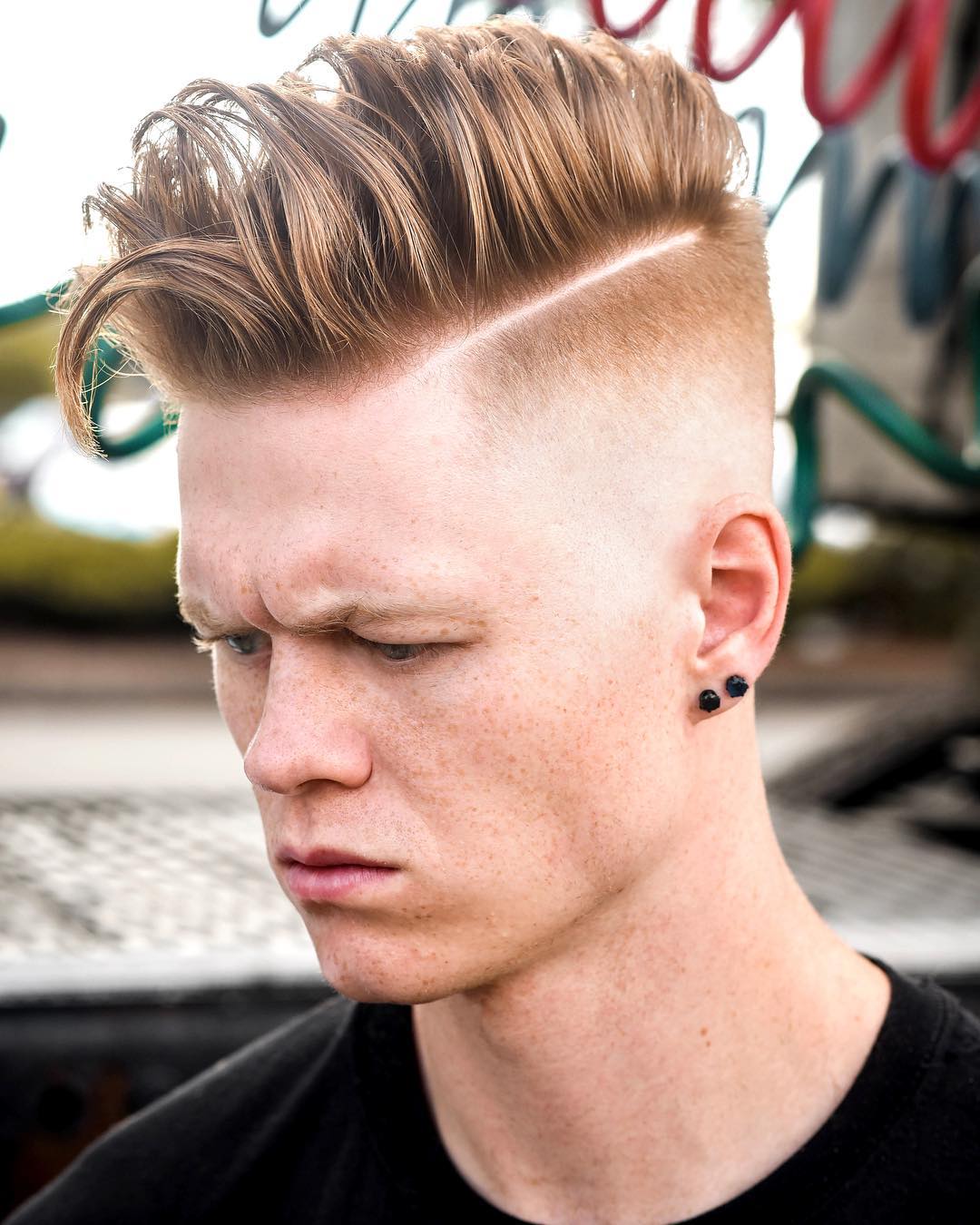 The undercut is a very high fade. Hair can be cut into a skin fade, shadow fade, or all one length. The undercut can be worn with short hair but is most dramatic with medium length or even longer locks.
Hair can be styled up, back, or over to one side. Or leave hair loose for a disconnected hairstyle. Undercut sides also make pulling hair up into a man bun very easy and stylish. This is one of the types of haircuts for men that has been popular for a long time.
Chin Length Man Bob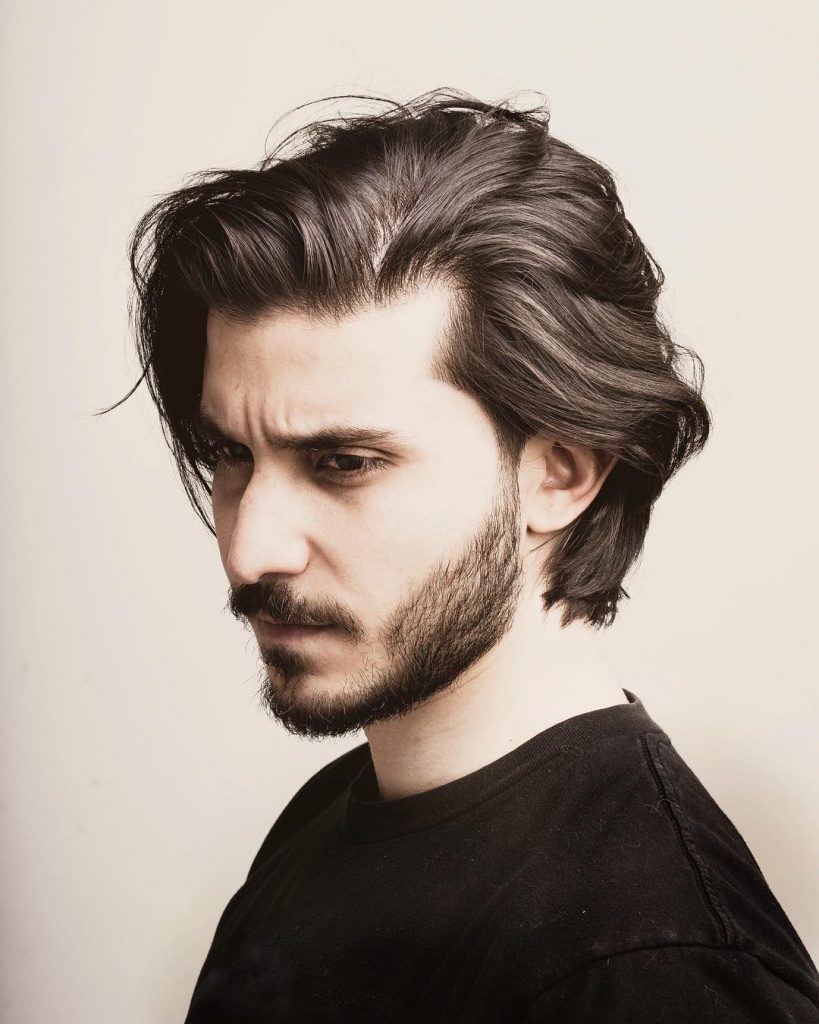 This chin length men's haircut, sometimes referred to as the man bob, is one of David Beckham's recent hairstyles. Long hair does not come from skipping visits to the barber. In fact, regular barber visits are an essential part of growing hair out. This long hairstyle looks great when worn down with a touch of product, slicked back or pulled up into a man bun.
Long Men's Hair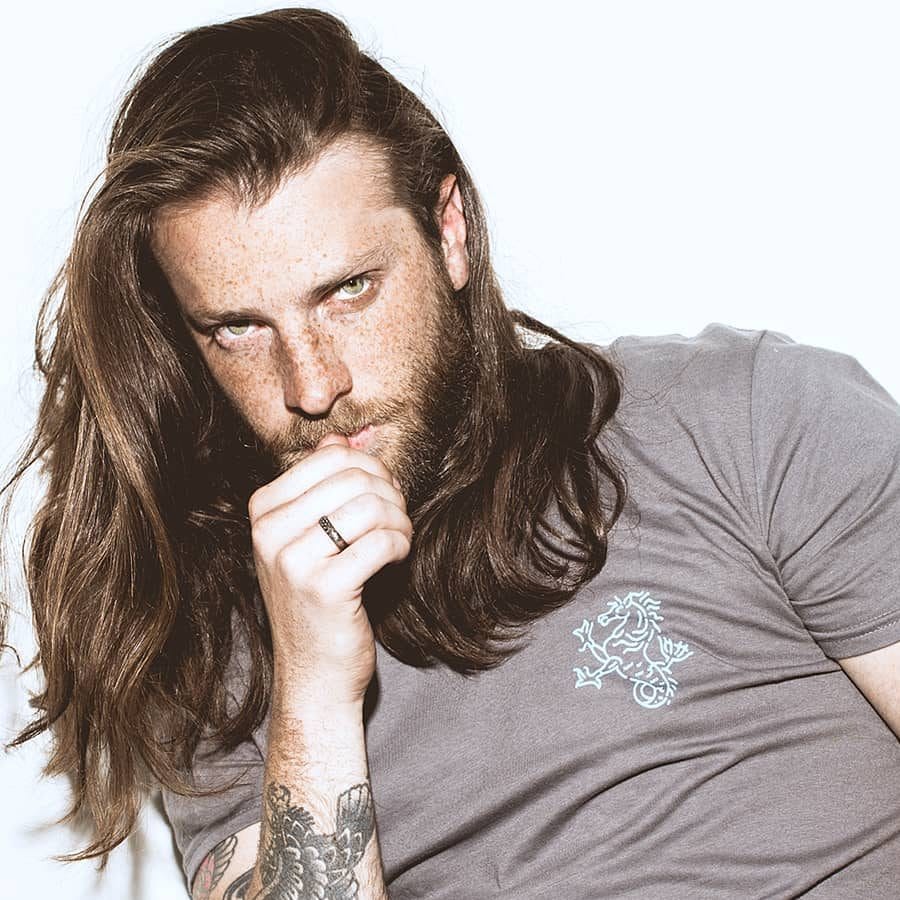 Even with their growing popularity, long hairstyles for men always have a counterculture feel. Keep from looking like a scraggly hippy by taking care of hair with minimal shampoo, daily conditioner, and regular trims to remove damaged ends. Shoulder length hair can be cut all one length, like above, or have some layering to boost volume and remove weight.
There you have it, all the different types of haircuts for men to get right now. Stay cool.