If you're finding thick hair a challenge to deal with, these pictures will make you think again. The right haircut by a knowledgeable barber transforms a full head of hair from unmanageable to stylish.
With plenty of hair, you have more styling options than any other hair type. Thick hair is often also straight and coarse, making high volume styles like spikes or pompadours a breeze. That's not to mention this year's hot textured looks. We're seeing lots of height and definition, the return of the faux hawk like you've never seen before and fringe over the forehead.
So check out these photos for 15 of the best hairstyles for men with thick hair to find your next look.
15. Short Thick Sculpted Textured Hair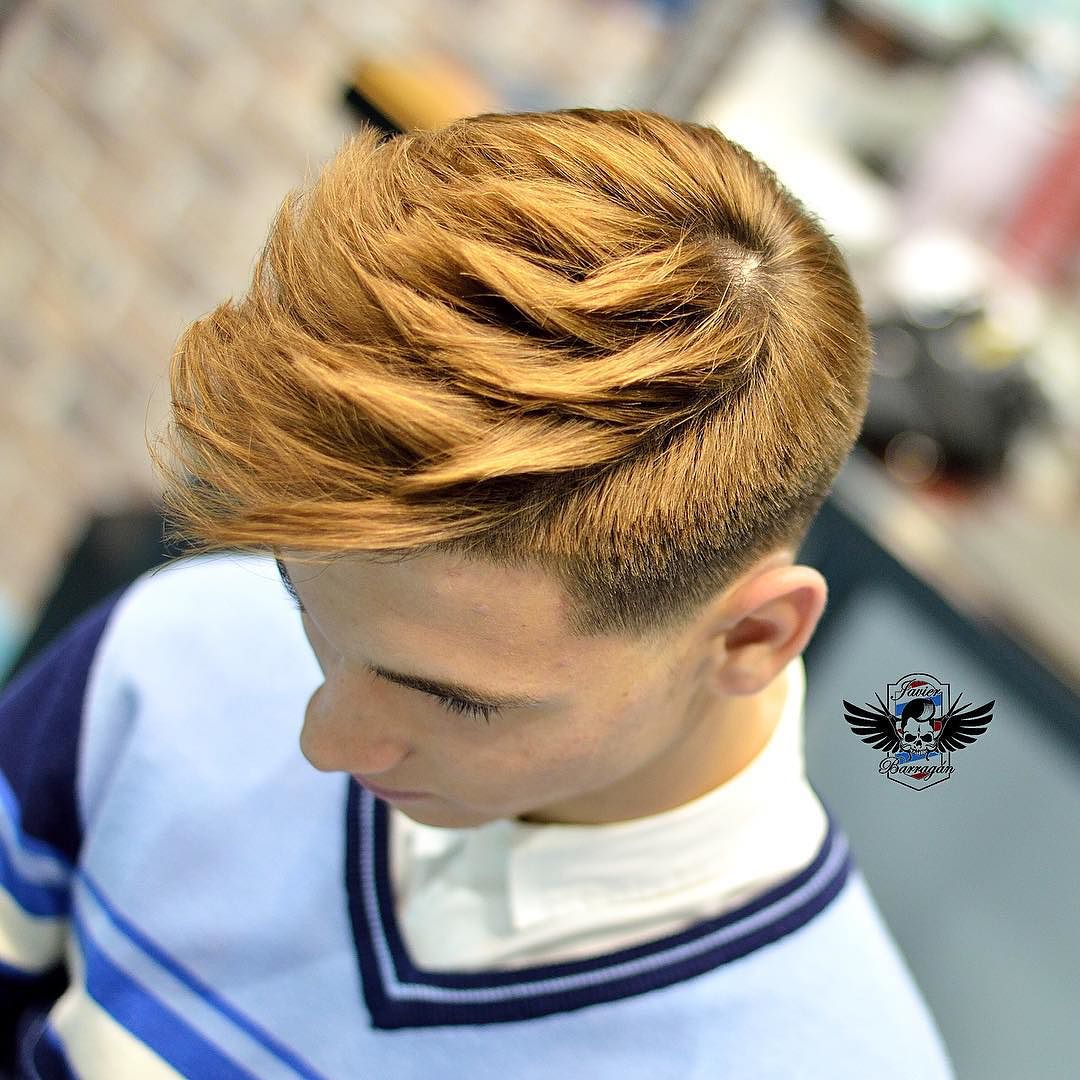 Haircut by Javier Barragan
A growing trend that is hitting 2016 in full force is adding texture on top. We've seen it from barbers in the UK and N. Ireland and is on the way to the US for the fashion forward.
This classic long on top, short sides and back cut can be styled in so many different ways but try adding these sectioned spikes. Just pinch together about half inch sections of hair, working front to back.
14. Hard Part + Skin Fade + Choppy Hair On Top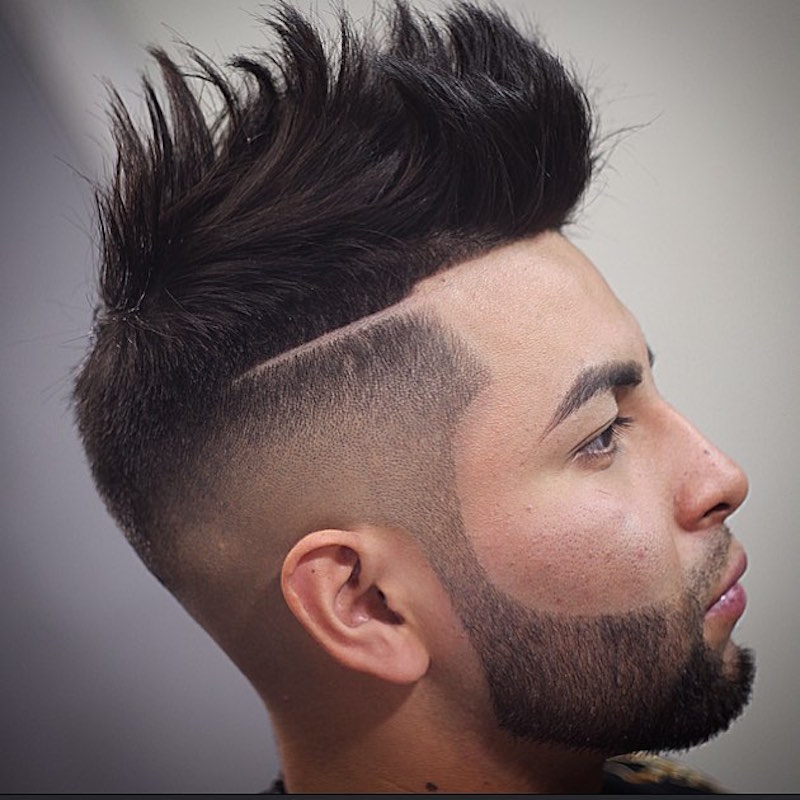 Haircut by Chris
This fresh cut contrasts vertical texture with horizontal lines. Up top, hair is pulled into choppy spikes. Keep the look up to date by using a matte hair product and keeping spikes choppy instead of defined.
This thick haircut is long on top only with a drop fade down to the skin keeping the sides ultra clean cut. A razor fade extends the hairline for a cool detail that sets this thick hairstyle apart from the crowd.
13. Wide Faux Hawk

Haircut by Javier Barragan
The faux hawk is one of those styles that sticks around because it makes guys look good. The height just at the center of the head flatters every face shape, especially round faces.
This version for 2016 is influenced by the pomp and fade trends. The faux hawk comes to peak at the center of the head with a wide base. Instead of spikes, the apex is pulled back so the silhouette is similar to slick hair.
A low drop fade creating a blurry hairline completes this fresh style. This look is so good, we're sure to see David Beckham picking it back up.
12. High Fade + Thick Textured Hair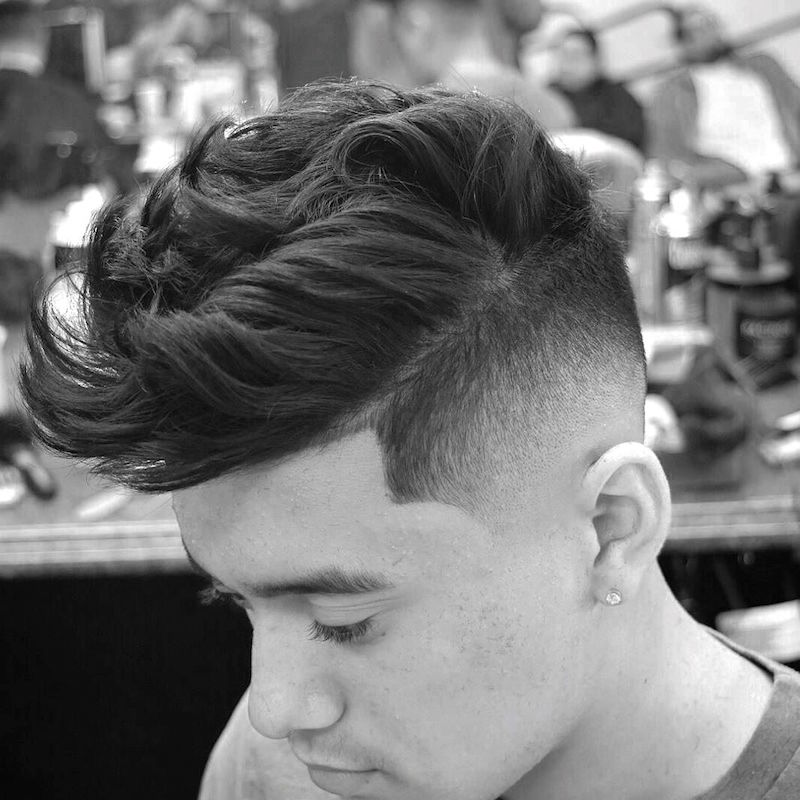 Haircut by Velentinhorta
For guys with wavy or curly thick hair, the high fade is one of the best haircuts out there. Cutting the sides short while leaving the top long makes hair easy to manage and style.
This simple cut makes the most of hair's natural texture by adding some hold and volume with a matte product. Try a product with word fiber in it to get a combination of curl definition and hold for this borderline messy styles as well as slick looks.
11. Thick Curly Hair With Wild Textures + Hard Part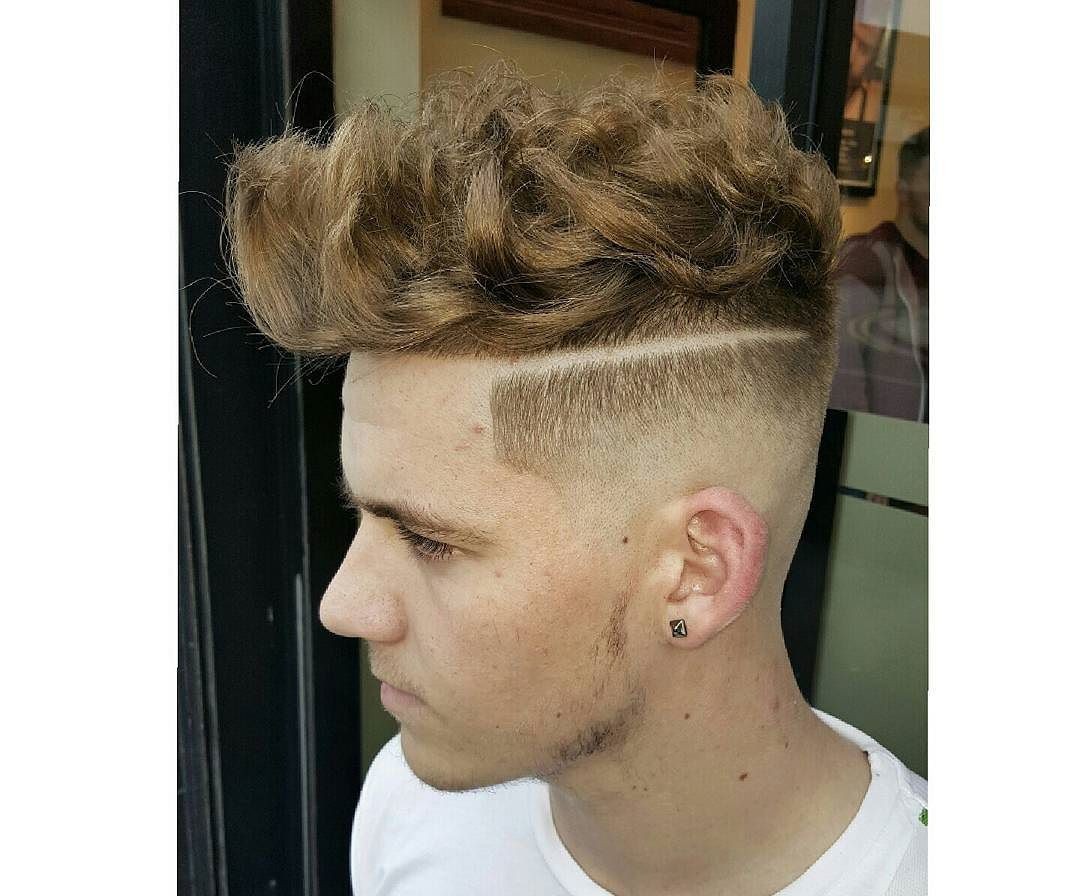 Haircut by Ryan Cullen
Taking texture to the next level, this style creates a sea of thick vertical waves. On one side, a very high fade is interrupted by a thick razor part that continues the hairline almost to the back of the head.
10. Big Pomadour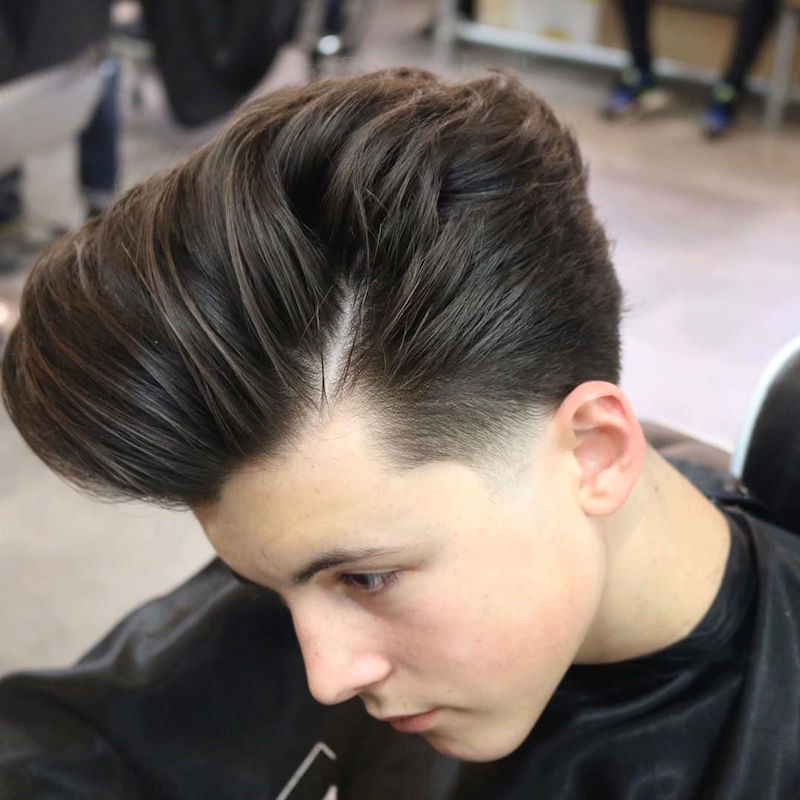 Haircut by Josh Lamonaca Hair
The only way to improve on the vintage pompadour is going bigger. The bigger, the better.
A look that only guys with thick hair can attain, this oversized pomp gets height and hold from blow drying as well as product. A slight side part adds a contrasting line to a style that is all about curves.
9. Mid Skin Fade + Medium Textured Thick Hair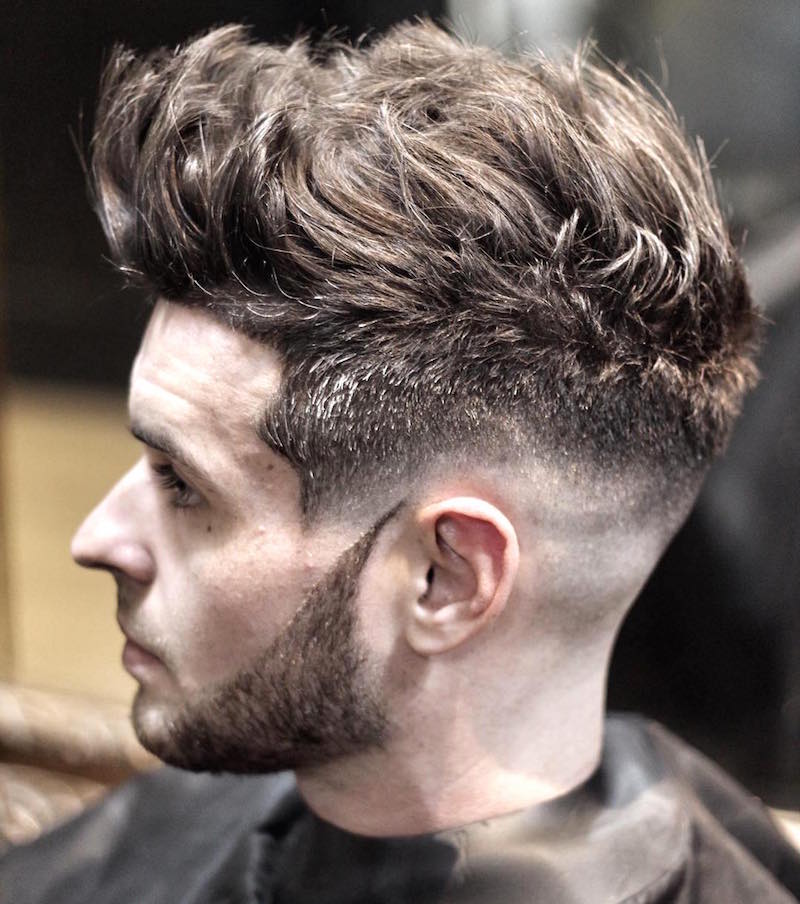 Haircut by Ryan Cullen
For guys with wavy or curly hair, the texture trend is made for you. All hair needs is a good cut and some added definition from product. Of course, the sides should be faded. This expert cut by Ryan Cullen features a low skin fade that contrasts with with sharp angle of the beard.
8. Side Hard Part + Thick Textured + Colored Hair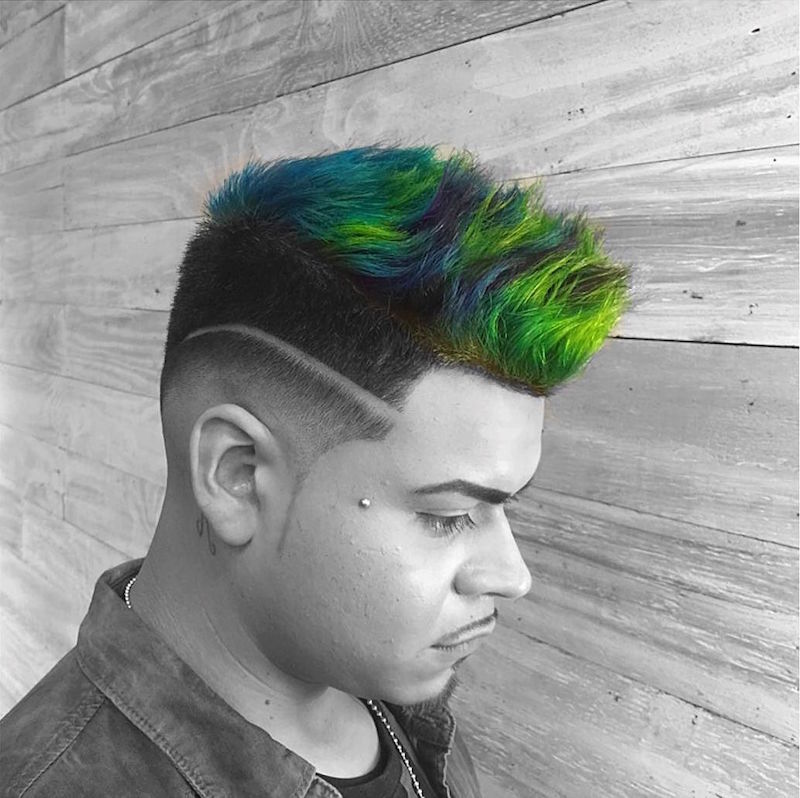 Haircut by Nicolas Perez
Color is one of the ways to get a stand out haircut that many guys ignore. This combination of neon green, electric blue and navy glow against dark hair. The arced razor fade is just icing on the cake of this bold style.
7. Thick Hair Waves + Clean Skin Fade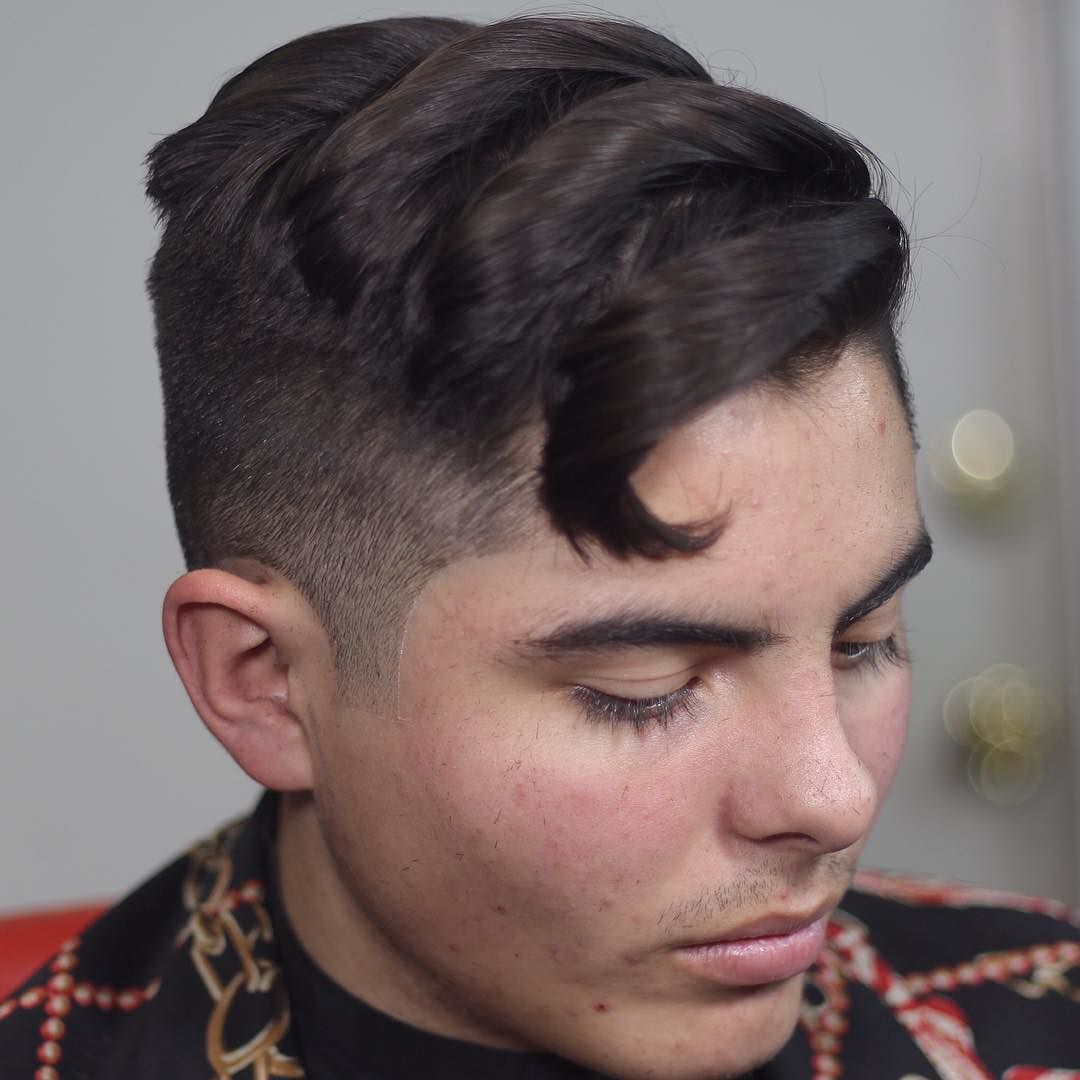 Haircut by Chris
A totally different way to add sectioned texture, this is a unique an innovative way to style hair. Long hair on top is divided into four equal parts from front to back and twisted into a cylinder. The front piece comes down over the forehead with a touch of curl. Try this unique style for guys with thick hair if you really want to set the trends.
6. Thick Wavy Hair Undercut + Long Fringe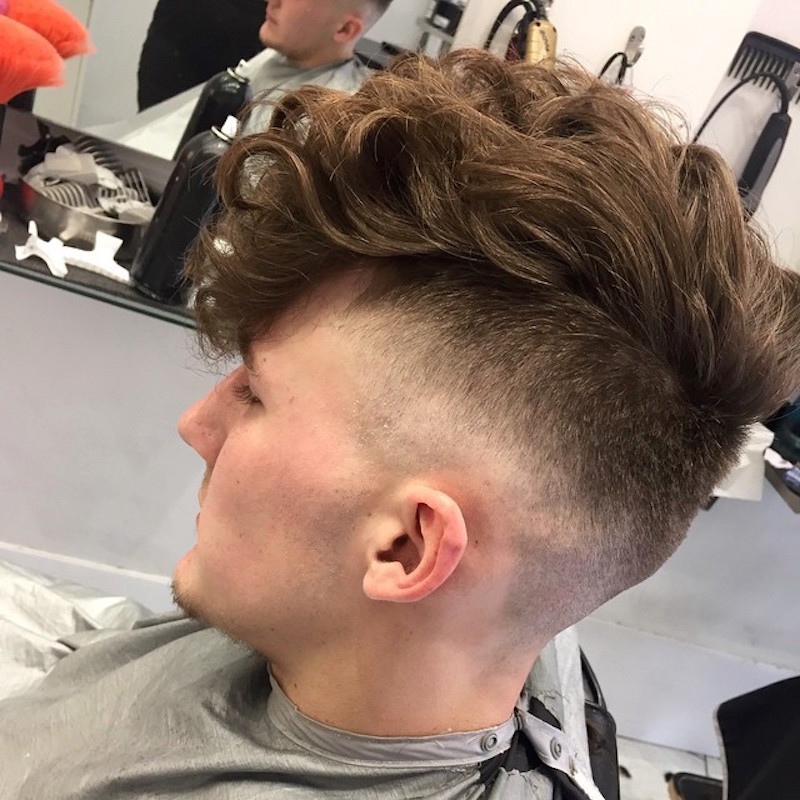 Haircut by Barber Stacey Notley
This original men's hairstyle combines several of the previous images for a textured curly faux hawk with mid bald fade. It could be the 2016 version of the jelly roll, which also culminates in curls worn down over the forehead. It might not be an everyday look but it is a great one to try.
5. Clean Fade + Textured Colored Hair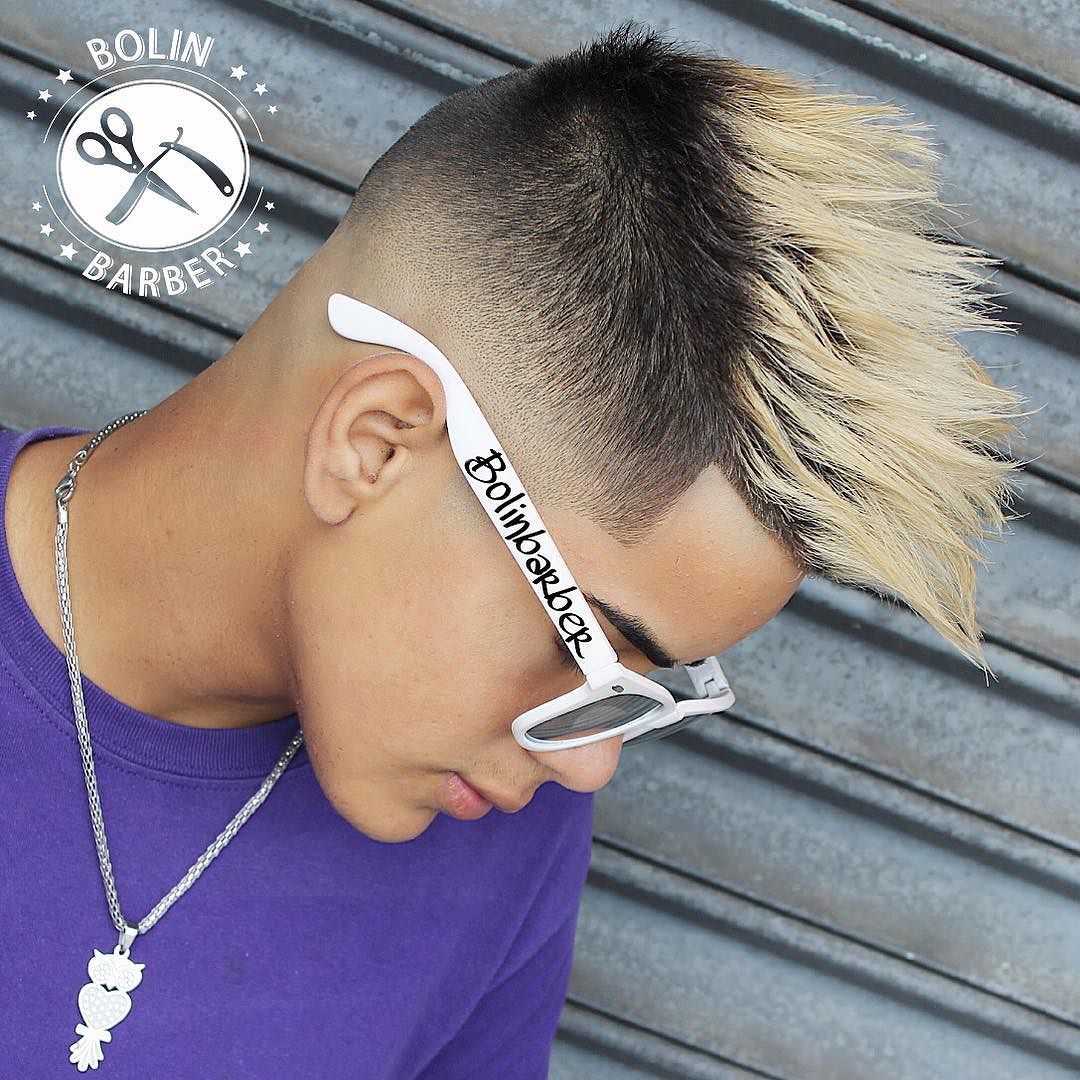 Haircut by Ivan Rodriguez Hernandez
Combining platinum and black, long and short, blur and lines, this entire look is an exercise in contrasts. On top, hair is worn in a spiky faux hawk with a line up at the forehead. A blurry mid-level fade down to the skin raises the neckline for a crisp finish.
4. Hair Design + Thick Pomp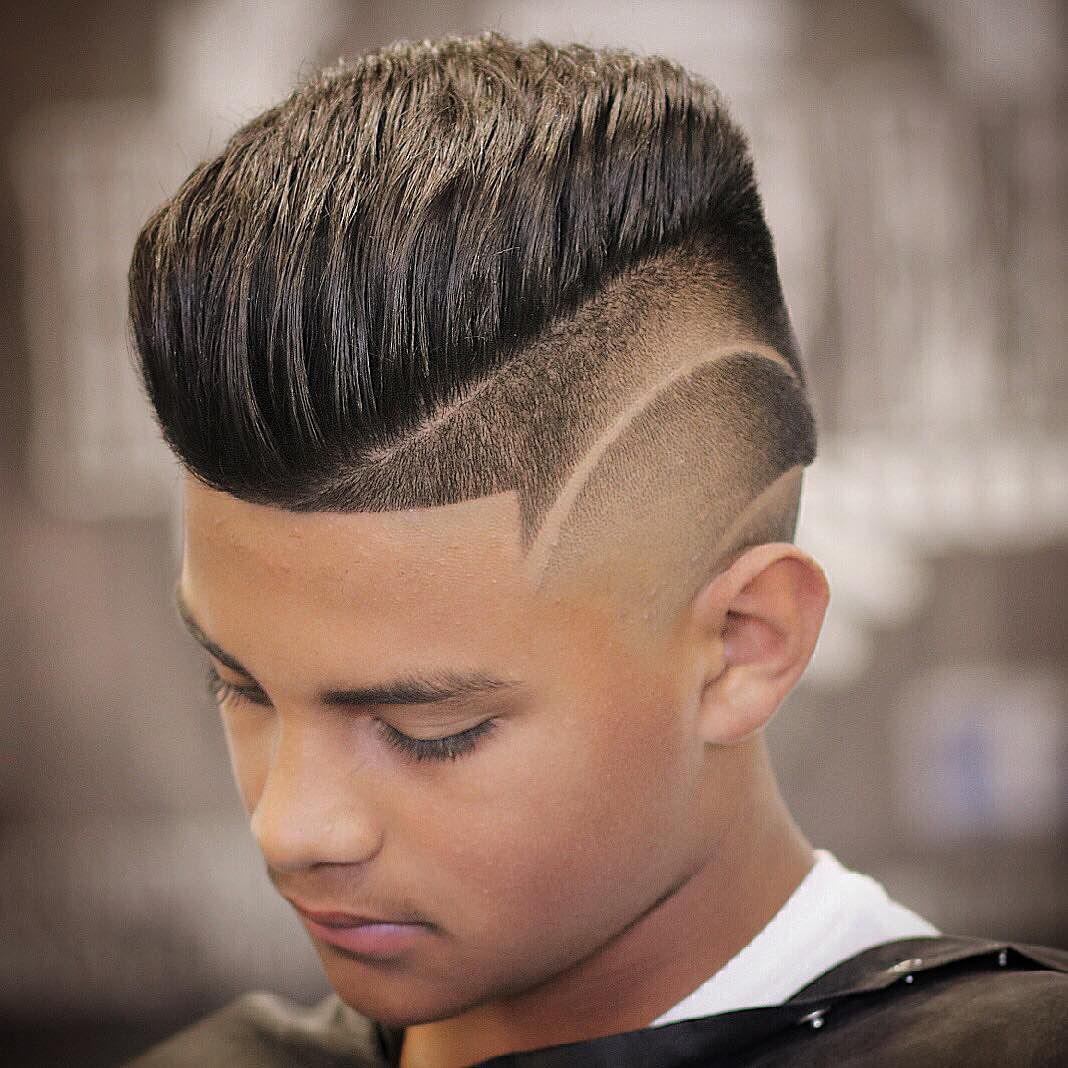 Haircut by Diego Elizarraras
Old meets new with a brushed cut up top angled hair design at the sides. Every single hair is place in this thick pomp that is combs hair up and back on the diagonal. In contrast to the softness up top, a lineup and two razor parts over a fade add geometric lines. This stand out style showcases tight barber skills as well as ultra thick hair.
3. Thick Hair Undercut + Long Fringe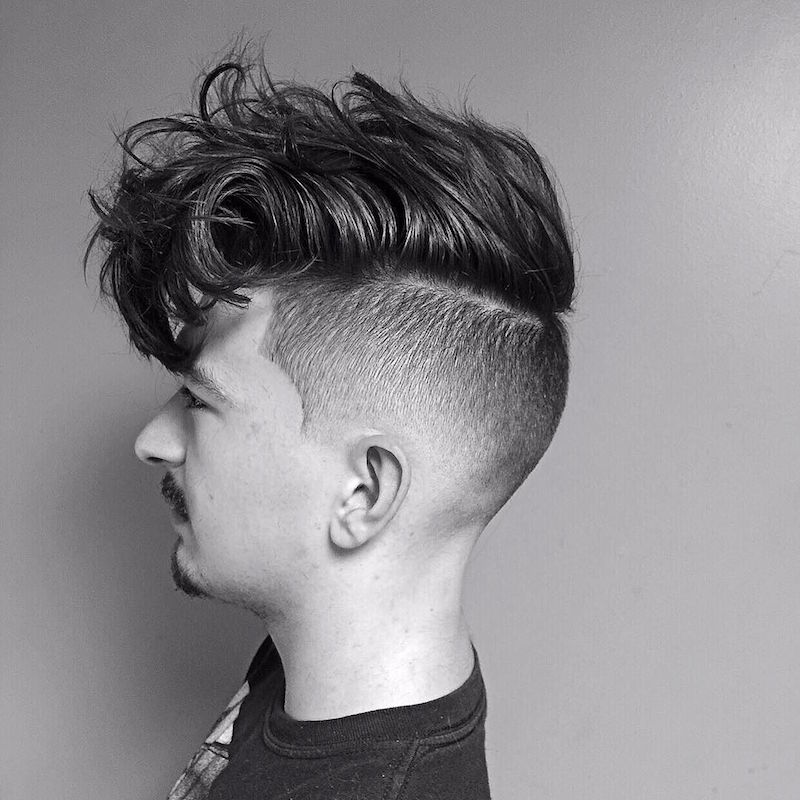 Haircut by Mikey
Another trend that we will be seeing a lot more of in 2016 is fringe. There are lots of ways to wear hair down over the forehead but this is one of the most bold. Hair is styled forward with defined wave and tousled texture. At the front, a mess of curls cascade down.
2. Long Hair On Top + Short Sides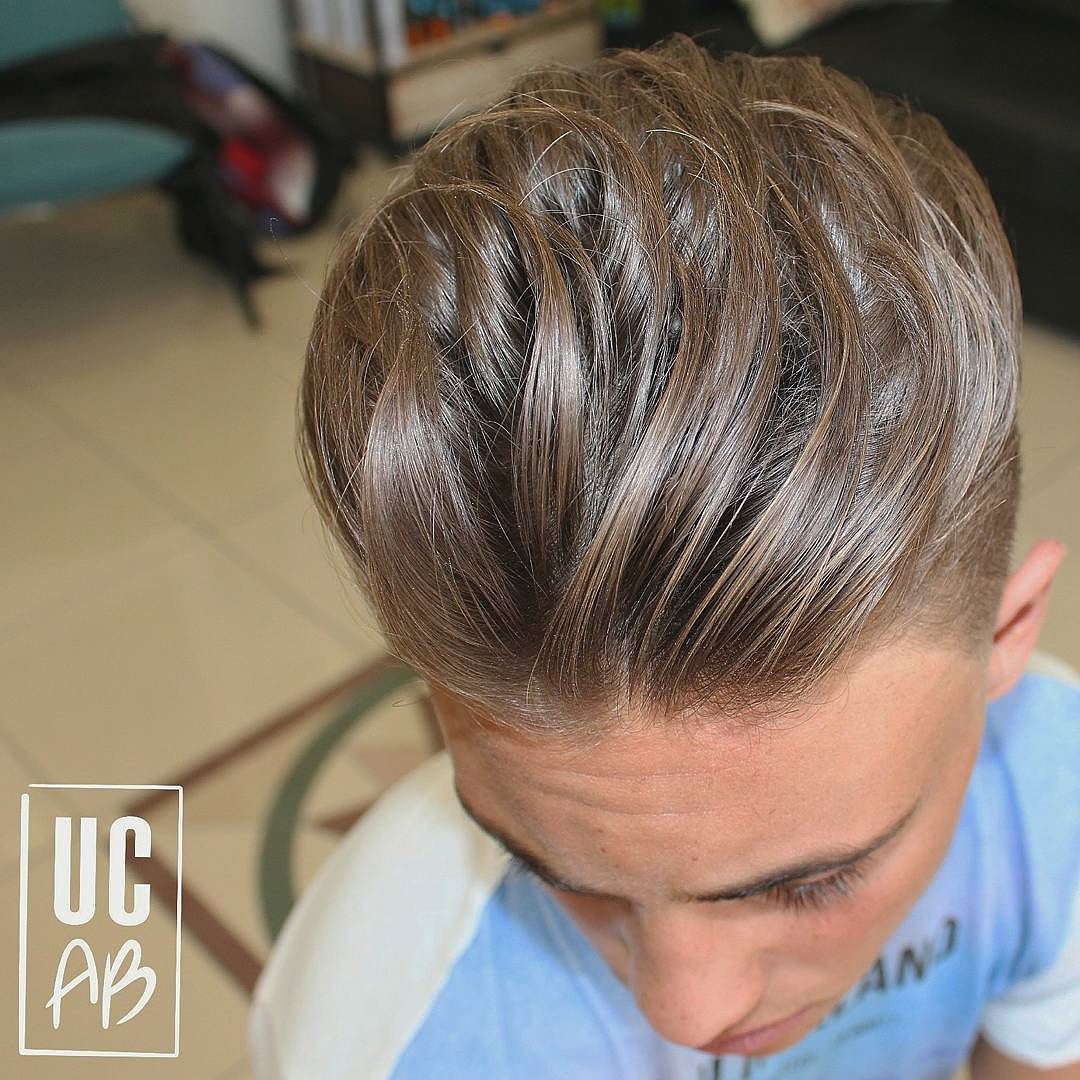 Haircut by Agus Barbe
While many of the textured styles of 2016 are somewhat messy, here's a clean cut version. This works well for guys with fine hair but plenty of it. Hair is worn back with plenty of volume. Instead of slicking it back into a seamless style, small sections are pinched into waves.
1. Thick Long Hair Styled With A Comb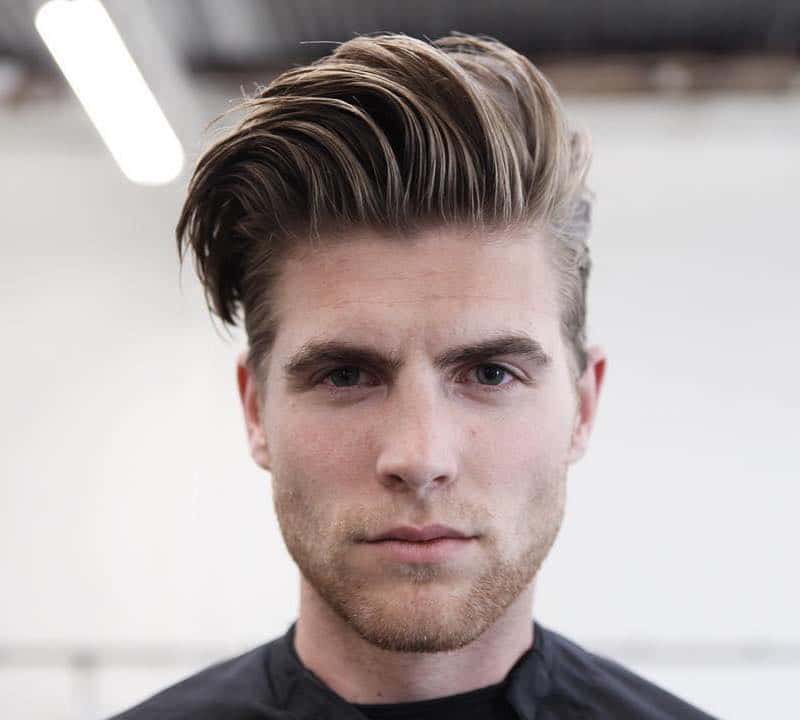 Haircut by morrismotley
For an updated version of the hipster combover, add as much volume as possible. While this hairstyle is still technically long hair worked over to one side, the addition of height and definition breathe new life into this top trend.