Check out these best haircuts for men with thick hair to get right now.
Everyone wants thicker hair but when you have it, you have to know what to do with it.
Thick hair can be coarse or wavy in ways that make it harder to control. The right cut and style eliminate these issues while making the most of thick hair.
One of the benefits of thick hair is lots of hair to work with. That means lots of volume and hair to style any way that you like.
Any men's hairstyle can work for thick hair from classic side parts to trendy textured crops. Spiky styles are also easy for this hair type and keep hair out of the eyes.
Thick Hair Men's Haircuts for Short, Medium and Long Hair Lengths
Okay, let's check out these 20 super cool thick hair men's haircuts and hairstyles.
1. Angled Fringe + Drop Fade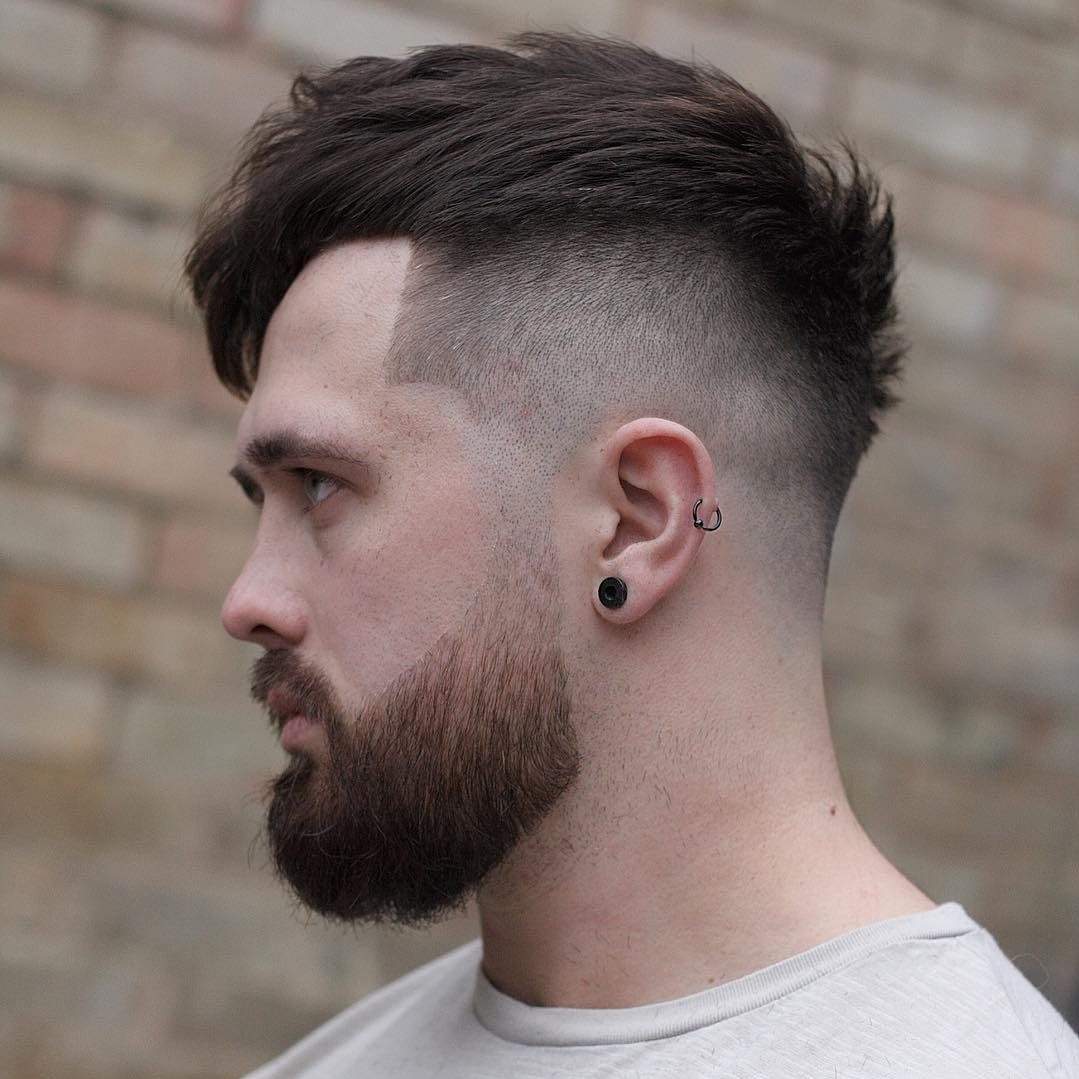 This cool style includes the popular textured crop with angled bangs and a fade that drops down at the back. The result is a seamless arc of hair when viewed from the profile and a fresh style all over.
2. Textured Crop + Bald Fade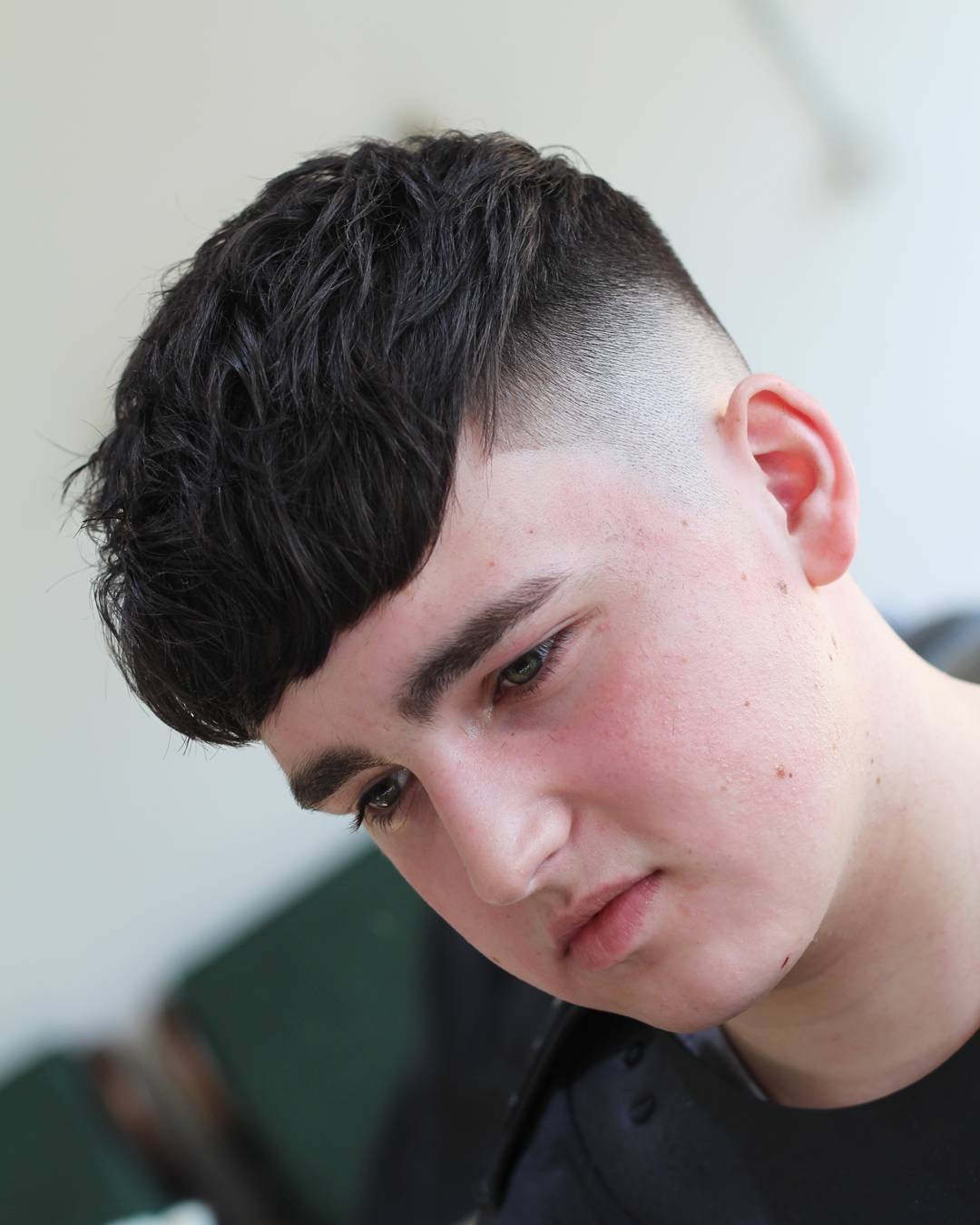 Another way to wear the crop trend, this version has blunt fringe worn straight across the forehead.
3. Comb Over Fade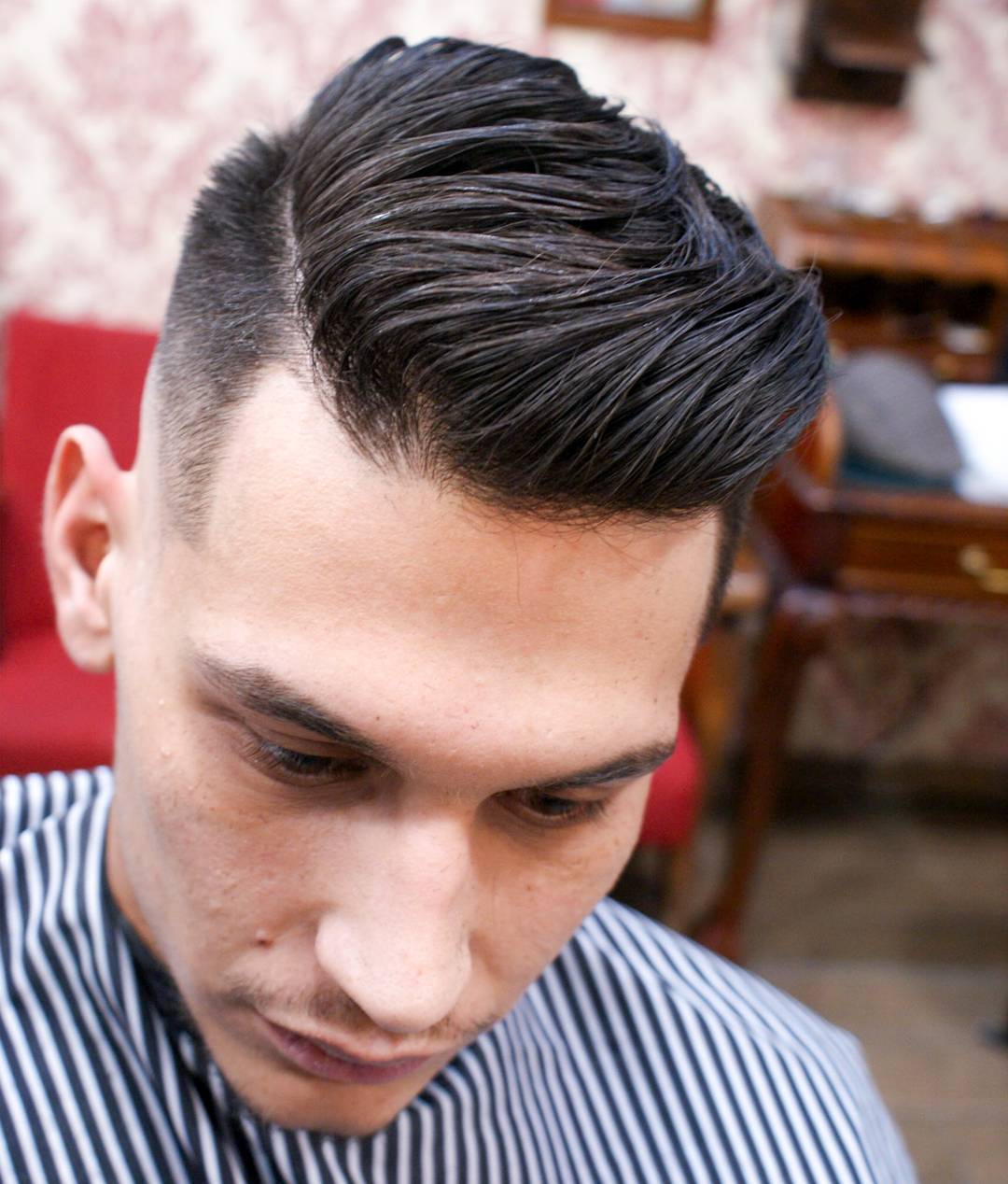 The comb over fade haircut is one of those stylish-yet-easy-to-wear looks. The sides and back are cut into a high fade so all that is left is a medium length swath of hair on top. Work some product through hair and pull it over to one side with fingers for this textured style or a comb for a more polished finish.
4. Faux Hawk Fade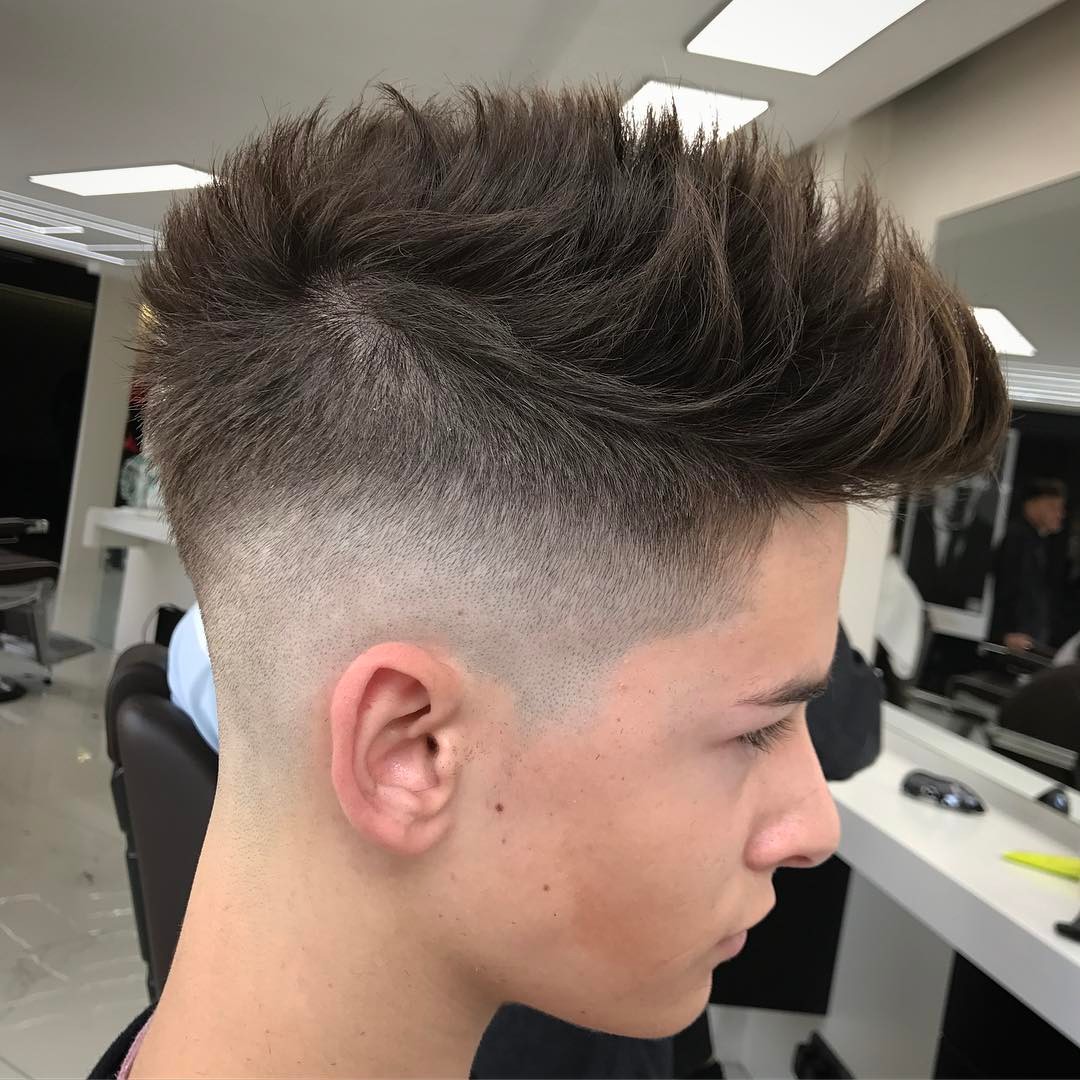 Another advantage of thick hair is it can be styled with lots of height. This wide faux hawk with a high fade dramatically contrasts full hair on top and short sides.
5. Messy Texture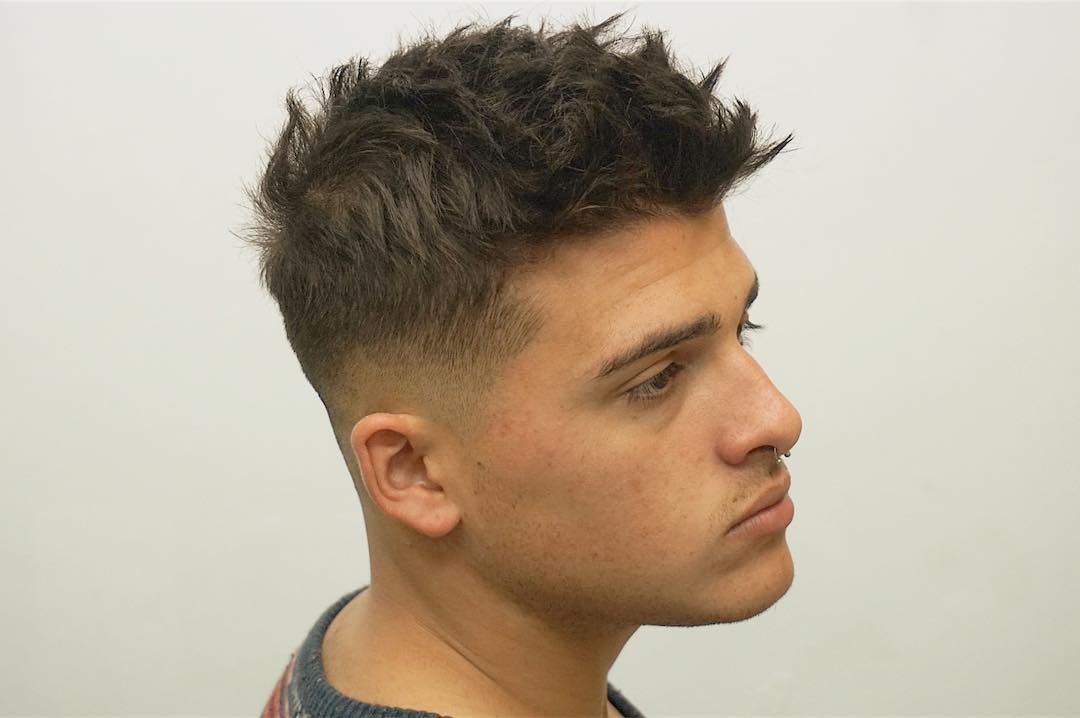 Messy styles are back in a huge with the texture trend. The cut and styling works well for thick hair, especially with some natural wave.
6. Textured Quiff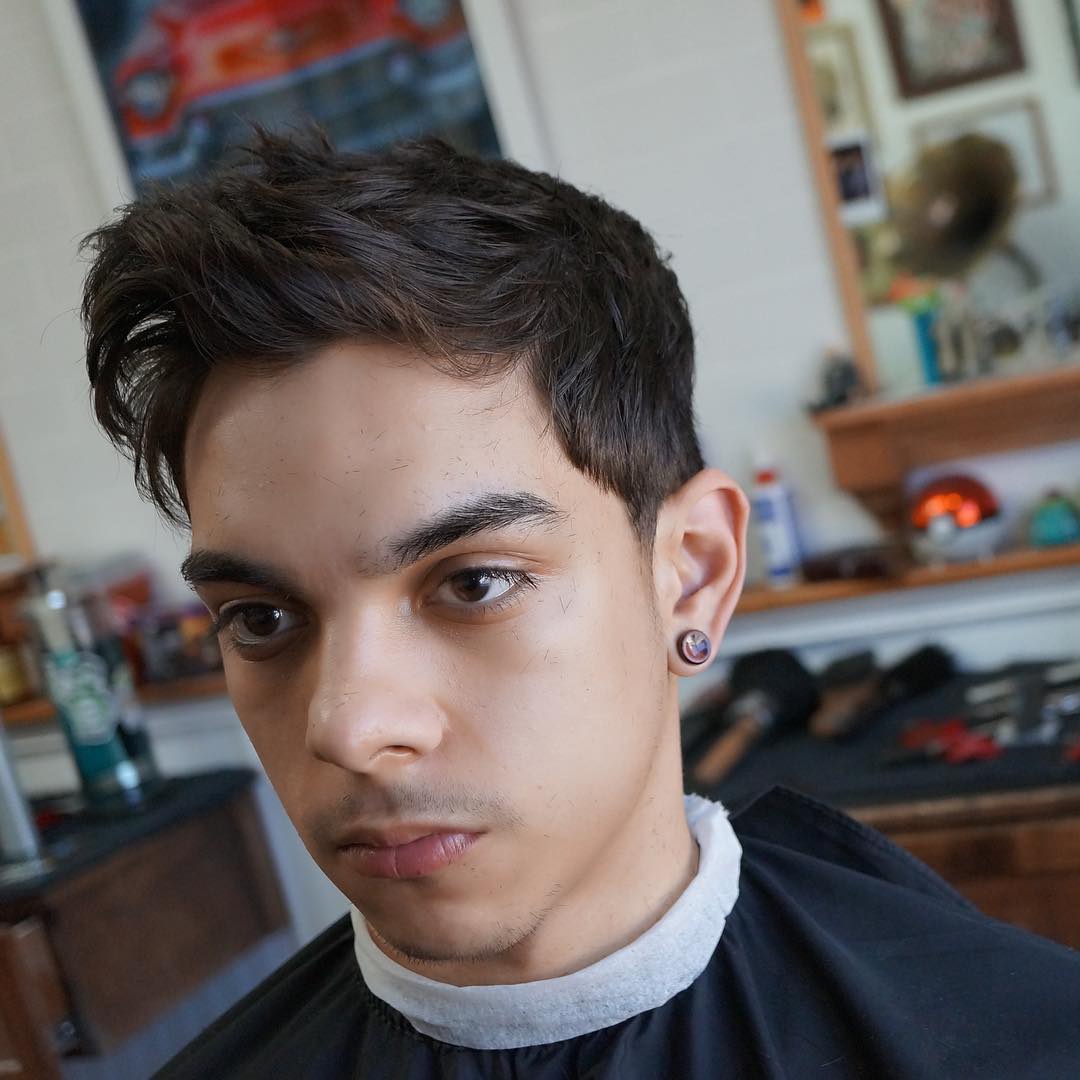 The volume of a quiff is so flattering and when worn messy, so easy to style.
7. Spikes + Mid Fade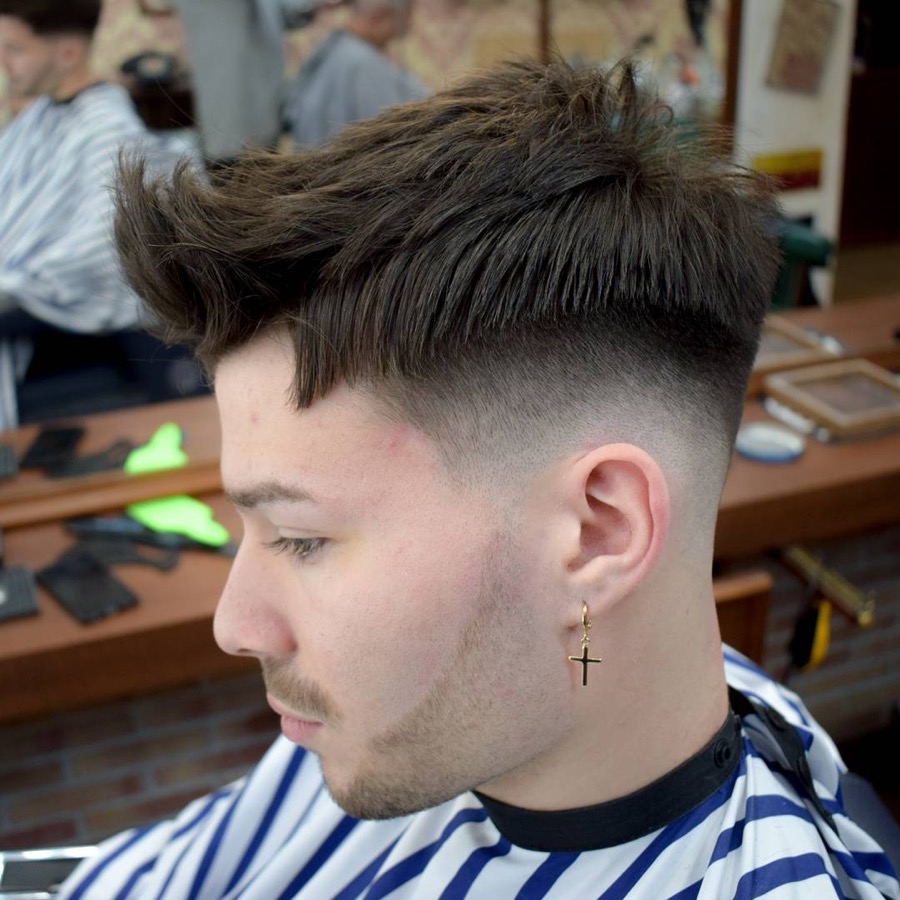 This mid fade haircut raises the natural hairline while leaving lots of weight on top.
8. Heavy Crop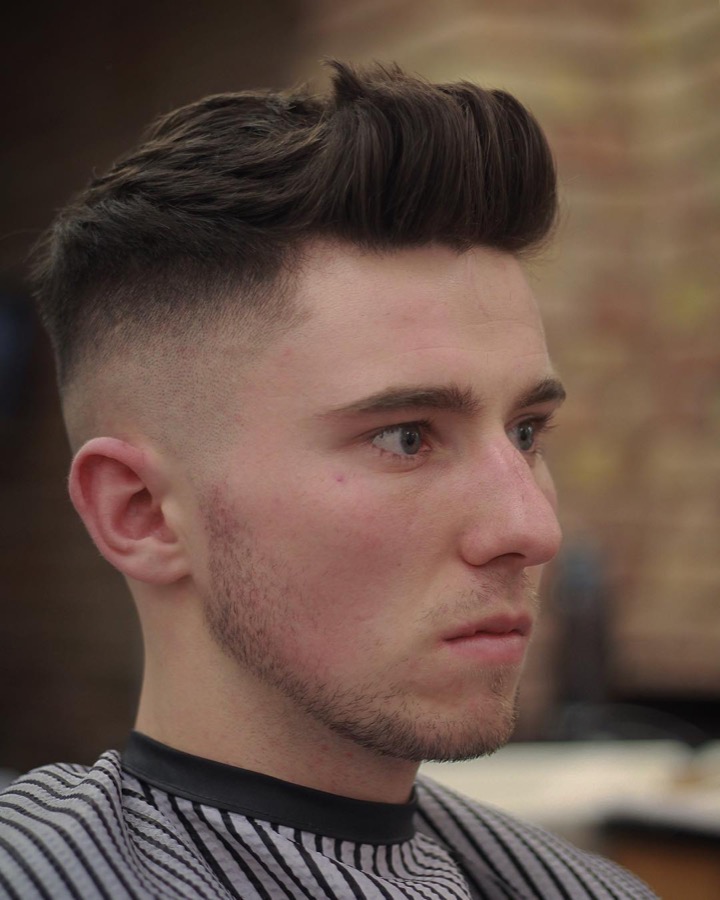 The heavy crop can be styled down into forward fringe or up into this spiky quiff.
9. Side Part Pomp + Fade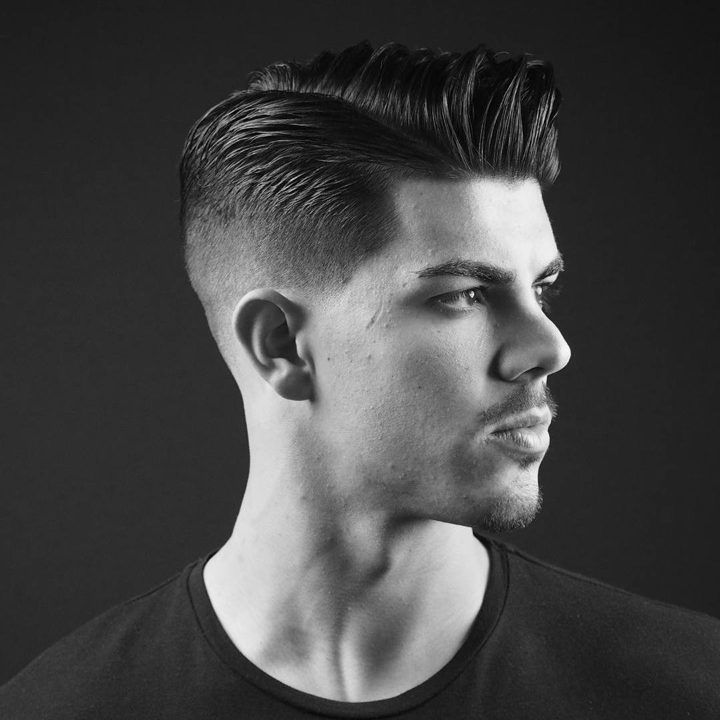 This cool look combines the height of a pompadour with a side part and fade.
10. Short Haircut for Wavy Hair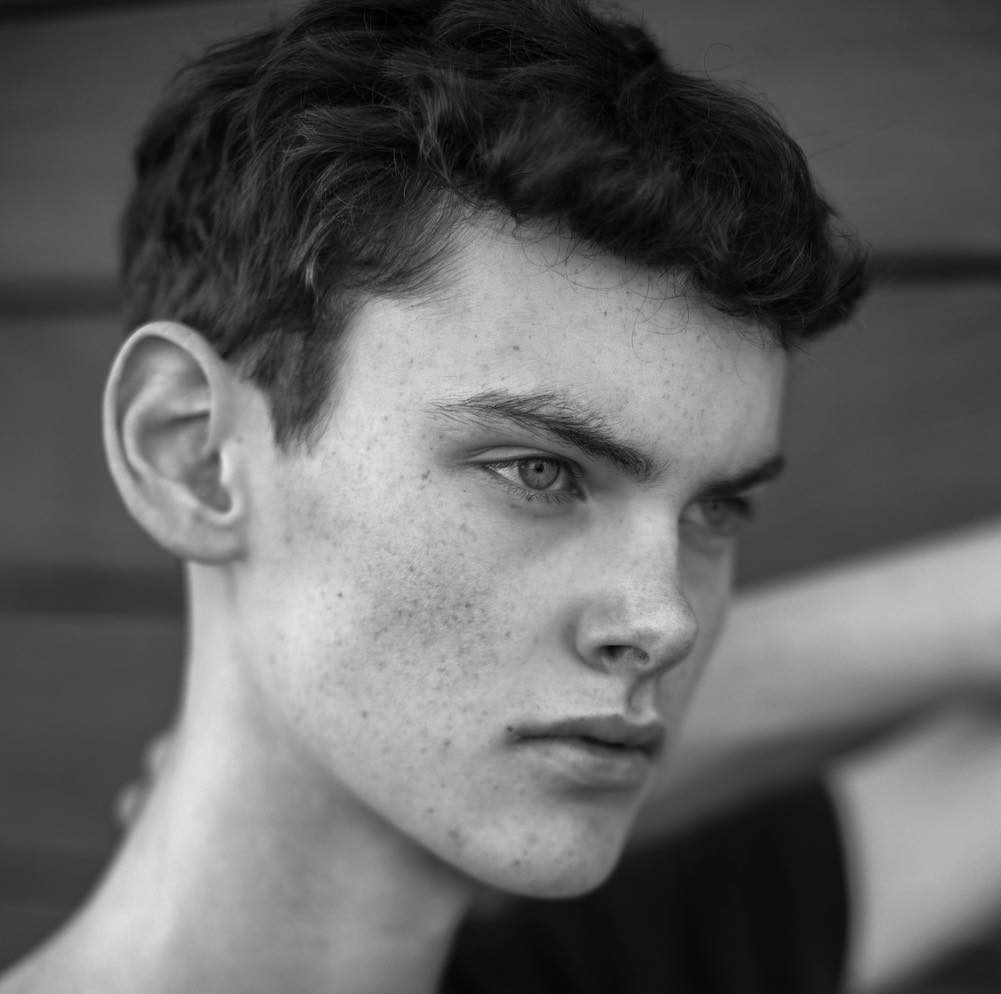 This cool short haircut for wavy hair is low maintenance while leaving plenty of texture. It can be styled into this messier style or more polished, like Justin Timberlake.
11. Textured Crop

MENSPIRE Male Image & Grooming
The short crop is an excellent choice for thick hair, leaving plenty of weight on top in easy-to-style layers.
12. Taper Haircut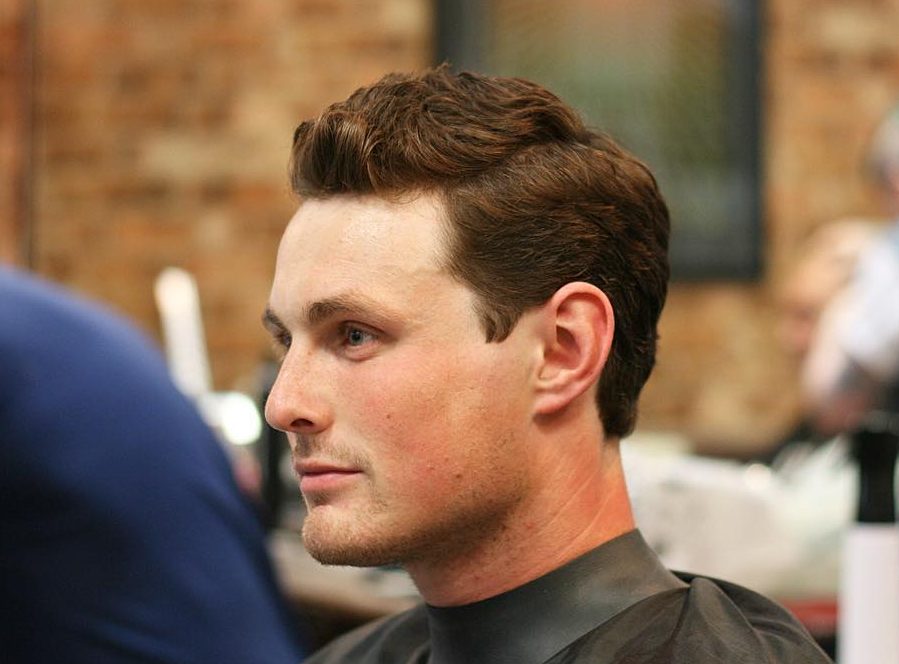 The taper trend is bringing back classic men's hairstyles like this short cut with wavy texture on top and a hint of side part.
13. Sweep Back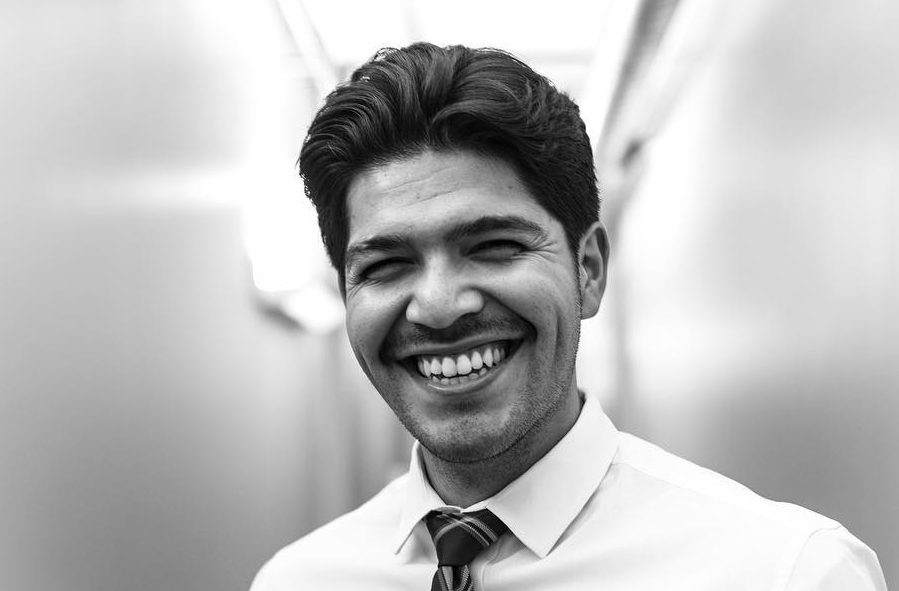 Another retro men's hairstyle that is back in a big way is the sweep back. It is the longer, looser cousin of the slick back that pulls hair back with volume, texture and a matte finish.
14. Long on Top Hairstyles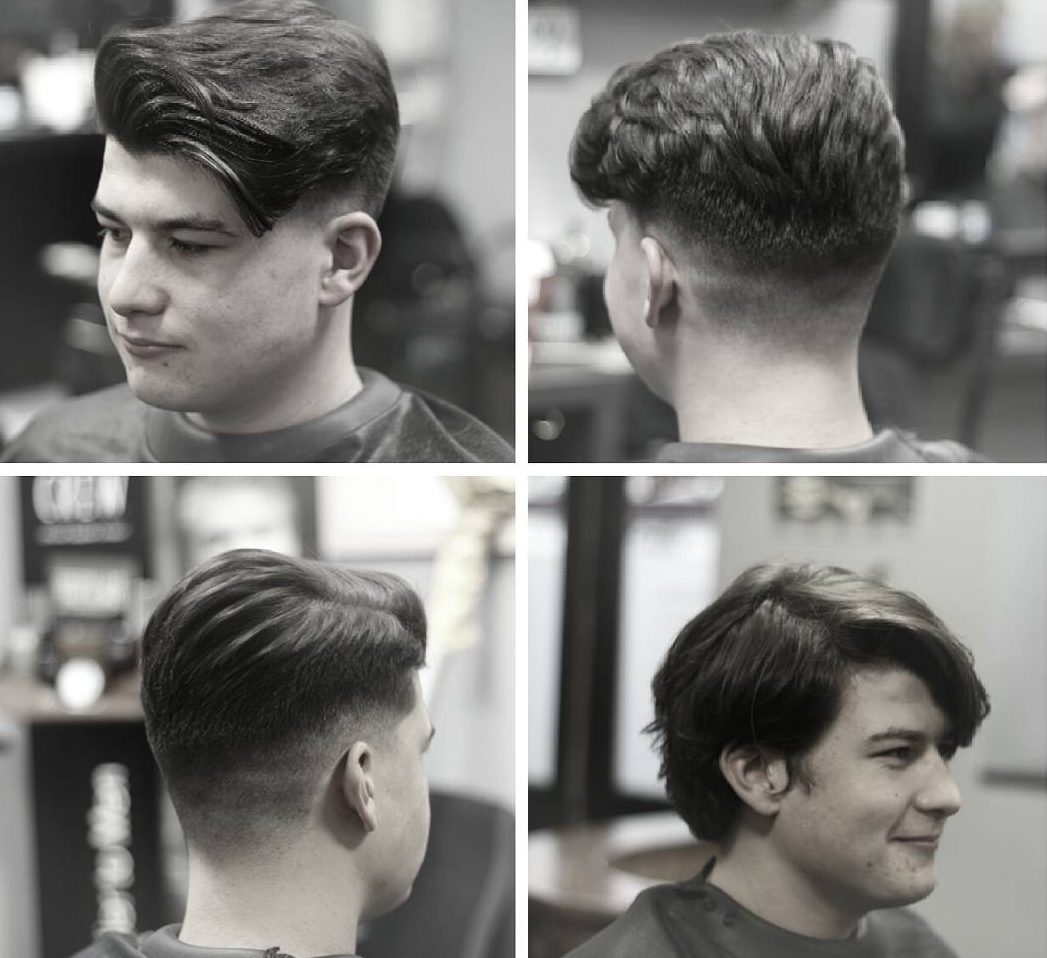 If you're grown hair to medium length or longer, this long on top hairstyle preserves most of that growth with a stylish and clean cut finish.
15. Spiky Cut for Coarse Hair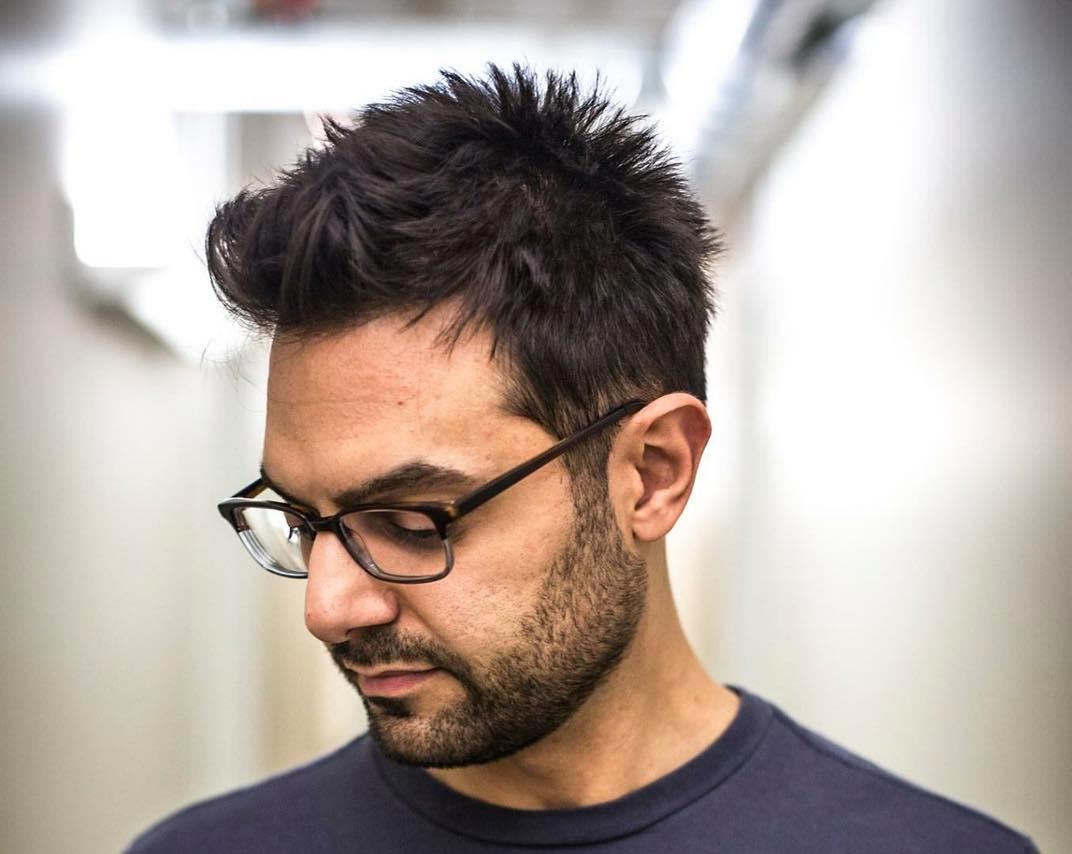 Some hair just wants to stick straight up. This spiky haircut works with that tendency, combining hair that sticks up at the back with spiky styling at the front.
16. High Fade Haircut

MENSPIRE Male Image & Grooming
This high fade cuts the sides and back short while leaving layered length on top. Hair is longest along the forehead and can be styled into this textured quiff or into a proper pomp.
17. Drop Fade Haircut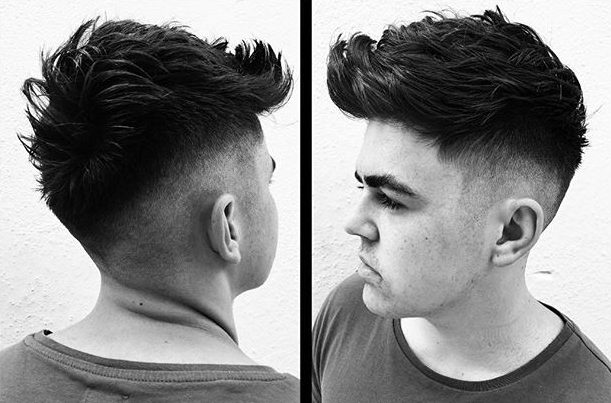 An angled drop fade creates a V-shaped neckline that works well with thick and messy texture on top.
18. Short Wavy Haircut + Fade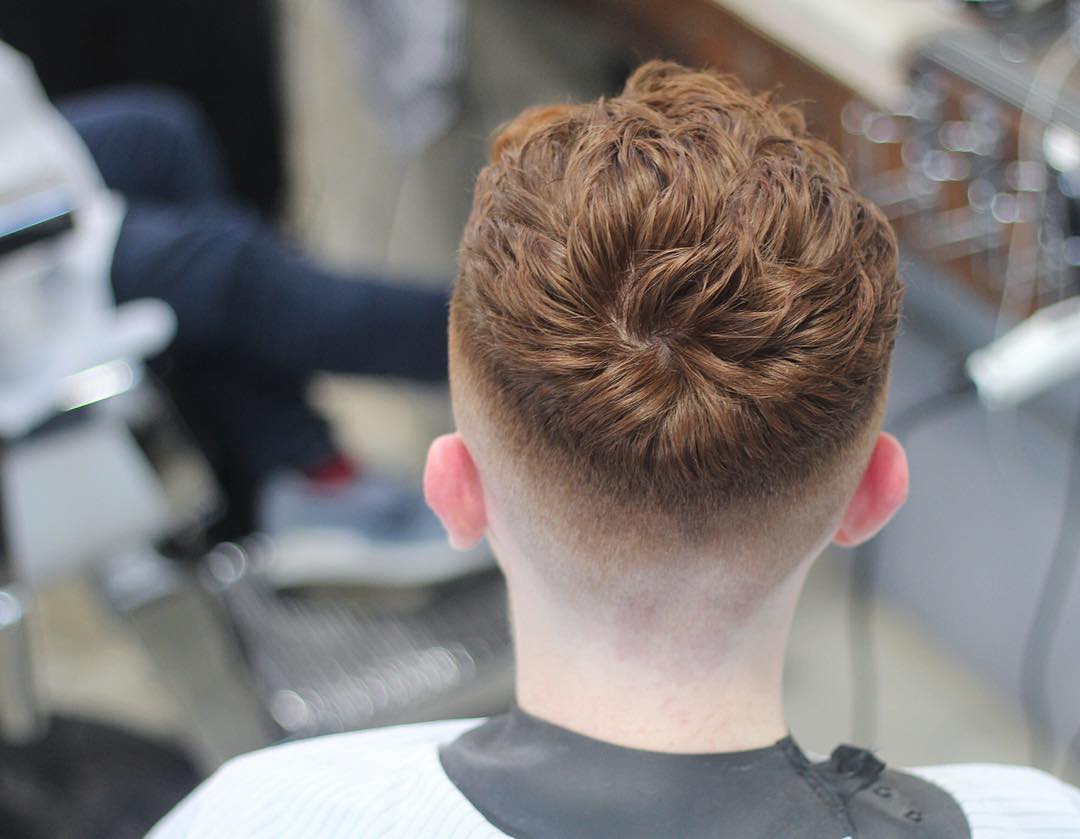 This expert fade leaves enough distance around the crown to keep hair from sticking up.
19. Side Part Hairstyle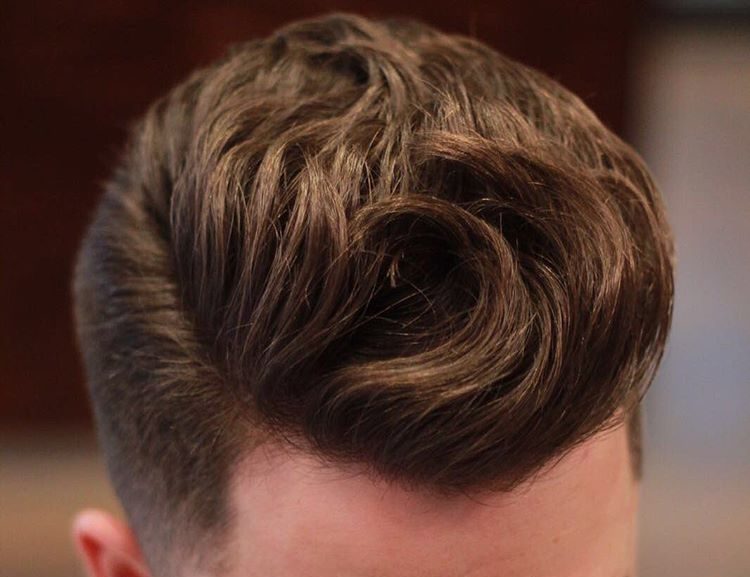 This cool side part style is a classic slick back with plenty of texture.
20. Short Hair + Temple Fade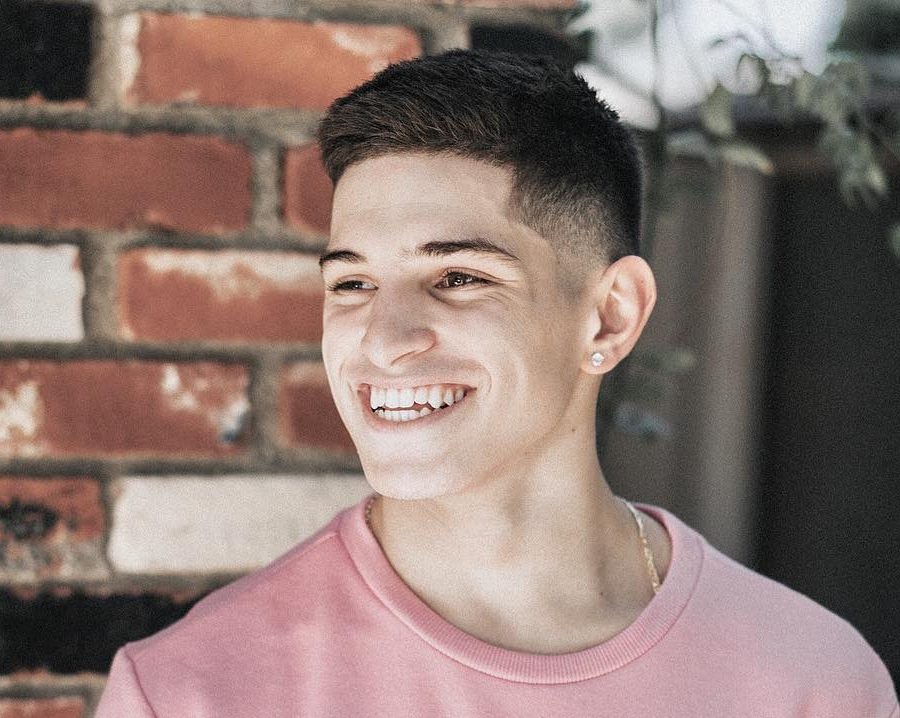 A buzz haircut isn't the only solution for thick hair. This cool cut is shaved but leaves hair longer on top with a cool temple fade and short hair at the sides.
21. Cool Medium Hairstyle For Thick Hair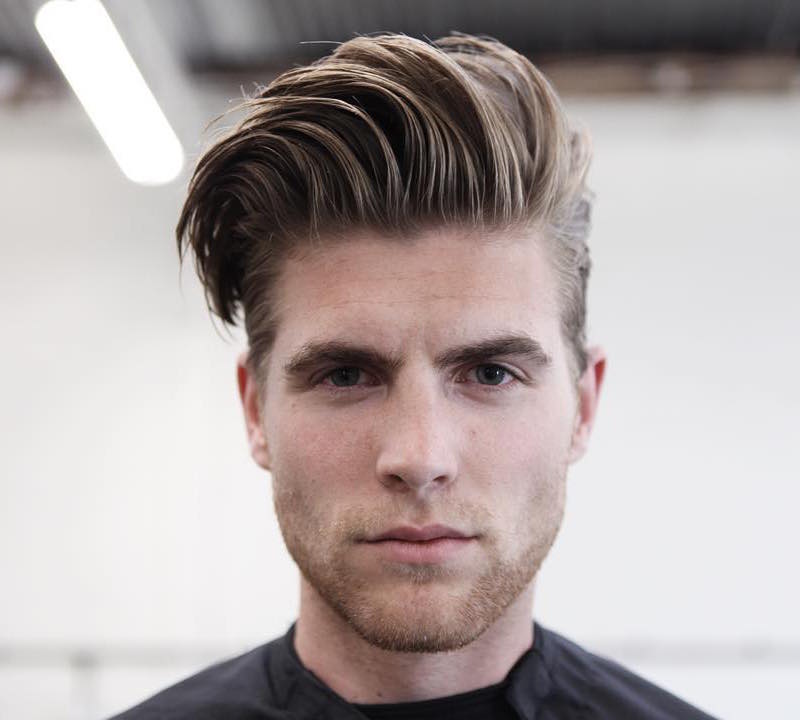 Haircut by Morris Motley
This is a very cool hairstyle to get if you have medium length thick hair. If your hair is short, grow it out the top and fringe (bangs) in front.
To get this look blow dry your hair until it is just slightly damp. Work a small amount of stronger hold pomade evenly into your hair and use a wide-tooth comb.
22. Medium Men's Haircut For Thick Hair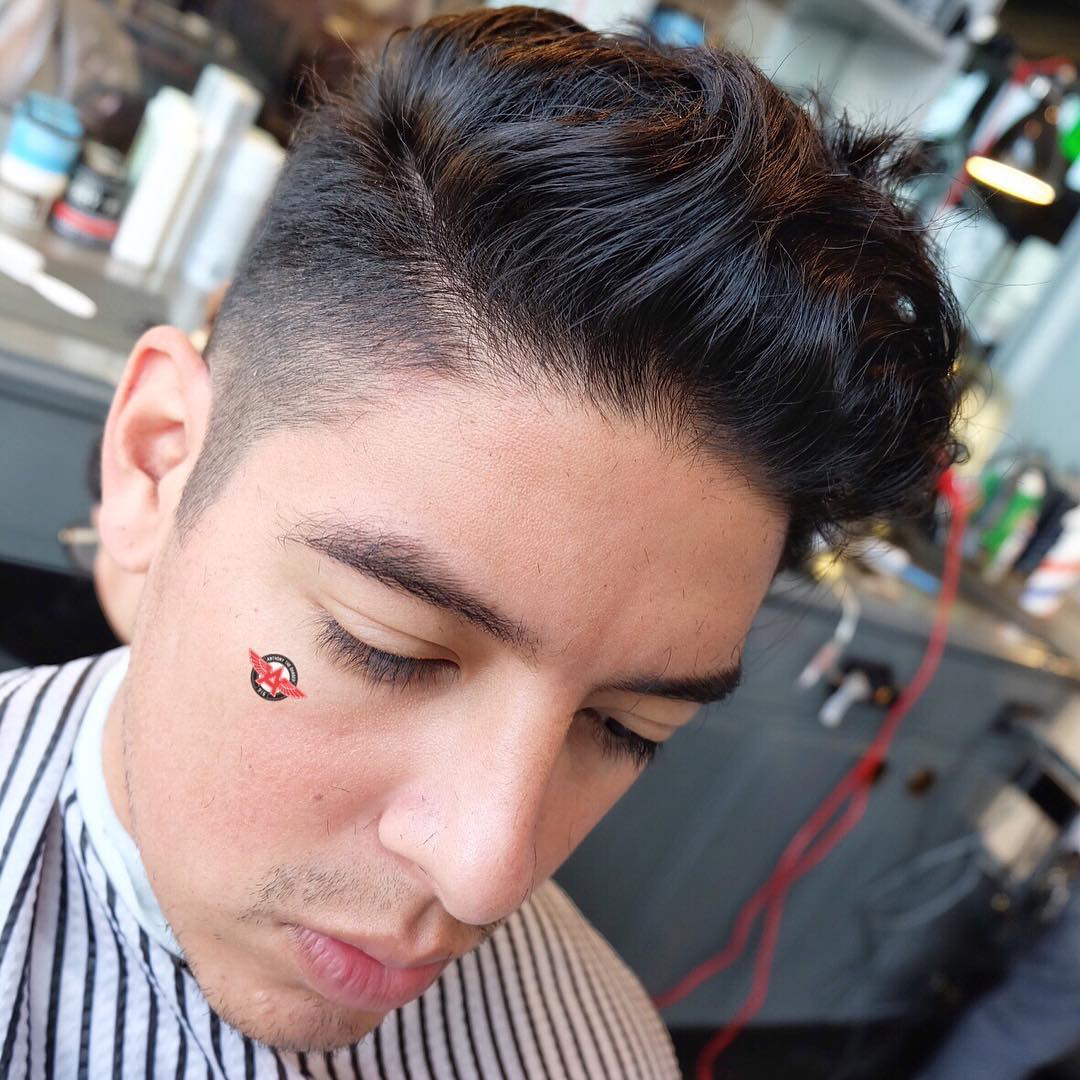 Haircut by Anthony Giannotti
This is a very popular men's haircut right now. A mid fade with medium length hair on top. To style use a blow dryer. It will give you that extra volume and body. Brush the hair back and also to both sides. Repeat. Keep brushing while using the blow dryer. When dry, use a medium hold matte finish pomade to keep the hair in place and styled front to back.
23. Cool Haircut For Thick Wavy Hair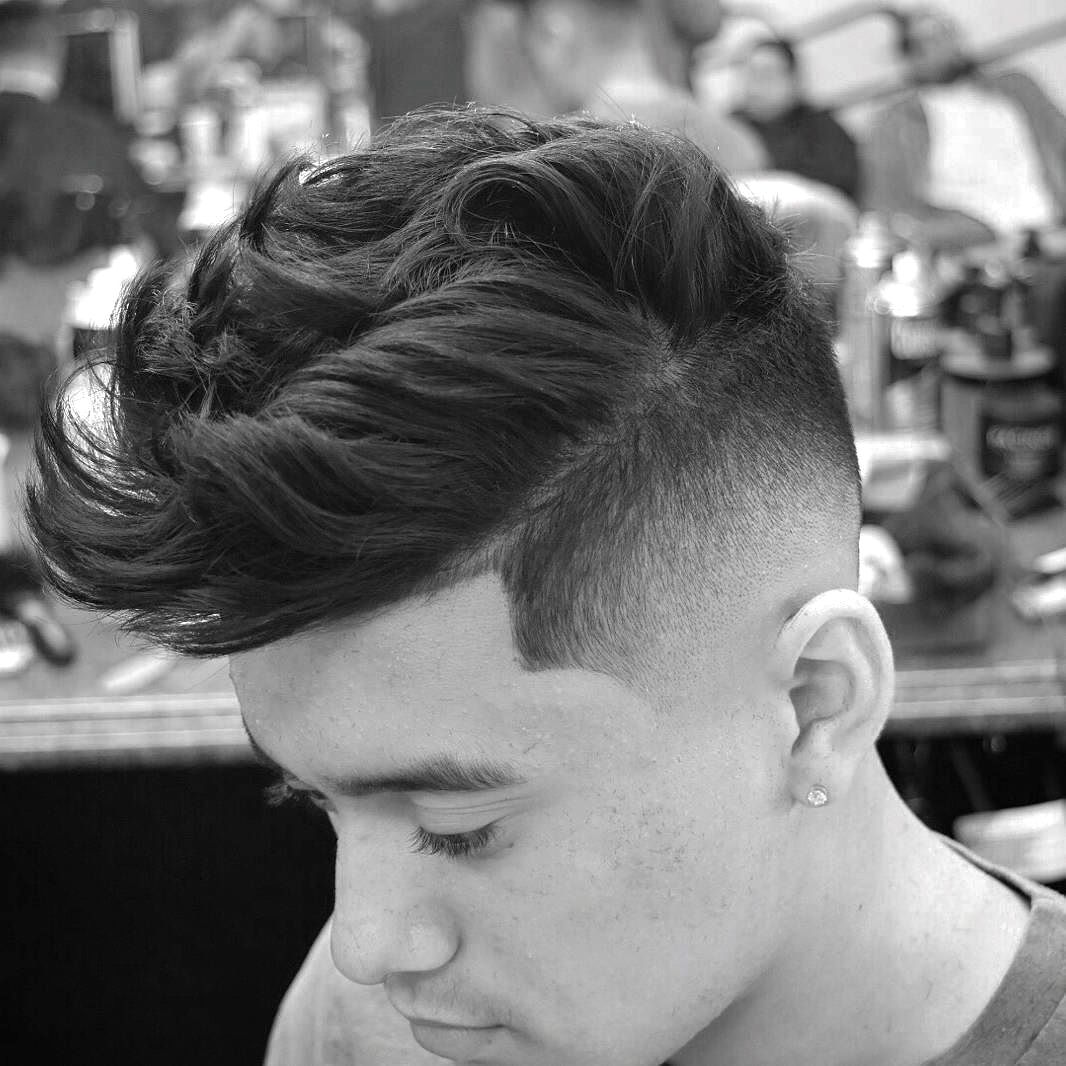 Haircut by Official Barber Club
This is a cool looking medium length quiff hairstyle with a super clean high skin fade. Use a blow dryer to add some volume to the wavy hair and use a small amount of medium hold pomade to keep the waves in place.
24. Cool Long Hairstyle For Guys With Thick Hair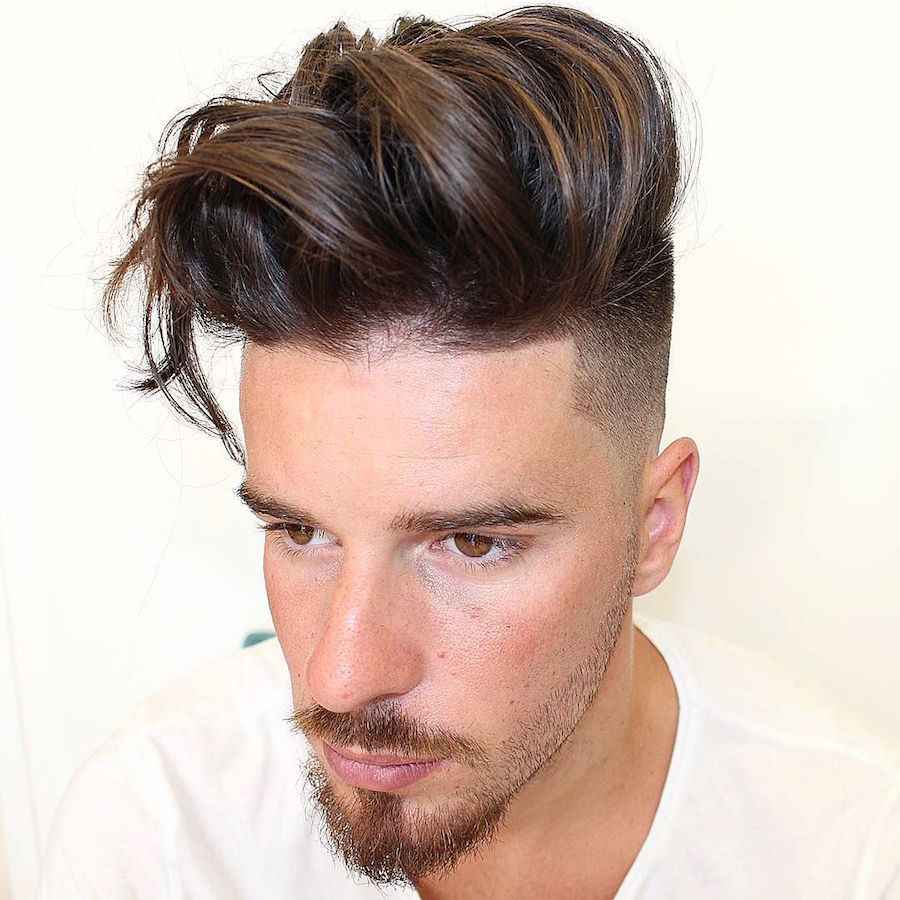 Haircut by Agus Barber
If you want to grow your hair out and go for a long hairstyle this is a cool option. It features a high skin fade, a clean shape up around the hair line and a good length of hair on top. It's pretty much an undercut given the hair on the sides is almost the same length being faded very very short. Blow dry your hair to the side using a brush. When dry you can use a touch of medium hold pomade to keep in place.
25. Slicked Back Men's Hairstyle For Thick Hair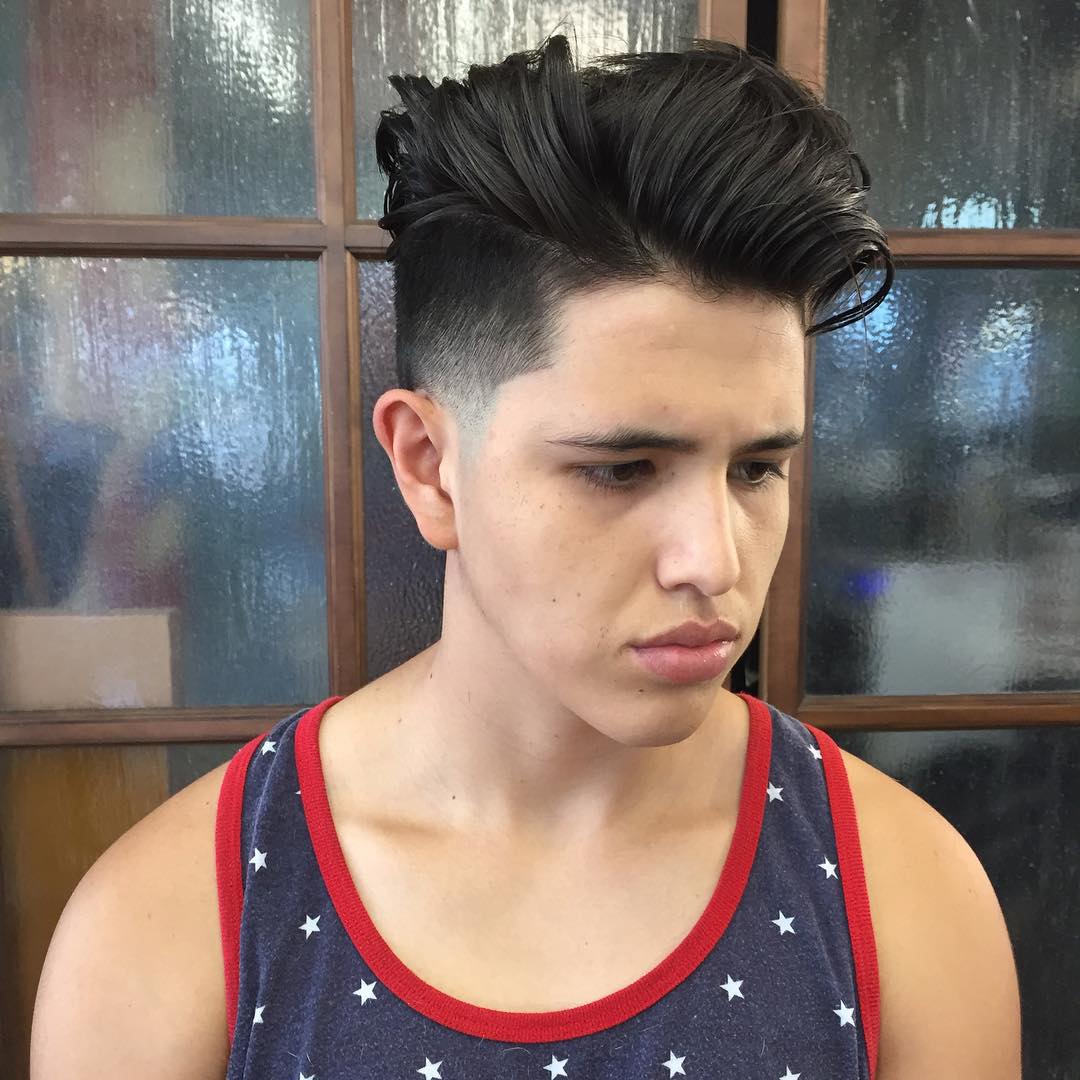 Haircut by Wormatron
This is a great haircut and hairstyle for guys that have thick wavy hair. Similar to the last haircut it is a high skin fade almost the same length from the ears to higher up on the sides but this cut is not showing as much skin overall. To style blow dry to get that crazy messy volume and look. Separate the hair on the side to create that part. Use product to keep in place.
26. Thick Hair Pompadour Hairstyle + Bald Fade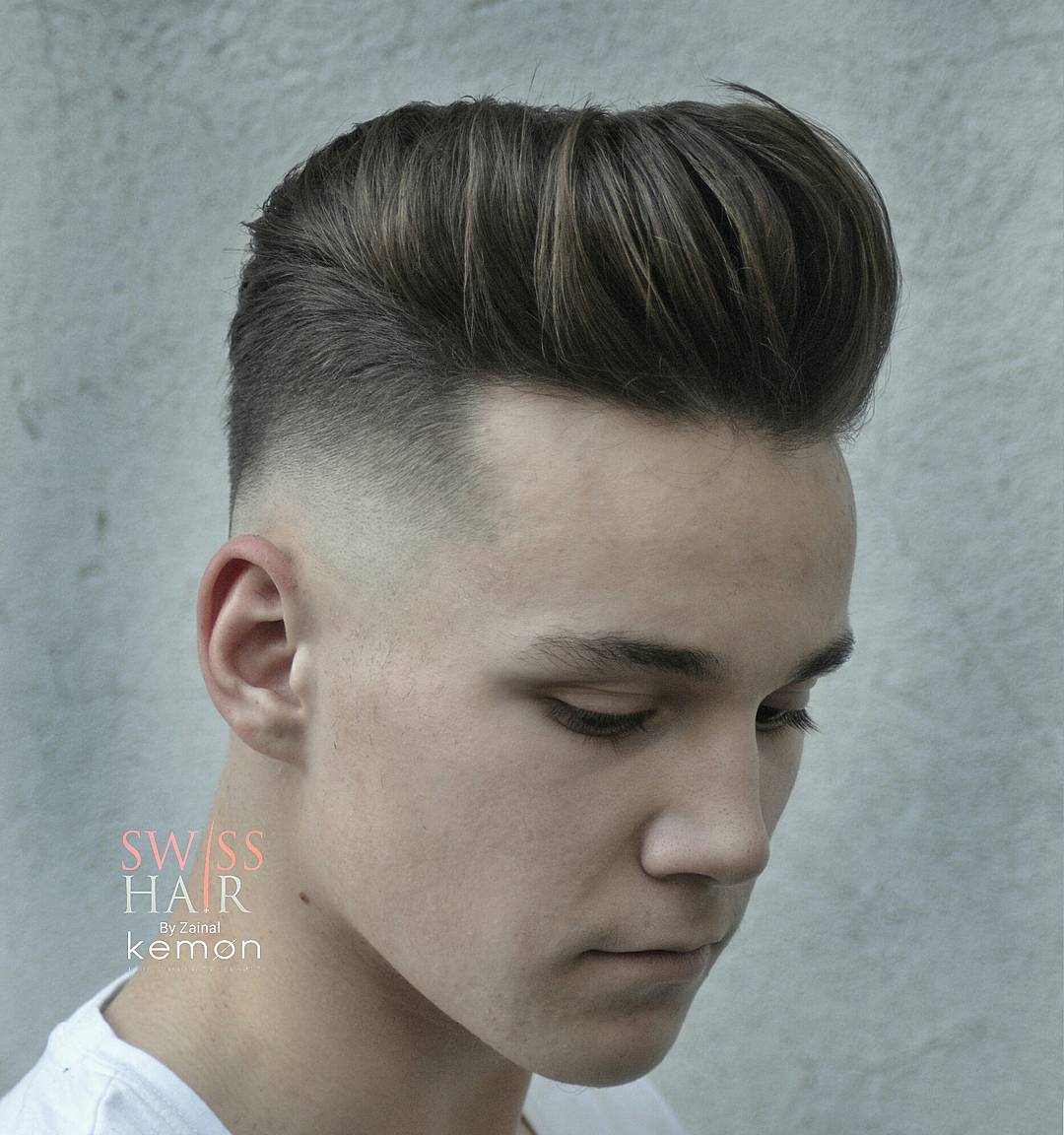 Haircut by Zainal
A very clean looking pompadour hairstyle for men. The barber has put the focus on all that thick hair on top with a bald fade down low. To style use a blow dryer and brush the hair up and back and to the sides. Use a medium to stronger hold pomade to keep that pompadour in place. Awesome super slick look.
27. Short Textured Thick Hairstyle + Low Bald Fade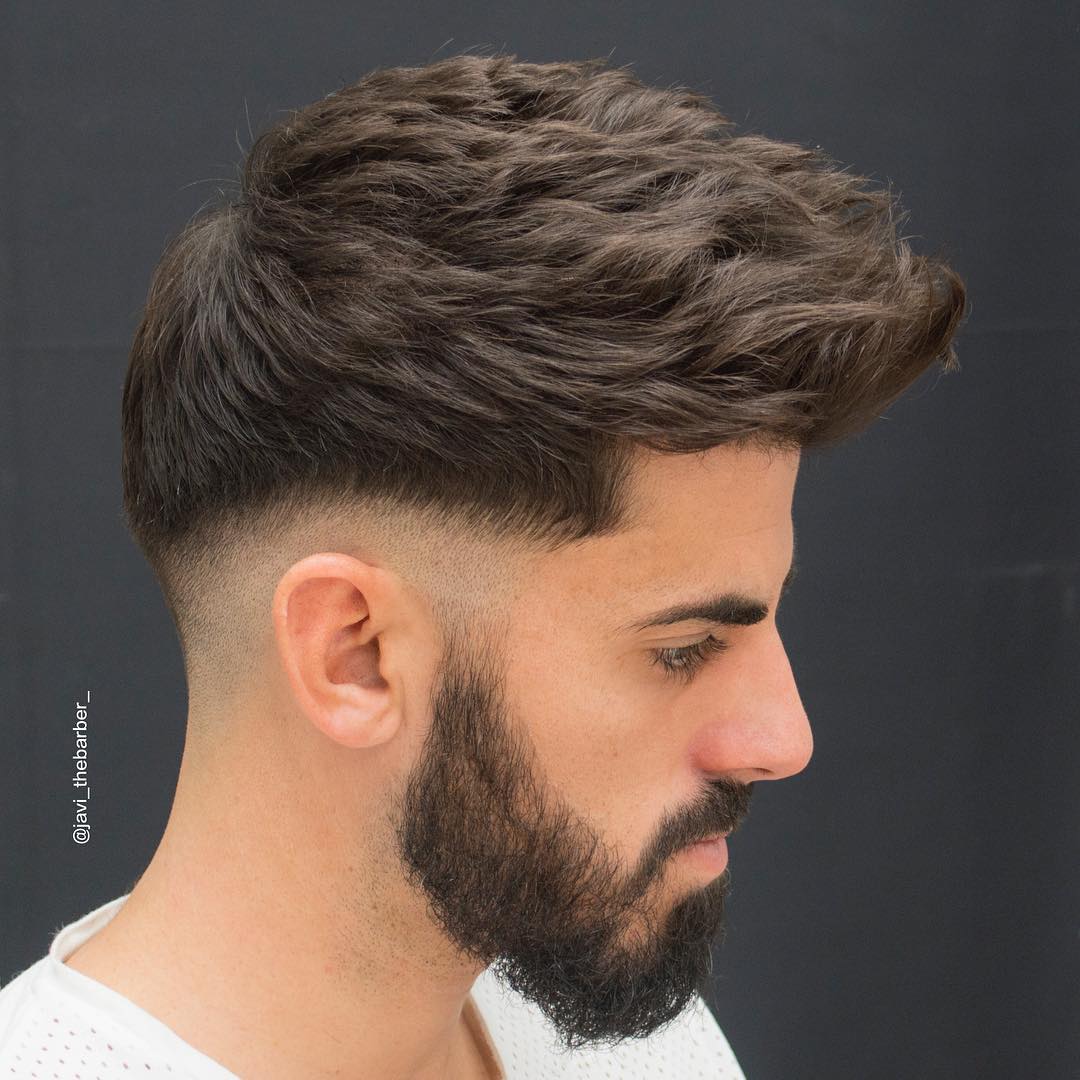 Haircut by Javi The Barber
He is at it again creating some cool looking masterpieces. This look features a low bald fade, disconnected beard and a forward flowing textured quiff. A great option for guys that like to keep their hair short. Blow dry and then work some pomade into the hair evenly from back to front to bring out the movement of the textured hair.
28. Classic Short Haircut For Men With Thick Wavy Hair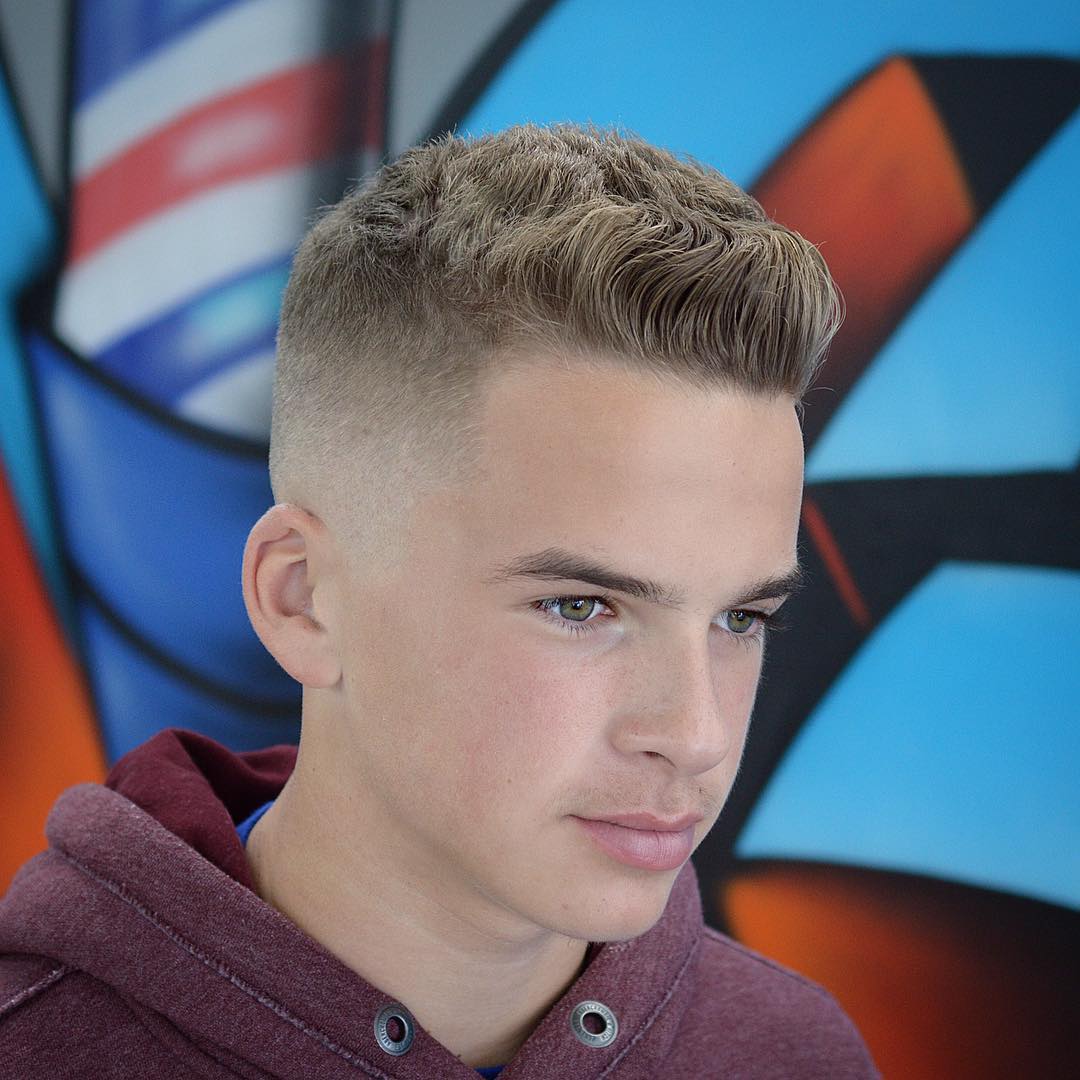 Haircut by Andy Authentic
Andy Authentic is one of the true masters at creating amazing modern classic men's haircuts. If you want to keep short hair go for a timeless haircut like this. Perfect for guys that have thick wavy hair. It will never go out of style and will always look good. This haircut features a high skin fade and is blended perfectly into the short hair on top. Towel dry or blow dry and use a small amount of pomade to bring out the natural waves and flow. Awesome work Andy!
29. Long Thick Hair On Top + Short Sides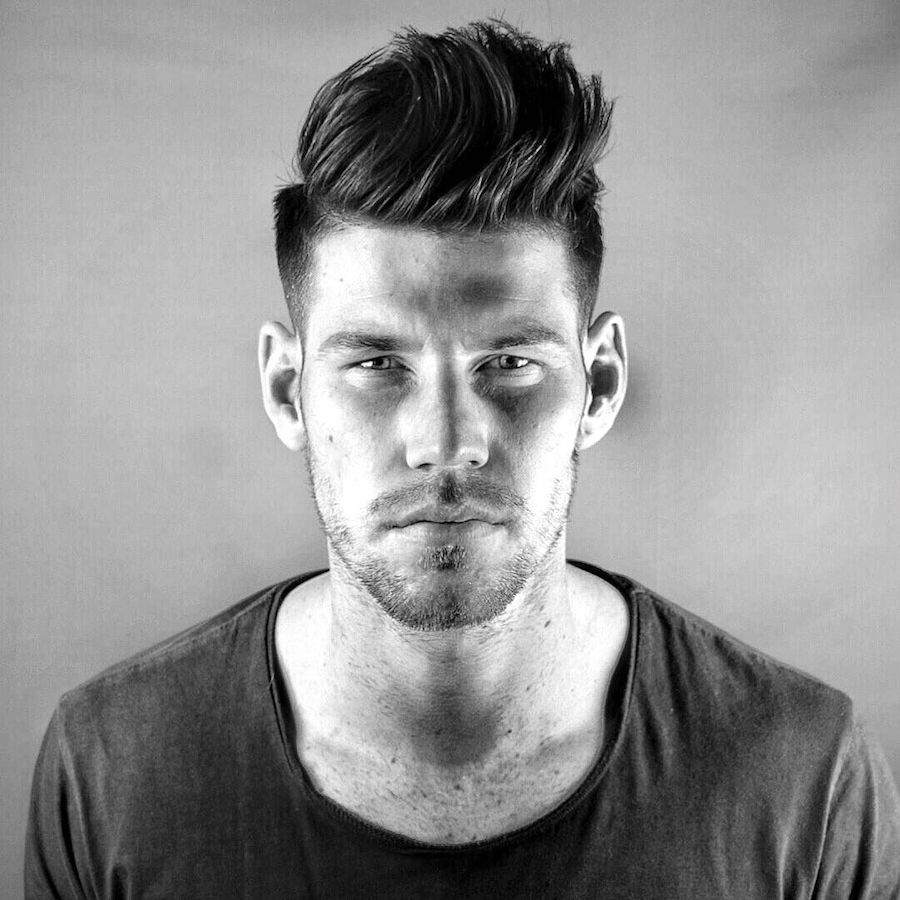 Haircut by Dean Marshall Braid
A very wild longer hair (on top) look for thick hair. Sides are cut short but not right down to the skin. To get that hair on top standing tall blow dry it in all directions with a brush. Use a medium hold pomade to keep it in place.
30. Medium To Long Hairstyle For Men With Thick Hair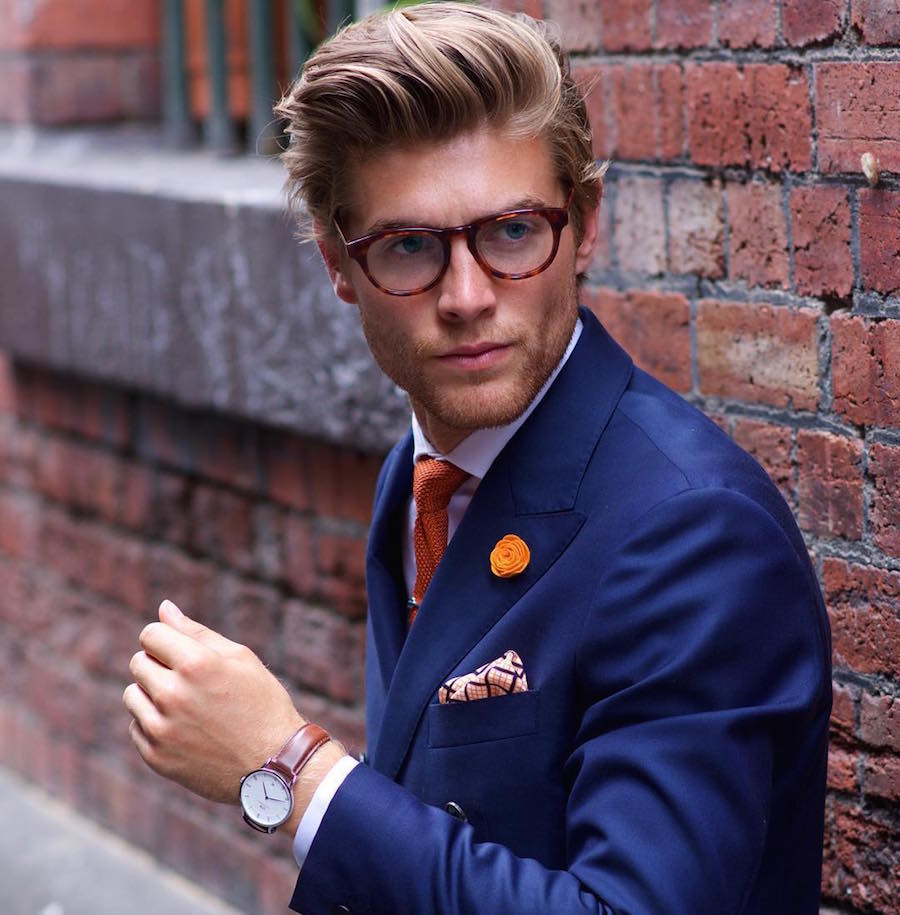 Source Sam Wines
If you are looking for a look that is classic and all business steer clear of the clippers and go for a classic scissor work cut. Medium length hair on the sides is blended beautifully into the longer hair on top that is slicked back.
31. Short Haircut For Men With Thick Hair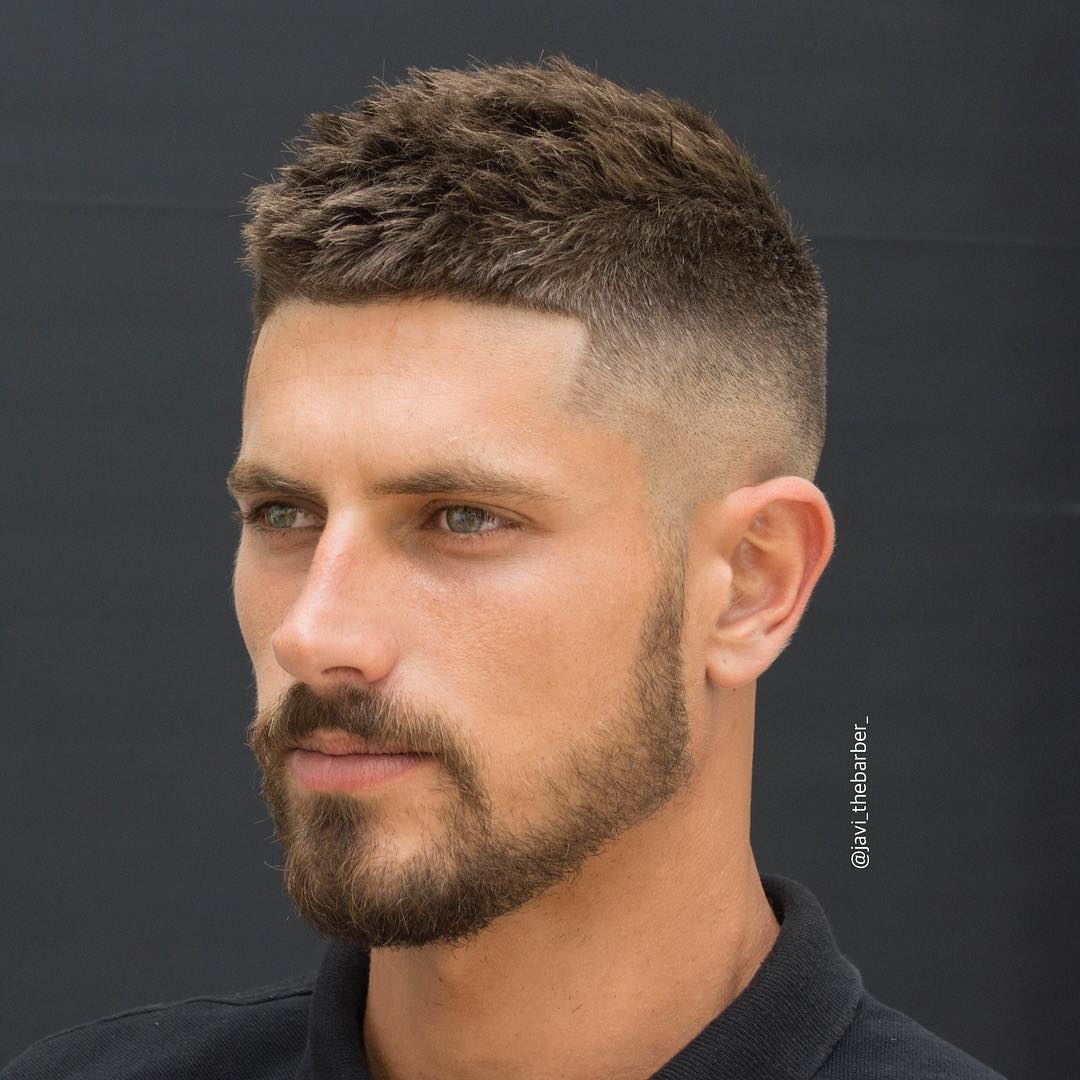 Haircut by Javi The Barber
Want to keep your thick hair ultra short? This is an amazing short men's haircut for thick hair. It features a clean shape up, disconnected beard, and a high skin fade. The hair on top is nice and short and textured for a modern day buzz cut. Very cool. To style, towel dry, then simply work in a light to medium hold pomade to bring the textures alive.
32. Thick Hair + Mid Fade + Side Part Hairstyle For Men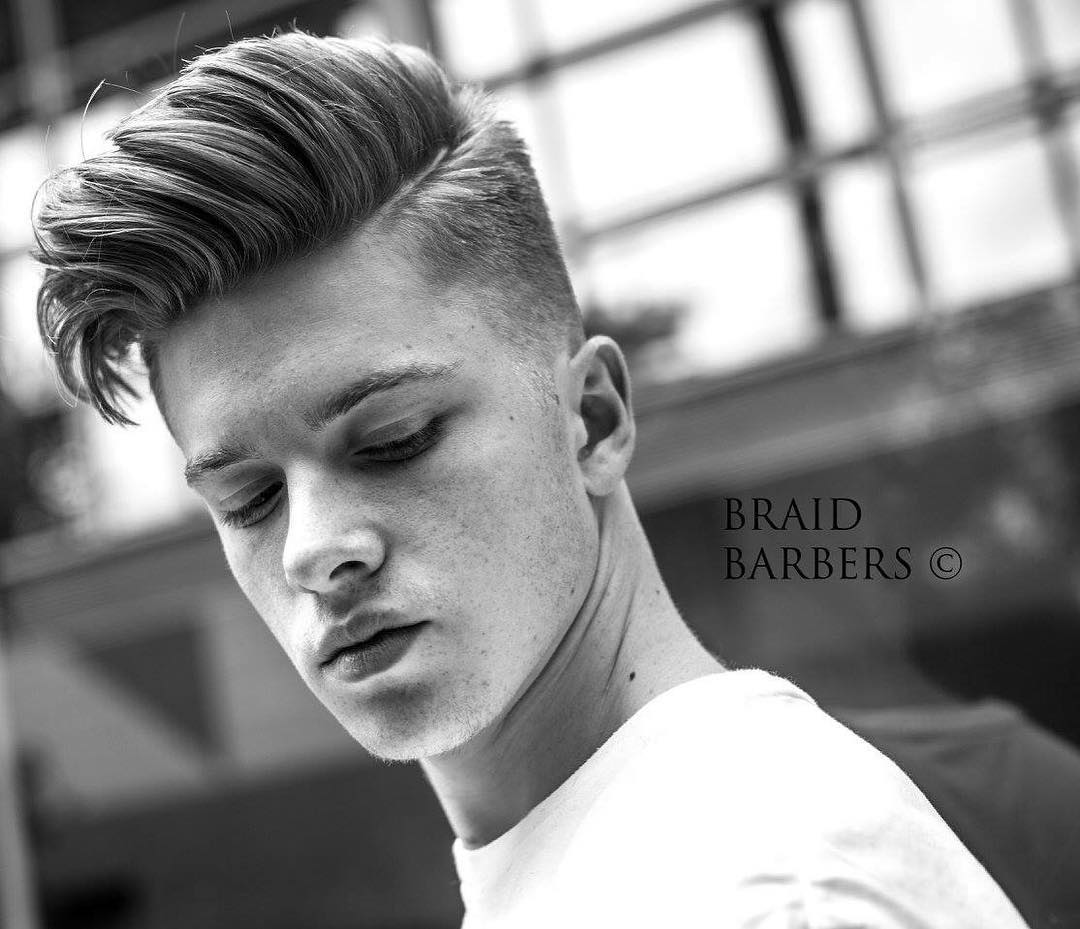 Haircut by Braid Barbers
If you want to keep your hair at a medium to longer length this is a great look. It features a mid fade, a long fringe (bangs), a very fine hard part and the hair on top is combed over to the side. Very cool.
33. Short Men's Haircut For Thick Curly Hair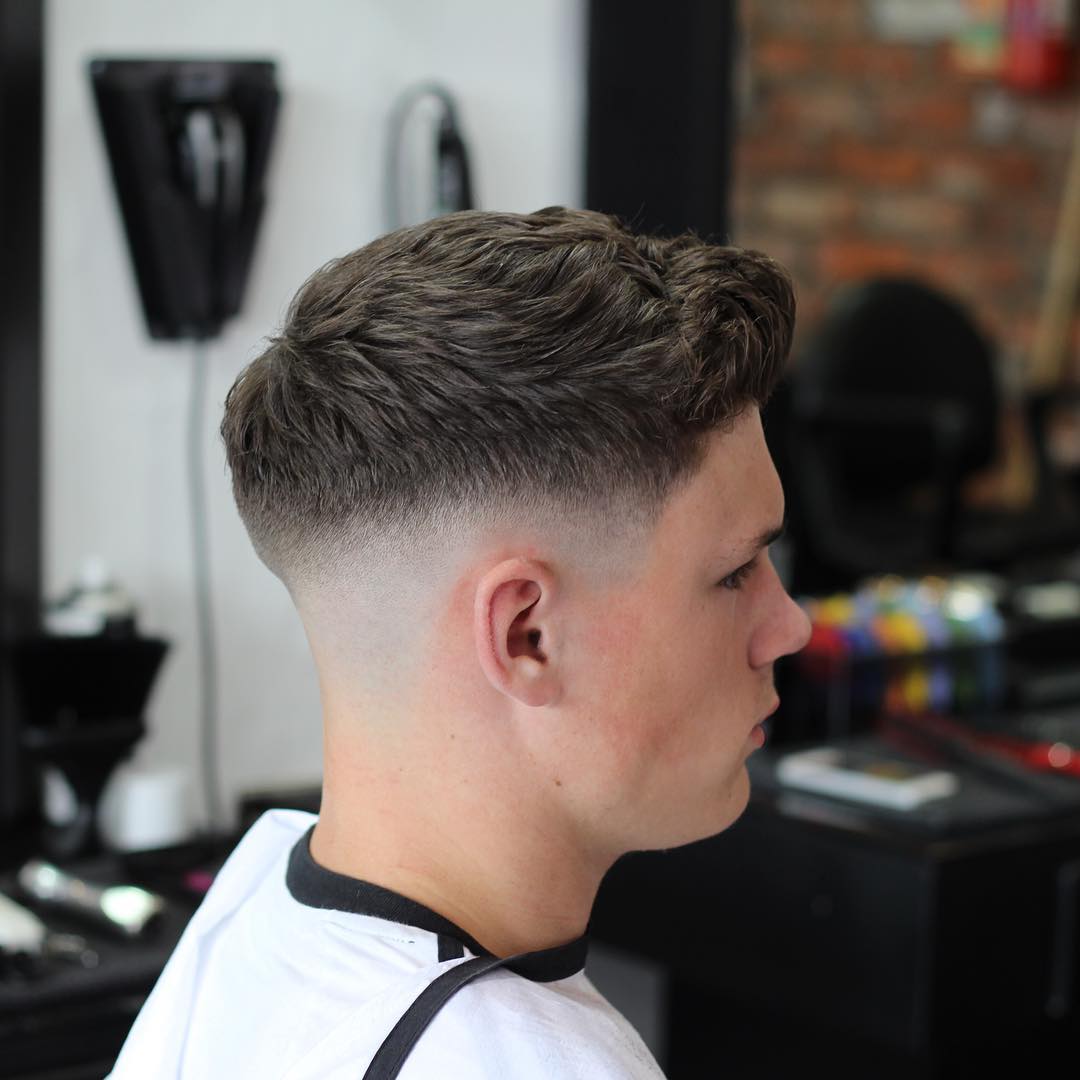 Haircut by Melissa Toft
Tame your thick curly hair with a short men's haircut. This look features a bald fade and short textures on top. Use a medium to strong hold pomade to keep the hair in place.
34. Classic Men's Haircut For Thick Hair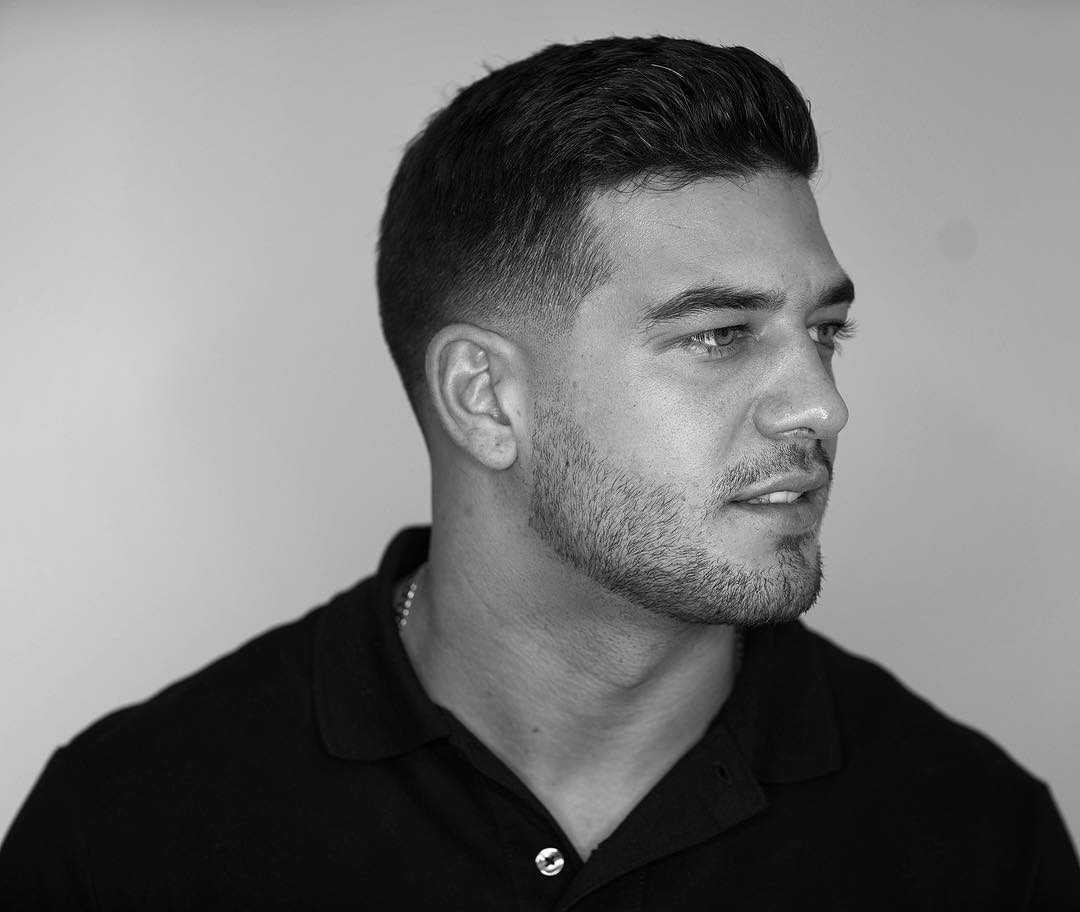 Haircut by Pat Regan
Pat Regan is another master at producing super slick modern classic men's haircuts. If you have thick wavy hair this is a simple but very good option that will always look great. It shows a nice clean low to mid fade on the sides, a disconnected beard, and short hair on top. The beauty of this short haircut is that it is easy to style. Simply towel dry or blow dry and work a small amount of medium hold pomade evenly into your hair from front to back.
35. High Fade + Thick Textured Hair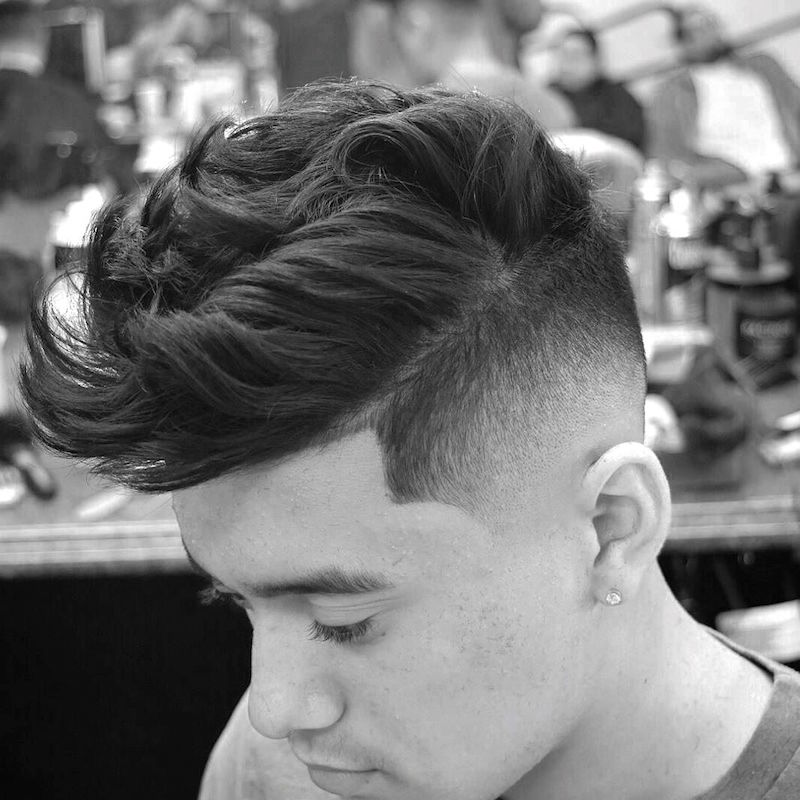 Haircut by Velentinhorta
For guys with wavy or curly thick hair, the high fade is one of the best haircuts out there. Cutting the sides short while leaving the top long makes hair easy to manage and style.
This simple cut makes the most of the hair's natural texture by adding some hold and volume with a matte product. Try a product with word fiber in it to get a combination of curl definition and hold for this borderline messy styles as well as slick looks.
36. Big Pompadour Haircut For Thick Hair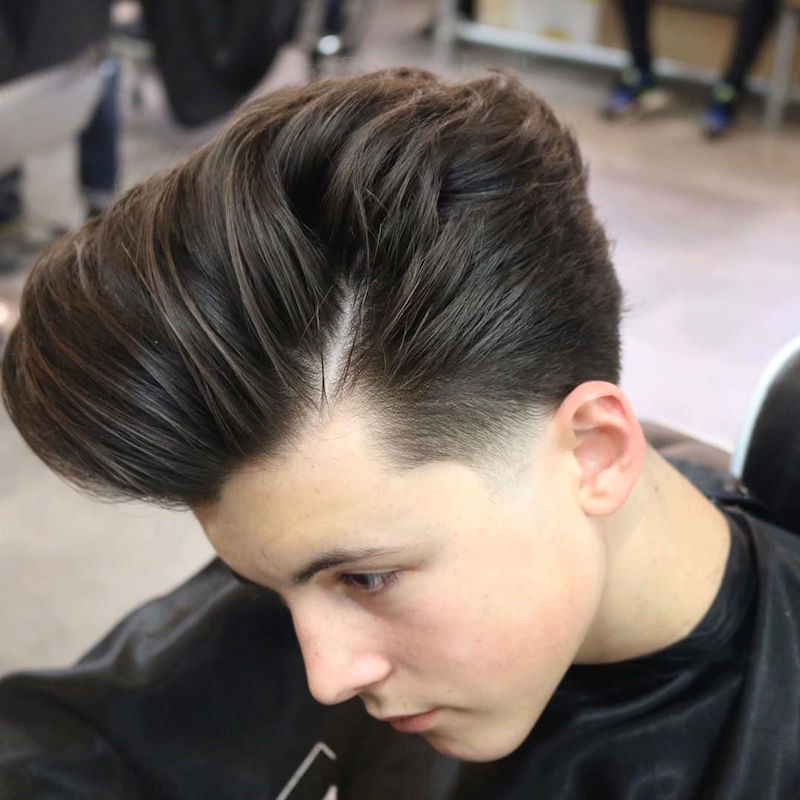 Haircut by Josh Lamonaca Hair
The only way to improve on the vintage pompadour is going bigger. The bigger, the better.
A look that only guys with thick hair can attain, this oversized pomp gets height and hold from blow drying as well as product. A slight side part adds a contrasting line to a style that is all about curves.
37. Mid Skin Fade + Medium Textured Thick Hair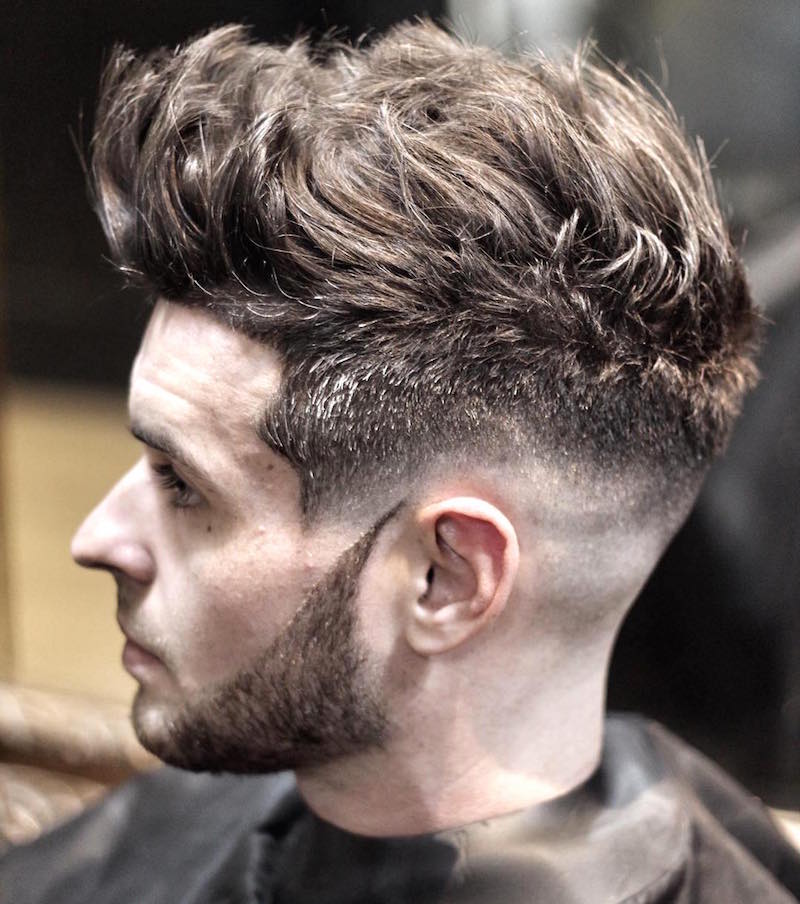 Haircut by Ryan Cullen
For guys with wavy or curly hair, the texture trend is made for you. All hair needs is a good cut and some added definition from a premium hair pomade. Of course, the sides should be faded.
38. Thick Wavy Hair Undercut + Long Fringe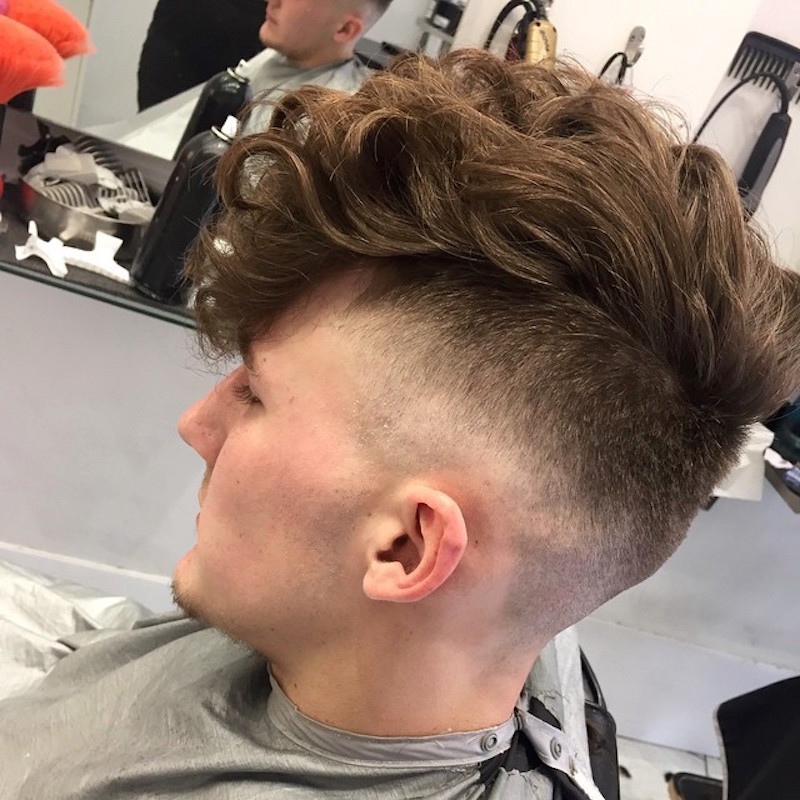 Haircut by Barber Stacey Notley
This original men's hairstyle combines several of the previous images for a textured curly faux hawk with mid bald fade. It could be the latest version of the jelly roll, which also culminates in curls worn down over the forehead. It might not be an everyday look but it is a great one to try.
39. Clean Fade + Textured Colored Hair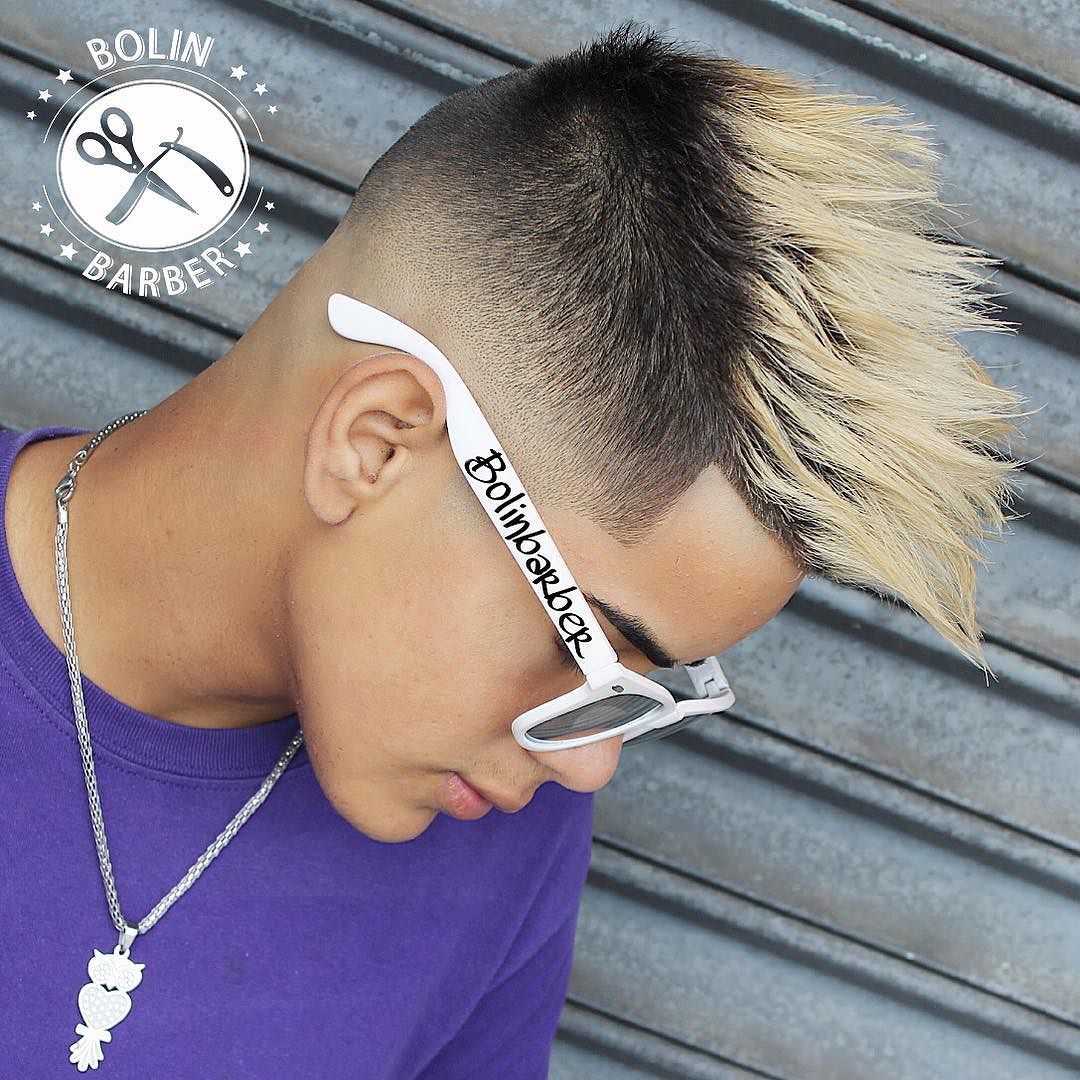 Haircut by Ivan Rodriguez Hernandez
Combining platinum and black, long and short, blur and lines, this entire look is an exercise in contrasts. On top, hair is worn in a spiky faux hawk with a line up at the forehead. A blurry mid-level fade down to the skin raises the neckline for a crisp finish.
40. Spiky Men's Hairstyle For Thick Hair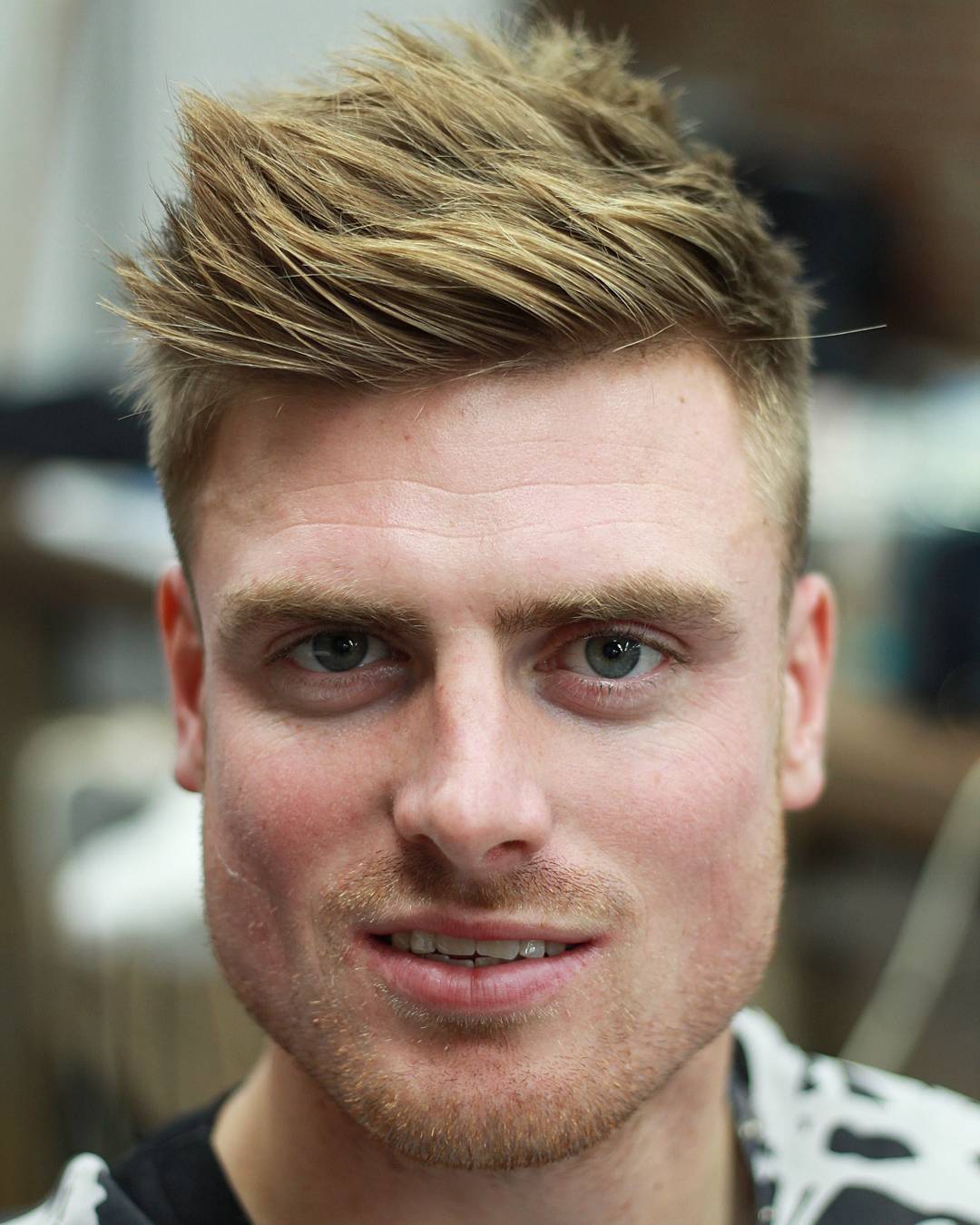 Haircut by Ruben Djirlauw
This short haircut for guys with thick hair is perfect if you want something that is easy to style and manage day to day. The textured hair is easily styled with a medium hold pomade. Work a small amount into your hair. Make sure the hair product is evenly distributed. Let the textures do their thing. Use your fingers to work your hair into the direction you prefer.
41. Dry-Slicked Back Medium Length Hairstyle + High Fade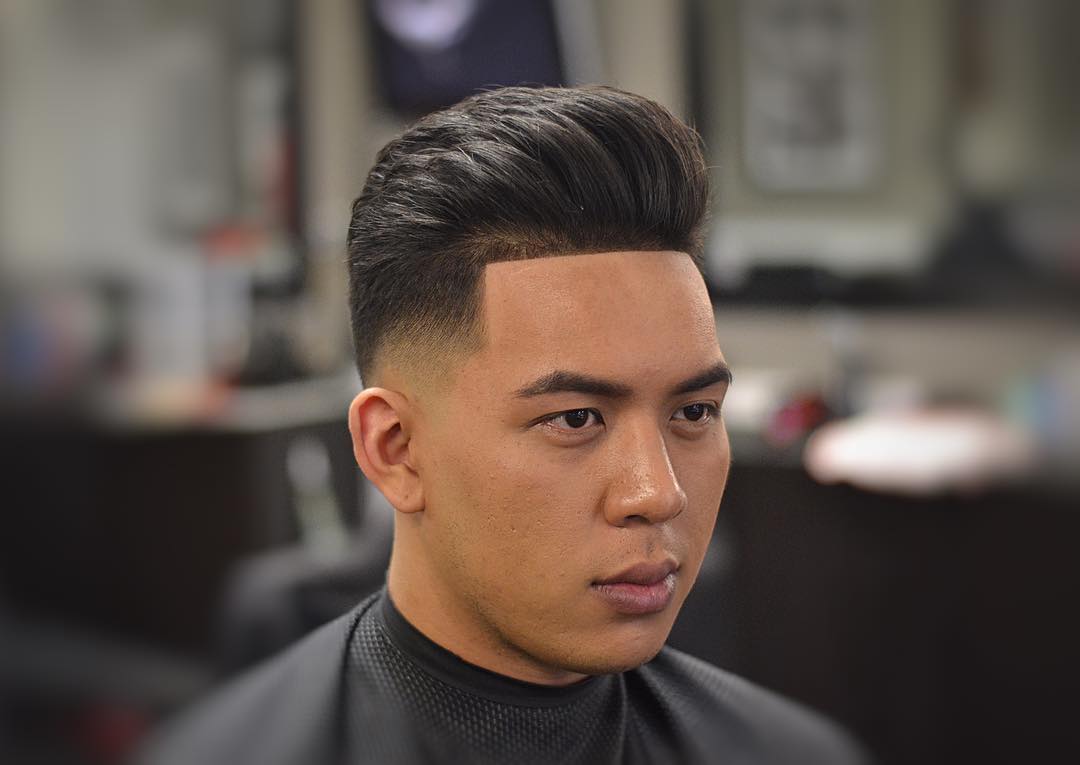 Haircut by Drew Da Barber
A classic men's haircut with a modern finish. It features a low bald fade, a nice and clean shape up (hairline trimming) and medium length hair styled back in a natural looking slicked back look. To get the look use a blow dryer to gain some volume. Simply blow-dry and brush hair back. You can use a matte finish pomade before or after.
42. Short Men's Haircut For Thick Hair + High Skin Fade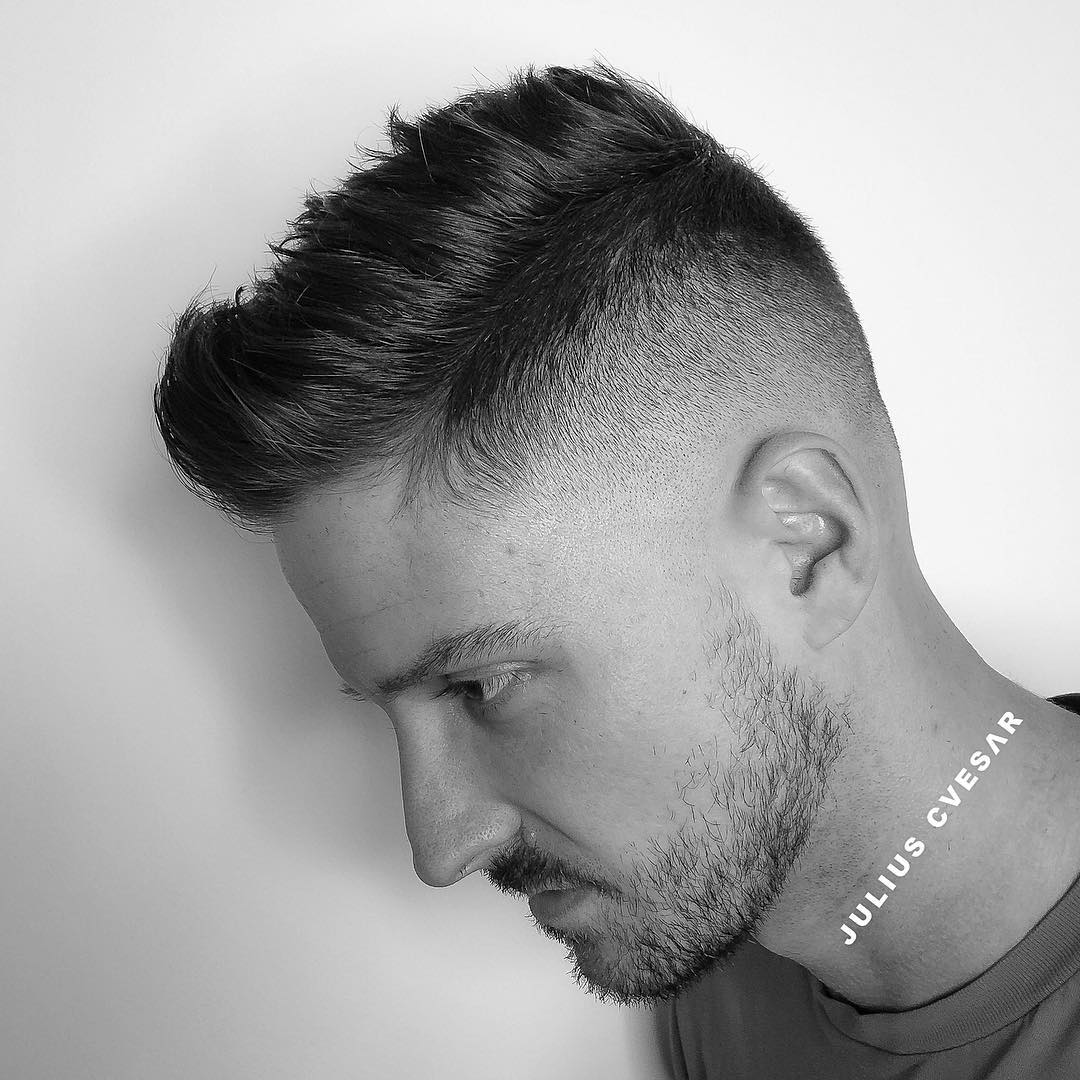 Haircut by Julius Cvesar
Thick hair tamed perfectly with a nice clean looking short haircut. Thick hair on top is styled into a combover mini pompadour hairstyle.
43. Crew Cut + High Fade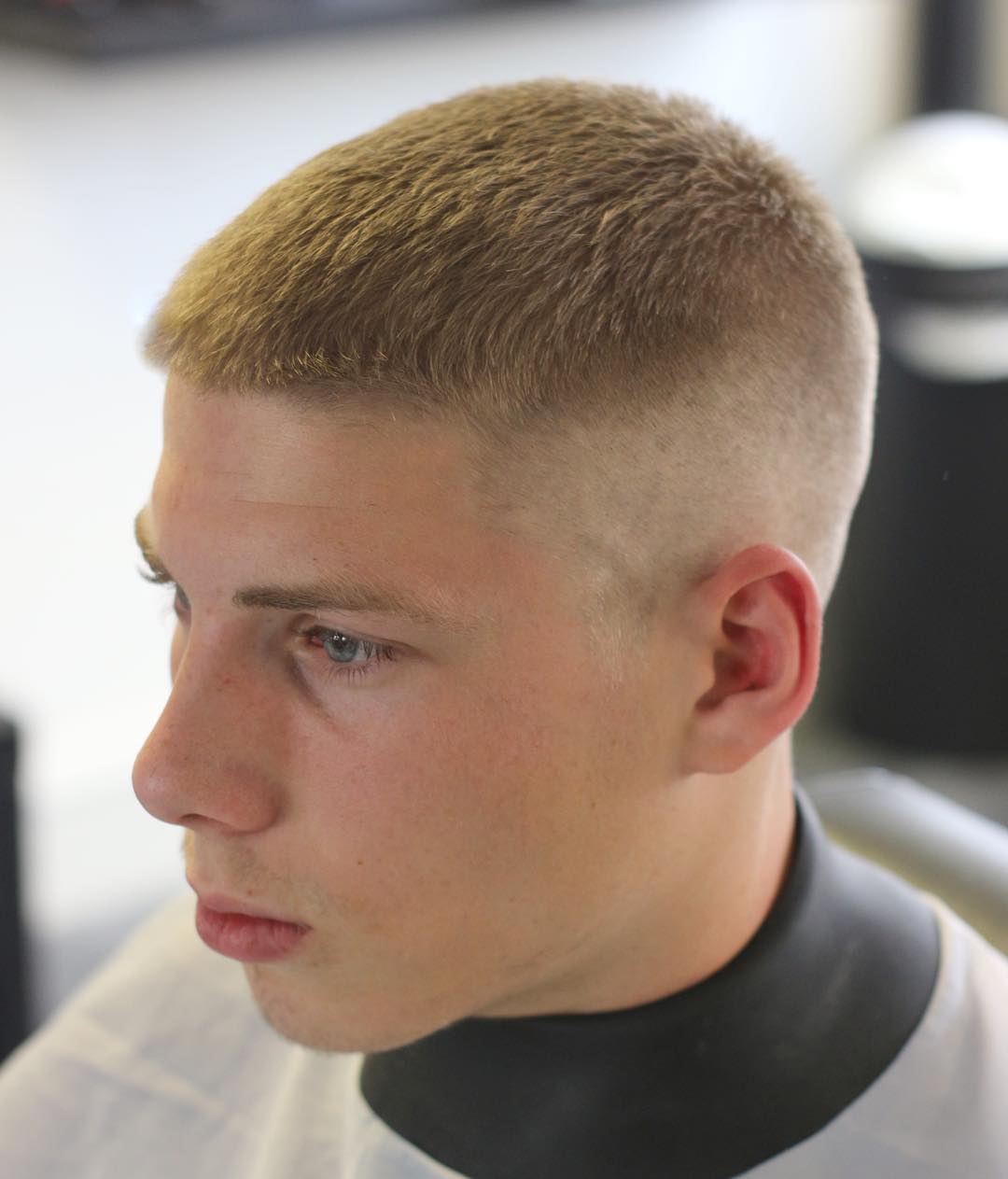 Haircut by Kieron The Barber Price
The easiest way to manage your thick hair. The crew cut. All you have to do is wake up and go.
44. Short Textured Men's Haircut For Thick Hair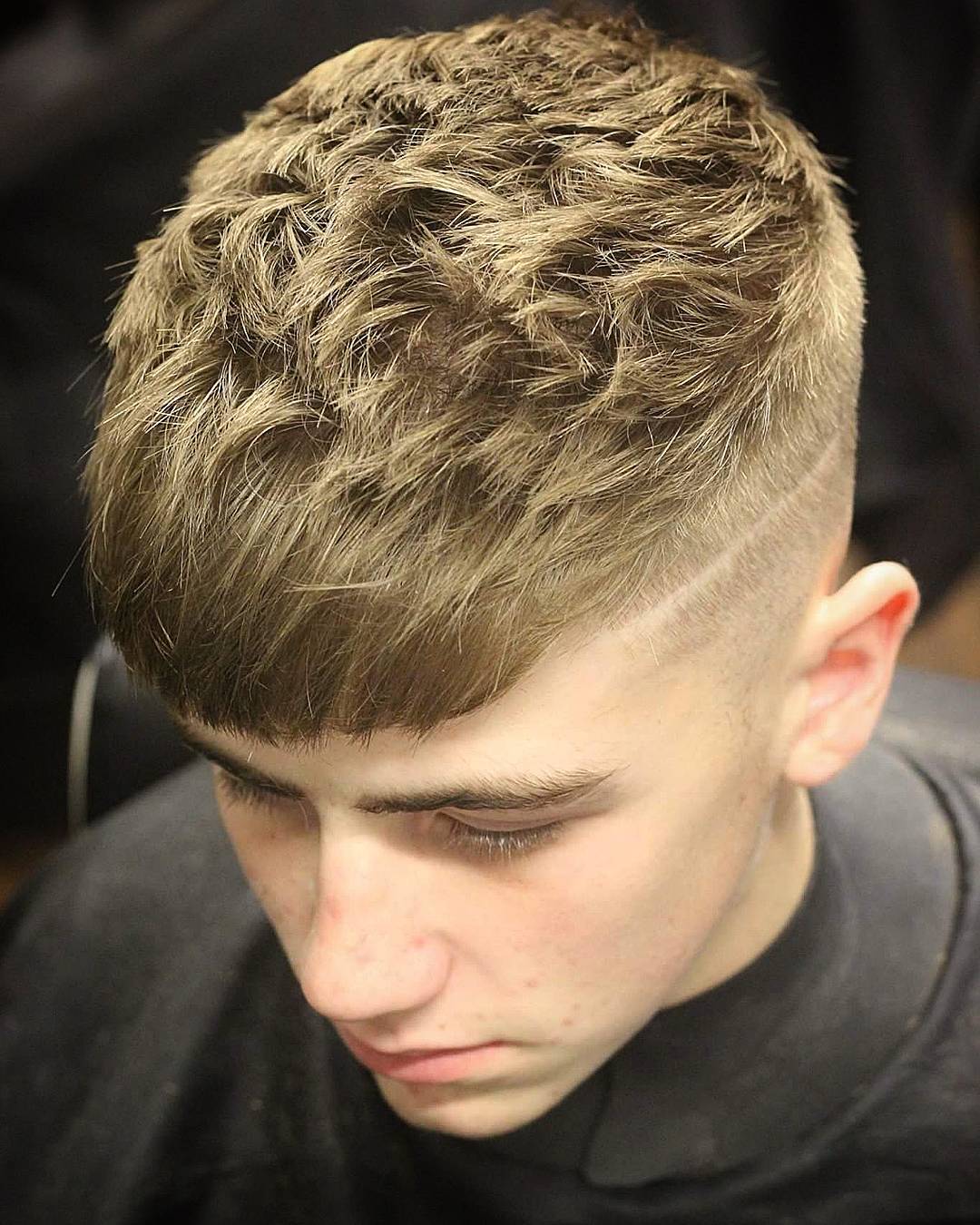 Haircut by Shane Cronin
An ultra short crop hairstyle with beautiful textures and a half hard part for some flare.