The pompadour haircut is one of the most popular and enduring looks for men. This stylish and timeless hairstyle flatters almost all hair types and face shapes with plenty of volume and a distinct profile.
That classic shape can be combined with current men's hair trends. Some of this year's hot looks include piecey texture, taper haircuts, updates spikes and bold, look-at-me styles. Other ways to update the classic pomp is with a matte finish, short hair and adding a fade.
These modern pompadours require modern styling products. While many guys continue to use retro grease pomades for an authentic vintage look, modern pomps have more height, texture, and a matte finish. Look for fiber or clay pomades that have superior hold, no shine and can be restyled just like an oil-based pomade.
Now check out almost 30 different ways to wear modern pomades. These fresh styles can make fine or thin hair appear fuller with volume and texture as well as tame the thickest hair. These pomps can be styled with short hair as well as medium length locks.
1. Modern Pompadour Haircuts
Texture is one of this year's top hair trends. Add some to your pomp by combing your pomp with fingers, pinching small pieces of hair together, or using a wide tooth comb for evenly spaced separation. Play with different variations on the look. It's even better to look slightly different every day. Look for pomades that enhance texture to get the look with minimal effort.

(L-R Javi the Barber – Ramses – Will Salon – We Married Hair – We Married Hair– We Married Hair)
2. Matte Pompadour Haircuts
The name greaser came from the hair grease used to style pompadours and their shiny finish. The easiest way to get a modern look to your pomp is to use a matte hair product. Types of pomades that combine ultimate hold with a matte finish are fibers, clays, and some water-based pomades.
Try Reuzel Fiber for the strongest hold for even the thickest hair with a tobacco-vanilla scent and no shine. For added texture or to beef up fine hair, try a clay pomade like Baxter of California Clay.
Blind Barber 90 Proof Pomade is another popular low shine option that can be used to style classic pomps with modern texture. For a cheap drugstore matte pomade, Old Spice Pomade rings in under $10.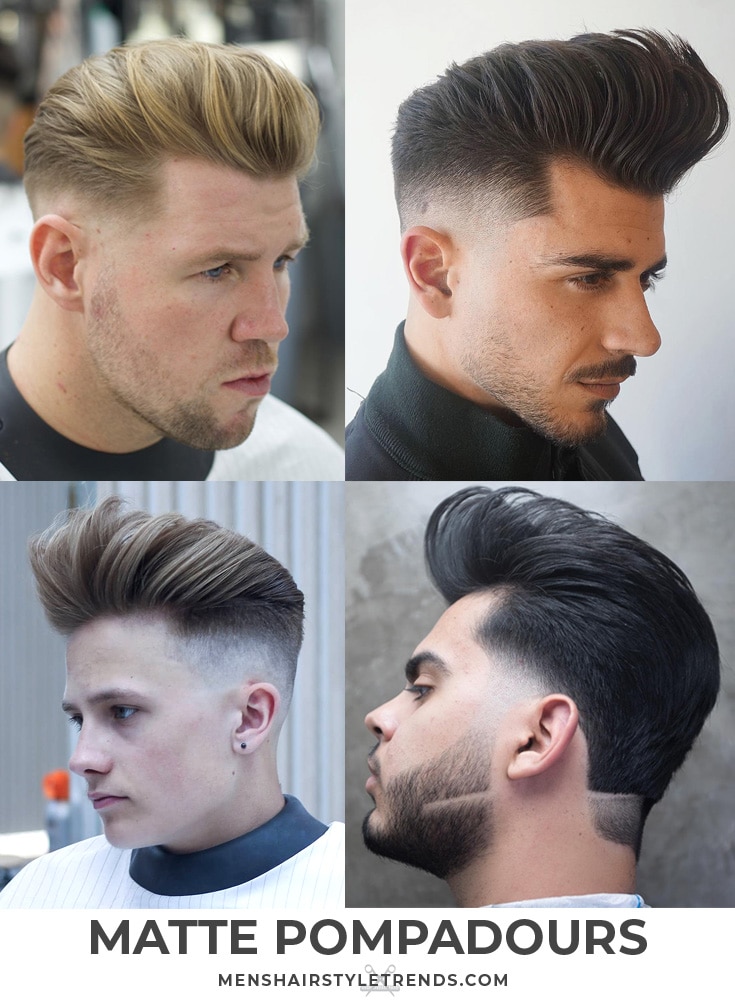 (L-R Reece Beak – Josh Lamonaca – Jake "Ralph" Bolland – Jake "Ralph" Bolland)
3. Edgy Pompadour Haircuts
These edgy pompadours take liberties with the retro style while holding onto that classic pompadour shape. Take a heavy textured crop and work up into a pomp-shaped quiff. Or add a side part to a matte, textured modern pomp. Use oversized texture to create that pomp shape. And last but not least is the pompadour mohawk aka the pomp hawk. It's a pompadour with undercut sides and a strip of hair down the back.
All of these looks happen to be pomp fades with the addition of a shaved line. Use a straight line in contrast to the pompadour or a curved line that follows the arc of a crop fade down the back. Another option is a hard part that is shaved in.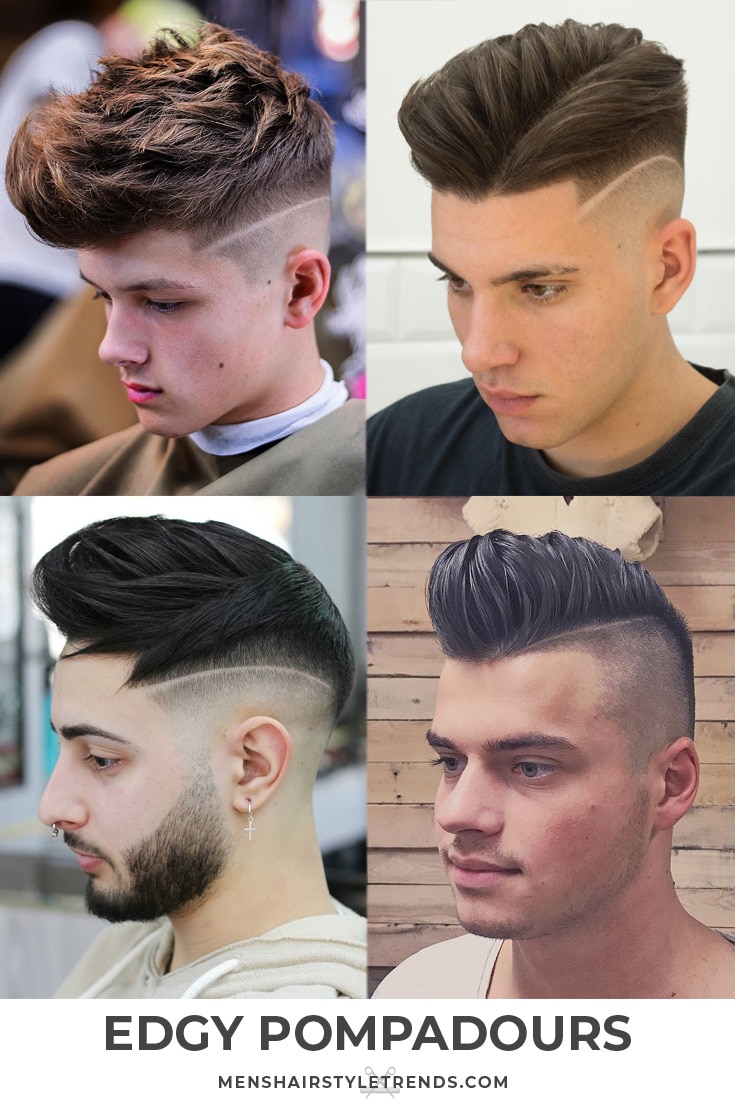 (L-R Jarreds Barbers – Javi the Barber – Juan Manuel Ortiz Abad – Brü Pomade)
4. Messy Pompadour Hairstyles
Another way to update a pompadour is to add some tousled texture. This is a huge men's hair trend for all lengths and types of styles that can be added to a pomp in a variety of ways. Add texture behind a spiked up quiff. Use some wavy texture to add some movement and natural finish. Finish up a spiky mohawk with a pomp at the forehead. Or just style thick hair with fingers for a modern and on-trend finish.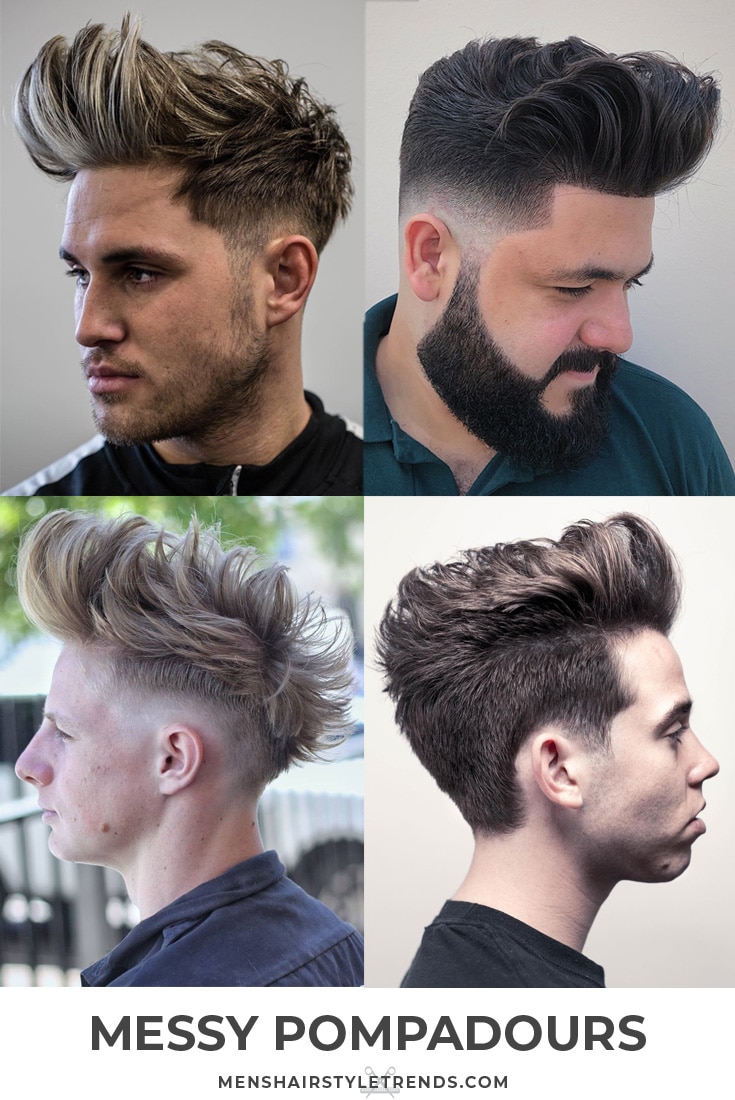 (L-R Tom Baxter Hair – Seu Elias – We Married Hair – Andrew Does Hair)
5. Short Pompadour Haircuts
A pompadour can be styled with only a few inches of hair. If you want the look with short hair, concentrate length along the forehead for maximum height with minimum length. For shorter hair, a pompadour haircut can be styled almost vertically to maximize height with the rounded profile.
Sides can be faded down to the skin or tapered short. The short pompadour works really well for thick hair but also for finer hair or even wavy and curly locks.
This look can be as easy to style as you make it. Just let hair dry and work a matte pomade through it with fingers. You can finish with a comb or add additional texture. Blow drying will add more height but is not required. A short pomp is an easy way to get this classic men's hairstyle with a modern finish.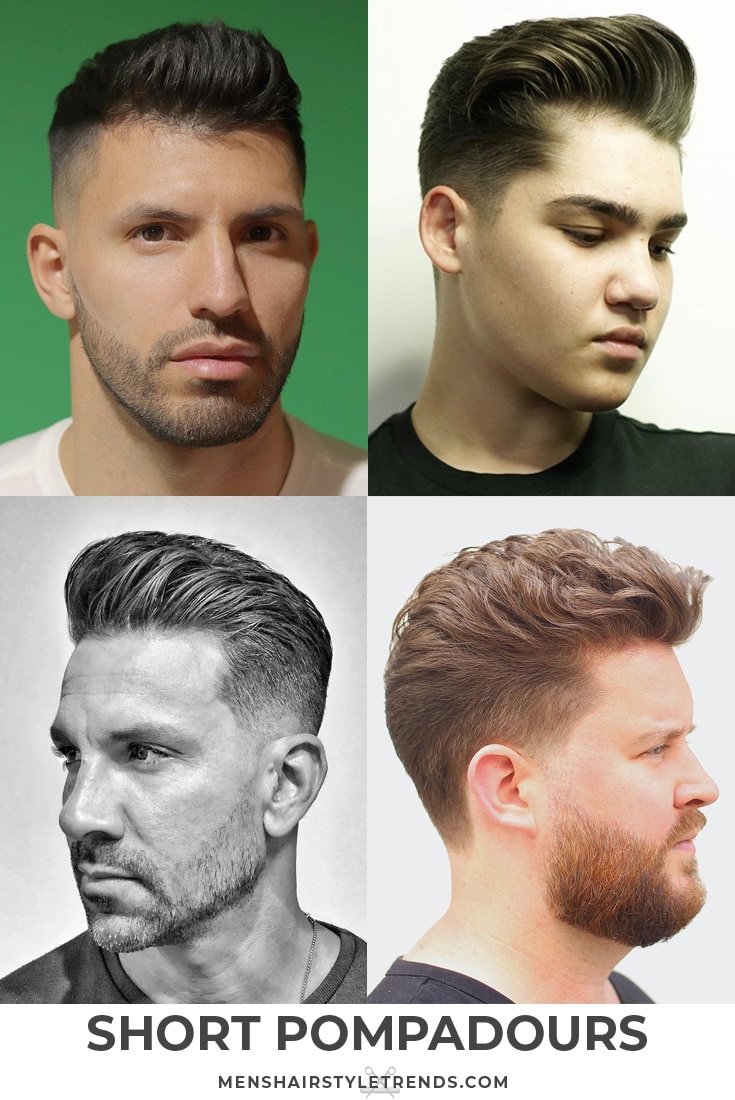 (L-R Alan Beak –Justin Armani –Ramses –Matthew Conrad)
6. Pompadour Fade Haircuts
The pompadour plus fade is a winning combination. Shaved sides make hair easier to style while emphasizing the height and profile of the pomp. Concentrating hair on top also has the benefit of making hair appear thicker for thinner hair types. For guys with thick hair, there is less hair to dry, style and manage.
Pompadours can be worn with all types of fade haircuts – low, mid and high. Low fades have a more traditional look while drop or undercut fades are more modern.
For something extra, add a shaved side part or hair design. Another fresh and unexpected way to finish these modern pomps is with a neckline hair design.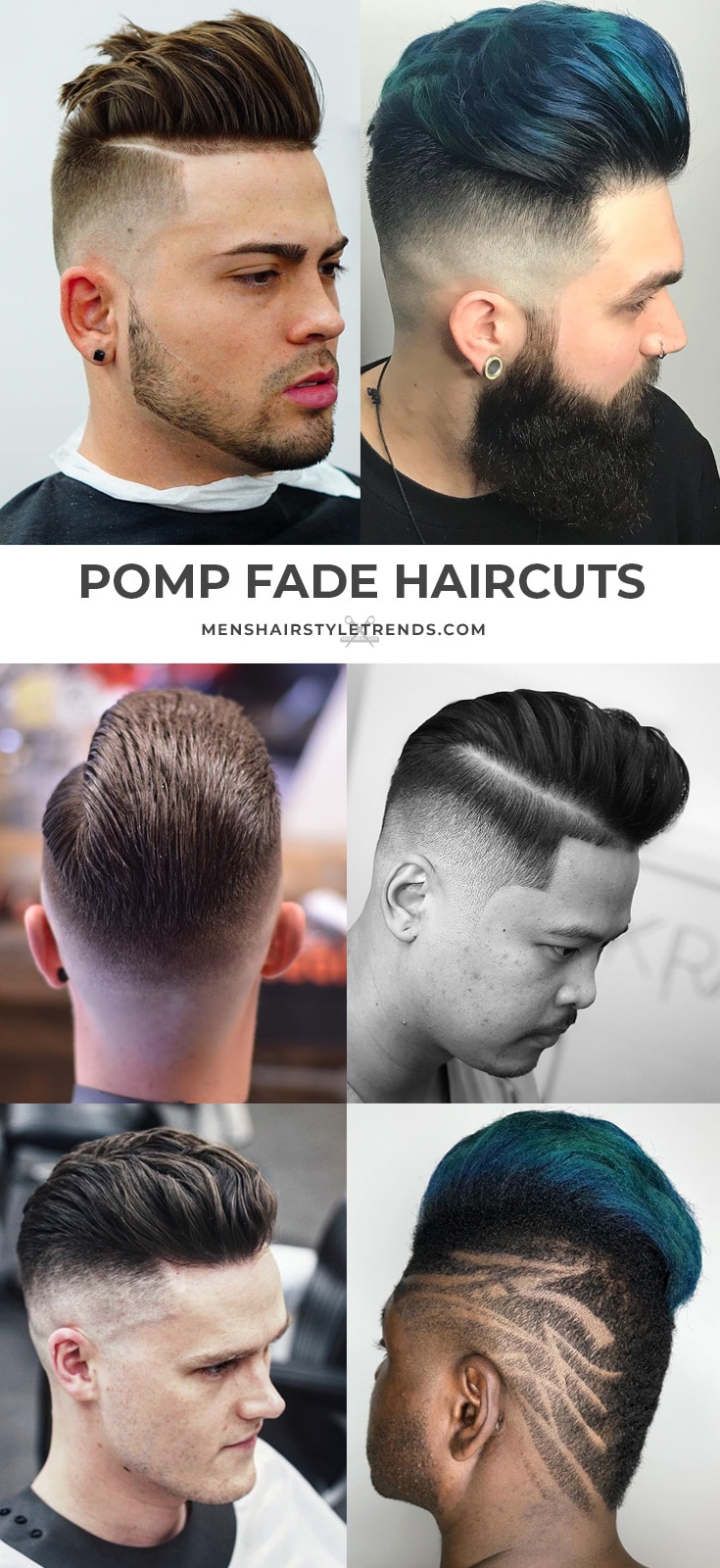 (L-R Criztofferson – Jerrin Hawes – Ry Smith – Dre Hair – Nomad Barber BLN – Jerrin Hawes)