A skin fade haircut is exactly what it sounds like – a haircut with a fade all the way down to the skin. It can also be called a bald fade or zero fade, named after the clipper attachment length.
The skin fade has been a popular addition to men's haircuts for many years and the trend will not go away any time soon. It works with modern, trendy, as well as classic men's hairstyles. Fading hair down to the skin brings more focus on the hair on top as well as facial hair so it's a win-win cut.
Choose from low, medium, high, or taper skin fade depending on the cut, style, and desired look. Mix and match different hairstyles and fades to create your own unique combination.
Check out these 30+ ways to wear skin fade haircuts.
1. Skin Fade Haircut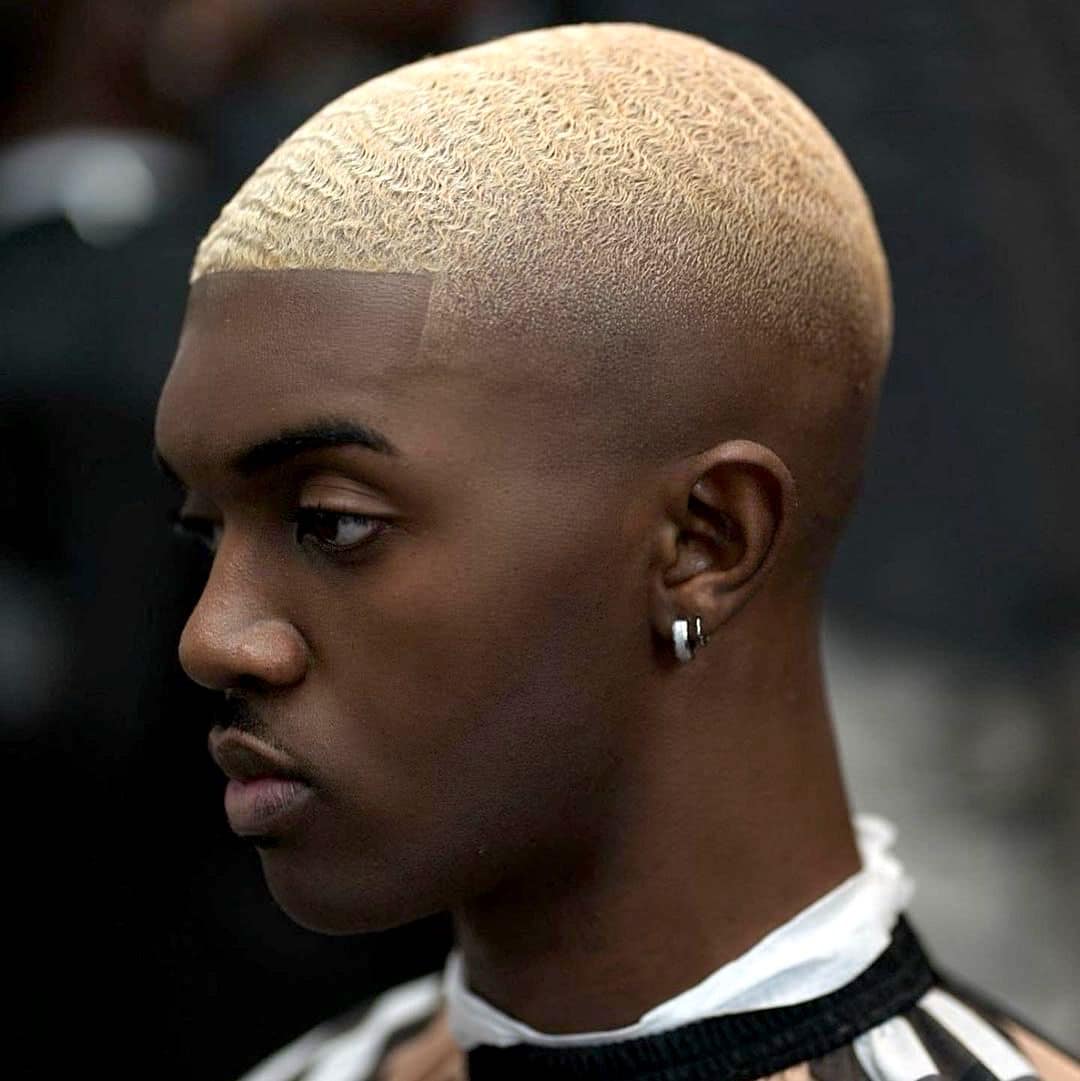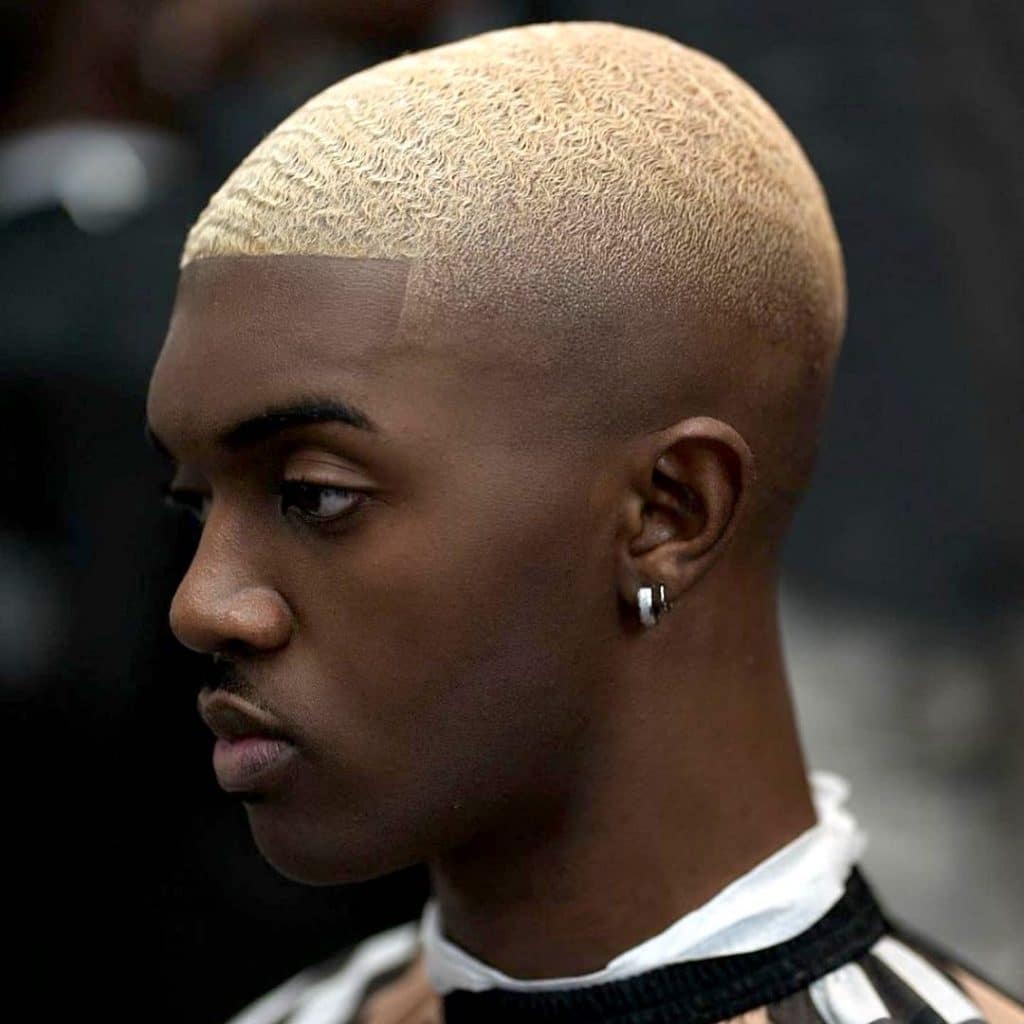 This is a striking example a skin fade highlighted by the contrast between platinum blonde hair and dark skin. A line up at the hairline transitions into a blurry fade.
2. Low Skin Fade Haircut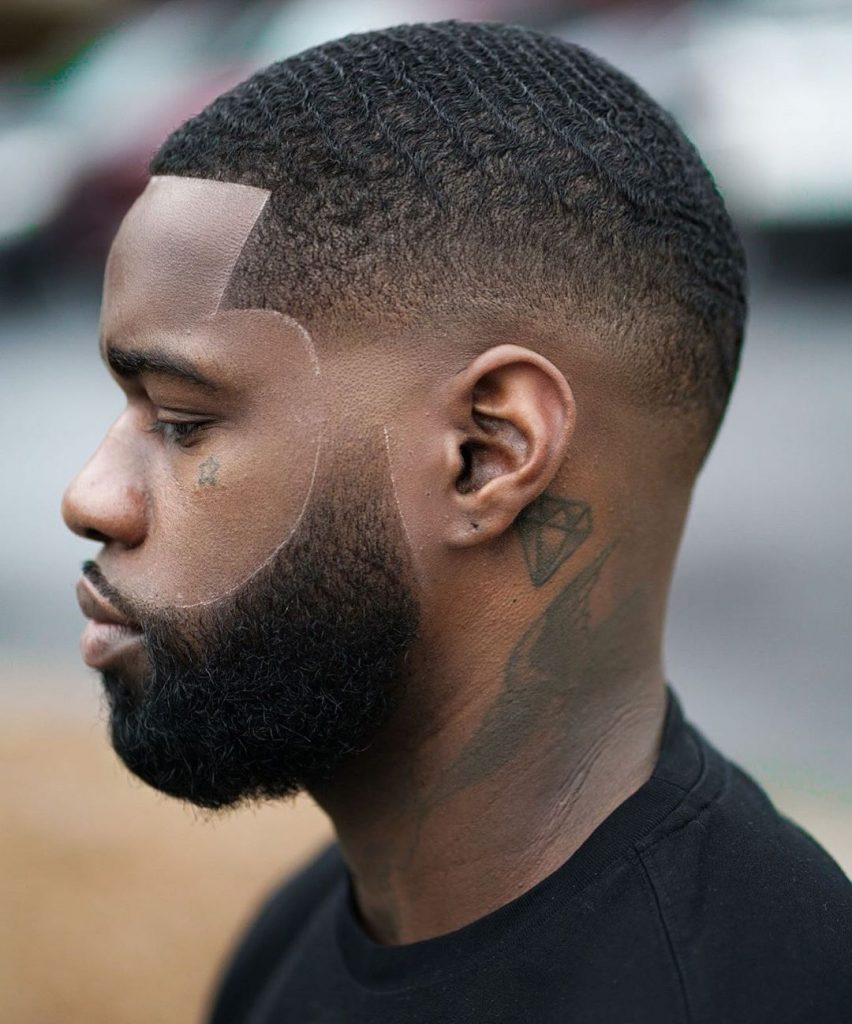 There are a lot of different choices for men's necklines but the low fade is one of the best. It's ultra-clean and separates waves from a beard, highlighting both. Keep the look fresh with frequent barber visits.
3. High Skin Fade Haircut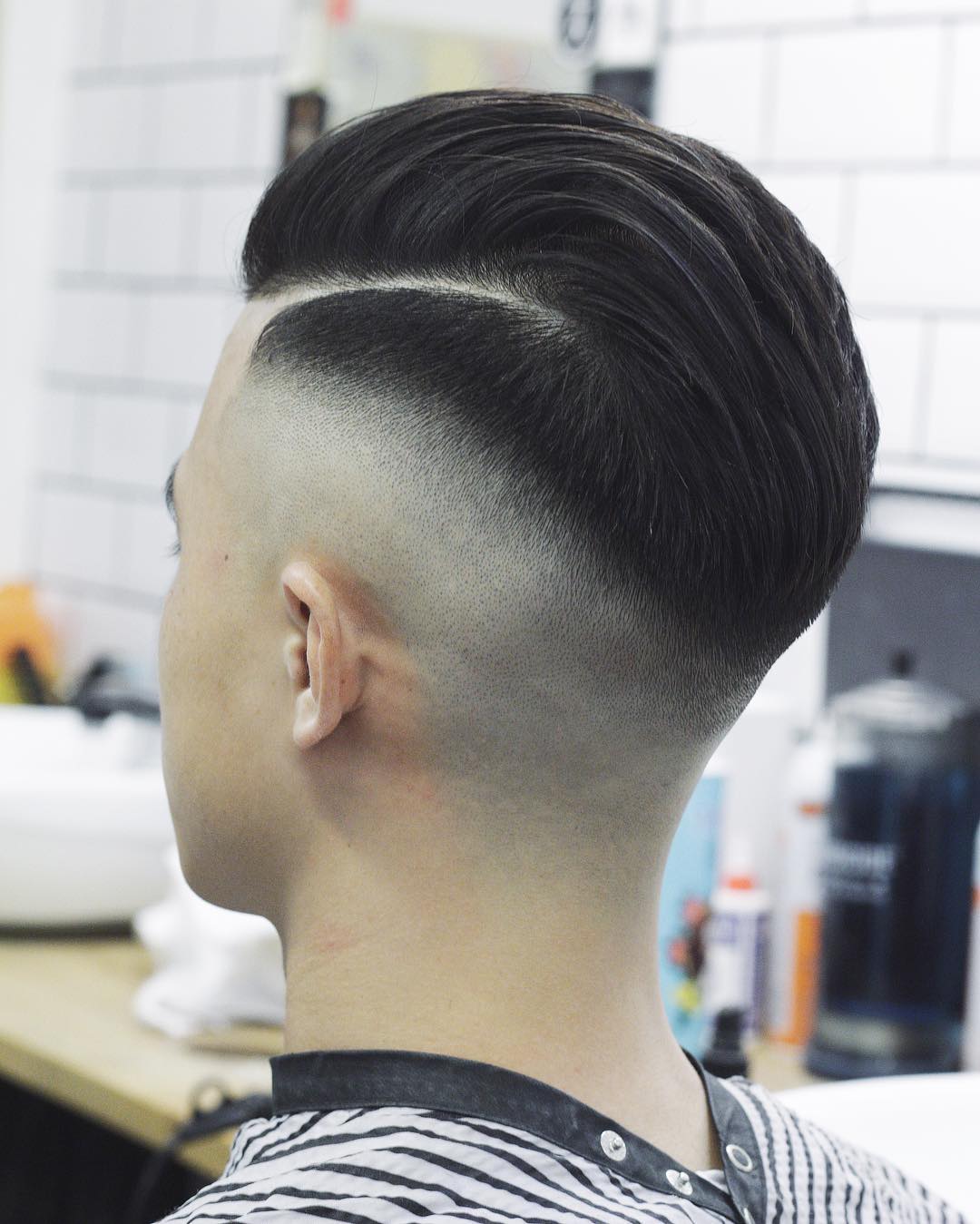 In contrast to the low bald fade above, this high fade reveals more skin. Hair on top appears thicker on contrast, which works both for guys with thick hair as well as thinning hair.
4. Mid Skin Fade + Crop Haircut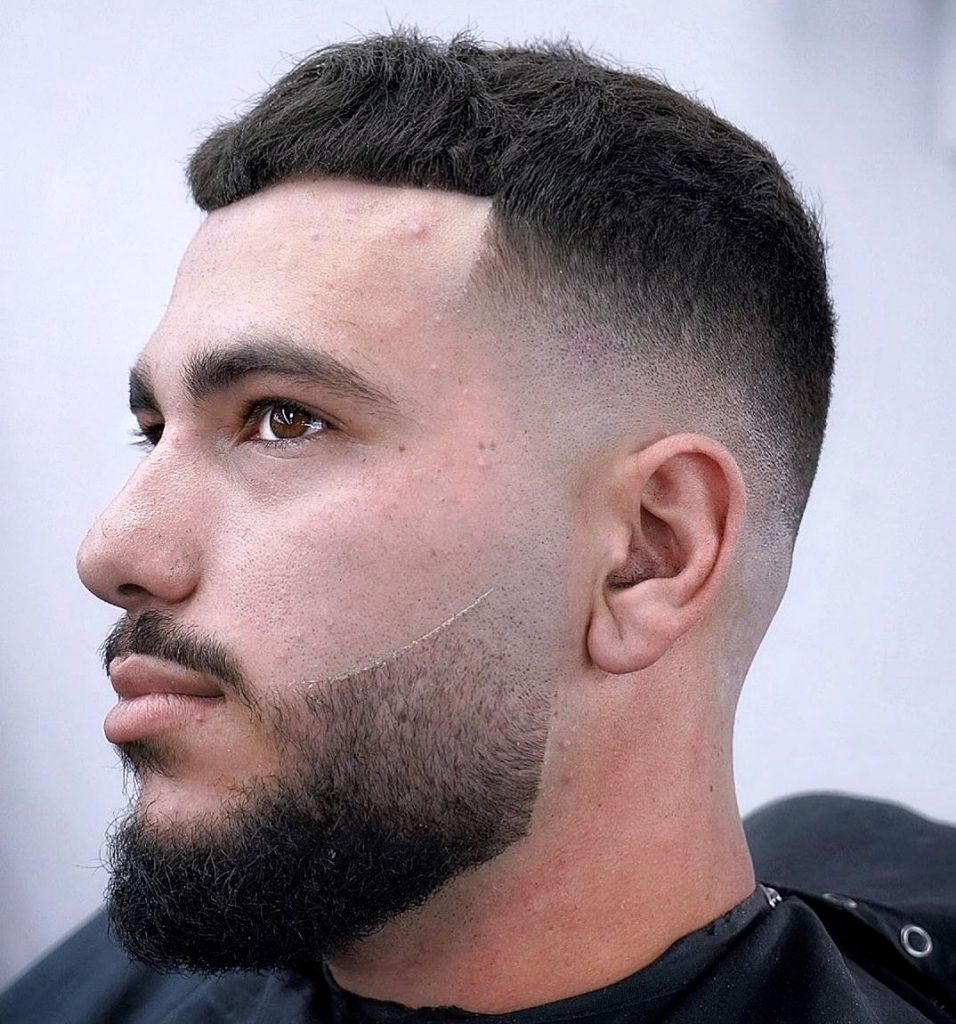 If the low fade is too low and the high fade is too high, this medium skin fade might be just right. This is worn with a trendy crop and beard.
5. Skin Fade From The Front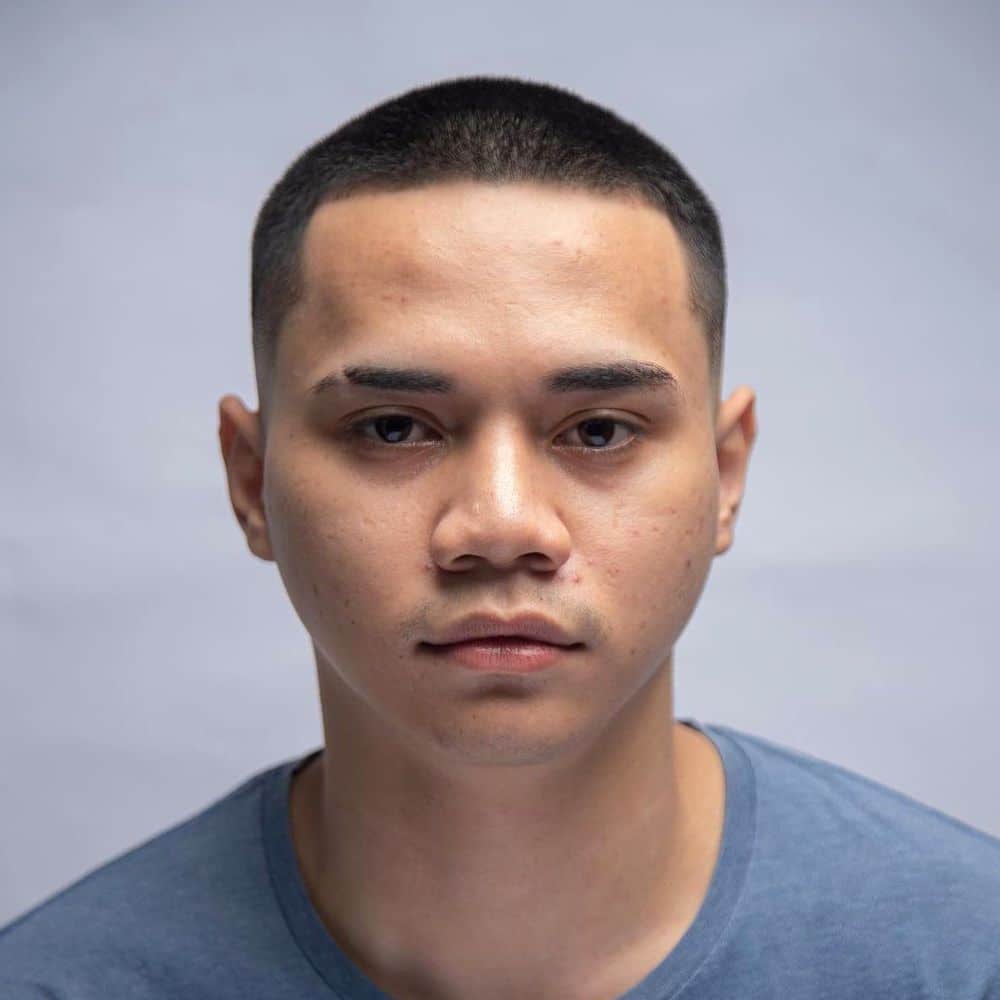 At this point you must be wondering what the skin fade haircut looks like from the front, and here it is. The sides of hair look tight and clean. This is a flattering look for most guys, especially round faces.
6. Medium Skin Fade Haircut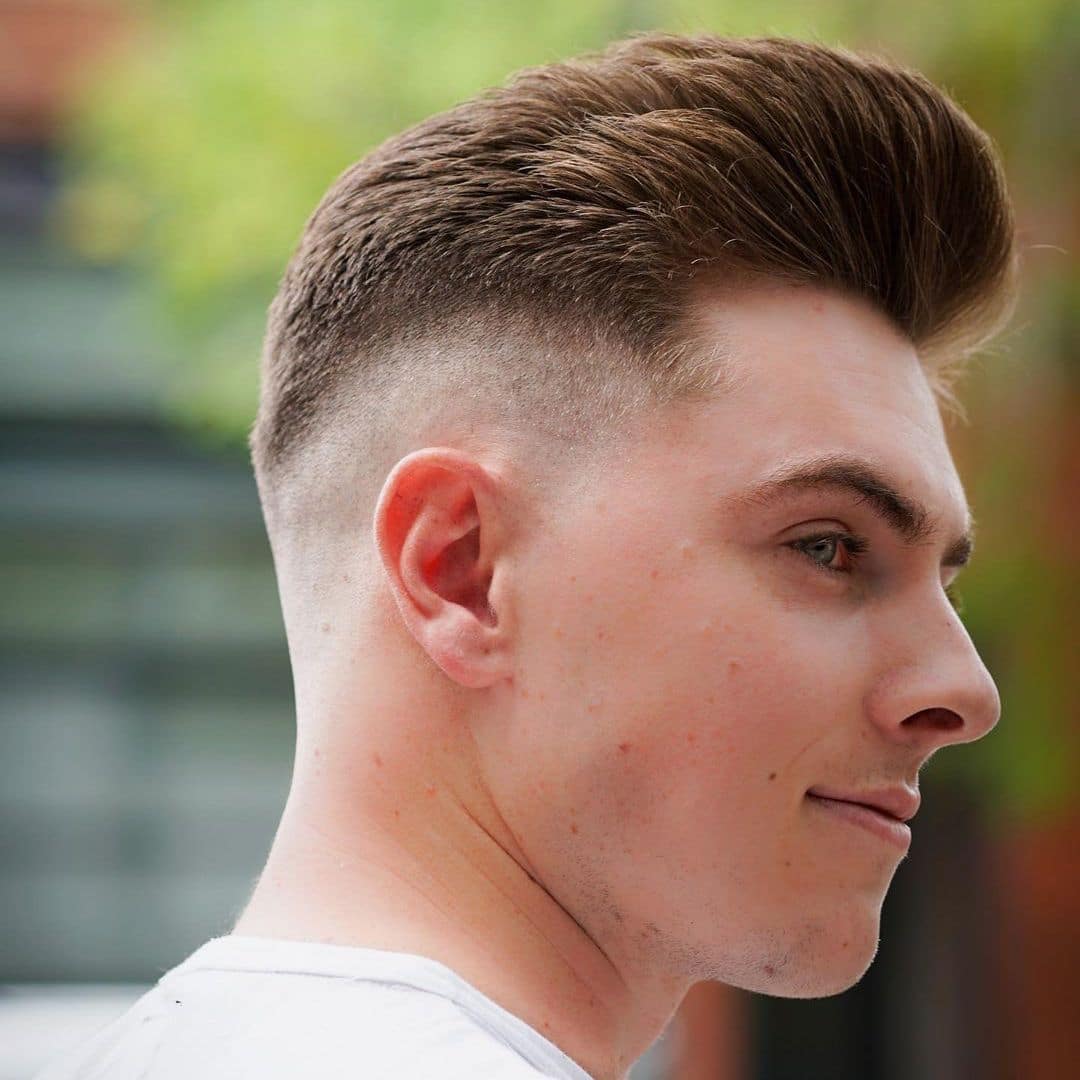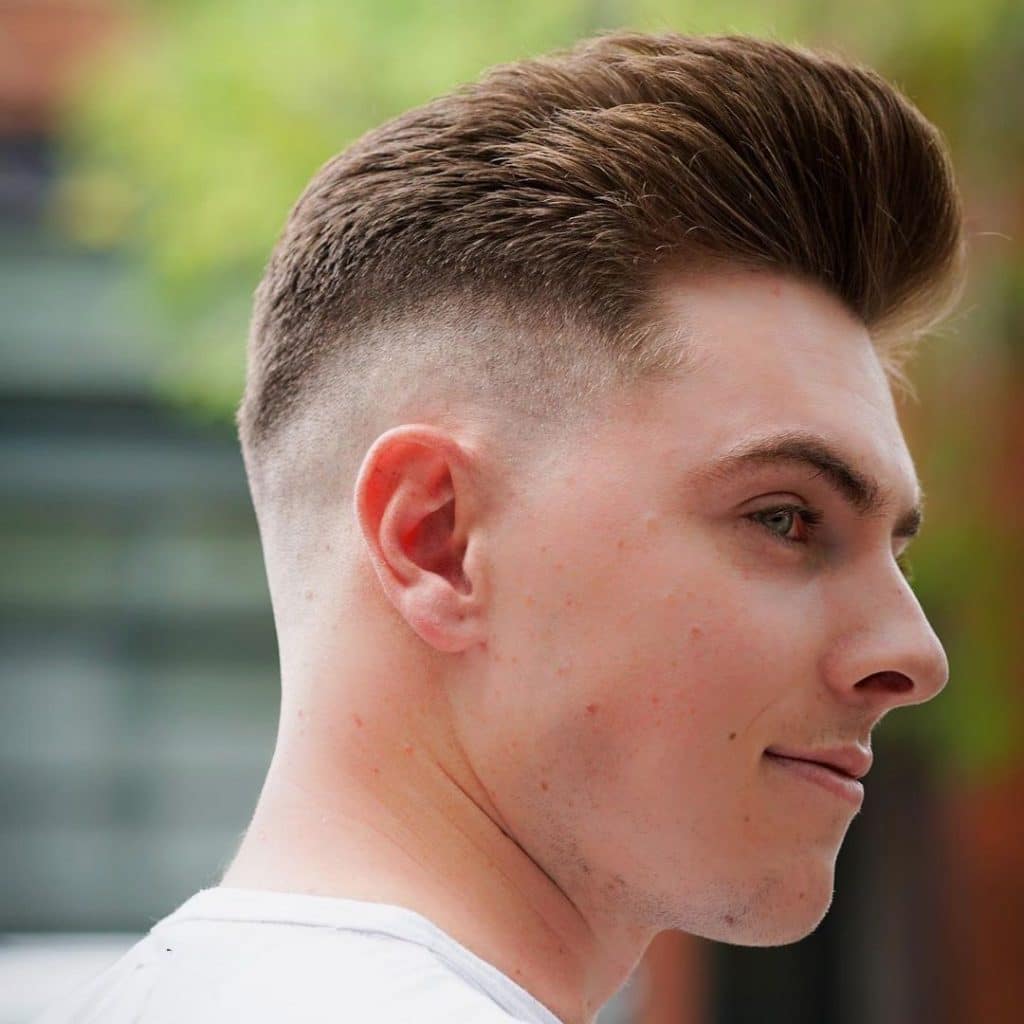 This medium high fade is also a drop fade that drops down at the back of the head. The arc works really well with the line of the pompadour up top.
7. Short Haircut + Skin Fade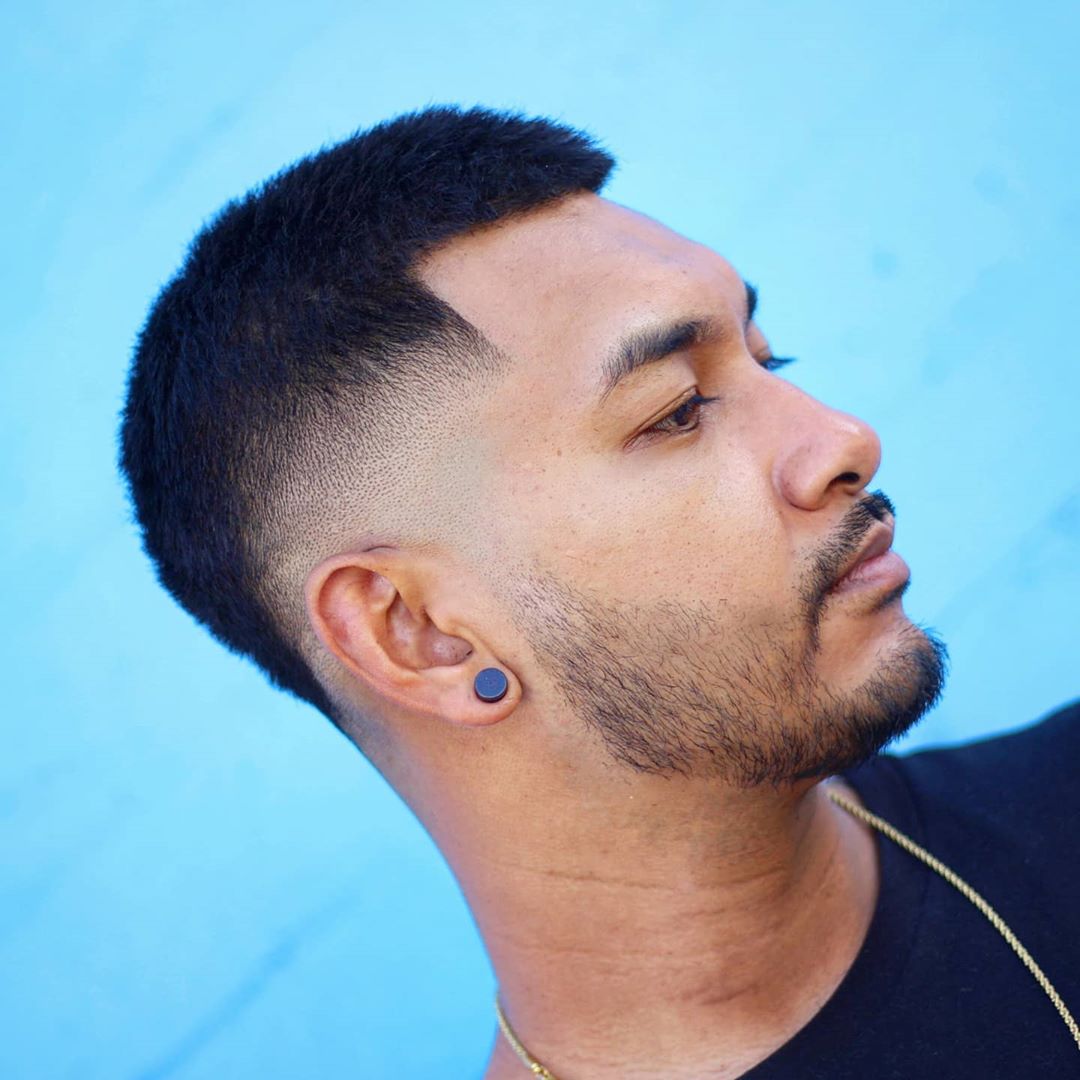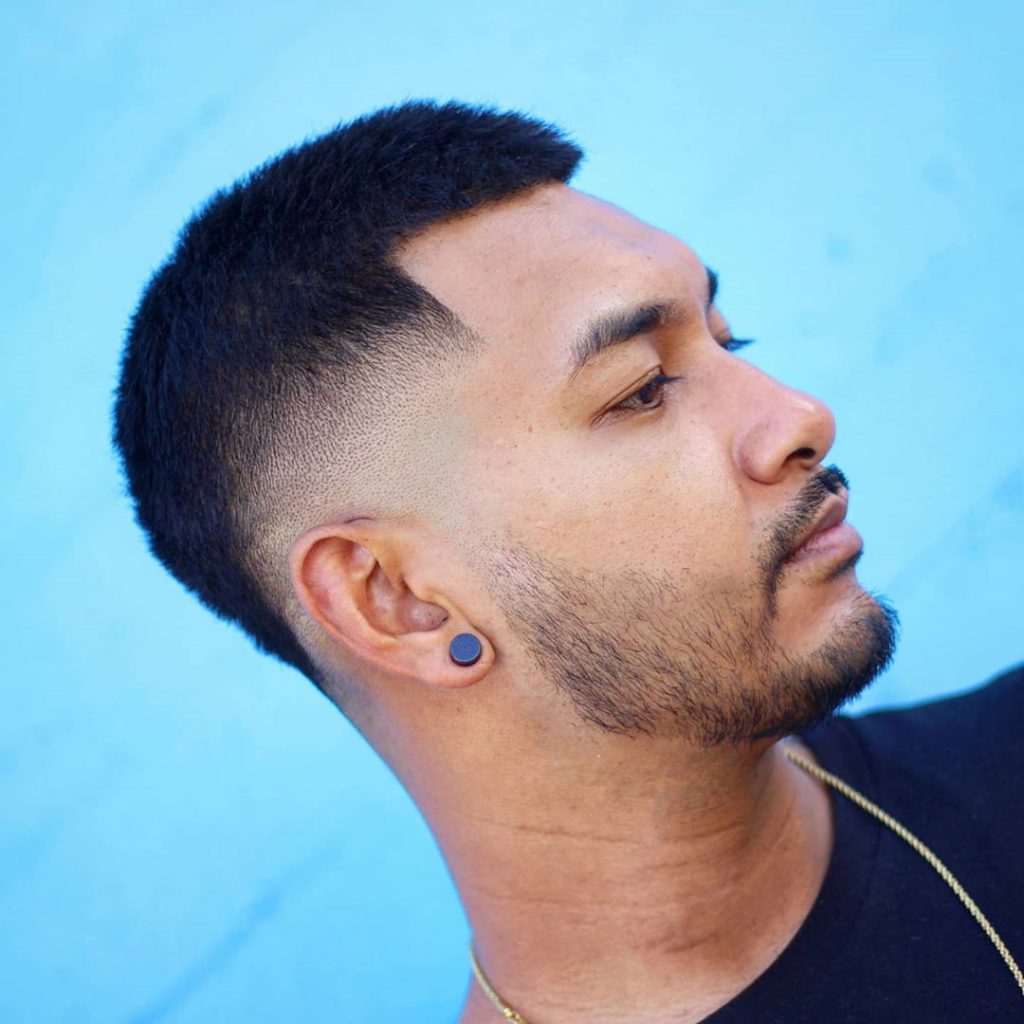 Make a short haircut even easier to wear by adding a fade.
8. High and Tight + Waves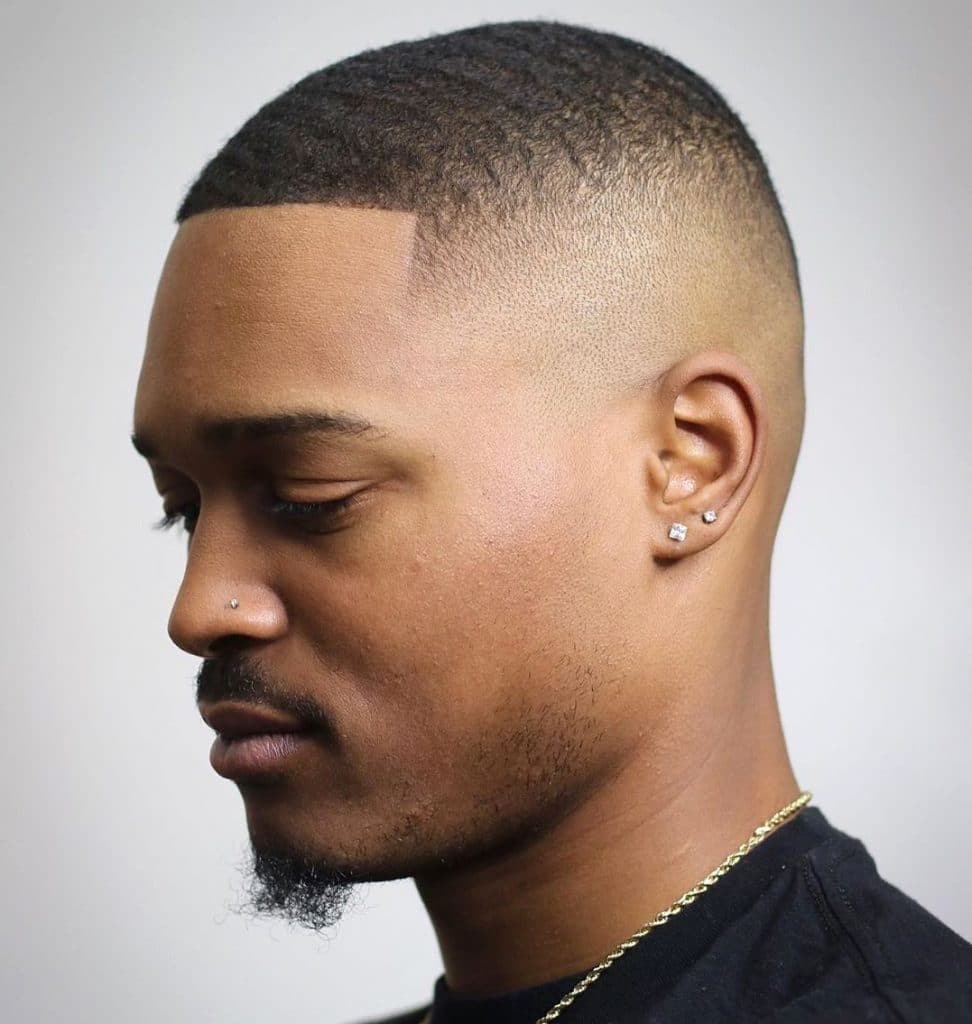 Waves on top add texture to the popular high and tight haircut.
9. Bald Fade Haircuts For Young Black Men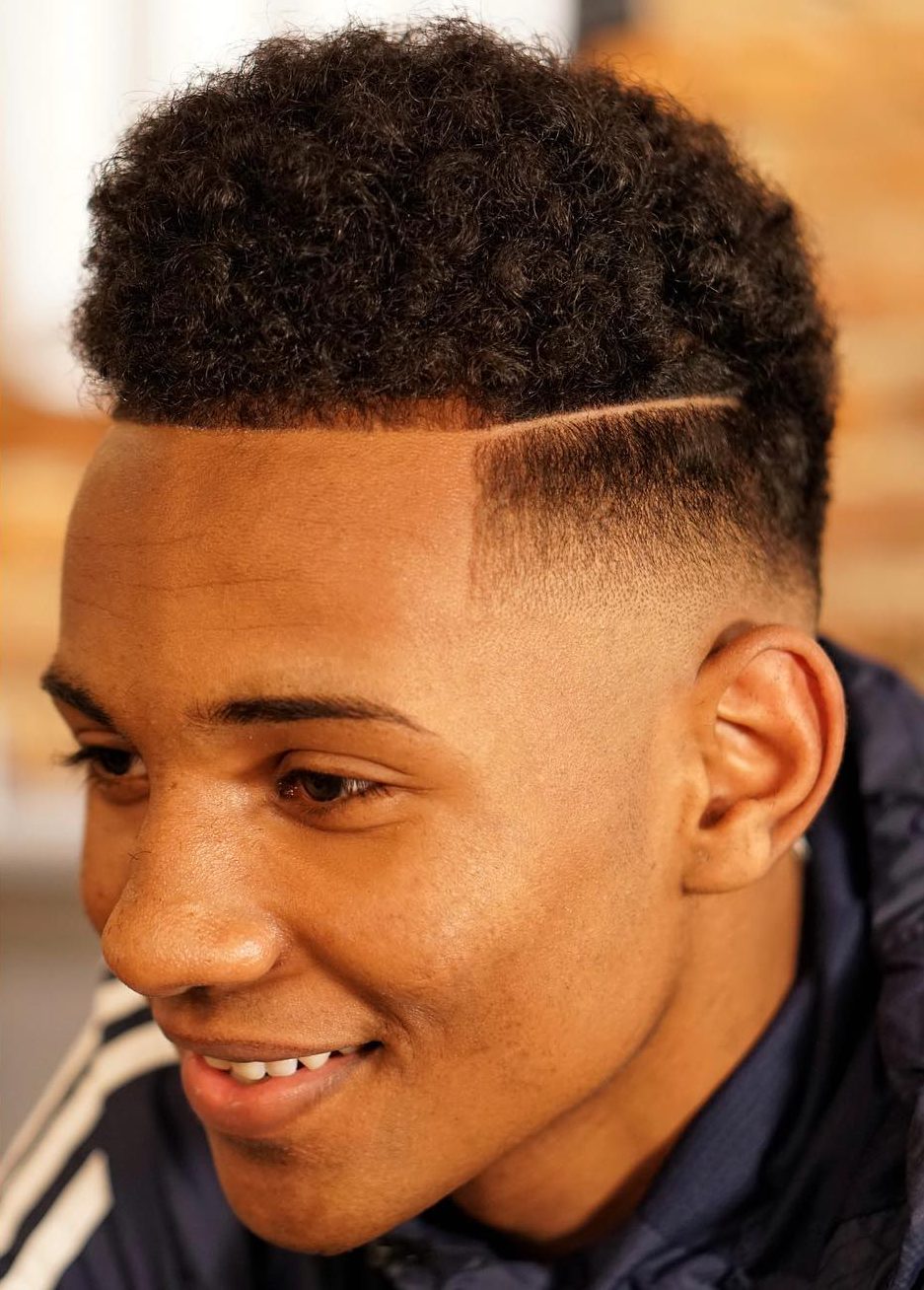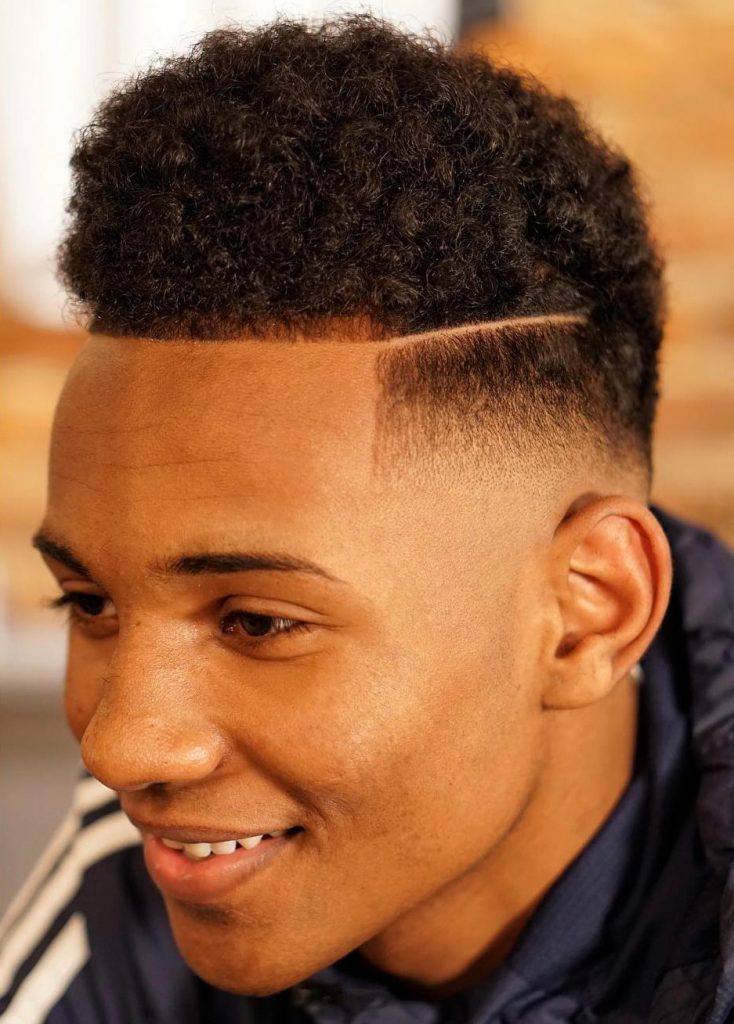 Somewhere in-between a mohawk and curly pomp, this is a cool haircut for Black men of all ages.
10. Short On Top Haircut + Skin Fade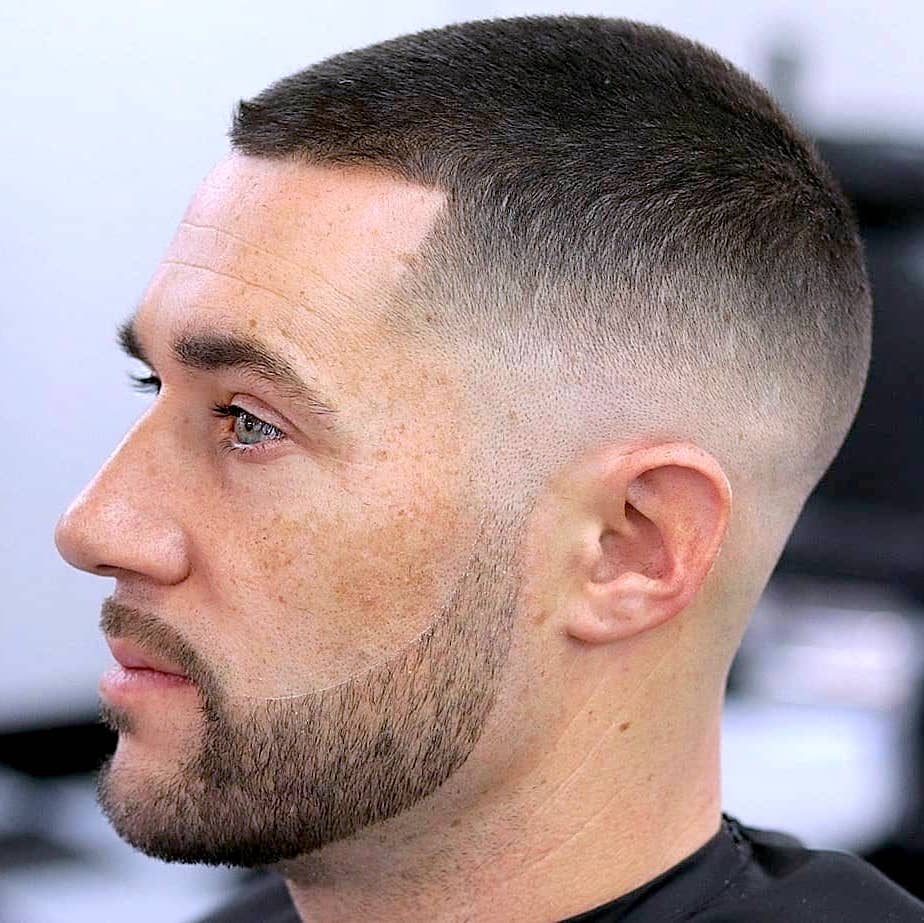 A bald fade can be worn with any length of hair, including this almost-stubble cut. in addition to being the easiest haircut for men, this is also a trick for making thin hair appear thicker.
11. Skin Fade With Beard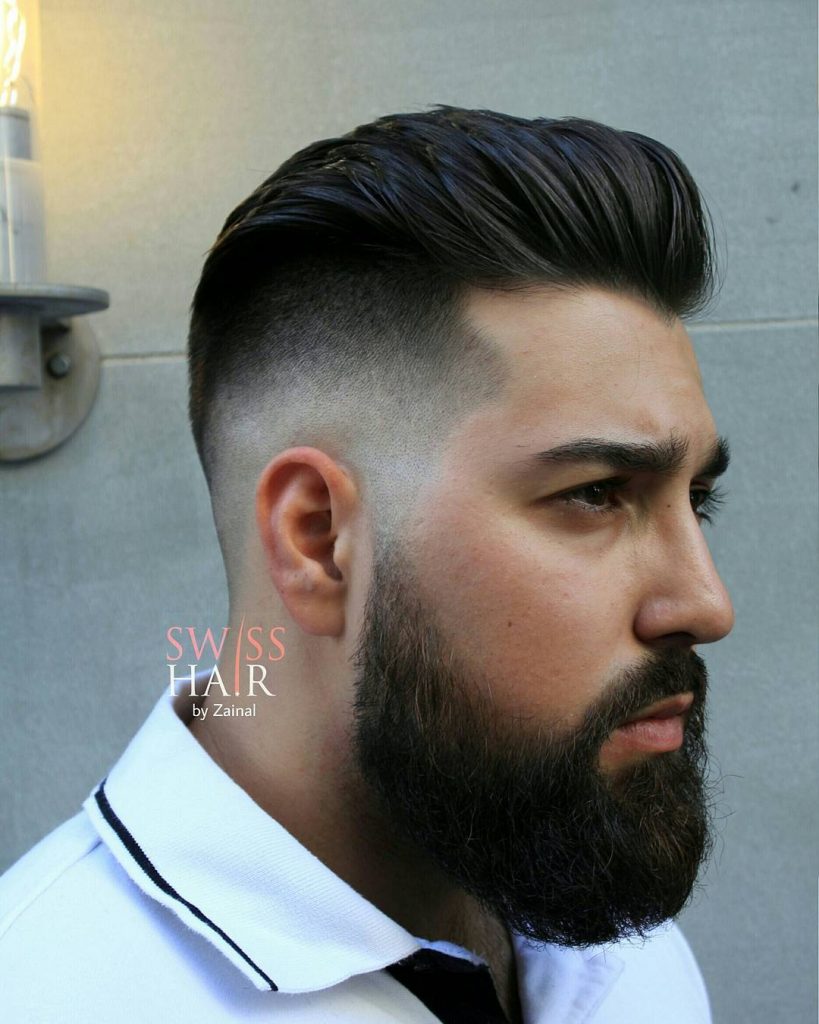 A groomed beard, slick hair, and skin fade all contribute to an polished finish. Use a beard oil and brush to get this smooth facial hair.
12. Short Skin Fade Haircut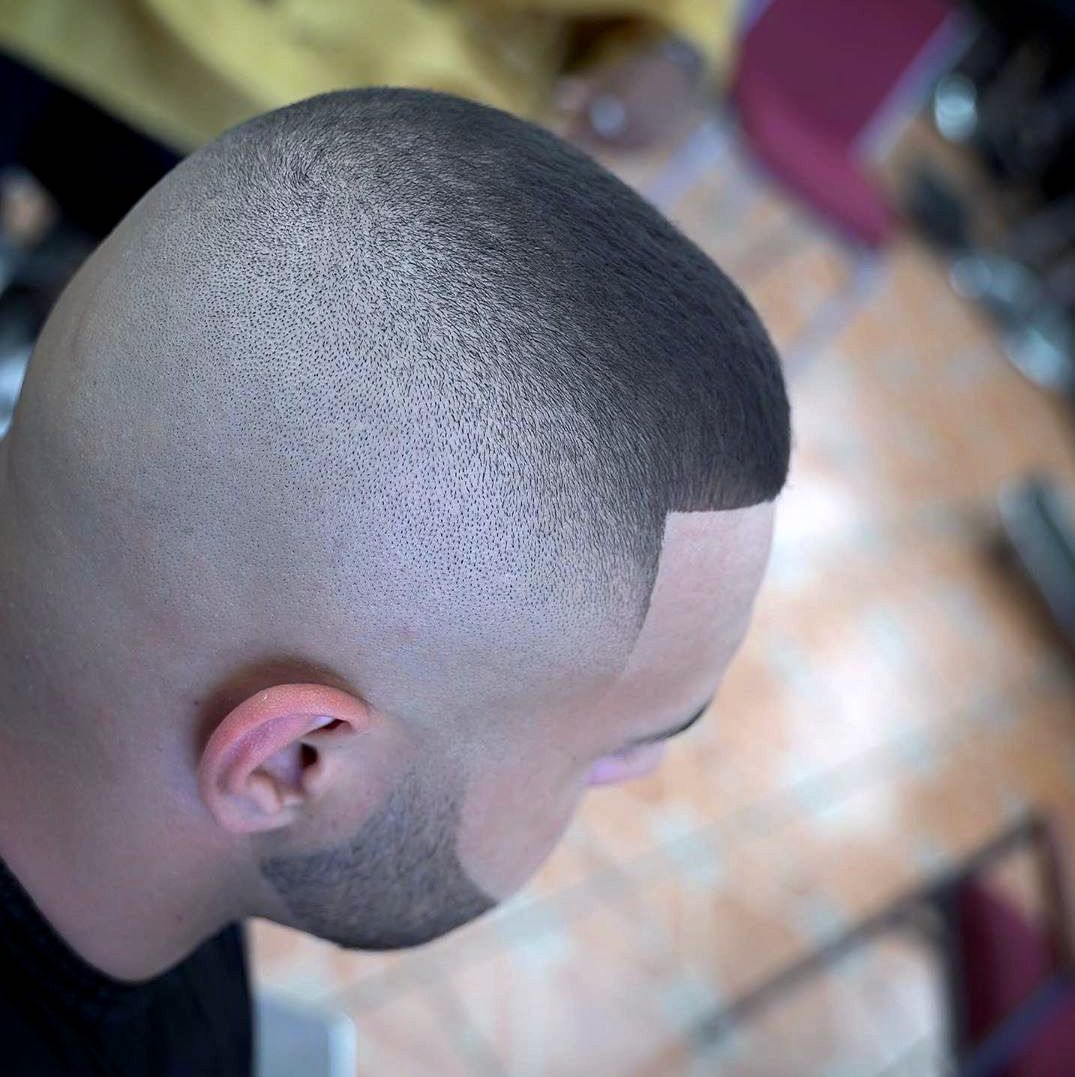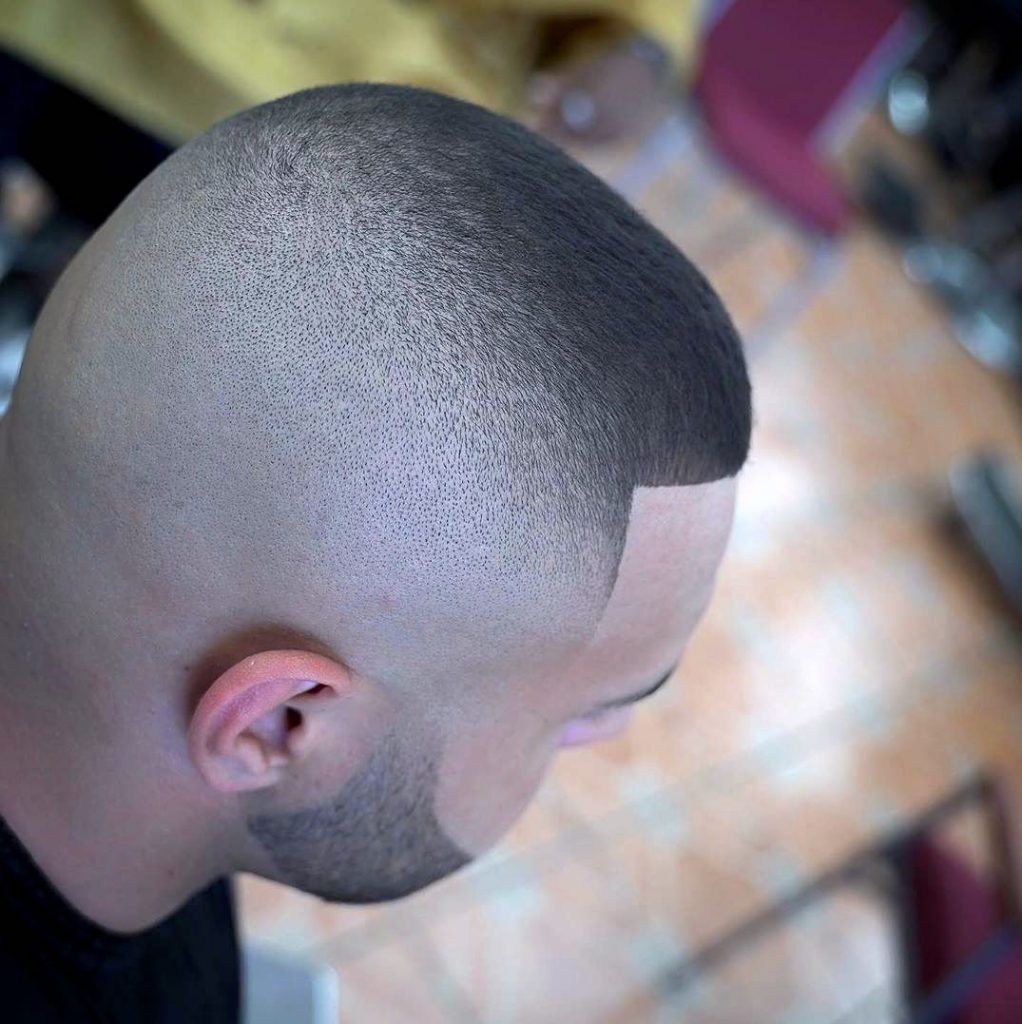 This high and tight is almost a jarhead haircut with a hint of hair on top and high fade.
13. Spiky Faux Hawk Fade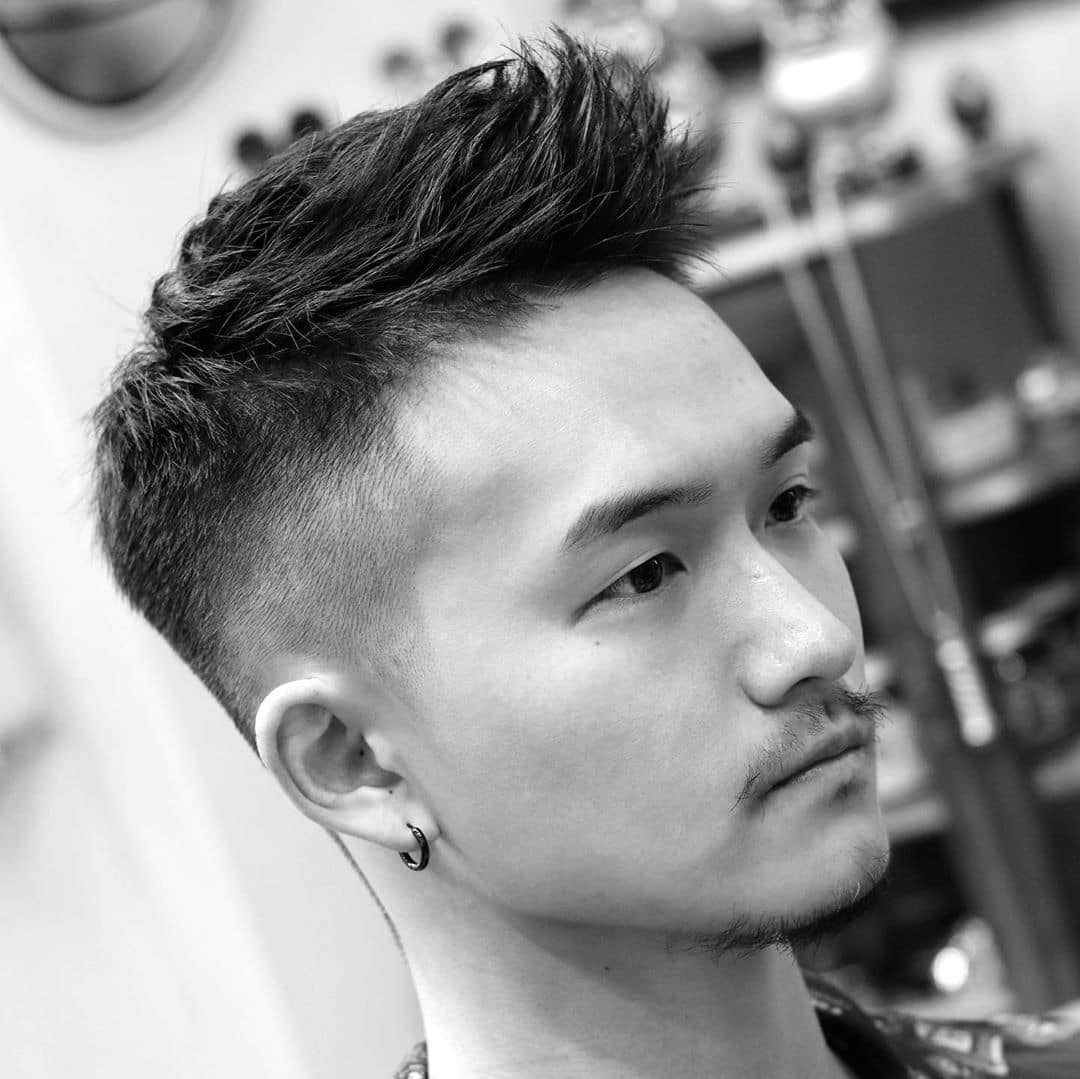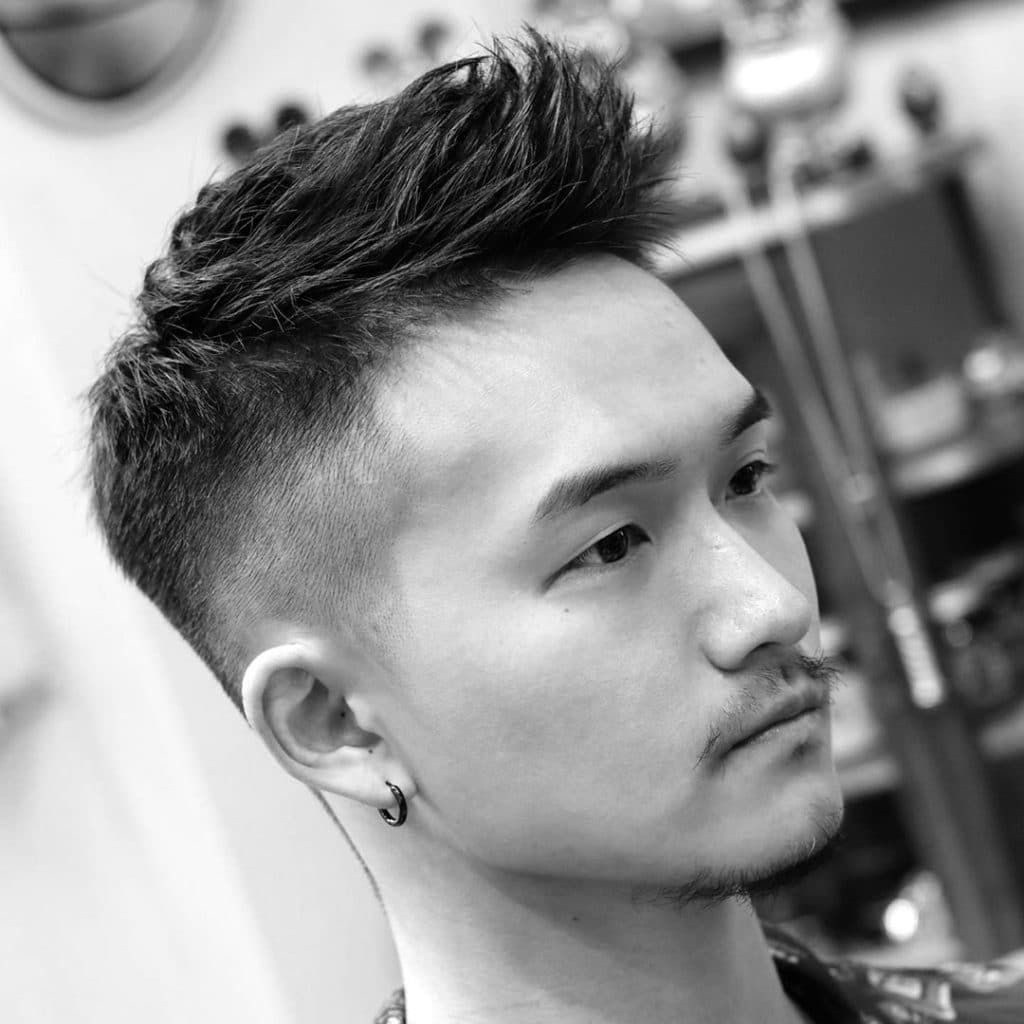 This fohawk style is one of those cool and flattering haircut that never goes out of style. To keep it on trend, wear it with textured spikes and a fade.
14. Slicked Back Bald Fade Haircut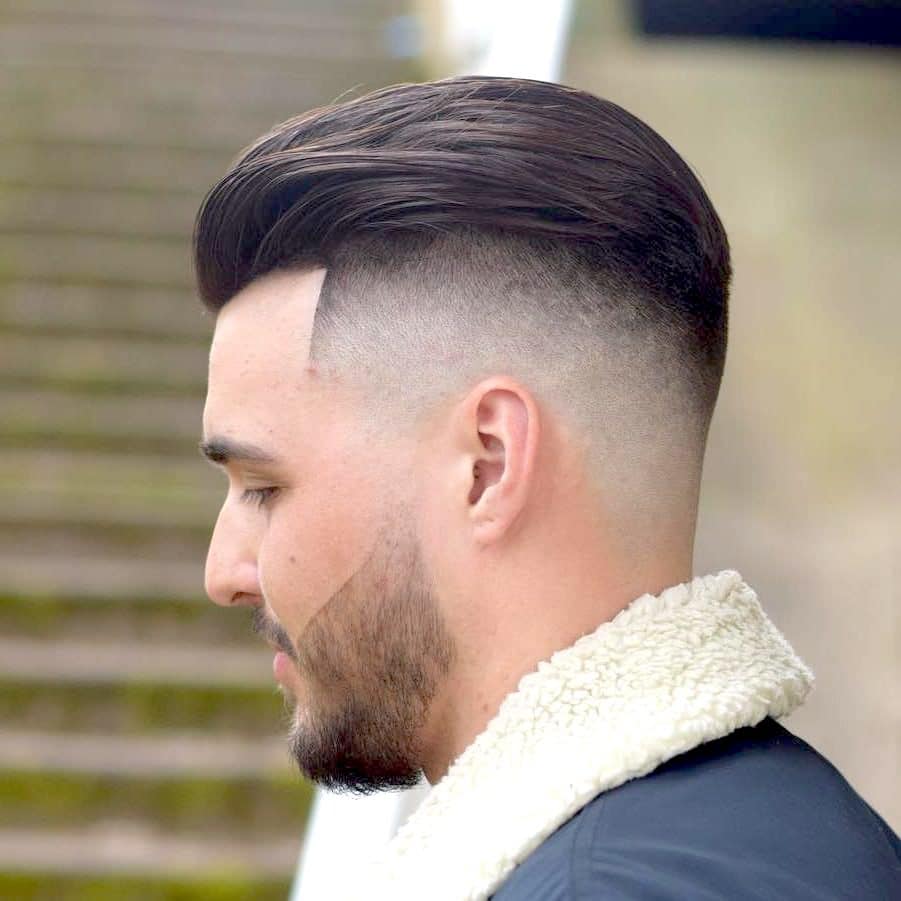 This high bald fade is almost an undercut. Whatever you want to call it, this Peaky Blinders-inspired style looks good.
15. Best Skin Fade Haircuts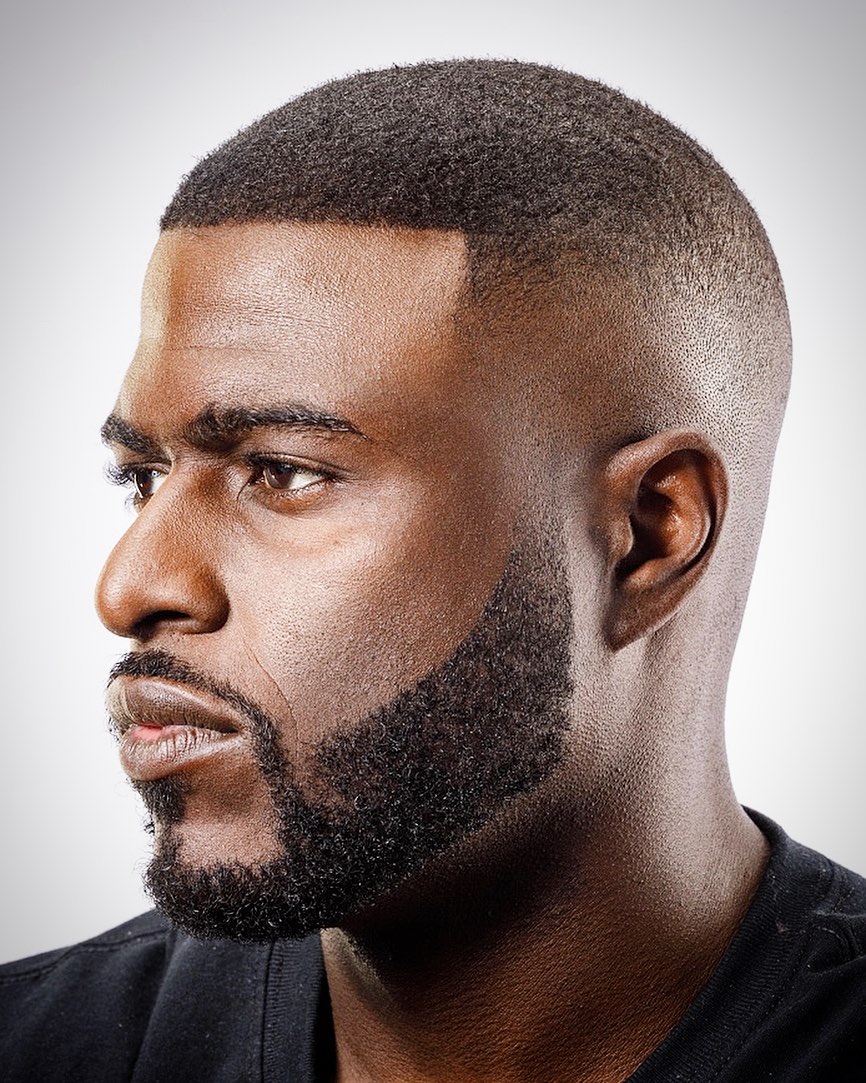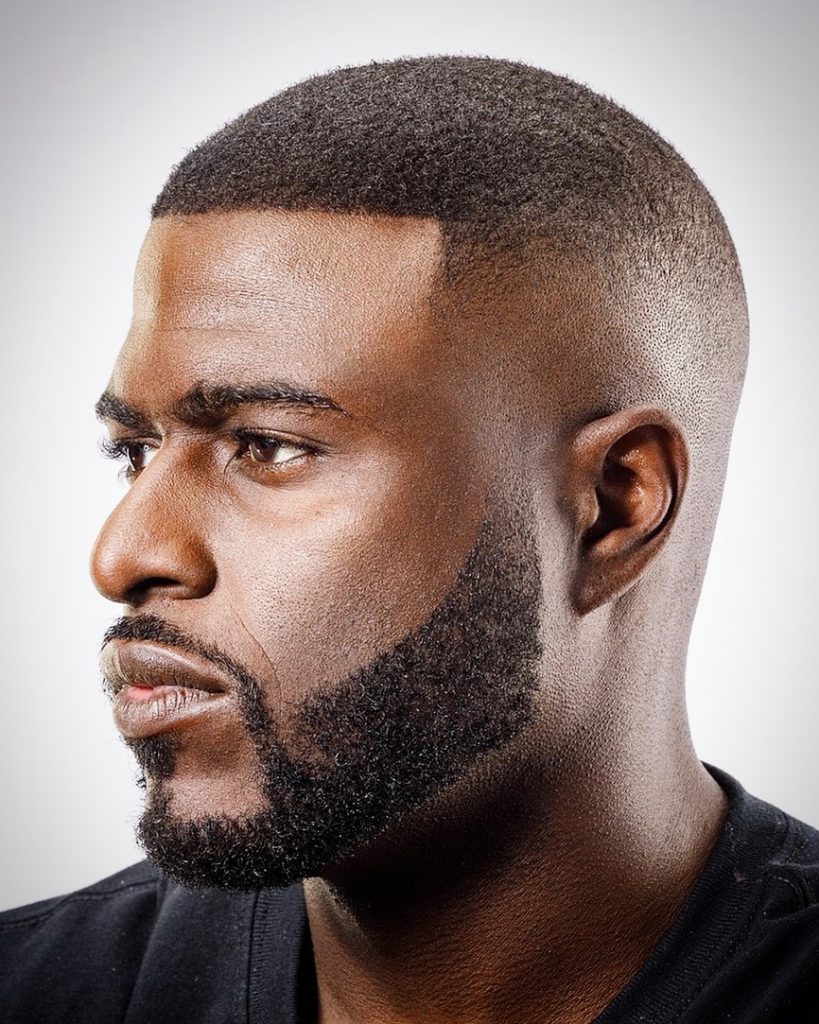 What makes one fade better than another? It's the blur – that seamless transition from hair to skin. This is one of the best skin fades out there because of the way it tapers from short hair to nothing. The beard fade is on point too.
16. Comb Over + Skin Fade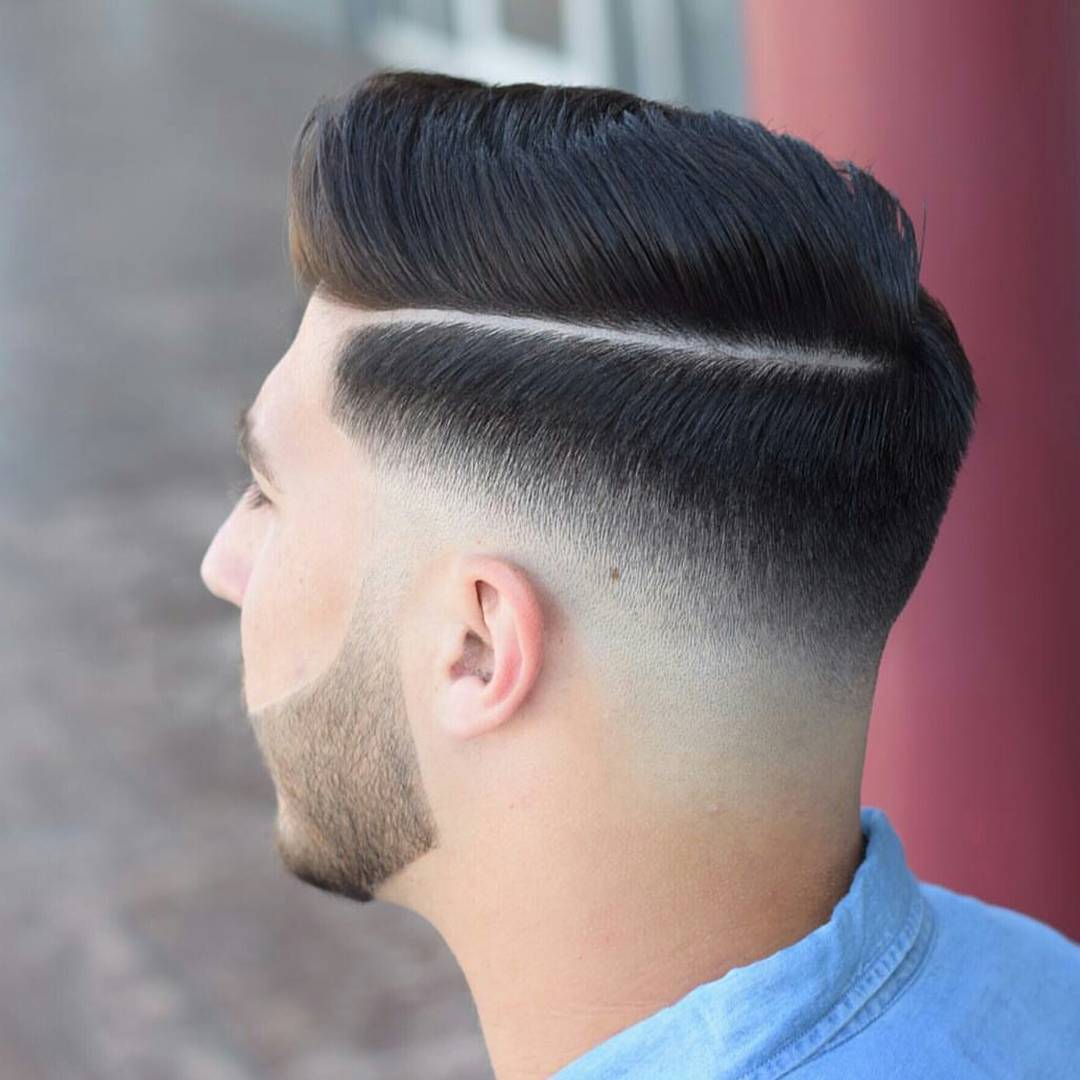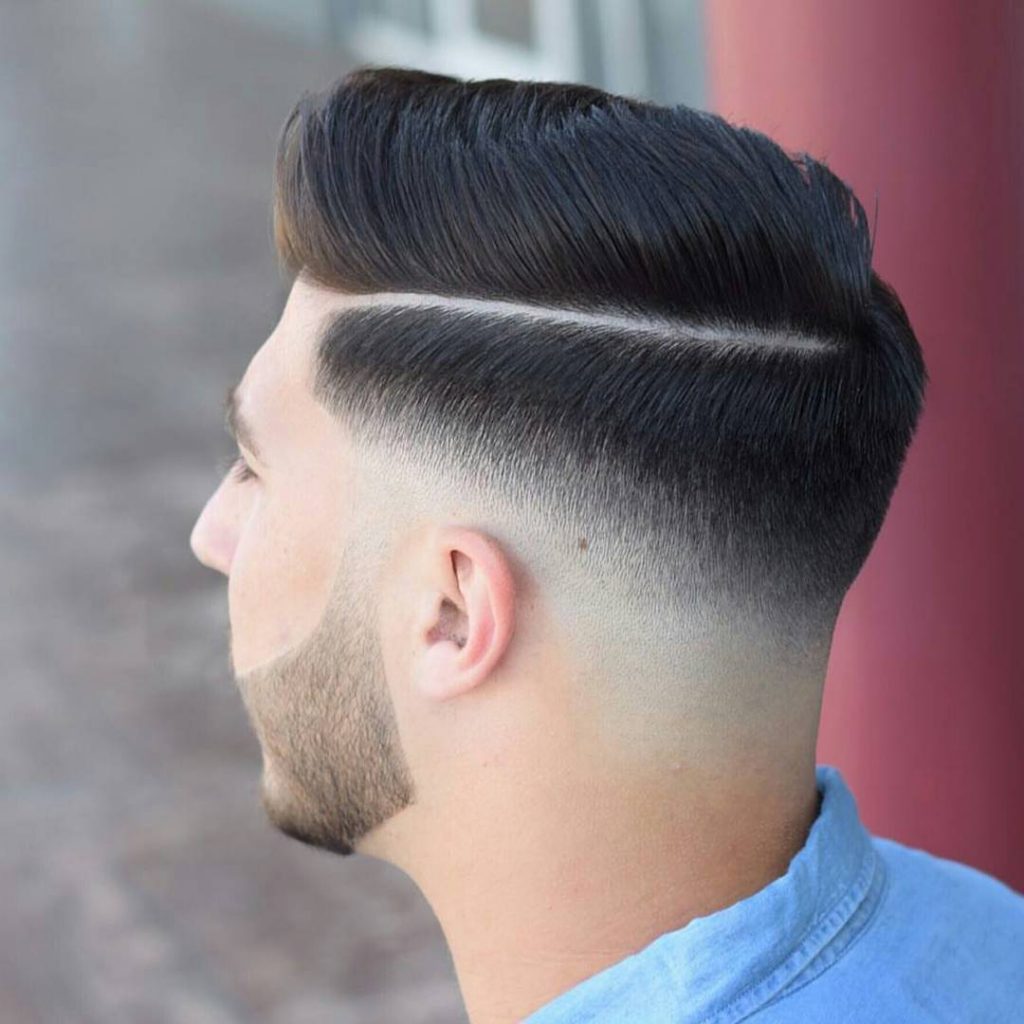 The comb over is another classic men's hairstyle that gets a fresh update with a fade.
17. Mohawk Fade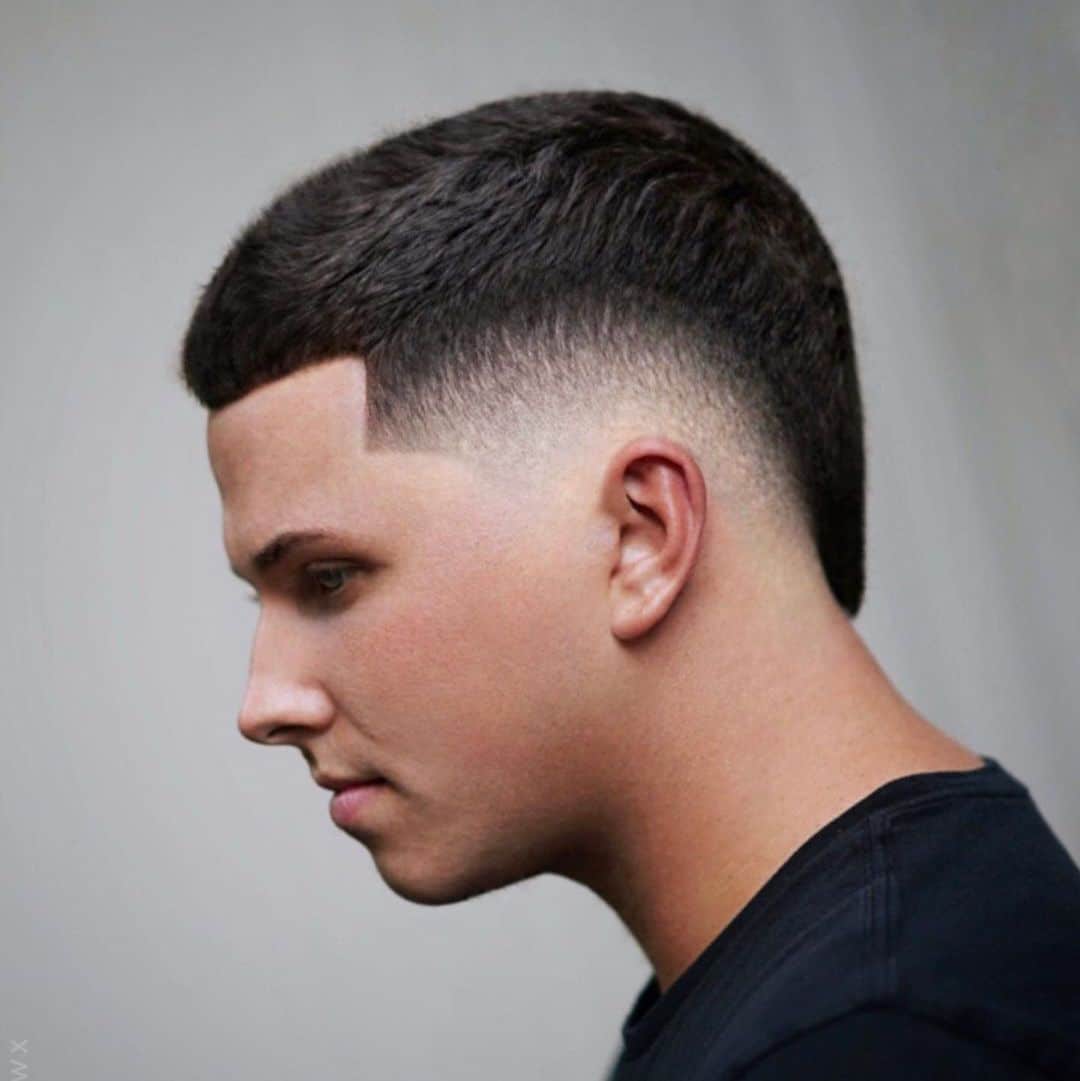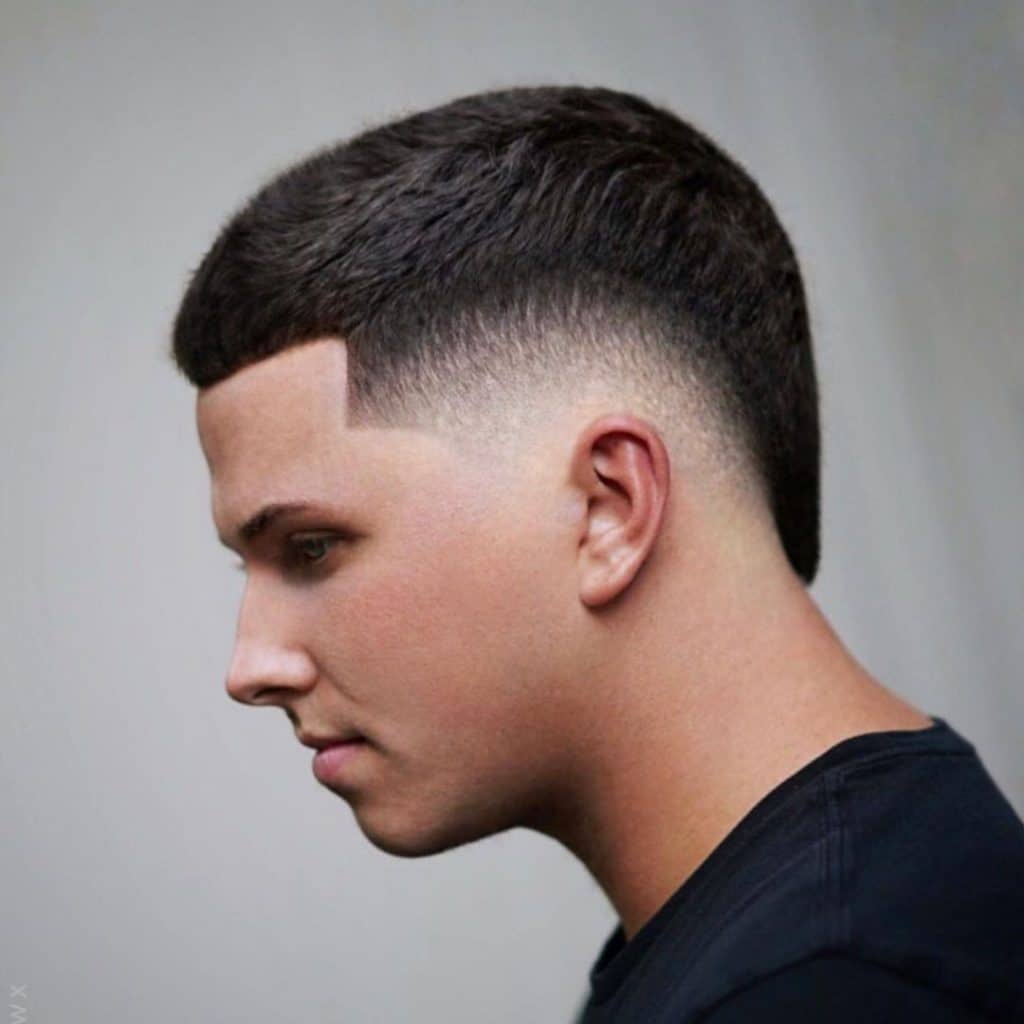 Modern mohawks are much more than a thin strip of hair down the middle of the scalp. A burst fade is one cool way to get the look, leaving a wide mohawk on top and that stripe at the back.
18. Skin Fade Taper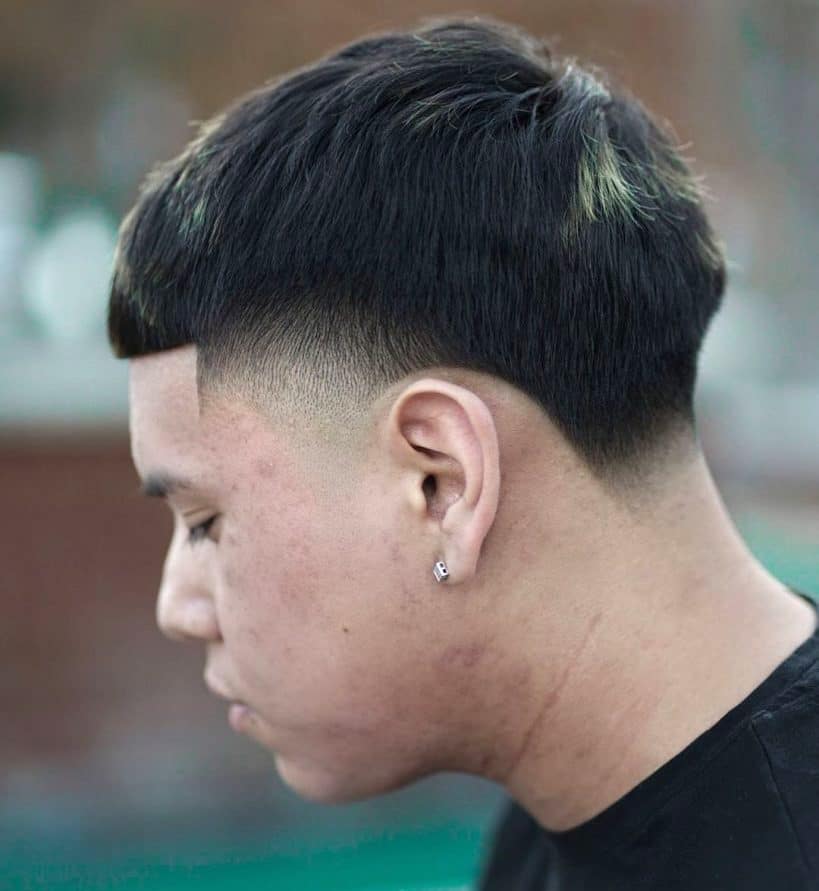 The taper fade combines a temple fade and neck taper, leaving an arch behind the ear. With straight bangs and longer hair at the back, this cut adds up to an Edgar.
19. Short + Curly Bald Fade Haircut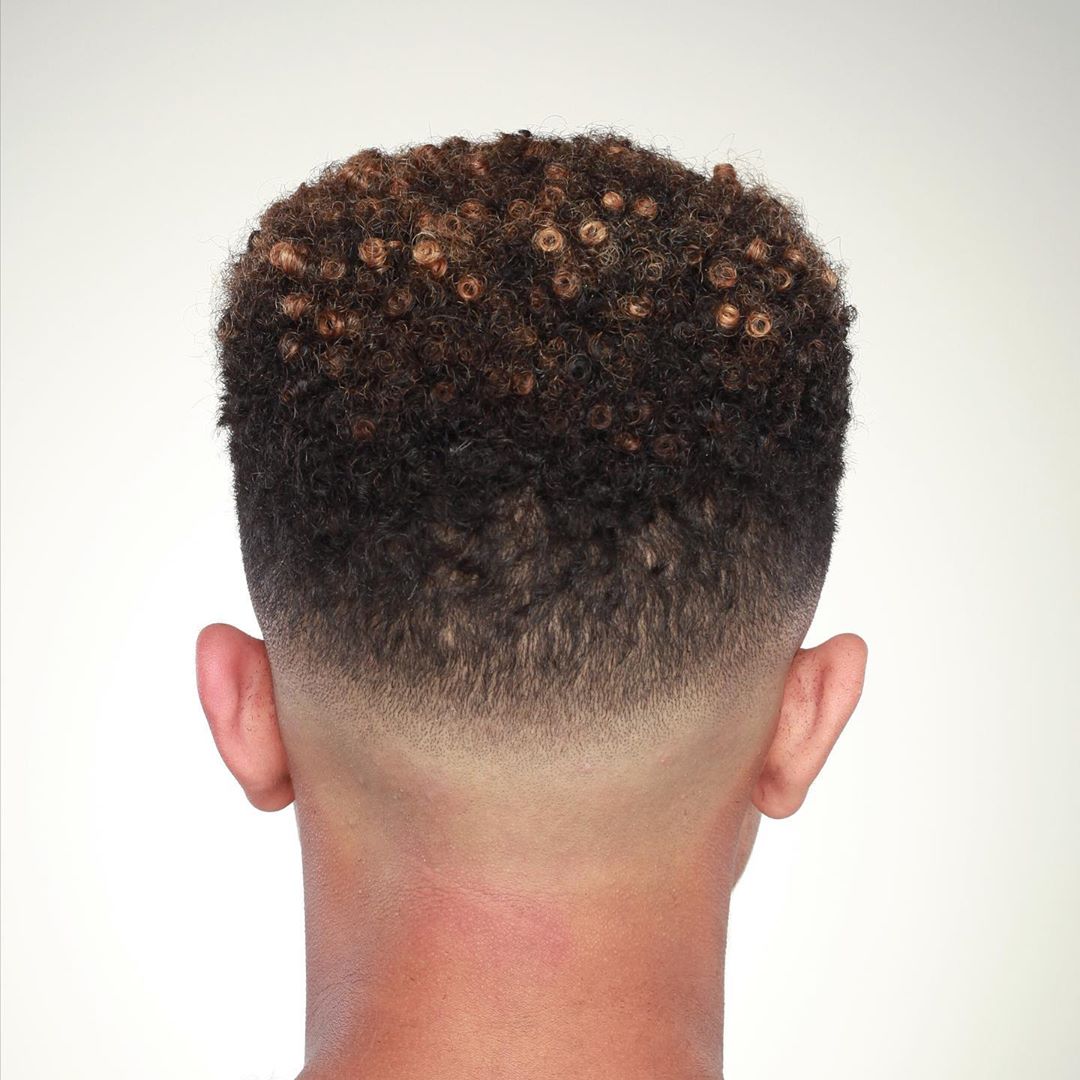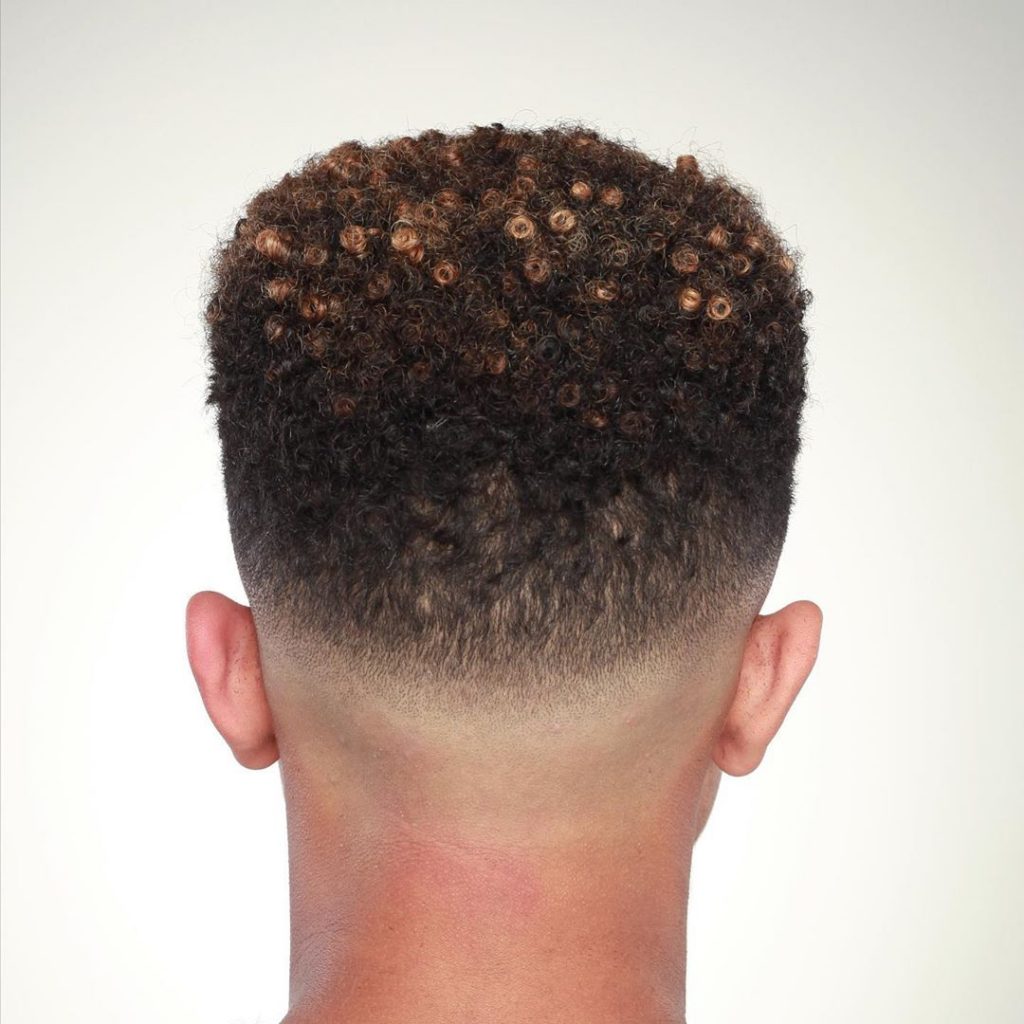 The bald fade looks great from every angle, especially the back.
20. Zero Skin Fade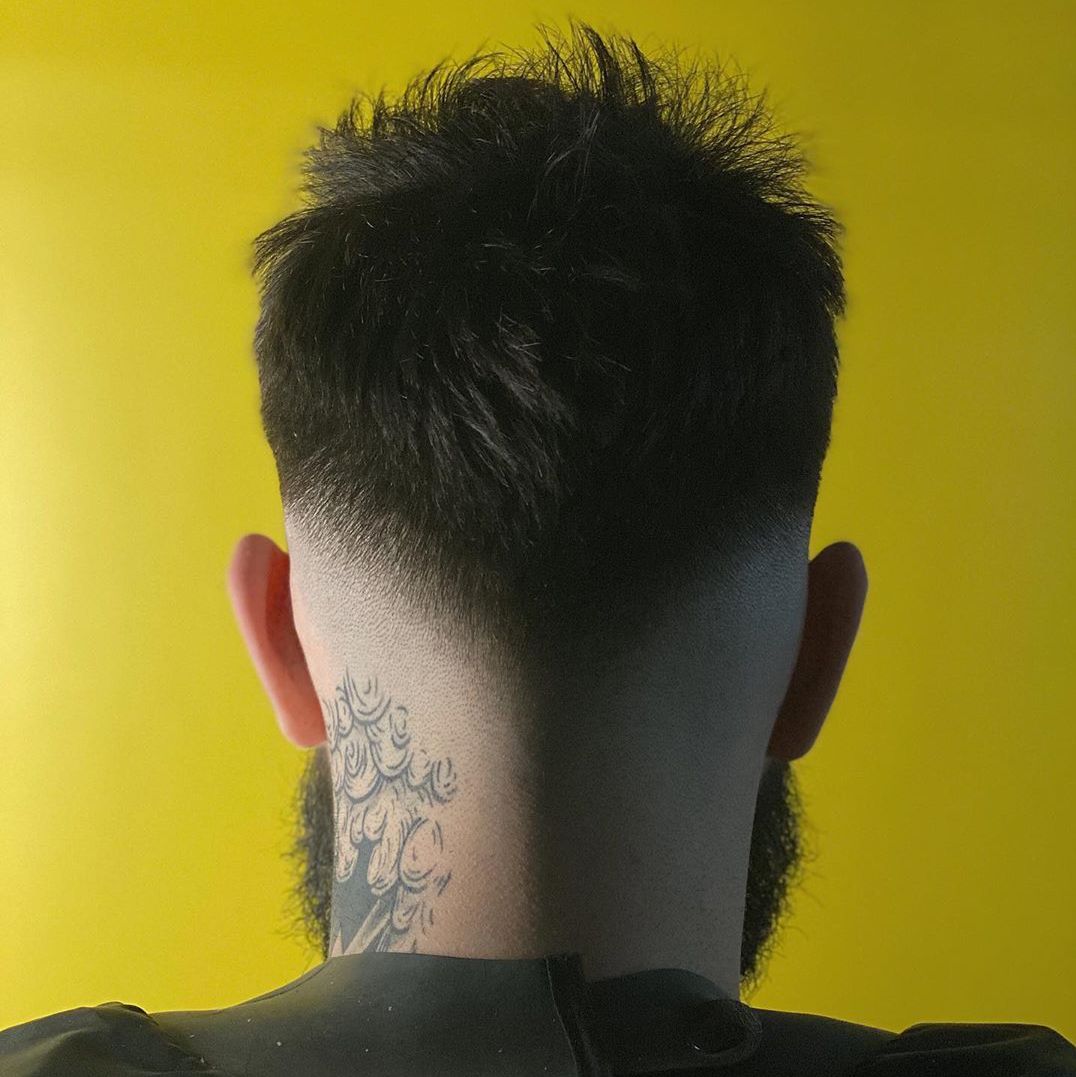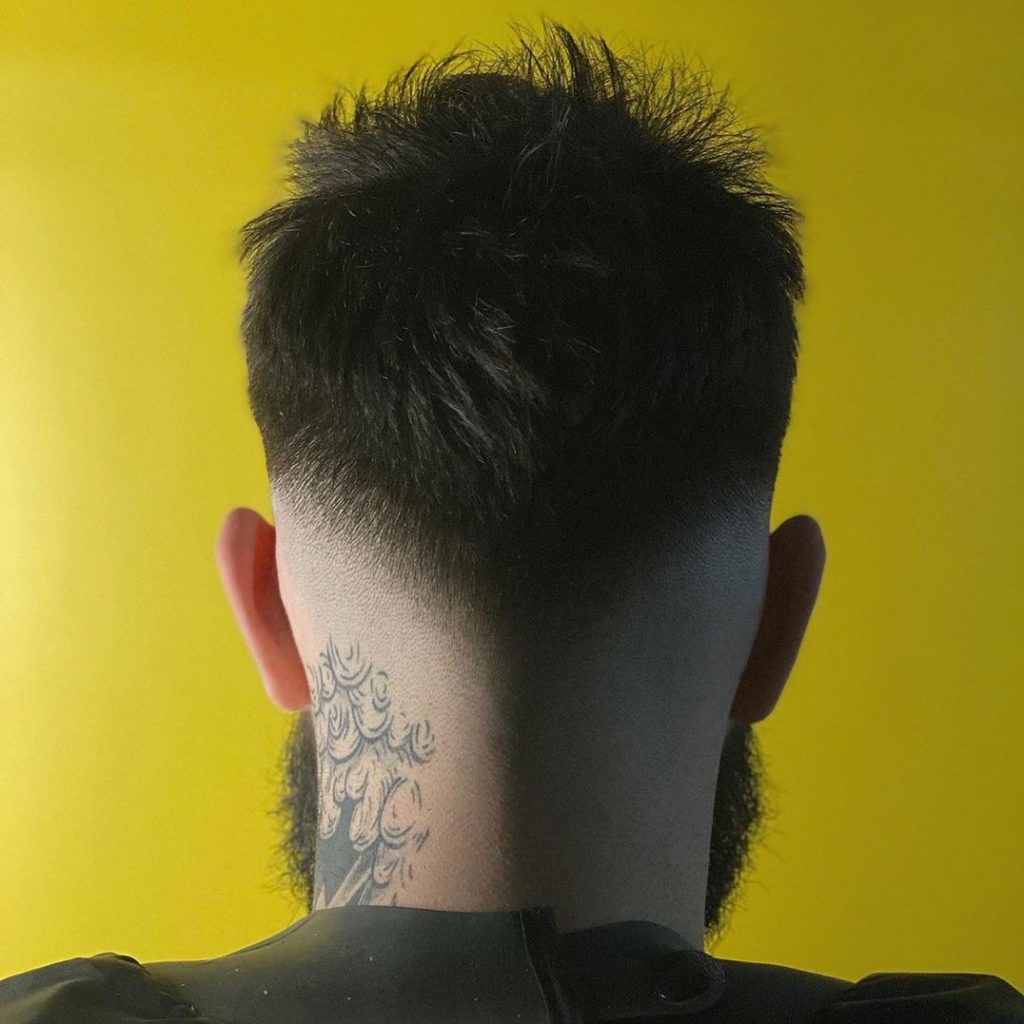 A 0-fade goes down to the skin. This fresh style creates an angled nape shape below a textured crop.
21. Skin Fade + Designs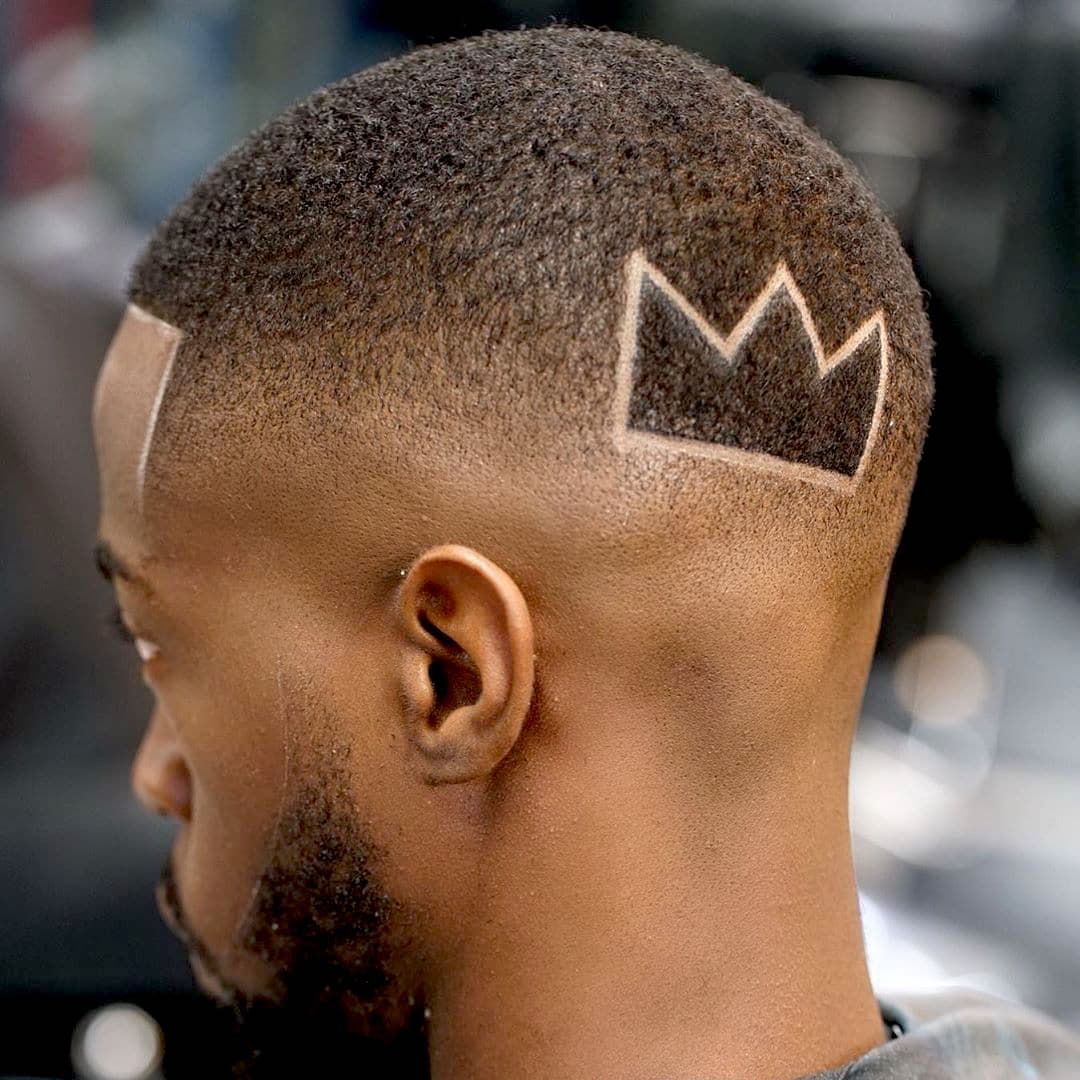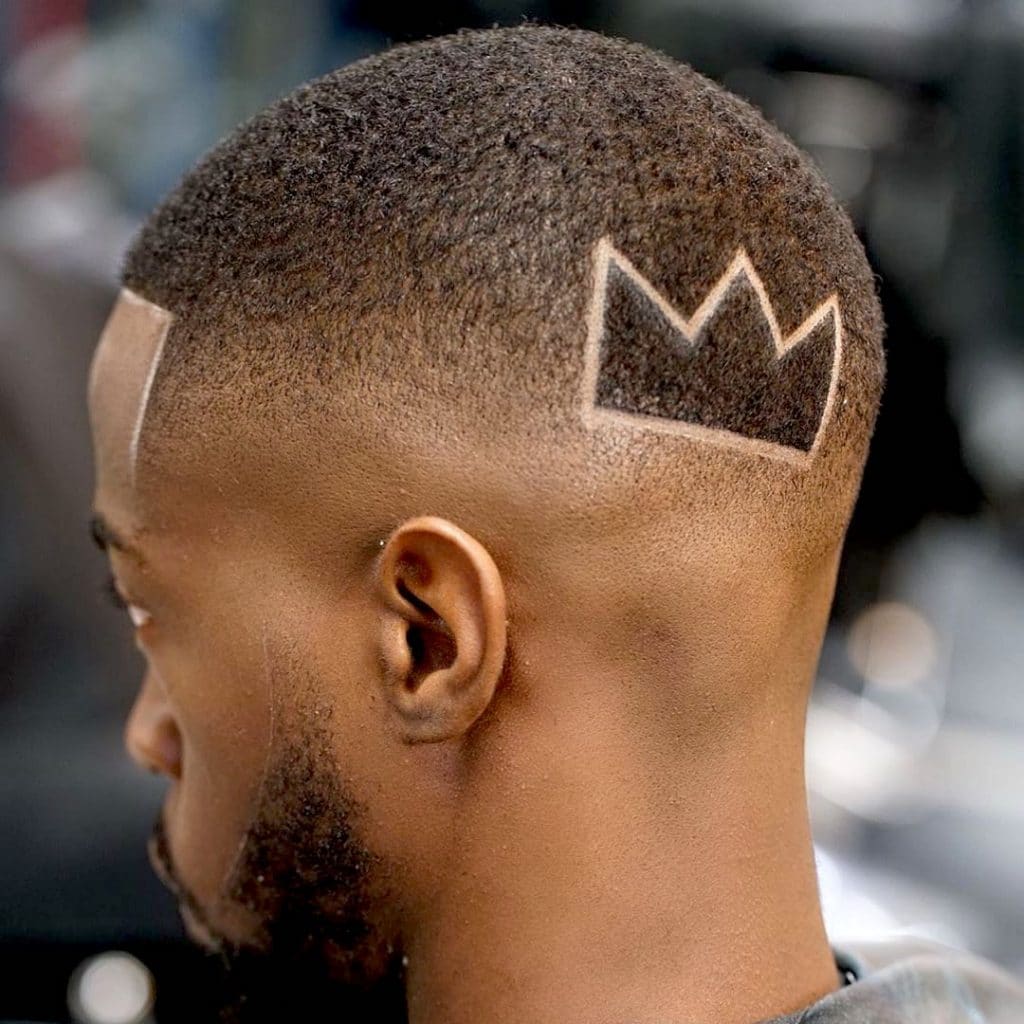 You need hair to create a hair design so this cool crown is shaved in over the skin fade. Hair is left longer inside the shape for extra emphasis.
22. Line Haircut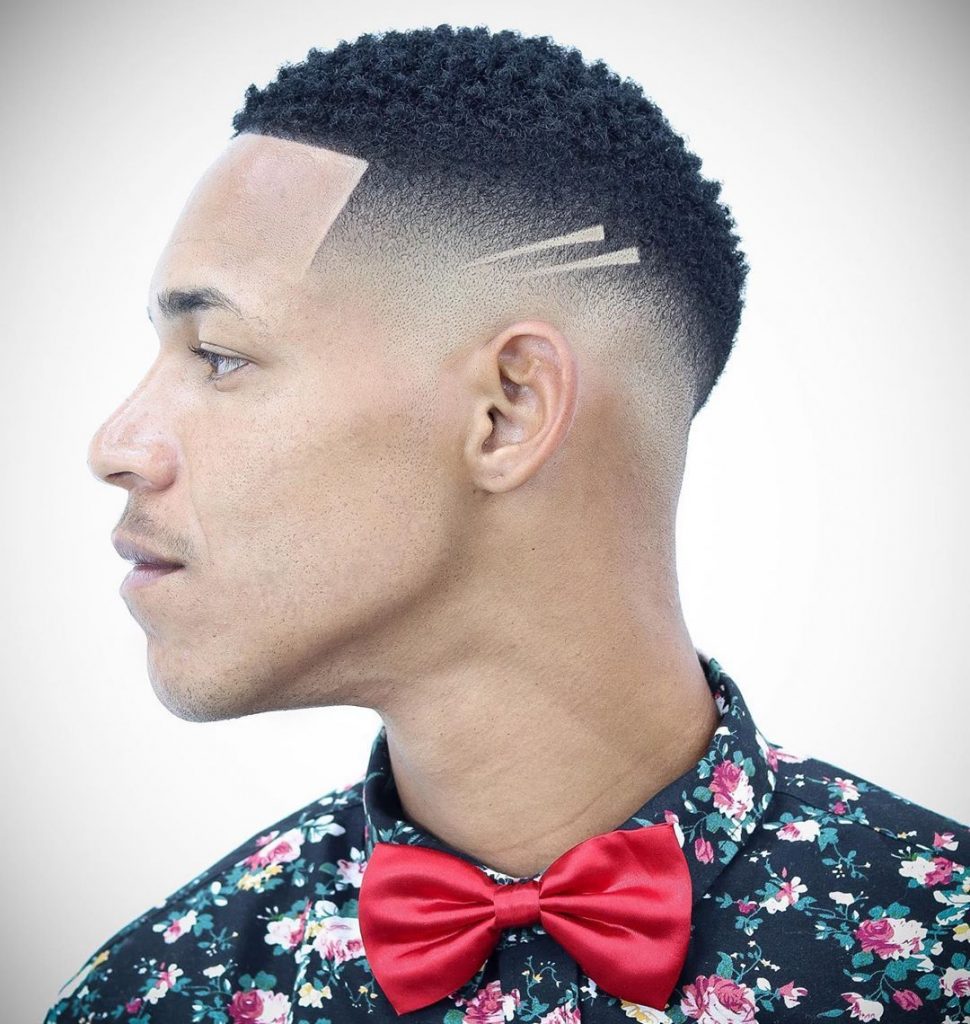 Another cool hair design is a line or slashes. It's an easy way to spice up a regular haircut.
23. Skin Fade Haircut With Line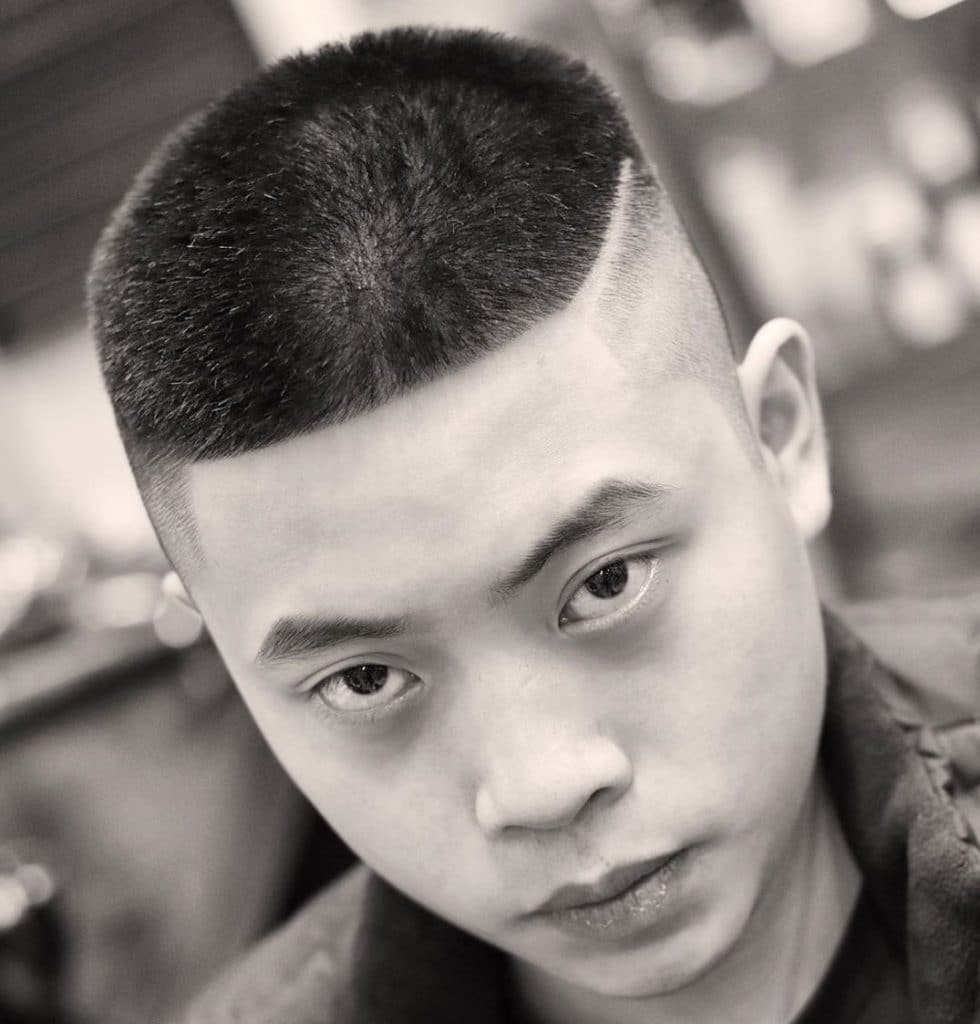 This line haircut extends the shape up back towards the the ear and over the fade.
24. Beard + Bald Fade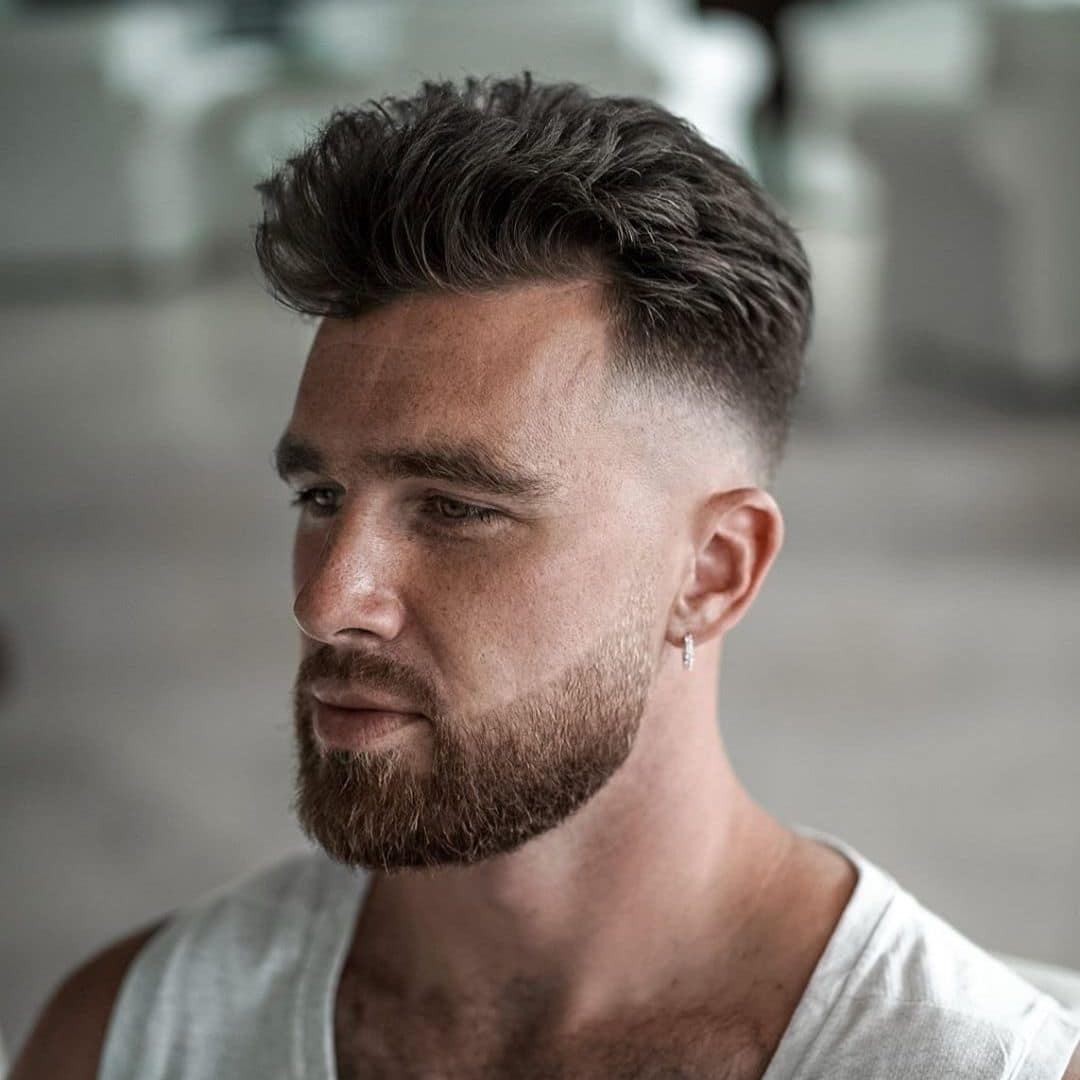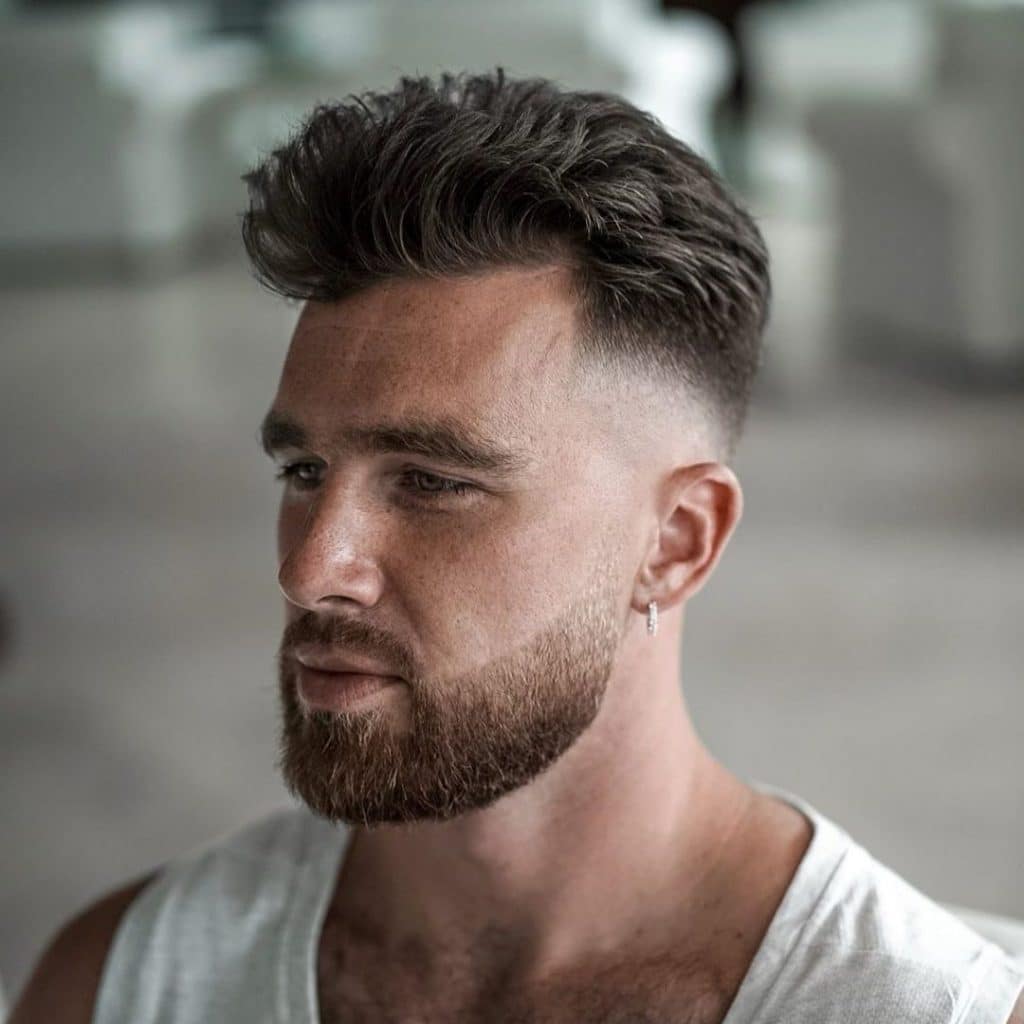 This fresh style contrasts medium-short flow haircut with a bald fade and short beard. Style hair loose like this or neat and tidy as required.
25. Best Low Skin Fade Haircuts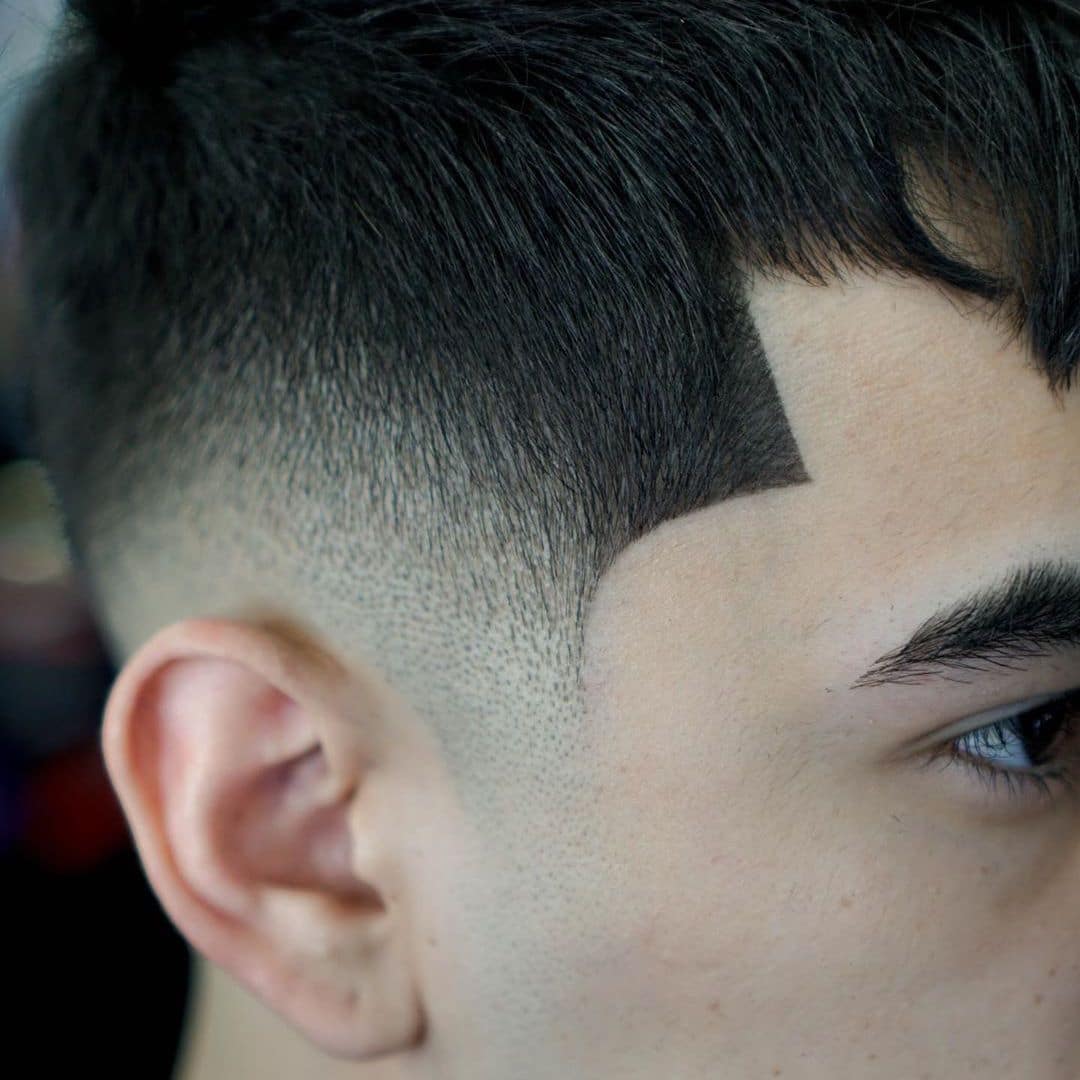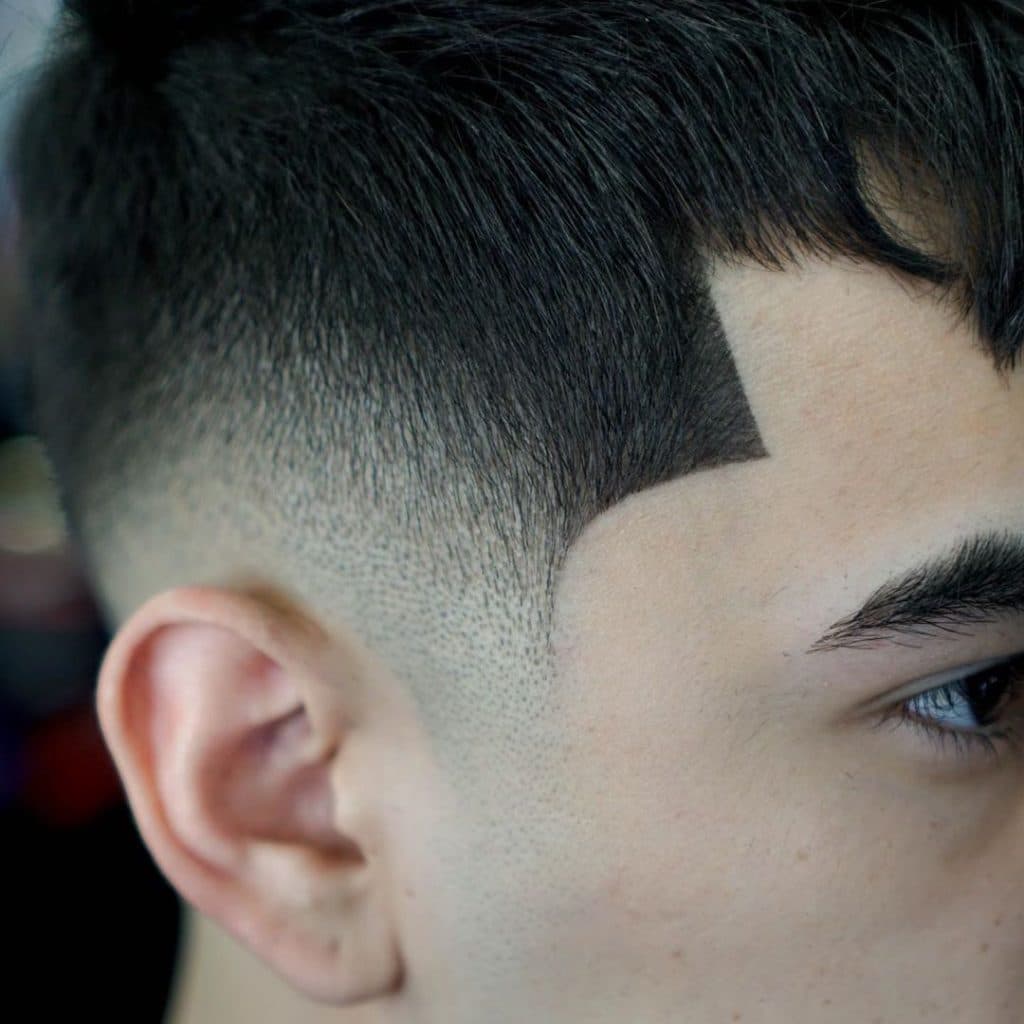 As stated before, the best fades are all about the blur. With a low fade, that takes even more precision. This is what it should look like.
26. Boy's Haircut + Skin Fade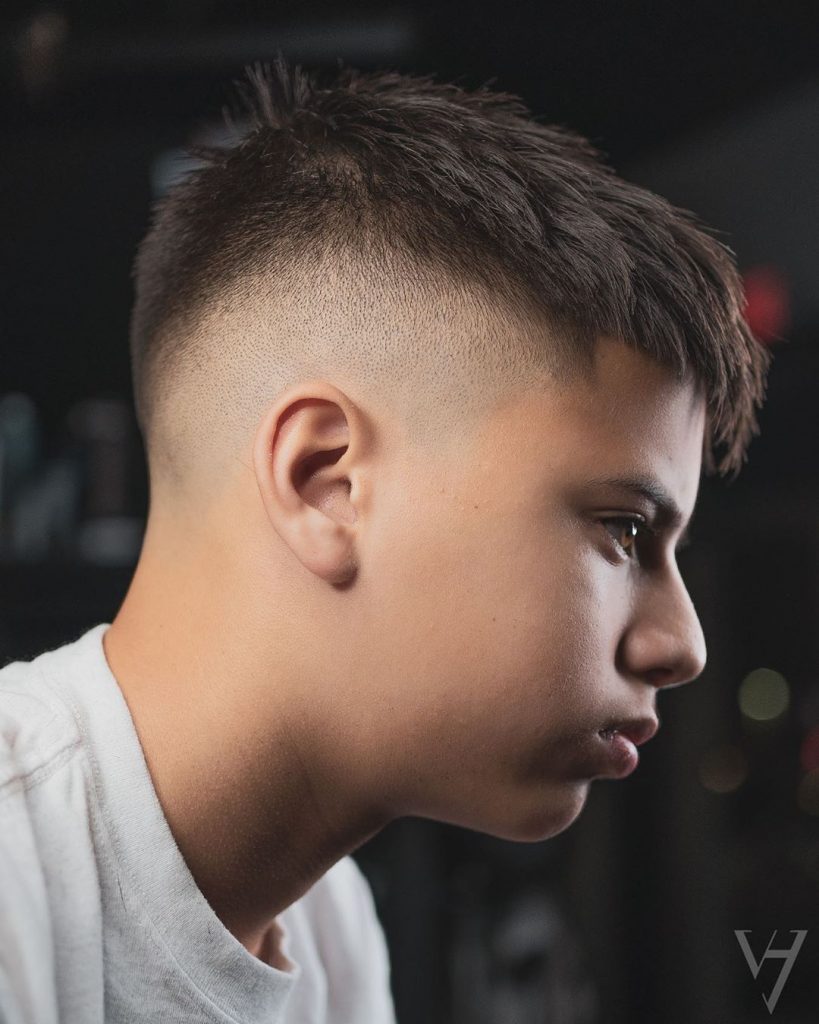 Whether it's for a trend or just easy, a fade looks great with all types of boy's haircuts.
27. Afro + Mid Skin Fade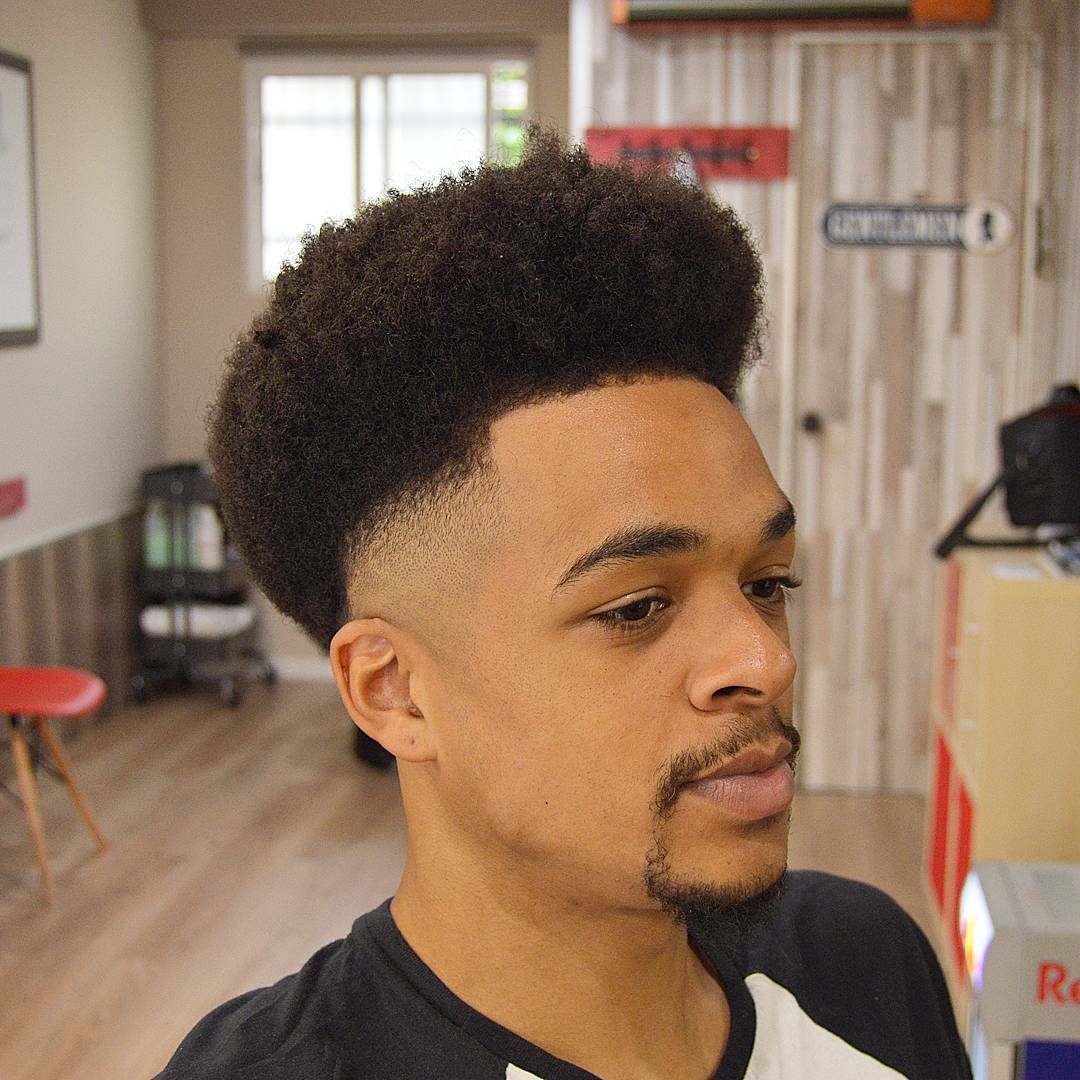 A low fade adds to the modern shape of this cool afro hairstyle.
28. Curly Flat Top + Skin Fade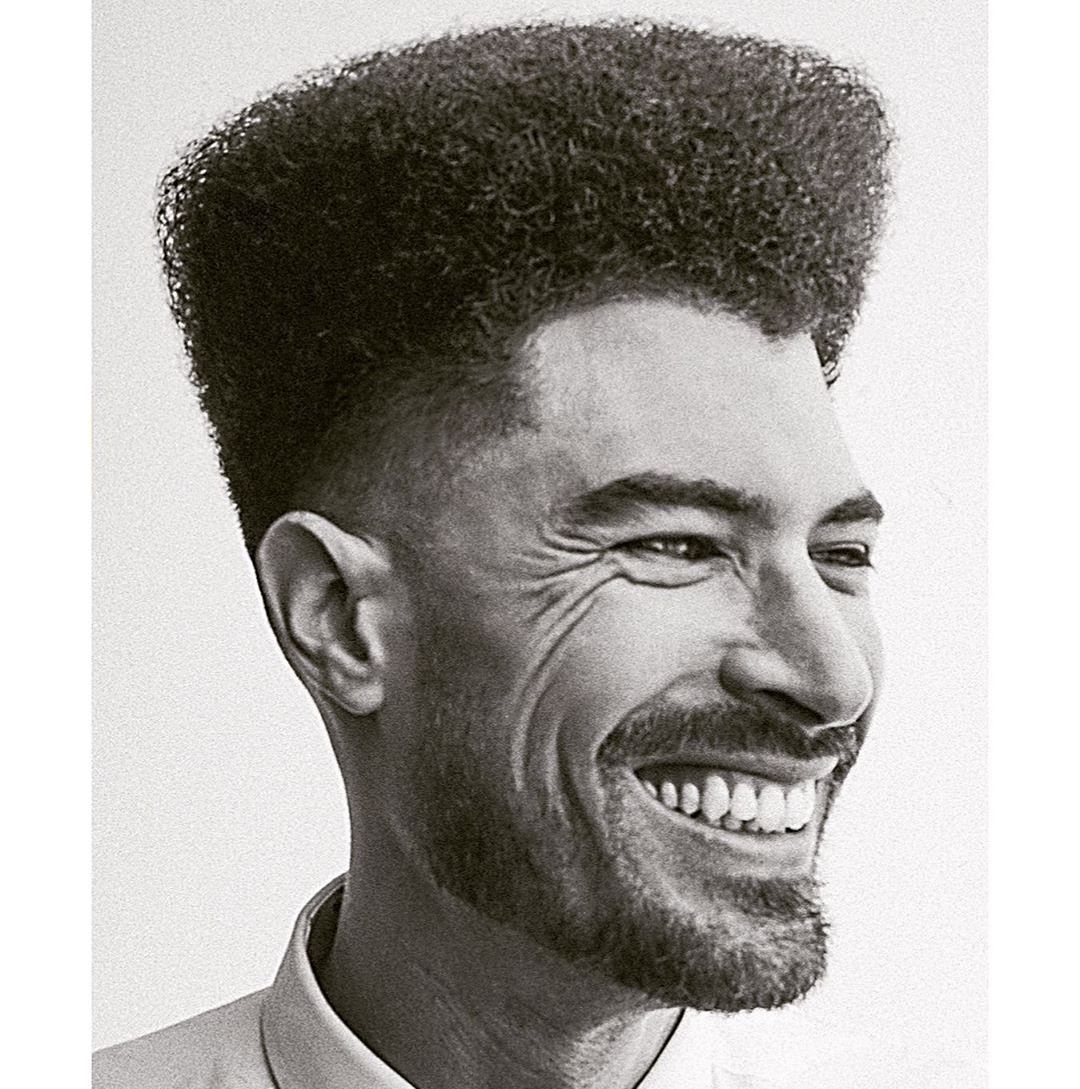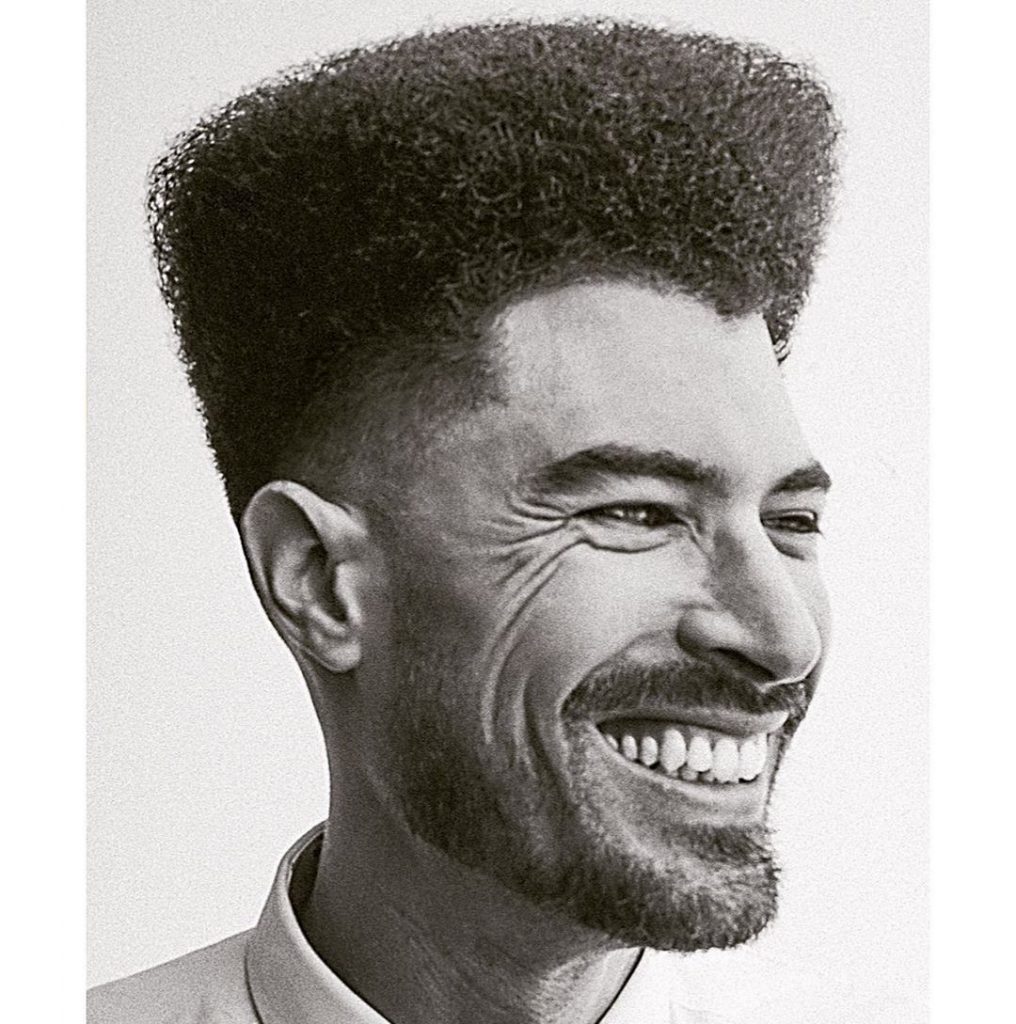 Stand out from the crowd with this cool curly flat top haircut and a low skin fade.
29. Flat Top + Skin Fade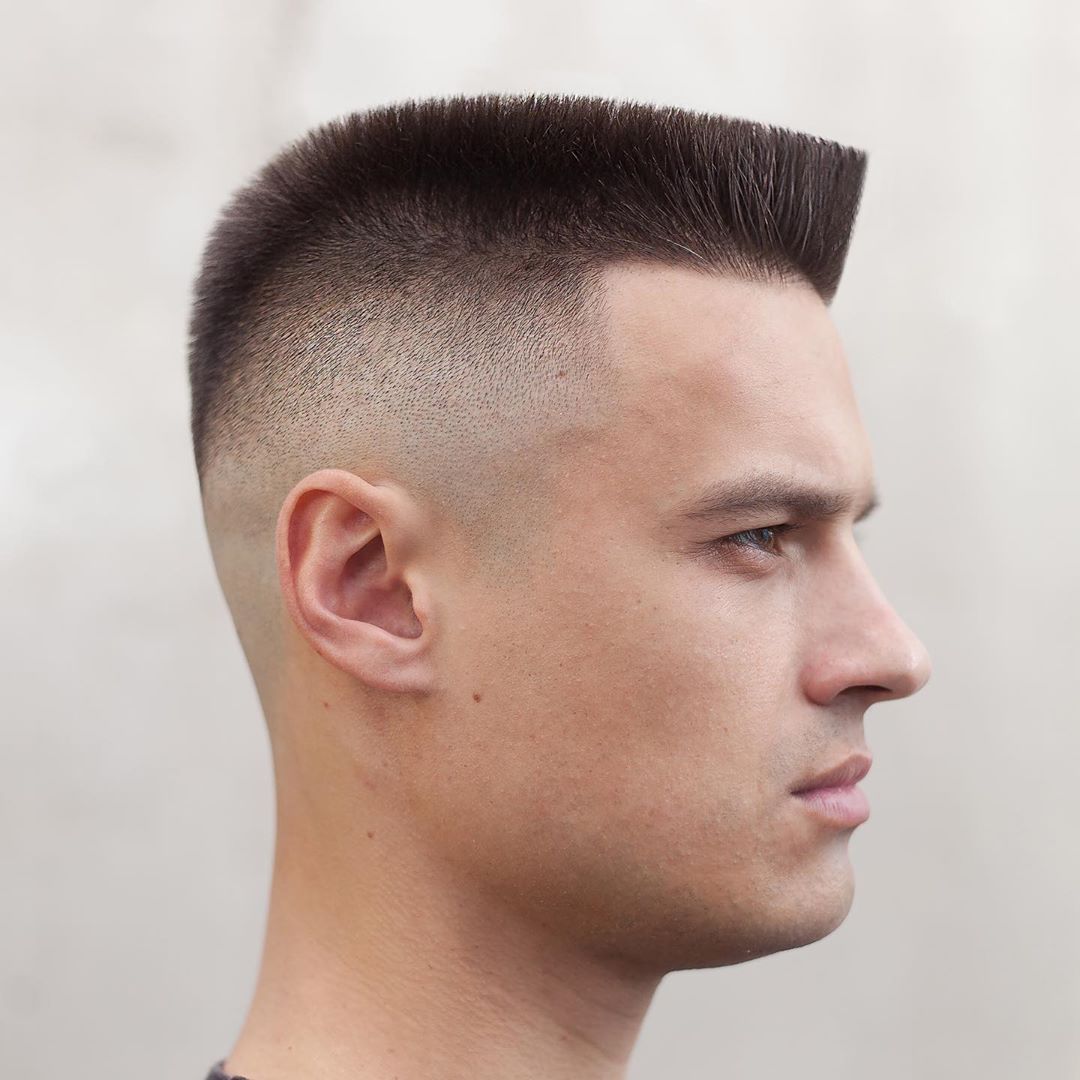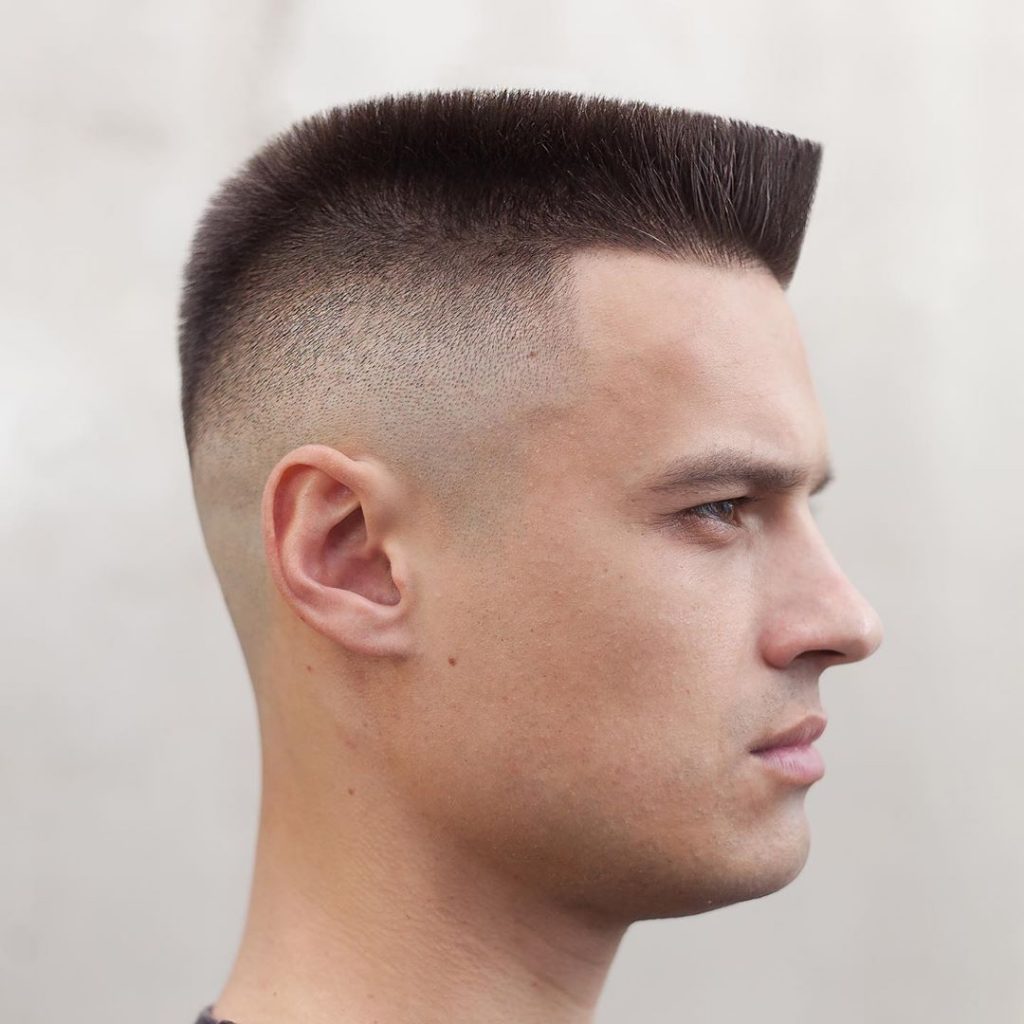 As a military haircut, the flat top is almost always worn with a bald fade.
30. Spiky Crop Fade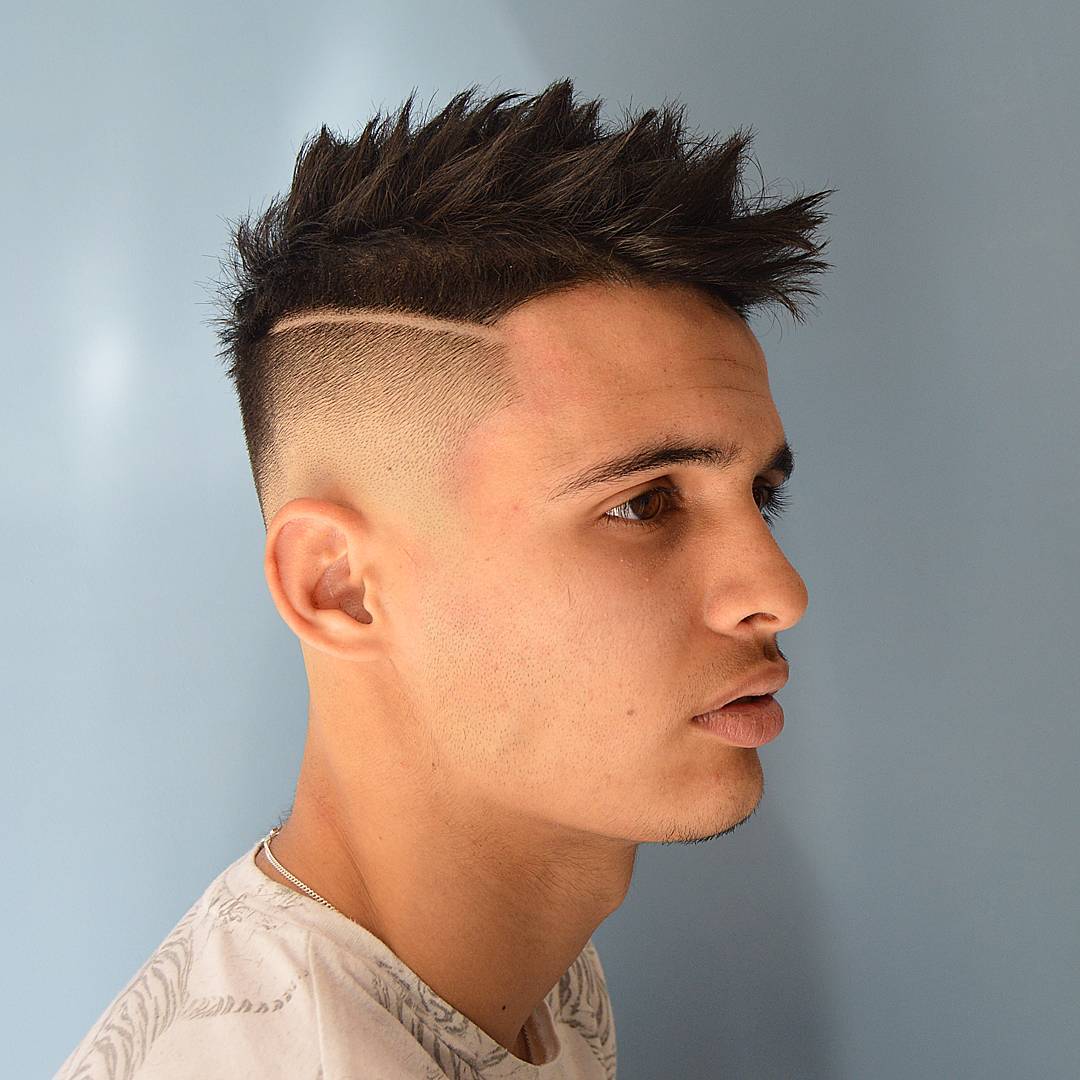 The texture in this crop is chunky spikes plus a shaved line.
31. Medium Textured Top + Mid Fade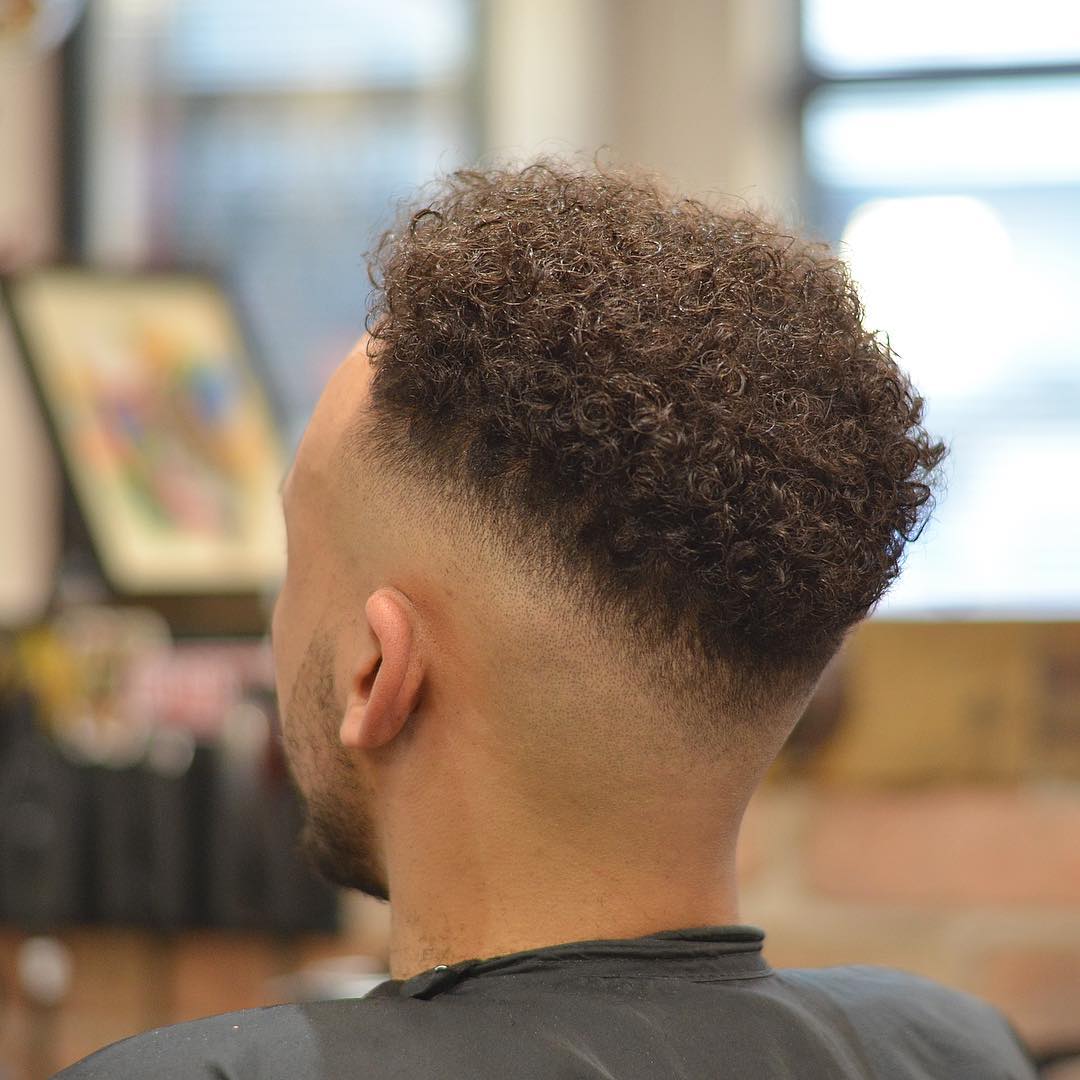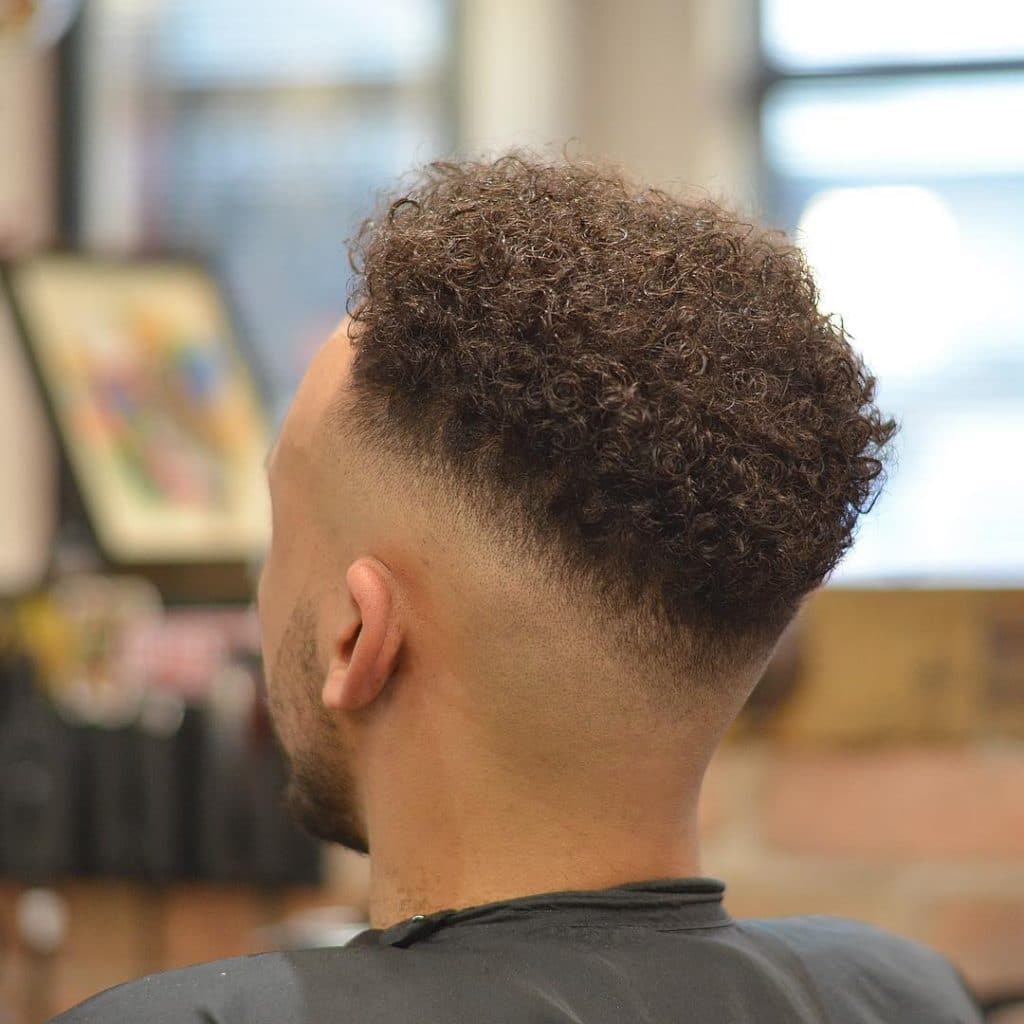 A mid fade down to the skin puts the focus on long hair on top. It also makes for an easy to wear cut for guys with wavy or curly hair.
32. Black Low Skin Fade Haircut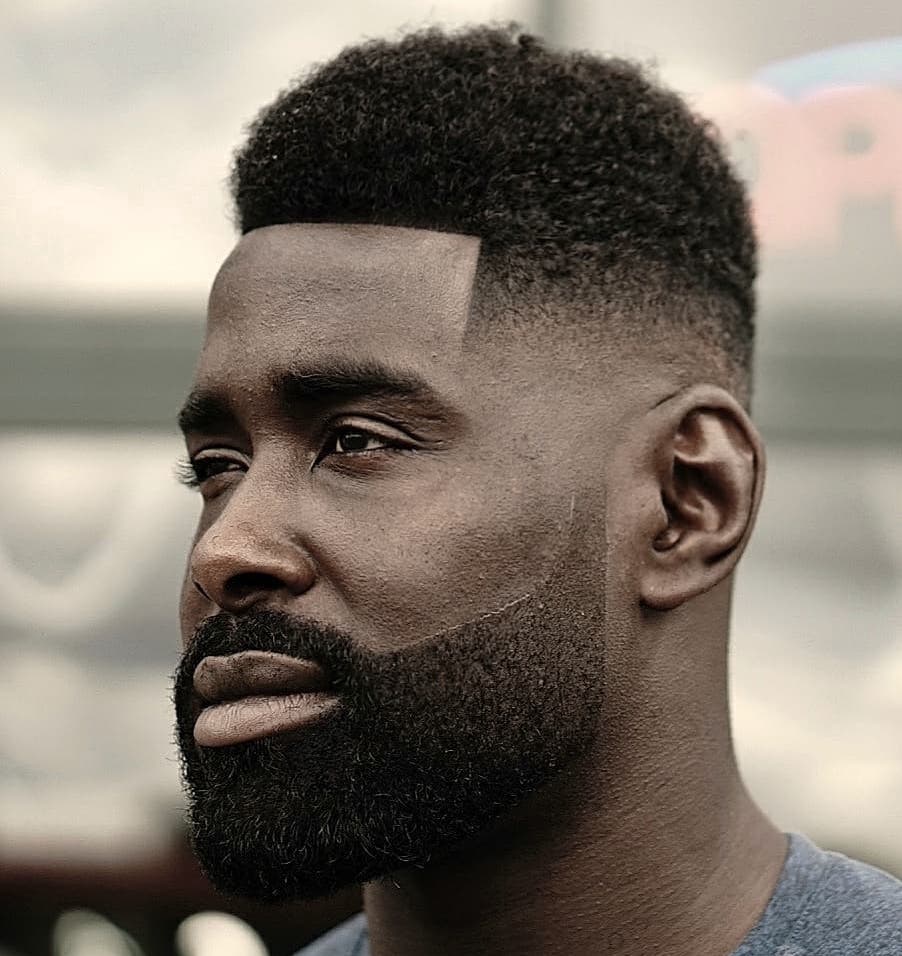 We saved the best for last with this cool cut that features curly texture on top, a short beard below, and crisp skin fade in between.