The new year will bring more creativity and style to men's hair than ever before. Classic looks are still popular but there are also plenty of fresh new looks to try. These short hairstyles for men strike the balance between low maintenance and high style. Short hair is quick to dry and coif but looks great.
Some of the hot looks this year are all kinds of textured crops, with and without fringe. In a similar vein, spiky looks are back. Fade hairstyles are still here and can be simple or bold, short or long. If you like a conservative or classic look, there are shorter versions that cut down on styling time. Last but not least, check out some bold hair designs, colors, and shapes.
These are 25 of the best up and coming short men's hairstyles to get now.
Textured Crops
1. Crop + Hair Tattoo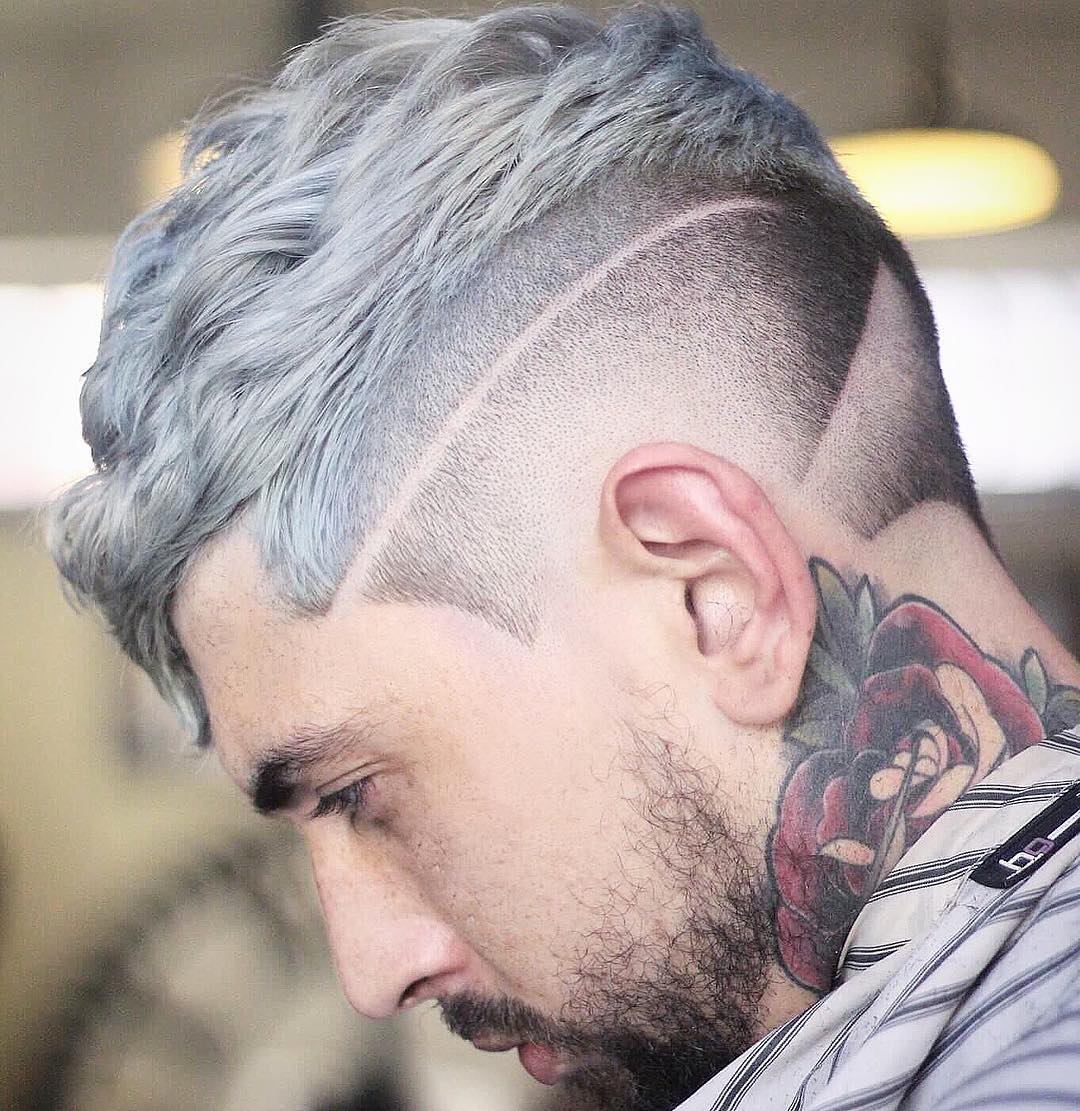 There is so much going on here but you can take what you like and leave the rest. On top, hair is cut and styled into the popular textured crop. A drop fade creates a canvas for a hair tattoo with multiple fades. Hair is also dyed silvery platinum, which contrasts with dark hair at the back.
2. Spiky Crop Short Hairstyle For Men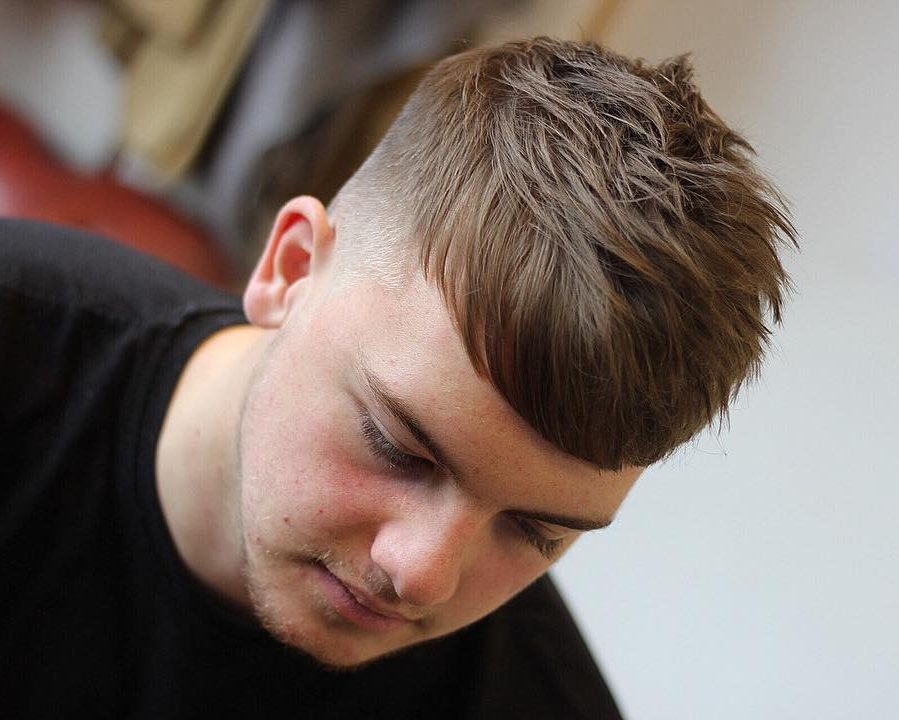 A more mainstream version of this men's hair trend combines forward fringe over the forehead, textured spikes at the crown and a high fade around the sides and back.
3. Heavy Crop for Thick Hair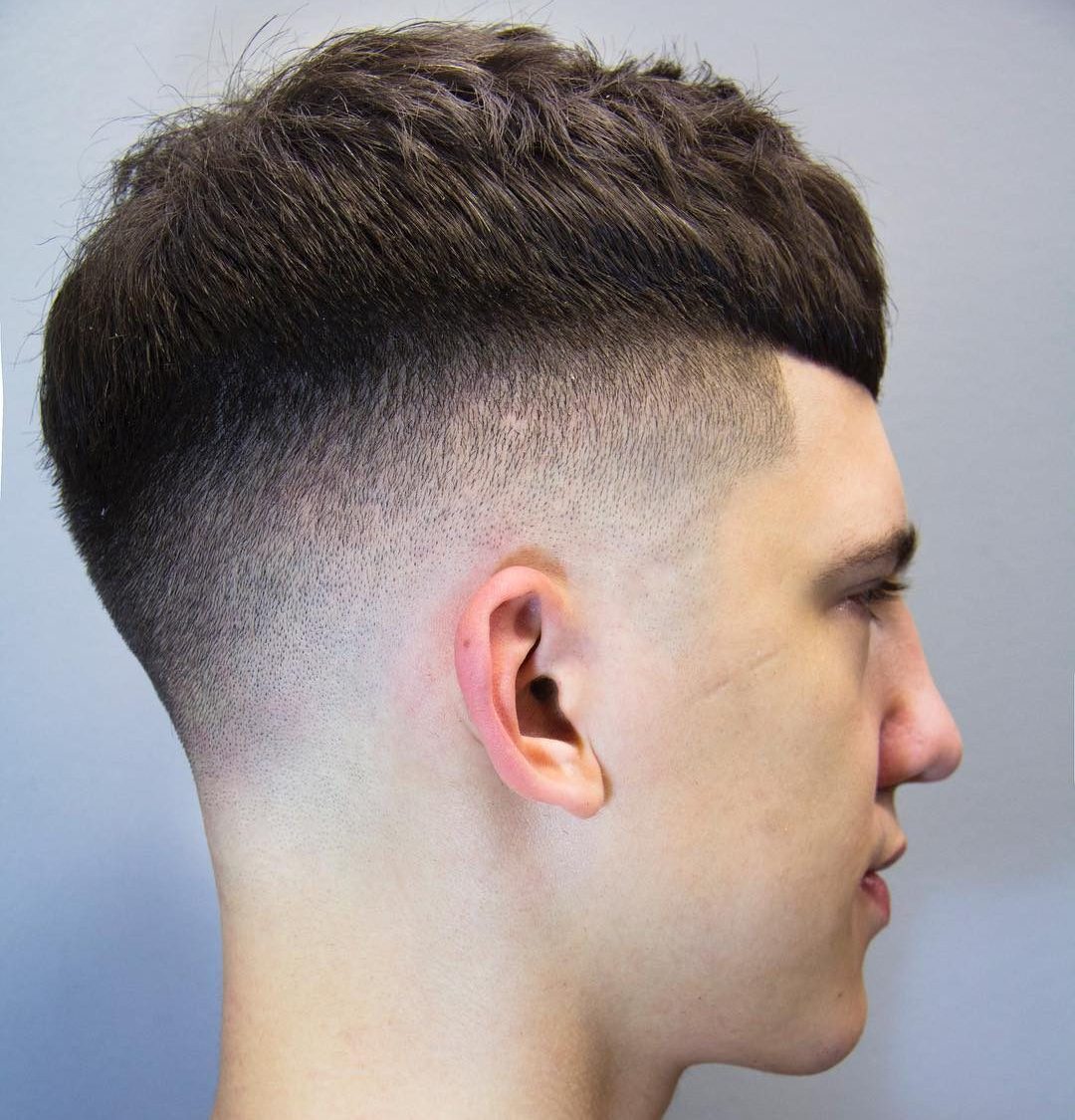 Thick hair is left full and heavy on top while layering enhances texture. A drop fade creates a curved line that emphasizes how full hair is. One of the coolest short hairstyles for men right now.
4. High Fade + Crop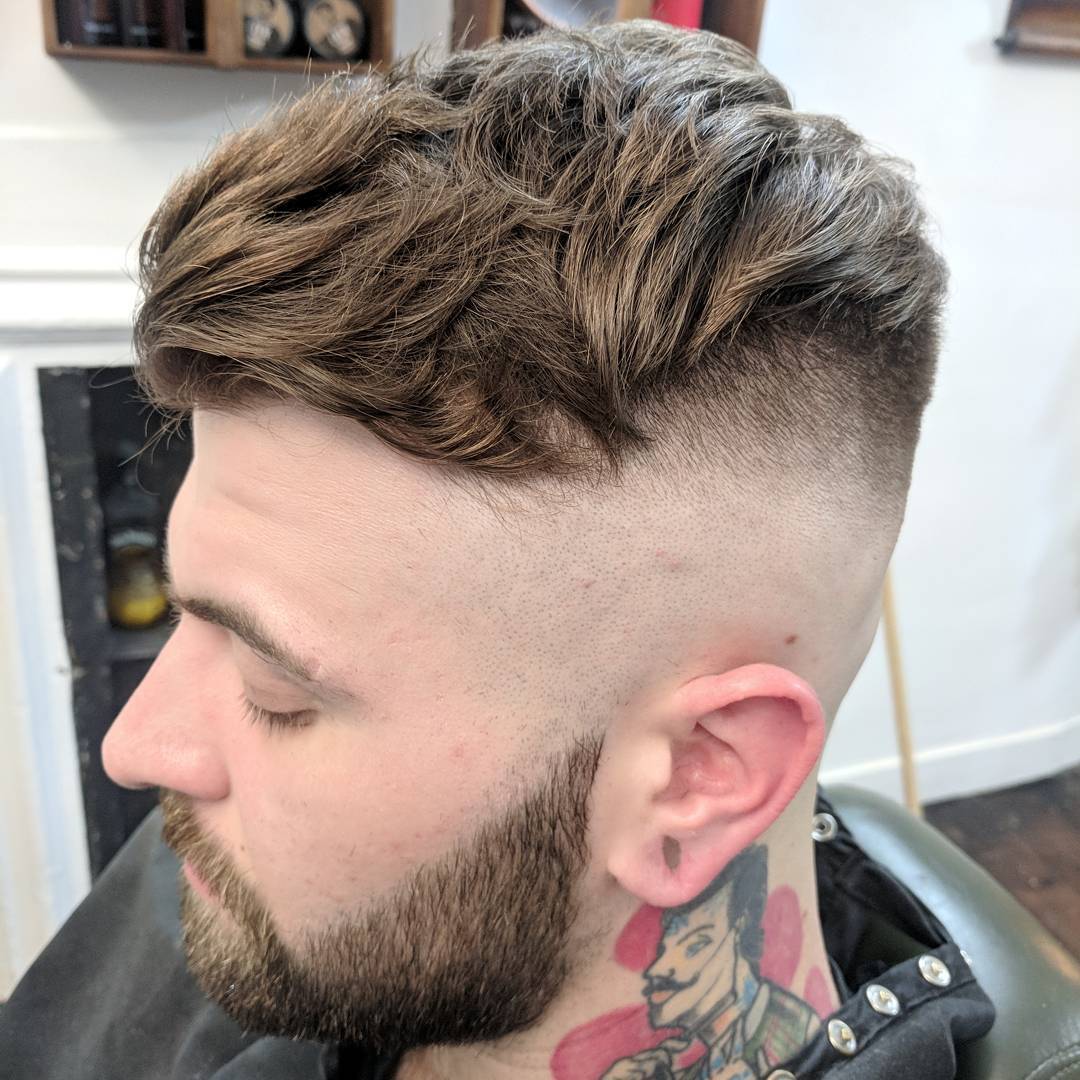 Another textured crop for thick hair, this version leaves more length on top while fading hair down to the skin up high. Hair is combed back from the front and forwards from the back for a cool tousled finish.
5. Short Hairstyle For Men: Crop + Blunt Bangs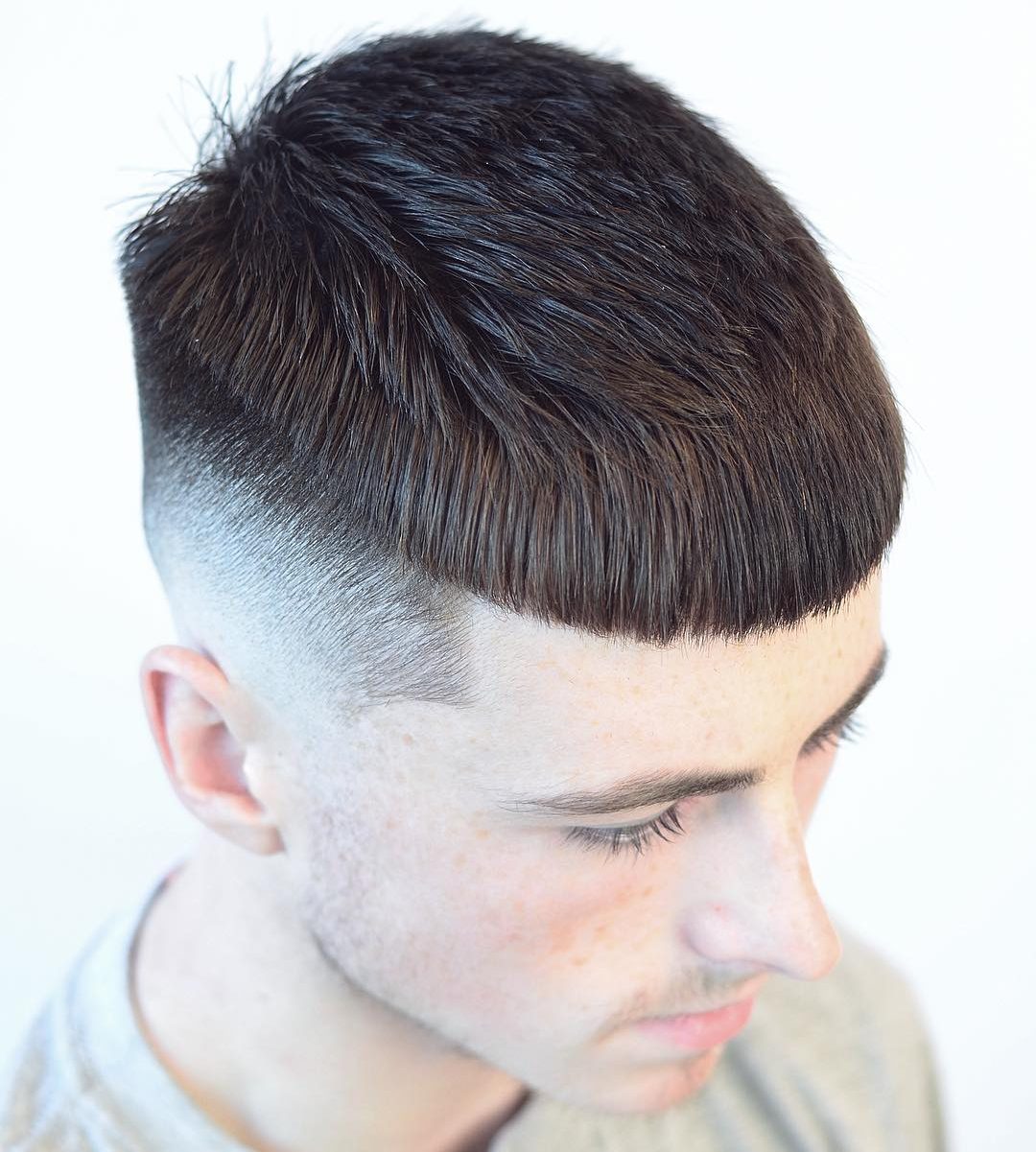 This cool crop features short and heavy bangs that are a longer version of the Marine jarhead cut. Short hair is styled into textured spikes further back on the head.
Spiky Short Hairstyles For Men
6. Messy Spikes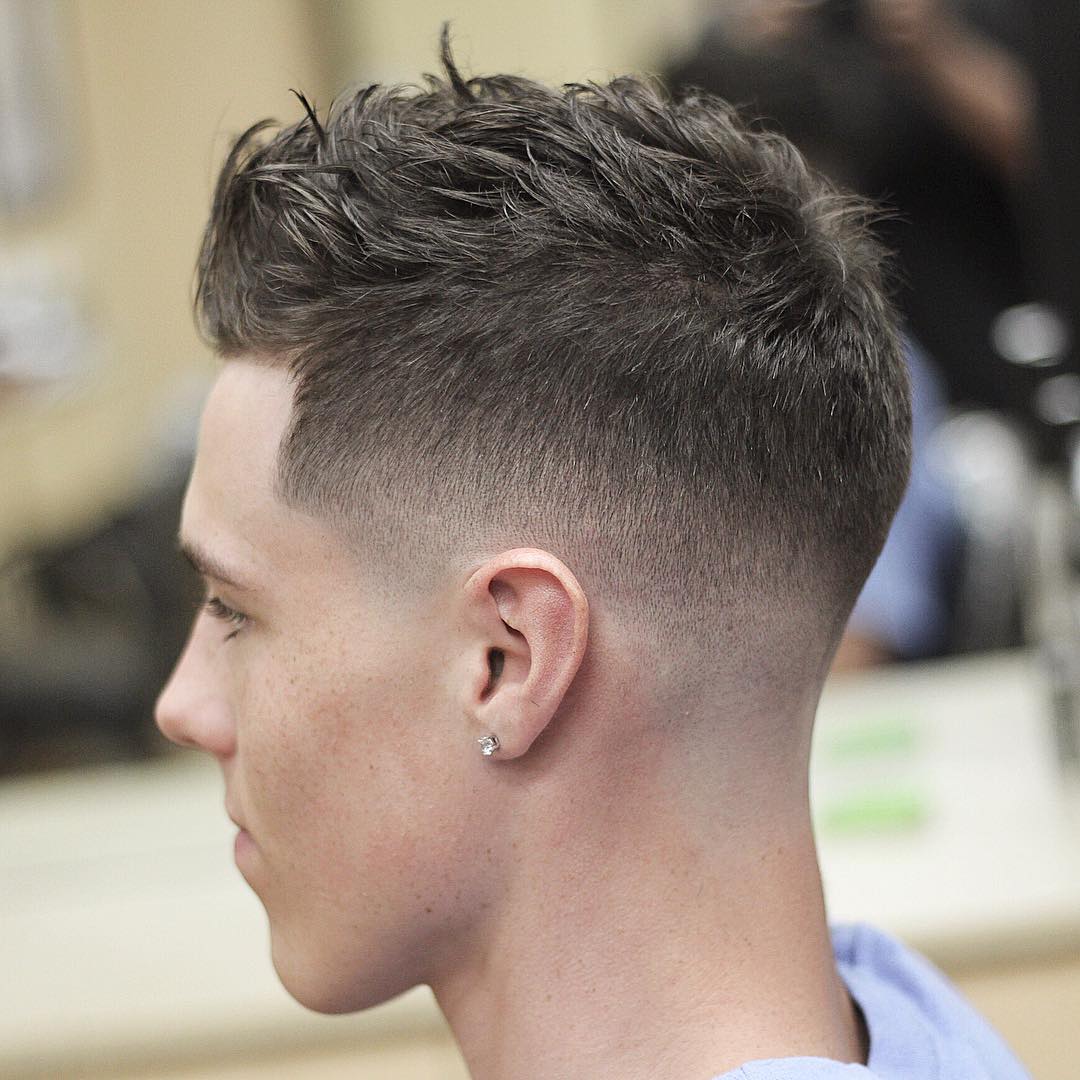 A modern version of classic spikes, this fresh style features tousled texture on top and mid drop fade around the back.
7. Short Textured Crop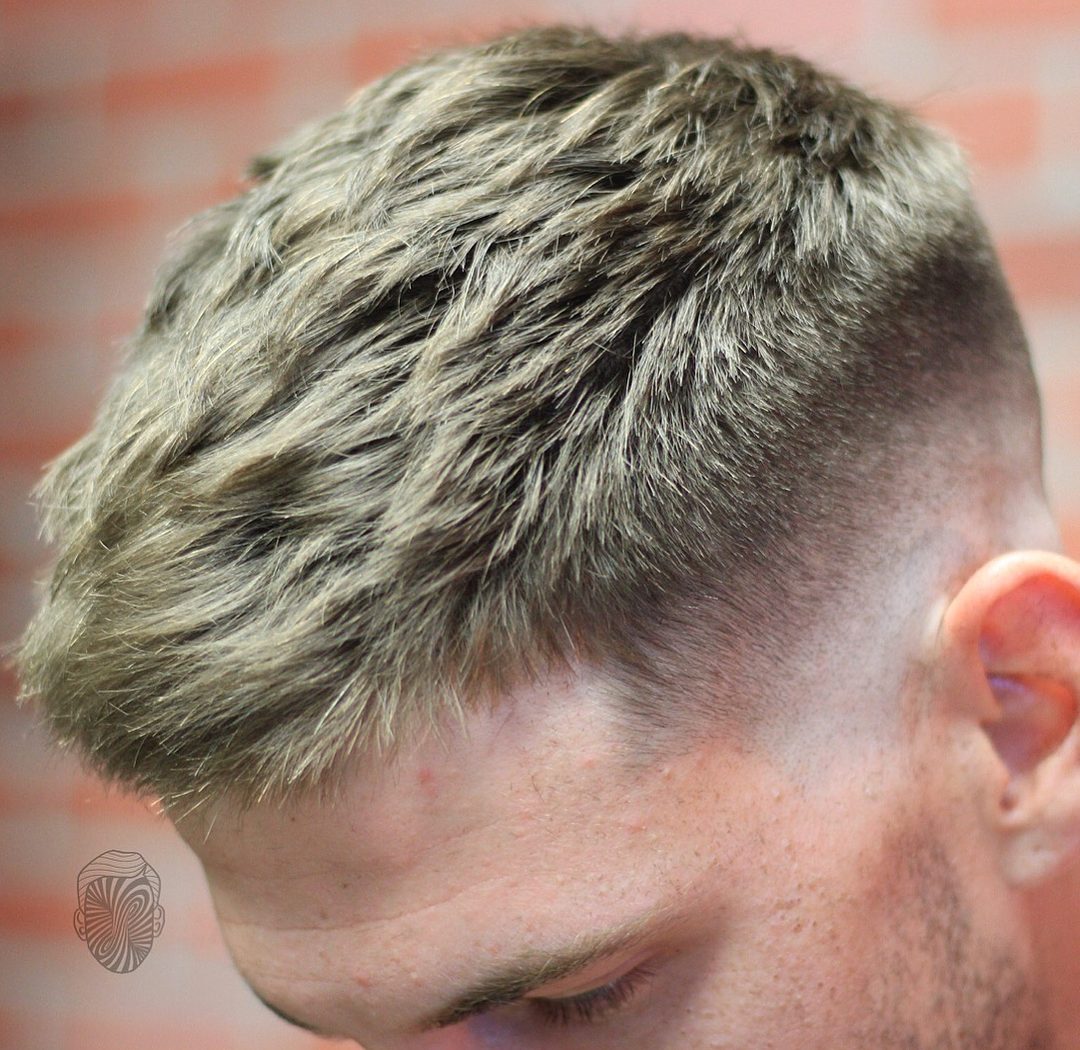 The current way to wear is spiky hair is more about adding texture than creating vertical spikes. This ultra short version is so easy to style. Rub pomade between palms, work it through hair and pinch small sections of hair together. This is one of the best short hairstyles for men with thick hair.
8. Spiky Sections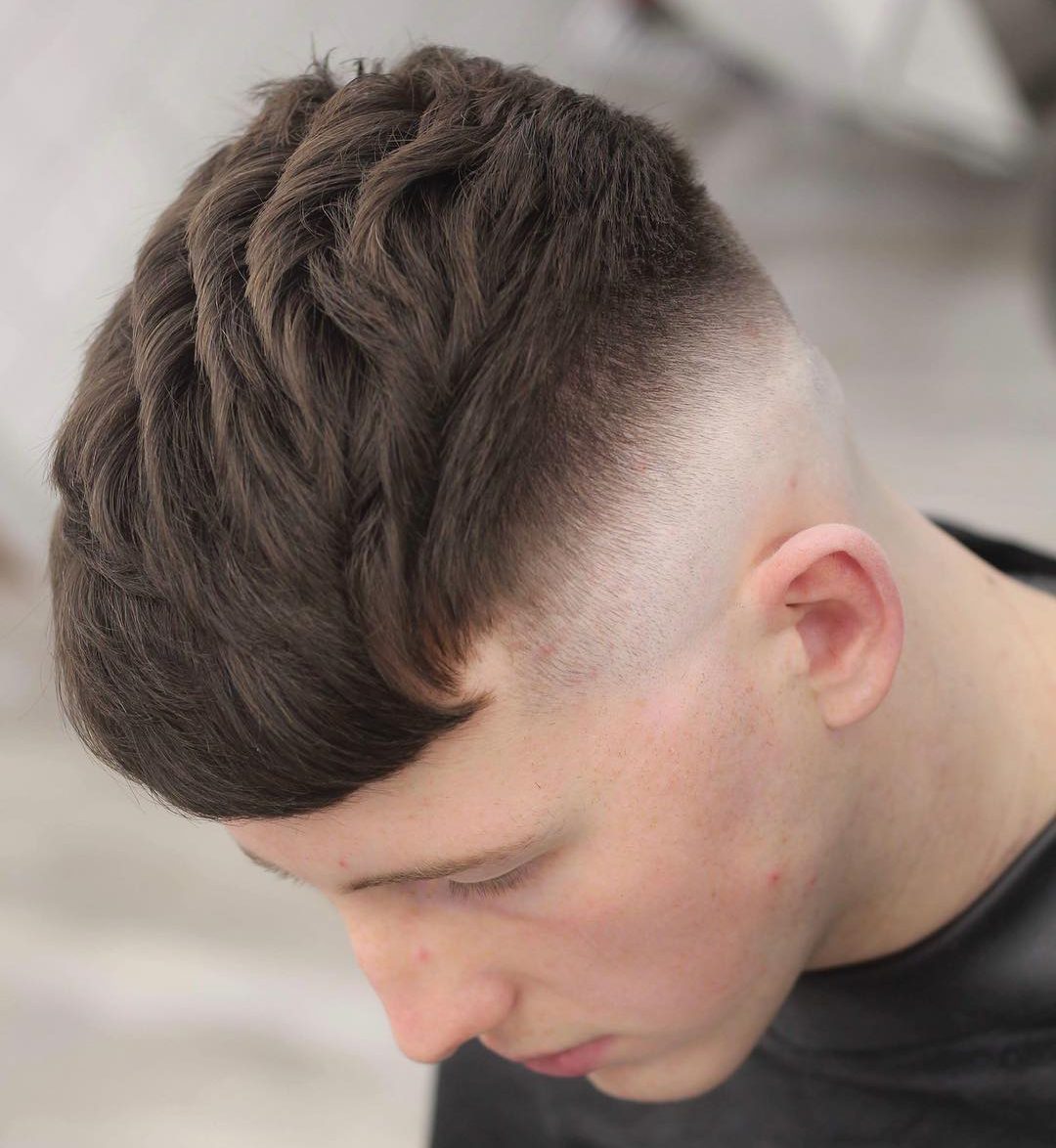 Instead of individual spikes, this cool look pulls hair up in broad sections for a wave-like effect that complements the hint of curled bangs.
9. Thick Spiky Hair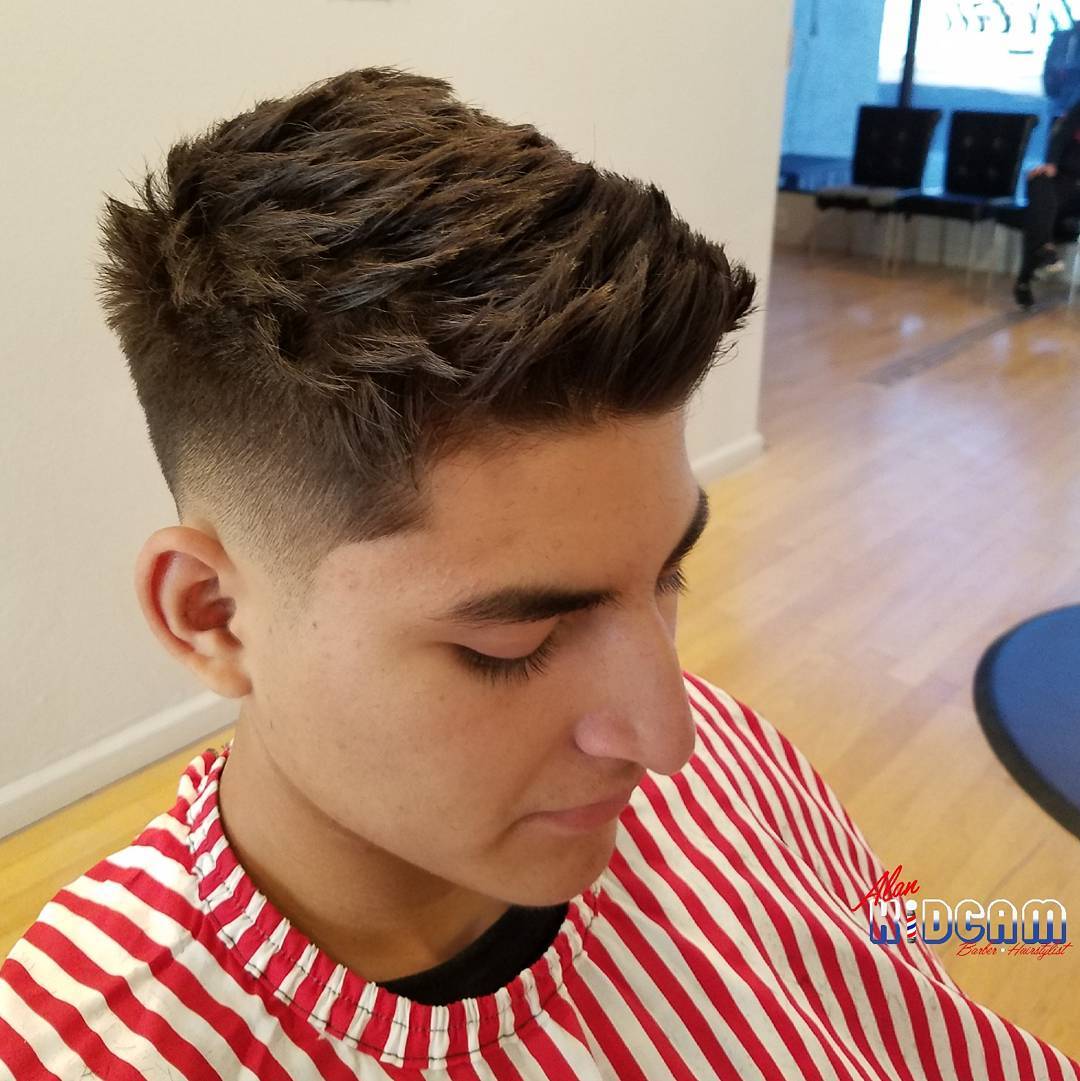 Another popular way to wear spikes this year is in these thick spikes on a diagonal. Finish with a straight up quiff at the front.
10. Messy Spikes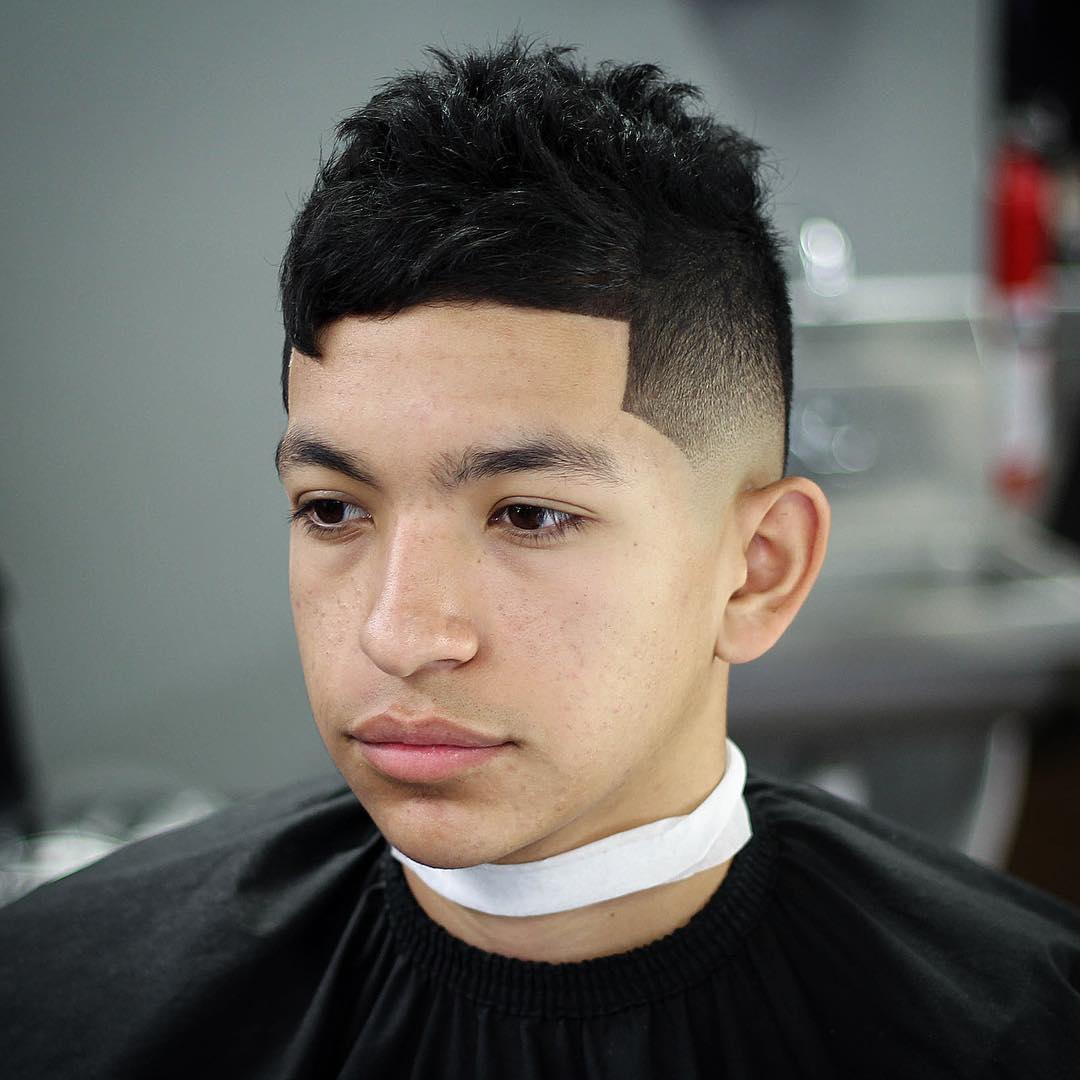 Another cool way to style a crop, this version has plenty of messy texture on top. A small section of hair is styled down into a curl over the forehead for a cool asymmetrical finish.
Classic Short Hairstyles For Men
11. Short Pomp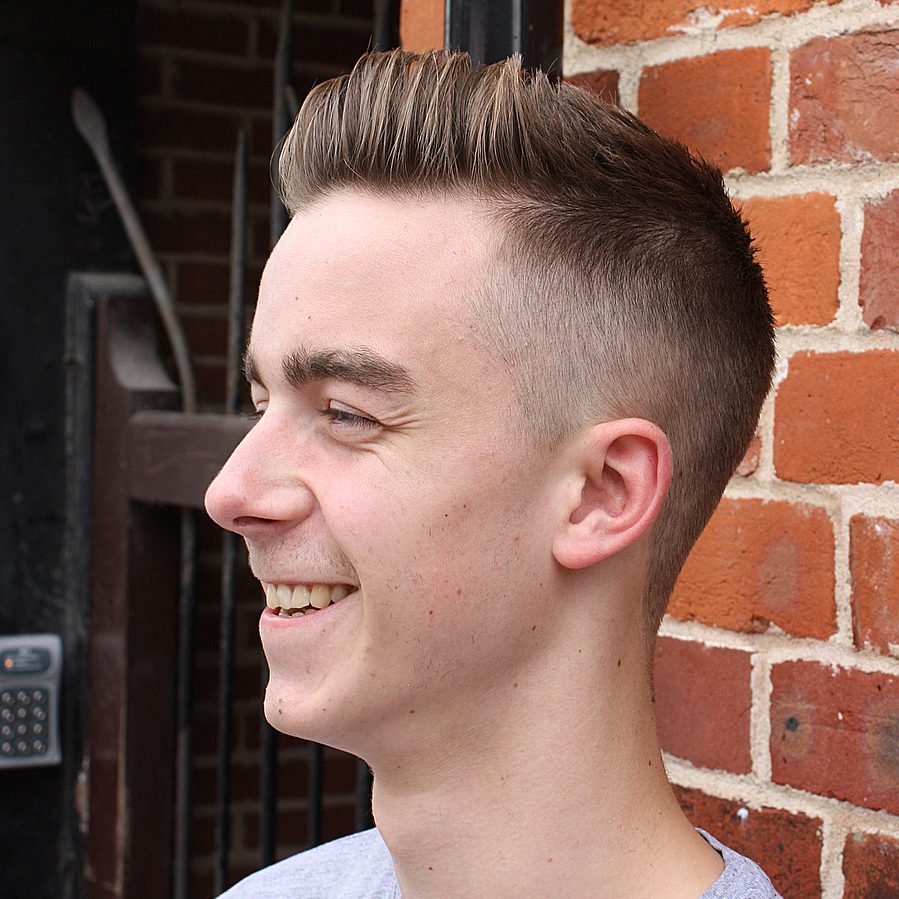 This cool short hairstyle for men achieves that popular pomp silhouette with less than two inches of length. It's a great option for boosting fullness in fine hair.
12. Short Sweep Back for Thick Hair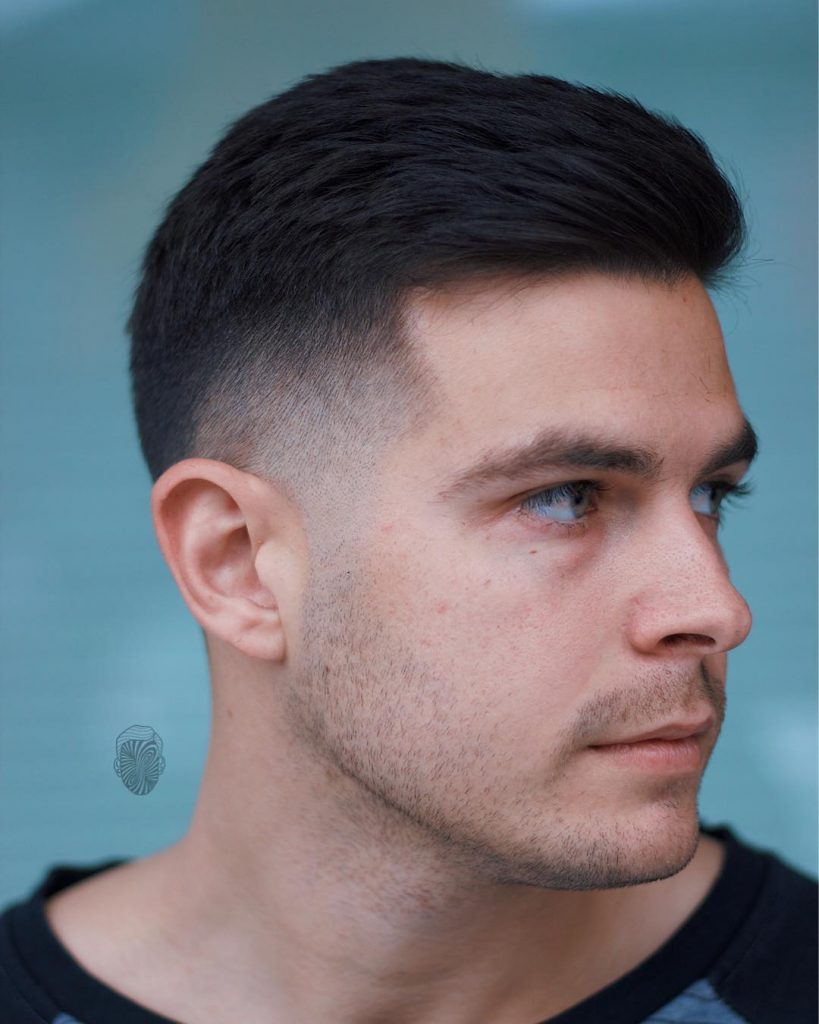 This cut and style lighten up thick hair while keeping the appearance fullness. Hair is combed back and kept in place with a matte product for a dry finish. This sweep back has the look of long hair without the length.
13. Comb Over Fade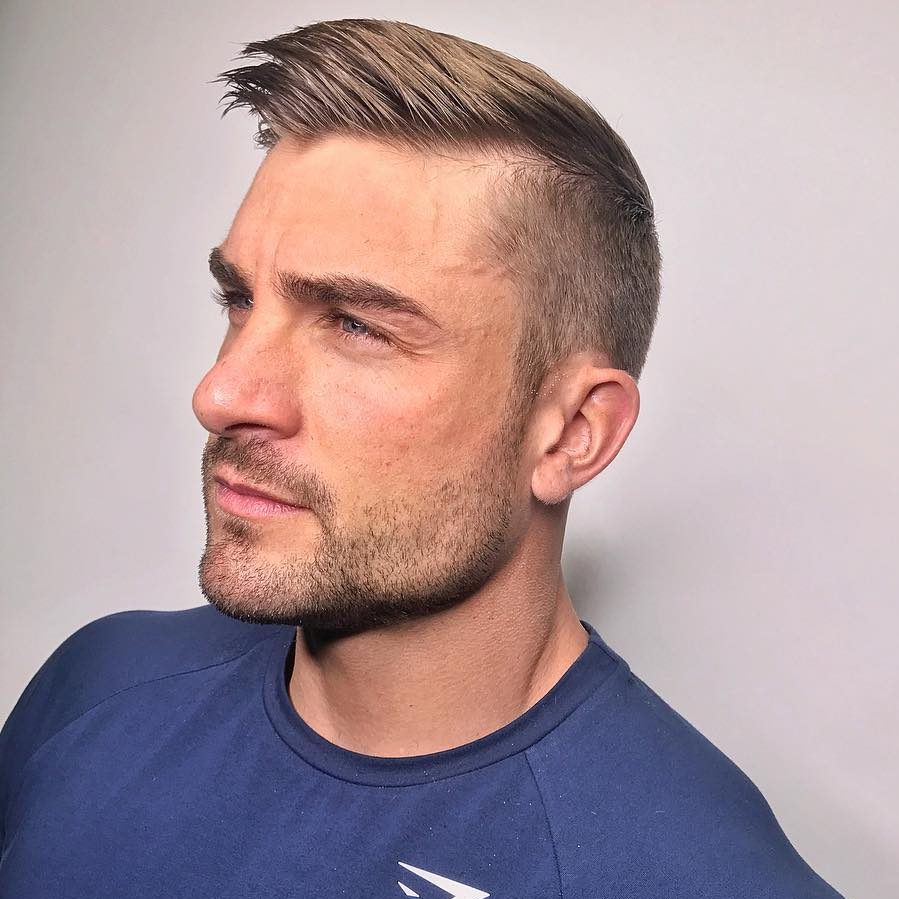 Ryan Terry, fitness icon and men's physique champion, needs hair that works as hard as he does. This short cut with a high fade is styled over to one side with plenty of height. It looks great at the gym and around town.
14. Short Men's Haircut for Thick Hair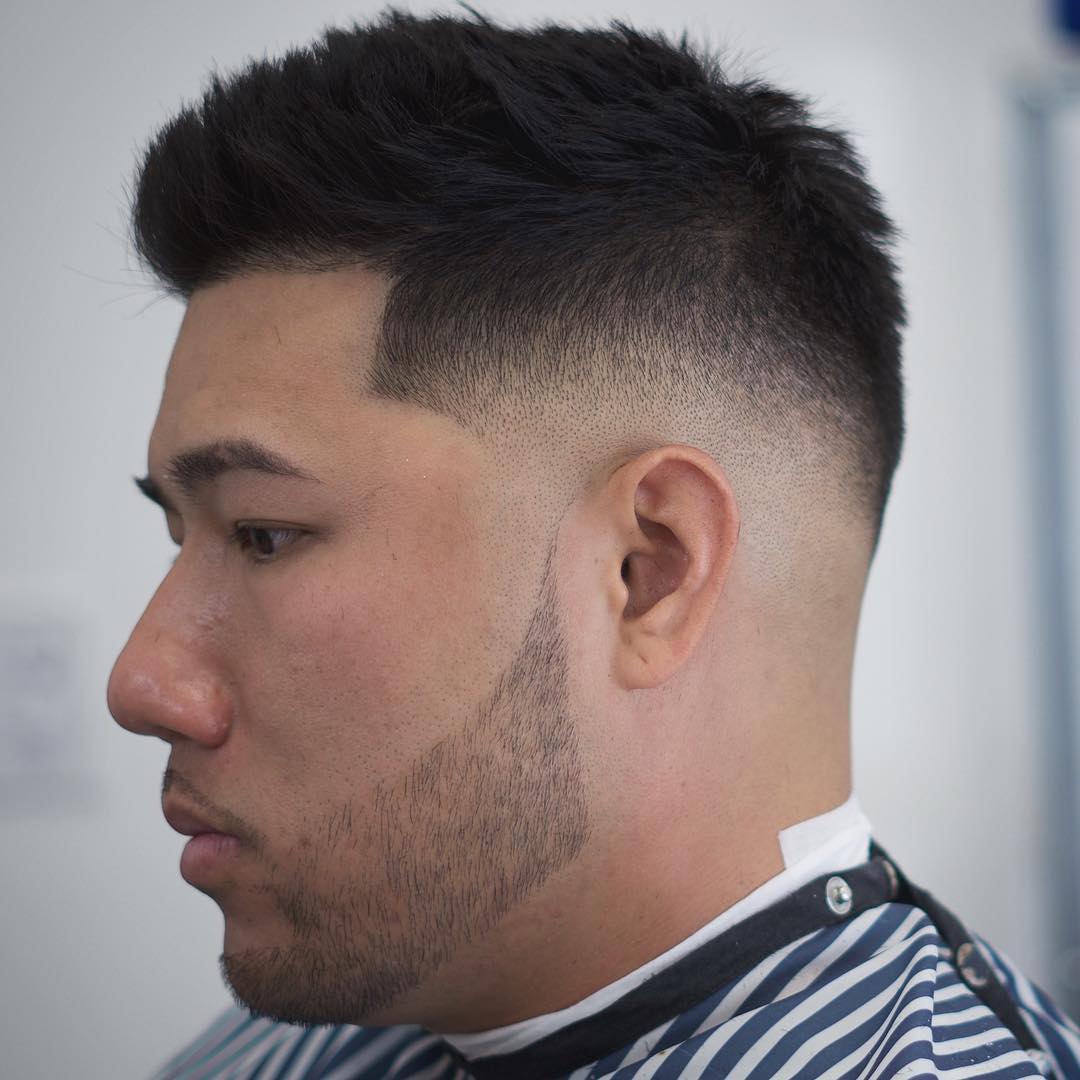 Thick hair that tends to stick straight up is one of the more challenging hair types. The key is working with your hair type. This short cut and style does just that. Hair does stick up and it looks great. A touch of texture at the sides and a low bald fade complete the look.
Very Short Haircuts
15. Ultra Short Spikes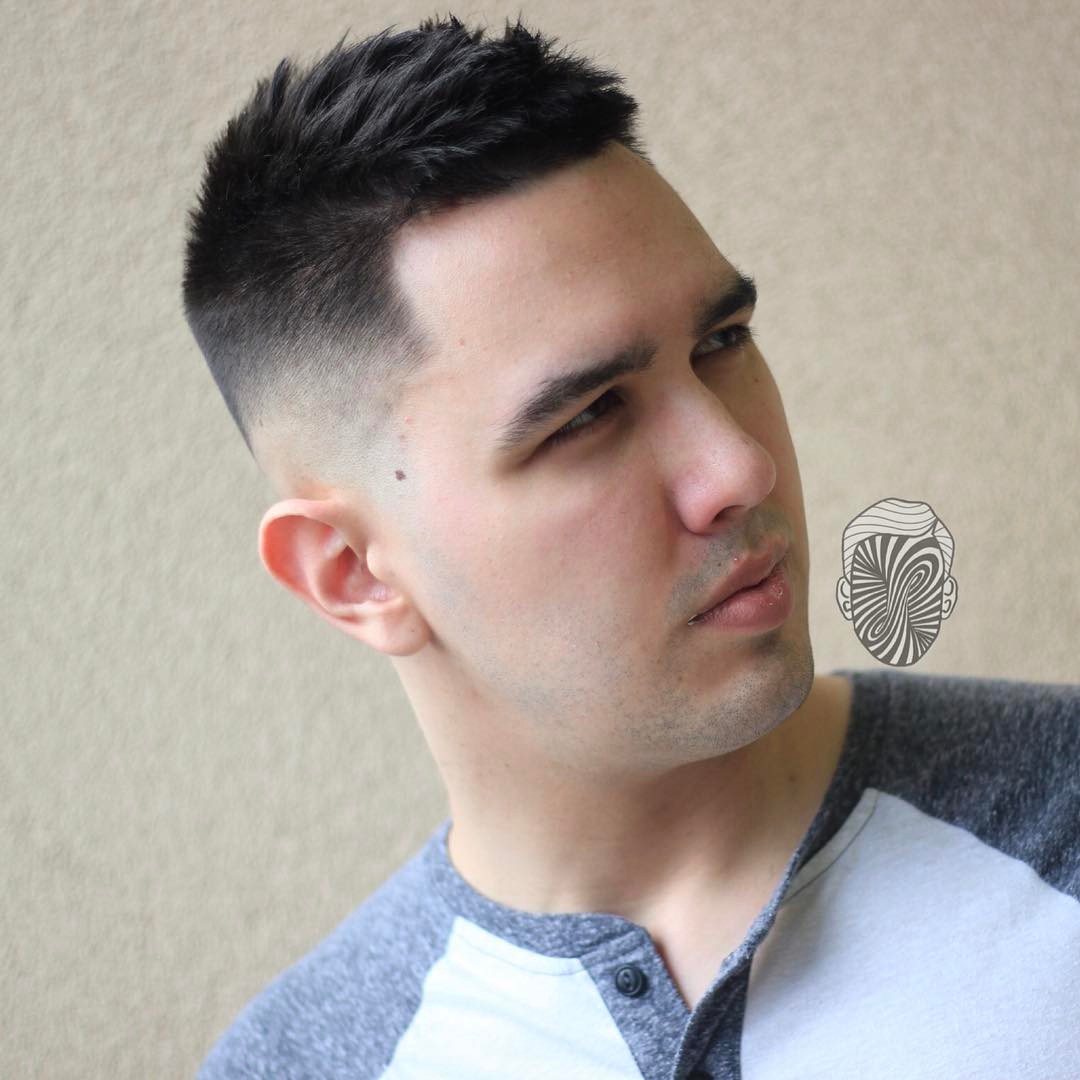 Going really short can still have plenty of style. This long buzz with a high fade has enough length to be styled but looks great with no effort too.
16. Buzz + Fade + Line Up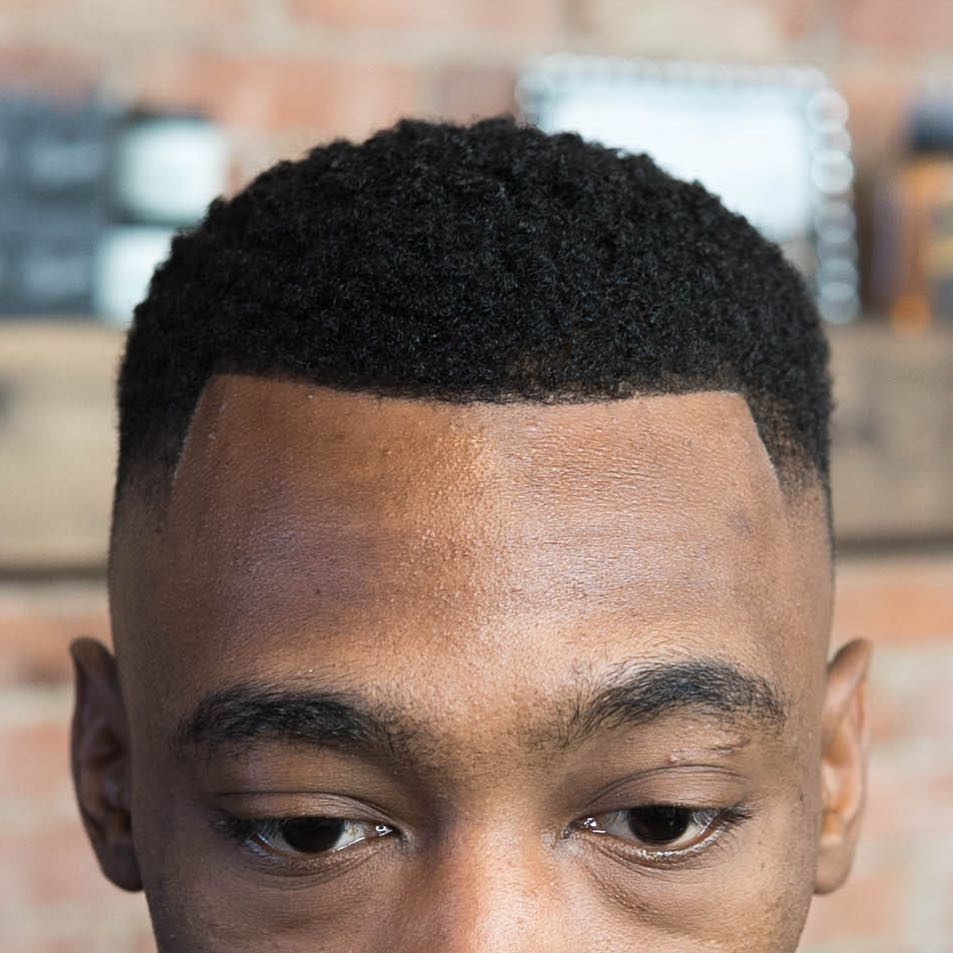 This combination of a buzz cut, line up and fade is one of the most popular short haircuts for black men because it looks great with no styling. Just keep it up with regular visits to the barber.
17. Short Textured Crop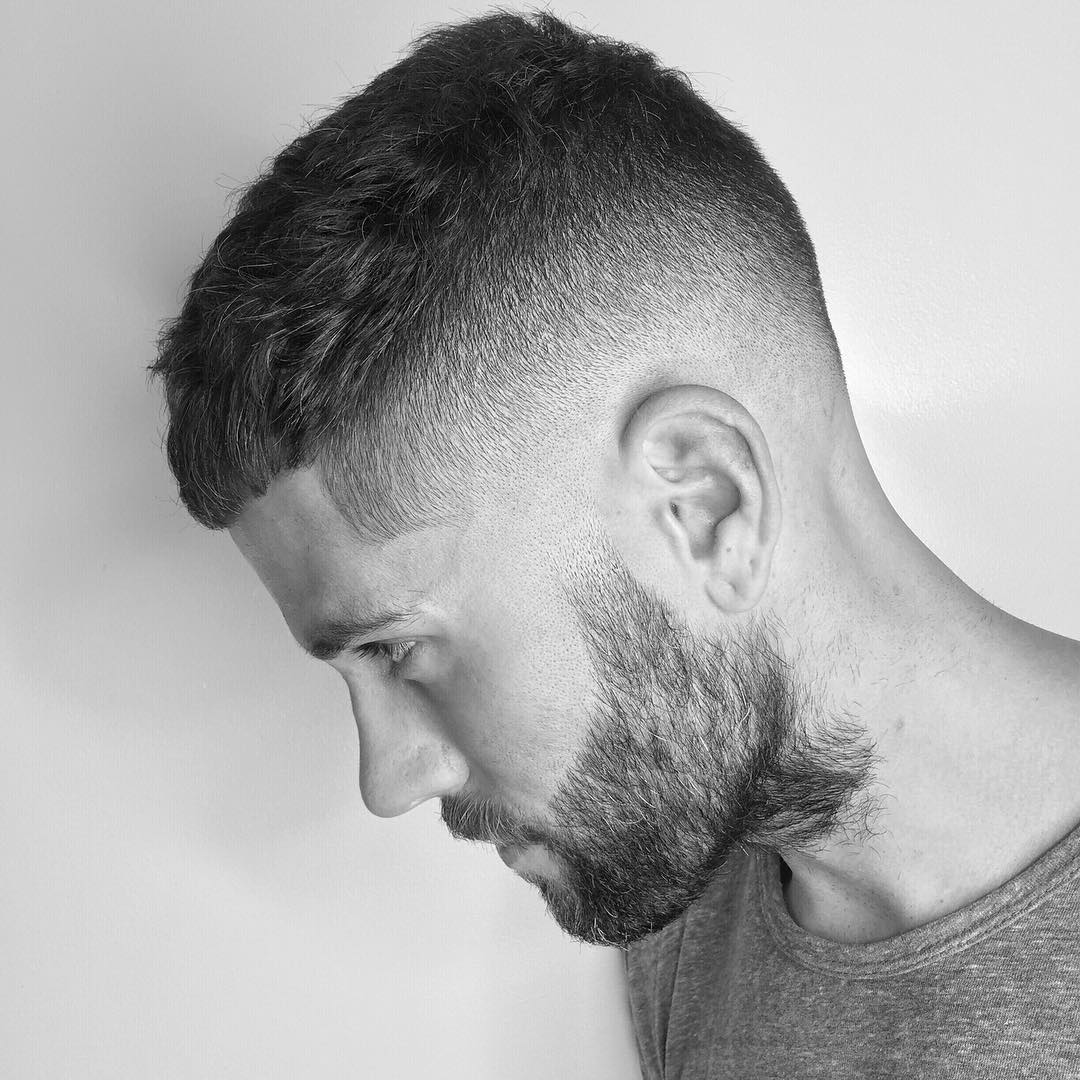 This very short version of the trendy crop has enough length to achieve texture but not much more.
18. Mohawk Haircut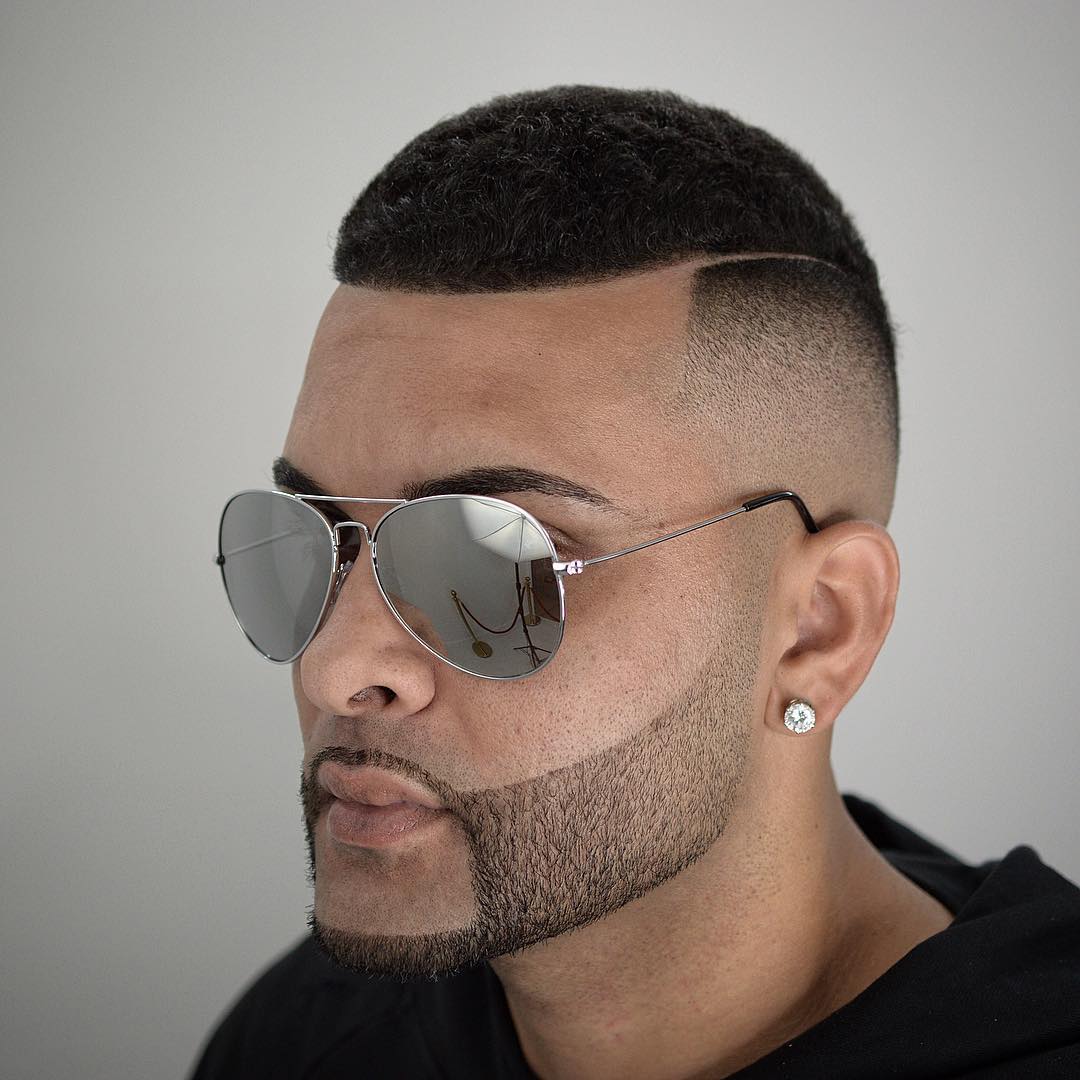 The mohawk silhouette is popular again. It looks great worn long or short, like above. A fine shaved part adds to the look.
Fade Haircuts
19. High Fade Haircut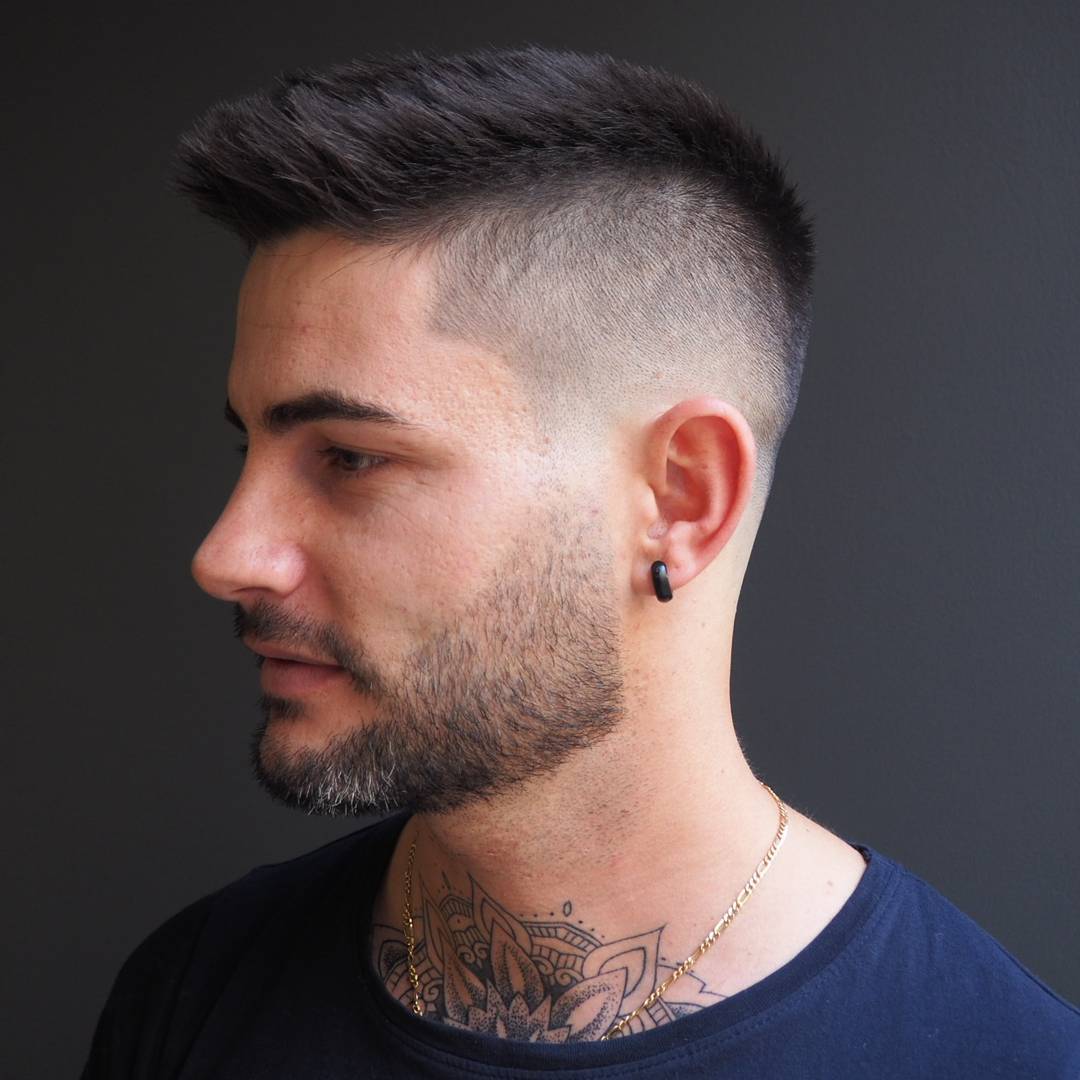 This high fade haircut shaves hair up to the temple and drops down below the crown. Hair on top is styled into a soft flat top.
20. Burst Fade Mohawk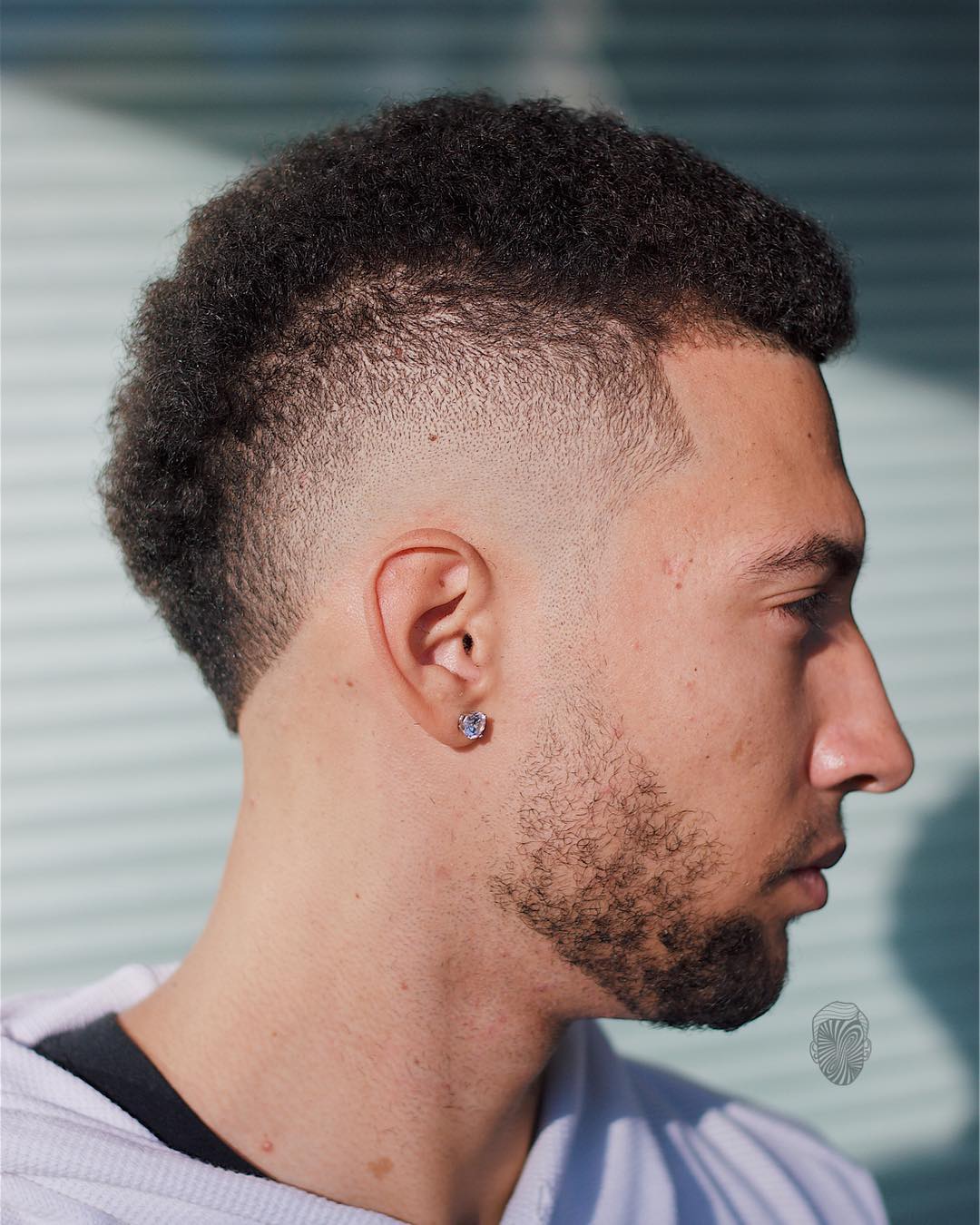 Here's a longer curly mohawk. A burst fade at the sides creates that mohawk profile while a V-shaped neck adds a cool detail at the back.
21. Low Bald Fade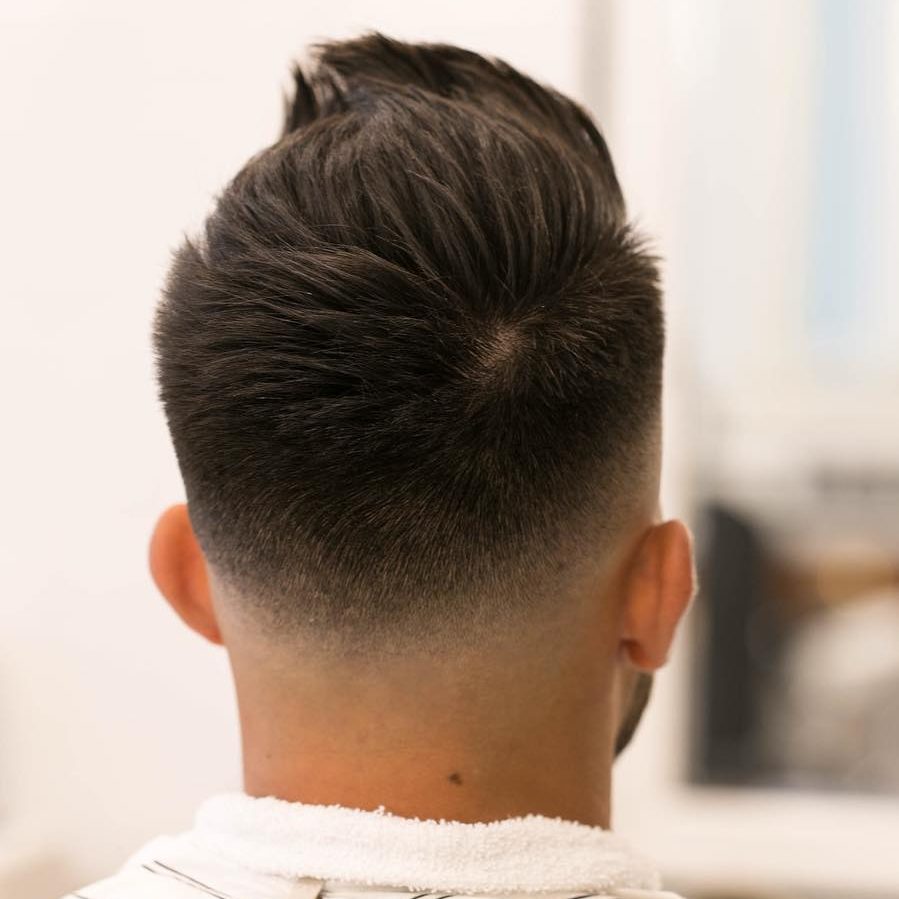 Fades look great whether they are up high or down low. This low bald fade essentially raises the neckline and creates an ultra clean finish. Hair has a hint of length at the forehead and styled up into a quiff.
22. Side Burn + Neck Fade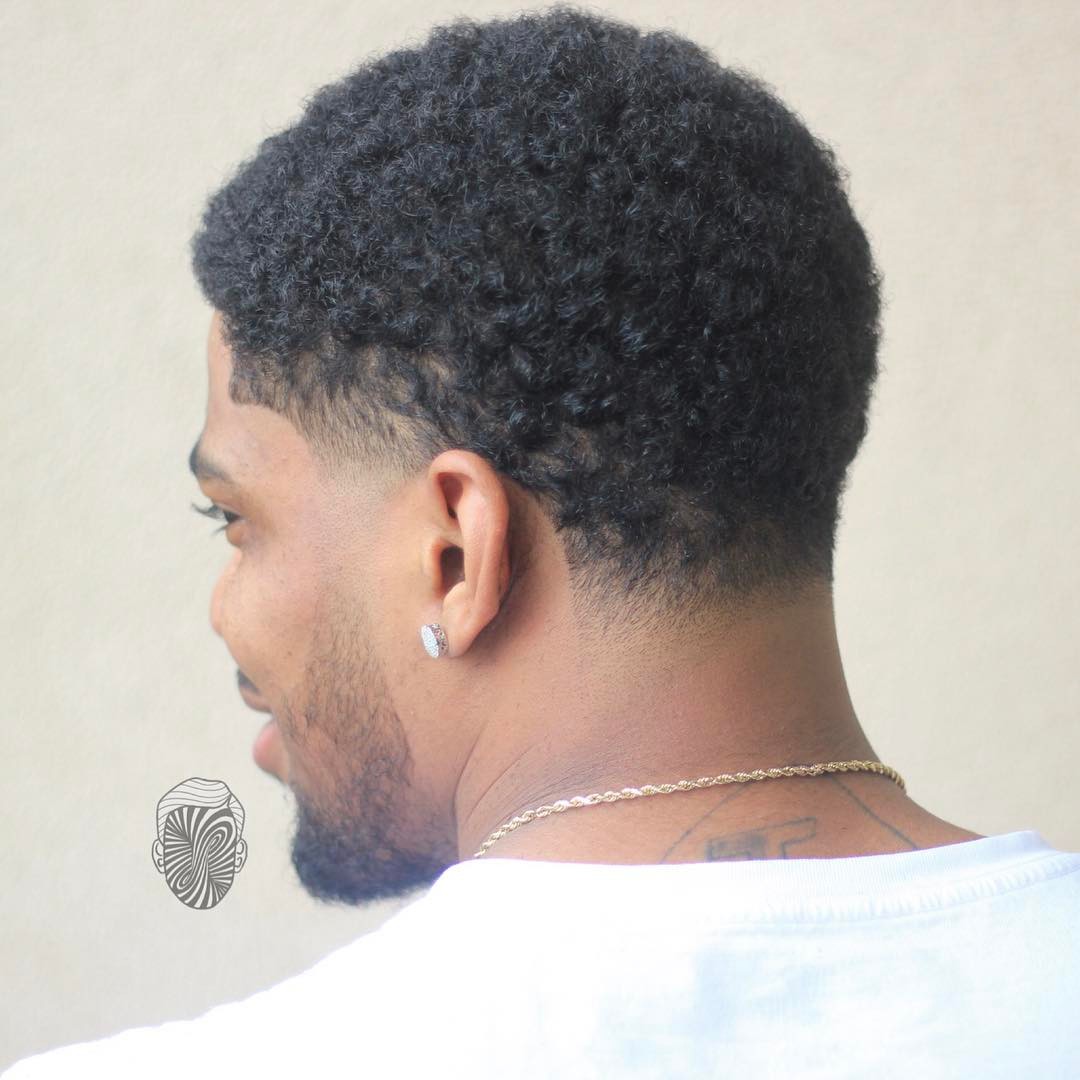 Quick fades at the side burns and neckline are a fresh finish for this short curls and are also popular with taper haircuts.
Wild Styles
23. V-Cut Neck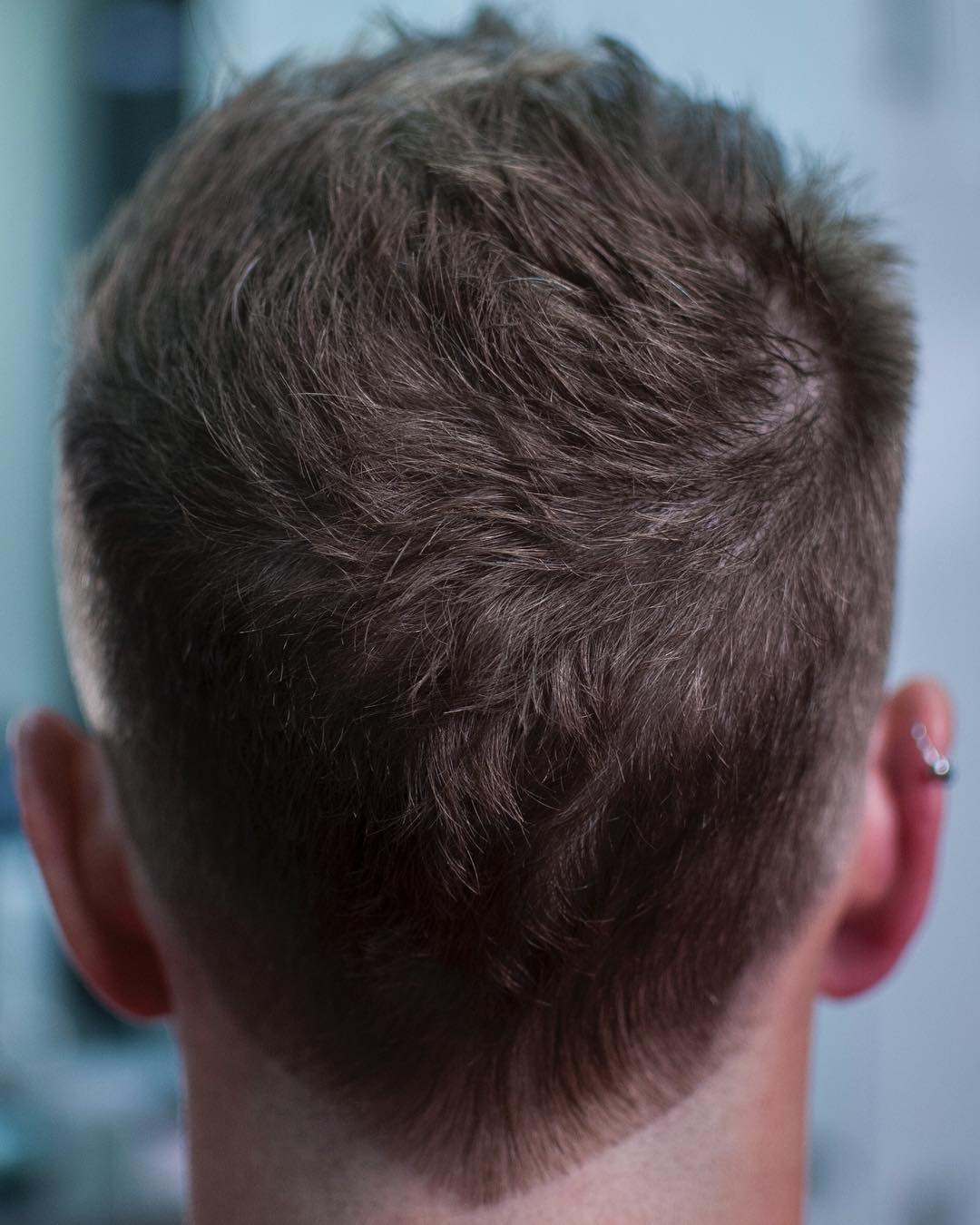 Stylized necklines are blowing up right now and pushing the limits of creativity. If you're not ready for all that, this V-shaped neck adds an unexpected shape.
24. Modern Spiky Hair + Hair Design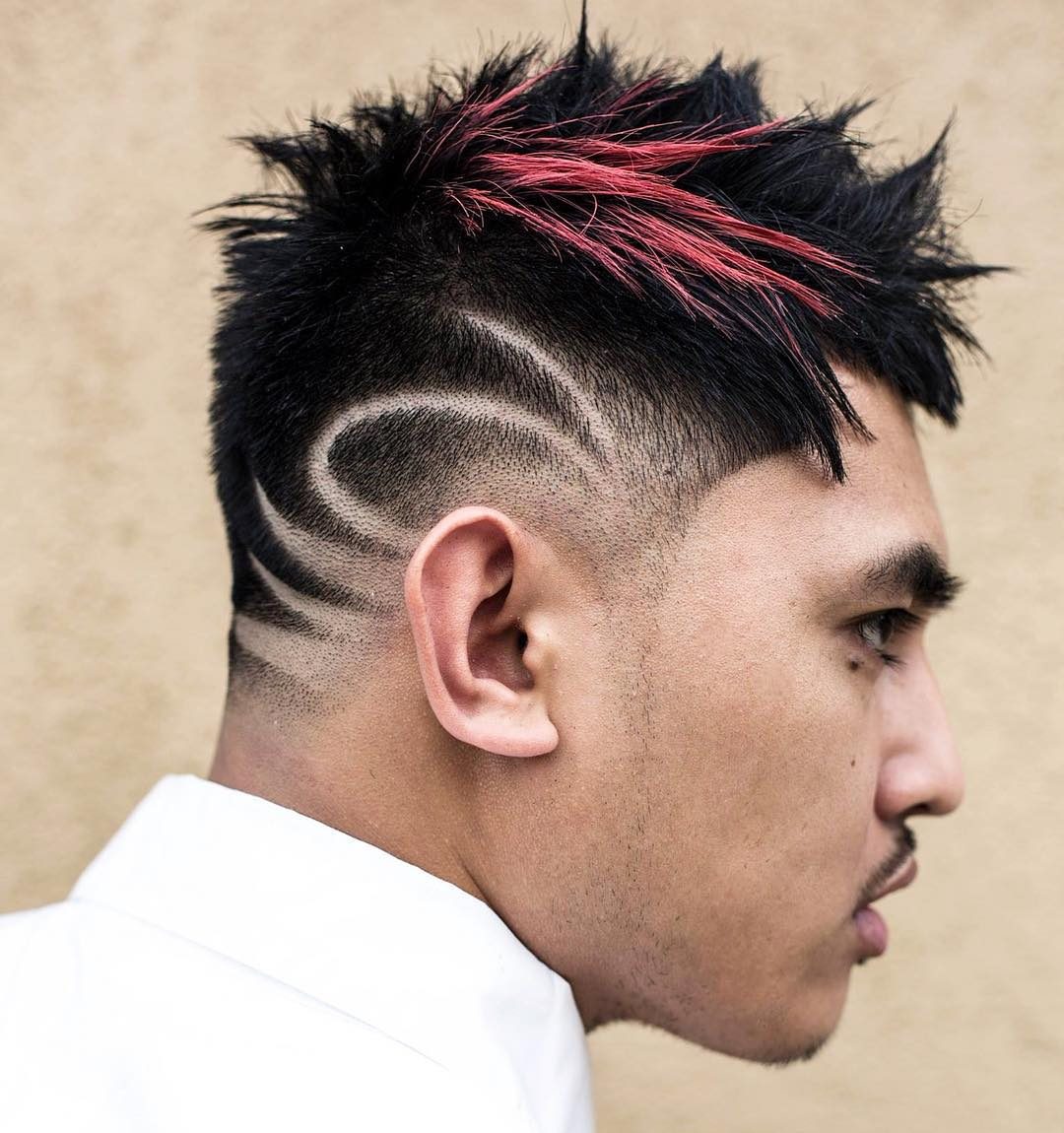 This bold look features something interesting all over. There is a splash of red, spikes in all directions and a hair tattoo behind the ear and into the hairline.
25. Messy Buzz Cut + Shaved Line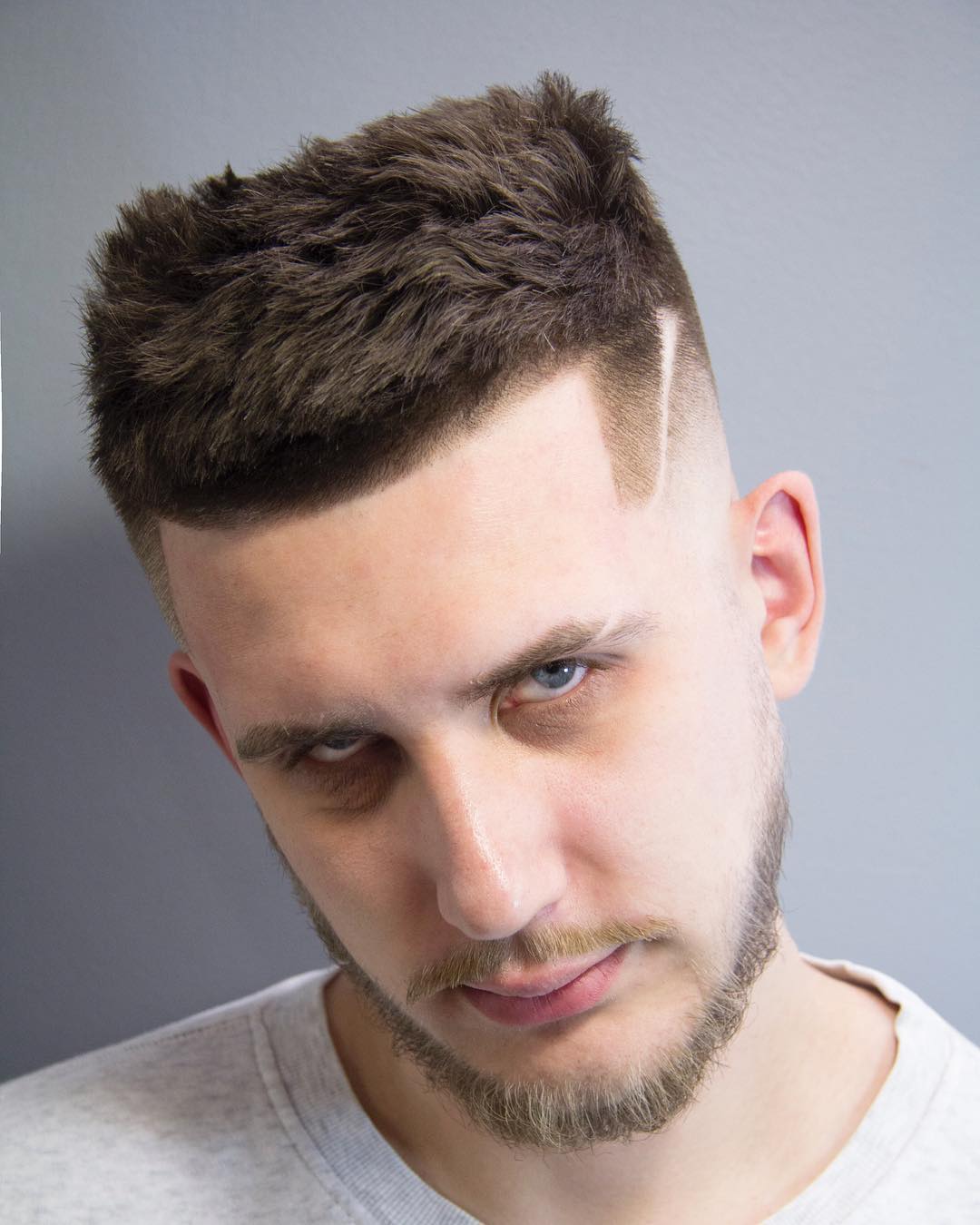 Simple designs can be as eye-catching as complex. A longish buzz is styled with some messy texture but the star of the show is a shaved line that crosses from the temple into the eyebrow.