Short haircuts are the go-to for most guys. There is just something satisfying about leaving the barber with a clean and fresh look. This is our Summer 2020 update that features all-new super cool men's short haircuts.
Short haircuts for men can include anything from a couple of millimeters up to a couple of inches long. Hair can look and feel even shorter a type of fade at the sides. Or leave sides short but not shaved with a taper or taper fade. As far as styles go, short hair can be classic, trendy, or even trendsetting. It's up to you.
Here are over 50 pictures of the most popular types of short haircut styles. Starting with the shortest, there are plenty of ways to wear short fades, textured looks, and classic men's haircuts. If none of those work for you, keep scrolling for short haircuts that suit specific hair types, including thick, Black, curly, wavy, Asian, and thin hair.
The Best Men's Short Haircuts
Scroll down to get into the most popular short haircuts for men in greater detail and to understand how to style them. But first, let's list off your options for a quick understanding of the different styles you can get. These are the haircuts you can ask your barber to cut for you.
Buzz cut
Shaved head + faded sides
Short taper fade haircut
Very short men's haircut with a low fade, mid fade, or high fade
Short haircut with a hard part
Line up short haircut
Short spiky haircut
Short messy haircut
Textured crop haircut – short hair
French crop haircut – short hair
Crop fade
High and tight
Crew cut
Short comb over fade
Classic side part haircut – short hair
Short quiff haircut
Mohawk fade
Faux hawk – short hair
360 waves haircut
Even short hair needs to be styled. For buzz cuts, all you need to do is take care of hair with a good shampoo and maybe conditioner too. Added moisture is more important if you plan to grow hair longer. Do use it for hair longer than half an inch. Other than that, the key is finding the right pomade for your hair type.
Faded, Shaved, + Very Short Haircut Styles
These are all variations on the popular buzz cut – fade combination. Many have a shape up to create a square hairline but that is optional. Anything goes for the fade from the lowest taper fade up to a high skin fade and everything in between. If that's not enough, add a hard part or some shaved lines.
1. The Buzz Cut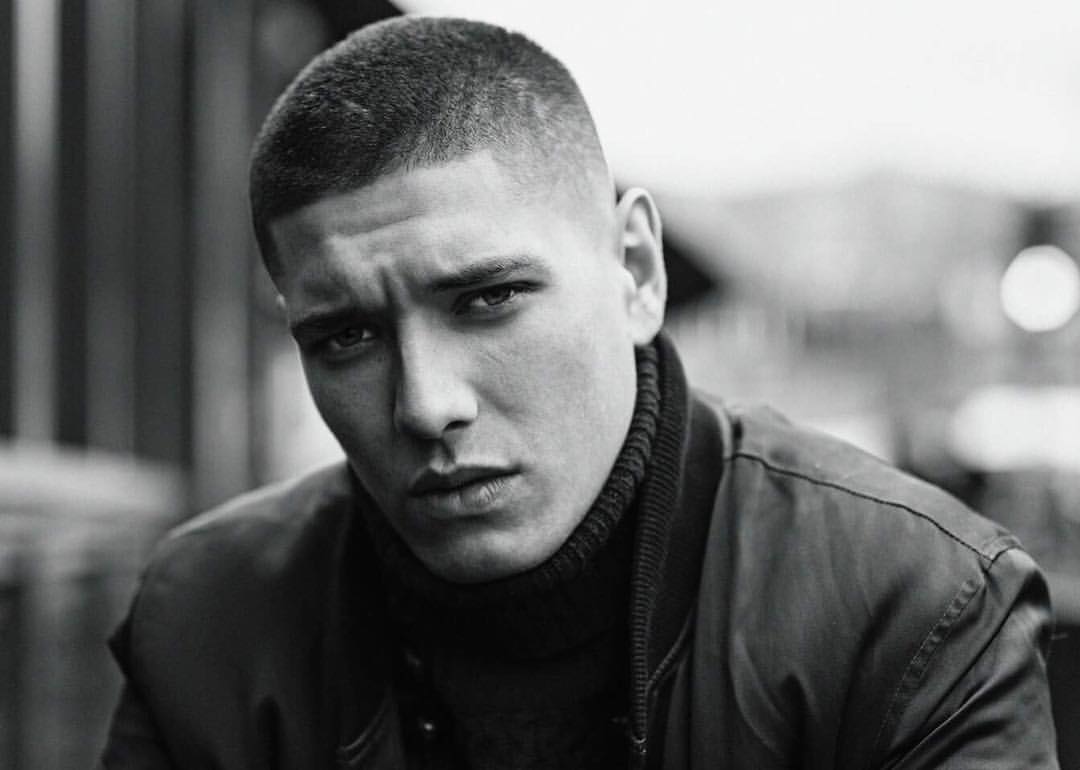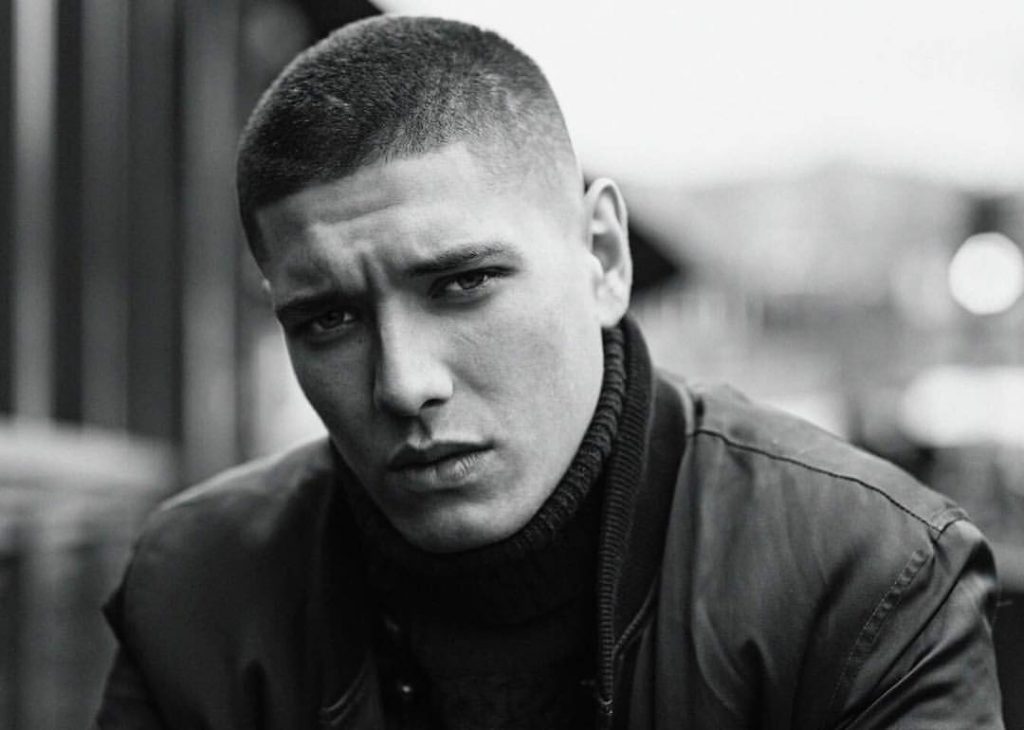 While the buzz cut started with the military but it can be a high fashion look too.
2. Short Taper Fade Haircut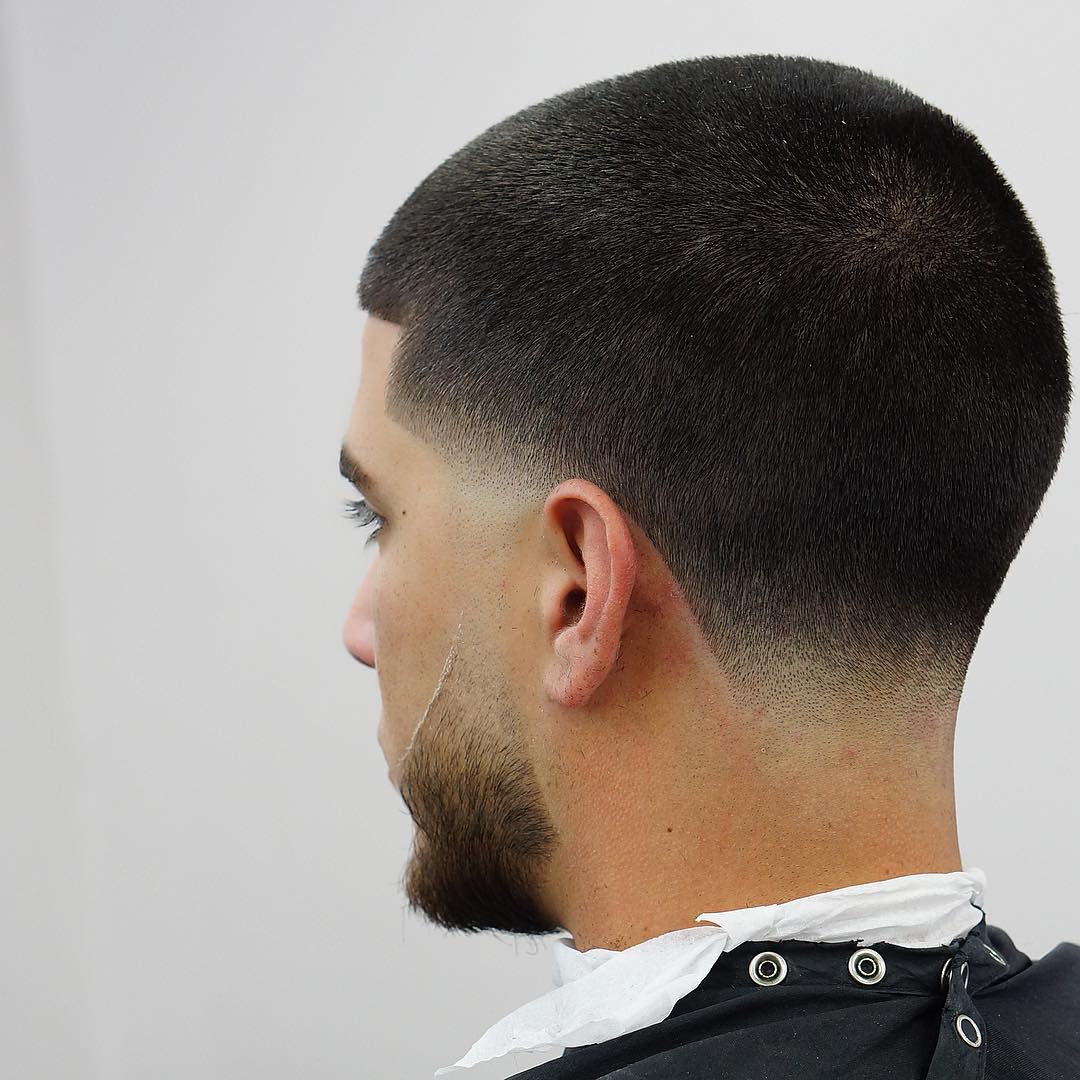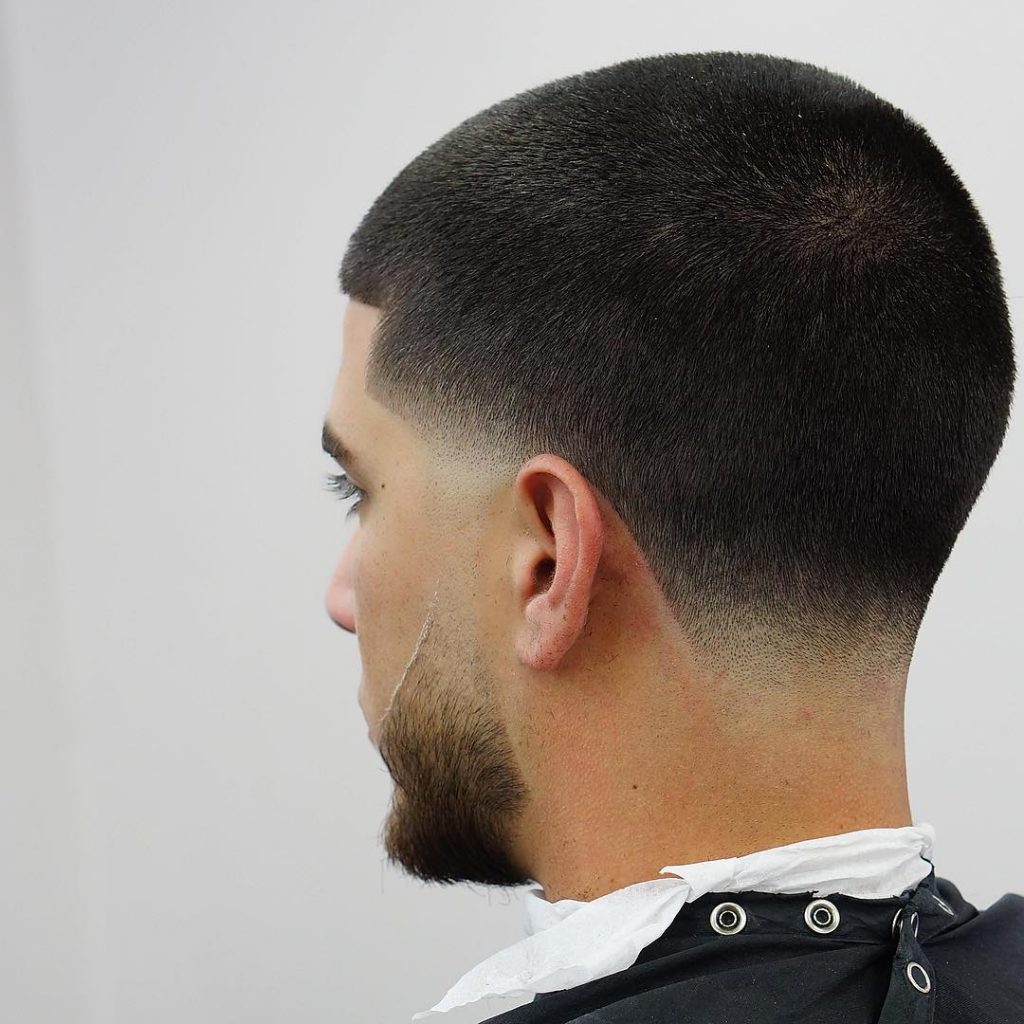 Style up that buzz cut with a line up and taper fade.
3. Short Low Fade Haircut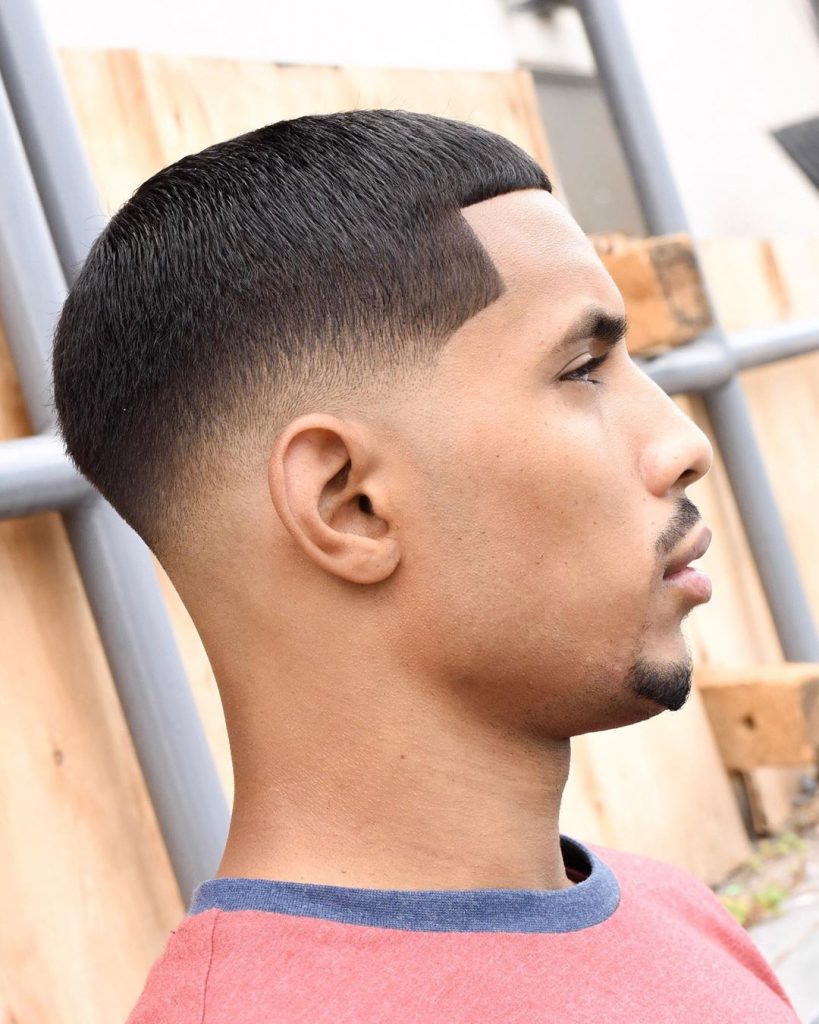 This cool Caesar haircut contrasts the line of blunt fringe with blurry low fade.
4. Short Mid Fade Haircut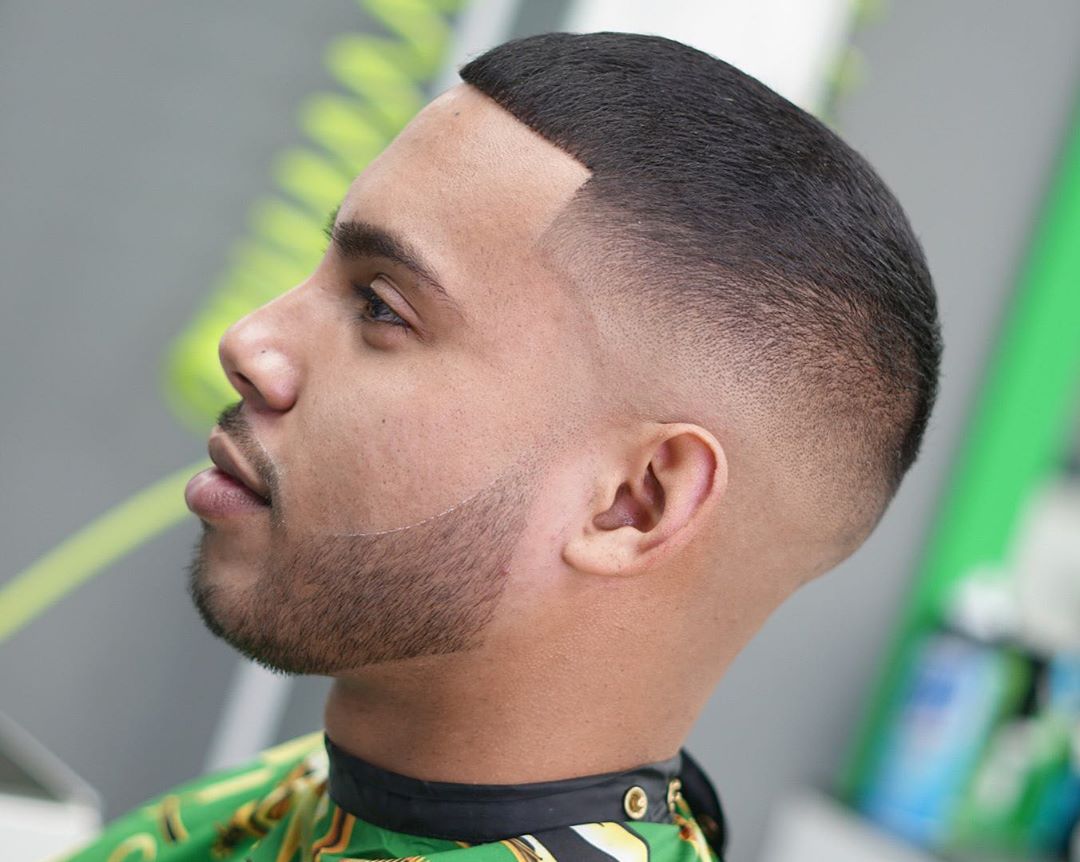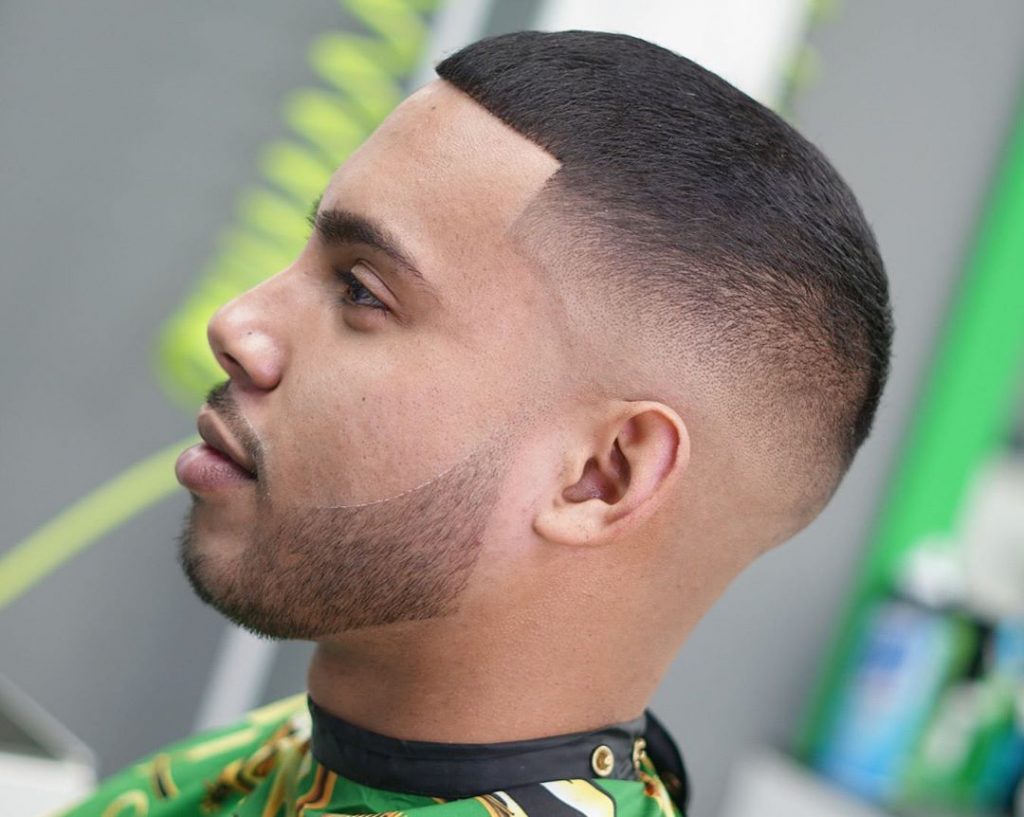 Same haircut but with a higher fade and shaped beard.
5. Short High Fade Haircut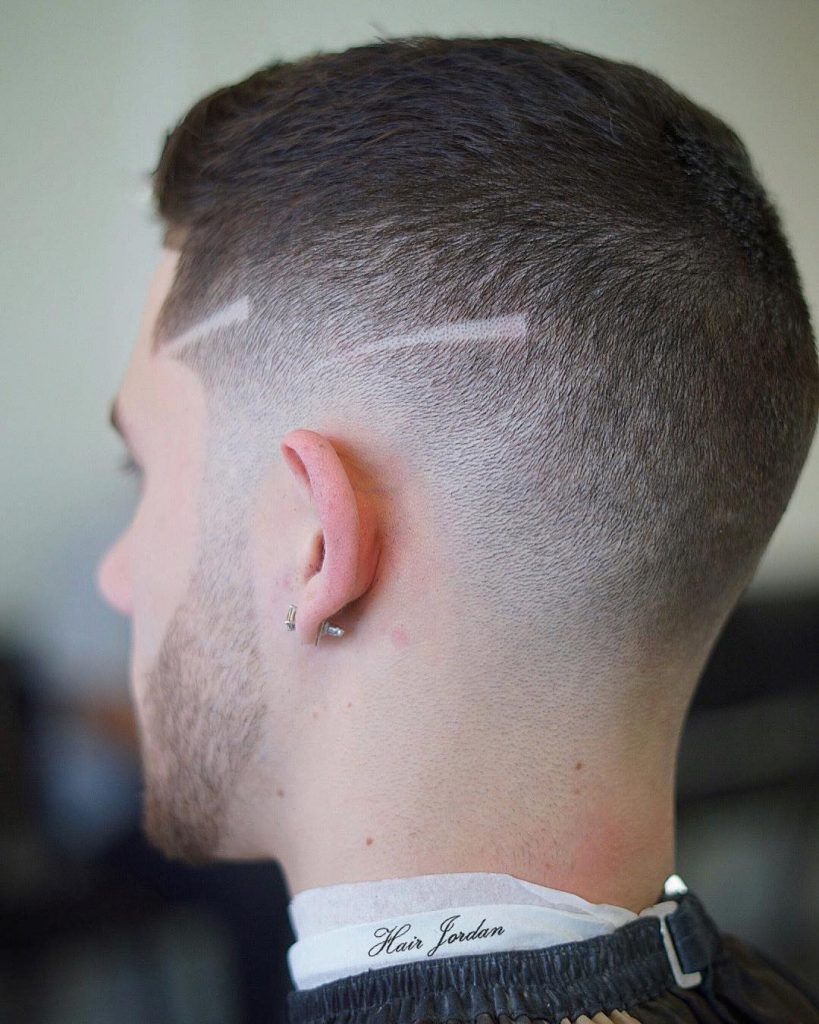 This fade cuts the sides short up high and adds some artistic shaved lines.
6. Short Skin Fade Haircut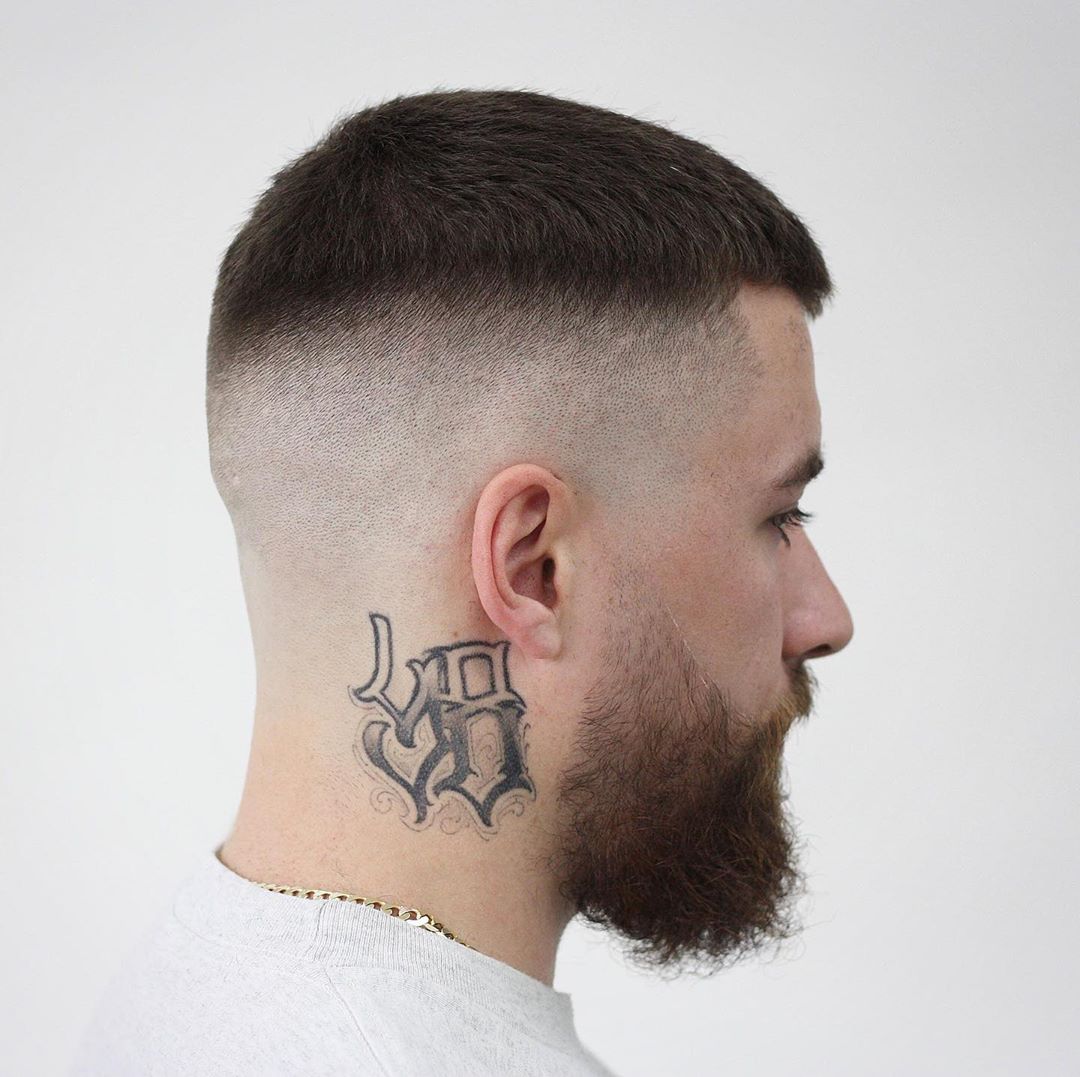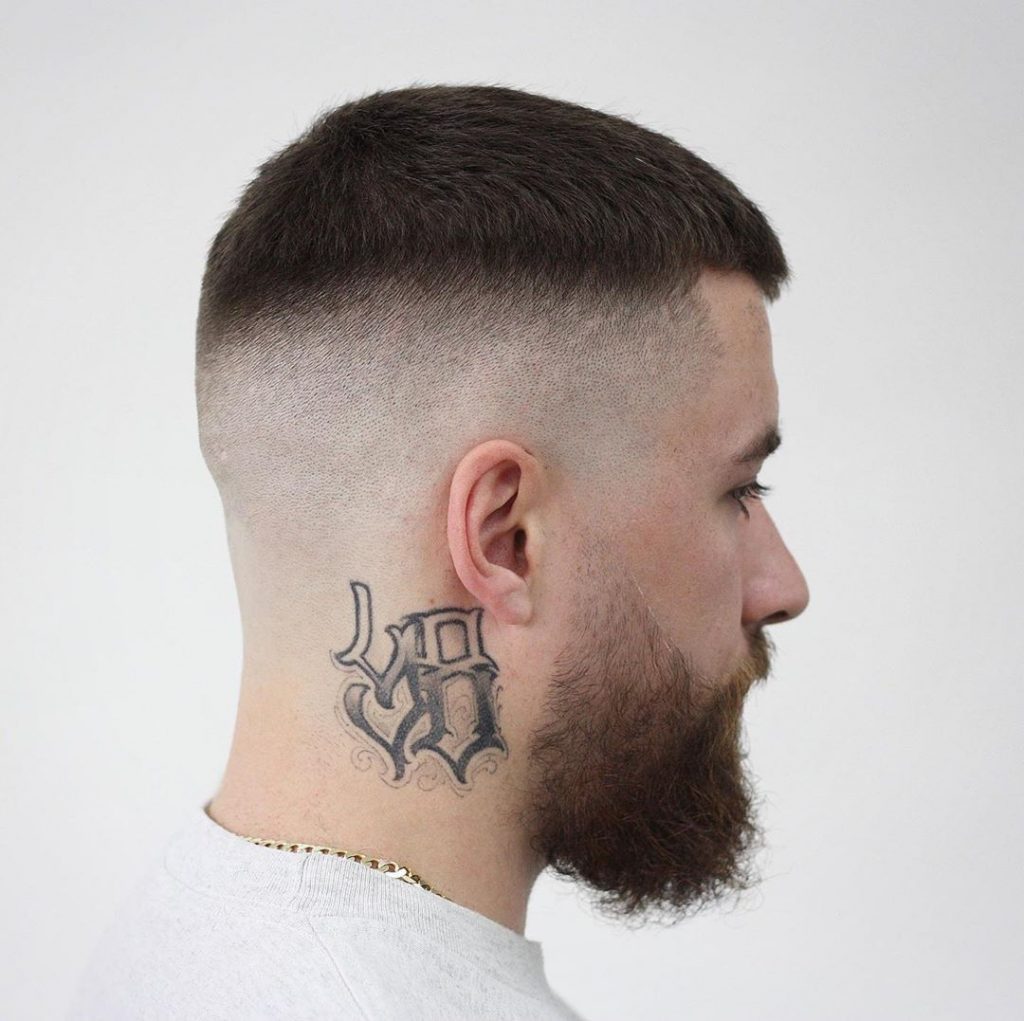 This high skin fade creates a more stylish, less severe version of the jarhead lid haircut.
7. Hard Part Haircut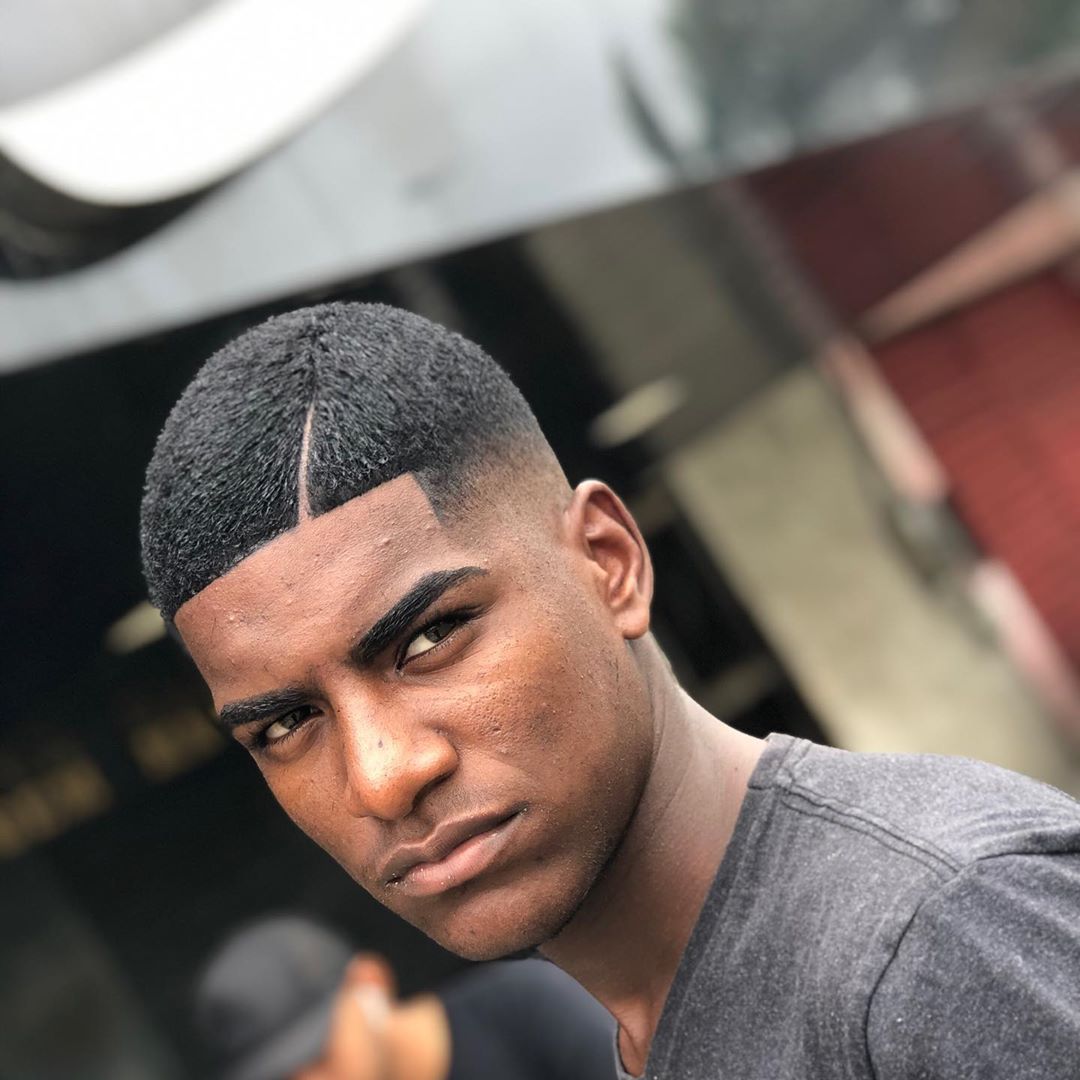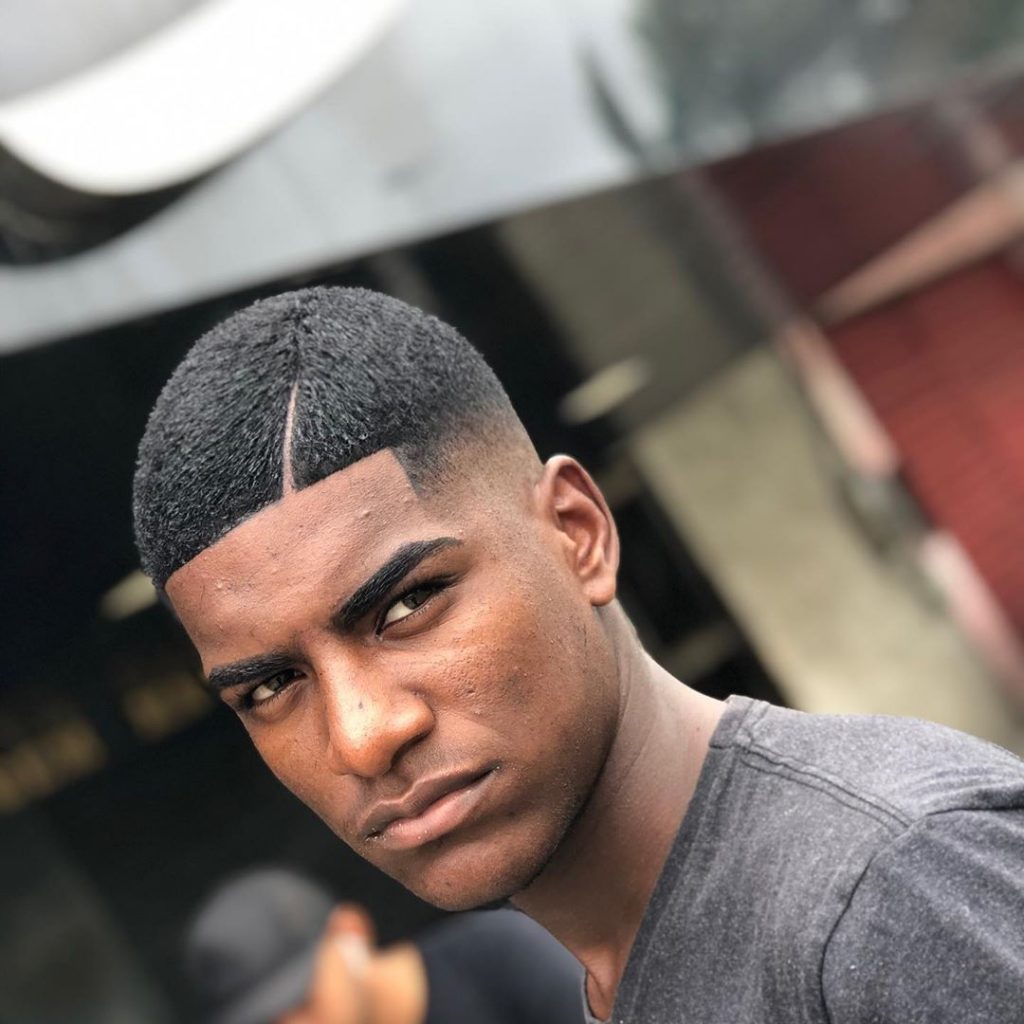 A short and diagonal shaved part in a buzz cut.
8. Line Up + Shaved Lines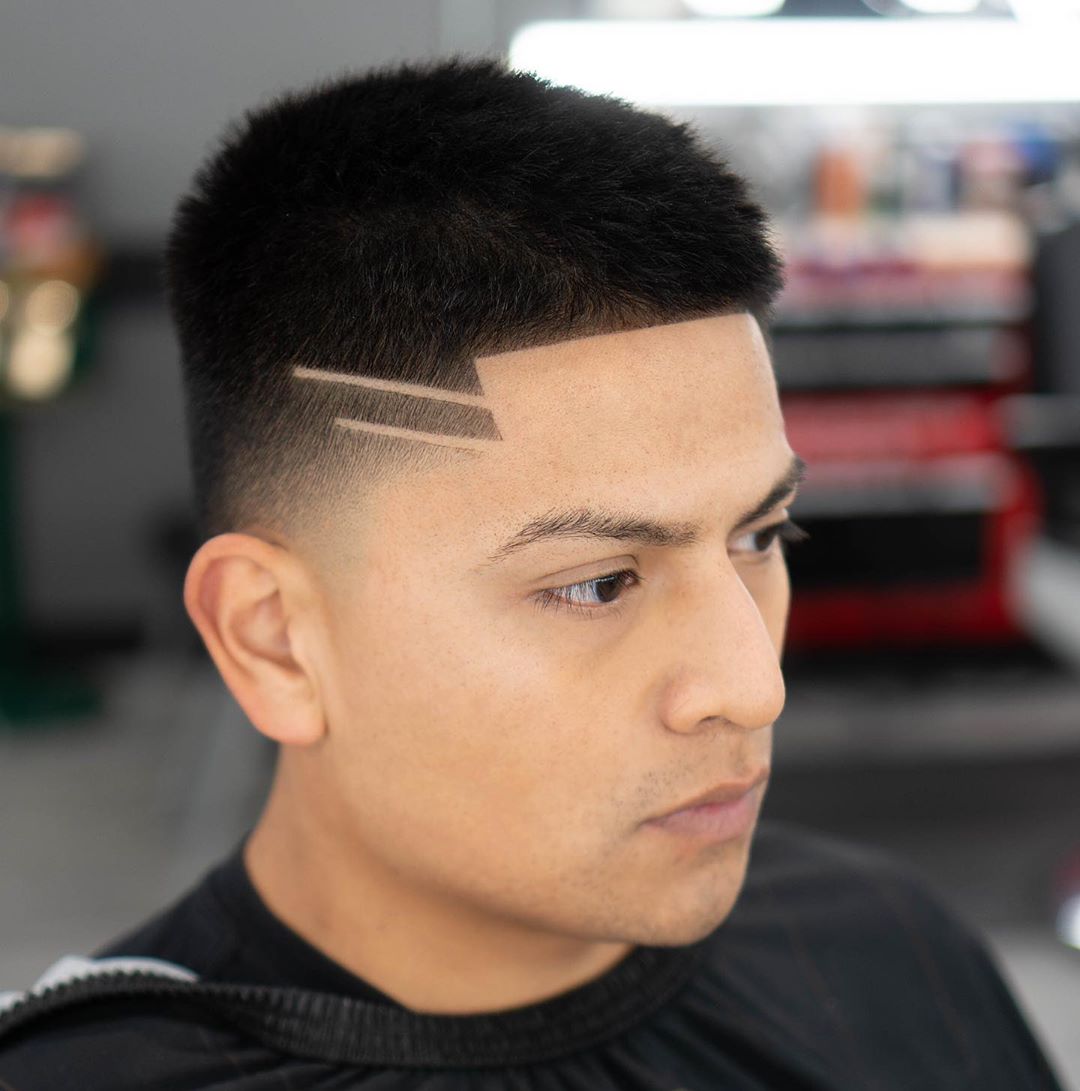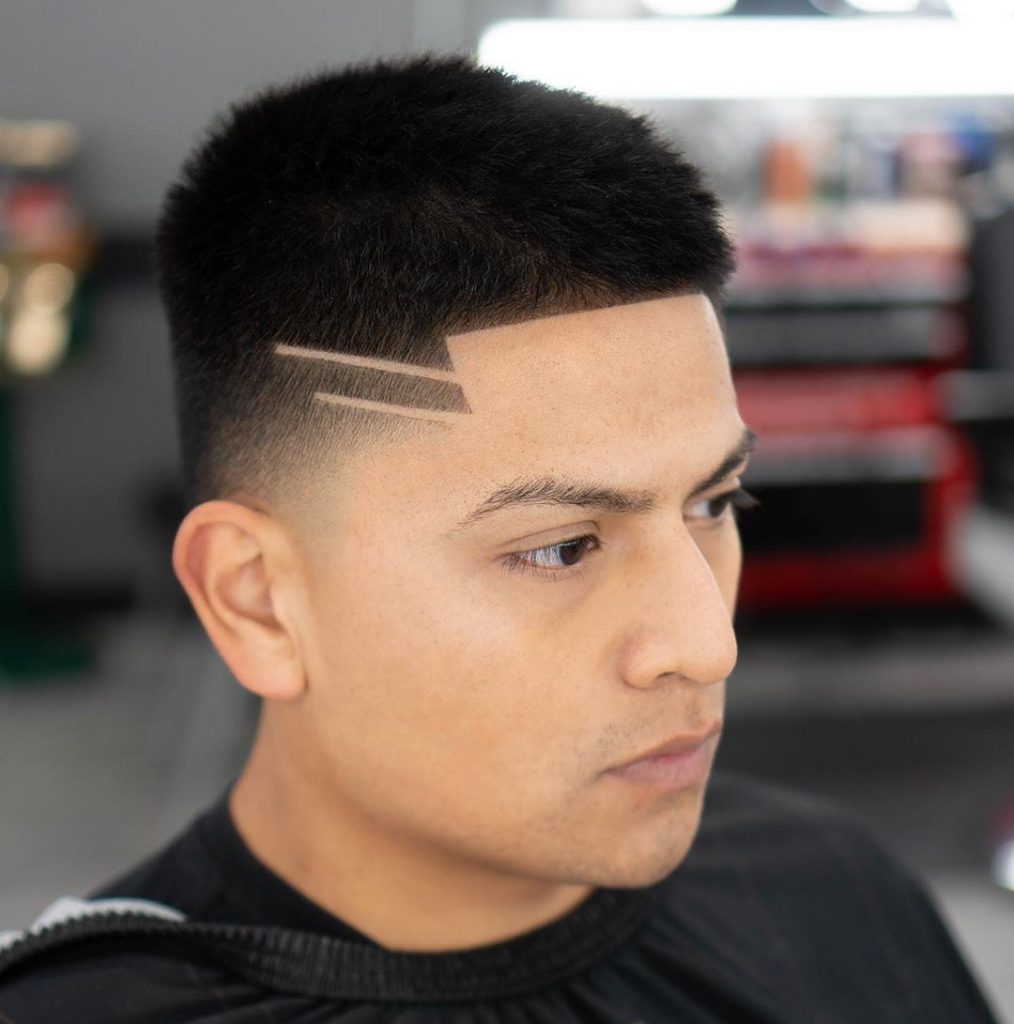 A line up and shaved lines with a longer buzz cut style, which is still very short.
Textured, Spiky + Messy Haircuts
This section features the hottest hair trends – textured haircuts. These looks are cut and styled to enhance piecey texture that looks great and helps hair appear thicker. These looks can be styled spiky, messy, or loosely for different looks from the same haircut. Some of these styles are the popular French crop aka crop haircut aka textured crop, but not all. The sides can be faded or undercut.
9. Short Spiky Hair for Men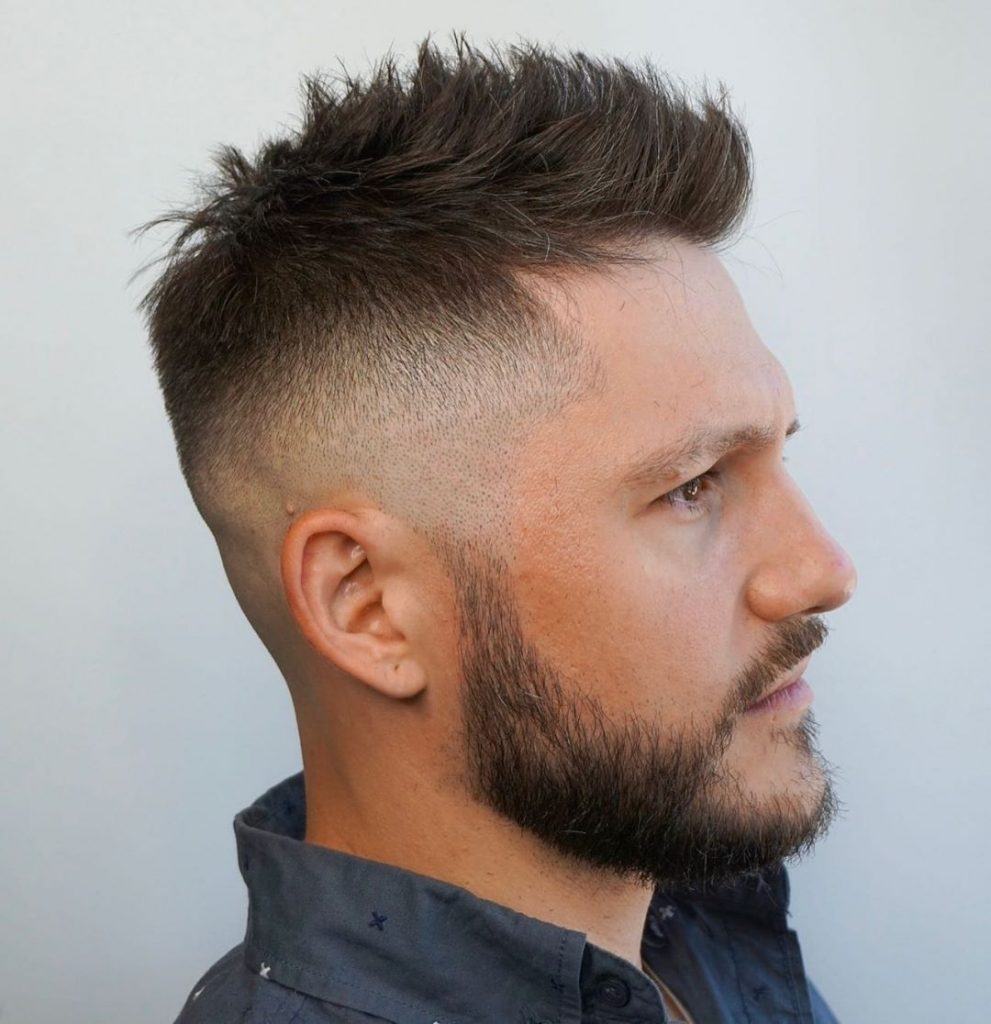 This cool short spiky cut and style is trendy and timeless at the same time. The bottom line is that it looks good.
10. Short Messy Hair for Men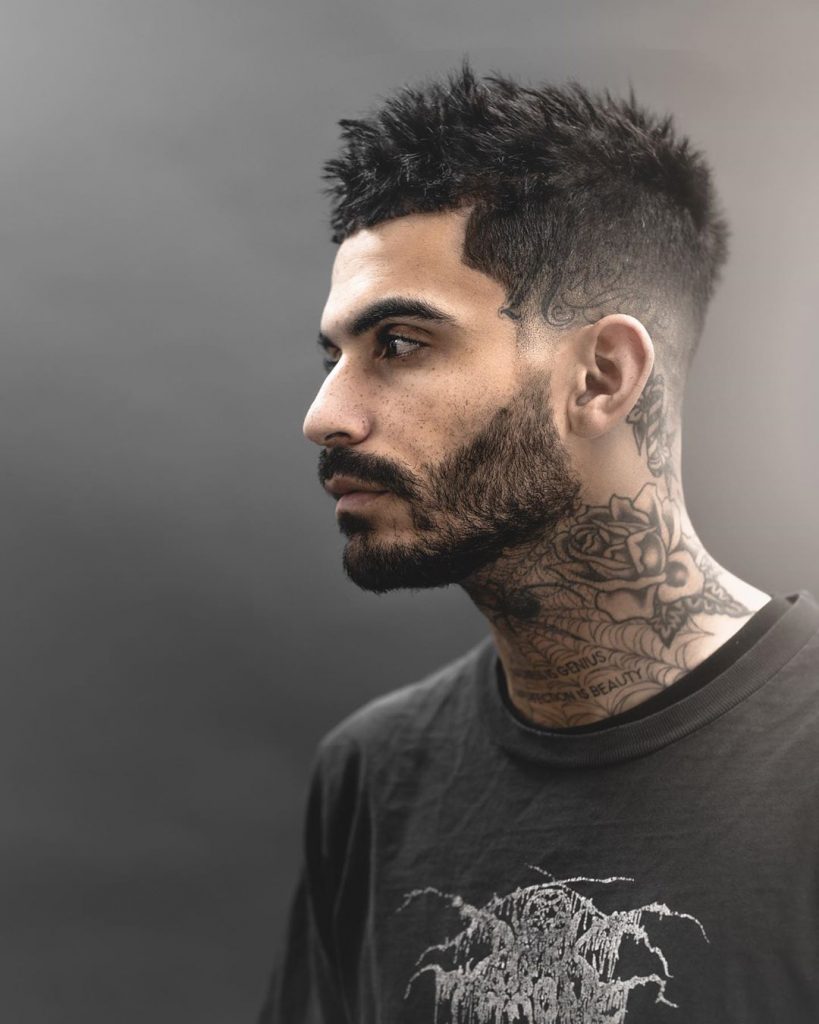 Textured and messy spikes with an edge.
11. Short Textured Haircut + Undercut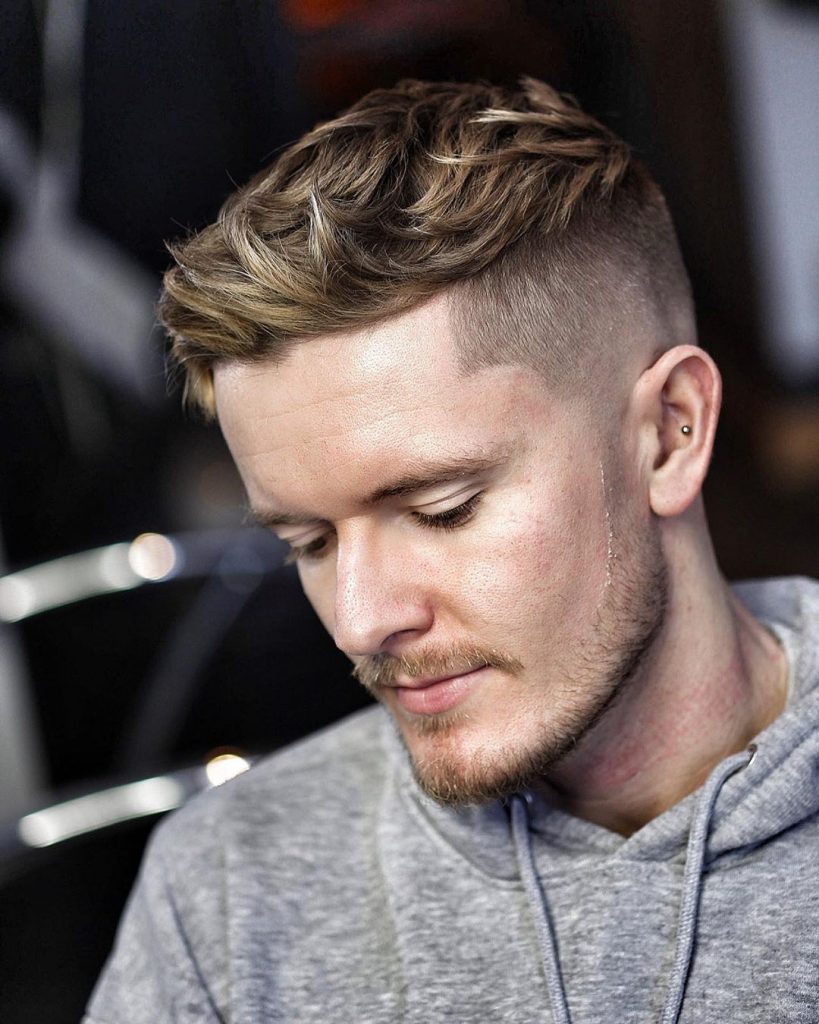 This cool disconnected undercut style is more texture than spikes with a hint of a quiff.
12. Short Mohawk Fade Haircut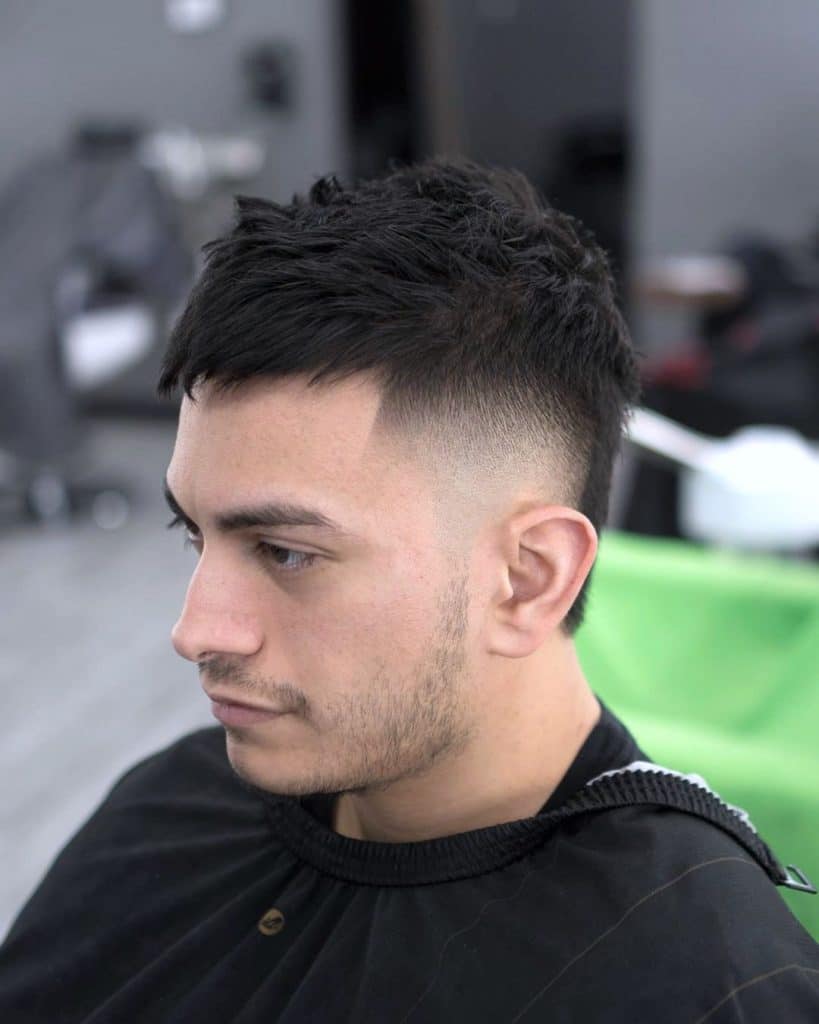 This short haircut reads like a wide mohawk with a temple meets burst fade and tousled texture.
13. French Crop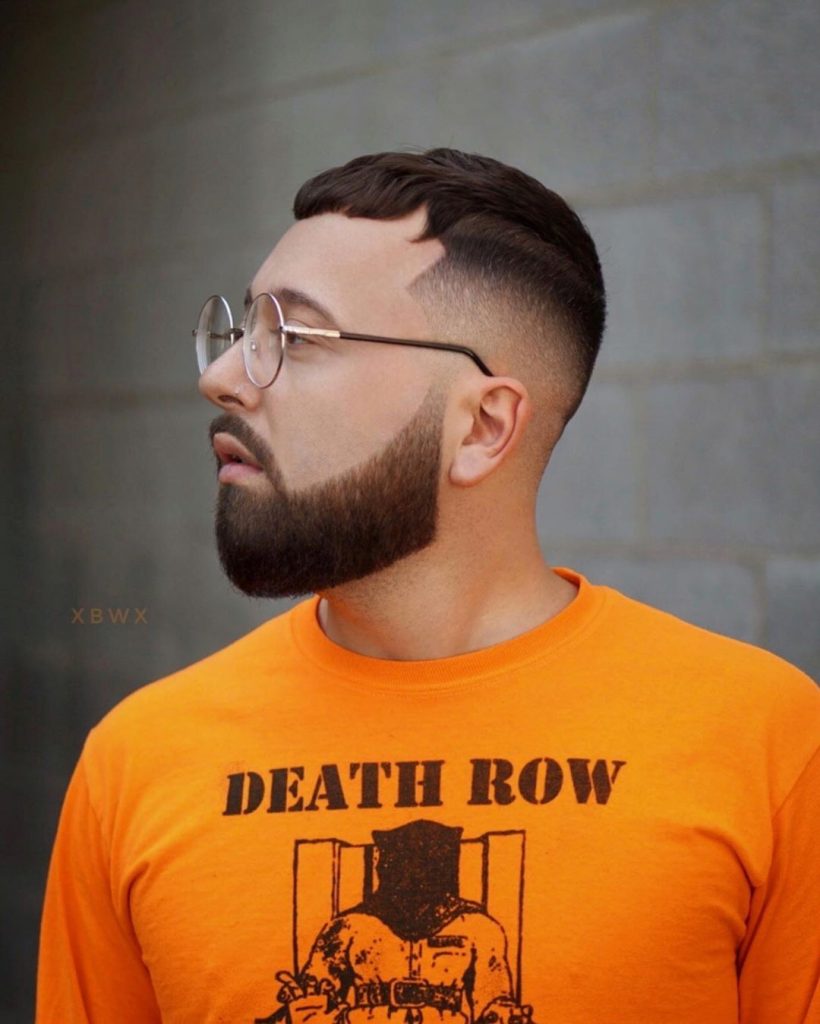 Here's yet another cool way to wear the French crop aka textured crop aka crop haircut aka crop fade. Precision texture creates smooth waves and one shark tooth.
14. Textured Crop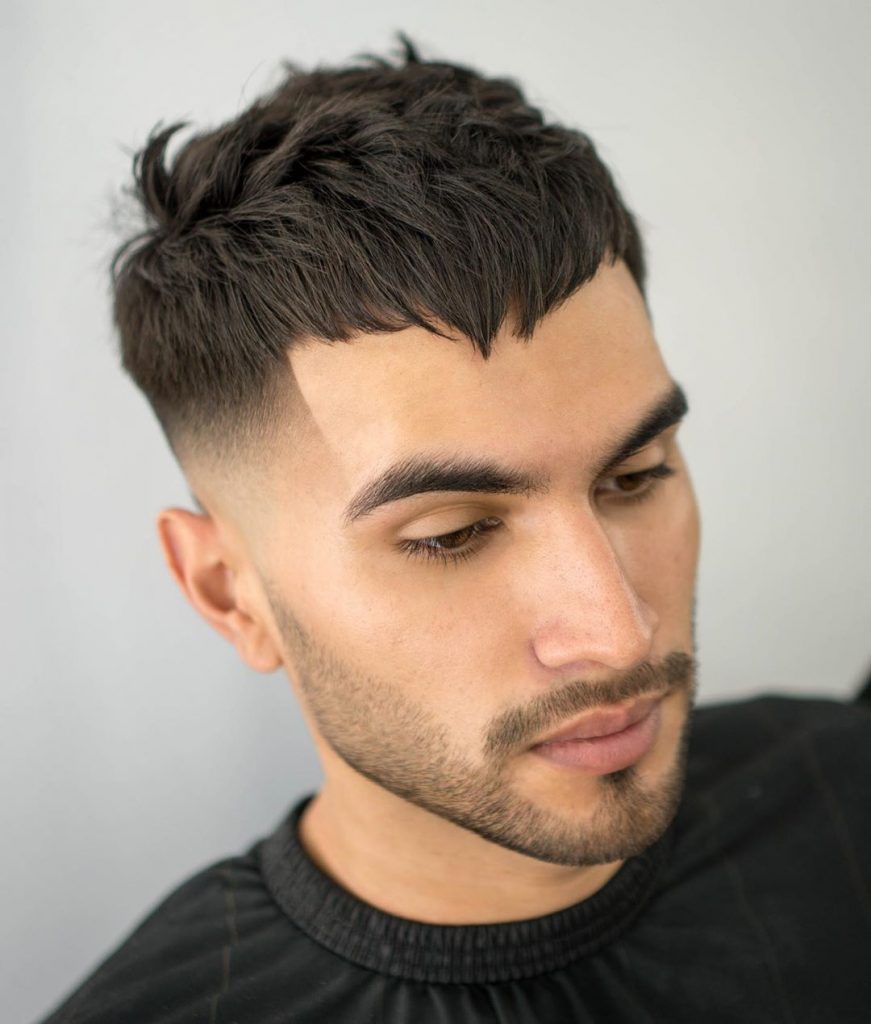 This heavy crop is a cool and flattering way to wear thick and/or wavy hair. Layers remove bulk and bring out texture for a full but lightweight style.
15. Crop Fade Haircut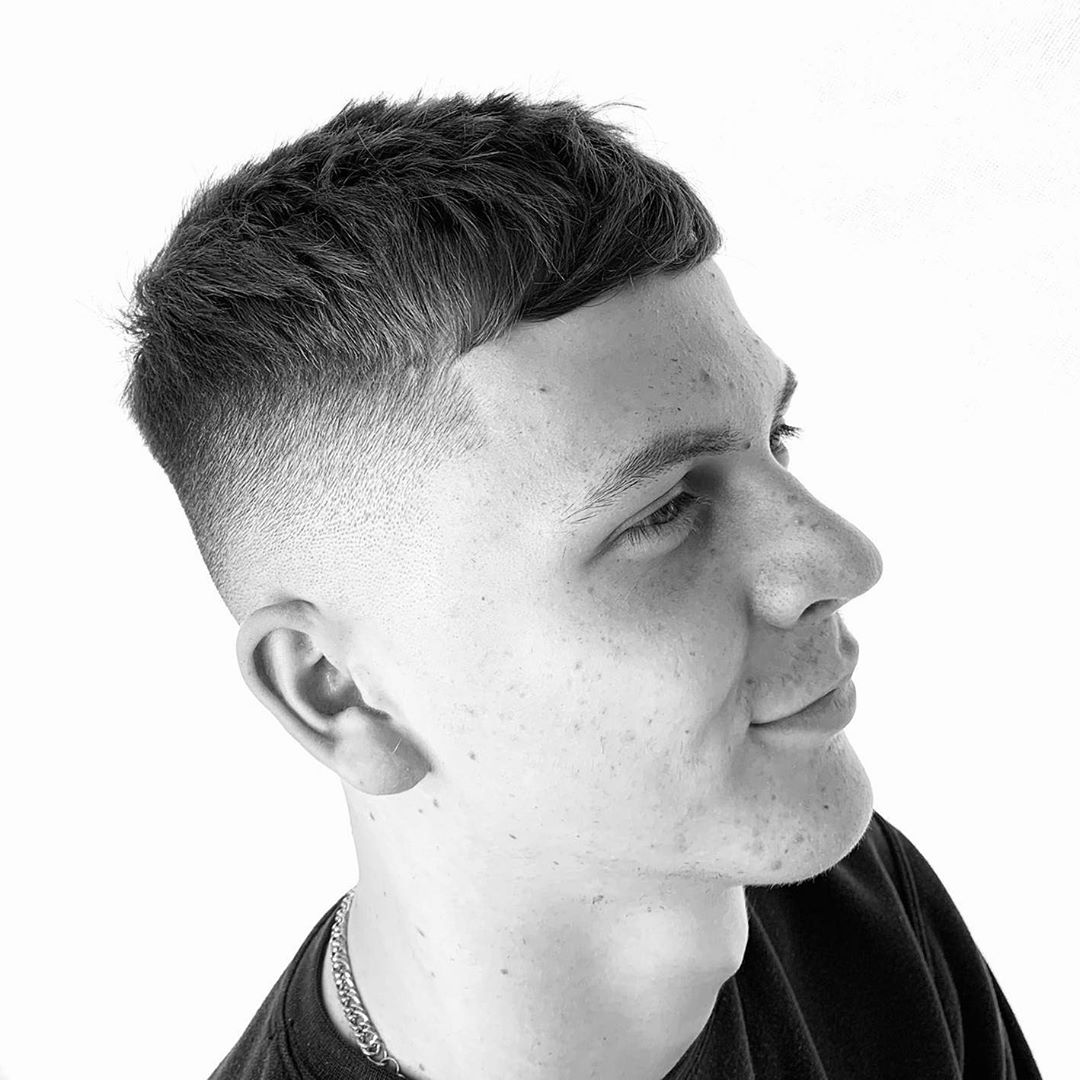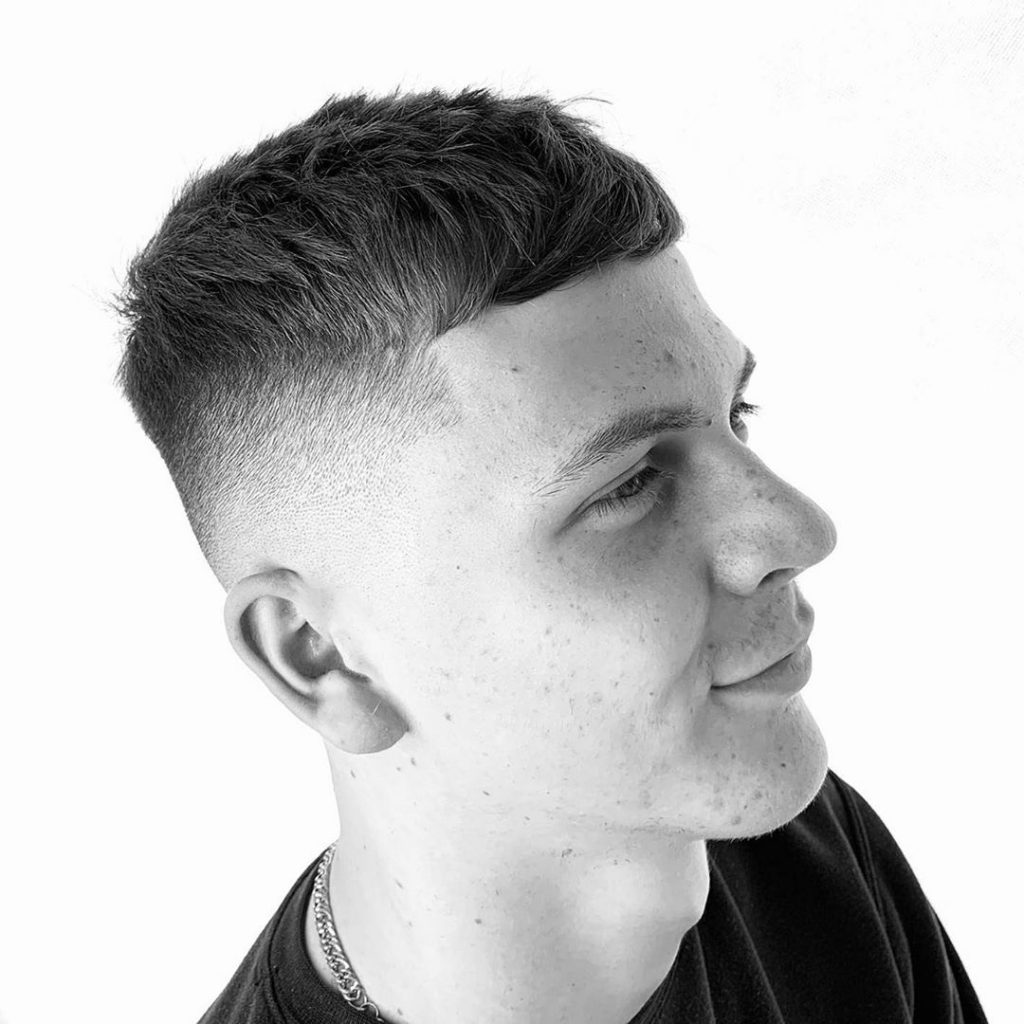 This version of the crop fade transforms wavy hair into short spikes with blunt fringe.
16. Short Spiky Haircut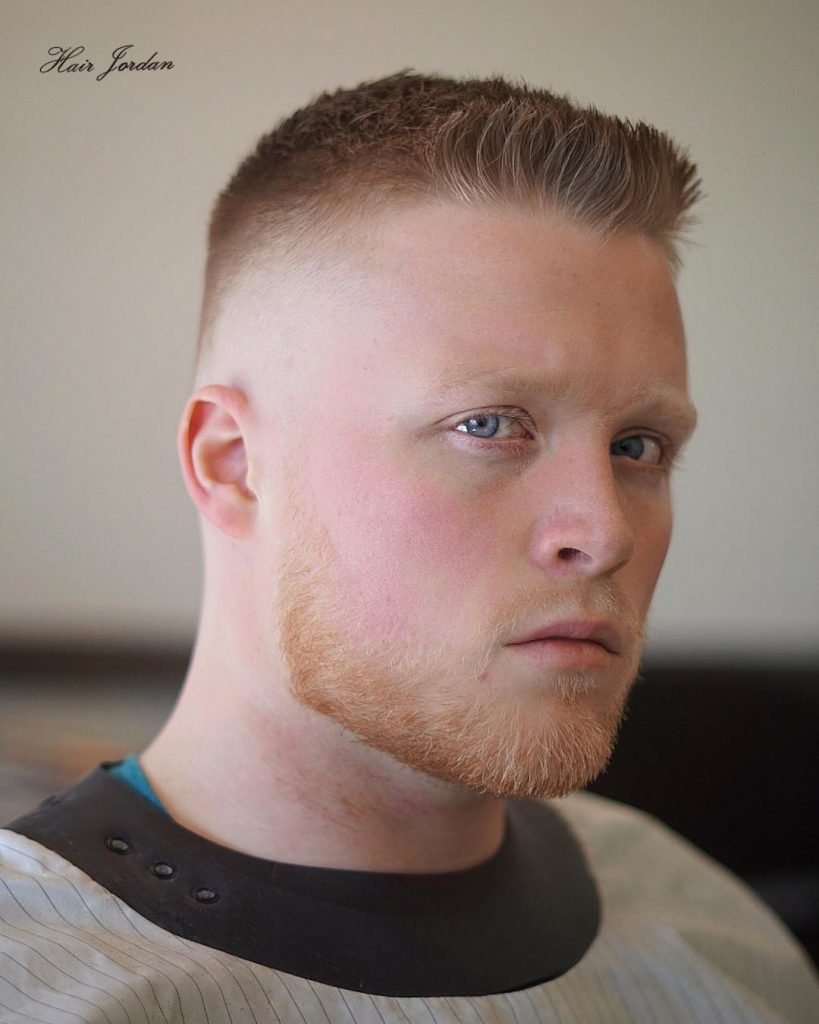 This short spiky hairstyle lets everyone know that you mean business.
17. Blonde Hair for Men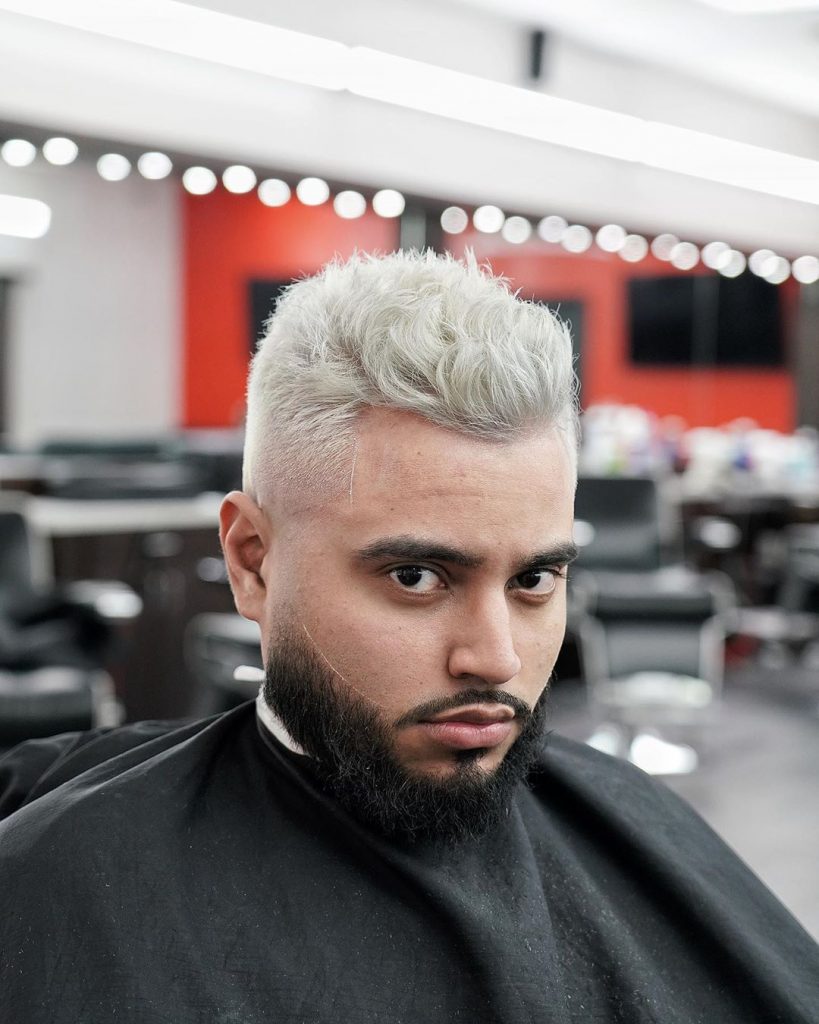 Silver blonde hair color adds to the appeal of this short and messy spikes.
18. Messy + Spiky Hair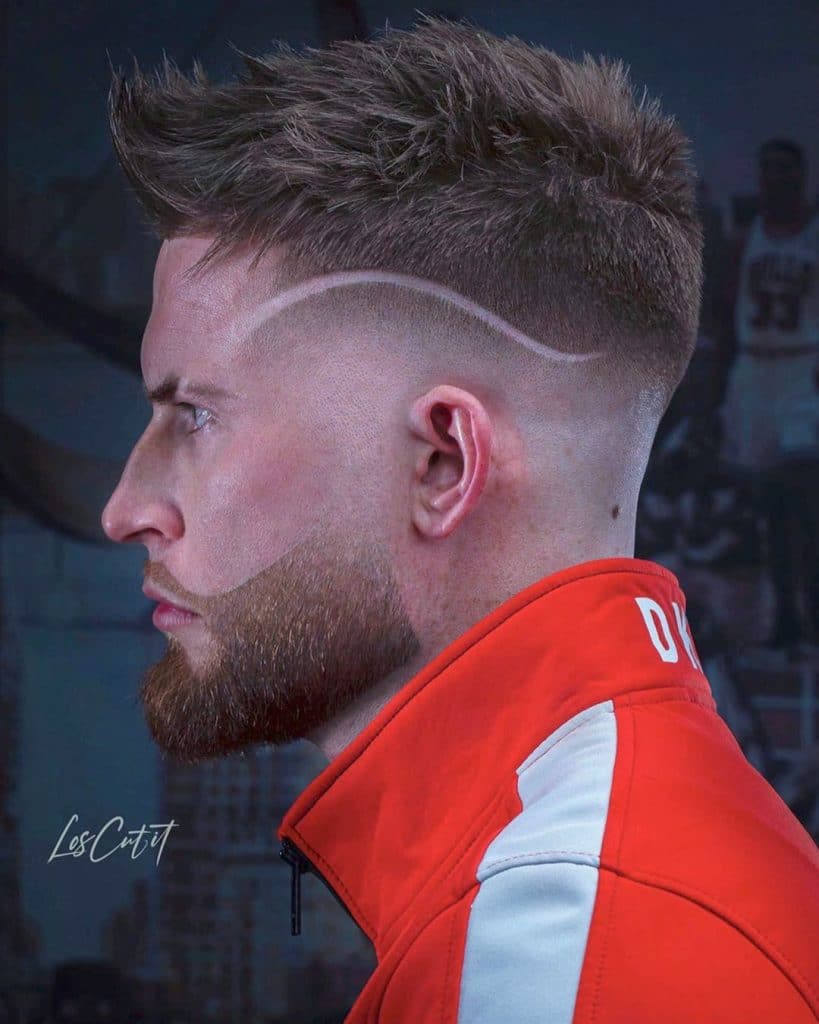 Those retro vertical spikes with visible gel have been replaced by this modern spiky crew cut fade with a snaking line that ends in a brow slash and beard fade. Can you handle this much look?
Classic Short Sides, Longer Top Haircuts
All of these classic short men's haircuts feature that winning combination of short sides with longer hair on top. It's longer but definitely still short. The shorter hair is on sides, the shorter hair is on top. Even at this length, hair can be styled into a crew cut, comb over, or even a quiff.
19. High + Tight Haircut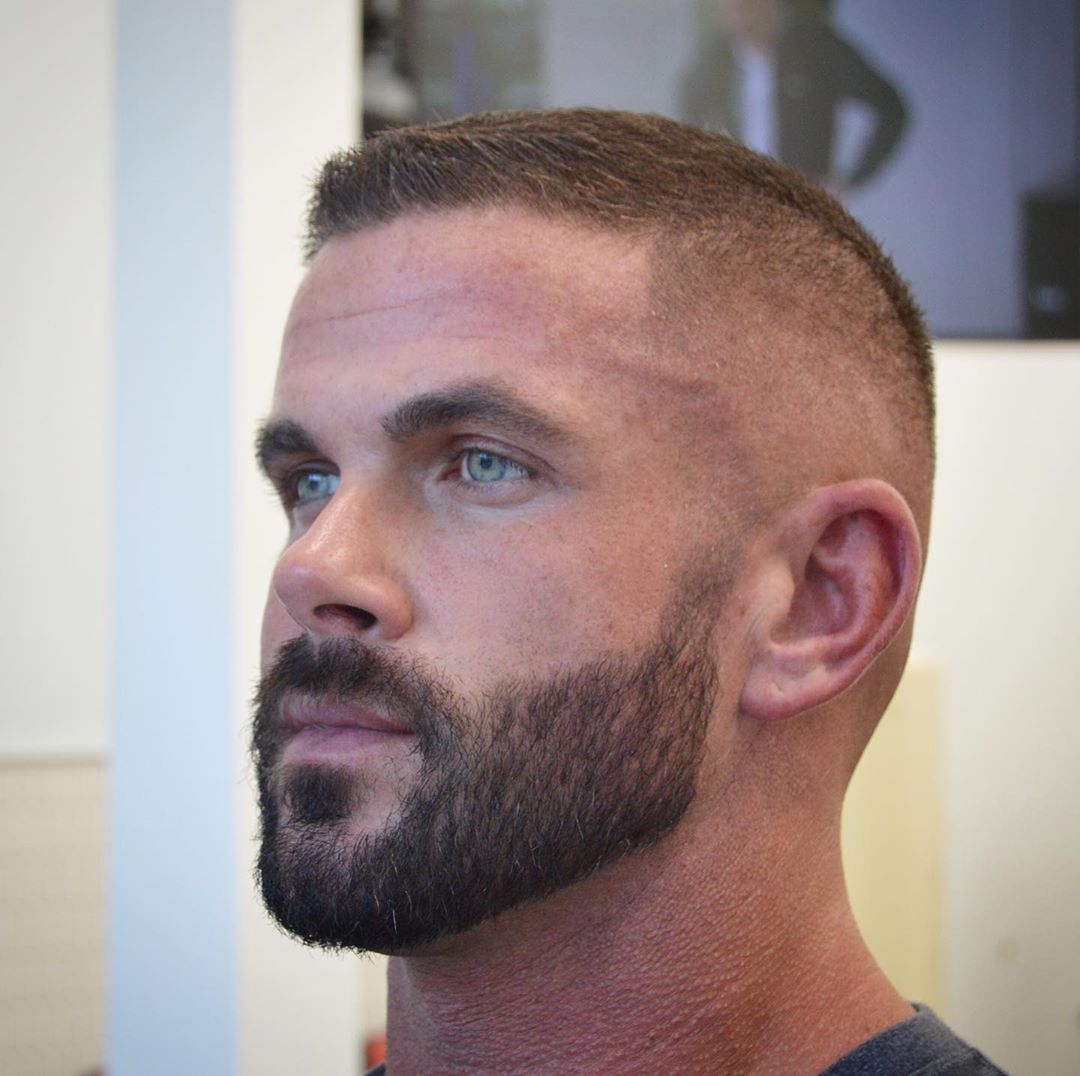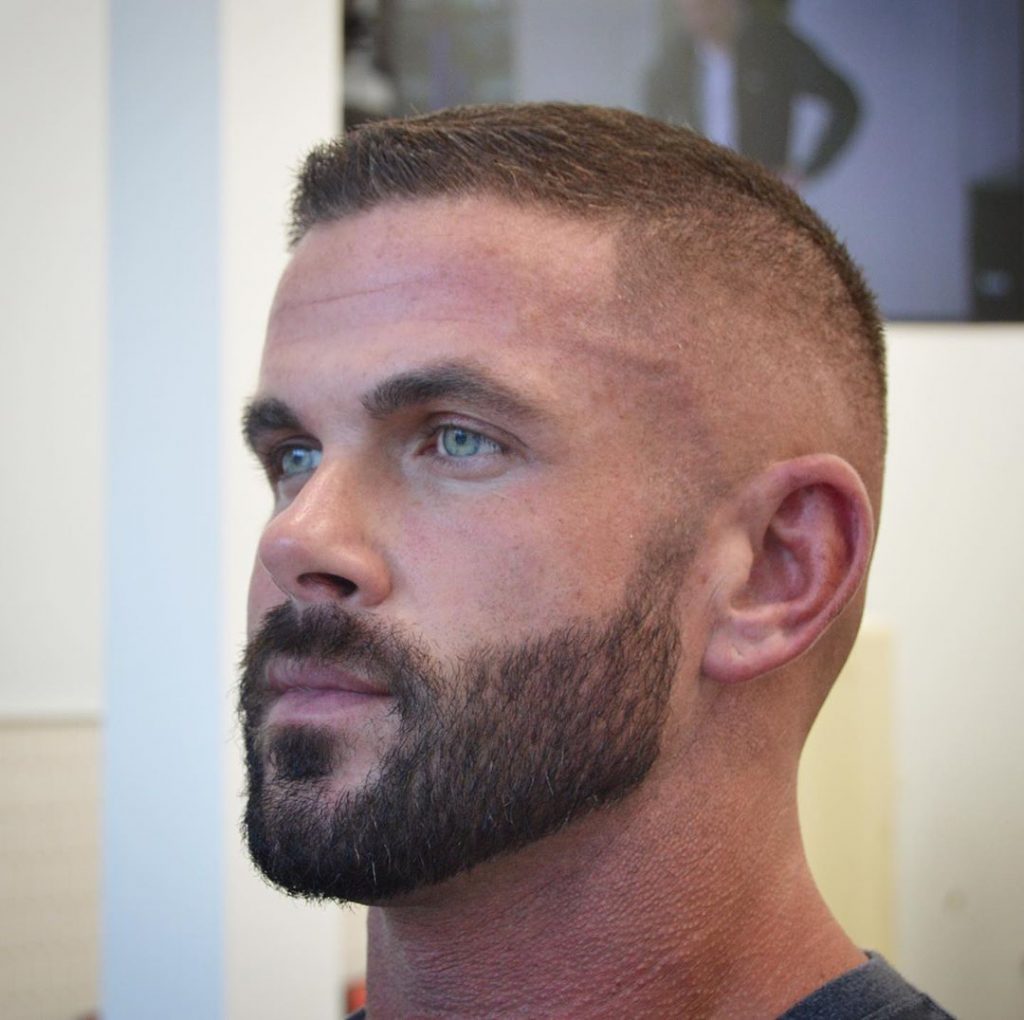 With a blurry fade and touch of product, this no-nonsense high and tight haircut has plenty of style.
20. Crew Cut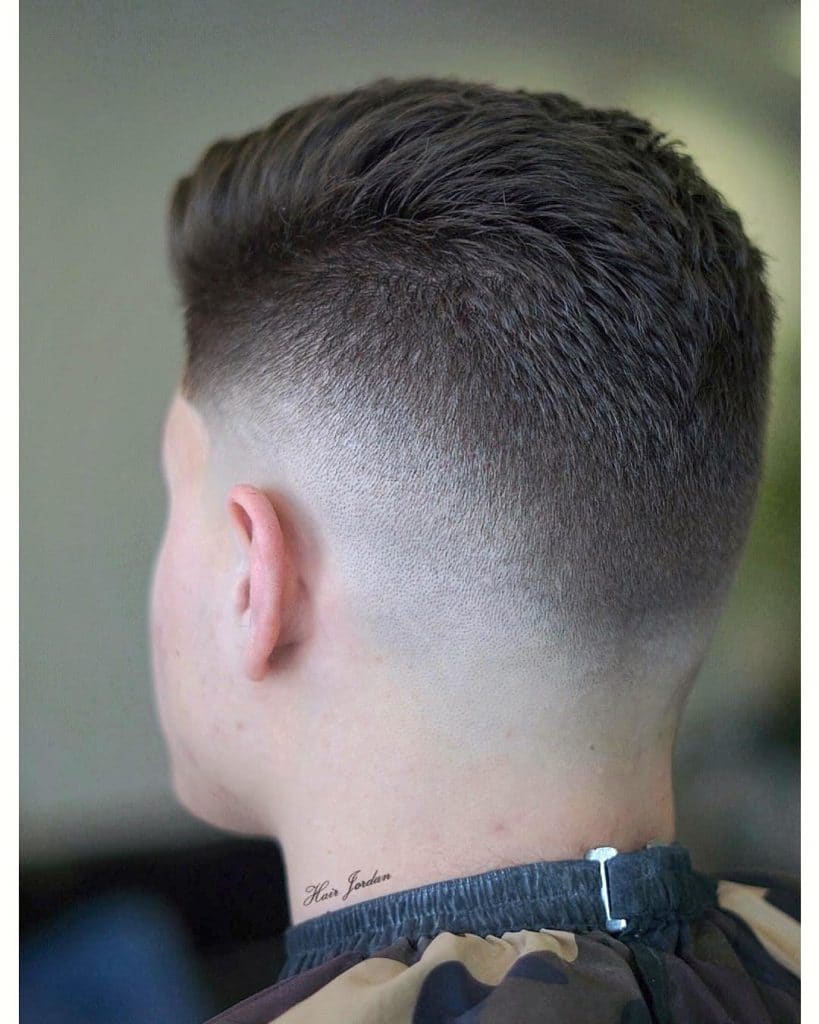 The crew cut is a type of short haircut that is longer at the forehead and gets shorter towards the crown. Here's a modern one with textured styling and a sweet drop fade.
21. Short Comb Over Fade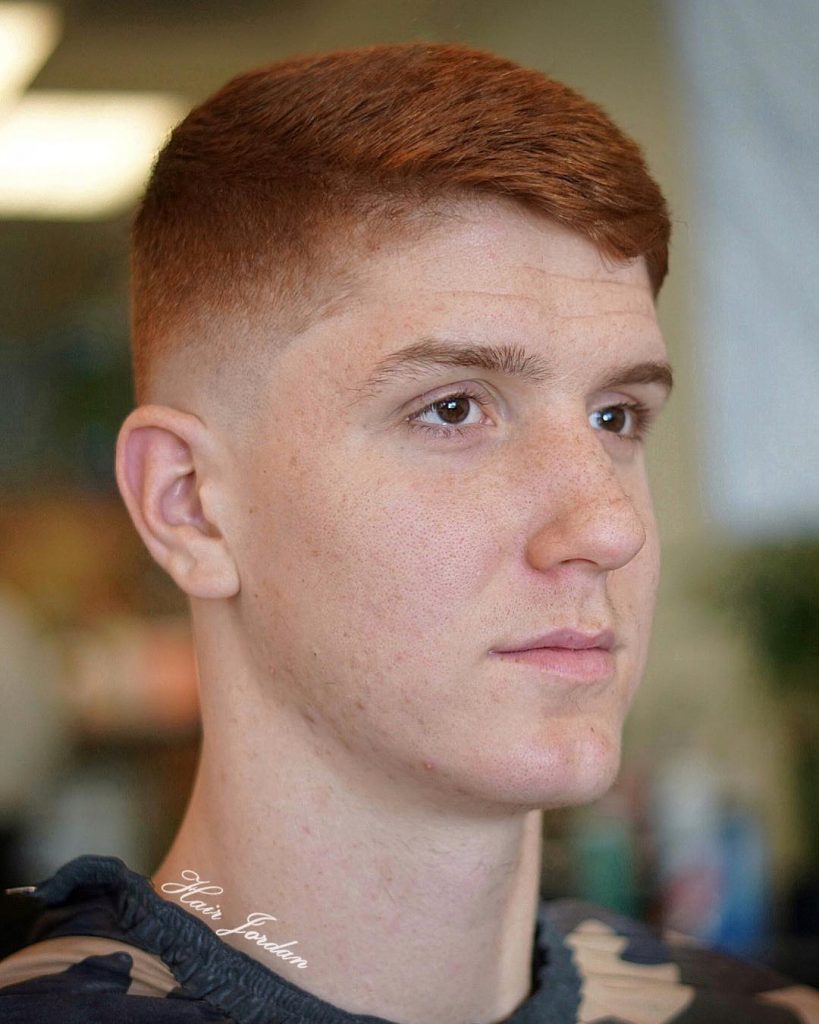 The comb over fade is one of the most popular haircuts for men because it looks so good and is so easy to style. This version skips the side part.
22. Short Hair With Beard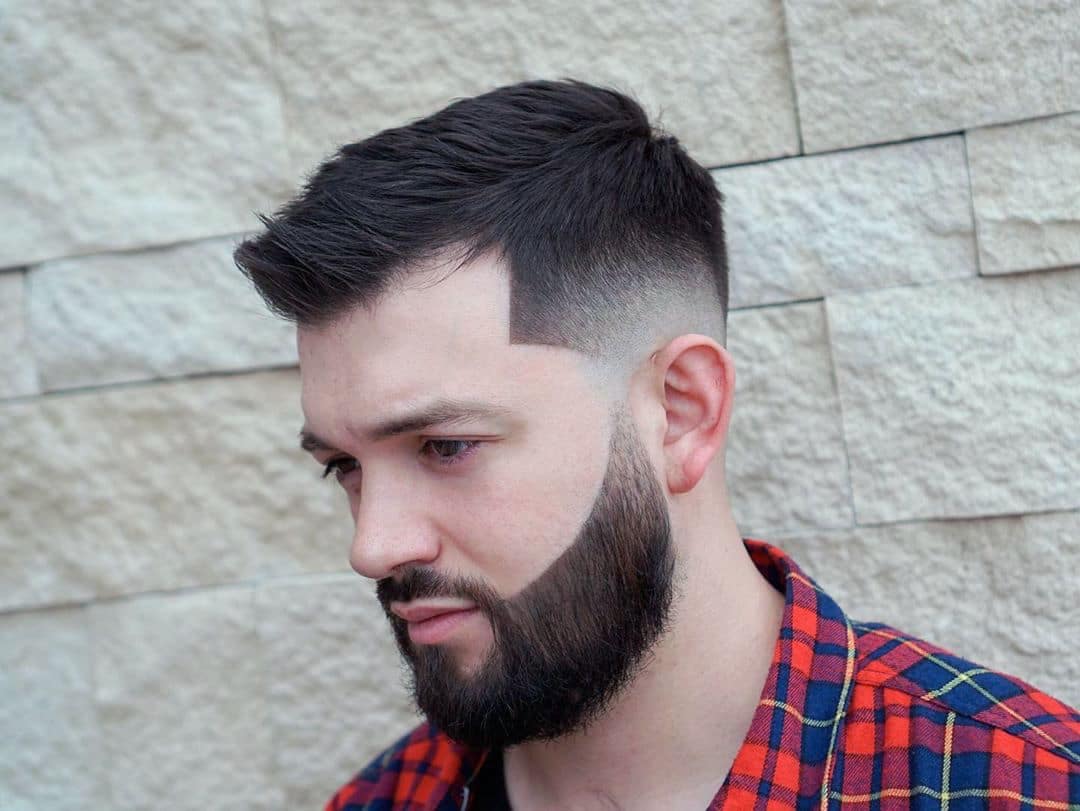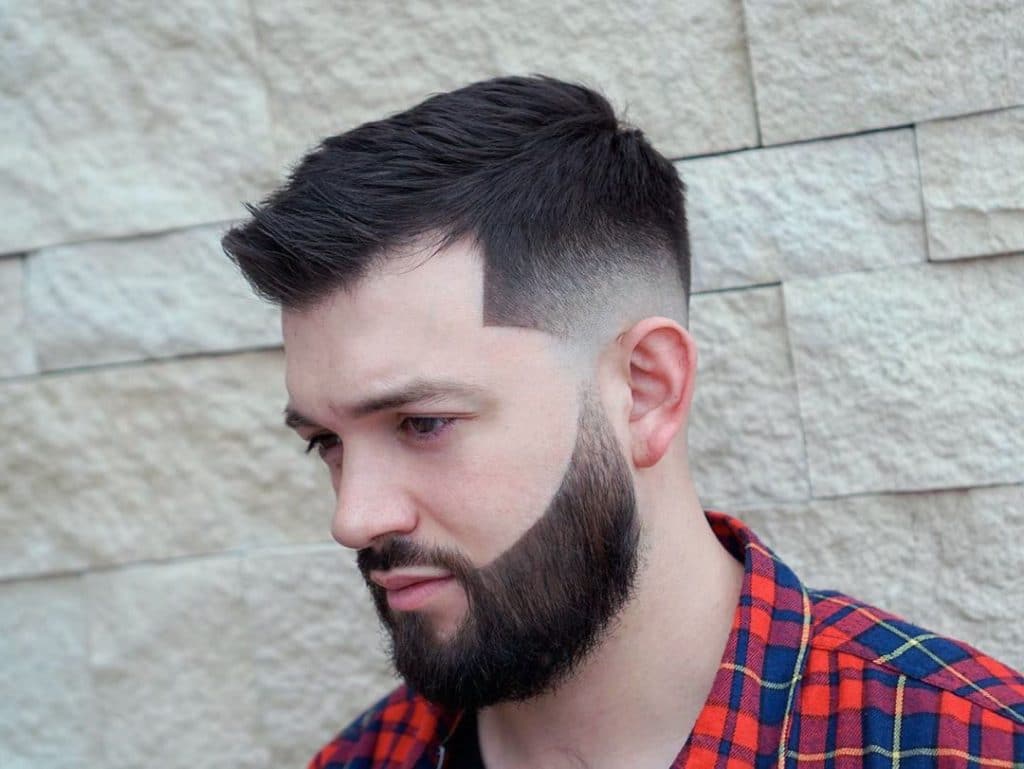 You can make any haircut work with a beard. The key is the transition between hair and facial hair. Instead of connecting them at the side burns, this low fade separates them.
23. Short Quiff Haircut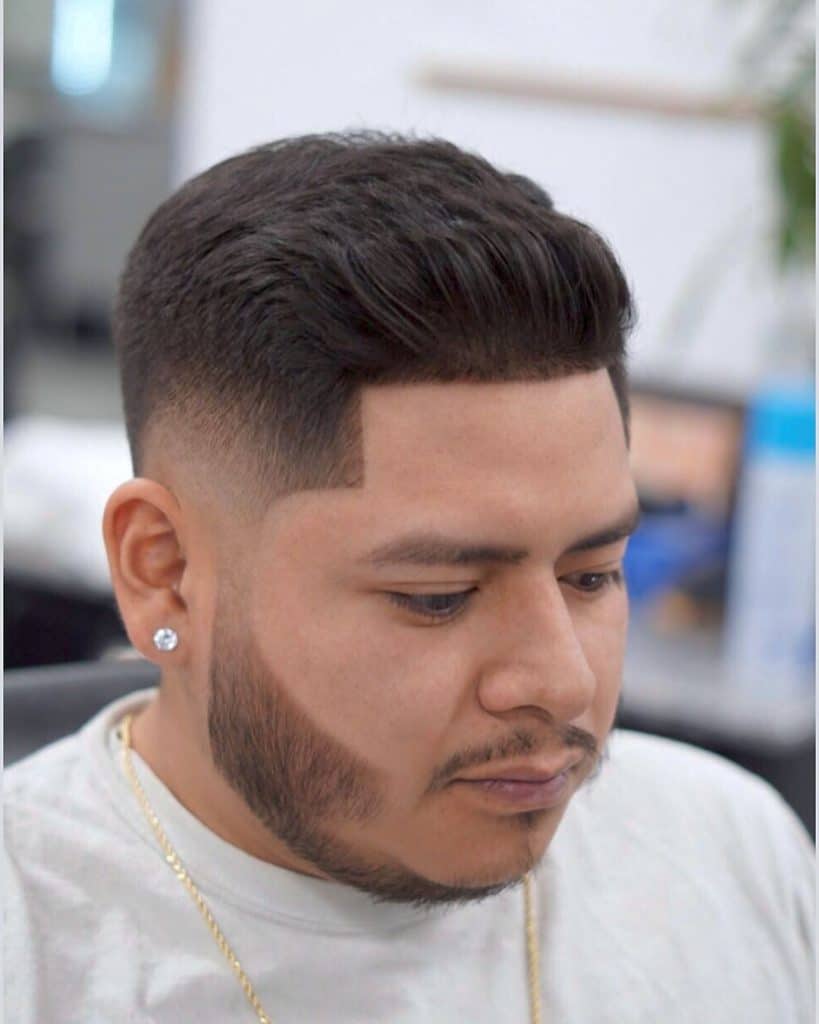 The quiff hairstyle features a bump of volume at the forehead. It looks great on everyone and doesn't need as much length as a pompadour.
24. Short Haircut for Older Men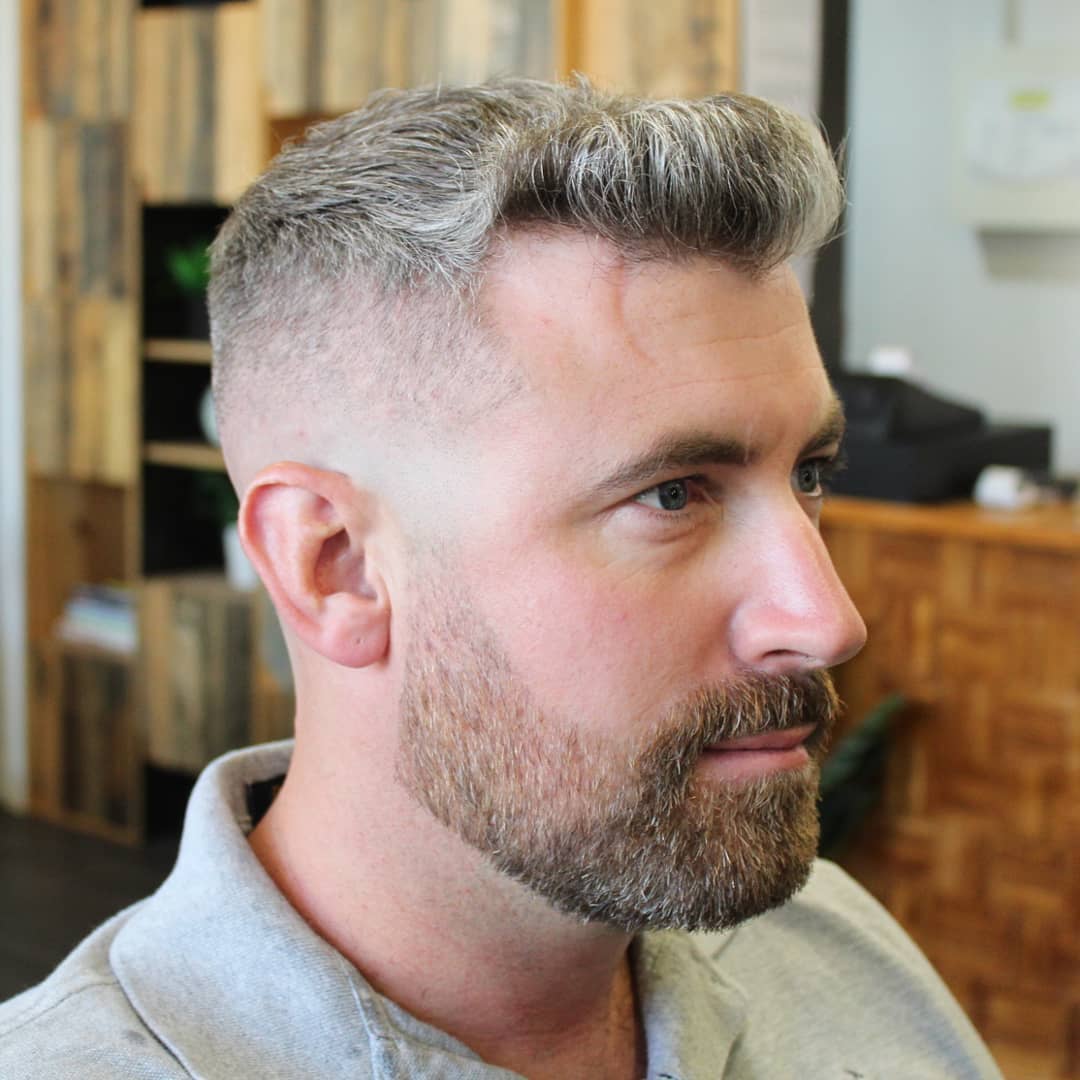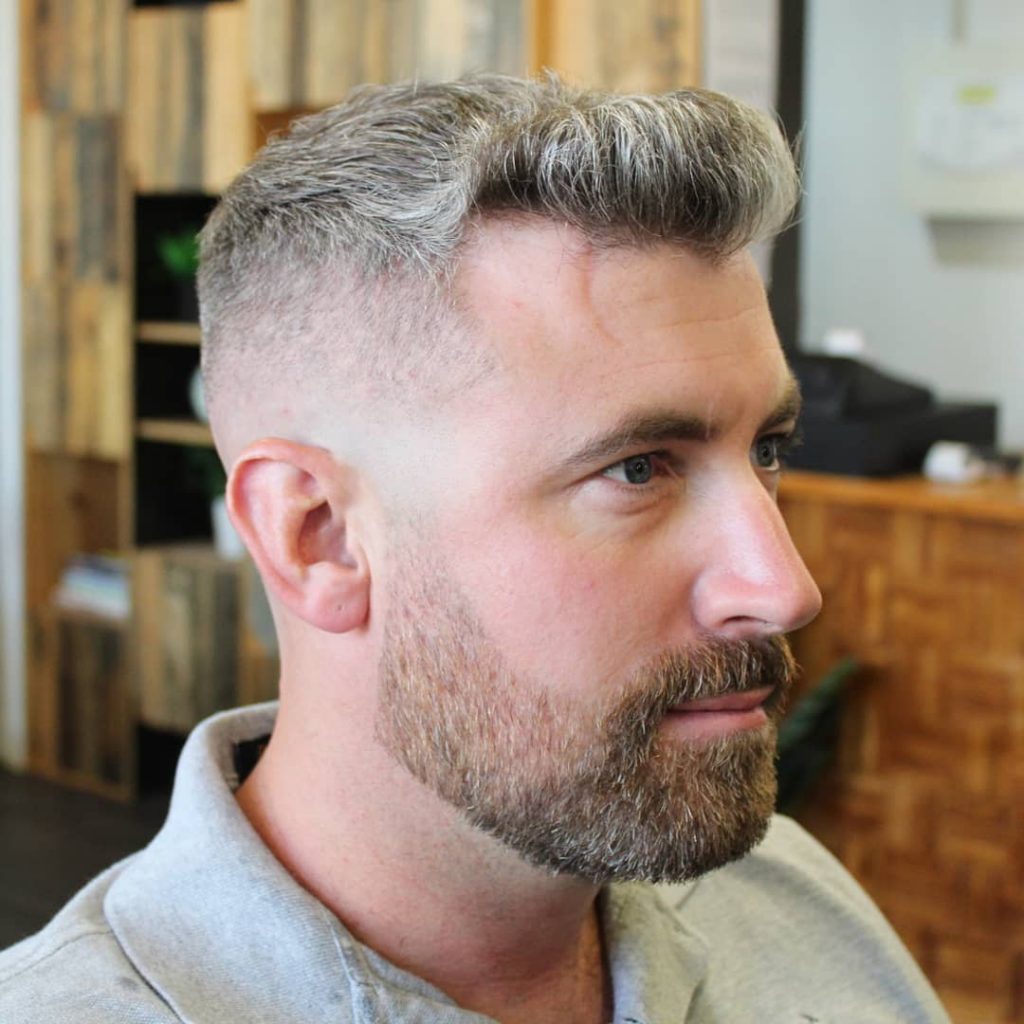 Okay, this guy is more gray than old but it's a flattering haircut for guys of all ages. The crew cut is styled into a quiff that helps this thin, fine hair type appear thicker.
25. Short Taper Haircut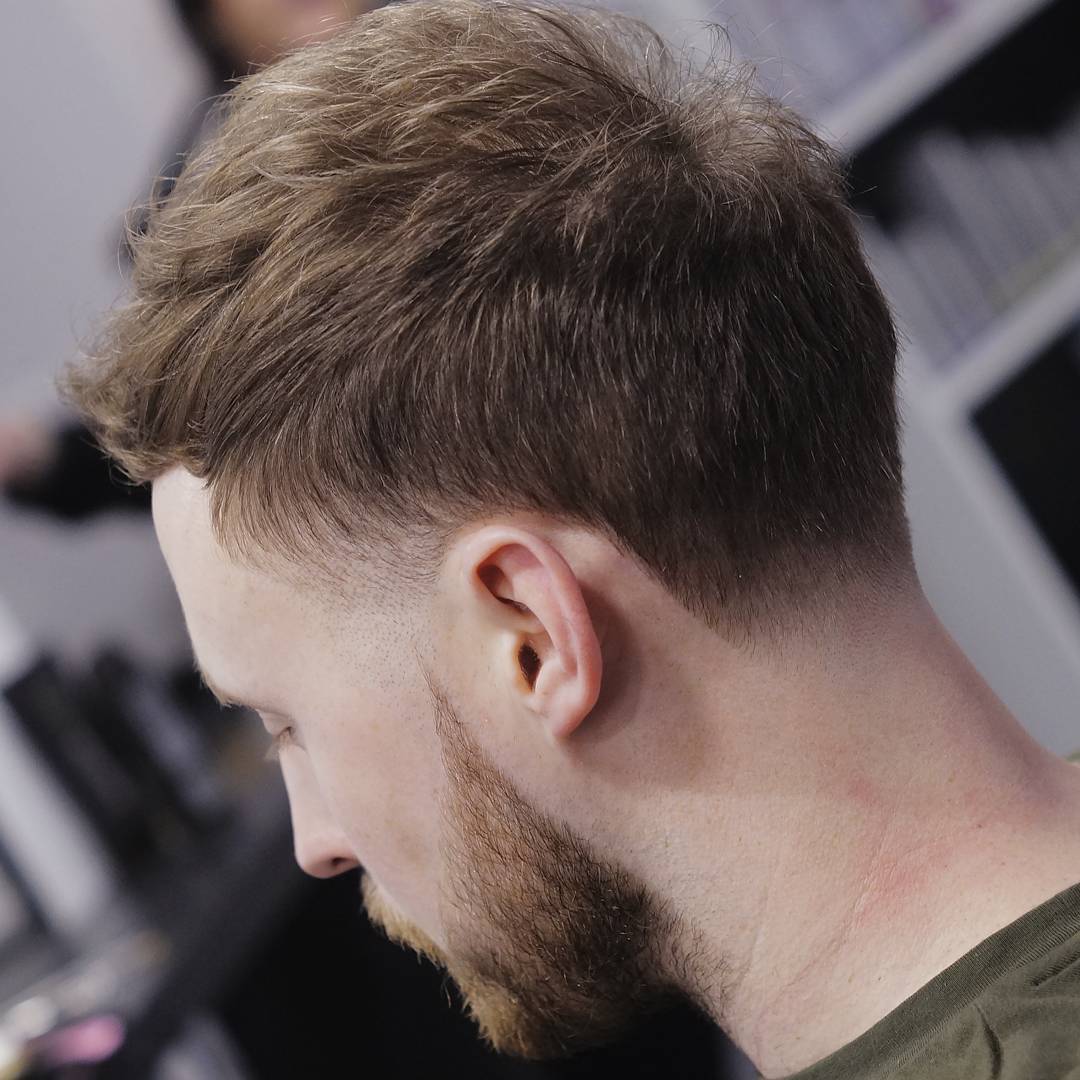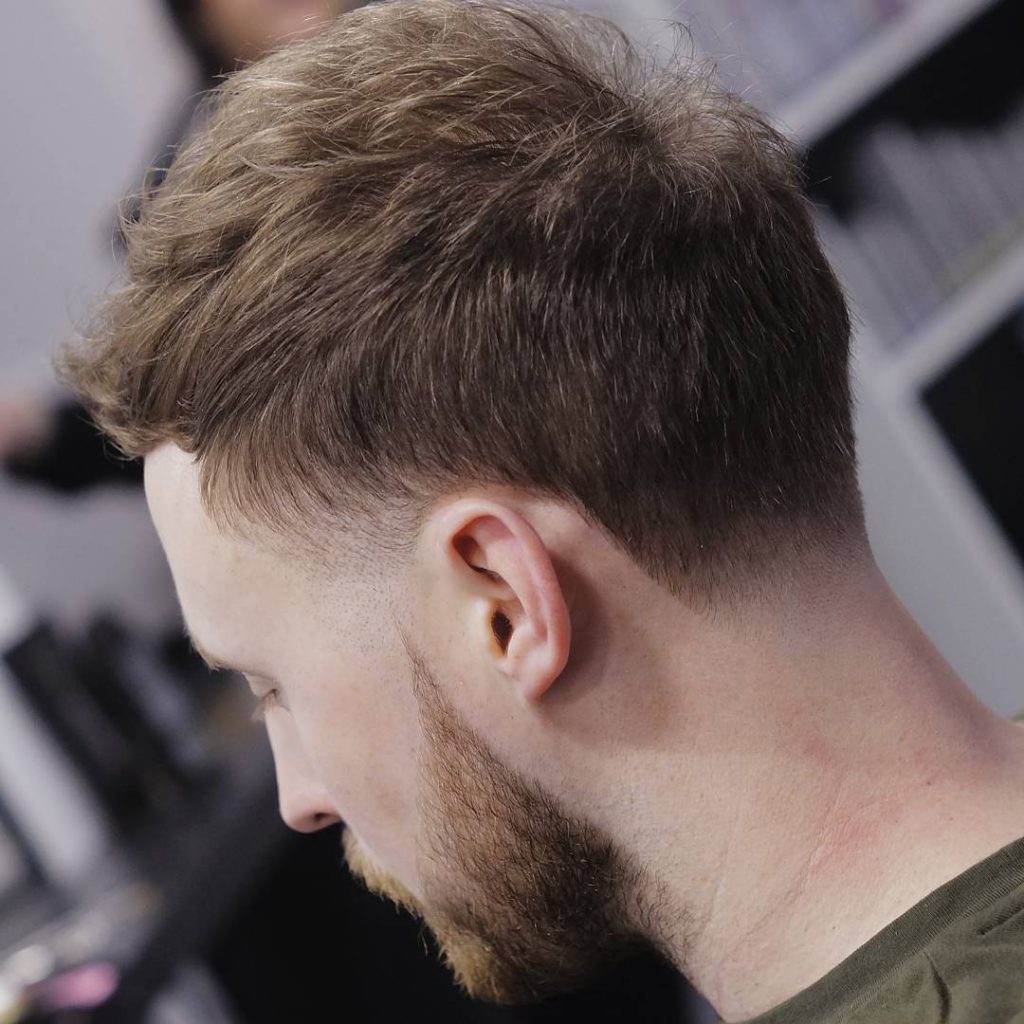 Many short haircuts for men are fades but certainly not all. This classic men's haircut is tapered all over with a taper fade at the sideburns and neckline that grow in clean.
26. Spiky Quiff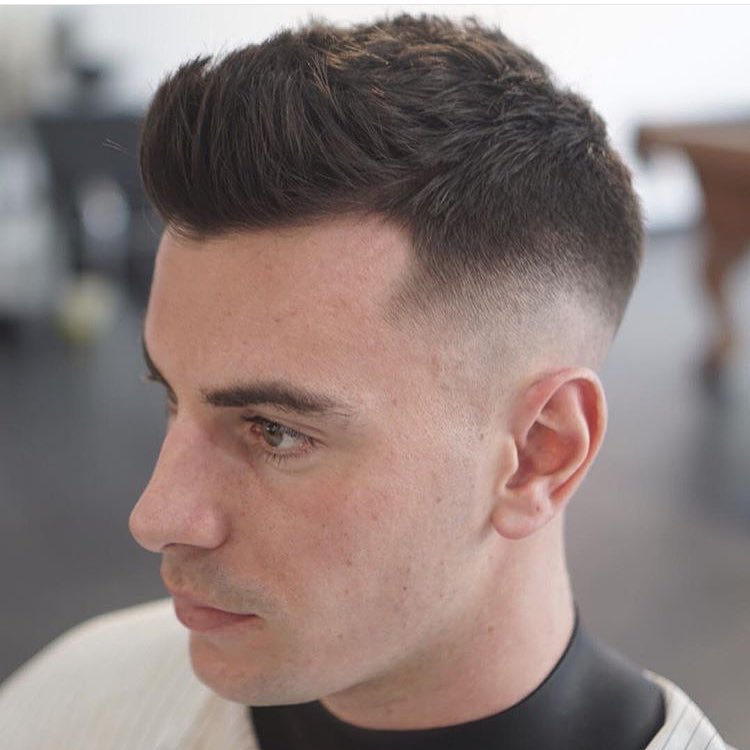 This classic meets modern style add some spikes to the quiff.
Short Haircuts for Thick Hair
These cool short haircuts simultaneously tame and highlight thick hair. The contrast of faded sides show how thick hair is while eliminating the possibility of hair sticking straight out. Most of these looks are clean enough for work and cool enough for play. Or for something a little different, try a short mohawk fade with a strip of hair down to the neckline.
27. Heavy Crop Haircut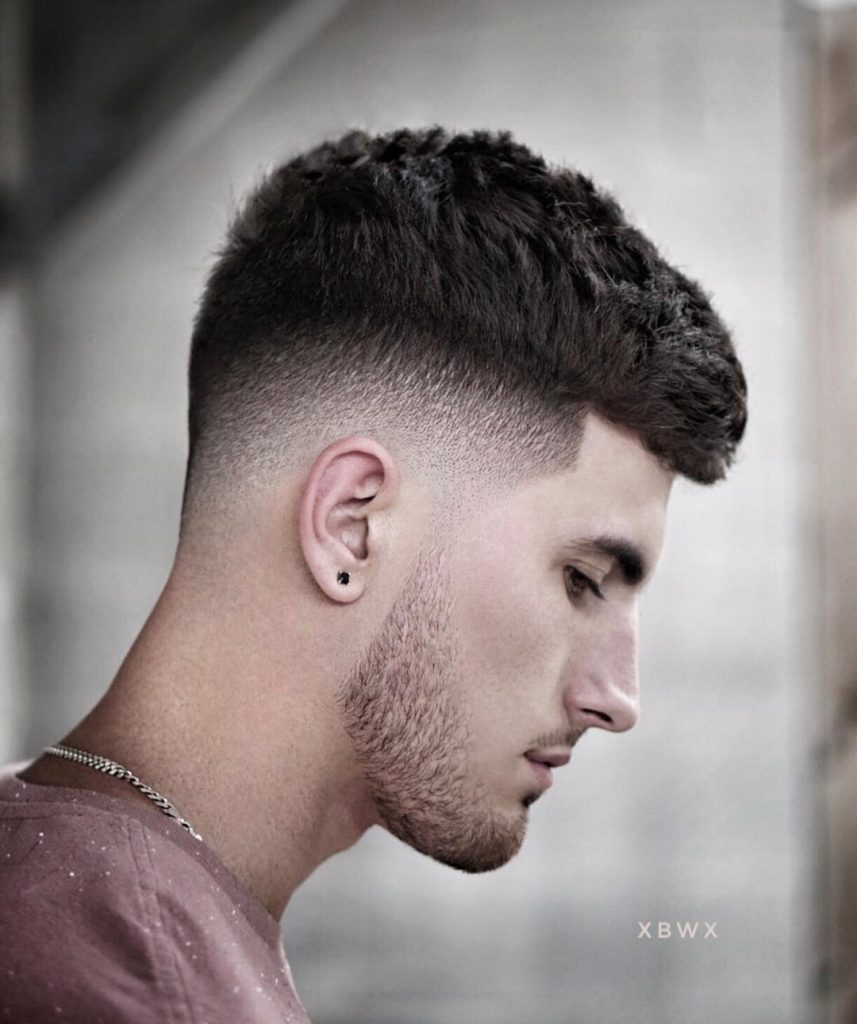 The crop fade is an ideal haircut for thick hair because it showcases hairs fullness while lightweight.
28. High and Tight for Thick Hair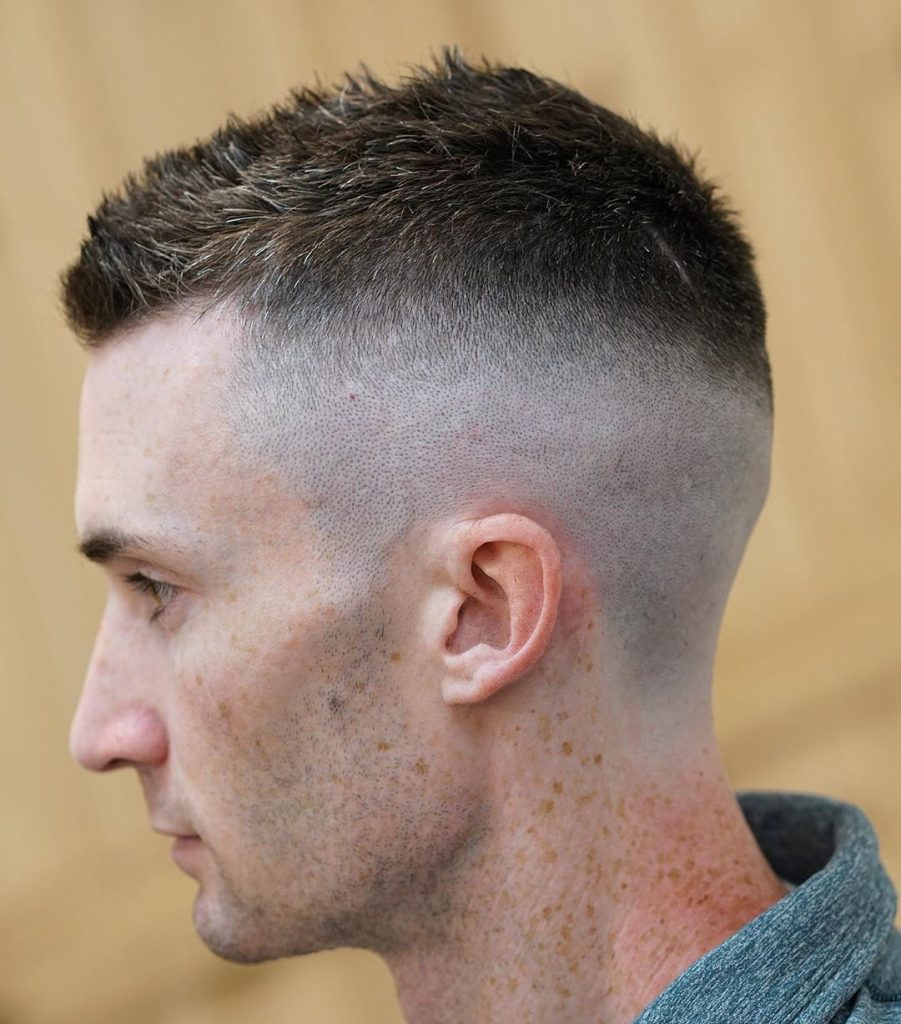 A drop fade and ultra thick hair make this high and tight more modern than military.
29. Business Haircuts for Thick Hair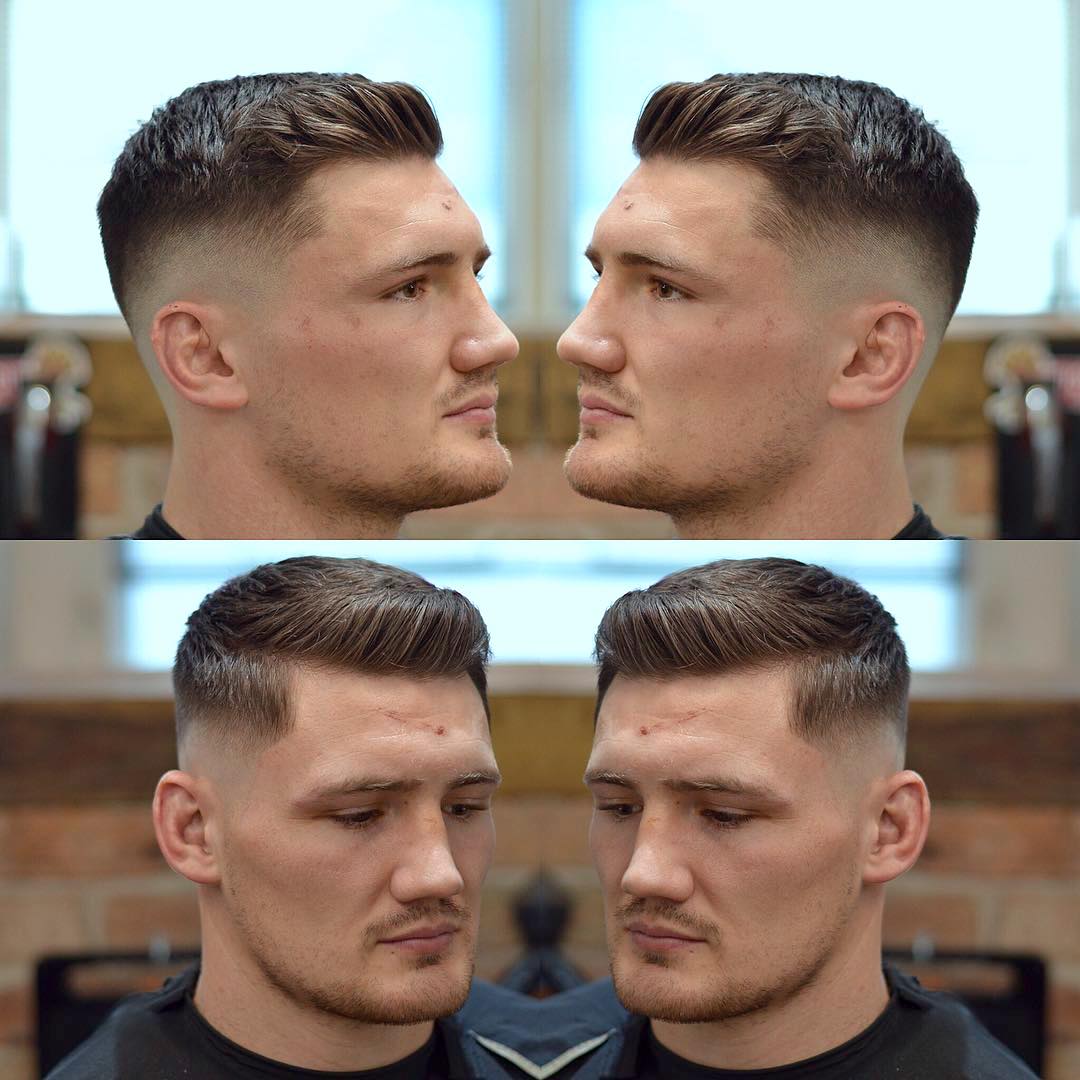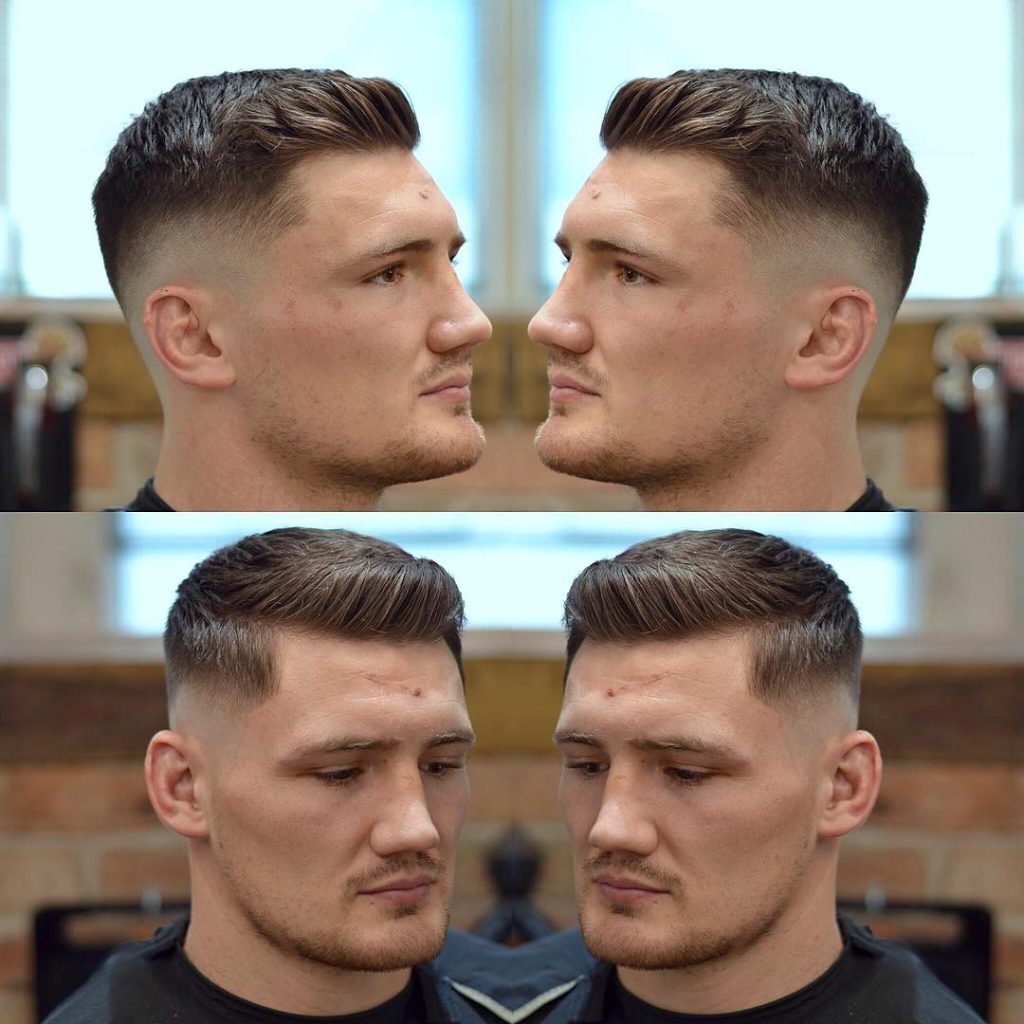 The classic quiff and clean fade make this cut suitable at work and play.
30. Wide Mohawk Fade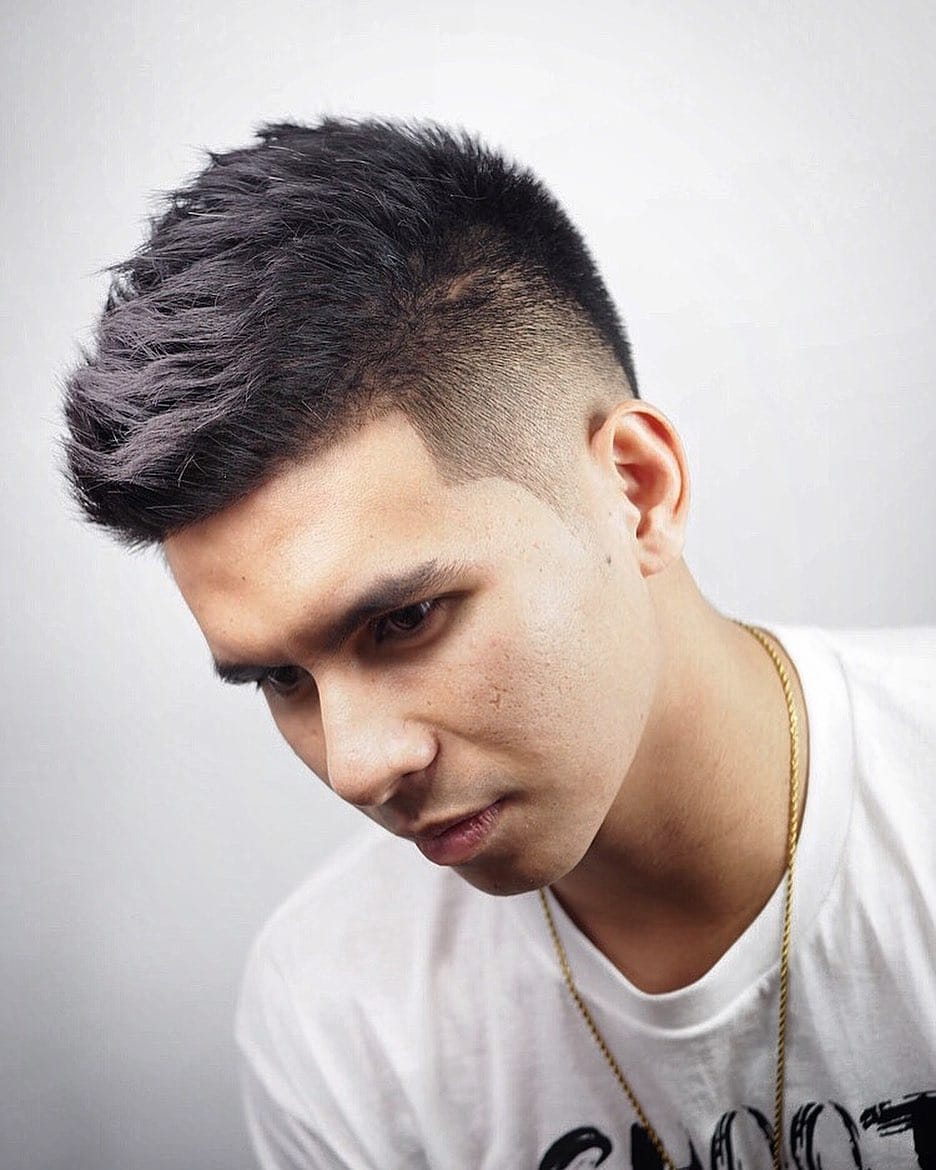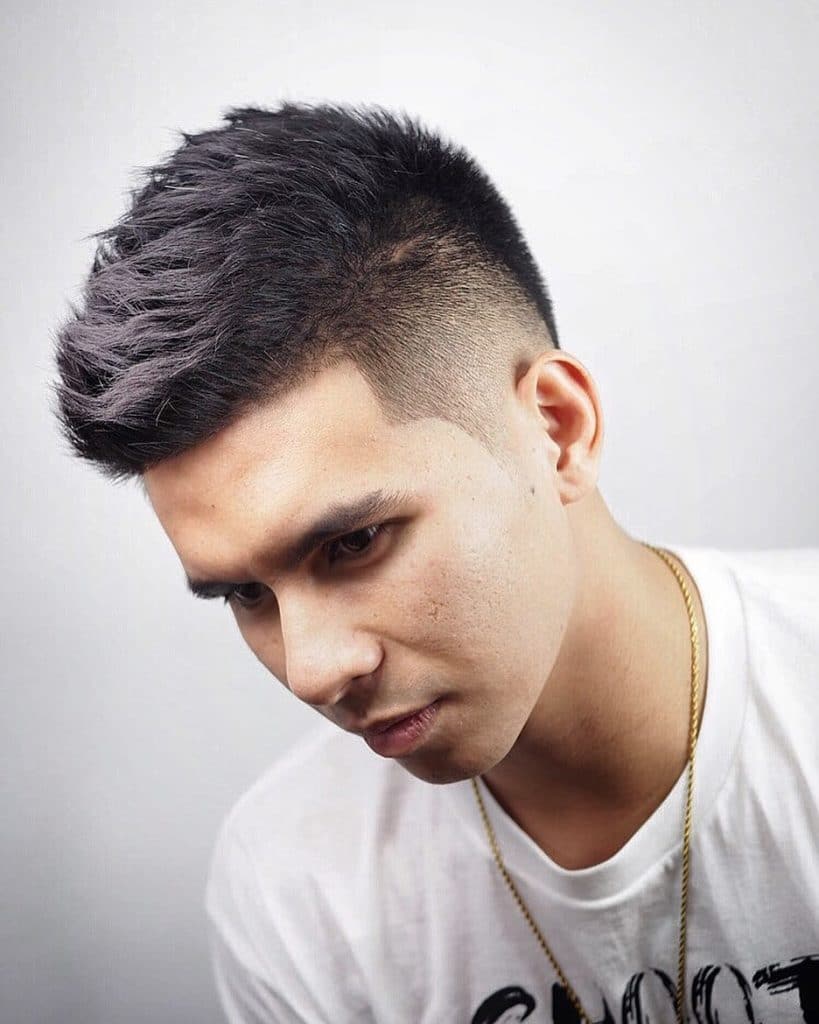 Some mohawks are narrow and long but this look is just as cool and much easier to wear with a wide cut and short spikes.
31. Burst Fade Haircut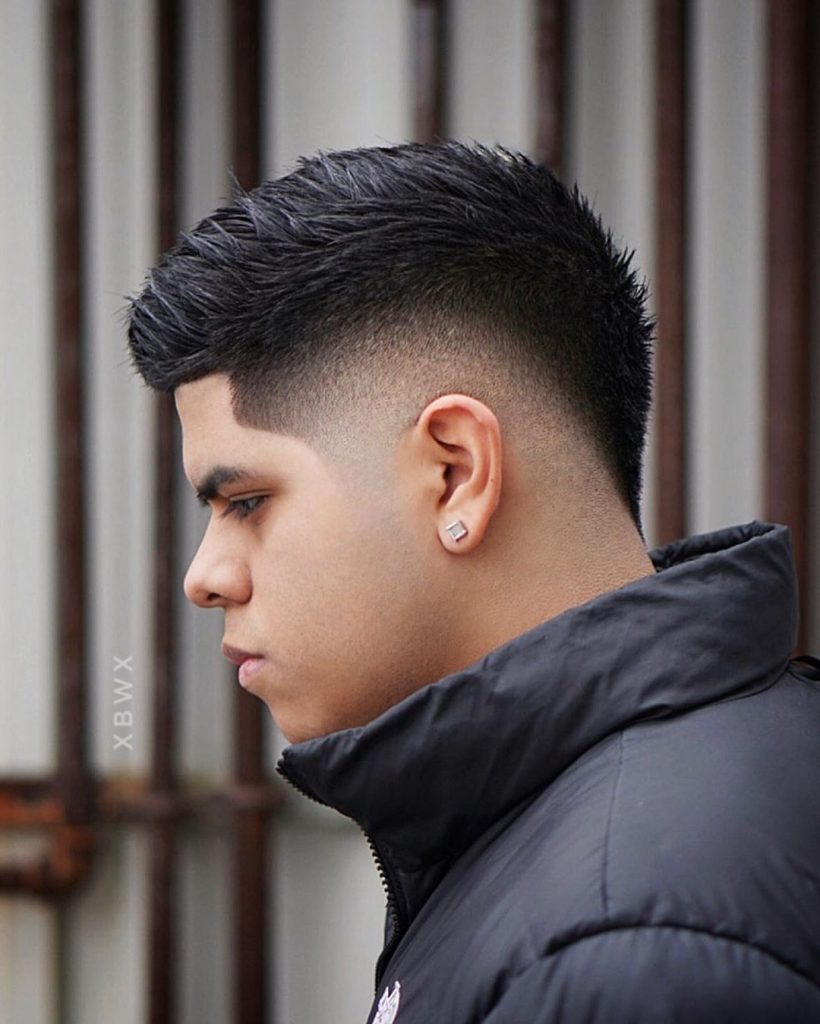 Here's another look at a similar wide mohawk and how it tapers into a pointed V at the back.
Short Haircuts for Wavy + Curly Hair
All of these haircuts should work for guys with wavy and or hair. The cuts are short but have enough length to reveal texture. Some are more conventional while other skew trendy.
32. High Fade Haircut For Wavy Hair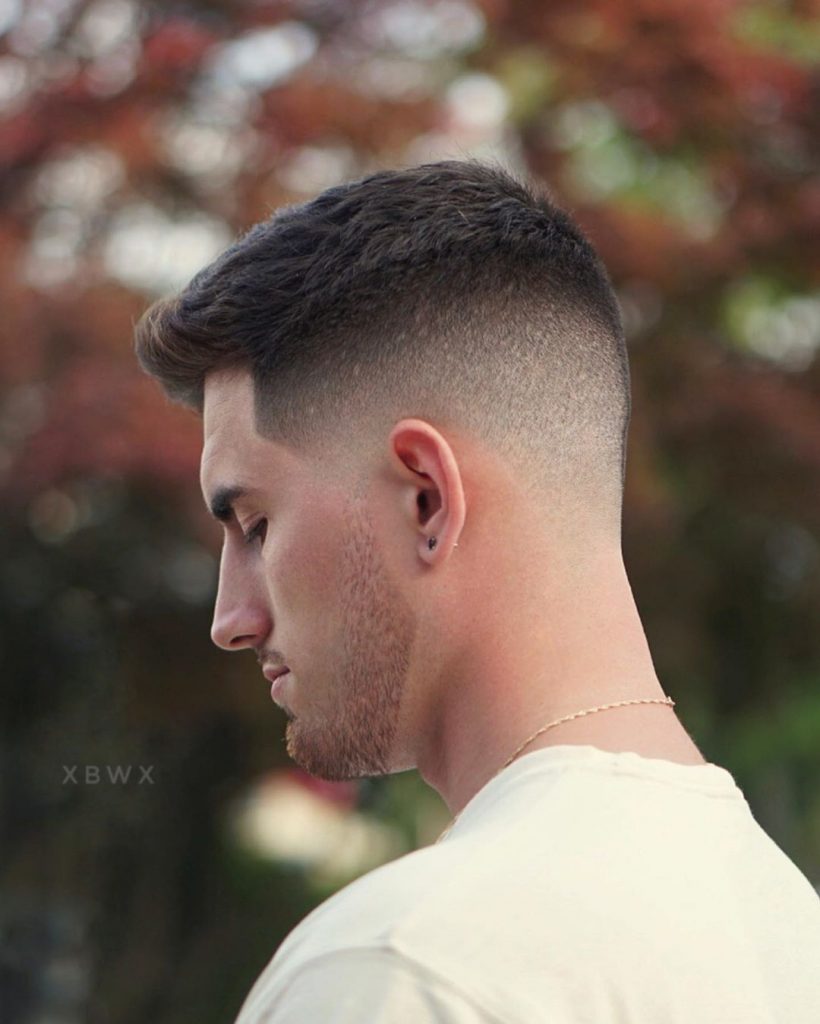 There are a number of short quiff haircuts on this page and here's another with some added volume and texture from wavy hair.
33. Wavy Crop Haircut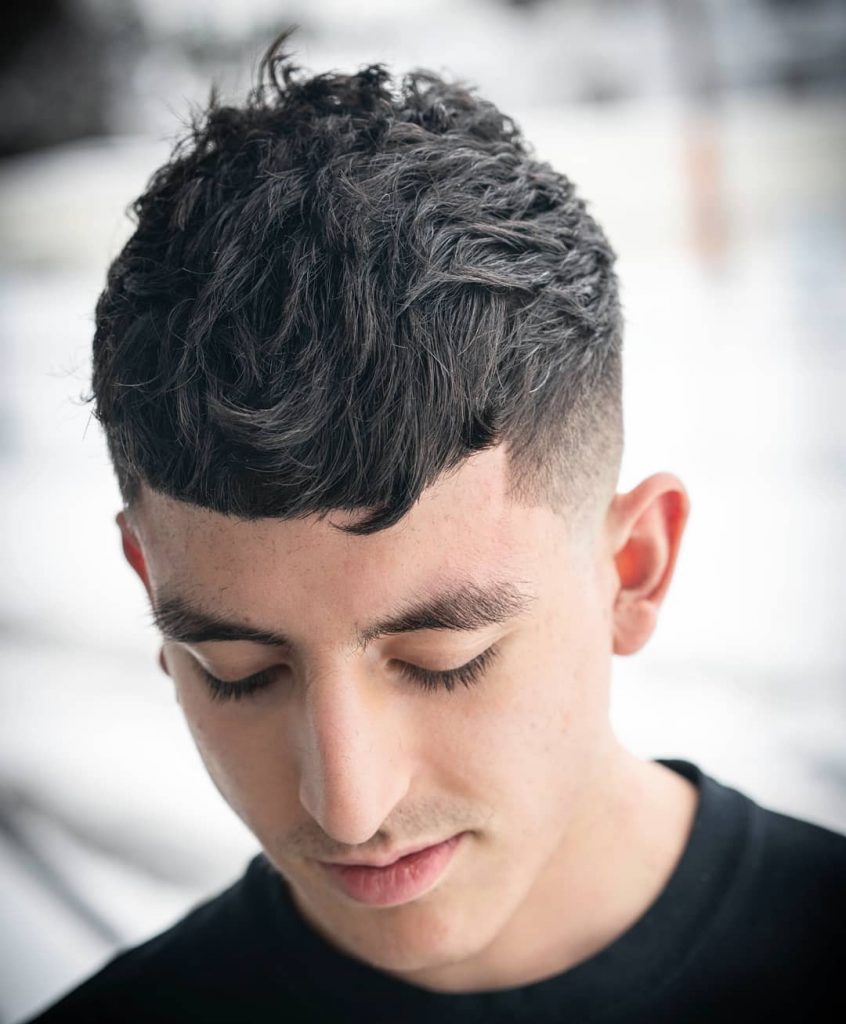 The crop haircut was made for wavy and curly hair types. This artful cut is short all over with a few longer strands of curls.
34. Business Haircut for Wavy Hair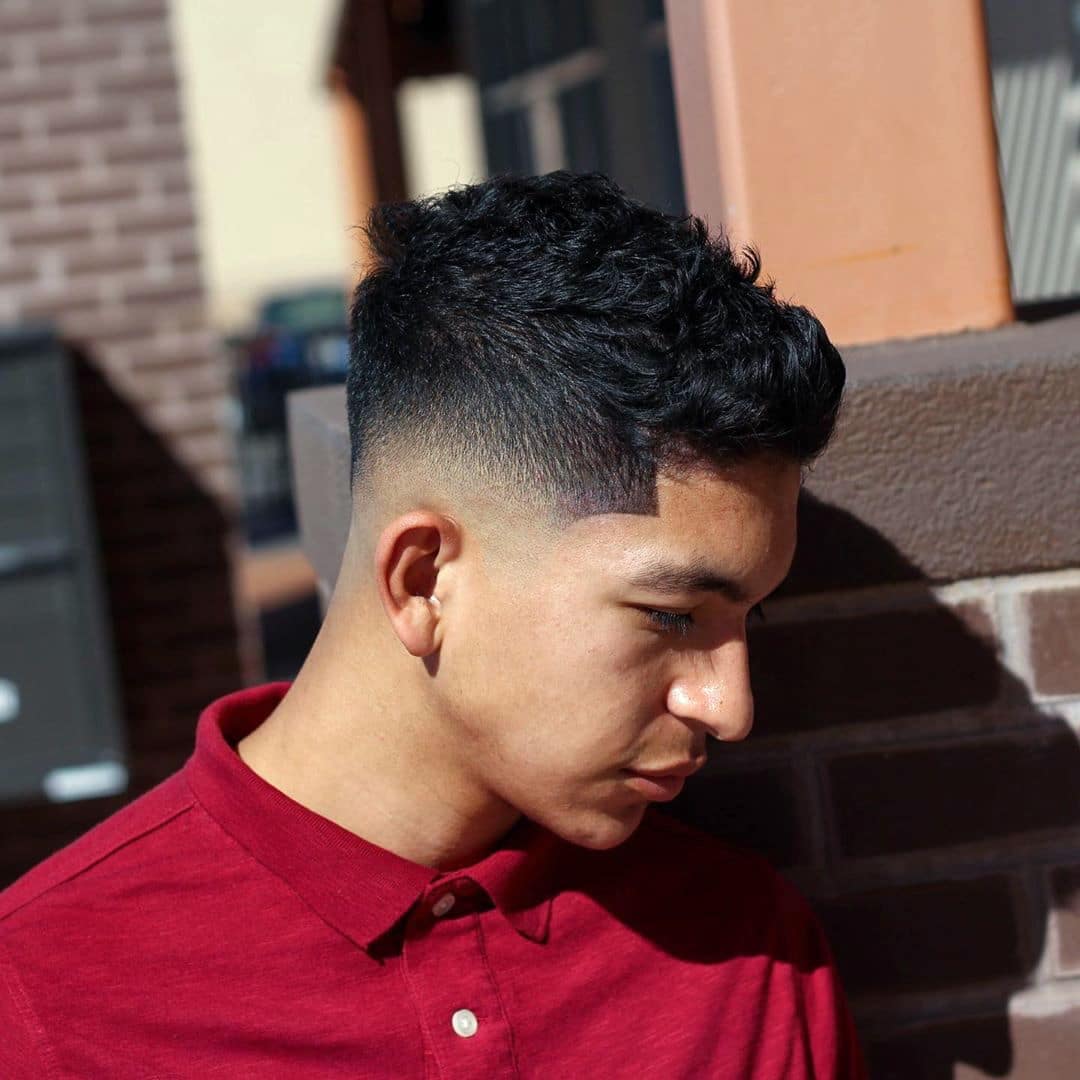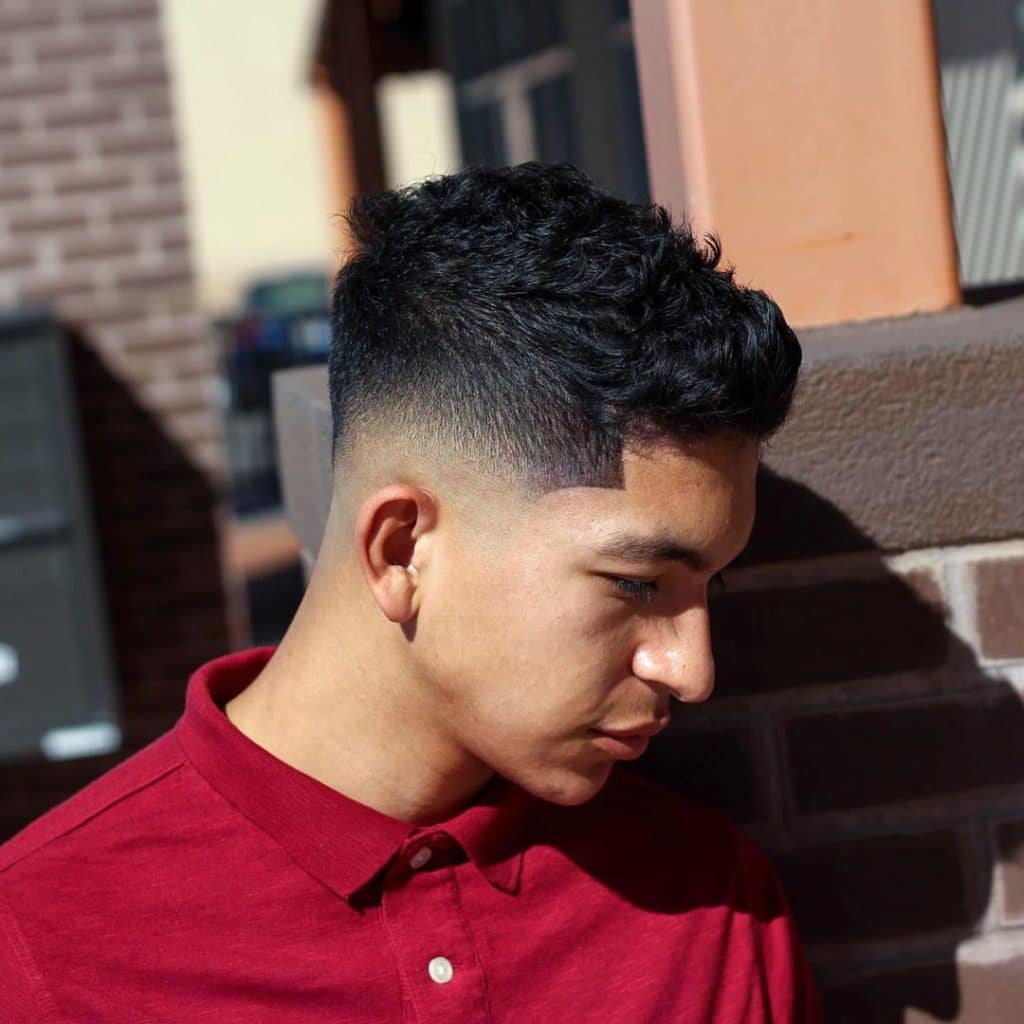 Yet another classic quiff, this version layers curly hair to add texture and volume in a cool yet professional hairstyle.
35. Curly Crop Fade Haircut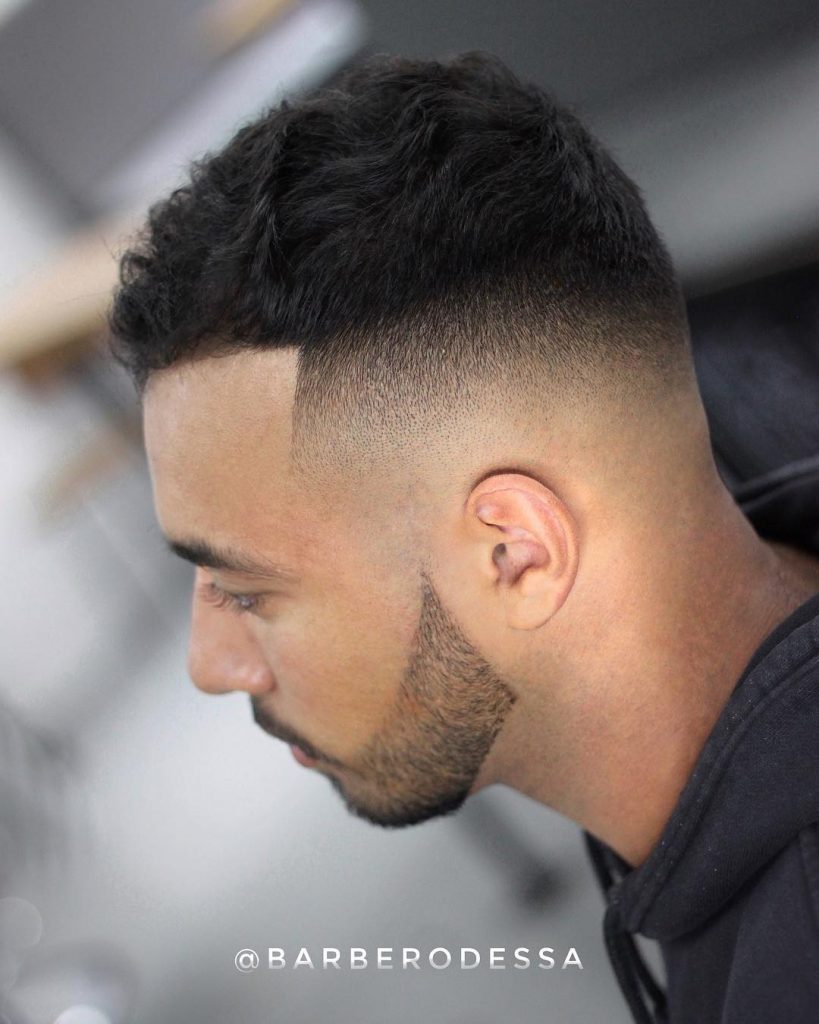 Here's a fresh new way to wear the high top with curly texture and a fade that drops down.
36. Curly Fade Haircut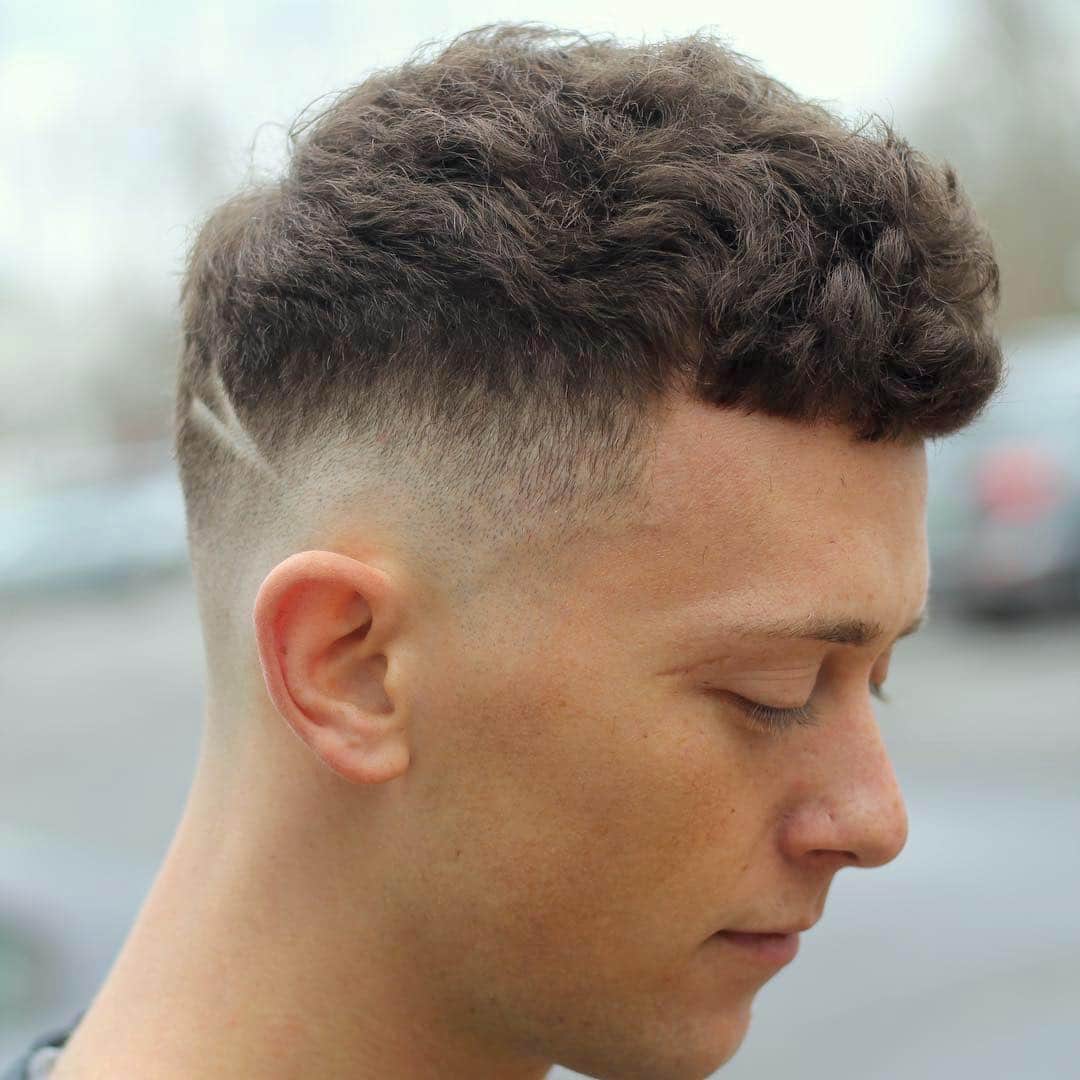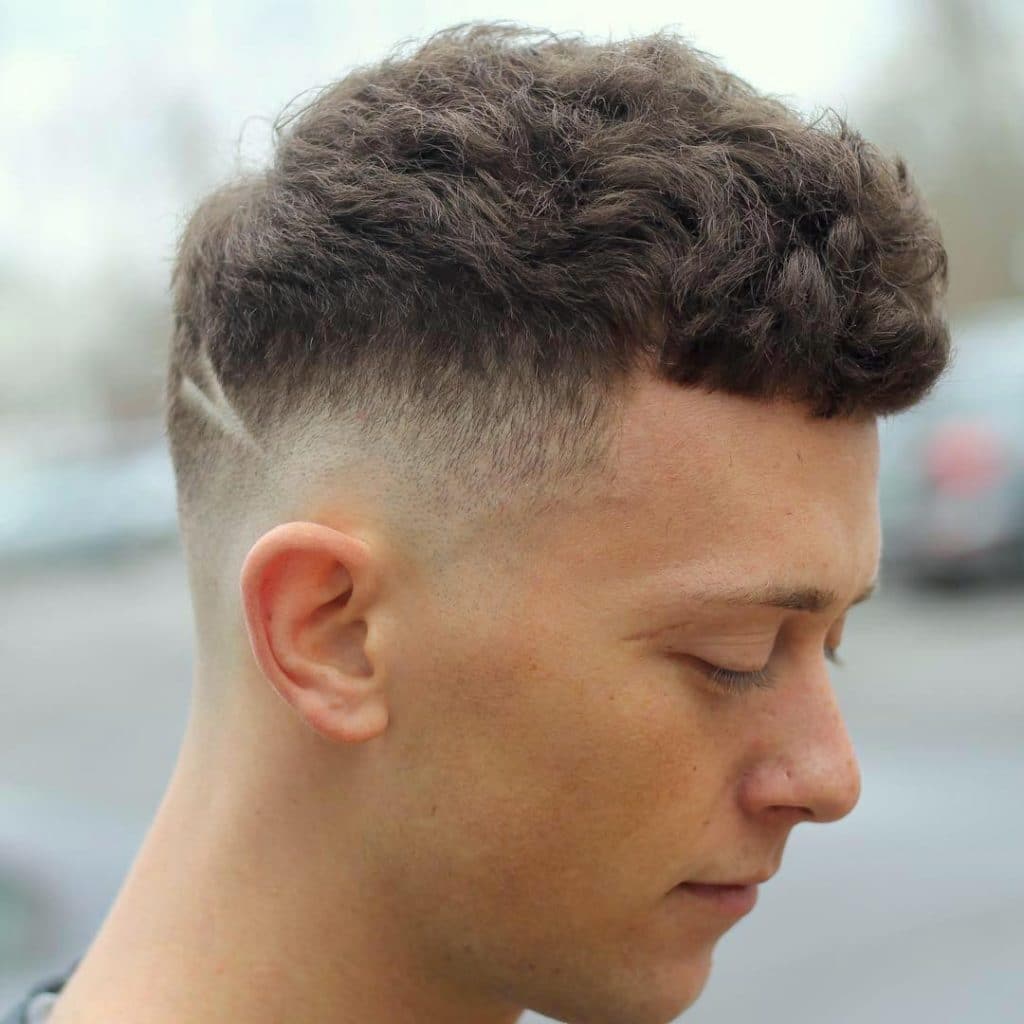 Curls up top, a fade below, and a shaved V in between.
37. Curly Mohawk Fade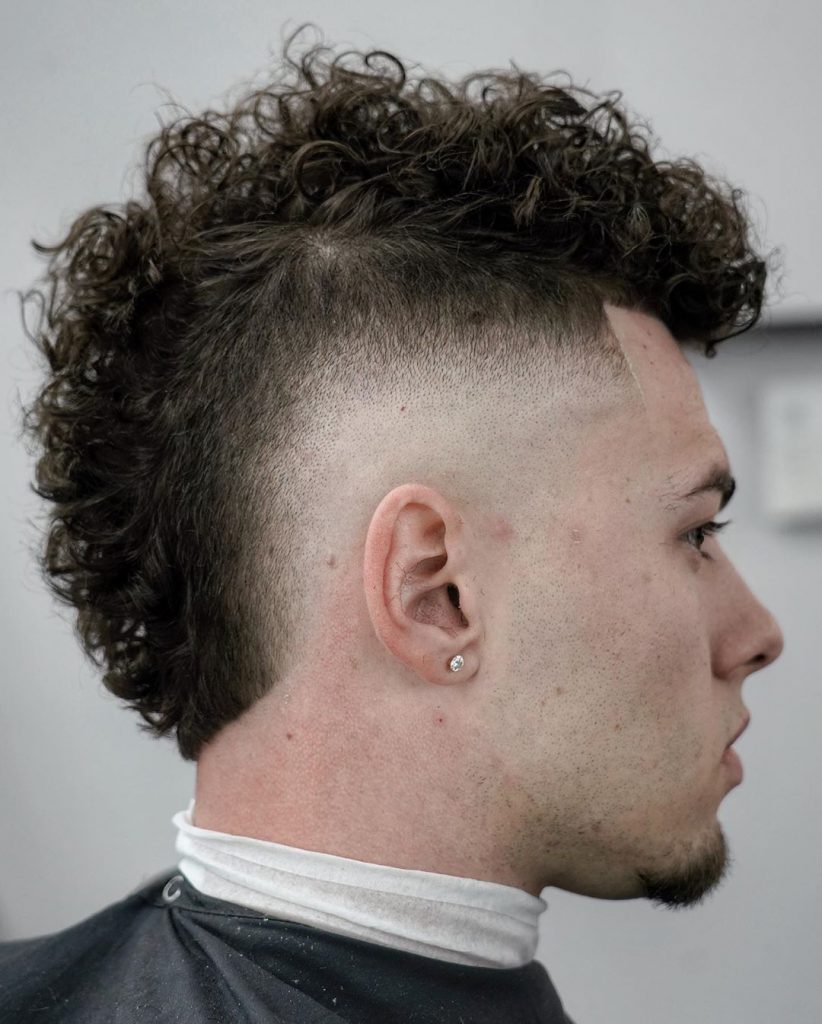 The mohawk fade makes short hair seem longer but just adds length at the neckline and in this case, a V-cut.
Short Haircuts for Black Men
Here are some cool short haircuts for black men that don't shave hair off but are also short enough not to need a lot of extra moisturizing and styling. From wolfed waves to short curls, these looks show off natural texture.
38. 360 Waves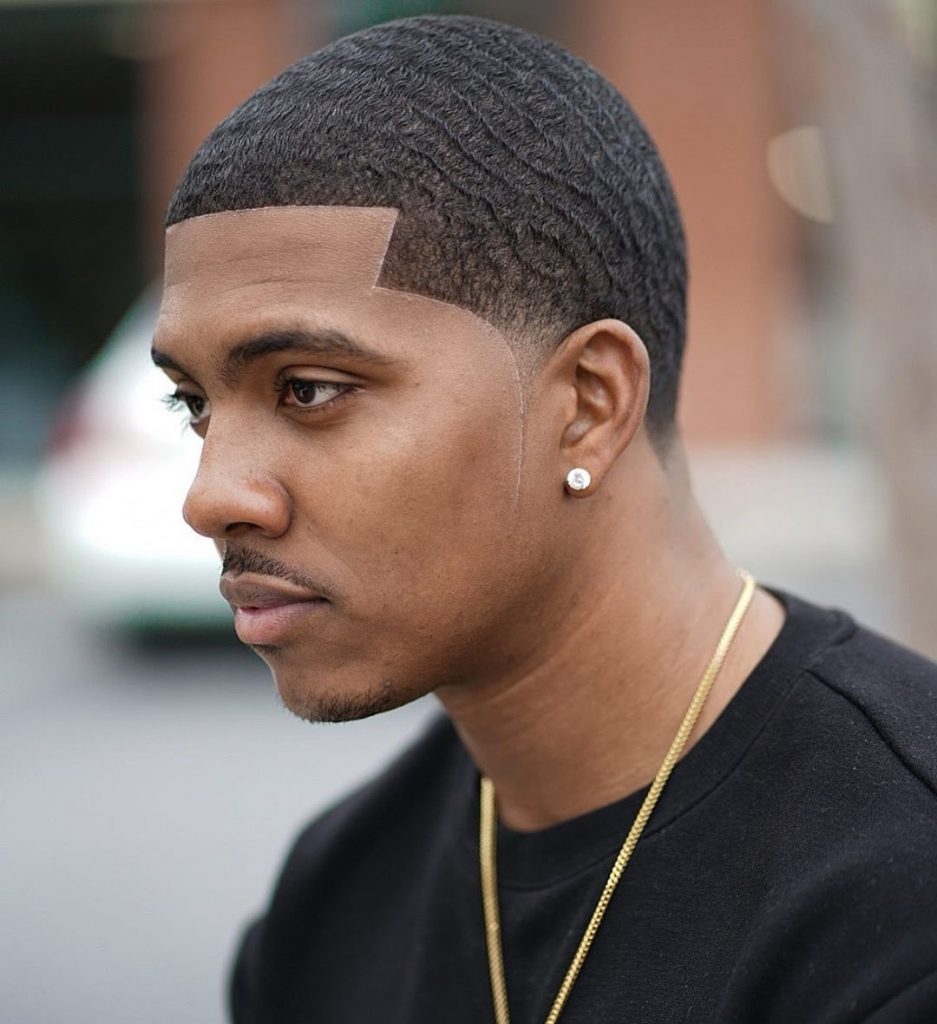 Waves haircuts are cool because it takes some length to get the waves but hair is still close cropped.
39. Waves + Fade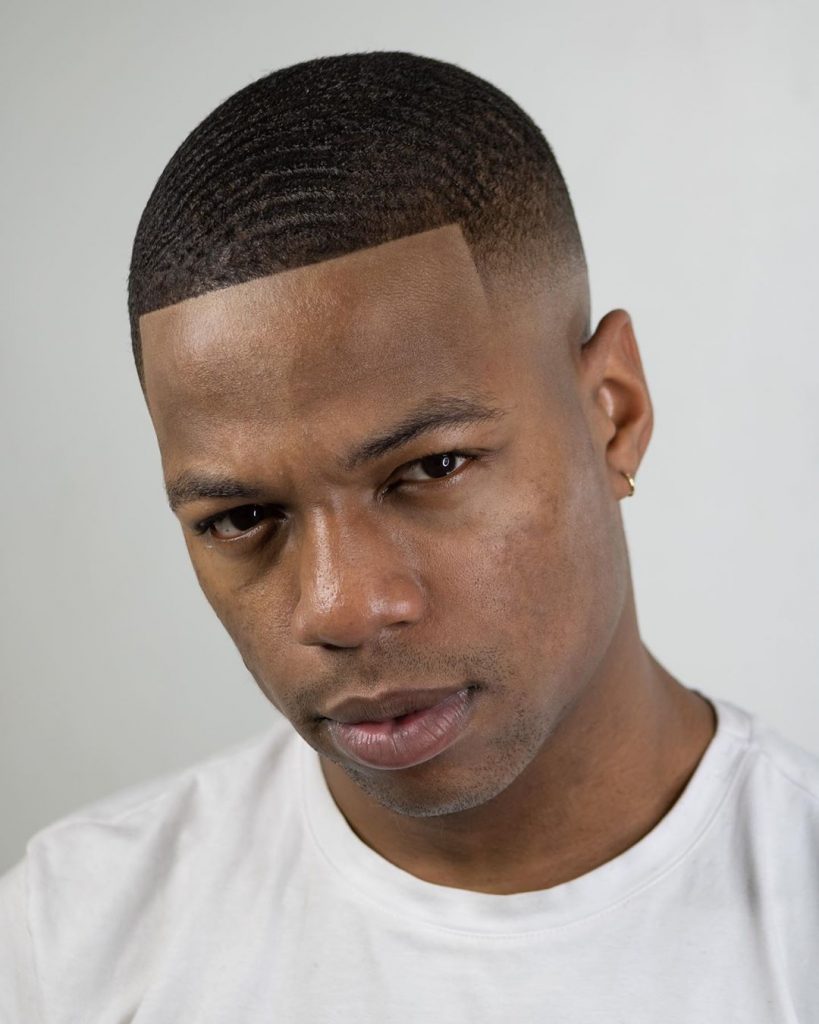 This medium-high fade turns those 360 waves into 180 waves.
40. High Fade Haircut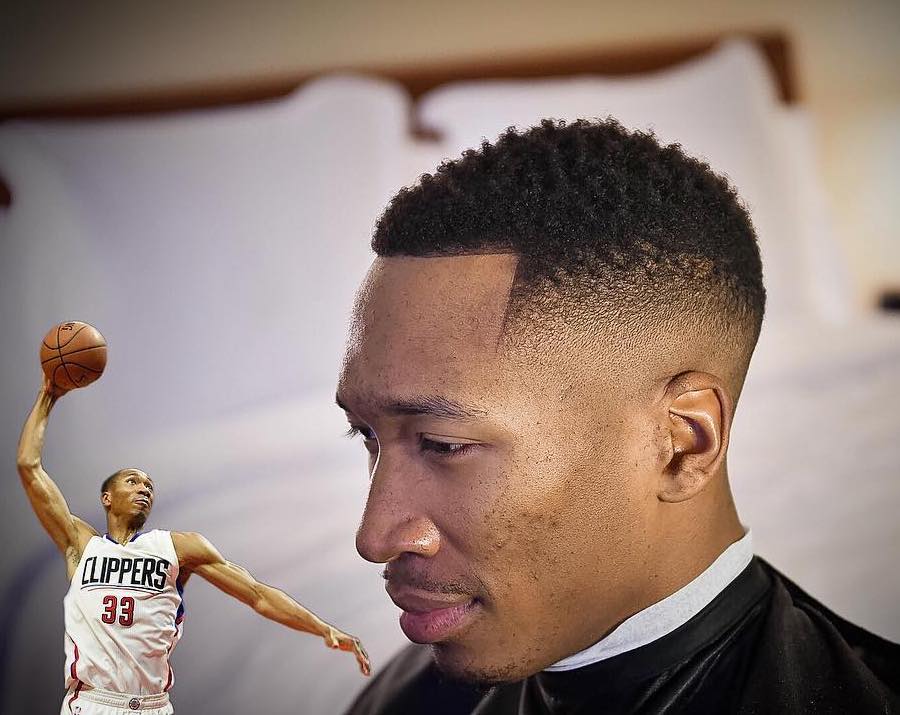 If these short curls with a drop fade are good enough for former LA Clipper Wes Johnson, they're good enough for you.
41. Short Haircut With Beard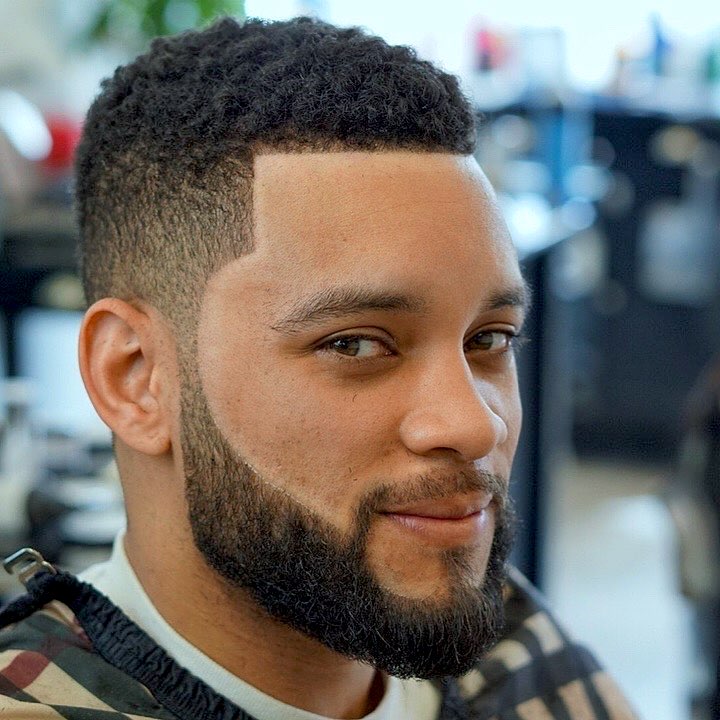 This precision beard fade creates a seamless transition between short curls and dense beard.
42. Short Taper Fade For Black Hair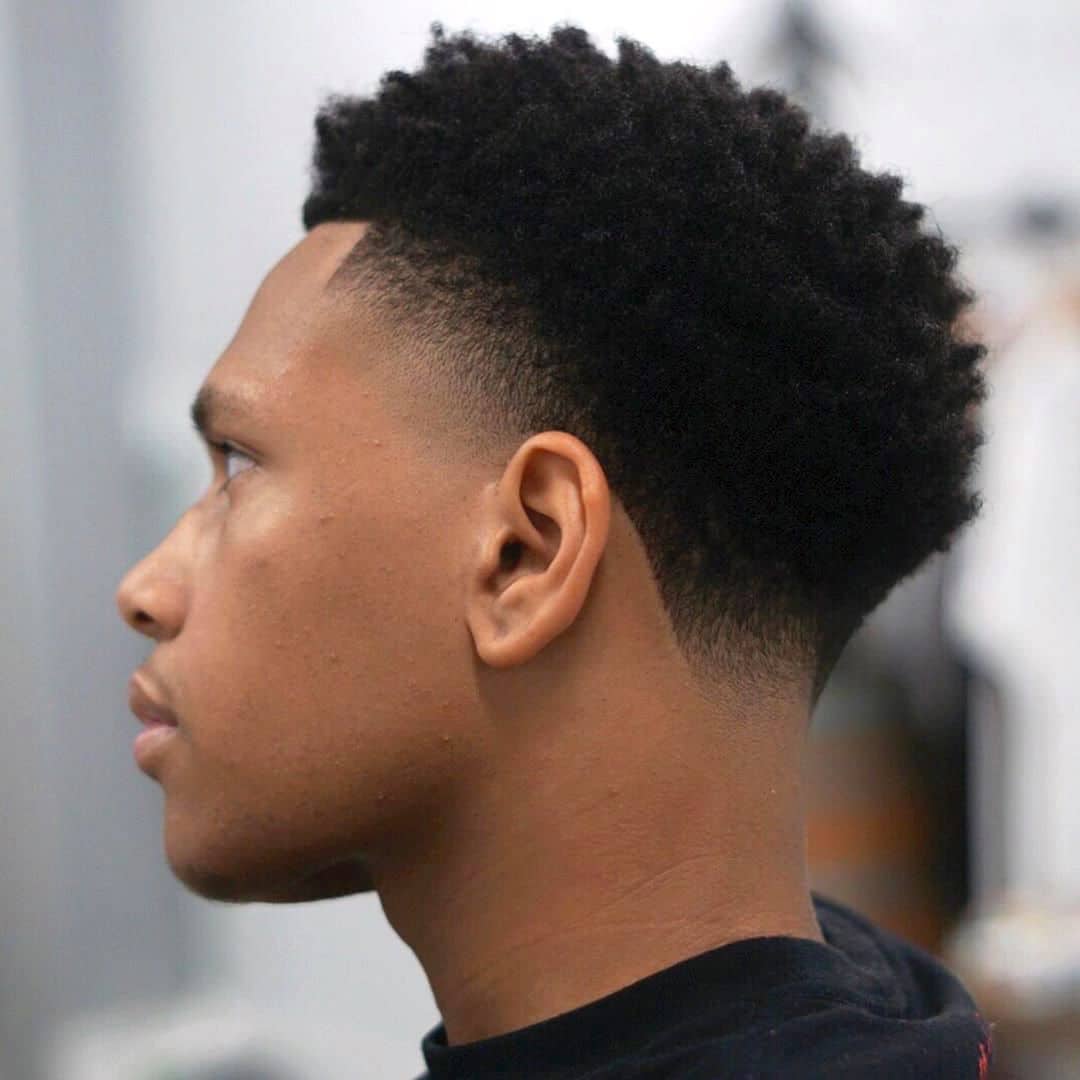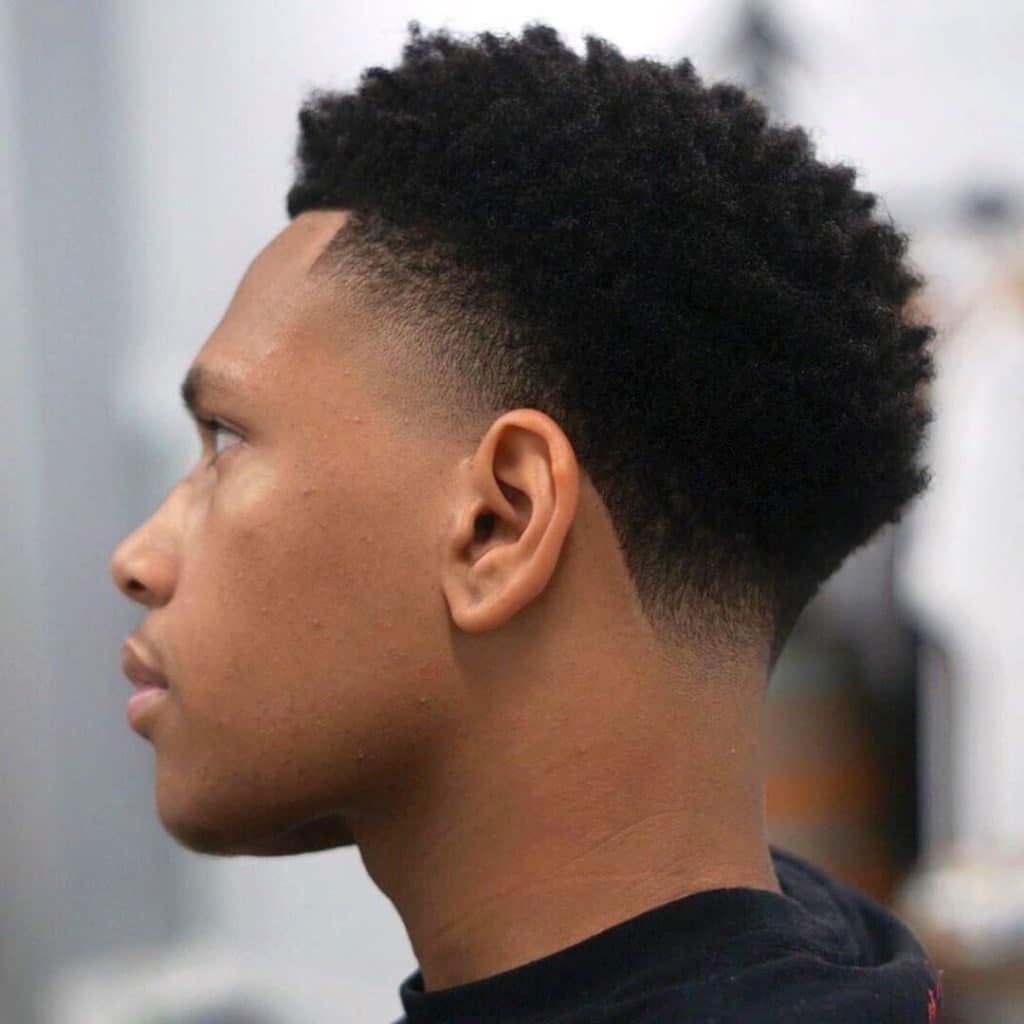 Here's a short blowout haircut with a medium taper fade.
Short Haircuts for Fine + Thin Hair
These short haircuts look good and help fine or thin hair appear thicker. The key is short sides that make hair on top look fuller in comparison. If hair is thinning, a very short haircut will minimize the effect against a skin fade. Otherwise, about an inch of length and some styling, volume and texture is the key to fuller-looking locks. A quiff, crop, and comb over are all flattering choices.
43. Shaved Sides + Short Top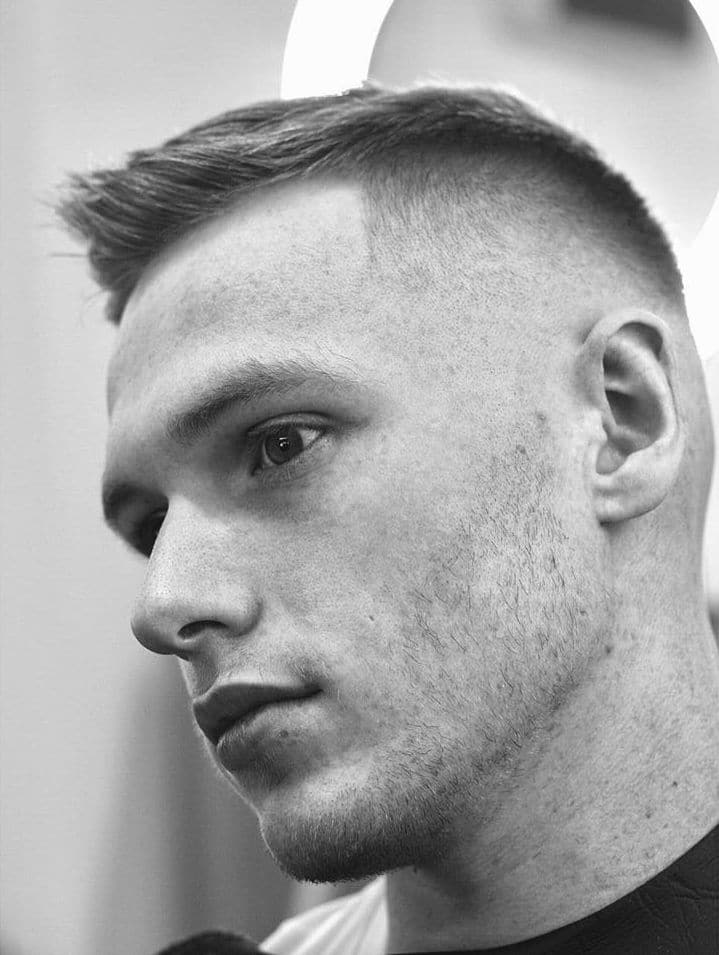 The high skin fade combined with extra length and volume at the forehead makes thin or fine hair look thicker.
44. High And Tight For Thin Hair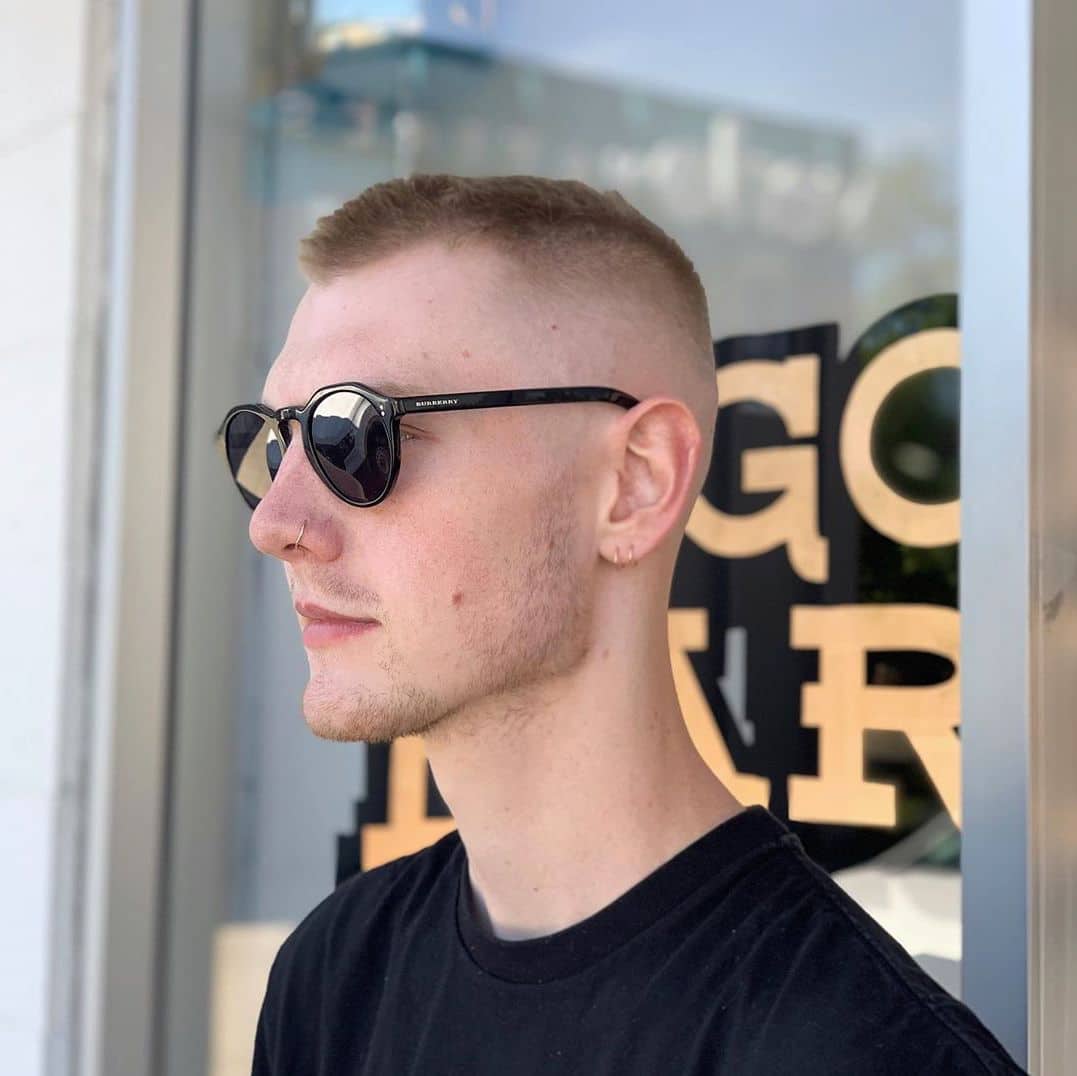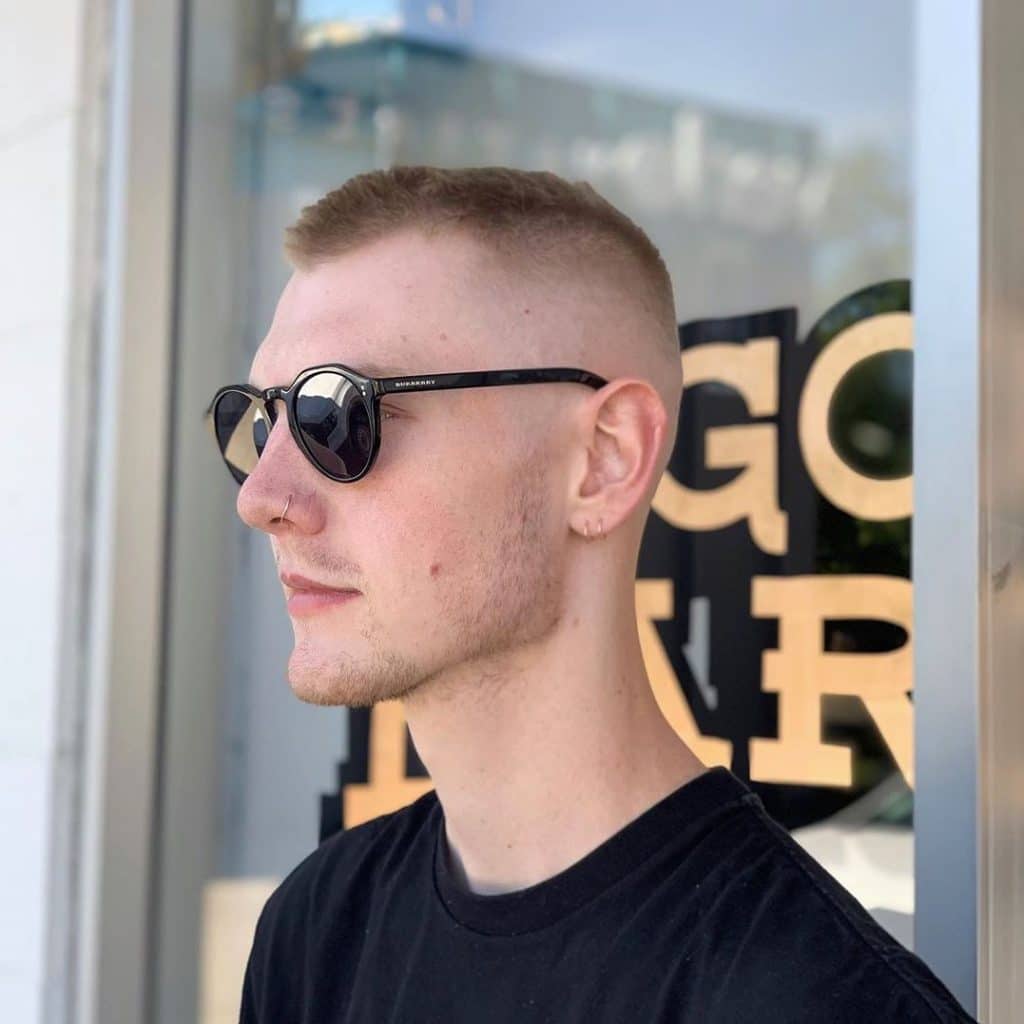 Before considering the cue ball style, try a high skin fade. Whether hair is fine, thin, or thinning, the contrast between nothing and something makes hair appear more substantial.
45. Quiff Haircut For Fine Hair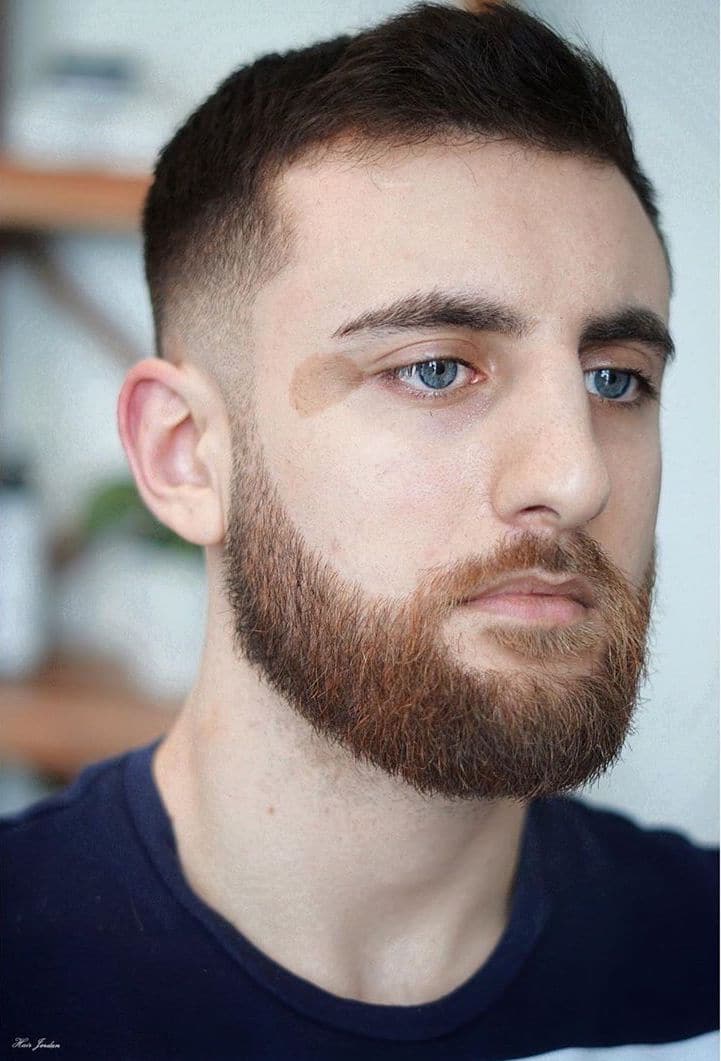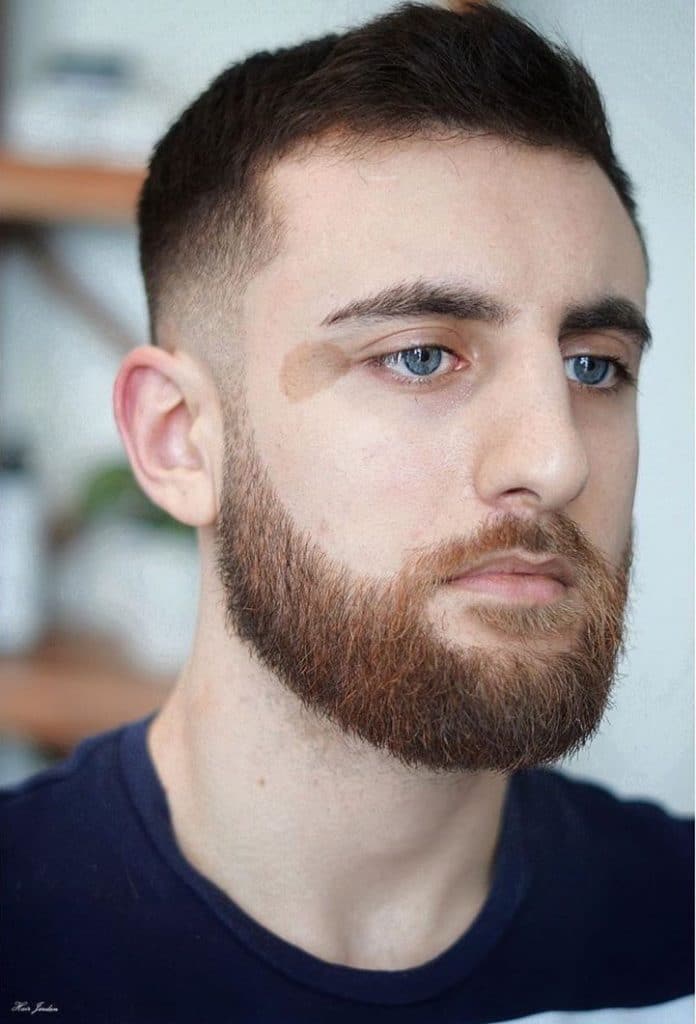 Almost two inches of length at the forehead is enough to style a quiff without weighing fine hair down with product.
46. Textured Crop Haircut For Fine Hair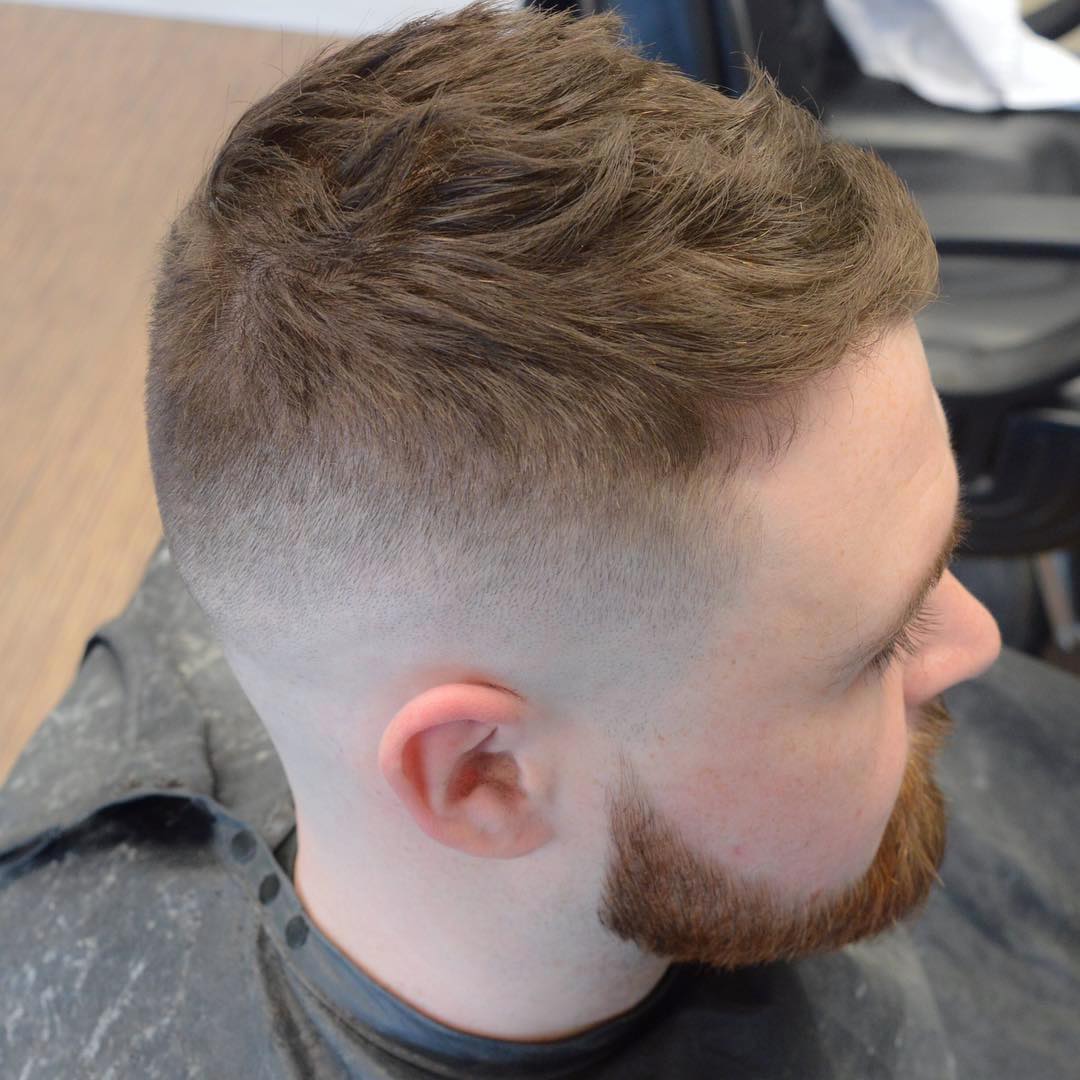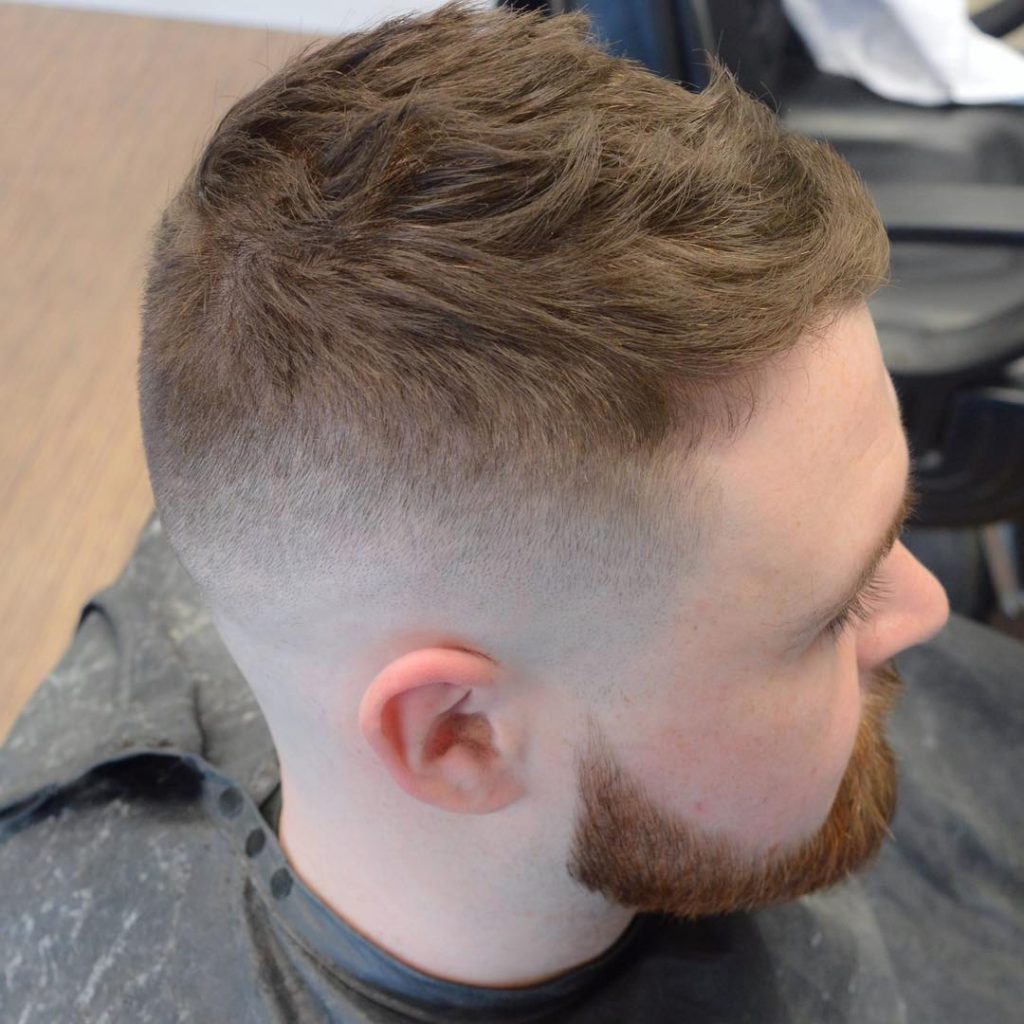 Piecey texture is another way to help fine hair look thicker and fuller. Try it with a textured crop or spiky style.
47. Comb Over Fade For Fine Hair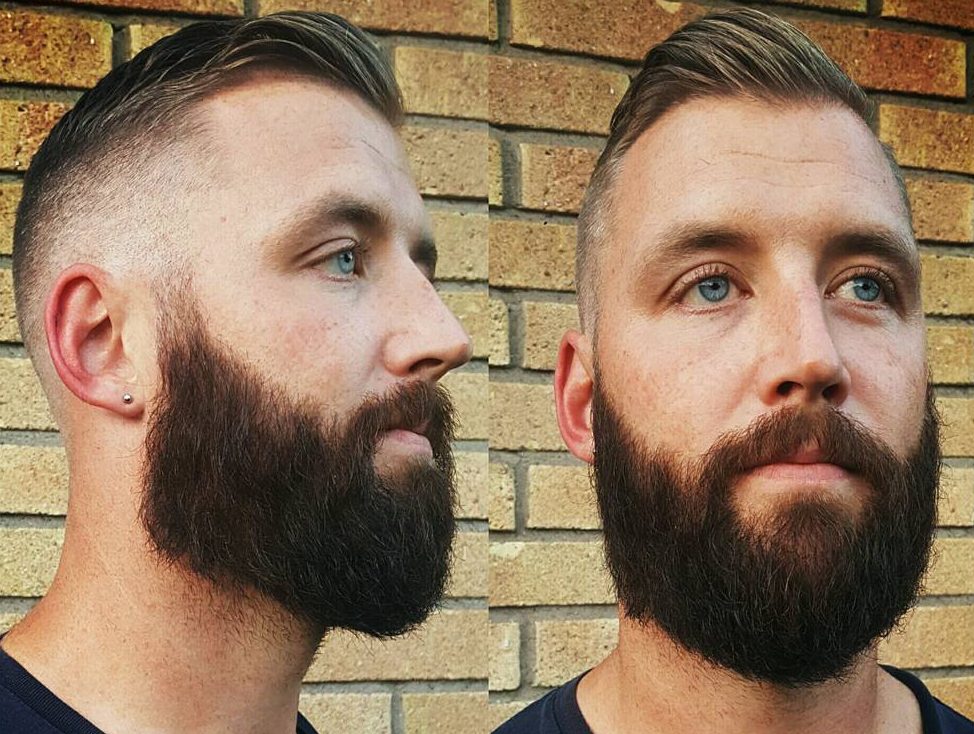 For fine hair, shorter styles can help hair look fuller.
Short Haircuts for Asian Hair
Nice to see you here at the bottom of the page. Asian hair may be last, but it is certainly not least. These short haircuts for Asian men are five cool ways to tame coarseness while showing off thick hair. For guys with wide cheeks or round faces, the shaved sides and height at the hairline help the face appear longer.
48. High Skin Fade Haircut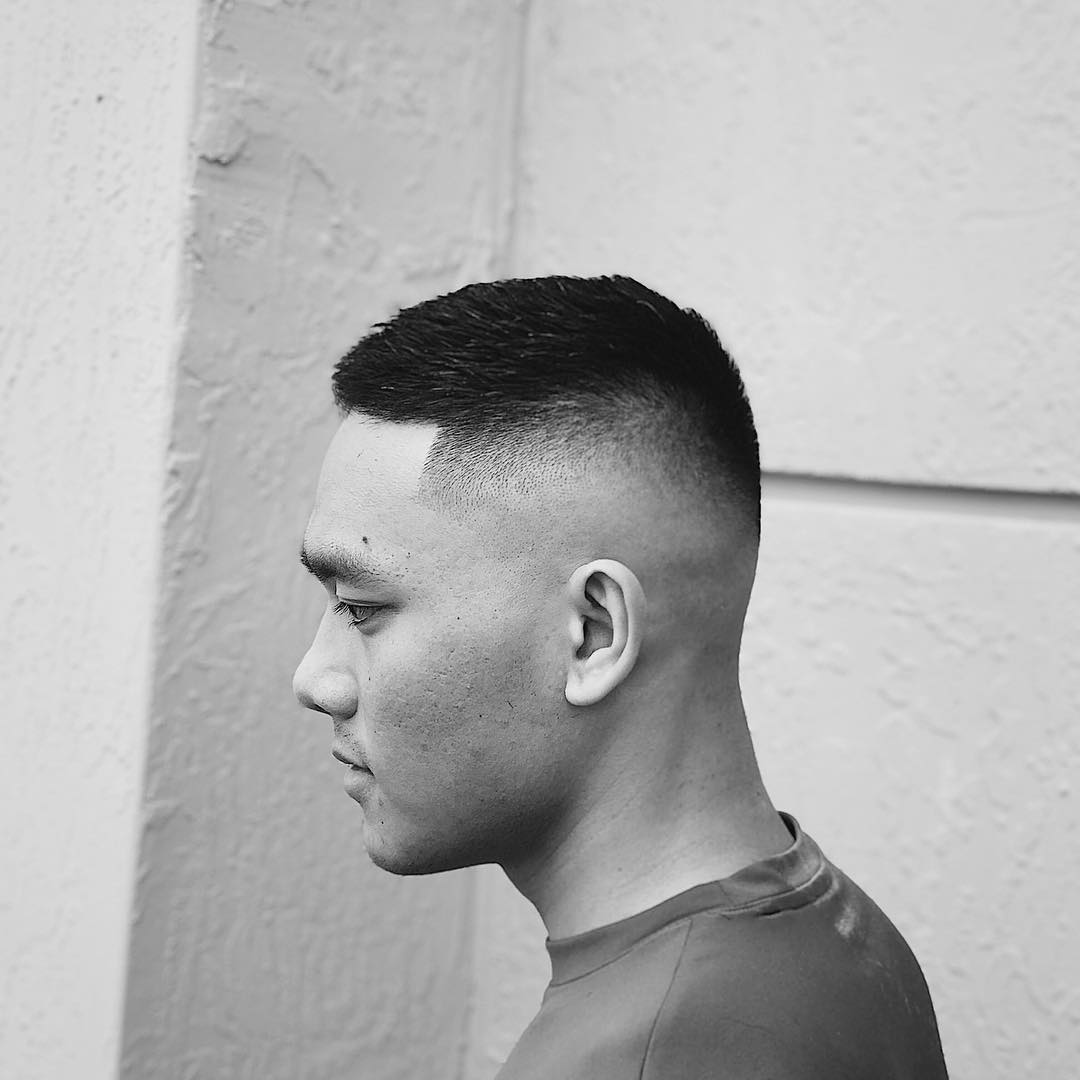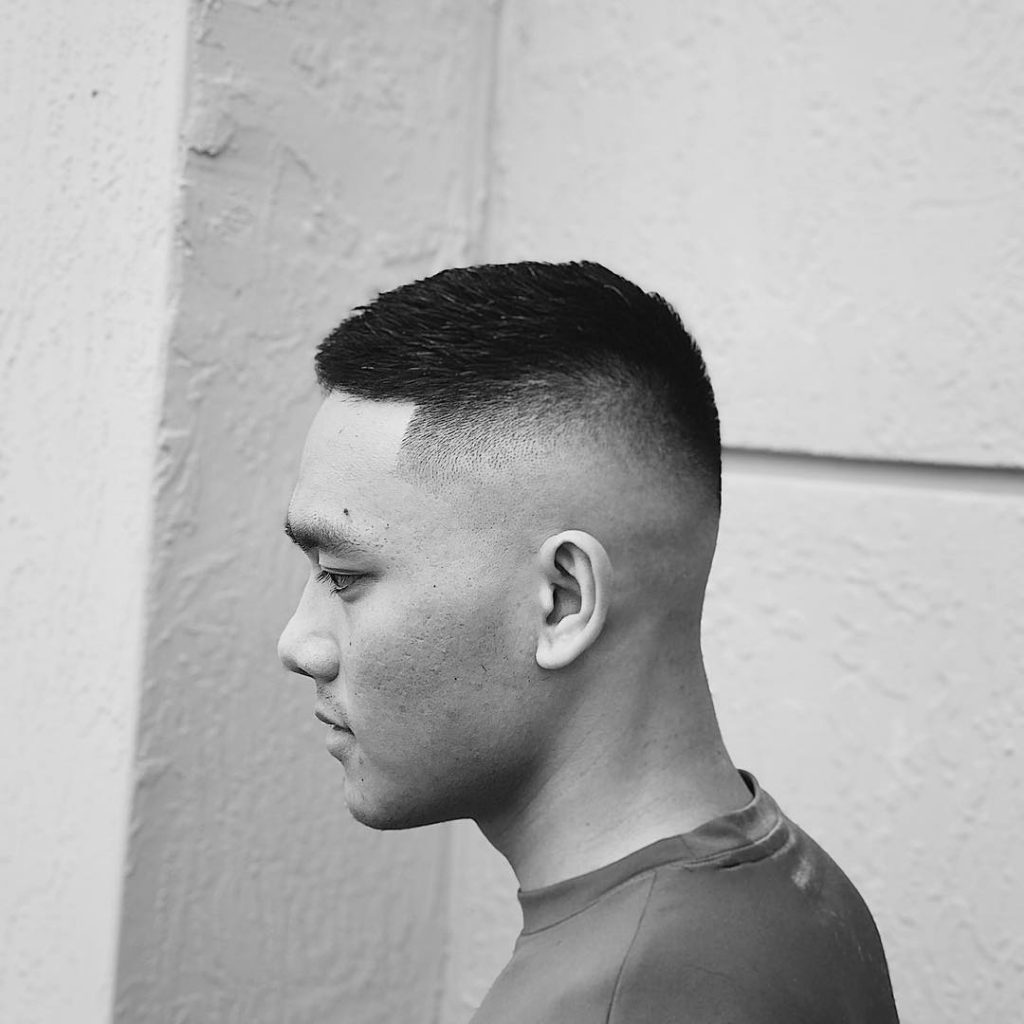 This high and tight with a drop fade is a cool wash-and-wear haircut, especially if for thick and/or coarse hair. This version has a touch of product to enhance texture.
49. Drop Fade + Line Up Haircut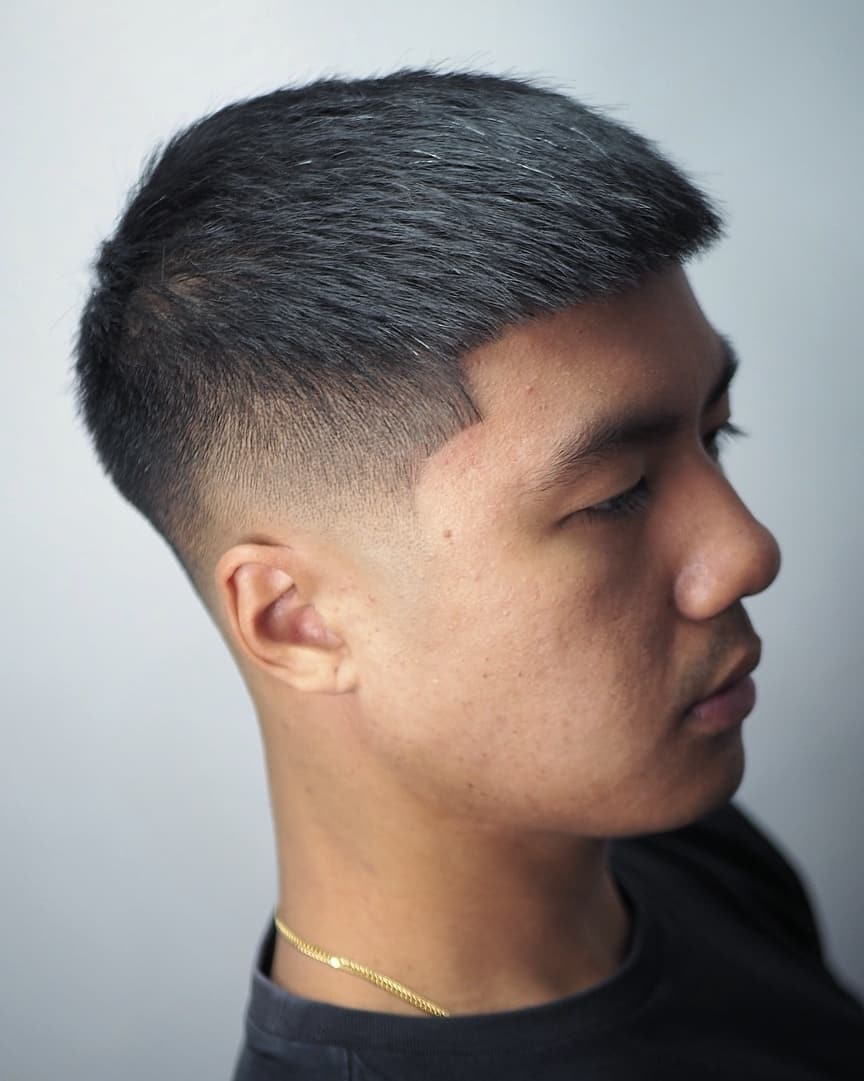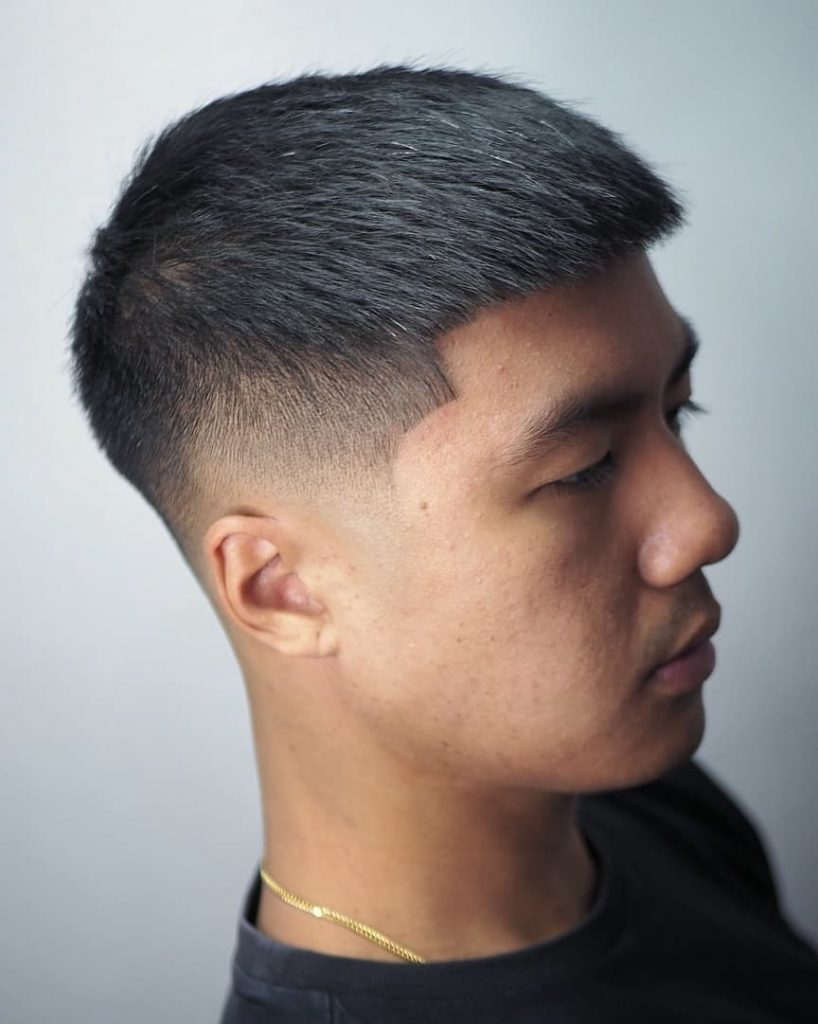 This fresh look contrasts a line of thick, blunt fringe with a blurry drop fade.
50. Drop Fade Haircut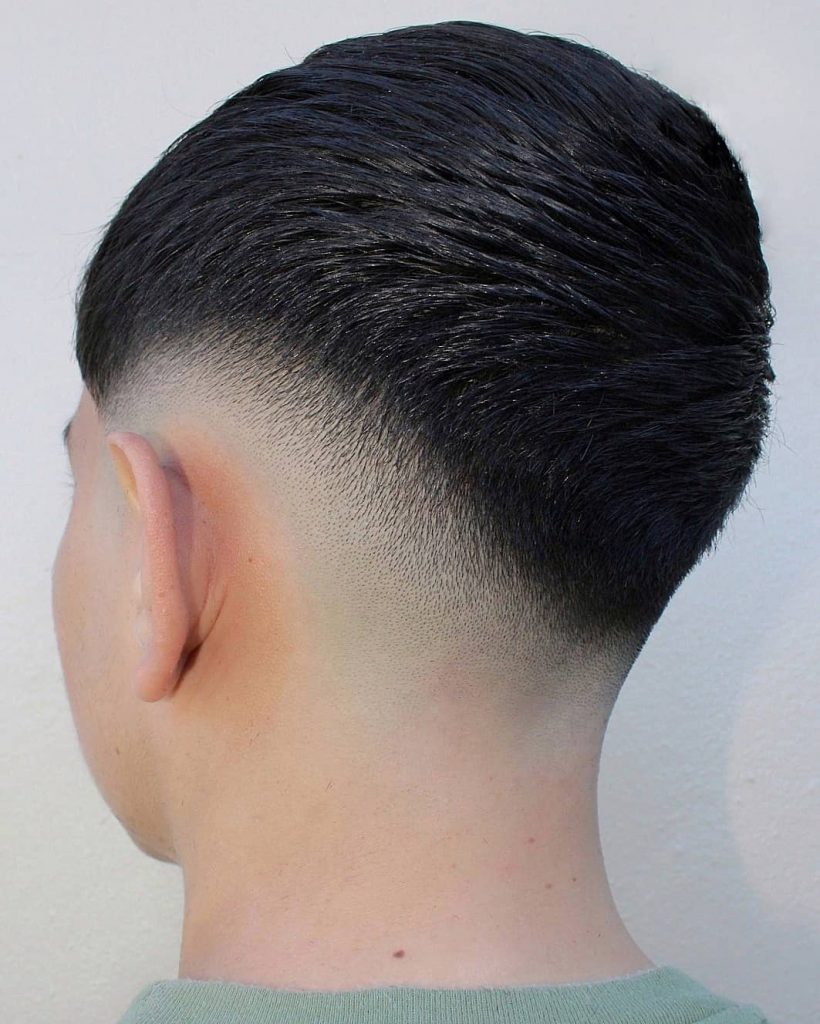 The arc of a drop fade looks cool with every haircut.
51. Short Quiff Haircut For Asian Men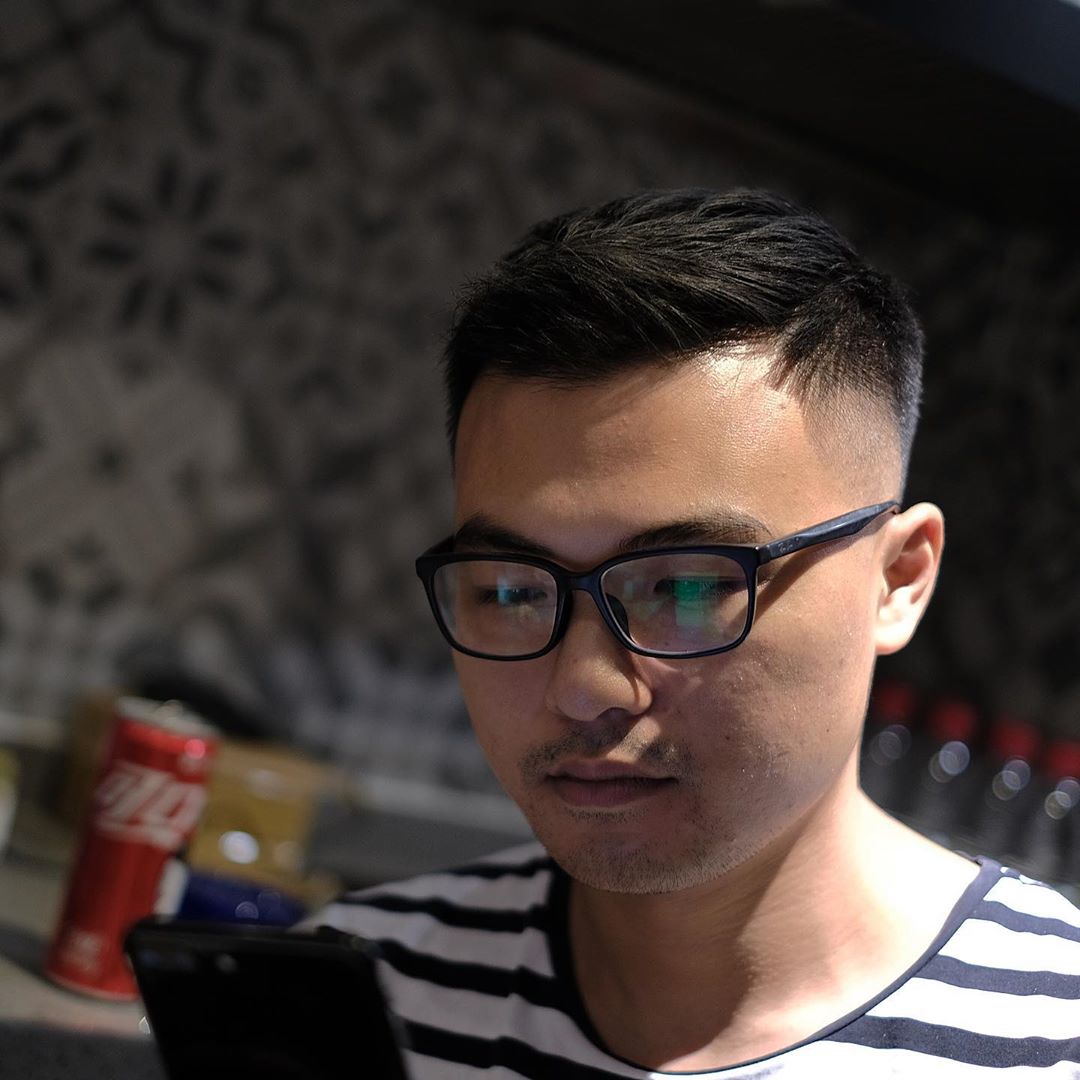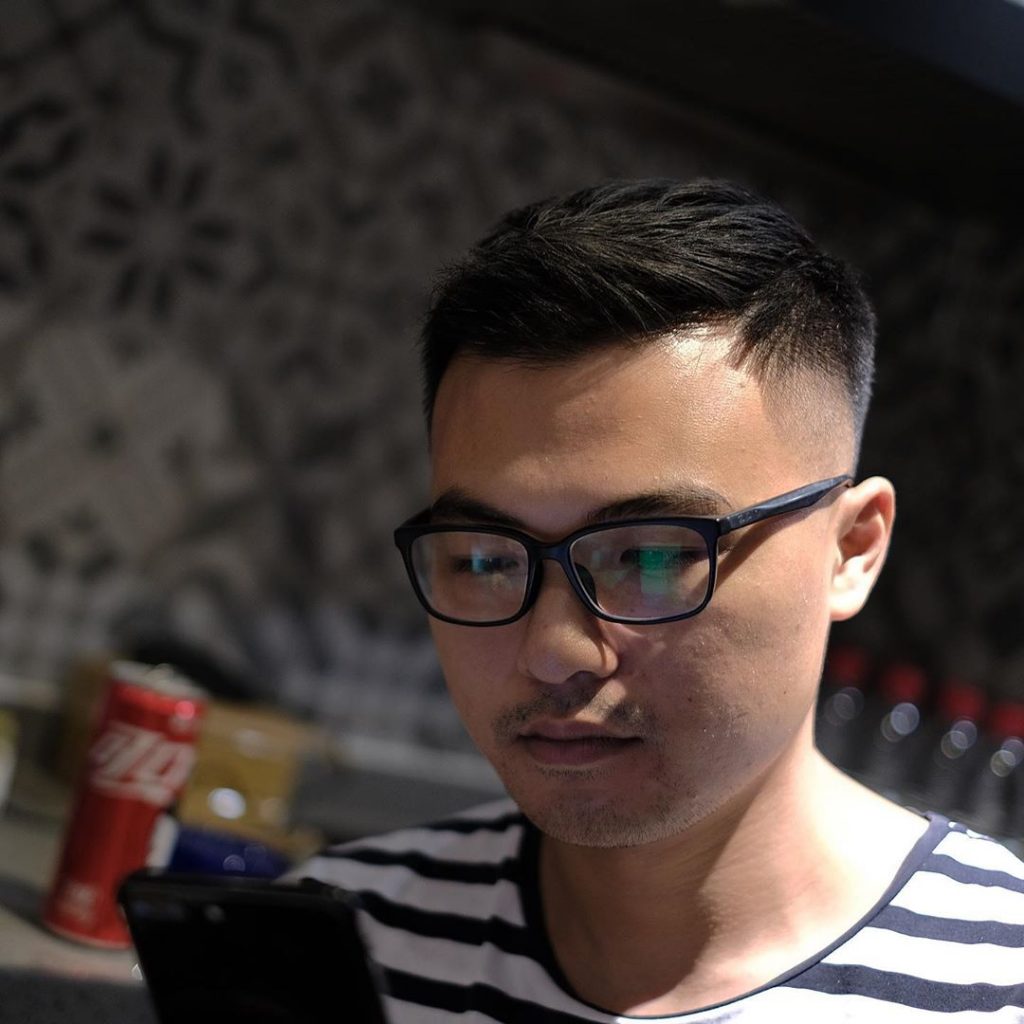 This faux hawk-quiff hybrid can also be styled spikier or quiffier.
52. Hard Part Haircut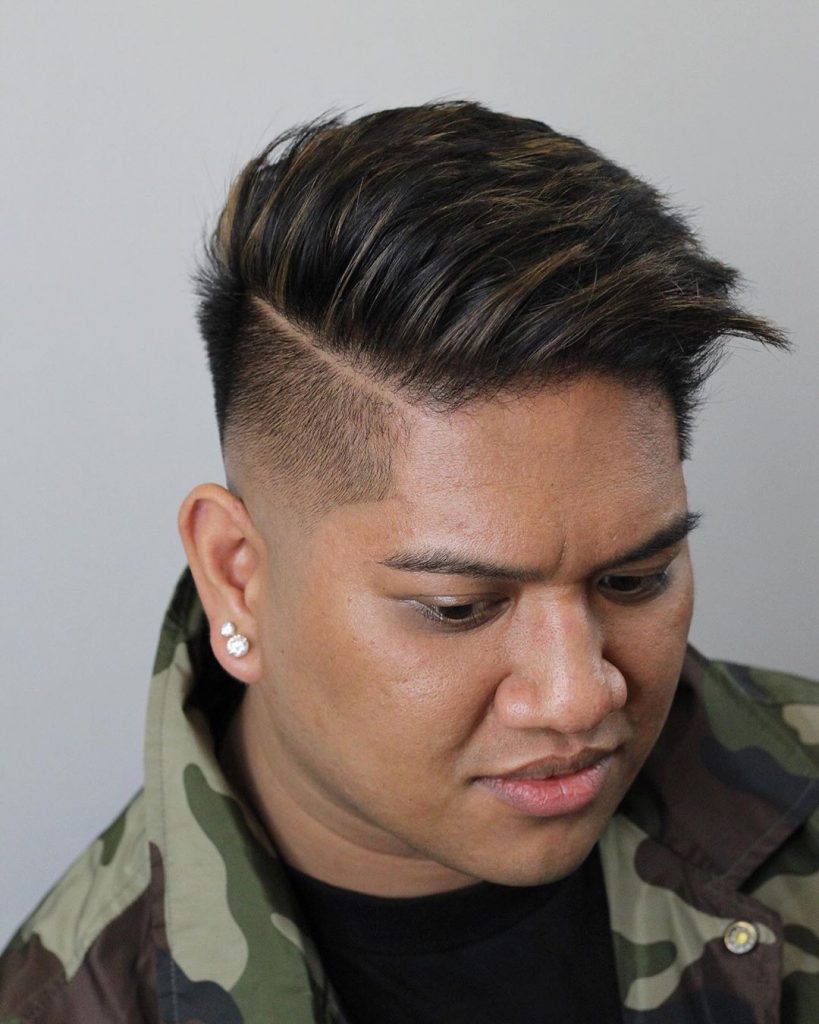 This cool style adds volume and a shaved part to the always popular combover fade.
This post may contain affiliate links. Please read our disclosure for more info.