These men's short hair ideas are low maintenance but high on style. From close cropped buzz cuts to a couple inches long, all these men's hairstyles have detail that goes beyond your average cut.
There is something here for all hair types. For thick, wavy or curly hair, there is just enough length on top to reveal hair's texture. The sides are cut short in a high, mid or low fade to keep it easy to wear.
Check out these pictures for some of the latest men's short hairstyles and haircuts.
1. Short Textured Crop Haircut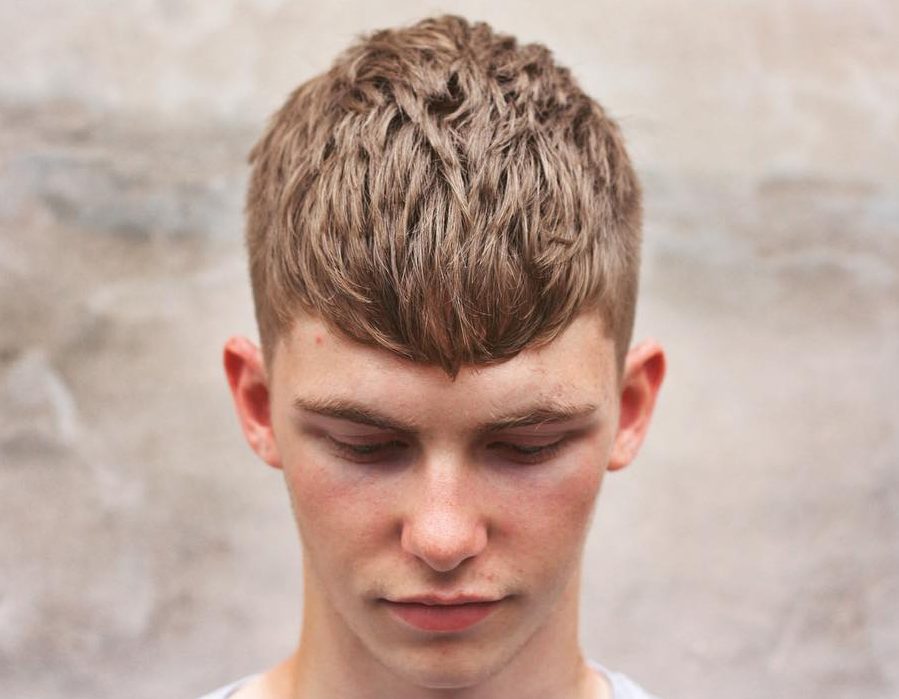 The textured crop is a major trend and there is a version of the cut that works for most guys. The scissor cut top removes weight for thick hair and can beef up the appearance of finer too. Look for a product that adds texture for even more definition.
2. Short Haircut for Wavy Hair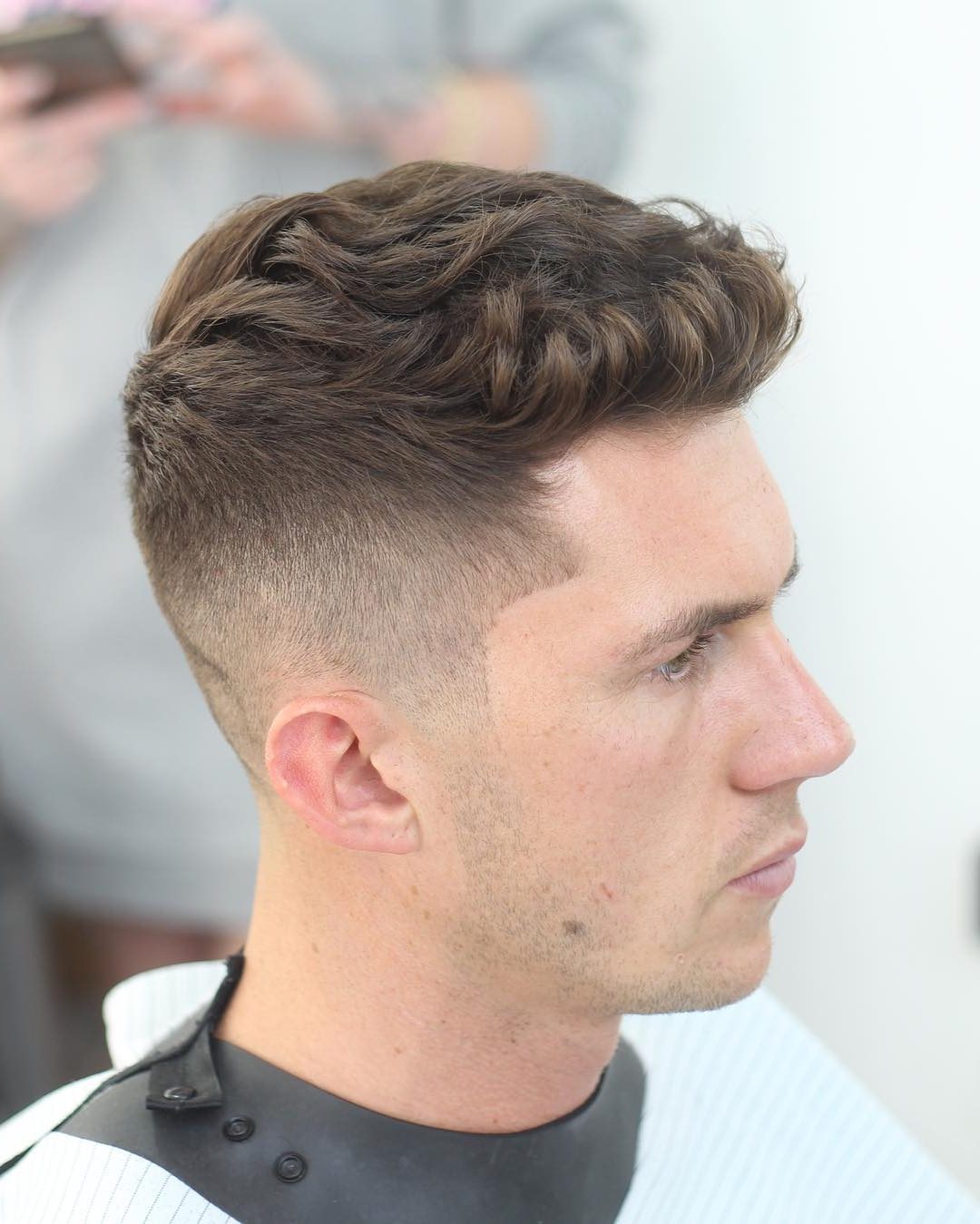 The best haircuts work with your natural texture. Instead of cutting wavy hair off, this cool cut uses length and angled cuts to bring out wave and volume while a high fade means no maintenance at the sides.
3. Short Hair Messy Textured Haircut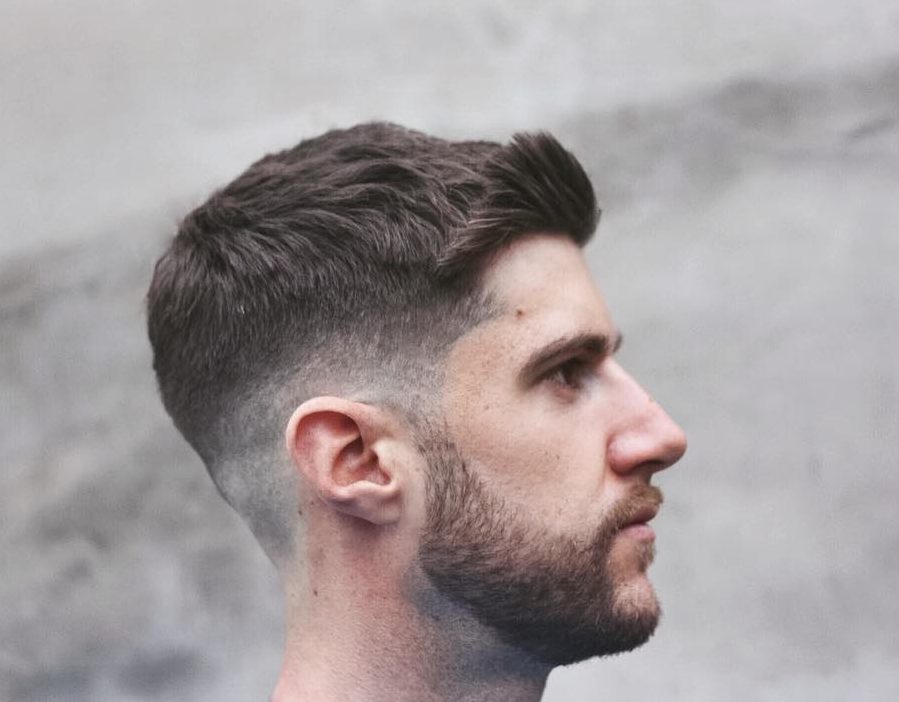 The step beyond texture hair is some mess. This cool cut and style combines the two with definition at the back and roughly styled hairline that is just cool. A low skin fade looks great and means you can go months until the next barber visit.
4. Tousled Spikes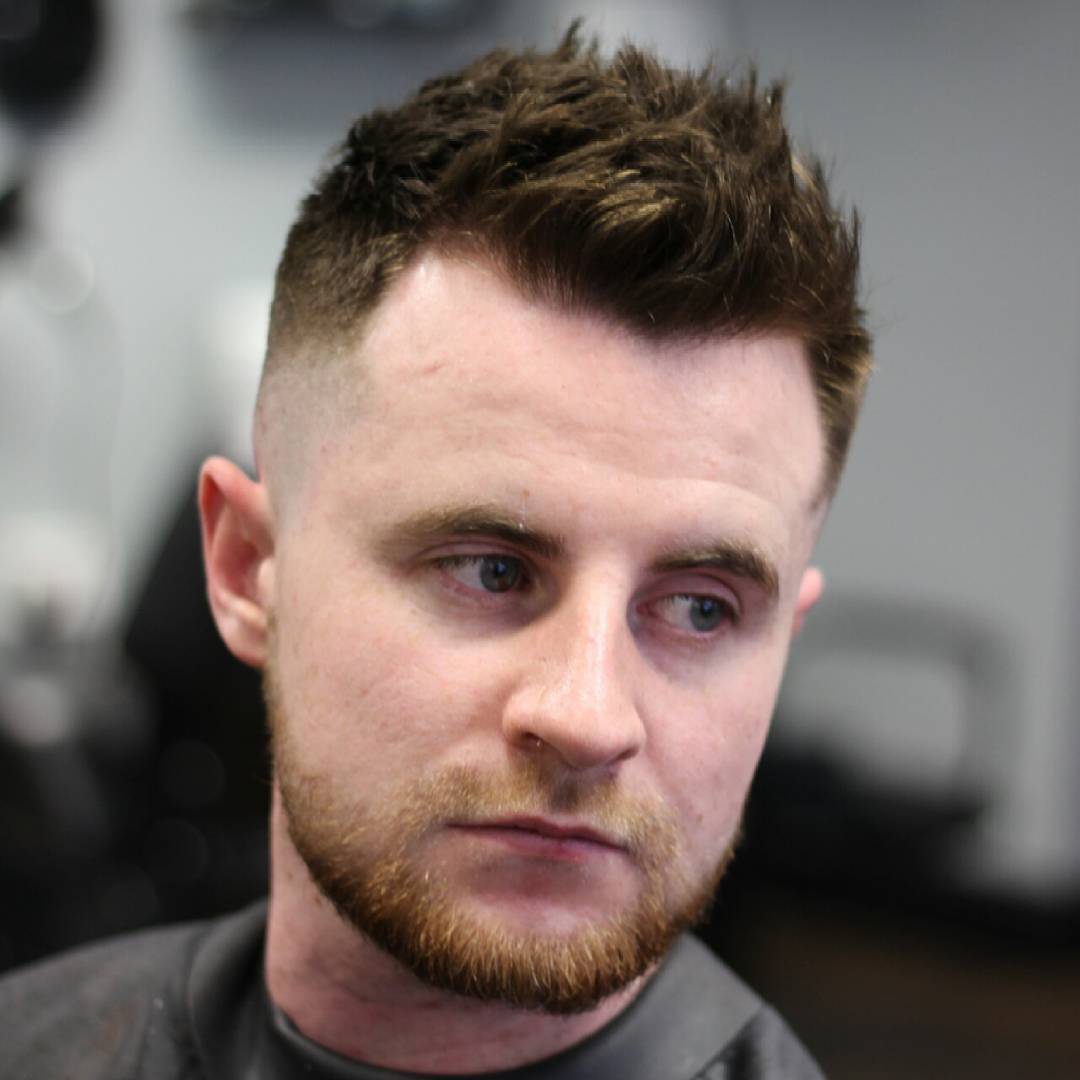 Short spiky hair is one of those men's hairstyles that doesn't go away. That's because it looks great, adds flattering height and is easy to style. The look is even easier when worn slightly messy like above. Just work product through hair and pull small sections up with fingers.
5. Short Spiky Pompadour Haircut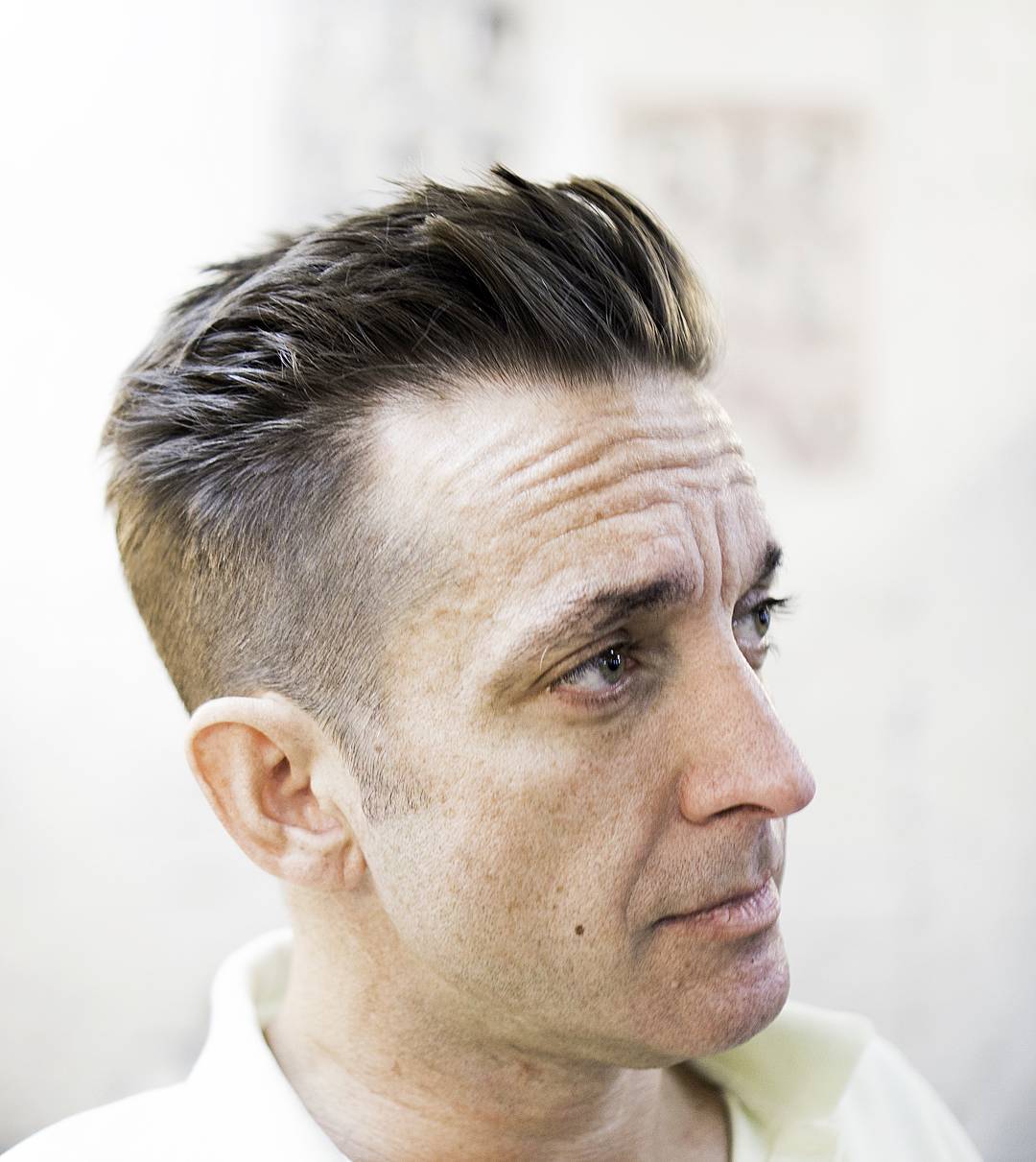 The pomp is another timeless hairstyle for men because it looks so good. Usually a medium length or longer haircut, this version styles short hair up and back to create that classic pompadour silhouette with a touch of modern texture.
6. Short Combover Haircut + High Bald Fade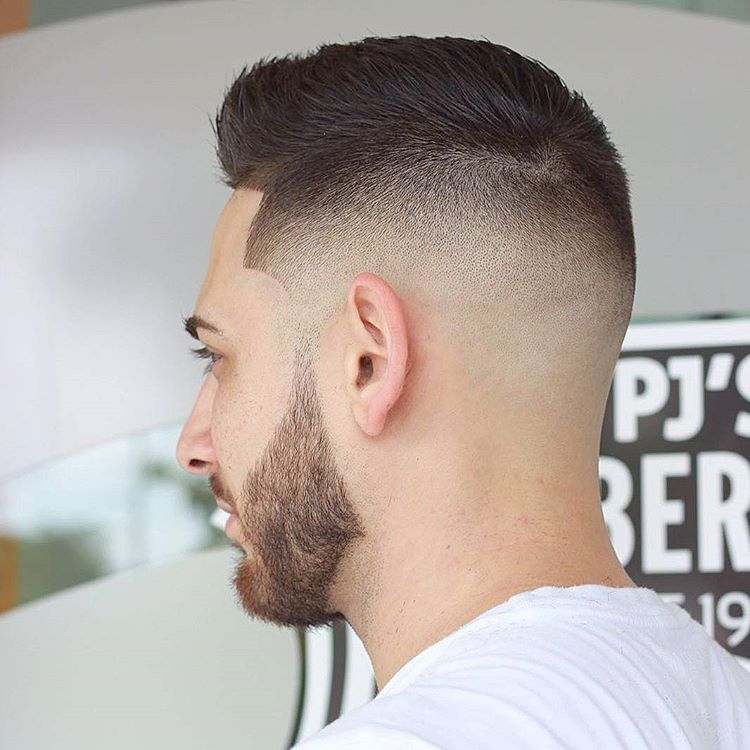 For guys with thick or coarse hair, wearing hair longer can actually make it easier to style. That extra length has more weight and surface for product to hold. With hair styled to one side on top and a high bald fade, this is an easy to wear cut that looks great. You can also try it without product.
7. Short Curls + Curved Part + Temple Fade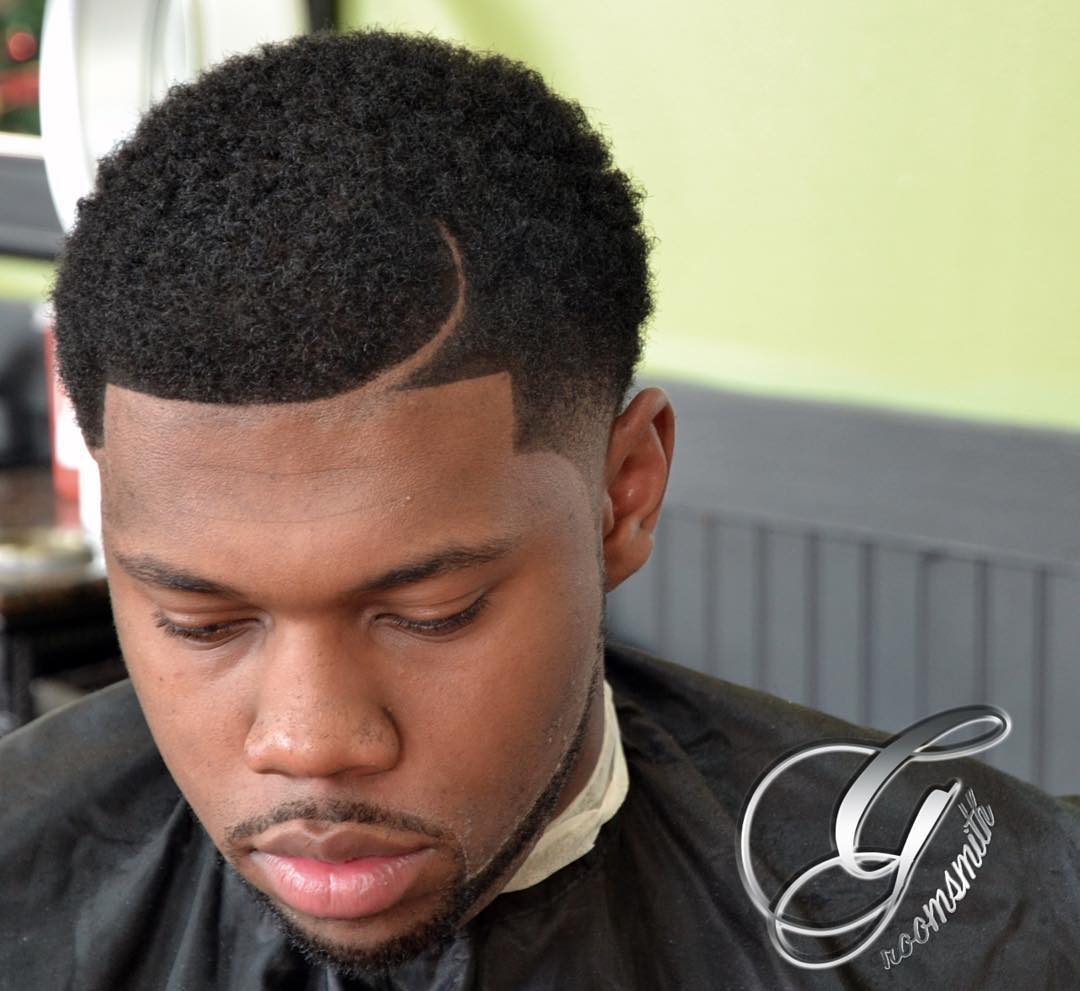 Some short haircuts can mix and match with different parts, fades and length on top. This cool cut features curls with enough length to reveal natural texture, a curved part and temple fade.
8. Short Haircut for Curly Hair + Drop Fade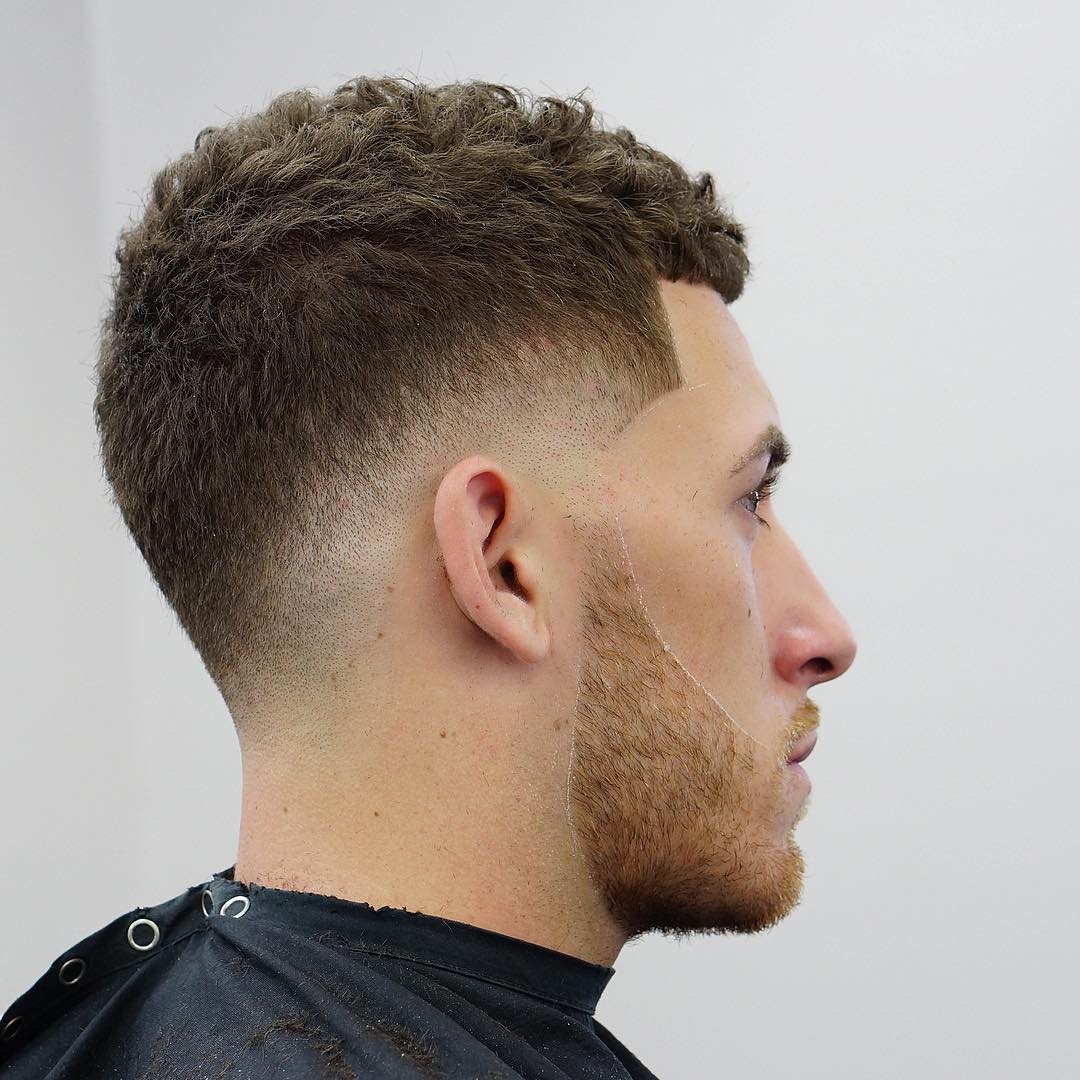 Here's another men's haircut that leaves some visible texture at the top and cuts the sides and back short. Tight curls are visible while a taper fade down the skin at the neckline keeps the rest of hair manageable.
9. Short Textured Hair On Top + Surgical Line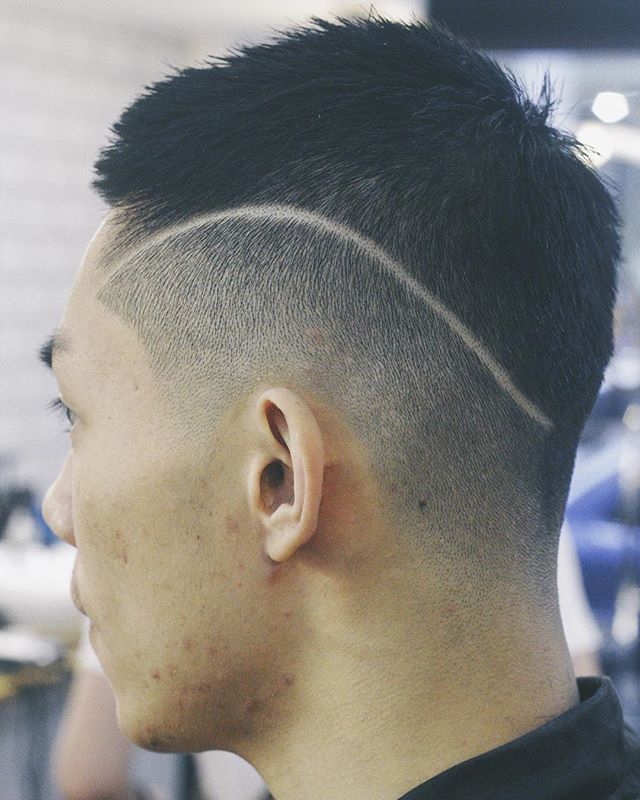 This fresh style is a departure from the usual high and tight. Long hair on top continues past the crown. The line is echoed by a fade and curved line. For hair that sticks up at the crown, the additional length will help hair lie flat. Haircuts that get too short at the crown can result in uncontrollable
10. Short Quiff + High Fade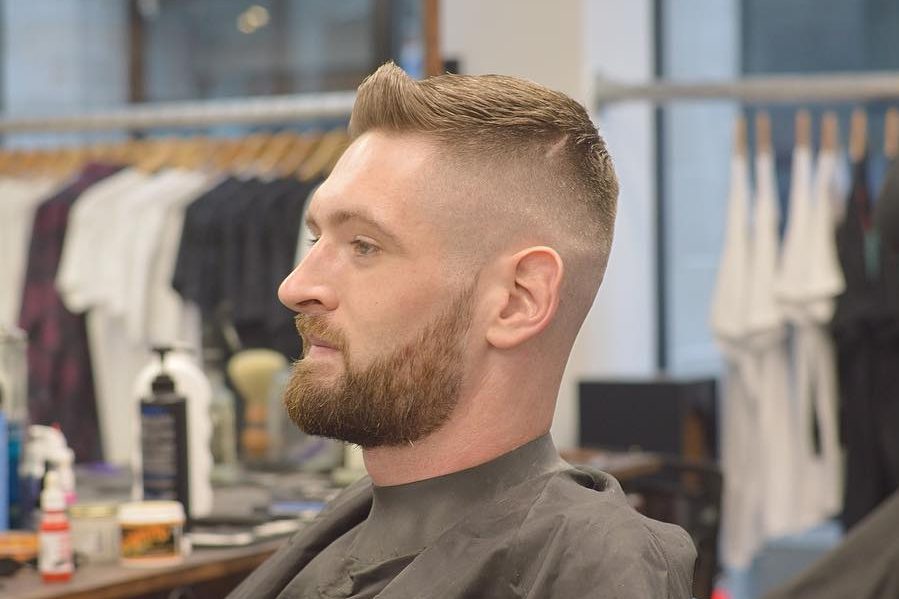 This cool cut is as short as it gets with a touch of length to spike up into a quiff at the hairline. This is another cut that keeps some length around the crown to keep it from sticking up.
11. Buzz Line Up + Burst Fade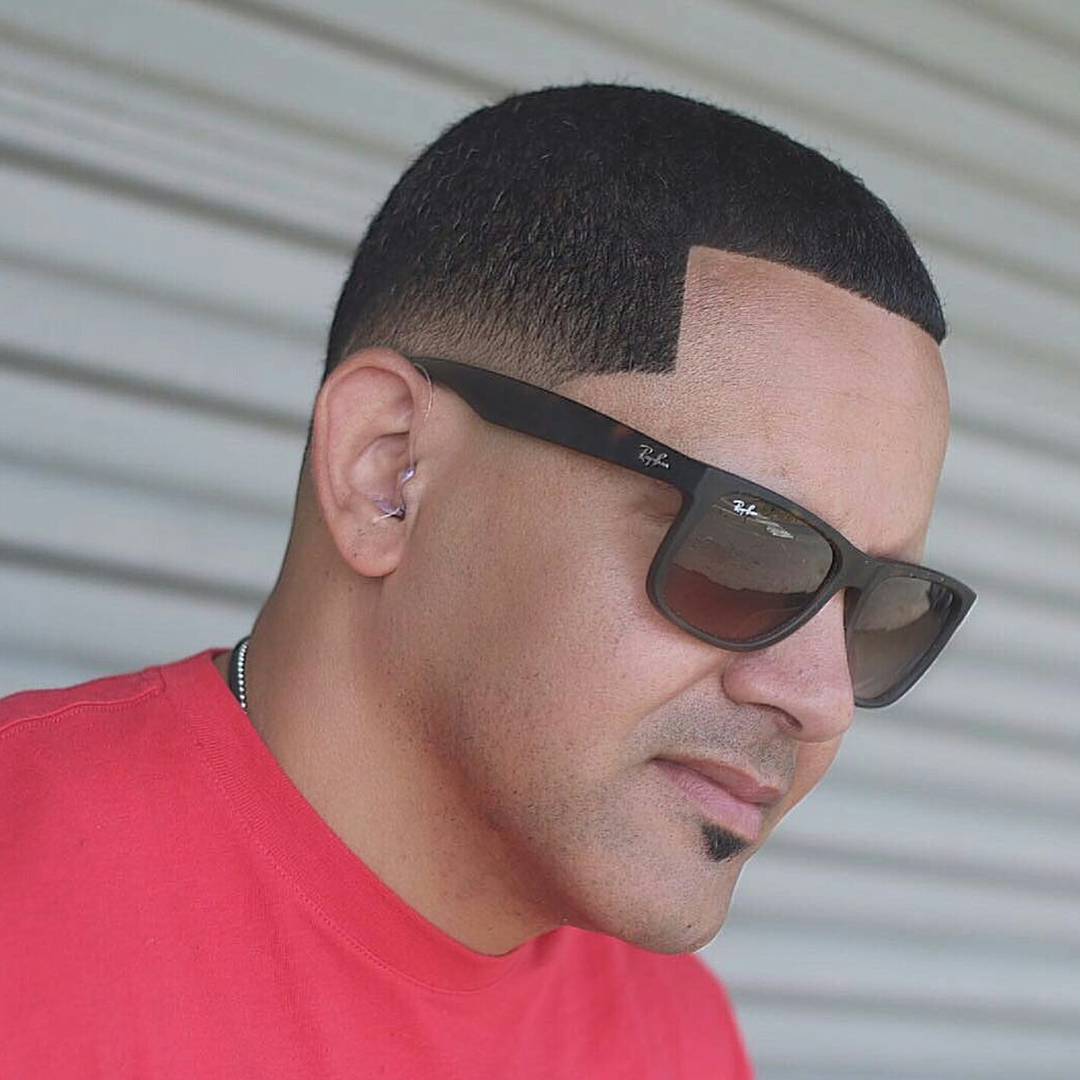 You can do your own buzz cut with clippers at home but it won't look this good. This cool style contrasts the sharp lines of an edge up with a blurry burst fade.
12. High and Tight + High Fade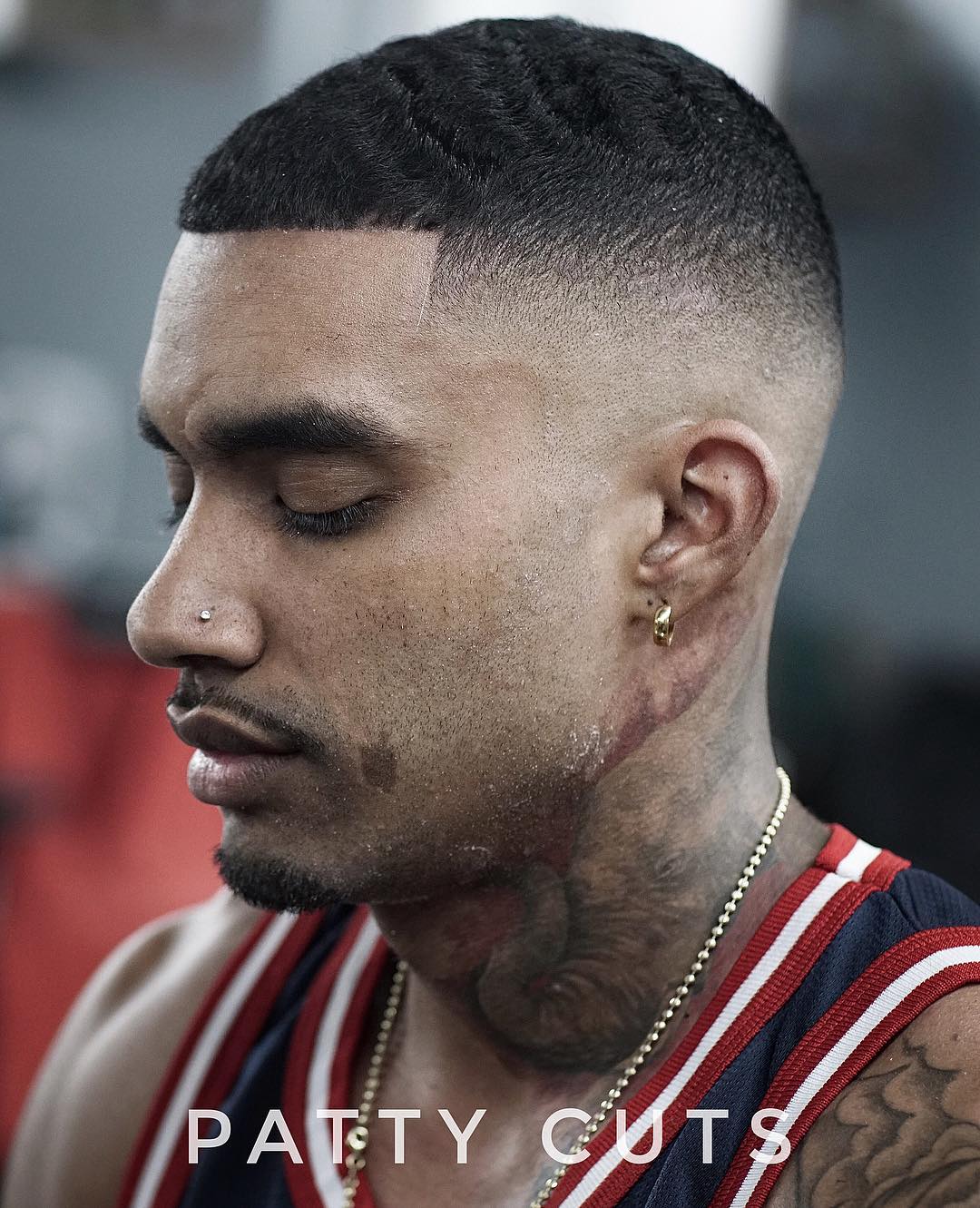 The high and tight is one of the most popular short hairstyles, especially for black hair. As the name says, longer hair is up high while the edges are cut tight against the skin. This version features a high skin fade.
13. Buzz + Line Up + Drop Fade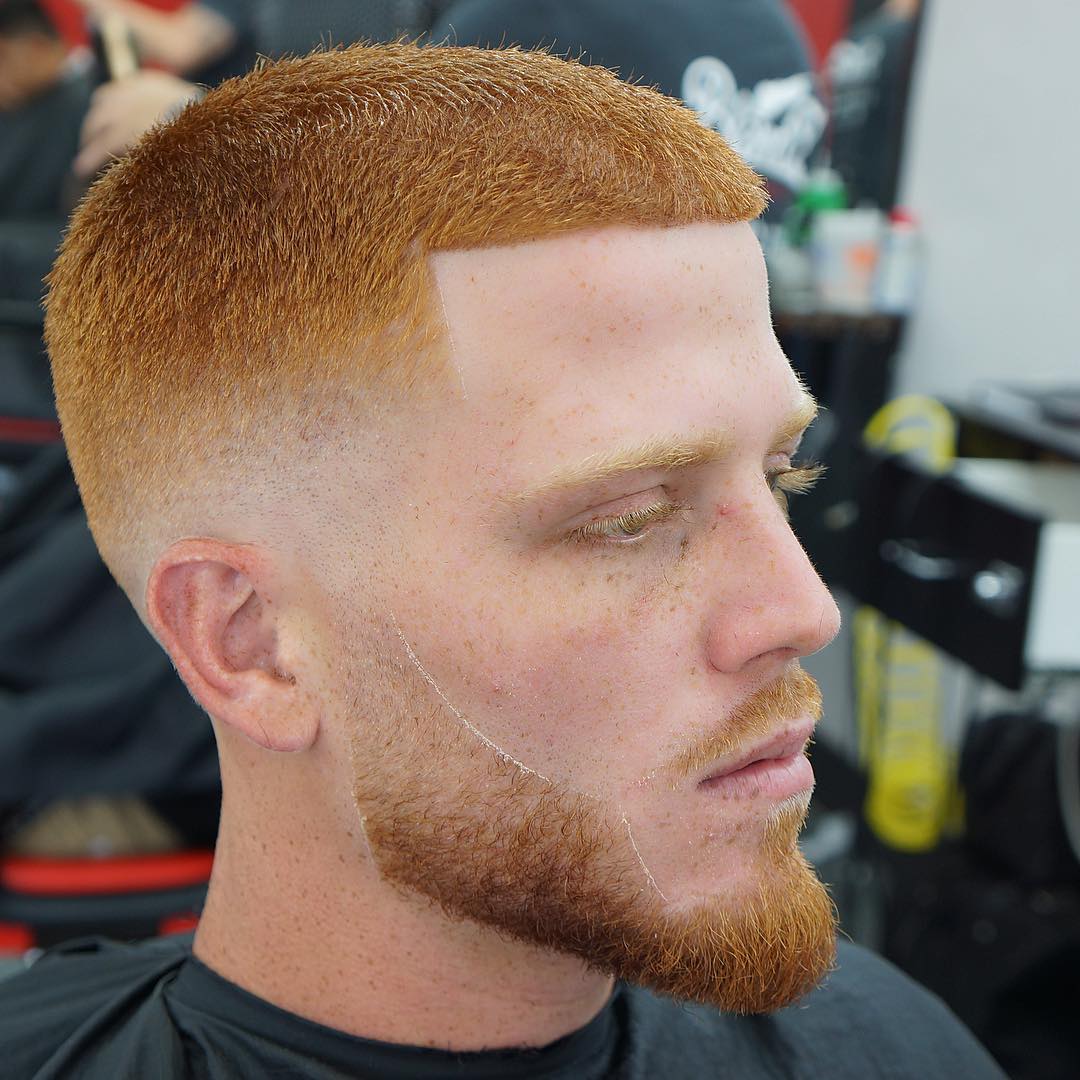 The buzz fade isn't just for guys with dark hair. The contrast between thick hair on top and a fade down to the skin is as striking with red hair as it is with black.
This post may contain affiliate links. Please read our disclosure for more info.