We are very pleased to introduce the talented hairdresser from California, Andrew Kozak.
Andrew is passionate about helping men to deeply understand their hair, how it is unique to each individual, and how to style accordingly. Andrew believes that the more information the client is equipped with about their hair, and the styling options, the better. To share helpful insights and the experience he has gained over the years Andrew regularly teaches other professionals including barbers, hairdressers, and stylists.
Check out his website Andrew Does Hair, or follow Andrew on Instagram. But for now, read our exclusive interview below with Andrew.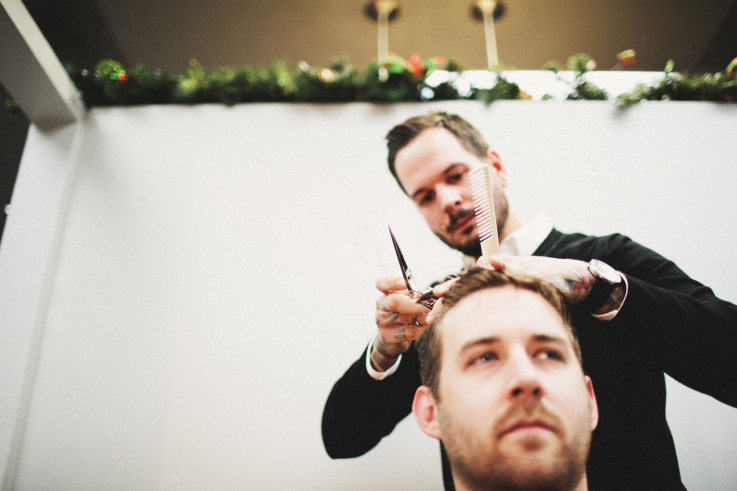 How did you get into cutting and styling hair?
I was never any good at following directions or buckling down and doing my school work, so I ended up dropping out of high school expecting to make a living with a career in music. Knowing that it wasn't likely, I wanted a job that allowed a lot of flexibility in my schedule (and physical appearance, since I thought I was going to be a rock star) but one that also didn't require a high school diploma. Hair seemed like the path of lest resistance, I never felt like I had to try very hard (when it came to men's hair). Although I wanted to be a barber and only cut men's hair, I ended up at a cosmetology school because it was more convenient than a barber school (also, back then hairdressers were cool and barbering was kind of forgotten by most), but that career path forced me to learn things I never would have if I had gone to barber school. Styling hair has added more value to my time than anything else I've done throughout my career.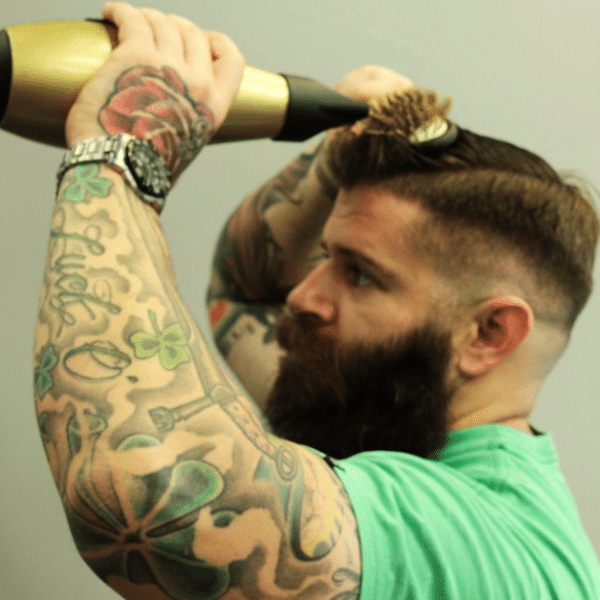 What do you like the most about being a barber or hairdresser?
The relationships. Not just with clients, but with others in the industry. I work in a small quiet town and I love that when I go to the movies I know the guy who sells me my ticket, because I cut his hair. I also love that when I go to a hair show I know half a dozen people there who are attending from all over the world. Especially since social media has taken off, I can go to any major city and meet up with an acquaintance. I think that was something I wanted from music but never got from it, I have friends in touring bands who just seem to know everyone. I don't care about money or creativity nearly as much as I care about people.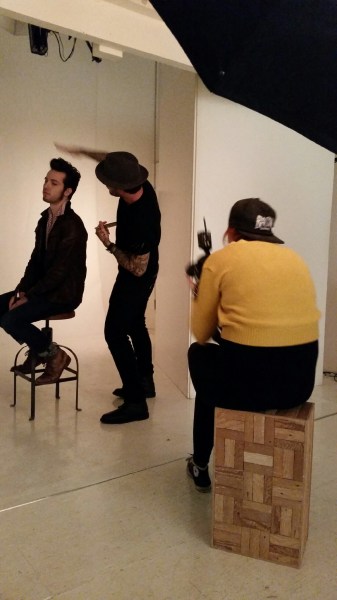 What changes have you seen in barbering or hairdressing over the years?
A lot. Everything that gets big brings with it a wave of fans who swear they'll live and die by that look, and then when it goes out of style, so do they. When I started doing hair men had very texturized faux hawks with random shards of hair jutting out all over the place, they had chunky highlights, and they all flat ironed their hair. New hairdressers, like myself at the time, swore that look was going to earn them their retirement. Almost over night after the cool kids found the classic looks from traditional barbering I watched 9 out of 10 hairdresser I knew either quit the salon to work in a barber shop, or quit doing hair altogether. Now I see new barbers left and right who swear they're going to build their career off of doing the freshest "comb over" but that's going to go out quickly, too. One thing I stress in the classes I teach is to recognize and understand trends, but don't "tattoo a trend on your face" or brand yourself by it. Stick to timeless terms (and just because something was cool in the 1940's and is cool again doesn't mean it's timeless).
Also, social media has ruined a lot of what we do behind the chair. When I started cutting hair people came to me and trusted my technical skill and my expertise, they wanted my advice on their hair and the expertise I developed through school and through my work in the salon was a part of what made my time behind the chair valuable. Now there are charismatic amateurs on YouTube telling kids what to tell me in order to do a haircut (and most of it is wrong), and at first it was infuriating, but now is saddening since I see it changing the role one takes through a career in hair, too many haircutters think it's "ego" to add value to their expertise in this way. We would never watch a youtube video about working out so that we could tell our trainer how to give us the workout we want, we pay a trainer for his expertise on the matter and we tell him what results we want. I see Instagrammers and YouTubers telling kids "just ask for a number 3 with 4 inches on top" as though everyone has the same type of hair, the same texture, density, porosity, color, and growth patterns. A trainer will say "what do you want to improve about your fitness" and we trust him to assess where we are, then get us where we want to be, while we don't trust our barbers and hairdressers to use their expertise in the same way, but instead we want to make the call on the length then wonder why the hair won't lay down right or stand up right. There are a handful of people who understand how long your hair has to be to bend back, or stand up, or how short you can go without seeing skin- those handful of people are haircutters and they use this understanding to solve your hair problems.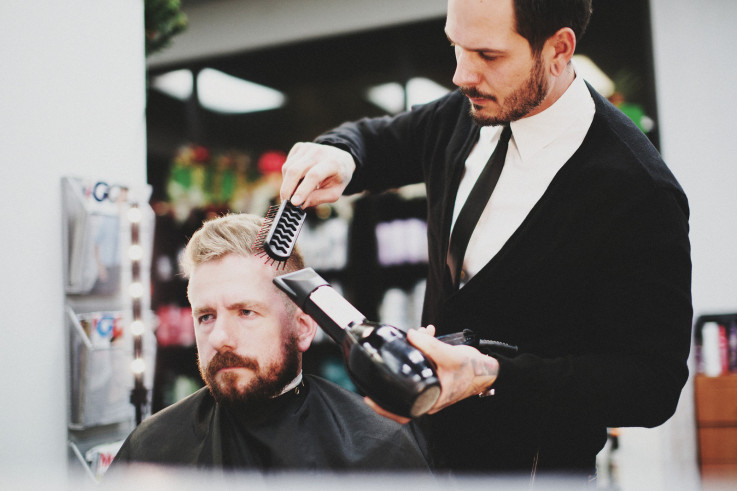 Where do you get inspiration from?
Real life. People who aren't worried about "fashion" or trends. People who come to me with specific requests for their hair to make it fit their actual lifestyle, instead of requests that help them fit a mold they saw in a magazine. I do haircuts for this surfer kid and every time he comes in he tells me he wants hair that looks good straight out of the ocean, so I leave his hair long enough where it needs to be in order to fall into a pleasing shape without any styling, but short enough that it doesn't curl out of control, and then when he comes back a few months later he tells me where it gave him problems and I adjust. When I find looks with a client in that way, the result always motivates me. It's not about copying a trend or even trying to make a trend, it's about real life, and about making this guy's hair look like HIS hair. Sometimes I get books with old photos of teenagers in the 50's and 60's, when they were just trying to rebel but there wasn't a very standardized uniform for it yet. Those kinds of images inspire me because they weren't trying to copy this idealized version of the past, they were creating it in their present, and that's something that's seemed so plastic and cheesy to me throughout the whole "dapper" trend. I ask my clients what they want their hair to say about them, and a lot of new clients are caught off guard by it because all they were thinking when they walked in is that they want to look like that cool model guy who they follow on Instagram.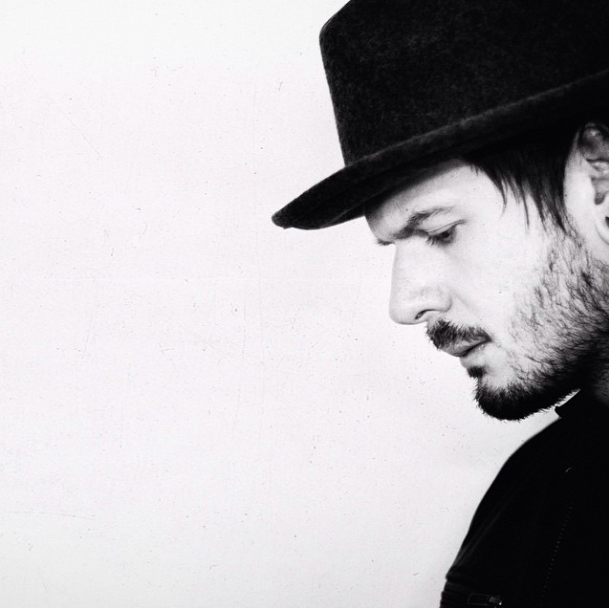 How do you help clients find their best look?
I guess I sort of answered that above. I don't let them tell me lengths or sizes, but instead I have a very down to earth conversation about what they want their hair to say about them, whether they want to look like they woke up and put themselves together very neatly and on purpose with a fresh haircut, or whether they want to look like they woke up in a ditch and jumped on their motorcycle with too much cool stuff to worry about to fix their hair (but they accidentally looked really cool anyways). If they're not going for that much of an overhaul I ask them what they want their hair to do, slick back, lay back softly, lay back but be huge and have volume, spike up, etc. Do they want the hair to hang over on this side or blend in? Do they want it shiny and glossy or matte? Do they want to be able to run their fingers through it all day or do they want it glued into place? I try to give them as many options as possible, then I ask them what problems they face with their hair every day. They don't worry about how to get it there, that's what I do for them, then I teach them how to recreate it later. If a client has a particularly unusual feature (low or wide parietal ridge, prominent or lopsided occipital bone, receding corners, strong or unusual cowlicks) I'll factor that into their end result but first explain to them why they should leave length here or there to fix it, then tell them what to expect if we do cut it too short there. In the end it's their call, but I at least put up a fight before I let them do something I know isn't going to help them get the hair they want.
What can guys do at home to recreate that fresh look they get at their barber or hairdresser?
Ask your barber or hairdresser to teach you about your hair. Learn which way it grows, where your natural part is, how to push your cowlick to get it to lay down. This is all different for everyone, and the professional standing behind you is the person to walk you through it. If you want to remove curl or wave, ask them to teach you to blow dry your hair straight. If you want to add more volume ask them to teach you to blow dry it up. Cosmetologists typically have more experience in styling hair that way, but a lot of barbers are coming around to it as the slick looks are reaching critical mass and innovators are venturing into different looks. The bottom line is that the jaw dropping images of hairstyles you see in ads and on IG are not the culmination of a perfect haircut and just the right product on just the right head, there was several minutes of expert hairstyling involved to get those results, and men are NOT incapable of learning this or using it themselves. I believe that the weird stigmas attached to men who really blow dry and style their hair come from and are perpetuated by a flawed system, where product companies want to push their cure alls, and haircutters want to push their best haircut. If you want expertly styled hair, ask the expert standing behind you in the salon or barbershop to teach you how to do it. I even hand my hairdryer and brush to any client who wants to be coached through it. These styling lessons are how I built my career and I believe they're the most valuable thing that a technician can offer their client.
What are the top hair trends for men this year?
This is hard to say. I definitely think that the wet and slick looks are going out. They came in fast and I believe caught on so easily because glueing your hair in place with pomade is easy. What I'm seeing a lot now are loose styles, hair that falls and flows, hair with movement. I think natural textures will be popular, too. I keep saying "here's how you can straighten your curls with a hairdryer" but I think this year people will say "nah, I like my curls." Grown in sides are already climbing in popularity, a lot of my clients got sick of getting their fades done every 2 weeks (that's a treat for some, but not for everyone). If you get your sides cut long enough to lay down then they look good for 6 weeks, but if you get a fade it looks good for 2 weeks, then it sticks straight out for 2 weeks before it lays down, and by then the edges are hanging and messy. This one may be a bold guess, but because much of what I've seen that was "disgusting" became huge a few years later (like the mullet/rattail trend around 2008), I really want to see heavy sides and napes. Almost like Han Solo or like Christian Bale in American Psycho. Tom Cruise in Risky Business. You know the hair I'm talking about! People might cringe or make fun of you if you did that, and that's exactly what they do with the next big thing before it becomes big. :)