The pompadour is one of the most popular hairstyles for men and his been for almost a hundred years. It is a versatile look that can be anything from counterculture to formal, depending on the hairstyle and the clothes you wear.
The popularity of the pompadour began in the 1930s and 1940s with tango enthusiasts, hep cats, and Mexican zoot suiters. The fad caught on with country and rock 'n' roll musicians as well as the 1950s and 60s celebrities like Desi Arnaz, James Dean, and Elvis Presley. The pompadour continued with trends that accompanied rockabilly, Mad Men, Italian-American culture and more.
That brings us to today. The pompadour haircut is still going strong because it looks great. There are many more ways to wear it than ever before though. Add some texture, mess, a fade, part and more.
There are so many ways to get a modern pompadour. Here are just a few plus the classic pompadour, where it all started.
1. Classic Pompadour Hairstyle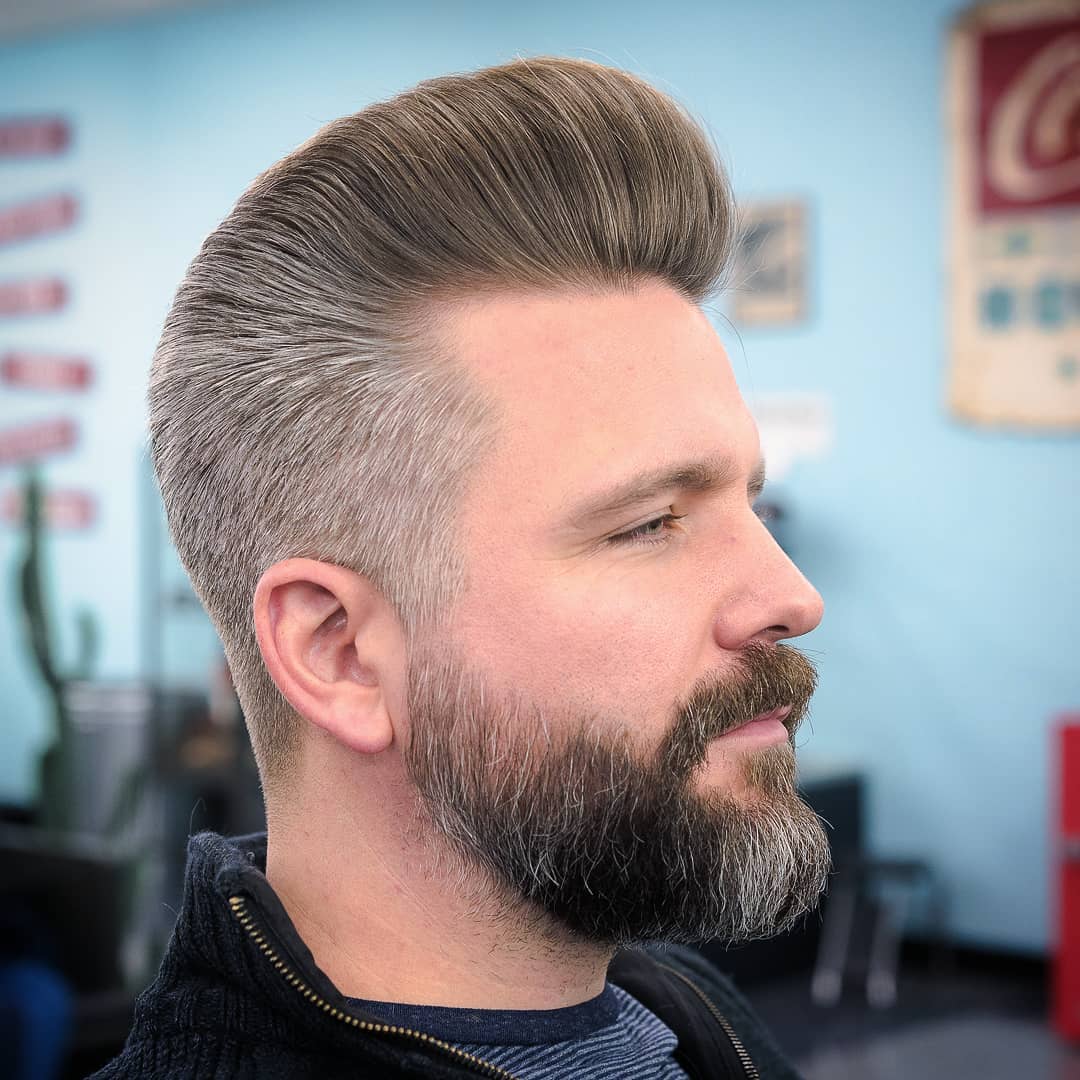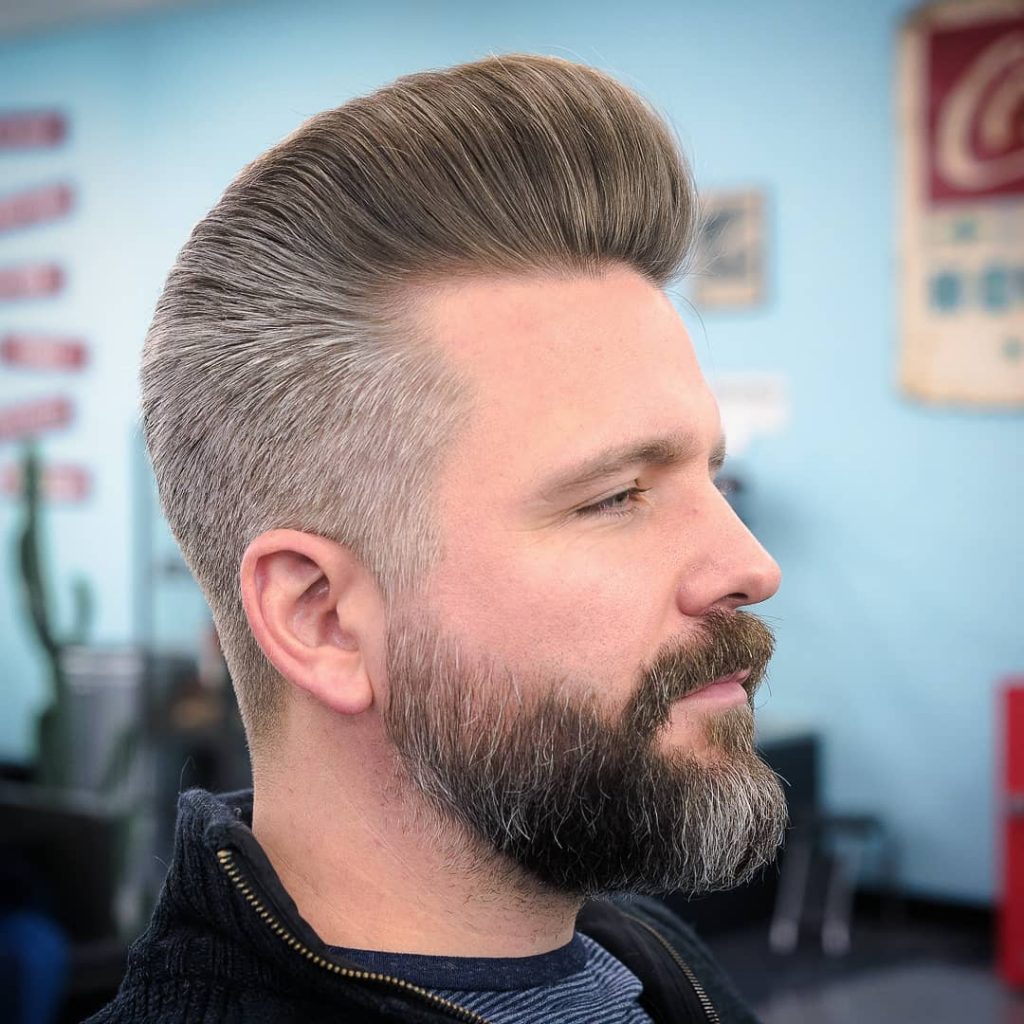 This is the classic way to rock the pomp, with plenty of height and no extras. Gray hair adds texture while the beard signals that this is still a modern man.
2. Modern Pompadour Hairstyles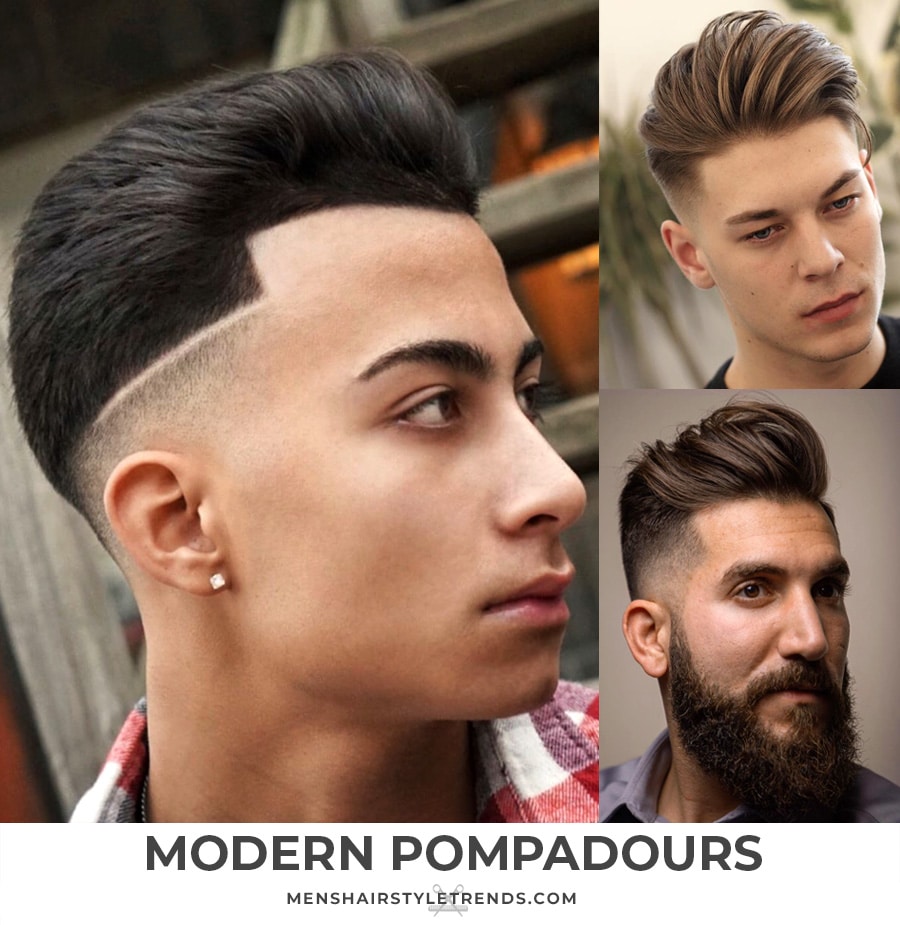 Modern pompadours keep the classic shape while working in some fresh looks to the haircut or style. In this case, it is this year's top trend, texture. Men's hair is all about texture this year, whether it's in a short crop, spikes, or cool tousled pompadour.
Take liberties with the look by working hair to one side, getting a little bit messy or using a clay pomade the reveals finger-combing in a stylish way. But that's not the only way to update a pompadour.
3. Pomp Fades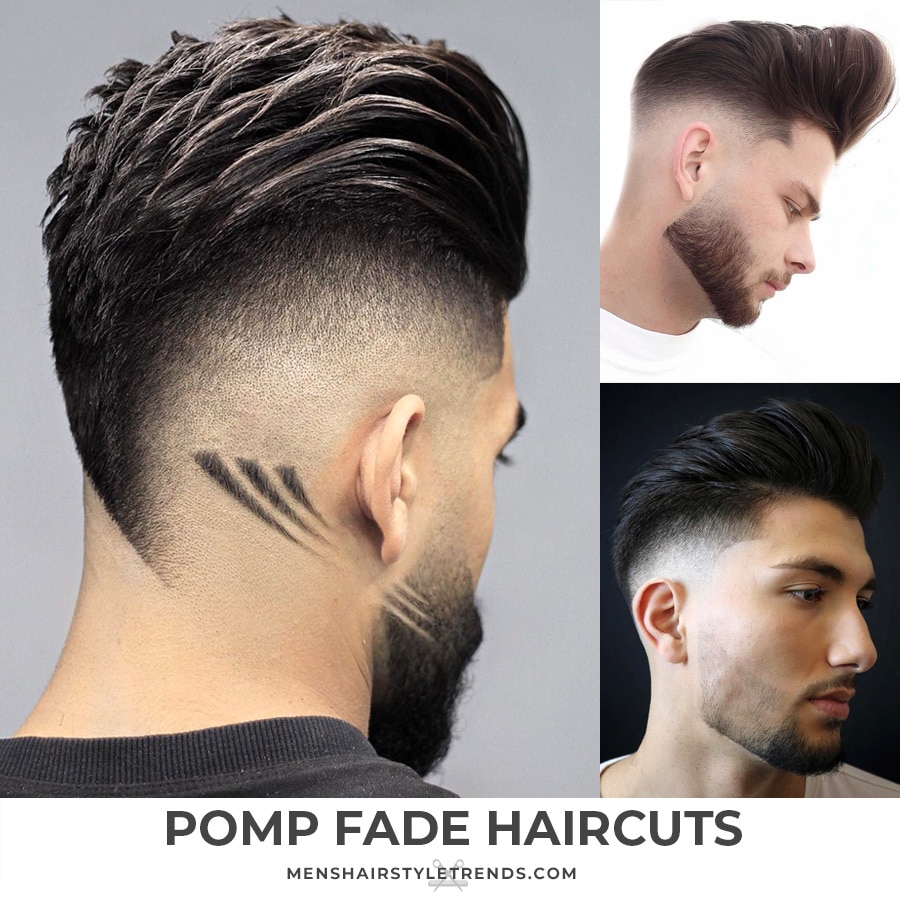 The pomp fade is another modern way to wear the pompadour. Any type of fade works with the look, whether it's high, medium, low or a temple fade. The shaved sides help hair appear taller and fuller while staying neat and clean. Add it to a beard fade for double the style. Or for the unexpected with the ultimate V-shaped neckline plus a set of shaved lines.
4. Cool Necklines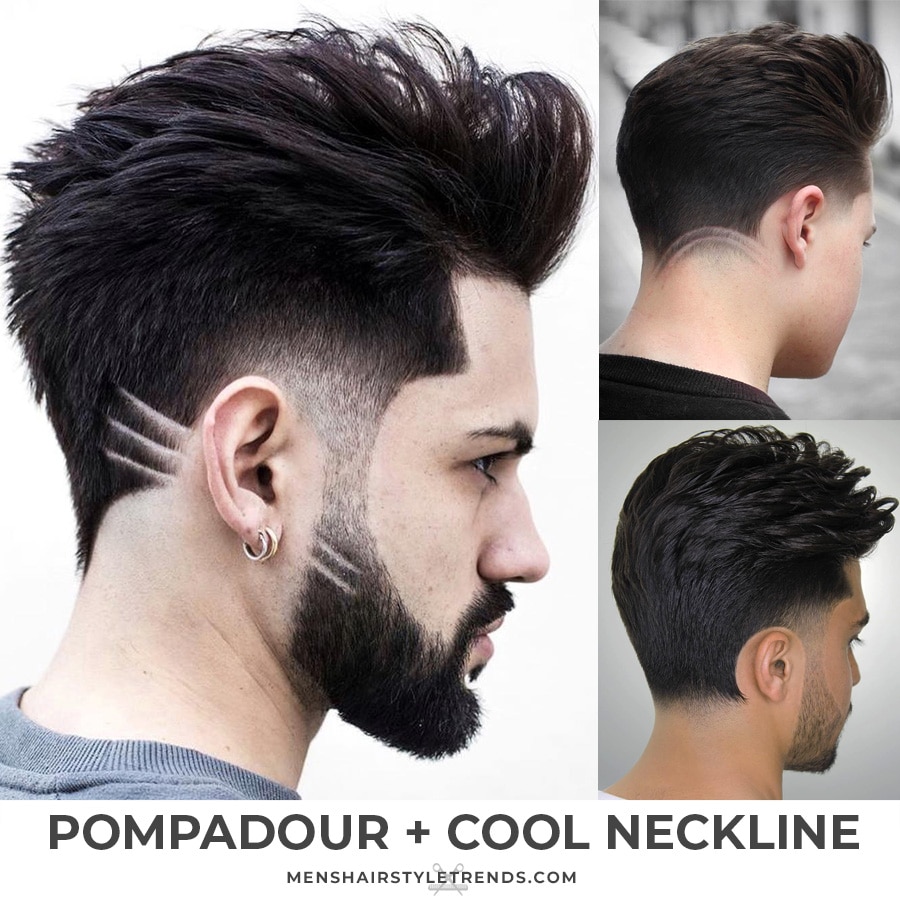 Another hot trend for 2019 is neckline hair designs. That can be an unexpected shape, the addition of shaved lines or a simple but slick neck taper. Add a fresh neckline to make any pompadour your very own unique look.
5. Side Part Pompadours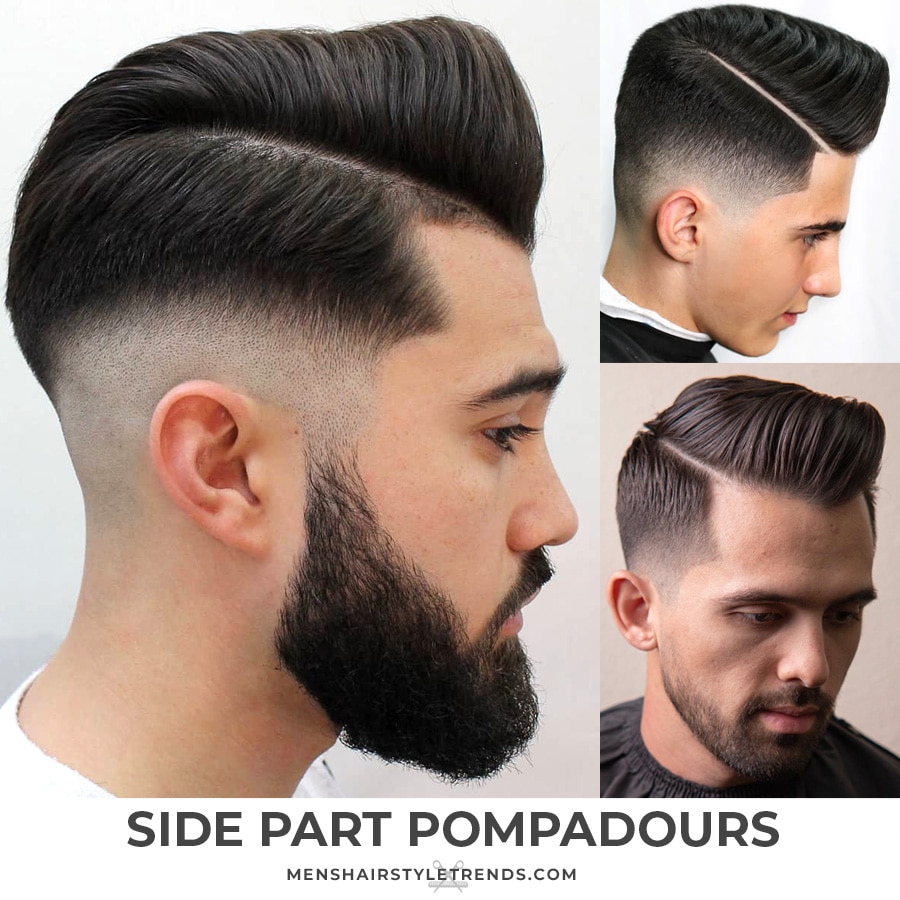 Pomps don't have to be crazy to be unique. These side part pomps are ultra clean-cut but still make a statement. The side part can be combed or shaved and worn with any type of fade or none at all.
6. Messy Pompadours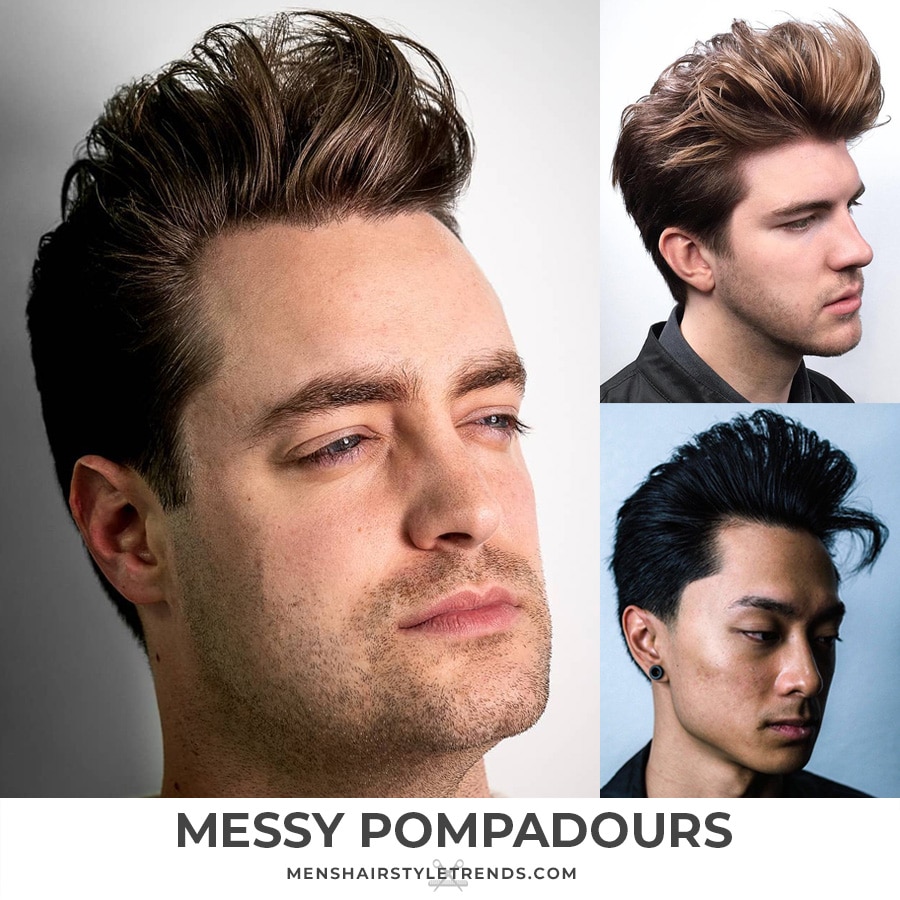 Take that texture trend to the next level with a messy hairstyle. The look can be bedhead, Morrissey-inspired, or with one loose tendril-like Johnny Depp in Cry-Baby. One of the cool things about this look is it never exactly the same twice.
7. Hairstyles for Men with Fine Hair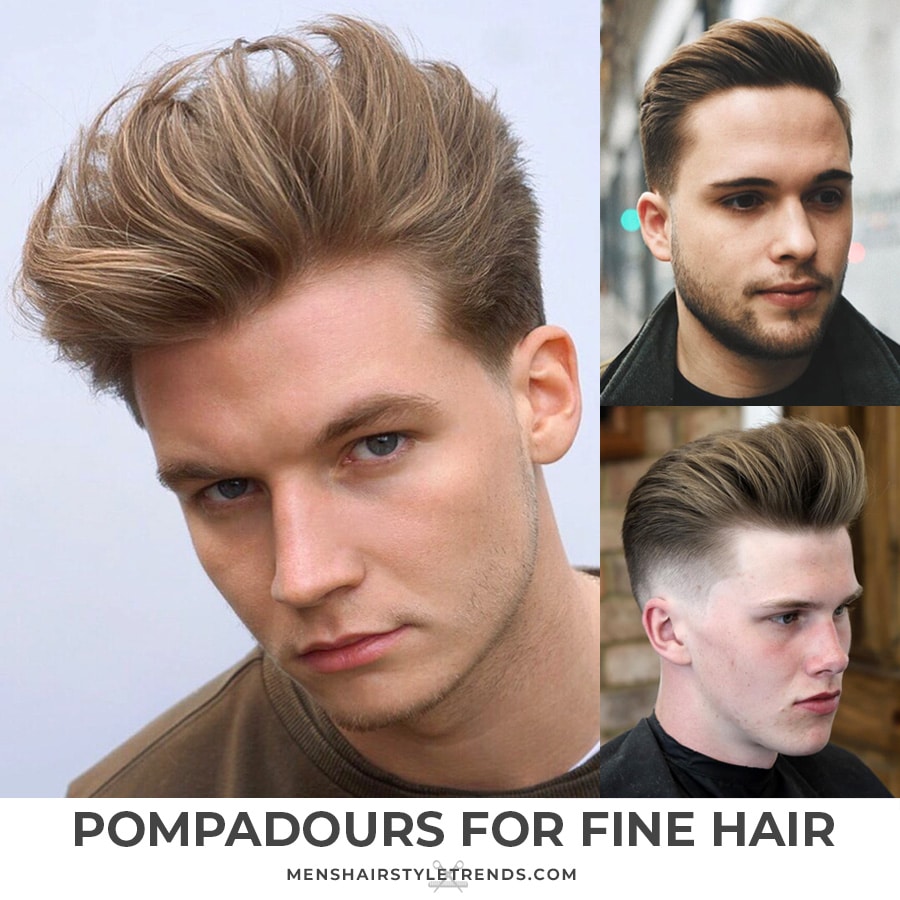 The pomp isn't just a hairstyle for guys with thick hair. The high volume hairstyle is a great choice for guys with thin or even thinning hair because all that height helps hair appear fuller.
Whether you prefer the messy or clean look, here are a few tips for styling fine hair. First, use matte products that won't weigh hair down or look greasy. If you are going for height, a blow dryer and/or spritz of dry shampoo give fine hair the boost it needs. Last, only use as much pomade strength as you need. Light or medium-strength may be enough. Styling powders are also an excellent option.